The best laptops for graphic design come with the latest hardware, which makes it possible to run some pretty intense software. If you're in the graphics design space, this is a requirement, as the software you need is often highly resource-intensive.
With this guide, we've created a comprehensive list of the best laptops for graphic design. We've looked at specs like processing power and RAM, as well as the different display types, so we can bring you all the information you'll need to make an informed decision when deciding on a purchase.
The Best Laptops for Designers Ranked in 2023
Apple is a powerhouse when it comes to laptops for creative work like graphic design and photo editing, so it shouldn't come as a surprise to see the MacBook Pro at the top of our list. The question is, how does it compare to the competition? Read on to find out.
How Powerful Do the Best Laptop Computers for Graphic Design Need To Be?
Designing on a laptop requires some of the most resource-intensive software out there, and if your laptop doesn't meet the minimum requirements, it'll be sluggish and unresponsive.
To combat this, you should get a laptop with at least an Intel i5 processor or equivalent. If you're just starting out or your focus is more on 2D design, an i5 provides enough power. However, if your focus is on more complex designs or you want to future-proof yourself, we recommend getting an i7 or higher.
Apple vs. PC – What are the Best Laptops for Graphic Design?
Unsurprisingly, the two most popular operating systems are iOS and Windows. Historically, the Apple Mac was used more thanks to an array of design tools exclusive to Apple at the time. However, that's no longer the case.
Today, you'll find the same design tools on both PC and Mac, and both offer features that make an overall good laptop for graphic design.
| | | |
| --- | --- | --- |
| | Apple | PC |
| Integration | Easy linking to Apple ecosystem devices | Huge range of hardware, can be more difficult to connect |
| Price | Generally more expensive | More affordable |
| Upgradeability | Not possible | Many are built with upgrades in mind |
| Variety | Smaller product range | Larger product range |
| Ports | Fewer ports | More ports |
The 10 Top Graphic Design Laptops Reviewed for 2023
Now that we've seen the list and compared Macs and PCs, let's look into the laptops themselves and see how they fare. The list includes some gaming laptops, as they have the required specs to power graphic design.
1. Apple MacBook Pro — Overall, the Best Laptop for Graphic Design
Apple produces some of the best-looking devices that come with performance to match. The Apple MacBook Pro is no different. The 2023 model is equipped with an advanced M2 chip that can perform 15.8 trillion calculations per second and is equipped with the best laptop GPU to deliver the best laptop graphics possible.
This machine can handle any graphic design project with ease while giving you an extremely clear view of your work – making it the best laptop for graphic design and video editing today.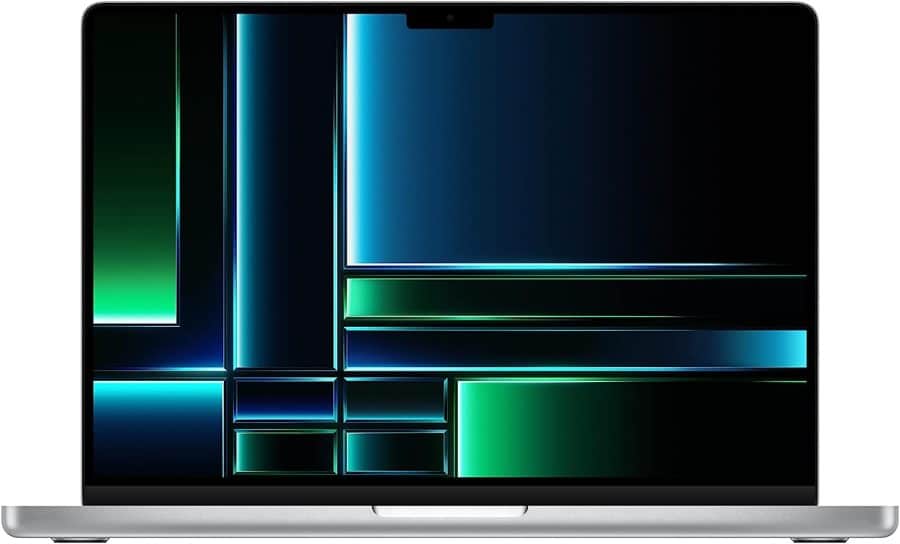 | | | | | | | |
| --- | --- | --- | --- | --- | --- | --- |
| Price | Display | GPU | CPU | RAM | Storage | Weight (lb) |
| $3,099 | Retina XDR | 30-core | M2 Chip 12-core | 32GB | 1TB SSD | 3.6 |
The 14.2″ panel is on the smaller side, but it's considered one of the best displays on the market thanks to Apple's exclusive Retina Display. You get a crystal-clear display that's perfect for any task.
The battery delivers around 18 hours of life for all-day performance, plus it comes with a 96W charger that can get to 50% in about half an hour.
The MacBook Pro is fully compatible with all apps on the Apple store, including Affinity Designer and Adobe Creative Cloud, which is great for the creative space. Of course, you'll also be able to integrate with other Apple products with ease, and you can even use your iPhone as a webcam with an app called Continuity Camera.
There's still the notch at the top of the screen, which can get in the way, though this can be dealt with using TopNotch software, which makes the menu bar black, helping the notch blend in.
The screen has an aspect ratio of 16:10, which is perfect for graphic design as it gives you more vertical space to work with, while the 3,024 x 1,964 resolution delivers crystal clear visuals.
Apple likes to keep the ports to a minimum to promote its slick design, but with the MacBook Pro, you'll find all the ports you need. You can plug various tools into the Mac, like a pen for hand drawing – a feature not often seen with Macs.
The HDMI port has also been improved and now supports 4K at 240Hz or even 8K at 60Hz for delivering amazing presentations, while the variable refresh rate saves on battery power. It's easy to see why the MacBook Pro is rated as the best laptop computer for graphic design.
Pros
Advanced M2 chip

Long-lasting battery

Crystal clear display

Apple ecosystem

Best laptop for designers
Cons
Expensive

The screen is a touch small
2. HP Envy — Great Alternative to Apple and the Best Windows Laptop for Graphic Design
The HP Envy is an excellent entry from HP, which can double up as a tablet thanks to its 360-degree hinge. It also has a sleek and compact design reminiscent of the MacBook Pro, with a battery that lasts anywhere from eight to eleven hours.
Indeed, the HP Envy is an affordable alternative to the MacBook Pro for those with a tighter budget.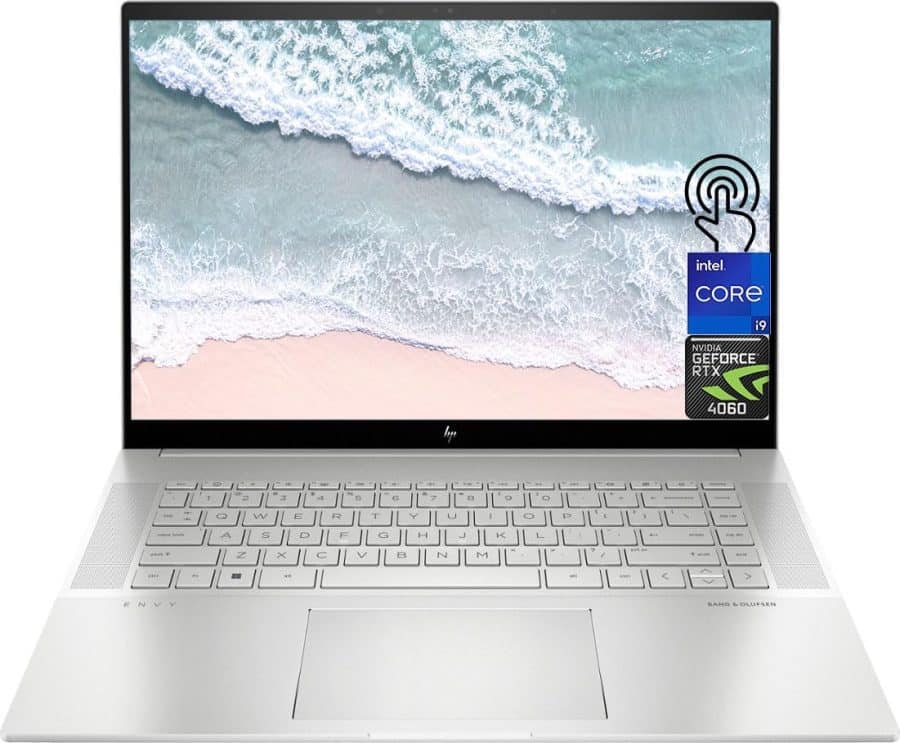 | | | | | | | |
| --- | --- | --- | --- | --- | --- | --- |
| Price | Display | GPU | CPU | RAM | Storage | Weight (lb) |
| $1,899.99 | 16″ touchscreen | NVIDIA GeForce RTX 4060 | Intel Core i9-13900H | 64GB | 2TB SSD | 5.91 |
Being a touchscreen, it comes with a stylus, which is great for precise line work. It also makes light work of everyday office work, and thanks to its powerful i9 processor and top-of-the-line graphics card, it's one of the best laptops for animation and graphic design.
It comes equipped with a huge trackpad and a spacious keyboard. There's no numpad, but when you consider the specs, it's a compromise worth making.
A place where corners aren't cut is the selection of expansion ports. There's one USB-C port and a further two USB-A ports plus an HDMI and MicroSD slot. This gives you the opportunity to add extra design tools to enhance your output. You can also link it up to the best 4k monitors for amazing presentations and high-quality gaming sessions.
When it comes to portability, weight is important, and this is where the HP Envy could perhaps be improved. Coming in at just under 6lb, this laptop is pretty heavy, and according to some users, it's cumbersome to use as a tablet. That being said, if you lay it down on a table, it makes an excellent drawing surface.
Overall, thanks to top-tier hardware and the latest Windows software, with Windows 11 Home, the HP Envy is easily one of the best Windows laptops for graphic design.
Pros
Long-lasting battery
Top-tier hardware
Doubles up as a tablet
Equipped with a touchscreen
3. Asus ROG Strix G16 — Powerful Gaming Contender, Perfect for Graphic Design
This beefy laptop has a powerful Intel i7 processor and a gaming-grade Nvidia GeForce RTX 4060 graphics card, plus a whopping 64GB of RAM.
That's some serious power, which makes it one of the best laptops for creators as well as one of the best gaming laptops around. With a thin LED strip around its edge to illuminate your tabletop, a burst of creative energy is sure to follow.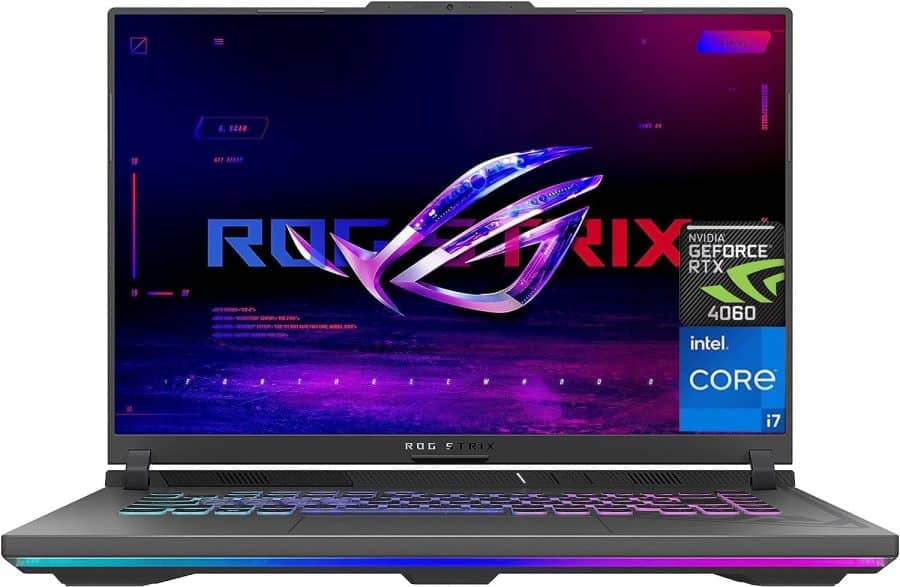 | | | | | | | |
| --- | --- | --- | --- | --- | --- | --- |
| Price | Display | GPU | CPU | RAM | Storage | Weight (lb) |
| $1,799.99 | 16″ 16:10 156Hz | NVIDIA GeForce RTX 4060 | Intel Core i7-13650HX | 64GB | 2TB SSD | 5.5 |
There's also a model with an i9 processor, which may be overkill but is a good way to future-proof your laptop. The aspect ratio has been upgraded from its predecessor to 16:10, which brings in the potential for increased efficiency for designers by offering more screen space.
The aspect ratio isn't the only thing to receive an upgrade, as the cooling system has been equipped with an additional fan for better heat management to match the machine's increased power levels.
When it comes to the actual build, the lid is made of aluminum, while the rest of the chassis is rigid plastic, and it feels like a premium device.
There are five programmable keys – also known as macro keys – embedded in the keyboard, allowing you to create shortcuts for computer design programs, which is great for efficiency. What's strange is the lack of a numpad. There seems to be enough space in the chassis, so why it's been left out is a mystery.
The ports are clustered on the left side, so if you're left-handed, you could have slight issues with the cables. Otherwise, you'll find enough space to plug in all your design tools, like your stylus or graphics tablet.
All of this makes it a great laptop for graphic designers and animators, and if you're looking for a laptop with a good graphics card, this is a great pick.
Pros
Very powerful performance
Five programmable keys
Good battery life
16:10 aspect ratio for more screen space
4. Asus Zenbook Pro Duo — Perfect for Creators with a Crystal Clear Dual Display
The Asus ZenBook Pro Duo is a reinvention of the laptop. It has a 4K 15.6-inch main display plus a second smaller screen placed above the keyboard. This offers you endless ways to optimize any multitasking activities, putting it amongst the best laptops for design, no matter your discipline.
You might think the second screen is a gimmick, but you'd be wrong. For example, you can extend your screen for a larger viewing window or have tools on the second screen while working on the first. This all makes the Asus ZenBook Pro Duo one of the best laptops for graphic design and photo editing.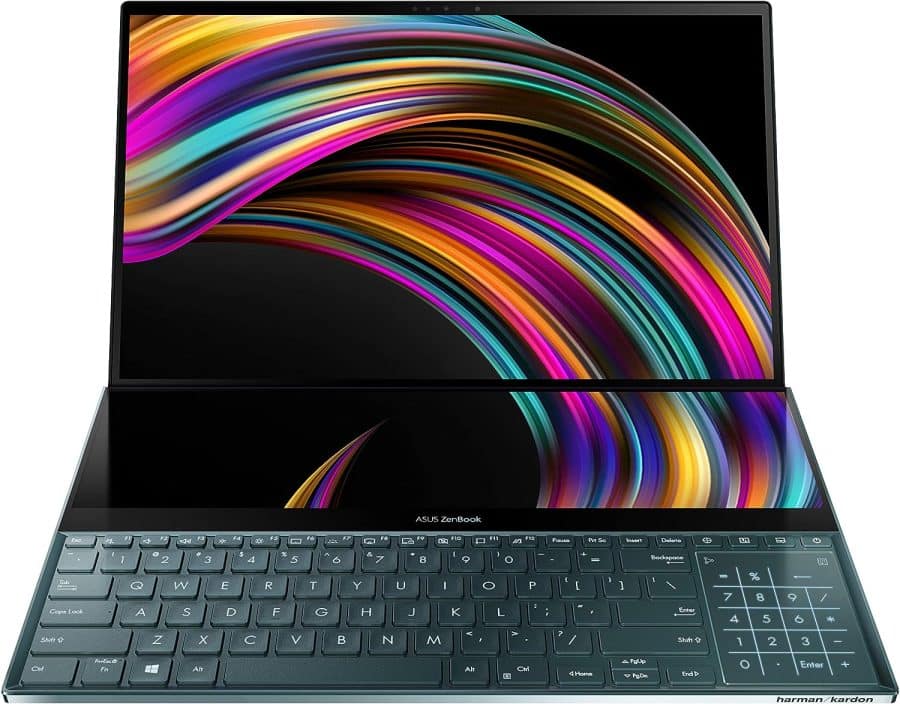 Price
Display
GPU
CPU
RAM
Storage

Weight (lb)

$2,499.99

15.6″ (main screen)

14″ wide (second screen)

NVIDIA GeForce RTX 2060

Intel Core i7-9750H

16GB

1TB SSD

5.5
Thanks to a powerful Intel Core i7 processor combined with a gaming-ready Nvidia GeForce RTX 2060 graphics card and an active stylus pen from Asus, things like digital notes, sketches, and small hand-drawn illustrations can be done without having to touch the keyboard.
Another notable feature is a touchpad that doubles as a calculator. Simply long-press it for about a second to activate the backlit numbers.
It also has an ErgoLift hinge, which tilts the keyboard and second screen (ScreenPad Plus) towards you for a more ergonomic experience, while the Wi-Fi equipment is more advanced than most with Wi-Fi 6, offering up to 2.6GB per second transfer speeds.
Of course, there are some downsides, albeit pretty minor, in our opinion. For example, the keyboard has been moved further down to the edge of the chassis, resulting in the touchpad being shifted to the bottom right corner.
And while this may take some getting used to, Asus offers a small tutorial when the laptop is powered up for the first time. It also lacks an SD card reader, which is a surprise.
Pros
Flexibility of two screens makes it one of the best laptops for designers
Offers Wi-Fi 6 for fast transfer speeds
ErgoLift hinge for better ergonomics
Powerful hardware (gaming-grade)
Cons
The new layout comes with a learning curve
No SD card reader
This powerful laptop is designed specifically for gaming and is equipped with the latest hardware, such as a powerful i7 processor running at 2.6 GHz. This simply means that it can execute 2.6 billion instructions per second.
That might sound a lot, but it's rather average when it comes to processors. What we liked is the fact that you can boost the performance to 5 GHz, which makes it perfect for running large design programs and rendering complex designs.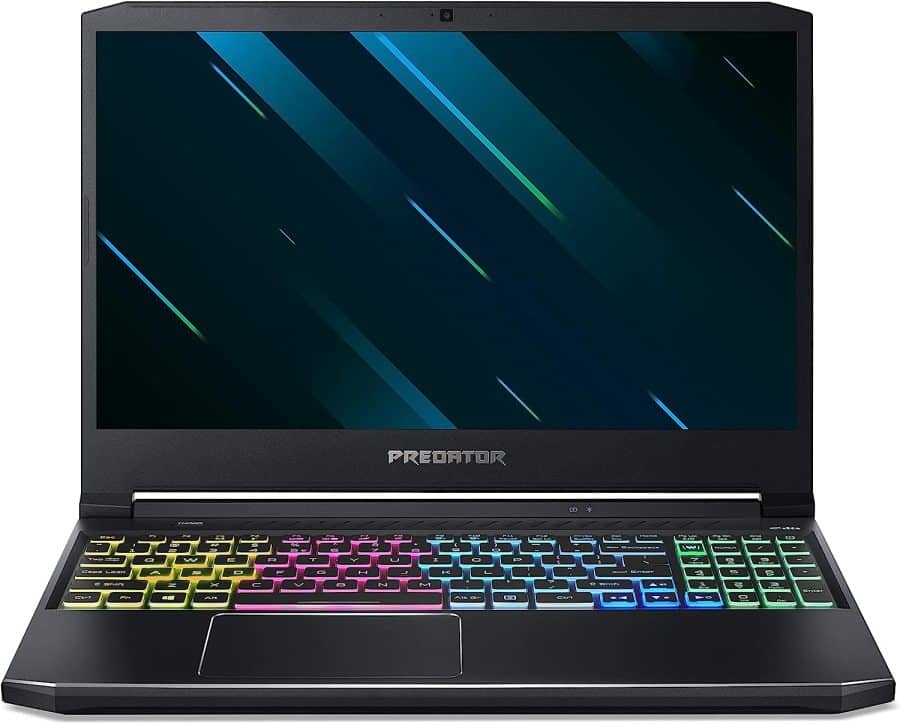 | | | | | | | |
| --- | --- | --- | --- | --- | --- | --- |
| Price | Display | GPU | CPU | RAM | Storage | Weight (lb) |
| $1,199.99 | 15.6″ FHD | NVIDIA GeForce RTX 2060 | 10th Gen Intel Core i7-10750H | 16GB | 512GB SSD | 5.5 |
Coupled with 16GB of RAM, you'll experience seamless transitioning between tabs while the IPS screen offers a brighter and more color-accurate display, albeit a bit small, which is important for graphic design work as well as other creative work like video and photo editing.
The fact that it has a resolution of 1,920 x 1,080 and a 144Hz refresh rate is a bonus that ensures clarity and ultra-fast screen response times.
Since it's a gaming notebook, it is quite large and heavy, and the graphics card is dedicated, not an integrated one. This provides an additional 6 GB of dedicated graphics memory, which is important for graphics-intensive activities like animations and other digital artwork.
This amount of power generates a considerable amount of heat, and Acer has upgraded the cooling system with an Aeroblade fan, which improves thermal management and ensures that the notebook isn't slowed down by the heat. This is called throttling.
It's equipped with an RGB keyboard, which makes working in low light conditions easier, but the light leaks through in certain places, giving it a somewhat less-than-premium feel.
With the Predator Sense app, you can explore lighting customizations, among other things, like creating shortcuts, which is always an advantage when it comes to computer-aided design work.
Pros
Excellent RAM allocation
Comes with a power boost button
Upgraded heat management
Gaming-grade hardware
Cons
RGB keyboard could be improved
Pretty heavy
6. HP 15-dy — Best Mid-Range Laptop for Graphic Design
Here, we have the small and compact HP 15 that's designed to be portable, so you can take it anywhere. It's a laptop with a good graphics card that can edit images or photos as well as videos, making it great for those with these interests.
It's nice to see such decent graphics performance in such a thin body, as many laptops can be thick to accommodate bulky hardware. The HP 15 seems to have kept the weight off while still being able to compete with some of the more expensive Windows Ultrabooks.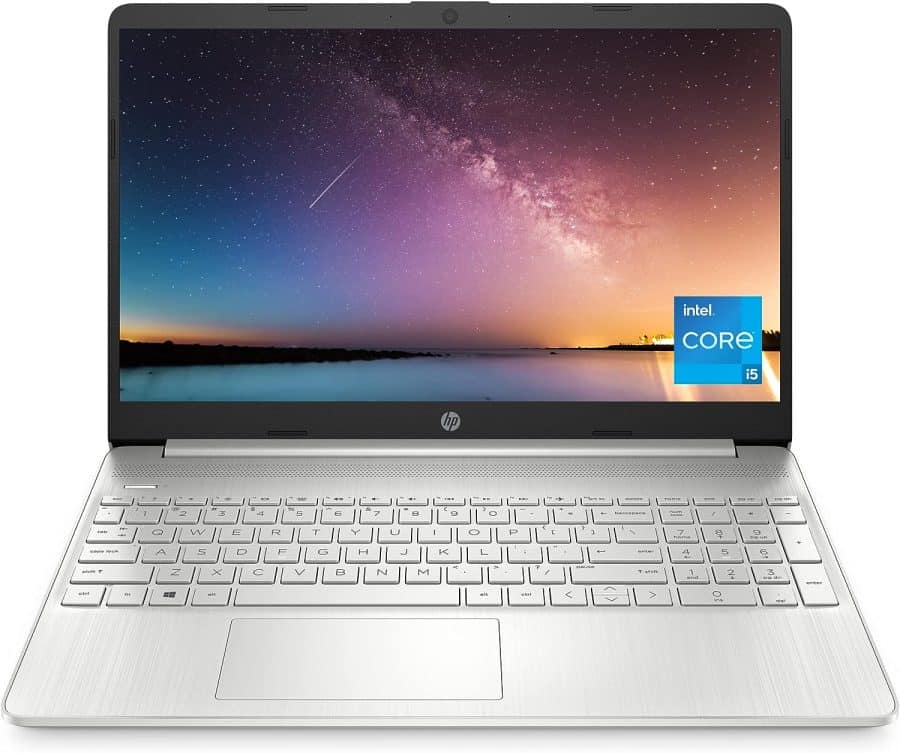 | | | | | | | |
| --- | --- | --- | --- | --- | --- | --- |
| Price | Display | GPU | CPU | RAM | Storage | Weight (lb) |
| $659.99 | 15.6" FHD IPS | Intel Iris Xe | 11th Gen Intel Core i5-1135G7 | 8GB | 256GB SSD | 3.75 |
That being said, this laptop is probably better suited to students or individuals who like editing images and videos. If you want to engage in more complex graphics design projects that require a lot of resources, like 3D modeling and rendering, a more premium option like the HP Envy might be better for you.
Otherwise, if you're more into 2D graphic design, this is a perfect option for you. There's always the option to upgrade the RAM to a whopping 64GB in the future.
It's equipped with a 256GB SSD for data retrieval, which is up to 15 times faster than standard hard drives. The battery is just below average, but it will still offer you around seven hours, and we can't really ask for more when you consider the price. However, it does get to 50% in less than an hour, which is great for those on the move.
Another offer is the HP True Vision 720p HD camera. With it, you can expect uninterrupted video calls with vibrant colors and crystal clear clarity, though night-time calls may bring some fuzziness. The micro-edge around the display ensures an ultra-wide view which is an advantage with creative work. HP has managed to make this laptop look more premium than it actually is while the materials used offer a decent amount of sturdiness.
We would've liked to see a backlit keyboard that would offer the opportunity to work in dark conditions, but we didn't get it this time. That being said, it's sturdy enough and offers very satisfactory tactile feedback when used.
Pros
Compact design
Ultra-wide display
Top-notch processor
IPS display delivers accurate color
Cons
Battery life could be improved
No keyboard backlight
7. HP i5 Touchscreen — Best Laptop for Graphic Design Students
Another HP entry, except this model, has a touchscreen and comes with some pretty decent hardware like the i5 Intel Core, which is capable of steamrolling through regular office tasks as well as design work with ease.
It's also got a solid build and only costs $599, making it the best laptop for graphic design students, or any student for that matter.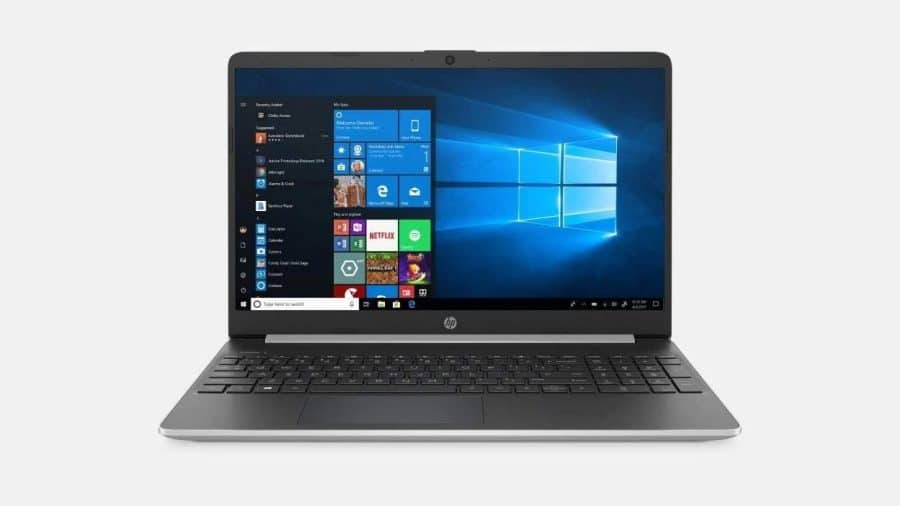 | | | | | | | |
| --- | --- | --- | --- | --- | --- | --- |
| Price | Display | GPU | CPU | RAM | Storage | Weight (lb) |
| $599 | 15.6″ HD touchscreen | Intel Graphics coprocessor | 10th Gen Intel Core i5-1035G1 | 16GB | 512GB SSD | 3.8 |
The touchscreen offers excellent responsiveness, and it's a perfect surface to use a stylus pen on. The display is reasonable for the cost, and it's still bright and offers clear viewing for up to 8 hours.
When it comes to ports, you'll have everything you'd expect, like a USB-C port that supports up to 5GB per second transfer speeds in addition to two USB-A ports, HDMI, a headphone jack, and a microSD card reader. The USB-C isn't a Thunderbolt port, but, in all honesty, that's not the end of the world.
The full-width keyboard is nice, with a backlight, which is not often the case with cheaper laptops. Working in the dark is no longer a problem, and we wish the same were true for the trackpad, which is a bit unresponsive until you crank up the sensitivity. Other than that, it's pretty big, which is always good.
Overall, this is a really good laptop for college or those who need a more budget-friendly option.
Pros
Affordable price
Touchscreen
Keyboard backlight
Cons
Slightly unresponsive trackpad
Average display
8. Acer Swift 3 — Mid-Range Model with Powerful Processing Power
The Acer Swift 3 is another great mid-range option that's equipped with one of the world's most advanced laptop processors. And even though the screen is only 14″, it's a full HD LED IPS panel, which means wide-angled crystal clear viewing with deeper and darker hues while other colors remain vivid and bright.
All of this, plus an ultra-lightweight frame at only 2.6lb and a long-lasting battery, makes this an excellent option for those who design on the go.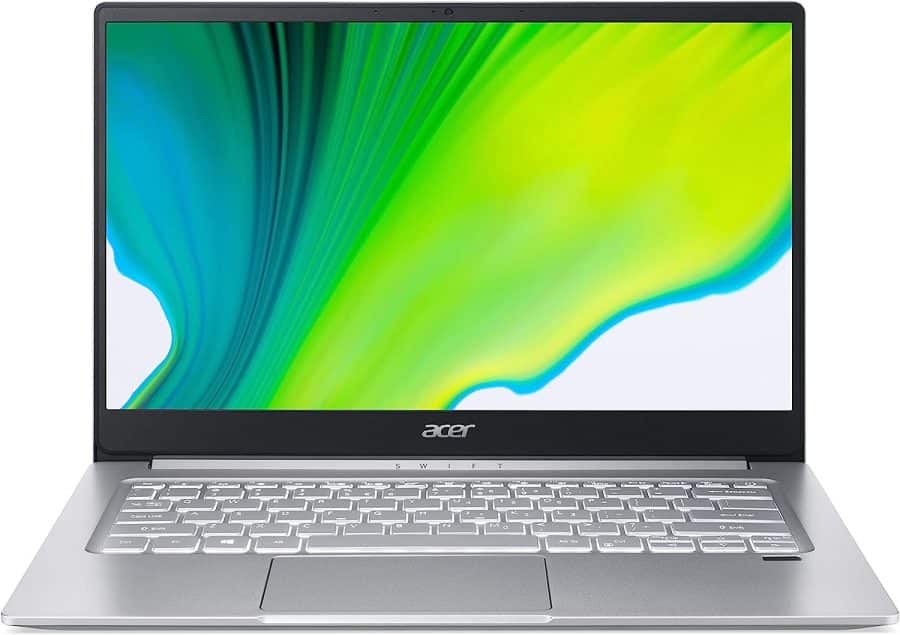 | | | | | | | |
| --- | --- | --- | --- | --- | --- | --- |
| Price | Display | GPU | CPU | RAM | Storage | Weight (lb) |
| $689.99 | 14″ FHD IPS | AMD Radeon Graphics | AMD Ryzen 7 4700u | 8GB | 512GB SSD | 2.6 |
The keyboard feels good while typing, offering decent feedback, and if you get locked out, there's an embedded fingerprint scanner just below the right arrow at the bottom.
Unfortunately, the color scheme on the keys isn't ideal, especially for the visually impaired, as it's a light grey with dark grey letters that don't offer enough contrast. However, there is a backlight to counter this.
Zippy performance means multitasking is a breeze while excess heat is promptly dealt with. It has three cooling modes. Silent mode reduces the sound you hear from the fan, Normal mode is the default option, and Performance mode kicks the fans into overdrive while still remaining silent. Acer has done an excellent job with this thermal cooling system.
There's a fair amount of bloatware installed, which we didn't really appreciate as it takes up unnecessary space, and while the Acer Swift 3 has 512GB of SSD storage, it's not the best SSD around. This makes sense, as compromises have to be made to keep costs low.
Overall, this is one of the most powerful laptops you can buy at this price, making it one of the best graphic design computers, and not to mention, it looks great.
Pros
Excellent LED display
Ultraportable
Powerful processor
Snappy keyboard with backlight
Cons
Bloatware
Potentially hard to see symbols on the keyboard
9. Dell Inspiron 15 — Long-Lasting Battery and Muted Design Make This Perfect for Travel
By now, we know that gaming laptops are good laptops for graphic design thanks to their gaming-grade hardware. If you're in the market for a laptop that can do both and not look too much like a gaming laptop, this is the perfect choice.
It's equipped with a "do anything processor," meaning it won't only deliver a peak gaming experience, but it can also handle things like photo and video editing to music production and, of course, graphic design.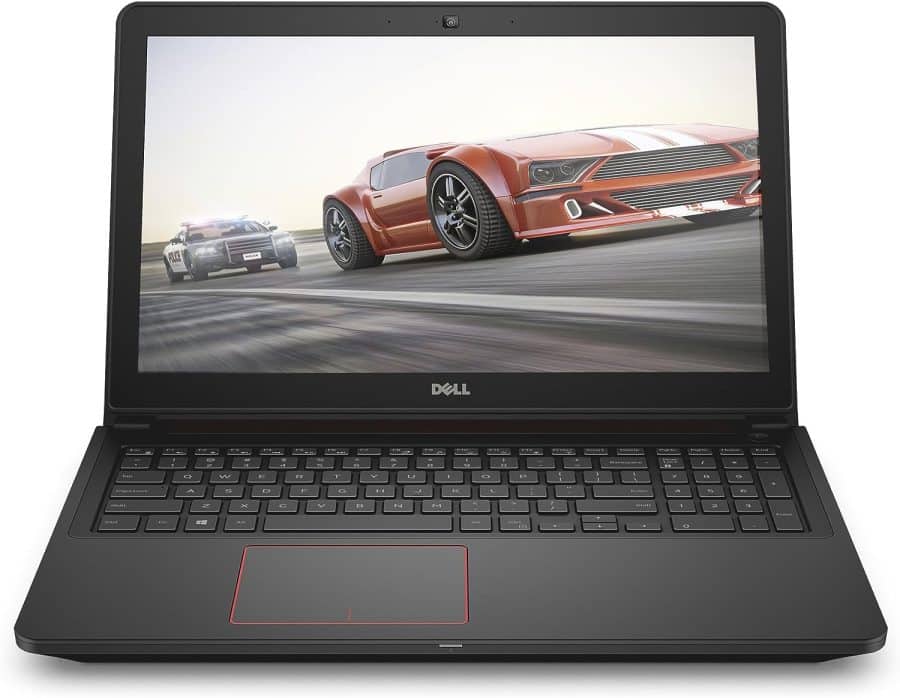 | | | | | | | |
| --- | --- | --- | --- | --- | --- | --- |
| Price | Display | GPU | CPU | RAM | Storage | Weight (lb) |
| $629 | 15.6″ FHD | NVIDIA GeForce GTX 960M | Intel Quad-Core i5-6300HQ | 8GB | 256GB SSD | 6 |
While the RAM is on the lower end, it can easily be upgraded, and any heat that gets generated is also easily dealt with, thanks to a pretty quiet fan.
If you're someone who visits clients often, you'd appreciate the muted design. So it blends in pretty well as opposed to most gaming laptops that look like alien technology.
The keyboard looks pretty basic, but it feels good to type on. It offers decent feedback and actually feels reminiscent of a more expensive Ultrabook keyboard. It also comes with a controllable backlight, and by tapping F10, you can change the intensity from medium to high, which makes low-light conditions easy to work in.
Unfortunately, there are no USB-C ports, which is a downside, and the screen could be improved. Perhaps you should consider pairing this one up with one of the best gaming monitors. It also lacks a microSD slot, but fret not, as it has a full-sized SD slot.
And finally, the battery power is miles ahead of the competition thanks to some clever power management. While we wouldn't call it the best computer for graphic design, it holds up pretty well, and the price makes it a bargain.
Pros
Gaming level hardware
Keyboard backlight
Large battery
Very good heat management
Cons
No USB-C
The screen could be improved
10. Lenovo Flex 5 — Best Budget 2-in-1 Solution with a Digital Pen
Here we have the Lenovo Flex 5. A two-in-one laptop that has an array of 4 stand modes for more intuitive use, plus a touch screen with a digital pen included. This laptop is not only small and easy to travel with, but it's reasonably powerful thanks to its AMD Ryzen 5 mobile processor.
The different stand modes make the Flex 5 more intuitive than other laptops. For example, "Laptop" mode is for everyday office work, while "Tent" mode is great for presentations. "Stand" mode is perfect for those who enjoy a binge-watching session, while the "Tablet" mode makes it simple to walk around with.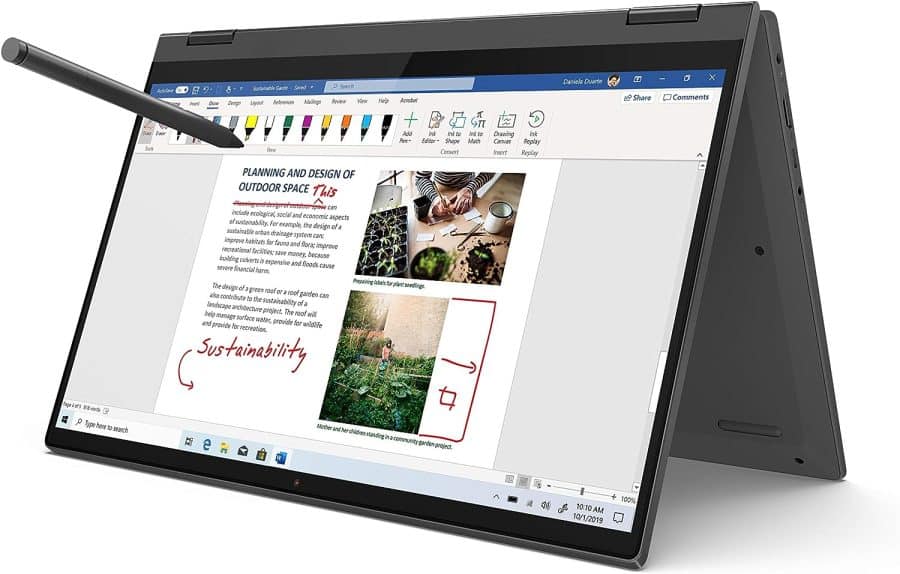 | | | | | | | |
| --- | --- | --- | --- | --- | --- | --- |
| Price | Display | GPU | CPU | RAM | Storage | Weight (lb) |
| $649.99 | 14″ FHD | AMD Radeon (integrated) | Ryzen 5 4500U | 16GB | 256GB SSD | 3.6 |
You might think the hinges will be a problem, but we were pleasantly surprised. They aren't overly stiff, so you'll be able to open the laptop with just one hand.
The touchscreen is a great feature, and users often find themselves swiping the screen more than using a mouse when interacting with this laptop. A nice touch is the added digital pen, which can be used for anything, from taking notes in a meeting to designing something beautiful.
Keep everything safe with the embedded fingerprint reader, which is placed at the bottom of the keyboard. The keyboard is comfortable and offers great actuation distance, topped with a tactile click at the end.
A ten-hour battery that reaches 80% in less than an hour is also on offer with the Lenovo Flex 5, and it has more RAM than its predecessor had. In addition, it's also very stylish with charcoal grey and a metal coating. It's perfect for designers on the go as it's small enough to fit in most backpacks for convenience.
What's nice is the surprising amount of ports on offer here. In addition to a USB-Type C, there are two USB 3.0 Type-A ports, which is great for the addition of a mouse or any other external design aid. There's also a full SD card slot, rather than a micro SD card slot, and of course, an HDMI port and an earphone jack.
Pros
2-in-1 laptop
Offers four stand modes
Comes with a digital pen
Compact design
Comparing The Best Laptops for Design
That's a fair amount of information to get through, so to make things easier, we've prepared a table so you can easily compare the best laptops for graphic design.
Laptop

Price
Display
GPU
CPU
RAM
Storage

Weight (lb)

$3,099
Retina XDR
30-core
M2 Chip 12-core
32GB
1TB SSD

3.6

$1,899.99
16″ touchscreen
NVIDIA GeForce RTX 4060
Intel Core i9-13900H
64GB
2TB SSD

5.9

$1,749.99
16″ 16:10 156Hz
NVIDIA GeForce RTX 4060
Intel Core i7-13650HX
64GB
1TB SSD

5.5

$2,499.99
15.6″ (main screen)

14″ wide (second screen)

NVIDIA GeForce RTX 2060
Intel Core i7-9750H
16GB
1TB SSD

5.5

$1,199.99
15.6″ FHD
NVIDIA GeForce RTX 2060
Intel Core i7-10750H
16GB
512GB SSD

5.5

$659.99
15.6" FHD IPS
Intel Iris Xe
11th Gen Intel Core i5-1135G7
8GB
256GB SSD

3.7

$599
15.6″ HD touchscreen
Intel Graphics coprocessor
10th Gen Intel Core i5-1035G1
16GB
512GB SSD

3.8

$689.99
14″ FHD
AMD Radeon Graphics
Ryzen 7 4700u
8GB
512GB SSD

2.6

$629
15.6″ FHD
NVIDIA GeForce GTX 960M
Intel Quad-Core i5-6300HQ
8GB
256GB SSD

2.6

$649.99
14″ FHD
AMD Radeon (integrated)
Ryzen 5 4500U
16GB
256GB SSD

3.6
Key Details to Consider When Shopping for the Best Laptop for Creatives
Although there's no shortage of laptops on the market, it can be difficult to decide which one would suit you best. To make things easier, we've listed the main points to look for when choosing the best laptop for graphic design and photo editing.
Processor
The processor or central processing unit (CPU) is like the brain of your laptop. All the tasks you do on your laptop run through it. A powerful processor makes light work of even the most resource-intense work like graphic design, so it's recommended you get something with an Intel i5 or equivalent at the very least.
A good choice is an i7 or equivalent as these typically run the required programs with ease, and they're priced towards the middle, making them more affordable than the more expensive i9, and especially so for those just starting out.
Graphics Card
Integrated graphics cards handle most graphic design software with relative ease and work well with 2D designs, and they're also cheaper as they come built into the laptop.
On the other hand, dedicated graphics cards are stronger and can handle more complex designs and more resource-hungry programs. They also happen to be more expensive and would require installation.
Memory
The RAM – random access memory – is the cache of short-term data that your machine has fast, ready access to.
Decent RAM works 20 to 100 times faster than accessing the computer hard drive, so it's recommended that you get a laptop with a good RAM spec. Around 8GB is a good starting point, but more is preferable, depending on how deep your pockets are.
Storage
When it comes to storage space, there are many options, and more is always better in this case. HDDs or Hard Drive Disks are an older technology and tend to be more problematic due to the fact. An SSD, or a Solid State Drive, is more advanced and allows for faster data retrieval.
It's recommended that you get a minimum of 256GB SSD storage as it offers plenty of space for large files and, in some cases can be upgraded to as much as 2TB.
Screen
In this case, the complexity of your design work should determine your screen spec, but more often than not, we need the best screens around – and the best laptop for Illustrator is going to need a good monitor.
Look for something with at least 1,920 x 1,080 pixels with a minimum size of 14″. Nowadays, you also get touchscreen laptops that allow for other input methods, such as the use of a pen. Great if you have to make quick changes to a design on the fly.
Conclusion — What is the Best Laptop for Graphic Design for 2023?
The best laptop for graphic design is the Apple MacBook Pro. In addition to an amazing display and near-perfect performance, it's also got ready access to the entire Apple ecosystem, which is always an advantage. Try the best MacBook for graphic design now.
That being said, if Apple machines aren't your preference, consider the HP Envy. It's much cheaper than Apple devices and is equipped with a powerful i9 processor in addition to a touchscreen. It's also the best Windows computer for graphic design.
Both of these machines definitely qualify as contenders for the best laptop for animation and graphic design, so you really can't go wrong with them – check them out today.
Best Graphic Design Laptops FAQs
How big should my laptop display be for graphic design?
What's the best laptop for a graphic design student?
How much RAM do graphic designers need?
What's the best Windows laptop for graphic design?
What's the best laptop GPU for graphic design?
Which MacBook is best for graphic design?