Meta Masters Guild (MMG) has launched its staking module with attractive rewards. The platform features three pools currently, with different interest rates and lock-up terms. As part of the marketing campaign, a 7-day staking pool will run till April 30 with 75% APR in multiple cycles. The pool requires a minimum stake amount of 100 MEMAG and a maximum stake amount of 250000 MEMAG.
MEMAG is an Excellent Source of Passive Income this Month
Meta Masters Guild is one of the most popular gaming projects of 2023. The mobile gaming guild collaborates with leading gaming developers on multiple gaming projects. It will launch fun and addictive games with a common theme and an emphasis on gameplay in the coming months. The colorful presale and token launch of Meta Masters Guild's MEMAG token shows the growth potential of the project.
Apart from the 7-day pool with a 75% APR, MEMAG is hosting 90-day and 30-day staking pools. While the 7-day pool is part of the project's marketing campaign to bring more interest to the games and its staking platform, it will close soon.
But the 90-day and 30-day staking pools are more organic and sustainable with 15% and 7.5% APR respectively. According to the dashboard, they will run till March 14, 2024. They may be comparatively less lucrative, but you can rely on them if you're looking for slow and steady growth. As of now, Meta Masters Guild has $453241.00 worth of MEMAG staked.
If you haven't purchased MEMAG tokens yet, you can get them from Changelly, Bitmart, XT.com, Hitbtc, Bilaxy, and Uniswap. MEMAG will go live on more CEXs soon, including Changelly Pro.
Good morning #MEMAGFAM! 😃

The #MEMAG giveaway is heating up and it's not too late to join the fun!🔥

Don't miss your chance to win up to $100,000 in $MEMAG tokens!💰

We're crossing our fingers and wishing you the best of luck!🤞🍀 https://t.co/rOZkdgR4Xm#Giveaway

— Meta Masters Guild (@MEMAGgames) April 4, 2023
Token Burning Will Assist the Growth of MEMAG
As promised, Meta Masters Guild will implement token burning in April 2023. The program is a part of the project's plan to nurture the sustainable value of MEMAG tokens through judicious internal mechanisms.
A total of 150 million tokens will be set aside for the program
Out of this, 75 million tokens will come from Ecosystem
And another 75 million tokens from Marketplace
Token burning will take place every two weeks, with 50 million tokens burnt in each cycle.
With the total number of MEMAG in supply down, the demand and value of the token will surge in the next weeks, making MEMAG staking even more attractive.
MEMAG NFT Store is Live
MEMAG NFT store opened a few days back to a grand reception. The platform is now running the sale of a limited supply of NFTs that you can use in MMG games. They will be ERC-721 NFTs that are fully upgradeable – you can step up the NFT base-level stats with your strategic gameplay.
To make the most of the opportunity, you can play the games, earn gems, convert them into MEMAG tokens, and then upgrade your NFTs. Although it may sound like a long process, the fun and addictive gameplay will take you there if you have skills and dedication.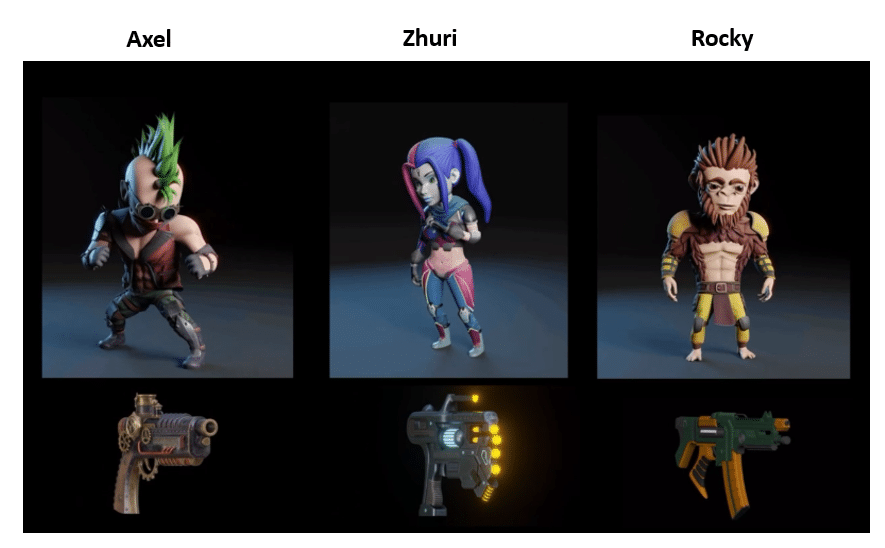 The MMG NFT store is undergoing new improvements now, which will be live with a better UX soon. The coming upgrades will also introduce more NFT rarity classes and discount codes.
Game Development is in Full Swing
Meta Masters Guild has three titles in the making.
Meta Kart Racers
Meta Masters World
Raid NFT
Out of these, Meta Kart Racers will be the first to go live, as the development of the game is now in full swing by the UK-based Gamearound. At this pace, a fully payable lite version of Meta Kart Racers is likely to be out in June/July this year. The development of the game, split into five monthly sprints, is already in Sprint 2.
Once the game is publicly available for the community to play, they can leave feedback. Keeping in line with MMG's vision to launch fun and addictive games that gamers actually want to play, the game will be updated based on the feedback. The updated versions will also feature new tracks, karts, and characters.
It is interesting to note that the MMG ecosystem is built to ensure smooth communication and engagement among gamers, developers, and investors. To ensure that the vision leads the gameplay, the titles will be built and updated based on what gaming genres and gaming assets are in demand. Leading blockchain developers will be brought aboard on multiple gaming projects to bring them alive. Another factor that signifies the project's massive growth potential is its niche mobile gaming market, rich with young and pro-crypto participants.
Will MEMAG Rally in April?
Meta Masters Guild is a relatively new GameFi project. But that hasn't stopped it from becoming one of the most popular crypto projects this year. It has successfully put itself at the forefront of the crypto-gaming revolution. The hype around the project is peaking, with the series of new developments like staking launch, token burning, and NFT store update, to name a few. It is one of the best cryptocurrencies to buy this month, with the potential to go 5X.
Buy MEMAG: XT.com
Buy MEMAG NFTs: Memag.io
Twitter: Join MEMAG Twitter
Telegram: Telegram: Join Group Chat
Facebook: MEMAG Facebook Page