Metropoly has announced that it will soon list on a tier-1 CEX, fueling FOMO in the real estate community. The project will actively list METRO on top crypto exchanges in the coming weeks, as the launch of Beta 3.0 Marketplace drives the demand for the token. Among the speculated exchanges are MEXC, OKX, and BYBit.
Metropoly is currently live on Uniswap and XT.com. The token completed its presale a few weeks back after receiving overwhelming support and participation from the community. More than 3,900 investors joined the presale, helping Metropoly raise $1.7M for the real-estate NFT marketplace.
Beta 3.0 Launch on 28 May
Metropoly Beta 3.0 NFT Marketplace goes live on 28 May 2023. Apart from updating the existing features, it introduces new functionalities to the platform. This includes a new component called Marketplace Mailbox, which will be a hub for real estate NFTs and Metropoly updates.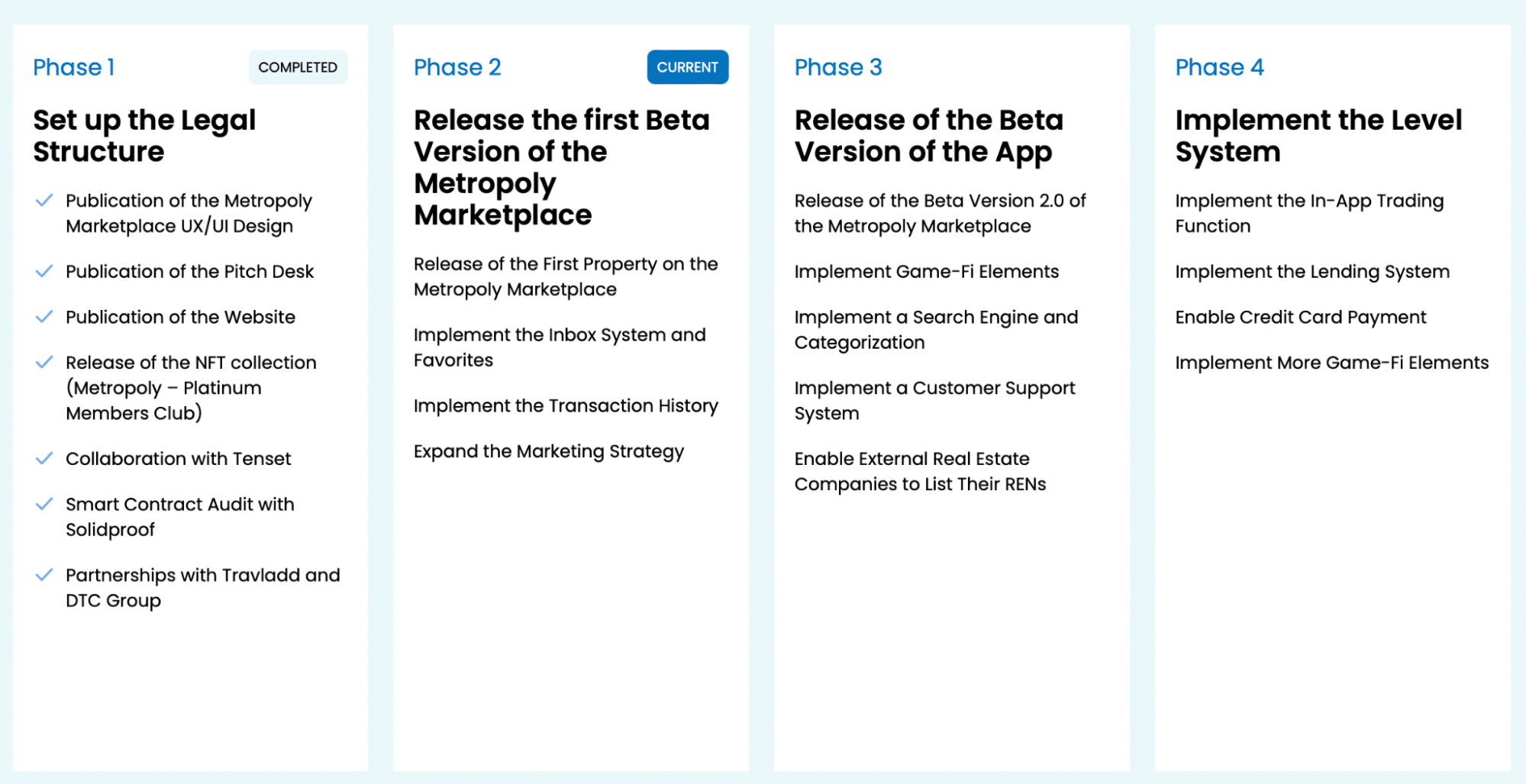 Metropoly launched the Beta 1.0 and Beta 2.0 versions of its real estate NFT marketplace prior to the token launch. In fact, the product development began months before the project went live to the crypto community. The dedicated attention to roadmap sets apart Metropoly in the crowded crypto-NFT market where investors have to wait months for the products after the presale.
Ultraclub Partnership Brings More Benefits to the Community
Metropoly has joined forces with Ultraclub to offer unbeatable discounts on 5-star hotels, restaurants, activities, and more to METRO holders. Ultra Travel Club (UTC) is one of the world's best members-only programs designed for frequent travelers.
Ultraclub x Metropoly Partnership 🤩

Exciting news for #METRO holders! 🔥

Metropoly has partnered with Ultraclub to offer unbeatable discounts on 5-star hotels, restaurants, activities, and more. 💪

Enjoy access to 1,000,000 hotels, 200,000 venues, and VIP concierge… pic.twitter.com/3pqw2VsXAF

— METROPOLY (@metropoly_io) May 25, 2023
The partnership gives the METRO community access to 1,000,000 hotels, 200,000 venues, and VIP concierge services worldwide.
Why Investors Choose Metropoly Over Traditional Real Estate Platforms
It's interesting to note that the Metropoly community is made up of a large number of real estate investors who are eager to learn what Web 3.0 has in store for them. The solid backing from real-world users underpins the growth potential and mass adoption of the project.
Metropoly's blockchain footing gives it a sharp competitive edge against similar projects in traditional real estate.
When you're investing in Metropoly real estate NFTs, you can earn rental income as a consistent and reliable way to increase cash flow. With a judicious choice of considerably large investments, it helps you achieve financial freedom through this method. Even if you're working, it's possible to earn a sizable side income from Metropoly.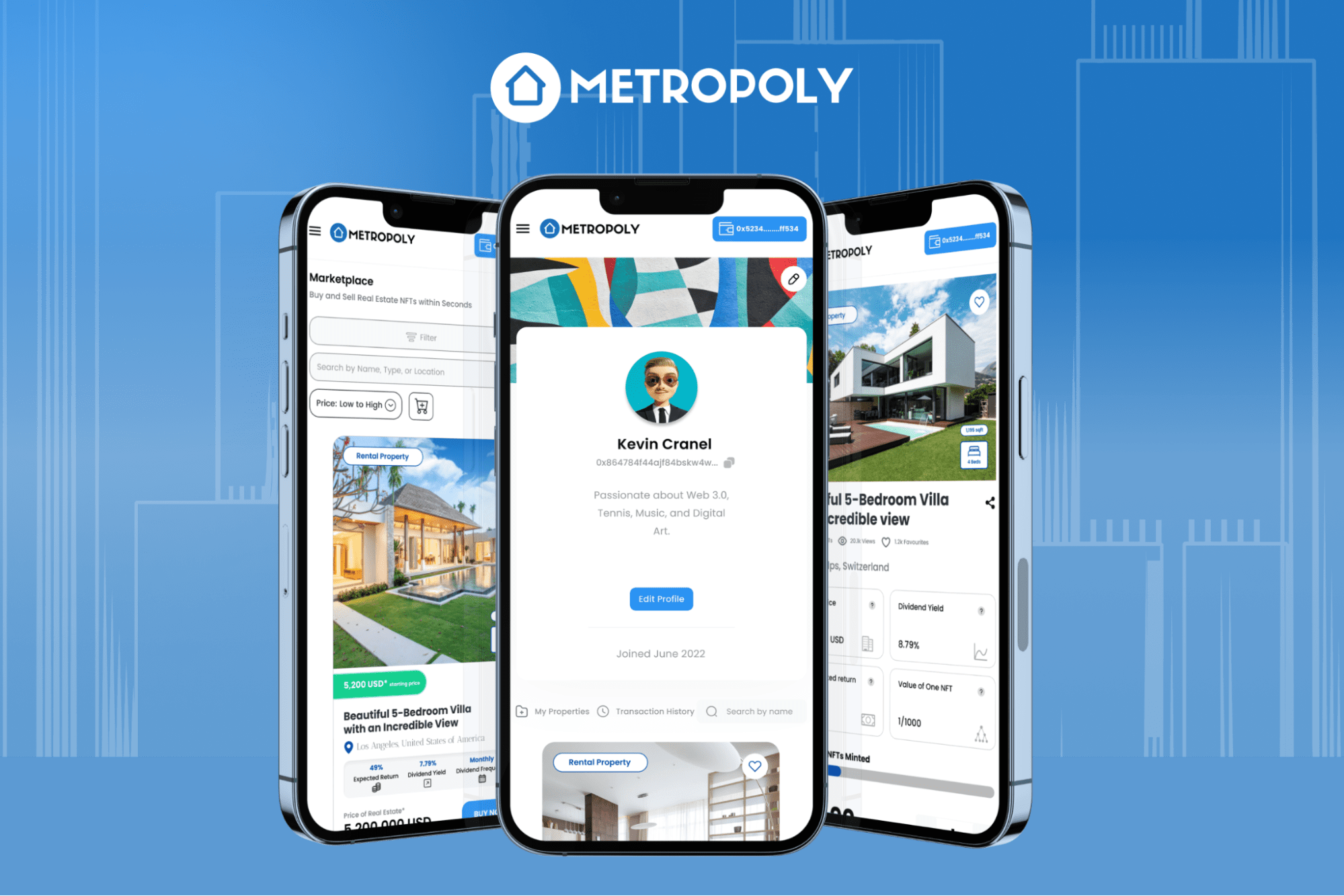 Metropoly NFTs are priced starting from $100. The affordable rates allow you to create a real estate portfolio with small monthly savings. In other words, it lowers the entry barrier to the real estate market.
Although real estate is a highly lucrative asset, the middle class and the poor don't have access to the market currently. And the rising price of real estate assets widens the gap. The market is in dire need of a platform like Metropoly, which uses blockchain technology to bring more transparency and fairness to transactions. In addition, Metropoly makes it possible for investors to access properties from across the world.
The value of Metropoly real estate NFTs increases based on the performance of the underlying property in the market. That means the NFTs undergo consistent value appreciation to create long-term wealth.
More importantly, Metropoly real estate investment doesn't come with headaches like maintaining the property or finding tenants.
A strong hedge against volatility
When it comes to crypto investors, Metropoly NFTs are a strong hedge against volatility as their value is underpinned by robust real-world properties. In a sea of bizarre collectibles and hollow gaming assets, Metropoly assets come as a huge relief in the NFT market.
Just like the underlying properties, they are evergreen assets that will accrue value in the long run. The reason is simple. As long as population and urbanization grow, so will the price of real estate.
Moreover, they allow for real estate portfolio diversification. Since the initial capital investment is low, users can add multiple assets from around the world to their portfolios. The fractionalized NFTs enable community ownership of real estate assets, unlike anything seen before in the market.
If a property costs around $1M, most of us wouldn't be able to buy it independently or earn passive income from it. But with Metropoly, people from diverse financial backgrounds can invest in real estate assets and put their savings to good use.
A Price Hike is Just Around the Corner
Top exchange listings mark key milestones in the price history of cryptocurrencies. METRO's expansion to more exchanges will take it higher up the charts in the coming days. Anywhere from 300-500% is a reasonable expectation for the token in June.