The best ultrawide monitor can help you increase your productivity, whether in marketing, coding, or video editing – and it can help you build the perfect gaming setup. The ultrawide screen allows you to complete several tasks simultaneously and to get an extremely wide field of view. You can open work documents, attend video conferences and play video games all at the same time.
Ultrawide monitors have a lot of specs to consider, though, including size, panel type, screen curvature, refresh rate, input lag, and price. Our experts have picked 10 monitors with ultrawide screens for a range of use cases. Read on and find out which is the best ultrawide monitor for you.
Ranking the Top Widescreen Monitors for 2023
Check out what makes each of the 10 best ultrawide monitors unique.
Is the Best Value Ultrawide Monitor Better Than a Multi-Screen Setup?
Choosing the right work setup is important when looking to increase your focus and boost productivity. If you want to increase your available screen space, you can either get the best ultrawide monitor or use two or even three monitors at the same time. Let's see how these two approaches compare.
Office Work
Both ultrawide and multi-screen monitors allow you to open different documents and apps at the same time. For instance, if you're in marketing, you might use one monitor to run a CRM and another to open collaboration tools like Gmail, Zoom, Slack, or the Microsoft Office Suite.
Widescreen monitors are an even better option if you need to have several apps open simultaneously. You can get a wider monitor of 49″ and above and divide your screen into three or more equal parts and monitor multiple apps simultaneously.
You should also note that getting two monitor units requires more space. Ultrawide monitors are perfect for small and medium offices and make your desk look cleaner.
Coding
Programmers use different setups when coding. Some prefer using two monitor units, one horizontally and the other vertically. It helps them keep their code neat and clean.
However, some lines of code can be extremely long. Because of this, getting a wider screen can be helpful as it'll make the code easier to read – and this wouldn't be possible with a multi-monitor setup.
You can open any code editor like Atom, Sublime Text, or Visual Studio Code in one tab, web framework in a second, and, of course, Stack Overflow in a third tab.
Gaming
Having two computer monitors is a good option if you're into gaming or streaming. While most games support 21:9, gaming at 16:9 will give you the best picture, especially if you're into FPS games.
A two-monitor setup is also great for streaming content. You can have the best gaming monitor to play games and another one, perhaps with a lower-quality screen, to monitor streaming apps, chat with your friends, and more.
On the other hand, if you prefer playing multiplayer online battle arena games like LOL, DOTA 2, Overwatch, Valorant, Smite, or Team Fortress, getting the best ultrawide gaming monitor will provide you with a more immersive image and far better playing experience.
Should You Get a Curved Ultrawide Monitor?
Ultrawide monitors come with flat or curved displays. Flat monitors are great for cases where accuracy is imperative. If you're in architecture, engineering, or visual design, you should avoid using an ultrawide monitor with a curved screen.
On the other hand, curved displays are perfect for those who wish to enjoy more immersive video and audio. Ultrawide curved screens are ideal for professional gamers, video editors, content creators, programmers, copywriters, and passionate cinephiles.
Curved monitors have been found to have beneficial effects on visual search performance and fatigue. Ultrawide monitors with screen curvature enable a better visual experience as they wrap around your field of view and fill up your peripheral vision.
Because of the larger screen size, leaning forward to view small images and text will be a thing of the past. Thanks to ultrawide displays, you'll be able to view sharper content at a greater distance.
In fact, the best ultrawide screen will actually enable you to spend more hours in front of the screen without losing concentration or feeling tired.
The 10 Top Wide Monitor Screens Reviewed for 2023
Our experts have picked 10 ultrawide monitors that stand out for their pricing, durability, quality, and performance. Read on and discover the best ultrawide monitor for you.
1. LG 29WQ600-W – Overall, the Best Ultrawide Monitor in 2023
The LG 29WQ600-W is the best ultrawide monitor in 2023 by many parameters. It's great for office and home use and is suitable for a variety of use cases.
It's super quick and easy to install. It has a display port and HDMI, so you can choose which suits you. When it comes to ports, the 29WQ600-W comes with one USB Type-C and two USB-C inputs, one of which has a 2,560 x 1,080 max resolution at 100 Hz.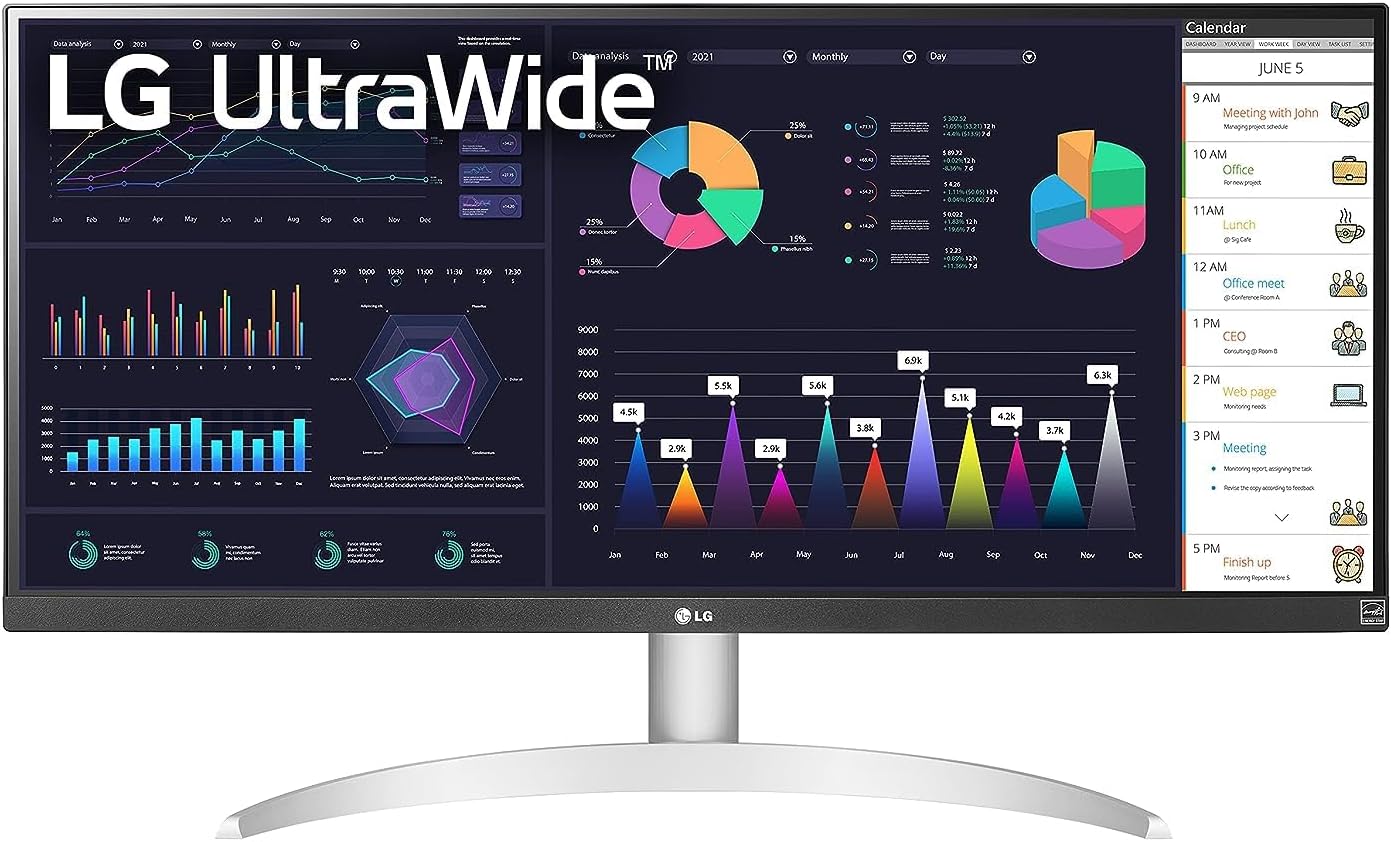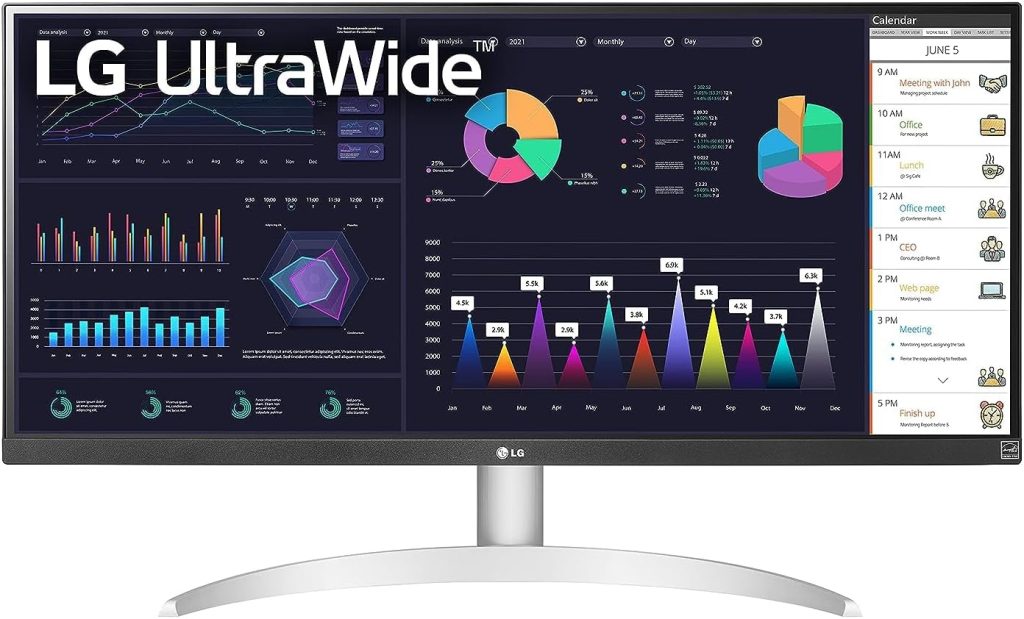 | | | | | | |
| --- | --- | --- | --- | --- | --- |
| Price | Screen Size | Panel Type | Max Refresh/ Variable Refresh | Native Resolution | G-Sync or FreeSync |
| $219.99 | 29″ | LCD | 100Hz | WQHD | FreeSync |
All this, combined with a 21:9 aspect ratio, makes this monitor great for streaming Netflix and playing video games at 40 to 60 fps.
The LG 29WQ600-W boasts several features and enhancements to improve your viewing and playing experience. It boasts AMD FreeSync technology, for example, which reduces input latency and decreases tearing and stuttering.
As a result, you can enjoy watching fast-paced movies without color distortion or motion blur. Moreover, FreeSync allows you to see enhanced reaction times every time you move the mouse cursor.
The monitor provides a wider spectrum of colors and contrasts thanks to the HDR (High Dynamic Range) feature. It renders images at high contrast, which makes it a perfect choice for designers and photographers, especially when creating multi-layered compositions.
Overall, this is a great ultrawide multi-purpose monitor for office, gaming, and photo editing. You'll enjoy its fast response and color reproduction.
Its speakers are great as well, and we thoroughly recommend using them, though you can also add your own speakers or headphones. However, the headphone jack is located at the back of the monitor, so it might be challenging to reach until you get the hang of it.
Pros
HDR and HDR Effect features for a more colorful image
AMD FreeSync Technology for faster response times
100Hz refresh rate for higher fps gaming
Multiple ports
Affordable price
Best LG ultrawide monitor
Cons
Headphone port is difficult to reach
2. Alienware AW3423DW – Built for Professional Gamers
The Alienware AW3423DW gives the impression that it's not from this world. This is a very well-designed monitor. It was primarily built for gaming, but it'll look great in any office.
The AW3423DW comes with a curved Quantum Dot OLED 1800R display. The 1800R label indicates the monitor's curvature, expressed in millimeters. This means that the Alienware AW3423DW has the curvature of a circle with a radius (R) of 1,800mm – which makes it a far better option than 3,000R and 4,000R screens.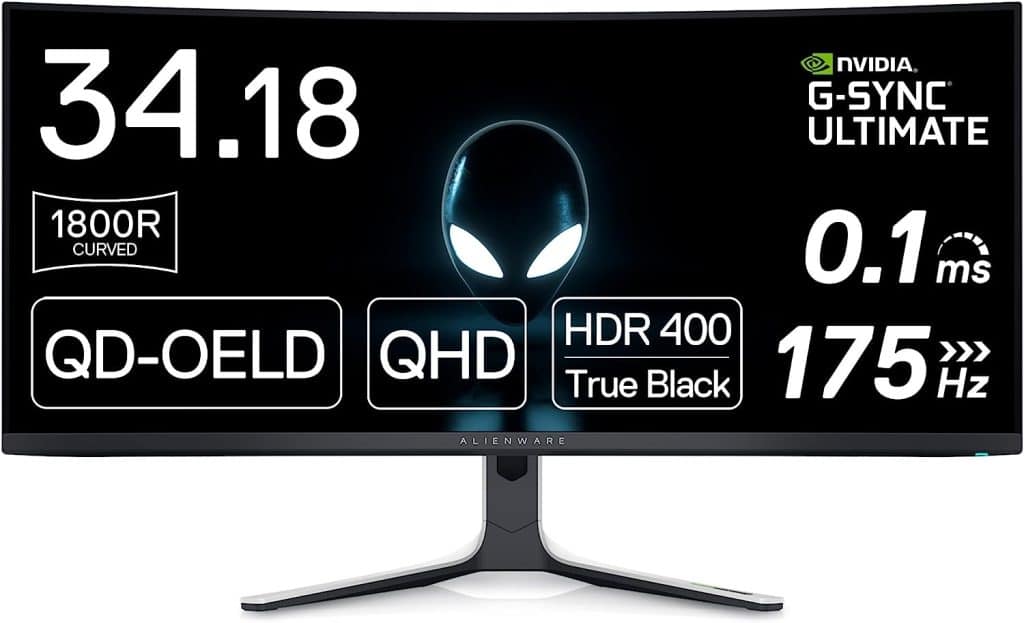 | | | | | | |
| --- | --- | --- | --- | --- | --- |
| Price | Screen Size | Panel Type | Max Refresh/ Variable Refresh | Native Resolution | G-Sync or FreeSync |
| $899.88 | 34.18″ | QLED | 175Hz | QHD | G-Sync |
The curvature is ideal for MOBA games like LOL, DOTA 2, and Arena of Valor. It'll make the map wider and spread the distance between the minimaps and chat functions, placing the game action in the center of the screen. This will increase your awareness during the game and help you focus on what's going on.
The Alienware AW3423DW allows you to enjoy ultra-low latency gameplay supported by the 175Hz variable refresh rate, and the refresh rate of your monitor will match the refresh rate of your gaming desktop.
You can improve your gaming experience further by adjusting the HDR settings or activating the Creator Mode. These allow you to reach a higher level of color purity, peak luminance, and a greater color gamut, which is, in all fairness, typical for QD OLED screens.
Finally, you'll love the monitor's sleek and slim design. This monitor will fit any gaming desk, regardless of its size, and it comes with several special features like height, tilt, and swivel adjustments for a more convenient gaming experience. We rate this as the best ultrawide monitor for gaming.
Pros
Provides a low-latency gaming experience with a 175Hz variable refresh rate
Creator Mode enables purer colors and a greater color gamut range
Height, tilt, and swivel adjustments
G-Sync support for a smoother gaming experience
The best ultrawide gaming monitor by Alienware
Cons
Tilt mechanism is a bit clumsy
3. Dell S3422DWG – Great Low-End Ultrawide Gaming Option
The Dell S3422DWG is another ultrawide curved monitor designed for gamers. It comes with a 34-inch curved screen and WQHD (3,440 x 1,440) resolution.
You'll find many similarities between the S3422DWG and the Alienware AW3423DW, which we rank as the best ultrawide curved monitor for gaming. The two counterparts have the same screen size (34″), curvature (1,800R), and color gamut (99% sRGB, 90%DCI-P3).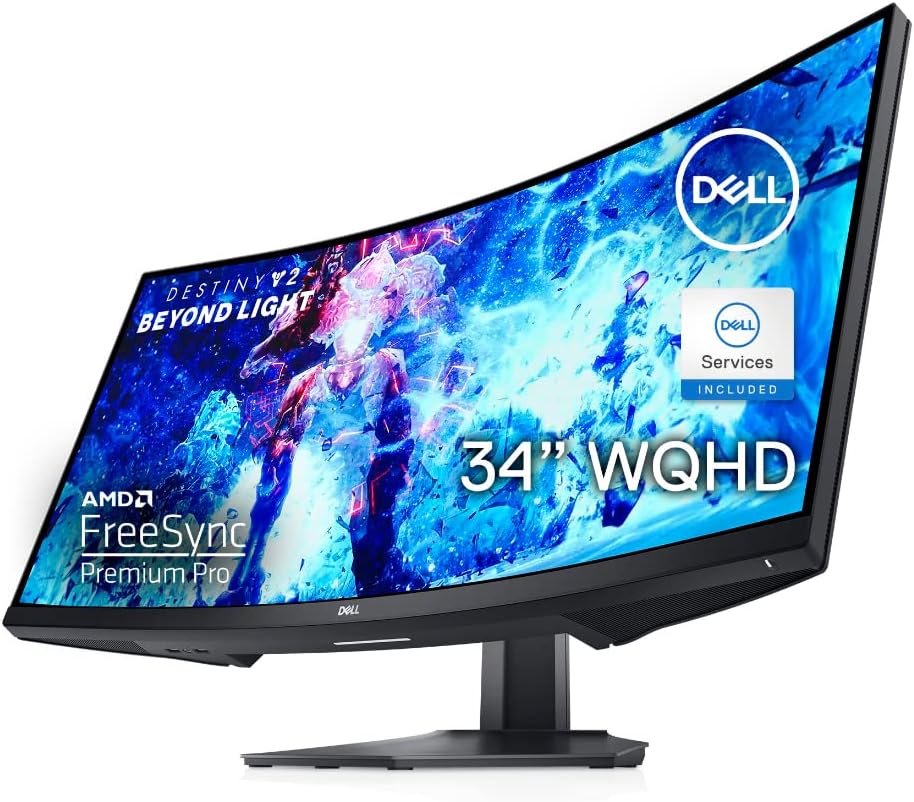 | | | | | | |
| --- | --- | --- | --- | --- | --- |
| Price | Screen Size | Panel Type | Max Refresh/ Variable Refresh | Native Resolution | G-Sync or FreeSync |
| $399.98 | 34″ | LED | 144Hz | QHD | FreeSync |
With a 144Hz refresh rate and 1ms Moving Picture Response Time, the S3422DWG Dell Ultrawide monitor is perfect for fast-paced games. It delivers a one-of-a-kind gaming experience with a crystal-clear picture without motion blur or ghosting.
The Dell S3422DWG also supports AMD FreeSync technology, which allows you to enjoy great visual effects without stuttering or tearing while playing your favorite games.
The easy height and tilt adjustability is great for comfort during long gaming sessions. As a result, you'll reduce eye strain and prevent eye fatigue after extended gaming sessions.
The monitor comes with multiple ports, allowing you to connect your gaming PC with ease via two different HDMI and one DP port. You'll also find one USB 3.2 upstream and four USB 3.2 downstream ports with a supporting speed of 5 Gbps.
The Dell S3422DWG is the best ultrawide curved gaming monitor you can get under $400. If you're lucky enough, you might even get a sales discount, so it's definitely worth checking out.
Pros
144Hz refresh rate for an immersive gaming experience
AMD FreeSync technology to reduce stuttering and tearing
Multiple ports for better connectivity
Tilt and height adjustment for ultimate comfort
The best ultrawide monitor by Dell
Cons
Limited color reproduction makes it a middling choice for graphic design
4. ViewSonic VX3276 – Best Budget Ultrawide Monitor
The ViewSonic VX3276 costs just $229.99 and is the best affordable ultrawide monitor. It relies on the IPS LED display technology with a 2,560 x 1,440p display resolution.
Despite its low price, the VX3276 stands out with premium design and quality. You'll love its chrome-like triangle stand that gives off an expensive vibe and looks great in any office. All in all, this is an aesthetically pleasing ultra-slim monitor with a frameless bezel and 32″ WQHD resolution.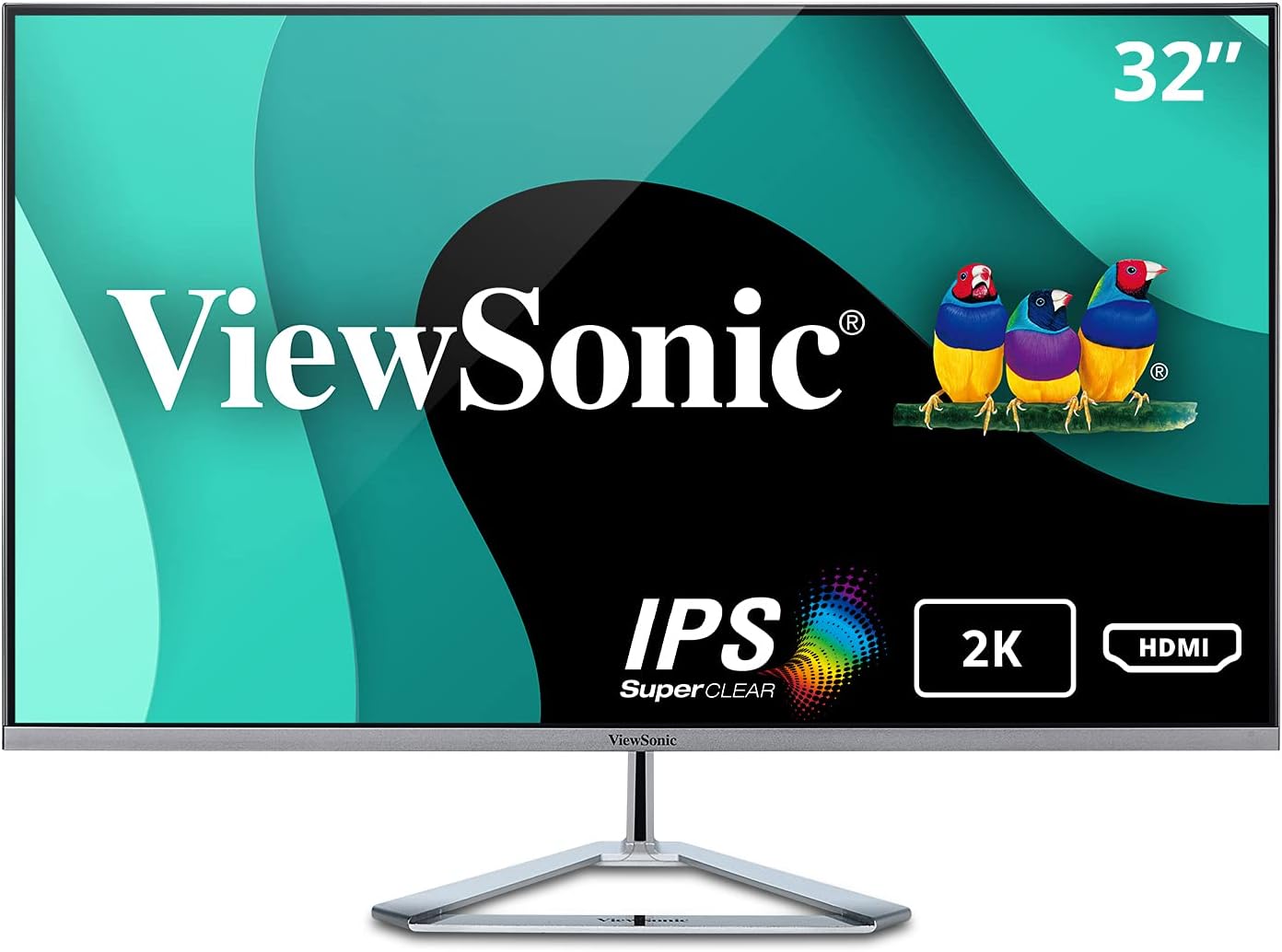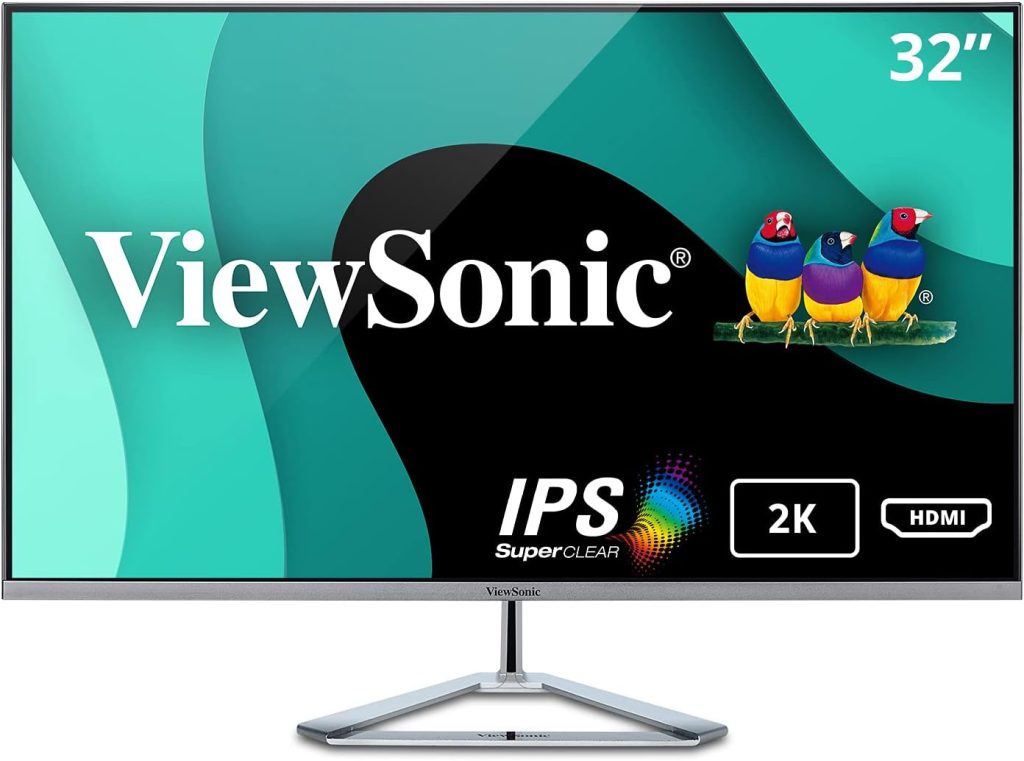 | | | | | | |
| --- | --- | --- | --- | --- | --- |
| Price | Screen Size | Panel Type | Max Refresh/ Variable Refresh | Native Resolution | G-Sync or FreeSync |
| $229.99 | 32″ | LCD | 75Hz | WQHD | FreeSync |
Based on the IPS LED technology, the ViewSonic VX3276 delivers more colors and better viewing angles than its TN and VA counterparts due to the shifting patterns of its liquid crystals.
The VX3276 is the best ultrawide monitor for gaming, streaming, and office work that you can find below the $250 mark. As the best cheap ultrawide monitor by ViewSonic, this unit features several helpful view settings.
You can choose between the game, movie, text, mono, and web modes, depending on your preferences. The user interface is also fairly simple, so you'll have no trouble manually adjusting picture settings to your needs.
Finally, ViewSonic's anti-glare feature minimizes reflections and works well with its 75Hz refresh rate in reducing eye strain during longer gaming or streaming sessions. You won't feel the need to squint or strain your eyes after several hours of screen use.
Pros
Ultra-thin bezel monitor with a modern design
Anti-glare feature to prevent eye strain
Multiple viewing modes
IPS panel that delivers smoother gradients and vivid color reproduction
Cons
The extended display mode doesn't work on Windows 7
5. ASUS VP348QGL – Ideal for Content Creators
The ASUS VP348QGL offers several functions that enhance color purity and image details in dark areas, making it ideal for content creators.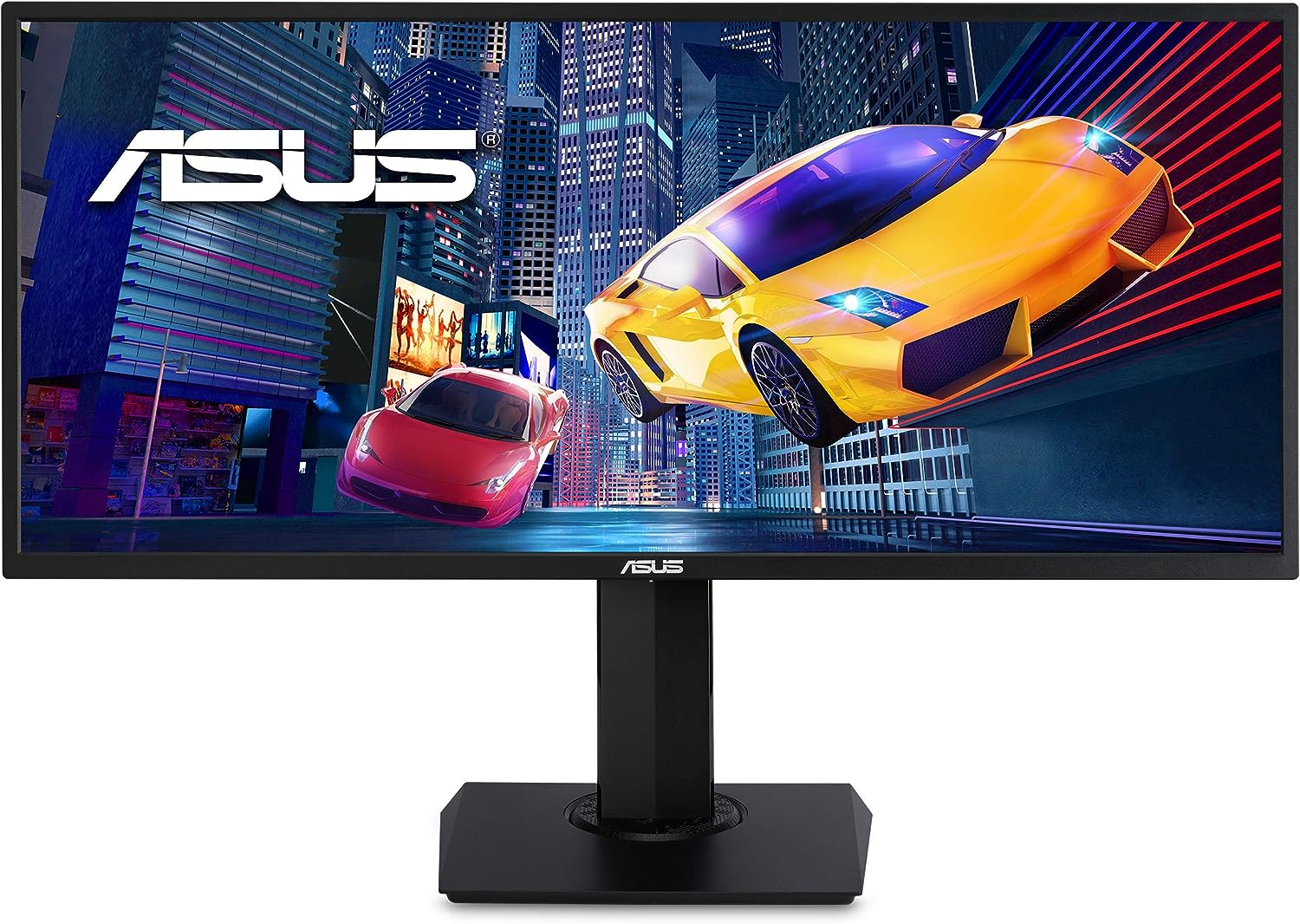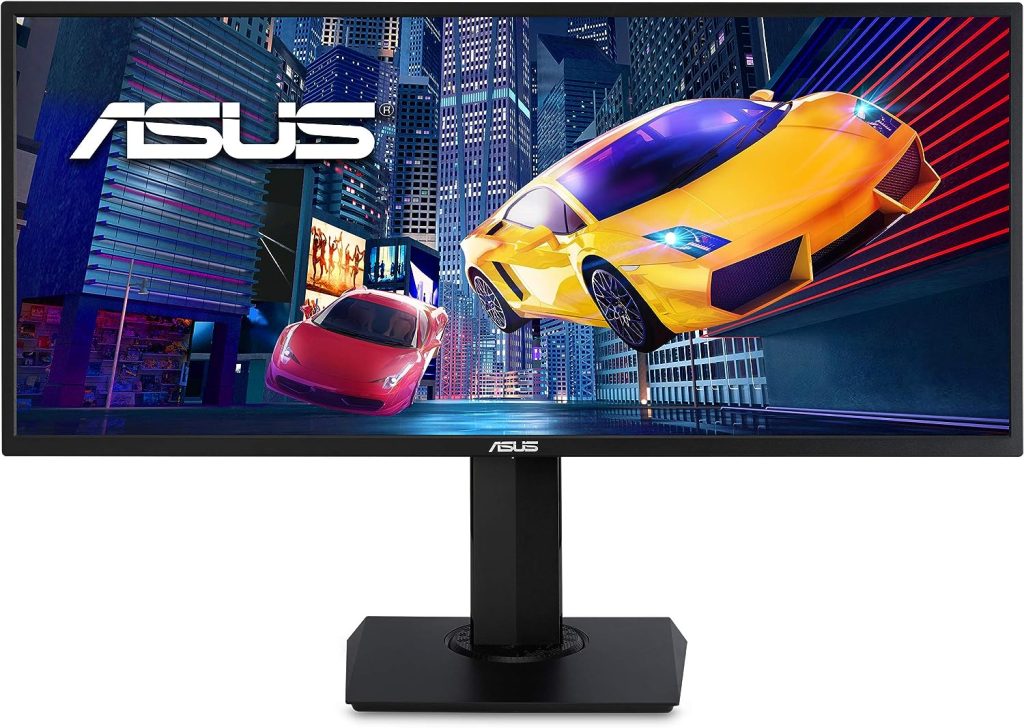 | | | | | | |
| --- | --- | --- | --- | --- | --- |
| Price | Screen Size | Panel Type | Max Refresh/ Variable Refresh | Native Resolution | G-Sync or FreeSync |
| $418.02 | 34″ | LED | 75Hz | UWQHD | FreeSync |
When looking solely at its specs, the VP348QGL seems like a great low-end gaming option. However, its 75Hz refresh rate somewhat limits the frame drop prevention.
The ASUS VP348QGL has the same refresh rate as the ViewSonic VX3276 but is more expensive. Hence, if you're looking for a cheap, low-end configuration for casual gaming, the ViewSonic unit may be a better choice.
Nevertheless, the ASUS VP348QGL offers several features that deliver extraordinary pictures and immersive sound. It has a 34″ wide screen and comes in UWQHD resolution and a 21:9 aspect ratio.
It's the best ultrawide monitor for content creators, primarily thanks to the Shadow Booster option. This feature boosts dark areas without affecting the brighter areas of the screen.
As a result, you'll find it easier to spot those small imperfections that often hide in darker areas of the screen and reduce the possibility of making errors while editing your content.
On top of that, this monitor comes with built-in 2W stereo speakers that deliver extraordinary audio quality. Thus, you won't need to spend extra money on buying the best gaming headsets, as you'll be able to hear every sound that comes from the ASUS VP348QGL native speakers when adding sound to your video creations.
Pros
UWQHD display for crisp visuals
Shadow Boost option to increase detail level in darker areas
Built-in 2W stereo speakers for better quality sound
Enhanced color purity
Cons
Could offer a higher refresh rate
6. GIGABYTE G34WQC – Boost Your Productivity
The Gigabyte G342QC is a great option for increasing your productivity at a reasonable price. Powered by flicker-free and low blue light technologies, this monitor keeps your eyes strong and healthy after intense sessions.
The G34WQC is the best ultrawide monitor for productivity, with its 144Hz refresh rate and 1 ms response time. You won't believe how fast you'll be able to finish tasks and switch between different apps and programs.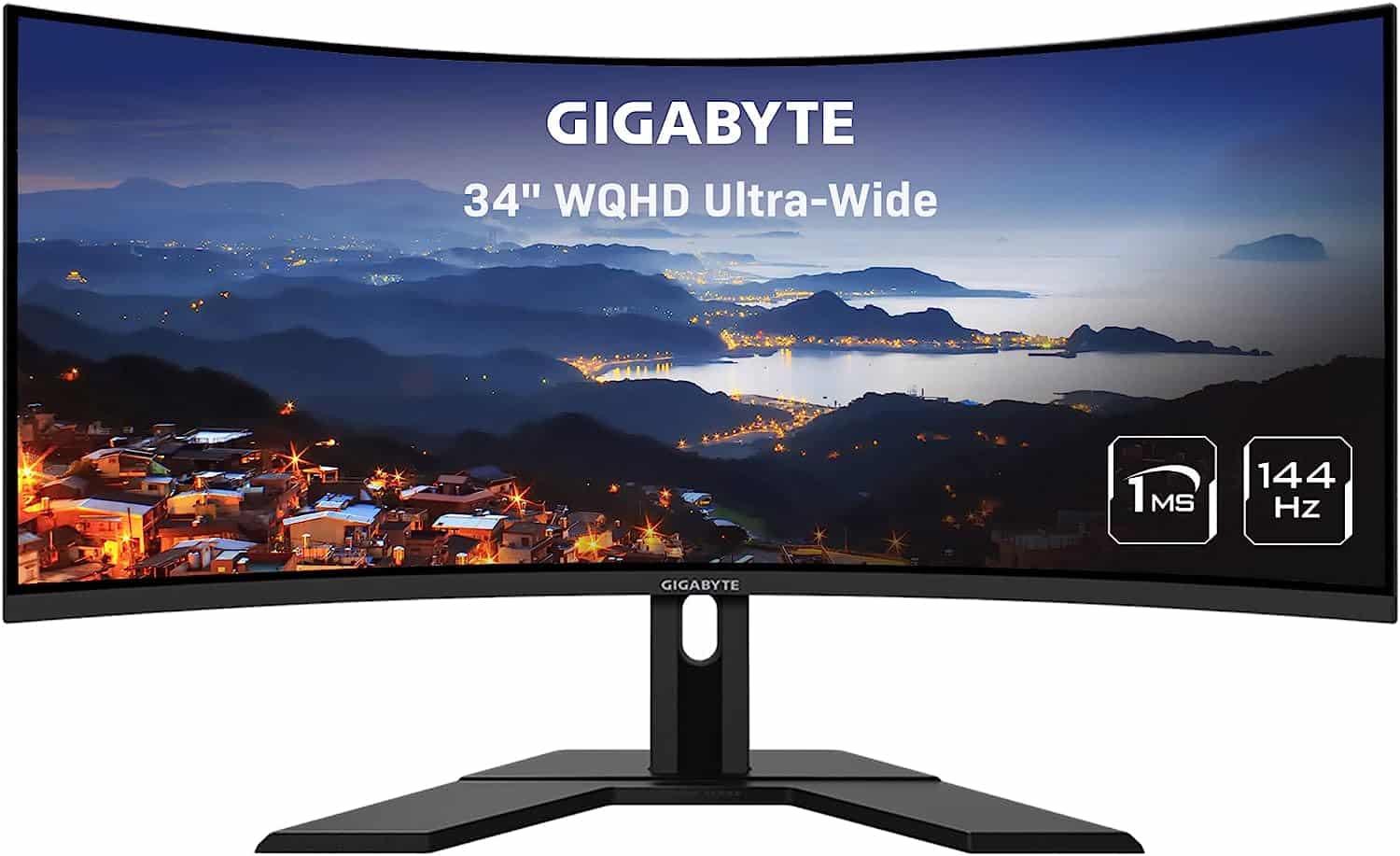 | | | | | | |
| --- | --- | --- | --- | --- | --- |
| Price | Screen Size | Panel Type | Max Refresh/ Variable Refresh | Native Resolution | G-Sync or FreeSync |
| $369.99 | 34″ | W-LED | 144Hz | UWQHD | FreeSync |
The Gigabyte monitor comes with a 34″ display and 3,440 x 1,440 resolution, and the VA panel represents excellent compensation between the TN and IPS panels. It delivers approximately the same picture quality and sharpness as the IPS but also reaches a decent viewing angle for the TN at 178°.
The monitor has a curvature of 1500R. In terms of the field of view, the Gigabyte G342QC has more natural curvature than the 4000R, 3000R, and 1800R panels. As a result, you'll feel more comfortable after using this monitor for several hours, as it reduces eye strain and fatigue with great success.
Pros
1500R curvature minimizes eye strain
Flicker-free and low blue light technologies for maximum comfort
178° viewing angles
144Hz refresh rate for a clearer image
The best ultrawide monitor for office work
Cons
Massive bezel for a 34″ display
7. AOC U34P2 – Perfect for Graphic Designers
The AOC U34P2 is the best ultrawide monitor for graphic design. It offers an exceptional range of colors backed by G-Sync technology for perfect picture clarity.
Seeing every bit of image detail is a professional necessity for every graphic designer or photo editor. Because of that, you'll need to find a reliable monitor with an extensive color gamut, high refresh rate, and great SDR performance.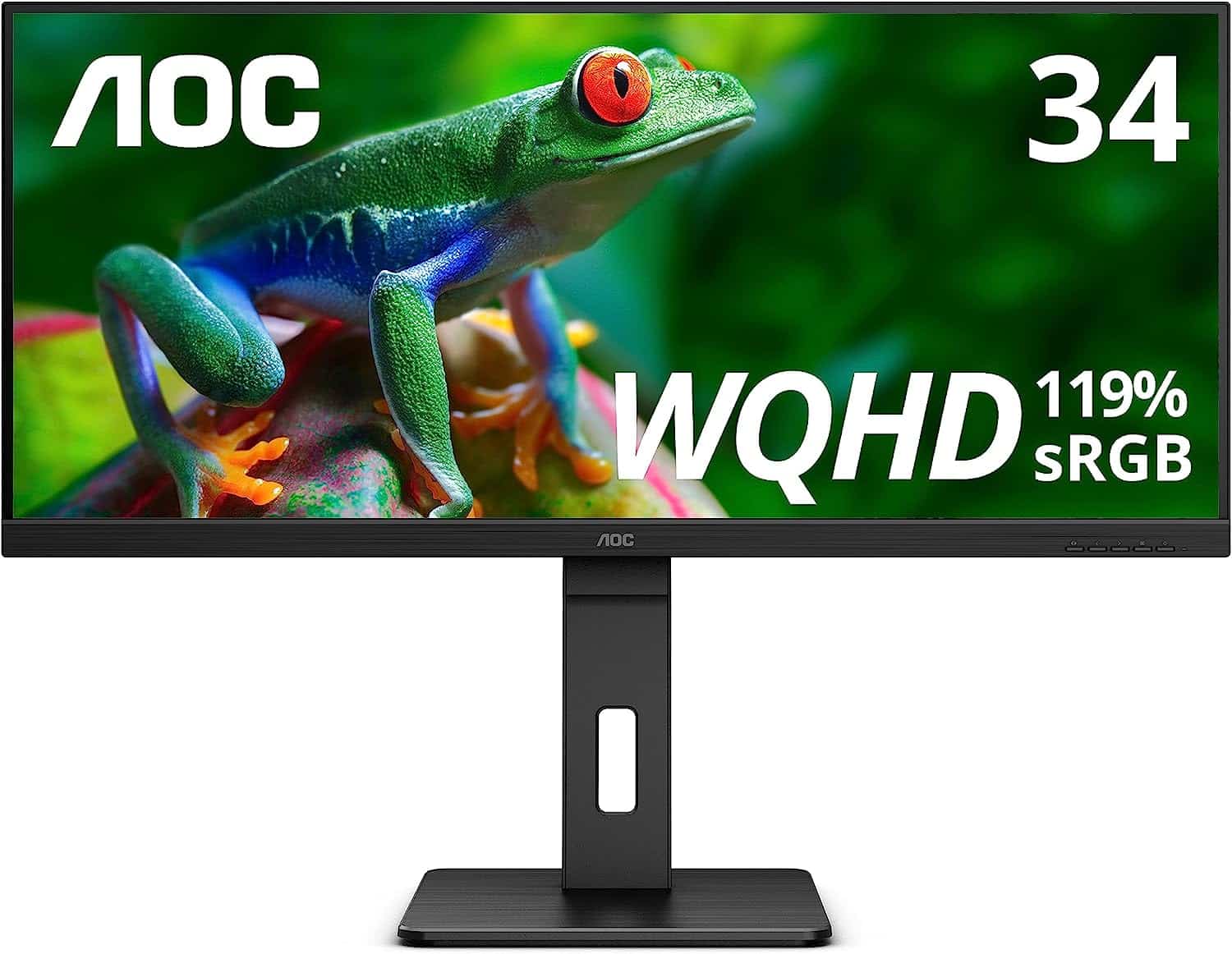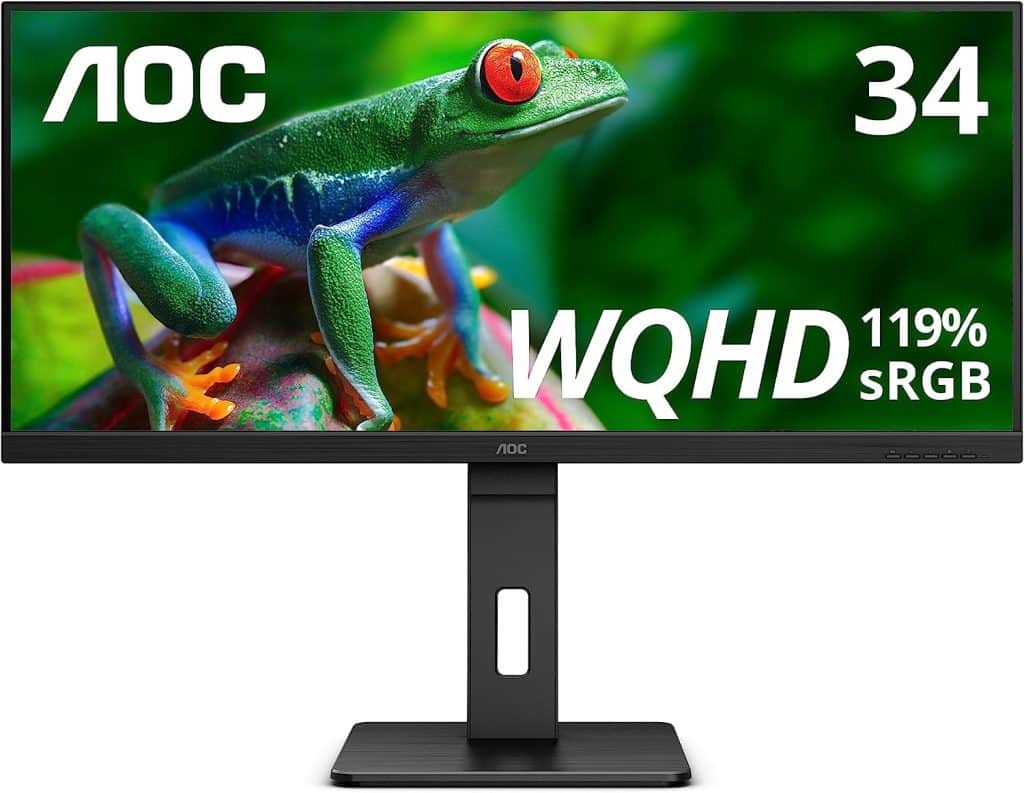 | | | | | | |
| --- | --- | --- | --- | --- | --- |
| Price | Screen Size | Panel Type | Max Refresh/ Variable Refresh | Native Resolution | G-Sync or FreeSync |
| $299.99 | 34″ | LCD | 60Hz | WQHD | G-Sync |
You can have all that and more with the best 34-inch ultrawide monitor for graphic design. This AOC unit aims to deliver the true-to-life colors we see every day. You can expect deeper blacks, redder reds, and greener greens. It supports sRGB, AdobeRGB, and DCI-P3 color spaces.
The 60Hz refresh rate doesn't look much from a gamer's perspective. However, it's good enough to work with and will support the best laptops for coding, including the almighty Acer Nitro 5.
Pros
Supports G-Sync technology
Choose between sRGB, AdobeRGB, and DCI-P3 modes
Crisp picture with exceptional colors
Affordable price
Cons
Thick bezels don't make it ideal for a dual monitor setup
8. SAMSUNG LS49A950UINXZA – Great for Animators and Web Designers
The Samsung LS49A950UINXZA is a 49″ Dual QHD monitor with a 120Hz refresh rate and 4ms response time. It delivers exceptional picture quality that'll exceed all your expectations.
Because of its premium quality 32:9 extra-wide display and countless built-in features enhancing its performance, the Samsung LS49A950UINXZA is easily the best super ultrawide monitor in 2023.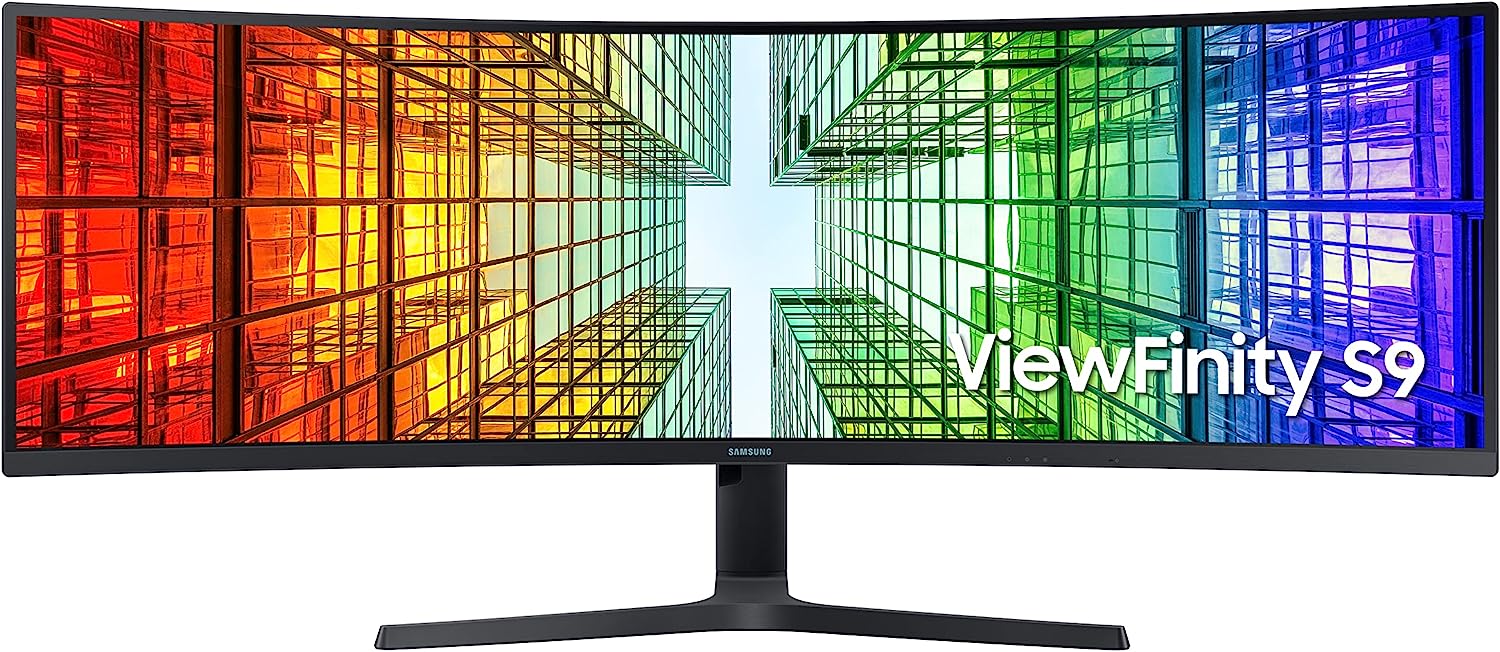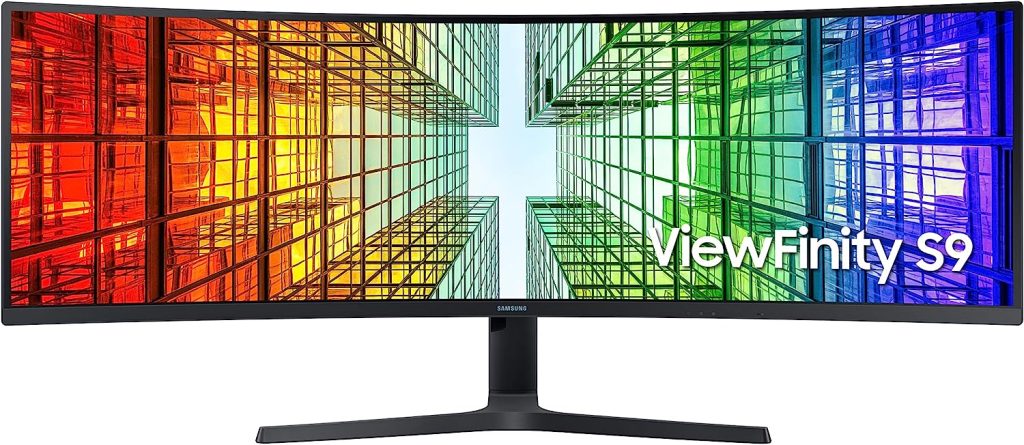 | | | | | | |
| --- | --- | --- | --- | --- | --- |
| Price | Screen Size | Panel Type | Max Refresh/ Variable Refresh | Native Resolution | G-Sync or FreeSync |
| $847.62 | 49″ | QLED | 120Hz | Dual QHD | FreeSync |
It stands out for its exceptional color range and high peak brightness due to the integrated HDR400 feature, which is basically an HDR10, but on steroids.
Jokes aside, this version of Samsung delivers crisp, clear, and pure colors and is the best 49-inch ultrawide monitor you can find for delicate animation or web design tasks.
You'll love the colors and the high level of detail this monitor can reproduce, especially in performance-intense programs like Adobe Animate, Autodesk Maya, Synfig, Cinema 4D, and others.
Pros
32:9 super wide display for multitasking
QLED screen with DCI-P3 95% color gamut
120Hz refresh rate for minimal stutter
Ideal for animators, web designers, and other creative professions
Cons
May require hard restart from sleep mode
9. KOORUI 34-Inch Ultrawide Curved – Best Ultrawide Monitor for Macbook Pro
The KOORUI 34-Inch Ultrawide Curved monitor relies on a 1000R LCD display with a WQHD native resolution. It's incredibly responsive thanks to its 165Hz refresh rate and 1 ms input lag.
This monitor is a real game-changer, even for the most competitive gamers. You can expect ultra-smooth motion without blur or tearing, even when it comes to fast-paced games.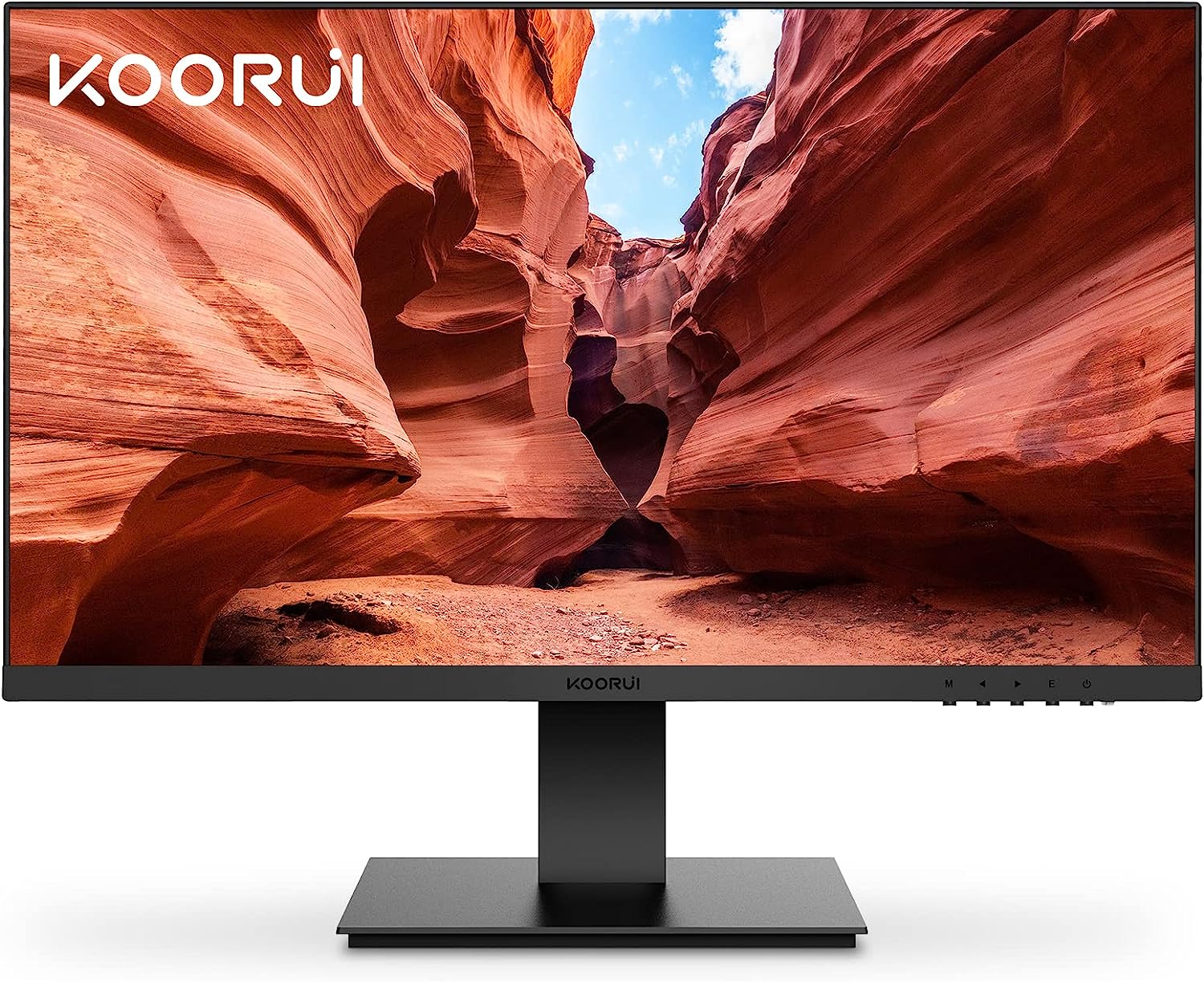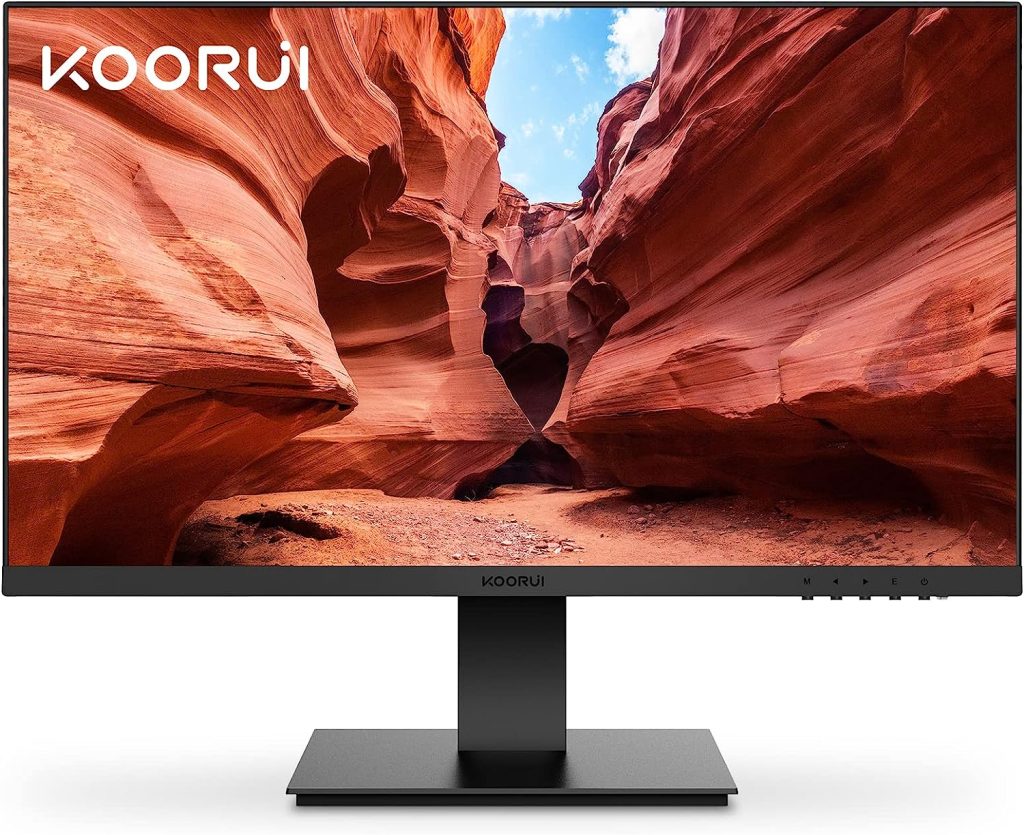 | | | | | | |
| --- | --- | --- | --- | --- | --- |
| Price | Screen Size | Panel Type | Max Refresh/ Variable Refresh | Native Resolution | G-Sync or FreeSync |
| $340.99 | 34″ | LCD | 165Hz | WQHD | Both |
Although primarily built for gamers, the KOORUI 34-inch has proven to be useful in other areas as well and is often used for freelancing and office work.
Five ports on the back allow you to connect several devices, including PCs, laptops, speakers, projectors, consoles, and other electronic devices.
It works well with the Apple MacBook Air M1, commonly known as one of the best laptops for college. The famous M1 cheap comes with eight cores and memory up to 16 GB.
Pros
Supports DCI-P3, covering 90% of the color gamut
165Hz refresh rate to eliminate ghosting
An ideal 1000R curvature that fits the natural field of view
Best ultrawide monitor for Mac
10. INNOCN 49C1R – Watch Movies and TV Shows in 4K
The INNOCN 49C1R is an excellent option for passionate console players and film buffs who love to binge on their favorite movies and TV shows.
The 49-inch VA panel comes in a famous 5K2K resolution (5,120 x 1,440) and 120Hz refresh rate, which guarantees a cinematic experience with crisp images with no tearing, shadowing, or motion blur. The 49C1R is the best 4K ultrawide monitor for watching Netflix, HBO+, or Disney+ at high resolution.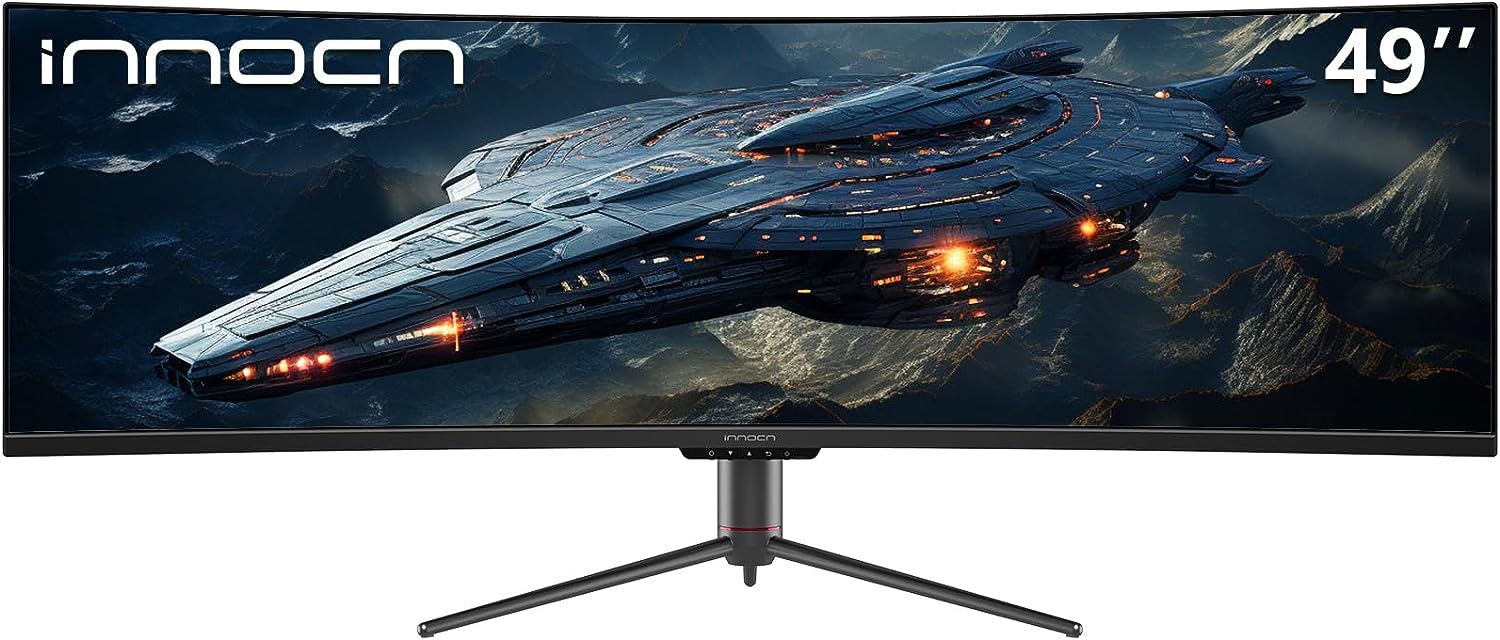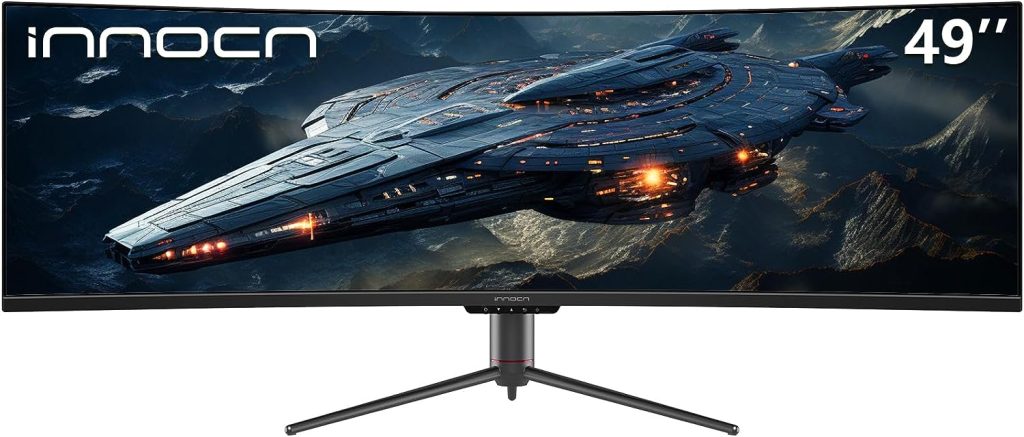 | | | | | | |
| --- | --- | --- | --- | --- | --- |
| Price | Screen Size | Panel Type | Max Refresh/ Variable Refresh | Native Resolution | G-Sync or FreeSync |
| $799.99 | 49″ | LCD | 120Hz | QHD | FreeSync |
Moreover, the INNOCN 49C1R is equipped with PBP split technology, which virtually means you can display content from two input sources. Thus, you can stream and work at the same time, for instance – just one of many ways you can use the best ultrawide 4K monitor for multitasking.
The INNOCN 49C1R boasts several ports, including DP, USB-A, USB-B, Audio Jack, and USB Type-C connector. This allows you to connect your favorite console, whether your PS5 or Xbox and enjoy playing your favorite games.
Because of its versatile connectivity, high refresh rate, and incredibly low input lag, the 49C1R is by far the best 1440p ultrawide gaming monitor you'll find on the market, and it is truly worth every penny.
Pros
120Hz refresh rate for high fps gaming
QHD 49″ VA panel for streaming 4K content
Multiple connectivity ports
Can stream content from two different sources
Comparing the Best Wide Monitors
Check out the comparison table below and find the best-value ultrawide monitor. You can compare the best ultrawide monitors by pricing, screen size, panel type, refresh rate, resolution, and adaptive sync features.
Important Details to Consider When Buying an Ultrawide Monitor
There are several aspects to keep in mind when purchasing the best ultrawide monitor, other than the price and product packaging. However, we can all agree it plays a major role in the consumer's decision-making process.
Here's what you need to look for when purchasing an ultrawide monitor for gaming, work, or other purposes.
Design
The monitor design shouldn't be a deal-breaker if you're looking for performance. However, it is also true that a neatly-designed monitor can be a great addition to your gaming room or work office.
If you want to get a modern-looking ultrawide monitor, you should look for a unit that leaves a small desk footprint and has thin bezels. Also, you can look for the best gaming ultrawide monitor with RGB if you like having discrete LED lighting on the side or the back of your monitor.
This won't do much in terms of performance, but it will look great in any room, take up only a tiny portion of your desk space and help you focus on what's going on on the screen.
Screen Size
The screen size should depend on the purpose, distance, and size of your desk.
For instance, the best ultrawide monitor for work should be around 22″, as you'll probably have limited desk space, and the distance between the monitor and your eyes is minimal.
If you enjoy watching movies and TV shows, you should go for something between 27″ and 38″. Make sure to get a medium-sized desk or, at least, make a two-meter distance if mounted on the wall.
Competitive gamers typically look for at least a 34-inch ultrawide monitor. A gaming ultrawide monitor could be larger; however,
the best gaming desk
is needed to make extra space for a keyboard, mouse, and speakers.
Finally, professional designers, animators, and web developers mostly benefit from a large monitor with a 49-inch screen and above. That way, they can divide the screen into several parts and run multiple software simultaneously.
Resolution
Resolution indicates the number of pixels in an image. With higher resolution, the picture becomes clearer and sharper. Here's a table with the most common monitor resolutions you'll come across today:
| | | | |
| --- | --- | --- | --- |
| Resolution | Acronym | Pixel Size | Name |
| Full High Definition | FHD | 1,920 x 1,080 | 1080p |
| Quad HD | QHD or 2K | 2,560 x 1,440 | 1440p |
| Ultra HD | 4K or UHD | 3,840 x 2,160 | 2160p |
| Full Ultra HD | 8K or FUHD | 7,680 x 4,320 | 4320p |
While there are many monitors in FHD, the reality is that this definition is most commonly used for smartphones rather than monitors.
However, getting an FHD monitor is a great option to combine with the best budget gaming PC, for instance, one with minimum specs and limited performance. This resolution is good enough for smaller monitors with around 29″.
A 2K resolution has become a minimum benchmark in the monitor manufacturing industry. Most ultrawide monitors come in the QHD and are good enough for most office tasks, except for animation and graphics design. QHD works perfectly with monitors between 28″ and 49″ display sizes.
An ultrawide 4K monitor is a more expensive option but indeed provides extraordinary visual details whether you like watching movies or playing your favorite games.
This resolution is perfect if you aim to get a 49-inch monitor. This will allow you to have more immersive video and audio pleasure. It's ideal for cinephiles, passionate gamers, and professional animators and designers.
Finally, 8K monitors are still considered exotic and represent the very top of the industry. Although rare, some of the best 8K ultrawide models reach a staggering 900 Hz refresh rate.
Panel Type
Almost all monitors use
panels based on liquid crystalline
materials with LED backgrounds nowadays. There are roughly four main types of monitor panels – LCD, LED, QLED, and OLED.
LCD is the most common type of monitor, which further branches to TN, VA, and IPS. TN monitors cover 100% of the RGB color gamut and provide better viewing angles. VA monitors come with better picture quality, crisp images and deliver more color. However, viewing angles aren't exactly the best in the business.
The best IPS ultrawide monitor represents the best of both worlds. IPS delivers the best viewing angle and offers an excellent balance between image sharpness and color accuracy.
LCD screens are great for brighter rooms, while LEDs are a good option in a darker environment. QLED displays use quantum dot technology to deliver a crystal clear image and enhanced color spectrum. OLED panels can achieve deeper blacks and are great for darker rooms with no natural light source.
FreeSync/G-Sync
The best ultrawide monitors are equipped with several technologies that improve its performance. The ultimate goal is to get a monitor that matches the performance of your graphics card, and adaptive sync will help you achieve that goal.
When looking at the monitor specs, you'll often see the "Adaptive-Sync" label. However, that doesn't mean much unless you discover whether the monitor of your choice has FreeSync or G-Sync features, or both.
The G-Sync is a screen adaptive technology developed by Nvidia. This feature aims to match the graphics card's fps rate and monitor's refresh rates. For example, if you have a monitor with a 144Hz refresh rate and get the
best graphics card for gaming
that pushes up to 120 fps, the G-Sync feature will reduce your monitor's refresh rate to 120Hz to match your GPU's performance.
Besides this, G-Sync eliminates motion blur, screen tearing, and other common display issues during intense action moments, whether gaming or streaming in HD.
On the other hand, FreeSync was developed by AMD and does pretty much the same job. However, it doesn't deliver the same performance in all fairness.
The biggest difference between FreeSync and G-Sync is visible at lower refresh rates – FreeSync will struggle to prevent tearing and stuttering at refresh rates of 30Hz and lower.
Because of that, G-Sync might seem a better option if you intend to run some fps-hungry games or watch movies in 4K. Still, remember that due to its high efficiency in removing screen tearing, stuttering, and motion blur, a widescreen monitor with G-Sync is more expensive than its FreeSync counterpart.
Also, G-Sync and FreeSync come with extra cost as they have different subscription tears, depending on your needs. So, make sure to define a budget before choosing between G-Sync or FreeSync monitors.
Curvature
What to choose – the best ultrawide curved monitor or a flat-screen? In short, you should choose a standard wide monitor screen with a flat display if you need extra precision. Also, flat monitors are a better choice if you're a passionate FPS gamer.
In addition, flat screens are more suitable for multi-screen setups and allow a better field of view than combined with curved screens. Finally, flat monitors typically offer better refresh rates at lower prices. You'll find many low and medium-end flat ultrawide monitor screens with 144Hz+ refresh rates at a more reasonable cost.
The best curved ultrawide monitor is designed to match the full field of view for the human eye. As a result, curved screens reduce eye strain and allow you to spend more hours in front of your monitor with minimal consequences to your fatigue.
Curved screens are great for MOBA gamers, web developers, marketers, and sales businesses that often need to run several apps at the same time.
Reviews
You shouldn't make decisions based on someone else's experiences, especially anonymous ones. However, reading reviews can sometimes help you get a better picture of the product, such as whether it's the best ultrawide monitor Reddit users love.
If reading specs isn't your cup of tea, then you can try and find product reviews to learn more about the monitor you intend to purchase. Check the reviews and product ratings on Amazon before heading to the cashier. Products with 4.0 stars or more are good enough to be worth your attention.
Reading reviews can give you peace of mind about the monitor you wish to choose or alert you about potential hardware or software issues you were unaware of.
Should we trust online reviews? You should use online reviews as an additional source of information, but always take them with a grain of salt. You never know the true intentions of the person behind an alias.
Budget
Finally, you need to define your budget before you indulge in searching for the best ultrawide monitor.
A low-end monitor screen will typically cost below $200. It won't have the best specs, but it'll be good enough to support your PC's performance.
Medium-tier monitors cost between $200 and $600. You'll find better options here as you can pick between various IPS panels with 29″ to 35″ screen sizes.
Finally, a higher-end wide monitor comes at a $600+ price tag. A typical ultrawide 4K monitor with a 49-inch screen costs around $1,000. However, such a unit is perfect for all purposes, including gaming, streaming, content creation, and coding.
Conclusion – What's the Best Ultrawide Monitor for Office Work or Gaming for 2023?
The best ultrawide monitor will increase productivity and provide more enjoyment while gaming or watching your favorite content. They suit almost all work tasks, whether in IT, marketing, or customer service, and a monitor with a wider screen will help you finish multiple tasks at the same time.
After carefully testing multiple widescreen monitors, our experts have identified the LG 29WQ600-W as the best ultrawide monitor in 2023. Combining a 100Hz refresh rate and low input lag with FreeSync and HDR features, this monitor is perfect for long gaming sessions and watching movies at the highest definition.
You won't notice any motion blur, stuttering, or screen tearing, even during the most action-packed scenes. On top of that, the LG 29WQ600-W stands out at an affordable price of only $219.99.
Waste no time, and grab the best ultrawide monitor now before it's out of stock.
Ultrawide Monitor FAQs
What size of ultrawide gaming monitor is best?
What is the best resolution for an ultrawide monitor?
What's the best refresh rate for an ultrawide gaming monitor?
What's the difference between ultrawide monitors and standard monitors?
How wide is an ultrawide monitor?
Is a 34-inch ultrawide screen too big for gaming?