Getting the best WiFi extender available can be a game-changer for you if you're looking to enhance your WiFi coverage without investing in a new router. While a good WiFi router and fast internet connection can address most connectivity issues, stubborn dead zones often require the addition of a WiFi extender.
To help you make an informed choice, we've extensively reviewed a variety of WiFi extenders. Our comprehensive list of the top 7 best WiFi extender products in Australia showcases top-notch options from renowned providers like AVM, Tenda, and TP-Link. Stay with us, and you'll discover how these devices can elevate your home internet experience. So, which WiFi extender reigns supreme? Find out as we unveil the best of the best.
Top 7 Best WiFi Range Extenders Ranked
Every WiFi extender featured in our list serves a distinct purpose. To help you understand how to extend your WiFi range using these wireless devices, we have provided a concise overview of each one below.
AVM Fritz! WLAN Mesh Repeater — This device stands out for its WLAN mesh capability. With easy setup using WPS, a Gigabit LAN connection for wired devices, and support for IPv6, this extender provides convenience, reliability, and enhanced network compatibility, making it an excellent choice for boosting your WiFi coverage.
Tenda Nova MW5c — This WiFi extender features a reliable dual-band 2.4/5GHz WiFi 5 network with seamless roaming capabilities. With RJ45 ports for wired connections and a user-friendly mobile app for network management, the MW5C significantly improves WiFi coverage and offers convenient features like a smart home mode and device blocking for enhanced security.
Linkavenir WLAN Amplifier — A WiFi repeater that offers stable signal amplification for seamless HD video streaming and online gaming. With easy setup, one-touch connection, and strong network security, it provides a versatile and reliable solution for enhancing WiFi coverage and connectivity.
D-Link DAP-X1860 Mesh Extender — A portable device that eliminates dead zones in your home, providing high-speed WiFi 6 coverage. Its seamless mesh network capability and easy setup make it an excellent choice for extending and enhancing your WiFi 6 network throughout your home.
Rockspace AC2100 WiFi Range Extender — This WiFi extender offers impressive performance with ultra-fast speeds of up to 2,100 Mbps and coverage at a range of up to 120 m². It excels in extending WiFi coverage to previously unreachable areas and can function as an access point.
TP-Link RE300 AC1200 Mesh WiFi Range Extender — Mesh network capability ensures seamless whole-home coverage and uninterrupted streaming. With easy setup and management through the TP-Link Tether app, this range extender is a feature-rich and dependable solution for extending your WiFi network.
Vonets VAP11G-300 WiFi Bridge — This WiFi bridge is a Swiss army knife of wireless functionality designed to bridge the gap in your network using a range of features, including Access Point, Repeater, and Bridge modes, as well as point-to-point broadcast.
Top 7 WiFi Signal Boosters Reviewed
WiFi signal boosters vary in quality and performance. Before making a decision, take advantage of our comprehensive list to make an informed choice and enhance your WiFi coverage effectively.
1. AVM Fritz! WLAN Mesh Repeater — Our Number One Choice for Overall Best Mesh WiFi System in Australia
The Fritz! WiFi Extender is the top choice on our list, and it's a reliable and practical pick for enhancing your WiFi coverage.
One standout feature is the WLAN mesh capability, which automatically connects with other Fritz! products to create an intelligent WLAN network for optimal performance. It seamlessly integrates with all common WLAN routers, ensuring compatibility and ease of use.
With the Fritz! WiFi Extender, you can enjoy increased range for all your devices. It supports ultra-fast transmissions with the AC band reaching speeds of up to 1,733 Mbps, and provides excellent range with the N band offering speeds of up to 600 Mbps. This ensures that you can stream, browse, and connect with ease throughout your home.
Setting up the WiFi Extender is a breeze with the convenient WPS feature. Simply press a button, and the extender will establish a secure connection with your existing network. This ensures a hassle-free setup process and provides secure WPA2 encryption to protect your network.
If you prefer a wired line, the Fritz! WiFi Extender offers an ultra-fast Gigabit LAN connection. This allows you to set up a LAN bridge for seamless network integration or to connect wired devices for reliable and high-speed connections. Additionally, it supports the IPv6 Internet protocol for enhanced network compatibility.
The Fritz! WiFi Extender box comes with a LAN cable for wired connections, installation instructions for easy setup, and a Schuko adaptor for convenient power connection to Australian plug sockets.
You'll get the best results, of course, if you twin it with a high-performing WiFi router.
| | | | | | |
| --- | --- | --- | --- | --- | --- |
| Price | Size | WiFi Standard | Range | Speed Rating | Ports |
| $154.86 | Small | WiFi 5 | 6,000 sq. ft. | 2333Mbps | 1 |
Pros:
WLAN mesh capability with other Fritz! products
Extended WiFi range with ultra-fast transmissions
Easy setup with convenient WPS feature for secure connection
Ultra-fast Gigabit LAN connection for wired devices or LAN bridge
Cons:
Must be plugged directly into a power outlet
Pricing
The AVM Fritz! WLAN Mesh Repeater is fairly expensive at $154.86, but it's worth it. It's compact, it's fast, and it's easy to install. Not only does it provide a great network extension on its own, but it can be augmented by connecting to other Fritz! mesh products for additional WiFi coverage.
2. Tenda Nova MW5c — Mesh Network with Bridging Capabilities
The Tenda Nova MW5 is an easy-to-use mesh network WiFi extender that easily integrates with other Tenda products. The latest model, MW5c, features Gigabit Ethernet ports on all nodes, upgrading from previous models, which only had 100Mbps ports on secondary nodes.
This allows for bridged wired connections to devices such as TVs or computers which don't have their own WiFi antenna.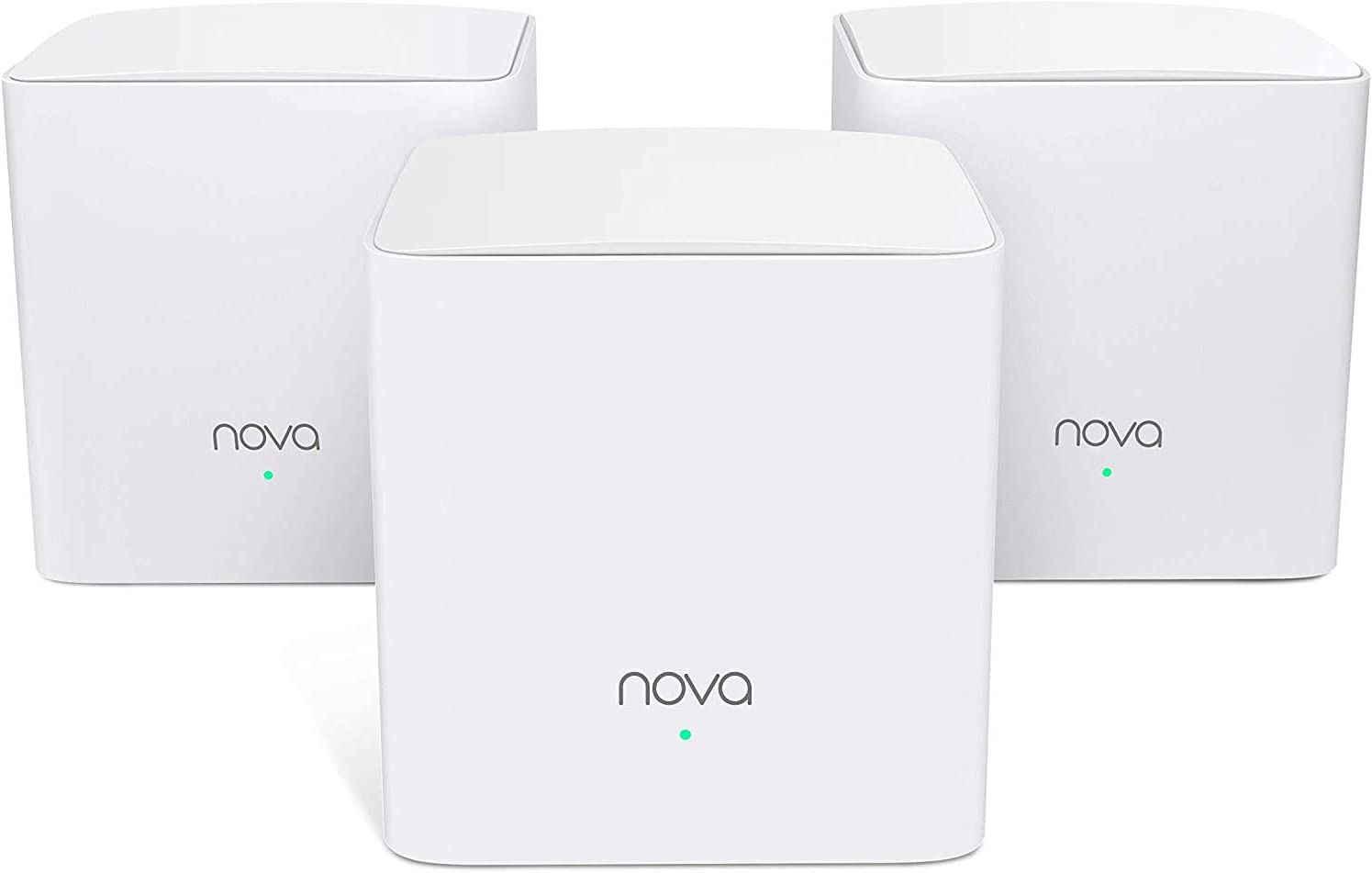 The MW5c creates a dual-band 2.4/5GHz WiFi 5 network, which provides reliable connections for all devices. The seamless roaming capability allows devices to effortlessly switch between nodes, making it feel like a single network.
With the MW5c, you have a single WiFi network that covers both 2.4GHz and 5GHz bands. The smart home mode is also a valuable feature for connecting devices that support only 2.4GHz networks.
This MW5c set, consisting of three devices, will significantly improve network coverage even in zones with poor connectivity thanks to the mesh connectivity. Setting up the system is straightforward since the access points automatically pair with each other. The three devices are identical, and any of them can act as the base, with the others serving as secondary nodes when powered on.
Management of the network is handled through a convenient mobile app, which includes a step-by-step setup assistant. While the app provides basic network options, it lacks some advanced features, such as more technical security functionality.
It does provide information about connected devices, though, as well as their transfer activity and their associated access point. The Tenda app also allows for permanent or temporary device blocking for security or parental control purposes.
| | | | | | |
| --- | --- | --- | --- | --- | --- |
| Price | Size | WiFi Standard | Range | Speed Rating | Ports |
| $168.87 | Small | WiFi 5 | 5,000 sq. ft.> | 1,000Mbps | 3 |
Pros:
A single WiFi network covering both 2.4GHz and 5GHz frequencies
Gigabit Ethernet ports on all nodes for bridged wired connections
Mobile app for network management and step-by-step setup assistance
Device blocking feature for security and parental control
Cons:
Mobile app could have more features
Pricing
The Tenda Nova MW5c comes as a set of three for $168.87. This is the most expensive signal booster on our list, but when you consider that you're getting three mesh network devices, it's not too much to ask for. This WiFi mesh extender is a great choice if you have several wired devices you need to bring onto the network, as each mesh device has a dedicated Gigabit Ethernet port.
3. Linkavenir WLAN Amplifier – Great WiFi Penetration
The Linkavenir WLAN Amplifier offers stable signal amplification at a speed of up to 300 Mbps for the 2.4 GHz band, providing a 360-degree network broadcast to eliminate dead zones. Using dual-band technology to increase network bandwidth, the Linkavenir will support up to 40 devices on the same network.
Setting up the WiFi amplifier is an easy and user-friendly process, and the device comes with a manual that provides clear instructions to set up your WiFi extender in just a few steps. Technical support is available from Linkavenir's customer service team if you need it, too.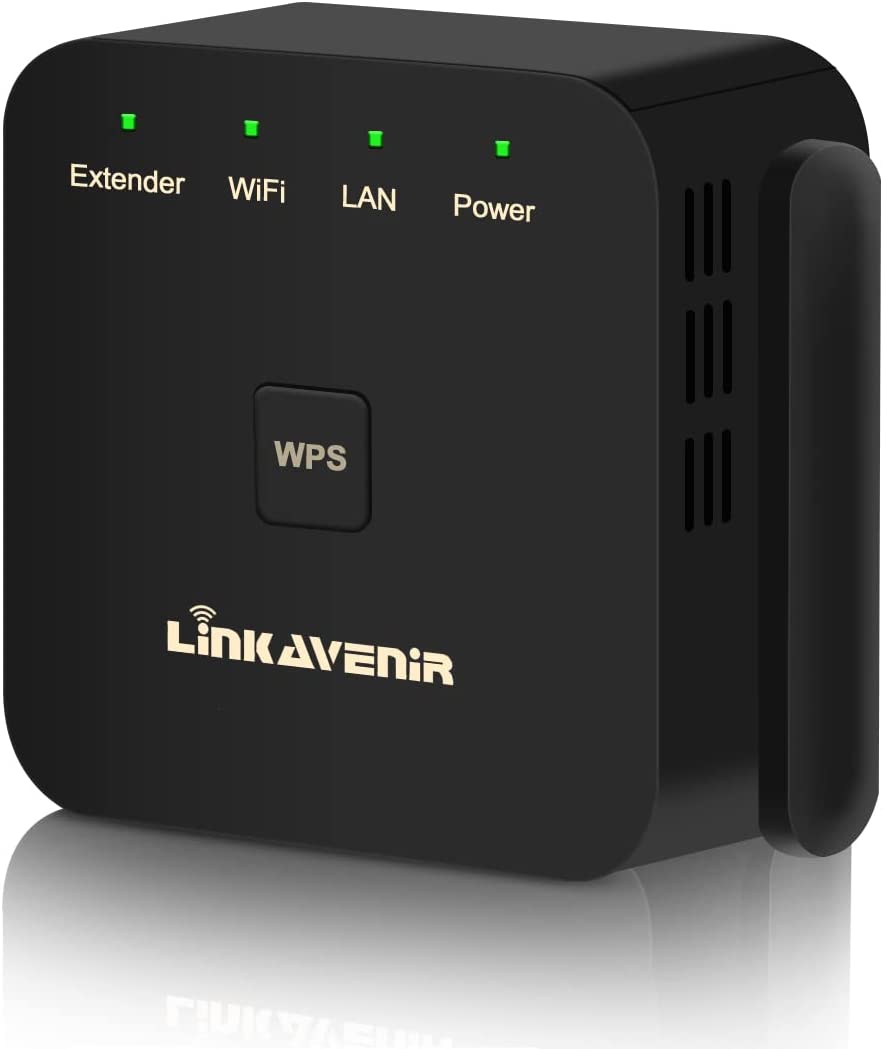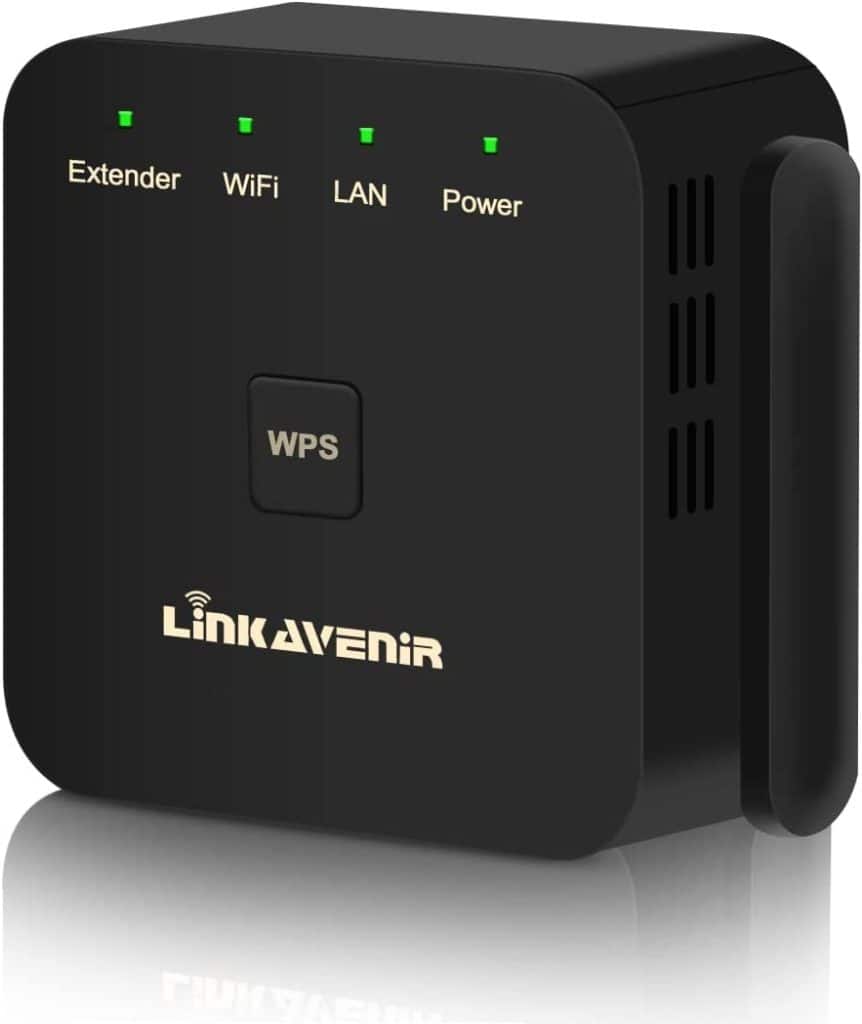 The repeater features a one-touch connection function for quick and convenient use. By pressing the WPS button on the WLAN repeater and the router, you'll be able to increase the network coverage in your house within seconds. Alternatively, you can set up the Linkavenir device over your smartphone or desktop with a web-based interface.
There are also intelligent signal lights on the front of the Linkavenir, which assist in finding the optimal location for the best WiFi coverage.
This WiFi repeater boasts compatibility with 99% of routers on the market, making it versatile and suitable for use with almost any standard router or gateway.
| | | | | | |
| --- | --- | --- | --- | --- | --- |
| Price | Size | WiFi Standard | Range | Speed Rating | Ports |
| $98.11 | Medium | WiFi 5 | 5,000 sq. ft. | 300Mbps | 1 |
Pros:
360-degree network broadcast to eliminate dead zones
Supports up to 40 devices on the same network
Technical support available via customer service
One-touch connection function for quick and convenient setup
Strong network security
Cons:
Other extenders have better WiFi speeds
Pricing
At $98.11, the Linkavenir sits very solidly in the middle of our list. It's a solid choice for a mid-tier device to boost WiFi signal, even if some of the top-tier range extenders come out on top.
4. D-Link DAP-X1860 Mesh Extender – Extremely Secure WiFi 6 Boosting
The D-Link DAP-X1860 is a portable WiFi extender that enhances your existing WiFi 6 network. With dual-band AC1750 and AX1800, it delivers high-speed WiFi for all your browsing, streaming, and gaming needs so you can get the most out of your high-performing gaming PC.
The WiFi repeater can be paired with a compatible D-Link WiFi Mesh router, creating a seamless mesh network that covers your entire home with a bandwidth of up to 1,800 Mbps. It utilizes MU-MIMO technology to ensure high speeds for multiple devices simultaneously, providing an optimal wireless experience.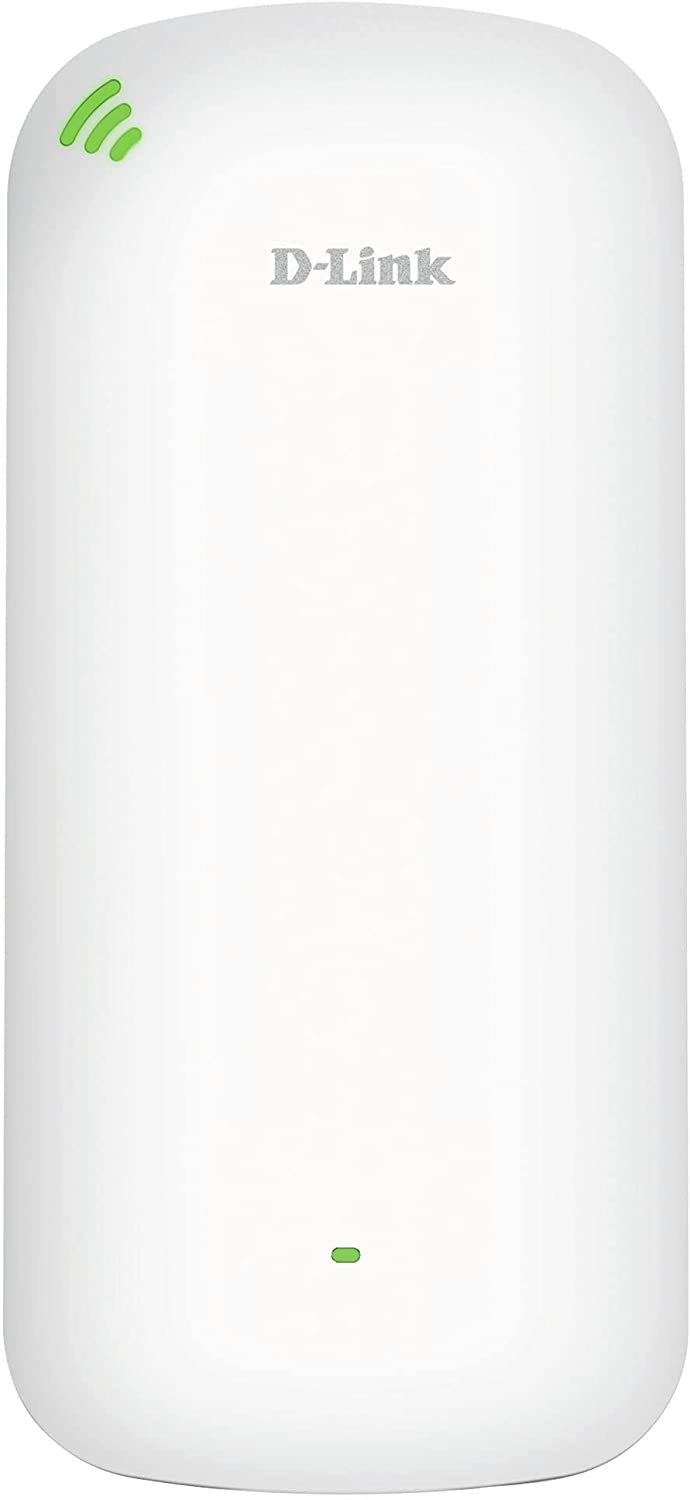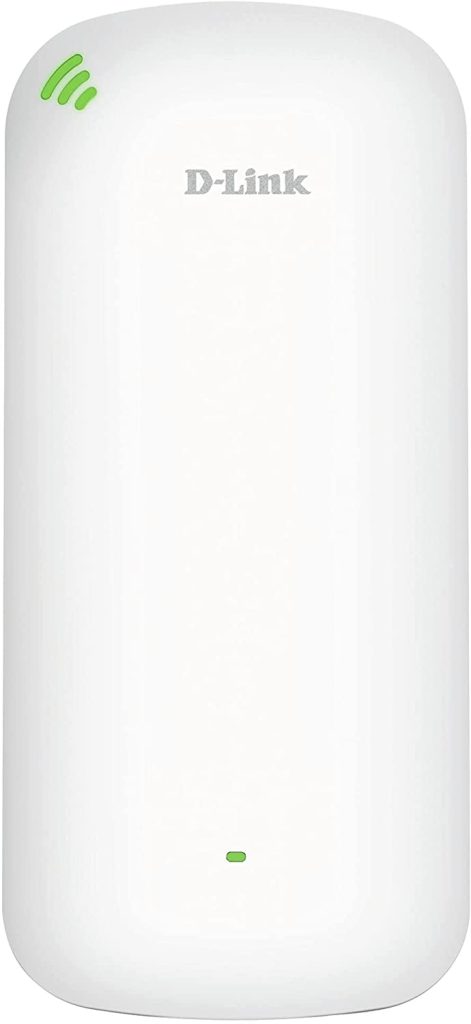 Featuring the latest WiFi security, WPA3 encryption, the DAP-X1860 ensures the protection of your network. It also includes a Gigabit Ethernet port, allowing you to connect a wired device to your wireless network. The extender's sleek and discreet wall-plug design blends seamlessly into any home environment.
Setting up the DAP-X1860 is easy with the WPS button. Press the WPS button on your router and then on the extender, and you're connected. Alternatively, you can use the D-Link WiFi app for setup.
The DAP-X1860 provides lightning-fast WiFi 6 throughout your home, thanks to its dual-band AX technology. It supports smart roaming and smart connect features, automatically connecting your mobile devices to the strongest WiFi signal as you move around your home. The LED Smart Signal Indicator helps you find the best location for optimal coverage.
| | | | | | |
| --- | --- | --- | --- | --- | --- |
| Price | Size | WiFi Standard | Range | Speed Rating | Ports |
| $86.28 | Small | WiFi 6 | 6,000 sq. ft. | 1200Mbps | 1 |
Pros:
Utilizes MU-MIMO technology for high-speed performance on multiple devices simultaneously
Provides WPA3 encryption
Includes a Gigabit Ethernet port
LED Smart Signal Indicator helps find the best location for optimal coverage
Cons:
Must be plugged into the wall directly
Pricing
The D-Link DAP-X1860 won't break the bank at only $86.28, but it's got rock-solid security that won't tap out if your network comes under attack. It's the right choice if you're looking for an inexpensive WiFi signal booster that's up-to-date with modern developments in WiFi technology.
5. Rockspace AC2100 WiFi Range Extender – Top-Tier Wireless Penetration
The Rockspace AC2100 WiFi Range Extender offers impressive features and performance. With ultra-fast WLAN speeds of up to 2,100 Mbit/s, providing up to 1,733 Mbit/s on 5 GHz and 300 Mbit/s on 2.4 GHz. This ensures quick data transfer and minimal delay, seamlessly handling simultaneous tasks like latency-free gaming and 4K HD video streaming from your choice of the top streaming devices.
The extender provides a better range of coverage with its 4 PCB dual-band antennas and MU-MIMO technology. It excels in penetrating walls, bringing a stable signal to previously unreachable areas like bathrooms, kitchens, gardens, and garages.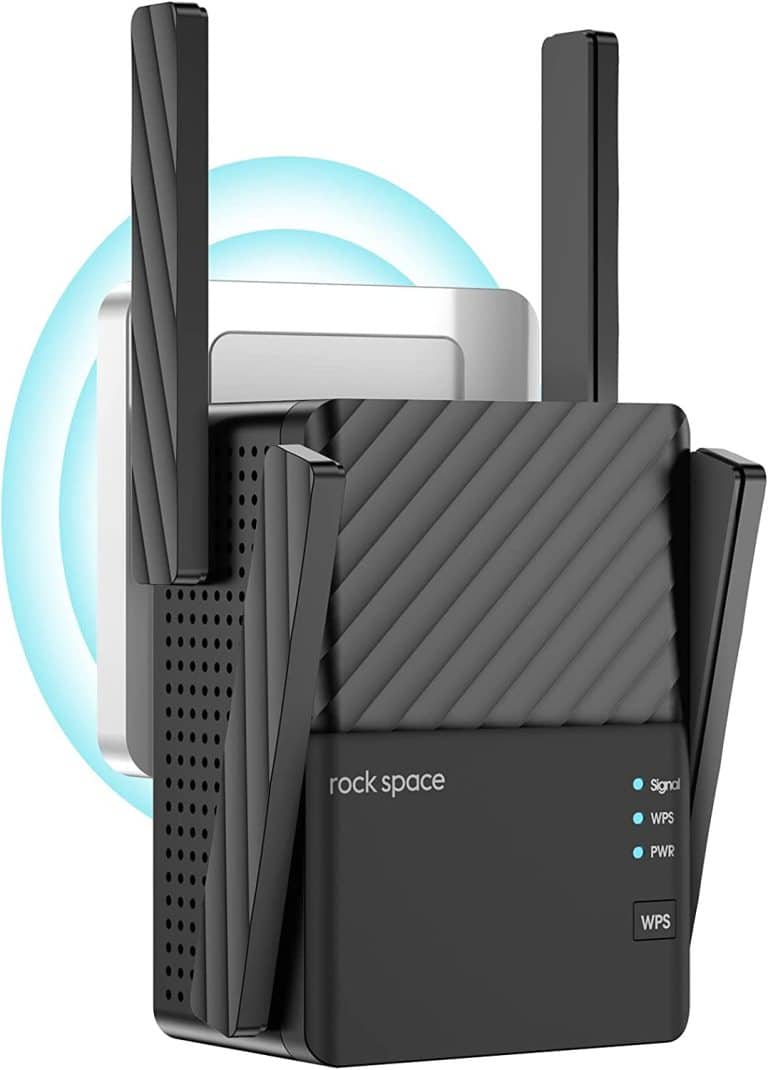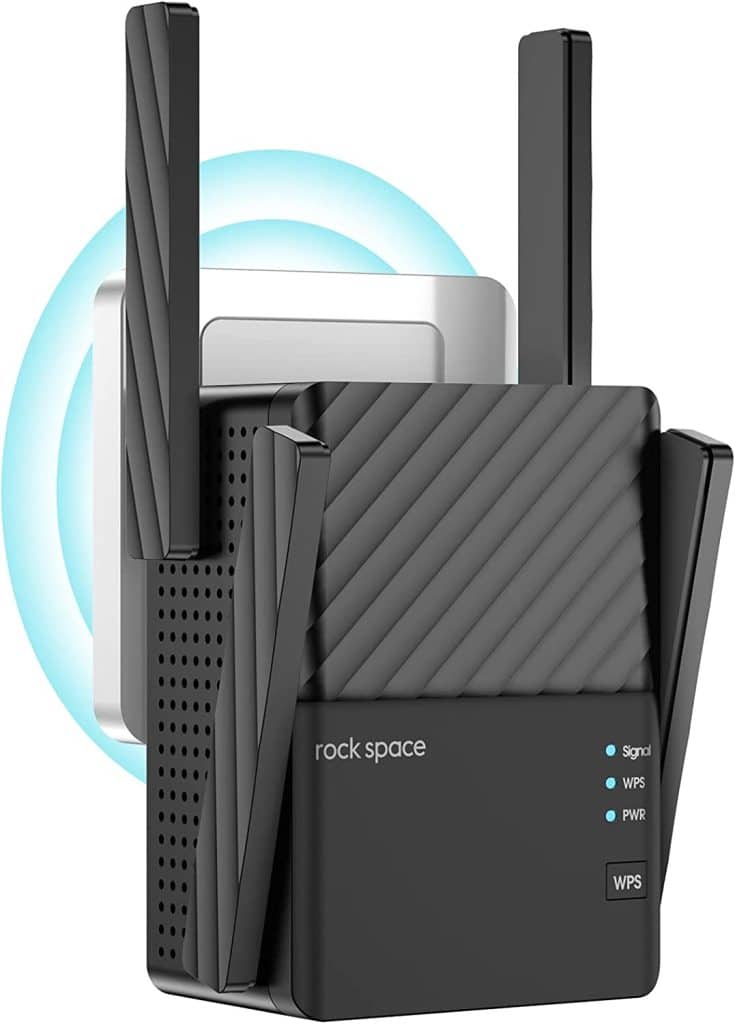 In addition to its range extension capabilities, the WiFi repeater can function as an Access Point, allowing users to convert their wired network into a wireless one. The Gigabit Ethernet port allows you to connect wired devices such as game consoles and smart TVs, ensuring optimal performance when streaming and gaming – and just check out our guide to the best gaming TVs to see the best of what's available on the market today.
Setting up the extender is a breeze, supporting both WPS and web interface setup. Signal lights on the front of the extender can guide you to find the ideal installation spot, and the adjustable antennas offer flexibility in optimizing directional signal strength.
There are also several security settings on the AC2100, the most important being WPA2-PSK encryption. You can also hide the SSID and set up a lock list to prevent unauthorized access, ensuring network safety from intruders.
| | | | | | |
| --- | --- | --- | --- | --- | --- |
| Price | Size | WiFi Standard | Range | Speed Rating | Ports |
| $135.40 | Medium | WiFi 5 | 8,000 sq. ft. | 2100 Mb per second | 1 |
Pros:
Impressive WLAN speeds of up to 2,100 Mbps
Gigabit Ethernet port
Signal lights and adjustable antennas help find the ideal installation spot
WPA2-PSK encryption, SSID hiding, and lock lists
Cons:
Fairly bulky compared to other extenders
Pricing
At $135.50, the Rockspace AC2100 is excellent if you're seeking an effective solution to extend WiFi range in difficult-to-reach areas. With its four directional antennas, this range extender proves to be a cost-effective choice. Despite some size-related fitting issues with wall outlets, the adjustable antennas provide options for alternative placements.
6. TP-Link RE300 AC1200 Mesh WiFi Range Extender – Reliable High-Speed Connections
The TP-Link RE300 AC1200 Mesh WiFi Range Extender is an excellent solution for extending dual-band WiFi coverage throughout your home. It operates over both the 2.4 GHz and 5 GHz bands, providing speeds of up to 300 Mbps and 867 Mbps, respectively.
The RE300 can create a Mesh network by connecting to a TP-Link OneMesh router. This allows for seamless whole-home coverage, eliminating the need to search for a stable connection. The Smart Roaming feature ensures uninterrupted streaming even when moving around your home, and the One WiFi Network Name eliminates the hassle of switching between different network names.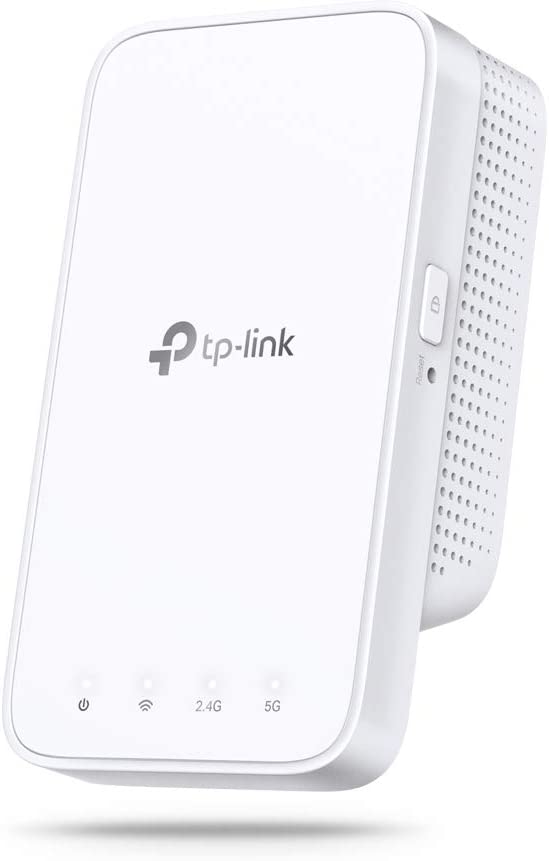 Setting up the TP-Link extender is a breeze with its easy two-step process. All you have to do is WPS button on your router and then on the range extender to connect to the network. Setup is made easier with the Smart Signal Indicator, which helps you find the optimal location for the extender by displaying signal strength.
Managing your WiFi network is made convenient with the TP-Link Tether app, available for Android and iOS devices. The app allows you to set up and control your WiFi network, including the range extender, right from your smartphone.
In terms of performance, the mesh WiFi extender delivers high-speed dual-band WiFi at 1200Mbps, making it ideal for HD streaming and gaming. The mesh network also takes advantage of the Adaptive Path Selection feature. When enabled, the range extender automatically chooses the fastest connection path to the router, ensuring a consistently fast network. We've also created a guide to the best WiFi mesh systems on the market.
| | | | | | |
| --- | --- | --- | --- | --- | --- |
| Price | Size | WiFi Standard | Range | Speed Rating | Ports |
| $79.81 | Small | WiFi 5 | 5,000 sq. ft. | 1200Mbps | 1 |
Pros:
Can create a Mesh network with TP-Link OneMesh
Smart Roaming ensures uninterrupted streaming
Convenient management through the TP-Link Tether app on Android and iOS devices
Adaptive Path Selection ensures consistently fast network performance
Cons:
Mesh network requires a separate device
Pricing
The TP-Link WiFi extender is only $78.91, making it one of the cheapest devices on our list. If you're looking for a cheap pluggable mesh WiFi device and aren't too worried about only being able to use WPA2, you could do a lot worse than the TP-Link RE300.
7. Vonets VAP11G-300 WiFi Bridge – Unique Design for Edge Cases
The VAP11G-300 WiFi Bridge is a compact and versatile device that uses various different operating modes to enhance wireless connectivity. With its small size and portable design, it provides a convenient solution to bridging devices without WiFi onto a wireless network.
Supporting WiFi 802.11b/g/n standards and offering a maximum WiFi rate of 300Mbps, the VAP11G-300 enables fast and reliable wireless transmission. It features an adaptive 10/100 Mbit/s Ethernet port, allowing for seamless integration with wired devices. It also supports the connection of more than 20 WiFi devices simultaneously and uses WPA2-PSK for secure transmission.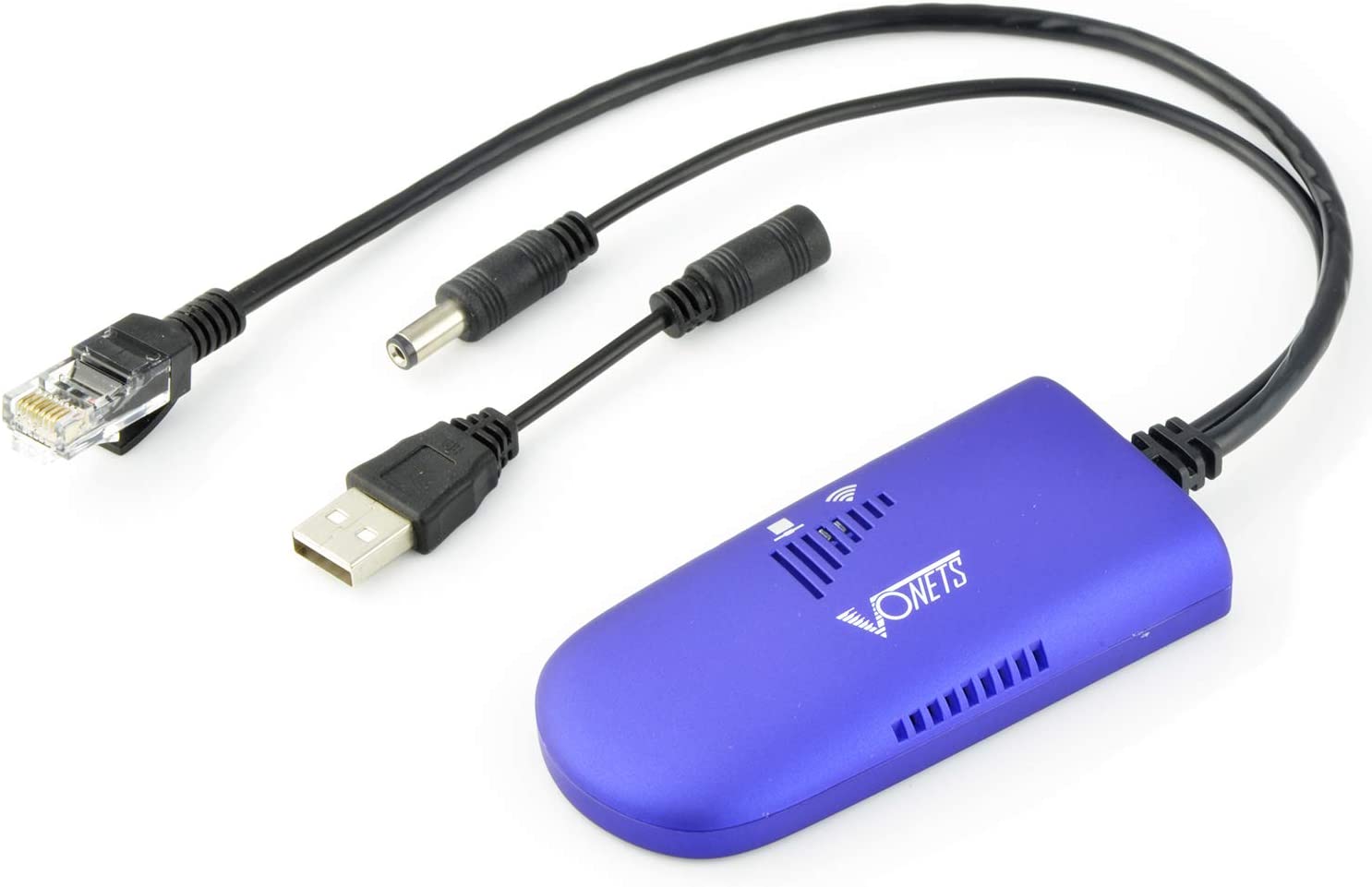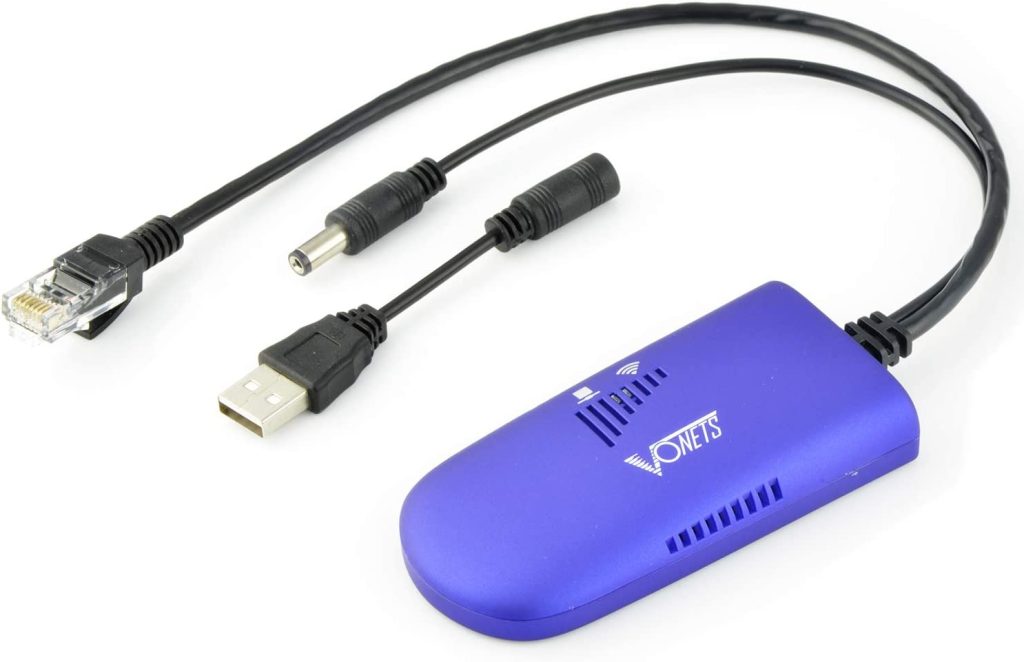 The VAP11G-300 operates using three different application methods: Repeater, Bridge, and Access Point. In WiFi Repeater mode, it supports automatic WiFi hotspot scanning to reduce dead zones in your network. It can also function as a WiFi bridge, allowing for transparent transmission of IP or MAC layers of devices connected to the WiFi extender.
It can also be set up as a WiFi AP hotspot. Using WiFi smart bridge and repeater modes, this wireless bridge device can facilitate WiFi-to-wired connections to bring your wired devices onto your wireless network.
The VAP11G-300 supports point-to-point transmission distances of up to 80 meters without obstacles, although this distance may be reduced to less than 50 meters for real-time network applications like streaming. It supports both DC and USB power supply modes, although only one type of power supply can be used at a time.
This means that most phone chargers will work with the VAP11G-300. Fortunately, you won't have to rely on this as the VAP11G-300 comes with an adaptive Ethernet cable and a USB/DC power cable, both measuring 30 cm in length.
| | | | | | |
| --- | --- | --- | --- | --- | --- |
| Price | Size | WiFi Standard | Range | Speed Rating | Ports |
| $61.80 | Very Small | WiFi 4 | 80 Meters point to point | 300Mbps | 1 |
Pros:
Compact and portable design for easy placement and portability
Supports over 20 WiFi devices simultaneously
Multiple operating modes (Repeater, Bridge, Access Point)
Support for both DC and USB power supply modes
Cons:
Fairly slow compared to other extenders
Pricing
The Vonets VAP11G is a pretty unique entry in our list, and it's also by far the cheapest at only $61.80. It doesn't boast the speed or range of the other devices, but the wide range of functionality and extremely small size means it still might have a place when it comes to extending your WiFi network.
Top-Rated WiFi Extenders Compared
There are a number of different products available for boosting your WiFi signal. Check out the options below to see which one's right for you.
How We Ranked the Best WiFi Boosters
When ranking the best WiFi boosters for Australia, we considered several key factors to determine their effectiveness and suitability for various needs. Our ranking criteria included:
Performance
We assessed the internet boosters based on their signal strength, speed, and overall performance in extending WiFi coverage. Boosters that consistently provided fast speeds over long distances and through walls received higher rankings.
Range
The range of the booster was an important factor. We looked for boosters that could cover a wide area, including multiple rooms or outdoor spaces, ensuring a strong and reliable WiFi signal when moving back and forth between rooms on a call or while streaming. Tri-band systems, meanwhile, are able to access higher connection speeds.
Ease of Installation
We prioritize boosters that are easy to set up and configure. We considered factors such as the availability of user-friendly setup wizards, clear instructions, and intuitive mobile apps or web interfaces.
Features
We evaluated the additional features offered by the boosters, such as support for numerous devices, modern security protocols, Ethernet ports for wired connections, and compatibility with mesh networks. We don't believe a device needs to do everything, but it should do at least one thing very well.
Customer Reviews and Feedback
We took into account customer reviews and feedback to gauge real-world performance and user satisfaction with the boosters. Positive feedback, high ratings, and a good reputation among users played a significant role in our rankings. If you're looking for a Telstra WiFi booster or a Netgear WiFi extender setup, you may be able to find great solutions, but we didn't see the brands stand out in feedback from the community.
How to Set Up a WiFi Extender – A Step-by-Step Guide
Here is a step-by-step guide on how to set up the AVM Fritz! Mesh Repeater:
Unbox the AVM Fritz! Unbox the AVMesh Repeater and ensure that all the necessary components are included.
Choose an optimal location for the repeater. The key to how to extend WiFi range is to place extenders within range of your existing WiFi network and away from thick walls, metal surfaces, and other sources of interference, which can block wireless signals.
Plug the repeater into a power outlet near the area where you need to enhance WiFi coverage.
On your computer or mobile device, connect to the WiFi network named "FRITZ! Repeater" or similar. You may need to enter the default password, which is usually printed on the repeater itself.
Open a web browser and enter "http://fritz.repeater" into the address bar. This will access the repeater's web interface.
Follow the on-screen instructions to set up the repeater. You will need to select your existing WiFi network from the list and enter the network password.
Configure any additional settings as desired, such as changing the WiFi network name or password.
Once the configuration is complete, save the changes and wait for the repeater to restart.
After the restart, disconnect from the repeater's WiFi network and reconnect to your main WiFi network.
Test the WiFi signal strength in the previously weak area to ensure that the repeater is effectively extending the coverage.
WiFi Range Extender FAQs
Which WiFi extender is best for home use?
Are there downsides to a WiFi extender?
Is there a difference between a WiFi booster and an extender?
Do you lose internet speed with an extender?
Which WiFi booster has the longest range?
Do WiFi extenders work through walls?
Conclusion – What's the Best WiFi Extender to Buy in Australia in 2023?
When considering the best WiFi extender options, it's important to assess your specific needs. That said, we believe that the AVM Fritz! WLAN Mesh Repeater stands out as the best choice for a WiFi extender in Australia.
As a mesh network solution, it's easy to use and provides a very stable connection compared to traditional range extenders. As well as mesh functionality, high-speed connections of up to 2,333Mbps and a Gigabit Ethernet port ensure a seamless and extended WiFi network experience throughout your home or office. These features make the AVM Fritz! WLAN Mesh Repeater an excellent choice for a wide range of environments and usage scenarios.