Using the best WiFi router ensures your internet is always stable and secure and provides a reliable wireless connection for your devices. Since everything is online these days, buying the best router on the market helps you keep up with the world.
However, deciding which internet router to go for isn't easy, with so many options on the market and with a range of routers with different features and functionality. We've created a list of the best WiFi routers for this year to help you make an informed decision. Read on to learn more about these devices and how they perform, and find out why the TP-Link TL-WR841N, the Synology RT2600ac, and the Asus RT-AX55 are the best picks this year.
The 11 Best Wi-Fi Routers Ranked
We've created the following list after thorough research, and we're confident that the TP-Link TL-WR841N is the best router you can buy this year. Here's what its closest competition looks like on our complete list:
The Market's Top-Rated Home WiFi Solutions Reviewed
Let's dive into the details of each router on our list, covering their pros and cons, speed, cost, and more.
1. TP-Link TL-WR841N — Overall, the Best WiFi Router in 2023
The TP-Link TL-WR841N offers great value for money, as it costs as little as £15.59 and provides impeccable service.
It has four LAN ports for your desktop PC, printer, or server and one WAN port for connecting it to a broadband modem or another Internet source. All these ports support the Fast Ethernet standard and are easy to access, even if you mount this router on a wall.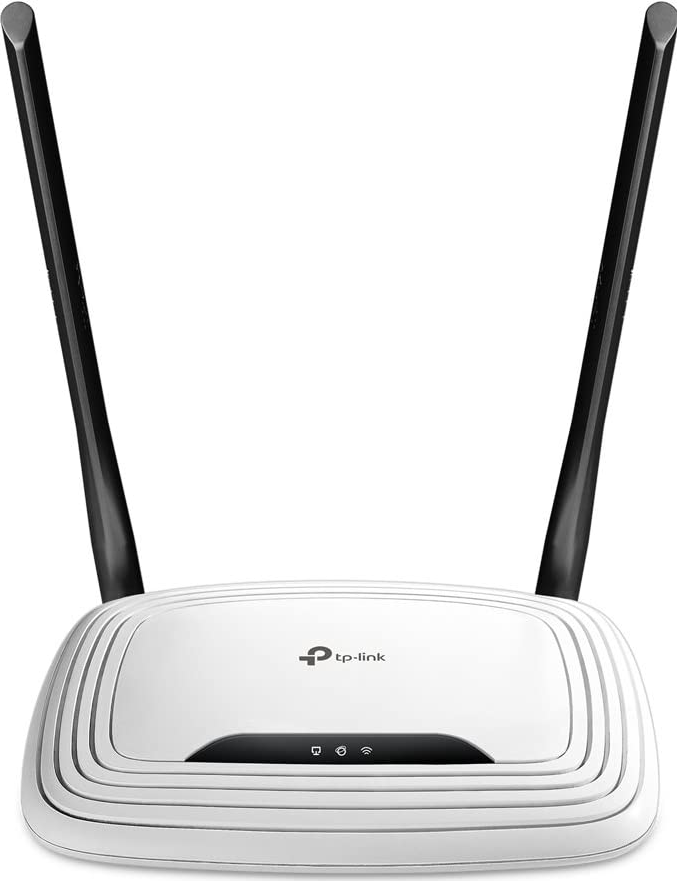 Price
WiFi Standard
Speed
Bands
Features
£15.59
WiFi 4
300Mbps
2.4GHz

Parental Control
Dynamic DNS
Port Forwarding
The TL-WR841N is easy to set up, and it works right out of the box with a preset WiFi network – and you can find the name and the password on the bottom of the router. Its lightweight and durable build means there's lots of flexibility as to where you can place the router. This model is also one of the easiest for beginners since you can connect to the internet by simply plugging the router's WAN port into an internet source and turning it on.
While the router has excellent 2.4GHz performance and provides a stable connection without issues, it doesn't support 5GHz. Modern dual-band routers offer both bands to provide a smoother experience and avoid device crowding.
You'll also want a more expensive router with Gigabit Ethernet switches if your home WiFi speed is faster than 300Mbps. If it isn't, then this budget-friendly router is your best option.
Pros
IPv6 support
Responsive Web interface
Lightweight
Cons
Short range makes it unsuitable for larger homes
2. Synology RT2600ac — Excellent Router With Tons of Features
The Synology RT2600ac offers dual WAN support and many management tools, making it a highly-customizable solution for modern homes and businesses.
Besides being easy to configure, you can also use its parental control and traffic monitoring features remotely, allowing you to block access to specific pages and find out if individuals are overusing the network.
Price
WiFi Standard
Speed
Bands
Features
£139.95
WiFi 5
1730Mbps
2.4GHz and 5GHz

VLAN Tagging
Network Segmentation
Web Filtering
While you can ensure your router is secure using a traditional web interface, it also has iOS and Android apps that make parental control and other settings a breeze to modify. It has a built-in analysis feature, which lets you view historical usage reports for each connected device and monitor live traffic usage.
The RT2600ac lets you create up to five separate networks you can use for different purposes. For example, you can create a guest network and configure access for your smart home devices. This feature is also invaluable if you own a surveillance network, as you can place your security devices on a separate network with independent traffic control rules.
Besides providing a stable connection, this Wi-Fi 5 router protects you from malware and malicious cyberattacks with its Security Advisor feature that scans your network for threats. Its only weak point is the barely average speed for MU-MIMO data streaming, but it's an all-around great router.
Pros
Dual WAN support
Excellent 2.4 and 5GHz performance
User-friendly mobile apps
Cons
MU-MIMO and file transfer speeds could be better
3. Asus RT-AX55 — Great WiFi 6 Solution With Fast Speeds
The Asus RT-AX55 is the best WiFi 6 router on our list, with a total networking speed of about 1800Mbps on its dual-band network.
With 574Mbps on the 2.4GHz band and 1201 Mbps on the 5GHz band, the RT-AX55 provides excellent WiFi speeds and up to 4 times more network capacity compared to previous-gen devices with a similar price tag.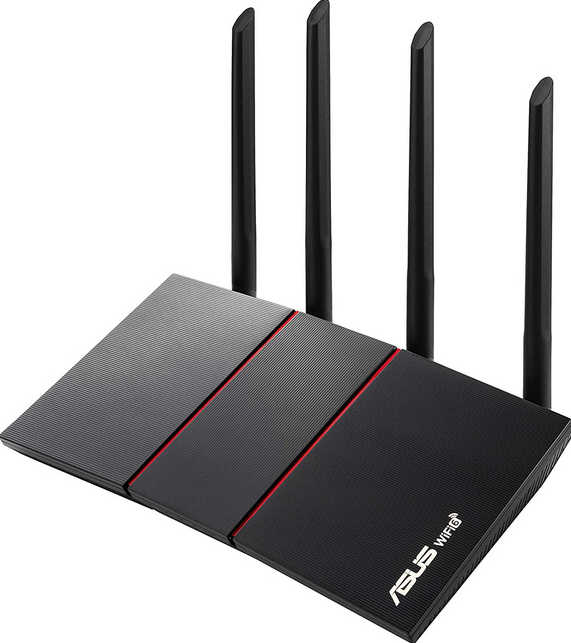 Price
WiFi Standard
Speed
Bands
Features
£76.49
WiFi 6
1800Mbps
2.4GHz and 5GHz

BSS Colouring
VPN Support
AiProtection
The Asus RT-AX55 is one of the cheapest WiFi 6 routers on the market, but its budget-friendly price doesn't mean it has no advanced features. This Wi-Fi router doesn't have a modem of its own, though, meaning you'll need one to get it running, so ensure you have one to hand.
This Asus router has a traditional look and keeps a low profile, measuring 56 x 230 x 134mm and weighing just 374g. Its four antennas are adjustable and sit above four gigabit Ethernet LAN ports and one WAN gigabit Ethernet port. Although some users might dislike that it has no holes for wall mounting, its small size makes it easy to find a spot for it in your home.
Its next-gen Wi-Fi speed makes this Asus router ideal for multi-device households, and its Wi-Fi signal can effortlessly cover large homes or workplaces.
Pros
Next-gen speeds
Well-designed mobile apps
Can be added to a mesh network
4. GS-AX3000 — Advanced Router for Gamers
The GS-AX3000 is an excellent gaming router that offers ultrafast speeds of up to 3000Mbps with 160 MHz WiFi 6 channels.
Developed by Asus, a company well-known for its gaming-oriented products and some of the best gaming laptops, this router has a modern look with RGB lighting. It also comes with Asus AiMesh support, allowing you to create a seamless whole-home mesh network with other AiMesh-compatible routers.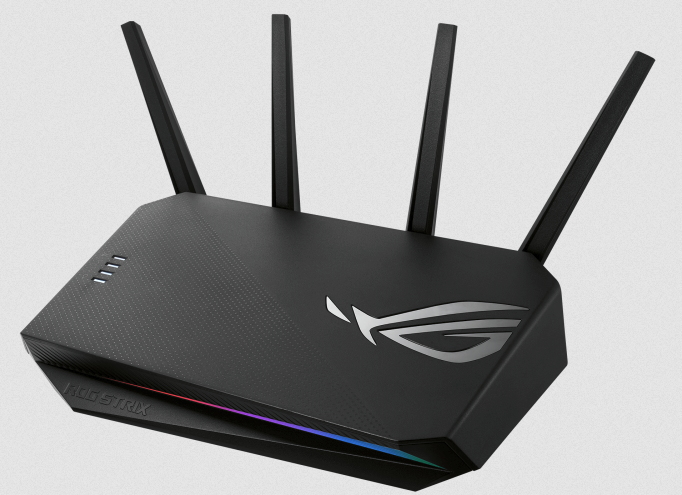 Price
WiFi Standard
Speed
Bands
Features
£159.98
WiFi 6
3000Mbps
2.4GHz and 5GHz

VPN Fusion
Instant Guard
Gear Accelerator
With this gaming router, you can prioritize your gaming rigs over other household devices thanks to its Gear Accelerator technology which helps you decide which devices get more bandwidth. In addition, it has a dedicated Gaming Port that automatically prioritizes any wired device connected to it. That means you can connect your PC or console to put it at the head of the queue for faster speeds.
The GS-AX3000 lets you have peace of mind knowing it protects all your devices and personal data from internet threats with the Asus AiProtection Pro technology, which has regularly updated signatures.
Besides providing the best connection for your gaming devices, this router lets you prioritize gaming applications over others to ensure the lowest latency.
Pros
Built-in VPN split tunnelling feature
Impressive GUI
Port forwarding is easy to configure
Cons
Thick walls might reduce the signal range
5. TP-Link Archer MR400 — An Ideal Solution for Small Homes
The TP-Link Archer MR400 is a powerful TP-Link router designed for users who need high data transfer speed on up to 64 WiFi devices.
Its unlocked SIM card slot lets you plug a SIM card into this router to enjoy a fast wireless connection, and it works with SIM cards in over 100 countries. You don't need to be a tech genius to use this feature, as it requires no configuration.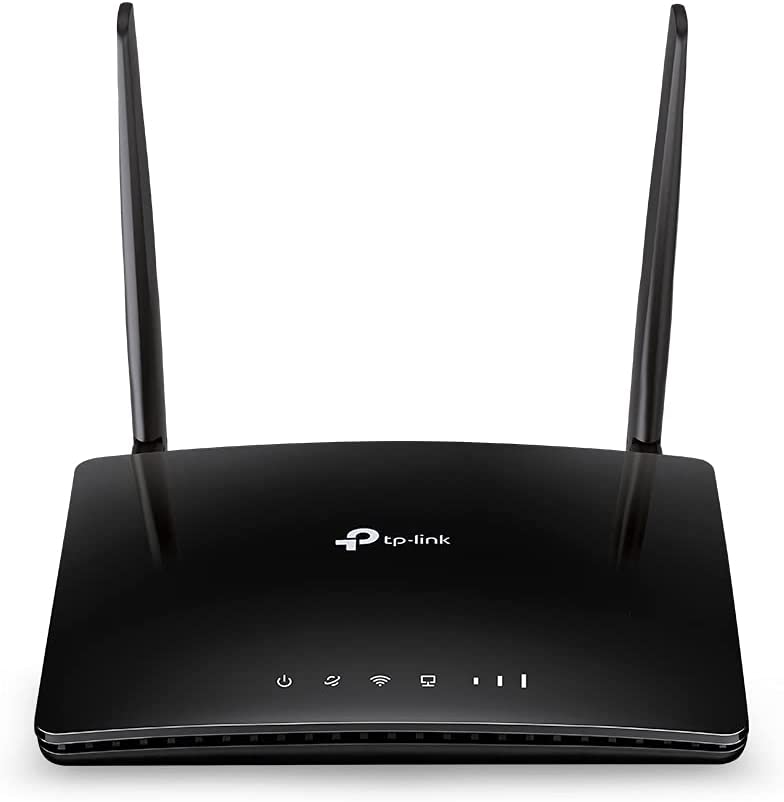 Price
WiFi Standard
Speed
Bands
Features
£85.99
WiFi 5
1167Mbps
2.4GHz and 5GHz

Two detachable LTE antennas
QoS Bandwidth Control
DoS Attack Protection
This router has 4 Ethernet ports – 3 LAN ports and one switchable LAN / WAN port, allowing you to connect it to the internet using a cable in addition to SIM cards.
Besides making it easy to set up your home WiFi, the Archer MR400 can be a part of your TP-Link mesh network for seamless whole-home coverage. Pairing it with a TP-Link Wi-Fi extender lets you fill even the most distant rooms in your home with a stable connection and strong signal.
Thanks to its intuitive Tether mobile apps for iOS and Android, managing this router's network settings and accessing parental and access controls is simple. That means you can limit bandwidth usage for your children or prevent them from accessing websites with harmful content.
Pros
Easy to mount on walls
Backward compatibility for 4G, 3G, and 2G networks
It's easy to replace its stock antennas if you need better mobile signal
Cons
Very short charging cable
6. Tenda Nova MW6 — Cube-Shaped Mesh Kit for Large Homes
The Tenda Nova MW6 is a WiFi box mesh system that helps you forget WiFi dead zones in your home by providing up to 6,000 sq. ft. of coverage.
Using the Tenda WiFi App makes the setup a breeze and allows you to monitor and configure your WiFi mesh network. It also helps you add a new node to your existing mesh network with detailed guides.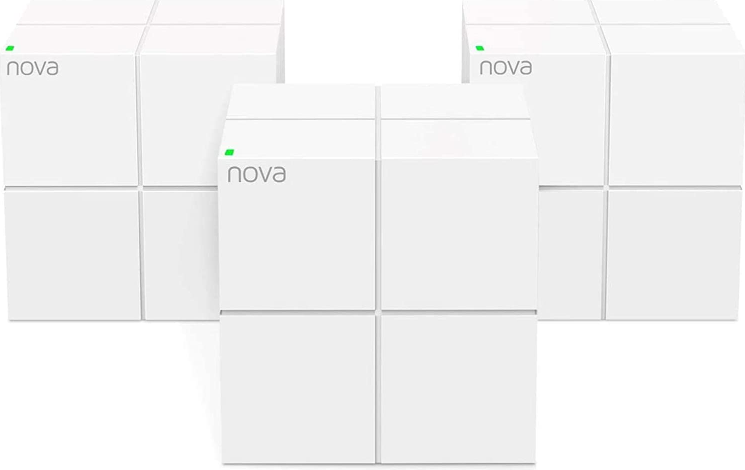 Price
WiFi Standard
Speed
Bands
Features
£85.99
WiFi 5
1167Mbps
2.4GHz and 5GHz

Wave2.0 MU-MIMO technology
Automatic Network Optimisation
Seamless Roaming
This mesh network ensures you are always connected by automatically connecting you to another Nova box if the one in use disconnects.
Owners of larger homes will appreciate its seamless roaming feature that provides a lag-free experience as you go from room to room with your device in hand since your connection won't drop as your device connects to the nearest Nova.
Pros
Affordable
Easier to set up than most mesh networks
Can wall mount
7. Netgear WAX204 — Designed for Organisations of All Sizes
The Netgear WAX204 is a wall/ceiling mount WiFi 6 router ideal for businesses that want to ensure a stable connection for employees and customers.
This budget-friendly Netgear router supports WiFi 6 to provide an access point or full router functionality, depending on your needs. That means you can use it as a standalone device that uses an ISP-provided IP address or an access point connected to an existing router in your network.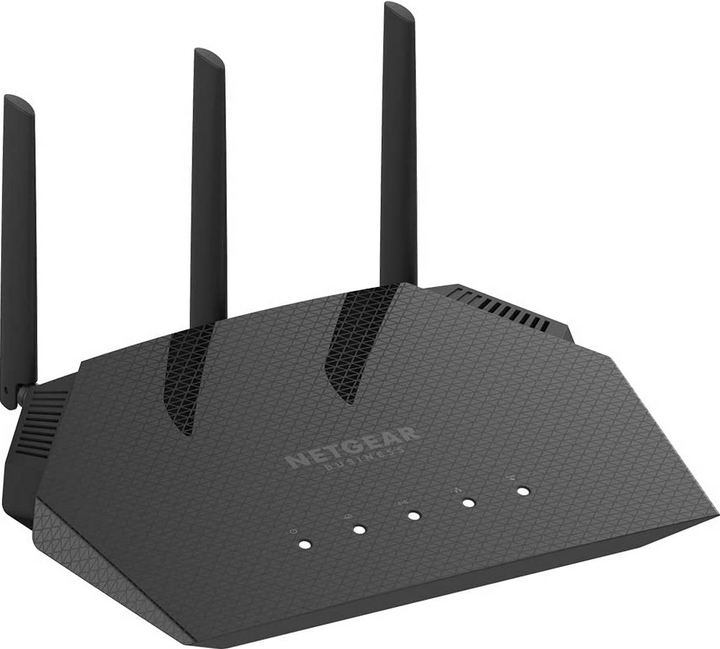 Price
WiFi Standard
Speed
Bands
Features
£74.02
WiFi 6
1800Mbps
2.4GHz and 5GHz

Business Class Security
Four 1 Gigabit ports
Instant Setup Wizard
That makes it ideal for waiting lobbies and retail storefronts because you can use it as a Wi-Fi extender for any single room area.
You can also create separate networks for your employees and customers, increasing security and connectivity. However, it has a clunky Graphical User Interface (GUI) that will take some time to get used to.
Pros
Excellent 2.4GHz throughput
Modern design
100% backward compatibility
8. Google Nest — Comes With a Built-In Google Home Speaker
The Google Nest is a mix of a mesh Wi-Fi extender and a Google Home Mini speaker since it can push the Wi-Fi signal farther into the house and respond to voice commands to play audio.
Its design follows Google Home's evolving look of organic shapes with soft colours and no hard edges, making it easy to place anywhere in your home.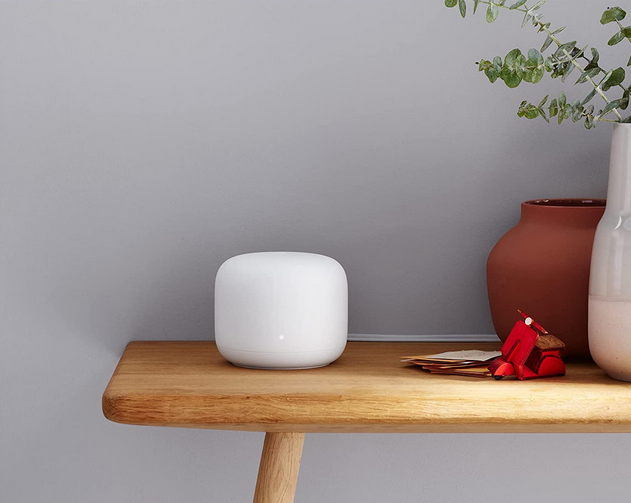 Price

WiFi Standard

Speed

Bands

Features

£58.96

WiFi 5

2200Mbps

2.4GHz and 5GHz

Built-In Google Assistant
Automatic Updates
Traffic prioritisation
What we love about Google Nest is its scalability, as you can install a single internet router and then add more access points to cover your home. Each Google Nest covers 2,200 sq. ft., although you can't add more than six devices to your mesh network.
A single Google Nest internet router can handle up to 100 connected devices, and its Thread technology keeps all your smart home devices connected, making them faster.
Pros
Excellent design
Beginner-friendly controls
Great performance
Cons
Minimal configuration options
9. GL.iNet — Comes With a Pre-Installed OpenVPN Client
The GL.iNet GL-MT300N-V2 is arguably the best mobile WiFi router because of its miniature size and powerful hardware.
This mini wireless router is travel friendly because it weighs only 39 grams, easily fits in your pocket and can be powered by various methods. You can power it using a 5V 1A AC adapter, a USB port on a tablet/notebook/desktop, or a power bank.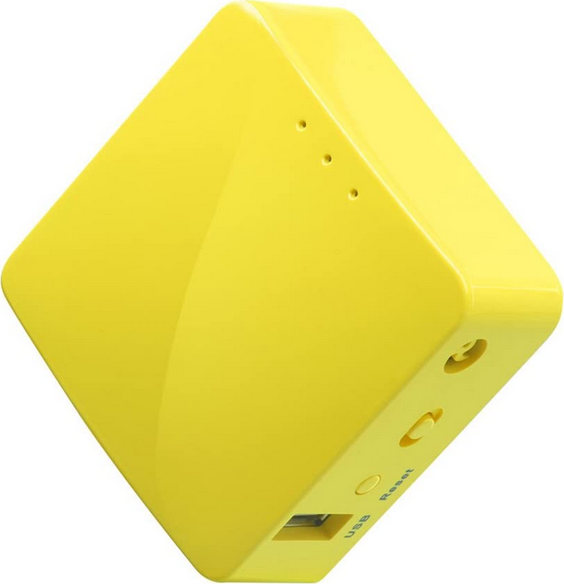 | | | | | |
| --- | --- | --- | --- | --- |
| Price | WiFi Standard | Speed | Bands | Features |
| £29.00 | WiFi 4 | 300Mbps | 2.4GHz | |
The GL.iNet GL-MT300N-V2 supports both OpenVPN and Wireguard, making it easy to encrypt the internet traffic for all connected devices by using VPN at a router level.
While converting a public network to private Wi-Fi for secure surfing is simple, you might need time to get used to its custom-built interface based on OpenWRT.
Pros
Travel-friendly
Exceptional firewall
Can be used as a Wi-Fi extender or repeater
10. Amazon Eero Wi-Fi 5 — Automatic Bandwidth Control
The Amazon Eero helps you replace your router with whole-home mesh WiFi and avoid buffering and dead spots while you stream movies, work, or play games.
The Amazon Eero is one of the easiest mesh networks to set up and use for first-time users. Its TrueMesh technology helps you maintain a stable connection as you move around the house by automatically switching your device to the nearest access point.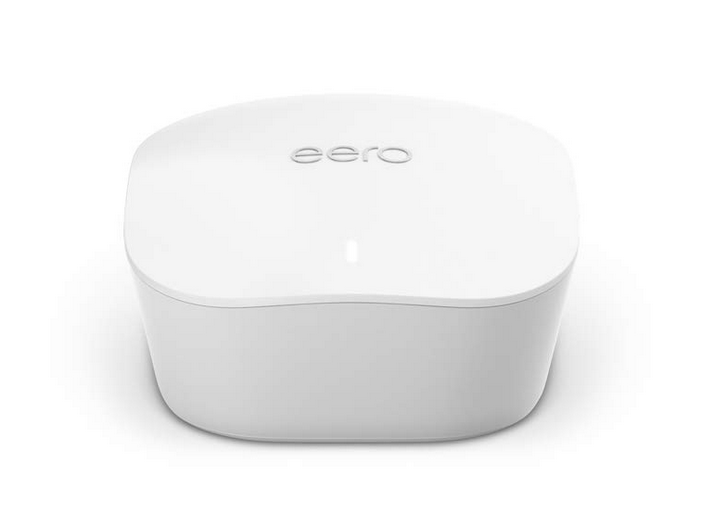 Price

WiFi Standard

Speed

Bands

Features

£51.99

WiFi 6

900Mbps

2.4GHz and 5GHz

Device Profiles
Traffic Management
It has convenient mobile apps that allow you to share your network with guests, pause the internet, or configure the network. However, some advanced features require an additional subscription.
While a single Eero covers up to 1,500 sq. ft., you'll need an Eero 3-pack if you own a larger home, as it covers up to 4500 sq. ft.
Pros
Excellent parental controls
Cross-compatible hardware
Frequent and automatic updates
Cons
Expensive subscription-based features
11. Huawei B311 — Compatible With Any Device
The Huawei B311 is a 4G SIM router that requires no configuration, as you just need to insert a SIM card and turn it on to enjoy high-speed internet access.
The Huawei 311 is an ideal solution for homeowners who can't get wired broadband or don't want to sign lengthy contracts with an ISP.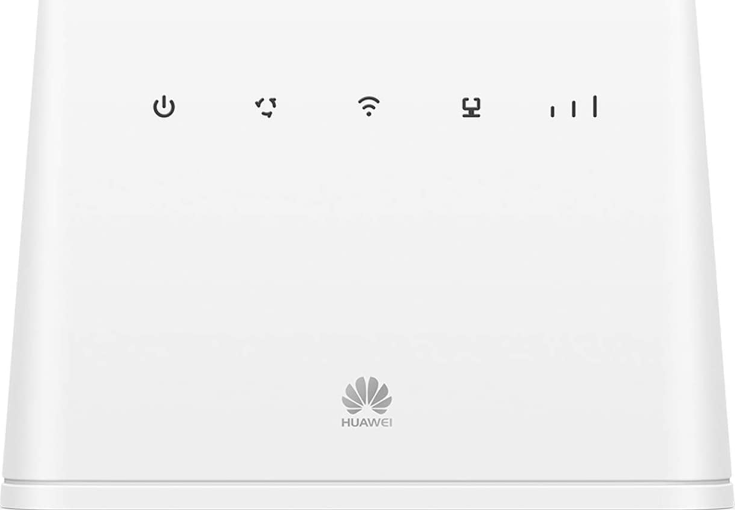 Price

WiFi Standard

Speed

Bands

Features

£59.34

WiFi 4

300Mbps

2.4GHz

External Antenna Support
Plug-and-Play Installation
As a Cat 4 device, it offers a reasonably fast download speed of 150Mbps, meaning you can stream HD videos, download apps or torrents, play video games, and listen to music without issues.
While its signal strength is enough to cover a small home or office, you'll need an external SMA antenna to cover a larger area.
Pros
Lets you connect up to 32 devices
Easy to set up
Great value
Cons
Lower maximum speeds than rivals
Comparison of the Best WiFi Router UK Products
Let's review the pricing, features, and other specs of the routers on our list side-by-side to help you compare them:
Router

Price

Wifi Standard

Speed

Bands

Features

£15.59

WiFi 4

300Mbps

2.4GHz

Parental Control
Dynamic DNS
Port Forwarding

£139.95

WiFi 5

1730Mbps

2.4GHz and 5GHz

VLAN Tagging
Network Segmentation
Web Filtering

£76.49

WiFi 6

1800Mbps

2.4GHz and 5GHz

BSS Colouring
VPN Support
AiProtection

£159.98

WiFi 6

3000Mbps

2.4GHz and 5GHz

VPN Fusion
Instant Guard
Gear Accelerator

£85.99

WiFi 5

1167Mbps

2.4GHz and 5GHz

Two detachable LTE antennas
QoS Bandwidth Control
DoS Attack Protection

£85.99

WiFi 5

1167Mbps

2.4GHz and 5GHz

Wave2.0 MU-MIMO technology
Automatic Network Optimisation
Seamless Roaming

£74.02

WiFi 6

1800Mbps

2.4GHz and 5GHz

Business Class Security
Four 1 Gigabit ports
Instant Setup Wizard

£58.96

WiFi 5

2200Mbps

2.4GHz and 5GHz

Built-In Google Assistant
Automatic Updates
Traffic prioritisation

£29.00

WiFi 4

300Mbps

2.4GHz

£51.99

WiFi 6

900Mbps

2.4GHz and 5GHz

Device Profiles
Traffic Management

£59.34

WiFi 4

300Mbps

2.4GHz

External Antenna Support
Plug-and-Play Installation
What's the Difference Between Wi-Fi 5 and 6?
Upgrading to Wi-Fi 6 is a must if you own a lot of smart home devices or live in an apartment, as it offers better connectivity and speeds and effectively deals with interference from neighbouring routers to maintain a stable connection.
Wi-Fi 5 is the fifth generation of Wi-Fi, and its standard Institute of Electrical and Electronics Engineers (IEEE) name is 802.11ac. Wi-Fi 5 introduced several improvements over Wi-Fi 4 (802.11b/g/n) in 2014, including support for data rates over one gigabit.
It also brought multi-user, multiple input, multiple outputs (MU-MIMO) support, 160MHz channel support, four spatial streams, and re-introduced the 5GHz frequency band. While these features make it great, its direct successor, Wi-Fi 6, surpasses its performance.
Wi-Fi 6 (802.11ax) is the sixth generation of the wireless networking protocol that builds upon Wi-Fi 5 by increasing its total throughput to be more compatible with numerous smart home devices.
It uses both 2.4GHz and 5GHz frequency bands and boasts an improved version of MU-MIMO, WPA3 encryption, and Target Wake Time (TWT), which helps save battery on mobile and Internet of Things (IoT) devices.
Thanks to its dual-band support and orthogonal frequency-division multiplexing (OFDMA), Wi-Fi 6 can theoretically deliver a data rate of up to 9.6 Gbps. Since Wi-Fi tops out at 6.9 Gbps, upgrading to the sixth generation is recommended regarding speed.
Wi-Fi 6's also offers uplink and downlink MU-MIMO support, meaning any Wi-Fi 6 access point can simultaneously receive and transmit data from multiple devices. That makes it the better pick if you own many smart home devices, as Wi-Fi 5 only supports downlink MU-MIMO.
Should I Get a Wireless or Mesh System Router?
Mesh systems are integrated and act as one, making them easier to configure because the changes apply to all devices on the network. Managing access points is challenging because you would need to configure the settings of each device individually.
A single router was the only way to establish home WiFi until the introduction of mesh networks, which provide multiple access points around your home to increase coverage.
A wireless router connects to your modem to provide a Wi-Fi signal for your other devices, and while some have impressive signal strength, there's always a risk of having dead spots in your home where it won't reach. For example, if you place your wireless router in your living room with thick walls, you might have connectivity issues in rooms on the other side of your house or the garden.
You can extend this signal using a Wi-Fi extender or a second router configured to an access point mode, but a mesh network is a superior solution if you need to cover more ground.
Besides being easier to manage and providing more coverage, mesh systems help you by automating various tasks. For example, leaving the area of one device in your mesh network and getting closer to another will automatically connect you to the latter without slowing down or dropping the connection.
A wireless router is better if you own a small home or office and want more control over your network without automation. If you often have problems losing the Wi-Fi signal in your home or want to switch to an easy-to-manage system, a mesh network can solve those issues.
Other Factors to Consider When Picking the Best WiFi Router for You
Although knowing the differences between these router types can help you make an informed purchase, here are some other crucial factors to consider before you do:
Owned Devices
If you own one of the best gaming PCs, you likely want a stable connection to download and play your favourite games. Most users use a cable to provide an internet connection to their PCs, meaning they just need to find a router that can match their ISP-provided internet speed.
However, if you have various smart home devices or a lot of family members with multiple devices, you'll likely need a mesh network, or at least a dual-band with a 2.4GHz network for smart home devices and a 5GHz network for others.
In addition, you should consider a Wi-Fi 6e router if you constantly purchase the newest tech and want the highest speeds and the best connectivity. However, since older devices will be incompatible, you should ensure all your devices are ready for that upgrade.
Bands
Most routers have 2,4GHz, 5GHz, or 6GHz WiFi bands, and tri-band routers offer all of those at once. These frequency bands are unique in what they offer, with the higher frequencies allowing for better speeds at the cost of their broadcast range.
You should use the 2.4GHz band for your oldest devices and smart home appliances, and a router that supports only this band is good for basic online activities, such as watching movies and browsing.
The 5GHz frequency band offers higher speeds, allowing you to download files quicker and watch HD video content without issues.
The 6GHz frequency band lets you browse the internet at even higher speeds but suffers from a shorter signal range. That means you'll need Wi-Fi extenders to cover a larger area.
Pricing
You should buy a router that fits your budget, even if it means missing out on some features. For example, you don't need a pricier router for its parental control features or mesh network compatibility if you don't plan on having children or moving to a larger home.
Look for routers that come at an affordable price but offer a good signal range and decent speeds that match your ISP-provided connection speed.
VPN Compatibility
Using one of the best VPNs can quickly become expensive if you need to cover dozens of devices. However, enabling VPN encryption on a single router allows you to encrypt the traffic of all connected devices, saving you money and time.
Most IoT devices in our homes can't run software on their own or use a VPN, and some don't even have screens. Routing these devices through the VPN from the router masks the traffic they generate, preventing your ISP, the government, or any other entity from gathering data about you.
However, if you aren't tech-savvy, you'll have to carefully follow your VPN provider's guides on configuring your router to use a VPN. In addition, you should ensure the websites you frequently visit allow VPN connections since some banks and streaming services prohibit them.
WiFi Router UK FAQs
What is the best Wi-Fi box in the UK?
How much does a good UK WiFi solution cost?
What is the fastest and strongest router?
How long do WiFi routers last?
What's the best WiFi router for range?
What's the best budget router?
What's the best router for gaming?
Conclusion – What's the Best WiFi Router to Buy in the UK in 2023?
There is no one-size-fits-all answer to this question, as the solution really depends on your needs, the size of your home or business, and the devices you own.
Our top 11 list this year has the TP-Link TL WR841N at the top because of its reliability, ease of use, and budget-friendly pricing.
However, if you need a gaming router, a mesh network, or a device with a built-in virtual assistant, then our list has them all. We're confident that this guide will help you make an informed decision based on your needs and that we've included the best options for every use case.