Chimpzee (CHMPZ) serves as an outstanding illustration of a crypto initiative making a meaningful contribution to the world. Having already accomplished numerous charitable initiatives, the project is currently in the process of supporting WeForest's endeavor to plant over 5,000 trees in Tanzania – a goal that is getting closer and closer. Additionally, investors are eagerly participating in the ongoing flash promotion, providing the opportunity to receive up to 4x BONUS CHMPZ tokens.
We provide you with comprehensive details on this promotion, the CHMPZ presale, and all the information you need about this charity-focused token.
Chimpzee's Raise Goal Achievement Attracting Attention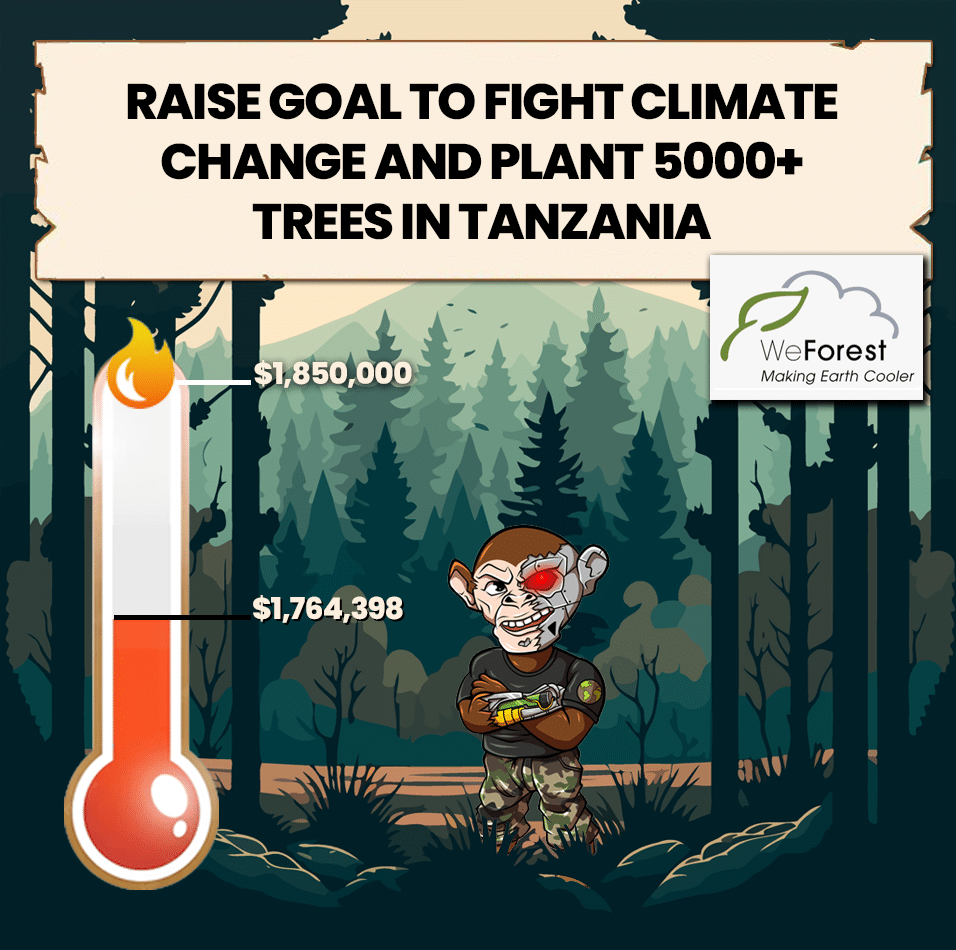 Chimpzee is committed to wildlife conservation and combating climate change, while also offering users a way to generate passive income. The team has allocated 10% of the token supply and a portion of profits for organizations actively involved in addressing these critical issues. Additionally, Chimpzee has outlined comprehensive plans for an ambassador program and community outreach initiative, funded by the project's resources, to emphasize the importance of raising awareness and funds for conservation efforts. Collaborative organizations include The GivingBlock, Rainforest Rescue, WILD, and One Tree Planted.
To further this mission, Chimpzee introduces a suite of robust features, including Play-to-Earn, Shop-to-Earn, and Trade-to-Earn mechanisms. These functionalities empower users to earn rewards while actively contributing to the project's overarching goals.
Chimpzee offers a diverse range of features tailored to engage cryptocurrency enthusiasts, with a specific emphasis on the Chimpzee shop, NFT marketplace, and Zero Tolerance Game. The Chimpzee shop acts as a centralized hub for various products and commodities. Conversely, the NFT marketplace facilitates the trading of NFTs, providing a channel for passive income through a share of the platform's trading fees.
By achieving specific milestones in the environmentally-conscious Zero Tolerance Game, players can accumulate CHMPZ tokens. Holders of Chimpzee NFT passports receive additional benefits, enhancing their passive income potential within the Chimpzee ecosystem. The following outlines the stages involved in obtaining a Chimpzee NFT passport.
Chimpzee is also on the cusp of launching a mobile application that incorporates AI technology to create personalized Chimpzee AI avatars. This innovative app empowers users to craft their own unique Chimpzee avatars.
Only One More Stage Left In CHMPZ Presale
CONGRATULATIONS WE JUST ACHIEVED ANOTHER RAISE GOAL! 🥳

➡️THERE IS ONLY ONE MORE STAGE LEFT!⬅️

Chimpzee is going to make a donation to WeForest to plant 5000+ trees in Tanzania and help fight climate change! We just burned another 2 Billion tokens!🔥

Take advantage of the… pic.twitter.com/M5w3g2V5gw

— Official Chimpzee Project (@RealChimpzee) November 8, 2023
The current price of the CHMPZ token stands at $0.00140. However, in the upcoming and final stage, the price is set to rise to $0.00155, with a listing price of $0.00185. CHMPZ has raised over $1.98 million so far. Additionally, investors have the opportunity to participate in a 4X bonus promo that brings the price back down to early presale levels.
Investors can receive varying degrees of bonuses based on their investment amount. Those who invest over $500 will receive a 1.5x bonus, while investments exceeding $1000 yield a 2x bonus. For investments surpassing $5000, a generous 4x bonus is offered.
Chimpzee is presently collaborating with WeForest on a mission to plant over 5,000 trees in Tanzania as part of the broader effort to combat climate change. This raise goal was recently achieved and a donation will be made through the GivingBlock.
Furthermore, exclusive Chimpzee NFT Passports will be available after the presale. Non-presale participants will need to wait until after the whitelist event, a privilege reserved exclusively for initial presale contributors to be among the first ones to buy them before they are available to the public.
Additionally, when CHMPZ coins are used to acquire Chimpzee NFT passports, a burning mechanism will be triggered, potentially burning 5 billion tokens from the circulating supply..
Following the conclusion of the presale, the Chimpzee team will shift their primary focus towards securing listings on various exchanges and advancing technological functionalities.
Conclusion
Chimpzee unquestionably stands out in today's crypto market. We urge you to explore this project promptly and help make a difference in the world. The 4x bonus promotion will end soon, and by investing, you'll not only benefit personaly but also contribute to a positive impact on the world.