The best POS system for restaurant use can help you streamline ordering and payment processes in your business, reducing errors, improving communication, and enabling customers to settle their bills effortlessly. Many restaurants turn to the best-rated restaurant POS systems to manage their inventory and staff and generate financial reports.
Finding the best restaurant POS systems isn't an easy task, though. To help you make an informed decision, we've reviewed and ranked the top restaurant POS systems in 2023. We'll compare their services based on pricing, features suitable for the restaurant industry, and other factors. Keep reading to learn why Square is the best POS for restaurant owners this year and the details of its closest competition.
The 10 Best Restaurant POS Systems Ranked
These systems can enhance your inventory, orders, and payments management, but each solution has strengths and drawbacks. Here's our list of the best restaurant software, each with its own unique use cases and benefits.
How Do Restaurant Point of Sales Systems Work?
Restaurant Point-of-Sale systems act as a central hub for restaurants, seamlessly integrating various functions to optimize operations and simplify payment processing.
POS systems excel at helping you with inventory management and improving your customer experience. These programs can monitor your ingredients and supply levels to prevent overstocking and inform you when your stocks are low.
At their core, POS systems for restaurants are ideal for simplifying processes, from in-house ordering to the delivery of meals. They help your staff get clear instructions, whether a chef or bartender, improving accuracy and enhancing your customer's experience.
In addition, restaurant POS software lets you offer various payment methods to your patrons, complemented by digital receipts and transaction records to simplify your business's scorekeeping.
They don't just simplify orders and payments, though, as POS systems can help restaurant owners by providing valuable information and analytics. For example, your software can inform you about what people like to eat in your restaurant, allowing you to improve on the menu.
Why You Need Restaurant POS Software
From efficiency to security and beyond, these systems can help you elevate customer service and deliver a superb dining experience.
Here are some crucial benefits that POS systems offer as soon as you incorporate them into your business:
Accurate order processing — POS software eliminates communication errors caused by verbal or handwritten orders. Your staff can input orders directly into the system, including special requests and dietary restrictions, ensuring each dish or drink comes out just as requested.
Improved inventory management — To prevent overstocking and stockouts, POS software offers real-time tracking of ingredients and supplies, monitors stock levels, and alerts your staff about low supplies. In addition, you can automate reordering, ensuring a steady supply of essential ingredients.
Quick payment processing — They simplify bill settlement, allowing customers to pay using various methods, from cash to credit cards. Besides improving customer satisfaction, this also minimizes the chances of errors in payment handling, resulting in more efficient table turnover and increased revenue.
Streamlined reporting — This valuable feature provides a systematic and efficient way to collect and analyze sales, inventory, and customer preference data. It's invaluable to help managers identify trends, assess the performance of menu items, and automate reports for long-term decision-making.
Better customer service — POS software can integrate with third-party tools, including reservation and loyalty program programs, to help you provide a comprehensive service. Besides optimizing the dining experience, POS systems can help you with seating arrangements and retaining patrons.
Simplified staff management — The software lets you create shift schedules and track staff performance and billable hours. This can reduce errors and minimize labor costs while allowing employees to access their schedules, clock in and out, and manage shift changes directly from the platform.
Comparison of the Market's Top POS Systems for Restaurants
We have created a master table to help you make a head-to-head comparison of each POS system provider on our list. Here, you'll see how their top features, pricing, use cases, and fees compare.
POS System
Best For
Starting Price
Transaction Fees
Free Version
Top 3 Features
Square
Best Overall
$60/month
– In-Person – 2.6% + $0.10
– Online – 2.9% + $0.30
– Manual – 3.5% + $0.15
–

Invoices – 3.3% + $0.30

Free Plan, 30-Day Free Trial
– Menu Customization
– Auto Gratuity
– Advanced Discounts
TouchBistro
Integrations
$69/month
Quote-based
None
– Upselling Reminders
– Bill Splitting
– Individual Staff Logins
Toast
Online Orders
$69/month
Quote-based
Free Plan
– Real-Time Fraud Monitoring
– Toast Delivery Services
– Digital Menus
Lavu
Food Trucks
$59/month
Quote-based
None
– Dual Pricing Capability
– Kitchen Display System
–

Customer Database

Clover
Reports and Analytics
$54.95/month
– In-Person – 2.3% + $0.10
–

Card-Not-Present – 3.5% + $0.10

None
– Table Mapping
– Tipping Support
– Scan-to-Pay
Vend
Inventory Management
$69/month
– In-Person – 2.6% + $0.10
14-Day Free Trial
– Advanced Reporting
– Loyalty Program
– Inventory Automation
Shopify
Fast-Food Restaurants
$79/month
– In-Person – 2.4% to 2.7%
– Online – 2.6% to 2.9% + $0.30
3-Day Free Trial
– Custom Website
– Manager Approvals
– Order History
Lightspeed
Cafes
$69/month
– In-Person – 2.6% + $0.10
–

Online – 2.6% + $0.30

14-Day Free Trial
– Take Out and Delivery
– Order and Pay at Table
– Advanced Insights
Epos
Bars
$99 + Subscription
Quote-Based
14-Day Free Trial
– Robust Hardware
– Payment Pre-Authorization
– Staff Onboarding
Revel Systems
Larger Restaurants
Custom
Quote-Based
None
– Table Ordering System
– Color-Coded Timers
– Custom Reports
The Best Restaurant POS Providers Reviewed In-Depth
Here, we'll review each service on our list to help you choose the best restaurant POS software for your business. We'll go into detail to help you find information on their best features, strengths and weaknesses, pricing, and more.
1. Square — Overall, the Best Restaurant POS System in 2023
Square is the best POS system for small restaurant owners looking to improve customer service and optimize order management. Besides its long list of features and benefits, Square has one of the most diverse selections of hardware devices for restaurants. These include barcode readers, receipt prints, registers, and more.
In addition, Square offers the best free POS software plan, making it one of the most flexible POS platforms for startups and first-time users who aren't ready to commit to a subscription.
Nevertheless, its cheapest plan provides industry-leading functionality, including course management and live sales reporting, making it a great choice and arguably better for getting started than services like Vend or Clover.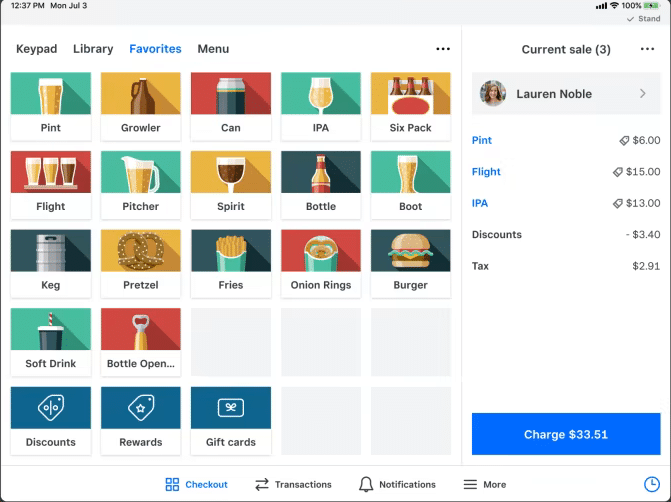 Best For
Starting Price
Transaction Fees
Free Version
Top 3 Features
Best Overall
$60/month
– In-Person – 2.6% + $0.10
– Online – 2.9% + $0.30
– Manual – 3.5% + $0.15
–

Invoices – 3.3% + $0.30

Free Plan, 30-Day Free Trial
– Menu Customization
– Auto Gratuity
– Advanced Discounts
Square accepts various payment methods, including credit cards, debit cards, and mobile wallets, which is convenient for customers and makes payment processing quick and secure.
In addition, it has transparent and competitive payment processing fees prominently displayed on its website, meaning you won't face any hidden costs or inconveniences with its service.
It also offers numerous in-house add-ons, including restaurant management software for teams and shifts, loyalty programs, and invoicing.
You can also add its payroll solution to your account, which is priced similarly to the best payroll software available today. That makes Square an exceptional all-in-one solution for keeping your data centralized and accessible.
Square offers a user-friendly interface, meaning your restaurant staff won't require extensive training to get used to it.
We tried it out for ourselves and were impressed with how simple it is to use advanced features such as table management, which is often complicated with other POS systems. If there is one drawback, it's that the fees can add up – but we'd say it's worth it.
Pricing
Square has a transparent pricing structure for its business services, including its POS system. You can use its free plan to test its interface and basic features before committing to a subscription, but we suggest opting for its 30-day free trial for the Plus plan instead, as you'll get access to its advanced features.
Besides Plus, Square offers the Premium plan for larger businesses looking for custom quotes on POS systems and other business solutions.

Pros
Comprehensive free plan
Transparent pricing and fees
Beginner-friendly interface
Numerous add-ons
In-depth reports and analytics
Cons
High fees for larger organizations
2. TouchBistro — All-In-One Restaurant Management Solution
TouchBistro is a POS solution that has tailored features and functionality for restaurants with a beginner-friendly platform. It stands out from the competition with its exceptional compatibility with other business services, including the best accounting solutions and inventory management tools.
Besides the integrations, TouchBistro offers numerous in-house services, including gift cards and profit management features. These add-ons aren't common amongst its competition, making TouchBistro the best restaurant software for businesses looking to boost sales and attract new patrons.
This puts it in close competition with Square and ahead of services like Shopify, which has fewer features geared specifically to food and drink service.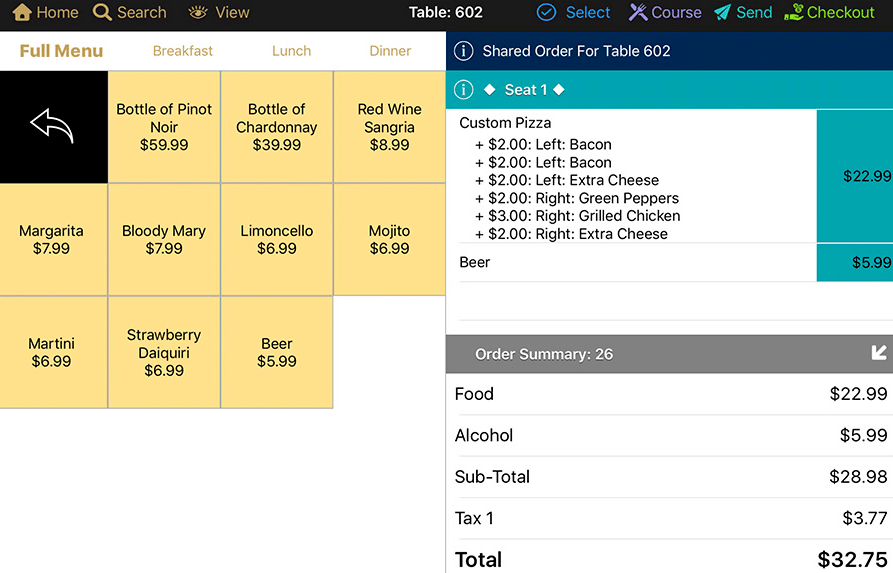 Best For
Starting Price
Transaction Fees
Free Version
Top 3 Features
Integrations
$69/month
Quote-based
None
– Upselling Reminders
– Bill Splitting
– Individual Staff Logins
TouchBistro excels at improving table turnover by enabling your employees to serve guests better and faster. Its tableside ordering system allows your staff to take orders and process payments at the tables. Besides speeding up the service and improving your team's collaboration, this will help keep your patrons happy.
In addition, TouchBistro makes it easy for staff to join and split seats, items, and bills in seconds. Configuring its platform to adapt to your restaurant's layout, including its tables, rooms, and seats, allows you to keep the service flow uninterrupted.
For example, it lets you effortlessly charge patrons who share meals, pay separately, or switch tables.
Its well-designed interface allows you to create, configure, and sync your menu and items with just a few clicks. You can also change the background color of menu items to remind staff about promotions and upselling and add multiple menus to introduce specials for certain times of day or year.
Pricing
TouchBistro has a single restaurant POS system pricing plan that's rich in features and compatible with numerous third-party and in-house apps.
However, it's payment processing fees are custom, and you can expect its price to go up if you need additional features, such as a kitchen display system, which costs $19/month, or online ordering, for $50/month – which is something of a drawback if you're on a tight budget.

Pros
Restaurant-specific features
Highly customizable
Excellent customer support
Comprehensive offline mode capabilities
Scalable
Cons
Additional features can get expensive
3. Toast — In-House Online Order and Delivery Service
Toast offers exceptional features for restaurants looking to manage their on-premises and online ordering and payments. One standout feature it offers is contactless ordering, so customers can browse and order from your menu from their mobile devices.
In addition, they can pay using Apple Pay, reducing wait times and long lines and taking the workload off your staff.
With its most expensive plan, you can further simplify online ordering and attract new customers with Toast's commission-free delivery. It helps you craft Google Search-optimized menus and promotions that allow new customers to find your restaurant and lets you organize their data to drive repeat visits through marketing.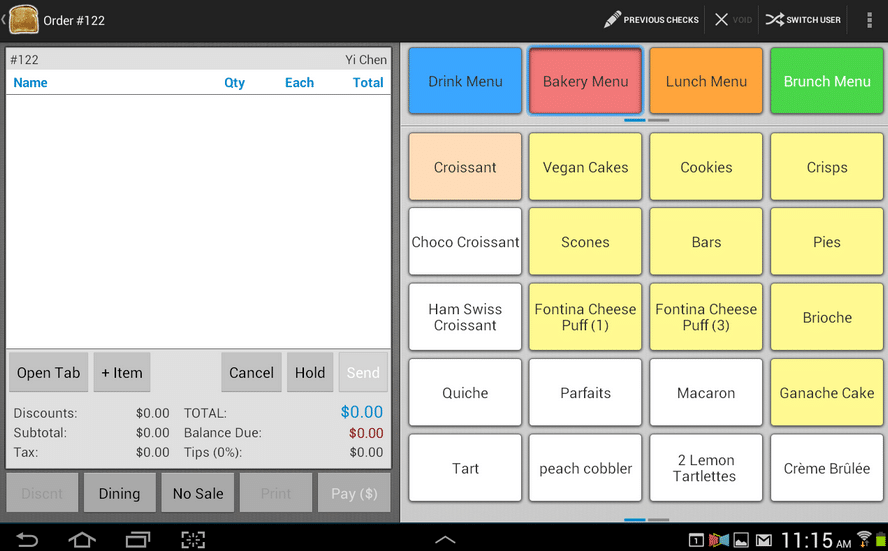 Best For
Starting Price
Transaction Fees
Free Version
Top 3 Features
Online Orders
$69/month
Quote-based
Free Plan
– Real-Time Fraud Monitoring
– Toast Delivery Services
– Digital Menus
Toast offers extensive reporting and analytics capabilities, giving you a deeper understanding of your business's performance and customer habits.
It lets you monitor your restaurant's performance over any period, which can help identify areas of improvement. In addition, you can monitor the performance and labor costs of a single location or get a unified view of your business.
This allows you to make better business decisions, such as upselling or modifying the menu to follow the trends. This makes Toast excellent for larger organizations – and in some cases, it'll be better than Square or TouchBistro, depending on your requirements, though we would like more transparency on transaction fees.
We've tested its interface to see how hard it is to make changes to the menu and were impressed by how straightforward it was. We also liked its menu management features and especially the real-time item countdowns that help you avoid the infamous 86.
Toast is also a reliable POS system provider when it comes to customer support. You can expect responsive and knowledgeable help available 24/7, and 80% of its hardware implementation team has restaurant experience, guaranteeing efficiency.
Pricing
Toast offers a comprehensive free plan for startups and three premium plans for small-to-large-sized businesses. It offers lots of flexibility to its customers with its add-ons, making Core an exceptional plan that you can mix and match with its other features.
Growth already incorporates most of its add-ons, but restaurant owners looking for advanced team management features should opt for its custom plan.

Pros
Advanced reporting tools
User-friendly interface
Supports multiple payment methods
Optional in-house payroll software
Excellent employee management
Cons
Limited transaction fee transparency
4. Lavu — Flexible Mobile iPad POS System
Lavu is a great POS system for fast-paced environments and food trucks facing connection issues. However, it's also a full-featured POS solution for full-service restaurants, bars, and nightclubs.
In addition, it offers a highly customizable platform for users with advanced programming skills, allowing you to tailor it to your needs and reflect your brand's image.
This means you'll have no issues adding or editing food items, automating the communication between your servers and cooks, or generating reports that show the information you need to see.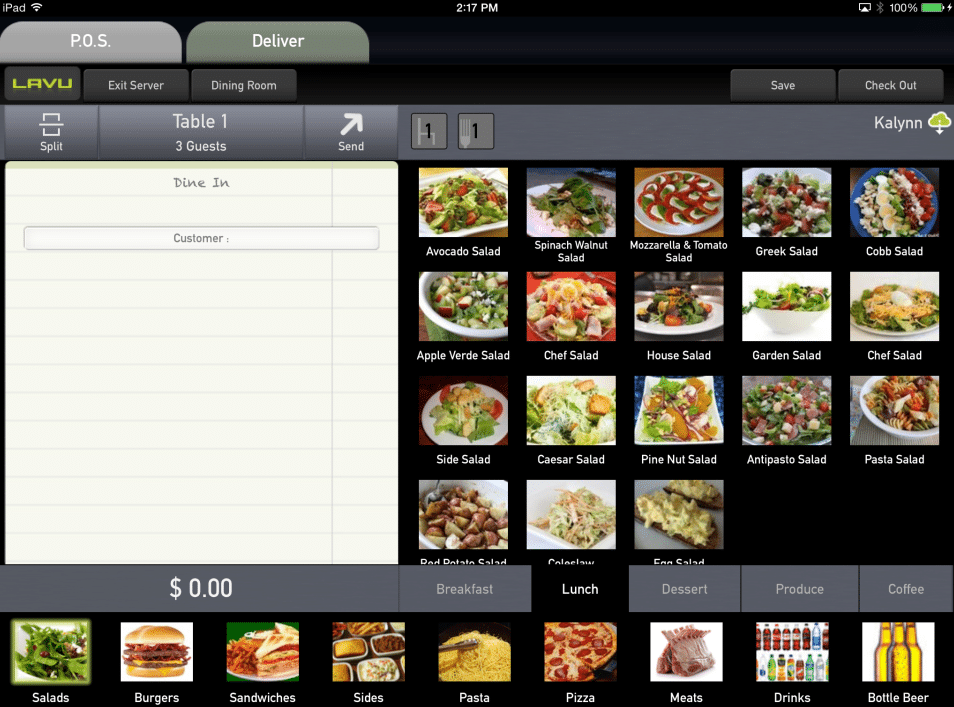 Best For
Starting Price
Transaction Fees
Free Version
Top 3 Features
Food Trucks
$59/month
Quote-based
None
– Dual Pricing Capability
– Kitchen Display System
–

Customer Database
Besides the quality of its reports, we were impressed with its mobile apps that allow you to remotely manage your business and see how it performs on the go.
Lavu is ideal for food trucks because of its in-house payment processing and compact iPad POS devices. Working in a limited space leaves no room for a bulky cash drawer with a POS monitor, making its iPad solution ideal.
In addition, a handheld device lets you take orders from customers waiting in line to serve them faster, resulting in increased revenue and a positive customer experience.
It has an in-house payment processing solution, Lavu Pay, making it an excellent all-in-one solution for businesses looking to get all their POS features under one umbrella. The service also ensures your business stays operational offline, which is invaluable for food trucks.
Since Lavu provides POS and payment processing functionality, you won't have to go through third-party customer support channels, so it's a great pick for first-time users. There is 24/7 support, complemented by a community blog and a helpful self-help portal rich with articles for troubleshooting.
It's a shame there's no free trial or free service so you can test out the tools available, but Lavu's starter plan does come in slightly cheaper than Square, and it's the cheapest POS system for full-service and smaller restaurants on our list so it's an excellent pick for first-time users.
Pricing
Lavu offers three customizable pricing plans to suit businesses of different sizes. Although each plan includes Lavu Pay, inventory management, reporting, and numerous other capabilities, upgrading to its more expensive plans offers online ordering, gift cards, and other advanced features.

Pros
Highly customizable
Excellent mobile apps
Numerous add-ons and third-party integrations
Compatible with third-party payment processors
Feature-rich
Cons
No free trial or free plan
5. Clover — Superb Tracking and Reporting Capabilities
Clover is a feature-rich POS solution that provides in-depth reports about your workforce, business performance, and customers. Its ease of use makes it excellent for small and medium-sized restaurants and retail shops, and Clover provides modern, well-designed hardware to make customer service a breeze.
It has an exceptional choice of hardware you can purchase immediately or pay for over 36 months. These include a large or compact countertop device, a high-speed receipt printer, a cash drawer, handhelds, and more.
Most Clover users praise its Station Solo system, which includes fingerprint login, a backup battery for power outages, a 14'' HD-resolution tiltable screen, and more.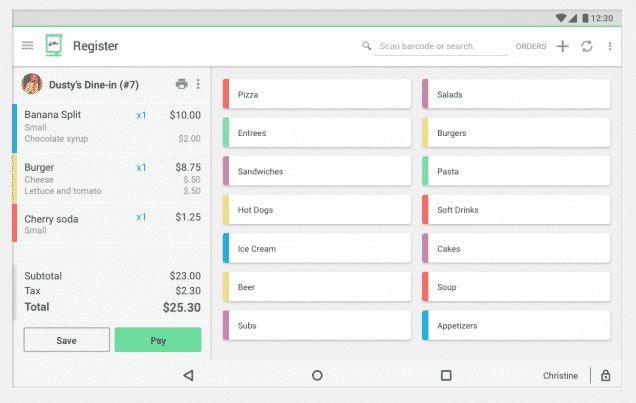 Best For
Starting Price
Transaction Fees
Free Version
Top 3 Features
Reports and Analytics
$54.95/month
– In-Person – 2.3% + $0.10
– Card-Not-Present – 3.5% + $0.10
None
– Table Mapping
– Tipping Support
–

Scan-to-Pay
Clover offers some of the lowest transaction fees in the industry – sneaking in ahead of Square, Shopify, and Vend – so it's an excellent pick for businesses looking for a POS service with transparent, flat-rate processing fees.
Although it offers numerous features for businesses ranging from fast food to full-service restaurants, you can always add more to its platform via its App Market's third-party app integrations.
Whether you opt for its cheaper quick service or more expensive full-service plans, Clover lets you access its in-depth reports and analytics, even with the low-cost tiers. It can track real-time sales, provide sales and tax reports, and track costs by item to help you make better business decisions.
Although its quick service plan is one of the cheapest on our list, full-service restaurants may find its services expensive, and the hardware isn't cheap. However, it provides features like loyalty programs, promotions, and gift cards without additional fees, which justifies the initial high cost.
Pricing
Clover prices its services differently for quick service and full-service restaurants, and the final price depends on the hardware you need.
In addition, it has three different pricing tiers for each plan, including Starter, Standard, and Advanced. Opting for a Starter plan for quick-service restaurants will set you back $54.95/month, while full-service starts at $84.95/month.

Pros
Easy to set up
Well-designed hardware
Exceptional team management features
Integrates with popular accounting software, including QuickBooks
6. Vend — Exceptional Inventory Management
Vend is ideal for growing businesses and large restaurants looking to improve inventory management and customer service. That's because it's a scalable solution that supports inventory management for multiple locations or channels.
For example, if you do online ordering and deliveries, Vend will update your stock in real-time for your employees in the restaurant with each order.
Its centralized inventory management features can handle multiple suppliers, making it easier for your staff to track stock and deliveries. In addition, you can configure the platform to automatically fill orders, ensuring you never run out of essential ingredients and products.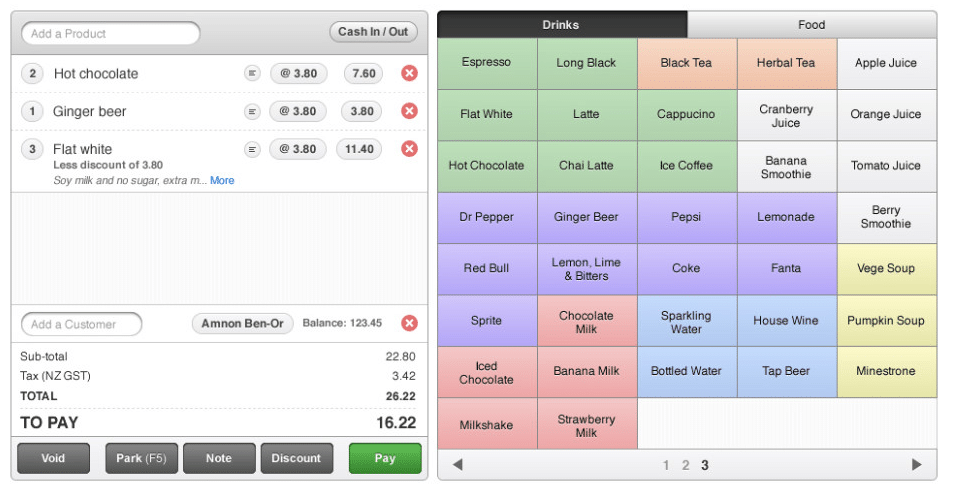 Best For
Starting Price
Transaction Fees
Free Version
Top 3 Features
Inventory Management
$69/month
– In-Person – 2.6% + $0.10
14-Day Free Trial
– Advanced Reporting
– Loyalty Program
– Inventory Automation
Besides inventory, Vend excels at managing customer information to build your customer database. You can then track how often they visit your restaurant, their preferred orders, and spending habits.
This feature is invaluable for businesses looking to reward their most loyal patrons or launch email marketing campaigns because the data it captures is detailed and automatically stored.
Vend offers an in-house loyalty program solution, Vend Loyalty, and a gift card system, so you can use them to attract and retain new patrons. You can reward returning customers with a free birthday meal, dessert, drink, or similar – though you won't get this on the lowest-tier plan.
Its user-friendly interface is simple to organize and explain to new hires and includes numerous user-friendly features. For example, your employees can automatically access the most popular items on the menu via "Quick Keys." In addition, it has a search bar on top that makes ordering a breeze for your staff and patrons.
Pricing
Vend offers four different plans with monthly subscription fees with a transparent pricing model for small and medium restaurants. Large businesses should consider the Enterprise plan, a custom solution that requires a quote from Vend's sales team.
While its cheapest plan offers all the standard POS features, we suggest opting for the Advanced plan if you want to set up a loyalty program and access advanced reports.

Pros
Compatible with Windows, Mac, and iPads
Responsive and knowledgeable customer support
No POS hardware needed to start
Excellent loyalty program features
Cons
Limited basic plan features
7. Shopify — Ideal for Omnichannel Restaurants
Shopify is a cloud-based POS service restaurants use to attract new patrons by creating a website to make it easier for locals to find you. You can also use its website builder to advertise events or allow customers to order online.
Connecting your POS and website sales via a single platform can give you a deeper insight into your business performance and set up rewarding loyalty programs. You'll see if your online or physical locations perform better via sales data, reports, and trends, allowing you to make better business decisions.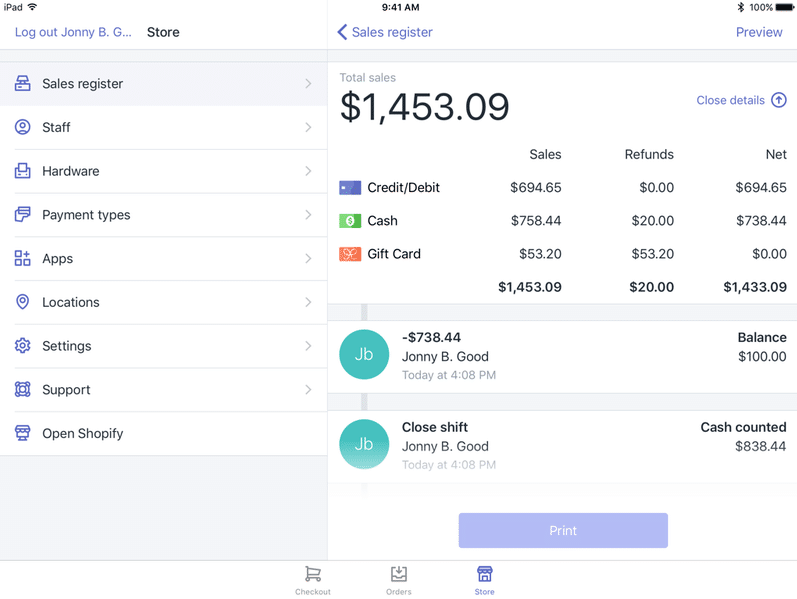 Best For
Starting Price
Transaction Fees
Free Version
Top 3 Features
Fast-Food Restaurants
$79/month
– In-Person – 2.4% to 2.7%
–

Online – 2.6% to 2.9% + $0.30

3-Day Free Trial
– Custom Website
– Manager Approvals
–

Order History
Setting up a website and simultaneously managing your physical locations and online orders is a breeze with Shopify, which makes it an ideal fit for fast-food restaurants or mixed retail and food outlets. That said, it doesn't have as many features for dining as Square or TouchBistro.
It offers numerous staff management features, like manager approvals for actions like applying discounts, and simplifies inventory management by giving you a unified view of your business's stock.
You can use its platform to create purchase orders for vendors and suppliers, request inventory transfers from one location to another, analyze your stock performance, and more.
In addition, Shopify POS can send you daily sales reports with detailed information about staff or product performance to help you identify bottlenecks or top performers.
Although Shopify doesn't offer a free plan, and its free trial lasts for just three days, it's one of the easiest POS systems to use, which means your staff won't need extensive training to start using it.
Pricing
Shopify has a slightly complex pricing structure. It offers two pricing tiers, with Starter or Retail pricing plans costing $5/month and $79/month, respectively, and its omnichannel plans with a separate monthly fee. These plans include Basic, Shopify, and Advanced at $24/month, $69/month, and $299/month, respectively.
While its Retail plan includes one POS Pro location with all the advanced features, omnichannel plan subscribers pay a separate subscription of $89/month per POS Pro location. However, combining these plans can result in exceptional website and POS system quality.

Pros
Numerous integrations
Well-designed, intuitive interface
Offline mode for cash and custom transactions
Excellent multichannel selling features
8. Lightspeed — Robust POS Solution for Cafe, Bar, and Restaurant Owners
Lightspeed stands out as a comprehensive POS system with integrated payment processing, hardware, and numerous advanced features for the hospitality industry. It is the best POS system for cafe, bar, and restaurant owners looking for better insight into server performance and actionable data.
In addition, its in-house payments solution makes it ideal for businesses that don't use a third-party service to process payments. It has a straightforward per-transaction fee structure for in-person and online payments, and its online payment fees are some of the lowest in the restaurant industry.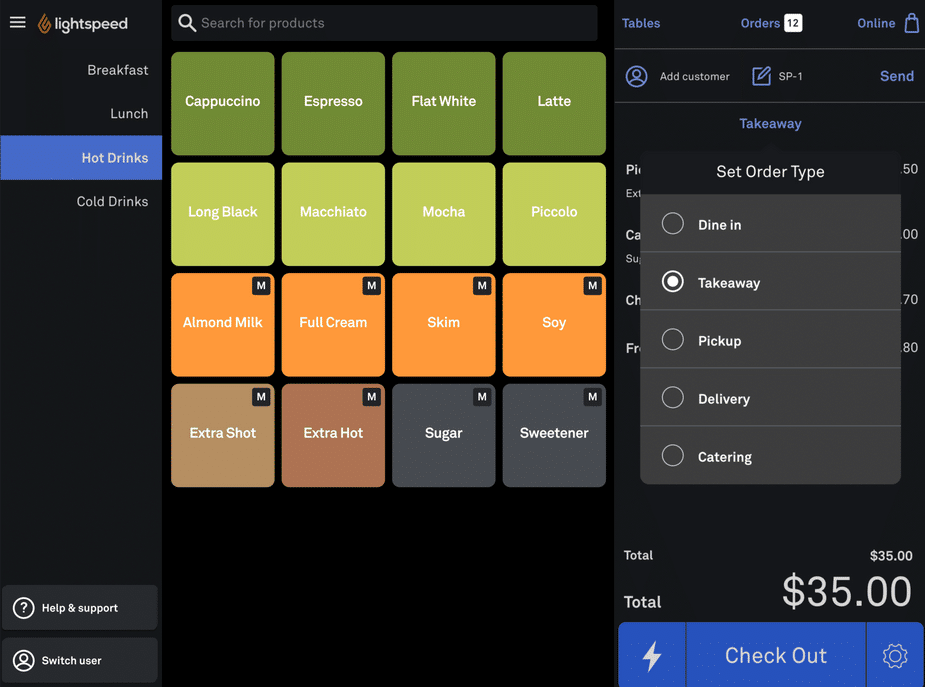 Best For
Starting Price
Transaction Fees
Free Version
Top 3 Features
Cafes
$69/month
– In-Person – 2.6% + $0.10
–

Online – 2.6% + $0.30

14-Day Free Trial
– Take Out and Delivery
– Order and Pay at Table
–

Advanced Insights
Lightspeed offers numerous features to help you track who visits your restaurant, how much they spend, and what your best-selling products are.
Thanks to its in-depth real-time sales reports, you can easily identify bottlenecks and spot opportunities, allowing you to adjust your menu, promote best-selling products, or know when to hire a new employee.
In addition, it integrates with the best restaurant accounting software to prevent data errors with accurate data syncing. Automatically syncing your data means less administrative work and no data silos issues, and it lets you utilize the robust financial analysis features these programs offer.
Although Lightspeed offers some advanced features that may overwhelm small businesses, its customer support can guide you through any obstacle. We used its free trial to examine its interface, which we found very intuitive, and contacted its customer support, which gave us an in-depth explanation for every query.
Pricing
Lightspeed offers its cloud-based POS services at an affordable price for small restaurants, cafes, and bars, but it gets expensive for large businesses.
However, opting for one of its more expensive plans means you'll receive dedicated, one-on-one support and strategic advice tailored for the hospitality industry. Thanks to its 14-day free trial period, you can try Lightspeed risk-free before committing to a subscription.

Pros
24/7 customer support
Superb inventory management for restaurant chains
Excellent menu customization
Cons
Expensive for large restaurants
9. Epos — Runs on Windows, Apple, and Android Devices
Epos can help you provide a convenient service to patrons with a wide range of payment options, loyalty rewards, and more. Its powerful menu management features ensure transparency and accuracy and allow your staff to add product notes to help customers with allergies and dietary restrictions.
Besides its customer service benefits, Epos will assist with inventory management by allowing you to monitor stock levels down to the ingredient level.
One standout feature it offers is specifying which ingredients go into certain meals and drinks. That makes it the best POS system for restaurant and bar owners seeking flawless control over their stock levels and a solution for over-pouring.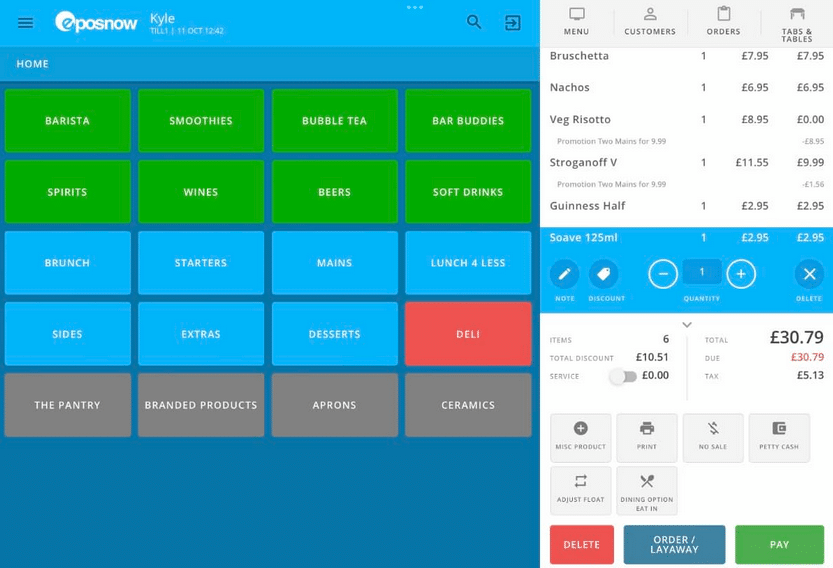 Best For
Starting Price
Transaction Fees
Free Version
Top 3 Features
Bars
$99 + Subscription
Quote-Based
14-Day Free Trial
– Robust Hardware
– Payment Pre-Authorization
– Staff Onboarding
Epos is an ideal fit for bars looking to improve their workforce management and customer relationships and add more ways to process payments. With its tab management features, your staff can rest easy knowing their customers can go anywhere without closing out their tabs.
The platform lets you pre-authorize payments, keep customer notes, and take orders on the go with its mobile POS compatibility, which results in less payment chasing for your staff.
In addition, it can reduce bar wait times with its customizable menu design and instant restock alerts for bartenders. That means your bar will never miss full bottles and allows your staff to implement dynamic pricing for specials like happy hour discounts on certain products.
Besides improving your bar processes, Epos lets servers take at-table orders and use customizable table plans to enhance table turnover. It also integrates with popular business solutions, including the best CRM software, delivery apps, and email marketing solutions to help you improve other aspects of your business.
Pricing
Epos offers a complete solution for businesses looking for reliable hardware and software. It costs $99 and includes a robust terminal, receipt printer, and metal cash drawer. However, Epos doesn't disclose its software pricing, meaning you'll need to contact its sales team for a quote.
Pros
Easy to use
Excellent reporting features
Customizable menu layout
Cons
Customer support could be better
10. Revel Systems — Scalable Solution for Restaurants With Multiple Locations
Revel Systems provides a unified solution for multi-location management that ensures resilience to marketplace changes.
With features that allow you to push menu changes to several restaurant locations with a single click or generate detailed reports to find profitable revenue streams, Revel Systems is the best POS restaurant software for large businesses.
It has an easy-to-use and highly customizable interface for streamlining orders and payments. For example, setting up its kitchen display system will automatically inform the cooks what your patrons ordered when a server enters the instructions into the POS.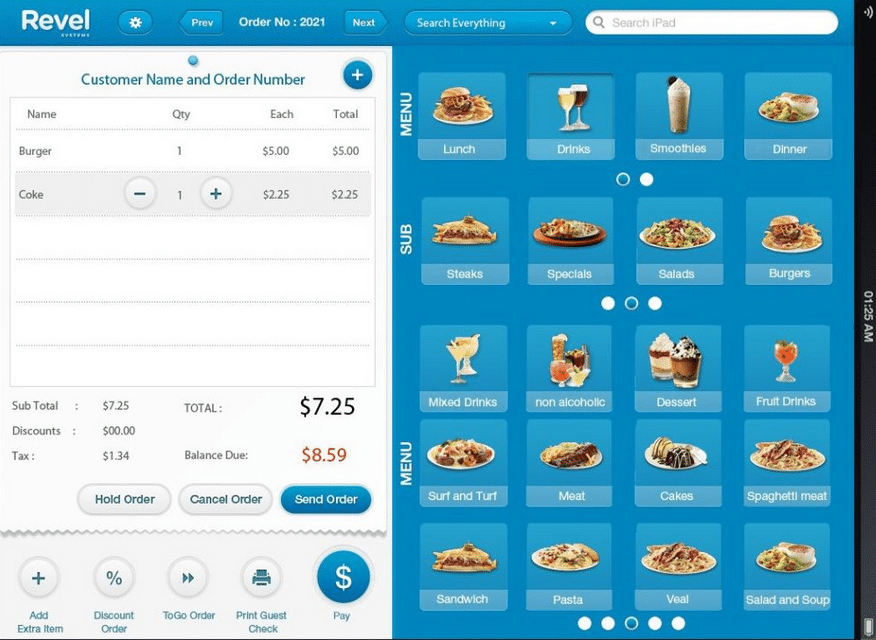 Best For
Starting Price
Transaction Fees
Free Version
Top 3 Features
Larger Restaurants
Custom
Quote-Based
None
– Table Ordering System
– Color-Coded Timers
–

Custom Reports
The order description will also include special notes, such as customer allergies or preferences, resulting in reduced food waste and enhanced customer satisfaction.
Revel Systems has an in-house payment processing solution, Revel Advantage, that seamlessly integrates with its POS software. However, it also supports integrations with various third-party payment processing providers that allow your staff to split bills, accept several payment types, and are secure.
It's one of the most trustworthy POS systems today, and its cloud-backed platform emphasizes reliability and security. It stays up-to-date with the latest technology and cyber threats to provide continuous interface and security updates.
That means you can rest easy knowing your data is safe with Revel Systems and that nothing will interrupt the flow of transactions in your business.
While it's ideal for larger restaurants, Revel Systems may not be the best POS for small restaurant owners because of its numerous advanced features and pricing. However, larger businesses will find it suitable for their needs, as some users utilize its platform to manage hundreds of locations simultaneously.
Pricing
Revel Systems doesn't have a transparent pricing structure on its website, meaning you have to contact the sales team for a quote. However, that's ideal for larger businesses, as Revel Systems will likely tailor its services to your unique needs.
Pros
Exceptional back-office tools
Multichannel capabilities
Customizable interface
Cons
Pricing isn't transparent
Key Factors to Consider When Choosing a Restaurant POS
Selecting the right POS software for your business is a challenging task that requires research. A POS system can enhance daily operations, customer service, and overall revenue, depending on your choice.
To help you make an informed decision, we'll list some crucial factors to consider before you subscribe, whether you're looking for the best small restaurant POS system or chain restaurant point-of-sale system.
Business Type
Understanding your restaurant's business type is foundational to selecting the right POS system. It ensures the software aligns with your specific needs, as you won't get the same benefits if you're a bakery owner, while your POS system specifically caters to restaurants and bars.
Running a full-service restaurant differs from running a food truck, meaning you should consider business-type-specific features. For example, fine dining, bars, pizzerias, and nightclubs require a service that offers advanced features like tableside ordering, customizable menus, and split payments.
Finally, consider the size of your business, as Square will be more budget-friendly for small restaurants, for example, while Revel Systems provides a more comprehensive service for larger businesses.
In comparison, fast-food and quick-service businesses like food trucks or bakeries need speed and accuracy with features like rapid order entry, kitchen displays, and multichannel reports. Lavu and Shopify are ideal for fast-paced restaurants as they offer exceptional speed and customer convenience.
Scalability
This crucial factor refers to the POS system's ability to adapt and grow with your business as it expands. Consider a scalable solution if you plan to open additional locations or have fluctuating seasonal demand that may overwhelm your staff. A scalable solution will offer add-ons and hardware for growing businesses.
For example, a scalable solution should allow you to expand into a multi-location chain with centralized inventory management and data sharing across branches.
In addition, we suggest reading user reviews before committing to a subscription to find information about how the system performs during peak hours, as payment processing needs to be flawless for busy locations.
Budget
Consider your business's budget when choosing a POS system to balance your budget's constraints and the system's capabilities.
Running a small restaurant that likely won't branch out to other locations means you won't need a comprehensive multi-location solution that may cost twice as much as POS systems for small restaurants. A simple POS system will be easy to use, meaning your employees won't need training or extra hardware.
In comparison, large and well-established restaurants with numerous locations will benefit from investing in a feature-rich solution at a higher price point.
These systems include advanced reporting and analytics features, multi-location management, and extensive customization options. That can provide long-term benefits regarding efficiency and making data-driven decisions.
Integrations
Integrating your POS software with other business solutions, like the best cloud HR software or accounting tools, can simplify workforce and financial management. For example, connecting your accounting software with the POS platform will automatically record and report sales data, reducing the need for manual data entry.
Although some POS systems offer in-house payment processing, it's important to check if they're compatible with solutions you're already using. You can also use third-party apps to make up for missing features. For example, a reservation and table management system can be invaluable for full-service restaurants.
How Do I Set Up a POS System for a Restaurant? A Quick Guide
Depending on your POS provider, setting up its hardware and software can take just minutes or a few days. Here, we'll have a step-by-step guide to setting up our top restaurant POS system, Square, including hardware.
Step 1: Create a Square Account
Head to Square's official website and create an account using a company email. To create an account, enter personal and business information, link your bank account, download the app, and order its hardware.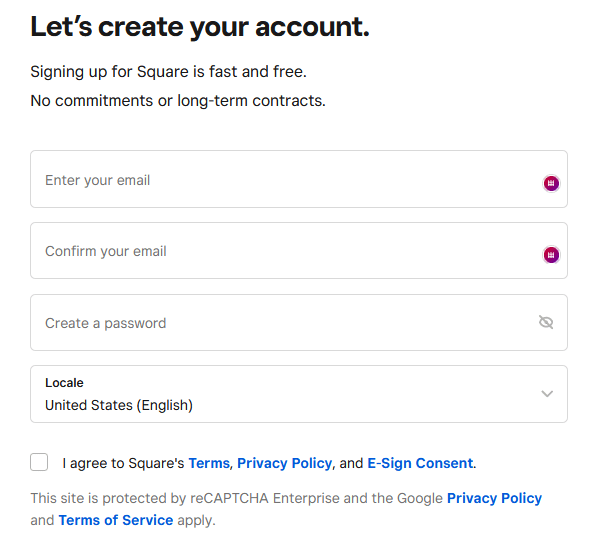 Step 2: Edit Your Account Settings
Once you log into your account, you can add locations, employees, and items. In addition, you can start setting up security measures, including two-factor authentication.
Step 3: Set Up Hardware and the Square App
Getting your Square hardware means you can set it up and connect your Apple or Android device to start taking payments. Setting up the Square stand is simple. Just power it up and connect it to your other devices, including cash drawer, receipt printer, and handhelds.
You can then set up login codes, tipping, offline mode, and other features.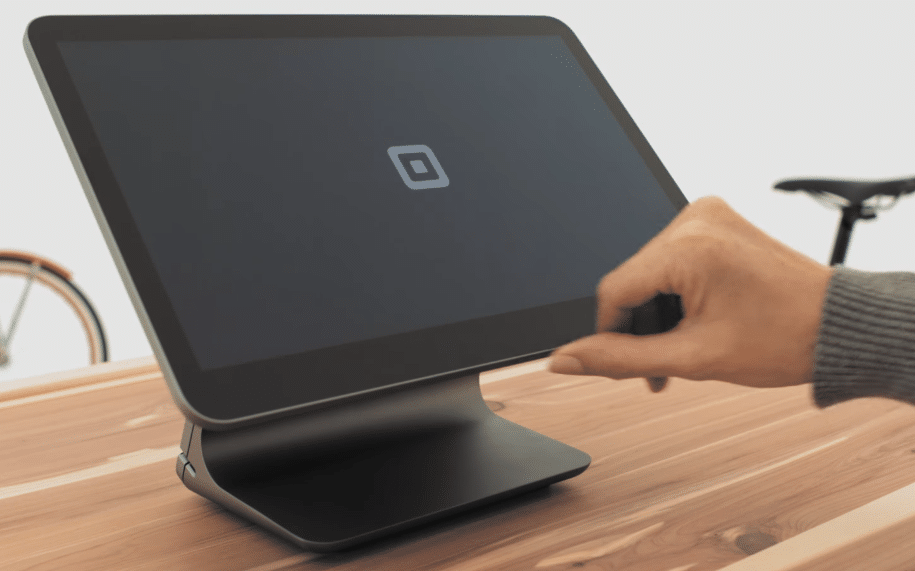 Step 4: Start Using Square to Improve Your Customer Service
You can train your team with a few simple scenarios, including card swiping, contactless payments, and manually entering card info. Once ready, your employees and patrons will quickly notice the improvements in your customer service.
Other POS and Accounting Resources
If you want to find out more about POS and financial services for bars, restaurants, and small businesses, check out our other guides below:
Conclusion – What is the Best POS System for Restaurant Owners in 2023?
After thorough research, we're confident Square is the best choice for restaurant owners seeking a versatile and efficient POS system. However, there's no one-fit-all solution for restaurants of different sizes. While Square is ideal for small and medium-sized businesses, others may be better for other use cases.
With its comprehensive tools, Square can streamline restaurant operations, boost profitability, enhance customer service, and offer seamless payment processing. In addition, it offers a free POS plan for restaurant owners looking to test its features before committing to a subscription.
Square stands out as a user-friendly platform, and it has plenty of add-ons you can use to go beyond the functionality of a POS system. It supports invoicing, payroll, loyalty programs, and comprehensive restaurant management features, making it the best POS software for 2023.
You can try one of its premium plans risk-free today, thanks to its 30-day free trial period.
Restaurant POS FAQs
How much does it cost for a POS system?
Are POS systems hard to learn?
What is the best POS system for small restaurant needs?
Does a POS system need internet?
What is the best POS system for restaurants and bars?
References