Mac users require the best password managers while browsing online. There are so many internet services out there, and it's impossible to remember unique passwords for all of them. Thankfully, many password vault apps solve this problem, but not every password manager provides an ideal solution for Mac users.
Our breakdown of the top 8 best password managers for Mac OSX contains the best in the industry. Read our reviews below to learn how password managers like NordPass, AviraWW, and Keeper save you from password reuse, brute force attacks, identity theft, and more.
8 Best-Rated Mac Password Manager Tools Ranked
Your password is one of the most important pieces of information you can own, so it's essential to ensure it's in good hands when trusting a third party. Each provider in our top 8 list of the best password managers for Mac has been verified as taking a safe and secure approach to password security. Check them out:
NordPass — The best Mac password manager, which is easy to use and comes with strong security protocols and a variety of authentication options.
Avira WW — An intuitive service with unlimited storage options, browser extensions, and a great free plan.
Keeper — Leading provider with great user management features for passwords, innovative features, and a free-forever plan.
Enpass — Local storage ensures extra security from this service with rich vault admin tools and a free desktop version.
RoboForm — Top-rated service for painless password entry, with lots of options for sharing and syncing and features for form-filling.
1Password — Reliable provider with an easy-to-use app and a wide range of features to keep your passwords safe.
Kaspersky — Affordable option with excellent features, including password audits for identity theft and browser extensions.
LogMeOnce — Secure Mac password vault for businesses and individuals that offers first-class encryption and great syncing options.
Mac Password Manager Reviews | A Look at Our Top 8
We've reviewed many Mac password managers to bring you our shortlist of the best on the market. Below, we'll help you find the cream of the crop for your needs and budget by thoroughly reviewing and comparing the leaders in the industry. Read on for all the nitty-gritty details so you can make an informed decision.
1. NordPass — The Best Mac Password Manager
NordPass is our number-one choice for password management on Mac. It comes from the developers of NordVPN — renowned for being one of the best VPNs in the industry for ultimate security, unblocking power, and speeds. Like the VPN, NordPass ticks every box for a secure, effortless password-storing solution.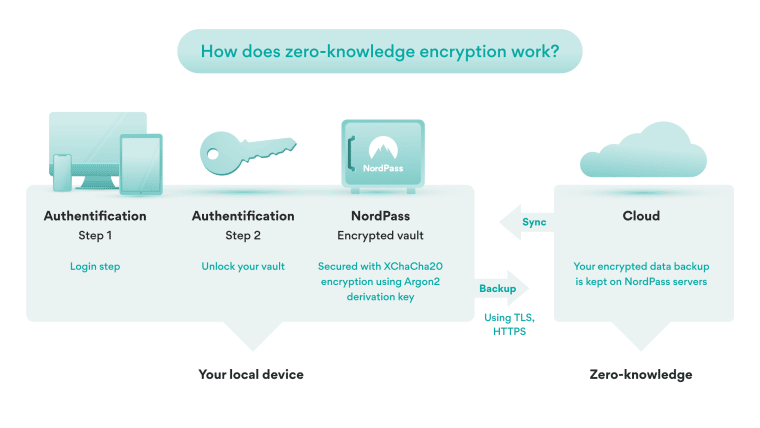 NordPass can manage all your online password needs by generating a secure password every time you log into a website. Each one is generated according to a custom complexity scheme you choose. Beyond this, the app keeps your passwords safe using the same no-logging technology that keeps their NordVPN servers encrypted.
This includes NordPass' unique and powerful XChaCha20 encryption. Moreover, you can manage access to your vault with additional users, which is great when you're stuck in an emergency and need someone to use one of your accounts or for businesses looking for a secure password-sharing solution.
NordPass is free, powerful, secure, and flexible
There's browser extension support for Chrome, Edge, Firefox, Safari, and mobile apps for iPhone and Android. Even when traveling, you can still securely log into your password vault through a web portal. And, of course, as our top pick, it offers a great Mac app that supports importing passwords from RoboForm and LastPass.
Beyond all this, password health is one of the most important parts of managing your online security, and NordPass makes this easy with a password report that breaks down which of your current passwords are vulnerable. It does this by distinguishing between weak, reused, and old passwords.
And it doesn't just let you manage your passwords. It's also possible to store your credit cards, secure notes, personal info, and documents you need to share with other users. Each item can be called up automatically through the browser add-ons, which fill out forms for you. Need we say more?
Starting Price
Best Features
Free Trial/Plan
$1.99/month

2FA support
Best-in-class security
Widespread device support

Free Plan + Premium Trial for 30 Days
Pricing
NordPass has several plans depending on how many devices you want to cover. It has a great spread of features, but you'll want to make sure you buy the right plan to get the desired features.

Before we get into the paid plans, it's important to point out that NordPass has a free version to try the software first. It only allows you to use it on one device, but you'll get access to the password generation and storing features for free. Even after your trial expires, you can still export your passwords.
Premium adds many identity-scanning features, such as data-breach monitoring and password strength reports. Plus, it's pretty cheap, but if you've got a bunch of children who need password protection, too, then the family subscription allows you to build and share six unique password vaults.
Pros
Biometric authentication built into the app
A wide array of two-factor authentication choices
Automatically fills in forms on web browsers
Encryption scheme based on NordVPN servers
Multiple existing audits from third-parties
Cons
Only one device on the free plan
2. Avira WW — A Free Mac Password Manager With Strong Security
Avira WW comes from Avira, one of the best anti-virus developers, which has added a fantastic password manager to its roster. This app makes it far easier to deal with the daily task of remembering and entering your passwords.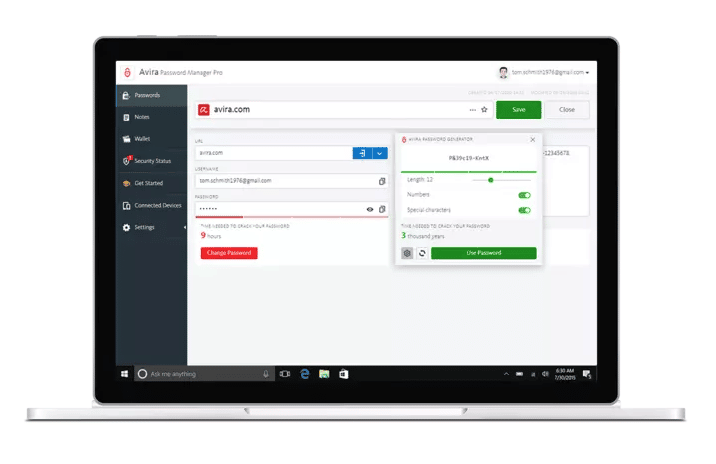 Avira works by keeping your personal details in a single encrypted vault. The main advantage of this is that it reduces the hundreds of passwords you need to remember to just one. Avira also works as a security analyzer, checking whether your passwords are vulnerable to common identity theft tactics.
Most passwords are broken by password reuse, so Avira will warn you when you use a password you've used before. Also, when you need to generate a new password, Avira has you covered here too. You can generate passwords according to any arbitrary security policy you need. No special characters? No problem.
Beyond this, Avira's two-factor authentication takes password management into the real world. You can unlock your password vault using the camera to scan your face or by using a thumbprint. So, even if you forget your master vault password, you'll always be able to get back into your vault.
Avira uses bank-grade encryption to keep your passwords safe, trusting the same encryption schemes used by governments and militaries for communication.
You can also authenticate for other 2FA-enabled services using Avira WW as a mobile authenticator. Just enter the code generated by the app, and you can access Dropbox, Facebook, or Gmail on the go. Like NordPass, Avira WW uses a zero-trust security scheme to keep your password vault unique and 100% private.
Starting Price
Best Features
Free Trial/Plan
$2.99/month

OCR scanning for credit cards
Password reuse detection
Unlimited customer support

A free plan
Pricing
When you're starting with a Mac password manager, you could do much worse than Avira's free version. That said, the paid plan is incredibly affordable and offers additional features like deep web identity theft alerts, SSL checking on websites, and password safety reports.

Some of the other providers on our list have slightly more extensive feature sets, but Avira is excellent value for what it offers. For Mac users, we definitely recommend you take advantage of the free plan.
Pros
One of the best free versions
Password vault syncing across devices
Deep web identity theft protection
Browser extension add-ons for most major browsers
One of the best managers for iPhone passwords
Cons
Other providers have slightly more extensive paid versions
3. Keeper — Leading Provider with Great User Management Features
Keeper is a highly professional password manager for Mac that gives you access to powerful user management tools. If you're looking for a password manager with control over the minute details, Keeper is for you. In fact, the popularity of this password manager has warranted its own in-depth Keeper review.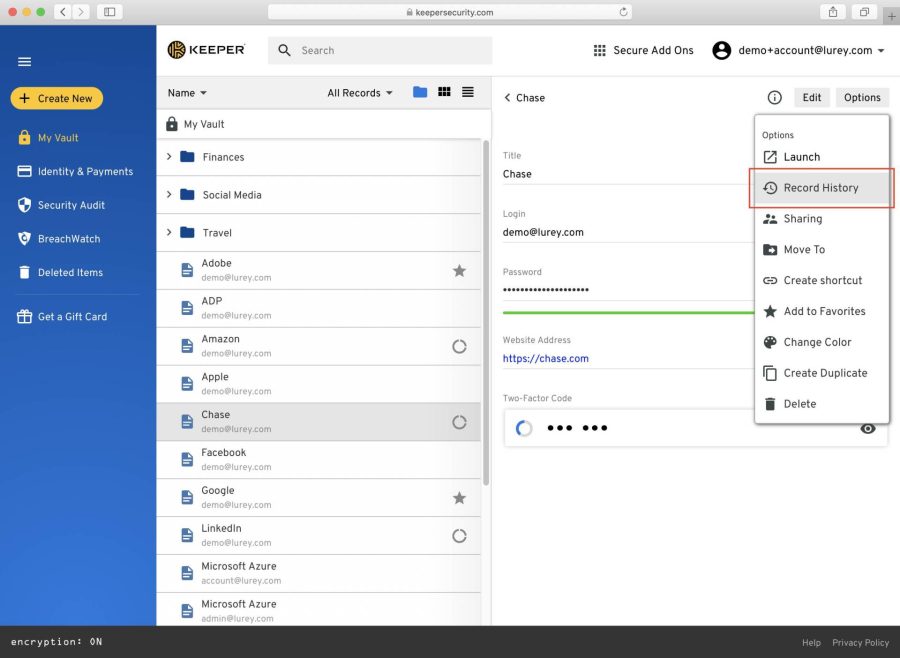 It supports Mac OSX from 10.13 onwards and is accessible from your desktop app or a browser. Still, you can set up an offline encrypted backup to your iPhone or MacBook. Beyond this, Keeper is compatible with Linux, iOS, and Android devices, making it a complete one-stop password-sharing tool for multiple devices.
Beyond compatibility, it also boasts dozens of templates for filling out online forms, such as credit cards, address details, and personal information. You can browse these records from inside the secure Keeper vault.
Plus, if you need to share your details with emergency contacts, you can set up an emergency access system that gives designated users access to your account after a user-set period of inactivity.
It's also worth noting that 2 Factor Authentication comes by default, no matter which version or plan you use. This uses a combination of biometrics on the iPhone and an app-based one-time password to ensure you're the only one with access to your password vault.
Keeper is also one of the few password management systems with a backup system in case you lose your master password. You can set security questions to give you a backdoor into your vault, but you should try and keep the answers to these questions obscure.
Starting Price
Best Features
Free Trial/Plan
$24.49/year

Employee management tools
File vault with shared access
Designed for businesses

30-Day Free Trial
Pricing
Keeper doesn't have the best free option, but it's adequate to understand how the system works. You can only use it on one device, however. That said, the Keeper Unlimited plan is far more interesting.

The Unlimited plan is one of the cheaper packages when you take advantage of their 30% off first-time buyer deal, but it still comes with ample features. With it, password management is available across all the devices you want, but you're limited to a single password vault.
Keeper Family bumps up the cloud storage you have access to all the way to 10GB. This turns Keeper into a legitimate file storage option for cloud-encrypted sharing. Even better, you get another four password vaults to split up amongst your family.
Pros
Extensive tools for user access management
Lets you swap from other password managers with ease
Lots of data entry forms and automated tools
One of the best business password managers
4. Enpass — Extra-Secure Service with Plenty of Vault Options
Enpass handles some password management features differently from the other providers on our list — notably, you have the choice of where to store your data, and it has built-in multi-factor authentication. In fact, you can store your data locally, on your own private server, and offline — which is quite unique for a password manager.
The latter is a far more secure option as the hacker would need to be targeting you personally, discover your cloud account password and your Enpass master password, and navigate numerous other roadblocks, making it a far more secure option.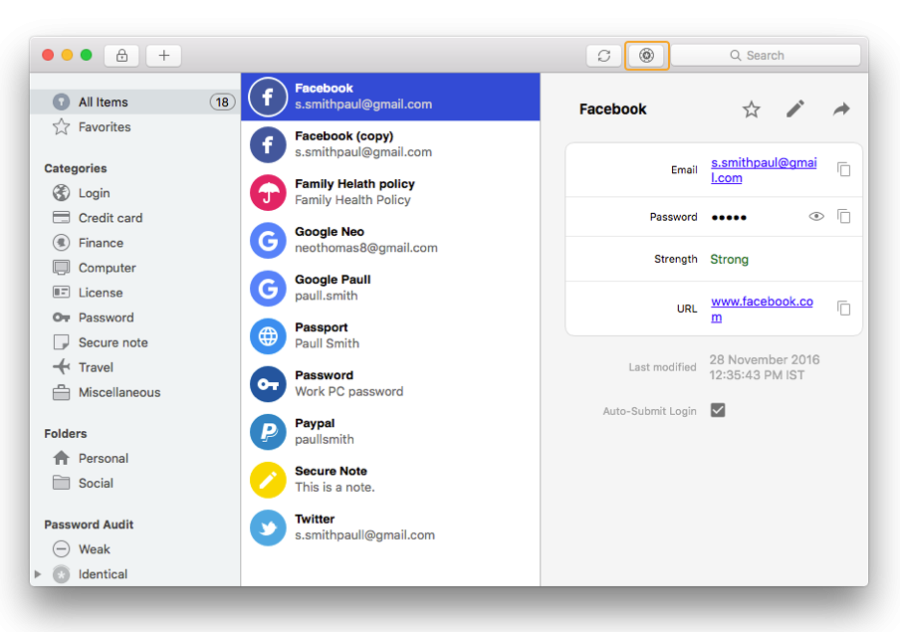 With Enpass, there are two ways to sync your passwords. Enpass piggybacks off of other cloud storage providers to upgrade its regular password storage. There's support for Dropbox, Google Drive, iCloud, OneDrive, and network sharing. You may not trust any of these third-party storage methods, so you can do device sync over Wi-Fi, which is far more secure.
That said, the real advantage of Enpass is a truly in-depth vault management system that gives you absolute control over how your identity is managed. You can import password files from 10+ other password managers, including LastPass, Everywhere, Dashlane, and Chrome browsers.
Once you've got passwords in your vault, you can use a unique tagging system to make searching for your personal information easier. This is a level of customization most other providers don't offer, so check Enpass out if you've got a lot of personal information to store in a database-style format.
Starting Price
Best Features
Free Trial/Plan
$1.99/month

Local file encryption
Unique tagging system
Engineered for Macs

Free for desktop users
Pricing
Enpass has a few different pricing plans that the average provider just doesn't provide. Take particular note of the one-time plan, which we'll enter in a second.

Enpass has an individual plan which gives you access to all the passwords, vaults, and devices you want. The family plan bumps the member pool up to six; otherwise, it's the same as the individual plan. The one-time plan, on the other hand, isn't a subscription.
For a flat, one-time price, you get unlimited lifetime access to the full Enpass plan. This is an excellent choice for users who need a truly offline password storage device.
Pros
Free desktop version for Mac
Offline password sync options
Detailed administration tools for vaults
Offers a one-time lifetime plan
Cons
A rigid password strength assessment
5. RoboForm — Top-Rated Password Management on Mac
RoboForm focuses on the automation part of password management – after all, there's no point using a password manager if it's inconvenient and hard to use.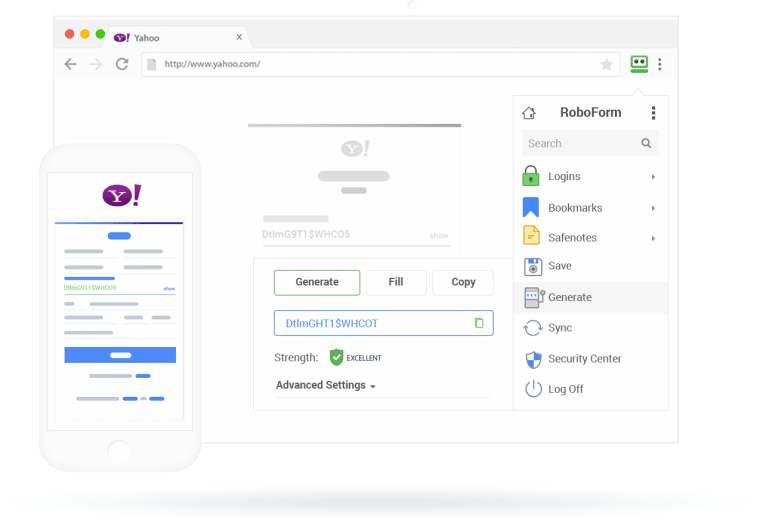 RoboForm is designed to get the core features of a password manager right without any additional clutter. That said, the web form-filling capability is among the best in the market, so if you find yourself filling out forms endlessly, RoboForm is an ideal choice.
Besides automatically generating and saving passwords, RoboForm can also build templates to contain form data on your business, car, passport, address, credit card, and custom entries. You can split these entries over different identities, such as one for work and one for home.
To top it off, password sharing comes by default with RoboForm. It's just a matter of installing the RoboForm app on each device you use or logging in to the secure web form. Each password is sent using end-to-end encryption, meaning the plaintext password is only ever decoded locally on your device.
Starting Price
Best Features
Free Trial/Plan
$1.99/month

Automated web forms
Great user interface
Standalone desktop app

A free plan
Pricing
RoboForm has a free plan, which is great for basic users. You can generate as many passwords as you like, and weak password notifications and password breach warnings still cover you. Most password managers require a subscription for their deep web monitoring, so RoboForm impresses there.

The main difference between the Everywhere and Family options is the number of accounts you cover under one subscription. The family subscription allows five different users to manage their own password vaults. Device password syncing is limited to subscribed accounts, which can be key to covering a big family.
Pros
Browser integration is stellar
Syncs across devices flawlessly
Great tools for saving time when filling in forms
Leading iPhone password manager
Cons
The mobile version could be easier to navigate
6. 1Password — Reliable Provider with an Easy-To-Use App
1Password has been a favorite for Mac users looking to manage their passwords since 2006. AgileBits, a Toronto-based company, developed it with a Mac-first approach, but recently it's begun offering password management systems for other devices. In fact, it's also renowned for being one of the best Android password managers, and the iOS version doesn't skimp on features, either.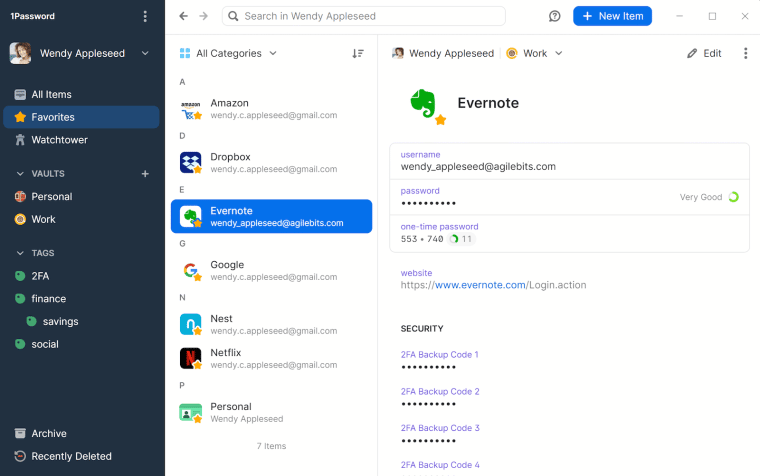 1Password's standout feature is Watchtower, a comprehensive breakdown of your password strength in an easy-to-read report. This is one of the most in-depth security reports we've seen yet, highlighting which passwords don't have two-factor authentication.
Another feature we were really impressed by is Travel Mode. This feature dynamically removes passwords and software licenses from your traveling devices when you designate them as unsafe to travel. This is great for going through airport security whilst protecting your device passwords.
Although 1Password is a more complex and in-depth password manager than some others on our list, they make it easy to swap from other password managers. Plus, the site has a vast library of reference material, like FAQs and video walkthroughs, to keep you informed through the process.
This is all, of course, in addition to standard features like password vault sharing, password generation, automated form filling, and user access management. Overall, 1Password delivers reliable password management for Mac devices on both Intel and Apple Silicon machines, and the SSH integration makes life much easier for handling your key files, too.
Starting Price
Best Features
Free Trial/Plan
$2.99/month

1GB of document storage
Travel mode
One-year history of deleted passwords

14 Day Trial
Pricing
Unlike most providers on this list, 1Password doesn't have a free tier plan. However, you can use the 14-day free trial to test it risk-free before you commit to a paid plan. Plus, you'll find the pricing reasonable and competitive considering what's on offer: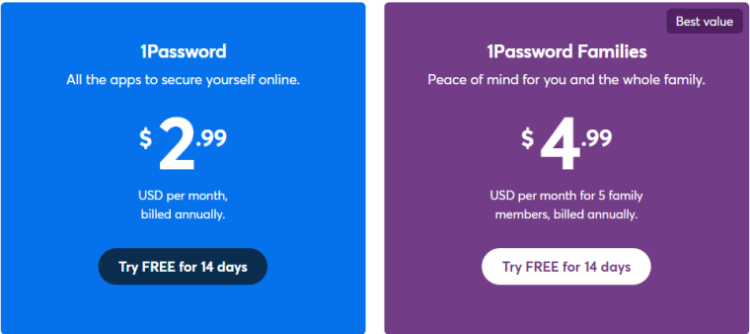 Although it's not the cheapest provider on our list, it is one of the best for Mac users. With a massive set of features, we'd recommend making the most out of the free trial.
Pros
Built for Mac users
Backup options in case you forget your master password
In-depth password health reports
7. Kaspersky — Every Tool You Could Need For Password Management
Kaspersky Password Manager is the latest product from this popular Mac antivirus solution. They've been building tools to protect computer security for decades, but how does their password manager perform on Mac? With years of password security experience, it does the job well.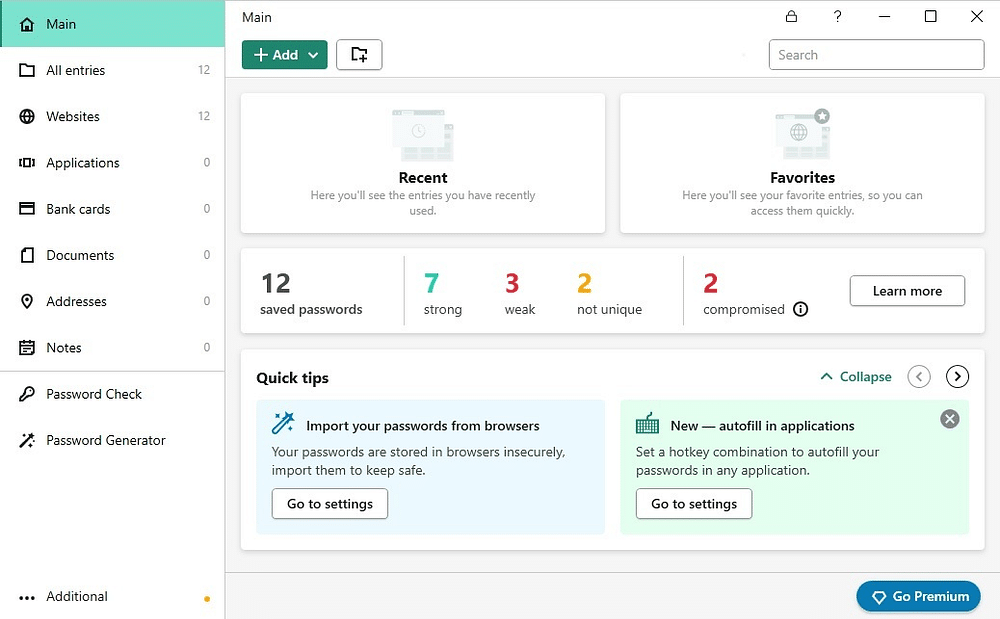 Kaspersky automatically assesses passwords you add against a list of known passwords from dark web identity theft leaks. Although this protects you against weak and easily guessed passwords, it has the bonus of alerting you to potential password breaches.
The app stores your passwords on its servers using AES-256 encryption, ensuring their secrecy. Beyond this, there are also multiple 2FA options, including text SMS and an authenticator app to keep your password vault safe from outside access.
To top it off, the form-filling features from Kaspersky are quick and efficient, although providers like RoboForm offer more in-depth identity management forms. That said, payment details and addresses are also covered, but only on Mac and Windows; plus, there's a document vault and password vault, so you can keep sensitive files safe too.
Overall, we found that Kaspersky's best feature was the in-depth support offered through live chat and online articles. A helpful support assistant is only a click away when you need help setting up the password management system.
Starting Price
Best Features
Free Trial/Plan
$14.99/year

AES-256 encryption
Browser add-ons
Highly compatible

A free plan
Pricing
Kaspersky's free plan is fairly limited compared to other providers mentioned here. Most will give you unlimited password generation and storage by default, but Kaspersky will only let you store up to 15 passwords and documents.

The paid versions of Kaspersky are far more interesting, giving you unlimited device setup and generation for a meager price of $14.99 a year. This makes it one of the most affordable options on our list, so if you need core password generation features, it's a very cost-effective solution. You also get access to data management tools that let you tag your data.
Pros
Extremely easy to set up and use
Free version across multiple devices
Password audits for identity theft
One of the top Windows password managers
Cons
Doesn't come with password sharing capability
8. LogMeOnce — Secure Password Vault for Business & Personal Needs
LogMeOnce heads up the tail end of our list, but it's definitely one to consider. Beyond password management, Mac users can also get protection against identity theft, send files via cloud storage, and take advantage of unique photo ID login features.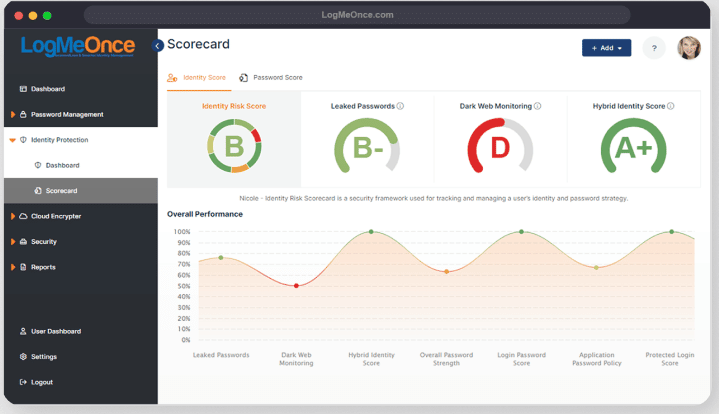 LogMeOnce makes logging into your password vault extremely easy with multiple login methods. You can use the traditional master password method or try biometric login methods like fingerprint or face scanning. Authenticating using LogMeOnce with 2FA is easy too. The app gives you a range of authentication options, such as:
X.509 Certificate
USB Token
Email Message
Selfie 2FA
SMS Messages
Voice Call
Google Authenticator
One unique aspect of LogMeOnce is the selfie authentication system, which sends a picture of yourself to your phone. If it's the right picture, you authorize it, and the app lets you through. This gives you a quick and easy way to identify yourself without messing around with passwords. Alternatively, there's QR access with a constantly regenerating QR code for extra security.
Beyond this, you've got access to a wide array of support options when using LogMeOnce, from support articles all the way to a live support chat and a full ticket system through the management dashboard. It makes managing your passwords as easy as possible, but support is only a click away if needed.
Starting Price
Best Features
Free Trial/Plan
$2.50/month

Password-less login
Selfie authentication
Cloud storage

Free plan + 14-Day Free Trial
Pricing
LogMeOnce has several pricing plans with different cloud storage capabilities and additional monitoring capabilities. The free tier works across all devices with unlimited password generation and two-factor authentication.

Upgrading to Professional gives you 1GB of encrypted storage, multiple-factor authentication, and secure notes. The Ultimate tier makes you eligible for a seven-day free trial and includes all the previous features plus anti-theft monitoring in case your identity is compromised. Finally, the Family subscription acts like the Ultimate tier but for six different members.
Pros
Fantastic range of business management features
Heavy focus on biometric safety
Wide range of support for devices
8 Best Password Managers for Mac Compared
To help you compare the best password managers, we've put them head-to-head in the table below:
Provider Name
Starting Price
Best Features
Free Trial/Plan
NordPass
$1.99/month

Two-factor authentication
Biometric protection
XChaCha20 encryption

Free plan + premium trial for 30 Days
Avira WW
$1.99/month

OCR scanning for credit cards
Password reuse detection
Unlimited customer support

A free plan
Keeper
$24.49/year

Employee management tools
File vault with shared access
Designed for businesses

30-day free trial
Enpass
$1.99/month

Local file encryption
Unique tagging system
Engineered for Macs

Free for desktop users
RoboForm
$1.99/month

Automated web forms
Great user interface
Standalone desktop app

A free plan
1Password
$2.99/month

1GB of document storage
Travel mode
One-year history of deleted passwords

14-day free trial
Kaspersky
$14.99/year

AES-256 encryption
Browser add-ons
Highly compatible

A free plan
LogMeOnce
$2.50/month

Password-less login
Selfie authentication
Cloud storage

Free plan + 14-day free trial
Why You Need a Mac Password Manager
Password management is one of the most common security tasks the average person will handle on a daily basis. It's also one of the most common security failures hackers exploit to commit identity theft. When reusing passwords, it only takes one site being hacked for your entire security chain to be compromised.
Password management software keeps you safe by taking the hassle out of generating and managing potentially hundreds of passwords. Writing down these many passwords is neither feasible nor advisable. Still, with a password manager, you'll be able to fill in identity forms instantly using only one master password.
Besides this, sharing passwords between devices is simple using password managers, and many go beyond this by offering encrypted cloud file storage between covered devices. This leverages the user access control already baked into the password vault system, so switching between sending passwords and files isn't difficult.
Some password management software doubles as a 2FA authenticator, allowing you to use your app to generate time-based one-time passcodes. This can be very convenient when managing your login details for work or a web service that requires 2FA.
Are Free Mac Password Managers Safe?
There are several free Mac password managers, but not all are safe. Some free software pretends to offer you a service while actually stealing your details and information. This is especially true of completely free password managers with no paid version.
The Mac OSX keychain comes with the operating system by default, so if you really need only the most basic password protection features, it's best not to trust a completely free password manager. However, the providers on our list offer a free trial or version alongside premium offerings.
This is often a much smaller version of the full product with fewer features and is a great way to test the basic features and ensure it's the right manager for you without a big financial commitment. That said, our preferred free Mac password manager is Avira WW, which has a free version that's pretty extensive.
How We Ranked the Best Mac Password Manager Tools
Many Mac password manager tools are out there, but we've worked out the key features to separate the good from the bad. Each one of these factors helps us decide how we rank our top 8 best Mac password managers:
Compatibility — It can often be difficult to get Apple devices to play nice with anything that isn't a Mac or iPhone, so any password managers that make it easier to share passwords between devices rank high for us.
Security — You must know you're trusting your passwords to a secure vendor. We verify that each password manager uses appropriate encryption to protect your data from hackers. External audits massively improve how we score our password managers.
Ease Of Use — Password security often suffers because it gets in the way of ease of use. Password managers are supposed to solve this problem, but it's not useful if they're harder to use than remembering your password. Good support staff, FAQs, video tutorials, and intuitive UI all count towards an easy user experience.
Value — Each provider on this list must provide value for money. Each password manager we highlight has a unique value compared to its features. For example, some of our providers have great free plans for first-time users but are less useful for experienced users. Check through the whole list and select the one that works best for you.
User Feedback — We read user reviews on the overall experience and run our tests to determine what the experience is like for the average user. This combination of external and internal reviews ensures we check in on problems other users have had to form our own opinion. Check out our page on the best Reddit password manager recommendations for more.
Features — There's already a default keychain manager on Mac OSX, so we expect each provider to offer something better. The best password managers are also personal identity management tools, allowing you to centralize your data in one secure location.
Mac Password Manager FAQs
How do password managers work?
Does Mac have a built-in password manager?
What is the safest password manager for Mac?
Has a password manager ever been hacked?
What is the best password manager for Mac?
Conclusion | What's the Best Mac Password Manager in 2023?
Our top choice for the best Mac password manager in 2023 is NordPass. It massively simplifies the arduous task of organizing and syncing your passwords in an unobtrusive way, integrating password security auditing into a top-tier VPN with great deep-web scanning features.
Most importantly, NordPass has excellent security credentials. Millions of users trust NordVPN with their browsing data, and that same security is used to power the zero-trust encryption which NordPass uses. Password management has never been easier, even if you've got multiple family members using different devices — you'll be sure their passwords and internet browsing data are safe.
Some providers, like Avira WW, RoboForm, and Keeper, offer some slightly more specific features. We recommend you check each one out in case you have special needs, but for general value for money, our choice is definitely NordPass.