The best password managers help you organize your passwords in one place without you needing to remember them all. With the best password managers to hand, you can do away with the risk of your password getting leaked online and enjoy benefits such as strong password generators, regular password audits, secure sharing, and encrypted file storage.
Finding an ideal password manager for your needs can be challenging, though, given the huge range of options available. Don't worry, however. In this guide, you'll find the best password managers, which we've carefully selected based on criteria like pricing, encryption, ease of access, and customer support. Dive in and discover why apps like NordPass, Avira WW, and Keeper are at the top of our charts.
Top 9 Best Password Manager App
There are a lot of robust password managers on the market today, but we came to the conclusion that NordPass is the best of the lot. The service provides with multi-factor authentication, a zero-knowledge architecture, powerful XChaCha20 encryption, and facilities for emergency access. That doesn't mean its competitors have nothing going for them, though – and all the options on our shortlist are great picks for plenty of different use cases. Here's how the different options stack up against one another:
NordPass — The best password manager overall for 2023, with a user-friendly interface, strong security protocols, and great cross-compatibility.
Avira WW — A reliable, easy-to-use service with a free plan and unlimited storage options, as well as a zero-knowledge policy.
Keeper — Innovative manager with options for multiple authenticators and the ability to remotely wipe your local storage.
Kaspersky — A premium option that has a range of features, including a strong password auditing tool, a browser extension, and helpful autofill functionality.
RoboForm — An affordable password manager which provides useful options for sharing password information with family members and others and great form-filling capabilities.
Enpass — Free password manager solution that uses top-grade encryption and allows you to securely store passwords offline.
1Password — Trusted service with options for family plans, a travel mode, and a comprehensive security dashboard.
Bitwarden — Amongst the best free password manager solutions for device compatibility and a top pick for businesses looking for secure, easy collaboration for just $3/user/month.
LogMeOnce — This solution is great for beginners and makes it easy to get started, providing a generous amount of secure file storage and the option to sync multiple devices.
Top Password Manager Solutions Compared
Here's a table that highlights the key features of the top products we picked on our shortlist so you can easily compare them based on the criteria that are most important to you – and pick the password manager best for you, identifying the ideal option for your circumstances. So, what is the best password manager software you can get today?
Password Manager
Starting Paid Plan
Top Features
Free Plan
NordPass
$1.49/month

Web Vault Access
Unlimited passwords
Emergency Access

Yes
Avira WW
$2.99/month

Two-factor authentication
Zero-knowledge policy
Biometrics-based access

Yes
Keeper
$24.49/year

Identity & Payment Info
View Version History
Secure File Storage

Yes
Kaspersky
$14.99/year

One-password entry
Zero-knowledge principle
AES-256 encryption

Yes
RoboForm
$1.99/month

Optional local-only storage
Multi-Factor Authentication
Windows application passwords

Yes
Enpass
$1.99/month

Smartwatch support
Breach monitoring
TOTP Support

Yes
1Password
$2.99/month

1Password Watchtower
Travel Mode
Digital wallet

14-day free trial
Bitwarden
Less Than $1/month
1. Unlimited Free Plan

2. Secure Sharing for Collaboration

3. Multi-Device and App Syncing

Yes
LogMeOnce
$2.50/month

Productivity Dock
Live Password Tracker
Emergency Access with Photo

Yes
Best Password Manager Software Reviewed
Can't wait to find your ideal password manager? Read on as we explore our top password manager recommendations in detail, covering their pricing, key features, and pros and cons so you can get a full picture of what each service offers.
1. NordPass — The Best Overall Password Manager
NordPass is one of the best password managers on the market in 2023, and it's a service that security experts recommend. With a user-friendly interface and a great range of security protocols, saving passwords is easier than ever with this platform.
The platform's biggest USP is the fact that it uses the most advanced encryption technology — the XChaCha20 encryption algorithm. This algorithm is a massive improvement over the standard 256-bit AES encryption that most other password-managing software offers.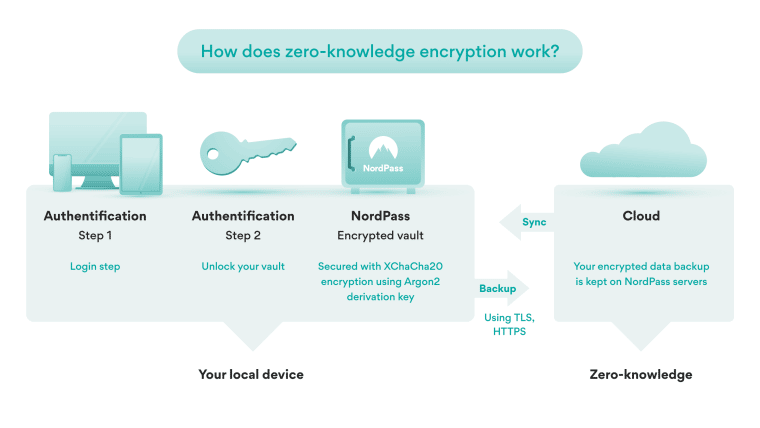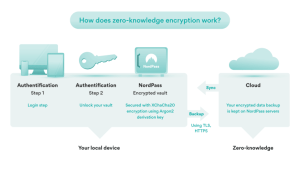 Starting Paid Plan
Top Features
Free Plan
$1.49/month

Web Vault Access
Unlimited passwords
Emergency Access

Yes
Although 256-bit encryption is impossible to break through, having the latest encryption technology is always better. Another benefit of using NordPass is its zero-knowledge architecture. Under this design, your passwords remain hidden from outsiders and the NordPass team.
So, if NordPass's system or network is ever hacked (which is quite unlikely), your password and other sensitive details will remain secure. Plus, NordPass's secure architecture doesn't compromise your accessibility.
After all, it's your passwords, and you should be able to access them instantly whenever you want, especially in emergencies. That's why NordPass lets you access your password vault via mobile apps on Android, iOS, and even web extensions on your Windows device.
All the apps and web extensions have a similar design and interface, making adding, deleting, or managing your passwords from anywhere easier. The best part is you get fully customizable folders with each password vault.
It's hence one of the best password managers for Chrome, as well as Firefox and others, and the best cross-platform password manager to boot.
If you have a lot of online accounts, you'll naturally have a lot of passwords to manage. But grouping them all can make it hard to search. But with NordPass, you can create separate folders and categorize the passwords accordingly.
For instance, all work-related passwords should go into one folder so that it's easier to find them when you need them.
Pricing
There's no debate on why NordPass is the #1 password manager. With a free forever plan that tags along with features such as autosave and autofill passwords and automatically storing credit card details, it also wins the race in affordability.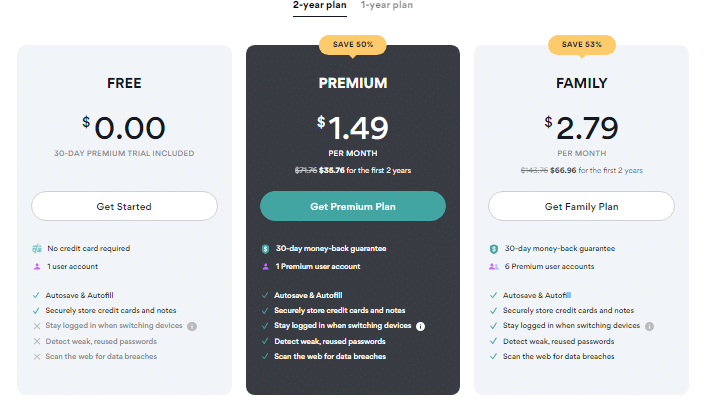 That said, if you'd like to see NordPass in all its glory and enjoy features like weak password detection, web scanning for data breaches, and more, get the 2-year Premium or Family plan.
We recommend the latter, which lets you onboard 6 users at an incredibly low price to protect your loved ones' personal data and passwords without breaking the bank.
With a generous free plan and a 30-day money-back guarantee on the Premium and Family packages, signing up is completely risk-free. Try it now. You have nothing to lose and ample to gain.
Pros
A useful data breach scanner
Offers utility-oriented extensions for several browsers
Recovery code-based account access if you forget the master code
Allows sharing passwords securely
One of the best business password managers
Offers a budget-friendly family plan (6 accounts, 1 subscription)
Cons
Limited customizable options
2. Avira WW — The Best Free Password Manager, with Unlimited Storage
Avira WW's growing popularity is much due to its generous free version that lets you check out the platform before making any financial commitment to it. With that said, one of our favorite things about Avira is unlimited password storage.
Whether you want to store just your social media passwords or all other sensitive data such as bank details and WiFi passwords, Avira has no limit to what you can store there, making it a great password manager for bigger families.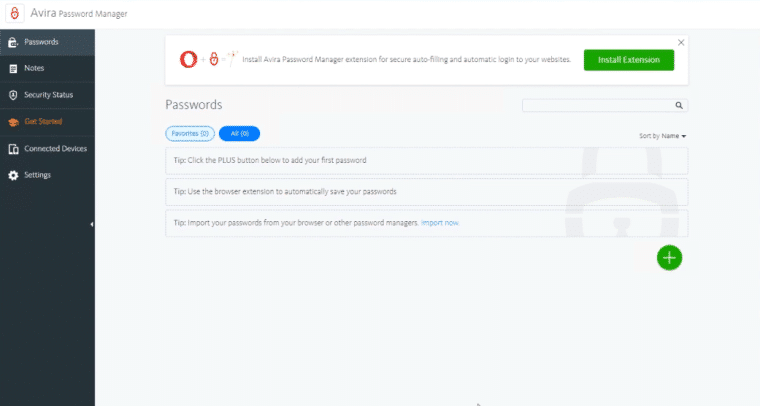 Starting Paid Plan
Top Features
Free Plan
$2.99/month

Two-factor authentication
Zero-knowledge policy
Biometrics-based access

Yes
The password vault neatly organizes all the entries and comes with a search box to help you find your passwords faster. Plus, to protect your password from intruders and outside attacks, Avira uses bank-grade 256-bit AES encryption.
Despite being a common encryption protocol among all password managers, it's still one of the best options in the market. You can protect thousands of passwords with just one password — the master password — that would be required to enter your vault.
Since Avira doesn't store your master password on its servers, no one but you can access the stored data. In case you lose your master password, there are a few ways to still enter your password vault and recover it.
For instance, you can set up a fingerprint or facial recognition app lock as a second access mode. Like the master password, your fingerprint or facial lock will be impossible to copy. And once again, only you can enter the password vault.
For additional protection, Avira also offers two-factor authentication via SMS when you try to login into your main Avira account. Using the mobile version of Avira's password manager, you'll also find a built-in 2FA code generator. It works like Google Authenticator and lets you set up 2FA for other sites.
The ability to run the software on unlimited devices makes it arguably the best family password manager.
Pricing
Avira is right up there with NordPass as far as the most affordable password managers are concerned. The free forever plan with automatic password syncing, the ability to attach notes to online accounts, and more make it perfect for beginners.

We recommend going for a paid Avira plan since it'll work on unlimited devices, plus you'll be able to see if you've been hacked or your passwords have been compromised. Don't believe us? Try Avira risk-free with the generous 60-day money-back guarantee and free trial.
Pros
Allows seamless imports from other apps
A cloud-based operation
Offers two-factor authentication
An easy-to-use interface
Keeper has a range of unique, advanced security features. For instance, it's the only tool to offer an instant self-destruct button that lets you delete all your locally stored passwords in a second.
For example, if your mobile device or laptop has been stolen, and it had the Keeper app with your password, you can remotely remove them from the device before it gets into the wrong hands. Plus, Keeper's expertise in password management isn't just a claim.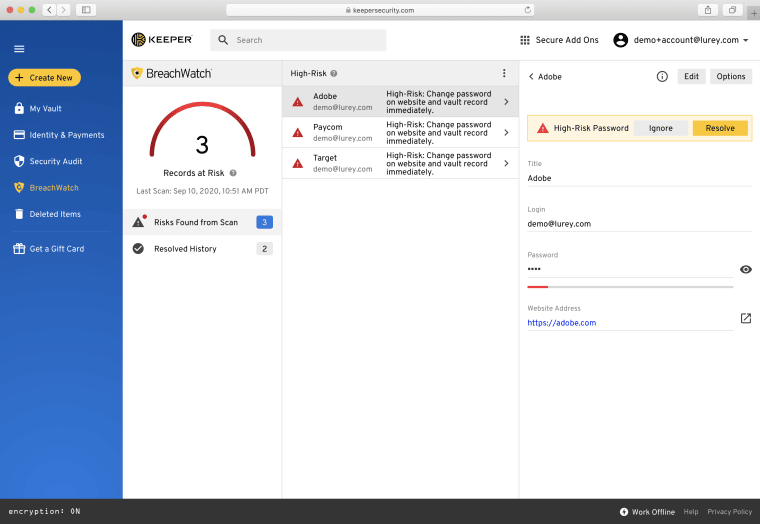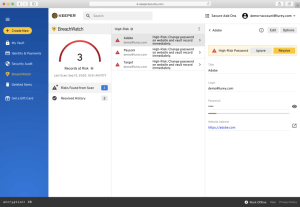 Starting Paid Plan
Top Features
Free Plan
$24.49/year

Identity & Payment Info
View Version History
Secure File Storage

Yes
Independent audit results also back it. For example, Keeper has passed the Service Organization Control 2 (or SOC 2) audit, which studies a software's management methods and system operations in great detail over 6 months.
In addition, Keeper is also compliant with the Privacy Shield framework designed by the US Department of Commerce and the European Commission and the ISO 27001 standard.
The first compliance ensures that Keeper follows the data protection protocols for US and EU consumers. And the second protocol ensures that it uses the right information security management policies to keep consumer data safe from attacks.
Another massive benefit of using Keeper is it offers multiple two-factor authentication methods. You can use the standard SMS authentication feature, where you'll be notified on the registered mobile number whenever someone tries to log into your Keeper account.
Or you can use more advanced methods such as Smart Wearables that use biometric details to authenticate login or third-party authenticator apps. The more unique the authenticate method is, the more secure your account will be.
Pricing
We love Keeper's free forever plan since it offers two-factor authentication and password exports. However the free plan is perfect for getting the hang of Keeper, but if you're serious about your password management, go for a paid Keeper plan:

Pick the Unlimited plan if you only require the password manager for your individual needs and the Family package for covering your entire family's devices.
The latter comes with 10Gb secure file storage, unlimited passwords, identity and payment storage, and more advanced features. Try Keeper risk-free today with the 30-day free trial on its Unlimited plan to find out if it's your cup of tea.
Pros
Uses military-grade 256-bit AES encryption
Several two-factor authentication options
Follows a strict zero-knowledge policy
Third-party audit assurance
Cons
The free version works only on one device
Kaspersky is best known for its secure password auditing feature. Sometimes, protecting your passwords isn't enough. If you have a weak password, breaking into your account wouldn't require stealing the credentials.
But with Kaspersky's password auditing features, you can check the overall strength of all your passwords and see if a hacker has compromised any of them. It'll also match your credentials against popular dark web breach databases to see whether anyone leaked your details to hackers.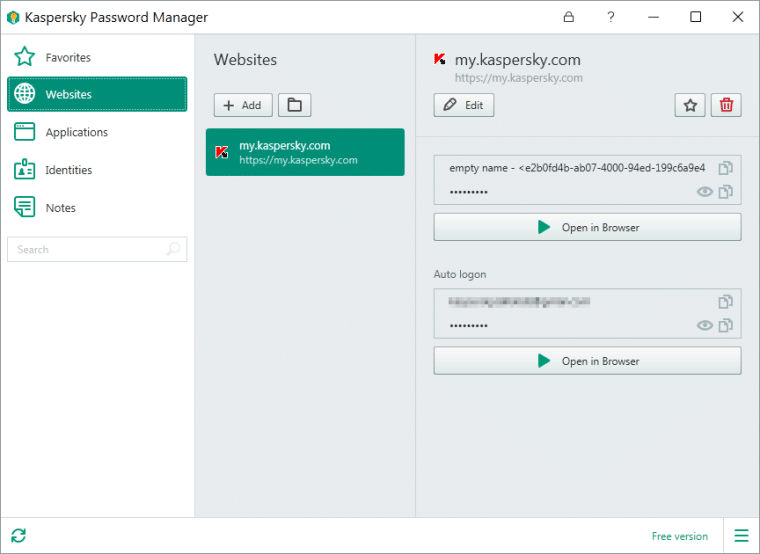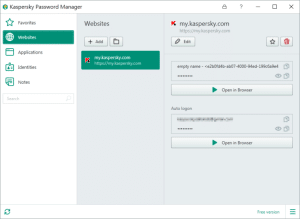 Starting Paid Plan
Top Features
Free Plan
$14.99/year

One-password entry
Zero-knowledge principle
AES-256 encryption

Yes
In short, Kaspersky will do everything possible to keep your passwords unbreakable. The only thing that Kaspersky is missing is a password-sharing option. Unless you give your login details to the other user, there's no other way to share selected passwords while hiding the others.
But on the brighter side, this makes Kaspersky the perfect password manager for personal use — no more worrying about sharing your vaults with unreliable people. Speaking of its password vault, it's quite easy to add new passwords, both automatically and manually.
You'll appreciate Kaspersky's custom auto-fill feature if you're hiding sensitive passwords, such as your bank details. This lets you choose which passwords can be auto-filled during login. So, if someone opens your bank page on your device, it won't auto-fill the password.
Pricing
If you're confused between Keeper's and Kaspersky's free forever plans, go for the latter since it covers unlimited devices (something which many paid tools don't do), plus it'll offer you storage for 15 passwords and documents combined.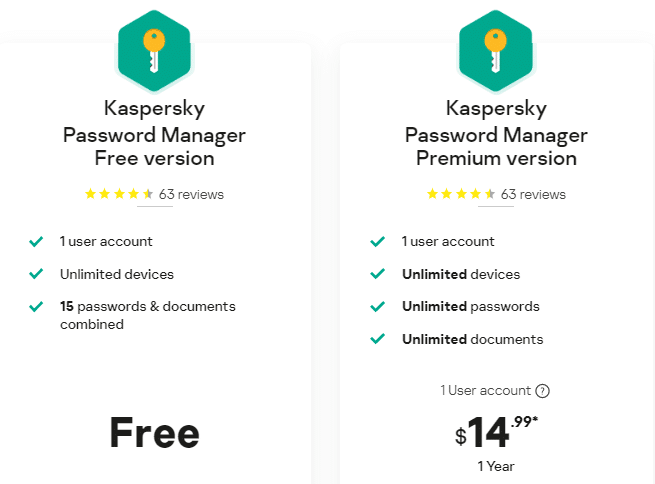 As you can see, even Kaspersky's paid plan is ridiculously dirt cheap. For just $14.99/year, you can safeguard unlimited documents and passwords on unlimited devices.
Unsure? Try Kaspersky risk-free today with its free plan, and if you find it suitable for your needs, upgrade to its premium plan.
Pros
An extra layer of PBKDF2 encryption
Excellent autofill features
Two-factor authentication
It offers a useful browser extension
5. RoboForm — The Best Budget Password Manager
RoboForm is the perfect password manager for users on a budget. It also offers two-factor authentication with third-party apps like Google Authenticator, which effortlessly pairs up with the platform.
In short, you're not only protecting your passwords on RoboForm, but with 2FA; you're also protecting your RoboForm account — double protection. One of its unique features is the automatic form-filler, which helps you complete and submit complex web forms in a single click.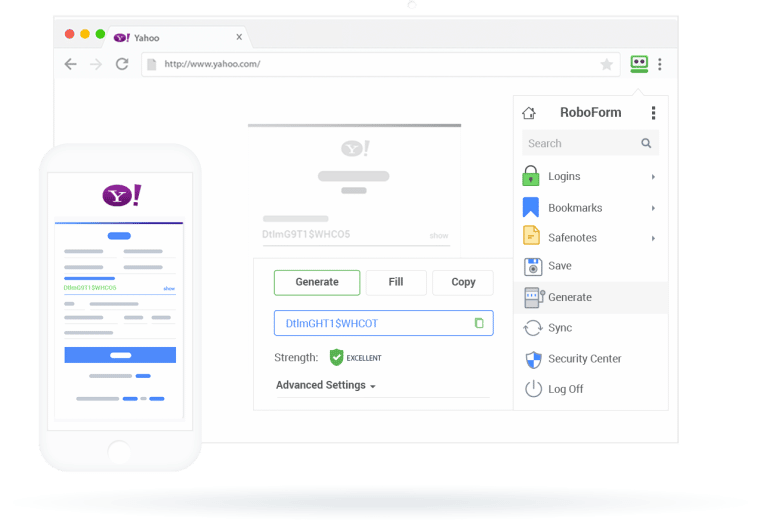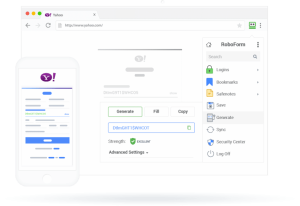 Starting Paid Plan
Top Features
Free Plan
$1.99/month

Optional local-only storage
Multi-Factor Authentication
Windows application passwords

Yes
Since it started as an automated form-filling software before extending its services to password management, it has the best form-filling features in the industry. It offers seven different form-filling templates to choose from and also lets you create your own.
Another benefit of using RoboForm is custom permission settings. When you share the access with an individual, you can decide the level of access they can have — whether login only, read and write, or full control.
The permission settings also work for families sharing a vault where kids and the younger members have less control than the adults. These great features place RoboForm alongside the best password managers for Windows.
Pricing
Continuing the trend of free forever plans, RoboForm's free forever plan is another excellent option for beginners looking to secure their online accounts and documents without spending a penny. You'll get unlimited logins, a password generator, and password audits.

Want RoboForm to do more for you? Upgrade to its highly affordable paid plan to enjoy 24/7 customer support, data backup, secure login sharing, and more. There's no reason not to try RoboForm today. The free plan means you won't put any money on the line.
Pros
All passwords are stored locally
Easy-to-install software
Robust end-to-end 256-bit AES encryption
Effective browser extensions automatically save new passwords
Cons
Data imports don't work smoothly
6. Enpass — Free Password Manager with Secure, Offline Storage
Enpass is one of the best free password manager tools in 2023. The free version is available for Windows, macOS, and Linux users. One of the biggest USPs of Enpass is it stores passwords offline, unlike most of the popular password manager tools in the list.
Being offline, it's much more immune to hacker attacks than those operating online. For further protection, it also comes with built-in 256-bit AES encryption, one of the market's most secure encryption protocols trusted by government officials and agencies.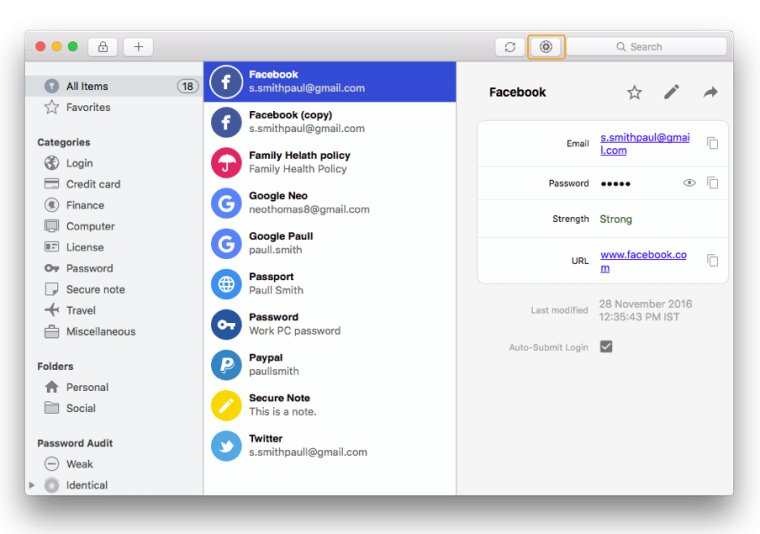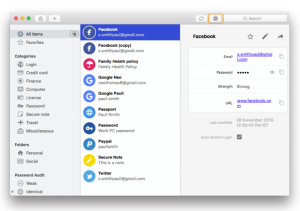 Starting Paid Plan
Top Features
Free Plan
$1.99/month

Smartwatch support
Breach monitoring
TOTP Support

Yes
Once you create an account, it'll, by default, assign you a primary vault where all your passwords will be stored. If you want, you can also create other vaults to categorize your passwords based on type — for work, your family, or otherwise.
Beyond this, creating a new vault on Enpass is super easy. All you need to do is click on the vault logo at the top of the display and select "Create New." You can also create a new vault from the settings menu by clicking the "+" icon.
Pricing
Enpass's free forever plan does a few things but a few things well. It'll protect unlimited items for you if you use it on a Windows, Mac, or Linux device and 25 items for mobile phones.

The paid plans are the perfect mix of affordable and feature-rich. With the Individual plan, you get unlimited password storage, security alerts for website breaches, and support for unlimited devices.
What's interesting about Enpass is that it offers a One-Time plan — a lifetime subscription fee. Although it's a tempting offer, you must be sure of the platform before you pay for it. So, try it risk-free with its free plan and judge its suitability.
Pros
Detailed vault organization capabilities
Syncs seamlessly across platforms
A modern, easy-to-use interface
256-bit AES military-grade encryption
You can sync with your own private cloud
Cons
The PW strength assessment is a bit rigid
7. 1Password — Great for Travelers and Families
1Password's biggest USP is the Travel Mode, which keeps your data and passwords safe when traveling. Under this, you can hide your passwords and even create virtual payment cards that hide your card number when you pay for products online.
It's also one of the few password managers offering a family plan so you can share the vault and the passwords in it with your family directly from the platform. Under this plan, you can have both shared and personal vaults.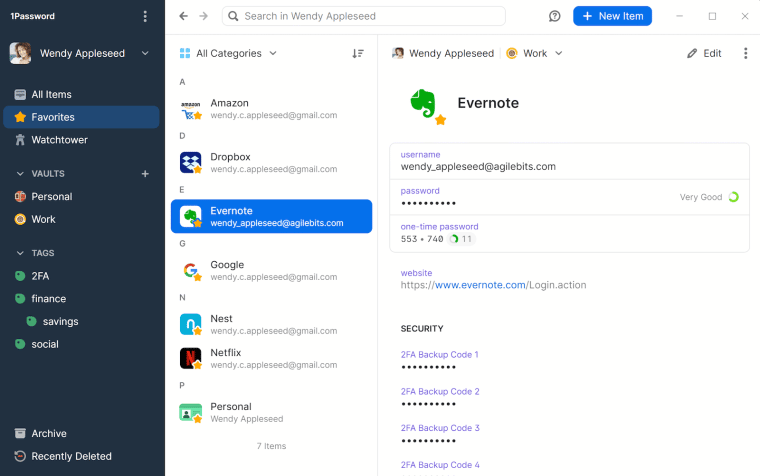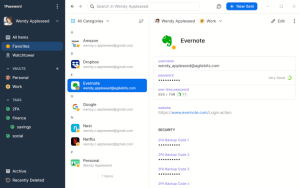 Starting Paid Plan
Top Features
Free Plan
$2.99/month

1Password Watchtower
Travel Mode
Digital wallet

A 14-day free trial
And just because someone has access to your shared vaults doesn't mean they can access your data — that'll be sealed, available only to you. If you're sharing the vault with a third party under any emergency, 1Password will generate an access key tied to that user's email address.
This way, you can be sure of sharing the access key with the right individual and reduce the chances of opening up unauthorized access to your vault.
Pricing
Yes, it's true that 1Password is perhaps the only password manager on our list that doesn't offer a free forever plan, but it compensates for that by providing a 14-day free trial on both paid plans. Not to mention that its basic plan is reasonably cheap.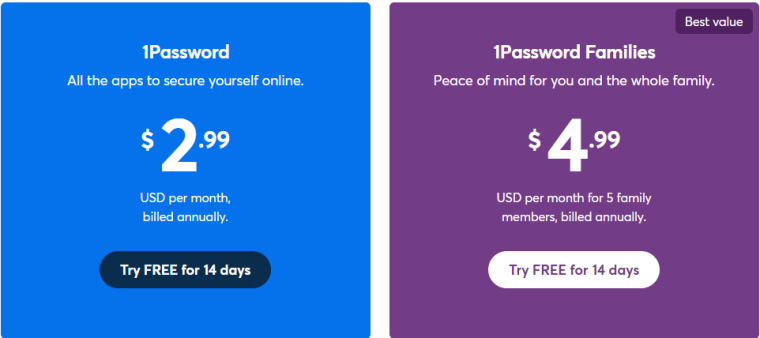 So, signing up for the basic plan will mean enjoying 1Gb document storage, 2FA authentication, unlimited password storage, 24/7 email support, and more.
1Password also doubles up as the best family password manager by providing 5 account users and the ability to recover accounts for locked-out family members on its "1Password Families" plan.
Try 1Password risk-free today. The 14-day free trial will ensure you only pay when convinced of its suitability for your needs.
Pros
Strong, unique password suggestions
You can sync apps between various devices
Comes with a comprehensive Watchtower security dashboard
Provides 1 GB of encrypted file storage
Cons
It doesn't come with a password inheritance feature
8. Bitwarden — Renowned Free PW Manager for Cross-Compatibility
Bitwarden is a popular open-source password manager that's used by millions of people, both for personal and business use, thanks to its unlimited free plan and effortless collaboration capabilities.
You can share sensitive and confidential files with coworkers while maintaining exposure by keeping the same end-to-end encryption when using Bitwarden Send.
Starting Paid Plan

Top Features
Free Plan
Less Than $1/month
1. Unlimited Free Plan

2. Secure Sharing for Collaboration

3. Multi-Device and App Syncing

Yes
Besides the free plan giving users the ability to create and store passwords on an unlimited number of devices, Bitwarden also shines when it comes to device compatibility — with it working across mobile, browsers, and desktops.
Beyond this, this password manager is a global giant as it supports over 50 languages and boasts the bank-grade security you'd expect from a leading password manager solution. That said, Bitwarden also frequently undergoes third-party audits, and, of course, it's never been hacked.
Plus, in terms of compliance, Bitwarden follows the standards of GDPR, SOC 2, HIPAA, and CCPA, making it even more suitable for businesses especially. That said, Bitwarden, unfortunately, doesn't offer a built-in dark web monitoring capability to keep an eye on leaked passwords.
Pricing
Bitwarden offers numerous plans to accommodate several needs and budgets — this includes personal, family, and business plans — all for next to nothing. Here are the personal plans: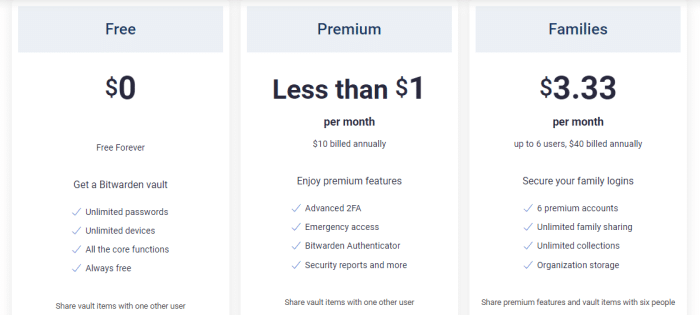 If you're after a solid business password manager to ensure secure password sharing and collaboration, you're looking at just $3/user/month or $5/user/month if you're after advanced capabilities like SSO integration and SCIM support.
Unsure? Try the personal free plan – which we rate as the best free password manager app – or use the trials on offer with the business plans to see whether Bitwarden is the password manager for you.
Pros
Phenomenal compatibility
Offers incredible value for money
Takes security very seriously
It's open source, so users can inspect the source code
Cons
The browser plugin can be buggy
No built-in dark web monitoring
9. LogMeOnce — A Beginner-Friendly Service with Generous Storage
LogMeOnce is fairly easy to get started with. Even if you were using a different password manager, it would help you automatically import all your existing passwords to get started immediately.
In addition to that, LogMeOnce doesn't impose any restriction on how many passwords you get to store. Whether you've registered on one site or 100, you can store your passwords all in one place.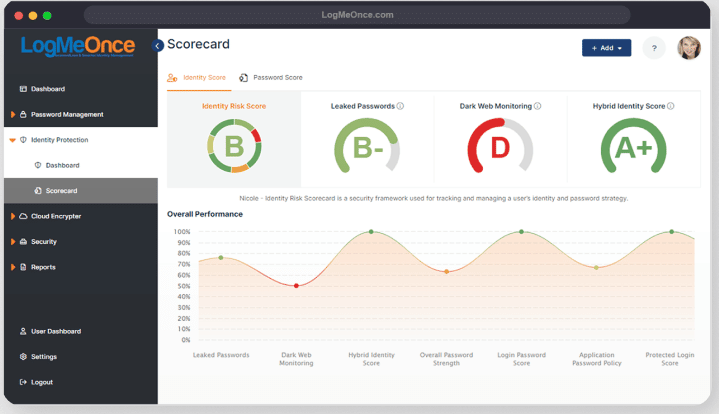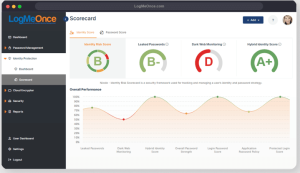 Starting Paid Plan
Top Features
Free Plan
$2.50/month

Productivity Dock
Live Password Tracker
Emergency Access with Photo

Yes
The tool has a centralized dashboard that lets you manage all your passwords from one place. Another benefit of using LogMeOnce is it helps you go password-less. Once you've registered and entered all your old passwords, it'll offer to auto-fill them on your behalf.
After all, why take the trouble of remembering thousands of passwords when you can have LogMeOnce fill in your login credentials?
Pricing
LogMeOnce offers a feature-packed free forever plan — unlimited passwords & autofill, a password generator, a password calculator, and two-factor authentication; you name it.

The free plan provides a great solution for users who only need a barebones service. However, the LogMeOnce premium plan has a lot more to offer. If you would benefit from additional security features like multi-factor authentication, an advanced login audit service, and a live password tracker, as well as a productivity dock and other advanced features, then it's well worth considering paying for the fairly inexpensive upgrade.
If you're still unsure then you can try LogMeOnce risk-free with its 7-day free trial for its "Ultimate" and "Family" plans, and find out if it's your cup of tea.
Pros
Easy to set up and use
Syncs easily across various operating systems and devices
More affordable plans
Well-organized and unique features
A generous 10GB of secure file storage
Cons
Many features come at an extra cost
How Does a Password Manager Work?
After creating an account with your chosen manager, you'll be asked to set a master password — the only one you need to remember. To access your saved data at a later date, you'll need to enter this password into the system.
This password will never be saved anywhere on the servers of the password manager and is only known to you, ensuring that no one else can ever access the information in your vault.
Once you've created this password, you'll be able to get into your vault to add and access all your online credentials. All your passwords will then be saved in an encrypted format, improving your internet security immeasurably. You hence don't need to store a physical or insecure record of your passwords and can use strong, unique passwords for every login without having to somehow memorize them.
Why Do I Need a Password Manager?
Wondering why you'd ever need a password manager? Here are a few reasons you need to subscribe to one immediately:
Generate Stronger Passwords
In contrast to weak passwords, a robust password generator can instantly create strong passwords. You can define the requirements for the password, such as length and unique symbols, and the manager will generate an extremely secure password for you.
All you have to remember is your master passcode, and the manager will handle all others.
Excellent Security
A password manager employs the highest level of encryption to protect your credentials from external threats. This includes protecting you from hackers and malware that may attempt to steal your confidential data without your knowledge.
Rather than storing your passwords in a file on your device or taping some of your most valuable personal information to your monitor, having a password manager means you can lock up your details in a secure vault.
Most advanced password managers feature the most recent AES 256-bit encryption, which employs a 256-bit key length to encode and decrypt your data securely.
Easily Accessible
Good password managers can be easily accessed over various platforms today, so the best password manager for Windows today will generally also work for Mac and iOS. Once logged in, copy and paste the individual passcode into the login details of whatever website you're attempting to access.
Most password managers also have an autofill function that works across multiple operating systems for applications, websites, and web platforms.
Changing Passwords
Password managers make it simple to update or change passwords. If a website where you have an account has been breached, you can stay protected by creating a new password using the built-in password generator.
You can also choose to update all of your passwords regularly for added protection, and unlike the experience of not having a password manager, these tools get rid of the annoyance of forgetting your passwords — something 73% of respondents found most annoying about online security.
Added Features
Many password manager applications enable users to store and handle more than just logins and passwords. For instance, some offer safe access to credit card data.
This decreases the need to disclose credit card information to staff over the phone or in writing, which could increase the number's exposure to theft.
How We Ranked the Best Password Managers – Our Methodology
There are lots of password managers on the market today, and it can be tricky to establish exactly what differentiates them. To put together our shortlist of the best password managers available, we dug into the key details of their products to investigate exactly how they protect and serve their customers. The core features we looked at included:
Security Features
Providing strong security features is fundamental for any good password manager. We looked for products that support security measures such as two-factor authentication and biometric security, like fingerprint scanning and facial recognition.
Having easy-to-use tools to generate and store secure passwords whenever needed was a feature we particularly looked out for, as it adds a huge amount of value for the user.
Secure Syncing
We all use various devices, including laptops, tablets, desktop computers, and mobile phones, so it's crucial to pick a password manager that offers secure cross-platform syncing.
This way, if you block any passwords on one device, they'll also be blocked on all your other devices. Inconsistent or non-existent sync will reduce the usability and efficacy of your password manager, whether it's the best password manager for iPhone or merely a middling option.
Storage Location
Password managers will either store your information on your own computer or in the cloud.
Cloud-based services are more flexible – all you need to do is log into the service on whatever device you're using to access your encrypted information. Managers who store your passwords on a specific device give you additional control, however.
In this case, even if hackers did successfully infiltrate a password manager's systems, they wouldn't be able to access any central repository, as all the password vaults are dispersed across the service's user base. And for added flexibility, users can still place their local, encrypted vault in cloud storage so they're not locked into a single, physical hard drive.
The best Enterprise password managers will often make use of this, to add an additional layer of security.
Additional Features
If generating and saving login passwords isn't impressive enough, you'll be glad to know that password managers can do more.
We selected programs with extra features like flagging weak or repetitive passwords, setting up automated password changes, offering security advice as you browse, and saving documents.
Besides the above, we also took into account real user reviews and experiences. For this, we looked at trusted sites like TrustPilot, G2, and the best Reddit-recommended password manager threads.
Best Password Managers Guides and Resources
Our security experts have put together a range of resources and guides on the best password manager solutions on the market. These include:
Conclusion – What's the Best Password Manager in 2023? NordPass
Our list of the best password managers has something for everyone. Whether you need a manager for your personal needs or one for your business with seamless sharing capabilities, our list won't disappoint you.
Whatever your needs might be, NordPass proves to be a one-stop solution. With unmatched features like double encryption, two-factor authentication, automatic logins, easy imports, and unlimited password storage, NordPass is all you need. It's the best password manager for Mac, Android, and iOS.
Don't take our word for it. Try it out risk-free now with its free-forever plan, and start using the best password manager app today.
Password Manager FAQs
Are password managers safe?
What password manager is the most secure?
Is it worth paying for a password manager?
Is there a password manager that actually works?
Are password managers easily hacked?
What's the best free password manager?
References