Keeper Password Manager is a powerful, secure, easy-to-use password management solution. With Keeper, you can store all your passwords in one place with end-to-end encryption that keeps your data safe from hackers and cybercriminals.
As we become increasingly reliant on digital services, it's important to ensure our accounts are secure and accessible. In this article, we'll examine the features of Keeper Password Manager and explore how it can help you stay safe online. Read on to learn more about the benefits of using it for your password security needs.
Table of Contents
Table of Contents
What is Keeper?
Keeper is a leading cybersecurity and digital vault solutions provider for businesses and families. It offers the latest security measures, such as zero-knowledge encryption, to protect confidential data from cyber threats.
With Keeper, you can quickly generate strong passwords that are difficult for hackers to guess and easily autofill login credentials.
Furthermore, it offers specialized tax software designed specifically for 1099 contractors and freelancers who want to maximize their password security while keeping sensitive information safe.
Pros and Cons of Keeper Password Manager
When protecting your online accounts, it's important to choose the right password manager for your needs. Keeper Password Manager is a popular choice among users due to its ease of use and advanced security features. Here are some of the pros and cons associated with using Keeper Password Manager:
Pros
Strong security
Easy-to-use interface
Cross-Platform Support
Password generator
Secure Sharing
Cons
Limited free version
Costly subscription model
Limited customer support options
Keeper Password Manager Cost
Keeper has a plan to meet your needs, from personal users to large enterprises; it has it all. For an in-depth Keeper Password Manager review, we'll look at the different pricing plans now.
Personal and Family Plans
Keeper offers these plans for personal and family use:
Personal Plan (Keeper Unlimited) — $2.91/month — This plan is for single users and offers unlimited password storage, generation, and autofill on all devices, including additional features.
Keeper Plus Bundle — $4.87/month — The added features provide users with a more comprehensive package than the personal plan alone can offer them.
Family Plan — $6.24/month or $74.99 (billed annually) — Allows 5 private vaults to securely store unlimited passwords with password generation and autofill features on all devices.
Keeper Family Plus Bundle — $8.62 per month or $103.48 yearly — Includes additional features such as BreachWatch Dark Web Monitoring and Secure File Storage.
Business Plans
For businesses, Keeper offers three main plans:
Business Plan — $2.50/user/month (billed annually) — Includes team password sharing, an admin console for managing users, activity reporting, and more.
Enterprise Plan — Pricing is customized based on the number of users.
MSP Plan — $2/user/month — This plan is designed for managed service providers who want to offer password management services to their clients.
Overall, it's one of the best business password managers on the market.
Public Sector Plans
Keeper also offers special pricing plans for public sector organizations such as government agencies or non-profit organizations. These are customized based on the specific needs of each organization.
A Look At Keeper's Core Features
Before we go over the benefits of using a password manager and what other Keeper reviews have to say about the tool, let's take a closer look at some of the key features on offer.
Zero-Trust Security Framework
Keeper Security, Inc. (KSI) has developed a zero-trust security framework for its products based on the premise that none of the users or devices within an architecture can be trusted.
This cybersecurity framework provides IT administrators with full visibility into all users and systems they are accessing, enabling them to ensure compliance with industry and regulatory mandates.
The cornerstone of this zero-trust security model is password security, alongside a Zero-Knowledge (ZK) approach to data protection. IT administrators can use Keeper Password Manager to implement a zero-trust security model to ensure that all users and devices within the organization are accessing sensitive data securely and competently.
This can include implementing strong password policies, two-factor authentication, and dark web monitoring to prevent data breaches and unauthorized access.
Additionally, Keeper's zero-knowledge security platform ensures that all data is encrypted and decrypted locally, providing an extra layer of security and ensuring that only the user can access their data.
By using Keeper Password Manager as part of a zero-trust security framework, organizations can protect their data from insider threats, external attacks, and other security risks.
Keeper's ZK security platform ensures that user data is only accessible by the customer, as it's encrypted and decrypted locally upon logging into the vault.
Each record stored in a user's vault is encrypted with a 256-bit Advanced Encryption Standard (AES) key, which is generated on the user's device and protected by an additional Data Key.
This Data Key is further encrypted by another key derived from the user's Master Password. Furthermore, all data stored at rest on the device is also encrypted using another 256-bit AES key called the Client Key.
Beyond this, secure record syncing between multiple devices is also encrypted at the network layer and routed through Keeper's Cloud Security Vault. Plus, Keeper doesn't have access to customer information, as all this is carried out solely on the user's device.
The only information Keeper Security can access is a user's email address, device type, and subscription plan details. This means that in the event of a lost or stolen device, KSI can assist in accessing encrypted backup files to restore the user's vault once the device is replaced.
Master Password
As the code that grants entry to a user's encrypted vault, the Master Password is a crucial security element in Keeper Password Manager. As the Master Password is the first line of protection against illegal access to users' data, it's crucial that users select a robust and singular Master Password that's not used anywhere else.
By delivering real-time feedback on the strength of their selected password based on a mix of characteristics like length, complexity, and unpredictability, Keeper's password strength meter aids users in creating secure and unique passwords.
A strong Master Password can also prevent brute force attacks, where attackers attempt to guess a user's password by trying numerous different combinations.
A strong password can help guard against phishing assaults, in which perpetrators try to deceive victims into disclosing their credentials by impersonating trustworthy sources. Overall, a user's account is more secure with a Master Password.
By using a strong and distinctive password, you'll dramatically lower your chance of having your account hacked, which might result in catastrophic repercussions, including identity theft, financial loss, and reputational harm.
Two-Factor Authentication
Two-Factor Authentication (2FA) is a crucial security measure for regular users to protect their online accounts, applications, and data from unauthorized access.
Keeper Password Manager offers 2FA through Time-based One-Time Passwords (TOTPs) to ensure an extra layer of security for users when their master password or device is compromised.
TOTPs generate a secret key using a secure random number generator valid for about one minute. You can activate 2FA via SMS, Duo Security, RSA SecurID, TOTP application, Google Authenticator, or Keeper DNA-compatible wearable devices like Apple Watch or Android Wear.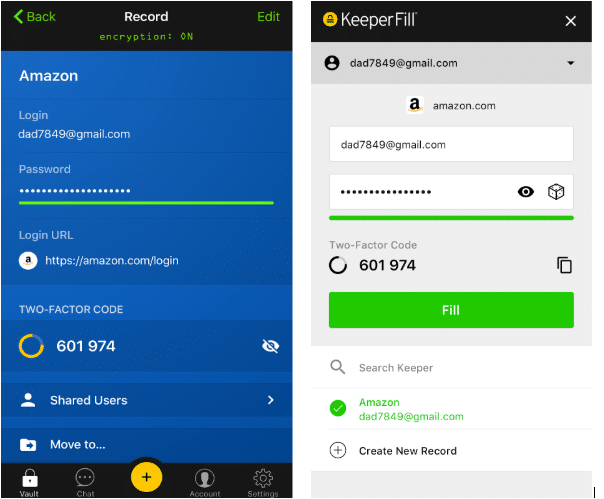 By requiring something you know (your password) and something you have (your phone), Keeper provides you with greater protection against account breaches.
To activate 2FA, users can visit the Settings or Security screen of the Keeper application, and Keeper Business customers can enforce 2FA via the Keeper Admin Console's role enforcement functionality.
By using Google Authenticator or TOTP application on a mobile device, Keeper generates a QR code containing the secret key. This key is never communicated to any third party, and a new secret key is generated each time 2FA is deactivated and reactivated.
The importance of 2FA for regular users can't be overstated, as it can prevent unauthorized access to sensitive data, personal information, and financial accounts. Without 2FA, a hacker who obtains a user's password or device can easily access the account and cause significant damage.
With TOTPs, however, even if a hacker obtains a user's password, they still require physical access to the user's phone to gain access to their account.
In today's world, where cyber threats are constantly evolving and becoming more sophisticated — with a hacker attack happening every 39 seconds, 2FA is no longer an optional security measure but rather a necessity for regular users.
By using Keeper's TOTPs, users can have greater peace of mind knowing that their accounts are protected by an additional layer of security that significantly reduces the risk of unauthorized access.
Seamless Integrations
Keeper's ability to integrate with any existing security infrastructure and processes at an enterprise level is important for individual users and organizations.
For individual users, it means that Keeper can easily integrate with their existing login methods and identity systems, making it easier and more secure for them to manage their passwords across multiple accounts.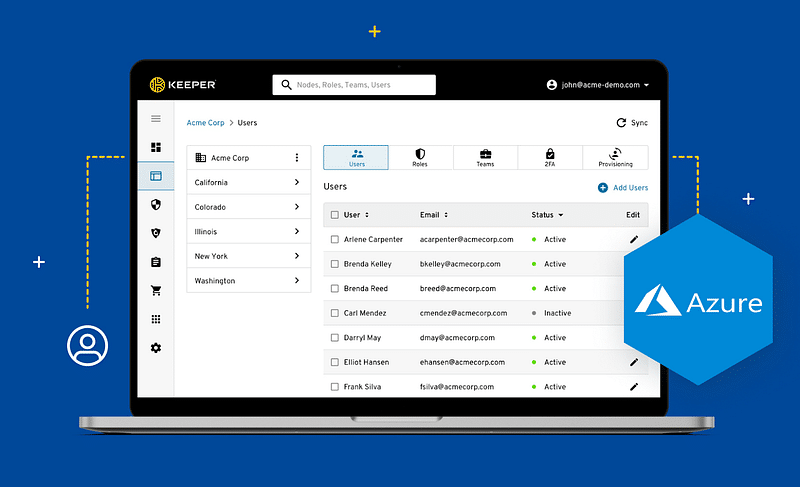 This feature is invaluable for organizations because it enables them to seamlessly integrate Keeper with their existing identity and access management systems, such as Active Directory and LDAP.
This makes managing passwords for hundreds of thousands of employees easier and ensures that sensitive information is protected from unauthorized access. In addition, Keeper's integration with SAML-compatible IDps like:
Azure
Okta
Centrify
BeyondTrust
JumpCloud
OneLogin
Ping Identity
Allows for single sign-on (SSO) access to Keeper, making it even more convenient for employees to securely access their passwords. The API access offered by Keeper also allows developers to customize their own security environment, ensuring their unique security needs are met.
Finally, Keeper's integration with major SIEM solutions such as:
Splunk
Sumo Logic
LogRhythm
IBM
DEVO
Provides the ability to track and report events, giving organizations greater visibility into their security posture and allowing them to take proactive measures to mitigate any potential risks.
SSO Fluidity
Keeper provides a secure and efficient password management solution for privileged access users, such as IT admins and security professionals, making it an ideal complement to single sign-on (SSO) solutions.
With Keeper, you no longer need to remember or reuse passwords. The system automatically generates strong, random passwords and stores them in your vault, saving you time and frustration.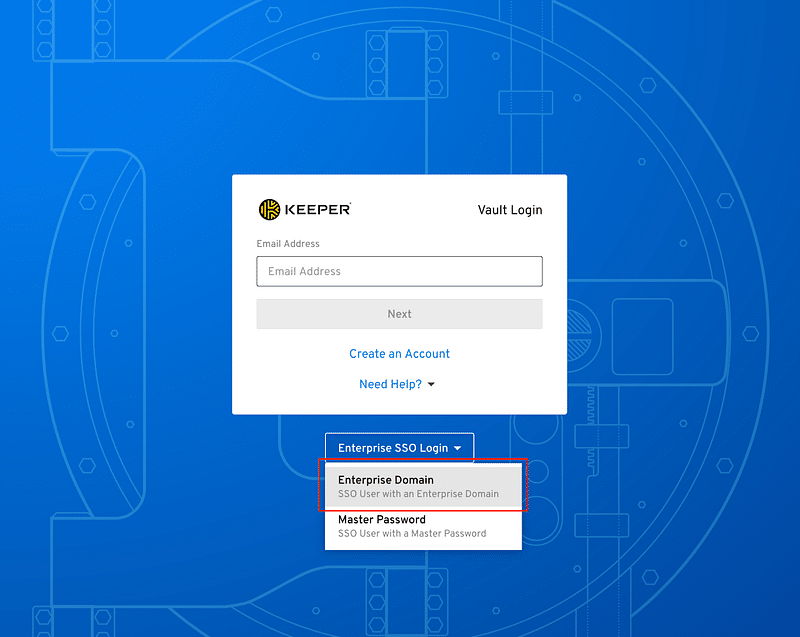 In addition, Keeper offers role-based access control and fine-grained policy management, enabling organizations to securely share and revoke access as required. This is important as it reduces the risk of unauthorized access and ensures sensitive information is only accessible to those who need it.
Keeper SSO Connect® also integrates with popular SSO Identity Provider (IdP) platforms (as outlined in the previous section). This gives businesses the utmost authentication flexibility to meet their IAM needs cost-effectively, ultimately saving them money.
For example, according to a study, up to 50% of helpdesk calls are for password resets, and each call costs more than $30. Using Keeper, businesses can significantly reduce these costly helpdesk calls and improve productivity.
BreachWatch
BreachWatch helps users or enterprises detect any breach or leak of their data by monitoring over a billion records, making it a powerful tool for preventing security threats.
One of the primary benefits of BreachWatch is its ability to monitor employee credentials on the dark web. The dark web is a part of the internet that isn't indexed by search engines and is commonly used by hackers to sell stolen data, including login credentials.
With BreachWatch, teams can monitor their employees' compromised credentials on the dark web and take prompt action before any damage is done.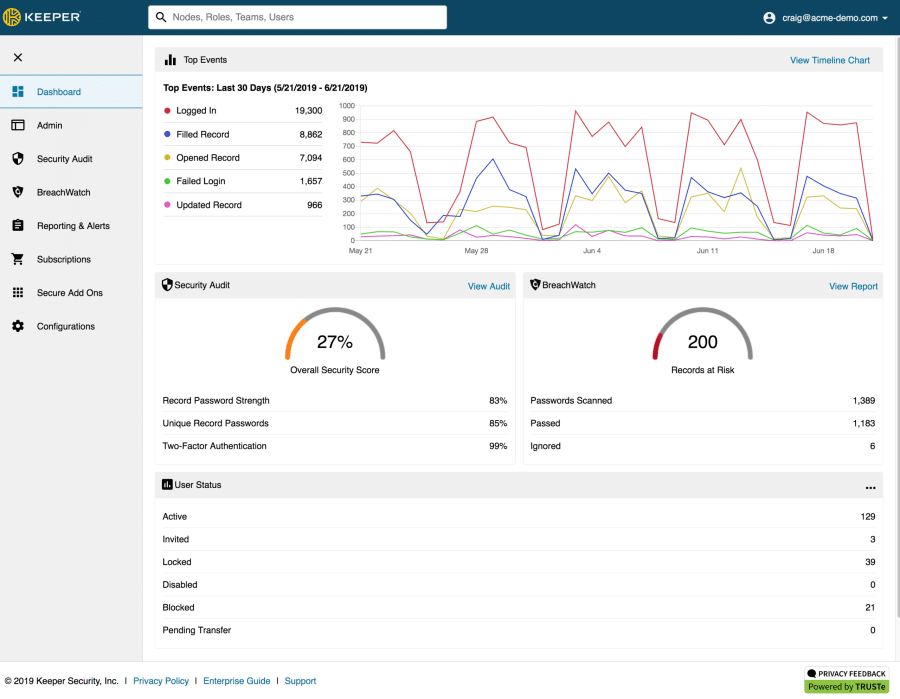 This feature is especially important because employees often use their work email addresses and passwords for personal accounts, making them vulnerable to compromise. In addition to dark web monitoring, BreachWatch also scans for malware-infected devices.
Malware is malicious software that can steal sensitive information, such as login credentials, credit card numbers, and other personal data. Detecting malware early on can prevent it from spreading throughout an organization's network and causing widespread damage.
Overall, Keeper BreachWatch is essential for businesses looking to protect their data security. By integrating BreachWatch with Keeper Password Manager, users can have peace of mind knowing that their data is being monitored and protected around the clock.
BreachWatch's advanced scanning technology and proactive approach help prevent account takeovers, ransomware attacks, online fraud, and other malicious activities that could have disastrous consequences for a business.
Autofill Passwords with KeeperFill®
KeeperFill is a convenient and secure feature offered by Keeper Password Manager. It automatically generates strong and random passwords and auto-fills them into websites and apps, saving users time and eliminating the need to remember multiple passwords.
With KeeperFill, you can create complex passwords that are virtually impossible to guess or crack. The autofill feature also ensures that the correct passwords are entered into the right sites, reducing the risk of human error and protecting users from phishing attacks.

Furthermore, KeeperFill integrates with all popular browsers and mobile devices, so users can access their passwords across all their devices without having to manually input them.
This seamless integration simplifies the login process for users and makes it easy to switch between devices while keeping their accounts secure. KeeperFill is essential for individuals and businesses looking to simplify password management and enhance their data security.
By generating strong and random passwords and automatically filling them in, KeeperFill eliminates the need to remember multiple passwords and reduces the risk of data breaches.
The Benefits of Using a Password Manager
Everyone uses passwords for their accounts, from email and social media accounts to online banking and shopping. It can be challenging to remember all these passwords and many people resort to using the same password or a weak one that is easy to guess.
This is where a password manager comes in handy. Here are some of the key benefits of using Keeper, one of the best password managers available today:
1. Enhanced Security
One of the primary benefits of using a password manager is enhanced security. A password manager can generate unique, complex passwords for each of your accounts, making it nearly impossible for hackers to crack them.
Keeper generates unique, complex passwords for each of your accounts using its Password Generator feature. This feature allows you to choose the length and complexity of the password, including using numbers, letters, and symbols.
Keeper also uses industry-standard encryption protocols, such as AES-256 and PBKDF2, to protect your login information. Beyond this, Keeper's Password Analyzer feature provides an overview of the strength of your passwords.
It also highlights any that may need to be updated. The Password Changer feature can also automatically update your passwords for supported websites.
2. Time-saving
A password manager can save you time by eliminating the need to remember and type in multiple passwords. Keeper's Autofill feature allows you to fill in login credentials and forms with a single click or tap.
This works on all major browsers and operating systems, including Windows, Mac, iOS, and Android. Keeper also offers a Quick Access feature, which allows you to quickly access your most frequently used passwords.
3. Convenience and Organization
Using a password manager can make logging into your accounts more convenient. Rather than remembering multiple passwords, you can simply use your password manager to log in with a few clicks or taps.
Like many password managers, Keeper is available on multiple devices, including desktops, laptops, smartphones, and tablets. Keeper also supports biometric login, such as fingerprint and face recognition, on compatible devices, making it easier and faster to access your passwords.
In terms of organization, a password manager can help you keep all your login information in one place. You can organize your passwords by category or type of account, making it easier to find what you need when you need it.
4. Collaboration
Finally, some password managers offer collaboration features that allow you to securely share passwords with others. This can be useful if you need to share accounts with family members or coworkers or work on a project with others.
Keeper's Shared Folders feature allows you to securely share passwords and files with other Keeper users. You can also set permissions for each user, such as read-only or full access, and revoke access at any time. Keeper's Family Plan also allows you to share passwords with up to 5 members.
Keeper Password Manager Reviews | What Do Real Users Say?
We now know how great an app Keeper is, but what do real users have to say about it? We scoured TrustPilot and PW manager Reddit recommendations to find out. On both platforms, Keeper boasts fantastic user satisfaction for being a simple, effective daily password security and management solution.
Unlike many password managers, Keeper is also praised for its multi-platform support, including tablets and Mac laptops. Here are some recent reviews we gathered: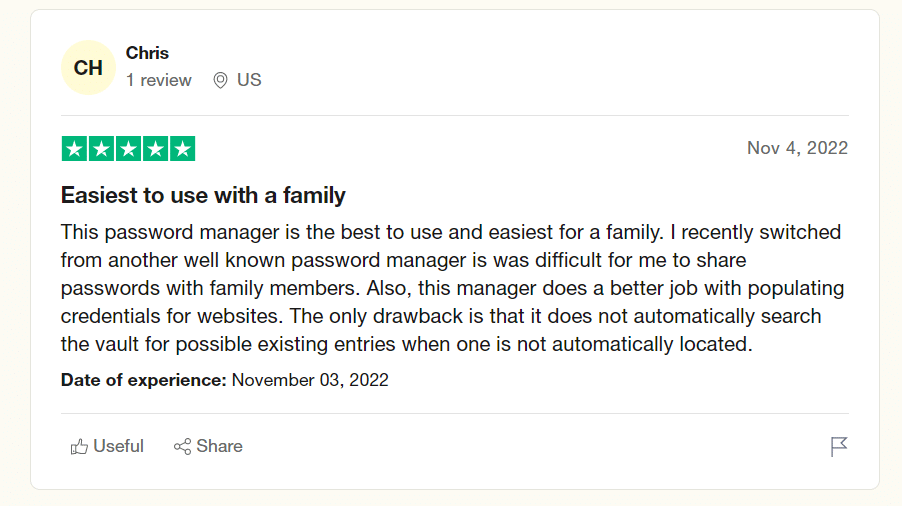 There are loads more attesting to its capabilities, but we won't bore you. Let's look at how you'd use the Keeper password manager.
How to Use Keeper Password Manager | Step-by-Step
This step-by-step guide will show you how to use Keeper Password Manager:
Step 1 — Create An Account
To start with Keeper, go to their website and create an account. You can choose between a free or paid version depending on your needs.
Step 2 — Set up Your Vault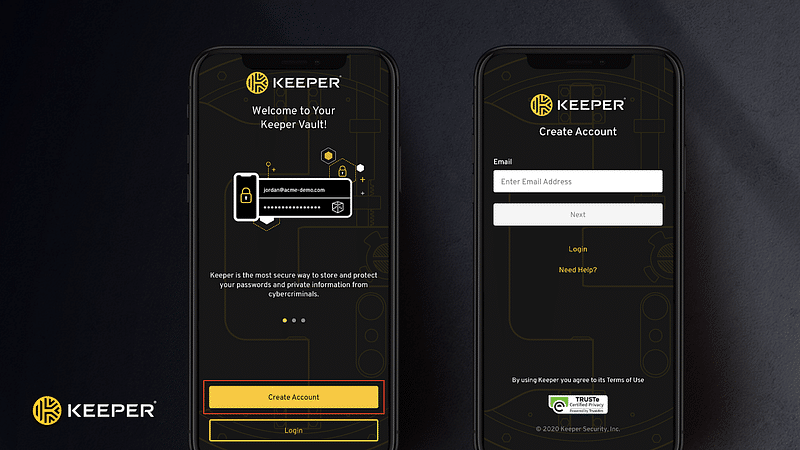 Once you've created an account, it's time to set up your vault. Your vault is where all of your passwords will be stored. You can access your vault from any device with the Keeper app installed.
Step 3 — Add Passwords
To add a password to your vault, click the "Add Record" button and enter the website or app name, username, and password. You can also add notes or attachments if needed.
Step 4 — Use KeeperFill
KeeperFill is a feature that allows you to automatically fill in login credentials on websites and apps. To use KeeperFill, click on the login field and select the appropriate record from your vault.
Step 5 — Enable Biometric Login (Optional)
If your device supports biometric login (such as fingerprint or facial recognition), you can enable this feature for added security and convenience. An example below shows Window's Hello Login.
Congratulations. You now know how to use Keeper Password Manager. With its easy-to-use interface and advanced security features, Keeper is an excellent choice for anyone looking to improve their password management practices.
Our Other Password Manager Guides
If you're still not sure if Keeper is the one for your password management needs, then we recommend reading our other comparison guides for a deeper overview of how Keeper compares to other leaders in the PW manager space:
Why You Can Trust Our Analysis of Keeper
When reviewing and comparing any tool, we follow a strict testing methodology that ensures we deliver the best value to our readers by accurately summing up the advantages and disadvantages of the software in question.
For our Keeper Review, we tested the free version to get a first-hand experience of the interface and how easy it is to use. We found it better than 1Password, which only allows you 14 days free — although this, too, is enough for us to get a good understanding of the product's workings.
Having tested other password managers for our guides, we knew exactly what to look for when we put Keeper to the test. Having first-hand experience with all the key players in the password manager space means that we can easily pinpoint anything noteworthy.
Beyond this, we know that everyone's experiences can differ, especially for long-time users, so to further ensure that our review of Keeper is balanced and insightful, we took a deep dive into Keeper reviews.
This includes sites like Trustpilot and the best password manager Reddit threads to see what others had to say about it. Our experience, combined with knowledge of how others find the app, makes it easy for us to accurately give a summary of how the platform performs, who it's best for, what it's great at, and where it could use improvement.
Keeper Password Manager Review | Is it the Best Pick in 2023?
Because of its zero-knowledge encryption, autofill, and strong password-generating capabilities, Keeper Password Manager distinguishes itself from other password management programs.
It's a cost-effective option for those wishing to upgrade their security measures with a user-friendly system that can be accessed on numerous devices. Overall, our in-depth review of Keeper password manager has proven it's undoubtedly one of the best.
Despite not having a free version, Keeper, without a doubt, boasts all the security and extra bells and whistles you'd need as an individual or business owner — all at an affordable price point. Try it now by clicking the button below.
Keeper Password Manager FAQs
Is Keeper Password Manager free?
Is Keeper Password Manager safe?
Has Keeper Password Manager been hacked?
Is LastPass better than Keeper?
Who owns Keeper Password Manager?
References