The best POS for liquor stores will help you manage inventory across multiple stores, keep track of every sale you make, and generate detailed reports for better decision-making. These systems are capable of not only managing huge menus but also facilitating seamless payments with cards and contactless payments, among other payment methods.
Finding an ideal POS for your liquor store is a daunting task, however, to say the least. That's why we bring you our guide to the best POS for liquor store owners, focusing on details like pricing, connectivity, customer support, ease of use, and more. Read on to find out why POS systems like Square, TouchBistro, and Toast are among the best in the business.
The Top 10 Liquor Store POS Systems Ranked
Here's a quick round-up of our top providers and their core offerings so you have a fair idea of what's to come in our in-depth reviews later in our guide:
Why Your Liquor Store Needs a POS Solution
In a market with many liquor stores, competition can be fierce, making it challenging to maintain a competitive edge. However, investing in POS solutions can significantly boost your profits and success as you expand into larger markets with more complex inventory control systems.
Here are some ways that liquor store POS software can help you:
Enhanced Inventory Control: Combat shoplifting with automated inventory tracking, ensuring every item coming in and out of your store is accounted for.
Reduced Labor Costs: Free up staff from time-consuming tasks, allowing them to focus on more important responsibilities.
Efficient Promotions: Send out coupons and offers, improving promotional efficiency with a few clicks.
Improved Customer Communication: Transition from outdated coupon sheets to a flexible and modern system tailored to meet the unique needs of liquor stores, enhancing customer communication and engagement.
Streamlined Menu Integration: A liquor store POS system can provide comprehensive menu integration. This enhances the customer experience, reduces wait times, and simplifies drink inventory management. It also comes in handy if you own a bar and serve drinks.
Key Features You'll Get With the Best Liquor Store POS Solutions
Wondering what a POS solution brings to the table? Let's explore the key features you'll get with liquor store POS solutions.
Sales Reporting
A POS solution provides essential insights into a store's performance, enabling your managers to track sales trends, identify top-selling products, and analyze real-time revenue data.
These reports offer a comprehensive view of the store's financial health, helping to make informed decisions about inventory management, pricing strategies, and marketing initiatives.
Age Verification
The best POS system for bars and liquor stores should ideally include an ID scanner that makes age verification a simple process. With this feature, you can swiftly and accurately verify the age of your customers before selling alcohol, reducing the potential legal consequences of selling to minors.
Payment Processing
These systems streamline and secure transactions, accommodating various payment methods, including credit cards, mobile payments, and cash. With advanced payment processing features, you can offer customers a seamless checkout experience, improving customer satisfaction and reducing the risk of errors.
Inventory Management
POS systems can help maintain accurate stock levels, automatically reordering products when necessary and providing insights into top-selling items. This approach can reduce instances of overstocking and understocking, improving cost control and profitability.
Timeclock Management
Integrating timeclock management can reduce costs and save valuable time. Leading liquor store POS systems include payroll features similar to those included with the best payroll software, enabling you to efficiently oversee employee hours.
These systems provide insights into employee records, identify high-performing cashiers, establish schedules, and accurately track worked hours – all of which contributes to more effective labor cost management.
Customer Relationship Management (CRM)
Built-in CRM software allows you to collect and analyze customer data, including purchase history and preferences. This will help you personalize marketing strategies, loyalty programs, and promotions, creating a more engaging and tailored shopping experience.
Integrations
You can easily integrate POS systems with various other software and hardware components. Many POS systems integrate with accounting software solutions, payment processors, and ecommerce platforms and can expand functionality and improve efficiency.
Comparing the 10 Best Liquor POS Systems
Here's a quick table summarizing the key differences between each of our top picks so you can quickly zero in on the best liquor store POS for your needs:
Best POS systems
Starting Price
Transaction Fees
Free Version
Top 3 Features
Square
$29/month
2.6% to 3.5% + $0.10 to $0.30 per transaction
Free-forever plan
– BNPL feature
– Free online store with unlimited listing
–

Inventory forecast tools

TouchBistro
$69/month
On-request
N/A
– Native payment solution
– Upselling tools and color-coded menus
–

Gift cards and marketing tools

Toast
$69/month
2.49%+ $0.15 to 3.5% + $0.15 per transaction
Free plan
– Offline ordering and receipt printing
– Commission-free deliveries
–

Excellent tips management

Lavu
$59/month
2.49%+ $0.15 to 3.5% + $0.15 per transaction
N/A
– MenuDrive for easy menu management
– Contactless payment with QR codes
–

Dual pricing model

Clover
$799+ $14.95/mo
2.3% + $0.10 per transaction
Free plan for services
– Clover Web POS system
– QR codes for menus and payments
–

One-day hardware shipping

Lightspeed
$69/month (US only)
2.6% + $0.10 per transaction
14-day trial for retail
– B2B purchase orders built in
– Checkout loyalty programs
–

Inventory level syncing for multiple locations

Shopify
$5/month
– In-Person – 2.4% to 2.7%
– Online – 2.6% to 2.9% + $0.30
3-day trial
– Virtual carts for online shoppers
– Lots of hardware options
–

Unlimited POS PINs for staff access

POS Nation
$149/month
2% or 2.5%, depending on transaction size
N/A
– Case Break for selling single inventory items
– ID scanner to verify buyer's age
–

Lifetime warranty

Korona
$59/month
1.5% to 3.5% plus flat fee
Unlimited trial
– Loss prevention features
– Unlimited free trial
–

Self-checkout POS with RFID systems

Revel Systems
$99/month for 3 years
2.49% + $0.15 per transaction
N/A
– Dedicated customer success manager
– Concierge services to help POS setup
–

Robust EMS to help manage multiple locations
The Top Liquor Store Point of Sale Solutions Reviewed
Eager to find the best liquor store POS software? Read on as we'll now discuss in detail each of our top recommendations, including their best features, pros and cons, and pricing.
1. Square — Overall, the Best POS System for a Liquor Store, with a Free-Forever Plan
Square is the best POS system you can get for your liquor store, owing to its generous free plan. You can create your own online store with the free plan with unlimited listings – something that can otherwise cost you thousands of dollars.
The platform's robust liquor store inventory management features make tracking stock easy, even across multiple locations. You can set low-stock alerts on the free plan, which will notify you when a particular product is about to go out of stock.
Square's smart stock forecast keeps track of products that are selling fast and recommends reordering when the stock falls to a critical level.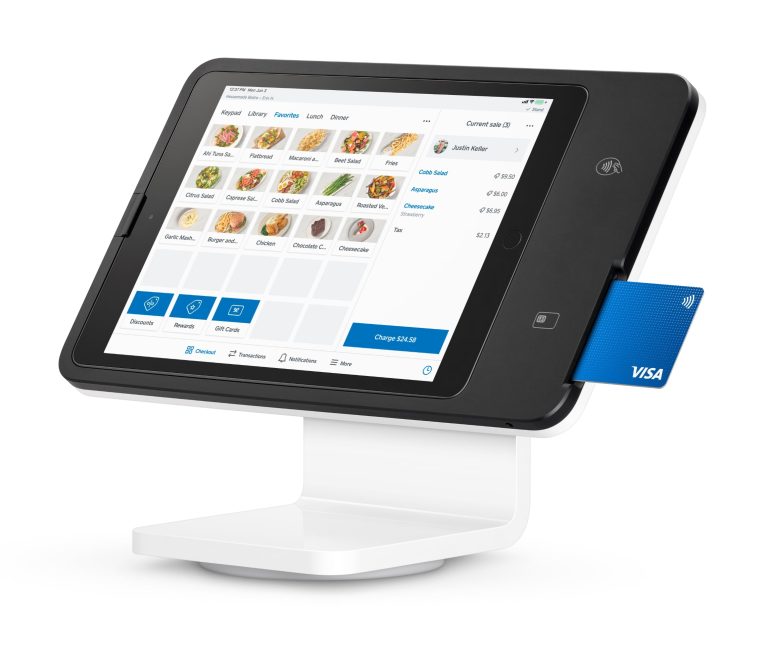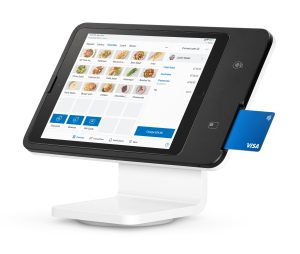 Starting Price
Transaction Fees
Free Version
Top 3 Features
$29/month
2.6% to 3.5% + $0.10 to $0.30 per transaction
Free-forever plan
– BNPL feature
– Free online store with unlimited listing
– Inventory forecast tools
The stock is automatically synced across multiple locations and online stores, so you have a clear picture of inventory at every location.
Square's AfterPay, a Buy Now Pay Later (BNPL) scheme, is another feature that lets you bring in more business.
Let's say a customer is having a house party and wants to order liquor worth $2,000. Instead of paying upfront, the customer can pay in four installments over six weeks ($500 each). The best part? You'll get the payment upfront without delay. It's a win-win for both parties.
You can also accept various payment methods, including debit cards, credit cards, wallets, and tap-and-pay, and there are no hidden costs you'll incur. All the applicable fees are transparently displayed on the website, so there are no shocks.
If there's one minor downside, it's that customer support could be improved – but there are plenty of helpful guides available online. And going beyond liquor stores, we rate Square as one of the best POS systems overall.
Pros
Comes with a free-forever plan
Transparent pricing with no hidden charges
Offers AfterPay, a no-interest BNPL feature
Cross-location inventory syncing
Cons
Customer support could be improved
TouchBistro is known for its comprehensive menu management capabilities. Adding, editing, and deleting items from your menu is a breeze, and any change automatically syncs with your in-store and online menus.
You also get various upselling tools, such as color-coded menus and pop-ups, so you can focus on selling drinks with specific promotions.
The platform also comes with a native payment solution, TouchBistro Payments, which syncs the bill between devices. You can also accept payments with all cards, Apple Pay, Samsung Pay, and Google Pay, leaving your customers with plenty of options.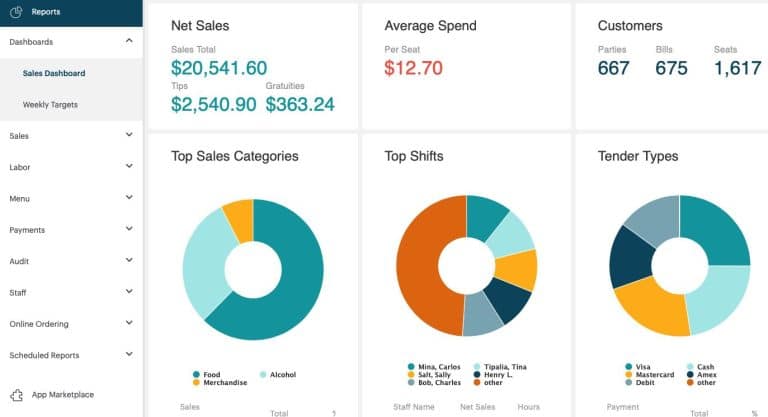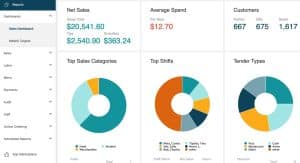 Starting Price
Transaction Fees
Free Version
Top 3 Features
$69/month
On-request
N/A
– Native payment solution
– Upselling tools and color-coded menus
– Gift cards and marketing tools
One feature we loved was the availability of offline payment options. Traditional payment portals require the internet to work. However, if your internet is down, you can still collect customer payments.
TouchBistro stores the customer's credit card information offline, and once connectivity is restored, the transaction is processed automatically.
TouchBistro also comes with impressive add-ons such as gift cards and marketing tools, which isn't common among POS vendors. Customers can buy digital gift cards from your online ordering page thanks to the integration between TouchBistro Online Ordering, Digital Gift Cards, and the POS.
Redeeming the gift card is equally easy – buyers just need to enter the card details on the checkout page. You can even customize the gift card with your store logo.
The platform's 50 built-in reports update in real-time and are just what you need. Since it's a cloud-based platform, you can access these reports from anywhere and even periodically email them to key staff members.
TouchBistro's features are more geared to bars and restaurants, so if you serve drinks alongside your retail operations, it's ideal. If you're looking for a more general ecommerce platform, however, Square may be a better bet.
Pros
Offers one of the best menu management tools
Option to choose from various add-ons such as gift cards and marketing tools
Accepts payments offline
Highly customizable and scalable
Cons
Offers no free plan or trial
3. Toast — Complete Offline POS System with Offline Ordering, Receipt Printing, and Payments
Toast takes offline POS capabilities a notch higher. If you were impressed by TouchBistro's offline payments, you'll love Toast's offline ordering and receipt printing capabilities. Once you have an internet connection, all of this data will be synced to your POS system database.
Toast also offers a search-engine-optimized online ordering solution that's integrated with the liquor POS software. This helps your target audience discover you and order right from their mobile phones.
This is enhanced by Toast's TakeOut app, where you can manage deliveries without any third-party commissions – and you can then pass on the savings to customers via discounts.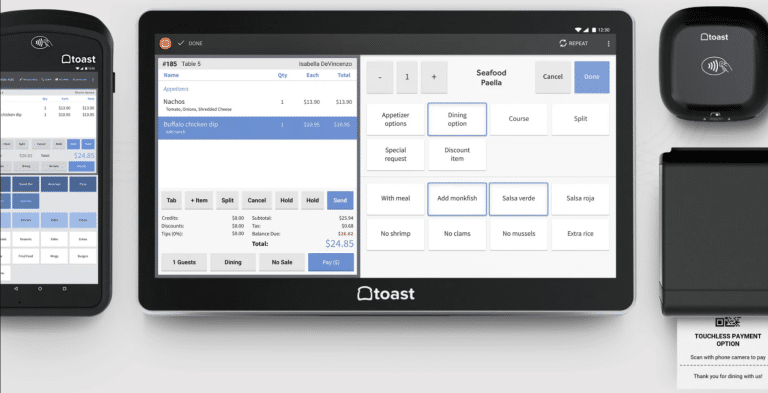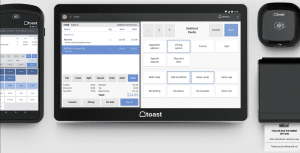 Starting Price
Transaction Fees
Free Version
Top 3 Features
$69/month
2.49%+ $0.15 to 3.5% + $0.15 per transaction
Free plan
– Offline ordering and receipt printing
– Commission-free deliveries
– Excellent tips management
Toast also offers one of the best handheld POS devices, which is made specifically for the food industry since it's spill, dust, and drop-proof. Its impressive 24-hour battery life ensures you won't run out of power while accepting payments. Plus, it's light, compact, and easy to carry around.
If you're a small business with basic POS needs, you can get Toast's Starter Kit without any cost, and it comes with a Toast Flex POS terminal and cloud-based POS software.
Toast also tops the tips management game with its dedicated Tips Manager. You can set endless custom rules to pool tips, which can then be synced directly to Toast Payroll and Teams Management. The tips paid are automatically included in the employees' payroll data.
The best part is you can make these tips available to employees almost instantly with the Toast Pay Card. It works exactly like a debit card and can be used to pay for anything you like. Your employees also get access to 37,000 MoneyPass Network ATMs.
If you do need additional functionality, you'll need to look into add-ons, however – and the price of these can add up.
Pros
Free-forever plan, ideal for small businesses
Restaurant POS system features
Robust tips management with direct payouts
Enables offline ordering and payments
Cons
Many features are only available as add-ons, which can be expensive
4. Lavu — Allows You to Set Dual Pricing to Offer Cash Discounts for Buyers
Lavu lets you offer cash discounts to your customers with its Dual Pricing feature. This essentially lets you set two prices for a single product – one for cash payments and another for card payments. This is done to pass on the benefit of cash payments to customers.
Paying through cards involves certain transaction costs, which can vary from provider to provider. However, there are no such costs associated with cash. Hence, the cost of selling a product drops when customers offer cash.
These savings can be passed on to the buyer through a cash discount. Lavu makes the whole process easy. Simply select the mode of payment, and the discount will be applied automatically.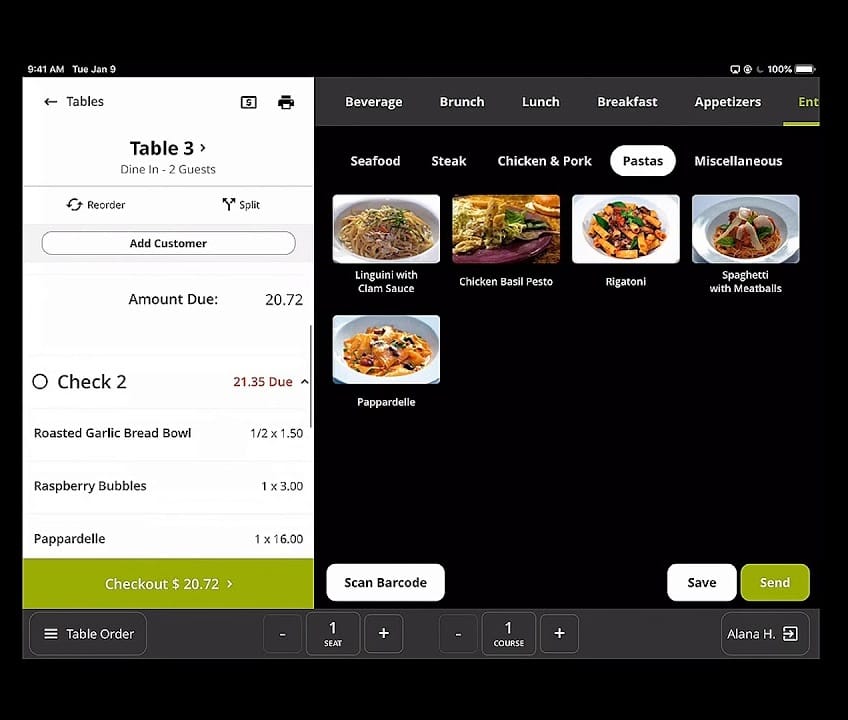 Starting Price
Transaction Fees
Free Version
Top 3 Features
$59/month
2.49%+ $0.15 to 3.5% + $0.15 per transaction
N/A
– MenuDrive for easy menu management
– Contactless payment with QR codes
– Dual pricing model
Another thing we loved about Lavu was its contactless payment options. You can generate a customer receipt with a printed QR code, which can be scanned to make payments. This makes the whole process a lot easier, with no need to handle cash registers or swipe machines.
Lavu's acquisition of MenuDrive has made menu management on the POS a breeze. You can email your liquor store details with the menu, and a representative will add it for you to the system.
Plus, you can choose between 100+ templates and add brand images and logos, along with a host of other marketing tools.
The platform's Best Seller report is another feature worth mentioning. As the name suggests, it identifies the best-selling drinks on your menu in an attractive color-coded graph for easy identification.
There are fewer hardware options with Lavu. If this is a real show-stopper for you, you might consider Square or Shopify.
Pros
Allows dual prices and cash discounts
Makes menu management easy with MenuDrive
In-house payment solution
Allows contactless ordering and payments
5. Clover — Empowers You to Accept Payments Without a Physical POS System
Clover POS offers an impressive virtual terminal that lets you accept payments even without a physical POS system. Let's say you're away from your POS but want to receive an urgent payment.
In that case, you can simply log in to Clover Web with your credentials and accept credit and debit cards on the go. You can also request customer payments via email, permitting them to use their cards to complete their payment.
Clover also makes contactless ordering easy. You can print a QR code from the Clover dashboard with all the menu information. Buyers can then scan this menu and place their orders. The best part? Clover doesn't charge anything extra for QR menus, and there are no setup fees involved.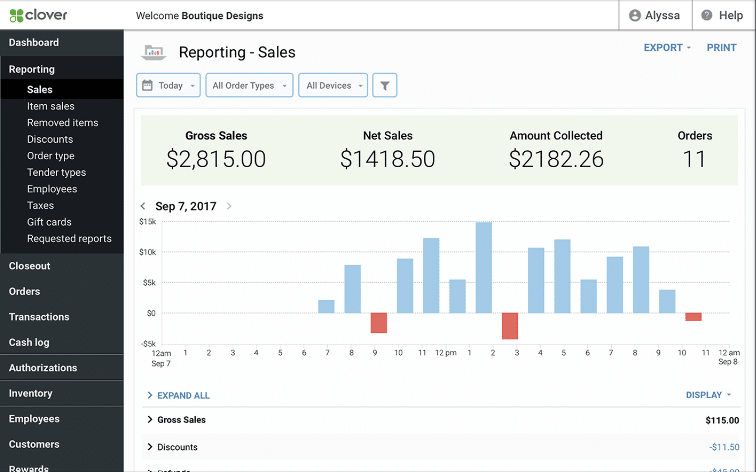 Starting Price
Transaction Fees
Free Version
Top 3 Features
$799+ $14.95/mo
2.3% + $0.10 per transaction
Free plan for services
– Clover Web POS system
– QR codes for menus and payments
– One-day hardware shipping
If you have several employees in your liquor store, you'll surely appreciate Clover's shift management features. You can check your team's availability with the Time Clock and assign shifts based on their availability. Plus, you can also send them automated reminders just before their shifts start.
What makes this feature even more exciting is the ability to link tips to specific employee schedules. All the tips received are recorded in one place, which you can then divide between employees during whose shift the tips were received.
The platform also offers one of the fastest shipping in the industry. If ordered online, your entire system will arrive in one business day. The setup includes an 8-inch touchscreen POS with a built-in receipt printer and a cash drawer with the basic plan.
The transaction fees are notably cheap – though there is a fairly substantial hardware startup cost.
And Clover, with its several real-time and periodic reports, makes tax filing easy. You can access built-in POS reports and hand them to your tax preparer. You can even link the POS to software like QuickBooks. Check out our full Clover POS review for more information about the platform.
Pros
One of the lowest transaction fees in the industry
Allows you to take payments on the go with Clover Web
Quick hardware delivery and setup
Impressive shift management
Cons
Not the cheapest solution out there
6. Lightspeed — Highly Recommended for Easy Inventory Management and Reordering
Lightspeed's impressive inventory management is something you'll love. For starters, you can import tons of B2B catalogs and products on your POS system and search them by name, keyword, and so on. Next, you can set stockout and reorder levels.
However, the best part is that you can place supplier orders right from the POS itself with the help of built-in purchase orders. This helps you do away with the requirement of maintaining multiple stock registers and supplier records.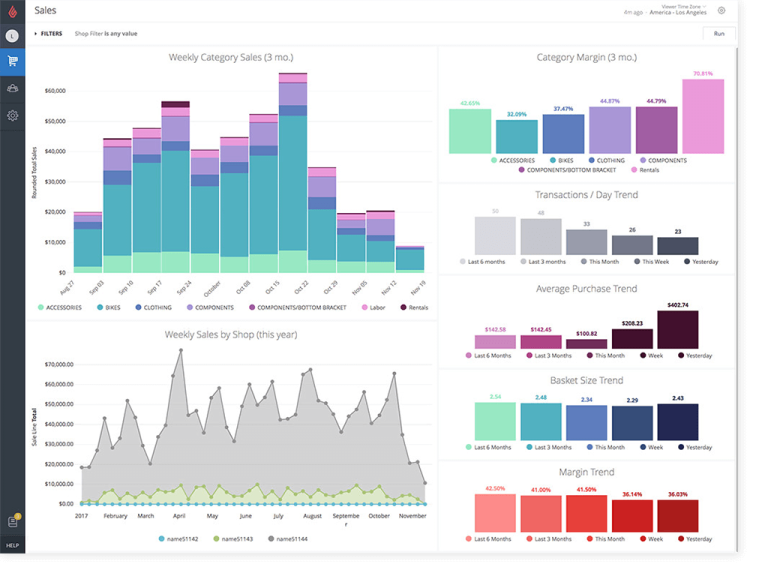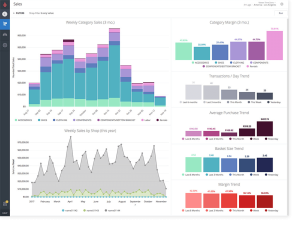 Starting Price
Transaction Fees
Free Version
Top 3 Features
$69/month (US only)
2.6% + $0.10 per transaction
14-day trial for retail
– B2B purchase orders built in
– Checkout loyalty programs
– Inventory level syncing for multiple locations
Like Square, Lightspeed also lets you create your own online store with 30+ free website designs and templates, much like a website builder. You can then import your products from the POS system, after which the inventory levels will be synced with your online store as well so that you do not oversell an item.
Similarly, Lightspeed is ideal if you have stores across multiple locations, as it syncs all stock data without any glitches and can be accessed from anywhere.
Lightspeed's analytics help you streamline business processes. For example, its inventory reports help forecast demand and decide which products to put on sale. You can keep detailed customer reports, too, helping you identify loyal buyers and design marketing efforts such as email marketing.
Apart from traditional POS functions, Lightspeed equips you with a host of marketing and loyalty program tools to drive sales. You can collect customer data at checkout and divide them into segments based on behavioral data. You can use several pre-made templates to draft emails, forms, and landing pages.
The platform also lets you design loyalty schemes for your customers, where you can set spend thresholds, tiers, and point multipliers. Plus, you get abandoned cart emails, so you can focus on hesitant buyers and offer them special discounts.
There's also impressive one-on-one software onboarding, which is something few other providers offer. This helps you migrate to Lightspeed quickly and get a hang of the system in no time.
Pros
One of the best inventory management features
Impressive customer marketing tools
24/7 specialist support
One-on-one software onboarding
Cons
Basic plan is fairly limited
7. Shopify — One of the Most Affordable POS Systems with a Free Online Store
Shopify is an ecommerce-focused POS solution that lets you create an online store even on the starter plan at just $5/month. This makes it one of the most affordable POS solutions out there, and the monthly fee is a fraction of what's asked by the other providers on our list.
You can choose between various hardware setups as per your budget. The options include a full retail kit with a card reader, cash drawer, and a receipt printer.
If you're looking for something more compact, choose Shopify's POS Go. It is a handheld device that works as a terminal, barcode scanner, and card reader without any extra hardware.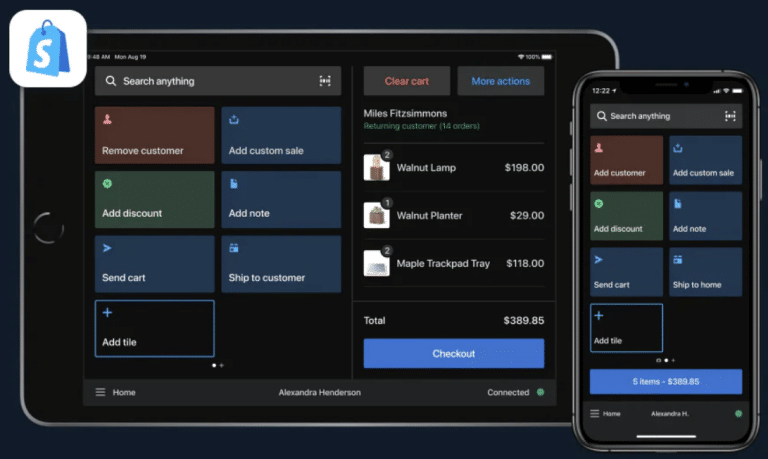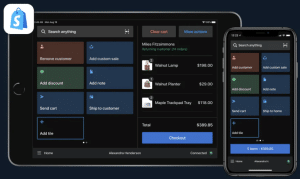 Starting Price
Transaction Fees
Free Version
Top 3 Features
$5/month
– In-Person – 2.4% to 2.7%– Online – 2.6% to 2.9% + $0.30
3-day trial
– Virtual carts for online shoppers
– Lots of hardware options
– Unlimited POS PINs for staff access
However, if you're looking for an affordable solution, you can even use your iPhone as a POS system with tap-and-pay payment acceptance. As you can see, the options are endless, and it all depends on space management and budget.
Shopify takes omnichannel selling to the next level with three options. Customers can buy online and opt for in-store pickups, which reduces logistic costs and speeds up the delivery process. The customers can also buy from a physical store and choose to have the bottles shipped to their address from a nearby location.
The last option is for people who want to have a good look at the product physically before buying online. This can be done by emailing virtual carts to buyers.
Like SquarePay, Shopify also offers buyers to pay in installments. However, it goes a notch higher by allowing an interest-free period of 12 months divided into four equal installments. This gives buyers more time to accumulate for large purchases.
Shopify also makes staff management easy with the ability to create unlimited POS PINs. You can add as many employees as you want and assign them permissions based on their roles. Customizing permissions is also easy, which ensures the staff has only the amount of access they actually need.
For example, you wouldn't want your on-floor staff to issue refunds or exchanges. Let's say a bottle of liquor you sold turned out to be expired on the date of sale, and the customer has requested an exchange. In such cases, you can set custom manager approvals before the action goes through.
Pros
One of the most affordable POS systems
Best for omnichannel selling
POS system can be downloaded for iPhone with contactless payment
Powerful daily sales report
Cons
Cheapest plan is quite restrictive
8. POS Nation — Features Specifically Designed for Liquor Stores such as "Case Breaks"
POS Nation is one of the few POS systems that have features designed specifically for liquor stores. Take its "Case Breaks" feature, for example.
Small liquor stores purchase drinks by the pack, but they often sell these drinks by the bottle. This makes reconciling inventory a burden, where owners have to match each bottle sold to the pack it was taken from.
But with POS Nation's Case Break, you can designate a case product and then link the related pack and single items, even if they don't share the same UPC.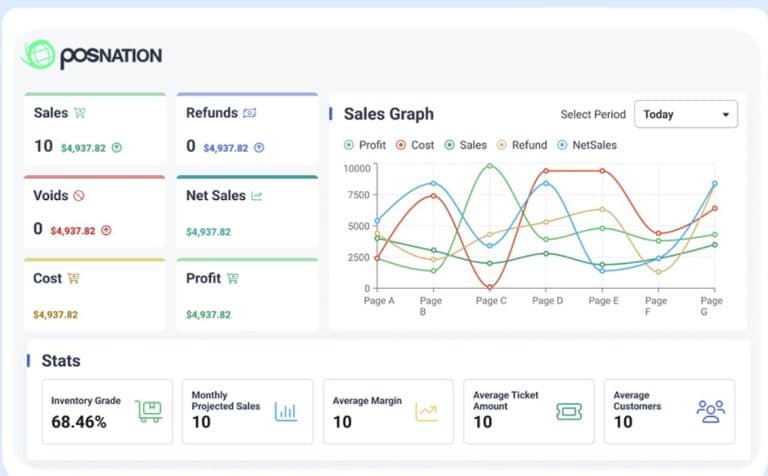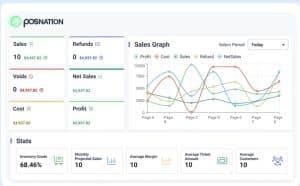 Starting Price
Transaction Fees
Free Version
Top 3 Features
$149/month
2% or 2.5%, depending on transaction size
N/A
– Case Break for selling single inventory items
– ID scanner to verify buyer's age
– Lifetime warranty
Now, when you sell a single bottle, the POS will "break" the case and show available complete packs and single bottles available for sale. This eliminates the need for manually updating quantities every time you sell a single bottle.
Another challenge liquor stores face is teenagers posing as adults to buy drinks. Sure, you can check their IDs manually to tackle this problem. But, it becomes quite a hassle, and even a single blip can land you in legal trouble.
However, you can choose to upgrade to POS Nation's ID scanner to make things easy. As soon as an age-restricted item pops up while billing, you'll see a date of birth prompt.
You can either insert it manually or scan the QR code on the buyer's driving license, and the system will automatically calculate their age.
If the buyer is found to be underage, the POS will not allow that item to be checked out. This also discourages your cashiers from illegally selling liquor to teens.
Pros
Several liquor-store-specific features
ID scanner to verify buyer's age
Case break inventory options to keep track of single bottles
Allows dual pricing, like Lavu
9. Korona — Best Small Business POS System, with an Unlimited Free Trial
Korona POS has several unique features that make it an ideal choice for small liquor stores. For starters, it offers an unlimited free trial – you can test the system as long as you want before committing to a purchase.
Even after you do subscribe to a plan, you have the backing of a 60-day money-back guarantee. This goes to show the amount of confidence Korona has in its system, which isn't without good reason.
Liquor stores are more prone to theft than most other businesses. Korona can help you tackle this with its retail loss prevention features. Sometimes, cashiers may void a ticket if the customer offers to pay in cash. This way, the sale is never recorded, and the cashier pockets the extra cash.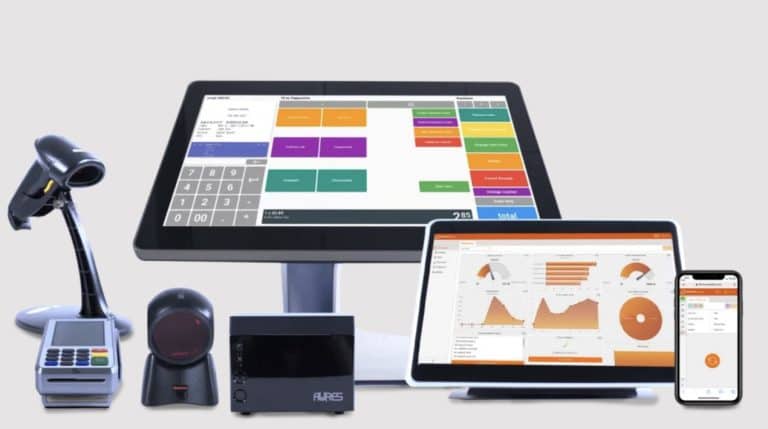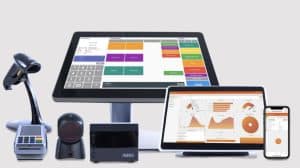 Starting Price
Transaction Fees
Free Version
Top 3 Features
$59/month
1.5% to 3.5% plus flat fee
Unlimited trial
– Loss prevention features
– Unlimited free trial
– Self-checkout POS with RFID systems
If you have multiple billing counters, finding the culprit can be difficult. However, with Korona POS, you can customize features to require authentication before a cashier voids a receipt. Similarly, individual item voids are also reflected in employees' shift reports.
Another feature we liked about Korona was its self-checkout POS system. You can set up self-service POS kiosks with integrated RFID software.
Customers can scan their bottles, generate a bill, and use contactless payment methods to complete their purchases. This speeds up the entire checkout process and also reduces labor costs, as you'll need to hire fewer cashiers to process checkouts.
Korona also generates interactive reports that make decision-making a whole lot easier. For example, its ABC report shows percentage of return on each of your products and then classifies them into categories. This provides an overview of products so you can take action fast.
If you own a franchise, Korona helps you out by calculating royalty right at the POS level. This saves accounting time and effort and also provides your team with a point of reference while finalizing royalties. You can even choose to send out royalties at regular intervals with Korona.
Pros
Offers unique loss prevention features
Long 60-day money-back guarantee
Advanced ABC sales reports, among others
Several online selling tools
Cons
Non-transparent transaction fees
10. Revel Systems — Perfect for Multi-Location Liquor Stores, with Several Useful Add-ons
Revel Systems is an ideal pick if you own multiple liquor stores across various locations. With its impressive inventory management features, you can make changes to your menu across various locations with just a simple click of a button.
Plus, since the entire system is cloud-based, you can access all the information you need on the go. These include detailed reports to identify profitable locations and products.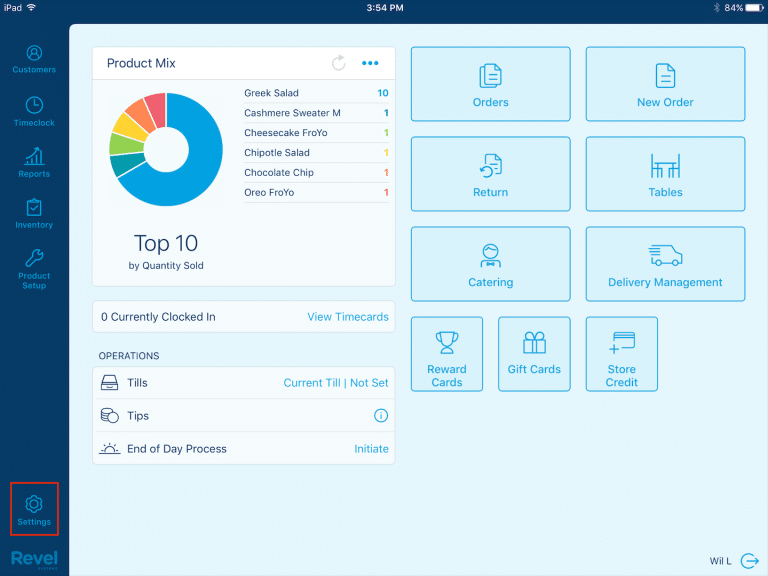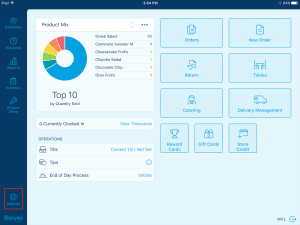 Starting Price
Transaction Fees
Free Version
Top 3 Features
$99/month for 3 years
2.49% + $0.15 per transaction
N/A
– Dedicated customer success manager
– Concierge services to help POS setup
– Robust EMS to help manage multiple locations
If you want to focus on your core business and not worry about maintaining POS systems, you'll like Revel's Concierge Services. These connect you with an industry expert who'll set up the POS for you, according to your business needs.
This includes tasks like setting up the device, entering business details, enabling payments, and making the system good to go.
Revel's Enterprise Management Solution (EMS) is worth a mention. It lets you manage staff scheduling and payroll across locations and standardize menus and products.
You can also access detailed reports for either a single location or multiple locations on metrics like order history, sales summary, product mix, labor forecasting, and more. This makes core analysis a whole lot easier for larger retail liquor outlets.
Like several other POS systems on the list, Revel also offers an in-house payment processing solution – Revel Advantage.
It lets you accept payments through various cards, QR codes, gift cards, mobile pay, and so on. Revel takes security seriously, which is evident with its EMV-enabled terminals. EMV cards protect each transaction with unique codes, which makes it impossible to replicate.
Pros
Allows outsourcing POS setup
EVM terminals for secure transactions
Dedicated customer success manager
Offers an in-house loyalty solution
Cons
No free trials, only a demo
Is There Free POS Software for Liquor Stores?
Yes, there are a few free POS software products you can use for your liquor store. Square is one such example, with a free-forever plan that lets you sell from a physical store or online.
You can also build your own online store, send digital invoices, and accept payments via links and QR codes. Square also offers account takeover protection, which helps you migrate easily, fast online sign-up, and dispute management with the free plan.
However, note that the plan isn't entirely free. There are no monthly charges or setup fees, but you still have to pay credit card processing charges starting at 2.6% + $0.10 per transaction.
Free plans are useful, but they're no match for paid POS software. Paid solutions offer comprehensive inventory and menu management, the ability to accept various payments methods, multiple hardware options, staff and shift management, provider warranties, and customer support.
Moreover, paid POS solutions make business scaling easier with professional tools. Hence, getting a paid solution is always a better option.
How to Choose the Best POS for Your Liquor Store?
The best POS solution should cater to the specific needs of liquor retailers, from inventory management to age verification and sales tracking.
We'll now explore the essential factors to consider, whether you want a liquor store POS cash register or the most popular POS system for a liquor store:
Pricing
Look for a POS system that offers transparent pricing, including a reasonable starting price that aligns with your budget.
Consider whether the provider offers pricing scales that allow the system to grow with your business. Some services may provide free trials or basic plans with limited features, allowing you to test the service before committing.
Be careful about additional transaction fees, which can add up quickly and impact your overall costs. Evaluate any hardware costs if you need specific devices for your POS. Finally, ensure that the features you need are available within your chosen pricing plan or assess if they are worth the cost of upgrading to a higher tier.
Ease of Use
An ideal POS system should offer a user-friendly interface that minimizes delays at checkout and ensures accurate pricing and tax calculations by your cashiers.
Look for effortless customization, which will empower your management team to swiftly create sales offers, implement store promotions or campaigns, modify buttons and hotkeys, and manage product additions or removals.
What's more, it's imperative that the system seamlessly integrates with your store's various operating systems and devices, including Windows, to enhance business efficiency.
Features
Look for features like age verification tools to prevent selling to underage customers, robust inventory management capabilities to track liquor stock levels effectively, and sales analytics to gain insights into top-selling products and customer preferences.
Additionally, the best POS solution should also have the ability to establish a customer loyalty program, allowing you to reward and retain your loyal customers as they continue to support your liquor store. Payroll features are also beneficial and will help manage labor costs.
Security
Our handpicked POS solutions for liquor stores offer robust security measures to safeguard sensitive customer data, financial transactions, and overall business integrity.
This includes end-to-end encryption to protect payment information, access controls to restrict unauthorized personnel from sensitive data, and compliance with industry standards such as PCI DSS.
Ensuring the POS system receives regular security updates and patches is essential for staying protected against evolving cyber threats.
Compatibility
The best POS for your liquor store will minimize downtime and optimize the efficiency of your liquor store's daily operations.
It's essential that the chosen system seamlessly integrates with your existing hardware and software infrastructure. This includes compatibility with barcode scanners, receipt printers, payment terminals, and any other devices you currently use.
Moreover, the POS system should be able to join hands with various operating systems and offer mobile compatibility, such that you can access crucial business data and make transactions from multiple devices, such as tablets or smartphones.
Provider Reputation
We did the hard yards for you by only selecting POS providers with a solid reputation in the liquor store industry, as this suggests they understand the unique needs and challenges of your business.
We combed through both positive and negative customer reviews for valuable insights into the provider's performance, and only after assuring ourselves of its capability and willingness to resolve customer queries did we give a thumbs up to a POS.
Also, a trusted provider is more likely to offer regular software updates and excellent customer service, ensuring your liquor store operates efficiently and stays ahead of industry trends.
Technical Support
A top-tier POS system boasts a comprehensive support structure to assist you with any technical issues or questions that may arise during system setup and daily operation.
Look for providers that offer responsive customer support through various channels, such as phone, email, or live chat, as well as robust online resources, including user manuals and video tutorials.
Timely and effective technical support ensures your system runs smoothly, minimizing disruptions and downtime and ultimately contributing to a more efficient and profitable liquor store operation.
It's crucial to assess these factors if you want to zero in on a good POS system for your liquor store. We considered all these aspects to ensure that we include only the best options that cater to a diverse range of needs, whether you're looking for a free solution, an affordable one, or one tailored for online operations.
Techopedia's POS Guides
Now we've explored the best liquor store POS systems, here are some other POS guides from our network exploring other niches:
Conclusion — What is the Best POS for Liquor Store Owners to Use in 2023?
Our list of the best liquor store point-of-sale systems includes every type of provider you might need for your business. Whether you're looking for effortless menu and inventory management or want to focus on sales reporting and customer loyalty schemes, you'll find something to your liking in our comprehensive guide.
However, Square is a one-stop solution for all liquor store owners, no matter your specific needs. It comes with a handy free plan and an online store that offers unlimited listings.
You can set low stock alerts, which make inventory management a breeze when coupled with Square's smart inventory forecasts. Square also offers a Buy Now Pay Later scheme that will help you attract more customers. And thanks to Square's free-forever plan, you can try it out without risking a single cent.
POS Liquor Store FAQs
Which POS has the lowest charges?
How much does a good POS system cost?
What are the three benefits of a POS?
Which card is used in a POS machine?
What devices are used in POS?
Can I get free POS software for my liquor store?
References