In our Clover POS review, we'll walk you through all the features and functionality of this cloud-based POS system. It's known for its robust tools and user-friendly interface, which appeals to businesses of all sizes and across industries. From handling payments to managing inventory, you'll see how Clover makes handling customer transactions more efficient.
Keep reading our Clover POS review for a thorough exploration of its pros and cons and to see if it's the perfect match for you.
Table of Contents
Table of Contents
What is Clover POS?
Clover Point Of Sale (POS) is a system businesses use to manage their customer transactions. In a nutshell, it allows you to accept payments, record sales, and track inventory.
With Clover's range of terminals and handheld devices, you can manage both online and in-person payments. It provides everything from full stations to accessories like cash drawers and barcode scanners.
What we especially liked about the Clover POS system was how it included customer engagement and employee management features as well. You can collect data on sales, monitor staff performance, and manage shifts all from one place.
Who Owns Clover POS?
Fiserv acquired Clover POS via First Data Corporation in 2019. The financial technology services provider owns a range of similar companies that help individuals and businesses manage transactions, such as Carat and CardHub.
Since Fiserv's acquisition, Clover POS has gone from strength to strength. It picked up the award for Restaurant Smart Terminal of the Year in 2020 and more than doubled its customer base in 2023.
Who's the Clover POS System Best For?
The Clover POS system caters to businesses of all types and sizes around the world. However, we found it was especially handy for restaurants and service-based businesses.
A range of industries can benefit from using Clover's custom plans, including:
Restaurants — Everyone from fast food joints to fine-dining establishments can manage orders and keep track of stock to sell perishable goods before they go bad. There's also equipment on offer,r like touchscreens with built-in receipt printers to help waitstaff quickly take orders.
Retail — Shops can streamline sales and introduce schemes like loyalty programs and gift cards to engage customers. There are also features to manage the exchanges and refunds stores inevitably have to make.
Personal services — Whether you manage a spa, salon, or training studio, you can easily manage payments for one-off and repeat customers.
Specialized services — Professional teams like consulting firms and marketing agencies can invoice clientele and manage employees. As you're more likely to handle payments online, there's an option for an account with no hardware to save costs.
Offsite teams — Clover's features support remote work, allowing your traveling workers to accept payment at customers' houses or in the field.
While companies of any size can use the Clover point of sale system, we found it best suited to small businesses. The intuitive interface is ideal for managers who have to perform multiple roles and don't have time to learn complicated software. Plus, Clover's processing fees are some of the most competitive on the market.
Clover POS Pros and Cons
While Clover stands out as a superior POS system, it won't fit every business on Earth. We've summarized the platform's pros and cons so you can see whether its strengths align with your priorities.
Pros
Industry-specific plans
Low starting cost for professional services
Option to take phone orders
Bill splitting tool for restaurants
Equipment coverage for active plans
Cons
Complex pricing system
High equipment costs
You can make a final judgment about whether to invest in Clover systems based on your size, budget, and industry. However, we've found that the pros of using the system more than outweigh the cons for most small businesses.
Clover POS System Price Breakdown
Clover's pricing structure is flexible and affordable, so even small businesses can fit the plans into their budgets. While the platform doesn't have a free version, Clover payment processing fees and monthly payments start low.
As you might expect, the hardware is the costliest aspect of the plans. A full Clover station POS system with a cash register and other accessories can cost up to $4,097 to set up, not including the price of the software.
However, you have the choice of whether to pay those expenses upfront or integrate them into your monthly subscription.
All in all, we've found Clover POS to be a good choice for the businesses it serves. With industry-specific plans, you're also less likely to end up paying for features your company doesn't need.
Full-Service Dining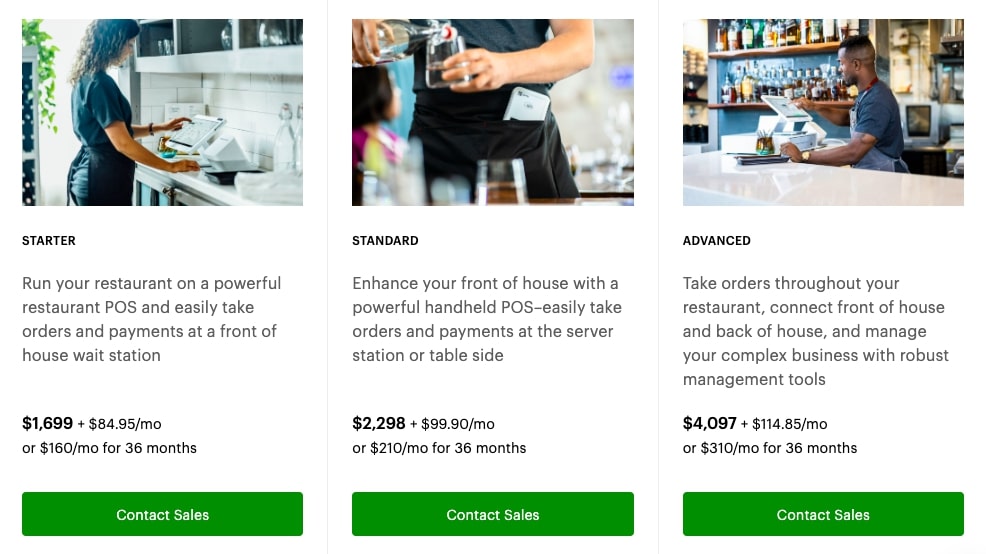 Restaurants like bistros and diners can solve unique challenges with the Full Service Dining plan. We found additional features like bill splitting and tableside orders to be more than welcome.
However, Full Service Dining doesn't include the full range of equipment as, while there are stations and kitchen printers, it doesn't include a touchscreen station.
While this plan is costlier than others, it's worthwhile to equip your restaurant with all the tools you need. Transaction fees are at the low rate of 2.3% plus $0.10 for cards.
Quick Service Dining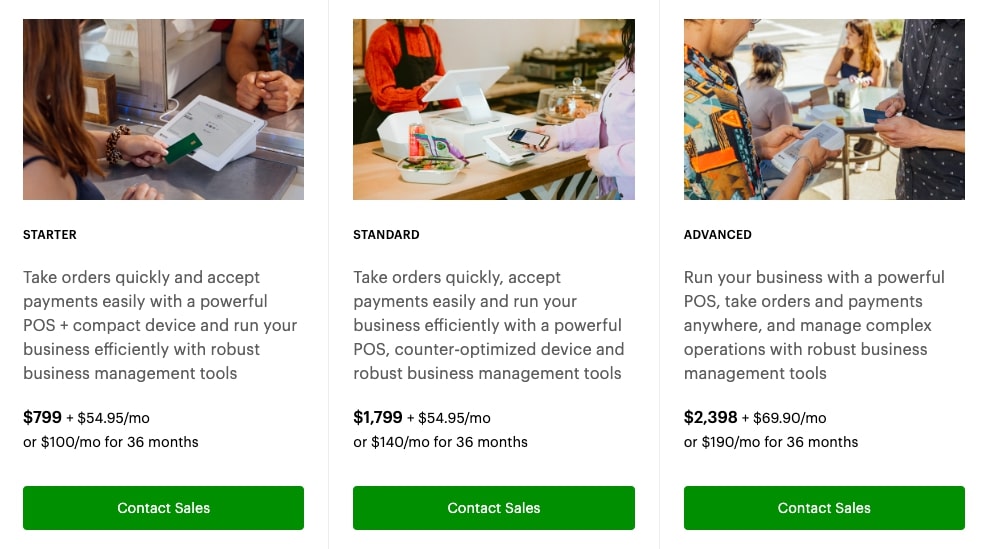 If you have a takeaway or fast food restaurant, the hardware in the Quick Service Dining plan will be ideal for you. We were happy to see there was a touchscreen with the cheapest plan to help staff quickly take orders. You can also upgrade to add stations, but card readers are only available at the most expensive tier.
Quick Dining Service lives up to its name by helping you deal with high volumes of foot traffic. You can use line busting to take payments from queues with a handheld reader and easily differentiate between pick-ups and deliveries.
As well as being a more budget-friendly alternative to Full Service Dining, this plan only costs 2.3% plus $0.10 per transaction.
Retail Stores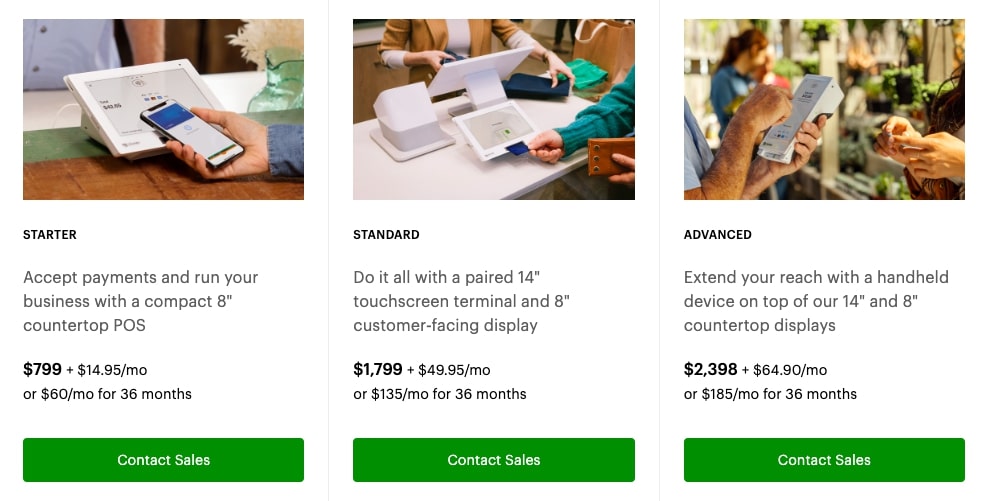 Whether you run an online or offline store or a combination of the two, you can benefit from Clover's retail plan. You can access the full range of inventory management tools and customer engagement features from the lowest-cost plan. The only feature missing from this tier is the option to track costs by item.
We were happy to find weight scales and barcode scanners for physical stores included. Although these aren't available in the lowest-tier plan, this makes sense as new shops and online stores may need the option to save costs on hardware.
Credit card processing fees start at the higher rate of 2.6% plus $0.10 but drop to 2.3% if you upgrade to the higher-cost plans.
Professional Services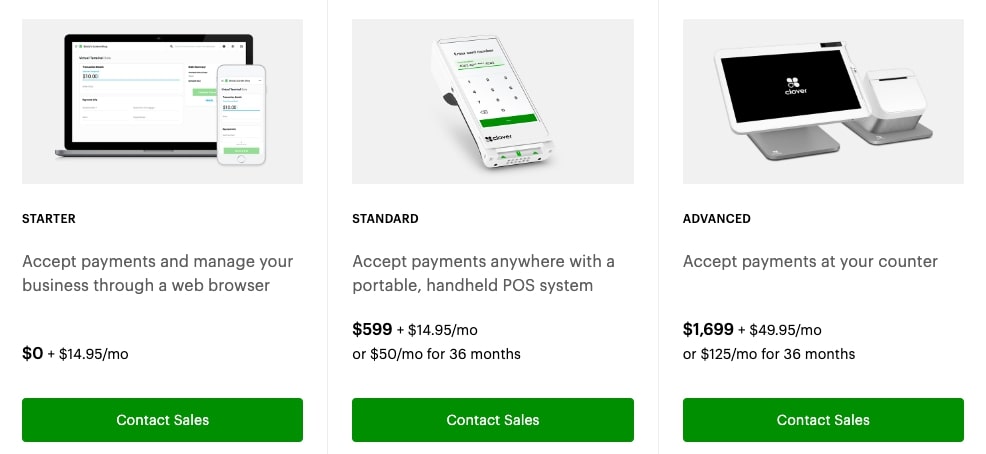 Turning hobbies like graphic design or photography into a business can be challenging without a lot of startup capital. That's why we were extremely pleased to see that Clover POS offers a plan with no setup costs and a low monthly fee.
All you have to do is download the app to process transactions without needing hardware. There's also no processing fee for card transactions with the Starter plan. Fees start at 2.6% plus $0.10 from the Standard plan.
To help you bill clients more efficiently, Clover has various invoicing features. You can automate payments, track invoice statuses, and accept online payments. Not only that, you can manage all your clients on Clover's built-in database, which stores information like contact and payment details.
Personal Services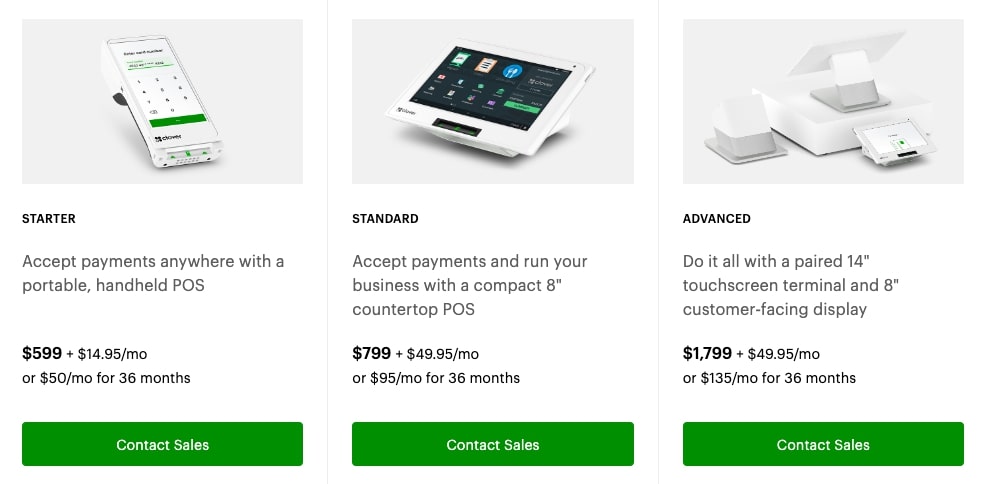 Whether you're a boutique or a chain, you'll find this Clover plan can fit your operations. The tiers start with a handheld device and let you upgrade to a touch screen and then a full station as you grow.
Like the Professional Services plan, you can also access customer management and engagement features. There are fewer invoicing tools, but businesses like salons and fitness centers are less likely to require these.
The transaction fees are 2.6% plus $0.10 at the lowest tier and drop to 2.3% as you upgrade.
Home & Field Services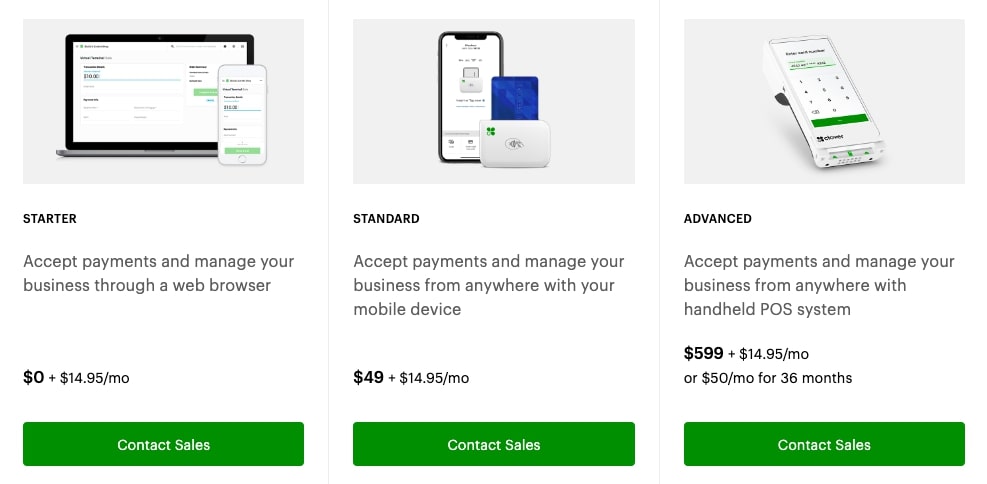 Offsite teams can choose between various software tools and handheld devices on the Home & Field Services plan. At the lower end, you can use the web browser. If you want to take card payments, you can upgrade to the Standard and Advanced plans to access mobile devices.
The Home & Field Services plan includes every feature from the Starter plan except item management. You can only create item variants and itemize returns and exchanges in the Advanced plan. However, offsite teams like tutors and plumbers are unlikely to need this feature.
Like the Professional Services plan, there are no card processing fees on the Starter tier. If you upgrade to the more expensive tiers, the rate starts at 2.6% plus $0.10.
Regardless of your Clover payment plan or pricing tier, cardless transactions are always 3.5% plus $0.10.
Changes to Plans and Cancellation Policies
All these plans let you cancel monthly subscriptions with 30 days' notice. At the end of the month, you have to stop using your Clover payment system, but you'll have time to extract your account data from the system.
As with any POS system, Clover fees are subject to change. They give notice, though, so you have time to factor extra costs into your budget.
POS Clover System's Key Features
What impressed us most during our Clover POS review was the range of features available for different industries.
While other systems cater to one or two types of business, Clover business management tools help you run everything from delis and flower shops to legal consulting and restaurant chains. Here's our breakdown of what you can find in their plans:
Payment Processing
As mentioned, Clover POS system credit card processing fees are some of the lowest on the market. That's even compared to leading platforms like Square, Toast, and Vend.
There's also a range of Clover payment processor software and hardware to choose from, so you can accept:
Cash and checks
Online cardless transactions with keyed-in details
Tap cards and mobile wallets
PayPal and Venmo
Web browser and app payments
You'll often find Clover credit card fees get lower as you upgrade, making it easier to scale your business. as you won't have to worry as much about your processing expenses growing as your customer base does.
For an extra fee, you can use Clover Rapid Deposit to access funds within minutes or Clover Capital to get an advance on a card payment. We think it's well worth having these options to quickly solve cash flow problems caused by slow-paying customers or variations in seasonal demand.
Hardware
While the processing fees are lower, the Clover POS system costs are higher than some competitors. We feel the extra expense is justified by all the extra features Clover includes, though, and you can spread payments over 36 months.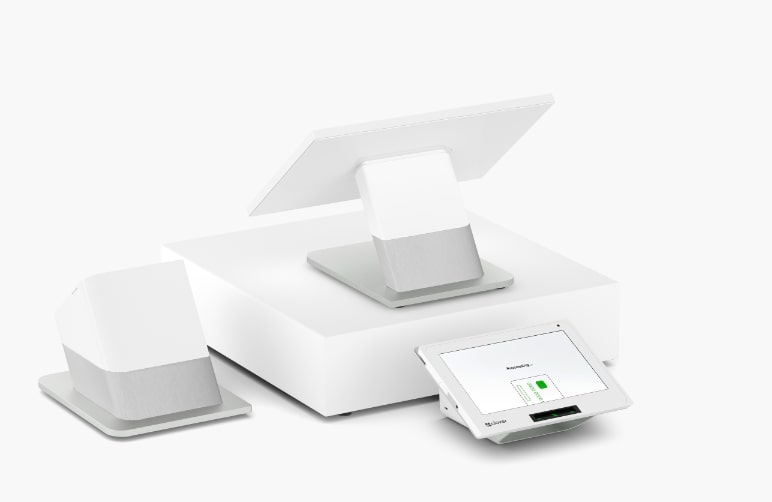 You can choose between different Clover credit card machines and accessories to equip your business. These include:
Station with the Clover software — $1,699
Duo station (with a customer-facing screen) — $1,799
Handheld reader with 8 hours of battery — $599
8-inch touchscreen station — $799
Mobile card scanner — $48
Cash drawer with two keys — $109.99
Bar code scanner — $219
Scale that supports up to 20lbs — $499
Kitchen printer, which connects to handheld readers — $149
For ultimate flexibility, you can either rely on the hardware included in Clover's industry-specific plans or purchase extra equipment separately at the prices above.
Order Management
Despite catering to a diverse set of industries, Clover POS holds its own as both a retail and restaurant system.
Like Toast and TouchBistro, it includes bill splitting and even lets you choose whether to do that by item or a custom amount. You can also map a floor plan to match your restaurant and take tableside orders to send to the kitchen printer.
Clover also allows you to build an online store to take payments and manage orders for delivery. You just have to add items to your directory, and Clover processes visitor's payments at no extra fee. While the Clover website isn't as feature-rich as platforms like Square, we feel it's got all the essentials, including refunds and exchanges.
Inventory Management
Clover has everything businesses need to manage, track, and present their inventory. You can save hours of time by applying bulk edits to stock, automating stock organization, and filtering items on a deep level.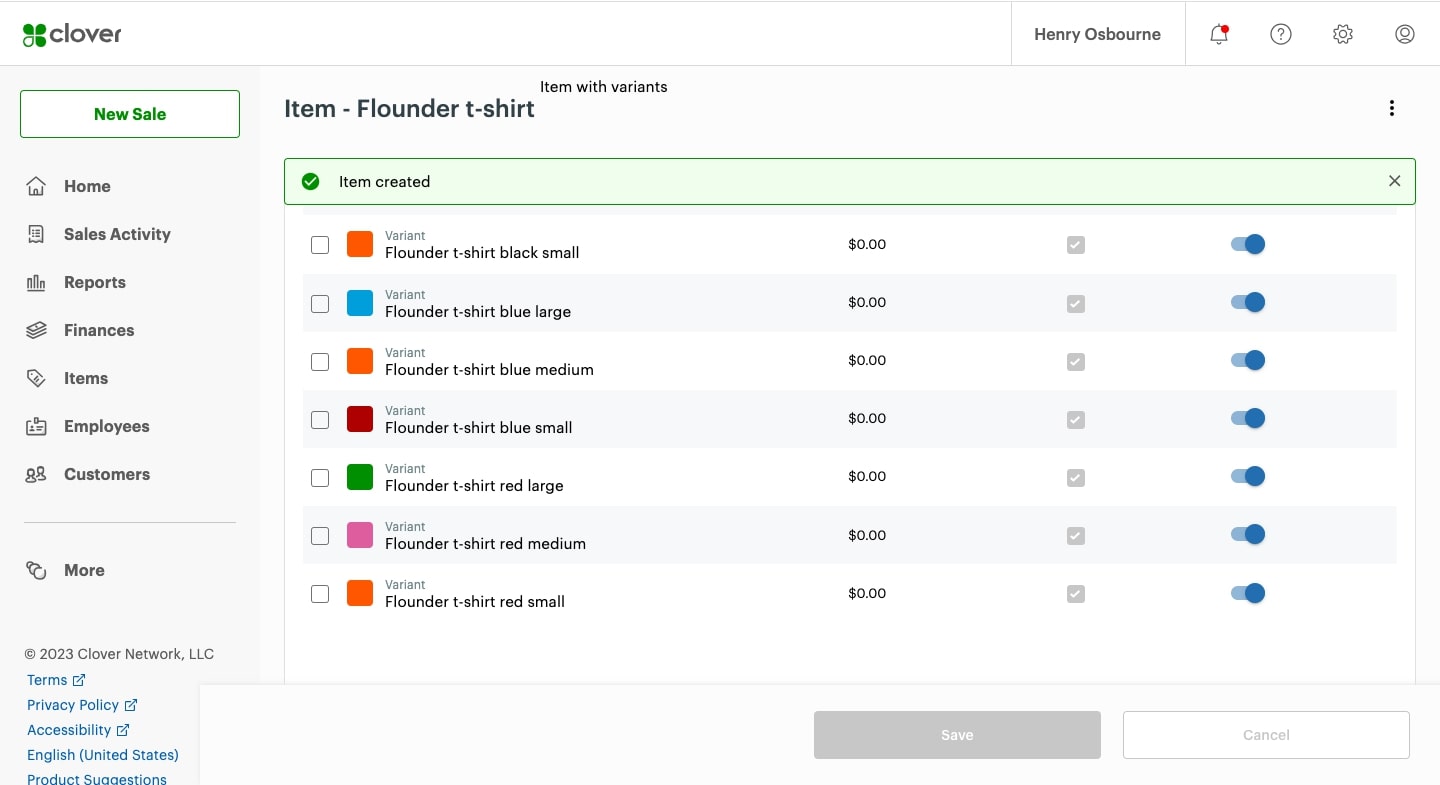 We found the online menus to be equally configurable with different categories, modifier groups, and custom descriptions. Users can easily apply discounts for specific items or across whole subgroups.
Using the reporting feature, you'll also be able to spot trends in sales so you can restock popular items while they're still hot.
We thought it was a nice touch that Clover doesn't include inventory tools for industries that won't use them. Consultancies and digital agencies may have no stock ‌and appreciate not paying for unwanted extras. Many other POS systems either include them in every plan or offer industry-specific features as add-ons.
Customer Management and Engagement
The Clover POS system not only supports great customer service through flexible payment options but also with its dedicated engagement features. The system automatically adds your patrons' information to your database through the POS Clover system.
You can add your own notes by requesting feedback from clientele and writing this into their profiles.
Customers also have the option to join your contact list by tapping "follow" on Clover's digital receipt. Once they're on your database, you can send them offers and discounts to attract them back to your business.
Like many POS systems, Clover offers the ability to customize digital and paper receipts. This essential feature also allows you to personalize your business, advertise offers, and interact with your customers more.
Employee Management
Sales and staff performance often come hand in hand, so we were happy to see Clover allows you to track your top performers.
You can reward employees by implementing Clover's customizable tip screen. There are up to six options, and you can decide whether customers tip by percentage or fixed amounts. However, there's no option for staff discounts as there is with Vend.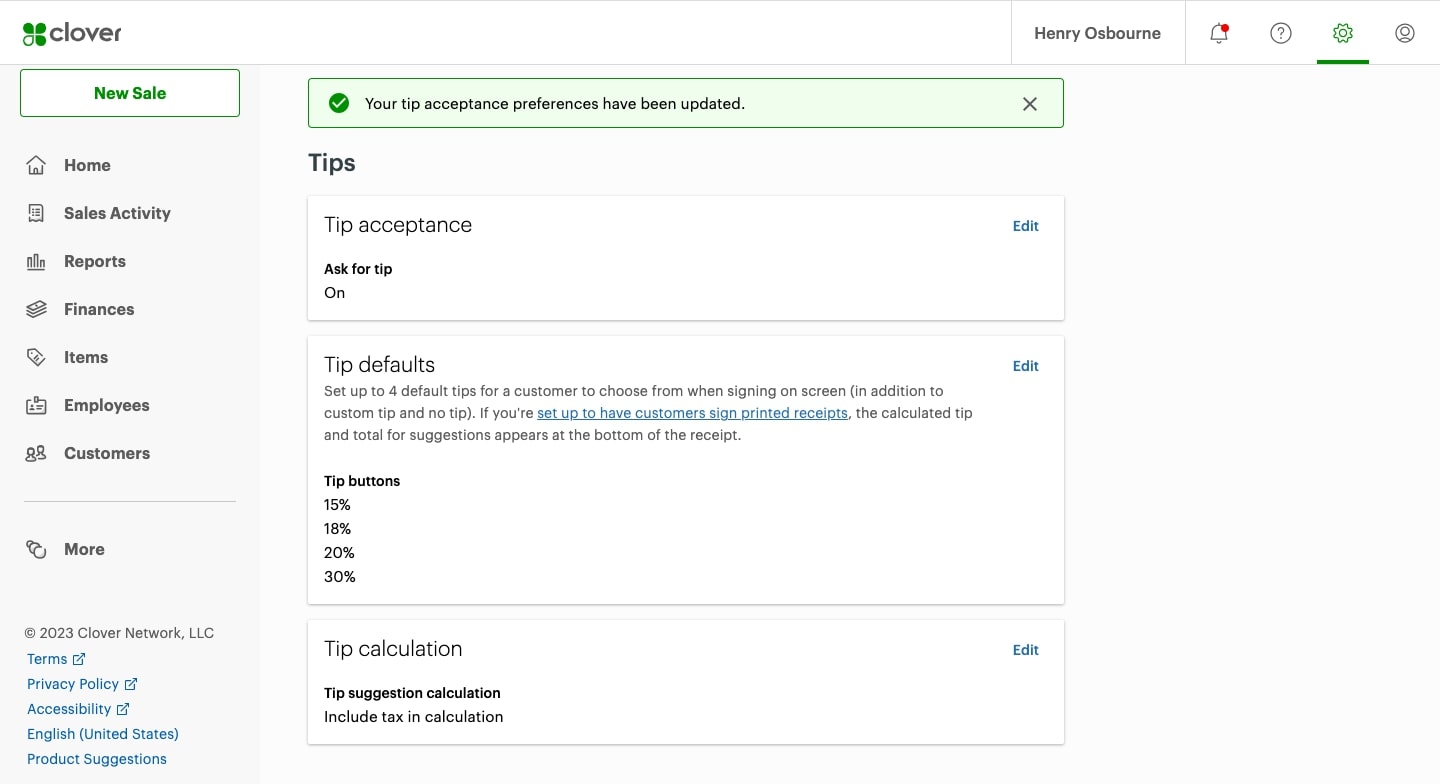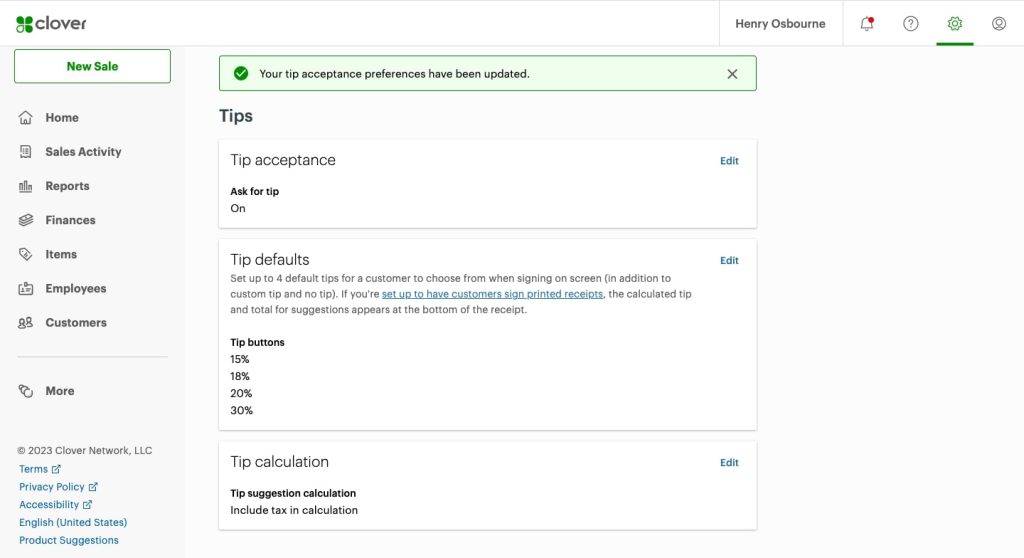 For other tasks related to employee management, you can go to the Clover App Market. There, you'll find all the best HRIS systems for small businesses to integrate with your system. You'll be able to manage everything from time tracking to recruitment all in one place.
Data Reporting and Analytics
In our Clover review, we were excited to see the extent of the platform's data capabilities. You can track everything from sales and offers to items and employees to get the clearest picture of your business performance.
For example, you can generate quick reports on monthly sales to understand your busiest times and what items sell best. You can use this information to make informed business decisions.
Where Clover really stood out was its high level of customization. No matter whether you need to review clients or customers, items or services, or types of payment, you can generate a report.
A Look at the Clover Software's Security
Cyberattacks on businesses have
almost doubled
in the past four years, so security is of the utmost importance. Clover Security Plus minimizes the risk of breaches by encrypting or tokenizing customer data. This protection applies on every plan and for every payment type.
With Clover, you also get a payment card industry (PCI) wizard that helps you develop strategies to safeguard payments and stay compliant with international data guidelines. It offers self-assessment questionnaires, scans for vulnerabilities, and provides recommendations for implementing best security practices.
Like other leading POS systems, Clover complies with both GDPR and CCPA guidelines, which is a requirement for trading in many countries.
Compare Clover POS vs. Square and Other Market Leaders
Seeing how software stacks up against competitors can give you a clearer idea of its strengths and weaknesses before you commit to buying. Here's a glance at Clover POS system vs. Square and other leading platforms on the market:
Top Point of Sales Systems
Best For
Industries Catered To
Starting Price
Transaction Fee
Free version
Top 3 Features
Clover
Team Management
Restaurants, Retail, Personal and Professional Services
$14.95/month
2.3% + $0.10 – 3.5% + $0.10 per transaction
Free Demo Account
– Bill Splitting
– Industry-Specific Plans
– Phone Orders
Square
Small Businesses
Restaurants, Retail, Personal and Professional Services, ecommerce
$29/month
2.5% + $0.10 – 3.5% + $0.15 per transaction
Free Plan
– Multi-Location Support
– Free Plan
– Invoice Personalization
TouchBistro
Table Management
Restaurants
$69/month
Varies with provider
Free Demo
– Menu Management
– Offline Mode
– Upselling Tools
Toast
Large Restaurants
Restaurants and Hospitality
$69/month
2.49% – 2.99% per transaction
Free Plan
– Offline Mode
– Free Plan
– Choice of Hardware Setup
Lavu
Dual Pricing
Restaurants
$59/month
2.49%+ $0.15 to 3.5% + $0.15 per transaction
Free Demo
– Track Best-Selling Items
– Variety of Integrations
– Dual pricing for Cash and Card
Lightspeed (formerly Vend)
Flexible Pricing
Retail, Restaurants, and Leisure
$178/month
2.6% + $0.10 per transaction
14-day trial
– Location-Based Pricing
– Suspended Sales
– Custom Quick Keys
It's clear Clover wins on pricing and breadth of appeal. Many competitors have higher fees and only cater to eateries.
Square is a comparable option for teams with limited funds, as it offers a free plan and flexible pricing. The hardware isn't included in the plan but instead offered as an add-on so you can tailor your costs to your budget.
Like Clover, this POS also has industry-specific features, including grocery delivery for retail and table management for restaurants.
For a more complete picture of Square as a Clover alternative, you can read our full Square POS review. If you'd like a better idea of how the platforms generally compare, here's our review of the best POS systems.
A Summary of Other Clover POS Reviews
To get a more objective look at the platform, we read and analyzed hundreds of Clover reviews. The user response was largely positive, with a 4 out of 5 rating on TrustPilot.

Reviews of Clover POS often mention how easy the platform is to set up and the high level of support individuals have received from customer service. Users also say they were impressed at how easily they could customize the system with different features, equipment, and integrations.

Many Clover POS reviews also discuss their great experiences using the equipment. They frequently mention the look, functionality, and range of the hardware.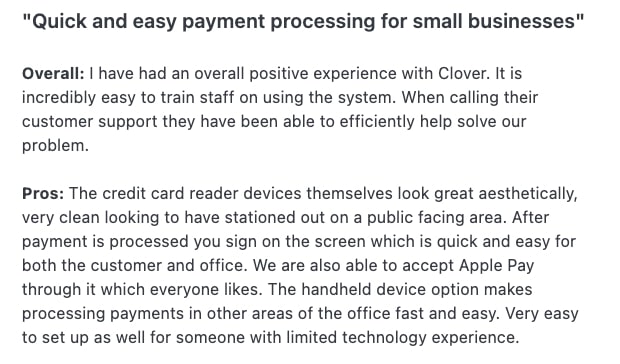 Overall, users are happy with how using Clover for business management simplified their operations. There are many comments like the one below, which discuss how bookkeeping, monitoring employees, and managing customers became simpler after adopting the software.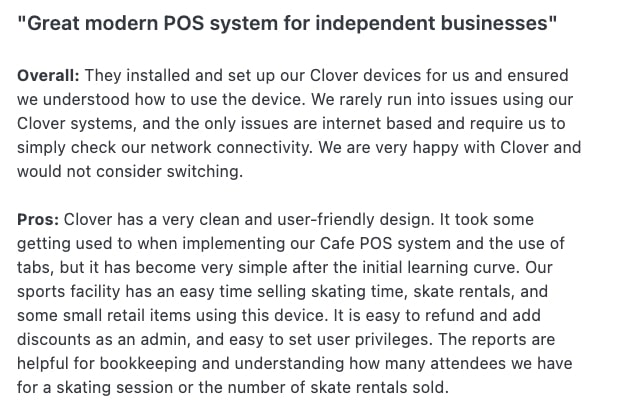 A Look at Clover POS Complaints
When reading Clover reviews, POS shoppers should also consider common complaints. These negative reviews suggest weaknesses in the platform. You can determine whether these Clover POS issues are a deal breaker or a worthwhile tradeoff for all the benefits the system can bring you.
Some Clover POS Reddit reviews point out the limitations of certain features. These usually relate to managing large operations or overriding the system's security.

As Clover targets small to medium businesses, it's perhaps natural that its features aren't always optimal for large clients. In these cases, it may be worth looking at a POS more suited for enterprise businesses such as Square or Toast.
Why You Can Trust Our Clover POS Review
In our Clover POS review, we explored the platform from multiple angles to ensure we could give you a comprehensive assessment.
A significant amount of our research involved directly testing Clover POS. We took advantage of the free demo to look at all the features and see how they help manage different scenarios. As we explored the platform, we noted how easy the setup process was and how much support was on offer.
Our Clover review also examined all the pricing plans and offerings in detail to see how they matched up to competitors. Taking this step gave us the clearest idea of the pros and cons of Clover POS.
For an objective overview of Clover POS, we read user reviews from reputable sites such as Trustpilot, G2, and Capterra. We considered whether positive and negative reviews were one-offs, indicating the experience was unusual or part of a larger trend.
In writing our Clover review, we looked at how all this research fit together to give the most realistic idea of what using the software would be like.
A Quick Clover POS Setup Guide
Many other Clover POS reviews praise the software for its ease of use and fast setup process. We tested this for ourselves on the platform.
Step 1. Create an Account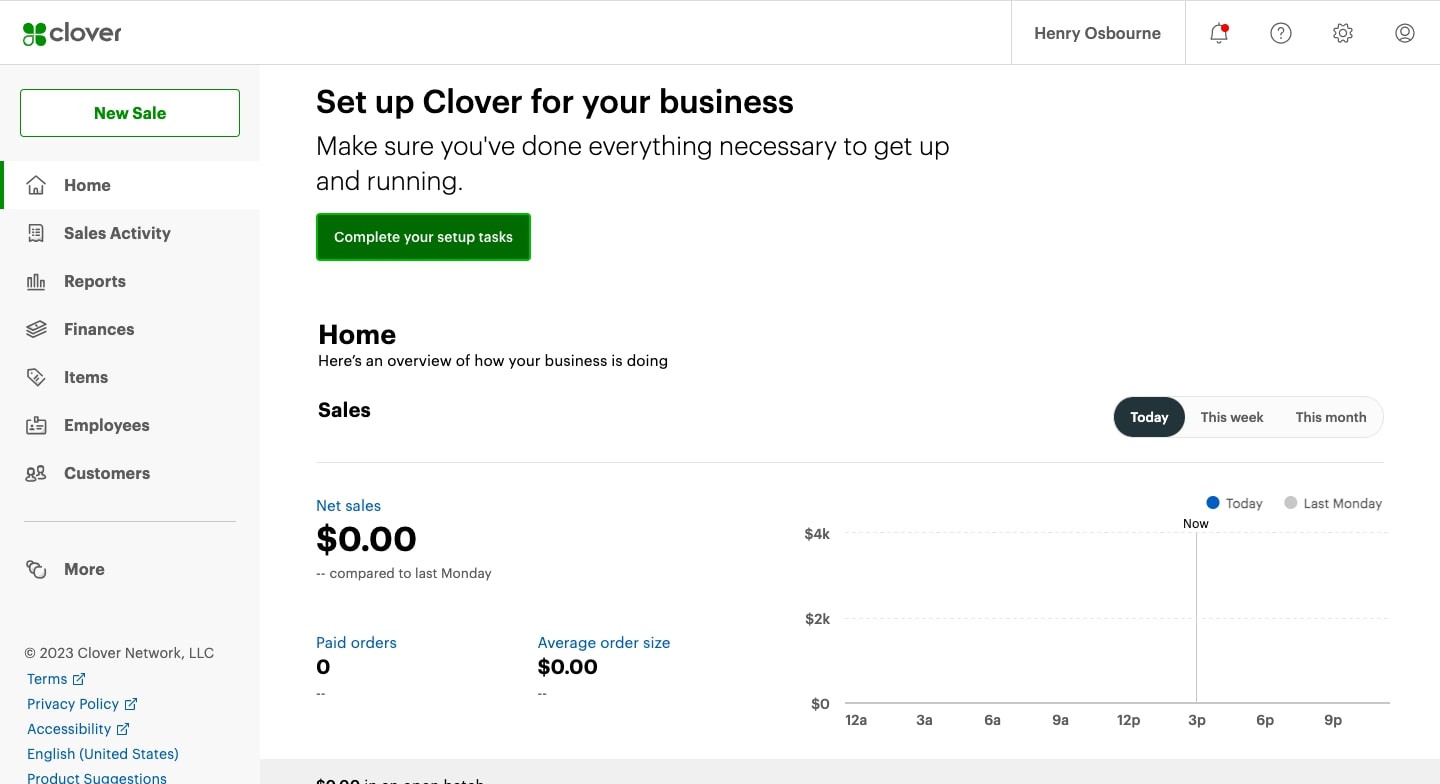 Once you've decided which plan is best for you, create an account through the Clover website. It asks for your details and uses two-factor authentication to register your account.
Note that you'll need your mobile phone to hand to verify your account.
Step 2. Enter Your Business Details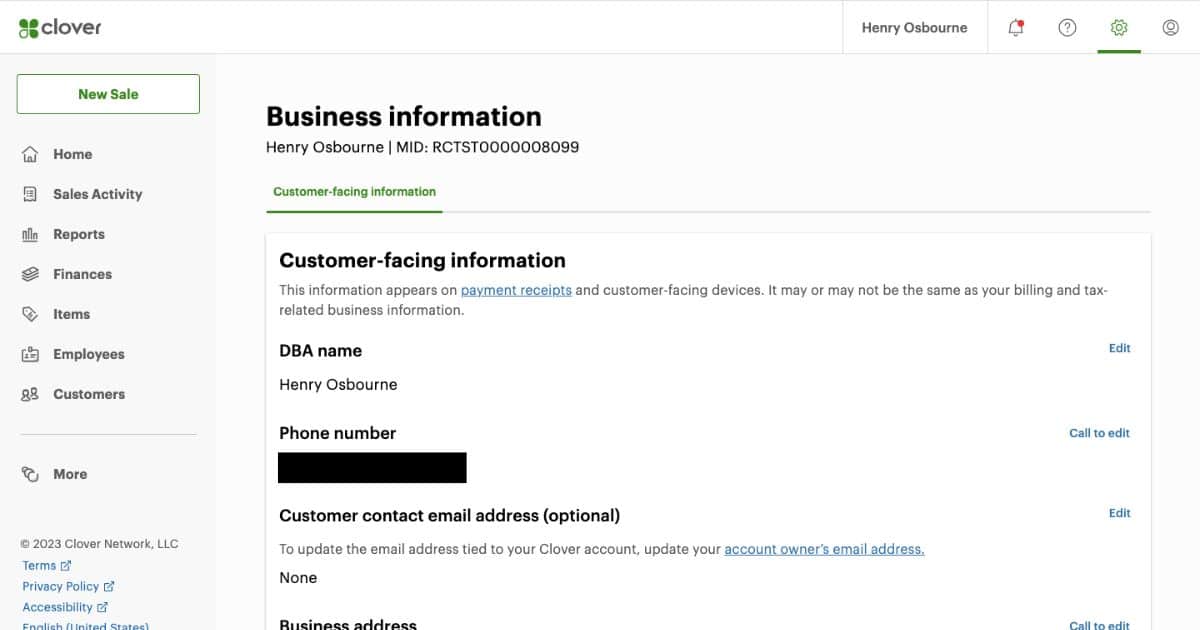 We were happy to see that Clover has a built-in guide to walk you through the setup process. The guide provides instructions but doesn't direct you to the tabs you need, and swapping between windows makes the setup take a little longer.
Click on the "settings" icon in the top right and scroll down to the setup guide option. You can enter all your business information here, including your opening hours and address.
Step 3. Set Up Your Taxes and Fees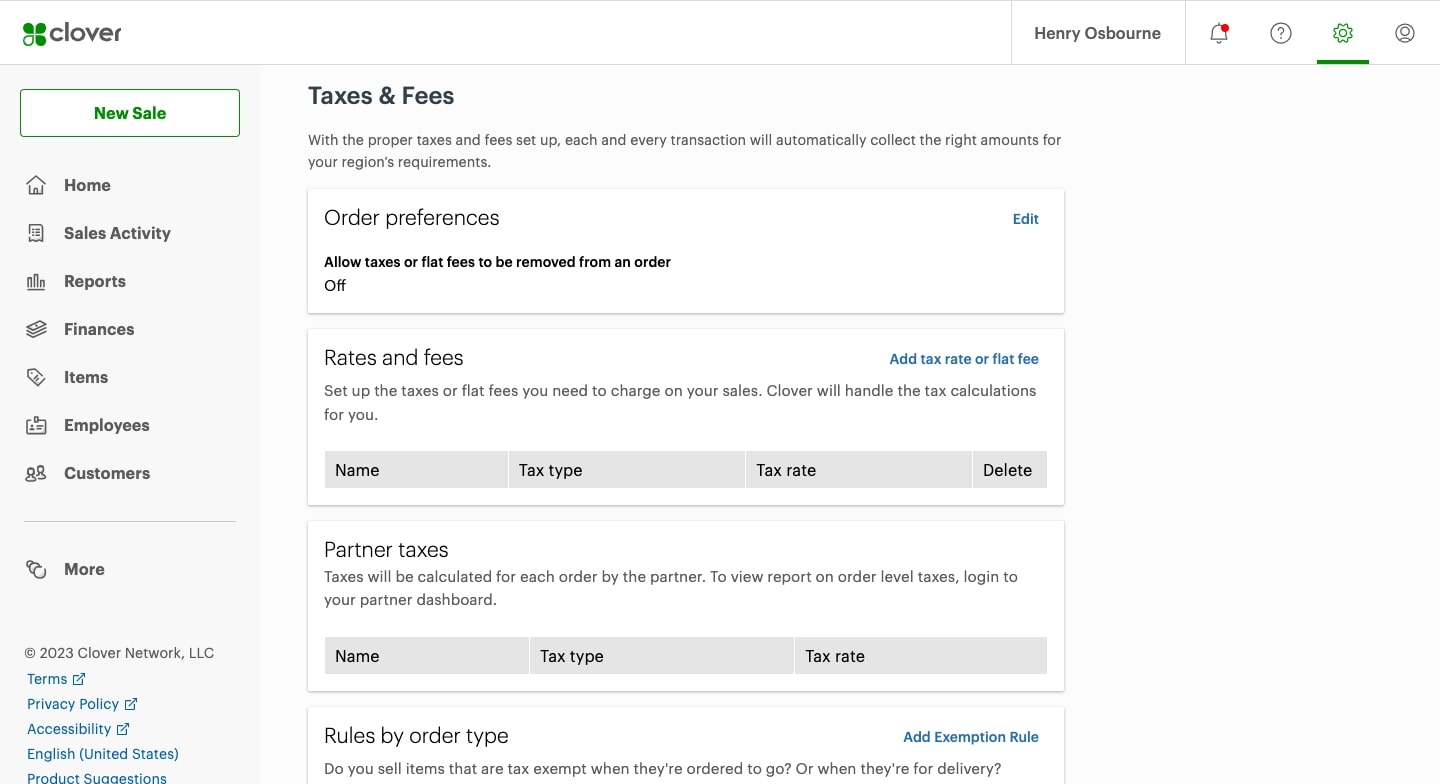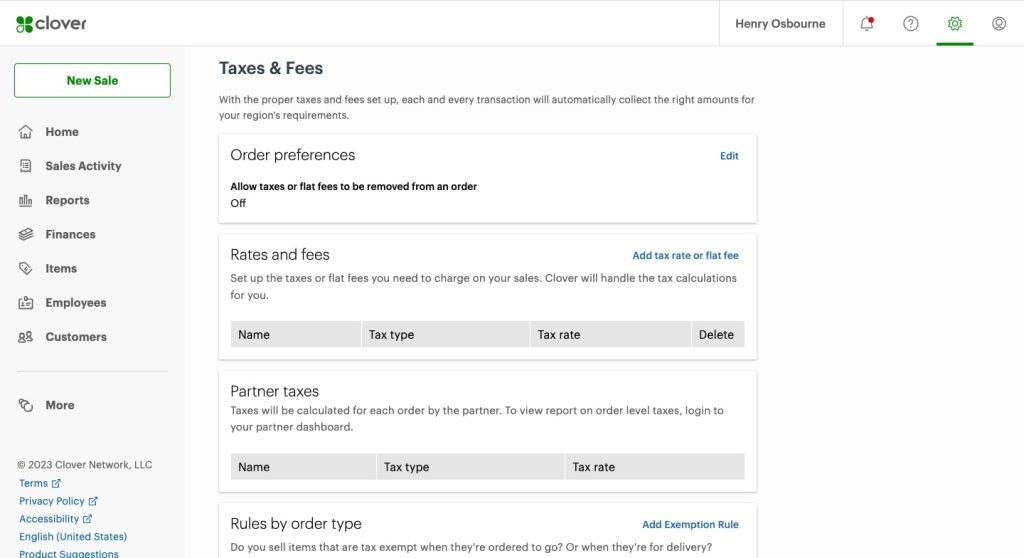 To accommodate different regions, Clover POS asks you to add your tax rate. Afterward, it automatically applies this rate to every sale and auto-calculates taxes.
You can also configure what charges to apply to orders and deliveries. All you have to do is scroll down and enter the numbers in the boxes.
Step 4. Add Items or Services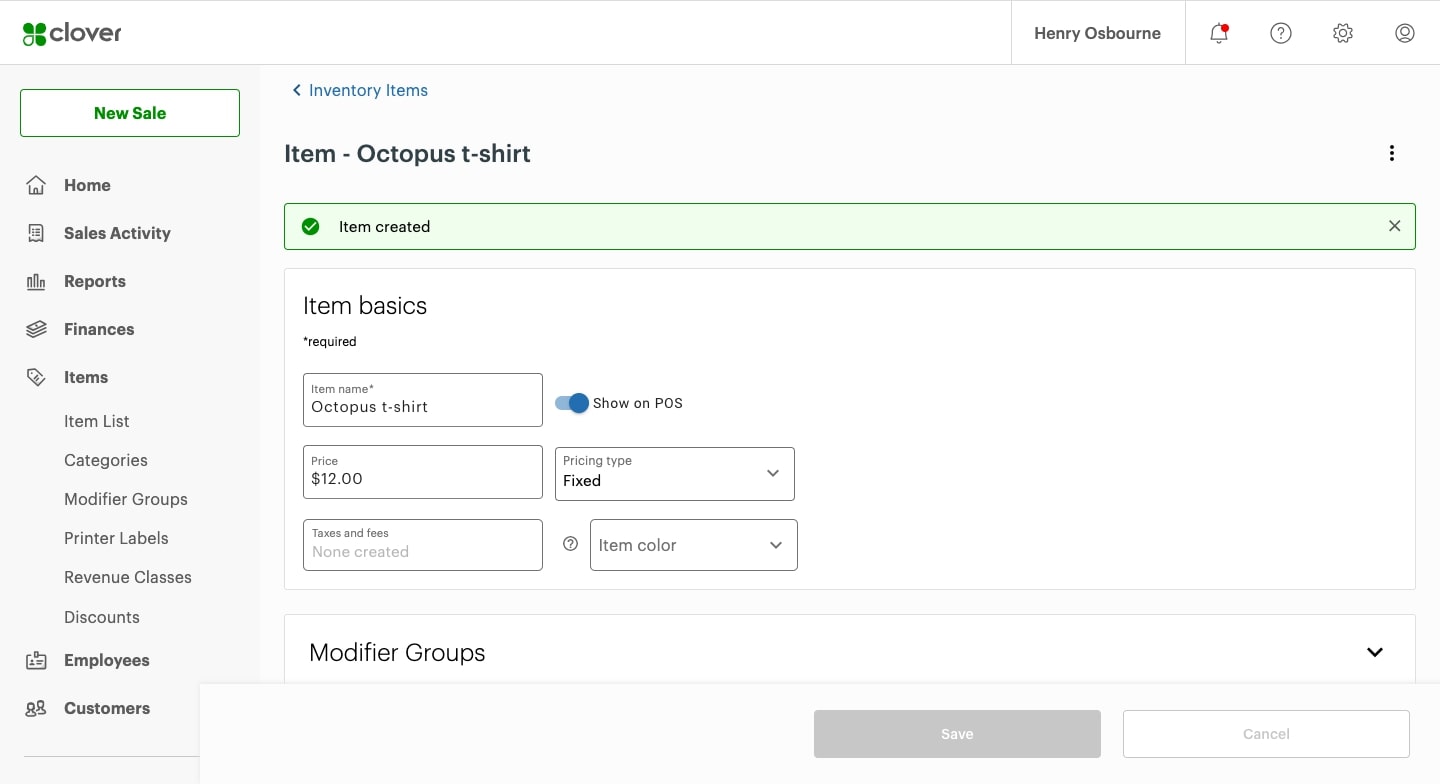 When we came to Clover's inventory setup, we were really impressed by the customization options. We could easily create a parent item and all its different subsets, input different rates, and decide what discounts to apply.
You can level up your organization by creating categories for groups of items. For example, you could group groceries into perishables and nonperishables.
Step 5. Create Employee Accounts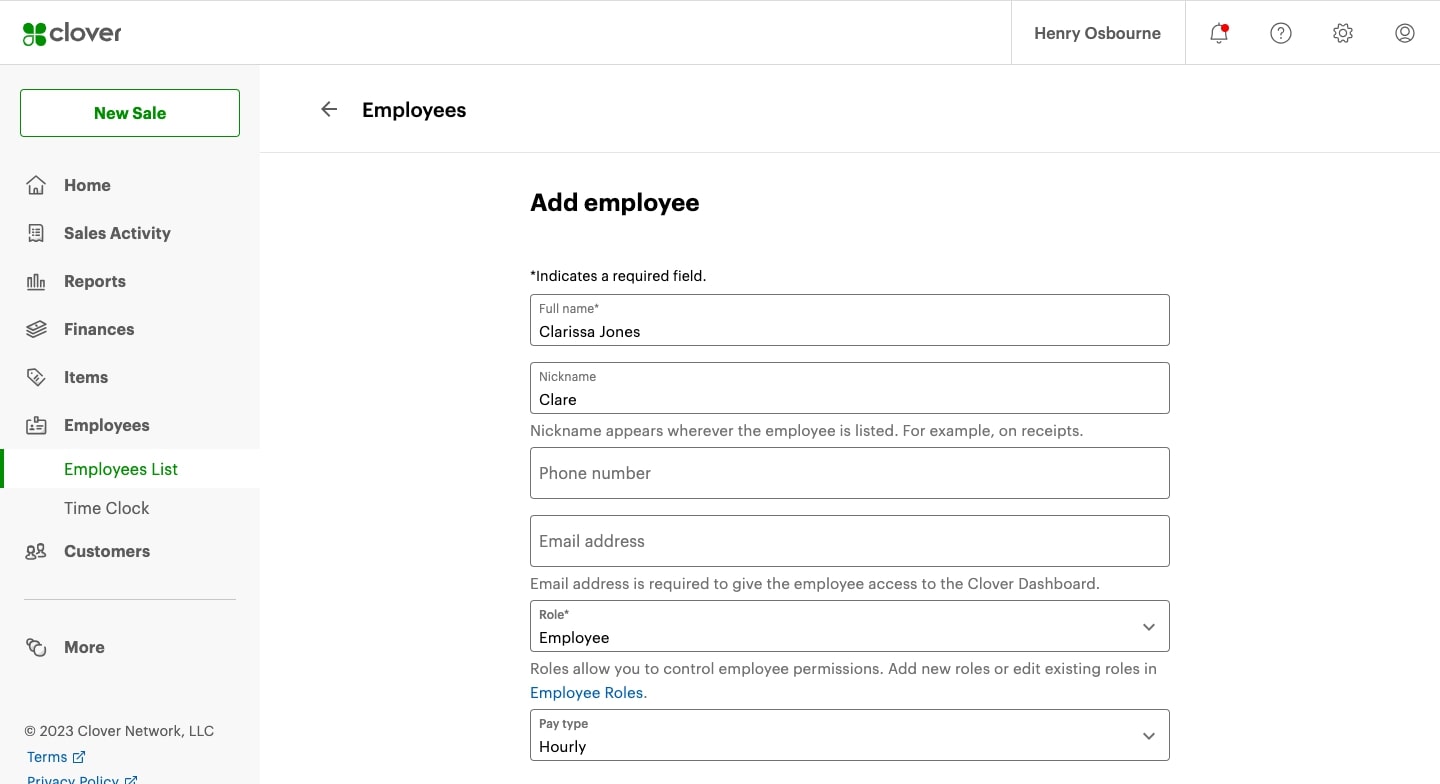 Allow employees to use the system by creating personal accounts. You can add details such as their hours and role and set user permissions.
We also found it was simple to open the Homebase integration from the Clover dashboard. All we had to do was click on the "Time Clock" tab and open it. You can start recording hours and calculating your sales-to-labor ratio immediately.
Additional Resources on POS and Financial Management
If you'd like more information on which POS systems are best to use, as well as other essential software for small businesses, check out these articles:
Clover POS Review Conclusion
Through our comprehensive, in-depth Clover review, we stand assured that it's one of the best POS platforms on the market in 2023.
Clover is one of the few POS systems to offer a range of industry-specific plans without compromising on features. For instance, our Clover POS restaurant review found the plan shared many of the same tools as Toast and TouchBistro.
Having this breadth of appeal means Clover not only caters to multiple industries but is more likely to suit businesses that fall between categories.
The Clover system is also competitively priced while providing versatile tools and professional equipment. You can benefit from the low Clover processing fees while you're starting up your business without worrying about compromising the quality of your operations.
When using Clover, business owners can also customize the system to their specific needs. The customer and item inventories allow deep configuration, but the intuitive filters make finding and organizing items a breeze.
Whether your focus is launching a business or moving from a previous system, Clover POS is sure to make handling payments more efficient.
Clover Review FAQs
Is Clover a good POS system?
Is Clover POS good for restaurants?
Does Clover POS have a monthly fee?
What percentage does Clover take?
How long does it take for Clover to pay out?
Does Clover have any hidden fees?
Is Clover worth it for small business owners?
References