In this comprehensive Square review, we take a close look at this Point of Sale (POS) system, its features and functionality, and strengths and weaknesses so you can see whether it's the right fit for your business.
Whether you're running a retail store, a restaurant, an online store, or virtually any business that sells products and services to customers, Square provides a smart, flexible, easy-to-use POS that will enable you to sell anything, anywhere. Read our in-depth Square review to find out exactly what you can expect from this POS system.
Table of Contents
Table of Contents
How Does Square Work?
Square's Point of Sale service is a robust system that allows you to accept payments from customers, keep track of your sales, and manage your inventory with ease. It includes both professional hardware and intuitive software, so you can start selling in minutes.
The hardware element includes a register, a receipt printer, a credit card reader, a barcode scanner, and a cash drawer.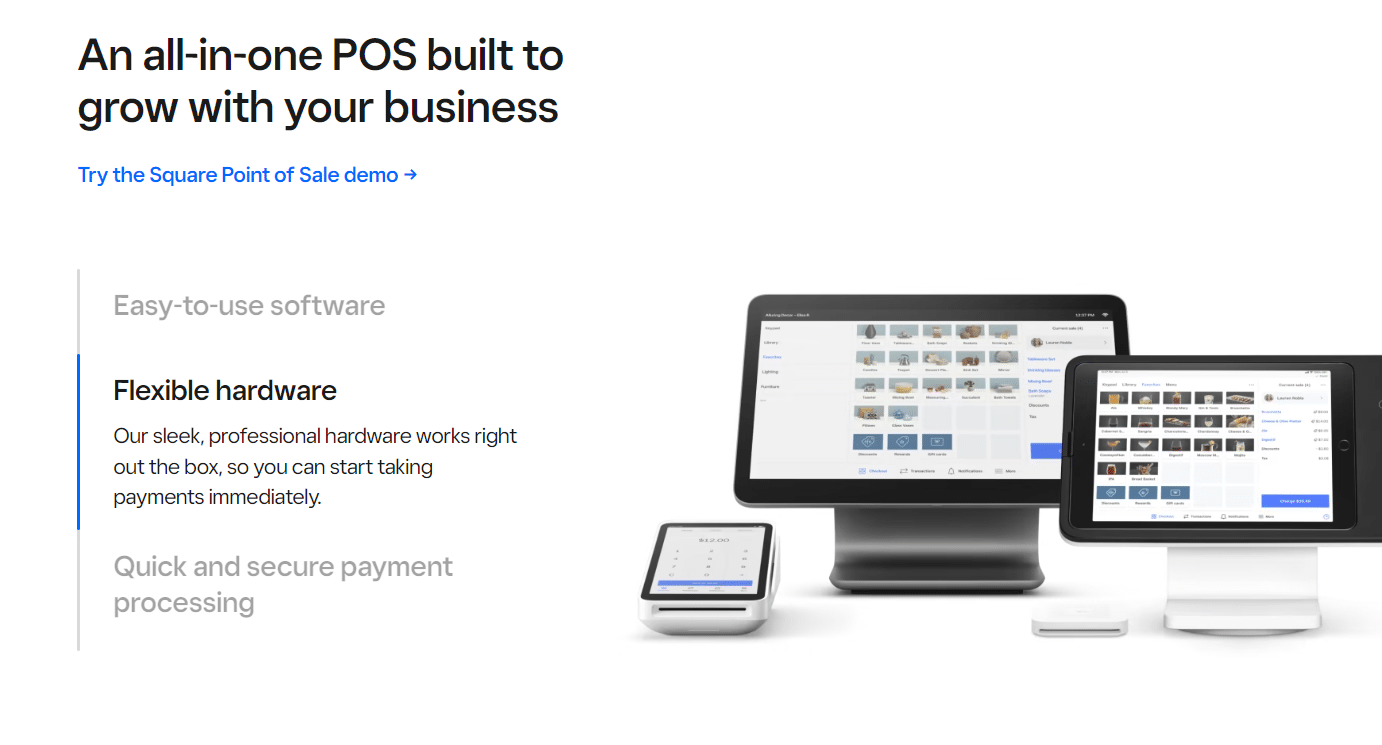 The software works as your command center and lets you create a library of items you're selling, upload their images, sort them into categories, and apply discounts and special offers with a single tap.
Square works in a similar way to other digital POS services. When a customer buys an item, Square calculates the price, provides payment options, and finalizes the transaction. All the sale data is stored so you can easily monitor your business's cash flow and see inventory levels in real-time.
Who is Square Best for?
The Square POS can be used by any type of business, regardless of how big or small, and whether you're selling products and services in person or online.
This makes Square Point of Sale an excellent option for anyone looking for robust general POS features and functionality.
In addition to the general POS, Square offers several industry-specific solutions:
Square for Retail — Ideal for stores that sell both on-premises and online. Comes with built-in inventory management, sales, and staffing tools.
Square for Restaurants — A streamlined solution for eateries, helping you handle everything from inventory costs and menu syncing to pickup, delivery, and online orders.
Square for Appointments — Built for consulting services, fitness and health coaches, barbers, nail salons, and other types of professional services. Comes with intuitive scheduling software that lets you manage your schedule, improve customer experience, and monitor your team's performance.
Square's flexibility is one of its main selling points, so you can easily adapt it to the specific needs of your business.
It's worth noting that Square is a more general tool and doesn't offer many industry-specific features. So, businesses in industries with very specific needs and strict rules and compliance requirements, such as healthcare practices, may be better off with a more custom solution.
Summarizing Square's Pros and Cons
Square is an excellent POS system overall, but that doesn't automatically mean that it'll be the perfect fit for your business. To help you make an informed decision, here are the biggest pros and cons of Square POS, based on our extensive testing and user experiences from hundreds of businesses:
Pros
Easy to set up and use
Multi-location support
Excellent phone app
Transparent pricing
Personalized invoice creation
Streamlined inventory tracking and management
Transaction recording and syncing across devices
Cons
Higher than average processing fees and extra costs for add-on modules
Limited tutorials and how-to videos
Overall, most users love Square POS, and we've found it to be an excellent system in our testing. The biggest gripe businesses have with Square comes from its relatively high cost.
A Breakdown of the Square POS Pricing Plans
Speaking of processing fees and the cost of the POS system, let's take a closer look at the Square POS system's cost so you'll know exactly how much money you'd be setting aside each month if you opt for Square.
At a glance, Square POS looks enticing, given that you can get started for free. But if you take a closer look, you'll notice it's actually $0 + a Square processing fee for each transaction.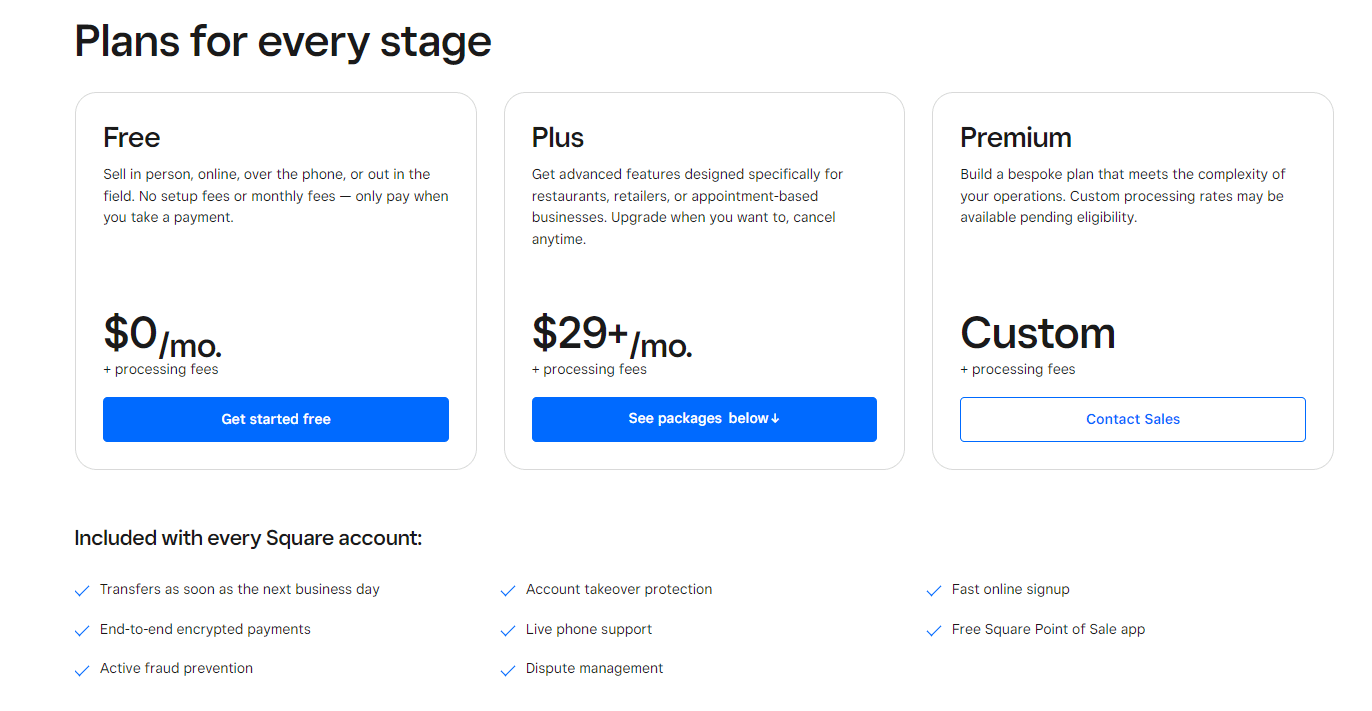 The processing fees vary depending on the type of payment that's being processed – so the Square credit card fee differs from the fees applied to online transactions, for example. With average fees being around 2.24% in 2023, Square is among the more expensive options out there.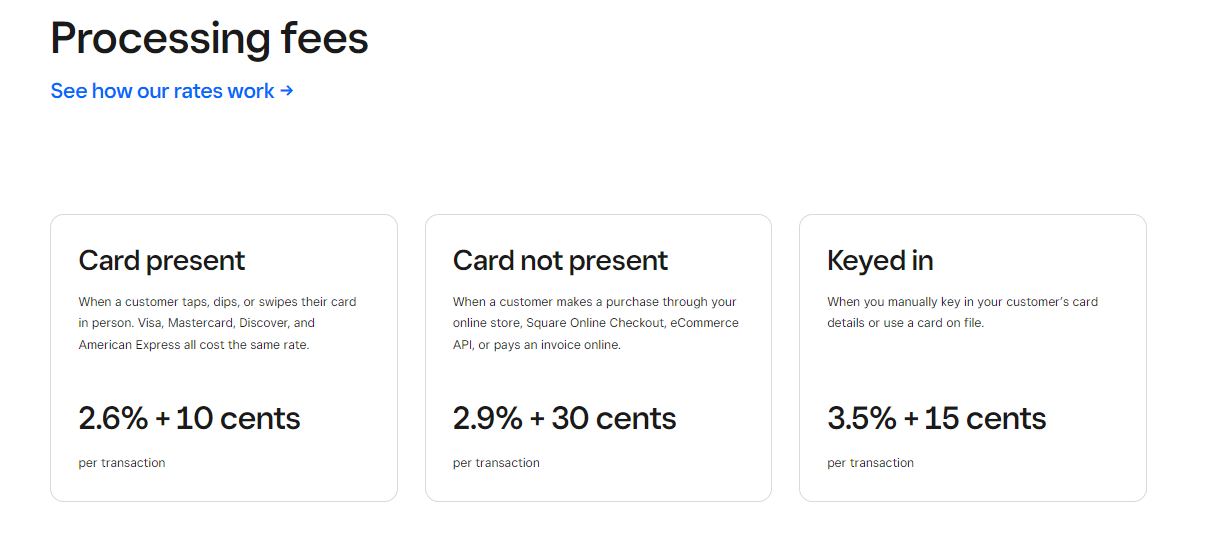 Another thing to keep in mind is that certain modules are paid add-ons, so if you want to include something like text message marketing and loyalty programs, you'd have to set aside an additional $10/month and $45/month, respectively.
That being said, Square's core plan – Plus – is more affordable than what its key competitors charge for the same service. Square's paid plans start at $20/month, while alternatives like TouchBistro and Toast POS charge as much as $69/month for their cheapest pricing plans.
Additionally, with Square, you're not boxed into one of the existing pricing plans. You can always talk to the company's representatives, explain your business's needs, and get a custom quote that takes into account all the features and functionality you'll be using.
This way, you'll be paying for just what you need rather than for a system that has dozens of features you won't even be aware exist, let alone use.
Square Hardware
When it comes to hardware, Square is super-flexible. You'll be able to pick and choose the hardware that you need and will have the option to pay in full or in monthly installments over 24 months.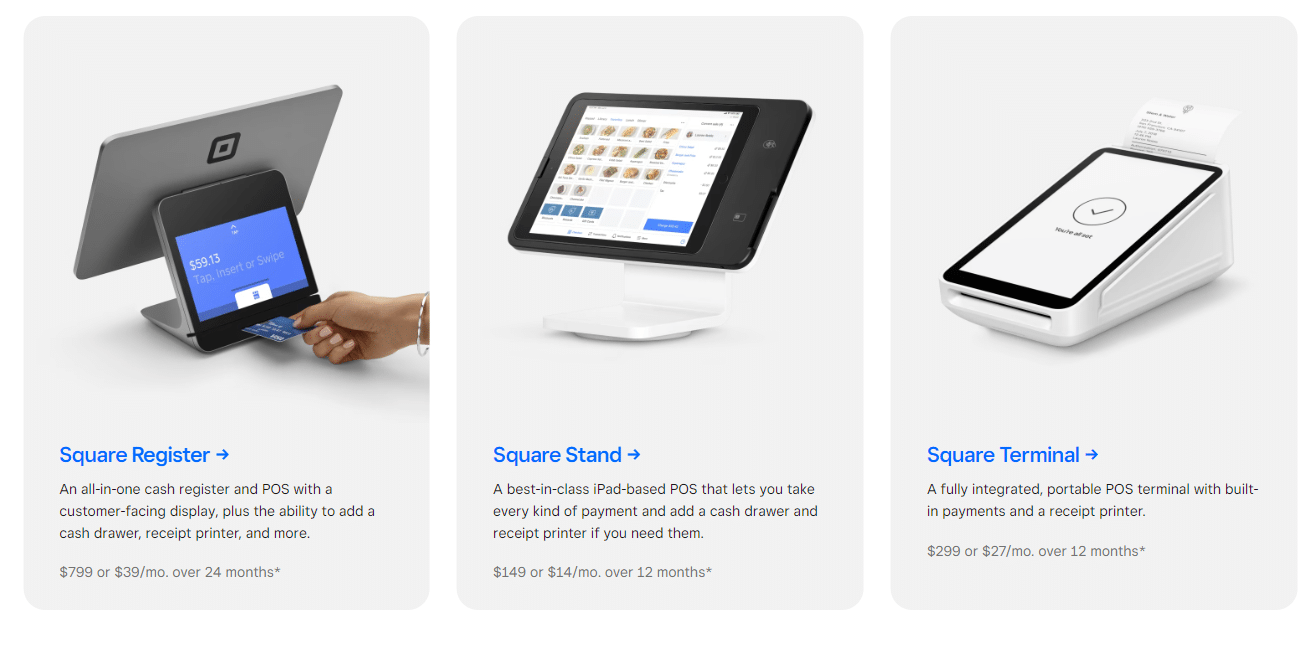 The pricing is also pretty reasonable, especially considering the quality of the registers, POS terminals, stands, and other accessories.
Square Cancellation and Refunds
What's great about Square is that there's no vendor lock-in, meaning you're free to cancel at any time.
Regarding the hardware, the company offers a full refund for any hardware returned within 30 days of payment – though noting that iPads must be returned unopened.
This is fairly standard for the industry, so you won't find drastically different terms with any other POS provider.
A Look At Square's Capabilities
Now that we've covered the basics let's get into the meat of things and see exactly what you can expect from the Square POS. Here's a breakdown of all the core capabilities of the system so you can see how well Square fits your business needs:
Payments
When it comes to accepting customer payments, Square credit card processing is excellent. The POS supports Visa, Mastercard, Discover, and American Express, as well as reward cards. The customer can insert the card into the chip reader or simply swipe the card to complete the transaction.
You'll also be able to offer contactless payments with Square, including Apple Pay, Google Pay, Cash App Pay, and Tap to Pay.
Square lets you provide physical gift cards for your customers. They're automatically integrated into your POS system and Square Dashboard, so you can start selling them right away. Customers can redeem, track, and reload their gift cards just as easily as any other payment method.
You'll also be able to see all the funds in your account with Square Checking and transfer them to your external bank account for free in one to two business days or for a small fee instantly.
Checkout
Square lets you customize your checkout to reflect your brand, streamline the process for your customers, and keep your line moving.
One of the things we loved during our testing is the fact that the checkout features item modifiers, which are essential for selling products and services with add-ons.
For example, it's easy to modify an ice cream order with different flavors, modify a restaurant dish with extra toppings, or add special requests to any service. All applied modifiers are clearly displayed on the receipt, so customers will always know exactly what they're paying for.
On your end, you'll be able to create customized item grids for your staff so they can quickly access frequently sold items, apply discounts with a few taps, access the right product category in seconds, and complete the sale promptly.
Receipts
You'll be able to provide customers with both digital receipts by email and text and physical printouts with Square. All receipts show an itemized breakdown with whole numbers and decimals, as well as any applicable taxes and applied discounts.
You'll also have the freedom to customize your receipts in your Square Dashboard to include brand colors, display the names of different store locations, feature your company logo, and more.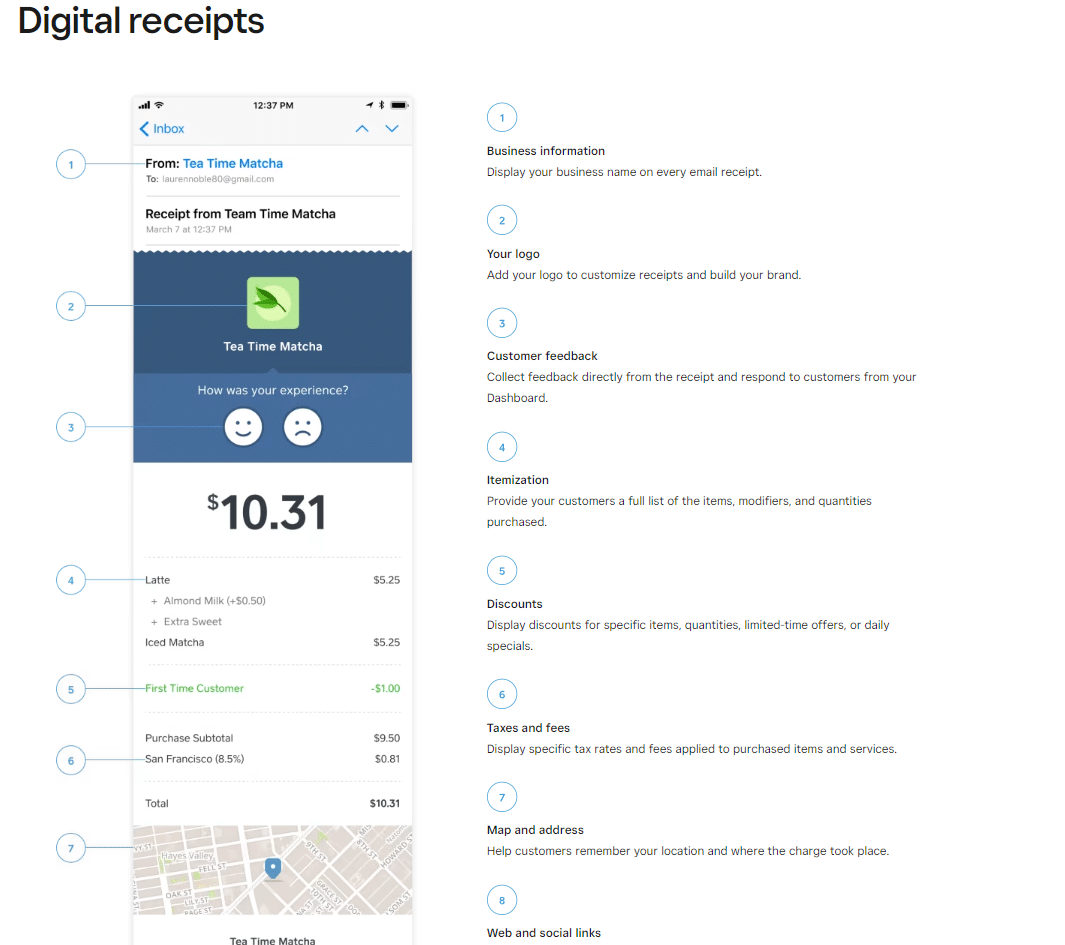 Digital receipts also allow you to collect customer feedback, which shows up directly in your Square Dashboard, so you'll know if they're satisfied with the service or a particular staff member.
You can also add a map with your store's address on the digital receipts to help customers remember your store's location. In addition, you can add a link to your website and social media pages to ensure your business stays top of mind.
Discounts and Tips
Through the Square Dashboard, you can create automatic discounts that apply to specific items, item categories, daily deals, limited-time offers, and quantities. This makes it much easier for your customers to know the exact amount they're required to pay, whether they're buying at the storefront or online.
Square also makes it easier to collect tips, especially from people paying by card. They can choose between any of the preset amounts, such as 10% – 25%, or choose the "Custom" option and tip any amount they're comfortable with.
Online Ordering
With Square Online, you can build your own ecommerce store, sync it with your Square POS, and sell both in-store and online, with all your sales and inventory synced at all times.
You'll also be able to send your customers online checkout links and QR codes that they can send to complete the purchase. This is especially useful if you want to run cart abandonment email campaigns to nudge customers to finish their order by displaying the items in their cart, the total amount, and a quick link to the checkout.
eGift Cards
With Square Online, you'll also be able to offer customers electronic gift cards. Naturally, you'll be able to fully customize the look of the gift card and the amounts.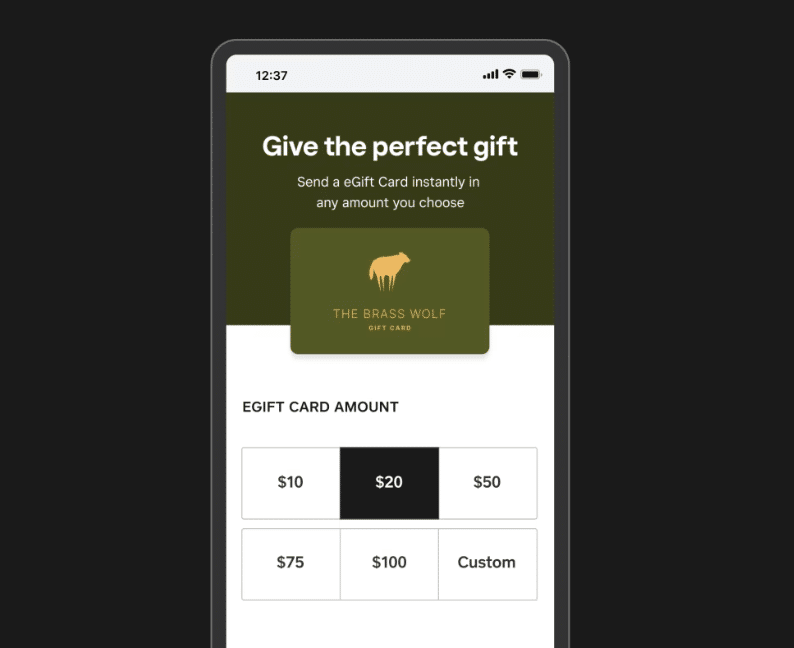 Square handles all the technical details, so your customers will only need to send the eGift card link, and the recipient will be able to use it as they would a standard credit card when making purchases at your online store.
Customer Service
Square POS also helps streamline your customer service by letting you store all customer information in your Square directory. This includes the frequency of purchases, items purchased, the amounts on each receipt, and their interactions with your business.
You can then leverage that data to engage them through a free Square CRM (Customer Relationship Management) software. For example, you can quickly filter through the directory to find all customers who are in your loyalty program and send them a special loyalty discount for the next purchase via email.
Inventory Management
The Square POS system comes with built-in inventory management capabilities, so you'll receive daily emails with in-depth information on items that are running short or out of stock.
You'll be able to download or print out inventory reports, which makes it a lot easier and more time-efficient to manage your stock, especially if you have multiple store locations.
Square also integrates with dedicated inventory management solutions, such as Shopventory, SKU IQ, Stitch Labs, and more, so you can continue using your current inventory management software and will have all the data you need in one place.
Staff Management
Square offers a ton of modules as add-ons that can help you streamline every aspect of your business. If you add Square Team Management to your account, you'll be able to create shift schedules, track time, and let your team clock in and out using your Square POS.
You'll have all the information in a single integrated calendar, with the option to assign a color to each employee to organize shifts in your store. From the dashboard, you can also manage wages, calculate overtime, and generate valuable insights that'll help reduce labor costs.
If you want to go a step further, you can integrate Square Payroll with your POS, so you can use time tracking to generate payslips and pay your employees faster, as well as to automate tax filing.
Add-ons
You can pick and choose which tools and features to add to your base Square POS so you can fully customize it according to your needs. Some of the most popular extensions are Square Invoices, Afterpay, letting customers pay in installments, and Square Subscriptions for businesses selling subscription-based services.
Reporting and Analytics
Square Analytics provides you with lots of invaluable insights, so you'll always be able to see how your business is doing. The reports include everything from sales summaries and trends to the most popular items and categories, sales by teams and location, and compensation across your entire team.
You'll also get customer insights, with detailed information regarding your most frequent and recent visitors, so you'll be able to see your customer lifetime value and understand exactly what sells best and why.
Square's Integration Options and Compatibility
We've already mentioned add-ons, but it's important to stress that Square doesn't just offer a Point of Sale system. Instead, you can use the platform to handle virtually any aspect of your business, including payroll, online store creation, invoicing, email marketing, team management, and more.
Apart from the apps and tools in Square's library, you'll be able to integrate your Square POS with hundreds of third-party apps. Some of the most popular ones are WooCommerce, QuickBooks, Acuity Scheduling, Wix, Jotform, Trustpilot Reviews, and Maralytics.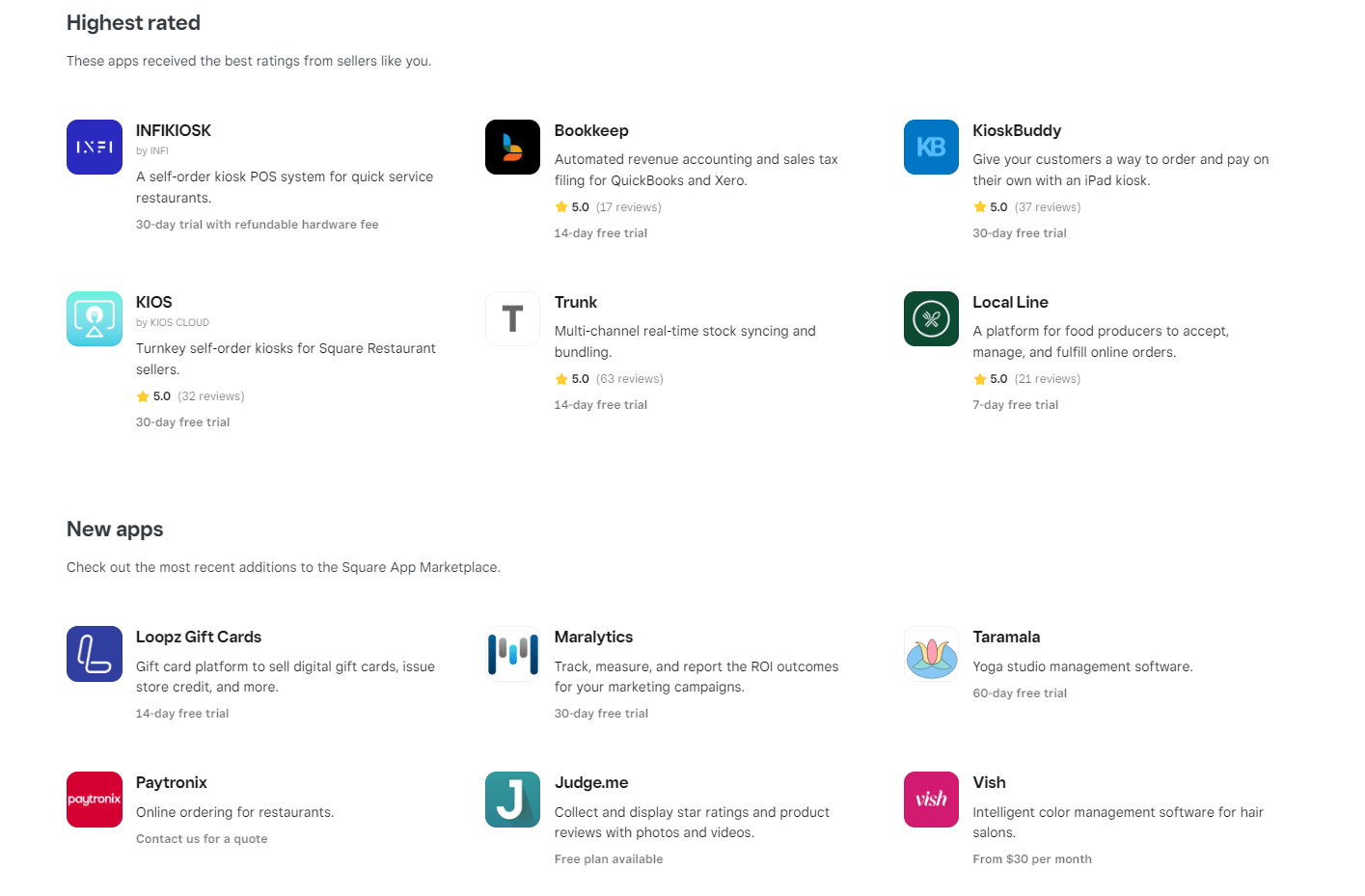 If you opt for Square POS, you'll essentially have a central hub that will provide you with quick and easy access to all the relevant data you need and allow you to efficiently manage all aspects of your business. You won't have to constantly check dozens of apps since you can seamlessly integrate them with your existing software stack.
This saves a lot of valuable time by eliminating the need for duplicate data entry while minimizing the chance of human error.
Is Square Legit? A Summary of Square Reviews
After testing the Square POS, we're convinced that it's not only legit but also one of the best POS systems on the market. We've also gone a step further and analyzed hundreds of Square POS user reviews to give you an objective opinion of this point-of-sale system.
The strongest points of Square POS are its ease of use and flexibility. The hardware is easy to set up and the software is very intuitive, so anyone who's worked with a POS before should have no problem adjusting to Square.
Even if staff members are completely new to it, the UI is fairly straightforward, and you can customize it to include favorite items, neatly sort everything into item categories, automatically apply discounts, and more.
This means you won't have to spend a ton of time training employees on how to use Square POS — you'll essentially be able to start selling right away.
Users also often highlight the platform's capacity for customization and scaling. As an all-in-one platform, Square enables you to sell in-store and online, offer discounts and loyalty programs, track your inventory, monitor your sales, organize team shifts, and monitor your business's performance in real time.
It can also be used to handle invoicing, tax filing, payroll, and email marketing.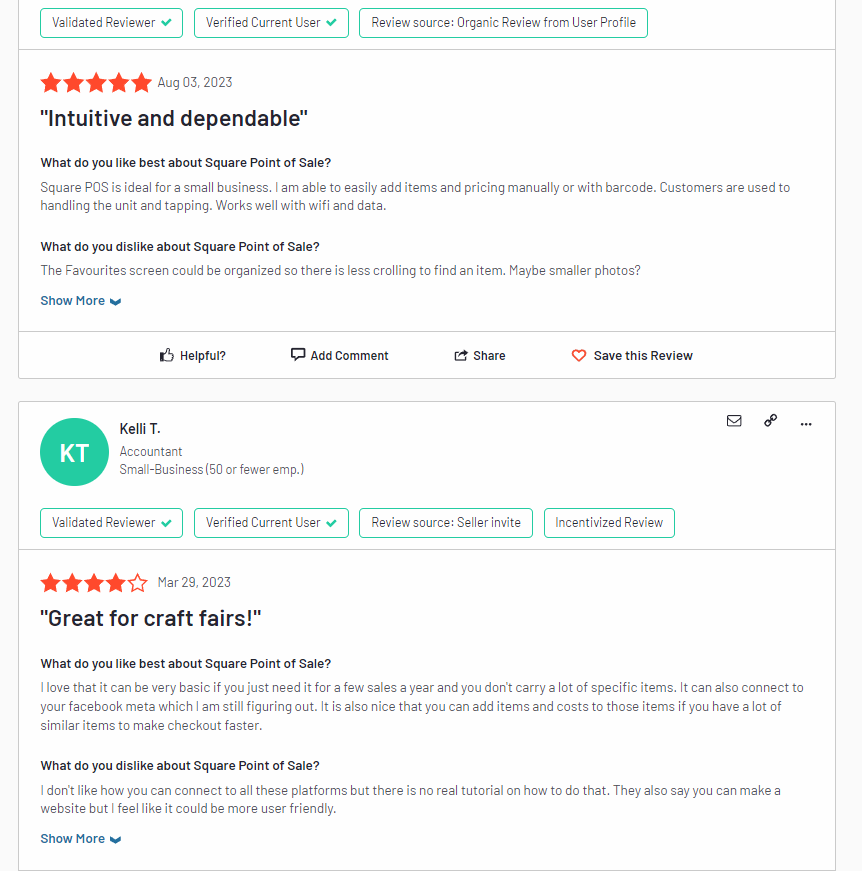 The few gripes people have with Square are mostly related to the lack of guides and video tutorials, especially when it comes to integrations with other tools and apps, and the relatively high fees.
While there are alternatives that offer lower fees, Square isn't the most expensive option out there, though. Additionally, Square POS is one of the most robust and feature-rich options on the market.
Square POS vs. Other Popular POS Systems
Here's a quick comparison between Square POS and other leading POS systems on the market so you can get a better idea of exactly what you can expect for your money from different POS solutions:

Leading POS Solutions
Best for
Starting Price
Transaction Fees
Free version
Top 3 Features
Square

Retail with online stores, restaurants, and service businesses

From $29/month

From 2.6% + $0.10

Free plan

– Square online payment processing
– Inventory tracking


– Email and SMS marketing

TouchBistro

Restaurants, bakeries, coffee shops

From $69/month

From 2.99% + $0.15

N/A

– Table and reservation management
– Menu and order management


–

Staff management and shift scheduling

Toast

Restaurants with multiple locations and online stores

From $69/month

Based on check size (from $0.99 up to 2.99% + $0.15)

Free plan

– Order and table management


–

Digital menus


–

Toast TakeOut App

Lavu

Restaurants, bars, and eateries

From $59/month

Quote-based

N/A

– Cash discount program
– Self-ordering kiosk


–

Online ordering and payment processing

Clover

Retail stores, personal and professional services

From $160/month

From 2.3% + $0.10

N/A

– Custom POS system


–

Customer feedback and rewards programs


–

Shift and schedule management

Vend

Retailers and ecommerce

From $119/month

From 2.6% + $0.10

N/A

– Inventory management
– Marketing and loyalty programs


–

Custom receipts
As you can see, Square is the best option for retailers, especially if they want to build an online store and boost their sales by reaching a wider audience. It's also great for all kinds of service businesses, thanks to its dedicated module for appointment scheduling – Square Appointments.
While Square does offer a dedicated solution for eateries, there are arguably better options that exclusively cater to restaurants, such as Toast and Lavu.
If you want to learn more about other POS systems and gain a better understanding of how they compare and what each of the solutions excels at, read our comprehensive best POS guide.
Why You Can Trust Our Square POS Review
We go to great lengths to ensure we provide you with a thorough, unbiased review of the product. To that end, we used Square's free plan to test out both the hardware and the software elements of the POS in practice.
We've done this with all the leading POS systems to ensure we can compare them fairly and highlight their strengths and weaknesses.
This means you'll find all the key information in this guide, rather than having to read a separate Square card reader review, a Square online review, or a Square payroll review.
We've used the card reader, Square register, and Square stand to set up a fully point-of-sale system, connected it to a simple website we made with Square online, and thoroughly tested the UI both in terms of usability and customization options.
We also performed a mock payroll run using Square's payroll modules, tested the feedback and reporting functionality of the system, and integrated the POS with a handful of third-party apps and tools.
Additional POS and Financial Resources
If you're interested in other POS and accounting solutions, check out our other guides, including:
Square Review Conclusion – Is Square Worth Using in 2023?
After thoroughly testing and comparing the Square POS with other leading POS solutions on the market, we can firmly say that it's one of the best options in 2023.
All the Square devices are high-quality, and there are tons of different options, so you can get a full-fledged POS system with multiple iPads, card readers, and receipt printers or opt for just a simple mobile credit card reader if you want to use the Square payment app to accept card payments straight from your mobile device.
Square doesn't force you into any pre-made hardware configuration, so you can mix and match the products you need based on your business's size, type, and number of locations.
When it comes to the software, it's both customizable enough to offer you the freedom to adapt it to the needs of your business and intuitive enough so your staff won't require extensive training to use it.
You can also leverage the useful add-ons and seamlessly connect them to your Square account, so you can use the platform to run payroll or SMS and email marketing campaigns, organize your shifts, manage your team, and more.
So whether you're considering Square for a small business, a retail store with multiple locations, or a personal services business, Square POS offers everything you need to start selling right away.
Click the button below to get started with Square and see first-hand why it's one of the best POS solutions in 2023.
Square POS Review FAQs
What is the downside of Square?
Is Square worth the fees?
What banks work with Square?
References