The best Gantt chart software tools help you quickly and easily plan tasks, set deadlines, track progress, and collaborate with your team. Whether you're managing a big project or want to streamline daily operations, having the right Gantt chart maker can make all the difference.
Monday.com, Wrike, and Smartsheet are some of the best Gantt chart software tools on the market today. Read on as we rank and compare the top 10 solutions head-to-head, analyzing their features, pricing, user experience, and integration capabilities to help you find the one that's best for your needs.
10 Best Gantt Chart Software Solutions Ranked
We've done the heavy lifting to help you find the best Gantt chart software solutions available. Here are your top choices with a short outline of why they made it on our list:
Reviews of the Best Gantt Chart Tools
Let's take a look in more detail at the 10 best Gantt chart software solutions available today:
1. Monday.com — The Best Gantt Chart Software Today
Monday.com is a powerful tool for project management and collaboration. It offers an easy-to-use drag-and-drop interface that enables users to create vibrant, detailed Gantt charts in no time. It's one of the best Gantt chart maker software tools available on the market today and a great piece of planning software.
It makes sure that all your project tasks, timelines, and resources are managed accurately. With its intuitive design, it allows users to easily track progress in real time with visual indicators and updates.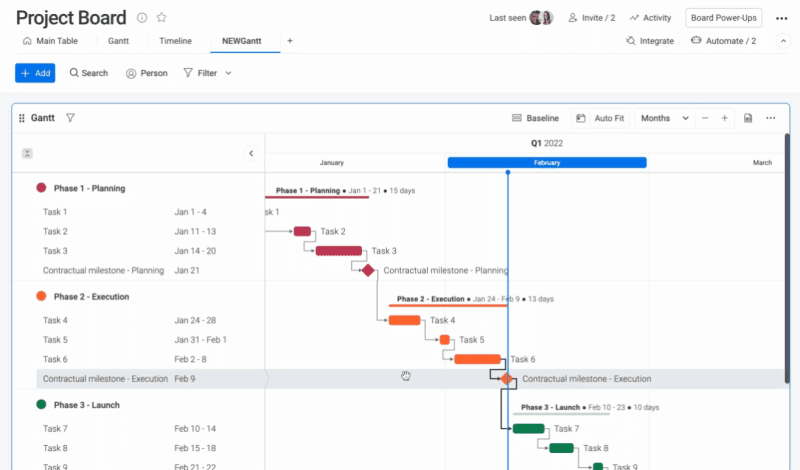 | | | | |
| --- | --- | --- | --- |
| Starting price | Free Version | Compatibility | Number of Integrations |
| $8/user/month | Forever/2 Seats | Windows, Mac, iOS, Android | 500+ |
Much of a project's success depends on collaboration and communication between team members. Monday.com offers an excellent collaboration hub that allows teams to communicate, assign tasks, share files, and manage projects effortlessly.
Create and manage groups and boards to facilitate collaboration and work planning. It even offers a discussion tab so teams can discuss tasks, progress, and goals in one place.
The platform also allows users to easily view their projects from a timeline view. This helps you keep track of your project's progress and plan ahead for upcoming tasks or changes. You can either use Gantt bars or a project timeline view to manage tasks and deadlines. The timeline view is interactive and can be adjusted as needed with just a few clicks.
Monday.com is also listed as one of the best workflow management tools around, and its triggered workflow automations are a standout feature. These help teams save a lot of time and effort as they don't have to enter data or manage tasks manually. It also ensures accuracy and consistency throughout the project's lifecycle.
Pricing
Monday.com provides several pricing options to meet different requirements. The Free plan comes with two seats, three boards, unlimited document storage, and access to more than 200 templates. To use Gantt charts, however, you'll need to upgrade to a paid subscription.

Pros
Easy-to-use Gantt charts for comprehensive project overviews
Scheduling capabilities to set tasks, timelines, and milestones
Can be used alongside other views, such as the calendar view
Cons
Gantt chart view only available with paid plans
2. Wrike — Enterprise-Level Project Management
Wrike is one of the best project management software products, and it allows teams to work together on complex projects in one platform. From customizable workflow builders to Gantt charts, Wrike helps teams stay organized and functioning efficiently.
It's an excellent enterprise planning solution that offers the features needed for successful project management.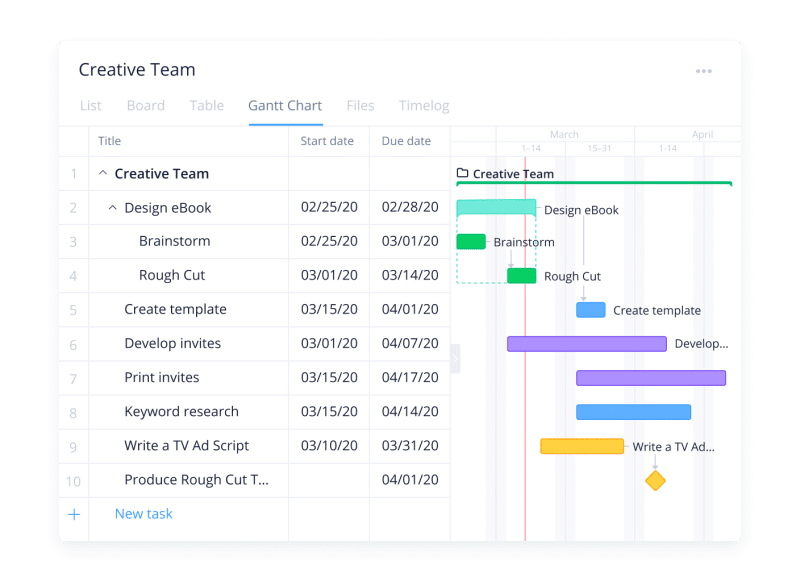 | | | | |
| --- | --- | --- | --- |
| Starting price | Free Version | Compatibility | Number of Integrations |
| $9.80/user/ month | Forever/1 Seat | Windows, Mac, iOS, Android | 400+ |
Wrike's customizable workflow builder helps teams tailor workflows to their needs to streamline processes and ensure effective collaboration. It allows users to define stages, assign project tasks, manage progress, and even schedule deadlines – all within the same platform.
Additionally, it provides a graphical overview of the entire process from start to finish, which makes it easier for everyone involved to keep track of the project's progress.
Alongside its fully-featured Gantt chart creator, Wrike's advanced analytics and reporting features are another strong area. These help teams gain valuable insights into their project performance with real-time data analysis.
They allow users to monitor progress, identify trends, and measure team performance so they can quickly make informed decisions. Its AI-powered algorithms, meanwhile, help predict future outcomes for better decision-making.
Given its price, Wrike is a great option for enterprise-level project management. With its enterprise-grade, GDPR-compliant security measures, Wrike is a secure and reliable project management tool. That being said, it may not be ideal for smaller teams as its pricing may be too expensive for them.
Pricing
Wrike provides a selection of plans to suit the requirements of different teams. Starting with the Free plan for those just getting started, all the way up to Pinnacle for more complex workflows – each option offers additional valuable features and flexibility.

Pros
Easy creation of milestones, dependency management, and task rescheduling via a drag-and-drop interface
Basic features are free for companies starting out
Enables setting schedules, creating timelines, and milestones
Cons
Expensive for smaller businesses
3. Smartsheet — Comprehensive Platform for Capacity Planning
Smartsheet is an efficient and powerful project management solution that helps individuals, teams, and enterprises to manage their projects. It offers comprehensive features, including Gantt charts, that can be used for resource planning, scheduling, tracking, and reporting.
It has one of the most comprehensive and diverse feature sets available and offers one of the best free Gantt chart software tools, which can be used by teams of any size.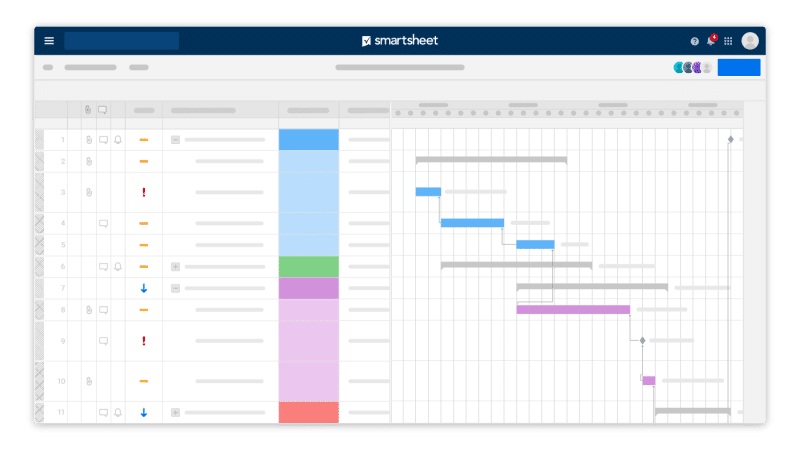 | | | | |
| --- | --- | --- | --- |
| Starting price | Free Version | Compatibility | Number of Integrations |
| $9.80/user/ month | Forever/1 Seat | Windows, Mac, iOS, Android | 400+ |
Gantt charts are extremely useful for resource management and capacity planning. In addition to comprehensive Gantt tools, Smartsheet offers a unique Resource Optimizer feature, which helps teams to track resources, prevent resource over-allocation, and create detailed reports for budgeting purposes.
It allows users to set individual availability for each team member so that the right people are assigned to the right task at the right time. This ensures projects can be completed to deadlines and with maximum efficiency.
Smartsheet also offers automated alerts and notifications that allow users to stay up to date on project progress. It sends out real-time updates about tasks and other activities, which helps teams keep track of their projects without having to manually check in all the time.
Whether you want updates on your phone or by email, Smartsheet ensures that you get notifications in a timely manner. This helps users to be more productive and take corrective action if something is amiss.
Given its complex project management features, it comes with a steep learning curve and can be time-consuming to get used to. According to some users, the user interface could also be more intuitive and user-friendly.
Pricing
Smartsheet provides a variety of payment plans to meet the needs of all users. For those just getting started, the Free plan is ideal, while the Pro package is beneficial for managing and monitoring projects with access granted to unlimited viewers. The Enterprise option also offers enhanced security and control features.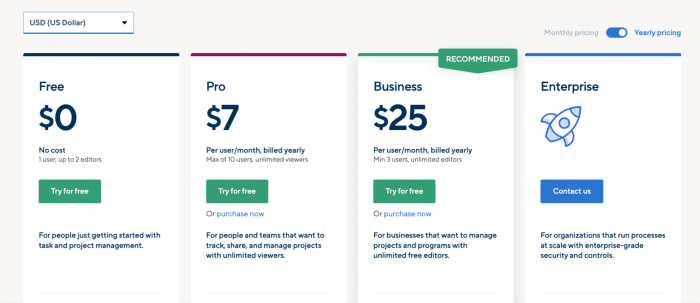 Pros
Eliminates data silos and saves time searching for information
Provides tools to manage projects at all stages, from conception to completion
Provides flexible data viewing options
Report Builder simplifies report creation
Cons
Requires patience and has a steep learning curve
4. ClickUp — Versatile Project Management with Customizable Gantt Charts
ClickUp's Gantt Charts make project management a breeze. It's one of the best free project management software solutions, which can be used to easily create, customize and visualize your projects with just a few clicks of the mouse.
In addition, its hierarchical view feature allows you to break down projects into smaller tasks, giving you a better overall understanding of where your project is in its entirety.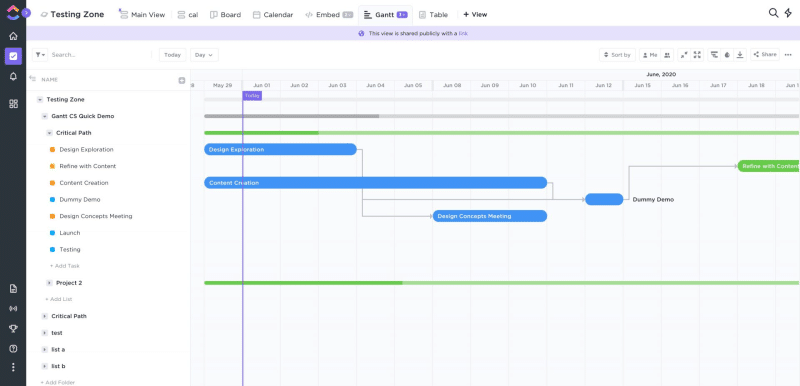 | | | | |
| --- | --- | --- | --- |
| Starting price | Free Version | Compatibility | Number of Integrations |
| $5/user/month | Forever/1 Seat | Windows, Mac, iOS, Android | 1000+ |
ClickUp's AI Task Management feature is taking the project management industry by storm. It allows you to quickly and easily assign tasks to team members based on their availability, skills, and preferences. It comes with a dynamic drag-and-drop interface that makes it simple to assign tasks to the right team members.
Plus, its AI algorithms can detect task dependencies between different tasks and adjust schedules accordingly.
With the Gantt Chart feature, you can easily set priorities for tasks and visualize them in a timeline. This makes it easy to understand which tasks to prioritize and how much time each task takes. Additionally, the chart allows you to adjust task duration without disrupting the entire project timeline.
Its hierarchical view, meanwhile, allows you to break down large projects into smaller tasks and easily track their progress. Folders, lists, tasks, and sub-tasks can also be created to get a better understanding of the project. You just need a bit of experience to get the hang of it, as it's quite different to other Gantt charting software programs.
Pricing
ClickUp offers numerous pricing packages to meet a variety of demands. The Free-Forever plan is available for individuals and is perhaps the best Gantt chart software for free.
For small teams, there's the Unlimited plan. Plans then scale up from Business to Business Plus and Enterprise.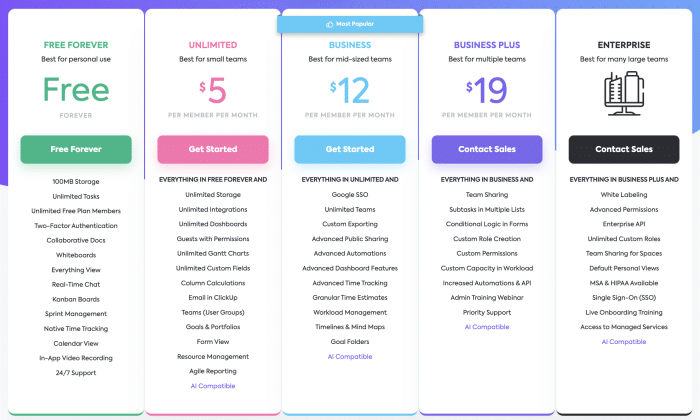 Pros
Clean, vibrant interface with user-friendly features
Great out-of-the-box usability for team members
Integrates with popular platforms and works smoothly with automated workflows
Cons
Steep learning curve for admins setting up the initial workspace
5. Teamwork — Powerful Real-Time Collaboration Tool
Teamwork is one of the best Gantt chart makers online that can help businesses manage their projects and tasks in a more efficient way.
Its color-coded system and drag-and-drop editor make it easy for anyone to quickly create custom Gantt charts, timelines, and project plans.

| | | | |
| --- | --- | --- | --- |
| Starting price | Free Version | Compatibility | Number of Integrations |
| $5.99/seat/month | Forever/5 Seat | Windows, Mac, iOS, Android | 350+ |
Teamwork's Gantt chart is divided into two separate panes, one for the tasks and the other for the timeline. This allows users to quickly view their entire project in a single glance, making it easy to manage tasks efficiently. The drag-and-drop editor also makes it simple to rearrange tasks as needed, which is great for quickly adapting to changes or unexpected delays.
Teamwork's Gantt chart also includes an easy-to-use color coding system, which helps users differentiate between tasks and plan out their project timelines in a more organized way. The feature also allows users to assign tasks to specific people or teams, making it easier for team members to keep track of what they need to work on.
However, some users have reported slower performance when using the color coding feature, so it's important to keep this in mind when planning out a project.
Pricing
Teamwork provides diverse pricing plans, including a free version for small teams. Higher-level plans come with additional project management tools, functionality for efficiency and automation, advanced budgeting, and much more. You can ask for a demo of the "Scale" plan to see how it can help with effectively managing tasks.

Pros
User-friendly interface so that new users can catch on quickly
Allows for real-time collaboration between team members
Fully customizable project options
Integration with popular tools for a complete project management ecosystem
Cons
Minimum of three users for paid plans
6. Zoho Projects — Custom Templates for Small to Medium-Sized Businesses
Zoho Projects is one of the best easy Gantt chart makers you can find. It comes with a bunch of customizable templates that are perfect for small-to-medium-sized businesses.
It's also popular when it comes to its seamless automation and collaboration features. It combines a number of tools together to make tasks easier and more organized.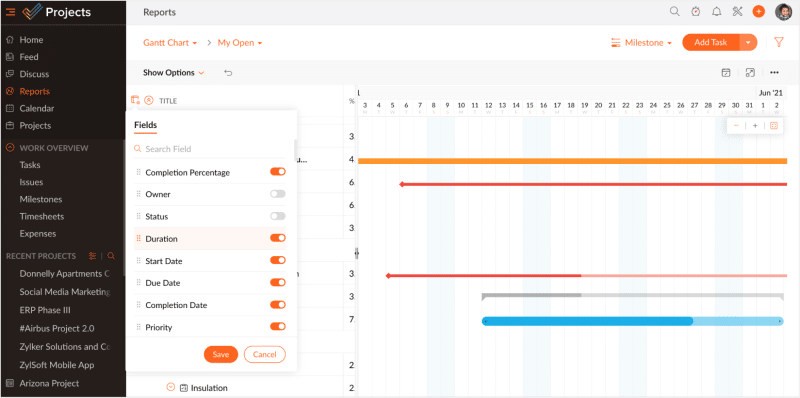 | | | | |
| --- | --- | --- | --- |
| Starting price | Free Version | Compatibility | Number of Integrations |
| $5/user/month | Forever/5 Seat | Windows, Mac, iOS, Android | 900+ |
The first Gantt chart view that Zoho Projects offers is the Milestone Gantt. This view allows you to break down projects into smaller milestones and visualize them on a timeline. Say you have a project that's due in 3 months – you can easily break it down into smaller tasks and assign them to members of your team.
The Chronology Gantt is another great feature offered by Zoho Projects. It helps you visualize tasks alongside their related milestones and dependencies between tasks or on a single timeline.
This makes it easier for team members to understand the progress of each task, as well as how they are related to one another. The drag-and-drop feature also makes it easier to customize and rearrange tasks without disrupting the timeline.
You should be aware that Gantt charts are only available on certain plans. With the Enterprise plan, you get access to Editable Global Gantt charts which can be used to visualize and track the progress of multiple projects at once.
The Premium plan provides access to Editable Project Gantt charts, while all other plans provide users with View Project Gantt Charts.
Pricing
The Premium plan offered by Zoho Projects includes access to an array of advanced features, including the robust Gantt Chart functionality. With the Premium plan, users can leverage the power of the Gantt Chart to visualize project timelines, track progress, manage dependencies, and ensure efficient task management.
The Gantt Chart feature empowers teams to effectively plan and execute projects, improving collaboration and driving successful project outcomes.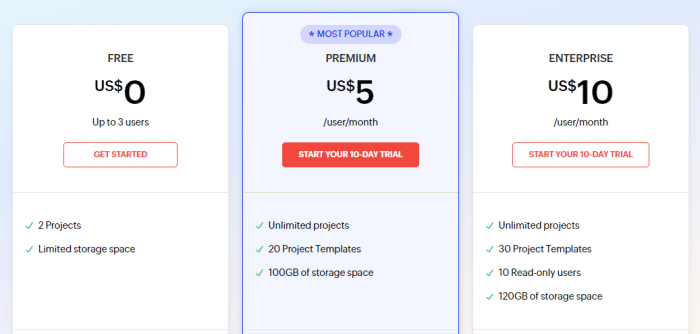 Pros
Offers scheduling capabilities, timelines, and milestones to keep an eye on progress
Team members can collaborate on projects with ease
Zoho offers other business-related apps that integrate seamlessly
Cons
Not all Gantt chart features are available on lower plans
7. Awork — Agile Project Management with Visual Kanban Boards
Awork is an intuitive, user-friendly Gantt chart software product that simplifies the project management process. With Awork, you don't need to suffer with Excel sheets anymore.
Generate Gantt charts quickly and easily to manage your milestones, resources, and tasks. Awork's visual Kanban boards provide an agile approach to project management that allows you to adjust plans quickly and track progress.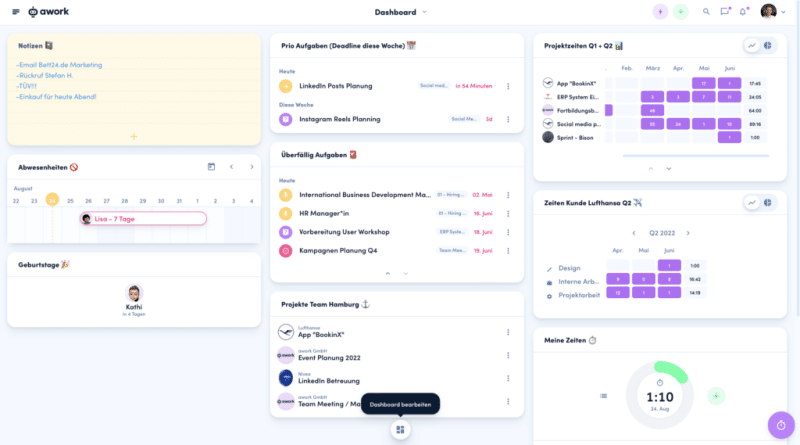 | | | | |
| --- | --- | --- | --- |
| Starting price | Free Version | Compatibility | Number of Integrations |
| €10 ($11)/user/month | 14-Day Free Trial | Windows, Mac, iOS, Android | 250+ |
Using Gantt charts for project management is a time-tested and reliable way to keep track of progress. This is especially true for agile project management, where flexibility and responsiveness to changes are key factors.
Awork's resource management functionality is a great asset for project managers. It allows you to easily assign resources to tasks and manage their availability across projects. You can also monitor task progress in real time and make sure that deadlines are met without overworking anyone.
However, the customization of the Gantt charts is quite limited, and some users have reported that the user interface can be a bit clunky. Overall, though, Awork is an excellent tool for agile project management, especially if you prefer Kanban boards over Gantt charts.
Pricing
Awork offers three pricing plans tailored to different needs. The "Small Teams" plan is ideal for small teams and includes features such as infinite projects, a planner, time tracking, plenty of integrations, a mobile app, and project Gantt chart templates. It is priced at €10 ($11) per user per month and is billed annually, with the "Professional" plan is available at €15 ($16.50) per user per month.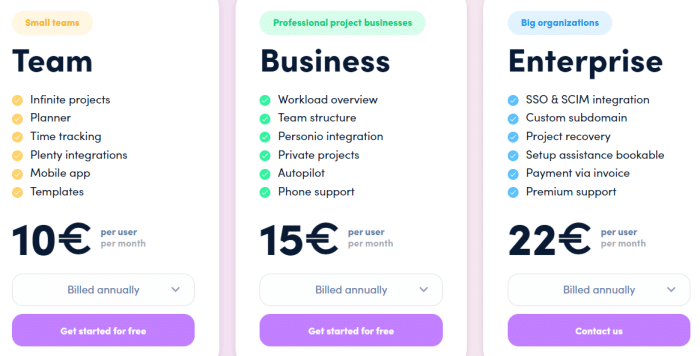 Pros
Highly interactive Kanban board setup for greater visibility
Bold, clear graphics and charts to see progress at a glance
Real-time project progress updates
Cons
Limited customization options
8. Quire — All-in-One Platform for Remote Teams
Quire is the best online Gantt chart creator for teams scattered around the world and for freelancers managing multiple projects alone. This all-in-one platform offers a variety of features that make project management easier and more efficient.
The easy-to-use and intuitive interface allows users to quickly create tasks, assign them to team members, set deadlines, and track progress.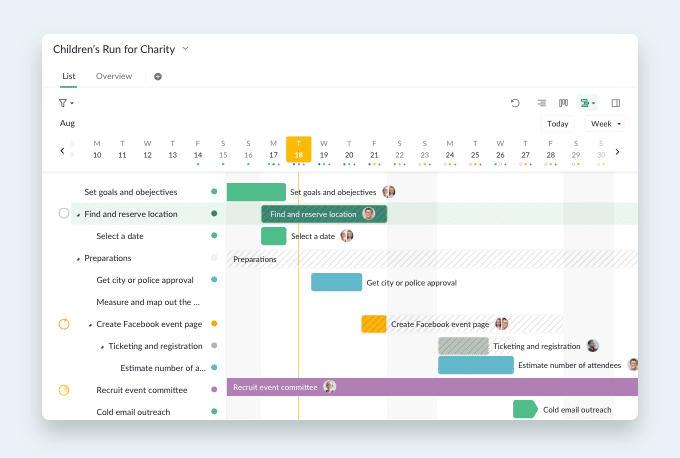 | | | | |
| --- | --- | --- | --- |
| Starting price | Free Version | Compatibility | Number of Integrations |
| $7.65/user/month | Forever/1 Seat | Windows, Mac, iOS, Android | 150+ |
Quire's unique unlimited nested task list is an invaluable tool for project management. With this feature, users have the ability to break down any complex tasks into smaller components and assign them to different team members or manage them independently.
This allows users to easily track progress without having to manually update the Gantt chart multiple times for each task.
Quire's ability to align teams across time zones is a major plus for freelancers and remote teams. It allows users to easily collaborate from any part of the world without having to worry about scheduling conflicts or miscommunication. This also eliminates the need for complicated project management software and makes it easy to keep track of progress in real-time.
Quire may not be the best choice for large-scale projects, though. It doesn't have advanced features such as resource management or budget tracking, which are necessary for complex projects. However, for smaller and simpler projects, it should more than suffice.
Pricing
Quire offers several pricing plans. The Free plan is ideal for individuals or teams starting with Quire, while the Professional plan is suited for small teams looking to visualize their work.
The Premium plan is designed for growing teams and companies with more complex workflows, and the Enterprise plan is tailored for corporates requiring ultimate management, security control, and support. Customized plans and further assistance are also available.

Pros
Robust Gantt charts for visualizing tasks and events over time
Scheduling capabilities enable scheduling, timelines, and milestones
Cloud-based project management solution promotes collaboration for small and medium-sized businesses
Cons
Not suitable for large-scale projects needing advanced features like resource management
9. ProWorkflow — Collaboration, Automation, and Budgeting
ProWorkFlow promotes an efficient and organized work environment, allowing teams to collaborate on complex projects with ease.
It offers a suite of tools to automate processes, track progress, and manage budgets. And when it comes to its Gantt chart feature, ProWorkFlow offers a free Gantt chart generator for you.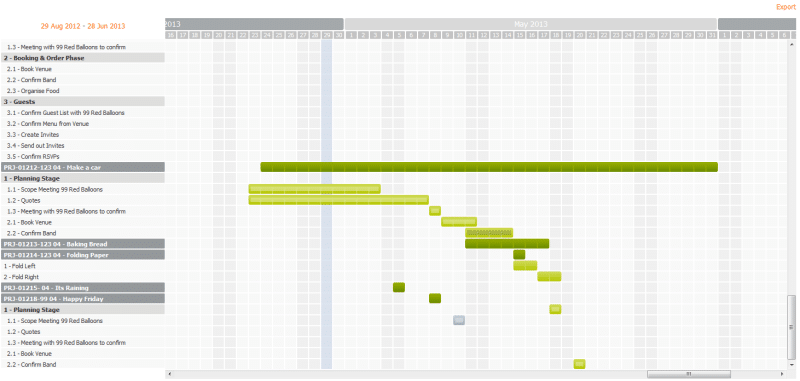 | | | | |
| --- | --- | --- | --- |
| Starting price | Free Version | Compatibility | Number of Integrations |
| $18/seat/month | None | Windows, Mac | 800+ |
By providing a comprehensive overview dashboard, users are able to easily see progress at a glance. The Gantt chart feature enables users to create and customize professional-looking charts that clearly illustrate tasks, deadlines, dependencies, and interdependencies in a visually appealing way.
Projects can be broken down into individual tasks and assigned to team members accordingly; this helps ensure everyone stays on the same page when it comes to project organization.
ProWorkFlow's Timeline Page is just as important and allows users to view tasks, deadlines, and other details in relation to the project timeline. This helps users stay organized and on top of their projects while also giving them an easy way to monitor progress. The Timeline Page can also be used to identify potential risks or conflicts that could arise during a project.
Although your Gantt chart can be viewed on mobile, other Gantt chart software solutions may offer more interactive features and a better mobile experience.
Pricing
ProWorkflow has two distinct pricing plans for various requirements. The Professional plan, which is $18 per month per user when billed annually, is intended for individuals or small teams and provides ample project and task management along with 25GB of file storage.
The Advanced plan is priced at $27 per month per user when billed annually (with a five-user minimum) and provides hierarchical control to manage multiple groups as well as 50GB of file storage. No matter which plan you choose, you will be granted unlimited projects to ensure your business runs smoothly.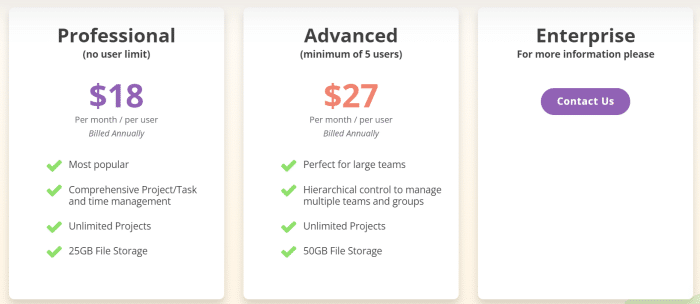 Pros
User-friendly Gantt chart software with a simple interface
Cloud-based, accessible from anywhere
Mobile app for managing projects on the go
Cons
Mobile app lacks desktop version's full features
10. Resource Guru — Powerful Management Tool to Optimize Resource Use
Resource Guru is the best online Gantt chart maker that promotes effective resource management and schedule optimization. It is the perfect tool for organizations looking to optimize their project management processes.
This software tool is known for its resource management focus and its ability to optimize schedules. It is also a great tool for project planning, tracking project progress, and managing calendars.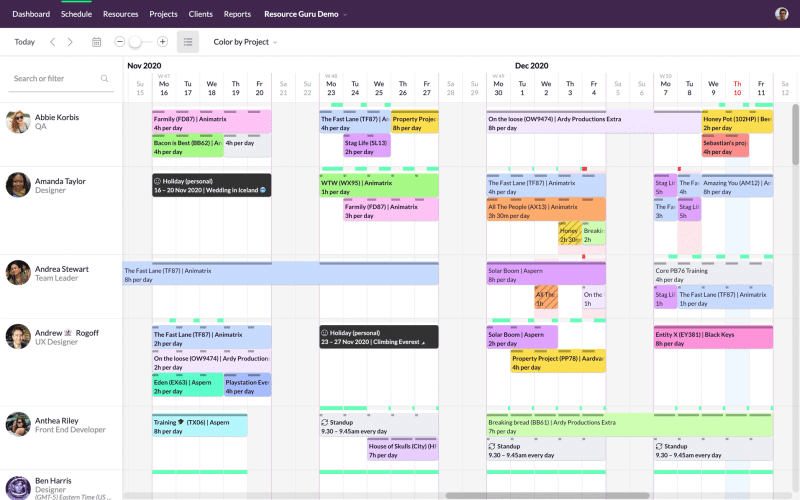 | | | | |
| --- | --- | --- | --- |
| Starting price | Free Version | Compatibility | Number of Integrations |
| $4.16/user/ month | 30-Day Free Trial | Web-Based | 1500+ |
What sets Resource Guru apart from other software options is its speed and user-friendly interface, which makes a big difference for efficient project management.
The software allows users to quickly and easily set up projects and schedule resources. It also has an intuitive user interface that makes it easy to navigate and use the platform without any prior knowledge or experience. This means that even those with little technical know-how can be up and running in no time at all.
And Resource Guru's powerful resource management capabilities make it truly unique. This feature allows users to quickly and easily adjust their resources and schedule based on changing demands or conditions. By automatically adapting resources as needed, it helps organizations maximize efficiency and productivity while minimizing costs.
Furthermore, the software program also provides users with detailed reports once you create a Gantt chart, with some limitations on what can be accessed.using its mobile app.
Pricing
Resource Guru offers a variety of pricing plans, each one tailored to meet different needs. The Grasshopper Plan is great for those who need essential features without reports, including unlimited projects, personalized dashboards, and advanced clash management.
If you're looking for standard features with reports, then the Blackbelt Plan is the perfect choice. For an even more comprehensive package, consider the Master Plan, which includes SSO, data imports, phone support, and more.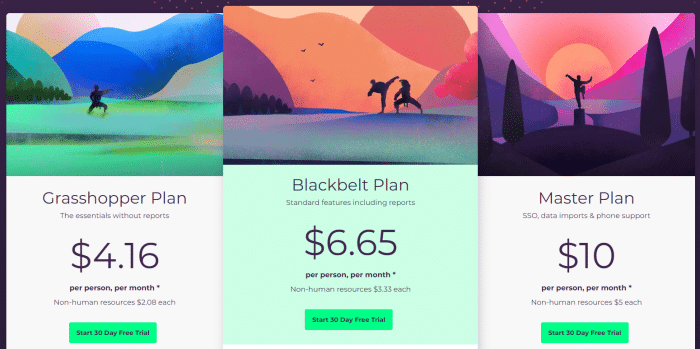 Pros
Easy to use and effective for team management in small-to-mid-size companies
Fast, reliable, and visually intuitive resource classification
Includes booking and time-off management
Cons
Mobile app less user-friendly than the desktop version
Comparison of the Market's Best Project Gantt Chart Tools
The majority of people are visual learners, as proven by research into visual learning statistics. This is part of the reason why Gantt charts are such a popular project management tool. They allow people to quickly and easily access a project's timeline, as well as progress, deadlines, and more. Here's a comparison table of the market's best project Gantt chart tools:
| | | | | |
| --- | --- | --- | --- | --- |
| Best Gantt Chart Software | Starting price | Free Version | Compatibility | Number of Integrations |
| Monday.com | $8/user/month | Forever/2 Seats | Windows, Mac, iOS, Android | 500+ |
| Wrike | $9.80/user/ month | Forever/1 Seat | Windows, Mac, iOS, Android | 400+ |
| Smartsheet | $7/user/ month | Forever/1 Seat/2 Editors | Windows, Mac, iOS, Android | 3000+ |
| ClickUp | $5/user/month | Forever/1 Seat | Windows, Mac, iOS, Android | 1000+ |
| Teamwork | $5.99/seat/month | Forever/5 Seat | Windows, Mac, iOS, Android | 350+ |
| Zoho Projects | $5/user/month | Forever/5 Seat | Windows, Mac, iOS, Android | 900+ |
| Awork | $11/user/month | 14-Day Free Trial | Windows, Mac, iOS, Android | 250+ |
| Quire | $7.65/user/month | Forever/1 Seat | Windows, Mac, iOS, Android | 150+ |
| ProWorkflow | $18/seat/month | None | Windows/Mac | 800+ |
| Resource Guru | $4.16/user/ month | 30-Day Free Trial | Web-based | 1500+ |
Factors to Consider When Choosing the Best Gantt Chart Maker Software for Your Projects
Some 57% of organizations polled in Australia are now opting to use project management software to manage their projects. When selecting a Gantt chart maker software tool for your projects, it is essential to consider several factors that can significantly impact your project management experience.
The following core factors should be taken into account to ensure you choose the best software that suits your specific needs:
Pricing
The pricing of Gantt chart maker software is one of the most important factors to consider. You need to make sure you select software that fits within your budget and offers features that meet your specific needs. It's also important to research any additional costs associated with the software, such as subscription fees or additional services, so you can plan accordingly.
Features
Another critical factor when selecting Gantt chart maker software is the features offered by each product. Look for tools that offer real-time data updates, collaboration capabilities, automated scheduling and resource allocation options, task tracking and reporting capabilities, and other features that can help you streamline your project management process.
Ease of Use and Scalability
The ease of use is a key factor to consider when selecting Gantt chart maker software, as it can determine how quickly your team will be able to learn the tool and start using it. Look for software with intuitive user interfaces, simple navigation, and helpful tutorials or customer support options available if you run into any issues.
Almost 85% of project managers
handle multiple projects at the same time, so it's important to select a Gantt chart maker software solution that can easily scale and accommodate your changing needs. Check for features such as automated task scheduling, multiple project management capabilities, and customizable dashboards to ensure you have the tools to effectively manage multiple projects without hassle.
How to Create a Gantt Chart Online: Step-by-Step Guide
In this Gantt chart example, we will use Monday.com to create a Gantt chart.
Step 1: Prepare Your Board
Before adding the Gantt view to your board, ensure you have a timeline column and a dependency column. While not mandatory, having people and status columns can also be beneficial.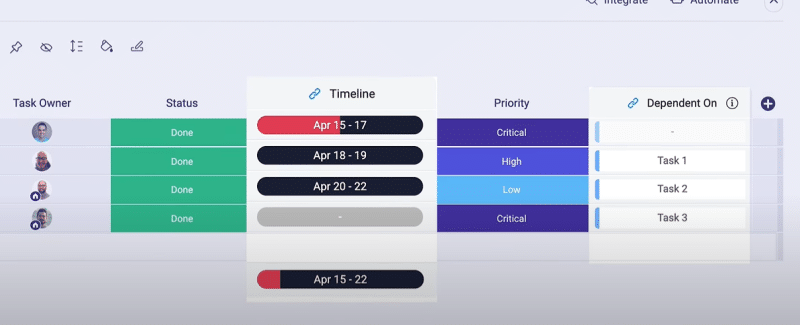 Step 2: Access the Gantt View
Once your board is set up, go to the "Add View" option and select "Gantt." This will bring up the Gantt view for your board.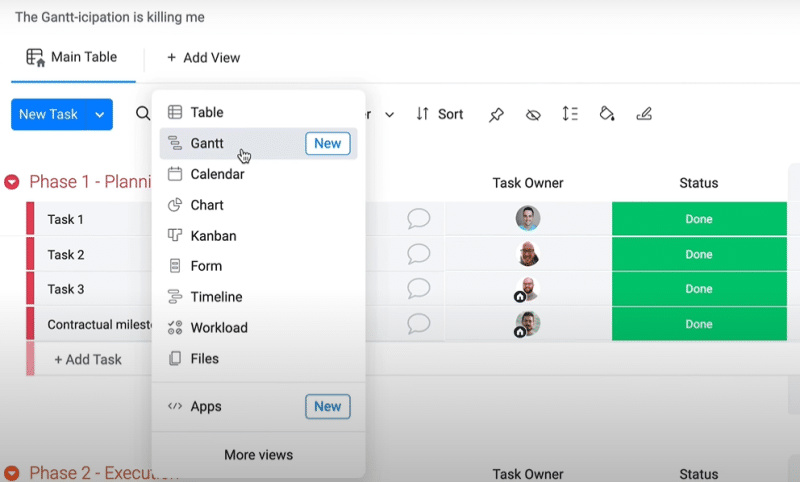 Step 3: Add a Baseline
To account for project deviations, you can add a baseline. Click on the Baseline option in the Gantt view, which will take a snapshot of the current project as a reference point.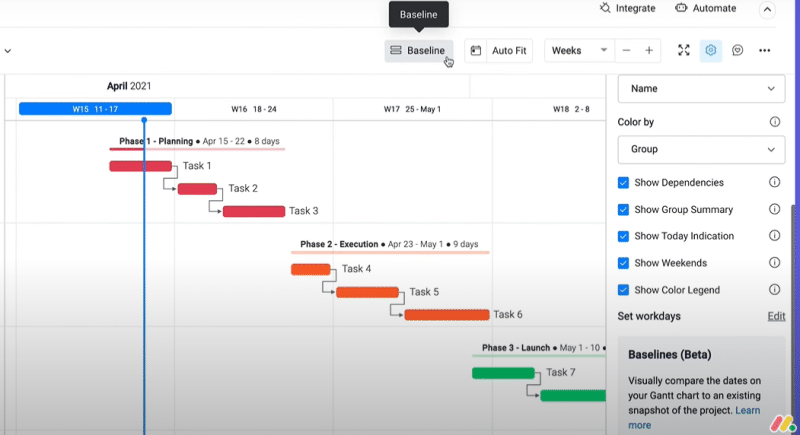 Step 4: Track Task Progress
As tasks are moved, the Gantt view will highlight on-track tasks in green and delayed tasks in red. The original plan will remain in gray for reference, ensuring you can compare progress.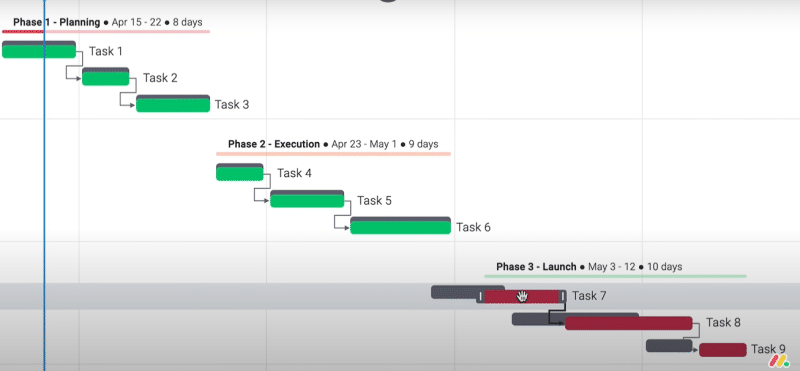 Step 5: Include Milestones
To highlight important dates, you can add milestones. Convert any timeline entry into a milestone by checking the designated box and selecting the date. The milestones will be clearly represented in the Gantt view.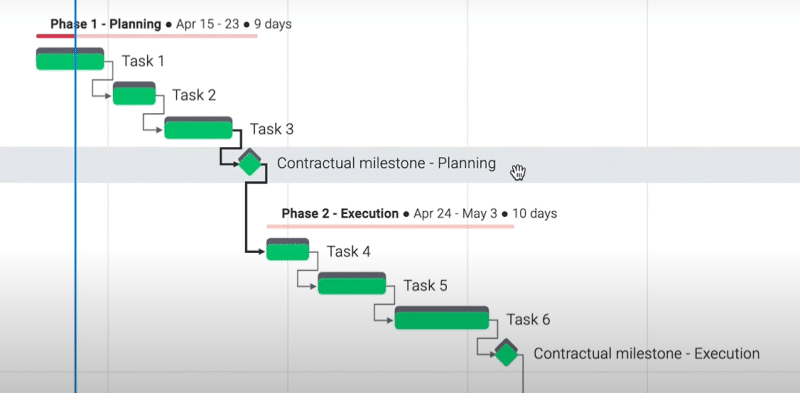 Step 6: Customize Your View
Every project is unique, so you may need to customize your Gantt view. Click on the settings gear icon to access the customization options. Here, you can fine-tune settings such as task grouping and color coding.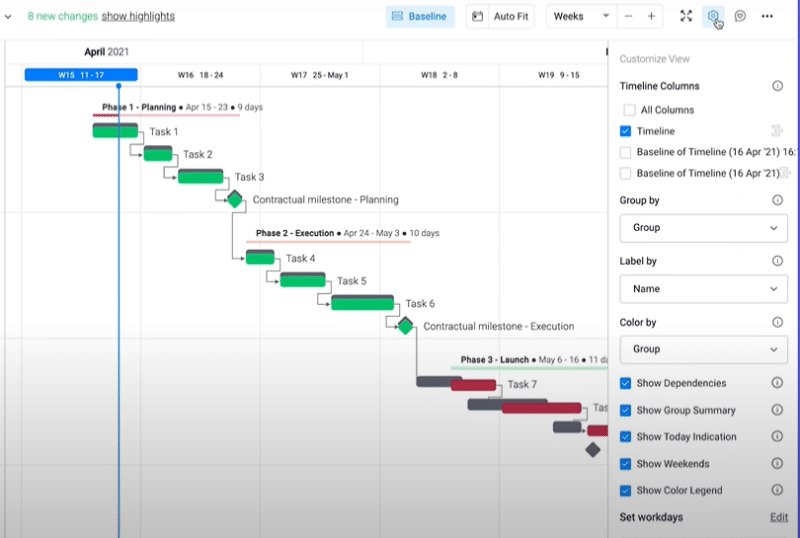 Step 7: Adjust the Time Interval
You can modify the time interval shown on your Gantt view by clicking on the corresponding view (Week/Month/etc.). This allows you to zoom in or out to focus on different timeframes.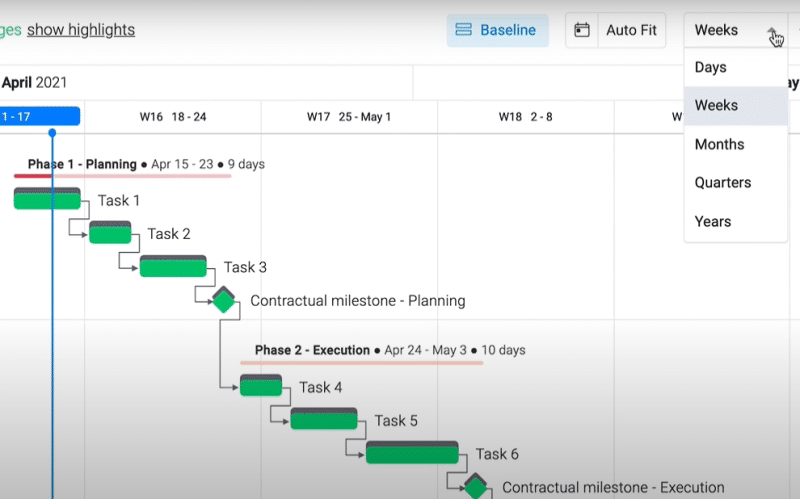 Conclusion – What's the Best Gantt Chart Software for Project Management?
Gantt Charts are an essential tool for effective project management. They make it easier to manage and track project progress, deadlines, dependencies, and resources. The best Gantt chart software for project management for you depends on the size and complexity of your projects.
After careful consideration, we recommend Monday.com as the overall best Gantt chart software for project management. It is highly scalable and provides an array of features, including task scheduling, collaboration tools, resource utilization tracking, visual reporting, and more.
Gantt Chart FAQs
Can I make a Gantt chart for free?
What should a Gantt chart include?
Is Excel good for Gantt charts?
Why do people use Gantt charts?
Are there any drawbacks to Gantt chart software?