The best online collaboration software tools have revolutionized the way we work together, transcending geographical boundaries and enabling seamless collaboration between teams. These solutions offer a range of features, such as real-time collaborative editing, file sharing, task management, and video conferencing – all designed to streamline your workflow and foster teamwork.
In this guide, we'll delve into the top ten contenders for the best online collaboration software options for teams. We'll explore their strengths, weaknesses, and unique features. Prepare to embark on a journey to find the perfect collaboration solution that'll take your team's productivity to new heights.
The 10 Best Project Collaboration Software Products
Let's dive into the crème de la crème of project collaboration software. Here are the top 10 best project collaboration software options, which offer a diverse range of features and functionality:
Monday.com — Overall, the top project collaboration tool, with robust workflow customization, plus a whiteboard where the whole team can conceptualize, create, and work together.
Wrike — The most adaptable team collaboration tool, with proven use cases for different industries. It allows you to collaborate with external teams, proof tasks, and streamline project workflows.
Smartsheet — Easily the most customizable enterprise collaboration software solution, letting you build and navigate apps to fit your real-time collaboration needs.
ClickUp — The best free project collaboration software, with 1,000+ integrations. You get unlimited users, chat features, and two-factor authentication for free.
Resource Guru — The most affordable collaboration solution on this list, which lets you easily import data and access flexible user permissions for efficient team management.
Teamwork — A customer-focused team collaboration tool that allows you to add clients as users so they can track project progress and receive notifications for important updates and changes.
Bonsai — Strong option for smaller teams, from freelancers to agencies.

Bonsai also facilitates tax and customer relation management, making it a great all-in-one solution for business management needs.

ProWorkflow — An online collaboration tool with top-rated security features, such as 128-bit encryption and strict data security measures. Work on an unlimited number of projects and provide clients access to specific project information.
Bitrix24 — The best premium team collaboration software solution that offers built-in chat capabilities plus document-sharing features.
Work Otter — A great option for IT project managers looking to use Gantt and Kanban project views. It also has project logs that help ensure transparency and accountability within the team.
Why Do Businesses Need Collaboration Software?
Efficient collaboration is vital for the success of any business project. With the right collaboration software, teams can improve efficiency and communication, leading to smoother workflows and better outcomes.
These tools provide a centralized platform for teams to work together, eliminating the need to review scattered emails and disjointed document versions or attend endless meetings. Team members can update tasks, share files, and communicate in real-time, ensuring everyone stays on the same page.
If used effectively, these products can significantly enhance business performance. Some of these software solutions also come with additional functionality, such as:
Project planning
Resource management
Budgeting
With these features, businesses can streamline project workflows, allocate resources effectively, and adhere to allocated budgets.
These tools foster collaboration and communication among teams, strengthening team dynamics and encouraging a safe environment for innovation to thrive, fostering a sense of psychological safety within the group – a key factor in the success of high-performing teams, according to the Harvard Business Review.
What Features Do Online Collaborative Tools Offer?
Collaboration software solutions boast a wide range of benefits thanks to the sheer number of features on offer. Here are some of the most important features to note:
File Sharing – Users can easily upload, store, and share files with team members, ensuring secure and easy access, plus flexible permissions and version control.
Task Management – These tools let you assign tasks, set deadlines, and track project progress, keeping documents, conversations, and tasks organized.
Project Planning – Create project timelines, set milestones, and allocate resources for effective project planning and execution.
Communication Tools – Collaborative tools offer built-in chat functionality, comment threads, and notifications, promoting clear and efficient communication between team members.
Calendar and Scheduling – Shared calendars enable teams to coordinate meetings and deadlines effortlessly while ensuring resources are evenly distributed based on everyone's availability.
Integration Capabilities – Many collaboration tools integrate with popular business applications, such as email clients, project management software, and cloud storage solutions.
Reporting and Analytics – These solutions let you generate custom reports for insight into project performance, helping teams identify trends and make data-driven decisions.
Mobile Apps Availability – Users can access files, track tasks, and collaborate on their smartphones or tablets while on the go.
Security and Permissions – You can easily set user permissions and data security measures to ensure that sensitive information is protected.
Reviews of the Best Team Collaboration Software
Now, let's take a closer look at the best team collaboration software on the market.
1. Monday.com — Overall Top Project Collaboration Software
Monday.com is more than just project collaboration software – it allows for easy real-time teamwork, making it an invaluable tool for teams of all sizes. Our team rates Monday as the best project management software tool overall.
The platform supports collaborative work with features for team communication, centralized document storage, and progress tracking. To assist with communication, team members can tag one another in comments and add annotations on projects, files, and images, embedding communication into every step of the project management process.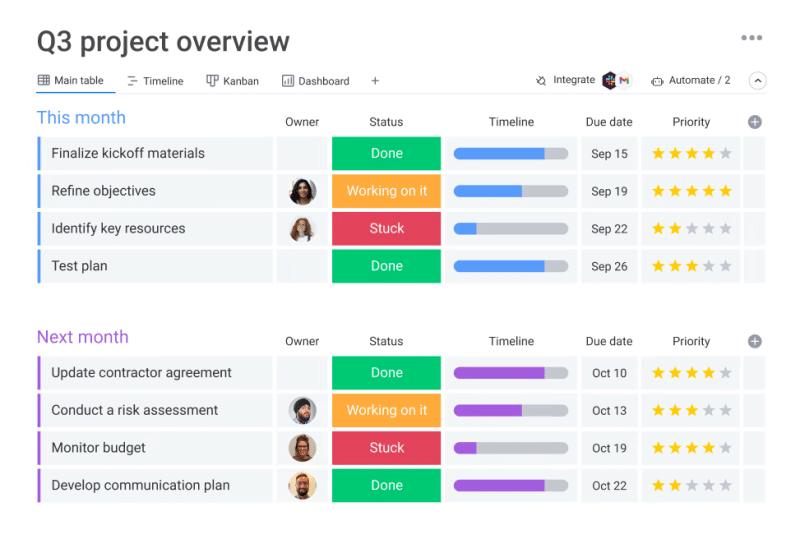 | | | |
| --- | --- | --- |
| Starting Price | Free Version | Collaboration Features |
| From $8/user/month | Free plan for two users + 14-day free trial of the Pro plan | Whiteboard, and integrations with Slack, MS Teams, and Google Drive |
There's also a dynamic whiteboard collaboration solution to assist teams in brainstorming, editing, and creating projects together, which is highly effective.
Many projects rely on the sharing and collaborative editing of documents, so centralizing documentation is another plus when using Monday.com, which includes easy-to-use document storage. Based on permissions, team members can access and edit documents with ease. Documents can also be attached to projects to make them accessible to all the relevant stakeholders.
Progress tracking is another strength with the platform. From one shared dashboard, your entire team can see the progress of projects. Users can change the project status depending on what stage the work has progressed to, and teams can see at a glance whether the set deadlines are realistic or need to be adjusted.
One thing the platform lacks is an internal chat feature. This is a considerable downside if you do not already have a messaging platform in place. However, Monday.com does integrate with Slack, MS Teams, Twilio, and other communication apps.
Pricing
Monday.com's Free and Basic plans offer unlimited documents and other core features, though you don't get automations or integrations below the Standard plan. This includes 250 automations and integrations per month.
At the Pro level, this increases to 25,000 per month. With Enterprise, meanwhile, you'll get access to personalized onboarding, time-tracking features, enterprise-grade automations and integrations, and the most robust version of the platform's reporting and analytics.

Pros
Kanban view is available with the Free plan
SOC 2 Type II compliance and two-factor authentication for all plans
Unlimited items for all paid options
Shareable forms
Cons
Only two users are allowed with the Free plan
Integrations are only available starting with the Standard plan
2. Wrike — Adaptable Team Collaboration Tool
Wrike stands out as one of the most adaptable team collaboration tools available, catering to a wide range of industries and project requirements. Whether you're in marketing, IT, or finance, Wrike offers customizable workflows and features that can be tailored to suit your specific needs.
One of the standout features of Wrike is its integrated proofing system. This function allows editors working on images, PDFs, or videos to get approvals directly within the app, streamlining the review and feedback process. Teams can easily switch between versions and manage comments which makes proofing a breeze.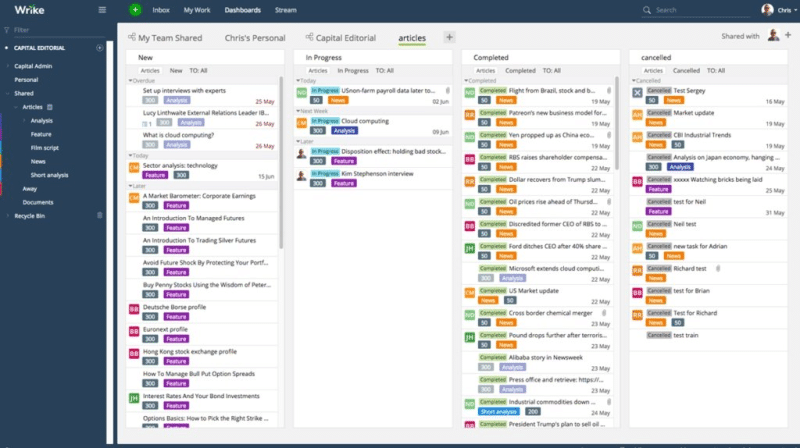 | | | |
| --- | --- | --- |
| Starting Price | Free Version | Collaboration Features |
| From $9.80/user/month | Free plan for unlimited users + 14-day trial | Live document editor, proofing software, and collaboration with external teams |
Wrike's inbox feature is a game-changer when it comes to staying on top of tasks and project activities. This intuitive feature keeps users in the loop by sending notifications whenever they're assigned a task, mentioned in important discussions, or when there are any updates or changes related to their account.
The inbox acts as a central hub, consolidating all the relevant notifications and updates, ensuring that employees never miss a beat.
A particularly useful feature is that project collaborators can be added for free, which is something few project management apps offer. Note, however, that there's currently no feature for simultaneous document editing.
Pricing
While Wrike offers a free version with essential collaboration features, the paid plans are required for access to other features such as Gantt charts and custom workflows. In addition, Wrike's Business plan introduces the branded workspace feature, allowing you to add your business identity to the platform.

Pros
Unlimited number of users on the free version
Almost all Work Intelligence features are available on all plans
Automation actions are metered per seat, to the advantage of bigger teams
Collaborators can be added for free
Cons
Can't break down tasks

No internal chat function – only project comments and update notifications
3. Smartsheet — Highly Customizable Enterprise Collaboration Software
Smartsheet takes customization to the next level with its WorkApps feature. With this, users can easily create tailored applications to meet their unique business needs. Whether building from scratch or using pre-existing templates, you can create custom solutions without any coding knowledge, making it a highly flexible and customizable enterprise collaboration tool.
With Smartsheet, team members will be able to comment, track changes, and work together simultaneously on the same document. Everyone is on the same page, minimizing version control issues and promoting efficient collaboration.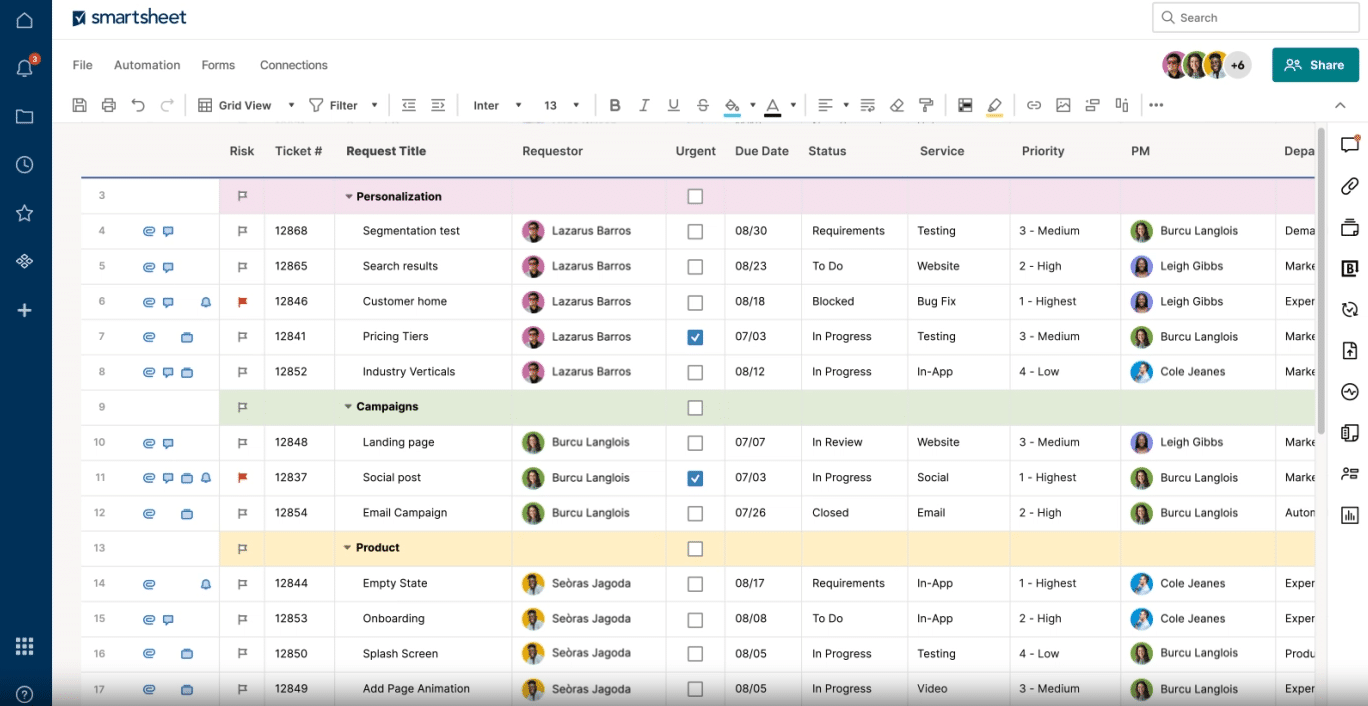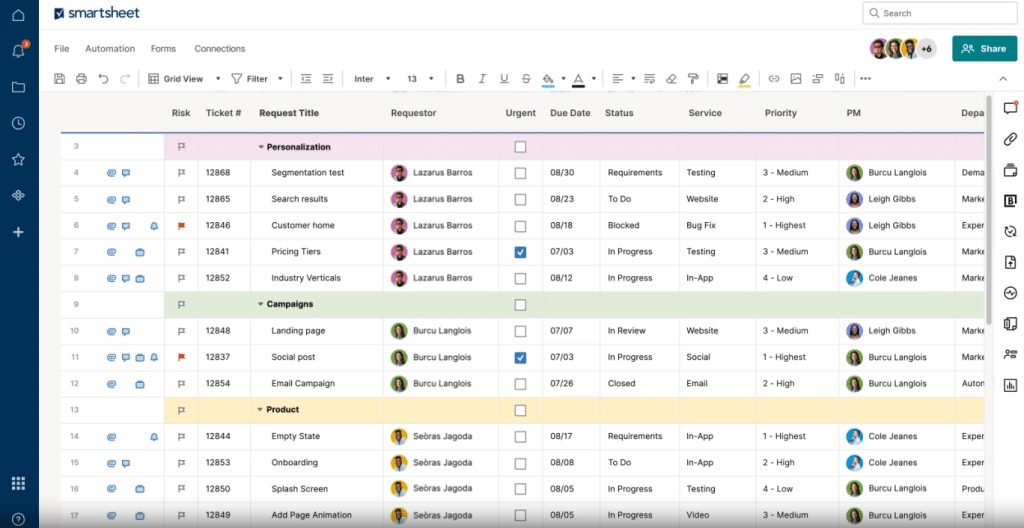 | | | |
| --- | --- | --- |
| Starting Price | Free Version | Collaboration Features |
| From $7/user/month | Free plan for one user and two editors + 30-day free trial | In-app conversations, WorkApps, and proofing features |
It's worth noting that Smartsheet allows you to set sharing permission levels – so if you only want certain team members to be able to access a project and its documents, you can achieve this via the permission settings. Similarly, you can dictate what certain users can do within projects, so some may be able to edit while others can only view.
The platform also offers powerful automated workflows that streamline and simplify the management of business processes. These automated workflow capabilities let users define specific triggers, actions, and conditions to automate repetitive tasks, notifications, and approvals – and they allow your team to focus on their work rather than simply progressing tasks.
It has been noted that new users sometimes find the platform hard to adjust to. The learning curve is relatively steep, particularly for using more complex features. Most of the general collaboration features are highly intuitive, however.
Pricing
Aside from the number of editors, a key difference between the pricing plans is the amount of attachment storage, with 500MB provided in the Free plan and 20GB with the Pro plan. Meanwhile, 100 automations are provided with the Free plan, while the Business plan gets unlimited automations.

Pros
Image and video proofing are available
Free plan includes integrations

Support community available for troubleshooting and advice

100 automation triggers

included in the free plan
Cons
Smartsheet University is only available with the Enterprise option
Lower-tier plans lack most security features
4. ClickUp — Ideal Free Project Collaboration Software
ClickUp offers an impressive range of features that are available even with its free version. Users can benefit from native integrations, enabling them to connect their favorite tools seamlessly.
The inclusion of an inbuilt time tracking feature ensures accurate project tracking and efficient time management. Teams can then use internal time-tracking data to keep tabs on profit goals, KPIs, milestones, and other development goals.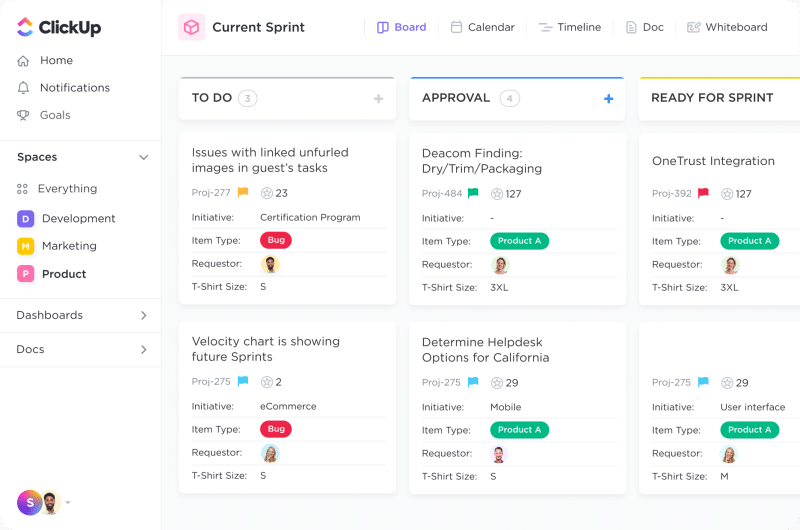 | | | |
| --- | --- | --- |
| Starting Price | Free Version | Collaboration Features |
| From $5/user/month | Free plan for unlimited users + free demo | Image and PDF annotation, video recording feature for quick tutorials, and unlimited collaborators |
With a wide range of view types – Gantt, Kanban, List, and more – users can easily customize their workflow and use their preferred layout.
The free version also allows unlimited tasks and supports an unlimited number of users. For each task, you can create a space that displays all of your tasks along with the details and documents required for each one.
Even the most affordable plans offer significant benefits. From file storage and integration actions to customizable dashboards and custom fields, most of the Unlimited plan's features are just that, enhancing collaboration and allowing users to streamline workflows.
Pricing
ClickUp's paid plans come with the added benefit of AI compatibility, which facilitates even more productivity and efficiency. ClickUp AI is designed to assist teams of all sizes by automating repetitive tasks, providing insightful recommendations, and optimizing workflows.
For small businesses to large enterprises, leveraging ClickUp AI helps streamline operations, save time, and improve overall collaboration.

Pros
Unlimited tasks for all plans
Chat features available
Guest visibility controls
Live chat support
Cons
No free trial
Low storage available with the Free plan
5. Resource Guru — Most Affordable Collaboration Solutions
Resource Guru stands out as the most affordable collaboration solution, as it offers an incredible range of features at an unbeatable price. With Resource Guru, you get unlimited projects, unlimited clients, project views, personalized dashboards, custom fields, and filters.
Even better, with this platform's advanced clash management function, managers can work on schedules with ease. This feature lets them assign tasks to members with the most available time, helping them fix scheduling conflicts between teams and avoid overbooking members.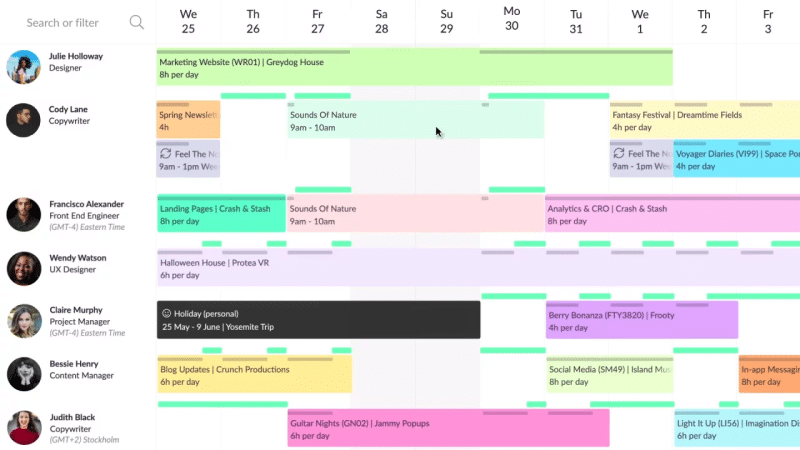 | | | |
| --- | --- | --- |
| Starting Price | Free Version | Collaboration Features |
| From $4.16/user/month | 30-day free trial but no free plan | Unlimited clients and projects for all plans, flexible user permissions, and data importation |
With Resource Guru's Master plan, you get the benefit of data importation, which streamlines collaborative processes by keeping your important information in one shared location. This feature allows you to import data from other platforms and applications, eliminating the need for manual data entry and ensuring a smooth transition of knowledge to your entire team.
Meanwhile, Resource Guru goes beyond managing individual schedules by incorporating a meeting room booking system to eliminate the possibility of double bookings. Users can allocate their valuable time to more important tasks without the hassle of conflicting meeting room reservations.
Pricing
There isn't much difference between the Grasshopper and Blackbelt plans, as the latter only adds reporting capabilities. However, single-sign-on is only offered with the Master plan.

Pros
Affordable even with the most expensive plan
Specific features for leave management
Workload resource scheduling to minimize idle time
Capacity planning
Cons
Phone support available only with the Master plan
No free plan
6. Teamwork — Client-Focused Team Collaboration Software
Teamwork is a client-focused team collaboration software product that offers a multitude of features to benefit both your team and your clients. On top of letting teams invite clients to join projects on the platform for free, Teamwork's task management feature allows members to comment and tag clients and other stakeholders for any concerns.
One of Teamwork's most useful collaborative features is its Work Allocation Report. This gives you visibility into your team's capacity and their current workload. With this, you can decide whether you need to reallocate any tasks to other members of your team.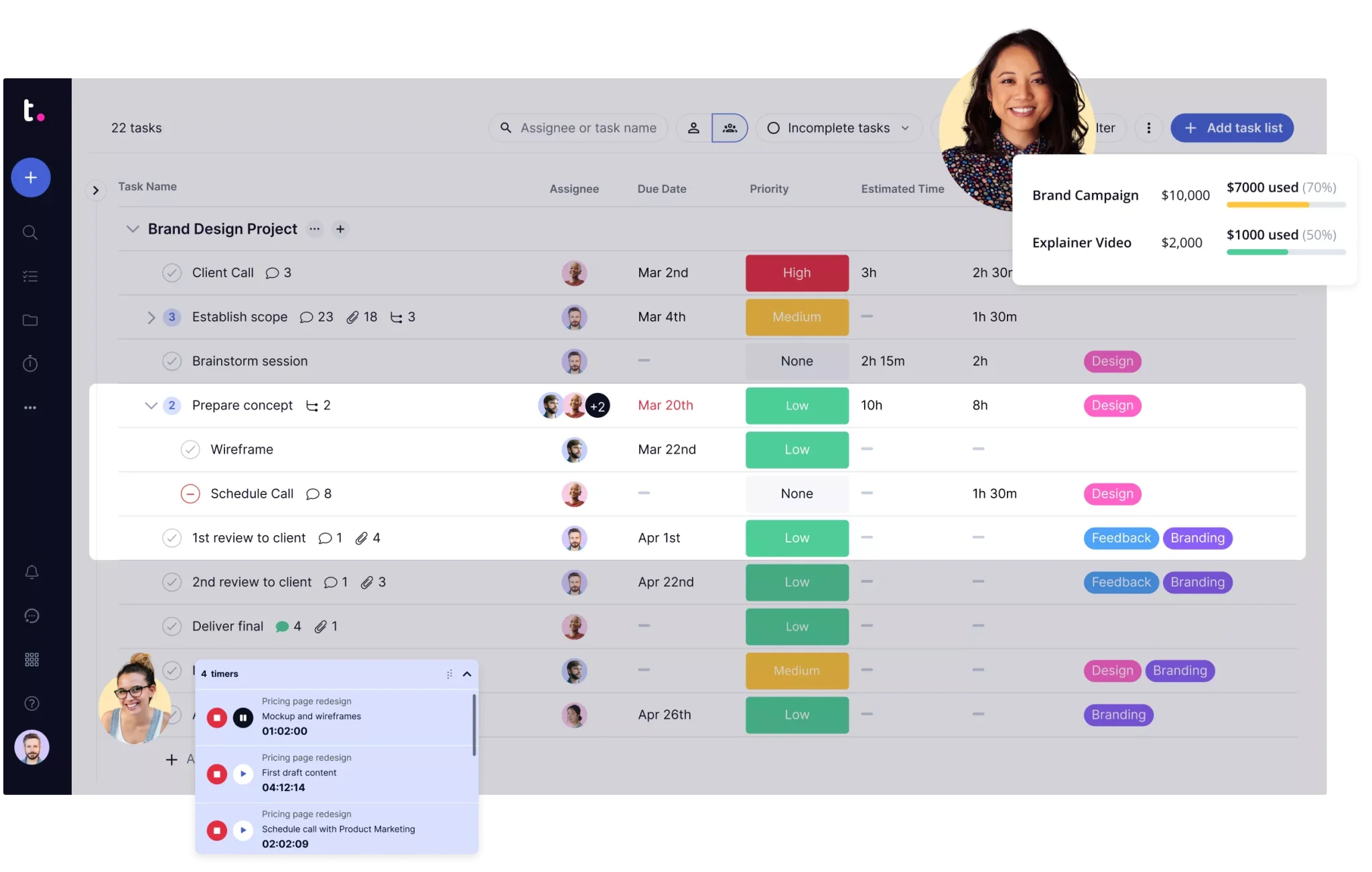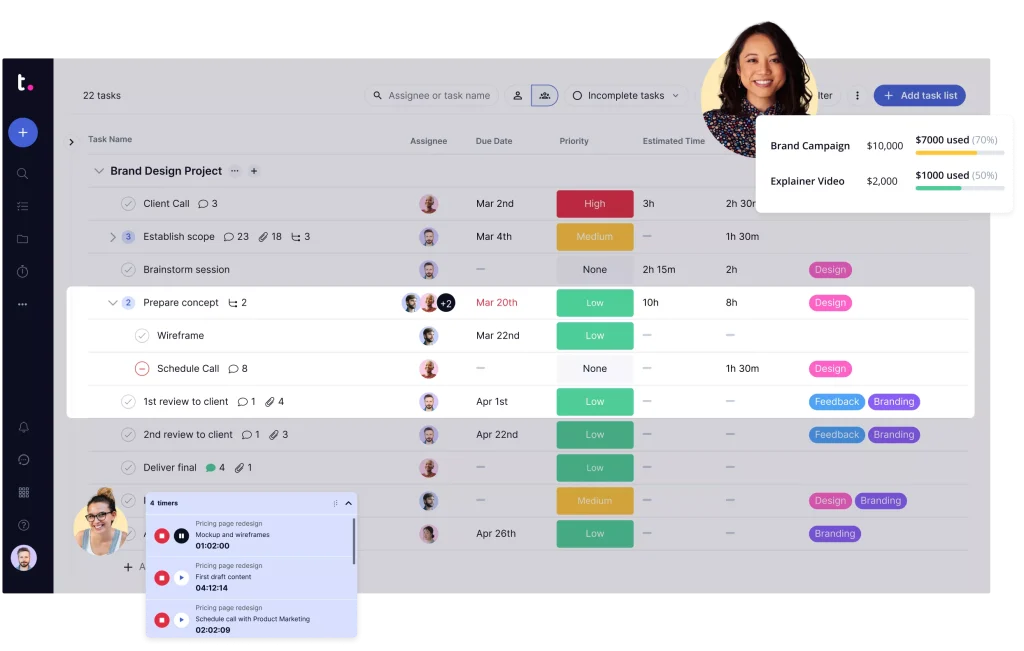 | | | |
| --- | --- | --- |
| Starting Price | Free Version | Collaboration Features |
| From $5.99/user/month | Free plan for five users + 30-day free trial | Collaborative document management, team chats, and clients can view task progress |
Teamwork also offers a Chat feature, so instead of jumping between Teamwork and an external messaging platform, you can take care of all your communication within the app and keep everyone on the same page.
Pricing
Gantt charts and unlimited task list templates are available with the Free Forever plan, but you need to opt for the Starter plan to get 1,000 automation actions per month.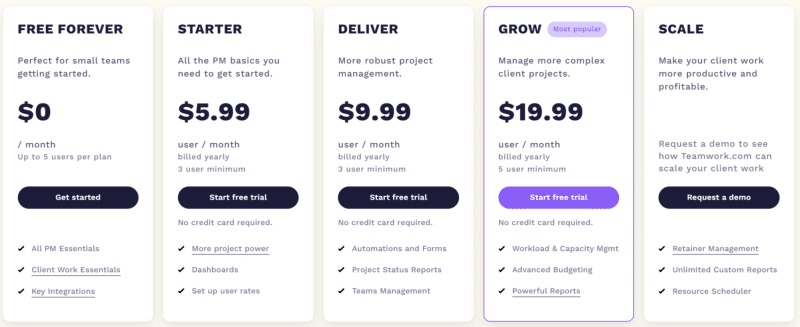 Pros
Integrated team chats
Portfolio health and project status reports
Starting paid plan is affordable
Long, 30-day free trial
Cons
Only five users for the free option
7. Bonsai — Great Collaborative Project Management Software for Smaller Teams
Bonsai caters to the collaboration needs of freelancers and agencies alike by offering a robust set of CRM functions, invoicing capabilities, and unlimited clients.
Whether you're a freelancer who needs to work with other subcontractors or an owner of a company, you can create client profiles on the platform and include tags, rates, and notes particular to each client. This makes it convenient to manage multiple clients and subcontractors in one place.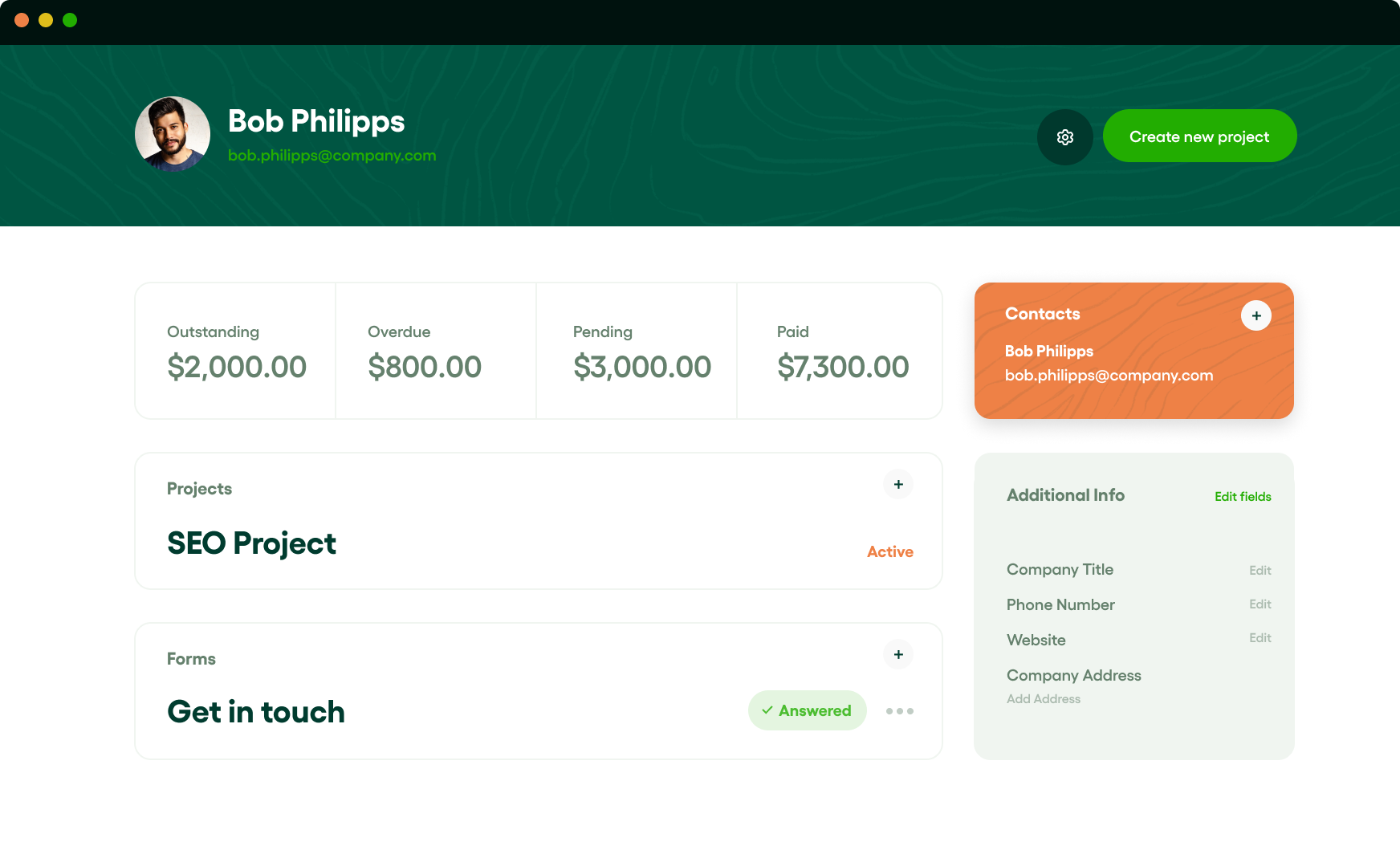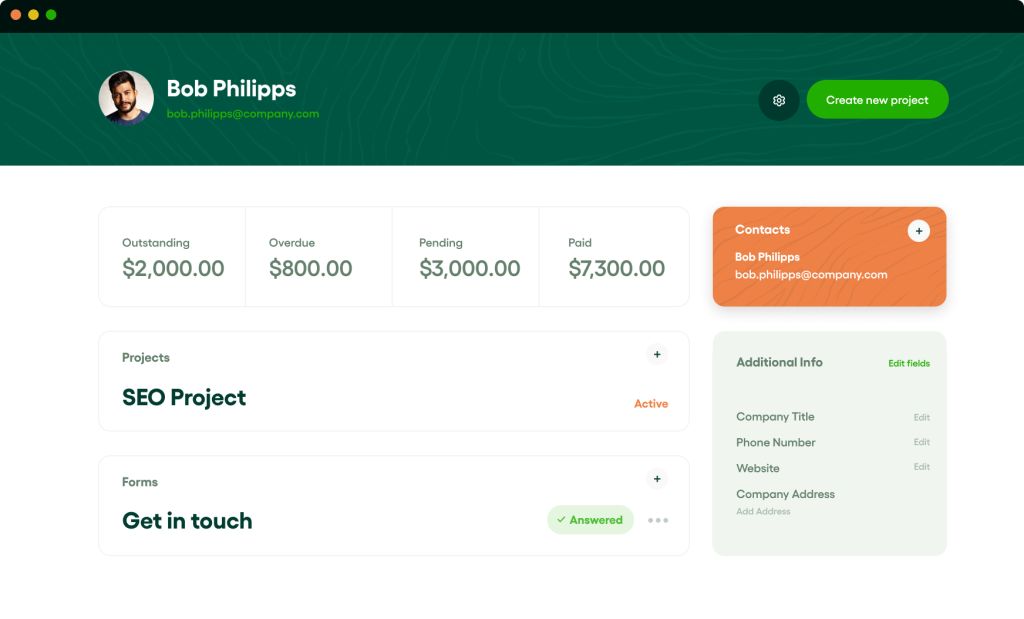 | | | |
| --- | --- | --- |
| Starting Price | Free Version | Collaboration Features |
| From $17/month for five collaborators | 7-day free trial but no free plan | Unlimited collaborators with the highest paid plan, subcontractor management, forms, and questionnaires |
More specifically, Bonsai has a "Collaborators" feature that gives you the ability to bring other businesses and clients directly in on your tasks. Users can be intentional with their collaborative tasks and bring coworkers into their Bonsai workspace.
Employees will get access to all of the key details needed to work on tasks alongside others, and both parties can use the time tracking and chat features to make the process even more convenient.
This software tool also offers a range of features to streamline invoicing, including auto-creation, sending, and reminders. Users can securely accept various payment methods and set up recurring payments. With the option to create invoices in seconds and build custom packages, freelancers and enterprises that use Bonsai can simplify the payment process for their clients.
Pricing
The most expensive paid plan offers an unlimited number of collaborators, while Starter only allows up to five. However, the Starter plan does include invoicing and payment features that can benefit freelancers and small teams.

Pros
Tons of templates for proposals, contracts, and more
Virtual-assistant friendly
Financial management tools available
5-star rating on G2 and Google Play
Cons
Business plan required to add team seats
Taxation feature is an add-on
8. ProWorkflow — System With Top-Rated Security Features for Online Collaboration
ProWorkflow takes security seriously, positioning itself as one of the most secure tools for online collaboration. With strong security measures in place, including SSL encryption, regular backups, and restricted data access, ProWorkflow ensures the protection of sensitive information.
Meanwhile, it has invoice and quotes plugins, task management tools, and time tracking, meaning that ProWorkflow is not only a secure tool for online collaboration but also a highly functional one.
| | | |
| --- | --- | --- |
| Starting Price | Free Version | Collaboration Features |
| From $18/user/month | 14-day free trial but no free plan | Unlimited projects, client access, and contact management |
ProWorkflow's collaboration features are strongly geared toward client cooperation. Make use of the Client Access feature to grant them viewing permissions – clients can stay up to date on your progress and play an active role in shaping the finished product, whether it be through making comments, editing the task briefs directly, or using the chat function.
On top of the measures mentioned above, the company has policies laid out for its staff, CCTVs and keycard systems installed in its office, and credit card processes subjected to PCI-DSS compliance. These let teams collaborate with less worries about privacy and security.
Pricing
The majority of ProWorkflow's powerful functions are already available with the Professional plan, with the Advanced plan also offering client and internal project requests, custom fields, and custom forms.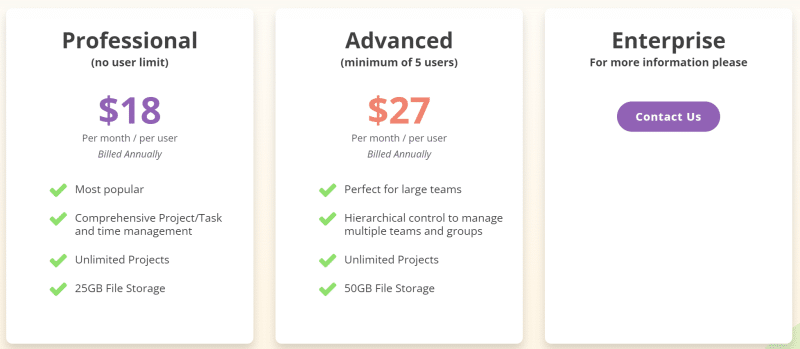 Pros
Custom reports
Team, contractor, and client chats
Quoting and invoicing features
Easily manage files with Google Workspace, Sharepoint, and OneDrive integrations
Cons
No free option
Limited integration options
We identified Bitrix24 as the best premium team collaboration software option available, with a rich set of tools for collaboration similar to those of an enterprise resource planning (ERP) tool. These include a social intranet portal, shared calendars, CRMs, a website builder, external collaboration management, and time tracking.
Collaboration on Bitrix24 is even more convenient with videoconferencing, chat, newsfeed, and survey functionalities. You can choose from 30+ social and collaborative tools offered by the platform and ignore the ones you don't need.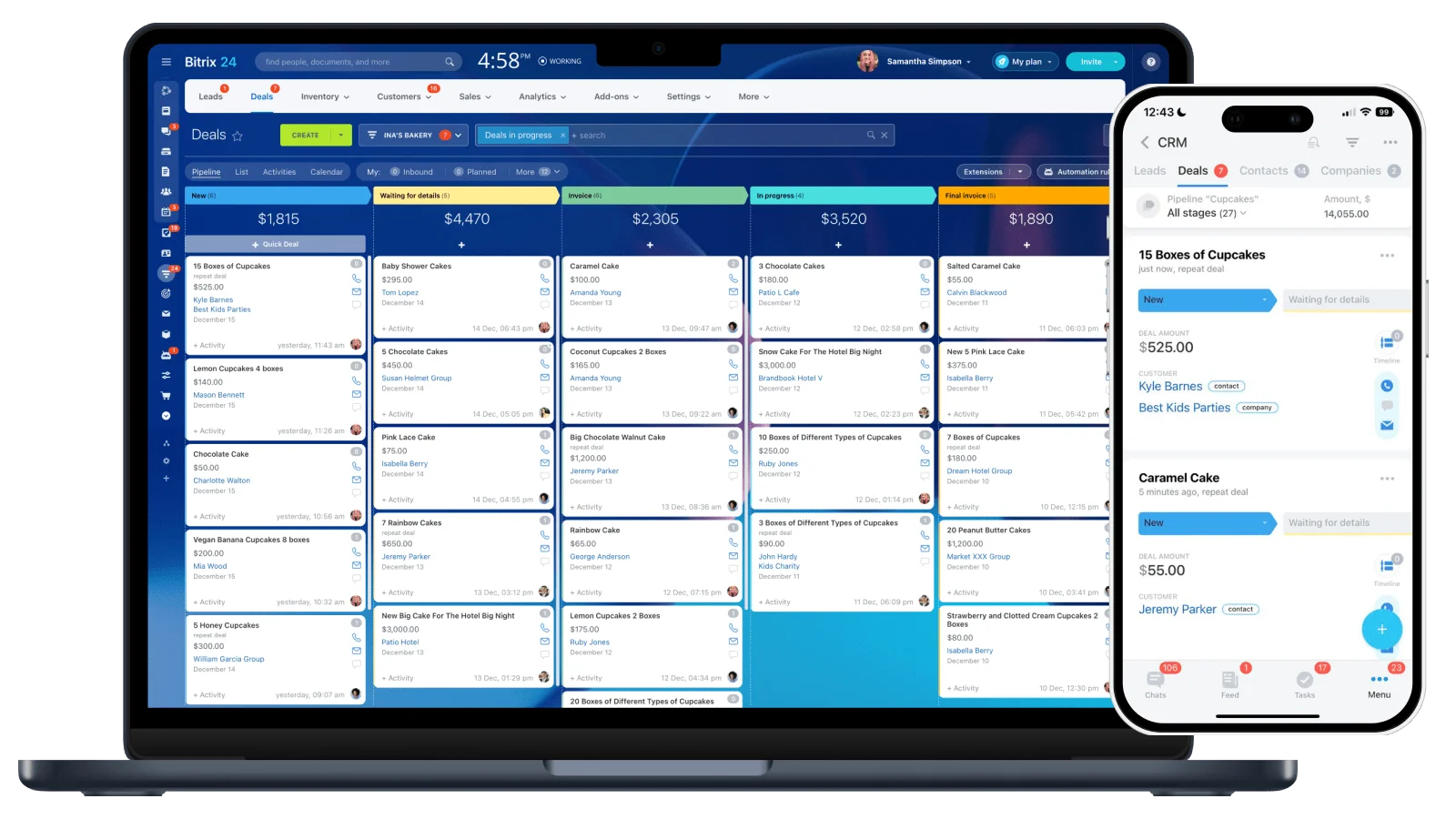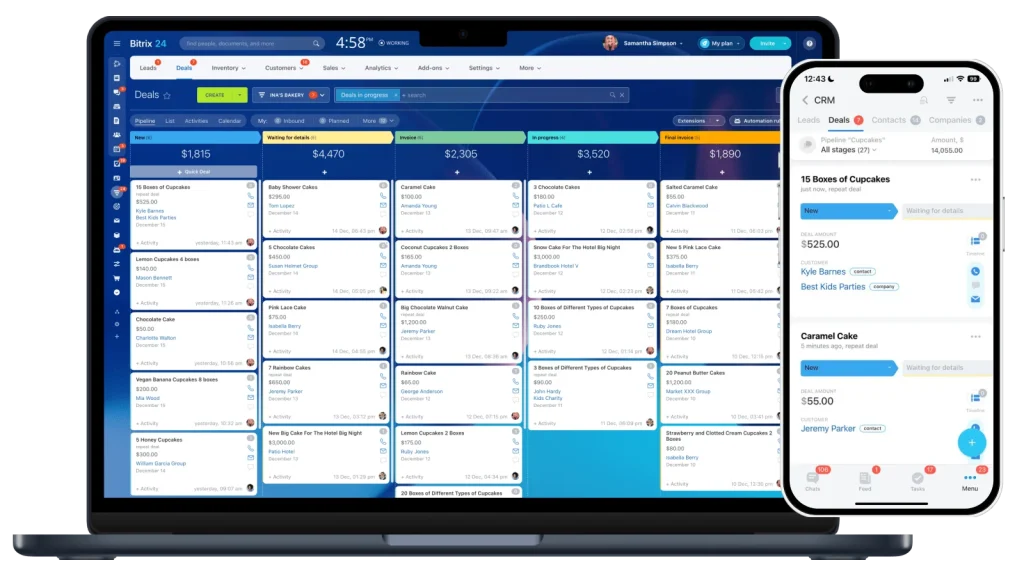 | | | |
| --- | --- | --- |
| Starting Price | Free Version | Collaboration Features |
| From $49/month for five users | Free plan for unlimited users + 30-day free trial | Editing and collaboration on docs inside tasks, chats, calls, and feed, webmail functions, and multiple knowledge bases |
Aside from video calls in HD quality and a built-in telephony, Bitrix24's platform can add a human element to your interactions with gamification elements, employee recognition, and even a feature for stress management.
Users can also opt for the Activity Stream tool to keep a consistent stream of updates flowing in from your team about what they're working on. The flexible Shared Calendars feature allows you to map out the entire team's workload and deadlines, as well as create specific calendars for subteams.
Pricing
Although the starting price of Bitrix24 is $49 a month, this includes access for five users, meaning it's $9.80 per user per month. This price includes features for collaboration, tasks, e-signatures, CRM, storage, website-building, e-commerce, and contact center deployment.

Pros
Generous 5GB of storage with the Free plan
Only $1.99 per user per month for the Professional plan
Great online store management
Integrated mailing system within the app
Cons
No paid plans priced on an individual basis
Users cannot simultaneously edit documents with the Basic plan
10. Work Otter — Best for IT Projects
Work Otter is particularly well-suited for IT projects with its HTML5 Gantt editing and project scheduling capabilities, which provide significant benefits for IT project managers and teams.
These include a user-friendly interface and drag-and-drop functionality that makes it easy to create project timelines, allocate coding resources, and set dependencies, defining tasks required before processes can be finished.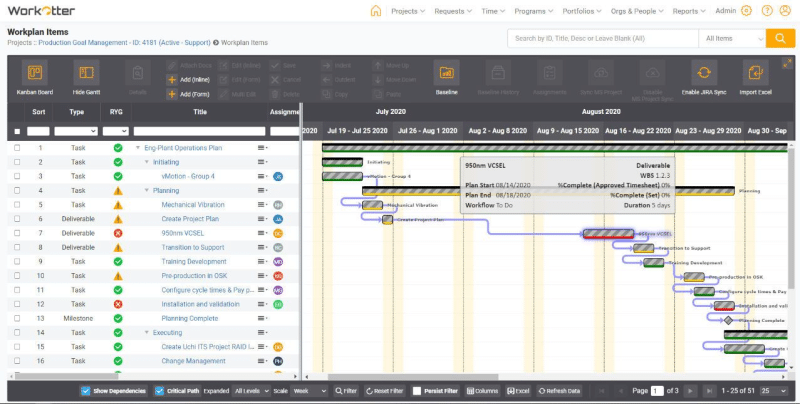 | | | |
| --- | --- | --- |
| Starting Price | Free Version | Collaboration Features |
| From $10/month | Free trial but no free plan available | E-mail updates, chat, and built-in project logs |
Collaboration is also simplified with Work Otter's seamless integration with Jira Sync, a feature that enhances team tasks by enabling real-time collaboration and efficient task management between business and technical teams.
This integration lets users customize, document, and configure tasks, issues, and statuses with 24/7 support. Doing so lets IT project managers and teams streamline their collaborative efforts.
Being a cloud-based platform, Work Otter makes documents and essential information readily available to those who require it for their tasks. Email updates and notifications keep deadlines in check, while the internal messaging and tagging functionality adds another layer of real-time collaboration.
Pricing
Several plans are available with access to a growing range of features. Bigger teams can opt for a Team or Manager License, which have chat, dashboard, and reporting features available.

Pros
All plans come with Jira Sync
Face-to-face and online training available
Offers data migration and setup services
Great for healthcare, manufacturing, and banking sectors
Cons
Plans are set for multiple users
Portfolio management only available with the Manager License
Compare the Market's Top Team Collaboration Tools
Here's a handy comparison of the market's top team collaboration platforms, with a quick overview of each tool's key features, pricing per month (paid annually), and other relevant details:
| | | | |
| --- | --- | --- | --- |
| Best Online Collaboration Software for Teams | Starting Price | Free Version | Collaboration Features |
| Monday.com | From $8/user/month | Free plan for two users + 14-day free trial of the Pro plan | Whiteboard, and integrations with Slack, MS Teams, and Google Drive |
| Wrike | From $9.80/user/month | Free plan for unlimited users + 14-day trial | Live document editor, proofing software, and collaboration with external teams |
| Smartsheet | From $7/user/month | Free plan for one user and two editors + 30-day free trial | In-app conversations, WorkApps, and proofing features |
| ClickUp | From $5/user/month | Free plan for unlimited users + free demo | Image and PDF annotation, video recording feature for quick tutorials, and unlimited collaborators |
| Resource Guru | From $4.16/user/month | 30-day free trial but no free plan | Unlimited clients and projects for all plans, flexible user permissions, and data importation |
| Teamwork | From $5.99/user/month | Free plan for five users + 30-day free trial | Collaborative document management, team chats, and clients can view task progress |
| Bonsai | From $17/month for five collaborators | 7-day free trial but no free plan | Unlimited collaborators with the highest paid plan, subcontractor management, forms, and questionnaires |
| ProWorkflow | From $18/user/month | 14-day free trial but no free plan | Unlimited projects, client access, and contact management |
| Bitrix24 | From $49/month for five users | Free plan for an unlimited number of users + 30-day free trial version | Editing and collaboration on docs inside tasks, chats, calls, and feed, webmail functions, and multiple knowledge bases |
| Work Otter | From $10/month | Free trial but no free plan available | E-mail updates, chat, and built-in project logs |
What Are the Best Free Online Collaboration Tools?
Free online collaboration tools can play a role in empowering individuals and small teams to collaborate effectively without financial constraints. They offer a valuable opportunity for businesses to experience the benefits of collaboration software and determine its suitability for longer before committing to a paid version.
To help you explore the options, here's a summary of the best online collaboration tools available for free:
| | | | | |
| --- | --- | --- | --- | --- |
| Tool | Free Plan Users | Unique Free Features | Free Collaboration Tools | Cost to Upgrade |
| Wrike | Unlimited | AI-recommended tasks, email integrations, Kanban dashboard | Add collaborators for free, text recognition for mobile, and task-subtask management | $9.80 |
| ClickUp | Unlimited | Two-factor authentication, smart notifications, multiple assignees, custom statuses | Chat feature, tasks in multiple lists, and time tracking | $5 |
| Monday.com | 2 | Live webinars every day, two-factor authenticator, 200+ templates | Unlimited docs, collaborative whiteboard for brainstorming, creating, and editing, and work on shared docs within the Monday platform | $8 |
| Smartsheet | 1 | Smartsheet community, over 100 integrations for free, most sheet formulas available for use | Users can chat within the platform, and alerts can be sent to Slack or MS Teams, Google Workspace integrations | $7 |
| Bitrix24 | Unlimited | Manual time tracking, 100 CRM forms, website builder | Channels, private and public chats, videoconferencing, and company knowledge base | $49 |
Having an unlimited number of users and documents within a free plan is definitely a plus. This offers flexibility and scalability, which enables teams of any size to collaborate seamlessly without incurring further costs.
However, while free plans offer great value, subscribing to paid plans unlocks a huge range of additional features, which significantly enhance the collaboration experience. Paid plans often provide advanced security measures, increased storage capacity, and priority customer support.
For more information, you can also check out our guide to the best free project management software tools.
How to Choose the Best Online Collaboration Software for Your Team
When choosing between collaboration tools, what matters is finding the right fit for your team's specific needs, considering factors including functionality, ease of use, pricing and scalability, integrations, and more.
Pricing and Scalability
The pricing structure of collaboration software tools directly impacts the accessibility and affordability for teams of different sizes and budgets. A software product that offers flexible pricing options, such as per-user or tiered plans, allows teams to scale their collaboration efforts as needed without incurring excessive costs.
Meanwhile, it is vital for a project management tool to offer scalability in both directions so that it's easy to adjust resources and features as projects evolve, ensuring optimal efficiency and adaptability.
Ease of Use
For collaborative work to succeed, you need to choose a collaboration tool that is easy to use or to allow the need for training when planning. Intuitive interfaces, device compatibility, and simple navigation allow for seamless adoption, streamlined communication, and increased productivity, ultimately enhancing collaborative work outcomes.
Try to look for platforms or apps for collaboration that offer training, webinars, or any form of guided support to help users fully maximize the potential of the software, as this ensures effective utilization and empowers teams to harness the full collaborative capabilities of the platform.
You should also consider whether collaboration tools are most important to you or if you specifically want the best Gantt chart software solution.
Storage Capacity
It's not just about additional features like to-do lists and video conferencing tools but also about real-time collaboration achieved via remote team file sharing, which requires sufficient storage capacity.
Adequate storage capacity in collaboration software allows remote teams to seamlessly share and access files in real-time. This fosters efficient collaboration and ensures that all team members have instant access to the documents, resources, and information they need to contribute effectively to collaborative projects.
Integrations
Tools for online collaboration may go to great lengths in providing various integrations with other platforms and tools. This is true for companies with legacy systems and teams that rely on specific software applications for their work processes.
By choosing a collaboration software pick with extensive integration capabilities, teams can ensure smooth communication and data flow between their existing tools, maximizing productivity and eliminating any disruptions or compatibility issues.
Security and Privacy
One of the biggest threats to collaborative work is cybercrime, with the average cost of a data breach
amounting to $4.35 million
. Implementing robust security measures within collaboration software is crucial in protecting sensitive data and mitigating the risks associated with the cloud.
By prioritizing collaboration tools with features such as data encryption, access controls, and regular security updates, teams can have a secure environment for collaborative work. Doing so strengthens the confidentiality, integrity, and availability of their shared information.
Customer Support
Reliable and responsive customer support ensures that teams have the necessary assistance and guidance whenever they encounter issues or need clarification.
Doing this not only resolves any technical challenges quickly and efficiently but also promotes a positive user experience and enhances overall satisfaction with the collaboration software. It is crucial to how successful collaborative efforts will be.
Conclusion – What's the Best Online Collaboration Tool to Use in 2023?
Collaborative tools have become indispensable for modern teams, so it's essential to choose the best collaboration software for your team's needs. Try your best to weigh up your requirements across scalability, accessibility, storage capacity, integrations, security, and customer support.
Evaluating these factors will ensure you select a collaboration platform that empowers your team to work together seamlessly, boost productivity, and achieve successful project outcomes. With the right online collaboration software in place, your team can unlock the full potential of collaborative work and drive impactful results.
If you're still unsure, try exploring the free version of Monday.com to experience first-hand how its features and capabilities can enhance your team's collaboration and project management processes.
Team Collaboration Software FAQs
How does team collaboration software work?
What is the most common workplace collaboration tool?
What's the best free online collaboration tool for teams?
How much is a project collaboration tool?
What types of collaboration software are there?