Getting the best project management app is vital for any growing business. These tools help you break down your work into simple tasks and plan, track, and complete jobs efficiently and effectively. With a project management tool in place, you stand to gain a better understanding of your team's strengths and weaknesses, and you'll be able to optimize your work plan and close performance gaps.
If these functions sound like something your business could benefit from, you're in the right place. Our comprehensive guide lists the top 10 best project management apps, including complete reviews and details on pros, cons, and features — read on to find the perfect one for you.
Top 10 Project Management Apps to Use in 2023
Today's market is overflowing with project management software solutions, but not all of them are created equal. Our team of experts has gone through a ton of apps, analyzing and testing their functionality, capabilities, and features. After thorough research, they've compiled a list of the ten best project management apps. Read on to learn more:
Monday.com — The best project management app on the market, with hundreds of templates for your workflows and projects.
Wrike — A great project management solution with tons of flexibility, which is ideal for marketing agencies.
Smartsheet — Easy to use and packed with functionality, making it perfect for businesses of all sizes.
ClickUp — Provides a full overview of your projects and allows you to have unlimited free members with its free plan.
Teamwork — Comes with granular task tracking, advanced reporting tools, and workflow automations to accelerate your projects.
ResourceGuru — A robust resource management tool that's fast and easy to use and which makes it easy to plan ahead.
WorkOtter — A comprehensive project portfolio and resource management tool which is great for enterprises and SaaS businesses.
ProWorkflow — Great platform for keeping teams up to date, with a wide range of options for customization, workflow optimization, and automation.
Zoho Projects — A premium project management solution for remote teams, which is great for managing projects and identifying bottlenecks.
Asana — Popular tool, simple to use tool that comes with intuitive Gantt charts and strong billing and invoicing features.
Best Project Management Apps Reviews
Here are our reviews of the top 10 best team project management apps, with details on the features, pricing, and capabilities of each solution, along with their pros and cons. Check them out to learn more about these tools and find the one that's right for you.
1. Monday.com — Best Project Management App Overall
Monday.com is a globally recognized project management industry leader. It was founded in 2012 in Israel, and its huge potential was evident from the beginning. Monday.com became one of the most talked-about startups on the market within a few months. Since then, the all-in-one software product has undergone several revamps and gathered over 150,000 active users across 200 industries.
Still, these figures aren't the only reason Monday.com sits at the top of the pecking order when it comes to modern apps for project management. The platform has an intuitive interface, so it's fast and easy to get started, whatever your experience level.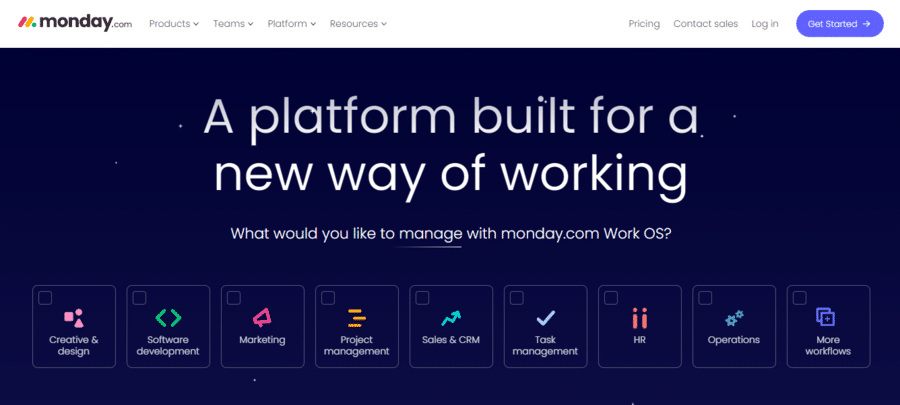 | | | |
| --- | --- | --- |
| Best for | Price | Free version |
| All businesses | From $8 per seat/month | Yes, up to 2 seats |
Once you're in, you can adjust its features to suit your needs. The software is suitable for short and long-term projects alike, and it offers a number of visual project-tracking boards as well as over 200 ready-to-use templates.
PMs can assign, track, and supervise multiple tasks at once from a single page. Dashboards let managers tag employees, attach files and documents, and leave comments and feedback on individual assignments.
Advanced analytics tools can also help you to easily assess performance data – including the team's productivity and efficiency, spending, and revenue. Together, these features help managers simplify work processes and unlock their team's full potential.
Thanks to its ever-growing list of integrations, Monday.com can further streamline your work. You can improve your communication using Slack and Zoom, collaborate on code files via GitHub, or make the most of your marketing campaigns with Mailchimp — the possibilities are endless.
And the pricing is just the icing on the cake. There are five options available, each coming with additional features. There is even a free project management app plan that includes unlimited docs, 20+ column types, over 200 templates, and more. You can also check out our full review of Monday's services if you want to learn more.
Pros:
Advanced communication and analytics tools
Useful integrations
More than 200 pre-designed templates
Over 150,000 active users
2. Wrike — Great for Marketing Agencies, with Lots of Flexibility
Wrike is a company with one of the longest track records on our list. Alex Filev created the first version of the platform in 1999, long before many modern competitors entered the project management field. When a new version of the product launched in 2006, it took off almost immediately.
Over the years, the platform has received over $25 million in funding from various sources, including DCM Venture, Bain Capital, and TMT Investments. It currently serves around 20,000 customers.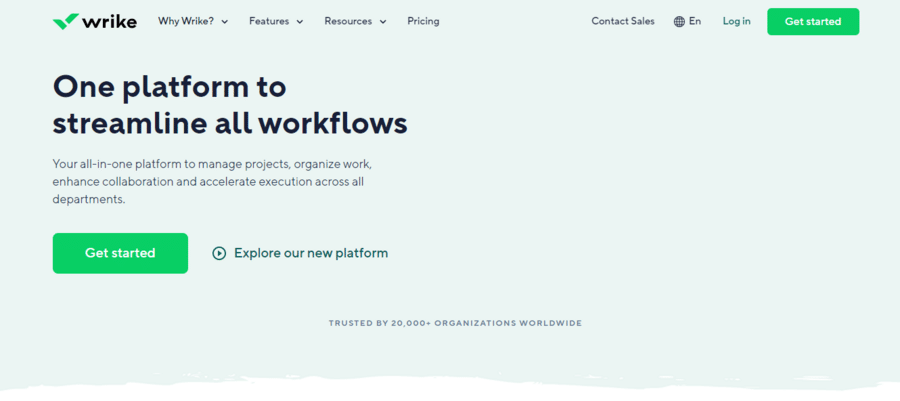 | | | |
| --- | --- | --- |
| Best for | Price | Free version |
| Marketing agencies | From $9.80 per seat/month | Yes, unlimited members |
Wrike is our number three best app for project management for several reasons. To begin with, the software has fantastic customization capabilities. It lets users create a unique view of their projects, adding details like to-do lists, pins, priority tags, comments, and more. It also supports various performance metric attachments — from time and cost trackers to budget allocation and risk assessors.
These features are ideal for marketing professionals, as they can help them stay on track both with field projects and tasks at the office. In addition, integrations with Facebook, Google, and Gmail let users monitor the progress of their online marketing campaigns while reporting tools drive all the results and statistics to a single dashboard.
The platform can hence help the entire team gain insight into the effectiveness of their strategies and allow them to adjust them accordingly.
Pros:
In-depth reports and analytics
Elaborate customization capabilities
Marketing-oriented integrations
Well-established brand
Cons:
Not suitable for tight budgets or smaller teams
3. Smartsheet — Top Easy-to-Use Project Management App
Smartsheet is a work management and collaboration SaaS tool launched in 2006. It was designed to compete with Microsoft by offering alternatives to many of its tools, like Excel, Microsoft Project, and SharePoint.
However, the tool attracted little attention due to its complex structure. In 2008, its founder redesigned the entire platform in an effort to make it easier to use. Since then, Smartsheet has become well-known for its user-friendly interface.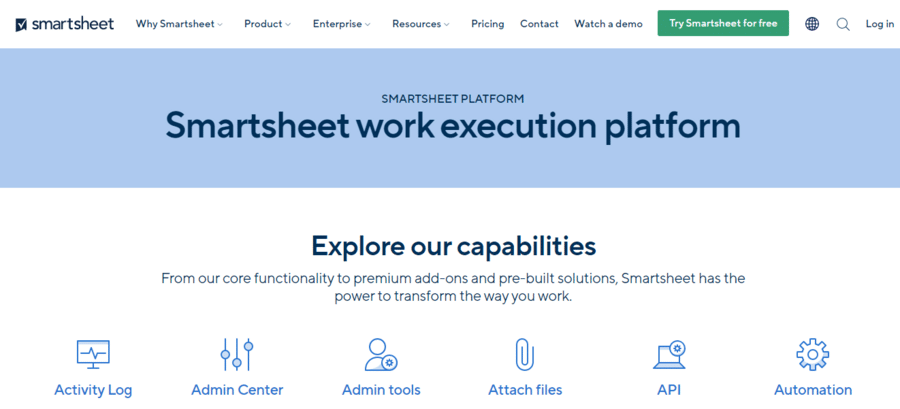 | | | |
| --- | --- | --- |
| Best for | Price | Free version |
| Easy-to-use UI | From $7 per seat/month | Yes, up to 2 users |
Our fourth-best project management solution features a Microsoft spreadsheet-like structure. Its smartsheets consist of rows users can expand into projects and tasks. They can also be connected with discussion boards, emails, notes, and other rows.
Each one supports the creation of subtasks and the integration of various metrics, such as assignees, deadlines, priorities, and other specifics. They track each other's progress, update automatically, and send notifications and alerts.
Smartsheet also offers excellent communication tools. Its sidebar features an accessible Conversations tab on all project views. The tool lets your team connect and share ideas and suggestions without switching to other platforms. You can reference updates, attach files, respond via email, and more. Clearly, the system is bursting with tools, but it remains highly intuitive.
Smartsheet pricing is standard for business and personal project management apps offered in today's market. It features one free and two fee-based subscriptions that users can choose from according to their needs. Still, there are some limitations to lower-priced plans, which is Smartsheets' main disadvantage.
Pros:
Easy-to-use platform
Access to lots of performance metrics
One-of-a-kind Conversations tool
Suitable for businesses of all sizes
Cons:
Limited functionality in lower-tier plans
4. ClickUp — Best Free Project Management App
ClickUp is another world-class solution. It started as a custom tool that Zeb Evans, a San Diego-based entrepreneur, created to improve his team's productivity.
The solution quickly yielded results, so Evans grew it into a full-scale platform in 2017. Its popularity has continued to grow ever since. Today, ClickUp is valued at around $4 billion and boasts over 1 million active users, including giants like Nike, Google, and Netflix.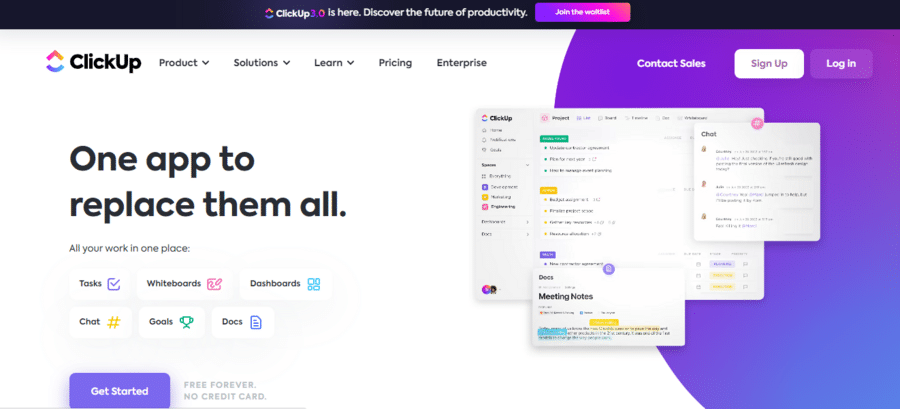 | | | |
| --- | --- | --- |
| Best for | Price | Free version |
| Free project management | From $5 per seat/month | Yes, unlimited members |
This platform has everything a successful project manager needs to run their team. It's simple to navigate, so it'll also suit beginners and startups. It offers several popular work views, including Gantt boards, lists, boxes, calendars, and more, making it adaptable to various work fields.
Plus, it provides full project analytics — from team members' workloads and performance to task dependencies, priorities, and checklists.
Our experts named it as the best free project management app because of its robust functionality – compared to its competitors, ClickUp offers more features in its free-forever plan.
These features include providing access for unlimited members, as well as tasks and storage. Users aren't limited to a single dashboard, either. This cloud-based tool lets you produce high-quality work despite a tight budget. You can also read our full list of the best free project management software solutions if you want to compare it to other products.
Pros:
Comprehensive project overview
Tons of dashboards
Feature-packed free plan
Cons:
Having too many projects may cause lag
5. Teamwork — Top B2B Project Management Tool
Teamwork was founded before the start of the new millennium, but its project management software is somewhat younger. The platform launched at the end of 2007. Initially, it offered functions such as file sharing, time management, milestone tracking, and so on. Since then, the solution has expanded, adding several other capabilities to its assortment. New features drew an impressive influx of customers, including the likes of Spotify, Disney, and HP.
Teamwork provides a sleek, easy-to-navigate platform stocked with helpful tools. Apart from enabling you to assign and monitor projects and tasks, this solution also facilitates client management. It's packed with tools that can help you track time spent on tasks, calculate billable hours, send invoices, analyze business expenses, and assess project profitability and ROI.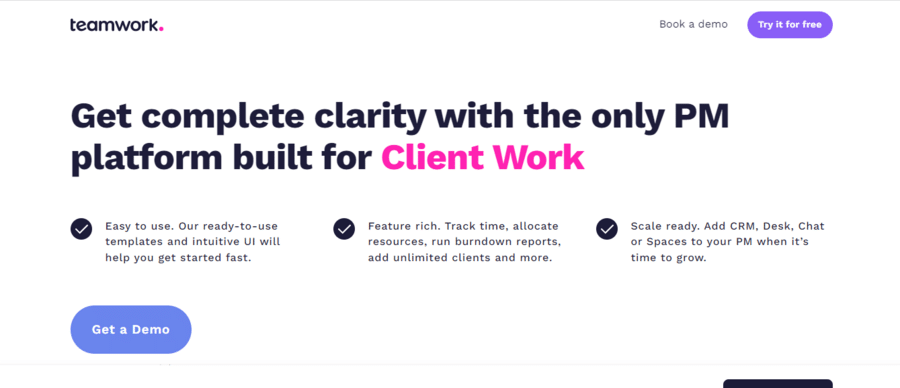 | | | |
| --- | --- | --- |
| Best for | Price | Free version |
| B2B services | From $5.99 per seat/month | Yes, up to 5 users |
It simplifies provider-customer interaction, offering multiple communication channels. Clients can stay informed of project status and provide feedback through direct messages, project notebooks, comments within the dashboard, file attachments, and more.
Numerous handy automation features can improve how your team responds to their requests. You can leverage pre-build tools like time and event triggers or customize new ones, such as monthly report emails. They'll optimize your business processes, regardless of your industry.
Pros:
Built-in billing and invoicing features
Customizable automations
Convenient communication channels
More than 2.4 million customers
6. Resource Guru — Best for Small Businesses
Resource Guru is a London-based software company that entered the project management sector in 2011. Noticing a market gap, its CEO, Andrew Rogoff, developed this solution centered around scheduling and planning. The company grew with the demand, reaching a net worth of over $5 million recently. It's one of the most popular project management software solutions among smaller businesses and startups today.
Though it has enhanced its original features, Resource Guru remains a planning-focused tool. Its layout provides a clear view of your employees, their workloads, and their progress. This structure is ideal for keeping tabs on all team members, whether permanent employees or freelancers. In addition, these capabilities can be of great assistance on two fronts.

| | | |
| --- | --- | --- |
| Best for | Price | Free version |
| Small businesses | From $4.16 per seat/month | No |
On the one hand, you'll stay on top of your company's performance and productivity and be able to prevent bottlenecks and mistakes. On the other, you'll make the most of your team's potential.
For example, you'll notice when someone is snowed under or capable of handling more responsibility by following their progress. This insight will help you redistribute workload, preventing burnout and maximizing revenue opportunities. Choices like these can do wonders for smaller companies.
This solution's affordable plans also fare well for smaller businesses. A Resource Guru subscription starts at $4.16 — a very reasonable price for unlimited projects and clients, custom fields and filters, flexible user permissions, tentative bookings, and more.
Pros:
Straightforward interface
Full team and project visibility
Quick data entry and editing
Personalized dashboards and notifications
Cons:
No iOS or Android mobile apps
No free plan
7. WorkOtter — Best App for Enterprise
As the seventh pick on our best project management apps list, you'll find Work Otter, a web-based PMM solution. The company opened in 1998 with a mission to support enterprise-grade businesses needing project, resource, and portfolio management assistance.
Its founders – two former project management consultants – took advantage of their experience, knowledge, and skills to push it to the forefront. Work Otter has been the number one PM software for various IT, engineering, and development businesses ever since.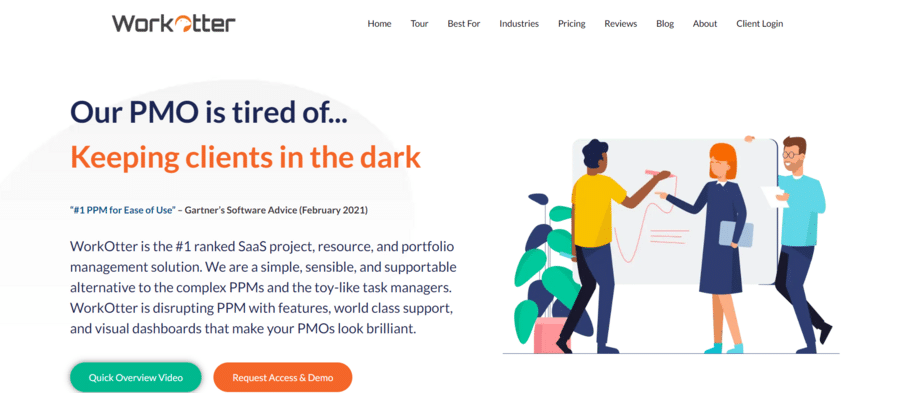 | | | |
| --- | --- | --- |
| Best for | Price | Free version |
| Enterprises | From $10 per seat/month | Yes, with limited features |
This award-winning PMM solution is built to support large companies with several hundred employees. It relies on program grouping to lay out projects and create workflow maps unique to your team. Dashboards support unlimited project sharing and uploads and feature a built-in messaging system to simplify communication and collaboration across large teams. Users can add data, assign and modify tasks, and track time and costs with ease.
Innovative analytics tools like what-if scenarios create reports on future projects, facilitating decision-making and strategizing. Finance-related features add another dimension to this functionality through realistic forecasts for expected costs, benefits, and revenue. With little training, project managers can run massive workforces while staying in complete control of the organization's output.
Pros:
Over 50 configurable dashboards
Unique what-if analysis feature
Advanced financial forecasts
Dynamic reporting tools
Cons:
Overwhelming for smaller teams and beginners
Subscriptions on the expensive side
8. ProWorkflow — Top App for Workflow Optimization
Created in 2002, ProWorkflow joined the project management software community during its peak era. While it doesn't boast the awards and recognition enjoyed by some of its competitors, this top project management app from New Zealand is well-liked by the public. Numerous positive user reviews prove ProWorkflow has become an indispensable tool for many modern project managers.
This teams project management app offers the same features as its contemporary rivals. Its templates let users enter and manipulate data, the timesheets help keep tabs on working hours, and the timeline and availability features assist with scheduling and deadlines. Still, PreWorkflow's best assets have to be its collaborative tools.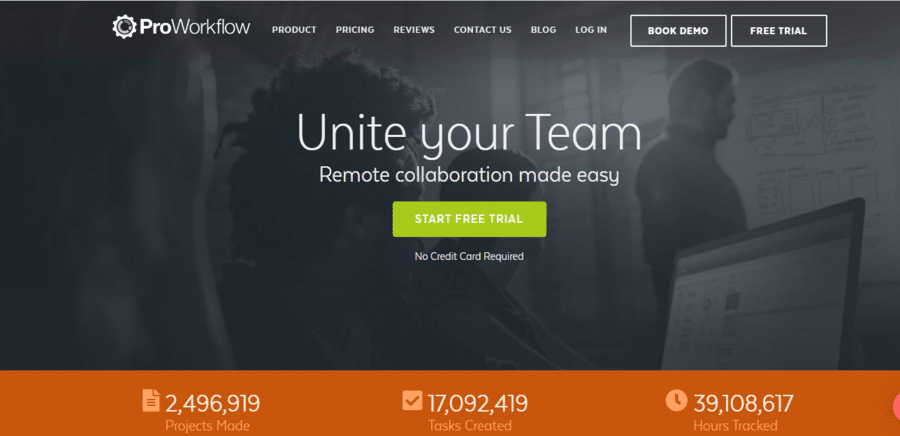 | | | |
| --- | --- | --- |
| Best for | Price | Free version |
| Workflow optimization | From $20 per seat/month | No |
This platform's dashboards allow multiple users to work on the same project or task simultaneously. The built-in messaging system facilitates communication, helps with brainstorming, and optimizes workflow.
Customizable APIs provide the framework and equipment for teams to build their own apps, integrations, and reports. On top of that, PreWorkflow's website features links and documentation with instructions that can help beginners get started.
This company doesn't offer a zero-fee plan, so it doesn't qualify for our best free project management apps list. However, its free trial is one of the few that don't require credit card details. Users can try it out without any commitments, which is a rarity in the sector.
Pros:
Enhanced collaboration tools
Customizable APIs
Simple onboarding process
Plenty of positive user reviews
Cons:
Slower to update its features
Only two pricing plans
9. Zoho Projects — Great Project Management App for Remote Teams
Zoho is a multinational tech company specializing in web-based business software. It produced various management solutions through the 2000s, with Zoho Projects being among the first. With an extensive set of features and competitive pricing, the tool became an instant hit. It currently serves over 80 million businesses, including Hyatt, Renault, Hyundai, Philips, Levi's, and more.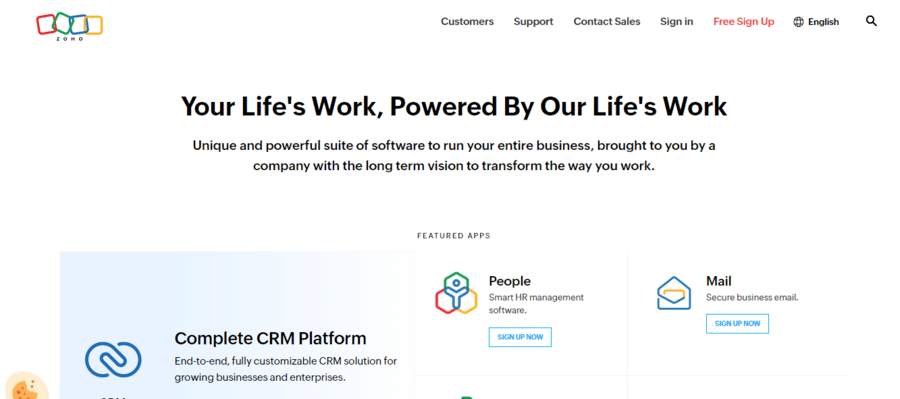 | | | |
| --- | --- | --- |
| Best for | Price | Free version |
| Remote teams | From $5 per seat/month | Yes, up to 3 seats |
Zoho ticks all the boxes in terms of project management features. It offers several workplace views, including the popular Gantt charts and Kanban-style boards. Its powerful time-tracking tools help users set strict deadlines for projects and tasks and measure the time spent on each. IssueTracker checks for bugs and errors, whereas Reports measures employee performance, helping managers monitor remote teams effectively.
Zoho's comprehensive communication toolset is another reason we've included it in our best project management apps list. The platform features an instant messaging box, lets users set discussion forums for each project, and integrates with Zoho Meeting for video calls. A combination of these features, coupled with a comprehensive knowledge library, provides hybrid and remote workers with a much more comfortable working environment.
Pros:
Helpful time and issue-tracking tools
Excellent communication features
Extensive knowledge library
Competitive pricing
Cons:
Cluttered dashboards
UI is tricky for beginners
10. Asana — Intuitive and Easy-To-Use App
The ninth spot on our best project management solutions list goes to Asana, another famous American software brand. The firm was founded by two former Facebook employees, who teamed up to create an original work management software in 2008. Asana commercially launched four years later. The solution rose to prominence in no time, reaching over 130,000 active users by 2022.
This San Francisco company boasts various PM software awards. However, our team chose it for its impressive project management capabilities – which make it the best construction project management app. Its Timeline View enables users to create Gantt charts ideal for scheduling and monitoring construction work.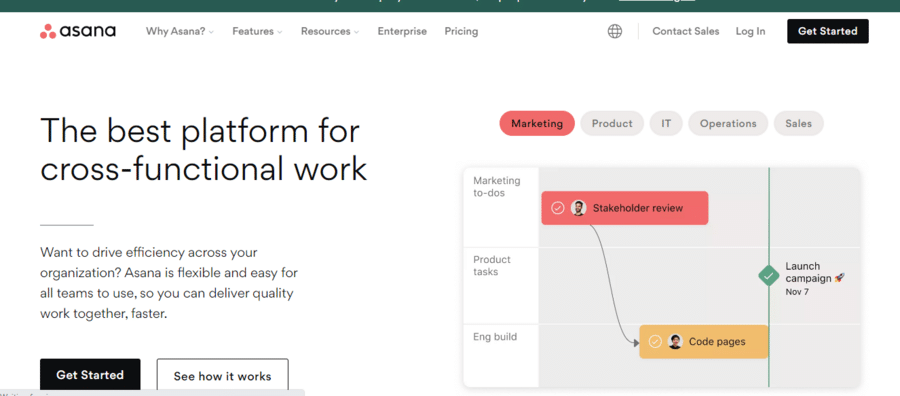 | | | |
| --- | --- | --- |
| Best for | Price | Free version |
| Construction project management | From $10.99 per seat/month | Yes, unlimited projects and messages |
They let you assign roles and add dates, reminders, dependencies, and pictures with a few clicks. Project estimation templates will track time, expenses, and resources, helping employees plan and complete projects on schedule.
This data also comes in handy when creating proposals for future clients — a feature Asana also offers. When you've wrapped up a project, the Billing tab will let you generate invoices detailing the completed work. Asana's integrations with FreshBooks, Hubstaff, TimeCamp, Agile, and similar apps can help with more advanced accounting tasks. As you can see, there's nothing other construction project management apps have that this one doesn't.
Pros:
Multi-award-winning company
Intuitive Gantt charts
Comprehensive billing and invoicing features
Integrations with cutting-edge accounting apps
Cons:
Limited export capabilities
No time tracking features
Best Project Management Apps Comparison
In order to provide you with a better overview of all our top project management solutions, we've organized them into a table. Check it out and compare their features, prices, and free plans.
| | | | |
| --- | --- | --- | --- |
| Best Project Management App | Best For | Price | Free Version |
| Monday | All businesses | From $8 per seat/month | Yes, up to 2 seats |
| Wrike | Marketing agencies | From $9.80 per seat/month | Yes, unlimited members |
| Smartsheet | Easy-to-use UI | From $7 per seat/month | Yes, up to 2 users |
| ClickUp | Free plan | From $5 per seat/month | Yes, unlimited members |
| Teamwork | B2B project management | From $5.99 per seat/month | Yes, up to 5 users |
| Resource Guru | Small businesses | From $4.16 per seat/month | No |
| WorkOtter | Enterprises | From $10 per seat/month | Yes, with limited features |
| ProWorkflow | Workflow optimization | From $20 per seat/month | No |
| Zoho Projects | Remote teams | From $5 per seat/month | Yes, up to 3 seats |
| Asana | Construction project management | From $10.99 per seat/month | Yes, unlimited projects and messages |
What Can a Project Management App Bring You?
We've already established that project management skills are critical in the modern business landscape. Nevertheless, they might not be sufficient to run a team and handle multiple projects at the same time. That's where PM software comes into play. Check out the sections below to learn how these solutions can help.
Scheduling and Planning
Project management apps provide companies with a framework for organizing, planning, and scheduling projects and tasks. Their tools help managers and their teams visualize the work ahead, tackle it systematically, and track their progress.
Advanced solutions also include time trackers that help leaders set milestones and deliverables, measure billable hours, and compare them to their estimates. These features contribute to a team's productivity, efficiency, and, by extension, the company's bottom line.
Communication and Teamwork
Keeping everyone within a company in the loop is one of the most challenging tasks managers face. Nevertheless, team project management apps make that possible. They give every team member an overview of the project's development and show them their role and contributions. This system leaves little room for misunderstandings, mistakes, or delays.
Modern PM solutions' communication tools like chat boxes, notes, discussion forums, task comments, and analog and video calls also help. Employees communicate more effectively and stay connected even when they're working remotely or in large teams. They exchange ideas and opinions, make suggestions and correct errors, and learn from one another seamlessly.
Budget Management
Best project management apps help PMs handle the entire budgeting process with ease. They offer tools that help assess and allocate resources, reorganize work to make necessary budget cuts, and track estimates vs. actual costs. Accounting features and integrations allow companies to track time spent on each task, make calculations, and invoice their clients without switching platforms or learning how to use complex third-party software.
Reports and Forecasts
Dashboards aren't the only way project management solutions display tasks and their completion statuses. The best ones also feature detailed reporting and analytics tools for a deeper understanding of companies' current and future performance, productivity, and profitability. Depending on their capabilities, you can get daily, weekly, or monthly reports with numbers, graphs, and scales showing progress and forecasts.
Project managers use this data to review and optimize strategies, reorganize tasks, redistribute work, and make budget changes. As a result, businesses avoid bottlenecks, mitigate risks, and stay on top of deadlines.
Customer Relations
Project management software can benefit your customer relations in several ways. For instance, you can keep all your clients in the loop on their projects' statuses by providing them access. Customers can check on each task, leave comments and feedback, and answer questions.
These practices can transform your workflow and production process. You'll be able to deliver a high-quality product faster, and customers will be more inclined to use your services again and recommend you to others.
How to Pick a Project Management App for Your Team or Business
All solutions in our top list provide quality features and services. However, not every option will work for your company. To choose the best project management solution for your team, focus on your company's needs and objectives. Here are the most relevant factors you should consider in this process:
Use — Before choosing a PM software tool, keep its intended use in mind. Business and personal project management apps differ in the features they offer. The former are designed to cater to larger teams and tend to be more robust and complex. These features might overwhelm individuals, so they should resort to more straightforward solutions.
Organization size — Smaller businesses and startups have different needs from enterprises. So, it's paramount you take the size of your company into account when choosing a PM app. If you can, use free trials to test multiple apps and choose the one that works best for your team.
Industry — Don't forget to consider the industry your work in and the demands it imposes. Think about the tools your team uses in their day-to-day routine. Look for features that would help optimize their workflow, facilitate communication, and improve efficacy.
User experience — When picking the best app for project management, check its design and user-friendliness. Ensure you've selected a platform that won't be a burden for your team to learn to use.
Scalability — Make sure you pick PM software that can accommodate the growth of your company. Look for solutions with several pricing plans, configurable features, and a wide selection of tools.
Integrations — All our best project management apps integrate with other popular platforms. Still, your specific goals and line of work will determine which ones you will use. Make a list of needs you want to cover and seek platforms that integrate with apps that can meet them.
Conclusion – What's the Best Project Management App for Your Team?
Project management tools have become essential for every successful team leader. They can help streamline workloads, boost productivity, reduce risks, enhance the sales pipeline, and more. Of course, that's only possible with the right solution. If you're unsure which one to choose from our list, we recommend our top-rated option.
Monday.com is one of the most popular and best project management apps on the market. After all, it boasts over 1.5 million users for a reason. The platform is easy to use, provides numerous project and task views and pre-made templates, and comes with an ocean of useful integrations.
Most of its features are customizable, so you can adjust them to your company's needs and numbers. Plus, it has five subscription plans, including a free-forever option, so you can choose what's right for you. It's an offer that's hard to beat. Take it for a spin and see what you think.
Best Project Management App FAQs
What is the best personal project management app?
What are the best apps for project management?
Does Google have a project management app?
What is the simplest project management app?
What apps do project managers use?
Is a PMO better than a project manager?