The best resource management software helps you organize and efficiently manage your available resources. Whether you're a small business, an enterprise, or a freelancer juggling multiple clients, the right tool will help you streamline tasks and projects and improve efficiency.
To help you find the ideal solution for your needs, we've sourced, reviewed, and compared the market's top 12 best resource management tools — including the popular solutions, Monday.com, ClickUp, and Wrike.
The 12 Best Resource Management Software Shortlisted
Based on factors like value for money, functionality, device compatibility, customization, and each tool's reputation, we've ranked each of the market's top solutions for managing business resources:
Monday.com —

The best resource management software thanks to its intuitive design, comprehensive features like workload customization, progress tracking for teams, and incredibly affordable pricing.

ClickUp —

Popular and budget-friendly solution that offers superb customization and collaboration, plus the means to track how your resources are being used with over 15 project views.

Wrike —

Enterprise-level resource management tool that offers affordable plans for businesses of all sizes, dynamic reporting capabilities, project estimates, and easy resource requesting and allocating.

Smartsheet —

A spreadsheet-based project resource management tool that's perfect for complex projects that require a high degree of organization and tracking, all for just $7/user/month.

Resource Guru —

The cheapest resource scheduling software solution on our list, as it costs just $4.16/user/month and boasts everything you'd need for efficient project planning.

Teamwork —

A comprehensive, affordable team collaboration platform that includes time-tracking tools and Gantt charts for better visibility into your task and project resources.

Bonsai —

Perfect for freelancers and independent project managers, as it's easy to track resource use, set budgets, and create invoices, all under one umbrella.

Work Otter —

Ideal for agile teams thanks to the tool's phenomenal forecasting capabilities and unique 'ask and give' capacity planning technology, which helps balance workloads across teams.

ProWorkflow —

Renowned, premium cloud solution for its workflow automation capabilities, which ensure smart usage of resources and ultimate efficiency.

Oracle Netsuite —

A leading all-in-one solution for larger businesses looking for integrated business resource management, budgeting, and performance tracking in one package.

Bitrix24 —

Popular all-in-one solution that comes with everything from project planning, file sharing & collaboration tools, plus customer relationship management (CRM).

Odoo —

An open-source ERP system that's ideal for

s

mall/medium-sized businesses (SMBs) looking for resource, financial, and inventory management capabilities.
What Are Resource Management Tools?
Resource management tools are software applications that enable organizations to track and manage their resources, such as personnel, equipment, materials, finances, and other assets. These solutions streamline resource planning and optimize productivity and profitability, serving various purposes, such as task and project planning, budgeting, and performance monitoring.
A wide range of resource management tools are available — from basic spreadsheet applications to more sophisticated enterprise systems. These versatile solutions cater to various needs, including efficient task scheduling and production control, while giving managers the means to monitor individual, team, and organizational performance to ensure projects stay on course.
Why Do Businesses Need a Resource Planning Solution?
If businesses want to achieve their desired growth and success, they need to have an effective resource-planning solution. Here are several reasons why:
Streamlines Operations — These tools

let businesses easily coordinate and manage resources, like employee availability, based on your needs to streamline operational efficiency and ensure tasks are completed with minimal issues and within the timeframe and budget.

Enhances Productivity —

Dedicated resource management software like Monday.com let businesses mitigate the

common risks of using spreadsheets

for planning and statistical analysis — like the lack of automation, data entry errors, and inaccurate data.

Improves Collaboration —

These cloud-based project planning tools also improve collaboration between teams, departments, and even external partners. They offer a centralized platform to store documents, share information, and discuss ideas in real-time for better decision-making and smooth operations.

Minimizes Risks —

They help minimize risks as they let you plan and track allocated and non-allocated resources, such as time and money spent on specific projects, which aids in identifying any potential issues before they become problems that cause costly errors or delays.

Enhances Customer Service —

By having the means to streamline processes such as order fulfillment, you can ensure enough resources are dedicated to your customers to ensure timely assistance that bolsters your brand image and customer experience.
Reviews of the Top Tools for Resource Planning
Now that you know why we've chosen these specific resource planning solutions and their benefits, let's explore what each one offers, the price tags that come with them, and the advantages and disadvantages that set each one apart.
Alternatively, skip ahead to our comparison table to see the head-to-head comparison of key details, like what each one is best for, their pricing, and compatibility.
1. Monday.com — Overall, the Best Resource Management Software in 2023
Monday.com is the perfect choice for resource management as it makes it easier to allocate, distribute, and track all your resources in one place. It offers a user-friendly interface, customizable workflows for effortless process automation, and comprehensive reporting features to help you stay on top of your resources.
With its powerful automation capabilities, you'll be able to save time while gaining the insights needed for your teams to succeed — including who's doing what, any potential issues that may cause delays, and the project's progress down to the task level to ensure timely and efficient completion of everything in your pipeline.
You can also keep everyone on the same page about resource requirements regardless of which application they're using, as Monday.com is compatible with all devices.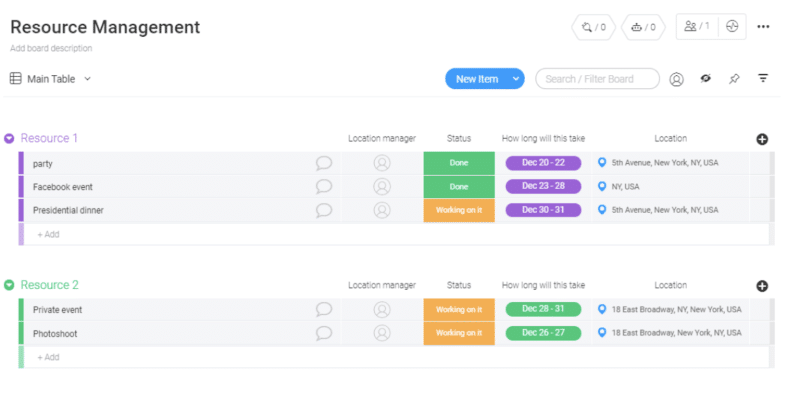 | | | | | |
| --- | --- | --- | --- | --- |
| Best For | Starting price | Free Version | Compatibility | Number of Integrations |
| Any-Sized Business | $8/user/month | Yes | Desktop and Mobile | 500+ |
Beyond this, you can easily create a template and assign tasks to team members or external stakeholders based on their availability and experience, so there's no confusion about who owns what task, and have an easy overview of project progress with Gantt charts or Kanban boards.
Beyond this, Monday.com has a unique Numbers Column, which predicts how long the task is predicted to take, and the Workload view paints each team member's capacity via color-coded bubbles (red or blue), enabling managers to gauge workload balance effortlessly.
Overall, Monday boasts a phenomenal reputation for being a solid resource management solution for businesses of all sizes. However, with ample functionality, it can pose a learning curve for some users, but with a free plan and ample guides, this isn't a deal-breaker.
Pricing
Monday.com offers a range of pricing plans. Starting with the Free plan, you can enjoy up to 2 seats, 3 boards, unlimited docs, and over 200 templates without spending a cent.

The key difference between all the plans is the ability to use automations and integrations. Once you hit Standard, you'll have access to 250 integrations and automations; this goes up to 250,000 actions with a Pro subscription.
Pros
Gantt charts to view project dependencies
200+ templates for easy resource and project planning
Offers incredible value for money and a free forever plan
Effortless resource allocation, including time, personnel, and budget management
2. ClickUp — Powerful Resource Management and Productivity Software
ClickUp is a powerful all-in-one productivity software solution that helps teams stay organized. It features time and task tracking for effortless project resource management, and it boasts an intuitive interface that lets you easily visualize used and available resources at a glance.
For example, ClickUp has a few different views, such as List, Table, and Timeline – so that you can track company assets, progress, and bottlenecks in a format that suits you. In fact, unlike most, it offers over 15 project views for ultimate customization – so you can arrange the layout to suit your specific needs.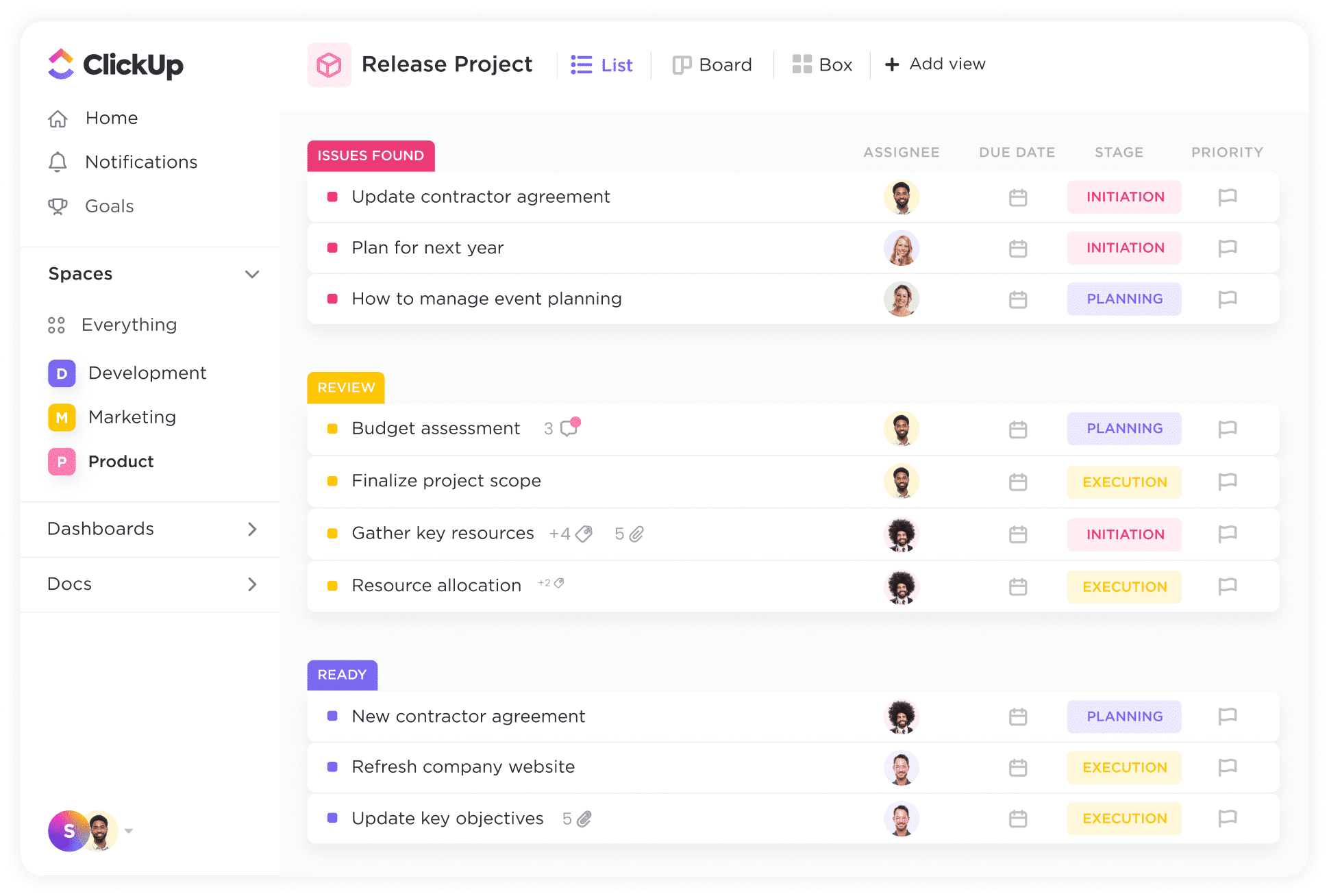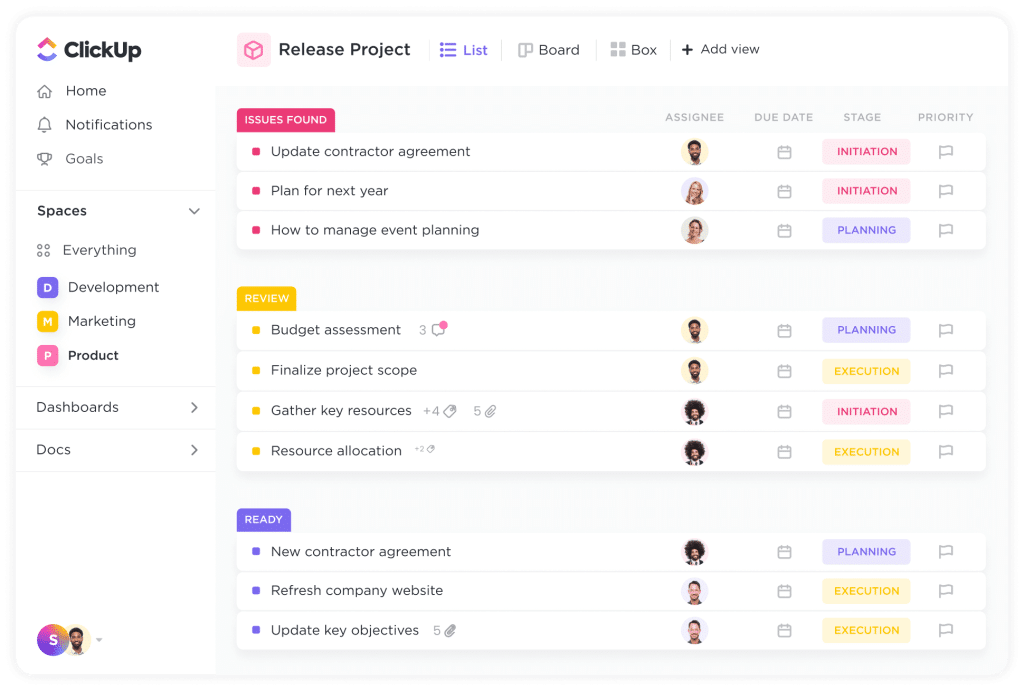 | | | | | |
| --- | --- | --- | --- | --- |
| Best For | Starting price | Free Version | Compatibility | Number of Integrations |
| Task Management and Productivity | $5/user/month | Yes | Desktop and Mobile | 1,000+ |
ClickUp also makes it easy to track time spent on projects with an in-built tracker. Time tracking is vital for businesses to monitor the progress of projects and ensure they're completed on time, and although some offer this built-in, it's not as common as you'd expect — especially since this is offered even on the free plan with ClickUp.
Moreover, ClickUp's team communication capabilities, like comments and tagging users, allow everyone to stay connected and collaborate effectively, regardless of their location, without the need for integration with a third-party app.
ClickUp also stands out as a platform that continually raises the bar in the project management space; its AI functionality was recently announced and made available to users. This allows you to generate content, summarize notes, generate action items, and more in a fraction of the time it would normally take.
Pricing
ClickUp offers various pricing plans, these include:

Because it's quite limited, the Free Forever plan is ideal for personal use, while the Unlimited plan caters best to small teams. As your team or needs grows, you can affordably scale with ClickUp.
Pros
'Assignee' function for clear and visual resource allocation

Built-in templates save time on administrative tasks

Loads of integrations to suit your goals

Boasts one of the most feature-rich free plans
Cons
Can take some time to get used to the platform
3. Wrike — Dynamic Reporting for Enterprise Resource Management
Wrike offers many of the powerful features seen in Monday.com and ClickUp – like communication between team members, integrations with other apps, and automation actions to speed up the pipeline – but it also offers several features you might not expect to see.
With Wrike, you can estimate project needs, request job role resources, and have visibility into resource allocations across your entire portfolio. You can input project requirements, including tasks, deadlines, and dependencies, to get estimations on the resources needed, such as the number of team members, hours, or materials required for each task.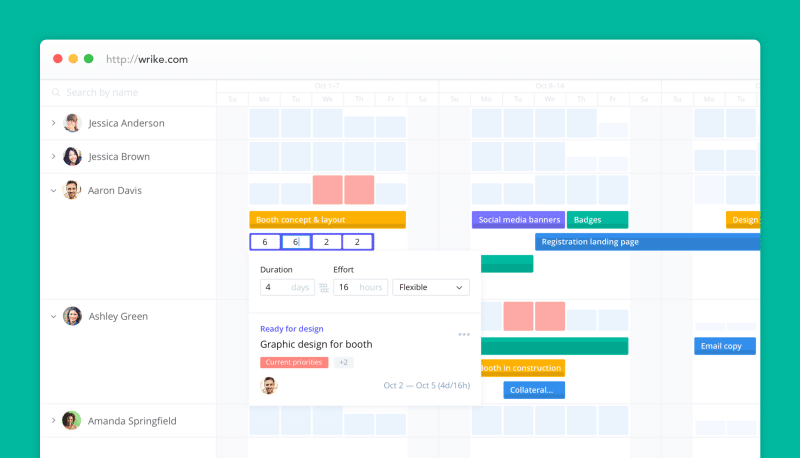 | | | | | |
| --- | --- | --- | --- | --- |
| Best For | Starting price | Free Version | Compatibility | Number of Integrations |
| Enterprise Resource Management | $9.80/user/ month | Forever/1 Seat | Desktop/Mobile | 400+ |
A feature you may not be accustomed to seeing across popular resource management platforms is Custom Request Forms. Tasks come into the pipeline via 'requests' from one department to another; they're inputted into customizable forms, automatically triaged, turned into tasks, and sorted into the right place within the workspace.
Another stand-out characteristic of Wrike is the way it categorizes availability in terms of Requested, Available, and Allocated Effort. This gives managers a tangible indication of how much time each team member has and the projects their efforts have already been allocated to. With the 'billable utilization' report, you'll see percentages on how each team member is being utilized to distribute responsibilities better.
One minor drawback is that the backend management of the dashboard and templates is clunky compared to the platforms at the top of our list. Even so, Wrike is highly praised for its multi-functional software.
Pricing
You'll see that Wrike's pricing is reminiscent of other comparable platforms, with plans for teams of all sizes:

All in all, Wrike is an excellent resource management software that can help you accelerate the planning process and anticipate future demand. Try the free plan to see if it's a suitable fit for your business.
Pros
The analytics and reporting features are great for project tracking

The free version is for up to five people

Excellent customer service program
Cons
Some find the software clunky to use on the backend
4. Smartsheet — Spreadsheet-Based Resource Management Platform
Smartsheet takes a different approach to resource management. Its spreadsheet-based interface enables users to create and share multi-dimensional workspaces that can be used to track tasks, projects, timelines, budgets, and other important data.
Unlike other resource management platforms, Smartsheet takes inspiration from spreadsheet software, which makes this tool ideal for users who enjoy Excel or Google Sheets but require more functionality that can't be attained on these platforms.
You'll have access to an invaluable resource management tool where you can view each team member's discipline, department, language, location, and role, which makes it easier to determine the best people for specific projects. Similarly to Wrike, tasks come in as requests, too.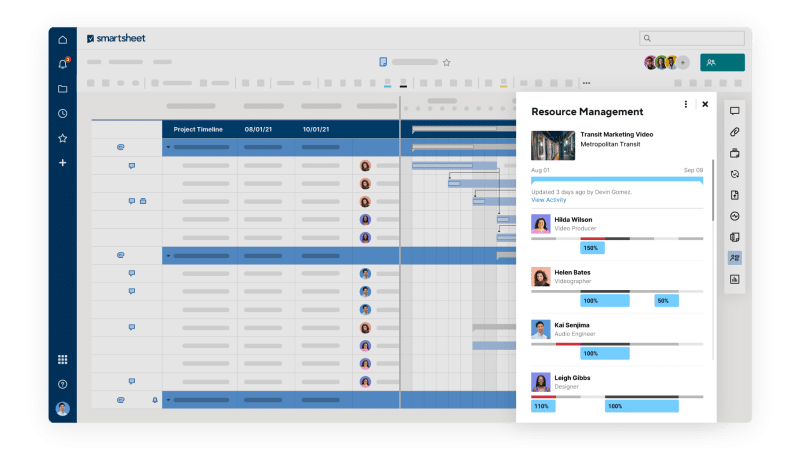 | | | | | |
| --- | --- | --- | --- | --- |
| Best For | Starting price | Free Version | Compatibility | Number of Integrations |
| Spreadsheet-Style Resource Management | $7/user/ month | 1 Seat + 2 Editors | Desktop/Mobile | 3,000+ |
Depending on the suitability and availability of each team member, you'll be shown potential assignees for the project. For instance, a people-based task might be assigned to a team member with an 'HR manager' tag. Like Monday.com, Smartsheet also provides a way to see which team members are over or underbooked.
This helps avoid resource bottlenecks, identify potential scheduling conflicts, and make informed decisions when assigning tasks and setting project timelines. Plus, Smartsheet comes with powerful automation to minimize errors and reduce the time spent on things like data entry.
For example, when team members log their work hours, it'll automatically populate the timesheets with relevant project information, such as project names, tasks, and associated deadlines. However, despite the intuitive interface, there is a bit of a learning curve.
Pricing
Here are all of your pricing options for Smartsheet:

You may be surprised to see the Pro plan listed for just $7; keep in mind, however, that you'll need to move up to the next plan for more than 10 editors. More integrations and storage are also available as you move up to the Business plan.
Pros
Ample integrations, including with leading CRMs

See the capacity of all team members in a simple visualization

Make, filter, and publish custom reports on the web
Cons
Pages can feel cluttered compared to other platforms
5. Resource Guru — Intuitive Resource Scheduling and Allocation Software
Resource Guru is a popular resource planning software known particularly for its resource capacity planning capabilities. It helps ensure that your resources are handled in the most efficient way, providing you with real-time insights into resource availability to ensure you never experience issues of over-or-under-booking, task or project delays, employee burnout, or budget problems.
In fact, it's renowned for being one of the best human resource management software (HRMS) solutions out there. For one, the employee directory feature allows HR teams to create a centralized database of employees; each team member has a profile, complete with a picture, their time zone, skills, and department.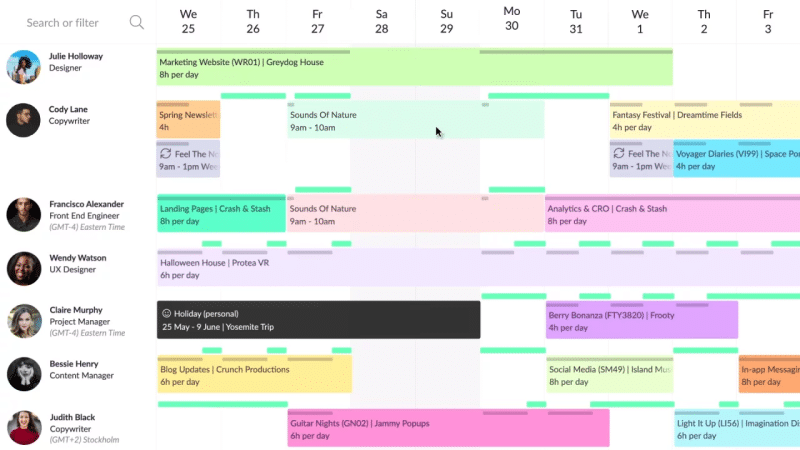 | | | | | |
| --- | --- | --- | --- | --- |
| Best For | Starting price | Free Version | Compatibility | Number of Integrations |
| Startups and Small Businesses | $4.16/user/ month | 30-Day Free Trial | Desktop | 1500+ |
You can add tags to employee profiles to reflect key information, such as roles and skill sets, which helps managers find and assign the right resources to projects. In addition, Resource Guru offers the capability to archive and unarchive freelancers without losing their details for easy reinstatement without the need for repetitive data entry.
In terms of capacity planning, Resource Guru visualizes team capacity in a calendar-based format, with each task color-coded and placed next to its corresponding team member. If a team member exceeds their time capacity, this is quickly indicated with an orange line (Overbooked) or red line (Nightmare!).
The only downside to Resource Guru is that it doesn't offer any project budgeting or invoicing features. However, the software does let you integrate with over 1,500 third-party apps.
Pricing
Resource Guru offers three pricing plans. While there are no free plans, all paid plans offer unlimited projects and clients; you'll just need to move up to the Master plan if you want Approval Workflow, SSO, or data imports: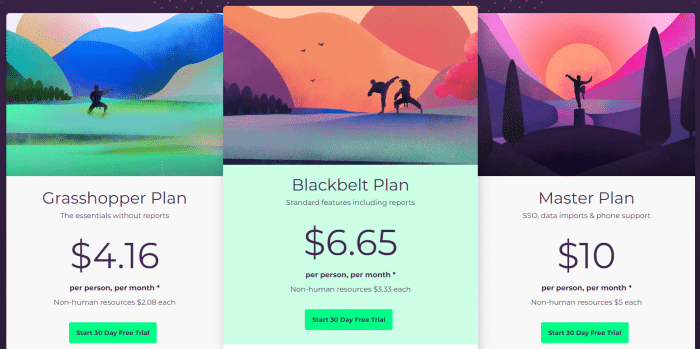 If you're in the construction business, Resource Guru is also considered one of the best construction project management software available, letting you easily know what resources are available, what they're being used for, and when they'll be available again.
Pros
Excellent feedback and collaboration system

Set schedules for tasks, and create timelines and milestones

It has booking and time off management
Cons
Integration is needed for things like invoicing
6. Teamwork — Comprehensive Collaboration Platform with Time-Tracking and Gantt Charts
Teamwork is built from the ground up to facilitate client work – and that means resource organization is paramount. Tasks can't be delivered on time and to a high standard without meticulous resource planning; with Teamwork, teams have a clear structure to work with.
With this centralized platform, you can track time spent on projects, and employees can record their billable and non-billable activities. Time tracking is integral to resource utilization; it shows how much time certain task categories typically take, which is vital when planning which team members will be responsible for what tasks.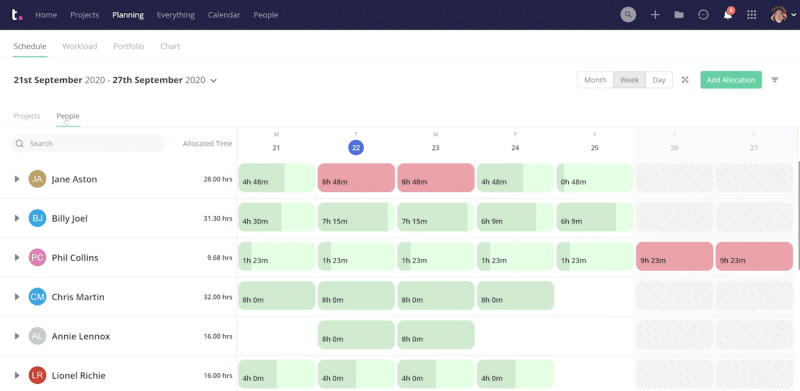 | | | | | |
| --- | --- | --- | --- | --- |
| Best For | Starting price | Free Version | Compatibility | Number of Integrations |
| Team Collaboration | $5.99/seat/month | Forever/5 Seat | Desktop/Mobile | 350+ |
Teamwork's resource planner is reminiscent of the Resource Guru tracker. It is calendar-based, with each project appearing according to the set timeline and milestones. Managers can filter the calendar based on which team member they want insights on; they'll be able to see the tasks, assignees, how much time has been spent on different clients, and how many more hours they have available each day of the week (or whether they are overworked).
Simultaneously, the single view of all portfolios grants businesses an overarching perspective of their ongoing projects. This consolidated view offers a comprehensive snapshot of the entire project portfolio, allowing for effective resource planning, coordination, and prioritization.
An issue some users pick up with this tool is its limited internal communication capabilities. There is a chat function, but it's clunky. If teams have an external communication tool (e.g. Slack), this shouldn't be an issue, plus you can integrate with over 250 tools.
Pricing
Teamwork offers a range of pricing plans, including:
Reporting features on the Teamwork app are mostly available on the popular Grow plan, so you'll probably want to choose this option since reports are crucial to resource planning and allocation.
Pros
Prevents burnout by clearly visualizing resource availability

Dedicated risk management function

Small teams can access the platform for free
Cons
Limited customization options

compared to other platforms
7. Bonsai — All-in-One Resource Management Solution for Freelancers and Contractors
Bonsai is the dream for freelancers and contractors who want an all-in-one resource management solution. With it, you can easily manage and track your projects, invoices, contracts, and milestones.
The expense tracking feature allows you to import expenses directly from financial accounts and save them as a tax write-off when filing taxes. You can also view your Profit & Loss statements for different times of the year with income/expense totals and get quarterly/annual tax reminders along with estimated due dates.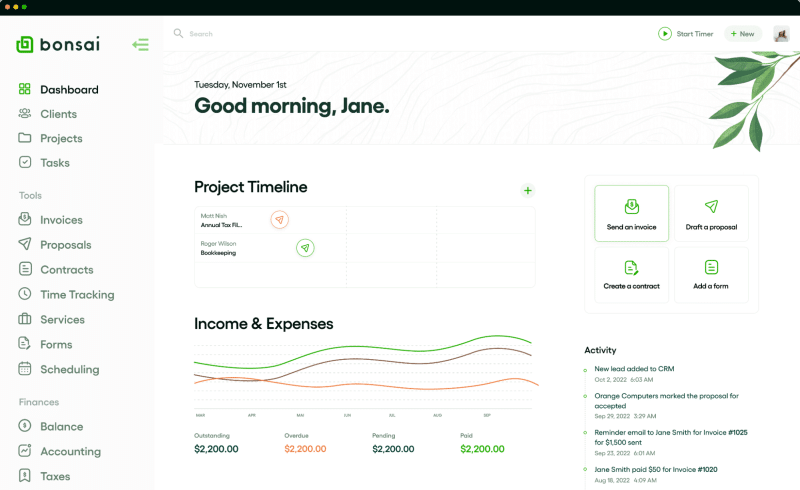 | | | | | |
| --- | --- | --- | --- | --- |
| Best For | Starting price | Free Version | Compatibility | Number of Integrations |
| Freelancers and Independent Contractors | $17/month | 30-Day Free Trial | Desktop | 270+ |
And to make sure everything is in order, Bonsai offers vetted templates for contract agreements and standard NDAs. You can send, sign and store your legally-bindings online contracts with your clients electronically.
With the Require Deposits feature, Bonsai also makes it easy to secure new work by requiring a deposit when your client approves a contract. With all these features combined, Bonsai provides an indispensable resource management tool that makes managing digital resources effortless and efficient.
However, in comparison to tools like Monday.com, it lacks when it comes to resource utilization tools, such as project tracking and resource allocation.
Pricing
The Starter plan is ideal for freelancers and contractors as it provides all the essential tools, such as templates, invoicing, proposals, and scheduling:

The Professional plan offers additional features like custom branding, workflow automations, integrations with QuickBooks, Calendly, and Zapier, and support for up to 15 project collaborators.
For small businesses and agencies, the Business plan is the best value for money, as it includes everything in the Professional plan along with subcontractor management, hiring agreement templates, talent pool, accountant access, multiple bank account connections, and unlimited subcontractors and project collaborators.
Pros
Professional-looking invoices

with customizable elements

Excellent payment features and integrations for secure transfers

Automatically generates legally-binding contracts and invoices
Cons
Limited project allocation tools
8. Work Otter — Agile Capacity Planning and Workload Balancing Software
As one of the best task management software tools available, Work Otter's resource management program is well-loved despite being less popular than the big-name tools, as it helps agile teams balance their workloads to avoid over-allocation and underutilization of resources.
It provides a multitude of forecasting methods, allowing project managers to choose one that best matches their approach, be it Team Forecasting, Resource Plan, Workplan only, or even a hybrid of both.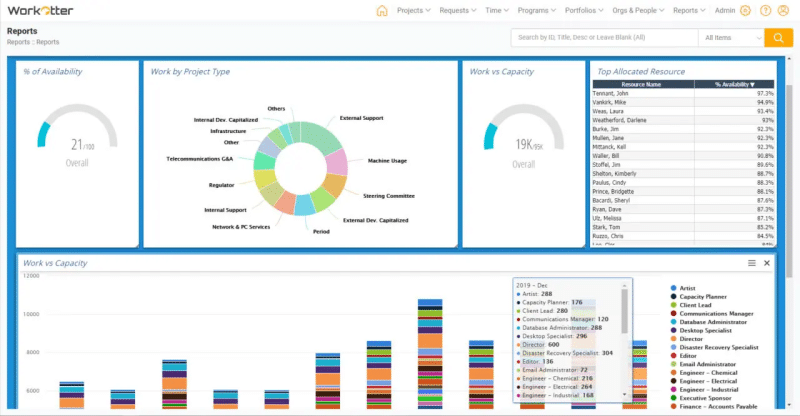 | | | | | |
| --- | --- | --- | --- | --- |
| Best For | Starting price | Free Version | Compatibility | Number of Integrations |
| Agile Teams | $10/seat/month | Contact For Demo | Desktop | 180+ |
With flexible forecasting, you can accurately predict how much time each team member will spend on the project as well as allocate resources based on an 'ask and give' model. This enables quick resource adjustments to minimize risks and improve project performance.
Additionally, the end-all-be-all of project portfolio management (PPM) for an organization is to know their capacity (by role) and demand (by project). Work Otter can provide this because of its centralized resource utilization metric that allows you to easily view and compare individual resources' capacity, workloads, and availability.
The initial experience of Work Otter can be overwhelming for users who haven't used a work management platform before, as is the case with other comparable platforms. Work Otter does, thankfully, offer great customer service if you encounter issues.
Pricing
Work Otter offers different license options tailored to meet the needs of various roles. The Member License provides essential functionalities such as Dashboards, Time tracking, and Approvals.

The Team License includes additional features like Issue Updates, and the Manager License offers full access to advanced features, including Project Management and Sync capabilities. Additionally, there's a Free Forever option for basic functionality like Service Requests and Email Reports.
Pros
Provides workload planning to maximize resources
Gantt Charts

for more visual tracking

Supports task management, project planning, collaboration, and reporting
9. ProWorkflow — Efficient Workflow Automation for Resource Optimization
ProWorkflow is a comprehensive cloud-based resource management software designed to simplify and automate workflow processes. It's probably closest to Smartsheet in terms of structure; however, it has a unique characteristic; the platform is actually broken up into a few different apps.
The Weekly Workload app is designed to show what's happening in the week ahead. Days of the week are listed along the top, and team members are listed down the left-hand side, with tasks appearing as horizontal blocks of color on the calendar. You can easily see where time and resources are being allocated in the week ahead.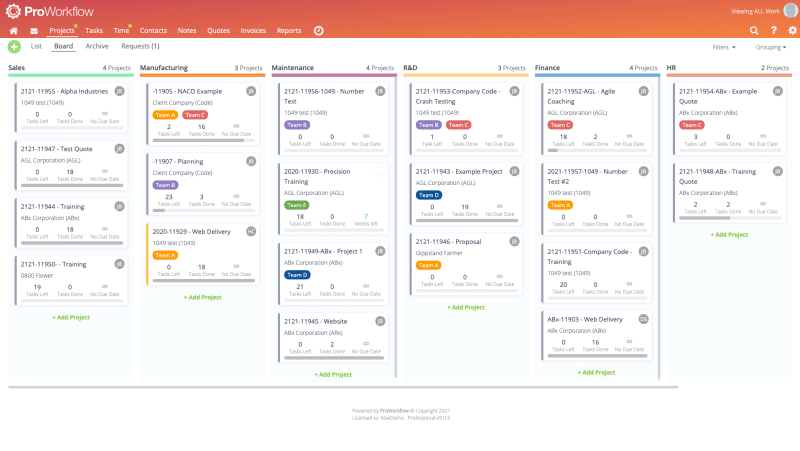 | | | | | |
| --- | --- | --- | --- | --- |
| Best For | Starting price | Free Version | Compatibility | Number of Integrations |
| Workflow Automation | $18/seat/month | None | Desktop/Mobile | 800+ |
The Availability Checker app is specifically made to check which team members have availability, who's at capacity, and who has already exceeded their limit for the week. Each calendar day is color-coded so you can see at a glance where there is availability.
The Productivity Dashboard app is relevant to resource management, too, as it allows you to track how efficiently your resources are used and spent each week. The dashboard shows metrics like Total Hours Worked, Billable Hours, and number of completed tasks per day.
The aesthetics and intuition of ProWorkFlow aren't as strong as a platform like ClickUp, so some teams are bound to find the multi-app setup confusing, but depending on your use case, it declutters your workflow by providing you with only the features you actually need.
Pricing
Unlike most on our list, ProWorkflow doesn't offer a free version, and it only offers 3 plans — with the starter plan being double and, in some instances, triple the price of other tools on the market: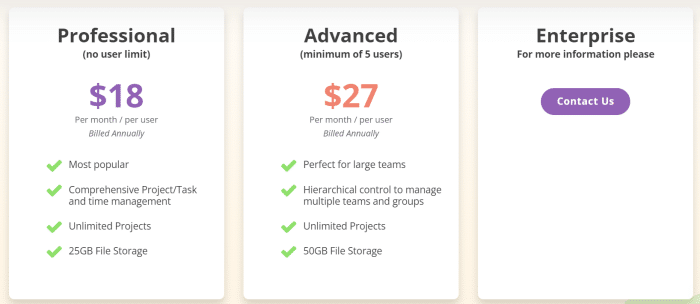 That said, it's worth noting that even the starter plan offers unlimited projects, which is certainly not the case for all resource-planning tools, and time management is built in, as is powerful workflow automations.
Pros
A useful tool for client invoicing, quotes, and time tracking

Offers List and Board layout for flexible project management

Powerful reporting tools

to monitor project and team efficiency
Cons
There's no free version on offer
10. Oracle Netsuite — Integrated Business Resource Management Solution
Oracle Netsuite is one of the best business management solutions and project management tools. It provides not just resource management but also inventory, customer relationship management (CRM), e-commerce, and human resources capabilities, which makes it a go-to option for larger firms.
The platform is equipped with features like real-time visibility of operations, advanced reporting capabilities, and analytics that help with making better decisions. Aesthetically, its block colors and spreadsheet-style layout make it similar to platforms like Smartsheet or ProWorkflow.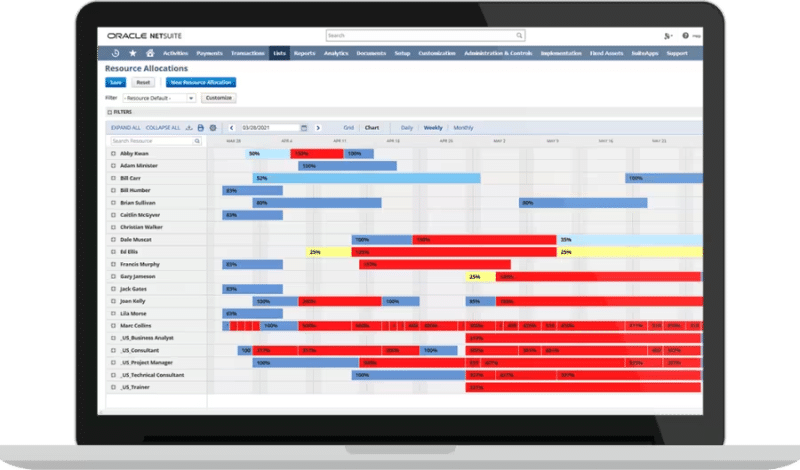 | | | | | |
| --- | --- | --- | --- | --- |
| Best For | Starting price | Free Version | Compatibility | Number of Integrations |
| Enterprises | Custom Pricing | None | Desktop | Unspecified |
The project staffing feature allows businesses to easily centralize and automate resource requests and bookings with customizable workflows. This ensures that the right people are on the right projects based on skill sets, demographic information, experience, work preferences, or future planned time off.
With this, you can also determine exact requirements at job initiation by assigning a generic headcount to serve as placeholders before filling in exact resources as they proceed. That said, forecasting in Oracle NetSuite goes beyond predicting sales or revenue figures. It also includes demand and supply planning capabilities.
By considering factors such as historical sales data, seasonality, market trends, and supply chain dynamics, forecasting helps to optimize inventory levels, production schedules, and procurement activities. This integrated approach enhances overall operational efficiency and minimizes costs.
Overall, Oracle Netsuite offers a comprehensive approach to resource planning while providing an efficient method for tracking staff availability. However, it costs more than many alternatives, with many add-on costs required to access features.
Pricing
Oracle Netsuite pricing is highly customized and, therefore, less transparent than the other platforms on our list. A consultation is required to gauge roughly how much the platform will cost for the features you need.
Pros
Integration with other modules of the ERP system, such as finance, sales, and operations

Allows for customization and configuration based on specific business requirements

Monitor and track resource utilization metrics, such as capacity, availability, and utilization rates
Cons
Lots of add-on costs to access features
11. Bitrix24 — All-in-One Resource Management With Project Planning and Collaboration Tool
Bitrix24 is a complete resource system management software that offers comprehensive project planning and collaboration tools. You can get a full view of all resources, tasks, and projects within a highly simplistic dashboard.
It offers over 35 free resource planning tools for efficiently managing resources, which include task notifications, Kanban and Gantt views, deadlines, automated task creation, discussion and comments, real-time progress tracking, and task search filters.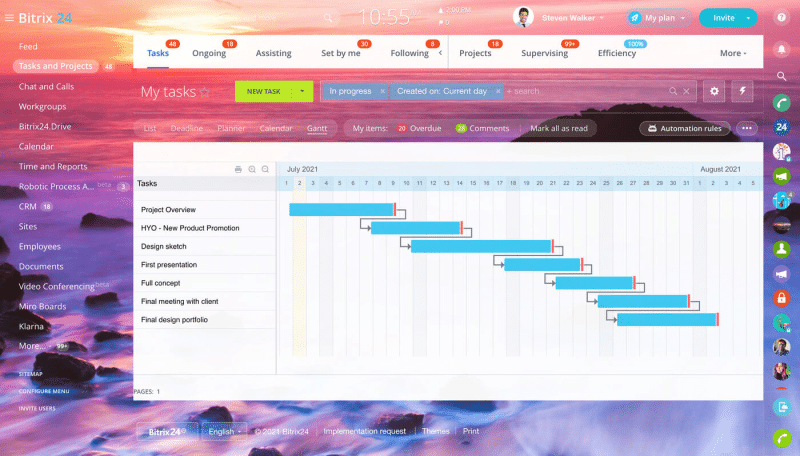 | | | | | |
| --- | --- | --- | --- | --- |
| Best For | Starting price | Free Version | Compatibility | Number of Integrations |
| Unlimited Free Plan | $49/5 users/month | Forever/Unlimited Seats | Desktop/Mobile | 200+ |
The platform has a similar commenting feature to ClickUp, though it feels less like a comment board and more like a chat. It also ensures secure collaboration with files, discussions, and tasks stored in one place that can only be accessed by designated team members.
Users can also keep track of time spent on each task within a project and integrate them into a group calendar. Not only that, but you can create external projects allowing your clients and partners to contribute as well.
This is only a fraction of what Bitrix24 offers, all available for free. That said, some users do find that the tool is somewhat complex, especially for basic resource management.
Pricing
Bitrix24 offers three pricing plans, and what we like most is that the free plan even includes essential CRM and collaboration features, making it one of the best free solutions on the market.

That said, the Professional plan is quite a popular option too, as it offers maximum sales and business process automation.
Pros
All-in-one tool, so it reduces the need for integration

More affordable than other comparable options

Strong lead listing and management tool
A feature-rich free plan
Cons
It can be complex to use due to its wide range of features
12. Odoo — Open-Source ERP System for SMBs with Financial and Inventory Management
Odoo is the last on our list, offering a comprehensive open-source ERP system for SMBs, providing companies with a customizable solution tailored to their operations. However, you may need to invest in an IT specialist or consultant to help you set it up properly.
Like ProWorkFlow, Odoo has a series of apps catering to the different needs of your business. There are 44 in total, spanning Productivity, Services, Human Resources, and Inventory & Manufacturing – but the Planning App is going to be your greatest ally for resource management.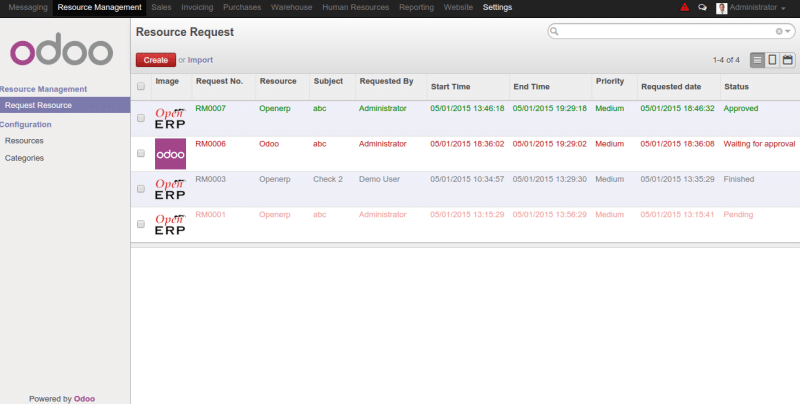 | | | | | |
| --- | --- | --- | --- | --- |
| Best For | Starting price | Free Version | Compatibility | Number of Integrations |
| Small and Medium-Sized Businesses (SMBs) | $7.25/user/month | Forever/1 App | Desktop | 350+ |
Within this app, you can use a calendar layout to plan each day in terms of who is working, what they're working on, and for how long. The Project module for each shift allows you to specify details like due dates, allocated hours, role, and project name. Each team member is displayed in the sidebar, and a green highlight shows whether they have availability to spare.
What's unique about this app compared to other platforms is that it groups people into categories or roles rather than listing each person as an independent resource. For instance, several people could be listed under the group 'Marketing Team' or 'Engineering Assembly Line.'
It's difficult to compare this app to other resource management platforms since it comes in such a unique package, and it does lack some capabilities on offer with others, for example, time tracking tools. Overall, though, you can try it for free before committing to see if it's suitable for your teams.
Pricing
Odoo's pricing is both a benefit and a disadvantage depending on how you use the system. For one flat price, all 44 apps mentioned earlier are made available – so if you're going to use them all, this is an excellent price point.

Compared to other resource management programs, Odoo stands out with its open-source design that allows for customization according to specific needs. However, if you're purely looking for resource management, it doesn't offer the best value for money.
Pros
Highly flexible design for customization

Cost-free Community version

available to anyone

Open-source code

to allow total flexibility
Cons
Steep learning curve

and unintuitive design
The Best Resource Planning Software Compared
30% of project failures are due to resource-related challenges. This means that having reliable resource planning software is essential to ensure the success of any project. Now, if you want a quick glance at the best resource planning software available, here's a head-to-head comparison of the top contenders:
| | | | | | |
| --- | --- | --- | --- | --- | --- |
| Best Resource Management Software | Best For | Starting price | Free Version | Compatibility | Number of Integrations |
| Monday.com | Any-Sized Business | $8/user/month | Forever/2 Seats | Desktop/Mobile | 500+ |
| ClickUp | Task Management and Productivity | $5/user/month | Forever/1 Seat | Desktop/Mobile | 1,000+ |
| Wrike | Enterprise Resource Management | $9.80/user/ month | Forever/1 Seat | Desktop/Mobile | 400+ |
| Smartsheet | Spreadsheet-Style Resource Management | $7/user/ month | Forever/1 Seat/2 Editors | Desktop/Mobile | 3,000+ |
| Resource Guru | Startups and Small Businesses | $4.16/user/ month | 30-Day Free Trial | Desktop | 1,500+ |
| Teamwork | Team Collaboration | $5.99/seat/month | Forever/5 Seat | Desktop/Mobile | 350+ |
| Bonsai | Freelancers and Independent Contractors | $17/month | 30-Day Free Trial | Desktop | 270+ |
| Work Otter | Agile Teams | $10/seat/month | Demo | Desktop | 180+ |
| ProWorkflow | Workflow Automation | $18/seat/month | None | Desktop/Mobile | 800+ |
| Oracle Netsuite | Enterprises | Custom Pricing | None | Desktop | Unspecified |
| Bitrix24 | Unlimited Free Plan | $49/5 users/month | Forever/Unlimited Seats | Desktop/Mobile | 200+ |
| Odoo | Small and Medium-Sized Businesses (SMBs) | $7.25/user/month | Forever/1 App | Desktop | 350+ |
Factors to Consider When Choosing the Best Resource Management Tool
As businesses continue to grow, the need for efficient resource management tools becomes more essential. A great tool can help maximize productivity, reduce costs, and increase profits.
However, with so many options available, it can be difficult to know which one is best suited for your particular needs. Here are some factors to consider when selecting a resource management tool:
Cost
Cost reduction is the most significant initiative for any business; therefore, it's important to consider the cost associated with any resource management tool. Be sure to compare prices to choose the one that provides quality features at an affordable price.
Ease of Use
Ease of use should be one of the main considerations when choosing a resource management tool. The interface should be easy to understand and navigate so that you and your team can quickly find the information needed without spending too much time learning how to use it.
Compatibility
It's essential that the resource management tool you choose is compatible with the other software and systems your business uses — besides device compatibility, being able to connect to your CRM, accounting software, or otherwise, will ensure that data can be transferred and shared between different platforms without issues.
Customization
The resource management tool should have options for customization, allowing you to tailor the interface and features to suit your business's needs. This will ensure that the tool is as effective as possible for your organization — whether it's project views, dashboards, or reports; high customization is a plus for resource planning and management.
Conclusion | What's the Best Resource Management Software in 2023?
From forecasting to budgeting, there are so many great resource management platform options available in 2023. Monday.com stands out as one of the best with its intuitive user interface, robust features, and scalability. It also includes many useful integrations such as Slack, Salesforce, and Zapier that make it easy to integrate with other systems.
Monday.com is very affordable and offers a free trial version, so you can try it before you buy. When looking for the best resource management software, Monday.com is an excellent choice. Try it for free now.
Resource Planning Software FAQs
What are the uses of resource management software?
What are the 5 resources of management?
What are the tools used in resource management?
What's the best free resource management tool?
What are the key features of resource management software?