The best business management software lets you access all the most important information about your business from one place, meaning you can track performance and drive improvements. And with the right software package, you can allocate work, keep track of ongoing tasks, view available resources, and even carry out auxiliary tasks like budgeting and accounting.
However, with so many choices available on the market, choosing one isn't easy. That's why we've dug in to find the 12 best business management software products available based on criteria like pricing, number of integrations, ease of use, compatibility, and customer support. Read on to learn why solutions like Monday.com, ClickUp, and Wrike are a notch ahead of the rest.
Top 12 Business Management Software Solutions Ranked
Monday.com tops our list of the best business management solutions owing to its industry-leading features like its all-in-one dashboard, built-in time tracker, and excellent customer support. Having said that, there are plenty of great business software solutions out there, catering to different markets and business niches. See for yourself:
Monday.com — The best business management software for 2023 overall, with extensive functionality, excellent customer support, and numerous integrations.
ClickUp — Top-rated free business software solution, which includes time tracking and custom workflows and which allows you to have unlimited free members on board.
Wrike — A highly flexible product that is great for managing large teams and automating tasks, with numerous integration options available.
Smartsheet — An intuitive application with strong collaboration tools and tailor-made features for each business sector.
Resource Guru — Powerful features for managing employees and their hours, making planning and resource allocation simple.
Teamwork —Great for small teams and new businesses, with detailed task tracking and reporting tools, as well as a free-forever plan.
Bonsai — A fantastic real-time collaboration platform that brings together project management and CRM capabilities.
WorkOtter — A project portfolio and resource management tool that helps you work towards your strategic goals. A wide range of integrations are available, and it comes with great support.
ProWorkflow — Align your remote team, with options for custom workflows and task automation and a substantial 25GB of storage provided as standard.
Oracle Netsuite — An all-in-one business management solution covering project management, resource planning, and budgeting with a built-in CRM.
Bitrix24 — A management tool that doubles as an online workspace with great communication features and multilingual support on offer.
Odoo — A superb choice for expense and accounts management, which makes it easy to get an overview of your projects.
Reviews of the Best Software for Business Management
Can't wait to get your hands on the best business and management software? We'll now discuss each of our top recommendations in detail, looking into their pricing, pros, cons, and best features so that you can make a well-informed decision.
1. Monday.com — Best Business Management Software Overall
Monday.com has to be one of the most versatile business management software options available on the market. Its biggest perk is that its feature set has been customized to serve every department within an organization.
Whether you need help with human resources, sales and marketing, project management, or software development, then Monday.com can step in to save the day each time – which is why we rate it as one of the best project management solutions.
The platform has more than 180,000 customers worldwide, including some of the best-known global brands such as Coca-Cola, Hulu, and Canva.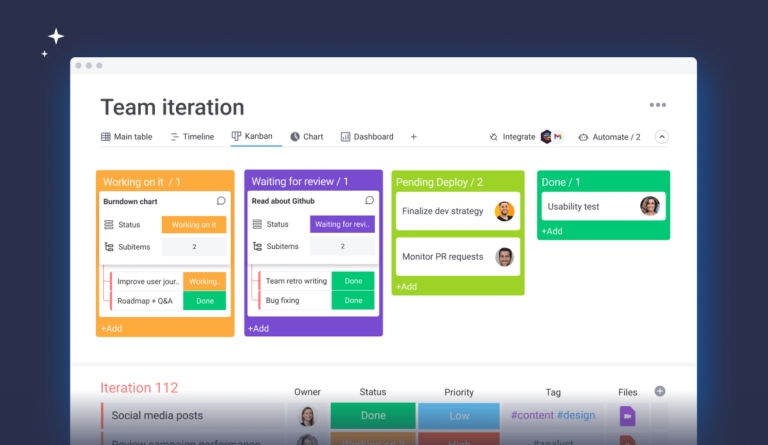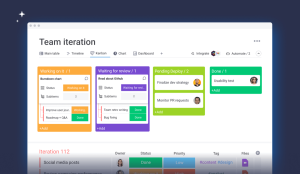 | | | | | |
| --- | --- | --- | --- | --- |
| Best For | Starting Price | Free Trial | Compatibility | Number of Integrations |
| Data-driven organizations | $8/seat/month – annual plan | 14 days | Android, iOS | 50+ |
With Monday.com, you get an all-in-one dashboard with information for every department of your company. For example, at a glance, you'll be able to see your company's total revenue, the number of projects in the pipeline, and pending requests. Having all important updates for the day at your fingertips makes it easier for you to track progress and make informed decisions.
Monday.com also provides a small dashboard for your team where you can check what everyone is up to. Color-coded labels enhance visibility and make it clear if an employee is finished with the task, is still working on it, or is stuck.
Under this feature, you'll also find a built-in time tracker telling you how long each employee has been working. This makes it easy to assess the cost of particular projects and of serving specific clients so you can then calculate their profitability.
If you want to track individual projects in more detail, Monday.com will let you create a Kanban board for each one of them. Here, you'll be able to divide the project into multiple stages, assign or remove individuals from tasks, check progress with a click, and effectively communicate with the entire team. If you're working on multiple projects at once, this feature will make your life a lot easier.
Monday.com also functions as business process management software, letting you integrate multiple tools at once so you can manage all your processes from one platform. For example, if you want your online store's sales update to be directly imported into Monday.com, you can easily connect your Shopify account with the platform. And if you want more detail about the platform, check out our feature review of Monday.com.
Other popular integrations offered by the platform include MailChimp, Twitter, Excel, and Gmail – and, of course, Monday has its own recommended CRM solution.
Pricing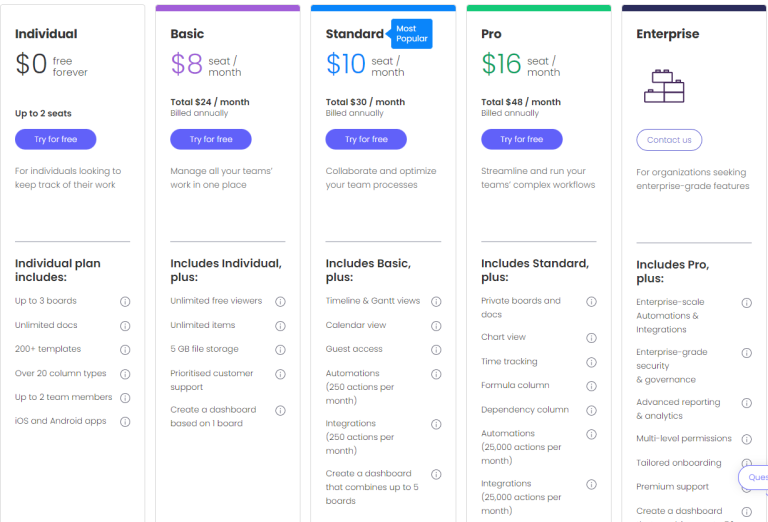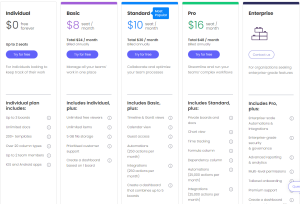 Pros
Intuitive dashboard
Lots of templates
Great forever-free plan
Powerful integrations for easier management
Known for its excellent customer support
One of the best task management tools
Cons
Mobile version isn't the best
Searching for items across dashboards is difficult
2. ClickUp — Best Free Business Management Software
ClickUp was launched with the intention of bringing the functionality of multiple business management apps together within one platform. And there's definitely a market for a comprehensive business management tool that saves businesses from juggling multiple apps.
ClickUp has apparently already managed to gain more than 800,000 users, including well-known brands like Netflix, Booking.com, and Samsung.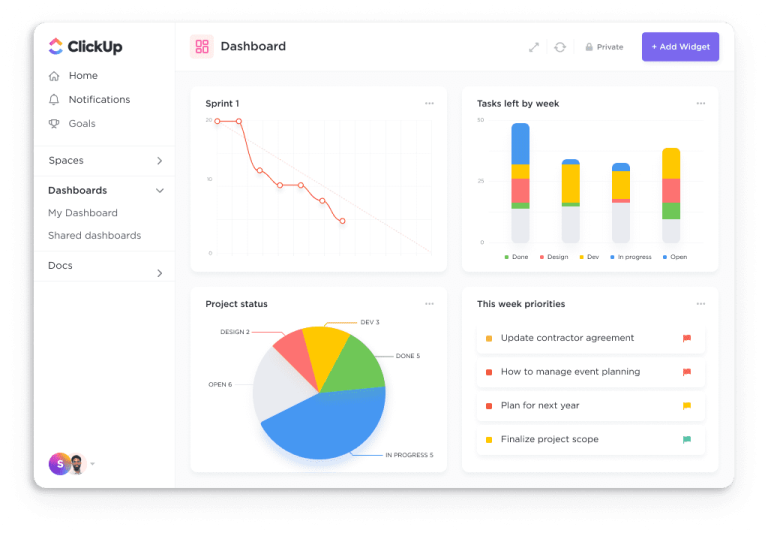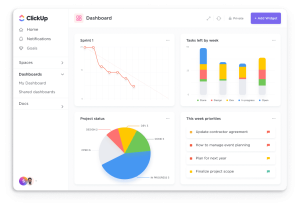 | | | | | |
| --- | --- | --- | --- | --- |
| Best For | Starting Price | Free Trial | Compatibility | Number of Integrations |
| Unified solution | $5/user/month | 14 days | Mac, Windows, or Linux, Android, iOS | 1,000+ |
The best part about ClickUp is its free-forever plan that's so generous that you might not need to upgrade to a paid plan for some time. For example, even on the free plan, you get 100GB+ storage which is plenty to manage the assets and documents for multiple projects at any given time. Additionally, there is no limit on the number of projects, team members, and tasks you can add.
Once you move up to the paid plans, you'll gain access to additional features, such as agile reporting, a goal folder, and the ability to create unlimited teams.
Having multiple teams defined in the system can help you to divide up work more efficiently. For example, you might have an experienced team that'll manage older, long-term clients based on familiarity and another team focused on lead conversion and bringing in new customers.
If you want to give someone – such as a client – temporary access to the platform to present your work and progress, you can invite them in as a guest, with some restrictions in place on what they can view and access on the platform.
Depending on your plan, you can also qualify for priority support. And even if you're on a cheaper plan or using ClickUp for free, you'll still get 24/7 support from the in-house team. It's a great option if you're looking for a business management software free solution.
Pricing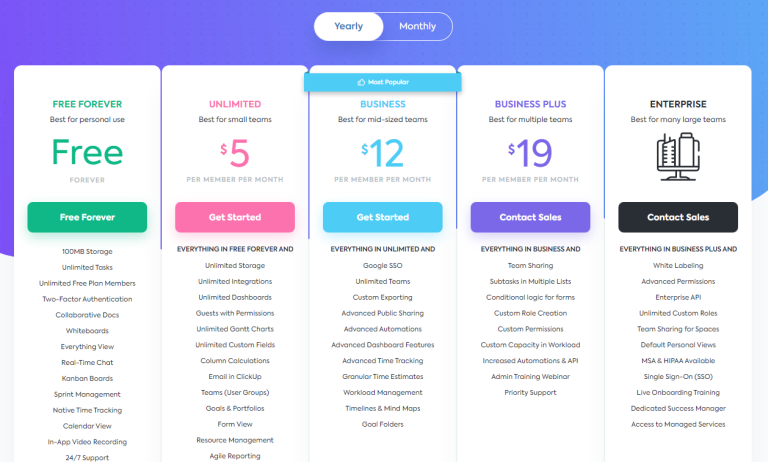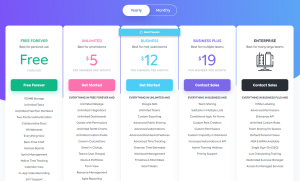 Pros
Allows custom workflows to match specific needs
Real-time updates on project progress
Allows communication and collaboration in a centralized platform
Makes it easy to manage multiple projects at once
Facilitates time tracking on a task basis
Cons
Notifications can be hard to manage
Reporting can be improved
3. Wrike — Great for Managing Large Teams and Automating Tasks
Wrike prides itself on being an all-in-one project management platform where you can assign tasks, supervise your team, and communicate with them at the same time.
If you're looking for automation-heavy business management software to lighten the load on your team, Wrike is definitely a great choice. For instance, Wrike will automatically move your tasks forward based on the labels you assign to them.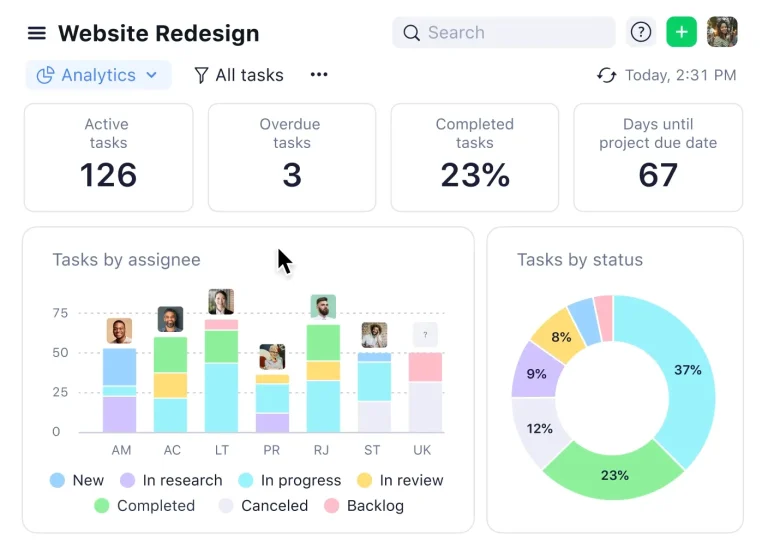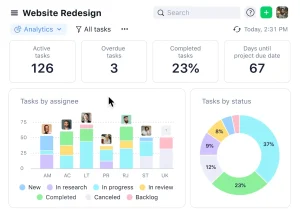 | | | | | |
| --- | --- | --- | --- | --- |
| Best For | Starting Price | Free Trial | Compatibility | Number of Integrations |
| Businesses of all sizes | $9.80/user/month | 14 days | Windows, Mac, Android, and iOS | 400+ |
For teams working on multiple tasks at the same time, an auto-organization tool such as Wrike can be a huge time-saver.
Wrike will also send you custom notifications on recent work updates and messages from your team. If anything is blocking a workflow, Wrike will automatically let you know in advance.
Just like Monday.com, Wrike offers robust integration options. Currently, the platform offers over 400 options, including some popular business software such as Salesforce, Hubspot, Google Sheets, and Google Calendar.
There's no limit on how many additional apps you can integrate with, and you can connect with as many tools as needed to automate the workflow completely. Wrike can further simplify the process by automatically syncing your old data with the new integrated application – meaning you can build many of your business processes right into the platform.
Pricing


Pros
Completely personalized dashboards
Great filtering and sorting options
Cross-tagging saves space and employee time
Allows upto 400 integrations
Cons
The premium plans are expensive
4. Smartsheet — Tailor-made Features for Each Business Sector
Founded in 2005, Smartsheets has managed to earn its name among the top business management solutions with consistent service. Today, more than 90% of Fortune 100 companies – such as JPL, P&G, and Pfizer – apparently trust Smartsheet to manage their business.
This business manager software product has customized features for a wide range of business verticals. Currently, Smartsheets has software tools for the construction sector, healthcare, education, marketing, and IT, among many other sectors.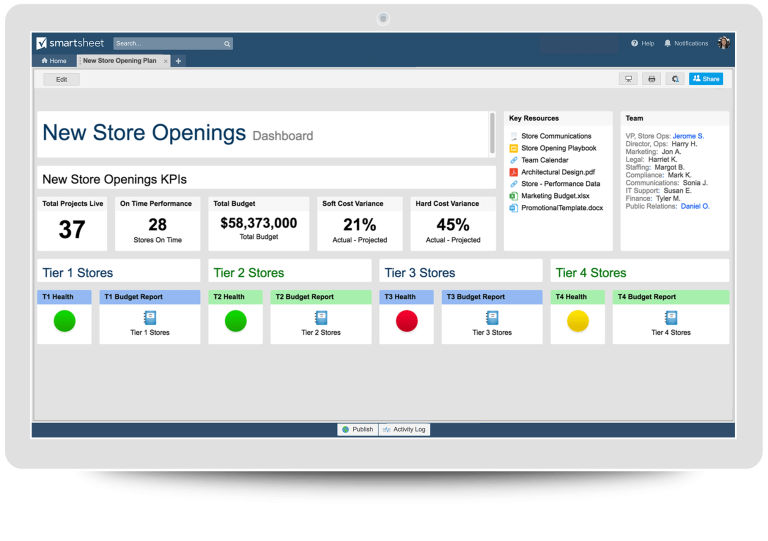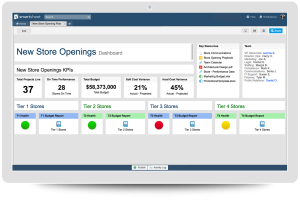 | | | | | |
| --- | --- | --- | --- | --- |
| Best For | Starting Price | Free Trial | Compatibility | Number of Integrations |
| Automating functions | $7/user/month – annual plan | 30 days | Windows, Mac, Android, and iOS | 100+ |
Smartsheets is also a great collaboration tool. You'll get a dashboard with a list of all your employees where you can assign tasks to the team.
For example, let's say you want to assign the task of reviewing a report to someone. All you've got to do is type in the task label, select the date period, and pick the employee you want to handle it. The transparent structure then means that every employee is accountable for their work.
You can also automate repetitive tasks to accelerate their progress through the workflow to simplify team management.
If you want the team lead to be informed every time a task reaches the final review stage, for example, you can have Smartsheets send an automated message. What's more, you can set custom conditions in the event you don't want the team lead to be notified under certain circumstances.
Smartsheets makes it easy to give managers and stakeholders a clear overview of your team's progress with all the necessary KPIs without having to drill down into the details of workflows — the perfect balance of transparency and granularity that you need.
Pricing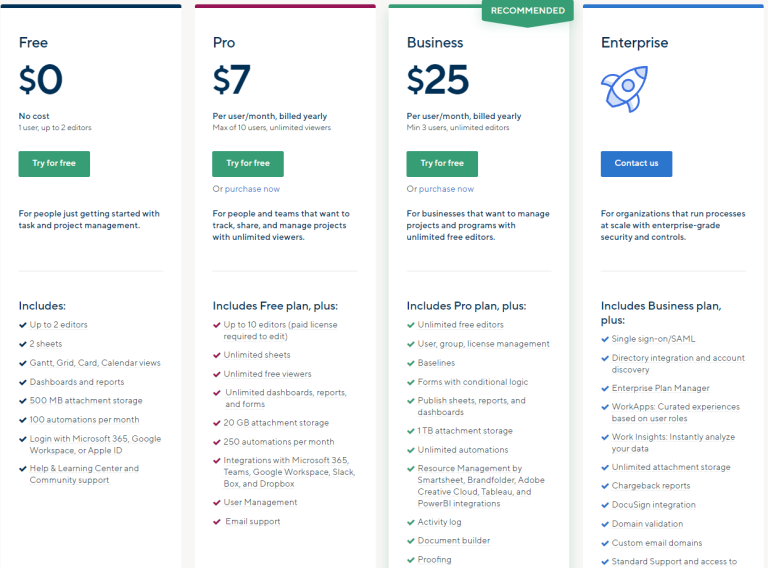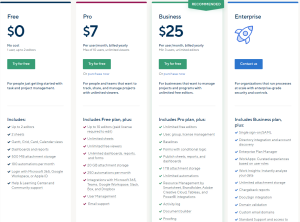 Pros
Easy to get started
Powerful custom reports
Lots of templates
SSO-level Enterprise security
More affordable than other options
Cons
Real-time page updates are slow
No in-built time tracking
5. Resource Guru — Strong Features for Managing Employees and their Work Hours
Resource Guru, as the name suggests, focuses on resource management and can help to prevent situations like understaffing or overstocking.
With Resource Guru's resource scheduling feature, you'll be able to plan ahead and ensure you have enough staff on the ground to operate to your requirements.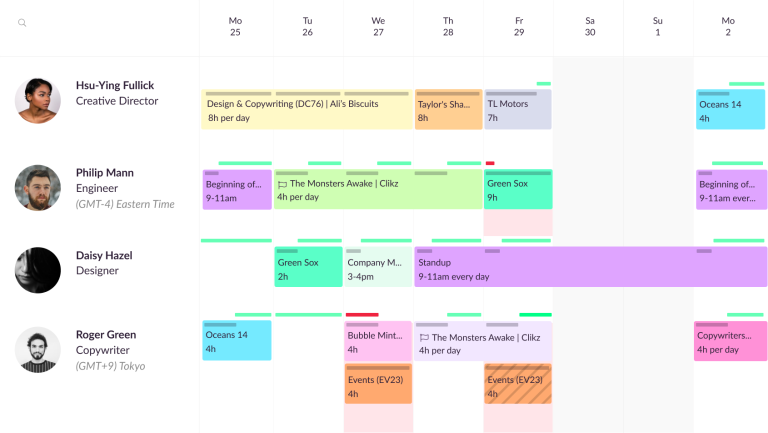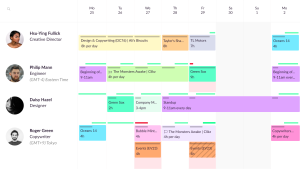 | | | | | |
| --- | --- | --- | --- | --- |
| Best For | Starting Price | Free Trial | Compatibility | Number of Integrations |
| Managers allocating work | $4.16/user/month | 30 days | Windows, Mac, Android, and iOS | 1500+ |
The platform allows you to drag and drop color-coded labels to add more work or hours for your employees. If you overbook someone, Resource Guru will alert you and highlight someone who has enough capacity to take on additional work.
In the same dashboard, you can view time-off requests and upcoming holidays for each employee, which will further help you plan ahead for the coming weeks.
Another benefit of using Resource Guru is its project scheduling feature, which works with your team's availability schedule to assign tasks. Each time you allocate work for a new project, Resource Guru will highlight the free slots for each employee so that everyone gets an equal share and no one is overloaded.
Accurate project scheduling will additionally help you forecast expected completion dates, which you can then share with your clients.
Resource Guru also helps you review available employees with its search tool. Here, you can add multiple filters such as employee skills, experience, and location to quickly find the individuals best suited to take up a project.
Pricing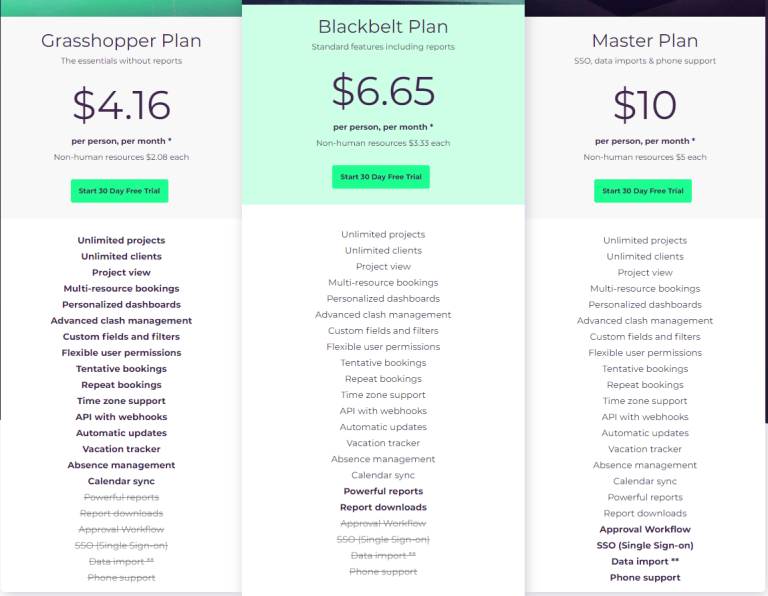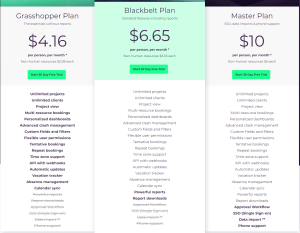 Pros
Resource, project, and client reports
Cross-time-zone team management is made easy
Offers a generous 30-day trial
Cons
6. Teamwork — Beginner-Friendly, Free Project Management Software That's Ideal for New Businesses
Teamwork does complete justice to its name by helping you and your team come together to seamlessly work on projects together and deliver them to clients in record time.
One of our favorite things about Teamwork is its free-forever plan. It comes with all the basic project management features, such as Kanban boards, built-in communication features, and real-time notifications on work updates.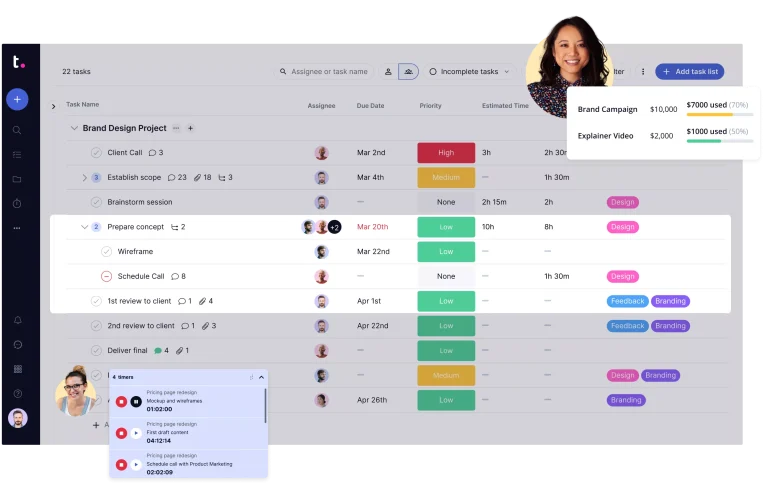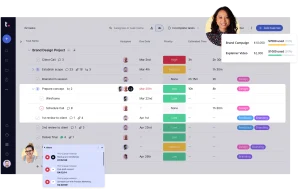 | | | | | |
| --- | --- | --- | --- | --- |
| Best For | Starting Price | Free Trial | Compatibility | Number of Integrations |
| Organizations with a time-based workforce | $5.99/user/month | 30 days | Windows, Mac, Android, and iOS | 1150+ |
On top of that, you also get key integration opportunities with popular business management tools to manage your clients. Whatever comes with the free plan is enough to help a startup or small business take off.
For instance, you can book a free demo with the team, read their blogs, attend live webinars, or join their academy to learn more about how the platform works.
Another feature we loved was the built-in project templates. If you're a new business, you might not know the best way to arrange your project tasks and assets or how to manage task delegation. In that case, you can use the built-in templates to build the basic workflow. Don't worry – you can customize the parts you'll likely want to change.
If that doesn't suffice, you can also use their support center. Here, you can access documentation, send an email, or leave a message for the team on the website via a contact form.
Pricing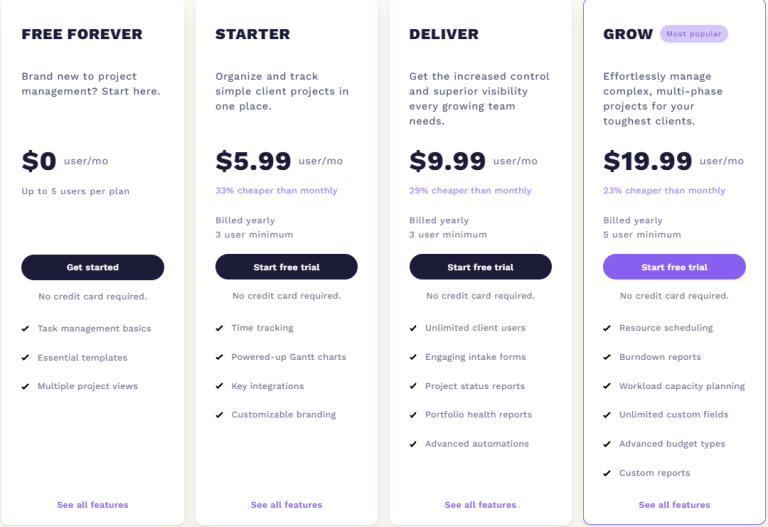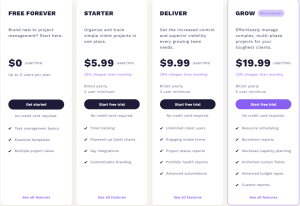 Pros
Automatically generated timelines
A flexible notifications system
Easy to find information through chat threads
Allows inviting non-members for no cost
A handy free version
Cons
Lacks some major CRM integrations
A lot of emails
7. Bonsai — Top Choice for Real-Time Collaboration
Bonsai is one of the few good business management tools that let you manage your team as well as your clients from the same system, saving you the trouble of maintaining a CRM and project management tool separately.
Bonsai is a good choice for beginners who don't know how to get started. From the very first plan, you get access to unlimited templates that can be customized as per preference. Once the basic framework of your workflows is ready, you can use the task and time tracking feature to manage your team.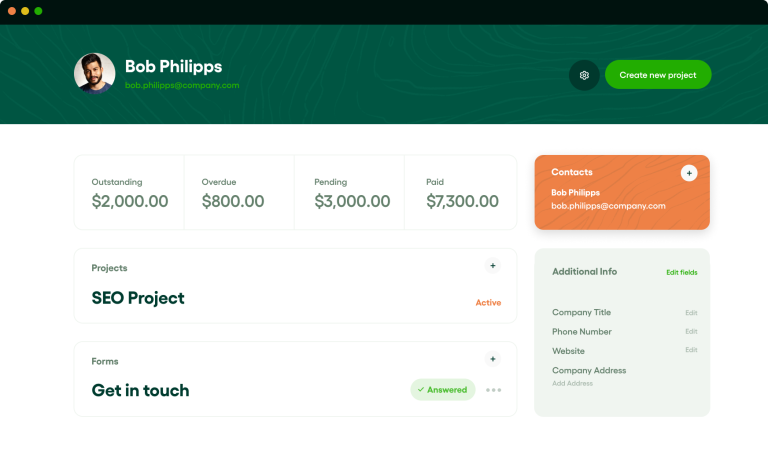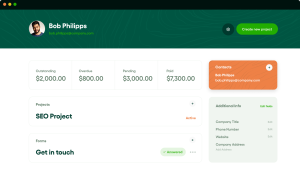 | | | | | |
| --- | --- | --- | --- | --- |
| Best For | Starting Price | Free Trial | Compatibility | Number of Integrations |
| Unified solution | $17/month | 7 days | Desktop, iOS, Mac, Android, and Chrome extension | 1,300+ |
First, you can assign tasks to your team and note their progress automatically from the software without pinging them up personally. The built-in time tracker will also show how long each employee takes to complete the tasks.
With accurate time reports, you can ensure that everyone on your team is putting in their 100% and getting paid for every second they spend on the project.
The best part is you can add unlimited project collaborators so that your team can come together to solve a problem. Changes made by each collaborator will be updated in real-time so that the others can work accordingly.
If you want to manage your projects and expenses from the same platform, check out Bonsai's QuickBooks integration. Expense tracking, bill/receipt management, or bank reconciliation, everything will be taken care of by Quickbooks.
For more integrations, you can simply connect with Zapier, which in turn will connect you to 4,000+ apps from its database for a more streamlined flow of work.
Pricing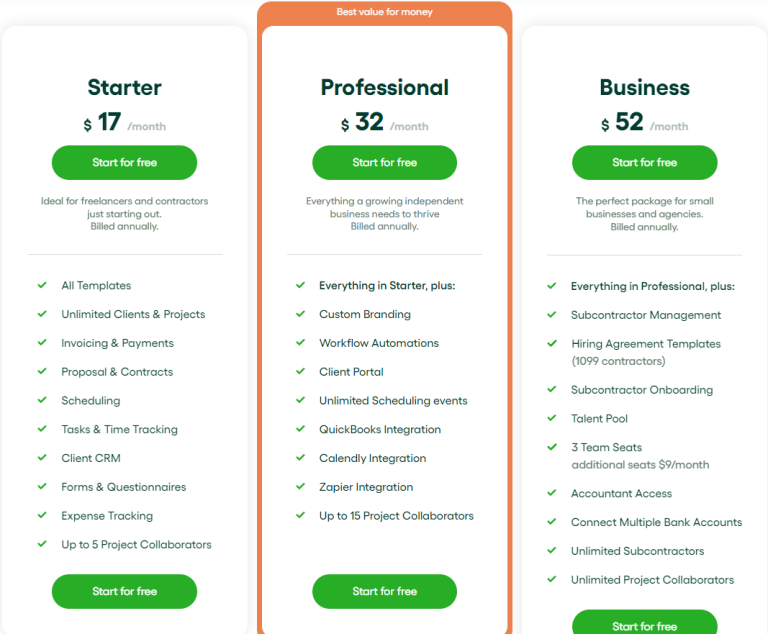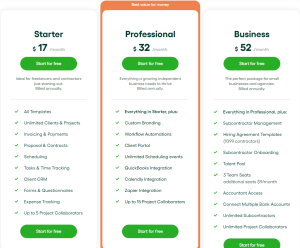 Pros
Offers various payment and payout options
Project-based time tracking
Best for proposals and automatic invoices
A Client Portal to keep clients in the loop
Cons
8. WorkOtter — Best for Speed and Security
WorkOtter is a popular project portfolio and resource management software. Its biggest USP lies in its simplicity. WorkOtter aims to provide a simple way to manage your projects and business in a world where many things are unnecessarily complex.
What makes WorkOtter faster, more secure, and more efficient than other tools is that it's hosted on a private cloud. Today, WorkOtter owns the US's largest, top-tier, all-steel facility.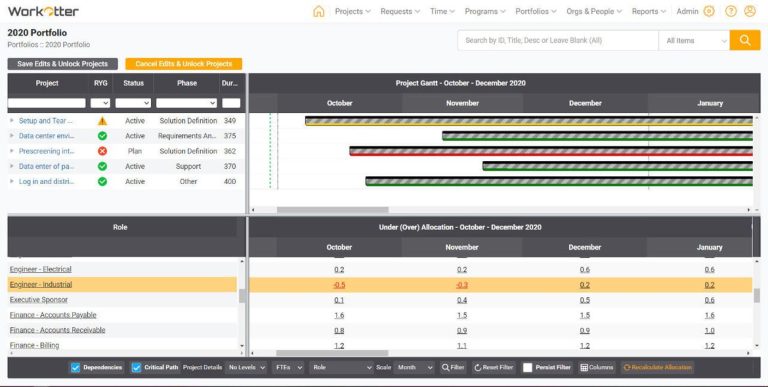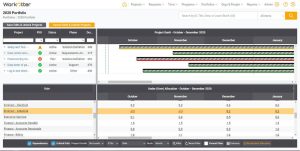 | | | | | |
| --- | --- | --- | --- | --- |
| Best For | Starting Price | Free Trial | Compatibility | Number of Integrations |
| Getting started quickly | $10/month | Available – length not disclosed | Desktop, iOS, Mac, Android | 14+ |
Also, since it's hosted on private servers, you access your assets 24/7 without having to purchase servers, manage patches, or configure networks.
A popular WorkOtter feature is the Activity Tracker— a robust and much-needed tool that will help you keep an eye on remote teams. Checking their progress on a dashboard isn't enough. Sometimes you might need to get into the details of their activities.
And to add a cherry on top, WorkOtter offers 24/7 expert customer support. No matter the issue, they guarantee that you'll never be left on your own to sort out the mess.
Pricing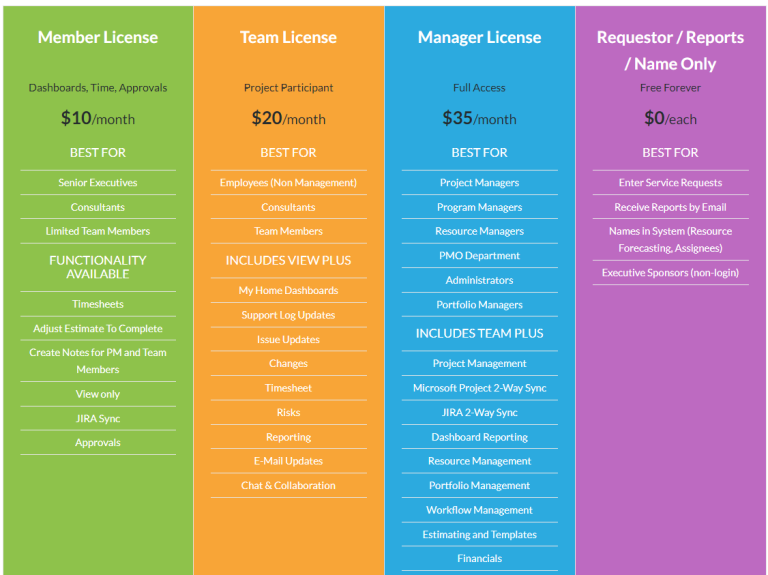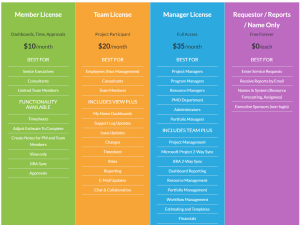 Pros
You can map your spending to strategic goals
Seamlessly integrate with various tools
Banking grade, non-open source SSL encryption
Make project details visible to every stakeholder
Cons
Fewer features and options on mobile
9. ProWorkflow — Storage King with 25GB on its Most Basic Plan
ProWorkflow is an industry-leading online project management software solution that offers unlimited project management on both of its plans.
The software also provides massive storage capacity. Under the Professional plan, you get up to 25GB of storage, whereas the Advanced plan offers up to 50GB of storage. No matter how many project files or data you've got to store, there'll always be enough space for every client.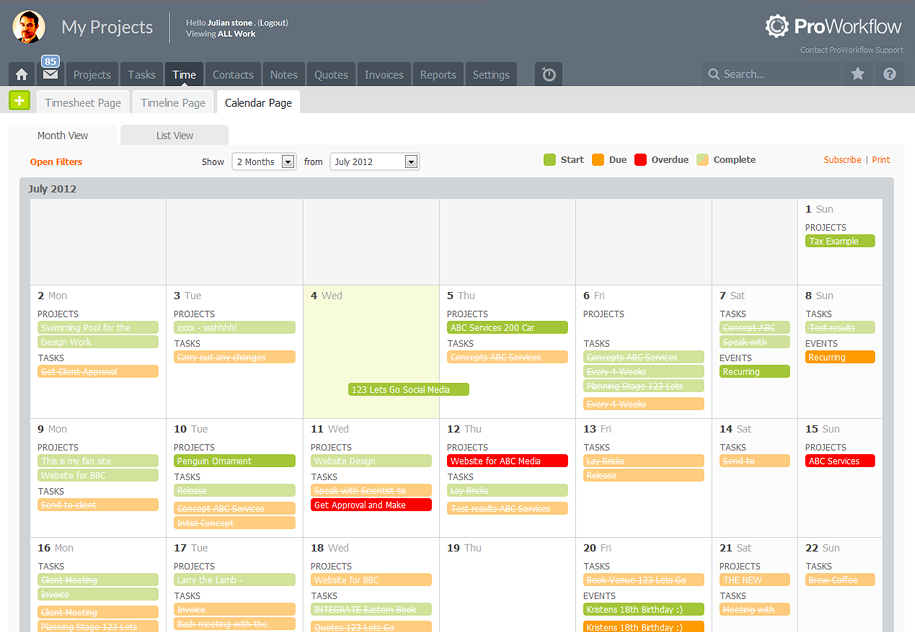 | | | | | |
| --- | --- | --- | --- | --- |
| Best For | Starting Price | Free Trial | Compatibility | Number of Integrations |
| Organizations with lots of data needs | $20/user/month | 14 days | Desktop, iOS, and Android | 350+ |
Depending on your chosen plan, you can invite 1-5+ members on board to work with you. What's more, setting up is completely free regardless of your plan.
Speaking of projects, ProWorkflow offers you a detailed list of all the projects you've worked on through the platform— both past and present. This feature will help you keep track of everything you've worked on, making it easier to refer to completed projects.
For past projects, it also provides an archive option. This way, you'll be able to keep all the data from your past projects without cluttering your main dashboard.
To manage your employees, ProWorkflow offers a built-in time tracker with two options. You can either use traditional time tracking where the employees manually clock in and clock out, or you can have a live tracker that will automatically as soon as they log into their system. This is a great way to identify your best employees and help the rest boost their productivity.
On top of that, ProWorkflow helps you manage your contacts and connections by offering one-click import/export. It'll only take a few seconds to get your entire contact list uploaded here.
Pricing
Pros
You can set customizable user permission
A Kanban view offers a more visual depiction of work
Allows you to prioritize custom reports
Unlimited free client and contractor access
Cons
10. Oracle NetSuite — Highly Customizable Dashboard Plus a Built-in CRM
Oracle NetSuite recognizes itself as one of the top cloud-based ERP solutions in the industry. It's an all-in-one business management solution that takes care of project management, resource planning, budgeting, and many other crucial business processes from one single platform.
The ERP software helps you make informed decisions by giving you access to financial, administrative, and customer data from all over the organization. Depending on your priority, you can customize your dashboards to choose which documents go on the top.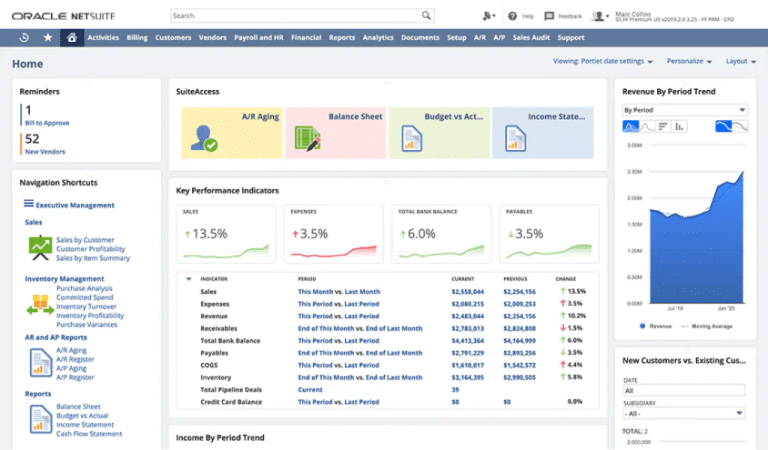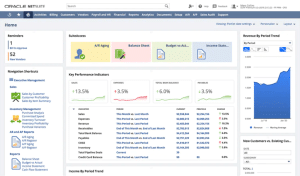 | | | | | |
| --- | --- | --- | --- | --- |
| Best For | Starting Price | Free Trial | Compatibility | Number of Integrations |
| Knowledge base | Custom | 14 days | Desktop, iOS, and Android | 140+ |
Oracle NetSuite also comes with a highly rated CRM tool that helps you manage customer data and build a stronger relationship with them. For instance, you can get a complete view of your past customer interactions and preferences, which will help you know what exactly they like and how you can win them over.
Also, since sales data are integrated with the platform, your team can see what stage each lead or customer is at. Depending on their interest in the product, Oracle NetSuite will help you decide who to invest more in or approach for an upsell.
Another benefit of using Oracle NetSuite is the built-in reporting and analytics feature. Running a successful business requires you to have detailed insight into what everyone in your company is up to or how your leads are responding to the current approach to decide your next step.
With this tool, you'll be able to see client satisfaction rate, the total number of customer queries answered, total engagement, lead conversion, etc.
Pricing
Oracle NetSuite has custom pricing. The price you pay is a sum of:
An annual license fee, which depends on your chosen subscription, number of users, and optional modules
A one-time initial setup fee
Get in touch with Oracle NetSuite's team today.
Pros
Best known for seamless integrations
A wide knowledge base and support
Excellent forecasting and trend analysis
Allows forms and dashboards customization
Cons
11. Bitrix24 — Online Workspace Platform with Multilingual Support
Bitrix24 is more than just a business management tool. It can also double up as an online workspace for your team to come together, making it a great project management platform. That's why it offers the best team communication features.
For example, with Bitrix24, you can directly chat or call your team right from the platform. If that doesn't suffice, you can also hold online meetings through video calls. You'll also have a shared work calendar where you can upload important upcoming events and ask everyone to mark their availability for the week so that you can plan the tasks ahead.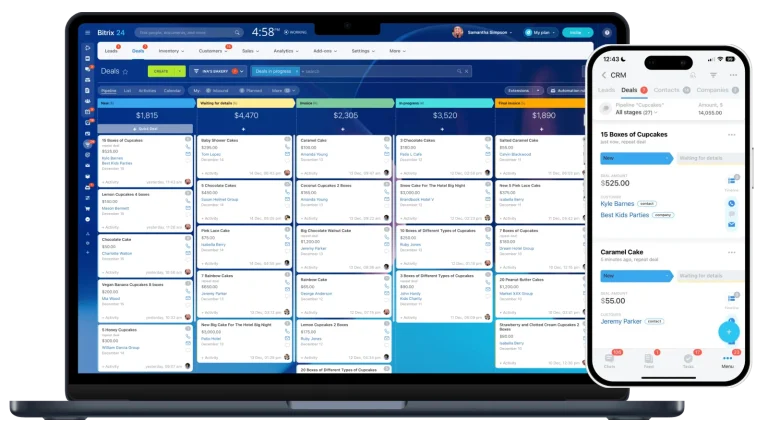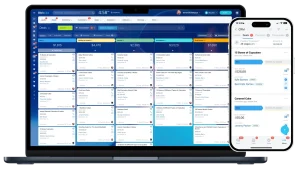 | | | | | |
| --- | --- | --- | --- | --- |
| Best For | Starting Price | Free Trial | Compatibility | Number of Integrations |
| Multi-functional tools | $49/month – 5 users | 30 days | Desktop, iOS, and Android | 500+ |
Bitrix24 can also seamlessly integrate with your drive, allowing you to share documents online with the team in just a few clicks.
Other remarkable features of Bitrix24 include a free website builder, which is quite frankly a godsend for new businesses. You'll also find pre-designed templates to get started. The website editor is relatively easy to use and offers enough customization options to create your dream website without starting from scratch.
Getting started with Bitrix24 is the easiest thing ever. You can schedule a free demo with the team, attend their webinars, or watch their tutorials. If you need additional help, feel free to reach out to the help desk or directly contact the support team through live chat.
What makes its customer support team so remarkable is that it offers consultation in German, Spanish, and Portuguese, along with English.
Pricing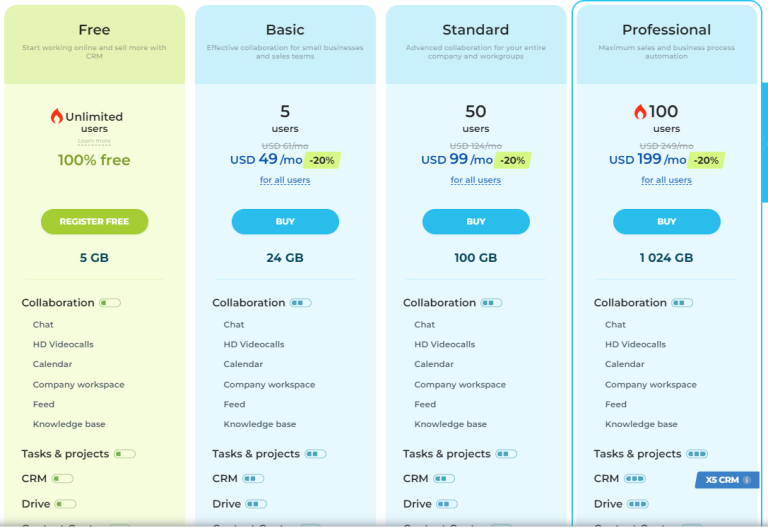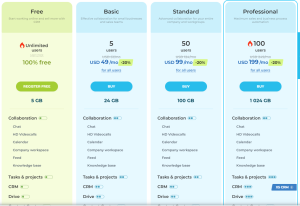 Pros
Several sales and marketing automation rules
Automate recurring tasks
Printable Gantt charts and Kanban boards
Customizable contact and callback request forms
Cons
The widgets can be a little heavy and slow your system
12. Odoo — Superb for Expense and Accounts Management
Odoo is an open-source ERP and CRM software. Just like Bitrix24, getting started with Odoo is relatively easy. It offers you a consultation with its experts even before you begin so that you can really understand whether Odoo can meet your business needs or not.
If you want to automate one part of your business, such as CRM or marketing, you can get started with the free app.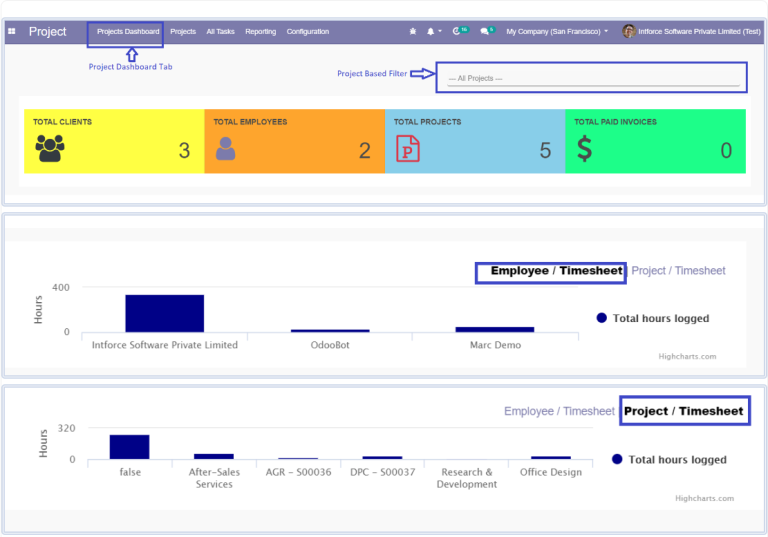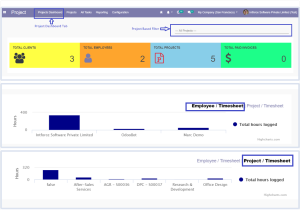 | | | | | |
| --- | --- | --- | --- | --- |
| Best For | Starting Price | Free Trial | Compatibility | Number of Integrations |
| Management tool with accounting software | $24.90/user/month | 15 days | Desktop, iOS, and Android | 1000+ |
But once you scale your business, it's best to go for the Standard or Custom plan that gives you access to all their apps, which cover CRM, marketing, accounting, HR, and inventory, among other functions. Everything you need to run a business will be available at your fingertips through Odoo.
During our testing, we were pleasantly surprised by the platform's versatility when we looked at the features offered under each app. For example, under human resource management, Odoo will help you manage work allocation, leave and time-off requests as well as recruitment.
Managing your employees and finding the best man for the job becomes easier too. You'll be given a detailed database of all your employees with their names, department, and contact. All you must do is add the necessary filters when you look them up to find all the right people from the concerned department.
Odoo can also help you manage your expenses much more efficiently. Here again, you'll get a detailed dashboard with small cards highlighting each expense, which you can choose to approve, deny or submit for review – all from one place.
Pricing
Odoo offers 3 plans for annual billing:
Free forever plan
Standard: $6.95/user/month
Custom: $6.95/user/month
Pros
Neat and efficient overview of your projects
Automatically generates one-time or recurring invoices
Dynamic and customizable dashboards
Intuitive and easy-to-use drag-and-drop interface
Cons
Many functions do not work as advertised
Compare Company Management Software
Choosing a suitable business management software product can be challenging, especially if you're short on time. That's why we've compiled a table outlining all the key differences between our top picks so you can make a quick decision.
| | | | | | |
| --- | --- | --- | --- | --- | --- |
| Business Management Software | Best For | Starting Price | Free Trial | Compatibility | Number of Integrations |
| Monday.com | Data-driven organizations | $8/seat/month – annual plan | 14 days | Android, iOS | 50+ |
| ClickUp | All-in-one, unified solution | $5/user/month | 14 days | Mac, Windows, or Linux, Android, iOS | 1,000+ |
| Wrike | Businesses of all sizes | $9.80/user/month | 14 days | Windows, Mac, Android, and iOS | 400+ |
| Smartsheet | Automating functions | $7/user/month – annual plan | 30 days | Windows, Mac, Android, and iOS | 100+ |
| Resource Guru | Managers allocating work | $4.16/user/month | 30 days | Windows, Mac, Android, and iOS | 1500+ |
| Teamwork | Organizations with a time-based workforce | $5.99/user/month | 30 days | Windows, Mac, Android, and iOS | 1150+ |
| Bonsai | Unified solution | $17/month | 7 days | Desktop, iOS, Mac, Android, and Chrome extension | 1,300+ |
| WorkOtter | Getting started quickly | $10/month | Available – length not disclosed | Desktop, iOS, Mac, Android | 14+ |
| ProWorkFlow | Organizations with lots of data needs | $20/user/month | 14 days | Desktop, iOS, and Android | 350+ |
| Oracle Netsuite | Knowledge base | Custom pricing | 14 days | Desktop, iOS, and Android | 140+ |
| Bitrix24 | Multi-functional tools | $49/month – 5 users | 30 days | Desktop, iOS, and Android | 500+ |
| Odoo | Management tool with accounting software | $24.90/user/month | 15 days | Desktop, iOS, and Android | 1000+ |
What's the Best Free Business Management Software Solution?
Here is a quick overview of our top 5 free business management solutions:
Tool
Free plan users
Unique free features
Cost to scale
Monday.com
2 users

200+ templates
Unlimited docs
20+ column types

$8/seat/month
ClickUp
Unlimited

Unlimited tasks
24/7 support
In-app recording

$5/month
WorkOtter
NA

Resource forecasting
Manage service requests
Work reports sent via email

$10/month
Teamwork
5 users

Multiple project views
Integrated team chat
Project templates

$5.99/month
Smartsheet
1 user

Gnatt, card, calendar, grid views
100 automations per month
Dashboards and reports

$7/user/month
Why You Need Business Management Software
Wondering why you should use business management software? Here are some of the reasons why you cannot do without one:
Healthy Team Discussions
Creatively designed business management software effectively fosters productive team communications. It transforms an unproductive office setting into a place for constructive discussions. With the launch of this technology, employees may interact with all departments more easily and respond to team members quickly using various chat tools. Thus, by integrating the entire workforce, business software may help firms achieve exceptional outcomes.
Improved Customer Service
A business management system may assist companies in keeping track of consumer data and preferences, resulting in improved customer service. Such a system will boost customer service by providing staff with the necessary resources to perform their duties effectively. It'll also help staff provide greater satisfaction to clients by automating processes and supplying them with accurate, current information.
More Strategic Decisions
Duplicate data from many departments might make it challenging to make informed choices. You may be unsure which information is correct and what can be used to carry out your plan and achieve your objectives. Instead of evaluating which data is correct, an integrated business management system will help you make faster and more strategic decisions. It even allows you to view your company as a whole, enabling you to make plans.
Centralized business management
The main advantage of business management software is the ability to handle a wide range of company applications from a single hub. Instead of dealing with several controls, interfaces, passwords, and providers to meet ongoing business demands, you may benefit from a streamlined management solution managed through a single system. Any changes made to the program or related data are reflected in all linked apps.
Allows You to Avoid Mistakes
You can run into mistakes or lose your data while transferring data from one platform to another. You've two options: either accept the errors or spend much time and money restoring and verifying everything. Using business management software eliminates the need for repeated data imports. You just need to input your data – your program will handle the rest. Additionally, all-in-one business management software may improve your data management and organization while protecting your company from errors and multiple entries from human inputs.
How to Choose the Best Management Software for Your Business
Investing in management software can help streamline your business operations, improve productivity, and boost overall efficiency. To help you make an informed decision, we've compiled a list of key factors to consider before investing in management software for your business.
Features Offered
When choosing management software for your business, it's essential to consider the features offered. The software should provide reporting functions that align with your company's needs. It should be easy to run reports, analyze data, and identify areas for improvement. The software shouldn't complicate things but rather save time and increase productivity.
Scalability
When choosing management software for your business, it's essential to remember that your business will evolve and expand over time. The software you choose should be able to accommodate this growth and have the necessary functionality and capacity to keep up with your changing needs.
You should look for software that can easily add new features, support more users, and handle more data without requiring a complete system overhaul. A scalable software solution can provide long-term benefits for your business, helping you stay competitive and grow.
Pricing
Budget is an essential factor to consider when purchasing software for your business. You should determine your budget and find a product that fits your price range. Consider licensing fees, monthly usage fees, customization costs, training, and support costs. Planning for every cost involved is important, from implementation to ongoing support.
Customization Options
Every business is unique, and its software needs will vary. Find a software company that can customize its product to meet your specific needs and requirements. A one-size-fits-all approach may not work for your business. Thus, it's essential to personalize the software to remove features you don't need and add those that you do.
Ease of Use
Ease of use is a crucial factor when selecting business management software. Employees must adapt to the software quickly and easily without extensive training. It's essential to research all available options to find the most user-friendly model that meets your needs.
If you purchase a more extensive software version, understand the provider's implementation plan to ensure a smooth transition. User-friendly software programs can increase productivity, streamline workflows, and reduce the learning curve for new employees.
Customer Support & Security
Ensure your chosen software offers optimum security for your business and personal data. Check the company's compliance regulations and privacy policy. Ensure the software company provides customer support during your business hours and has local support teams. This will ensure that you have the support needed to help recover business data or address any questions or concerns that may arise.
Business Management Software FAQs
What is business software management?
What are the 5 types of software for small businesses?
What's the best free business management software?
What's the best small business management software?
What is the biggest benefit of business management software?
Conclusion – What's the Best Business Management Tool in 2023?
A business management tool is indispensable for effective day-to-day operations and management. Moreover, the best management software can integrate with almost all business tools for easier management from a single dashboard.
Based on our research, Monday.com will likely be the best solution for all your business management needs. With features like customizable dashboards, Gantt charts, Kanban boards, 24/7 customer support, and affordable plans, Monday.com is all you need.
Try it out now with a free forever plan!