In this ClickUp review, we'll be exploring the project management software solution in detail. It's a highly regarded tool that caters to a wide range of users, from individuals tackling complex projects to business teams seeking enhanced collaboration features. ClickUp offers flexibility that can benefit everyone, from sales teams to managing directors and educators.
Our ClickUp review dives deep into the features, pricing, and usability of the ClickUp app. Stay with us as we explore its features, including employee workload views, customizable automations, and a fantastic free version for small businesses.
Who Owns ClickUp?
ClickUp is privately owned by Zeb Evans, its CEO and founder. The core productivity platform was originally an internal program used by ClickUp's management staff. Since 2017, it's ballooned into an organization worth several billion dollars with high-end clients, including IBM, Netflix, and Salesforce.
Clickup has earned a number of accolades, including being placed on Fast Company's annual list of the Most Innovative Companies. This underscores ClickUp's pioneering approach to consolidating work processes on a single platform, revolutionizing the modern workplace.
ClickUp has garnered recognition for its innovative approach, appearing in the Top 100 Fastest Growing Products and winning accolades at the Best Software Awards 2021.
What is ClickUp, and How Does ClickUp Work?
ClickUp is a dynamic project management and productivity software tool designed to revolutionize the way teams and individuals manage their tasks and projects. It serves as a comprehensive platform that centralizes task organization, fosters collaboration, and enhances productivity.
ClickUp simplifies task management by allowing you to create tasks, assign them to your team members, set due dates, and prioritize them. This intuitive approach simplifies management and ensures tasks are completed efficiently.
The platform builds on this core feature by allowing you to engage in real-time conversations, comment on tasks, and share files. This fosters teamwork, enhancing productivity and keeping everyone.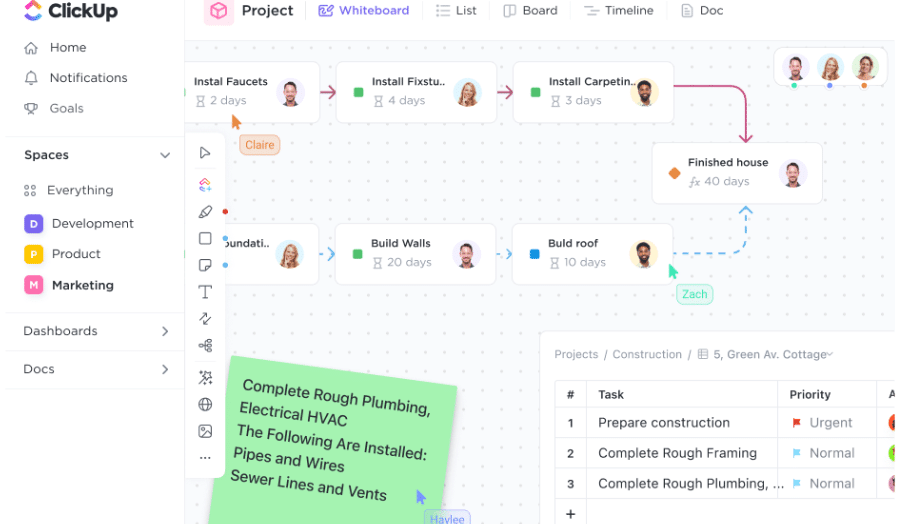 Beyond its core functions, Clickup offers an array of tools to tailor the software to the needs of your users and projects. From customizable task statuses and custom fields to adaptable workflows, ClickUp can be molded to fit diverse project types regardless of the industry you're in.
To further enhance project management, you can tailor project views, choosing from standard project management views such as list views, board views, and Gantt charts, as well as a variety of custom views that give you a deeper understanding of how your team works.
Automation is a core part of the task management process on ClickUp. The platform allows users to automate repetitive tasks and processes through rules and triggers. These automations work well with ClickUp's external integrations.
It seamlessly connects with popular third-party tools and applications with both an app marketplace and a well-documented API, allowing for a cohesive workflow and data synchronization across multiple tools. ClickUp can form the core of your work toolchain – in short, it's a one-stop solution for all your business needs.
Who Uses ClickUp?
ClickUp is highly customizable, and its user base is highly diverse, hailing from a range of professional backgrounds.
Project managers use ClickUp's job management capabilities to plan, execute, and oversee projects, ensuring tasks are completed on time and to budget. While talent helps a team succeed, efficient project management is often the make-or-break difference between a success and a failure.
The platform is particularly suited to software development teams thanks to integration with DevOps tools such as GitHub, BitBucket, and Slack and built-in tools for bug tracking and software release management. In addition, ClickUp's tools align well with agile development practices.
Marketing, sales, HR, and finance teams can also harness ClickUp's collaborative features to coordinate their efforts and keep track of essential tasks.
Any industry that needs to manage projects, meet deadlines, and maintain client communication can benefit from ClickUp, whether they're creative agencies, educational institutions, nonprofit organizations, or small startups – and it's particularly useful for remote and distributed teams.
Weighing Up the Key Pros and Cons of ClickUp
ClickUp is an excellent project management solution, but it has both positive and negative attributes. We've distilled user reviews and our own experiences into a few short bullet points to give you some insights on what ClickUp does well and what it can do better:

Pros
Excellent customization options
Great free plan, including unlimited tasks and users
In-depth task management, prioritization, and easy assignment
Extensive collaboration tools, including real-time chat, comments, in-app video recording, and file sharing
Cons
Steep learning curve
Can be overwhelming for simple projects
Relatively limited mobile app
How Much Does ClickUp Cost? Is ClickUp Free?
ClickUp offers a free plan with a range of features and far more than you'd expect from a free project management tool.
The free plan allows for unlimited users, making it ideal for small teams and startups on a budget. In comparison, many other project management tools, like Monday.com and Zoho, limit the number of users on their free plans. That said, each collaborator has a full set of user permissions, so it's difficult to enforce different roles.
You can create an unlimited number of tasks within ClickUp and prioritize them. You also get unlimited "Spaces," which function as compartmentalized workspaces for organizing projects.
The free plan offers various project views, including list view, board view, calendar view, and mind maps view. Time tracking features are available in the free plan, too, allowing users to monitor time spent on tasks, as are task dependencies. However, the full team management view is locked behind a paid plan.
Where ClickUp falls behind other free plans is with the amount of storage available, as you're limited to 100MB. Zoho gives you 5GB to start with, which allows much more flexibility. If ClickUp doesn't suit your needs, we have a list of the best free project management tools, which compares each tool in greater depth.
A Look at All ClickUp Plans
When it comes to ClickUp's pricing, plans range from their fantastic free version to a custom enterprise package for the largest and most complex organizations. Read on, and we'll break down exactly how each one differs so you can choose one for yourself:

With the Unlimited plan, you're bumped up to unlimited storage, making ClickUp an effective document repository tool. ClickUp's customization tools start to open up with unlimited Gantt charts, unlimited custom fields, and column calculations that let you derive information from your data sets.
The Business plan is tailored to mid-sized teams and includes additional benefits such as integration with Google SSO, granular time management capabilities, and custom CSV exporting.
Then ClickUp offers an Enterprise plan with custom pricing. This includes data compliance features such as HIPAA cover and specific data residency options, as well as full control over user permissions. The enterprise API also gives you full control over how you integrate ClickUp with your software.
ClickUp AI, available as an add-on, includes both AI-generated summaries of existing documents and generative capabilities based on 100+ prompts. It works well for extracting information from existing text, and the quality of the generated text is equivalent to ChatGPT.
ClickUp offers a seven-day 100% money-back guarantee. This equates to a free trial, allowing you to try out the paid features risk-free and assess whether the product meets your needs, though you can get a sense of the product's features with the free version. Canceling a subscription can be done through your account settings.
Reviewing the Key ClickUp Features
ClickUp stands out in the world of project management tools, but that doesn't mean it's the right fit for everyone. Here, we'll explore all of ClickUp's key features in detail. Having tested several other PM solutions, we're able to easily compare, noting what stands out and what we feel could use improvement.
Task Management
Task management in ClickUp involves creating, assigning, and tracking tasks within your projects. You can create tasks, set due dates, assign them to team members, add descriptions, attach files, and prioritize them.
These are just the basics, but ClickUp's task management engine is seriously deep. You can collaborate within comment threads per task, add tags for easier filing, and ensure tasks are fully completed with checklists.
You can also use custom fields to add specific details to tasks or use one of ClickUp's 35+ ClickApps to add extra functionality, ranging from automatic Sprint Points to recurring task assignments and automated handoffs.
ClickUp simplifies complex projects by offering the ability to break them down into subtasks, compile them into lists, or group lists into folders. You can visualize tasks and subtasks in various views, which we'll discuss in a moment, allowing for easy rearrangement and bulk editing with the bulk action toolbar.
Automations
ClickUp automation enables you to create rules and triggers to automatically carry out repetitive tasks and actions. You can set up automation rules based on various conditions and actions. For example, you can automatically assign tasks when a column changes to a specific status or send notifications when a certain date arrives.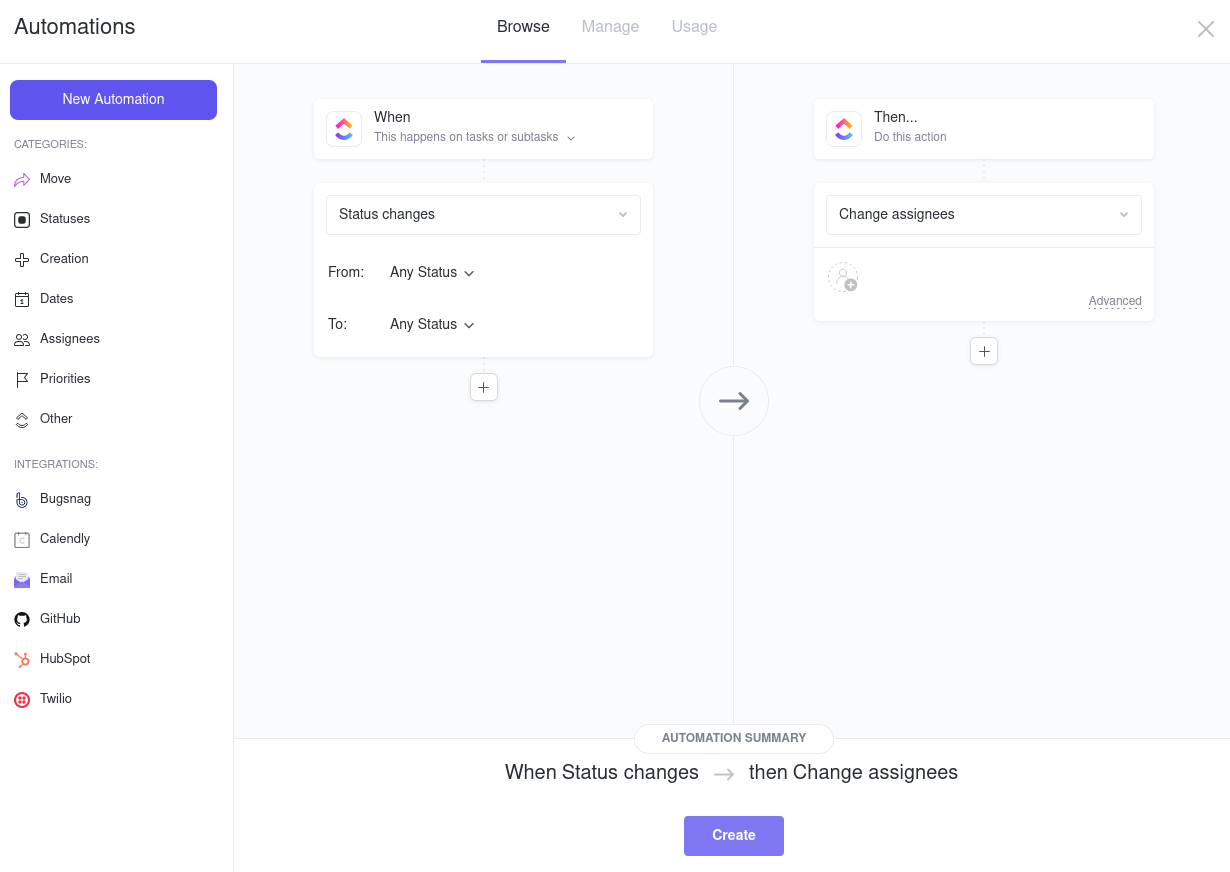 ClickUp's automations are pretty easy to use. There's a bank of default automations that cover the most common use cases, including status changes, dates, task creation, and user assignments. These include external integrations with popular tools like Bugsnag, Calendly, Email, GitHub, HubSpot, and Twilio.
You can also configure automations to only process on conditions, but this requires an upgrade to the unlimited package.
It's a little less user-friendly than Monday's semantic automation builder, which allows you to build custom automations by writing sentences, but ultimately, ClickUp's implementation of this feature is simple to use and in-depth enough to handle complex automation demands by chaining several conditions together.
Project Views
Project views in ClickUp allow you to visualize projects in different formats. ClickUp offers various project views such as list view, board view, Gantt chart view, and calendar view.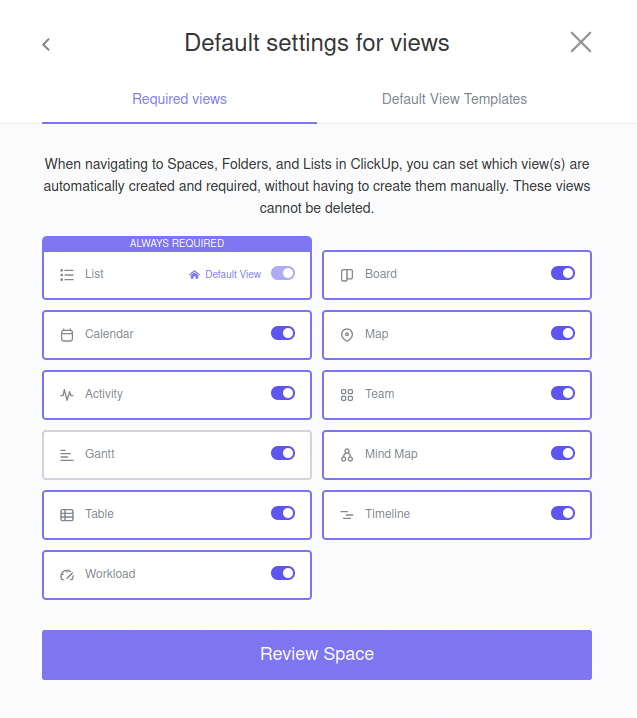 Different project views cater to different project management needs. For example, the Gantt chart view is ideal for visualizing project timelines, while the board view is great for agile project management. Most of the views you have access to are pretty standard, but there are a few that stand out.
An integrated mind map allows you to visualize the links between all of the different objects in your workspace, which comes in handy when you want to identify the relations between your spaces, lists, and tasks.
There's a Google Maps overlay for your tasks that has an associated location field that's great for sales teams and distributed offices. The real standout is the Team board that gives you an instant birds-eye view of where your team resources are allocated. Unfortunately, you need an Unlimited plan for this feature.
Integrations
Integrations in ClickUp allow you to connect your ClickUp workspace with third-party apps and services. ClickUp offers a wide range of integrations with tools like Google Drive, Slack, Trello, and more.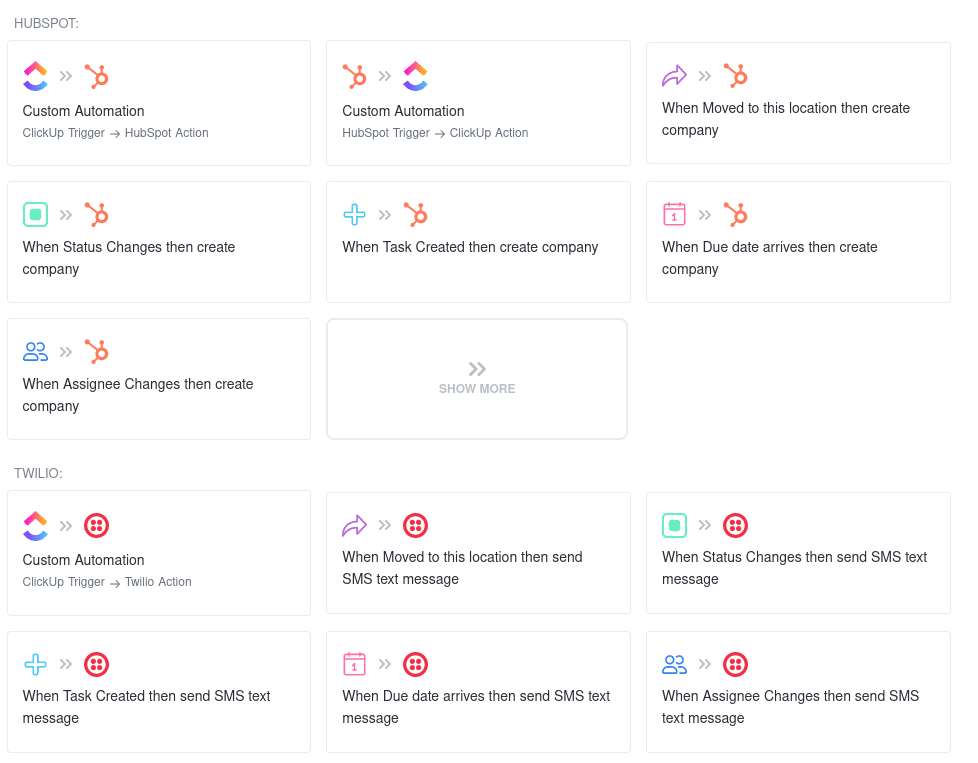 The free plan only offers a small subset of integrations to work with, but it's enough to get a feel for how they work. Adding a new integration is easy. All you need to do is select the app you want in the automations menu, select the automation you want to apply, and then log in with your credentials for that site.
Everything else is taken care of for you – unless you want to implement a custom integration trigger, which requires knowledge of the APIs for each tool you want to use.
ClickUp is also compatible with third-party integration tools such as Zapier and Make. This vastly improves the number of platforms you can link with, building an entire virtual office.
Collaboration Features
ClickUp's collaboration features facilitate communication and teamwork within projects. You can comment on tasks, attach files, and engage in real-time chat within the platform.
ClickUp's Chat feature is a powerful tool designed to enhance team communication and collaboration. You can collaborate in real time, eliminating the need for juggling multiple tools and managing scattered conversations.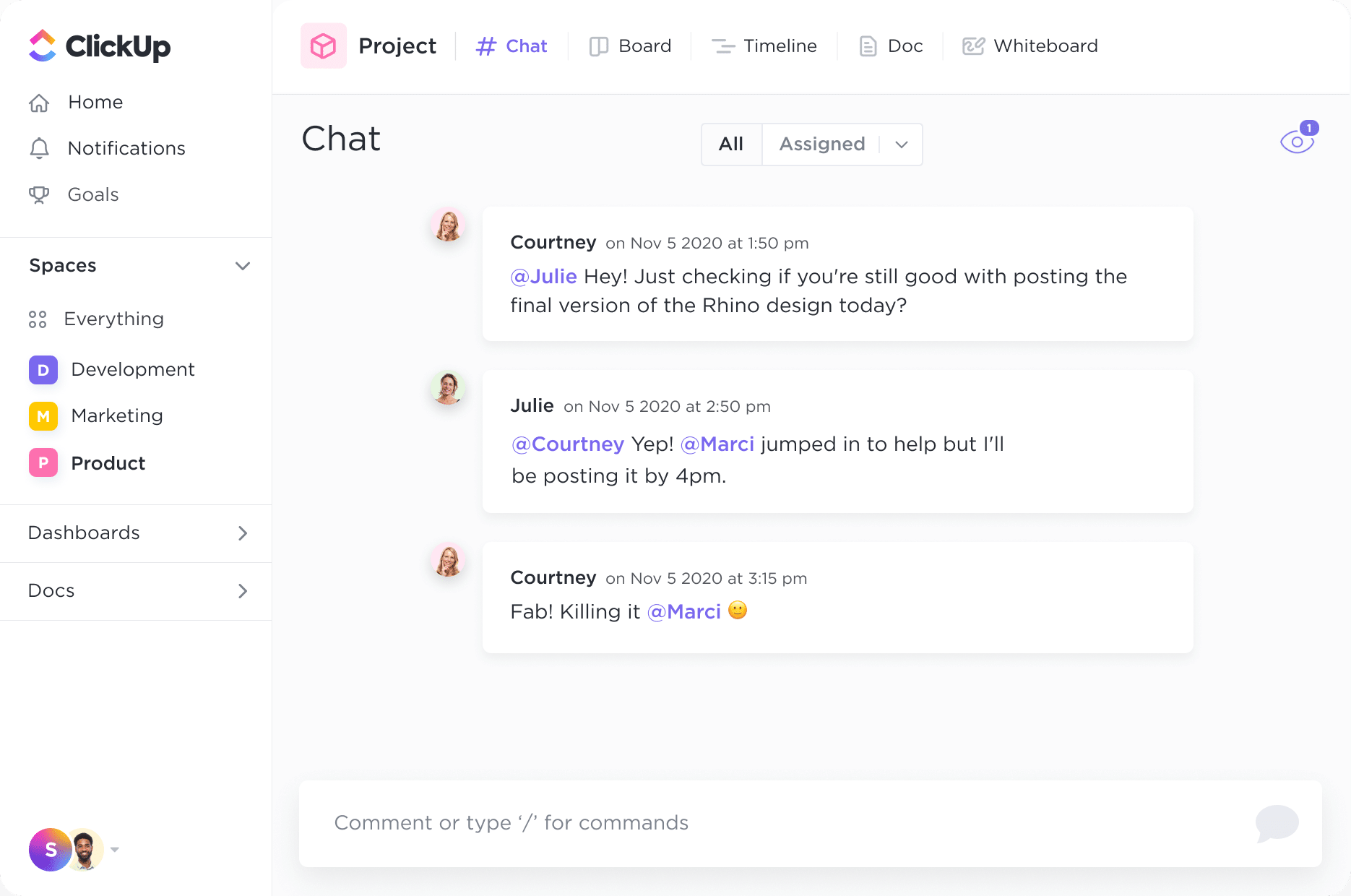 Chat centralizes team communication, offering a unified platform to share updates, link resources, and work together effortlessly. It's particularly notable for its integration with the rest of the toolset.
You can tag and assign action items from the chat interface, making task delegation and tracking straightforward. With @mentions, team members can be directly involved in relevant conversations, ensuring efficient communication.
Additionally, it allows you to share project links, embeds, and various content types, facilitating easy access to essential resources.
Time Tracking Reporting
ClickUp has several time-tracking reporting features that provide essential insights into team performance and project management. These reports offer answers to critical questions about your team's productivity, helping you make informed decisions.
You can create custom reports and dashboards to visualize data, track key performance indicators, and gain insights into project and team performance.

ClickUp comes with several default reports, including time reporting outputs. These allow you to assess the accuracy of your task estimates and plan future projects more effectively. It's a valuable tool for project managers seeking to optimize their resource management.

Per-employee timesheets allow you to gauge how much work has been completed, breaking down where effort is spent and which employees are in front or falling behind.
Time can also be tracked on a task-level basis, enabling team members to manage their efforts on tasks. This data empowers team leads and management to understand how time is allocated within projects, with the option to export reports in CSV format for more in-depth analysis.
Each user can start and stop timers on tasks, manually log time, and review time tracked on different tasks and projects. It's not just a great tool for project managers but also allows employees to manage their time accurately to increase efficiency and keep track of multiple work streams simultaneously.
ClickUp's Security
Most ClickUp instances will hold large amounts of client data, so robust data security to protect user information is essential. Thankfully, ClickUp employs strong encryption protocols to safeguard data during transmission and stores it in SOC 2-certified data centers.
There are also strong access controls in place for you to customize. Role-based permissions ensure only authorized individuals can access sensitive data, so you can ensure private information like HR records and bank records remain private.
ClickUp's security measures are consistent across all plans, including the free plan. Each user can also be assigned Two-Factor Authentication (2FA) for added security to protect you against identity theft attacks – and it's available on all plans.
However, there are a few user management options you'll have to subscribe for. Unlimited plans come with the ability to add external members and manage their permissions.
You can add unlimited read-only guests but only five guests with full permissions. To perform full permission management on unlimited users, you'll need to upgrade to an enterprise subscription.
ClickUp vs. Zoho and Other Top PM Tools
ClickUp is a one-stop solution for all of your project management needs, but there are a few other PM platforms we'd also like to mention as they compare favorably to ClickUp. Check out our comparison table below:
Project Management Software
Starting Monthly Price
Starting Annual Price
Free Version
Key Free Version Features
Time Tracking
Compatibility
ClickUp
$10/user/month
$7/user/month
Free-Forever Plan
– Unlimited users
– In-app video recording


– Real-time chat

Yes
1000+ apps, including Slack, Gitlab, Hubspot, and Dropbox
Zoho
$5/user/month
$4/user/month
Free-Forever Plan
– Custom Statuses for tasks
– 5GB storage space


– Up to three users

Yes
800+ apps, including Google Workspace, Shopify, and MailChimp
Monday.com
$10/user/month
$8/user/month
Free-Forever Plan
– Unlimited documents
– 200+ templates
– 2 Seats and 3 Boards
Yes
200+ interactions, including Zoom, Wix, Semrush, and Trello
Wrike
$9.80/user/month
$9.80/user/month
Free-Forever Plan
– AI content generation
– Unlimited users


– Mobile voice assistant

Yes
400+ integrations, including Salesforce, Teams, and SharePoint
Smartsheet
$9/user/month
$7/user/month
Free-Forever Plan
– 500 MB attachment storage
– Integration with MS 365, Google Workspace, and Apple ID


– Mobile voice assistant

Yes
100+ integrations, including Hubspot, InfoSpark, and ChatGPT
We feel that ClickUp has the strongest free offering of any of the project management tools we've reviewed. However, it's worth noting that Zoho CRM has one key advantage over ClickUp CRM. While ClickUp only offers 100MB of storage on the free plan, Zoho offers a whopping 5GB.
This comes at the cost of only being able to support three users, but it's worth considering if you have significant file hosting needs. You can check out our list of the best enterprise project management tools if you'd like to compare these tools in greater depth.
Is ClickUp Good? A Look At ClickUp Reviews
ClickUp is generally hailed as a high-end option for project management needs. It's powerful but can be complex to use. We've assessed several long-form reviews of ClickUp to aid our own assessment, some of which you can find below: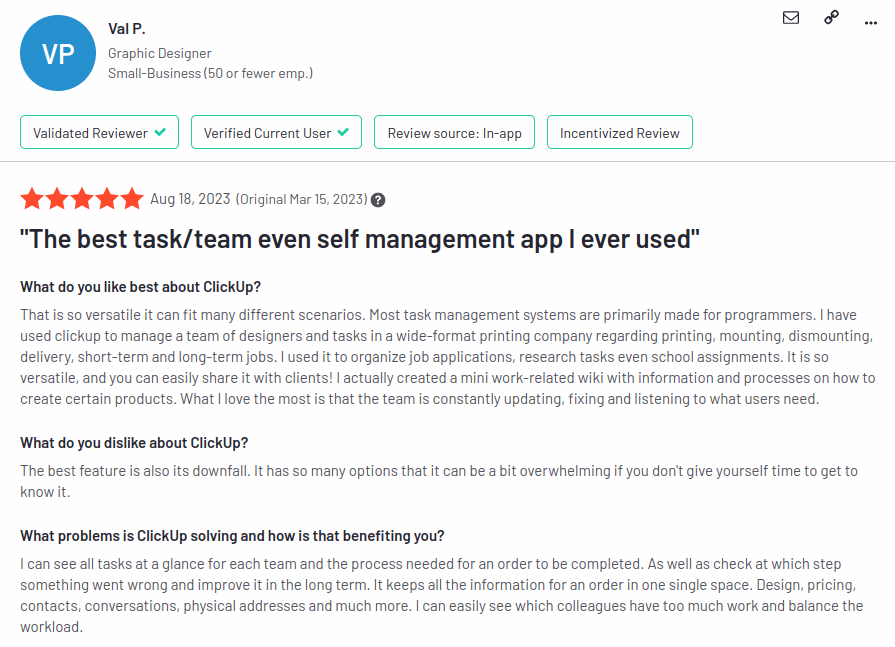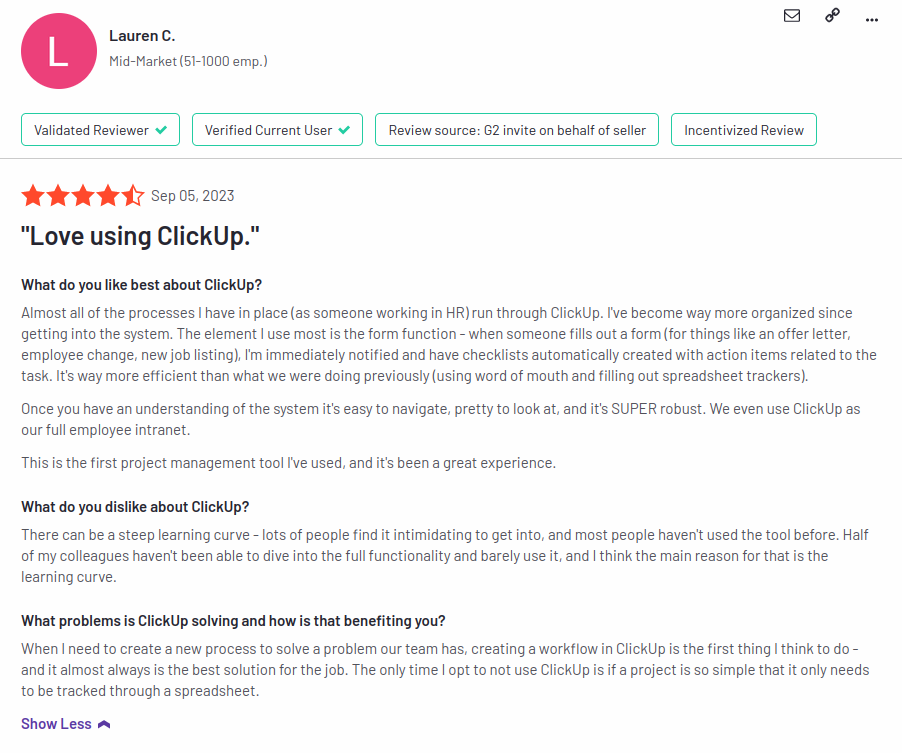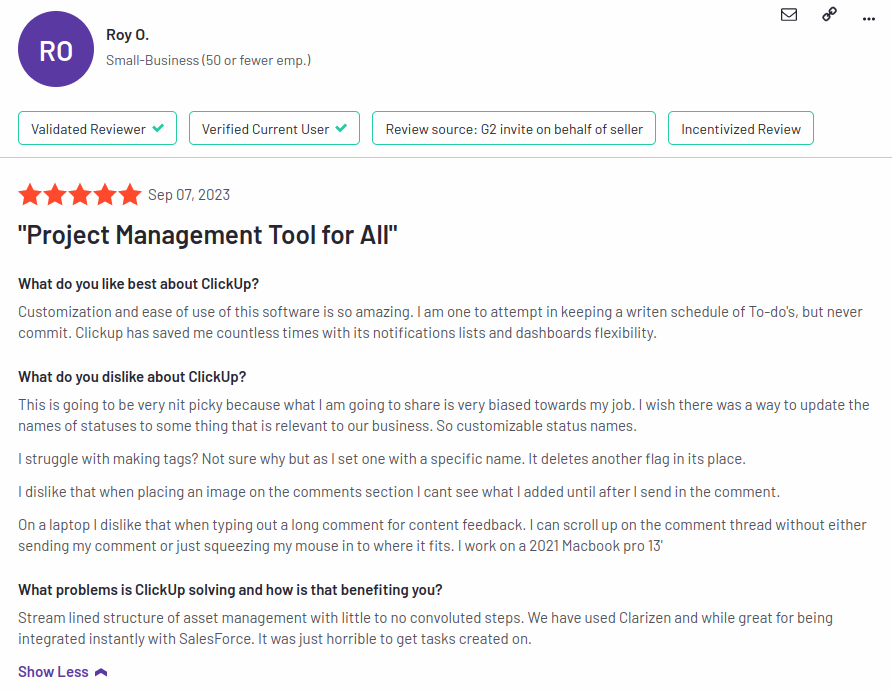 As mentioned, ClickUp works well as a project management tool, but it's a complex product. Based on our research, we think ClickUp's biggest failing is the lack of a proper onboarding process.
While ClickUp does offer a basic wizard that runs you through how to set up a workspace, it can be an intimidating piece of software, and there are plenty of tips and tricks to getting the most out of it.
While there is ClickUp University, a separate onboarding service run by ClickUp for upskilling, most users aren't even aware of this. It's really something that should feature more prominently in the signup process in place of the single tutorial you receive on making a workspace.
We've also seen some reports that ClickUp suffers from the occasional slowdown, often while accessing files inside the document editor. This can reportedly be particularly bad when accessing files in the mobile app.
Despite these nitpicks, we found that ClickUp is recognized for its versatility, customization options, collaboration features, and range of robust, unique features.
How to Use ClickUp: A Quick Guide
ClickUp can seem quite daunting to use when you first sign up due to the level of functionality on offer. To help, we've broken down every step below:
Sign Up for ClickUp
To get started with ClickUp, visit the ClickUp website and click the "Sign Up" button.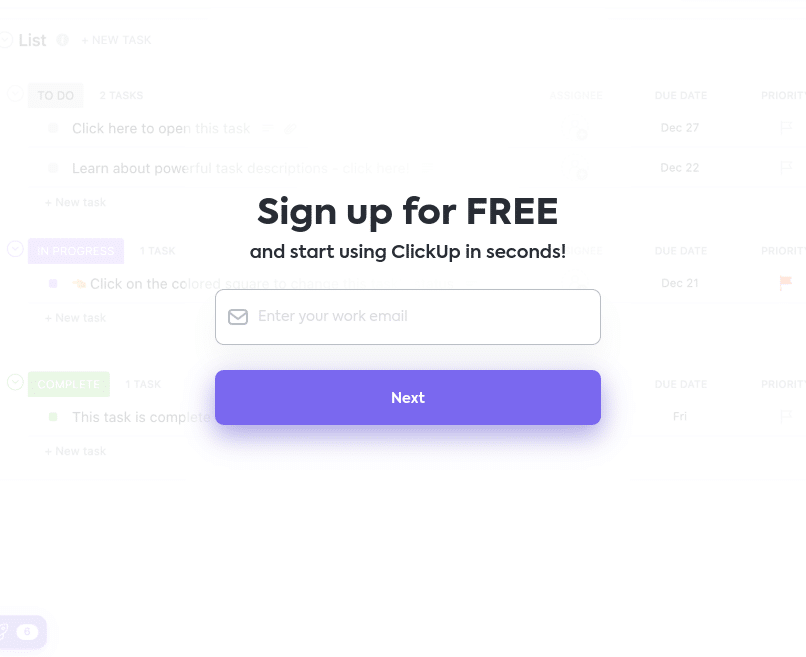 You'll be able to fill in your new credentials on the next page, or you can sign in with SSO if you have account credentials with an organization with a ClickUp account.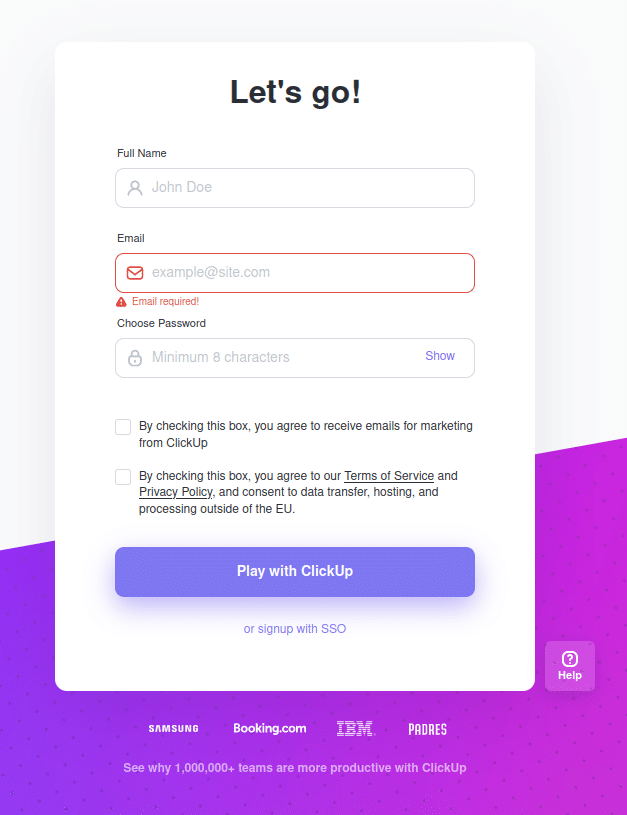 Once you've filled in your email address and created a password, you'll be asked to enter an authentication code to complete your registration.
After you're done, you'll be taken through to your ClickUp dashboards, and you can create your first workspace.
Create Your Workspace
After signing up, you'll be prompted to create your first workspace. If you need to create a new workspace in the future, you can do so by clicking the "NEW SPACE" button on the Spaces tab to the left of your dashboard.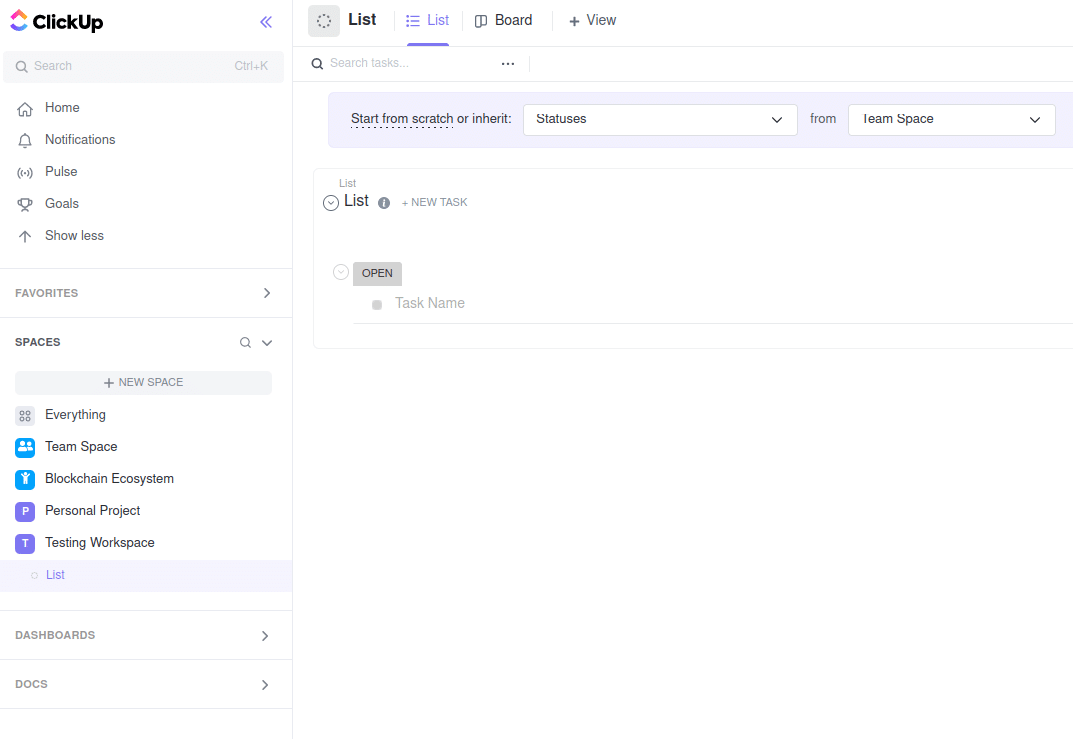 When you create a new space, you'll be prompted to name it. This should be a unique name that allows you to easily identify what's housed in the workspace. You'll be able to further divide your workflows later.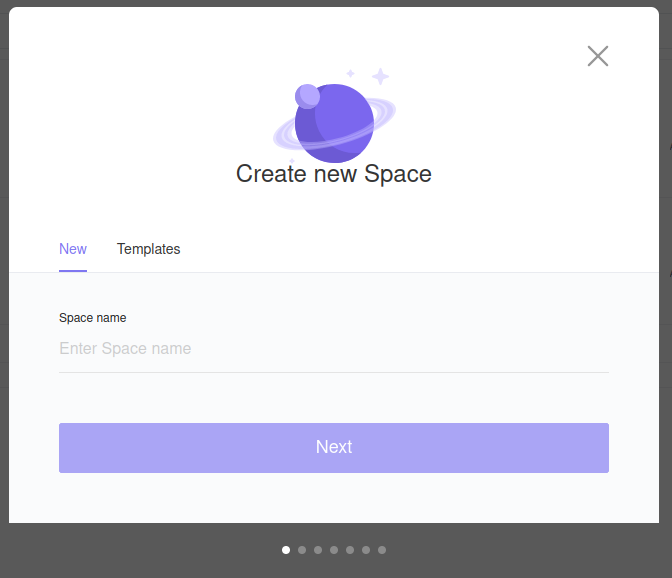 If you have a workflow that's fairly standard, you might find that there's already a template that mirrors what you need with a few small adjustments.
You can skip setting up a space from scratch and use the template wizard to set up your workspace for you, although you lose out on up-front customization. If you have a complex workflow in mind, it might be easier to start from scratch.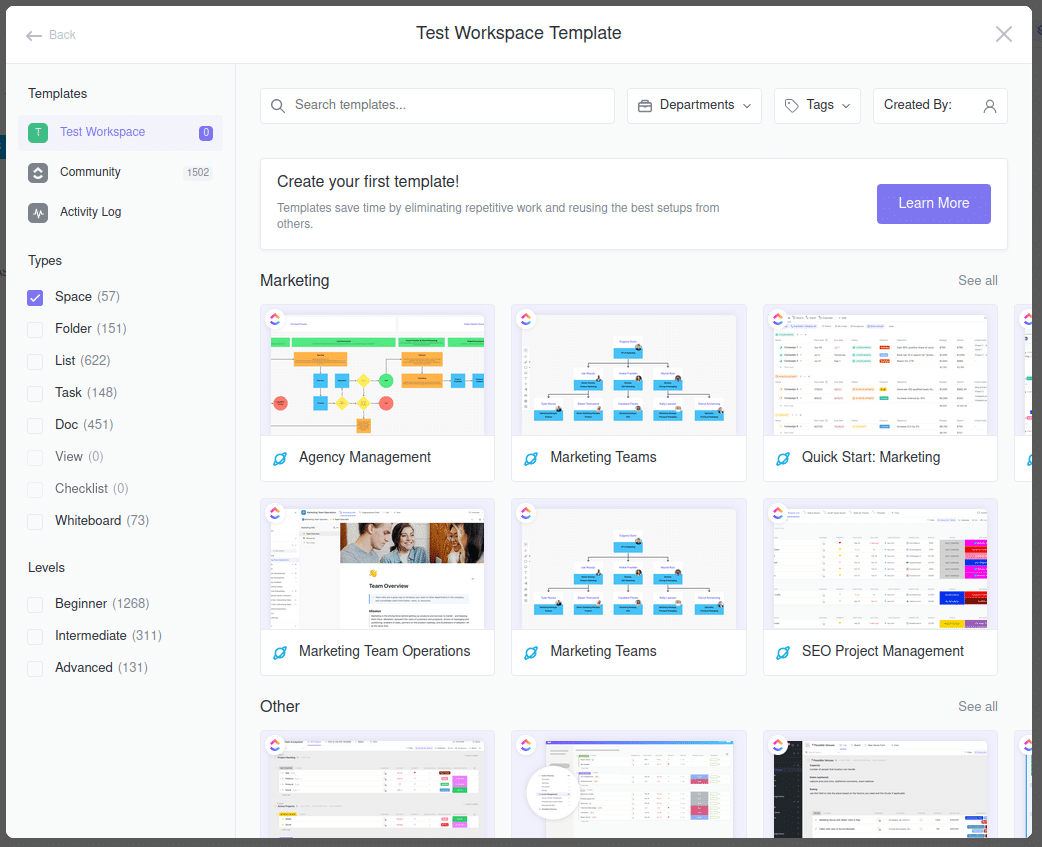 If you continue setting up your own custom workspace, you'll be prompted to choose a distinctive color and icon so you can easily distinguish it from other workspaces.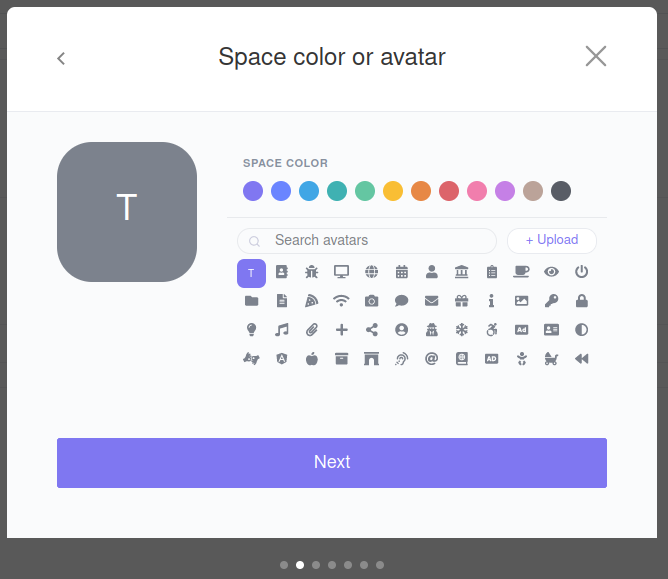 Now, you'll be introduced to the task status selector, which allows you to choose from a range of preset statuses for your tasks. You'll also be able to create your own custom range if you can't find a premade set that suits your needs. You can also build your own custom templates to work from in the future.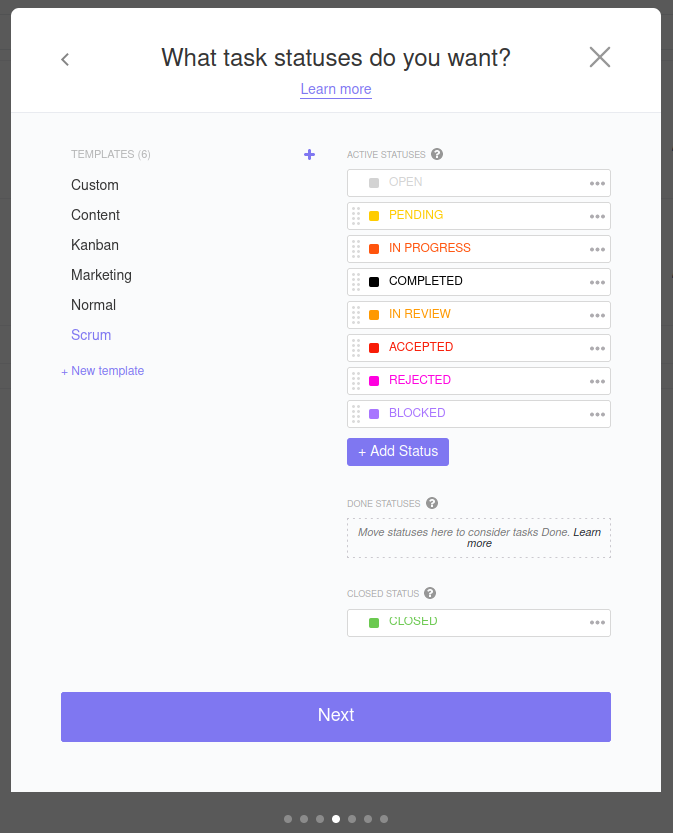 Next, it's time for ClickApps. These are optional modules assigned to your workspace that add extra functionality and enhance your overall workflow.
Each one is unique and deserves its own deep dive to explore how it builds on your existing workspace, but you can check them out in the ClickUp help section. For now, just be aware that ClickApps add extra functions to your workspace.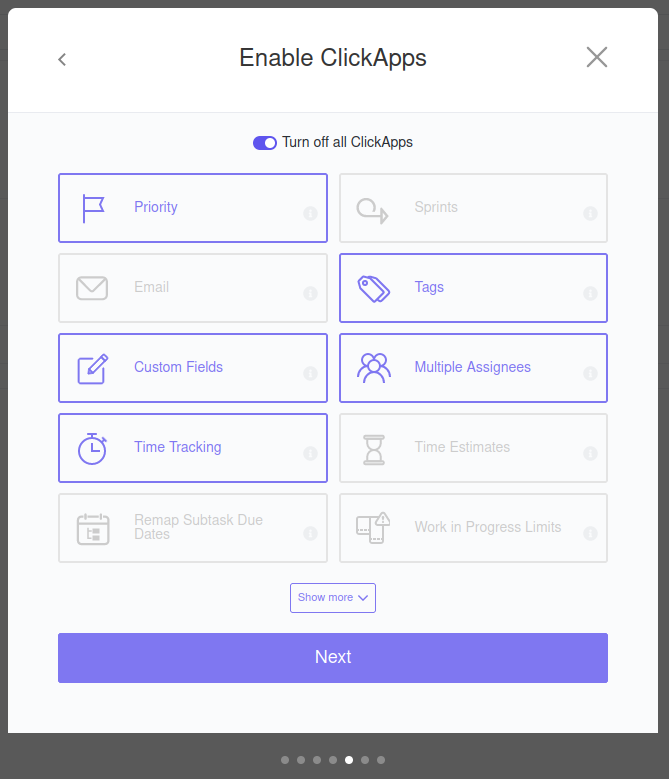 Finally, you'll be presented with a list of views. These present the data contained in your workspace in different formats, ranging from simple lists to complex interpretations such as global location maps and team workload readouts – which are invaluable for preventing employee burnout.
Each view you enable from this menu is automatically generated across all sub-categories in your workspace, saving you a lot of time setting them up manually.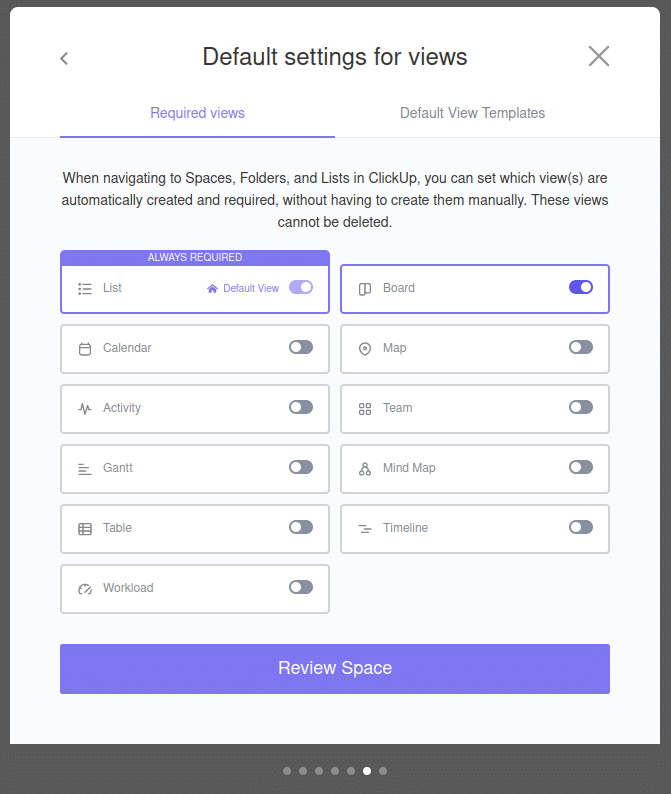 Once you're done, you'll be presented with a review page that lets you check over your workspace to quickly assess for errors. If you're happy with your setup, click through, and you're done. Otherwise, you can go back and edit any setting you've chosen so far.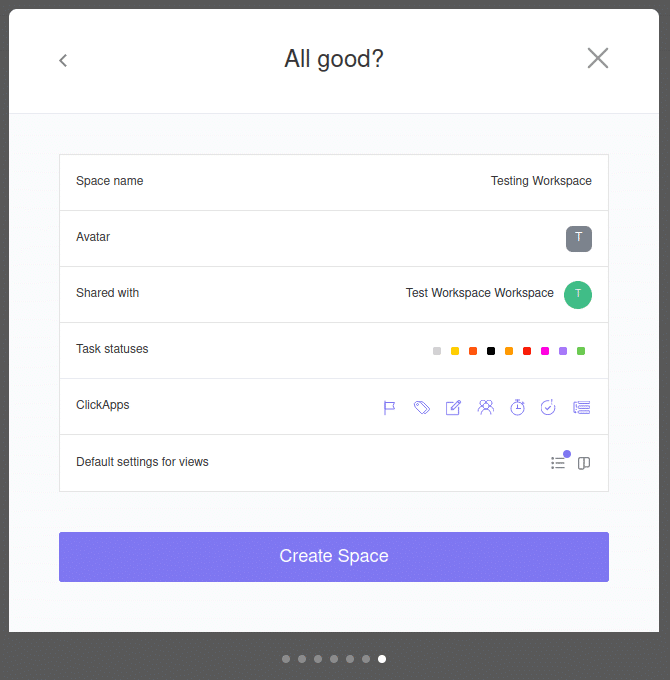 Customizing a List
Once your workspace is set up, you'll be taken to the list view for your workspace dashboard. This is where the majority of work takes place inside ClickUp, as tasks form the basis of ClickUp's infrastructure.

Adding a new task is as simple as clicking the "NEW TASK" button on the top left of the task list, where you'll be prompted to name the task.

From here, you can perform various functions associated with the task, including assigning it to a workspace member, setting priority and date due, and tagging it for easier access in the future. Many of these functions can be carried out from inside the task naming bar by typing "/" and then clicking the function you want.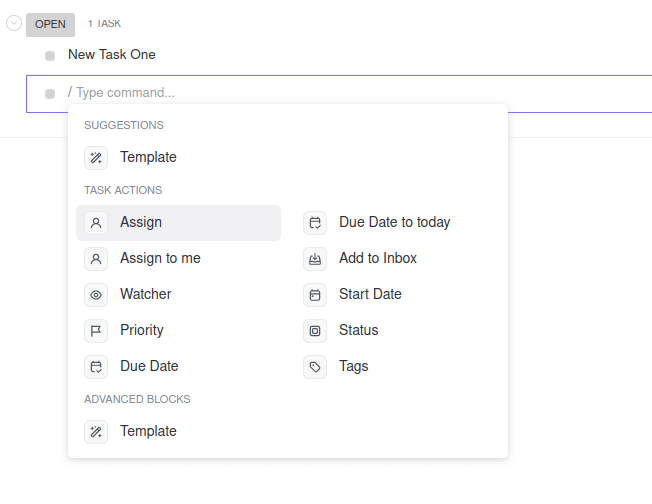 Automations and Integrations
You can also set up ClickUp to perform actions automatically, both within the app and on third-party platforms. The Automations dashboard can be accessed by clicking the "Automations" button on the top right of your screen.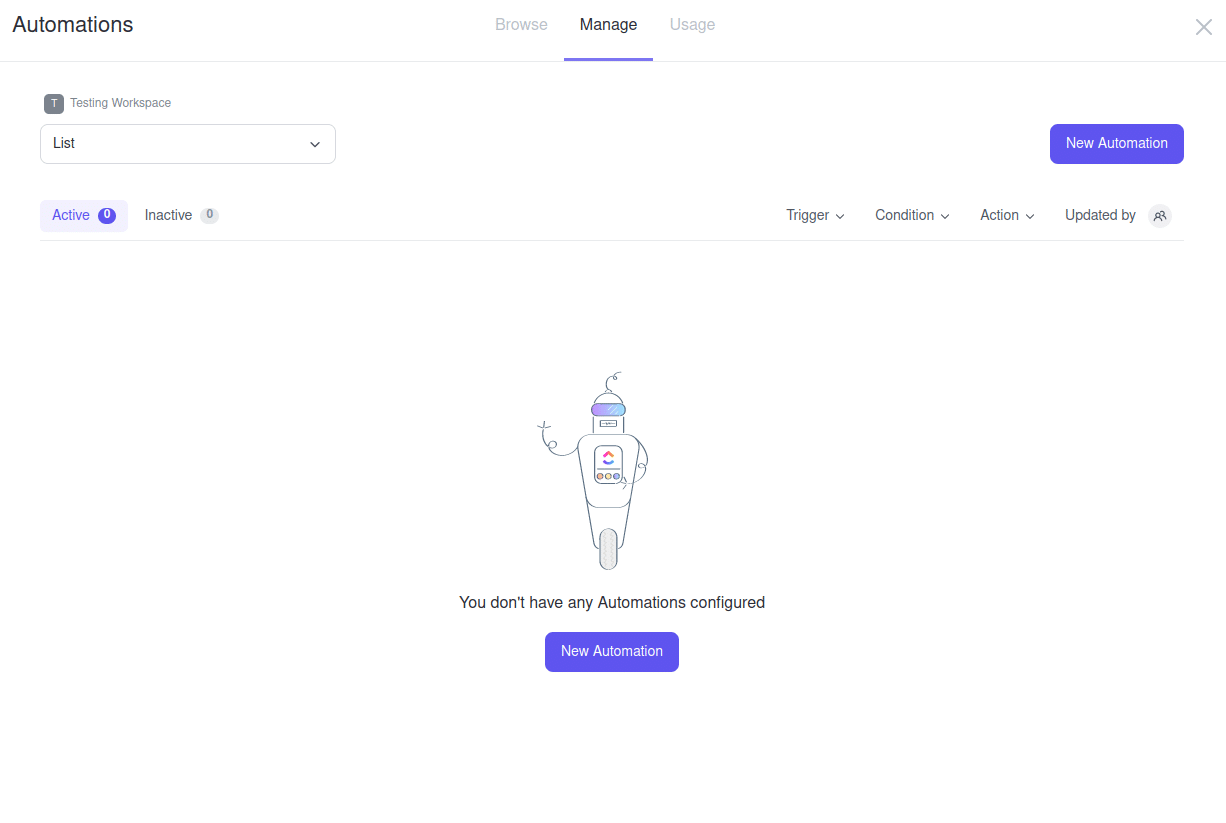 Once you're in the Automations dashboard, you'll be presented with a list of active and inactive automations you can manage. For now, click through New Automation, and let's get one set up.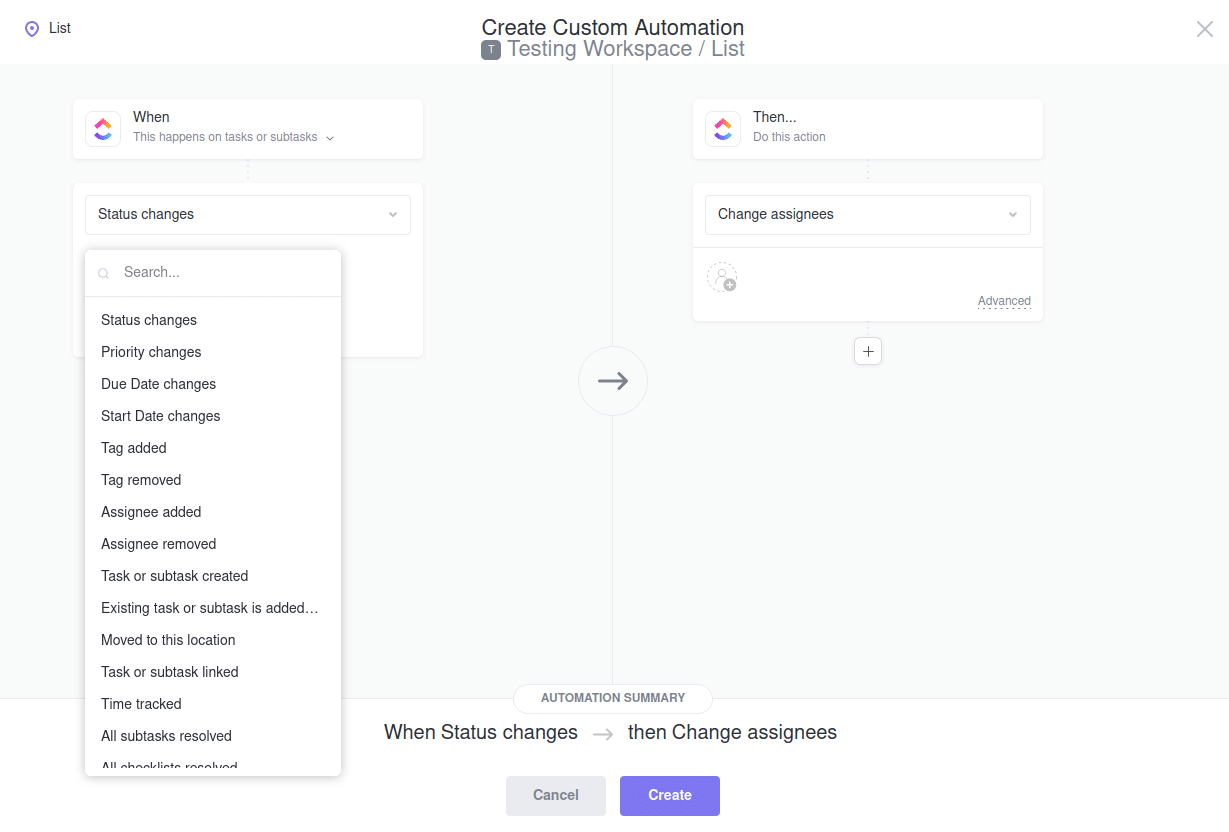 The Automation builder wizard presents you with a range of criteria for triggering an automation. There are many to choose from, but for the moment, we're going to go with the most common automation: responding to a status being updated.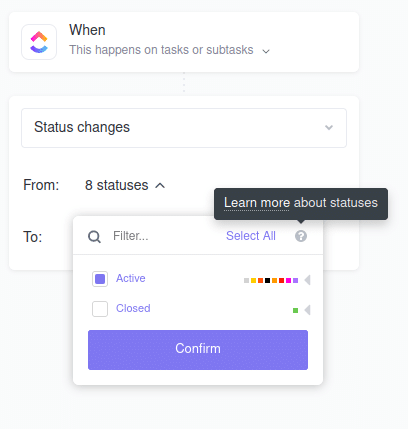 Once you've chosen "Status changes" from the list, you can set which criteria you want to trigger your automation. In this case, we're choosing to trigger when a status changes from an active task to a closed task. We do this by choosing the "Active" category in our "From" field and "Closed" in our "To" field.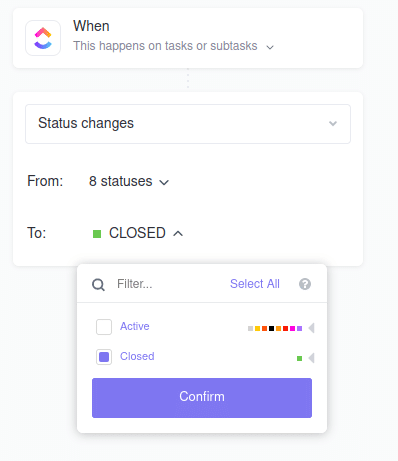 You can choose multiple criteria to chain into a single action or vice versa. However, this isn't available under the free version, so you'll have to upgrade if you want to build complex automation chains.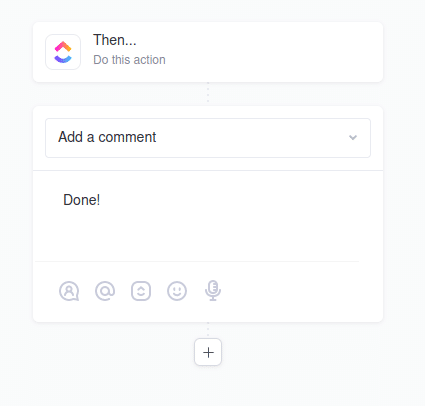 Finally, you choose the action you want to carry out, much like you've chosen the trigger. In this case, we're going to add a comment to every task that's transitioned from an active case to a closed one. Click Add Automation once you're done, and you've now got an active automation in progress.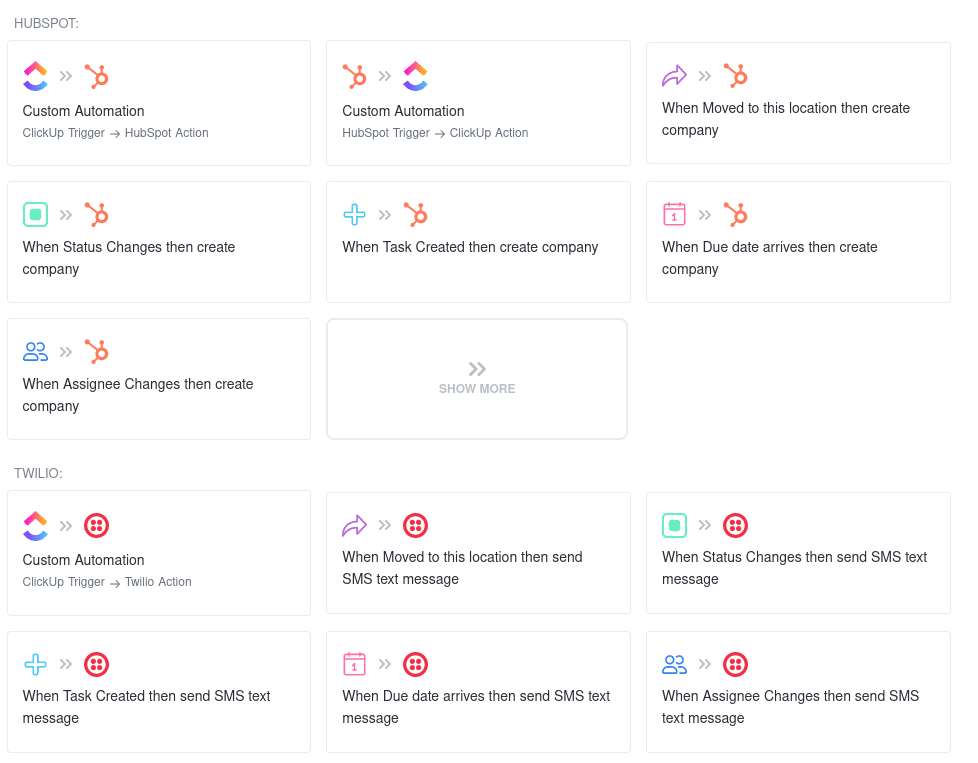 Third-party integrations follow the same pattern, but you'll have to log in with your external credentials first. Each integration has a unique setup process, so if you encounter any problems, you're best off talking to support.
By following these guides, you can use ClickUp to manage tasks and projects and automate your work. For more help, ClickUp's official guides and resources can provide you with detailed instructions for each step.
Why You Can Trust Our ClickUp Review
Our review of ClickUp is backed by thorough research to provide you with an accurate and unbiased assessment of the tool.
We have hands-on experience with ClickUp, making the most of the free plan to thoroughly explore its interface and applications and to test its various features. This practical testing allows us to provide firsthand insights into how the tool performs in real-world scenarios.
In addition to testing ClickUp, we have evaluated numerous other top project management tools available in the market. This rigorous comparison enables us to highlight where ClickUp excels and disappoints compared to other tools, giving you a well-rounded perspective.
Our opinion on ClickUp is also formed from the experiences of long-time users. By incorporating this feedback, we ensure that our review reflects not only our experiences but also the broader ClickUp user base.
Project Management Software Guides and Resources
If you'd like to look in more depth at other project and task management products, then check out our range of guides and resources:
Concluding Our ClickUp Review – Is ClickUp Worth it?
Throughout our ClickUp project management review, we've been impressed with the depth of features on offer.
It's hard to truly get a sense of how complex ClickUp is without trying it for yourself, but once you get to grips with it, it becomes apparent that it's a project management package that can be modified to work with pretty much any workflow you can think of.
While it doesn't have Zoho's extensive in-house software ecosystem or the ease of use that comes with Monday.com, ClickUp's collaborative features, task management engine, and highly granular reporting make it a fantastic solution for a single workplace management tool.
It's also got the most built-in integrations of any project management tool we've reviewed, making it the best choice if you've got several third-party apps you need to work with – but it works extremely well on its own as well.
There are very few reasons not to give it a shot – and it's easy to see why so many ClickUp reviews are absolutely glowing.
ClickUp Software Review FAQs
Is ClickUp really that good?
What are the limitations of ClickUp?
Why do people love ClickUp?
Can you use ClickUp without internet?
Which one is better, Monday or ClickUp?
Is ClickUp good for small business needs?
References