This Smartsheet review dives deep into the cloud-based project management platform and looks at what the popular application has to offer for your organization. And that could be a lot – it's emerged as a vital tool for businesses worldwide to optimize operations and access data instantaneously.
We'll cover the platform's features in full, as well as its integrations and compatibility across devices. Read on for a comprehensive Smartsheet review to get an in-depth understanding of this powerful tool.
Table of Contents
Table of Contents
Smartsheet Overview: What is Smartsheet?
Smartsheet is a project management solution that enables users to create spreadsheets and workflows tailored to their specific teams and projects. It's suitable for companies of all sizes, whether you own a small business or have a complex organizational structure with multiple levels of management and tracking.
The versatile application covers all types of projects and supports:
Collaborative project planning and scheduling
Action item tracking and management
Meeting agenda planning and tracking
Resource allocation by task or calendar view
Streamlined report generation
Smartsheet ensures teams stay connected, productive, and organized while they work on any project. It's a tried and trusted tool that can quickly and efficiently be put to use for basic to complex projects.
How Does Smartsheet Work?
Smartsheet is a cloud-based project management platform designed to organize and automate work processes. It operates on a flexible, intuitive interface that allows users to easily create custom projects.
Users can develop schedules with the help of advanced sorting and get real-time updates when tasks are assigned or completed. Smartsheet also provides collaboration tools like chat functionality, discussion boards, and mobile applications, enabling remote access anytime, anywhere.
Users can easily assign tasks to team members using drag-and-drop controls, making interacting with the app straightforward and swift. It offers integration features such as custom reports and timelines that enable customers to understand their data in new ways.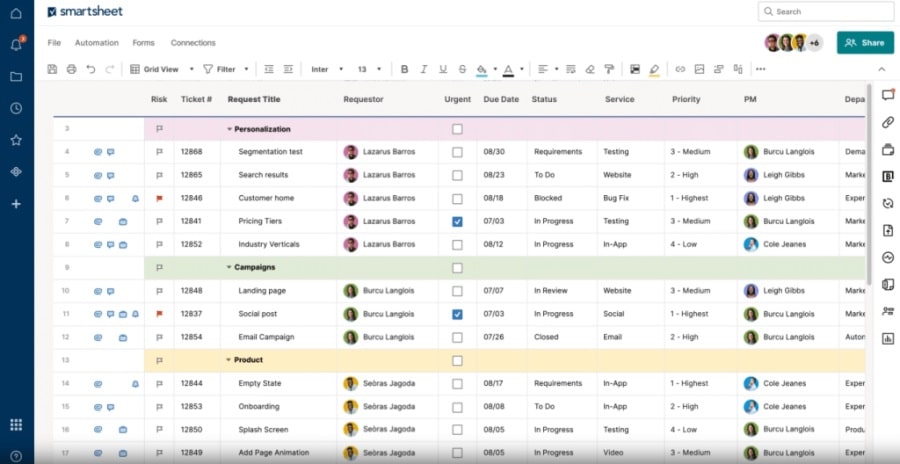 By providing detailed Gantt charts for project tracking and visualizations like Hype Cycle trends, Smartsheet helps you gain insights into how your projects are progressing in real time so you can plan more effectively and with better visibility on what matters most.
On top of that, Smartsheet has an impressive security system, including Single Sign-On and two-factor authentication that safeguards your business data, ensuring a safe space for collaborative work for your teams.
What is Smartsheet Good For?
While Smartsheet is designed for all sorts of users, it is perfect for those who love spreadsheet-style planning. It serves as a great resource management tool and can help you manage projects with ease. Here are some of the tasks SmartSheet can help you with:
Task delegation: You can assign tasks to each team member and track their progress easily through Smartsheet. In the event you have to change anything, you can easily adjust due dates and assignees.
Task tracking: You can keep track of all tasks from one centralized location and view progress in real-time. You'll also have access to analytics on productivity performance metrics.
Resource management: There are several features to enable resource management, such as a built-in library of best practices and an AI resource manager that suggests optimal schedules for teams based on factors like availability and blocked-off time slots.
Visualization tools: To help visualize tasks, team members, and budgets, Smartsheet allows users to create Gantt charts that can be exported into other programs or embedded on websites using a link.
Automation capabilities: SmartSheet has a "workflows" feature to automate processes. Sequences of actions are triggered by events, such as changing the status of a task to "project milestone achieved." Stakeholders are then alerted via email or SMS when relevant conditions apply.
Dashboard creation: Create customized dashboards displaying the specific data you want to focus on. This will provide an overview of the current state of your project from any internet-enabled device.
Whatever the task at hand, Smartsheet has powerful features that enable efficient project management.
Summarizing the Key Pros and Cons of Smartsheet
Smartsheet offers many features that make it an attractive project management tool for businesses. Let's dive in to explore some of Smartsheet's pros and cons.
Pros
Customize sheets with formulas, conditional formatting tools, and widgets
Powerful analytics and reporting tools
Robust data security features like active user authentication protocols and encryption controls
Wide range of templates
Cons
Steep learning curve and complex onboarding
Ecommerce add-ons for access to certain features may be required
Given the customization options and powerful analytics tools available, Smartsheet is a great project management solution for businesses of all sizes. It's especially beneficial for teams that need to track complex tasks with dynamic timelines.
Due to its learning curve, though, non-technical users may find it difficult to use. This isn't a deal breaker, but it's worth keeping in mind.
Additionally, despite its expansive list of features and tools, some may find that add-on packages are needed for comprehensive time tracking and resource management – and these can be expensive.
How Much Does Smartsheet Cost?
Smartsheets offers one of the most straightforward pricing systems in its category. Let's take a closer look at Smartsheet's pricing and what each plan has to offer.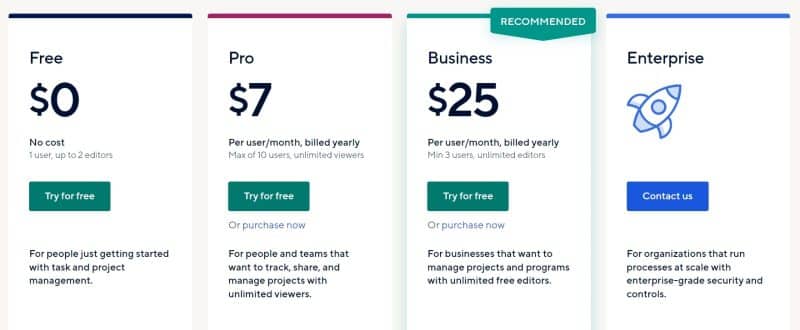 Free Plan
The free plan is the most basic of all Smartsheet's plans but still offers plenty of features to get you started. It includes two editors, two sheets, Gantt, Grid, Card and Calendar views, Dashboards and Reports, and 500 MB attachment storage.
It also provides access to 100 automations per month, as well as integrations with Google Workspace, Microsoft Office 365, Slack, Box, and Dropbox, and access to the Help & Learning Center community support.
Pro Plan
Next up is the Pro Plan, which comes with a slightly higher price tag but is a bargain if paid in advance for an entire year.
The pro plan offers everything in the free version plus up to ten editors – with a paid license required for editing – unlimited sheets, unlimited viewers, unlimited dashboards, reports, and forms, 20GB attachment storage, 250 automations, user management, and email support.
The highlight of this plan is that you get convenient access to client conversations via chat messages.
Business Plan
For those needing more power, Smartsheet's business plan might be precisely what they need. You get all the features of the Pro plan, and it comes with a few additions.
These include unlimited free editors, baselines, forms with conditional logic, 1TB attachment storage, and unlimited automations. You can also integrate with Resource Management by Smartsheet for your resource capacity planning.
Enterprise Plan
This plan requires a custom quote and offers directory integration, the Enterprise Plan Manager, unlimited attachment storage, Work Insights for data analysis, and WorkApps, curated for user roles.
Although the pricier plans may seem costly, they offer lots of features that go beyond the free and pro plans, making them great value for money if you need a higher level of service.
The fact that you can cancel anytime without being locked into a long-term contract or paying cancelation fees makes this an ideal choice for teams who need professional but flexible solutions.
A Look at Smartsheet's Key Features
Smartsheet is a popular choice of project portfolio management tool for businesses of all sizes. As the global leader in collaborative work execution solutions, it's no surprise that so many people have embraced Smartsheet software. But what makes it special? Let's explore how users have benefited from Smartsheet's key features.
No Code Automation
Smartsheet's workflow automation feature allows users to quickly create workflows, saving time and eliminating manual tasks. Pre-built workflow templates present a variety of options for recurring or one-time processes, such as weekly status requests and due date reminders, making setup simple and straightforward.
Creating custom workflows is incredibly easy with Smartsheet. You just combine steps into a single flow with conditions that trigger user input requests – and they can be created in no time.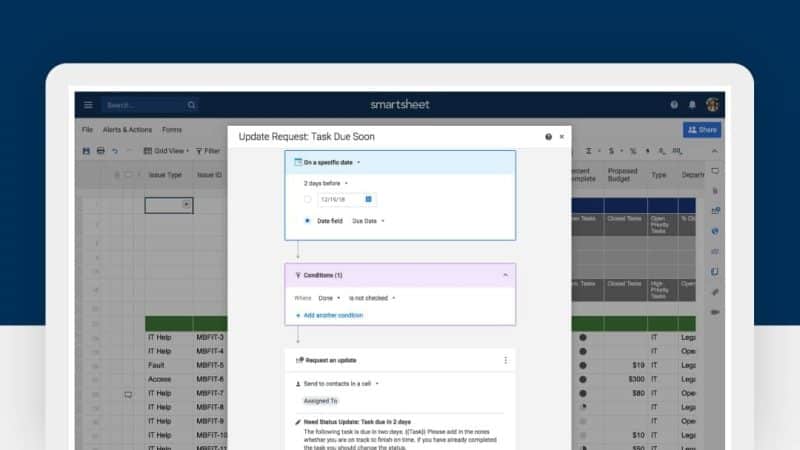 Users can get automated notifications on updates and approval requests. These are conveniently sent to email inboxes, mobile and desktop apps, or messaging services like Microsoft Teams or Slack – saving them having to search manually.
The transparency of the automation service really stands out, and it can provide information on exactly when any process last ran.
What we found most appealing about Smartsheet's automation feature was how intuitive and easy to use it is, and you can reliably set up automated processes in no time.
Collaboration
The core of any project is collaboration and the ability to share information and ideas quickly. Smartsheet is one of the best online collaboration tools, making it simple to work on projects of any size.
You can easily create a secure connection with those outside your organization, whether they have an account or not, assigning them one of various permission levels so everyone has appropriate access to data.
We created several collaborative projects with Smartsheet and found the sharing process to be easy to use. Actions like setting user permission levels are simple, giving you the control you need while providing flexible access for collaborators.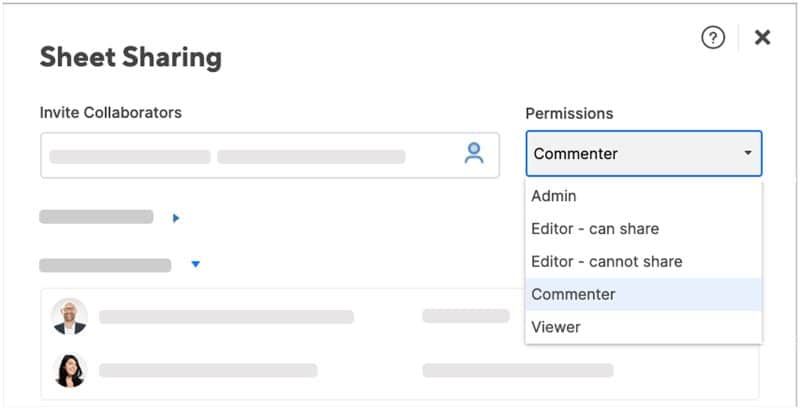 You can also create a published version of any sheet that provides read-only access through an external link – no login is required.
This is important if you want to share your project progress with clients while keeping your data secure. However, depending on your plan, the people who can edit or view the sheet will vary.
Dashboards
Compared to other portfolio project management software, Smartsheet's dashboard can easily integrate multiple data sources, like sheets, reports, charts, forms, and more. You can easily connect other tools as well, such as Google Docs, Tableau, Power BI, and YouTube, to provide a central repository for your information.
Users can keep stakeholders informed by providing real-time visibility into project status and performance without needing to provide access to underlying sheets or assets. Dashboard data can also be shared with different audiences without access requests.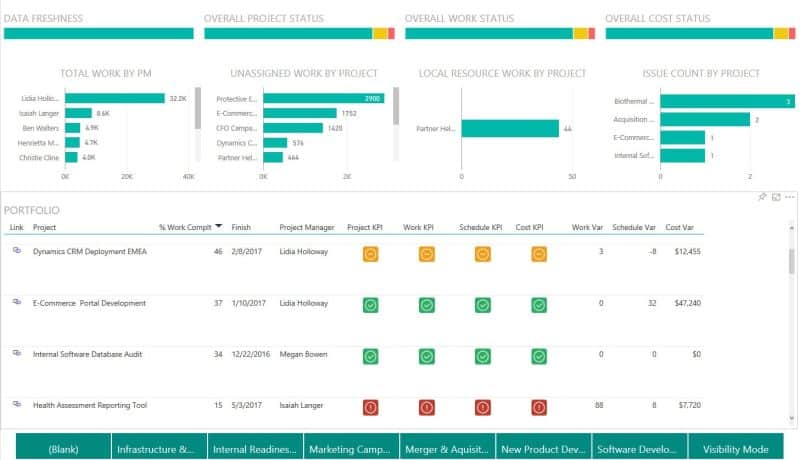 Integration with other apps is crucial to providing data in real time. On the customization side, we liked that you can tailor the look and feel of dashboards to align with your company's brand.
Overall, Smartsheet's Dashboards provide a powerful way of organizing and displaying vital project information.
Resource Management
As well as being great project management software, Smartsheet is also known as one of the best resource management software products available.
Resource Management by Smartsheet is a resource and project portfolio planning solution that allows you to keep a close eye on your team's capacity across the organization's portfolio of work.
It offers features like resource allocation, custom fields for people and projects, Integration with business tools, dynamic reporting, project planning, and effortless time tracking.
The resource allocation feature helps users easily find the right personnel for tasks, from complex assignments to mundane, day-to-day operations.
While using the resource management panels, we were able to gain an overview of the team's availability and resourcing plan, with real-time feedback regarding costs or personnel changes being made.
Additionally, we were able to enhance the accuracy of project planning by tracking time spent and adding custom fields to tasks for more specific details so that appropriate personnel could be assigned.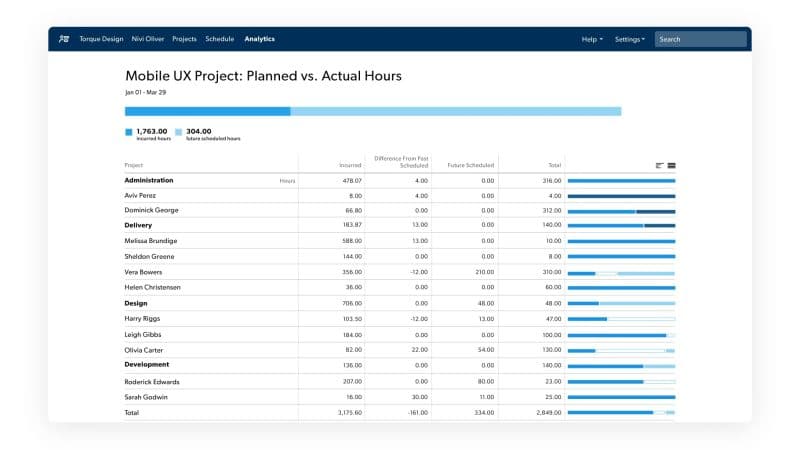 The platform comes with native time tracking, so you won't need to integrate Harvest or HourStack, and integration options are limited in any case.
Smartsheet's resource management capabilities take the stress out of allocating staffing, tracking time spent by staff members on projects and keeping team capacity in check.
As an added bonus, integrations with other business tools allow you to unify processes across business units while making it easy for you to quickly access data from various sources.
Smartsheet x Brandfolder
Smartsheet and Brandfolder have come together to offer an industry-leading digital asset management platform. This offers a comprehensive view of your content lifecycle, including intake, planning, delivery, and performance tracking, all in one place.
Thanks to Smartsheet's intuitive design features, users can build their creative process from the ground up with tasks and collaboration in mind. This added structure helps eliminate redundancy issues when coordinating campaigns or content creation projects.
Additionally, the review process is streamlined for simple approvals with the ability to comment on and markup assets right in Smartsheet prior to publishing to platforms like Adobe Creative Cloud or Google Workspace.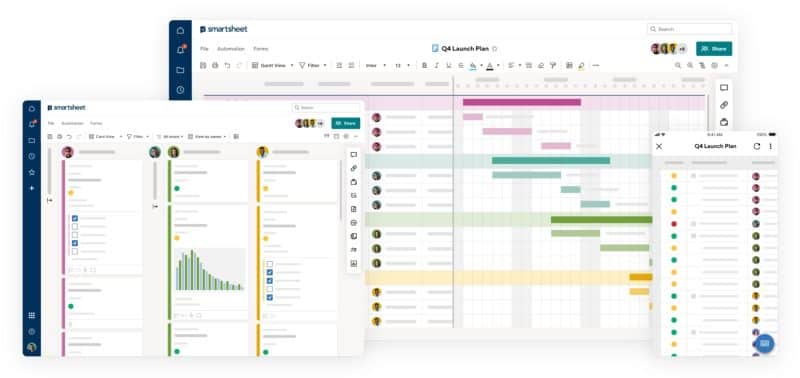 After seeing the powerful optimization capabilities, with end-to-end visibility on team and asset performance, we recommend looking into this tool.
Brandfolder also offers an easy-to-use, developer-friendly API for further customization and integrates with a variety of other tools as well.
Digital assets such as images and videos are essential to any business, and Smartsheet x Brandfolder is an ideal solution for managing content assets.
Content Proofing
The content proofing feature is a powerful solution for streamlining content approval and versioning. It makes the review process simpler and faster and can be connected to Adobe Creative Cloud and Salesforce Marketing Cloud to ensure content is always accurate and up-to-date.
When creating a proof in Smartsheet, editors can assign anyone, free users included, to review it. They'll then be able to provide feedback directly on the sheet by pinning comments and making annotations or emojis as they go. Alerts and reminders can be set so collaborators don't miss deadlines.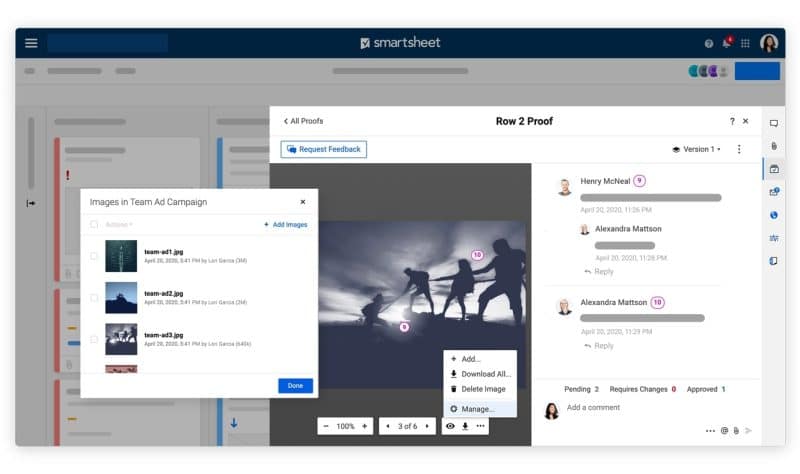 Version control is simple, too. If you need to update a proof along the way, you can easily do so – but old versions will remain available in view-only mode should you need them later. On top of all this, you can also complete proofs and cancel review requests from Smartsheet.
We tested this feature extensively, and it proved to be effective in helping us collaborate on content with maximum efficiency, and we recommend looking into it.
A Quick PPM Tools Comparison: Smartsheet vs. Competitors
The project management software market is estimated to reach $6.57 billion by 2028 and continues to grow rapidly. Because of the competition, it's critical to compare your options when picking the best PPM system and ensuring you're getting the best solution to your needs.
| | | | | | |
| --- | --- | --- | --- | --- | --- |
| Best PPM Tools | Best For | Starting Price | Free Version | Free Version Offers | Project Views |
| Smartsheet | Scaling | $7/seat/month | Free-Forever | 2 Projects, 2 Editors, 1 Seat | 4+ with Gantt, Grid, Card + Calendar views |
| Monday.com | Startups | $8/seat/month | Free-Forever | 3 Boards, 2 Seats | 3+ with Files, Kanban + Forms views |
| Wrike | Budget Monitoring | $9.80/seat/month | Free-Forever | Unlimited Users | 4+ with Gantt, Kanban, Calendar + Table views |
| ClickUp | Budget-Friendly | $5/seat/month | Free-Forever | Unlimited Free Plan Members, 1 Seat | 4+ with Whiteboards, Kanban, Calendar + "Everything" views |
| Teamwork | Collaboration | $5.99/seat/month | Forever | All PM Essentials, 5 Seats | 4+ with List, Table, Boards, Gantt views |
All of these task management software products have different advantages and disadvantages. However, Smartsheet stands out for its scalability as well as its extensive selection of project views, which meet user needs across industries.
Is Smartsheet Legit? A Look at Smartsheet Reviews
Smartsheet has many positive customer reviews. On G2, one of the leading enterprise software review sites, the platform boasts a 4.4-star rating out of 5 from nearly 14,600 users, pointing to the notable benefits of Smartsheet.
Reviewers praise its flexibility and usability – allowing them to quickly and effectively collaborate on user-friendly projects across teams and departments. Here are some recent comments from reviewers: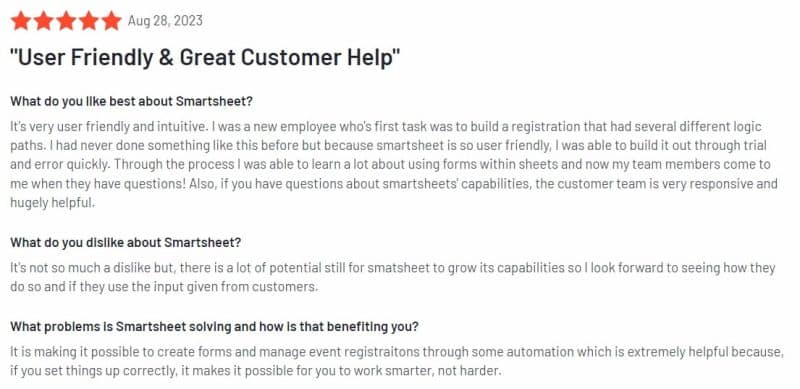 This user praised Smartsheet's customer team and how responsive and helpful they were.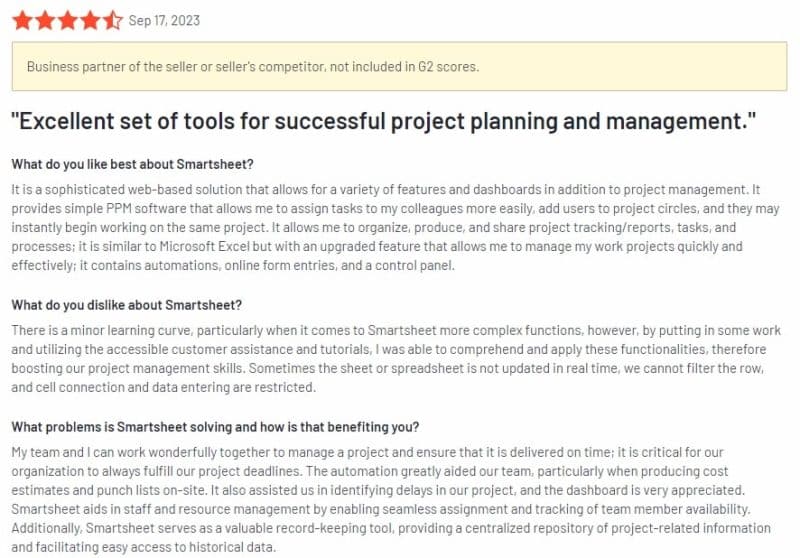 Another user identified Smartsheet's core benefit as being its wide range of project management features. They noted there can be a learning curve for complex functionality but added that customer assistance and tutorials are available.
They also highlighted the value of cost estimates, punch lists, and the ability to identify issues ahead of time, as well as the platform's value as a record-keeping tool.
This user found the platform to have great versatility, and they found it easy to produce dashboards and reports.
How to Use Smartsheet: A Quick Guide
Here's a step-by-step guide on how to use Smartsheet to get the most out of your projects.
Step 1: Create, Import, or Use a Template
Once you've created a Smartsheet account, the first step for your projects is to create or import one or use a template. You can find plenty of pre-existing templates from the Smartsheet Template Gallery that you can use as a starting point before customizing it to your project requirements.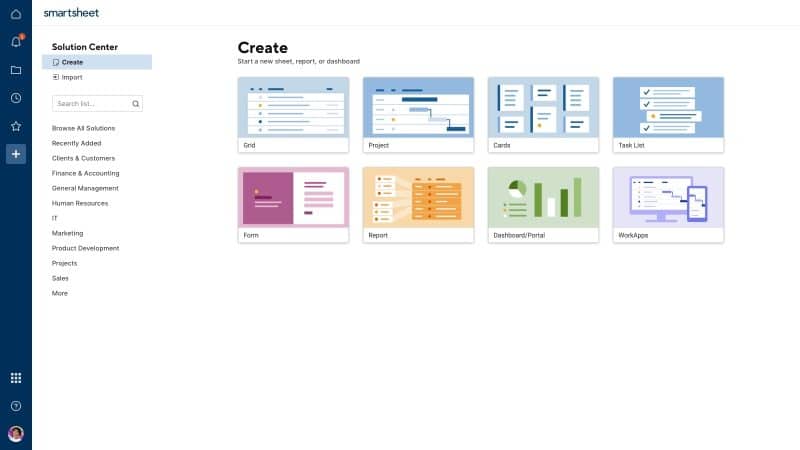 Step 2: Assign Tasks and Use Automation
Once you've created or imported your sheet, the next step is to assign tasks. From a given row in your sheet, you can add attachments and comments and assign tasks to individual team members. You can also automate tasks, like sending reminders when a task is due or notifying someone when a new row is added to the sheet.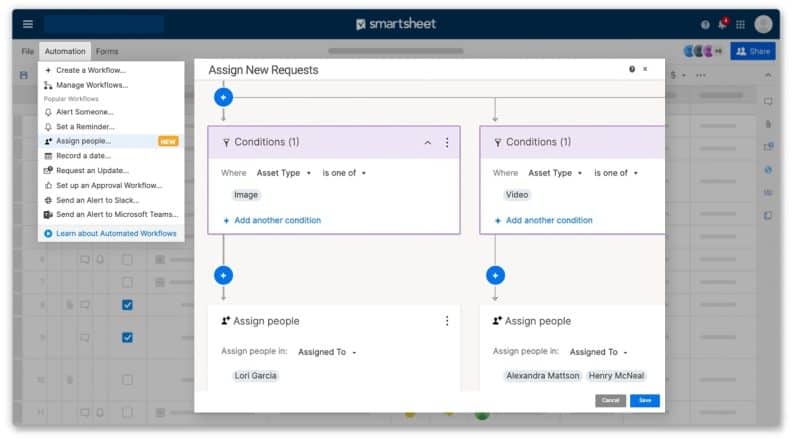 Step 3: Collaborate with Your Team
Finally, you can utilize the collaboration features in Smartsheet to keep all your team members engaged and informed. You can assign rows or entire sheets for review, add comments or annotations, and use @mentions to notify users when updates are made.
These tools make it easy to track changes to the sheet over time and ensure everyone has access to up-to-date information.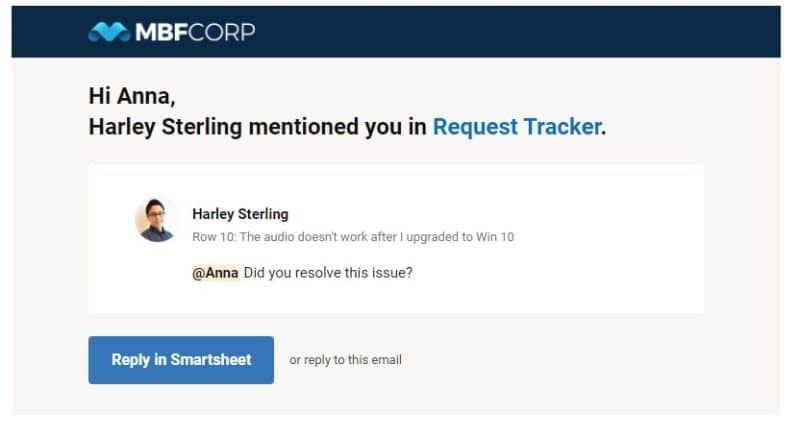 Step 4: Track Your Time and Progress
Make sure to use the time tracking and progress indicators available in Smartsheet. Tag tasks to specific individuals and use the colored progress bars on each task to see how far along you are with your project.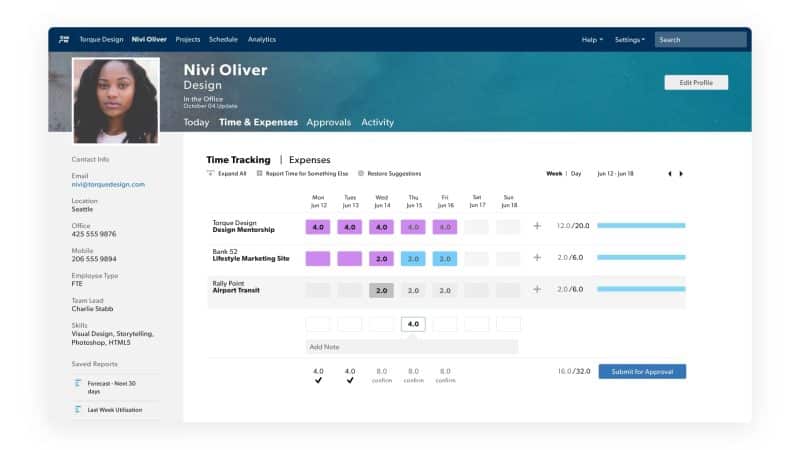 Step 5: Visualize Data and Make Reports
We tried Smartsheet's visualization and reporting tools to get a better understanding of our data. Inside the sheet, you're given options like histogram, bar graph, and pie chart.
We also created comprehensive reports using Smartsheet's filtering and grouping capabilities that can be easily shared in PowerPoint or PDF. Lastly, we took advantage of the Gantt chart templates available in Smartsheet to visualize timeline data without needing an extra project management application.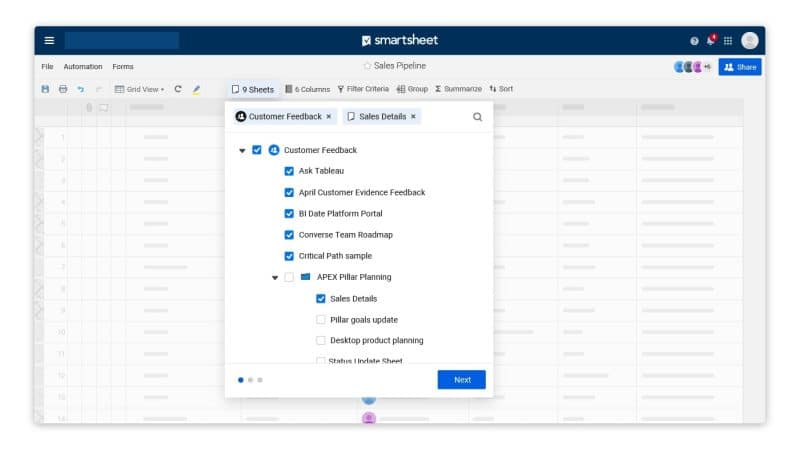 Finally, share your report to make sure everyone involved in the project has visibility on it and can stay up to date on progress. Click the "Share" button in the top right corner of your report and invite an individual or team to collaborate.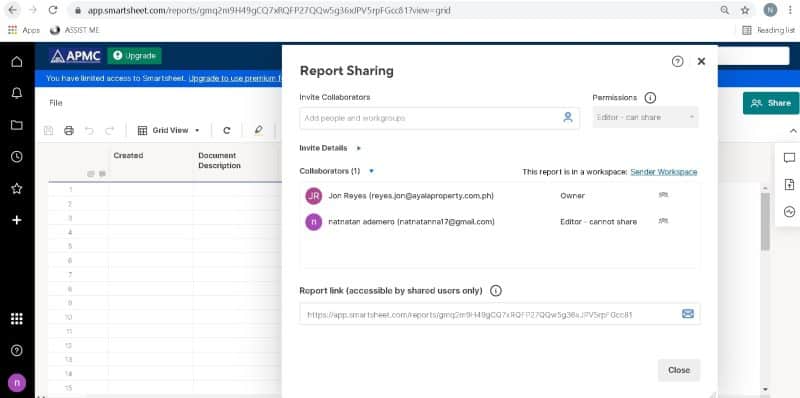 Why You Can Trust Our Analysis of Smartsheet
We tested Smartsheet using its free trial to evaluate its effectiveness as a project management tool. We compared different elements, such as the design of the interface and its customer service support.
To evaluate Smartsheet capabilities, we used with the platform extensively, creating projects and tasks to thoroughly test functionality, noting any issues or performance problems encountered in the process.
In addition, we studied user reviews online to understand how existing customers found their experience with Smartsheet in comparison to similar competitors.
Here at Techopedia, we understand an unbiased approach is critical for conducting research, so we've assessed the pros and cons associated with Smartsheet in comparison with its competitors to determine exactly where it excels and where it falls short.
Our Other Project Management Software Guides
Here's a look at some of our other guides to project management tools to give you an idea of the different software options available and the features they provide:
Concluding Our Smartsheet Review: Is Smartsheet Worth it in 2023?
We've tested a wide range of project management tools and have come to the conclusion that Smartsheet is an excellent choice in 2023. The powerful task management, automation, collaboration, and reporting capabilities make it easy for teams of all sizes to better manage their projects.
Smartsheet is a robust solution for large businesses looking for comprehensive project management products and enterprise PPM tools, as well as smaller operations that need lightweight task tracking.
Smartsheet offers a range of pricing plans along with free trials so you can figure out if it's the right solution for your team before committing for the long term. All in all, we recommend giving Smartsheet a try.
Smartsheet Review FAQs
Is Smartsheet better than Excel?
What are the cons of Smartsheet?
What is so great about Smartsheet?
Is Smartsheet hard to learn?
What is Smartsheet used for?
References