Our Wrike review will explore this project management solution that helps teams and organizations manage their work and tasks. Besides its project and task management features, we'll review its team collaboration and budgeting features that make it the first choice of more than two million businesses worldwide.
This Wrike review will focus on how the software can empower organizations to achieve their goals efficiently, and you'll discover more about each of the Wrike pricing plans, including its comprehensive free plan. Plus, we'll show a head-to-head comparison of Wrike and its closest competition to help you make an informed decision for your business.
Who Owns Wrike?
Founded in 2006 by Andrew Filev, who self-funded the company before obtaining investor funding, Wrike went through a leadership transition this year when Symphony Technology Group (STG) acquired the company.
Although Wrike earned numerous awards as a privately owned company, including the Forrester Wave award for the best collaborative work management tool, STG has an even more impressive portfolio.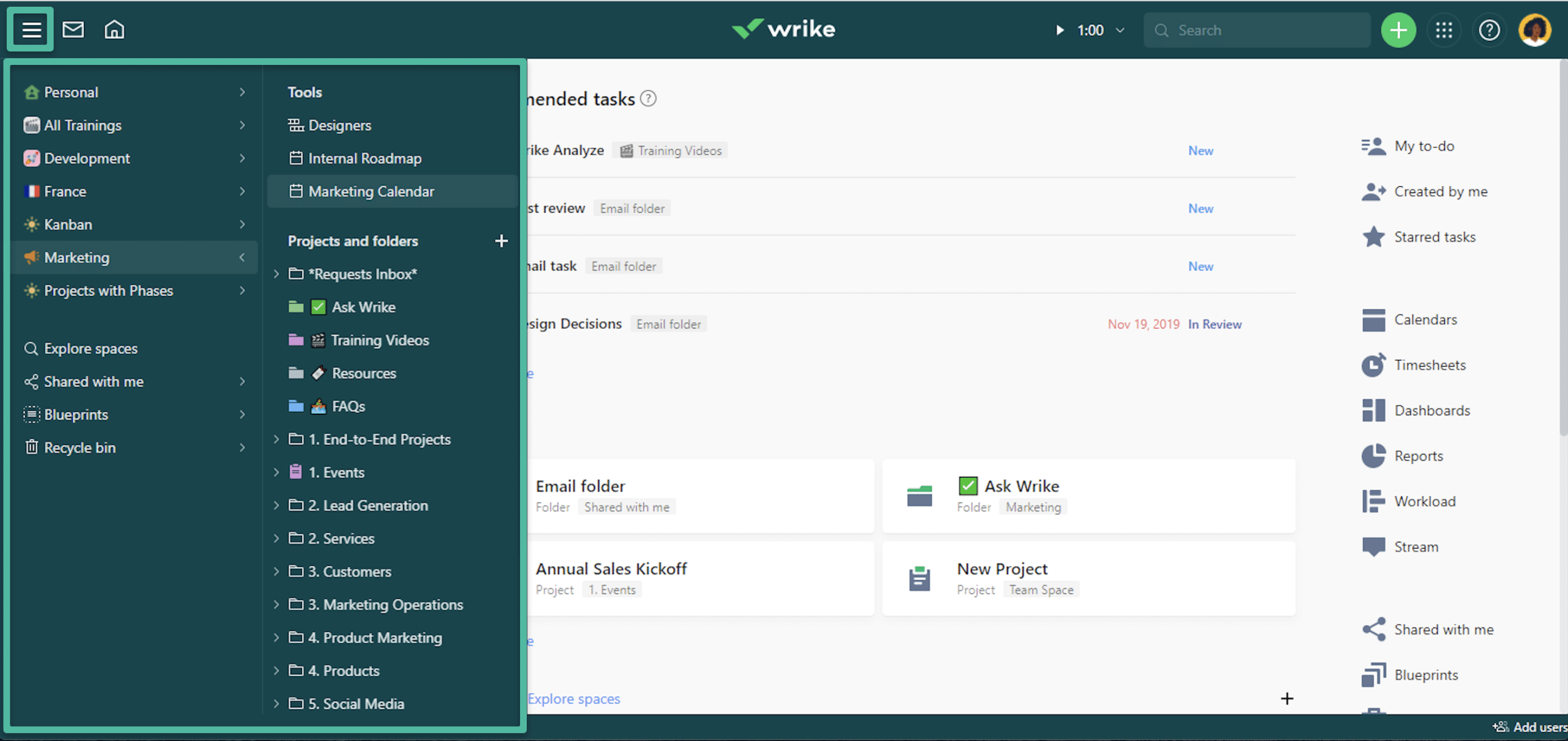 STG is a private equity partner to over 50 companies in the mid-market enterprise software and software-enabled technology services sector.
Simultaneous with its acquisition of Wrike, STG placed Wrike's founder, Andrew Filev, on its board of directors, which ensures the company won't change its course.
We expect Wrike to receive the financial backing necessary for research and development, marketing, and expansion into new markets.
It already stands out as one of the best project management tools for automation, analytics, and AI content generation for businesses, and its acquisition by STG will likely result in increased innovation and improvement of these features.
What is Wrike and How Does Wrike Work?
Wrike is a full-scale project management solution for workflow automation, resource allocation, and data visualization. It's available on various operating systems, including Windows, Mac, iOS, and Android, and it suits small-to-large-sized businesses.
At its core, the Wrike project management tool is ideal for creating tasks, assigning them to team members, and tracking their progress. You can organize these tasks to establish a structured approach to work management that suits your team's preferences.
That allows you and your team to keep track of deadlines and responsibilities, which improves your efficiency. Beyond this, Wrike focuses on team collaboration and communication.
It offers a centralized place for teams to share files, provide updates, and engage in discussions. Having this centralized prevents data silos and makes working together seamless regardless of a team member's geographical location.
What is Wrike Used For?
The Wrike project management software tool offers numerous advanced features to help fulfill all your project planning and management needs.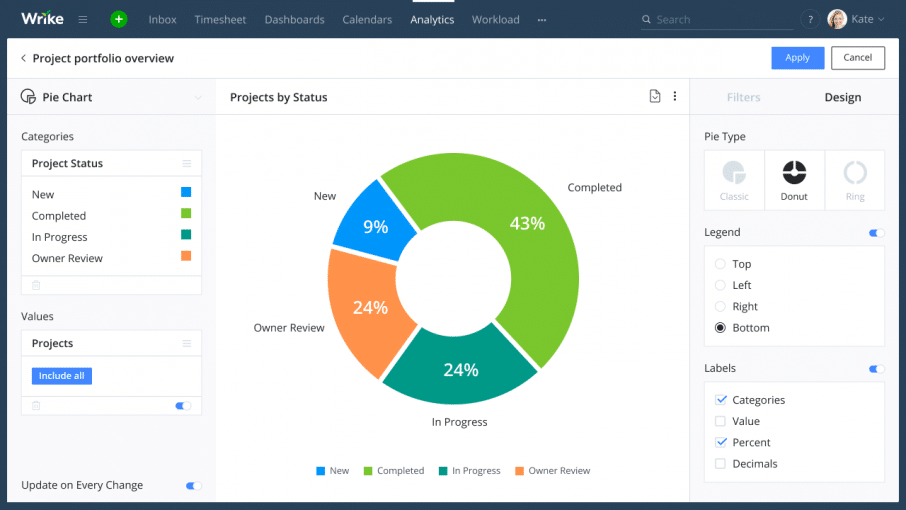 The core uses are for efficient project and workflow management — ensuring all tasks are completed in a timely manner. In fact, it's also used by many to ensure resources are evenly distributed.
Beyond this, Wrike is used by businesses for time management and centralized team collaboration — all this in one tool makes Wrike a valuable asset to businesses of all sizes, regardless of the industry.
Key Wrike Pros and Cons
While Wrike is undoubtedly an excellent pick for teams who value team collaboration as much as having some of the best task management software features, it isn't perfect.
Our biggest gripe with the Wrike plans is their expensive price point. However, finding a more complete service with responsive customer support is tough, which justifies Wrike enterprise pricing.
Pros
Well-designed, intuitive interface
Unlimited subtasks and nesting
Numerous third-party integrations
Exceptional customer support and implementation guides
Excellent collaborative proofing tools
Cons
It can get expensive quickly for large teams
How Much is Wrike? A Summary of All Wrike Plans
Wrike offers a range of plans to fulfill the diverse needs of teams and organizations from different industries. These are split into five tiers suited to fast-growing businesses, SMBs, or large enterprises.
That means you'll easily find a plan that fits your business's needs and budget. Before we go over a quick Wrike overview regarding the features included, here's a glance at the plans:

Wrike Team
Wrike's Team plan is an excellent choice for small teams and businesses seeking effective project management and collaboration features, as it balances affordability and functionality.
It provides your team with numerous advanced features, including interactive Gantt charts, custom workflows, analytics views, and valuable automations.
With this plan, you'll have a maximum of 25 users, 50 automations per user monthly, and you can invite up to 20 external collaborators for proofing, reviews, and approvals.
This makes it ideal for team management. However, the lack of features like cross tagging and the limit on automations makes this plan unsuitable for businesses handling multiple complex projects.
Wrike Business
This plan is ideal for SMBs requiring a customizable platform for project management, in-depth analysis, and time tracking. It builds on the features found in the Team plan by allowing you to:
Create user groups
Build workflow approval chains
And create custom item types
That means it helps you with enhanced project control and customization and lets your team tailor its interface to your business's needs, regardless of the industry.
Another notable upgrade is its reporting and analytics. This plan provides Work Intelligence, an AI-powered tool that automatically detects project risks to help you streamline your workflow.
Evidently, this plan is meant for 5 to 200 users and increases the automations per user to 200 a month, making it suitable for businesses handling multiple projects.
Wrike Enterprise
Wrike's Enterprise plan supports unlimited users, has industry-leading security features, and provides up to 10 GB of cloud storage for each user.
It also increases automations to 1,000/user/month. Plus, it lets you and other team managers create on-demand reports for each user to easily let you detect bottlenecks and improve workload distribution.
Wrike Enterprise is a significant upgrade from the other plans, especially for large businesses looking to protect their sensitive information.
It offers more data and platform security features, including two-factor authentication, and lets you give admin and custom access permissions to other users.
These control what the users can see while using the Wrike platform, which is excellent for user grouping and provides a secure offboarding solution.
Although we suggest using one of the best password managers, Wrike Enterprise also lets you implement a company-wide password policy to ensure your employees follow the best password practices.
Wrike Pinnacle
As the most expensive of all Wrike pricing plans, Pinnacle gives you unrivaled access to its features. It provides exceptional forecasting features with a 360-degree real-time view of your business.
This lets you make better business decisions. It also lets you estimate the project-level efforts of individual team members or groups of users and compare your estimates to actual performance.
While Wrike has a transparent pricing structure with no hidden fees, it doesn't disclose its pricing for Enterprise and Pinnacle plans, meaning you'll have to contact its sales team for a quote.
Is Wrike Free?
Wrike offers a free task management solution for teams that are just getting started or wish to explore some of its features before making a payment.
Although significantly limited compared to its premium counterparts, it lets you efficiently manage your tasks and projects, use AI content generation, and use board or table views.
However, you'll lack most of its advanced features, including automations, workflow approval, and custom fields, amongst others. If you'd like to test its features without limits, opting for the 14-day free trial is a much better option.
That way, you'll experience the complete Wrike service using a plan you think is suitable for your business, and if you commit, the platform lets you upgrade or downgrade your plan anytime.
It's also worth noting that you can immediately cancel its services if you decide to stop using the platform, which will automatically downgrade your account to a free version.
An In-Depth Look at Wrike's Features
From time tracking and task approvals to resource management, Wrike has a comprehensive set of features that's hard to match.
In this section, we'll dive into the details of its advanced features that can help you streamline workflows, drive project success, and improve team collaboration.
Project and Workflow Automation
Wrike's customizable project and workflow automation features enable your team to design processes that align with your unique requirements.
These workflows define the sequence of tasks, approvals, and actions, ensuring your projects seamlessly transition from initiation to completion.
Automation helps your team avoid repetitive tasks. For example, you can set up task dependencies that automatically trigger the next task when the previous one is complete, reducing delays and bottlenecks.
In addition, setting up automations means Wrike will notify you and your team members about scheduled actions, promoting timely task completion.
You can also set up task approvals for complex projects, which lets a designated team member review and approve tasks and projects before they advance.
Custom Workflows
Wrike lets you design and modify custom workflows to define the sequence of steps, stages, and actions required to complete a task or a project.

This level of customization contributes to smoother project execution and improves project management, making Wrike one of the best workflow management tools.
For example, you can establish task dependencies within a project, ensuring your team meets the prerequisites for a complex task before a team member starts working on it.
In addition, you can set up workflow approvals and reports within a custom workflow, ensuring your project meets your standards by having work pass through reviews and approvals by stakeholders.
The reports that you can generate will help your team managers identify bottlenecks and monitor work status.
Time Tracking and Logging
Wrike provides an automatic time-tracking feature that helps teams capture and record the time spent on projects or individual tasks.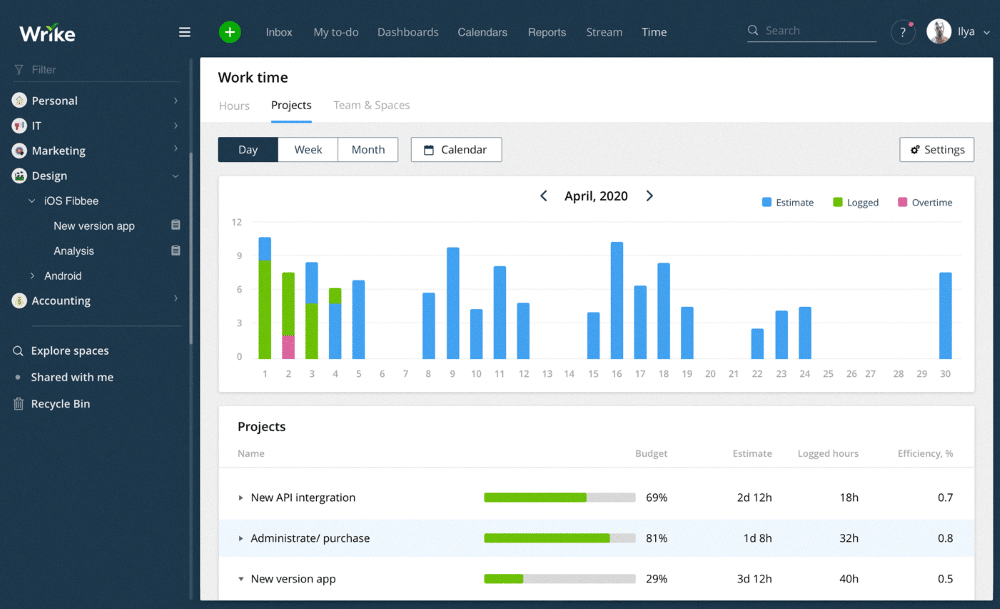 This is indispensable for companies seeking precise control over project management and resource allocation, and it helps provide accurate data for billing, reporting, and performance analysis.
Users can activate automatic time logging that effectively integrates with its project and task management features, or you can manually input time entries.
You can use this data for client billing or assessing internal project efficiency. For example, it can help ensure your teams are operating efficiently by giving you insight into workload distribution.
Team Collaboration
Its award-winning team collaboration features are ideal for enhancing your team's productivity, especially while managing the tensions of hybrid work.
Wrike provides a collaborative workspace for your team members to share files, provide real-time updates, interact, or leave comments for each task and project.
These features allow information to flow freely and prevent crucial information from slipping through the cracks. For example, your team members can attach files directly to tasks and projects.
This ensures all relevant information is accessible from the platform. In addition, multiple users can edit the same document simultaneously, facilitating seamless collaboration and eliminating version control issues.
Resource and Project Planning
The project management software Wrike offers built-in solutions for resource and project planning that help you prioritize tasks and track individual performance.
Thanks to its workload at-a-glance dashboard views, you can assess team members' availability and allocate tasks accordingly, ensuring even work distribution to avoid overworking team members.
Wrike lets you access its in-depth reporting and analytics features to enhance project management capabilities and create well-structured project timelines.
These reports can provide valuable insights into resource utilization and help you make data-driven decisions to optimize your project planning strategies.
Collaborative Proofing
This versatile feature is an invaluable asset that enables collaborative proofing and reviewing of designs, documents, and creative assets directly within the platform.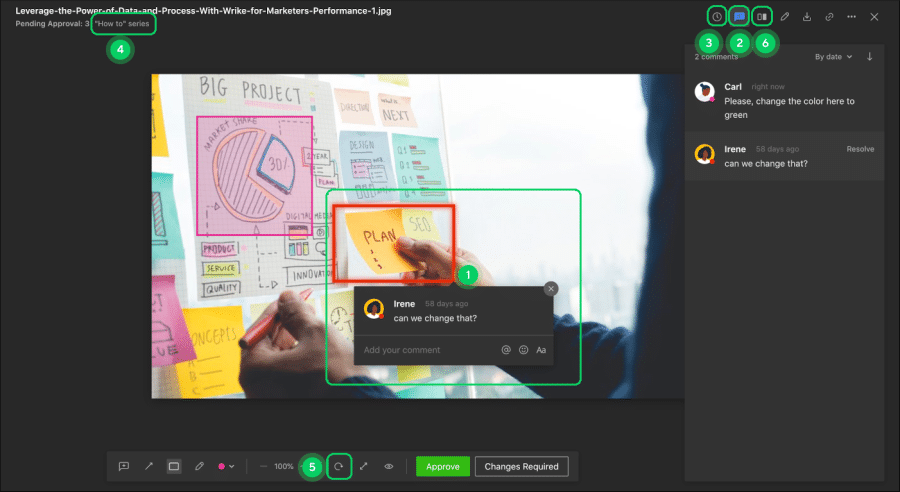 It helps ensure the quality and accuracy of content while eliminating the time-consuming process of collecting feedback from your team, stakeholders, or clients.
You can automate the proofing process by setting up Wrike to send notifications to team leaders and managers, ensuring no piece of content is overlooked, resulting in high-quality project outcomes.
The feature supports over 30 file types on any plan, but only Wrike Business, Enterprise, and Pinnacle users can upload video attachments.
Gantt Charts
This feature is available for premium users only and provides exceptional project planning and management functionalities. The Gantt Chart has a drag-and-drop interface that lets you create, edit, and view various parts of your projects.
For example, you can create milestones or set project timelines and task dependencies, and you can assign users to tasks directly within a Gantt Chart, ensuring everyone knows their responsibilities and timelines.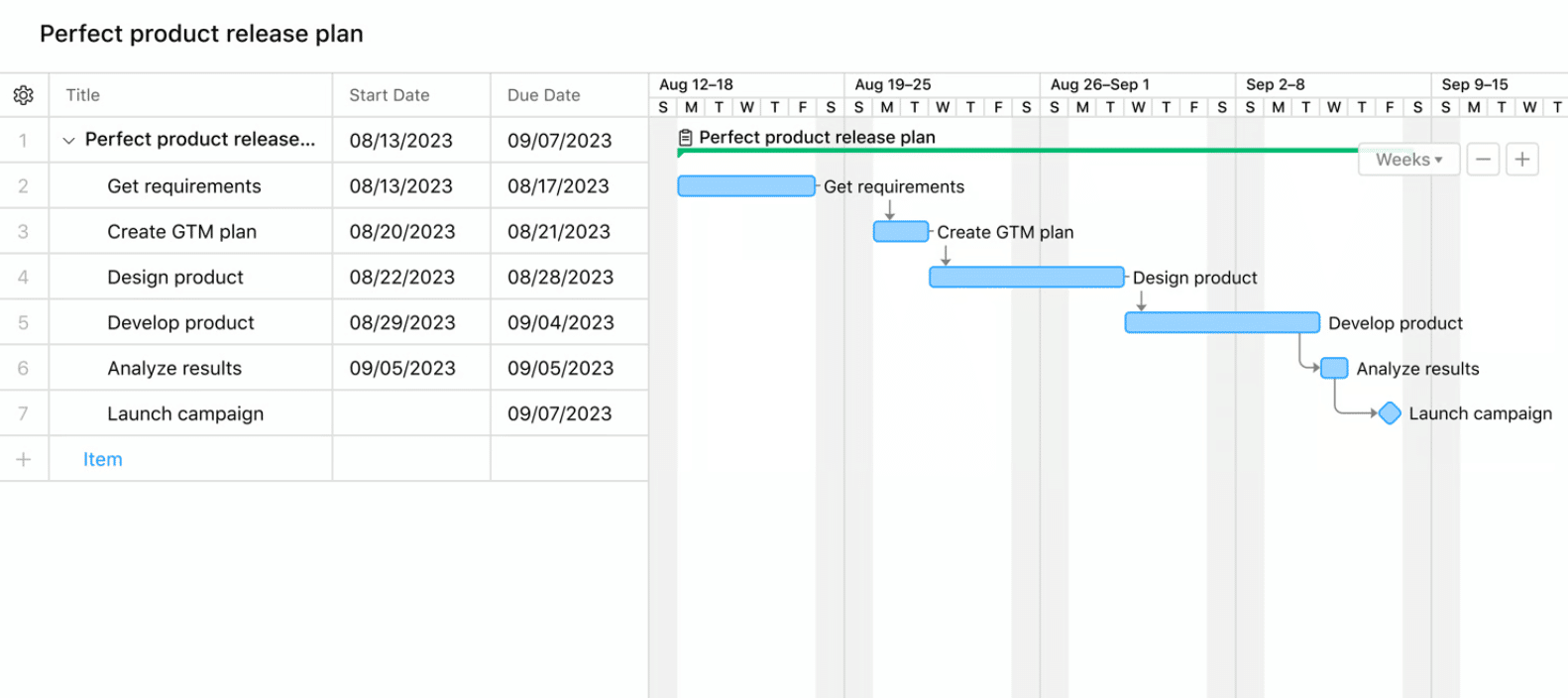 This type of project overview helps identify critical project paths, allowing you to distribute your workload to avoid bottlenecks. In addition, you'll have in-depth insight into your team's progress to identify delays and make adjustments accordingly.
Third-Party Integrations
A necessity in today's world of business-oriented software, third-party integrations let you connect Wrike to your other business tools. That means you won't have to go back and forth between Wrike and your accounting or marketing tools to access your business data.
It integrates with over 400 popular business tools, including some of the best CRM software.
Wrike Lock
Wrike Lock is a premium feature that comes at an additional fee and provides unparalleled cloud security for your business. It adds enterprise-grade encryption to your account and a master key that lets you decide who can view your Wrike data and when.
In addition, you can assign separate encryption keys to your team leaders and set up encryption approval that lets you accept or decline data access requests.
Cross-Tagging
Handling complex projects with dozens of employees working on numerous tasks can be exhausting, making cross-tagging an exceptional feature for large teams.
With cross-tagging, team managers can add multiple tags to tasks, making work item categorization and identification a breeze. In addition, it makes it easier for users to find and access relevant work items, improving team collaboration and performance.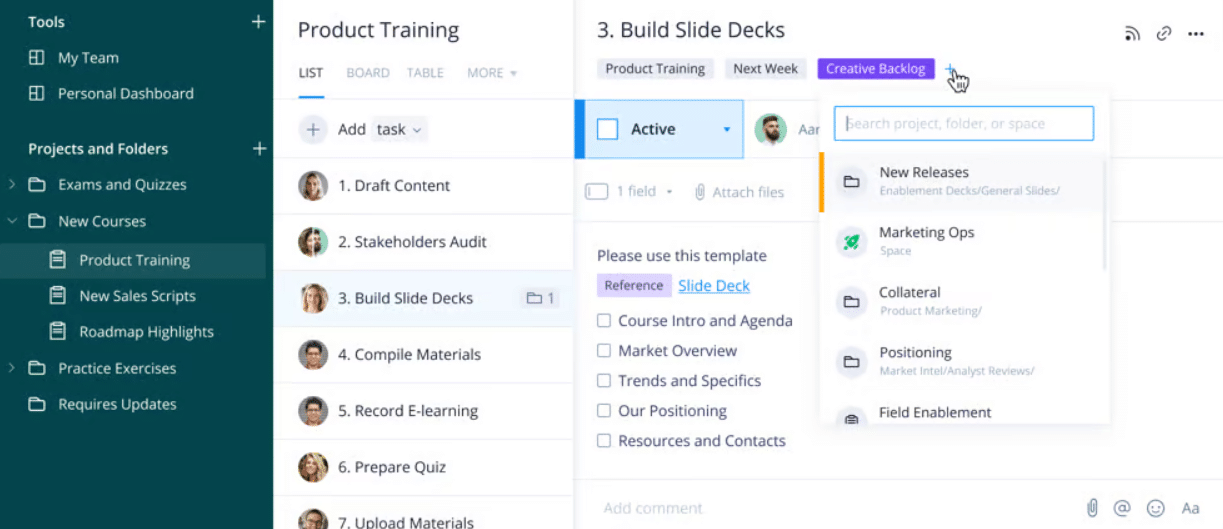 Tags also play a crucial role in report generation, as users can generate reports and track task progress based on tag categories, improving project visibility.
For example, you can add "To-Do," "In Progress," or "Completed" tags to tasks or sort them by type by adding "Coding," "Design," "Testing," or similar tags.
How Wrike Compares to Other Top Project Management Tools
Although you can pick between hundreds of project management tools to improve business operations, only a handful offer unique features, responsive customer support, and affordable services.
Here, we'll compare Wrike to some of its closest competition based on its pricing, compatibility, and free version:
Project Management Software

Starting Monthly Price

Starting Annual Price

Free Version

Key Free Version Features

Time Tracking

Compatibility

Not available

$9.80/user/month

Free forever plan + 14-Day Free Trial

AI content generation

Kanban board view

Subtask Management

Yes

Windows, Mac, Android, iOS

$10/user/month

$8/user/month

Free Forever Plan + 14-Day Free Trial

200+ templates

Unlimited docs

8 column types

Yes

Windows, Mac, Android, iOS

$9/user/month

$7/user/month

Free Forever Plan + 30-Day Free Trial

100 automations monthly

500 MB attachment storage

Gannt + 3 other views

Yes

Windows, Mac, Android, iOS

$10/user/month

$7/user/month

Free Forever Plan + 14-Day Free Trial

Kanban boards and Calendar view

Sprint Management

Two-Factor Authentication

Yes

Windows, Mac, Android, iOS

Teamwork

$8.99/user/month

$5.99/user/month

Free Forever Plan + 30-Day Free Trial

Up to five users

Full Time Tracking

Slack, gSuite, and MS Teams integrations

Yes

Windows, Mac, Android, iOS
Wrike Vs. Monday.com
Although both tools offer impressive features and customization to suit various industries, Wrike offers certain advantages that may sway your decision.
One of its standout benefits is collaborative proofing, which can improve your communication with stakeholders and clients. However, Monday is cheaper, making it a more budget-friendly pick for small teams and businesses.
Wrike Vs. Smartsheet
While users who are well-versed with spreadsheets and prefer an Excel-like user experience may pick Smartsheet, Wrike provides a more user-friendly platform. That makes Wrike a solid pick to future-proof your business and avoid repetitive data entries.
Wrike Vs. ClickUp
Although they deliver a similar user-friendly experience that makes project and task management a breeze, Wrike offers more features and superior reporting and analytics.
One advantage of using Wrike over ClickUp is its feature-rich mobile apps that make project management simple on the go.
Wrike Vs. Teamwork
Teamwork is an exceptional project management tool that integrates with even more third-party apps than Wrike, but it falls short in the features department.
Although Wrike offers a more comprehensive solution for SMBs and large businesses, budget-conscious small teams may opt for Teamwork, even at the cost of a few advanced features Wrike offers.
But while Wrike may be more expensive than most of its competition, it delivers an unmatched set of features via its easy-to-use platform.
Although its superior collaboration and proofing tools give it an advantage over its competition, those who aren't interested in these features can check our reviews of other project management tools to find an alternative.
Is Wrike Good? Summarizing Wrike Reviews
Wrike built its reputation as a flexible project management tool that provides exceptional customization and scalability, meaning it's great for businesses in various industries.
While its features and integrations leave an excellent first impression on interested customers, we know the importance of giving a full overview by analyzing the experiences of long-time users.
On Trustpilot, 57% of Write reviews give it the highest rating, and most users praise its team collaboration and task management features.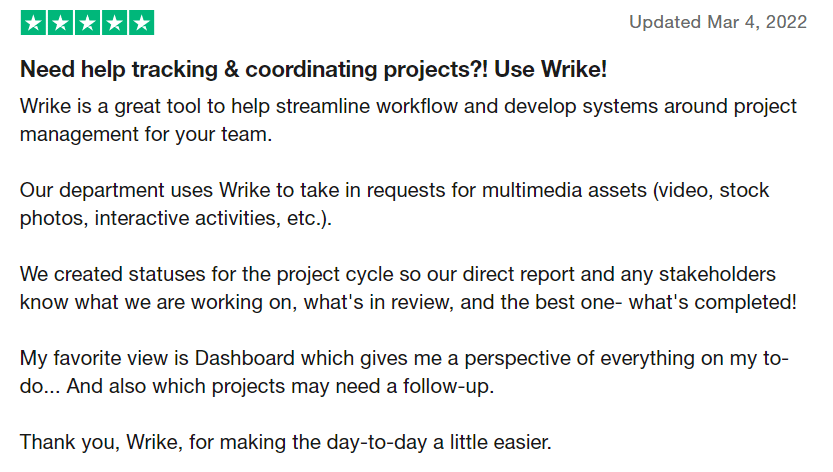 On GetApp, a popular site for user reviews, the Wrike app has an overwhelmingly positive score, with numerous reviews commending its third-party integration capability and chart availability.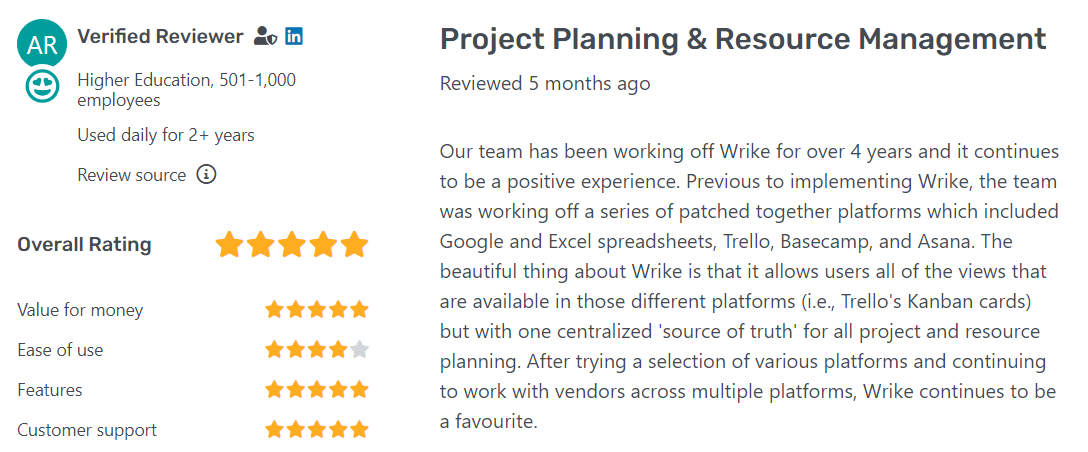 Capterra has almost 2,500 Wrike reviews with first-hand impressions of its software, and the provider enjoys an impressive rating on the website.

We've noticed that most reviews praise Wrike's customer support teams as knowledgeable and responsive. In addition, large companies seem satisfied with the deployment guide Wrike offers.
Although some users wish the free plan had more advanced features to thoroughly test the software before committing to a subscription, we hardly noticed any other complaints about Wrike.
Other PM Software Reviews and Guides
If you're looking for a more in-depth look at how Wrike compares to all the market's top project tracking tools, our experts have compiled numerous guides to help you make an informed decision on the best one for your needs and budget:
Our Testing Methodology
To formulate our reviews, we first look to spend some time testing them in practice to form our own conclusions on things like the interface, the level of functionality on offer, and how well it all comes together.
We tested Wrike's free plan to get a feel for the software and to note anywhere we felt it really thrived compared to other project tracking tools we've tested — such as Monday.com, as well as anywhere we thought it would be worth noting it needed improvement.
Our goal is always to provide an unbiased review of whether we recommend a tool and to whom these tools are best suited — giving our readers everything they need to know to determine whether it's a good investment for them or not.
That said, our opinion isn't the only factor we incorporate into our overall summary of the tool. For this Wrike review, we also explored platforms like Reddit and TrustPilot to see what long-time users of the platform have said about the software.
Concluding Our Wrike Review: Why Wrike?
After thorough research, we're confident that Wrike is one of the best project management and collaboration tools in 2023. It provides advanced task management capabilities and helps you tackle complex projects with features like Gantt Charts.
In addition, its proofing and approval tools can help streamline collaboration and result in high-quality project outcomes. Plus, it allows you to gain in-depth insight into your resource management with its powerful reports and analytics.
This can help optimize team workloads and analyze your performance. While it may come at a steeper price than some of its competition, Wrike's project management software is easy to use, making it ideal for beginners and experienced team managers.
You can start improving your team collaboration and business performance risk-free today, thanks to its 14-day free trial period.
Wrike Review FAQs
How much does Wrike cost?
Is Wrike a Russian company?
What is unique about Wrike?
References