Scorpion Casino has captured the fervor of the crypto market this month as it reaches new milestones in its sizzling hot crypto presale. With an impressive $1 million already raised, the token is set to make its debut on leading crypto exchanges soon.
According to analysts, the launch will pave the way for a substantial price surge, ranging from 5X to 10X within a matter of days. There is also the potential for a staggering 30X rise over the course of a year.
The massive enthusiasm surrounding Scorpion Casino has called for an analysis of the project to ascertain whether the hype is substantiated by the project's fundamentals.
Scorpion Casino Pre-Sale is selling out fast! 🦂

🔒 Licensed & Regulated Online Casino
💸 Earn up to 10K USDT Daily Staking Rewards
💰 Buy SCORP, the world's 1st Social Gambling Crypto

Get Passive Income from a Licensed Crypto Casino💸

Don't miss out!
👉https://t.co/VJ2da3puft pic.twitter.com/MHxl9ddA1I

— Scorpion Casino (@ScorpionCasino) July 11, 2023
A vibrant gaming community
Scorpion Casino marks itself off by prioritizing a vibrant gaming community rather than investors.
How come?
The well-defined strategy underscores utility over speculation. As utility is the driving force behind a token's value, it ultimately benefits investors.

If you have a penchant for gambling and play-to-earn games, you will be amazed to visit Scorpion Casino. It features an expansive array of options from casino games to live betting, sports betting, and crash games – exclusively reserved for people of or above the age of 18. The target audience is limited to a financially capable demographic to underpin the utility of the token and in turn its value.
An impressive portfolio of approximately 30,000 monthly betting opportunities sets apart Scorpion Casino. Over 210 casino games are hand-picked from renowned gaming providers such as Evolution, NetEnt, Play N Go, Novomatic, EGT, and AMATIC to win gamers. Among these offerings, you'll be glad to find a wide spectrum of choices, including slots, blackjack, roulette, poker, and live casino games. So yes, there's something to cater to every gambler and gamer.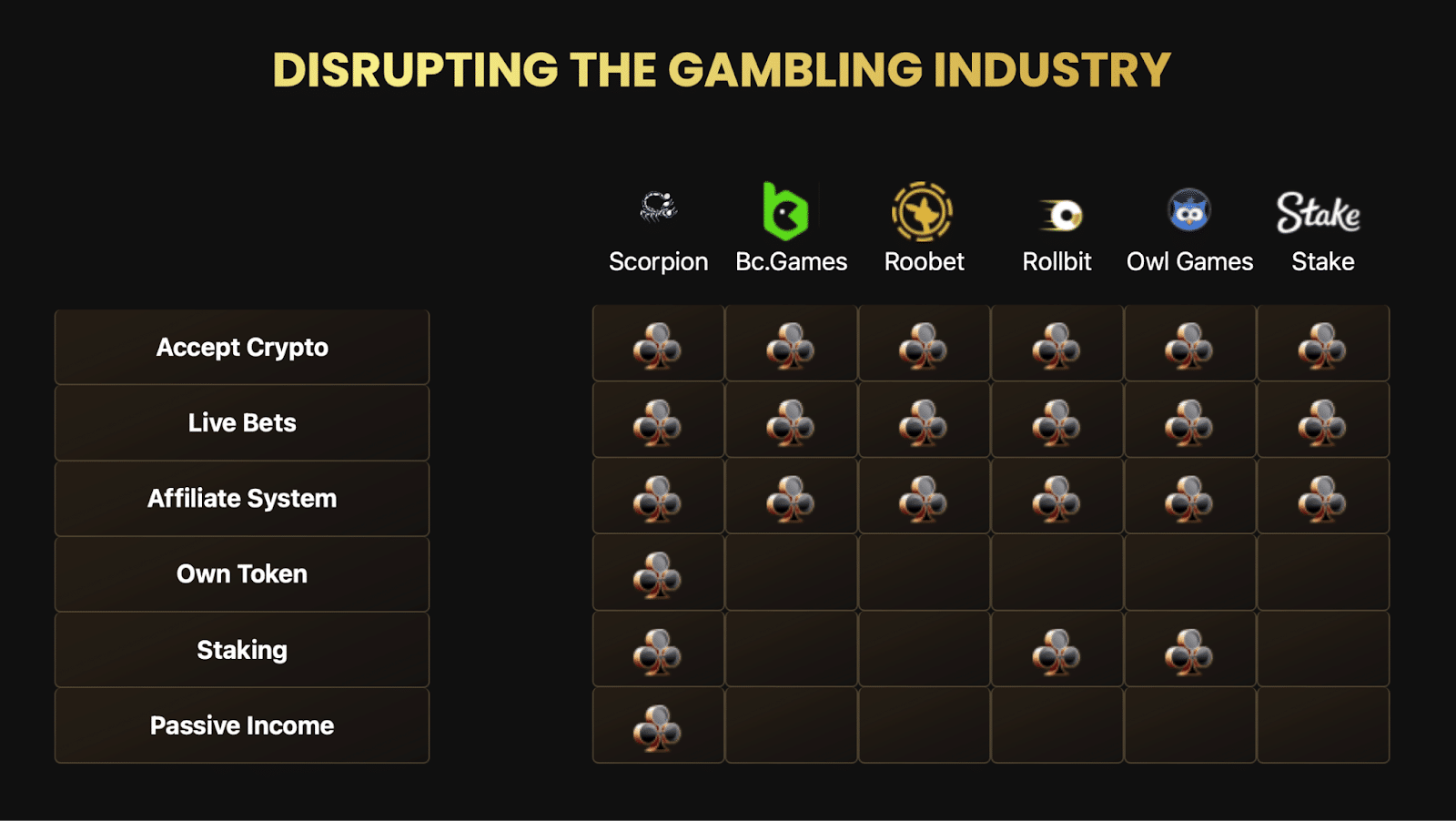 The casino offerings are accompanied by thrilling sports betting contests, letting you capitalize on your knowledge across more than 35 sports. They can range from football and tennis to American football, horse racing, basketball, golf, boxing, and MMA.
Moreover, Scorpion Casino offers a captivating collection of crash games. Each of these promises attractive rewards for participants.
An exceptional commitment to security
Scorpion Casino has gone the extra mile to uphold the highest safety standards. This was much needed. Especially in light of recent hacking incidents on platforms like Stake.com, multiple measures are in place to win the trust of investors as well as gamers on Scorpion Casino.
Scorpion Casino has been through a thorough audit conducted by Solidproof, which it has passed with a certificate that guarantees its 100% security. The audit mitigates the chances of hacks or other security threats on the crypto platform.
The project has integrated additional protective layers like a team KYC verification by Assure DeFi, adhering to the KYC Gold Standard. The step eliminates the potential for a rug pull.
From the gambling perspective, Scorpion Casino operates under the regulation and licensing of the Curacao EGaming Authority. The licensing ensures that all transactions conducted on the platform are fair and transparent.
All rewards are distributed through a blockchain-based smart contract in cryptocurrencies, ensuring swift and efficient transactions. There is no room for scams or fraud.
To learn about the project development, giveaway contests, and presale updates, join the Scorpion Casino community on Telegram and Twitter.
Is Scorpion Casino the next Rollbit?
The excitement surrounding Scorpion Casino can be partly attributed to the outstanding performance of Rollbit Coin (RLB) this year, bucking the broader market trends. The coin has given remarkable return on investment, reaching four-digit percentages, to investors this year as shown below.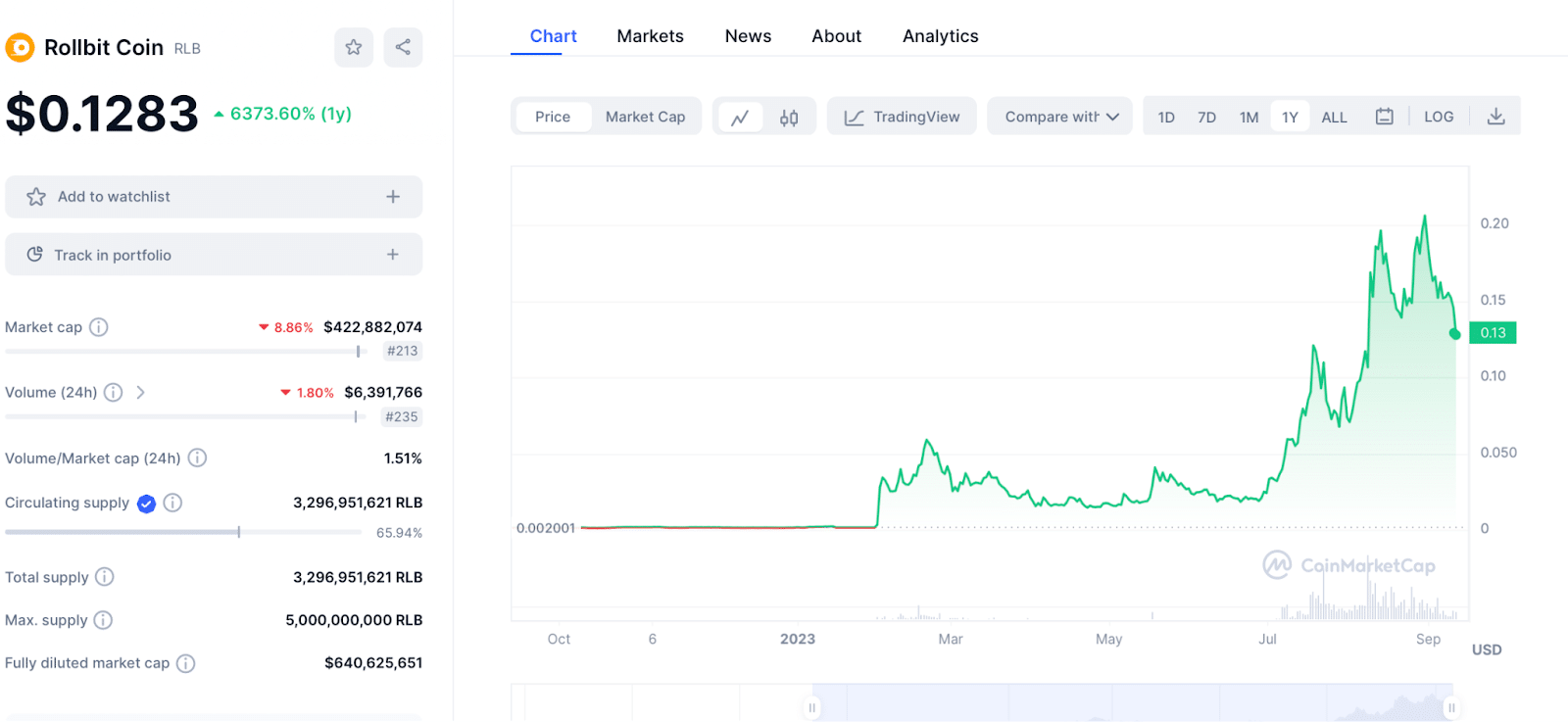 An analysis of why Rollbit achieved this success will also help us understand the hot presale of SCORP tokens. To begin with, the online gambling sector has a surging popularity, especially in Web3. Blockchain-based platforms have been gaining widespread attention due to their heightened transparency.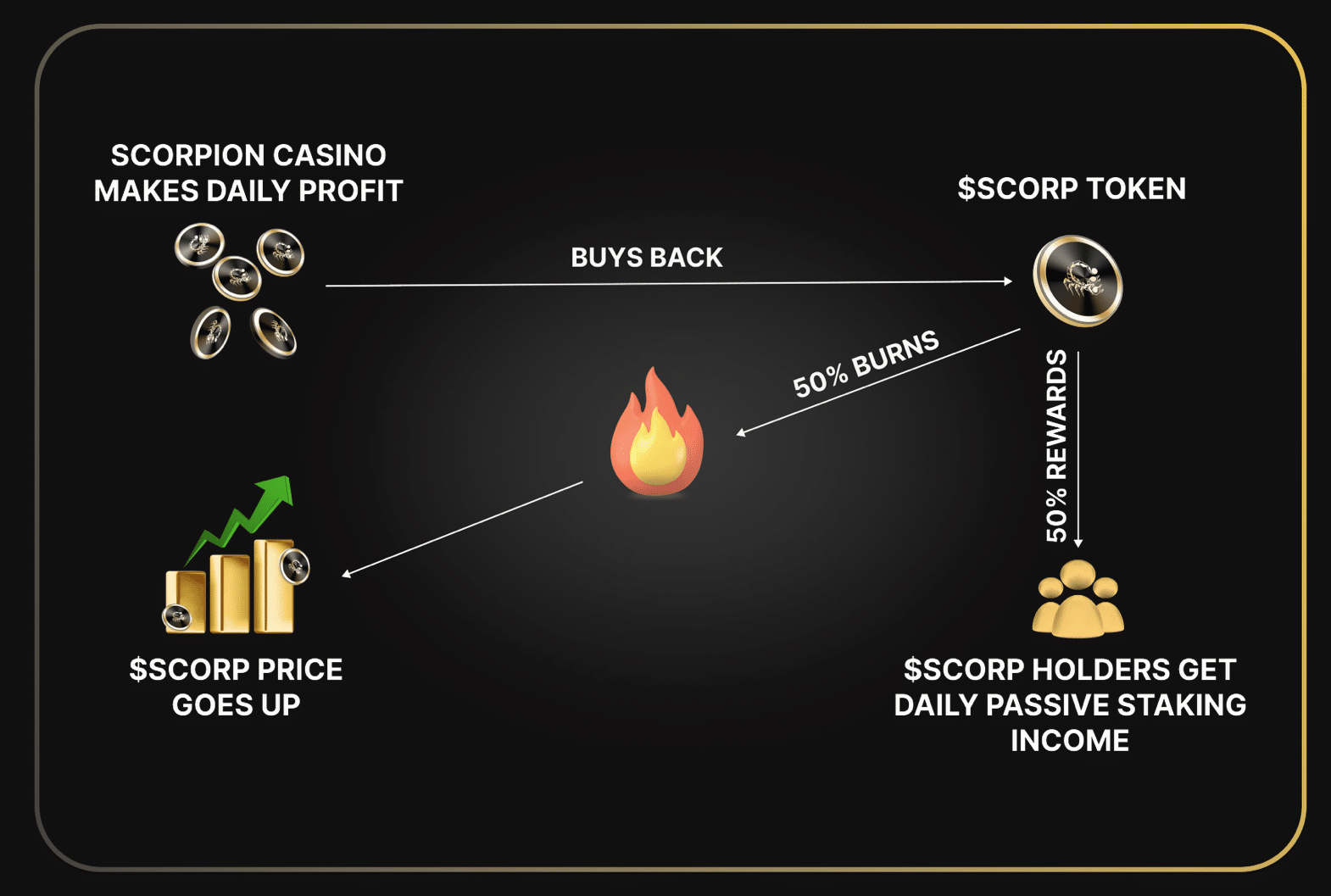 Like Rollbit, Scorpion Casino has implemented a token-burning mechanism that acts as a cushion even in volatile market conditions. That said, Scorpion Casino distinguishes itself by introducing a staking system for added resilience, as shown below.
Both the token burning and staking mechanisms are funded by a share of the platform's revenue to drive the token's value over time. Firmly rooted in the gaming dashboard's growing user base and not just in tokenomics, these mechanisms are inherently sustainable. They strengthen the long-term viability and relevance of the project.
You can earn up to 10,000 USDT in passive income on Scorpion Casino daily through staking.
SCORP is rapidly approaching an early sell-out
There has been a significant surge in the presale traffic to Scorpion Casino over the last few days. As the social momentum around the project grows, Scorpion Casino is expected to reap generous returns for early investors like Rollbit. Given the vast gambling and sports betting offers, as well as the unparalleled staking rewards rooted in platform revenue, it has the potential to outshine Rollbit in the coming months.

Once SCORP gets listed on cryptocurrency exchanges, the investment will become expensive. The ongoing presale is the best entry point to the presale. Although the token price increases with each new presale stage, it is still cheaper, factoring in the series of upcoming bull runs.