Social media statistics are vital for digital landscape comprehension. They provide valuable insights into how pervasive technology transforms interactions, experience sharing, and information consumption.
These figures are essential, whether one is a marketer aiming to reach more audiences, a business owner eager to boost a brand's online visibility, or simply a curious observer of the digital world's evolution. The data gathering can seem overwhelming due to the myriad and diverse sources.
Hence, we have prepared a user-friendly compilation of the latest trends and social media data. It is a valuable resource for staying updated and ready to exploit social media's immense potential effectively. Understanding social media stats is thus a crucial tool to navigate this ever-evolving terrain.
TikTok has the highest average monthly use per user, with each user spending an average of almost 23.5 hours per month on the platform.
In the U.S., Gen Z spends the most time on social media, averaging 3 hours daily.
Impressions on social media ads increased by 35% in one year, while ad spending actually decreased by 3%.
In 2023, 30% of users preferred accessing news via social media over directly accessing news websites/apps (22%).
31% of U.S. adults reported in 2023 that social media harms their mental health, with 36% of adults taking an extended break from social media due to negative effects on their mental health.
The digital landscape is overflowing with social media platforms. Their popularity and how users engage with them are crucial knowledge, which is why we have compiled these social media stats.
Facebook is the most used social media platform worldwide.
Data Reportal revealed that Facebook boasts nearly 3 billion monthly active users. Why is it so popular? It's a versatile platform. It is a networking hub, news source, and entertainment center all rolled into one.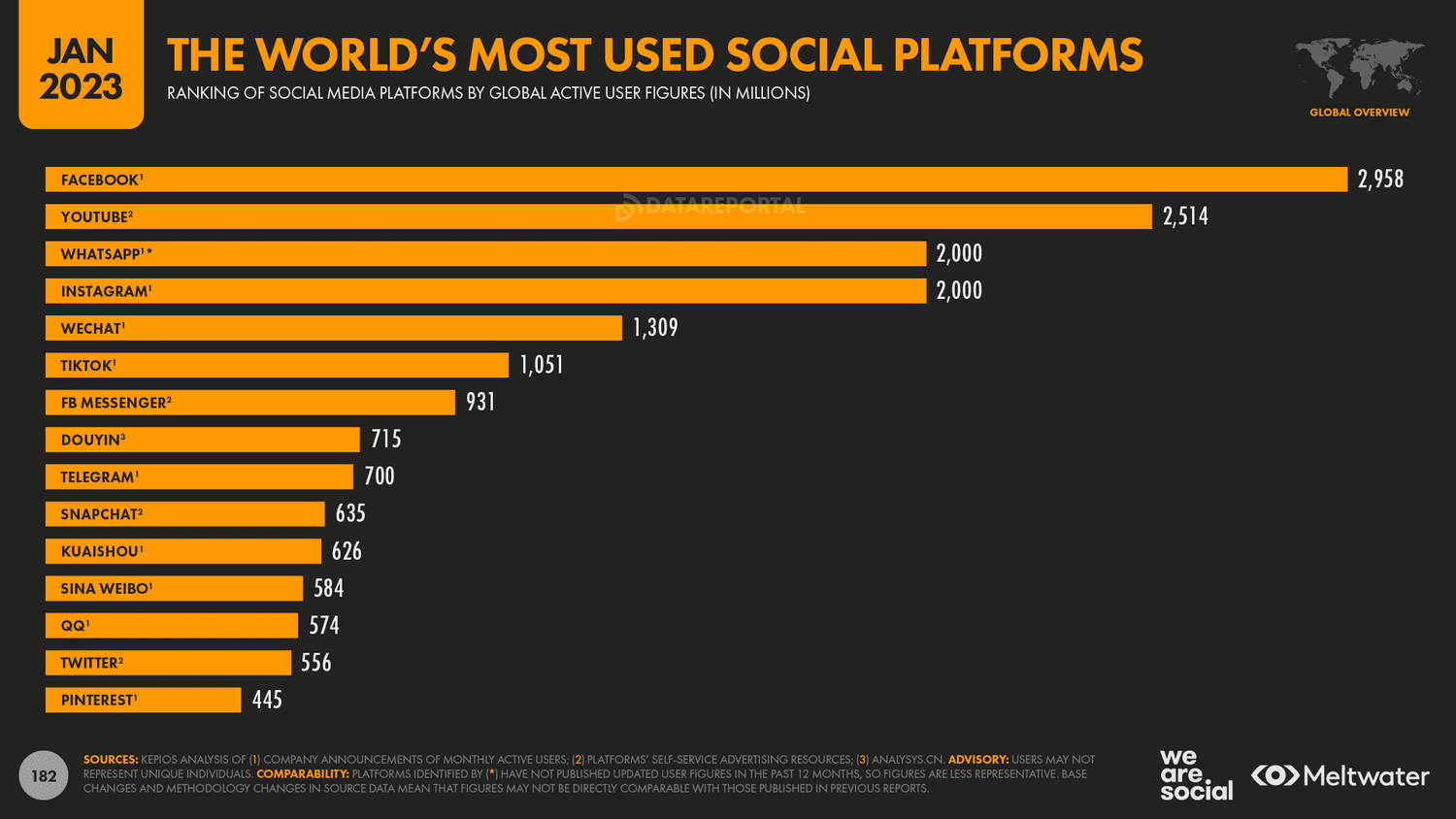 YouTube is next in line with 2.5 billion active monthly users. A vast library of content ranging from music videos to tutorials could be the reason.
WhatsApp and Instagram follow with around 2 billion monthly active users. These platforms are designed mainly for messaging and photo-sharing.
The least popular platforms are Pinterest and Twitter. They have 445 million and 556 million monthly active users, respectively. Pinterest is an inspiration-driven platform, while Twitter is known for its concise format.
In the U.S., Gen Z tops the list in social media usage.
GWI's report on U.S. social media in the first quarter of 2023 (Q1 2023) shows that Gen Z spends an average of 3 hours a day on social media. This fact underscores that younger generations have made social media a part of their daily routines.
Millennials aren't far behind. They spend approximately 2 hours and 35 minutes a day on social media. Gen X and Baby Boomers spend 1 hour and 48 minutes and 1 hour and 13 minutes, respectively.
The Myth of Platform Replacement: Multi-platform Usage in the Digital Age
It's relevant to note that the use of social media platforms often overlaps.
A popular myth in the digital world says new social media platforms will make older ones obsolete.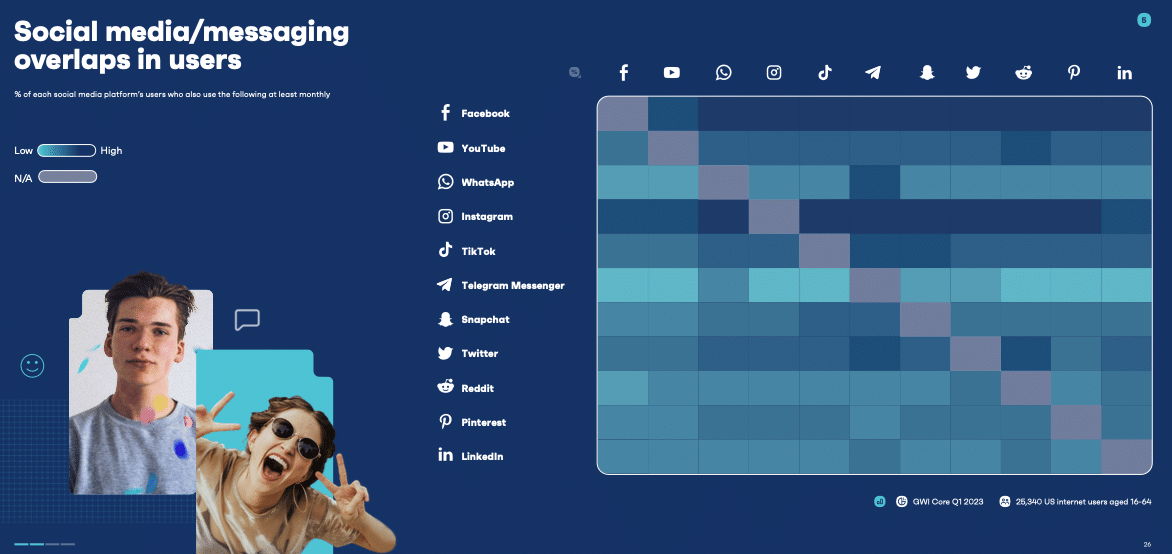 But the GWI report proves this wrong – at least in the U.S. It shows that platforms often overlap, with about 86% of Snapchat users also maintaining an active Instagram account.
This trend of multi-platform usage presents an opportunity, as brands can create diverse marketing strategies, reaching audiences across various platforms.
TikTok was the social media app users spent the most time on in 2022.
According to Data Reportal, TikTok's Android users spent an average of almost 23.5 hours per month on the app. YouTube, Facebook, and WhatsApp Messenger trailed closely, with their users spending 23.1, 19.7, and 17.3 hours, respectively.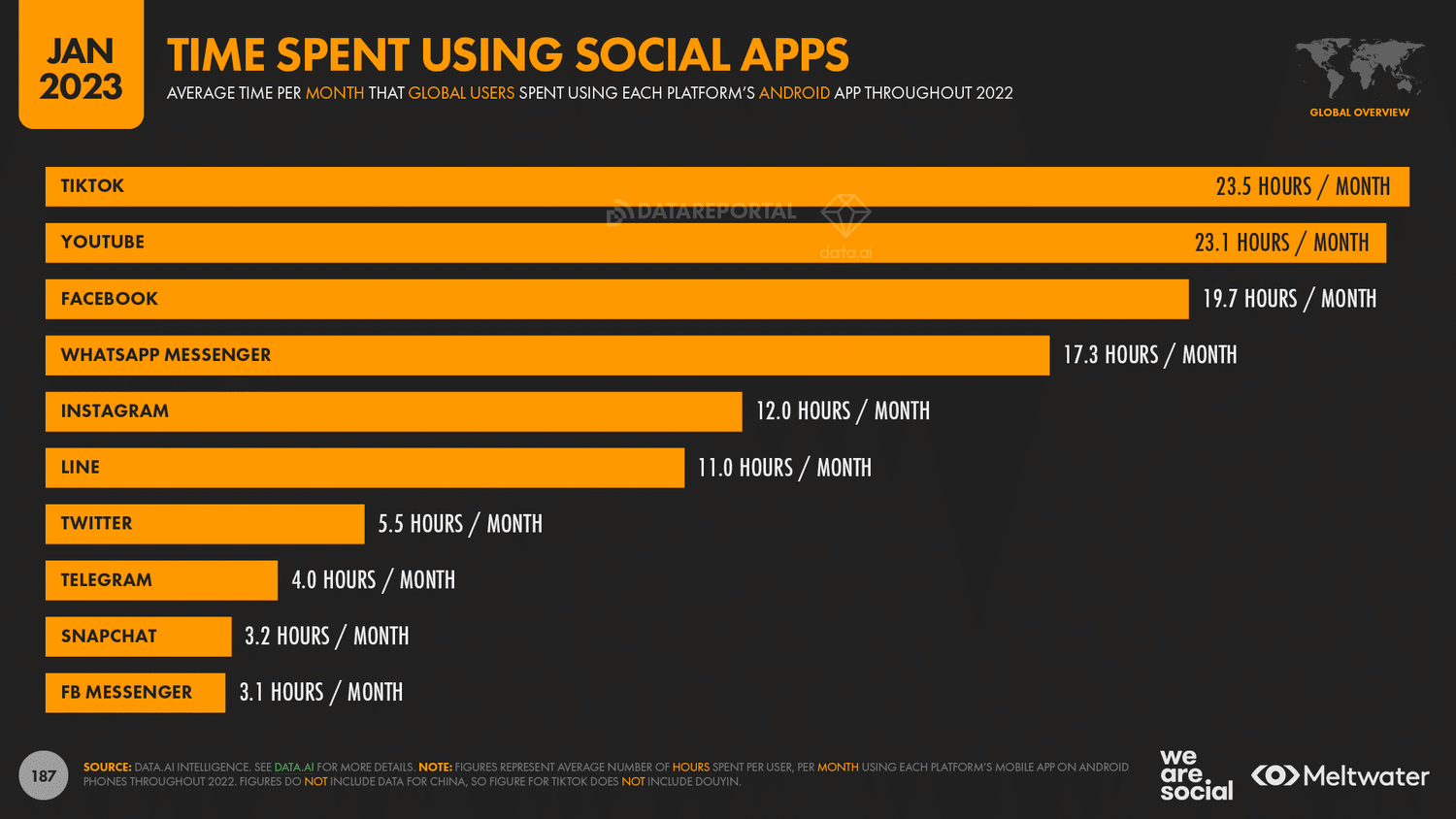 TikTok also had the highest user engagement rate.
According to RivalIQ, user engagement is any measurable interaction on social media posts, including likes, comments, shares, and reactions. These interactions are used to calculate the engagement rate. It's a critical indicator of a platform's effectiveness.
RivalIQ's 2023 Social Media Benchmark Report revealed the engagement rates for the top four social media platforms in 2022:
TikTok: 5.69% engagement rate per video
Instagram: 0.47% engagement rate per post
Facebook: 0.06% engagement rate per post
Twitter: 0.04% engagement rate per tweet
Interestingly, TikTok had the lowest posting frequency, despite its high engagement rate.
The same report revealed the median posting frequency in 2022 for the top four social media platforms:
Facebook: 5.04 posts per week
Instagram: 4.60 posts per week
Twitter: 3.90 tweets per week
TikTok: 1.75 videos per week
This shows that TikTok's high engagement rate doesn't rely on frequent posting. It can capture and hold user attention uniquely.
As digital landscapes evolve, businesses and marketers have found a powerful ally in social media for reaching their target audience. This medium is more than just a communication platform; it is a vital tool that can significantly impact a brand's visibility, customer engagement, lead generation, and, ultimately, its bottom line.
Understanding social media statistics on marketing and advertising can provide key insights into effective strategies, enabling businesses to optimize their online presence and drive growth.
Enhanced brand exposure was a key advantage of using social media in marketing strategies in 2022.
A detailed report from the Social Media Examiner revealed numerous benefits for marketers using these platforms. Most professionals (around 86%) saw the leading benefit as increased exposure. This is expected, given the potential for reaching these platforms' customers. With the global prevalence of social media usage, marketers have an expanded reach, capturing attention from a wider demographic range than ever before.
After increased exposure, other benefits came into focus. Traffic escalation stood at 76%, potential lead generation at 64%, and the creation of a loyal fan base at 56%. Interestingly, 55% of the respondents noted improved sales.
These social media stats strongly underscore the vast potential marketers can utilize. Notably, these platforms can increase brand awareness and convert this visibility into actual sales.
Impressions and clicks had a notable year-over-year increase while, surprisingly, ad spending decreased.
A report by Skai.io examined the relationship between impressions, clicks, and social media advertising expenditure in Q1 2023.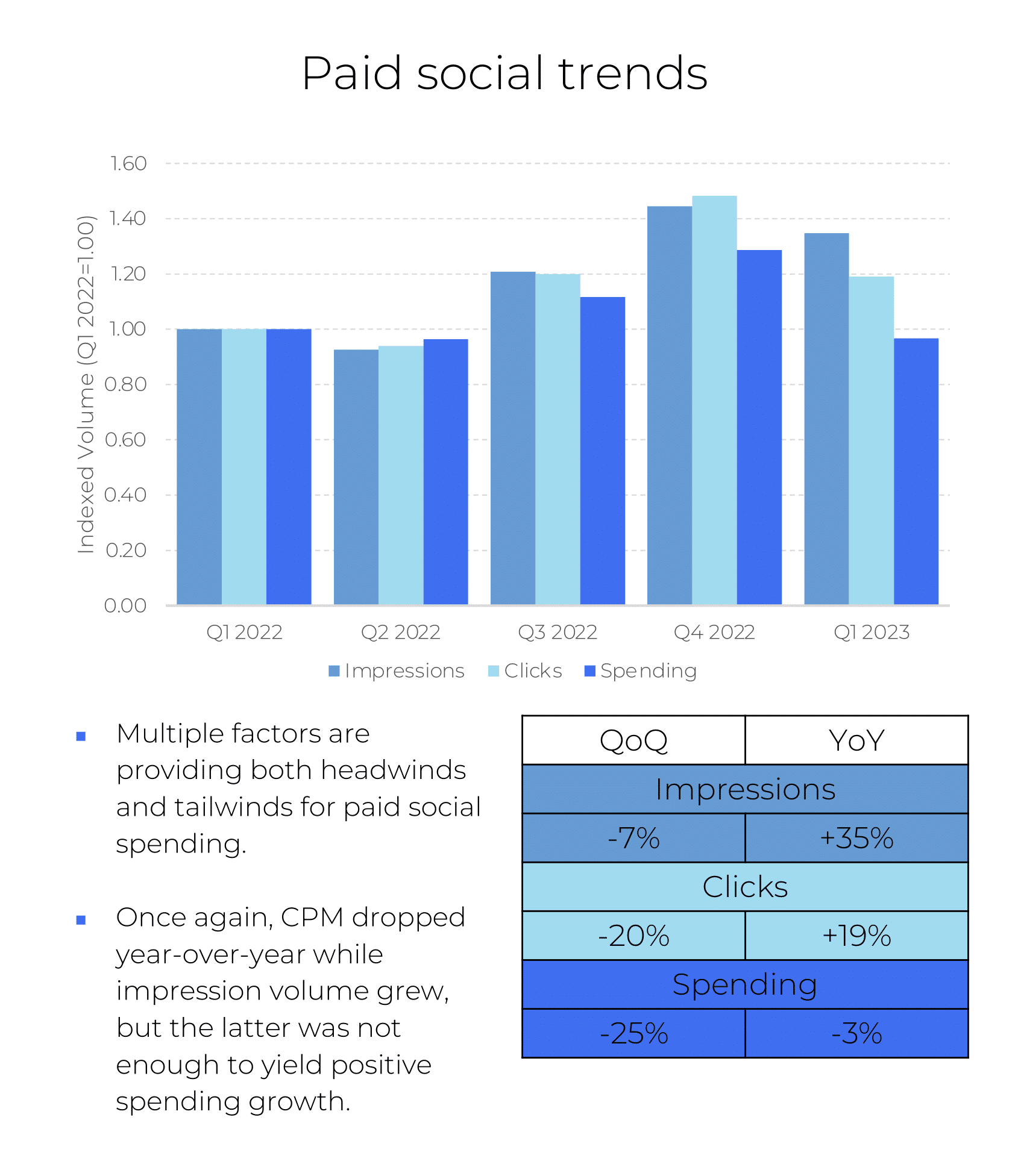 From Q1 2022 to the same period in 2023, impressions rose by 35% and clicks increased by 19%. Interestingly, ad spending dropped by 3%.
These social media statistics point towards a change in the social media advertising landscape. They suggest marketers are achieving higher visibility and engagement levels with lower expenditure.
Skai.io's study also focused on a significant decrease in both the cost per thousand impressions (CPM) and the click-through rate (CTR).
In Q1 2023, the average CPM dropped by a substantial 28% compared to Q1 2022. This large cost reduction can be tied to changes in the aims and tactics of advertising campaigns. More consumers are reached for less money, which is beneficial and emphasizes the cost-effectiveness of social media advertising.
Simultaneously, the CTR, a metric showing the percentage of viewers interacting with an ad, declined by 12% during the same period. A higher CTR suggests that an ad successfully captures the viewers' attention, urging them to click to explore more or make a purchase.
This decrease could be due to ad formats such as Stories and Reels gaining popularity. These formats typically have lower CTRs compared to traditional placements.
The gathered statistics and data points collectively underscore the importance of understanding social media marketing and advertising's complex dynamics. They clearly indicate that for businesses aiming to refine their digital strategy and maximize their return on investment, it's essential to delve into social media statistics.
38% of males and 40% of females globally purchased a product after seeing it on a social media platform within the last month.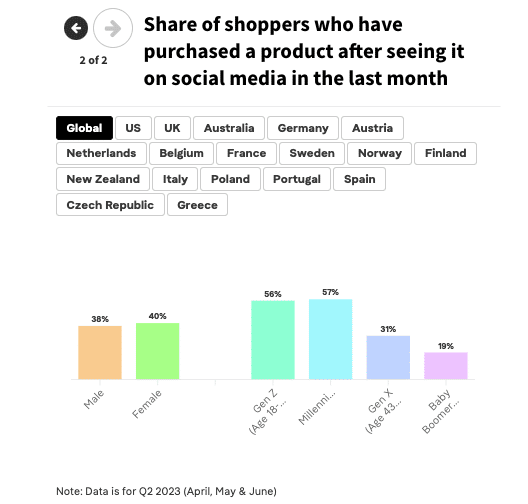 This was revealed in a Q2 2023 report by Klarna, highlighting social media's tremendous influence over contemporary consumers' buying choices.
Millennials led the pack, with 57% likely to purchase products they saw on social media.
Gen Z closely followed this group at 56%. Gen X trailed with 31%, and Baby Boomers were the least likely to make such purchases, at 19%.
The same report also highlighted how 59% of social media shoppers purchased products directly from the platform.
Males (64%) showed a higher propensity to buy directly than females (54%).
From an age perspective, Millennials were most inclined to make direct purchases, with 70% doing so.
Gen Z followed this group (52%). Gen X was close behind (51%), and Baby Boomers were the least inclined to make direct purchases (46%).
This highlights the efficiency and convenience these platforms offer consumers, encouraging instant purchases.
Brands, Retailers, and Influencers: Inspiring Consumer Choices
The Klarna report also detailed the role of social media in inspiring shopping habits, especially regarding accounts run by brands.
Around 69% of U.S. respondents acknowledged that brand-run social media accounts significantly inspired their shopping choices.
Retailers held a similar sway over 60% of the respondents, while influencers had the least impact at 46%.
The influence of these account types, however, varied across generations.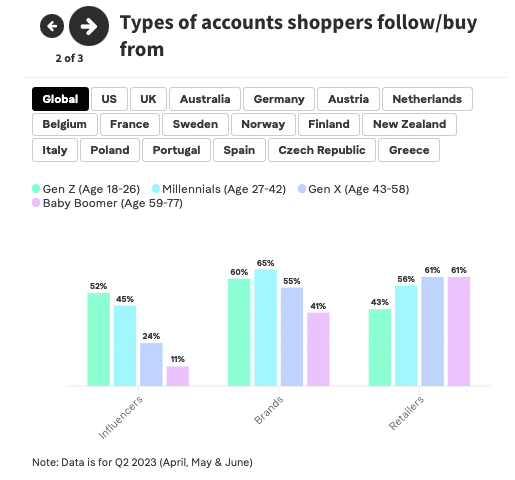 Among Gen Z, brand-run accounts inspired 66% of respondents. Influencers followed with 52%, while retailers impacted 50%.
Millennials showed a similar trend, with 75% being influenced by brands. However, retailers (60%) held more sway for this group than influencers (55%).
For Gen X, retailers emerged as the primary influencers, impacting 72% of respondents. Brands followed with 59%, while only 26% reported being affected by influencers.
Baby Boomers mirrored this trend, with retailers influencing 55%, brands 51%, and influencers just 16%.
Overall, these social media statistics provide compelling evidence of the transformative role social media plays in consumer shopping behavior. They shed light on how social media marketing strategies can be tailored to target different demographics effectively, ensuring maximum reach and engagement.
Content Trends in the Digital Era
In this digital age, keeping tabs on ever-changing social media trends is crucial. Social media platforms provide fertile grounds for various forms of content, attracting diverse audiences. A recent trend gaining prominence is the increased consumption of video content.
This shift towards video has been observed across several platforms, illustrating its growing appeal to social media users. In the realm of social media engagement, video content has begun to occupy a pivotal position.
Social media statistics suggest an upward trajectory for video content from Q1 2021 to Q1 2023.
As per a GWI report on social media trends, users have increasingly been tuning into videos on social media platforms. The number of individuals who watched a video in the preceding month grew noticeably across these platforms.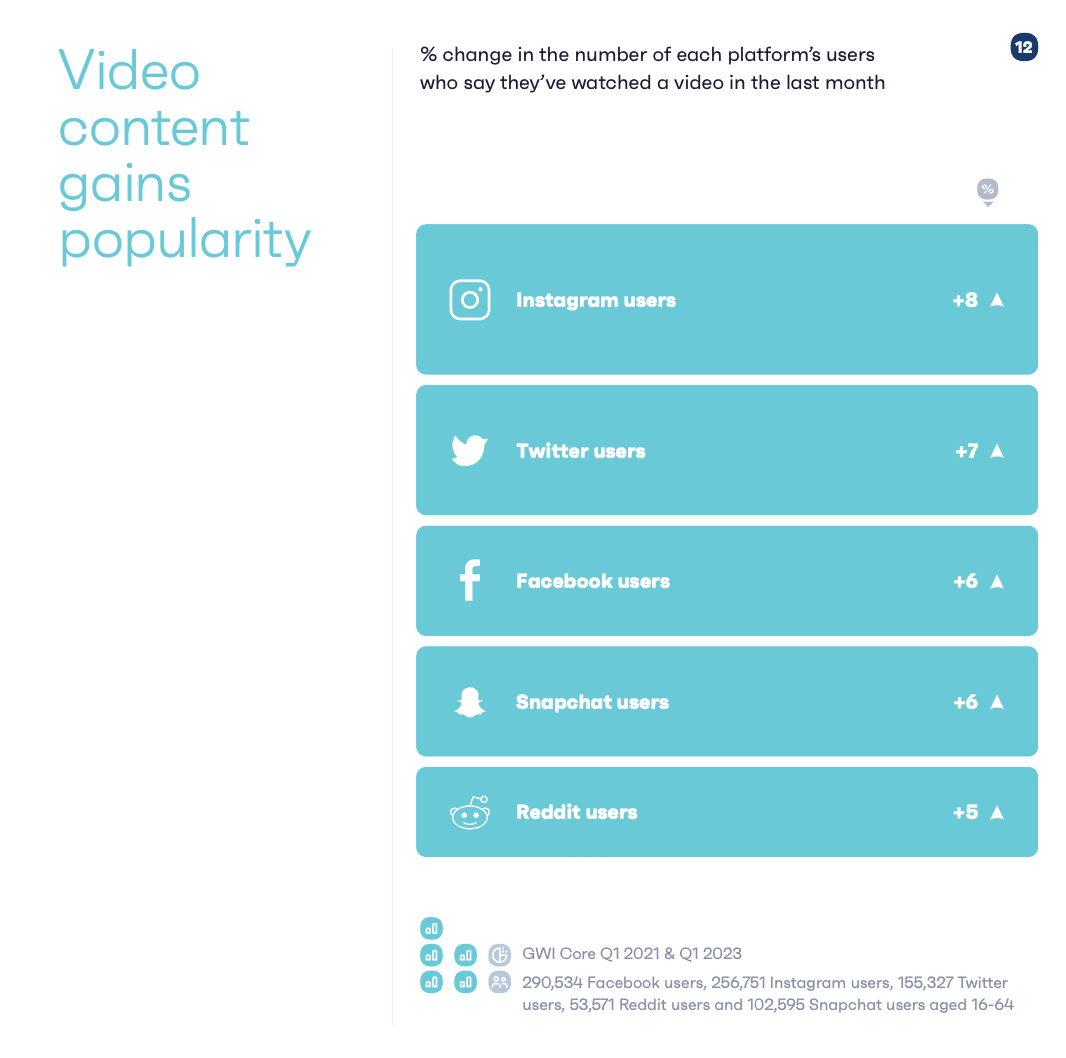 Since Q1 2021, the number of users who said they had watched a video in the last month increased across social media platforms:
Instagram users: +8%
Twitter users: +7%
Facebook users: +6%
Snapchat users: +6%
Reddit users: +5%
In sync with the rise in video content, live-streaming services have also witnessed growth.
Data from Stream Charts show that YouTube and Twitch were the dominant players in Q1 2023, amassing 8.1 billion and 5.3 billion hours of live streaming watched, respectively.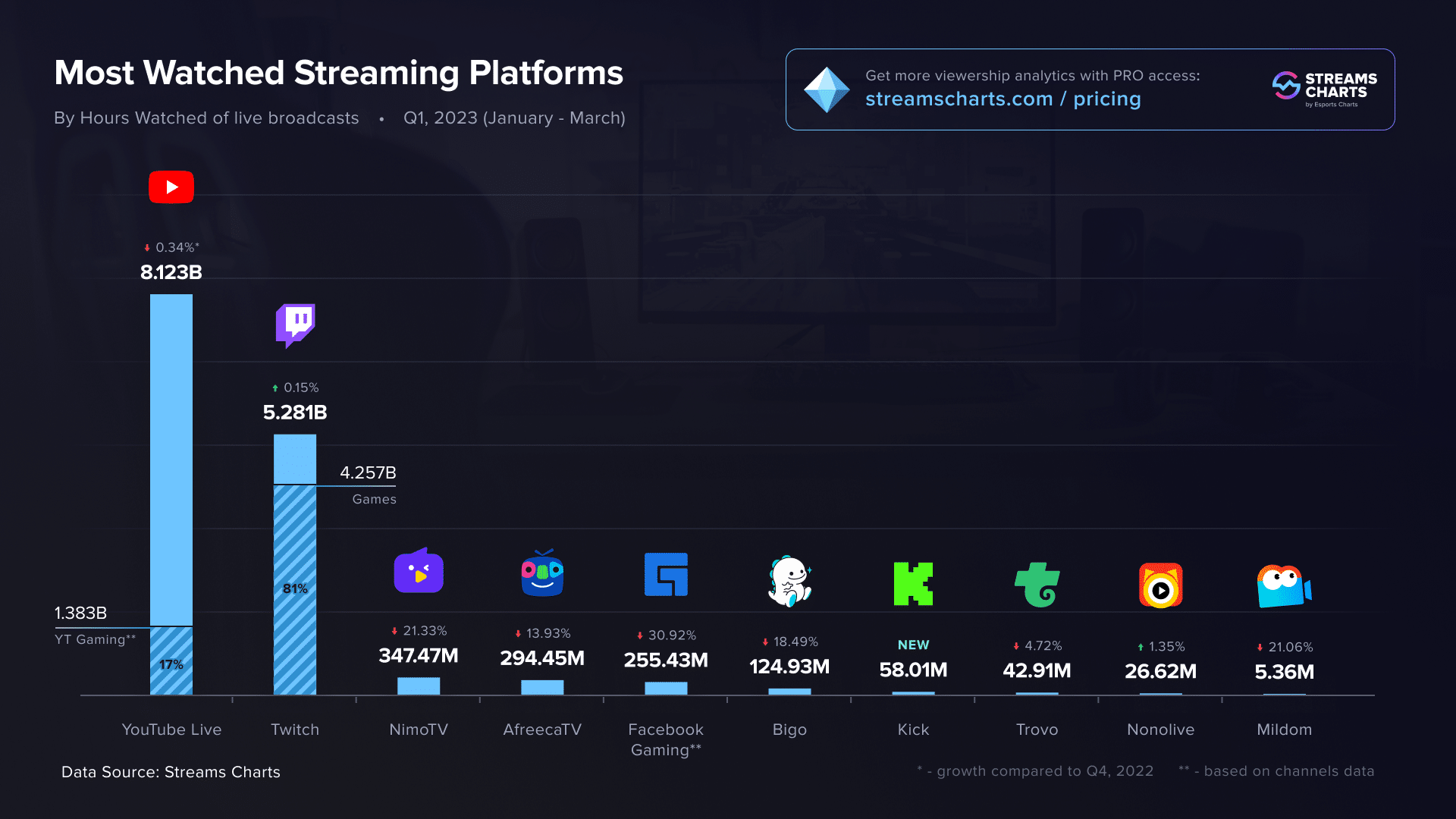 Highlighting another trend in these social media data, YouTube Gaming experienced significant growth of 13% between Q4 2022 and Q1 2023. This shows a shift towards gaming streams, which now make up an impressive 17% of the total hours watched on YouTube Live.
Gen Z and Millennials: The Emerging Content Creators
In Q1 2023, there was an increase in the number of self-identified content creators, particularly among Gen Z and Millennials.
As revealed in the GWI report on social media trends, these younger generations are becoming more active in producing and sharing content.
Nearly a quarter of Gen Z and Millennials reported sharing their own blog post or video in the past week (22%). The same percentage identified themselves as musicians or audio creators.
Over a tenth had used a paid-for membership site for following creators/influencers in the past week (13%).
Additionally, 11% claimed to have provided ideas for a new product or design in the preceding month.
In conclusion, these social media statistics highlight the evolving nature of content consumption and creation, particularly the rise of video and live streaming. Understanding these trends is key to navigating the dynamic landscape of social media engagement.
The consumption of news has undergone a dramatic transformation, largely spurred by the rise of social media. As highlighted in a thought-provoking report by the Reuters Institute for the Study of Journalism, a significant shift has surfaced.
The shift indicates a movement from accessing news directly on websites and apps to uncovering news stories through social media feeds.
In 2023, the preferred method for locating news was via social media accounts for as many as 30% of surveyed individuals.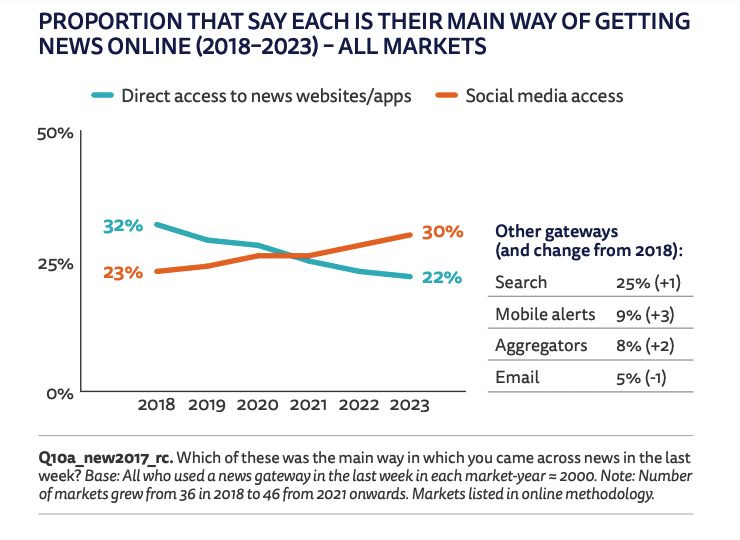 Traditional approaches, such as direct access to news websites or apps, only attracted 22% of respondents. This trend did not appear overnight; it has evolved steadily since 2018.
In the sphere of news utilization, Facebook remains a key player among many social media platforms.
Data from a 2023 study show that 28% of respondents tapped into Facebook for news. However, there has been a noticeable decline from the 2016 peak of 42%. This decrease is largely attributed to Facebook's intentional steps to reduce news stories in users' feeds.
Following Facebook were YouTube (20%), WhatsApp (16%), and Instagram (14%).
Notably, the direction of news discussions on social media is evolving.
Mainstream news still attracts significant attention on Twitter and Facebook, pulling in 55% and 43% of users, respectively.
However, users of other platforms are tilting more towards personalities, adding to the wealth of social media statistics. YouTube (45%), Instagram (52%), Snapchat (55%), and TikTok (55%) users appear to show more interest in personalities.
Interest in news topics varies across networks.
National politics attracts 59% of Twitter, 46% of Facebook, and 45% of YouTube users.
Conversely, "fun" news stories are more popular on Instagram, Snapchat, and TikTok, engaging 42%, 38%, and 46% of their users, respectively.
Concerns over Algorithm-Driven Personalization
In the current era of news personalization powered by intricate algorithms, consumer apprehensions have been raised.
Nearly half of consumers (48%) are worried about missing crucial information, while 46% fear the absence of opposing viewpoints.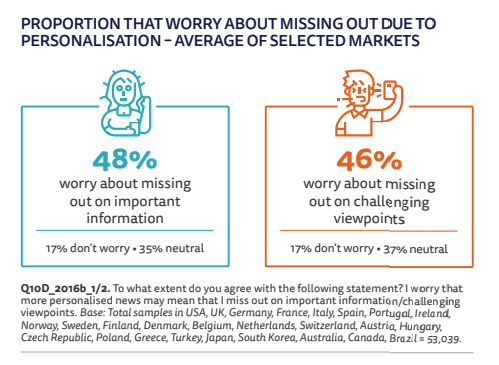 These concerns mirror a significant drop in U.S. consumers who believe automatic story selection based on past behavior is an effective news delivery method.
This decline is particularly pronounced among individuals under 35, who primarily use these algorithmic systems. Support fell from 48% in 2016 to 35% in 2023.
Interestingly, U.S. users are calling for more reliability (46%) in their news feeds. They seek more diverse perspectives (43%) and less harmful content (33%).
The Authenticity Challenge: Real vs. Fake News
For those heavily relying on social media as their news source, discerning genuine news from fake presents a significant challenge. Nearly two-thirds of such users (64%) expressed this concern.
It's crucial to note that social media is not the originator of misinformation, but documented instances of fake news exist on these platforms. Exposure to a wide array of sources seems to affect users' confidence in the information they encounter.
In conclusion, these social media statistics provide insight into the changing trends in news consumption, offering a fresh lens for both news producers and consumers.
The growing influence of social media on mental health presents a noteworthy cause for concern. A closer examination of social media statistics unravels patterns linking social media usage and mental well-being. Numerous elements underpin this intricate relationship, encompassing aspects like social media addiction, cyberbullying, and the dual-sided impacts of online social networks – both positive and negative.
31% of U.S. adults conveyed that social media has a detrimental impact on their mental health.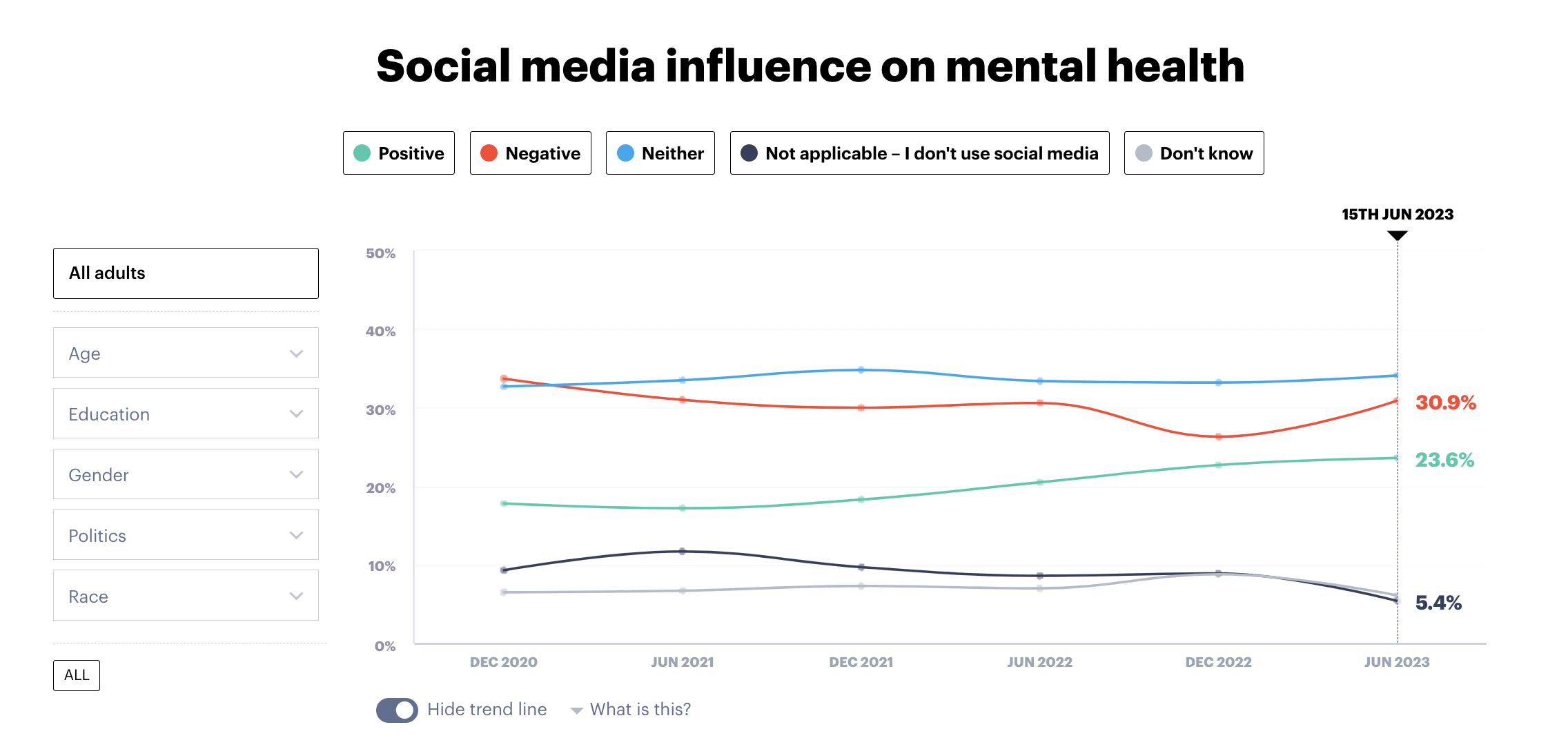 This was revealed in a survey conducted by YouGov in 2023. A smaller fraction of participants, 24% to be precise, reported a positive effect.
36% of U.S. adults confessed to taking an extended hiatus from social media.
This was revealed in another survey conducted by YouGov in 2023. The hiatus was prompted by social media's adverse effect on U.S. adults' mental health. The proportion of those stating that they never felt the need for such a break remained just over half, at 55%.
A significant portion of U.S. adults, 35%, theorize that social media bears some responsibility for the observed rise in depression among American teenagers, particularly teenage girls.
A YouGov report revealed that one-third of adults (33%) believed that social media was predominantly responsible for this phenomenon, while 18% placed full responsibility on these platforms.
A third of American adults (33%) have faced online harassment on social media within the past year.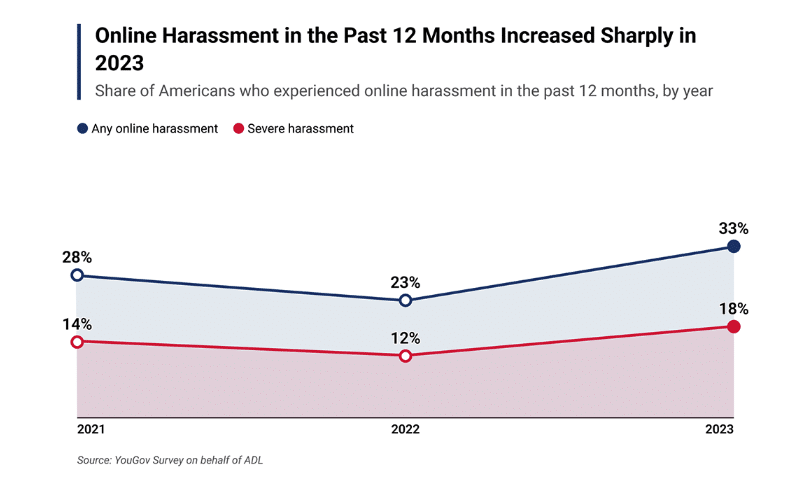 A report by the Anti-Defamation League (ADL) uncovered that a concerning 18% of these adults experienced severe forms of harassment that entailed threats of physical harm, sustained harassment, stalking, sexual harassment, doxing, and swatting.
In 2023, Facebook retained its unfortunate title as the platform where harassment was most commonly reported.
According to the same ADL report, 54% of American respondents reported experiencing some form of online harassment on Facebook in the previous 12 months.
However, an encouraging trend has been noted, with harassment on this platform declining since 2021 (66% in 2021 and 57% in 2022).
Meanwhile, harassment has been increasing notably on Twitter, Reddit, TikTok, and WhatsApp since 2021.
Twitter: from 22% in 2021 to 27% in 2023
Reddit: 6% in 2021, 15% in 2023
TikTok: 5% in 2021, 19% in 2023
WhatsApp: 7% in 2021, 14% in 2023
Conclusion
In conclusion, social media statistics highlight how the digital landscape is continuously evolving and shaping various aspects. User behavior, marketing strategies, content trends, news consumption, and mental health are all affected.
Numerous platforms are available, yet Facebook leads in active users. However, social media stats show TikTok as having the highest user engagement rate.
Gen Z and Millennials stand out in social media statistics as the most active user groups. Not only are they active, but they also show a high level of content creation.
In marketing, social media provides increased exposure, lead generation, and fan development. Even with a minor decrease in ad spending, it has a significant influence on consumer behavior. This influence is prominent, particularly among Millennials and Gen Z.
Popularity has surged for video content and live streaming services. Social media data reveal that an increasing number of users identify as content creators.
Another area shaped by social media is news consumption. Social media often surpasses news websites or apps as a primary source of news. This brings into question the role of algorithms in influencing information diversity and reliability.
Social media's impact on mental health is complex. A notable number of users report a negative effect, leading to breaks from social media. Another significant concern is the rise in cyberbullying on platforms such as Twitter, Reddit, TikTok, and WhatsApp.
In essence, social media statistics show that its dynamics are multifaceted. From engagement with brands, news consumption, and content creation to mental health perception, the impacts are wide-ranging. Whether users, marketers, or observers, understanding these statistics and trends is critical for responsible navigation of the digital landscape.
Sources