The best employee monitoring software helps ensure better time management and effective performance evaluation. With these tools, you can reduce unproductive employee hours and better manage their workload.
However, the market is flooded with employee monitoring software, making picking one tricky. We've put in the hours to find and review the best employee monitoring software based on pricing, integrations, reports, customization, and customer support. Read on to find out why industry leaders like ActivTrak, InterGuard, and mSpy are at the top.
Best Employee Monitoring Solutions Ranked
ActivTrak is the best for employee monitoring due to its superior features like detailed reports, customization options, and easy-to-use interface. With that said, it had to surpass the fierce competition, all of which bring something unique to the table:
Top Tools for Employee Tracking Reviewed
Eager to find the best employee tracking tool? Dig in as we'll discuss our top recommendations in detail, including their best features, pros, cons, and pricing. Buckle up, and let's get started.
1. ActivTrak —The Best Employee Monitoring Software Overall
ActivTrak not only helps you monitor your employees but also enables you to provide them with a healthy working environment that fosters growth and productivity.
For starters, you can monitor their daily working hours and the number of tasks completed. This tool will help you find out the best assets of your company and slackers who are simply cashing their salaries without making any significant contribution.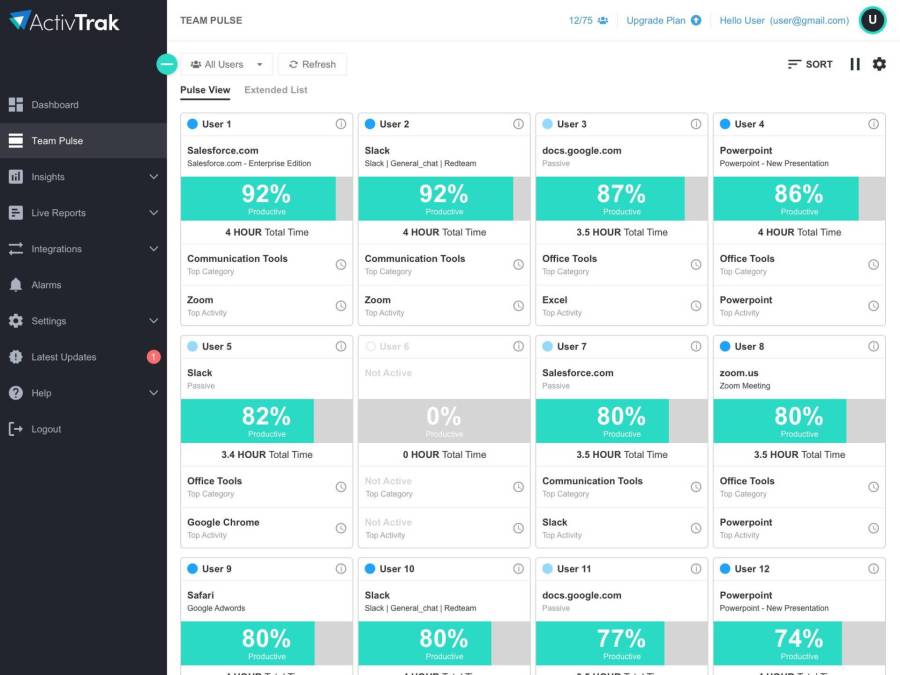 | | | | |
| --- | --- | --- | --- |
| Starting Price | No of Devices | Free Trial/Demo | Money-Back Guarantee |
| $10/user/month | Minimum 5 | Free plan + 14-day trial | No |
If you're paying your employees on an hourly basis, ActivTrak's time tracker can be a game-changer. With this automated digital tracker, you'll no longer worry about your employees fabricating their working hours to get paid more.
The tracker will start when the employees log into their work system and stop once they log out — no more hassles of manually clocking in and out. ActivTrak is also quite popular for its advanced security and risk management features.
It'll notify you when any vulnerability is introduced on Slack, MS Teams, or other channels. You can start with pre-configured alarms. For example, you'll be alerted if an employee tries to access a blocked domain, share files without authorization, or transfer data to USBs.
This feature can also identify work patterns and look for bottlenecks. Set alarms for tasks stuck in the pipeline for a long time so you're automatically alerted of such crises.
Like most good employee monitoring tools, ActivTrak lets you discover potential distractions of your employees. You can check what apps or websites they spend most of their time on. It'll also warn you if your employees start using a new application.
You might want to vet it to ensure it complies with the security protocols and company policies. For example, if a user suddenly downloads a file-sharing app despite having a company-managed file-sharing app, you might want to look into it, and ActivTrak will help you with that.
Pricing
One of the primary reasons why ActivTrak is our number one recommendation is that it offers a free forever plan. The free plan includes an activity dashboard, website blocking, and access to in-depth resources such as blogs and how-to videos.

Enjoy ActivTrak in all its glory with a paid plan. Our recommendation is the Advanced package, offering alarm-triggered screenshots, remote installation, an employee's data history of up to 6 months, and more.
Try ActivTrak's paid version risk-free with a 14-day free trial. No risk of losing any money. No hassle.
Pros
Detailed breakup analysis of productivity hours
An intuitive and informative dashboard
Identifies over-utilized and underutilized workers
Several customization and segregation options
2. InterGuard — Top Tracking Software for Remote Monitoring & Automated Email Alerts
InterGuard is the perfect employee monitoring app for those who want to track their team remotely. The best thing about it is it sends you automated emails and notifications when a pre-decided activity occurs.
This feature can be used to boost productivity as well curb indent workplace behavior. On top of that, you can also assign who gets the emails based on the subject.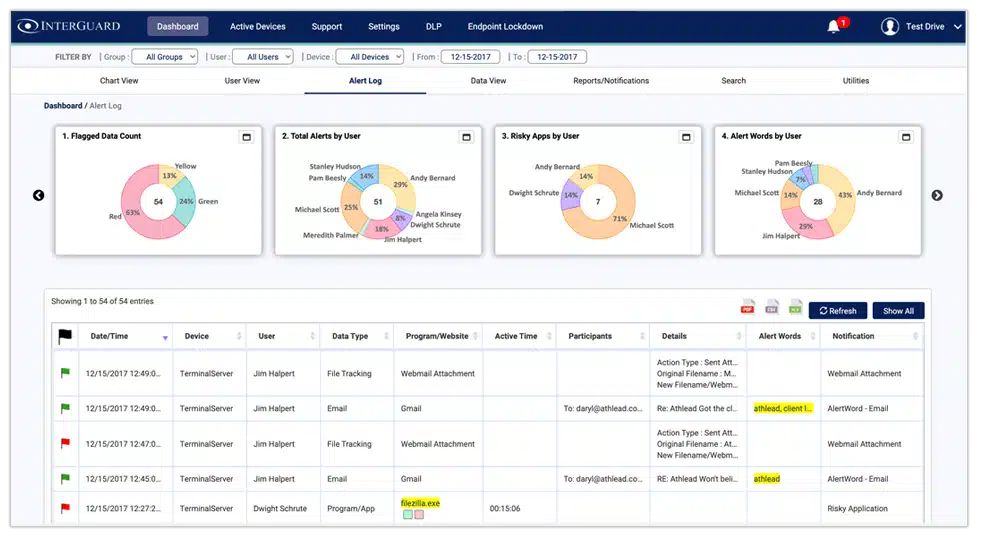 | | | | |
| --- | --- | --- | --- |
| Starting Price | No of Devices | Free Trial/Demo | Money-Back Guarantee |
| $25/user/month | Minimum 5 | 7-day trial | No |
For example, if you get alerted about an employee misbehaving with a younger employee, you can have the email directly forwarded to HR. Similarly, if you get alerted about potential data theft, you can have the alert directly sent to your chief security officer.
To limit data breaches, InterGuard provides a smart file monitoring feature. Under this, you can track the entire activity trail concerning a file. If an employee has edited, copied, mailed, or printed it, InterGuard will tell you immediately.
This feature will come in handy to prevent younger employees from accessing higher authority documents, and in the event of a data breach, it'll be far easier to catch the culprit.
A great way to prevent data leaks and monitor unreliable employees is through the dynamic keylogger. This feature will track every word your employee types in. This way, if they've been peeking in areas off-limits, you'll be notified immediately.
The keylogger tool can also help you curb distractions. Some employees waste company-paid hours looking up funny videos online or completing their personal tasks. You can stop all these unwanted activities simply by tracking everything they type on their device.
Another benefit of using InterGuard is email monitoring. Whether you have in-office or remote employees, you can monitor everybody's emails on Gmail, Outlook, Office 365, Hotmail, etc.
Pricing
We love InterGuard's simplistic pricing. There isn't a complex hierarchy of plans — just a monthly and annual subscription. Of course, the yearly plan will save you tons of money instead of paying per month.

With InterGuard, you'll enjoy cross-platform compatibility, real-time alerts of employee activity, a customizable and easy-to-navigate dashboard, and more such top-notch employee monitoring features. Unsure? Get started with the 7-day risk-free trial to see if it's for you.
Pros
Compatible with a wide range of platforms
A modern six-view dashboard
Several data protection monitoring tools
Allows remotely killing unproductive programs and websites
Cons
Can't monitor email attachments
3. mSpy — Leading Solution with a Great Screen Recorder
mSpy is primarily used as a mobile parental control app. Considering how detailed its features are, it can most definitely be used as an employee monitoring tool. One of its unique features is the screen recorder.
After all, sometimes, just transcripts of your employee's activities aren't enough; you might have to see what they're doing for yourself. That's when this feature will come in handy. Along with monitoring, you can also use this feature to guide a team member in a certain task.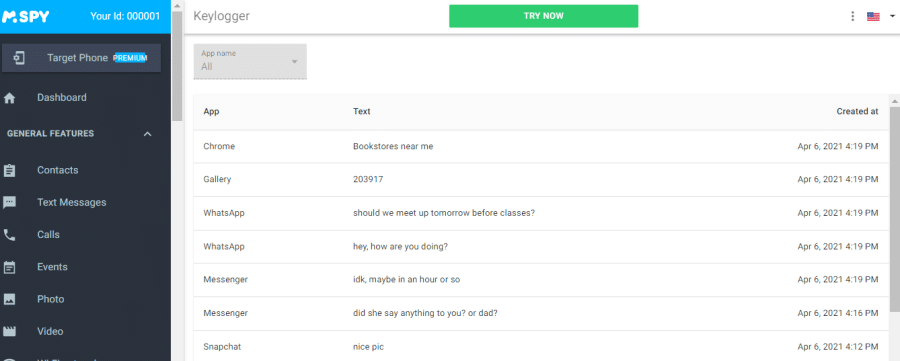 | | | | |
| --- | --- | --- | --- |
| Starting Price | No of Devices | Free Trial/Demo | Money-Back Guarantee |
| $11.67/month — annual plan | 1 | Free demo | 14 days |
It also covers the biggest range of social media platforms. Along with the top 3 — Facebook, Instagram, and WhatsApp — it'll also help you monitor your employee's Viber, Snapchat, Line, or Tinder accounts if they're logged in from their work account.
After all, they have no business being on social media at work — especially if it's on work devices. Plus, if you're worried your employees might try to outsmart you by secretly using social media or other entertainment, mSpy will let you block it immediately.
First, it'll give you access to the device's app list. Then you can check which apps you deem unnecessary and uninstall them immediately. The same goes for websites as well. Apart from sites that'll directly help them do their work better, all other distractions should be remotely blocked.
It's not just about productivity. If your employees have unrestricted internet access, they might engage in activities that aren't work-appropriate – meaning this is a great piece of mobile employee monitor software.
Pricing
mSpy is one of the best phone spy apps and employee monitoring software on the market right now, and its cheap annual plan makes it all the more attractive.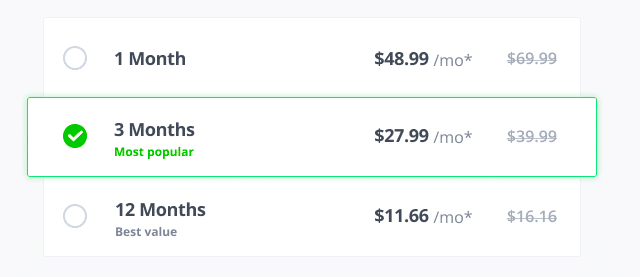 With a 14-day money-back guarantee, you can try mSpy and judge its suitability for your needs before committing to it.
Pros
Allows taking remote screenshots
Very light on system resources
Two-Factor Authentication for organization data protection
Allows tracking specific keywords and websites
Cons
The subscription is on a per-device basis
4. EyeZy — Comprehensive Phone Monitoring with Access to Your Employees' Calendars
EyeZy prides itself on being one of the most powerful phone-tracking software products in the world, and it's perfect for employee monitoring.
For starters, EyeZy boasts a keylogger that let's you set up custom keyword alerts — ideal if you don't want to monitor your employees 24/7 but want to be notified if anything suspicious or noteworthy is typed.

| | | | |
| --- | --- | --- | --- |
| Starting Price | No of Devices | Free Trial/Demo | Money-Back Guarantee |
| $9.99/month — annual plan | NA | Demo + 3-day trial | 14 days |
EyeZy also makes it easy to crack down on your employee's plans by giving you access to the calendar. This way, you can check if they've prioritized the tasks properly.
Also, if your employees suddenly call in sick during an important project, you can check their calendars to see if they're lying to get off for their personal errands and events. The best thing about EyeZy is the free demo available to all users.
The demo dashboard looks exactly like the paid accounts. This way, you can learn your way around the platform and see if you're comfortable with it before putting down your money.
Pricing
EyeZy might not be as feature-rich as mSpy, but it's certainly more affordable, with its annual plan costing just $9.99/month.

We liked that EyeZy comes with a free demo, a free trial, and a 14-day money-back guarantee, so you'll get ample time to see if the tool is perfect for your needs without risking a cent.
Pros
An excellent keystroke capture feature
Social media monitoring to track unproductive hours
Access to files to ensure organization data protection
It comes with a screen recorder
Cons
Expensive for large organizations
5. Phonsee — Popular Mobile Employee Tracker With An Easy Setup Process
Phonsee is a worthy option for anyone looking to monitor employee activity on mobile. For starters, it runs undetectable, so it won't impact the device's performance, and the setup is as simple as it gets with employee tracker apps.
With it, employers can keep tabs on all calls made and received, text message communications, and even email threads to ensure that work devices are used as intended.
| | | | |
| --- | --- | --- | --- |
| Starting Price | No of Devices | Free Trial/Demo | Money-Back Guarantee |
| $8.85/month — Annual Plan | 1 | Demo | 14-Days |
Beyond this, Phonsee is also a popular option for employers looking to keep track of remote employees or on-site personnel, as it boasts an accurate real-time GPS tracker with the ability to set custom virtual zones for alerts.
This can help businesses ensure that employees are where they need to be, and it can help companies who want accurate records for travel compensation to and from site locations.
It also offers some nifty extras that are useful for ensuring devices are used appropriately — this includes a built-in screenshot capability and a keylogger. Unfortunately, Phonsee doesn't offer custom keyword alerts, but these combined offer enough insight into the activity.
You'll be able to see everything typed across the device, the website history, and even app tracking, like viewing social media activity, alongside all the files saved on the device.
Beyond this, you can block apps and websites you don't want employees using on the device — all remotely from your own device.
Pricing
As with all the leading mobile employee trackers, Phonsee offers subscriptions that differ in price depending on the duration of your plan:
Monthly — $42.51/month
Quarterly — $24.79/month
Annual — $8.85/month
Unfortunately, only one device is tracked for this price, and there's no free version. However, there is a live demo that'll show you how the tool works, plus a 14-day refund policy is in place.
Pros
Has a built-in keylogger
Takes screenshots of the activity
Accurate GPS location tracking with alerts
You can monitor email threads
Cons
Only works on mobile
Can be expensive to monitor multiple devices
6. uMobix — One of the Best Apps to Track Employee Work Hours and Deleted Info
uMobix offers one of the most diverse ranges of tracking features, making it almost impossible for your employees to hide anything from you.
| | | | |
| --- | --- | --- | --- |
| Starting Price | No of Devices | Free Trial/Demo | Money-Back Guarantee |
| $12.49/month — annual plan | 1 | Free demo | 14 days |
The best thing about uMobix is it lets you retrieve deleted information. For example, suppose you doubt that one of your employees might collaborate with your competitors and pass valuable information to them.
In that case, this feature will let you go through all their messages and calls, even the deleted ones. Another remarkable USP of uMobix is remote commands. Since you pay for the work device, you should have every right to control it.
For instance, you can restrict apps you disapprove of on a work device, such as social media. Similarly, you can block WiFi post-working hours so they can't use it for personal gains or disable messages and calls so they don't waste too much time on it.
Pricing
Signing up for uMobix would mean that you'll be using one of the most recommended monitoring apps, with features like remote device control and access to deleted information on your employees' devices.

Unsure whether uMobix is the one for you? Thanks to its two-week refund policy, try it for 14 days without the risk of losing any money.
Pros
Allows call and SMS monitoring
It lets you access media files
Track the device's complete browsing history
Extensive GPS tracking
Cons
Occasional data syncing delay
7. Cocospy — Beginner-Friendly and Easy-to-Use Tool for Small Business Owners
Cocospy is a basic employee monitoring tool that's easy to use, especially for beginners. Despite being basic and easy, it can still equip you with all the features you'll need to monitor your employees.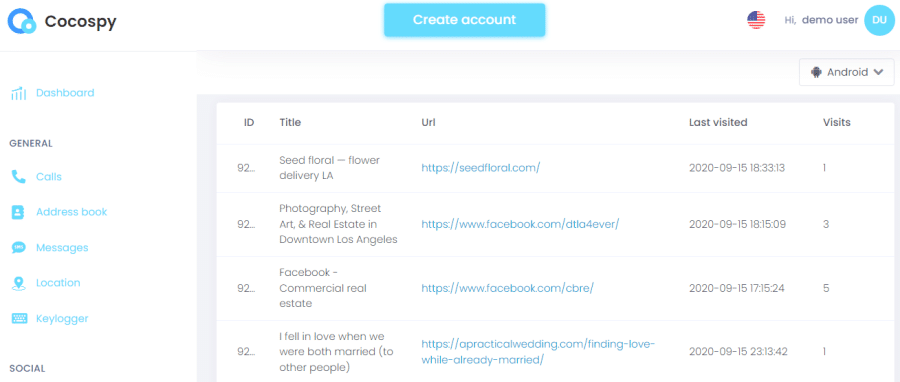 | | | | |
| --- | --- | --- | --- |
| Starting Price | No of Devices | Free Trial/Demo | Money-Back Guarantee |
| $8.33/month — annual plan | 1 | Free demo | 14 days |
It's worth noting that remote employee surveillance has drastically risen, with 60% of companies now using monitoring software. That said, one of our favorite Cocospy features is the GPS tracker. This feature is perfect for companies that work with on-site and remote employees.
For example, if you send over an employee to help out a client, you should be able to track their movement. Otherwise, they might run personal errands during company-paid hours. The best part is your employees won't even know you're using a monitoring app.
Cocospy's advanced stealth mode makes it almost impossible to detect it. After installation, the app and its icon will hide and continue monitoring the device in the background — your team will never know they're being watched.
Pricing
Cocospy and uMobix have the same pricing, but we recommend Cocospy to anyone who isn't too tech-savvy or well-versed in the monitoring apps industry. That's because it's effortless to use.

Get started with Cocospy today. If you don't like it, get a full refund on returning it within the first two weeks of purchase.
Pros
View deleted conversations
Alerts on changing SIM cards
Easy-to-use and navigate web dashboard
A detailed browser history
Extensive social media monitoring
One of the best Facebook spy apps
Cons
It doesn't offer a free version
8. Spyic — Affordable Option to Minimize Your Company's Idle Time
Spyic is a popular cell phone tracker for employee monitoring and child tracking. Its diverse features give you the complete coverage you'll need.
For example, you'll get a detailed report of their calls. Along with a list of incoming and outgoing numbers, you'll see the total call duration, timestamps, and so on. You can also check their most frequently contacted number.
| | | | |
| --- | --- | --- | --- |
| Starting Price | No of Devices | Free Trial/Demo | Money-Back Guarantee |
| $9.99/month — annual plan | 1 of 3 | Free demo | 60 days |
If you feel your employees are wasting too much time on their phones, this report is all you'll need to confront them. With Spyic, you can also check if they spend too much time online.
All popular social media sites, such as WhatsApp, Facebook, and Snapchat, can be monitored with Spyic. Along with monitoring their productivity, this feature will also help you check if they share private company details with outsiders.
Spyic will ensure that no confidential data goes beyond the company's boundaries, whether through texts or pictures.
Pricing
Spyic has different pricing for its iOS and Android users, with the former costing more, but the difference isn't much.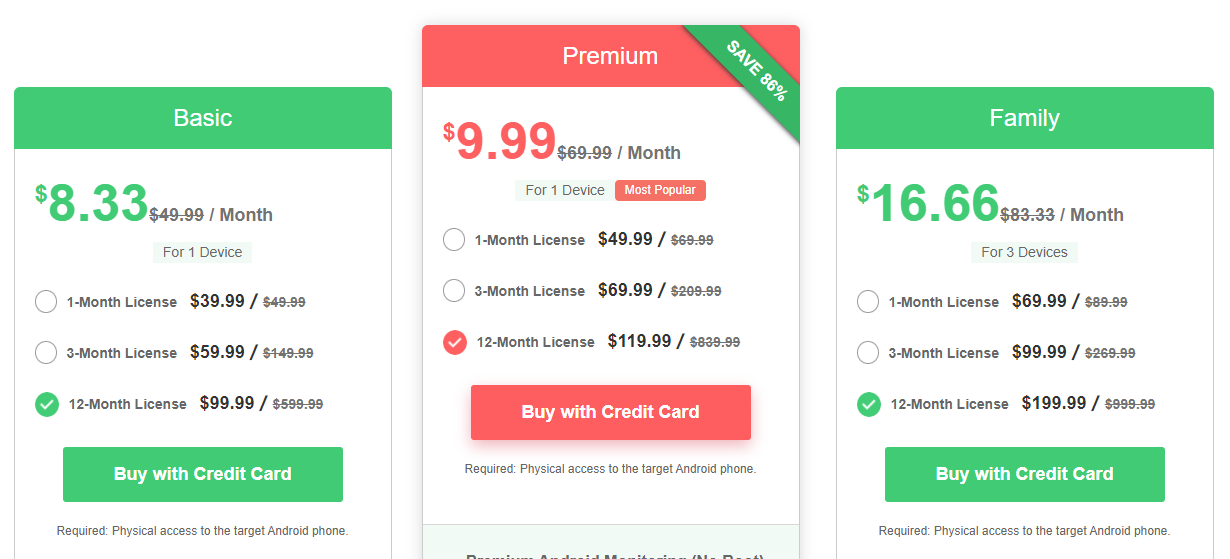 You'll love Spyic's 60-day money-back guarantee that'll give you enough time to try the tool to see if it's your cup of tea.
Pros
Allows taking remote screenshots
Slick, concise, and easy-to-use dashboard
Set up geofencing alerts for remote employees
Extensive browser history tracking to avoid unproductive time
One of the top Android spy apps
Cons
Occasional slow customer support
9. Hoverwatch — The Cheapest Employee Monitoring Software on the Market Right Now
Hoverwatch is the perfect employee monitoring tool for small businesses. You can monitor up to 25 devices simultaneously, depending on your chosen plan. Another benefit of using Hoverwatch is it notifies you about sim card changes.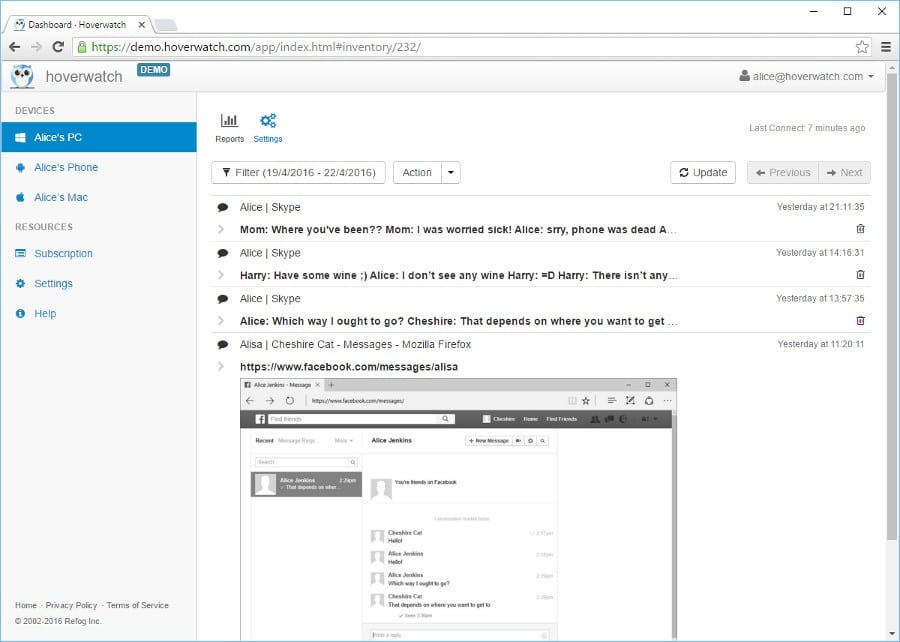 | | | | |
| --- | --- | --- | --- |
| Starting Price | No of Devices | Free Trial/Demo | Money-Back Guarantee |
| $6/month/device — 25-device plan | 1-25 | No | No |
For example, suppose you assign an employee a work phone that the company pays for, and they change the SIM card to use it for personal reasons. In that case, Hoverwatch will inform you immediately so that there's no hindrance in the monitoring process.
In addition to that, you'll get the complete web history of the device. All the websites they've checked, things they've typed, and sites they've bookmarked will be shown to you.
If you find them using company WiFi for personal entertainment by sacrificing their work, Hoverwatch will help you stop it immediately.
Pricing
Hoverwatch is easily the cheapest employee monitoring software on our list. If that wasn't reason enough to get you to consider buying it, how about the fact that it lets you monitor up to 25 devices, even on its basic plan?

Yes, Hoverwatch doesn't offer a money-back guarantee, but with a cheap monthly subscription, you'll hardly be risking any money to test the tool.
Pros
Effective call recording features
Keep tabs on social media conversations
Captures screenshots at regular intervals
Works in complete stealth mode
Cons
Lacks some advanced features
10. Hubstaff — Strong Time Tracking Software to Boost Employee Productivity
Hubstaff, as the name suggests, is exclusively designed for companies to track their employees' activities and boost their productivity. This is backed by studies too. In fact, employee monitoring software can reportedly improve workplace productivity by as much as 46%.
Its biggest USP is the time-tracker, which lets you set an automated timer on your employee's device to check exactly how many hours they work. If you're paying your employees hourly, this feature is the perfect way to get the numbers on their invoice right – and we rate this as the best employee time tracking software.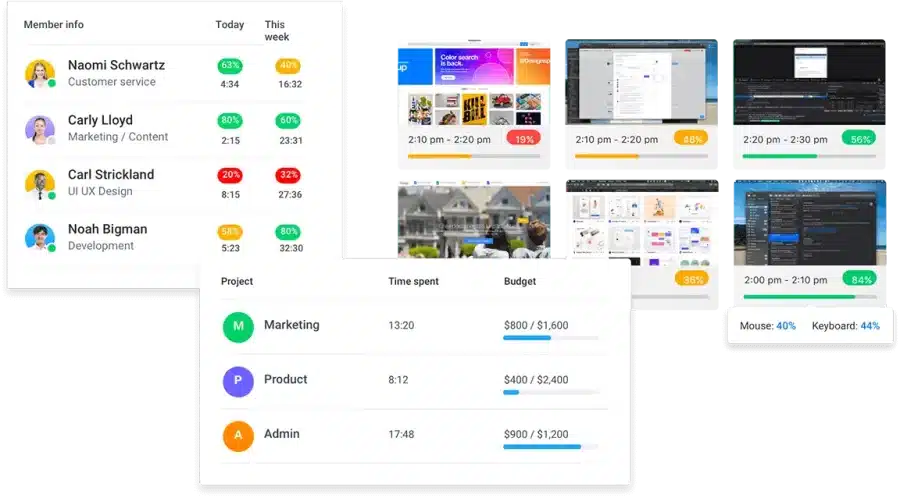 | | | | |
| --- | --- | --- | --- |
| Starting Price | No of Devices | Free Trial/Demo | Money-Back Guarantee |
| $3.75/user/month | Minimum 2 | Free plan + 14-day trial | 30 days |
It'll also help you ensure that your employees aren't wasting time unnecessarily on a simple task to drag it out. If you want a quick sneak peek into the work on your employee's device, try Hubstaff's screenshotting feature.
Take screenshots remotely of their screen to capture their work in progress. It can help you check on the progress and guide the team members if they go the wrong way. The best thing about Hubstaff is it doesn't limit you to its platform alone.
In fact, it'll help you connect with over 30+ apps seamlessly for the needs that Hubstaff can't cater to. This includes Slack for better team communication, PayPal for quicker transactions, Zapier for automated workflows, etc.
To top it off. Hubstaff also lets you check what websites and URLs your team visits during working hours. This will help you in two ways.
You can see what resources they need daily and if there's anything you can do to support them, and you can also crack down on distractions and block them once and for all.
Pricing
Hubstaff matches AcivTrak with its own free forever plan but edges past ActivTrak just that bit with its staggering 30-day money-back guarantee. You can choose a plan from any of the 3 available pricing tiers: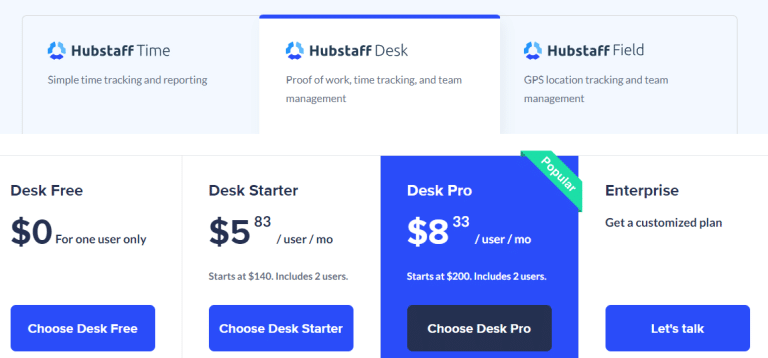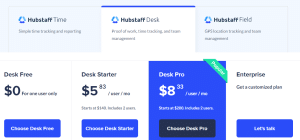 The free forever plan will track your employee's time and activity and assist you with screenshots and reports, all limited in nature. For unlimited and detailed monitoring, choose a paid plan, the best is the Desk Pro plan with timesheet approvals, expense tracking, and whatnot.
Pros
Automates admin work
Real-time project insights
Integrates well with other business apps
Allows taking remote screenshots
Easy to set up and use with excellent customer support
Cons
Reports aren't as detailed as some other peers
11. BambooHR — The Best Computer Monitoring Software for Detailed Reports on Employee Activity
BambooHR works for both parties. For the company, it brings in employee reports and performance insights. It provides the employees with a rich working experience — everybody wins.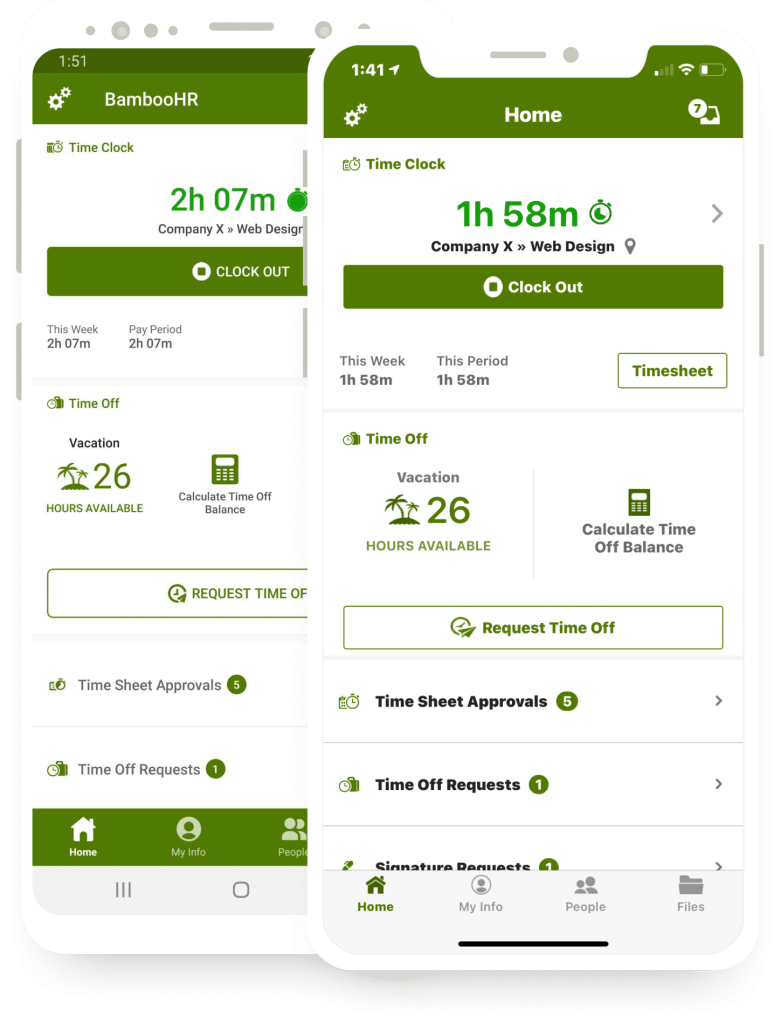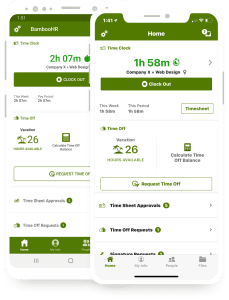 Like Hubstaff, BambooHR provides a detailed timesheet for employees to clock in and out. This helps you maintain a clear and unbiased copy of everyone's total working hours so that there are no misunderstandings when the time comes for payments.
If you don't trust your employees with clocking in and out, BambooHR will provide a detailed breakdown of their time to see where all hours go.
The easiest way to gauge an employee's efficiency is through performance reports — just like the ones BambooHR provides for your entire team automatically. Under this, you'll get individual performance profiles for each employee.
Inside, there will be separate tabs for their total goals, the ones they've already achieved, and a list of feedback. Even if you don't have the time to check every employee's performance, you can use these features to see what their superiors feel about their overall performance.
The best thing about using BambooHR is it's free to get started with. Also, since it offers multiple business support features on one platform, you don't have to juggle multiple apps simultaneously.
You can handle employee hires, records, onboarding, performance, and payroll from the same platform.
| | | | |
| --- | --- | --- | --- |
| Starting Price | No of Devices | Free Trial/Demo | Money-Back Guarantee |
| Custom quote | NA | Free trial + demo | NA |
Pricing
BambooHR doesn't reveal its pricing on its website, and you'll have to contact its support team for a free price quote. With that said, there are two plans to choose from:
The Essentials plan will suit you well if basic monitoring functions are all you're looking for. We say get the Advantage plan for more advanced features, such as employee onboarding and offboarding, e-signatures, open API, and more.
The best thing is that you don't need to commit to a paid plan to start with BambooHR. There's a handsome free trial with all the high-end features that the platform has to offer. Try it today.
Pros
A neat user-friendly interface
A detailed onboarding process
Superior auditing capabilities to track changes
Easy to upload, manage, and remove digital documents
Cons
It needs better search options
Top 11 Employee Monitor Software Compared
The table below makes your work easier by comparing all of our top picks so that you can make a quick, informed decision:
| | | | | |
| --- | --- | --- | --- | --- |
| Employee Tracking Tools | Starting Price | No of Devices | Free Trial/Demo | Money-Back Guarantee |
| ActivTrak | $10/user/month | Minimum 3 | Free plan + 14-day trial | No |
| InterGuard | $25/user/month | Minimum 5 | 7-day trial | No |
| mSpy | $11.67/month — annual plan | 1 | Free demo | 14 days |
| EyeZy | $9.99/month — annual plan | NA | Demo + 3-day trial | 14 days |
| Phonsee | $8.85/month — annual plan | 1 | Demo | 14 days |
| uMobix | $12.49/month — annual plan | 1 | Free demo | 14 days |
| Cocospy | $8.33/month — annual plan | 1 | Free demo | 14 days |
| Spyic | $9.99/month — annual Plan | 1 | Free demo | 60 days |
| Hoverwatch | $6/month/device — 25-device plan | 1-25 | No | No |
| Hubstaff | $3.75/user/month | Minimum 2 | Free plan + 14-day trial | 30 days |
| BambooHR | Custom quote | NA | Free trial + demo | NA |
Why Do Businesses Use Employee Monitoring Tools?
Employee monitoring tools are becoming increasingly popular in businesses. Here're a few reasons why companies use these tools:
Helps Tackle Distractions
Employee monitoring helps businesses identify and manage technology-based delays, such as social media and non-productive videos, improving productivity and workflow.
Monitoring software can also track employees' weaknesses and strengths, allowing companies to create teams that enhance productivity.
Control Burnout
Employee monitoring tools can help businesses identify burnout symptoms, such as decreased engagement, long work hours, and employee activity trends. This information can be used to create healthy work schedules to minimize burnout, reduce turnover rates and increase productivity.
Reduce Supervision
Employee monitoring solutions can reduce the need for constant employee supervision by generating monthly and weekly productivity reports.
Managers can use these reports to identify long-term patterns instead of resorting to daily supervision, which helps to minimize micromanagement and create a positive work environment for employees, ultimately leading to improved productivity.
Improve Data Protection
Employee monitoring tools help companies detect possible insider threats and suspicious activity. In fact, in a recent Insider Threat Report by Crown Research Partners discovered that 44% of employers consider user activity monitoring the best way to curb insider threats.
Beyond activity monitoring, these tools mean companies can monitor or restrict USB activity and file-sharing websites to protect sensitive information.
How We Ranked the Best Employee Tracking Solutions
Selecting the right employee monitoring software can be daunting, given the many options available. To help you make an informed decision, we've listed some of the key factors to consider:
Device Compatibility
Consider whether your employees primarily use PCs or mobile devices. If they use mobile devices, ensure your chosen software is compatible with iOS and Android. Additionally, check if the software can monitor peripherals like printers and USB sticks.
Customer Support and Assistance
Evaluate the level and availability of customer support. While 24/7 support may not be critical, ensure you're comfortable with the support before committing to a provider.
Usability
Choose software that provides metrics that are relevant to your business needs. If a platform is too granular or overwhelming, look for a provider that offers a more straightforward dashboard or report view.
Pricing
Consider the costs of signing up for employee monitoring software, including the number of employees covered, whether a free trial is available, and if you need to upgrade to access certain features. Look for providers that offer a freemium model or decreasing fees per user, depending on the size of your business.
Additional Services
While optional, certain software providers offer additional services like onboarding and offboarding tools, payroll and performance management, and COVID-19 vaccination tracking. If you don't have the software already providing these services, consider a package like BambooHR, which offers a comprehensive HR toolset.
How Do I Track My Employees? | Step-by-Step Guide
ActivTrak is a popular employee monitoring software that allows you to track and analyze the activities of your employees on their computers. Here's a step-by-step guide on how to sign up and monitor your employees with ActivTrak:
Step 1 — Create An ActivTrak Account
Go to the ActivTrak website and click the "Create free account" button to create a new account. Fill in the necessary information, such as your name, email address, company name, and password.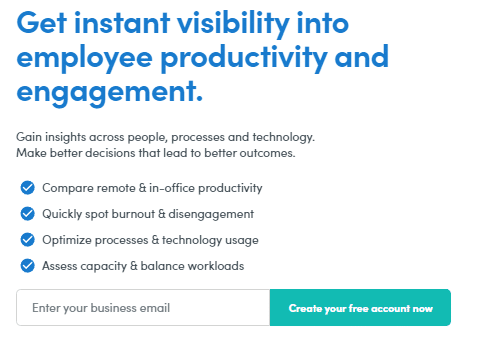 Step 2 — Download and Install
Once you've signed up, you'll be prompted to download and install the ActivTrak agent on the computers of your employees that you want to monitor. You can download the agent by clicking the "Download Agent" button on the dashboard.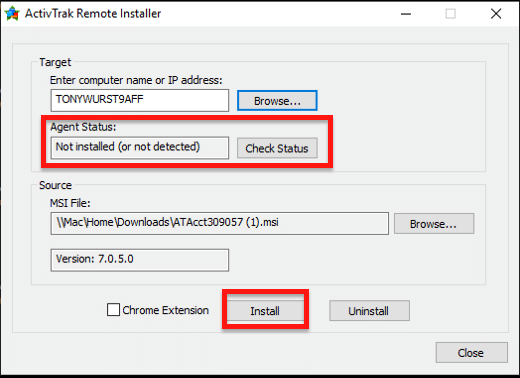 Step 3 — Install it On Employee's System
After downloading the agent, you can install it on the employee's computer you want to monitor. You'll be asked to enter your ActivTrak account credentials during installation.
Once the agent is installed, it will start tracking the employee's activities on their computer, including websites, visits, applications used, and time spent on different tasks.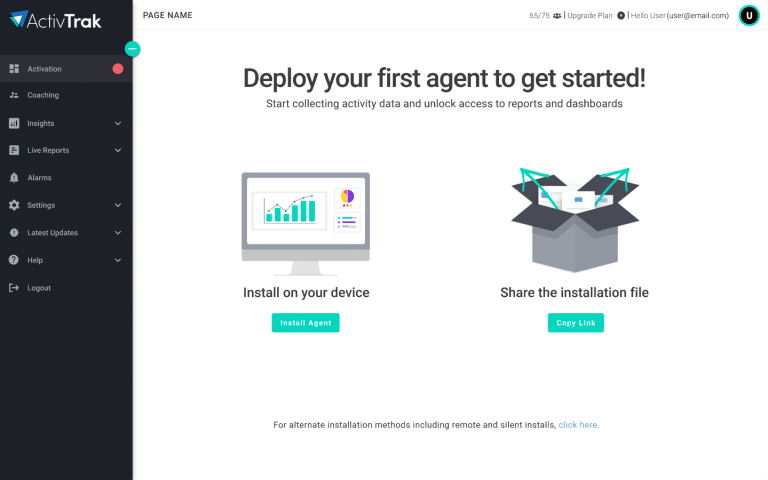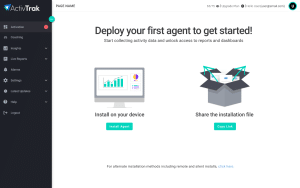 Step 4 — View Employee Activity and Analytics
To view the activities of your employees, log in to your ActivTrak account dashboard. Here, you can access different reports, including productivity trends, top websites and applications, and more.
Moreover, you can customize your monitoring settings to track specific activities, set up alerts for specific events, and more. Feel free to set up different user groups and access levels to manage your team's access to the data.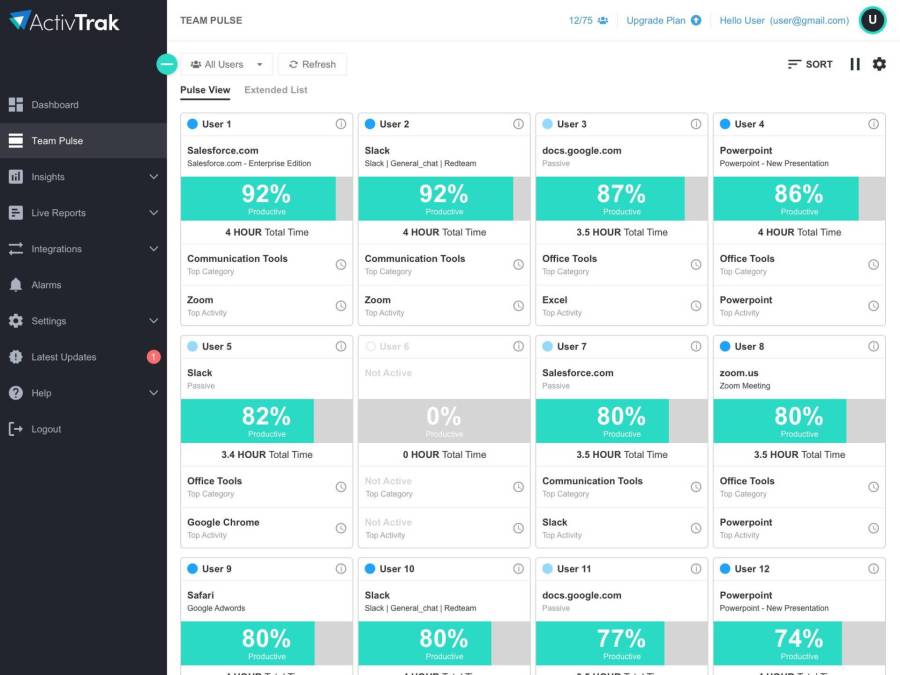 Conclusion | What's the Best Employee Monitoring Software in 2023?
Whether you're looking for employee monitoring software with extensive time recording features and reports or one that can give you access to your employees' calls, messages, and media files, our list has everything.
However, regardless of your purpose, we believe ActivTrak will be your best bet. With features like detailed reports, extensive customer support, customization options, modern UI, and a free forever plan, ActivTrak is certainly the pick of the lot.
Don't take our word for it. Try ActivTrak now with its $0 plan or a free trial for any of its paid plans before betting your bucks.
Employee Monitoring FAQs
Is employee monitoring legal?
What is employee monitoring software?
Is employee monitoring software a good idea?
How does employee monitoring software work?
What is the best employee monitoring software?