The best GPS trackers are essential for peace of mind on the safety of your loved ones. There's a perception that these are spy apps, but GPS phone trackers can be used to achieve a variety of legal goals, including defense against theft, protecting your children both online and offline and ensuring your employees are following company policy. Unfortunately, not all GPS trackers are created equal.
We've looked at the market's best and the worst phone tracking solutions to bring you our list of the best GPS trackers. Price is a factor, but we also looked at ease of use, reliability, and the update speed to bring you only the best GPS tracking tools. Stay with us, and we'll show you how providers like mSpy, EyeZy, and uMobix can help you.
Best GPS Trackers 2023 | Top 10 Ranked
There's a lot of providers out there that claim to be able to track your phone, but many just scrape your phone's data to sell it. We've verified each provider in this list as a quality supplier of GPS tracking software, so check out our list below for GPS trackers you can trust:
Best GPS Tracker App for Android & iOS | Top 10 Reviewed
To help you get a better idea of what these tracker apps can do, we've reviewed them all in more depth below. Read on to discover all the nitty-gritty details and make an informed decision on the best one for you.
1. mSpy — Our Top Pick for Best GPS Tracker
mSpy is an extremely robust tracking suite that tops our list of the best GPS trackers for iOS and Android. There's also an entire mobile management system built on top of this accurate GPS tracker software.
| | | | |
| --- | --- | --- | --- |
| Starting Price | No Of Devices | Free Trial/Demo | Money-Back Guarantee |
| $11.67/month — Annual plan | 1 | Demo | 14 days |
mSpy records the current GPS coordinates of the phone and logs all past locations on the dashboard. Plus, you can set how often this data is synced, from every five minutes to once every 24 hours.
It's great that mSpy leaves the decision in your hands, as you may find older devices experience noticeable battery drain if you turn GPS tracking up to the highest setting.
The mSpy dashboard plots these locations on a handy Google Maps-style readout, so you can easily view all the places your child or loved one has been. As long as the phone is on and has a connection to the internet, you'll always know exactly where it is.
There's also a handy Geofencing feature that allows you to keep a closer eye on exactly where your children go.
This lets you define areas on the Google Maps layout that you want your child to stay in or outside of.
Whenever they cross the boundary you've set, you'll be notified instantly through email. This is particularly useful for concerned parents making sure their kids are still in school or staying away from unsafe areas in the city.
Most importantly, mSpy works on both Android and iOS devices with a fully-fledged monitoring app. There's also an iCloud data-sync option for iOS devices which just requires iCloud credentials and 2-Factor Authentication to work.

Pros
Easy-to-read map of locations
Geofencing keeps you informed
Customizable GPS timer
Cons
Other apps have better specialist features
Pricing
mSpy, like other premium GPS location trackers, will be expensive to purchase for a single month. There's a huge number of features you have access to with mSpy, but it comes at a price: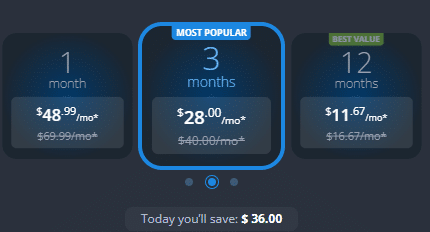 However, buying a long-term subscription package makes mSpy far more affordable.
Some of the other providers on our list are a little cheaper if you only need a month's worth of location tracking, but mSpy recognizes that mobile phone management is usually a long-term investment, and their pricing structure reflects this.
Each plan will give you access to the full mSpy feature list, which includes a keylogger, social media monitoring, remote phone administration, contact logging, and much more.
2. EyeZy — Intuitive App with Great Geofencing Features
EyeZy is another tremendous mobile monitoring solution that comes with GPS location tracking, as well as a handy geo-fencing feature that ensures peace of mind.

| | | | |
| --- | --- | --- | --- |
| Starting Price | No Of Devices | Free Trial/Demo | Money-Back Guarantee |
| $10/month — Annual plan | NA | Demo & 3-day trial | 14 days |
EyeZy allows you to track any iPhone or Android device, and it has a secret mode setting on installation that allows you to hide the software, so you'll be able to monitor your children's activity without breaching their trust.
With that said, it won't leave any notifications or processes running on the phone's system that your child can easily find, and we noticed no additional slowdown using it.
In addition to GPS monitoring, EyeZy allows you to set exclusion areas using Geo-fencing, which will ensure you're notified as soon as your child goes somewhere they shouldn't.
All of this is presented to you in an easy-to-navigate online dashboard, and as soon as your child's device leaves an approved area, you'll get an email to go straight to your dashboard for more info.
EyeZy isn't just a GPS tracker, either. It comes with a full suite of tools, including SMS and social media app monitoring, a full keylogger for Android, and app-blocking capabilities. With EyeZy, you can remotely administer every aspect of the phone without ever having to go near it.

Pros
Social media monitoring
Geo-fencing allows for both inclusion and exclusion zones
Lightning fast notifications
One of the best Android spy apps
Cons
No remote recording capabilities
Pricing
EyeZy also offers a similar price breakdown, where the first month is quite expensive on its own, but the price rapidly decreases when you buy a longer subscription: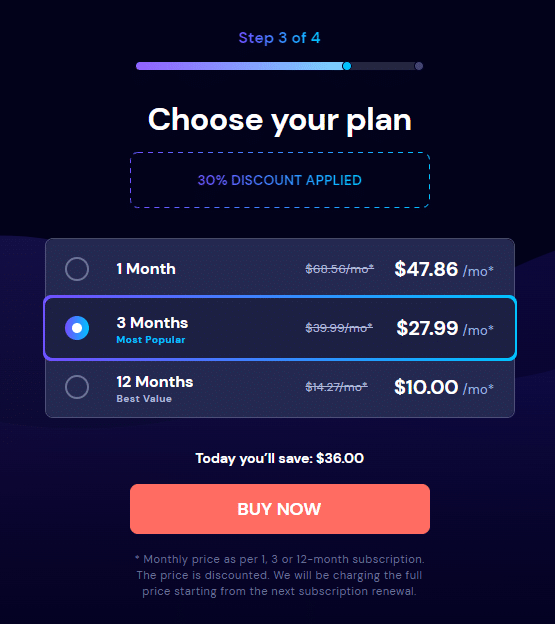 When you buy an EyeZy plan, you're spending just a little bit less than you would on a product like mSpy or uMobix, but it has the same great location tracking features. Be advised that when you buy from EyeZy, you may find the price going up after the first subscription expires.
With this in mind, we'd recommend the twelve-month option, which gives you the maximum time to try EyeZy at a low price.
3. uMobix — Easy-to-Use Location Tracking Tool
uMobix is next up on our list of the best location trackers. It combines ease of use with a slick presentation style to make sure you know exactly where your or your loved ones' phone is in seconds.

| | | | |
| --- | --- | --- | --- |
| Starting Price | No Of Devices | Free Trial/Demo | Money-Back Guarantee |
| $12.49/month — Annual plan | 1 | Demo | 14 days |
uMobix provides GPS tracking on Android devices as long as you're running a newer OS than Android 7.0. While there is an iOS option for uMobix, it's not possible to track location using this option as it's an iCloud data-sync solution instead of a phone app.
On the other hand, uMobix offers a wide range of social media monitoring options across Facebook, WhatsApp, Instagram, Skype, LINE, and Tinder — on both Android and iOS.
Plus, you'll always know who your child is talking to, the locations they're searching for, and more, thanks to a system-wide keylogger that monitors and records everything your child types.
Even if you can't check their exact location on iOS, there are enough monitoring tools there to give you a pretty good idea of where they're going and what their intentions are. The uMobix dashboard will tell you everything, including who they frequently SMS and call.
This is great for getting a quick but clear overview of what's going on with your child at the moment, who they're talking to, and if anything's out of the ordinary.

Pros
Clear location monitoring
Recovers deleted texts and files
Live streaming camera and microphone
Cons
No iOS app, only iCloud data-sync
Pricing
uMobix is another great tracking app, but it's definitely not one of the cheaper GPS tracking solutions on our list:

uMobix is a great Android-based location tracker, but we'd recommend either mSpy or EyeZy if you need location tracking on iOS. They both offer full iOS monitoring for a similar price point.
With that said, uMobix is still an excellent monitoring app — for both Android and iOS. We'd recommend trying them first with the 14-day guarantee by your side.
4. Cocospy — Location Tracking for Both iOS and Android
Cocospy is another fantastic phone tracking suite built for parents to monitor their children. It's easy to use thanks to a clean and easy-to-use remote dashboard.
| | | | |
| --- | --- | --- | --- |
| Starting Price | No Of Devices | Free Trial/Demo | Money-Back Guarantee |
| $12.49/month — Annual plan | 1 | Demo | 14 days |
Cocospy offers GPS location tracking on both Android and iOS. While every provider on our list offers GPS location tracking on Android, it's a little more challenging to pull off on iOS. Impressively, Cocospy can do this without requiring root or jailbreak access to the device.
To sweeten the deal further, Cocospy's iOS monitoring doesn't even require you to download an app at all because it works through data sync on iCloud.
So, once you've supplied the iCloud credentials for the device you want to track, you'll get almost all the data on the phone.
This includes texts, contacts, files, and recent locations. Besides this, Cocospy also tracks social media applications, such as LINE and WhatsApp. It's seriously useful for keeping online backups of your chats, just in case your phone goes missing or is stolen.
Even if that happens, the GPS location tracking feature will keep you informed of where the phone's gone so you can inform the authorities.

Pros
Low battery consumption
Android and iOS compatibility
No Jailbreak or Root required
Cons
Other providers cover more social media apps
Pricing
Cocospy has a similar pricing structure to our top recommendations:

Considering what's on offer, Cocospy has competitive plans. Unsure? Try it risk-free for a full 2 weeks with the money-back guarantee.
5. Spyic — SIM Card Location Tracking and GPS Monitoring
Spyic is another complete tracking solution that offers some interesting options for monitoring device location using the SIM card.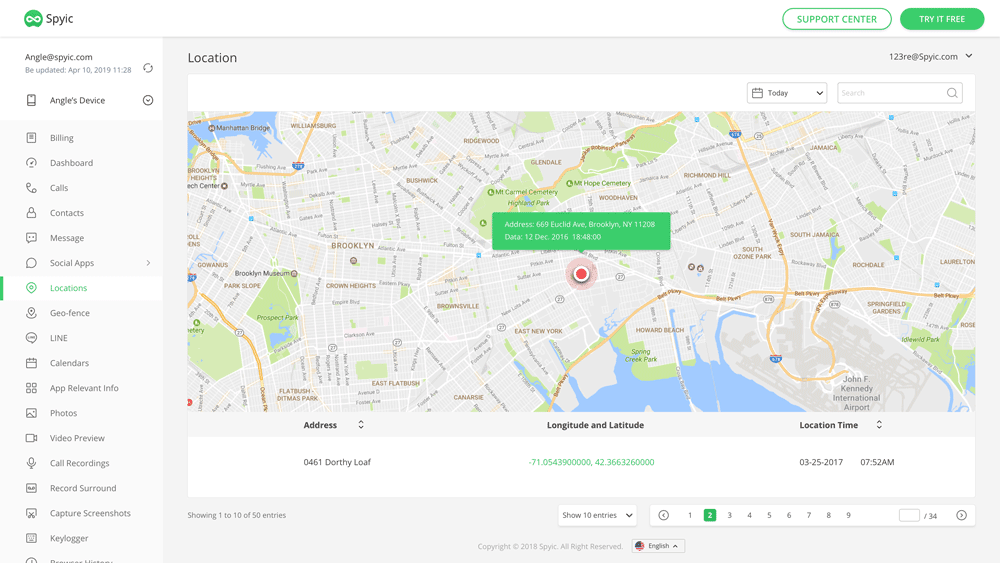 | | | | |
| --- | --- | --- | --- |
| Starting Price | No Of Devices | Free Trial/Demo | Money-Back Guarantee |
| $12.49/month — Annual plan | 1 | Demo | 14 days |
Spyic is another GPS tracking provider that supports iPhone tracking without access to the physical device. While you'll have to install an app if you want Android tracking, iCloud access means you can remotely check your phone's location no matter where you are.
While Spyic does come with a stealth mode, please be aware that this is primarily for the Android app.
The iCloud data sync to Spyic will send a notification to the device user that this backup is in progress, so make sure you have a discussion with the device owner first.
Spyic also works as an excellent cloud backup service, allowing you to back up all your chats, contacts, and files on the Spyic dashboard for further use. This is handy for iOS devices, which makes it pretty hard to do file backup without iTunes installed.
Be warned, though, Spyic will only back up your data for thirty days. While sometimes annoying, you can be assured your data is safe with you and isn't stored with Spyic for longer than it needs to be.

Pros
Great Android GPS tracking
iCloud sync was extremely quick
Android stealth mode
Pricing
Spyic has several different pricing tiers for both iOS and Android, depending on device coverage and feature requirements: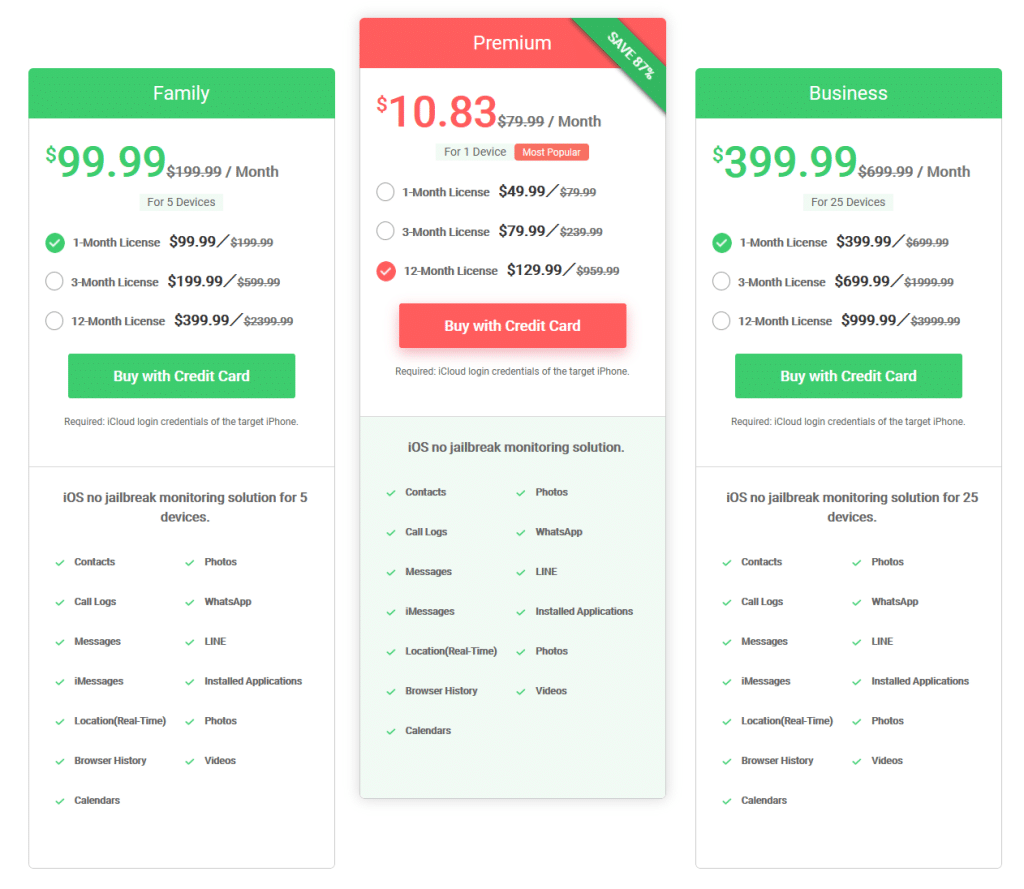 The Basic version comes with location tracking included, all for only $8.33 a month if you buy the 12-month subscription. This only covers a single device, but if all you need is location GPS tracking, then it's a perfectly acceptable option.
The premium and family versions let you cover considerably more devices, which makes it a fantastic option for larger families and businesses; plus, both come with unique SIM card tracking features that allow you to check location even when GPS is off.
6. Hoverwatch — Monitor Multiple Devices with WiFi Tracking
Hoverwatch makes use of WiFi to triangulate the location of a target device, as well as GPS and GSM.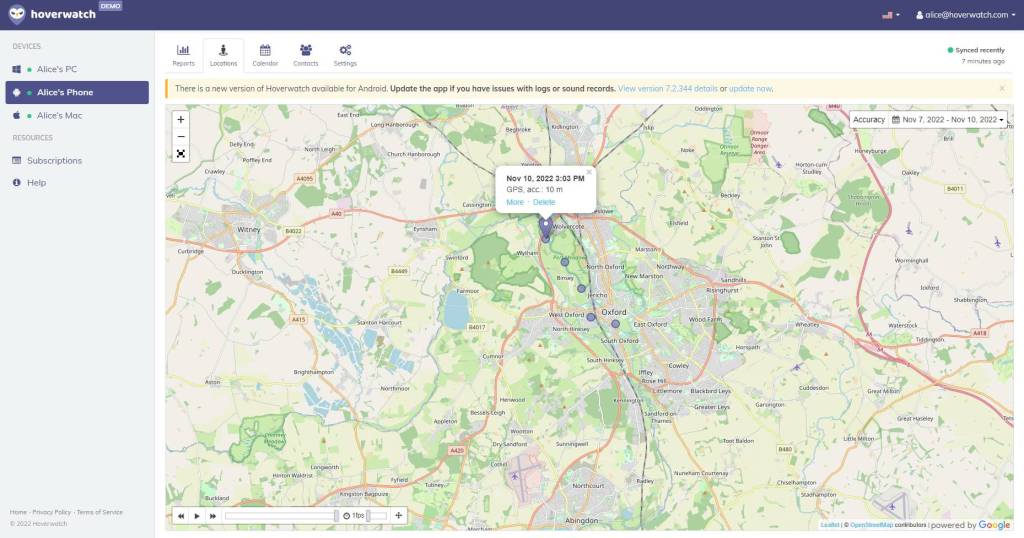 | | | | |
| --- | --- | --- | --- |
| Starting Price | No Of Devices | Free Trial/Demo | Money-Back Guarantee |
| $8.33/month | 1-25 | Demo | 7-day refund policy |
Hoverwatch uses several different technologies to track mobile phone devices. You'll need to install the Hoverwatch app for Android, which takes a few minutes. Once you're up and running, you'll be able to track the device by GPS, Wi-Fi, and through mobile phone towers.
Hoverwatch also gives you an idea of how accurate each location is thanks to a radius indicator based on the method of locating you're using. The most precise method of locating a device is GPS, but Hoverwatch works even if the device user has GPS turned off.
Wi-Fi tracking uses local Wi-Fi access points to work out where the phone is, which is slightly less precise and uses more battery but is excellent for situations where GPS is inaccessible.
Mobile phone tracking through GSM, or the mobile phone towers your device uses, is an advanced technique. This will work even if you're outside of GPS or Wi-Fi range, which is useful if you're trying to locate a stolen device.
Hoverwatch makes this easy to change through a remote administration console in the online dashboard.

Pros
Wi-Fi location tracking
GSM location tracking
Highly customizable remote administration for Android devices
Pricing
Hoverwatch offers these 3 plans:

Hoverwatch is also useful if you need a remote administration tool for your Windows or Mac devices. While it doesn't support Windows 11 yet, many providers on this list don't offer support for desktop devices at all.
7. XNSpy — Detailed Location History At Your Fingertips
XNSpy is a highly comprehensive location tracker for phones that works on both iOS and Android. It offers both rooted and non-rooted, as well as jailbreak and non-jailbreak versions.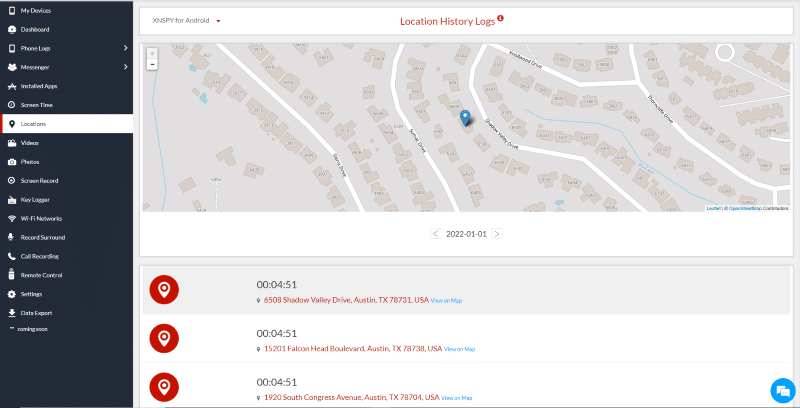 | | | | |
| --- | --- | --- | --- |
| Starting Price | No Of Devices | Free Trial/Demo | Money-Back Guarantee |
| $7.50/month — Annual plan | 1 | Demo | 10 days |
Rooted versions will give you access to real-time location tracking, so you won't have to wait for a data sync to know where the device is. On iOS, you'll need to enable "Find My iPhone" if you're using a non-jailbroken device in order to log the locations your iPhone has been to.
When you perform an iCloud data sync, you'll be updated with a log of all locations since the last time you performed a sync. XNSpy records longitude, latitude, street names, and location timestamps, so you'll always know exactly where your phone was at the time.
This is all displayed on a map layout in the XNSpy dashboard, so you'll immediately be able to see visually where the phone is. This is in addition to Geo-fencing, which lets you designate locations that you'll be warned about if the phone enters or leaves.

Pros
Highly accurate tracking
Real-time updates on location
Supports both iOS and Android
Rooted and non-rooted versions
Cons
Can be battery intensive during real-time updates
Pricing
XNSpy offers one subscription plan, regardless of whether you need coverage for Android or iOS:

XNSpy is one of the cheaper options on our list — even for iCloud sync — but don't let that put you off. There's still a great range of features available to give you complete peace of mind.
8. KidsGuard Pro — Logs GPS Location and WiFi Devices
KidsGuard Pro logs location on your mobile devices while remaining completely invisible thanks to a "Stealth Mode" that removes notifications and app indicators.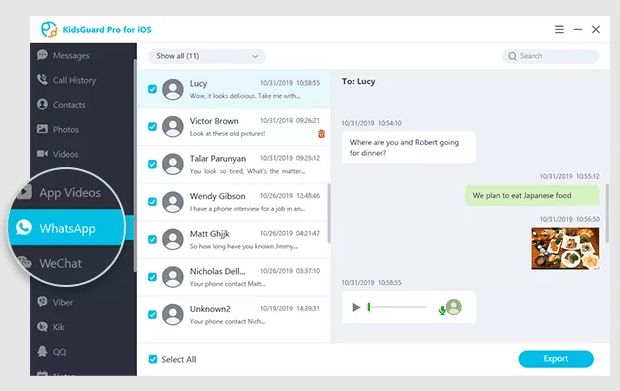 | | | | |
| --- | --- | --- | --- |
| Starting Price | No Of Devices | Free Trial/Demo | Money-Back Guarantee |
| $8.32/month — Annual plan | 1 | Demo | 30 days |
KidsGuard Pro can do real-time location updates through both iOS and Android devices, but you'll need to do a root or jailbreak on them.
However, if you're not willing to update your device, KidsGuard Pro also offers non-rooted apps which update every five minutes on Android or every time you do an iCloud data sync on iOS devices.
Besides this, KidsGuard has an excellent user interface that allows you to search through location logs for times, places, and GPS coordinates. You've also got a filter that shows you locations from the last week, month, and year. If it's urgent, you can also filter to just today's locations.
While there's a map inside the dashboard, KidsGuard also gives you handy location links to Google Maps if you need to use Streetview to get a better idea of where the location is.

Pros
Wide device support
No need to root Android devices
Real-time location tracking support
A whole suite of other tracking and safety tools
Pricing
KidsGuard Pro is a budget provider that's priced appropriately for its feature set:

It has one of the cheapest single-month subscription plans on our list, making it an excellent choice if you're looking for a short or long-term GPS tracking solution.
9. iKeyMonitor — Reliable App with Great Free Plan
iKeyMonitor is an all-in-one parental monitoring app that offers GPS location tracking and a range of device support, including Windows and MacOS, as well as Android and iOS.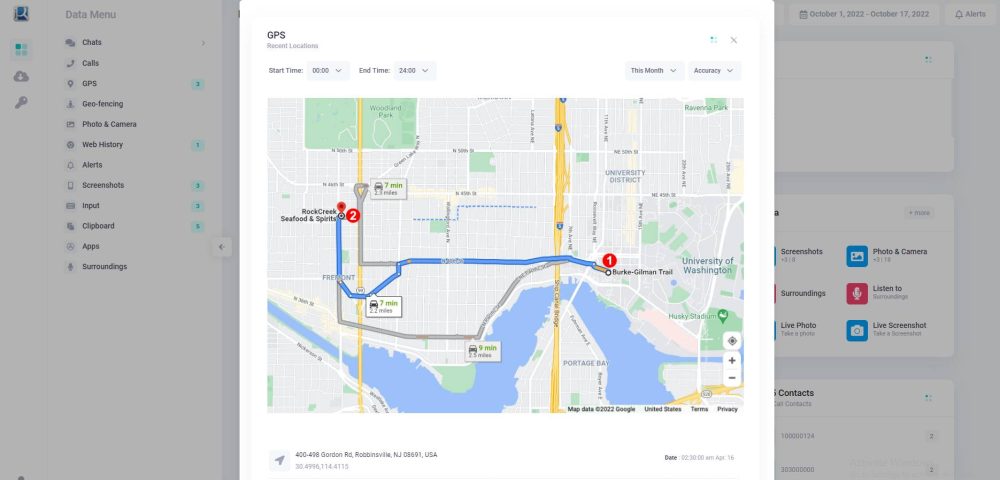 | | | | |
| --- | --- | --- | --- |
| Starting Price | No Of Devices | Free Trial/Demo | Money-Back Guarantee |
| Free | 1 | Demo | 7-day refund policy |
iKeyMonitor has great device support, with apps on both Android and iOS, with a jailbroken and non-jailbroken option using the iCloud service to data sync. Each option comes with location tracking, but real-time location monitoring is only available if you jailbreak your iOS device.
iKeyMonitor features a customizable GPS timer so that you can balance between battery life and update timing. There's also a full geo-fence feature that will inform you when the device enters or leaves a restricted or allowed area.
How quickly you find out about this will depend on how often your GPS timer goes off.
iKeyMonitor also allows you to turn the camera and microphone in the phone on remotely.
This is great if your phone gets stolen, as you'll not only have location data from the GPS tracker, but you'll be able to use these monitoring tools to find out exactly who has your phone and where it is.

Pros
Customizable GPS timer
Device support for iOS, Android, and Windows
Live Screen, Camera, and Microphone Monitoring
Pricing
iKeyMonitor offers a free tracking plan that's truly free, with some additional add-ons for mobile if you need in-depth tracking: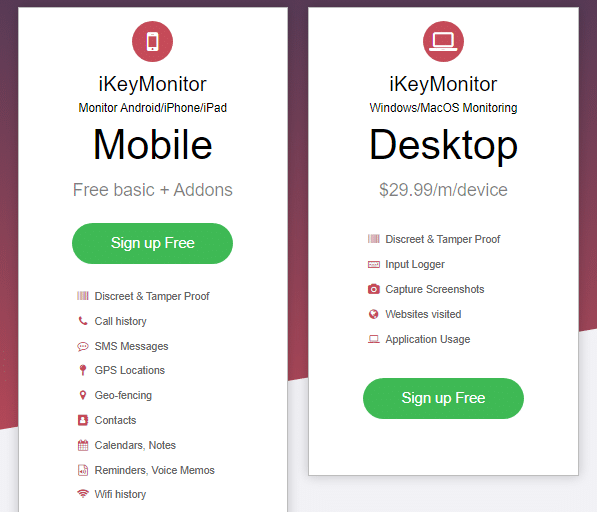 Both Geofencing and GPS tracking are available without a subscription, just by downloading the iKeyMonitor for mobile.
Upgrading to the paid version costs $9.99 for three days, which gives you access to social media monitoring, advanced mobile remote control features, and remote log access.
Long-term subscriptions start from $16.66 per month. There's no iCloud version, but there is an app version for iOS.
10. TheOneSpy — Discreet GPS Monitoring for Your Phone
TheOneSpy heads up the end of our list, but that's not to say you shouldn't consider it. Not only does TheOneSpy offer a huge set of features, but some interesting pricing options too.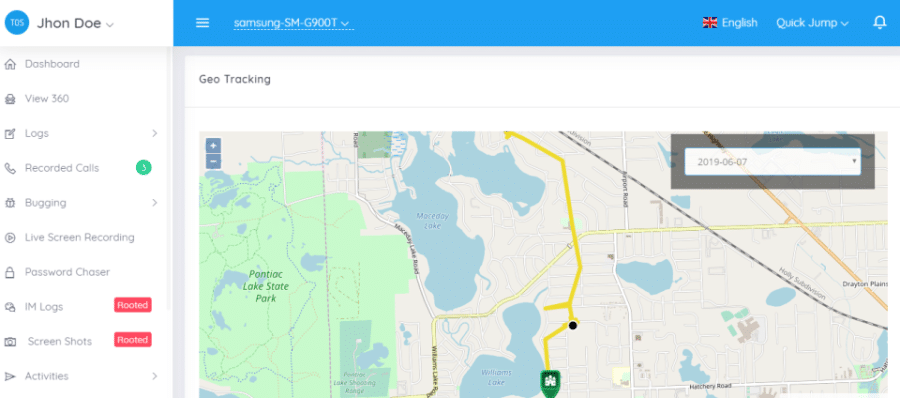 | | | | |
| --- | --- | --- | --- |
| Starting Price | No Of Devices | Free Trial/Demo | Money-Back Guarantee |
| $6.25/month | 1 | Demo | 7-day refund policy |
TheOneSpy is a monitoring platform that supports iOS and Android. It gives you live location updates on the phone's location via GPS, as well as a suite of monitoring features such as text message updates, live screen broadcasts, and remote camera and microphone activation.
One of TheOneSpy's most interesting features is the ability to receive a live update on the phone's location by sending an SMS to the phone. You'll need to install the TheOneSpy suite onto the phone first, but then you'll get live updates on where the phone is just by sending a text.
Most vitally, this feature works when the device doesn't have internet. This means if a thief has deliberately disabled the Wi-Fi, GPS, and mobile data to stop the phone from phoning home, you'll still be able to find out where it is.

Pros
Unique SMS location updates
Highly accurate GPS location coordinates
Camera and microphone remote access
Pricing
TheOneSpy offers two pricing plans depending on whether you want access to just core monitoring functions or all of TheOneSpy's extra monitoring capabilities.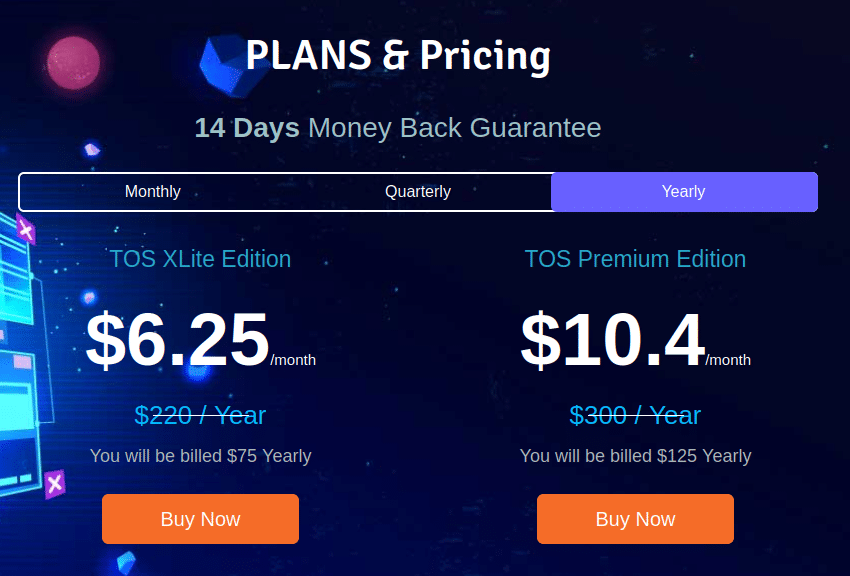 TheOneSpy's XLite edition is far cheaper than most plans we've seen on this list, but it comes with a reduced feature set.
You won't get access to advanced location features like real-time GPS tracking or location over SMS, but you'll still get a call history with logged locations and a full readout of phone locations through your dashboard.
The extra $4 on the cheapest yearly plan is absolutely worth it to get access to the enhanced location features, as well as others such as live microphone and camera monitoring.
Best GPS Tracker App | Top 10 Compared
Here's a quick head-to-head comparison of the tools we've reviewed above. By seeing them compared, you'll be able to get a better idea of the ones most suitable to your needs and budget:
| | | | | |
| --- | --- | --- | --- | --- |
| Provider Name | Starting Price | No Of Devices | Free Trial/Demo | Money-Back Guarantee |
| mSpy | £8.75/month — Annual plan | 1 | Demo | 14 days |
| EyeZy | £7.99/month — Annual plan | NA | Demo & 3-day trial | 14 days |
| uMobix | $12.49/month — Annual plan | 1 | Demo | 14 days |
| Cocospy | $12.49/month — Annual plan | 1 | Demo | 14 days |
| Spyic | $12.49/month — Annual plan | 1 | Demo | 14 days |
| Hoverwatch | $8.33/month | 1-25 | Demo | 7-day refund policy |
| XNSpy | $7.50/month — Annual plan | 1 | Demo | 10 days |
| KidsGuard Pro | $8.32/month — Annual plan | 1 | Demo | 30 days |
| iKeyMonitor | Free | 1 | Demo | 7-day refund policy |
| TheOneSpy | $22/month | 1 | Demo | 7-day refund policy |
How Does GPS Tracking Software Work?
GPS Tracking software works by piggybacking off the phone's own GPS to give you the exact location of the phone. Whenever the user connects their phone to the internet, you'll be updated with the log of exactly where they went while offline.
However, this might not always be enough to return your phone. Some thieves will immediately turn the Wi-Fi or GPS off, rendering the location-tracking app ineffective.
To combat this, some providers on our list, such as Hoverwatch, provide several different types of tracking to make sure you know where your phone is. This includes GPS, Wi-Fi, and GSM.
Wi-Fi tracking works by using the signal provided from several different Wi-Fi access points to triangulate your location, and GSM does the same advanced locating as Wi-Fi but achieves this using the radio cell towers used to connect your cell phone.
Finally, some providers like TheOneSpy allow you to ask for real-time updates on the device's location over SMS. This is an excellent "last-ditch" method for finding your phone when all others fail.
Do I Need Physical Access to the Target Device?
In all circumstances on Android, you'll need access to the target device to install a GPS tracking app. This is required whether the phone is rooted or still has factory settings.
However, it's a little different on iOS. Some providers give you an app that you'll need to install on the target iPhone before you can proceed.
Others will use the iCloud sync method, which can be performed remotely but will always require your iCloud login credentials and sometimes approval of the two-factor authentication.
What Can GPS Spy Apps Show Me?
GPS spy apps can show you many different aspects of the target device. While current and past locations are obvious, many of the providers in our list are among the best phone spy apps and go beyond just GPS locations to offer hundreds of different data points on the phone. This includes:
Call history and contacts saved on the phone
SMS and social media messages
Files sent and received
Contact, text, and call frequency
Location when a call was made
Screen and call recording
Remote camera and microphone access
And many more features. Most GPS trackers double as fully functional mobile management platforms for completing parental control tasks or keeping an eye on devices in the hands of employees.
How We Ranked the Best GPS Trackers | Our Methodology
Many providers on this list have excellent GPS tracking capabilities, but we narrowed it down to a few metrics we focus on:
Accuracy — Does the provider give us an accurate phone location? This one is pretty simple to test. We let the phone travel around a predetermined path according to the update rate of the GPS tracker, and then we check out the location log. The further away the location log GPS coordinates from each real-world location we were at, the less accurate the tracker is.
Update Frequency — How often does the provider give us GPS coordinates? We find in practice that most providers let you change the GPS update frequency according to operational requirements. Some providers even offer real-time tracking, which is as close as you can get to instant tracking.
Logging — How good is the location logging provided? Generally, the more data we can see on where the phone was, the better. This includes giving a google maps output to map GPS coordinates to, linking location history with call history, and so on.
Battery Drain — A good GPS tracker will drain as little battery as possible, lest it becomes noticeable.
Ease of Install — Similarly, a good GPS tracker will take as little time as possible and have as few barriers to installation as possible.
Besides these factors, we also considered the overall monitoring capabilities on offer and the feature-to-value ratio provided by these tools. On top of this, we factored in real user reviews, device compatibility, and the overall reliability of the apps.
Free GPS Tracking Apps Vs. Paid Tools | Which is Better?
Most free GPS tracking apps are simply not fit for purpose. While they may provide you with a GPS tracker for your phone, their business model relies on stealing user data to make a profit.
When you're trying to monitor your child's device usage, it's not in your best interests to send all their information to a third party. However, there are a few free providers out there that offer a free version as a trial for a paid version.
Notably, iKeyMonitor on our list does this. It's a great option if you want to get a feel for the installation process of a GPS tracking app, and it does come with basic tracking functionality.
With that said, iKeyMonitor's free suite simply doesn't compare to premium GPS tracking apps such as mSpy, EyeZy, and uMobix. Even iKeyMonitor's premium version gives you access to SMS tracking, which works in a variety of situations that GPS tracking does not.
Spy GPS Tracker FAQs
What's the best GPS tracker app for a cheating spouse?
What is the best spy GPS tracker for Android?
How can I track someone's mobile without them knowing?
Can I track someone by their phone number?
Are free GPS tracking apps safe?
Is there an app that can detect a GPS tracker?
Conclusion | What's the Best GPS Tracker App in 2023?
We have to give it to mSpy for our best GPS tracker app of 2023. However, EyeZy, uMobix, and Cocospy come very close in their price points and feature set.
The thing that sets mSpy apart from these other apps is the full support for iOS devices, both by iCloud data sync and a full mobile monitoring app, which lets you choose which level of monitoring you need over the phone.
mSpy is trusted by both concerned parents and vigilant business owners for a combination of in-depth reporting on the contents of the phone, real-time tracking features, and helpful customer support.
There's also a demo version of mSpy accessible on their site that lets you try mSpy before you commit to a subscription. It lets you get a feel for the dashboard reporting so that you can be sure mSpy is the product for you before you purchase it.