The best Instagram spy apps give you access to the complete app-usage history of the target device, along with the ability to view messages and media being shared on Instagram. With one of these tools, you can set time limits for specific apps and even block access to them in case of an emergency.
However, finding a private Instagram viewer that works can be painstaking, given the abundance of choices. We've done the hard yards for you by finding and reviewing the best Instagram spy apps in 2023, giving importance to criteria like affordability, degree of device control, multimedia access, and customer support. Let's dive right in.
Top 10 Instagram Spy Apps List
mSpy is the top-performing Instagram spy app on the market, thanks to its advanced features like comprehensive social media tracking, unrestricted access to multimedia, and user-friendly setup and interface. Compare it against other apps to spy on Instagram and see for yourself:
Reviews of the Top Spy Apps for Instagram Activity
Are you eager to know the details of the best spy apps for Instagram activity tracking? Keep reading as we delve into the specifics of each of our top choices, covering their best features, benefits, drawbacks, and costs.
1. mSpy — The Best Instagram Spy App Overall
mSpy has been in the market for over 10 years and serves users in over 180 countries, which is why it's been able to cover almost every aspect of social media tracking, especially the ever-updating and notorious Instagram.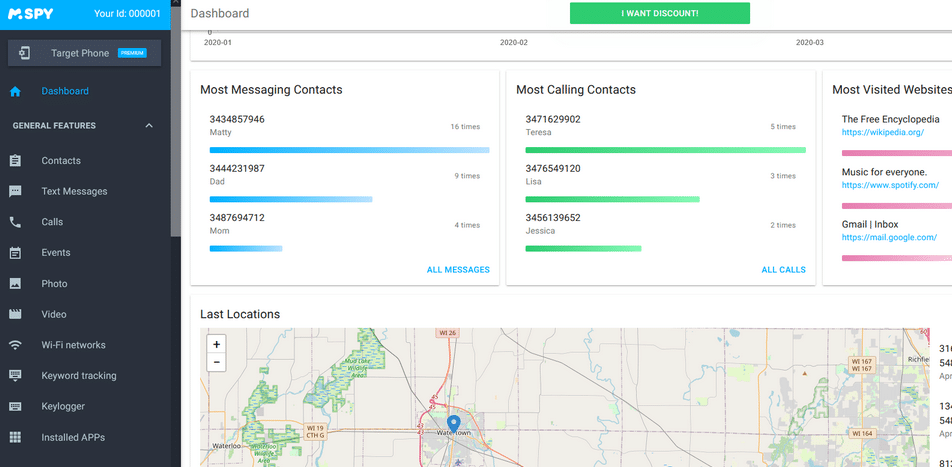 You can see every message your child or spouse exchanged on Instagram, including the media files and links. The links are clickable if you want to follow them and see what content it leads to. This is a great way to keep an eye on the kind of content the target device owner is interested in.
Another benefit of using mSpy is its built-in GPS tracker. You can find out the location of the target device in seconds and cross-verify it with the claims of the device owner, be it your kid, partner, or any other family member like a sister.
For example, if mSpy's control panel shows you that your child is using Instagram during school hours, you can use the GPS tracker to check if they're actually in school or not.
If any photo or video from Instagram is saved in the device, you can easily dig that out, too, with mSpy. This feature will ensure that even if you miss out on a media file while going through the chats, you can still access them later while checking the target phone's gallery.
| | | | |
| --- | --- | --- | --- |
| Starting Price | No Of Devices | Free Trial/Demo | Money-Back Guarantee |
| $11.67/month — annual plan | 1 | Demo | 14 days |
Pros
Set up two-factor authentication for more safety
An easy-to-understand user interface
Excellent text and contact logging features
Allows you to take remote screenshots
Lets you set up custom geo-fencing
Cons
Tracks one device per plan
Pricing
mSpy is one of the cheapest Instagram spy apps, and you can get started with it at just $11.67/month. Along with monitoring Instagram, you can also access the call logs, text messages, and photos of the target device.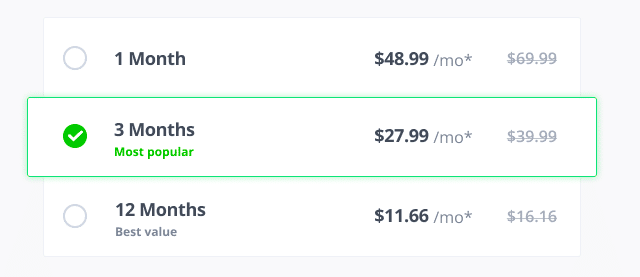 The best part is that its plans are covered by a 14-day money-back guarantee so that you can test out the platform risk-free.
2. EyeZy — Great Tracker App to Get Detailed Timestamps for Every Text
Leading Instagram tracker EyeZy is an excellent spy app for those who need detailed timestamps alongside every message. Just like mSpy, EyeZy too lets you read the target phone's messages and shared media files. But in addition to that, you can also get the timestamps of the messages and verify them with the claims of the user.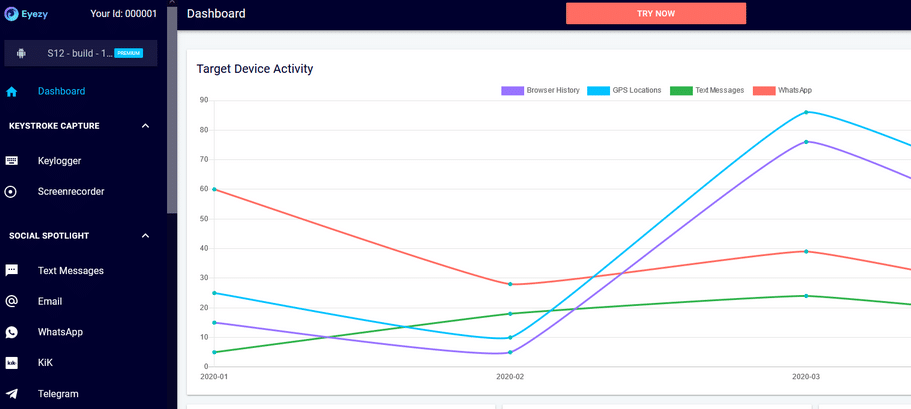 For example, if your kids have a sharp bedtime of 9 PM, you can check EyeZy's dashboard to see if they're discreetly using their phones past their bedtime. Not only can excessive screen time mean exposure to things like sexual content, but limiting screen time has countless benefits.
If you don't have the time to monitor all of their Instagram messages, use EyeZy's magic alerts to receive notifications only if an event predefined by you takes place.
For example, if you want to check whether your spouse is cheating on you, you can flag certain words that you associate with flirting or romantic relationships beforehand.
Anytime your spouse uses these words in their texts, you'll get an instant notification, increasing your chances of catching them red-handed.
The best part? All these features extend to other social media apps as well, such as Facebook, WhatsApp, and Snapchat. You can track their messages, phone calls, and posts on all these platforms, and that too, without alerting them.
| | | | |
| --- | --- | --- | --- |
| Starting Price | No Of Devices | Free Trial/Demo | Money-Back Guarantee |
| $9.99/month — Annual plan | NA | Demo & 3-day trial | 14 days |
Pros
Offers a lot of easy-to-use features
Excellent multimedia monitoring
Allows tracking your child's phone conversations
You can get alerts for specific browser searches
GPS-enabled live location tracking
Cons
Syncing with iCloud is slow
Expensive to track multiple devices
Pricing
EyeZy's plans start at as little as $9.99/month annually. You can also opt for shorter plans for 1 month and 3 months at $47.99/month and $27.99/month, respectively.

To top it off, you get a live demo of the site, a 3-day free trial, and a 14-day money-back guarantee so that you can evaluate the platform without risking your money.
3. uMobix — Reliable Service to See Private Messages and Remotely Control the Device
uMobix is one of the few spy apps that will not only give you access to the target phone's Instagram but also let you control it.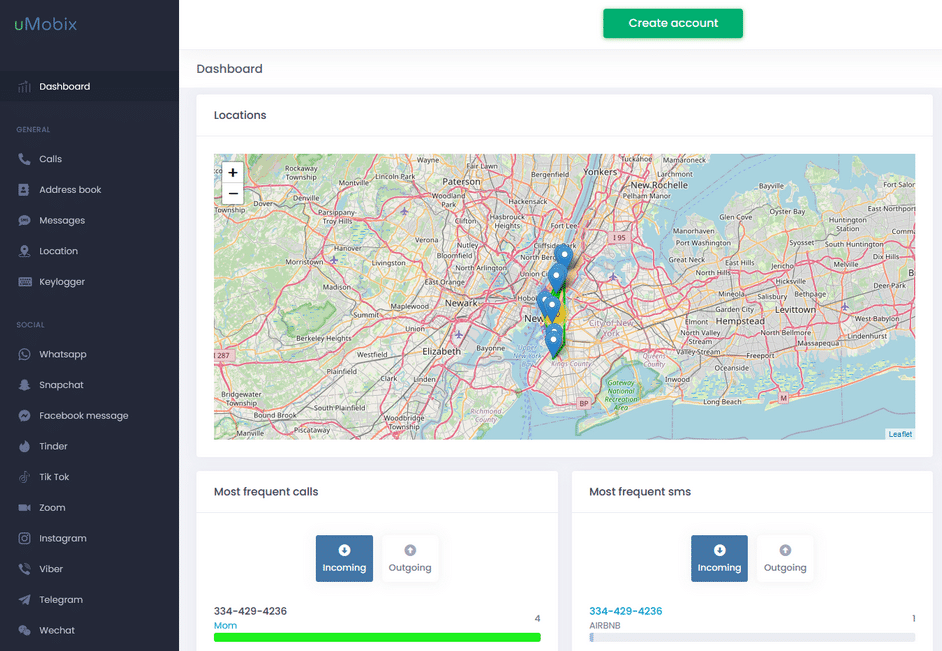 For example, if you don't want the target phone to have the Instagram app at all, you can remotely uninstall it, and they won't even know it was you.
Even if they try to access Instagram through a browser, you can block the website too. In other words, if you don't want them to use Instagram, uMobix will make it impossible for them to do so. We rate it as perhaps the best Instagram activity tracker.
Speaking of blocking websites, uMobix will let you track what websites your target (child or spouse) visits — their browser history and their bookmarked sites. This will give you a better idea of their interests, likes, and dislikes and whether they've been looking for a way to get back on Instagram.
In case you're trying to make your child take a temporary break from Instagram or social media in general, you can go ahead and block their access to the Wi-Fi.
| | | | |
| --- | --- | --- | --- |
| Starting Price | No Of Devices | Free Trial/Demo | Money-Back Guarantee |
| $12.49/month — annual plan | 1 | Demo | 14 days |
Pros
Includes a free demo version
User-friendly dashboard for easy navigation
Can be easily installed with a single click
Doesn't affect the performance of the target device
Utilizes secure RSA-4096 encryption
Can detect and remove suspicious apps on the target device
Cons
Only one device can be tracked per plan
Doesn't have keyword monitoring capabilities
Pricing
uMobix is slightly costlier, with its plans starting at $12.49/month on its annual plan. But to make up for it, you get additional features such as remote device control and screen recording.

If you want to check out the platform before investing your money, its 14-day money-back guarantee has you covered.
4. Cocospy — A Versatile Solution to Monitor iPhone & Android Devices Simultaneously
Cocospy might not be as feature-rich compared to the other Instagram spy apps, but it does let you monitor a wide range of devices, such as Android and iOS smartphones and tablets.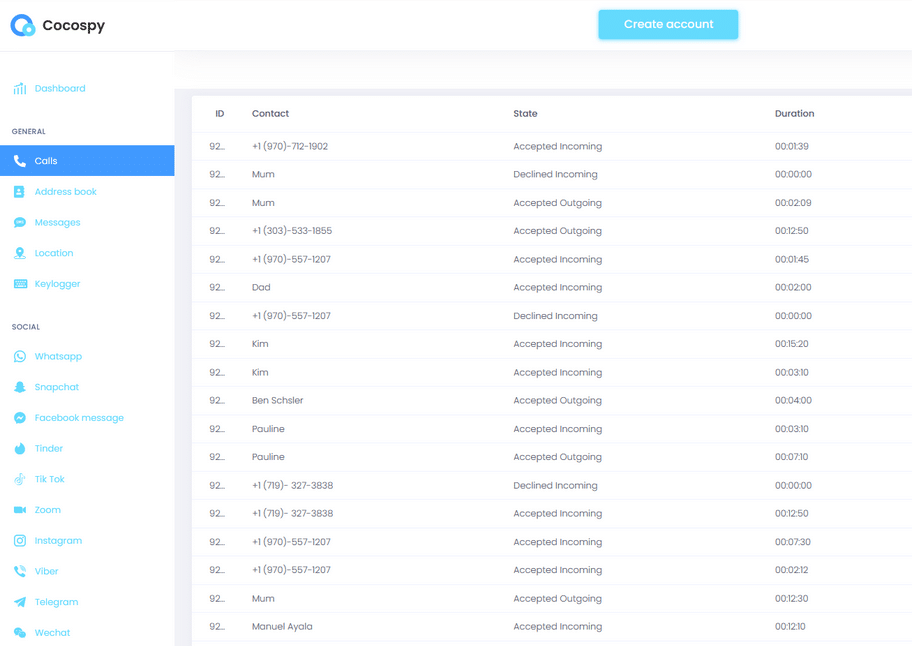 Also, it takes only a few minutes and three simple steps to set up and can remotely monitor any device with its stealth mode — preventing detection. Plus, its customer support team is super supportive, and you can reach out to them at any time for troubleshooting.
In terms of Instagram tracking, you can check both individual and group messages, plus view the exchanged media files. This feature extends to WhatsApp and Facebook as well. Having access to multiple social media accounts of the target ensures you get the full story and never miss out on any detail.
Another benefit of using Cocospy is its keylogger tool. This tool records everything the user types on the target phone — this works across apps, including the phone's Notes application.
Plus, if the user types a message but deletes it midway, you'll still get to see what they're typing. In short, anything they type anywhere on their phone will show up on your control panel.
| | | | |
| --- | --- | --- | --- |
| Starting Price | No Of Devices | Free Trial/Demo | Money-Back Guarantee |
| $12.49/month — Annual plan | 1 | Demo | 14 days |
Pros
Can't be detected on the target device
Alerts when a SIM card is changed
Has a comprehensive keylogger feature
Provides monitoring of deleted communications
Best iOS spy app for remote installation
Cons
Doesn't offer a free version
Pricing
Cocospy has the same pricing as uMobix — you can get started at $12.49/month on the annual plan or opt for shorter plans priced at $49.99/month (for a month) and $29.99/month (for 3 months).

While it's costly compared to the other tools on the list, its features make up for the price, plus the 2-week money-back guarantee will ensure that you don't lose any money if the tool isn't up to your liking.
Spyic is primarily a parental control app that's designed specifically for parents who want to keep an eye on their children even when they aren't around.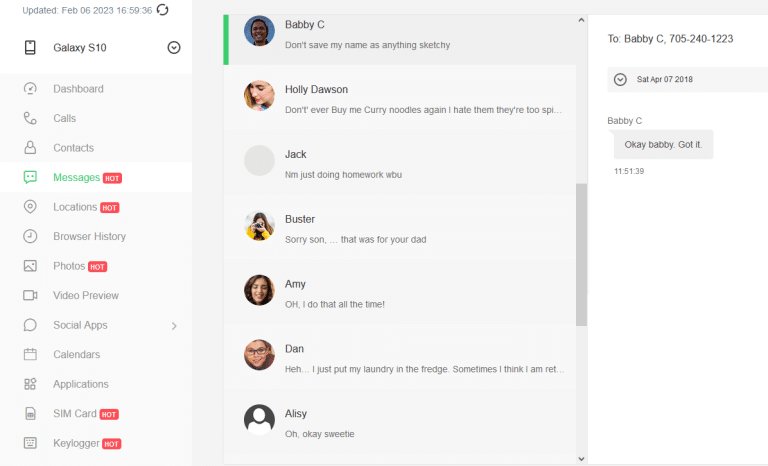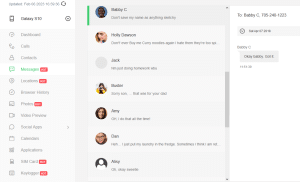 Its Instagram spy tool is pretty simple to use and works without rooting — a huge win for those who aren't tech-savvy. Along with the basic updates on their messages and shared media files, Spyic will fetch you the contact details of the people they're chatting with too.
You can then use a fake IG account to stalk their accounts and see if they're suitable for your child. After all, the internet is filled with dangerous people, and you certainly don't want one of them to get closer to your kid.
Just like EyeZy, Spyic too provides you with detailed timestamps of your child's Instagram messages so that you can check whether they're sticking to their bedtime or not.
If you're not satisfied with tracking their Instagram alone, you can also monitor their activities on Facebook, WhatsApp, Snapchat, Viber, and regular SMS. For each of these applications, you'll get the same info — messages, timestamps, and media files.
| | | | |
| --- | --- | --- | --- |
| Starting Price | No Of Devices | Free Trial/Demo | Money-Back Guarantee |
| $9.99/month — annual plan | 1 or 3 | No | 60 days |
Pros
Allows setting up custom geo-fencing alerts
You can track multiple devices with one plan
A unique SIM change alert feature
Very difficult to detect, especially on iOS
Tracks most popular social media apps
One of the top Facebook spy apps
Cons
Lacks some social media monitoring on iOS
Pricing
Spyic offers affordable pricing for both Android and iOS — you can get started at $9.99/month and $10.83/month, respectively, under the Premium plan.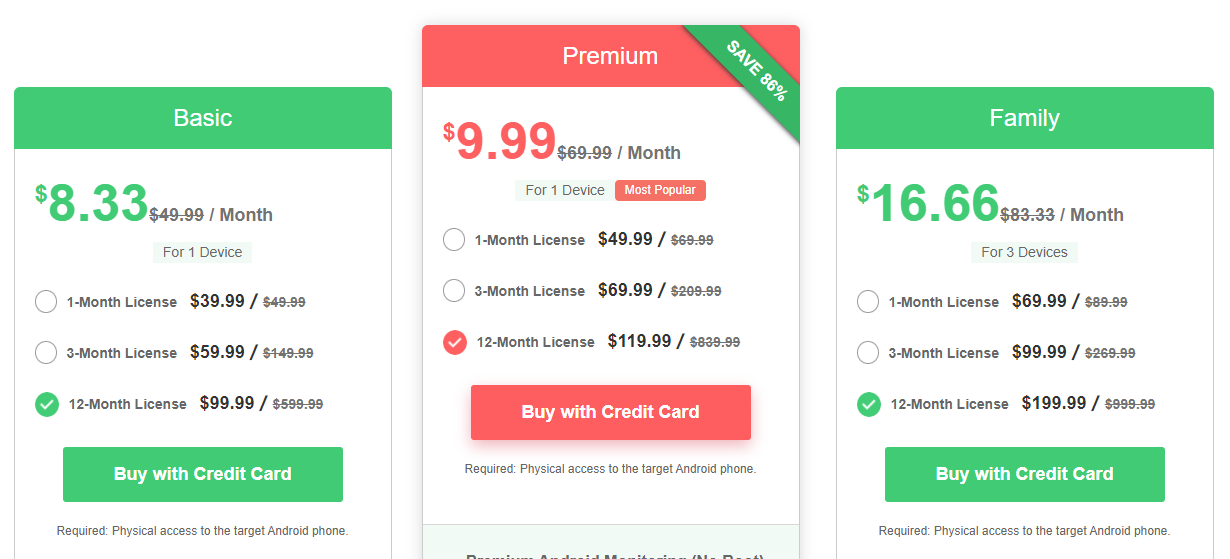 If you want to monitor up to 3 devices simultaneously, we recommend moving on to the Family Plan, priced at $69.99/month for Android and $99.99/month for iOS.
What's more, Spyic also offers the longest money-back guarantee in the industry, so you'll have ample time to figure out if this is the tracking app you need before you start pouring money into it.
6. Hoverwatch — Top Tool to Take Screenshots on the Target Device
Hoverwatch is the perfect spy app for those trying to monitor multiple devices at once — say you have 2-3 kids you want to keep an eye on. Being compatible with multiple device types and operating systems, Hoverwatch will allow you to monitor up to 5 devices simultaneously, and that's just on its basic plan.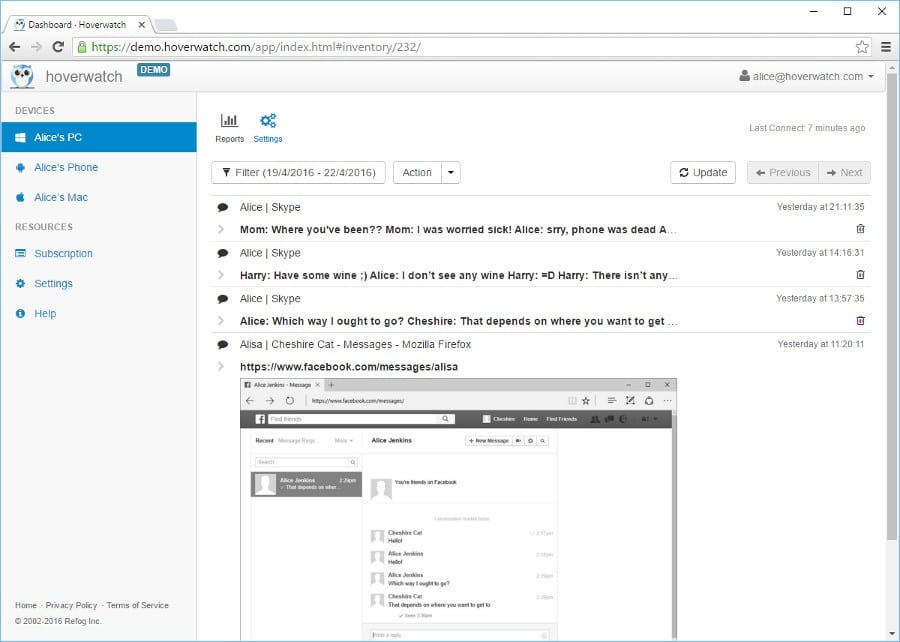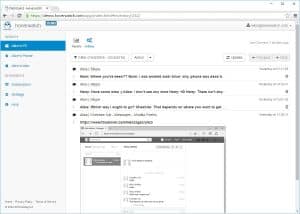 This functionality is also handy to have if you're worried that your child might be using a secret second device to use Instagram. Speaking of its Instagram spy feature, you can check not only the messages they send or receive but also the follow requests they get — a rather unique feature compared to other Instagram spy apps.
Whether you're using it to track your child or spouse, knowing who's trying to get in touch with them is a great way to stop any unwanted relationship before it begins.
Now, what if your target is using the disappearing message feature on Instagram for their secret conversations? Hoverwatch's Android Screenshot feature will help you out.
It'll basically take a screenshot (discreetly, of course) every time it detects activity on the target device. Even if it's something as trivial as receiving a new Instagram message, Hoverwatch will take a screenshot and send it over to you.
| | | | |
| --- | --- | --- | --- |
| Starting Price | No Of Devices | Free Trial/Demo | Money-Back Guarantee |
| $6/month/device — 25-device plan | 1,5, or 25 | No | No |
Pros
Offers GPS, internet, and cell phone tracking
Allows downloading gallery multimedia
Lets you schedule screenshots
Boasts an extensive keylogger
Pricing
Hoverwatch's plans are super cheap, and you can get started for just $6/device/month under its Business plan. Despite being cheap, it's feature-rich and lets you monitor up to 25 devices simultaneously — a champion of multi-device coverage.

The only downside is that it doesn't have a money-back guarantee. But considering its affordable monthly plan and reviews, we don't see why it isn't worth a try. Sign up today.
7. XNSpy — Powerful Phone Spy App to Track Your Target's Online Activities
XNSpy is one of the most trusted spy apps recommended by entrepreneurs and the highly renowned tech blog Engadget.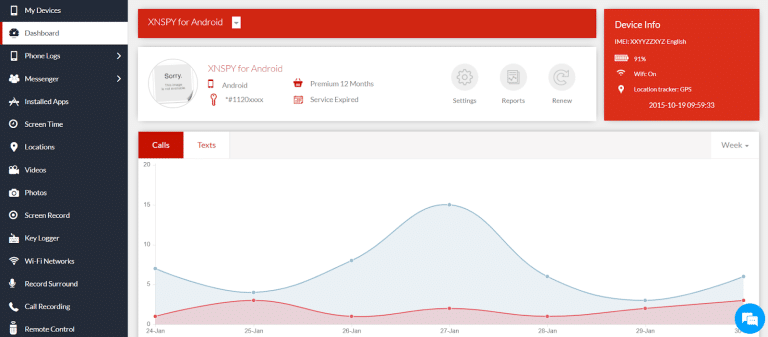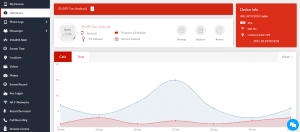 While its Instagram spy feature is pretty basic and only covers messages and sharing media files with timestamps, it makes up for it with other phenomenal phone tracking features.
For instance, every time you open the control panel, you'll find a list of your target's top five callers, call durations, and websites visited. This quick summary of their activities saves you the trouble of going through their entire call log or website history to find who or what they're hooked to.
Another huge USP of XNSpy is remote commands. Using this feature, you can command the target device to take a screenshot of the Instagram chats whenever it's opened on the device — a great way to capture vanishing messages before they disappear.
In addition to that, you can also wipe the target device's memory or lock it remotely if you feel that your child is spending too much time on their phone.
XNSpy takes it up a notch — you can also access the list of installed apps on the target phone and block Instagram. There's no better way to prevent Instagram addiction than this app-blocking feature.
| | | | |
| --- | --- | --- | --- |
| Starting Price | No Of Devices | Free Trial/Demo | Money-Back Guarantee |
| $7.50/month — annual plan | 1 | Demo | 10 days |
Pros
Allows remote locking of the phone
You can create custom alerts for specific contacts
The installation process is easy and straightforward
Allows for remote capturing of screenshots
Cons
Requires iCloud credentials for iOS devices
Doesn't offer a free trial version
Pricing
XNSpy's cheapest plan starts at just $7.50/month annually, under which you can listen to call recordings, track live locations, and view the photos and videos on the target device.

If you're not ready to commit to a long-term plan, try it risk-free for a full 10 days now.
8. KidsGuard — Leading Tracker to Protect Your Kids from Inappropriate Content
KidsGuard has a rather basic Instagram monitoring feature. You can only access the target's messages and photos without any real control.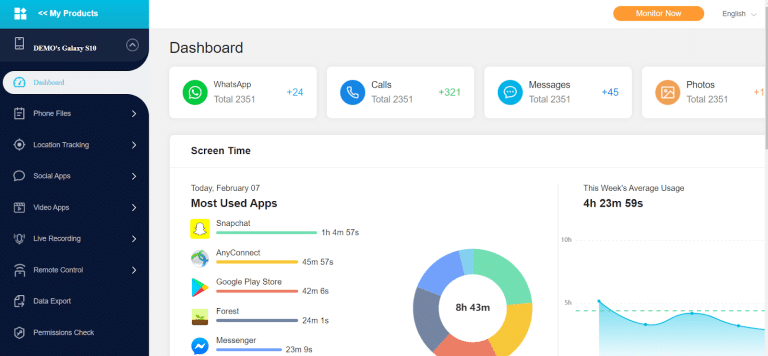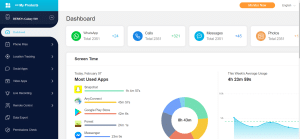 However, on the brighter side, it covers several social media platforms such as Kik, WhatsApp, Facebook, and Snapchat, and you can monitor all of them without rooting. Even if the app is protected by a password, KidsGuard will still manage to break in and record their private conversations.
If you want to keep them from accessing Instagram through the browser, feel free to use the Web Content Viewer tool to check their browsing history.
Here, you'll get a list of websites they've visited and bookmarked, which will help you understand their interests better and perhaps have a conversation with them if you find something questionable.
Another feature that we really liked is the Files Finder. This is basically a database of everything stored on the target device, be it messages, call logs, photos, videos, browsing history, and more — even if the user deletes it, you'll still have a copy of it.
| | | | |
| --- | --- | --- | --- |
| Starting Price | No Of Devices | Free Trial/Demo | Money-Back Guarantee |
| $8.32/month — annual plan | 1 | Demo | 30 days |
Pros
Can be used even on VPN
Advanced geofencing capabilities
Up to 15 child profiles can be added to a single account
Offers more content-blocking categories than similar products
Has a device lock feature that prevents unauthorized access
Cons
Time tracking limits aren't synced across devices
Pricing
With an annual subscription, KidsGuard's pricing starts at $8.32/month for Android and $9.16/month for iOS devices.

Brownie points to KidsGuard for its generous 30-day money-back guarantee. Don't like it? Return it and ask for a full refund.
9. iKeyMonitor — The Best Free Instagram Spy App
iKeyMonitor is trusted by over 400,000 parents in over 100 countries, and for a good reason.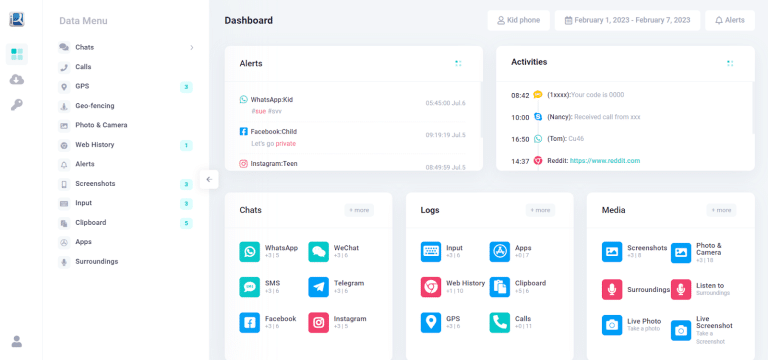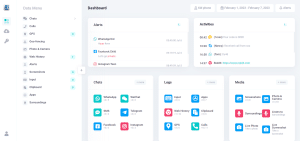 iKeyMonitor provides one of the best Instagram tracking features on the market. Along with a copy of the outgoing and incoming messages with timestamps, you also get a keylogging tool specifically dedicated to the Instagram app.
This is a great way to see all of your child or spouse's unsent messages (messages they sent and then deleted) and search queries on the app. For example, if you doubt that your partner is still hungover on their ex, the keylogging feature will tell you if they're looking up their profile or not.
Another benefit of using the Instagram spying feature is live screenshots. You can use these automated screenshots to confront the user with evidence or simply have a record of their disappearing messages on IG.
Plus, since the live screenshot feature is triggered by activity, you don't have to go through the trouble of manually setting it up. If you're worried that your kids might be spending too much time on Instagram, the screen time monitoring feature is all you need.
You can block their device during bedtime and school hours or set a limit on the total daily usage — whatever works best for you.
| | | | |
| --- | --- | --- | --- |
| Starting Price | No Of Devices | Free Trial/Demo | Money-Back Guarantee |
| $0 | 1 | Free plan | 30 days |
Pros
Enables live screen recordings
An easy-to-understand dashboard
Allows multiple sub-accounts with custom permissions
You can manage and categorize multiple devices
Lets you view monitoring logs without physical access
Cons
Add-ons cost extra
Doesn't work smoothly on iOS devices
Pricing
If you're looking for a free Instagram spy app, iKeyMonitor is what you should get. It's the only tool on the list to provide a free phone tracker for mobile devices.

That said, monitoring PCs isn't free and will cost you $29.99/month/device. Unsure? iKeyMonitor offers a 30-day money-back guarantee in case you don't like its service and want a refund. Try it today. No risk. No hassle.
TheOneSpy was specifically designed to help you catch cheating spouses red-handed. That's why its phone and Instagram tracking features are more meticulous.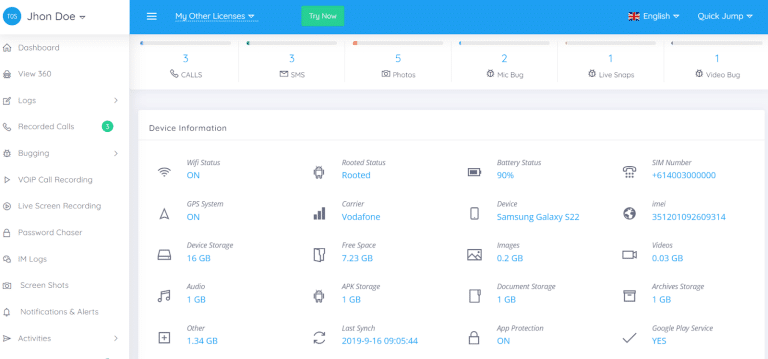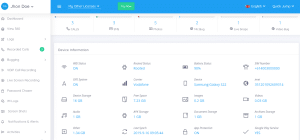 For starters, even if your spouse's (or even your child's) Instagram account is private, you'll be able to check the list of their followers and who they follow.
This feature can be used to check if your spouse is still in touch with their previous partners or with anyone who could be a threat to your relationship. In addition to checking their individual messages and shared media files, you can check their group chats too.
Plus, if anyone is sending them unsuitable messages or photos, you can break into their phone with TheOneSpy's Password Chaser feature and block that profile.
The best part about using TheOneSpy to track someone on Instagram is that it can be done without rooting. This is a blessing for those who don't want to go through the risks of jailbreaking.
Besides all this, TheOneSpy also lets you monitor the target device's surroundings. Turn on their microphone and camera remotely and catch a glimpse of everything happening around them.
In case the user lies to you about their whereabouts or company, this feature will help you catch them red-handed.
| | | | |
| --- | --- | --- | --- |
| Starting Price | No Of Devices | Free Trial/Demo | Money-Back Guarantee |
| $6.25/month – Annual plan | 1 | Demo | 14-day refund policy |
Pros
Has access to the camera on the target device
Includes real-time location tracking tools
Offers a powerful keylogger feature
Allows for unlimited device switching
Remains hidden on the target phone for surveillance
Cons
Only a few features available for iOS monitoring
Pricing
TheOneSpy has a slightly pricier monthly subscription at $22/month on its Premium plan. That said, if you get it for the whole year at once, you'll only have to shell out $65.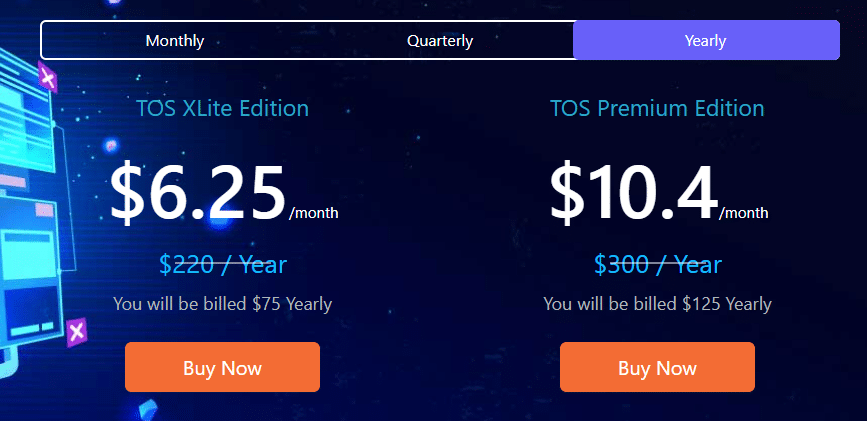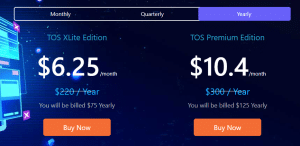 Note that the Premium plan won't give you access to your child's call recordings. To hear your child's conversations over WhatsApp, Skype, Hangout, or Truecaller, get TheOneSpy's Pro plan.
Top Apps to Spy on Instagram | 10 Best Compared
To help you decide quicker, we've created the table below to showcase the major distinctions between the top apps to spy on Instagram:
| | | | | |
| --- | --- | --- | --- | --- |
| Parental Control App | Starting Price | No Of Devices | Free Trial/Demo | Money-Back Guarantee |
| mSpy | $11.67/month — annual plan | 1 | Demo | 14 days |
| | $9.99/month — Annual plan | NA | Demo & 3-day free trial | 14 days |
| uMobix | $12.49/month — annual plan | 1 | Demo | 14 days |
| | $8.33/month — Annual plan | 1 | Demo | 14 days |
| Spyic | $9.99/month — annual plan | 1 or 3 | No | 60 days |
| | $6/month/device — 25-device plan | 1,5, or 25 | No | No |
| XNSpy | $7.50/month — annual plan | 1 | Demo | 10 days |
| | $8.32/month — annual plan | 1 | Demo | 30 days |
| iKeyMonitor | $0 | 1 | Free plan | 30 days |
| | $6.25/month — annual plan | 1 | Demo | 14 days |
Why Use An Instagram Spy Tool?
An Instagram spy app can monitor the activity of a specific Instagram account, such as tracking posts, comments, and messages.
It can be used for various reasons, such as monitoring employees' social media activity, tracking a child's online activity, or monitoring a partner's activity. Here are a few reasons to use an Instagram spy app:
Parental Monitoring
As a parent, it's natural to be concerned about your child's safety and well-being, especially regarding online activity. An Instagram spy app allows you to monitor your child's activity on the platform, such as:
The accounts they're following
The content they're viewing, and
The people they're interacting with
This can help you identify any potential dangers or risks their child may be exposed to and take appropriate action to keep them safe.
Employee Monitoring
Employers can use an Instagram spy app to track their employees' online activity. This can help employers identify employees who may share confidential information or use company devices for personal use. This is especially important in industries where information security is critical, such as finance and healthcare.
Monitoring Your Partner
While this is considered an unethical use of phone spy apps, some people may use these apps to monitor their partner's activity. This can include tracking their Instagram posts, comments, and messages, and it can be done to monitor their behavior or to gather evidence of infidelity.
How Do Instagram Tracking Apps Work?
Instagram spy apps work by gaining access to the target device through jailbreaking, rooting, or obtaining iCloud credentials.
Once the app is installed, it disguises itself as a system app. It uses a combination of screenshots, keylogging, and notifications to create a complete picture of the target's activity on Instagram.
This allows users to monitor the target's Instagram direct messages, view links, their stories and likes, photos, and videos exchanged, and even see deleted messages.
Do I Need Physical Access to the Target Phone?
In most cases, physical access to the target phone is required to install an Instagram spy app. This is particularly true for Android phones, as there's no way to install a spy app without having physical access to the device.
However, some spy apps can be installed on iPhones without physical access by using iCloud backup and having the login credentials and two-factor authentication code for the target phone.
Once the Instagram spy app is installed and has the necessary permissions, it can remotely monitor the target's Instagram activity and read their direct messages without needing further physical access to the device.
Free Instagram Spy Apps Vs. Paid | Which is Best?
Paid Instagram spy apps are superior to free alternatives. Free apps like Mobile Tracker may need more performance and reliability than paid options.
Some spy apps don't offer Instagram spying in their free version. Additionally, free Instagram spying apps may be less reliable, have weaker features, and even be a scam or malware.
While some tools may offer free versions, these tend to be limited in functionality compared to premium options. If you're unsure which Instagram spy app to use, try risk-free options with free trials, guarantees, and demos. Budget-conscious users can also opt for long-term plans for value for money.
How to Use An Instagram Spy App | Step-by-Step Guide
Follow these steps to install and use mSpy on Android or iOS devices:
Step 1 – Setting Up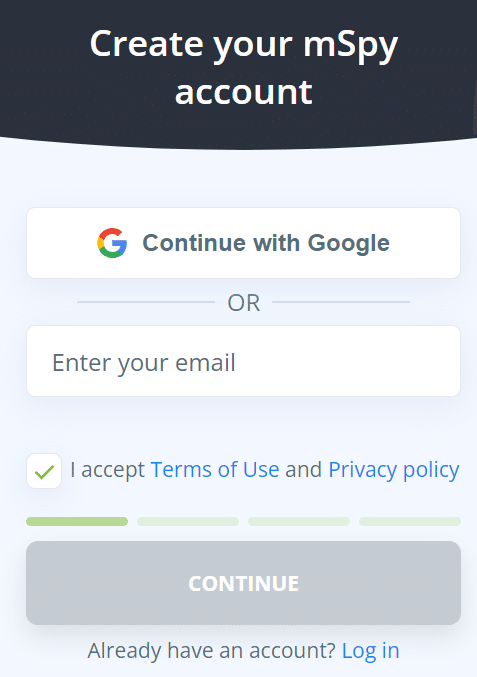 Select "iOS" or "Android" when asked about the operating system of the monitored device.
Pick one of the three subscriptions.
Open up the email from mSpy and jot down the link to your registration code, Control Panel, Username, Password, and download link.
Step 2 – Additional Steps
For iOS devices — Ensure the iPhone is jailbroken and has internet access. For Android devices — Make sure you've disabled Play Protect.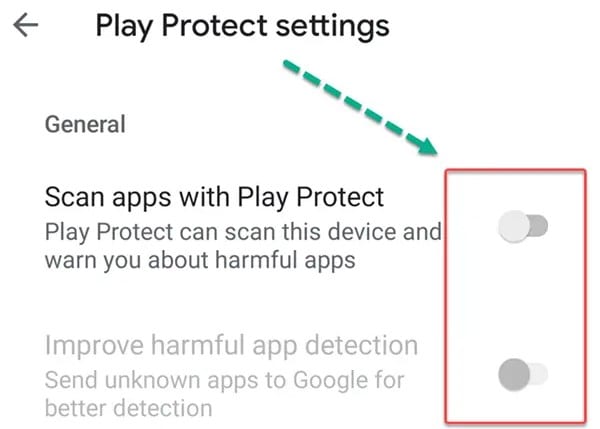 Step 3 – Download mSpy
Download the software and install it.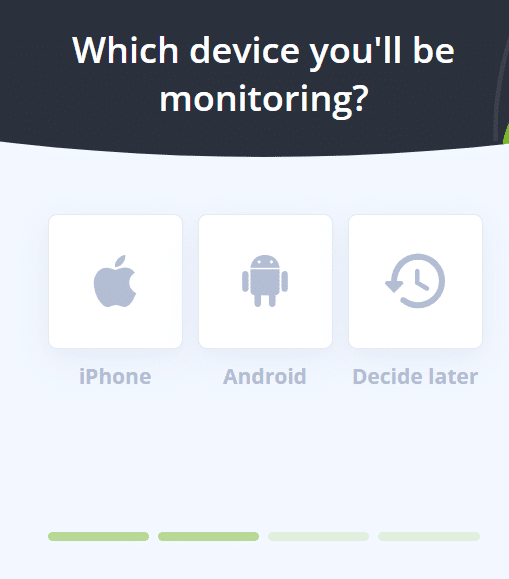 Step 4 – Start Spying on Instagram


For iOS Devices:
Navigate to "Technology Repository,"
Tap "iPhone Internal Service,"
Click "Accept," and fill out the prompts that pop up on your homepage
Tap the "mSpy" icon, and accept their license agreement
Input your registration code, and restart the target phone
For Android Devices:
In case there's a prompt at the button on your screen,
Tap "Open" and then "Settings,"
Then click "Allow from This Source,"
Tap "Next,"
Click on "Open," and press "Agree" on mSpy's License Agreement
Allow any permissions from the app
Input the Registration Code you got via email
Click "Complete Installation."
Instagram Spy FAQs
Do Instagram spy apps work?
Are Instagram spy apps legal?
What's the best Instagram spy app?
What's the best free Instagram spy app?
What can you see with an Instagram spy app?
Do I need to root or jailbreak the device to spy on Instagram?
Conclusion | What's the Best Instagram Spy App in 2023?
Our selection of the best Instagram spy app in 2023 includes options to suit any requirement. Whether you need an app just to view online activity or one that can block the app altogether – you won't be disappointed.
mSpy earns its spot at the top of our list as the top spy app for Instagram thanks to its powerful features, such as effortless social media monitoring, low resource usage, a user-friendly dashboard, and responsive customer support. Try it now without risking a single penny with the 14-day money-back guarantee. Don't like it? Get a full refund.