Our FlexiSPY review aims to break down one of the best spy apps around. Spy software helps you track every move of the target device — be it your child, spouse, or even employee. These apps have become important in an age where digital predators are on the rise, plus, you can use them to protect your child from cybercrime, digital theft, and online scams. Similarly, you can also catch a cheating partner or a disloyal or unproductive employee.
However, choosing a trustworthy spy app can be quite a headache. That's where FlexiSPY comes in. It's jam-packed with features, and its compatibility is one of the best we've seen; it gives you all the tools you need to monitor your target device. Read on as we'll walk you through each of its features and also help you with installation.
How Does FlexiSPY Work?
FlexiSPY's primary job is to track and extract data from the target phone. It allows you to record their calls, check and intercept their messages, monitor their social media activities, and keep an eye on their location, amongst others. However, if you wish to use all the features it offers, you need to jailbreak the target device.
For those who don't know, manufacturers add an extra layer of protection to the devices so that third-party applications or hackers can't access the system's core infrastructure. The process of rooting or jailbreaking removes these protective layers, granting you privileged access to the device and its files.
If you check FlexiSPY's pricing page, you'll notice that some features, such as Phone Interception, are marked with an asterisk. These are the advanced features that won't work without jailbreaking.
However, if you're ready to let go of some advanced features, it's one of the best no-jailbreak spy apps and can also spy on an unrooted device. Here you'll get access to features like gallery access, call logs, and browser monitoring. Whichever version you choose, and regardless of the device, one thing that remains common among all is the need for physical access.
In order to download and set up the FlexiSPY app on a device, you need physical access to it. But don't worry, once you're done, you can hide the app, and it'll stealthily monitor the phone — the target user will never find out.
Is FlexiSPY Good? The Pros and Cons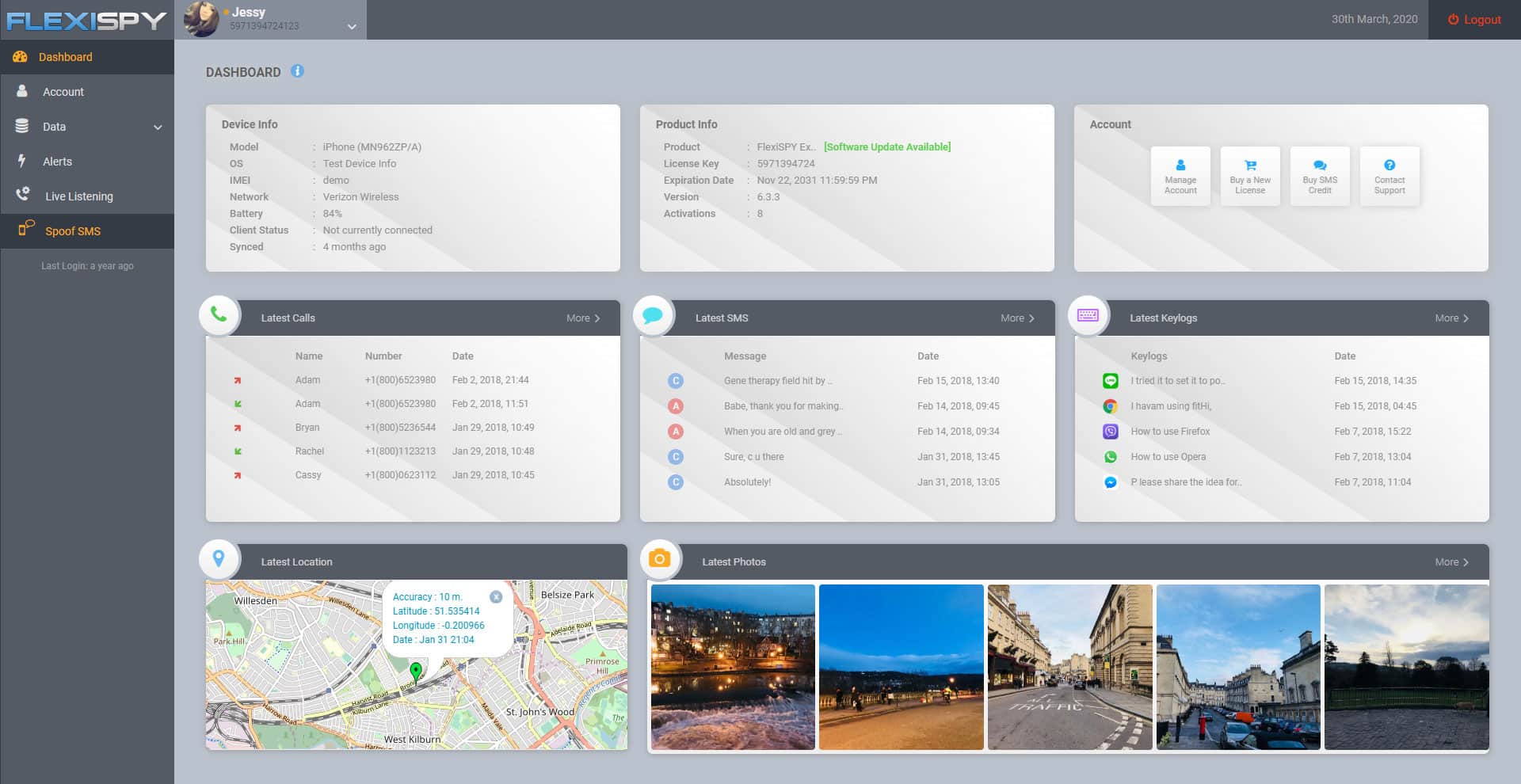 Here's a glimpse into the advantages and disadvantages of using FlexiSPY:
Pros
Monitors a wide range of social media apps
If the target device's SIM card changes, you'll be notified
One of the best GPS trackers as it remains hidden from the target user
It lets you record the device's surroundings — both audio and video
If you're tracking a computer, it lets you see the USB name that's been connected to it and what files have been transferred
You can buy phones from their website that already have the app installed and are ready to use
Cons
The installation process is way too lengthy
Not the most budget-friendly
How Much is FlexiSPY?
FlexSPY is one of the best phone spy apps when it comes to affordability, especially on the shorter-term plan. It delivers excellent value for money, and you won't regret the purchase. Here's a look into its subscription plans.
FlexiSPY for Android and iPhone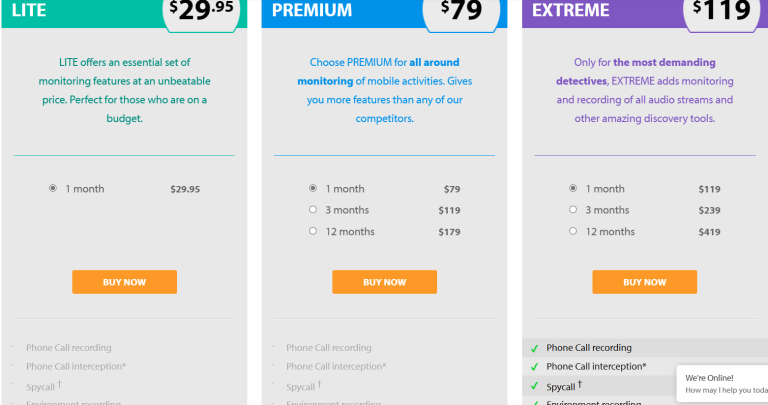 The prices are the same for both Android and iOS devices. However, there are a few differences when it comes to the features. For example, the Lite plan only offers basic phone monitoring features such as call logging, gallery access, and calendar access.
It lacks features like social media call recording and social media message monitoring — which are only available on the Premium and Extreme plans. Similarly, the surround recording feature, where you can use the device's microphone and camera to record the surroundings, is available on the Extreme plan.
iPad & Computers
FlexiSPY offers a single plan each for iPads and computers, as follows: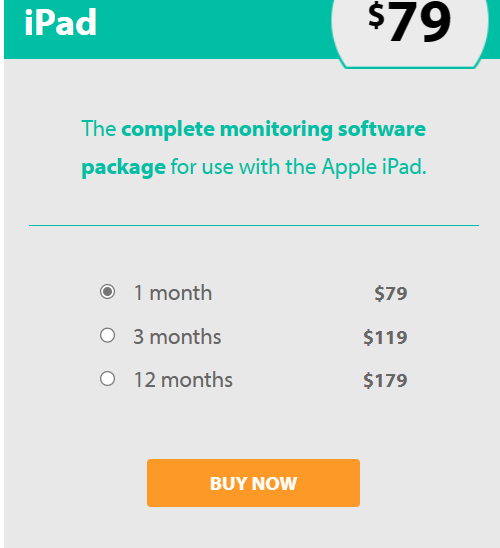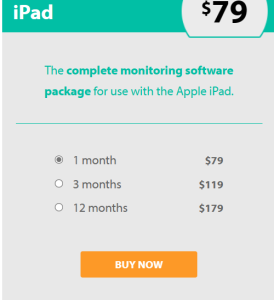 The pricing is the same for both iPad and computers. Again, most features are the same except for a few additional benefits you get on computer tracking.
For example, if you're tracking a PC, you can see if any new USBs have been connected to it. On top of that, you can check the files that have been transferred through that USB or the files that have been printed from the computer.
Portal
The portal is a part of every FlexiSPY plan and is available for free. It's basically the online interface where you can see the data that has been captured from the target device. You can also send remote commands to the target device using this same portal.
A Look at FlexiSPY's Features
Eager to learn more about FlexiSPY's plethora of features? Dig in as we'll now discuss in detail each of FlexiSPY's key features.
Phone Call Recording & Interception
Tacking messages alone might not be enough. If you want to get to the root of every conversation the target user has, recording their phone calls is the best approach. Unlike other spy apps like uMobix, which only keeps track of the call logs, FlexiSPY actually records each conversation.

It'll either record all the incoming and outgoing calls, or you can choose specific contacts, and then it'll record only those conversations. Once a call has been recorded, it'll be uploaded to your dashboard, where you can either listen to it online or download it on your device.
Along with regular SIM-to-SIM calls, FlexiSPY also lets you record calls placed through social media platforms like Facebook and Viber. This is a unique feature you won't find on other popular spy apps such as mSpy and Cocospy.
If you manage to root their device, you'll also be allowed to intercept their phone calls. This means you'll be able to tap into a phone call happening in real-time and listen to the conversation.
Environment Recording
This is a must-have for parents. It lets you use the target phone's camera and microphone to record its surroundings. This way, if your kids are being bullied in school, you'll not only find out immediately but will have evidence to take appropriate action.
This feature can also be used to ensure the general safety of the target user. Whether they're at work, school, or traveling, you'll always be aware of their surroundings.
The reason we recommend FlexiSPY for social media monitoring is that it covers a wide range of applications. Along with Instagram, Facebook, and Snapchat, it also helps you track the target user on Discord, Tiktok, Line, Viber, and Skype.
While most other spy apps are limited to Tinder spying when it comes to tracking dating apps, FlexiSPY stays a step ahead by helping you track their interactions on Bumble, OKCupid, and Badoo. Such extensive app coverage makes it almost impossible for the target user to escape your radar.
Location Tracking & Geo-Fencing
FlexiSPY helps you track the target device's location in real-time. You'll get a map-like view where you can see where the device currently is and where it has been before. The map view makes it easier to recognize their location through landmarks and street names (both will be available on the app). In case you want to catch them red-handed, this information will definitely help.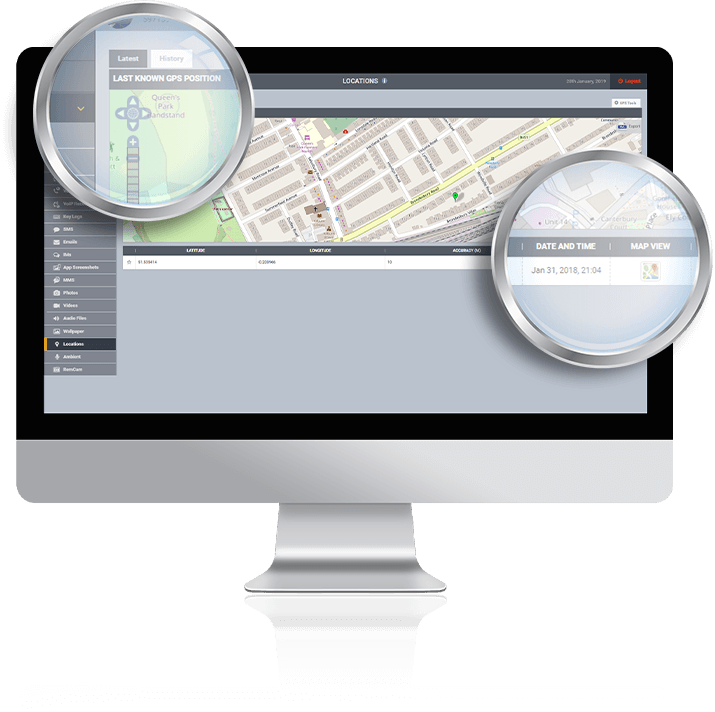 The app understands that it's impossible for anyone to constantly track someone's location. Hence, it offers another location-tracking feature called geofencing. Under this, you get to create a virtual boundary on the map, and anytime the target device crosses this boundary, you'll be notified.
FlexiSPY rounds up its GPS tracking service nicely by ensuring that the target user never finds out that their location is under the scanner — a hidden GPS tracker, if you may.
App Monitoring
App monitoring is a must-have feature for parental control apps, and FlexiSPY knocks it out of the park. It's important to know what your kids do with their phones, what apps they use, and how much time they spend on them. Without a little control, your kids might engage with age-inappropriate content or be simply addicted to a certain app.
Thanks to FlexiSPY, you'll get detailed timestamps of their app usage, including the time when the app was launched, the time when it was closed and how frequently it was used in a certain period and the duration of each session.
To know what they're doing inside each of these applications, you can use FlexiSPY to take screenshots of their activities. Using this information, you can easily identify the top favorite apps of your child and, if needed, talk to them if you don't find it appropriate.
Remote Commands
FlexiSPY provides you with certain remote commands that you can use to control the target device. For example, suppose the target device belongs to your child, and they receive an SMS containing certain words you don't find suitable for a minor.
In that case, you can actually intercept the message, rephrase the text and send it again. Your child will never know that the message has been altered. Similarly, you can remotely restart their device, turn features like notifications and silent mode on or off and also check the device's battery levels.
Keylogger
Keylogger software is ideal for people who don't want to miss a single update from the target device. With all the other features, you only get updates about the actions that have been completed.
For instance, SMS monitoring will show you the messages sent and received by the target device. But what about incomplete actions and search queries that never saw the daylight? That's where FlexiSPY's keylogger comes in.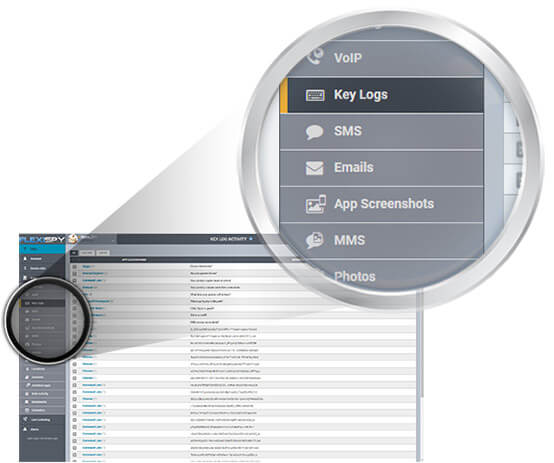 If the target user types out a scandalous message but deletes it before sending it to someone, you'll still be able to read it. Also, since the keystrokes are recorded chronologically, you can use this feature to extract passwords from the target device.
The basic function of the keylogger is to record everything that's typed on the target device. Every keystroke they make will be recorded in the same order so that you can check everything they type on their device.
USB Connection & File Transfer Monitoring
If you're monitoring a computer, FlexiSPY will help you keep an eye on the files that are shared. You'll have the names of the files that have recently been transferred, along with the names of the USBs that were connected to the system in the recent past.
Sometimes, people name their USBs and pen drives after themselves or things that can be used to recognize them. If that is the case, you'll not only know which files have been compromised but also find the person behind it.
There's also printer tracking. As the name suggests, it tracks all the documents that have been printed from the system.
Both these features are best suited for people who carry confidential documents on their system. No matter which method the intruder opts for, if a file goes out of your system, you'll definitely find out.
What Devices Can I Use FlexiSPY On?
Compared to spying apps like mSpy and uMobix, FlexiSPY gives you access to a wider range of devices.
Android
FlexiSPY is a capable spy app for Android that works on all Android devices running on OS version 4 or above. The installation process will be slightly different for different OS versions. However, you won't have to worry about that if you let the FlexiSPY team help.
You also can choose whether you want to download the app on an unrooted Android phone or a rooted one. Speaking of the models, you'll find separate installation guides for Huawei, Google Pixel, Samsung, and Redmi. If you're using any phone other than these, you'll find a general Android installation guide under the "Other" section.
iPhone
FlexiSPY works on a number of iPhone models. The best part is that you can actually check if your phone is compatible with the app or not through Flexispy's iPhone testing feature. Here, you can enter the version of the iPhone you want to track, followed by the version of the OS, and check if FlexiSPY will work on the device or not.
If you click on the drop-down menu, you'll see that FlexiSPY works with all iPhone models starting from iPhone (1st Gen) and going all the way up to iPhone 14 Pro Max. In case your model isn't compatible with the app, you can either wait for an update (which happens quite frequently), or you can buy a phone that comes with FlexiSPY pre-installed from their website.
iPad
Installations for iPads, it's a tad bit simpler. You don't have to go through the trouble of testing compatibility — it works for all iPads running on iOS 6.0 to iOS 14. X.
If you don't know your iPad's OS version, go to Settings, click "General", and then Click on "About'. Here you'll find a bunch of information about the make and model of your iPad, including what version of iOS it's running on.
Computer
FlexiSPY works with both Windows and macOS. Regarding Windows compatibility, it supports Windows 7, 8 (and 8.1), 10, and 11. Here's how you can check the Windows version of your system:
Click on the Start button.
Type Run in the search box and press "Enter".
Next, type "winver" in the Run Window and press "enter". The Windows version will be displayed.
In terms of Mac compatibility, FlexiSPY supports MacOS Mavericks, Yosemite, El Capitan, Sierra, High Sierra, Mojave, Catalina, and Big Sur. Here's how to check the version of your macOS system:
Click on the Apple icon at the top left-hand corner
Tap on "About This Mac". The version of your macOS will be shown.
For both devices, you'll need physical access to the system, an internet connection, and the login credentials of the target user. If you're trying to track a macOS, the device will also need at least 8GB of RAM to accommodate the app.
Is FlexiSPY Legit? A Look at FlexiSPY Reviews
FlexiSPY's reviews are proof of its popularity. During our evaluation, we came across reviews from two renowned review platforms— Trustpilot and SiteJabber that showed us what the public thinks about FlexiSPY.
On Trustpilot, FlexiSpy has received a total rating of 4.0/5 based on 210 reviews. Out of this, 84% of people have given it a 5-star rating, and 6% have given it 4 stars. This means only 10% found its service worth 3 stars or less. The numbers already looked great, and on digging deeper, we found tons of positive feedback.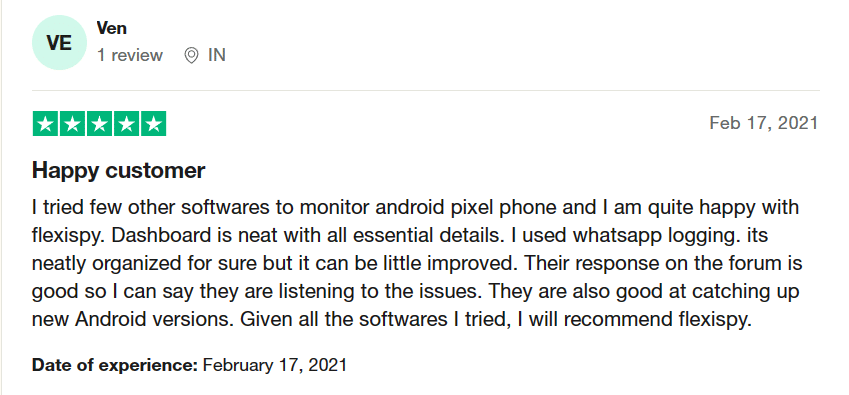 You'll also find some other users sharing their experience with Clevguard, expressing why they think FlexiSPY is a better choice. Some users have also mentioned moving from mSpy and XNSpy to FlexiSpy. No hate for Clevguard and the other spy apps here — they're equally popular and competent.
However, when you see users leaving a well-known spying app for FlexiSPY, it's safe to say that the latter is offering something better than its competitors. On Sitejabber, FlexiSPY has received a total rating of 4.53 based on 112 ratings. In the last 12 months, 88% of the reviews shared on FlexiSPY were positive. Here 77% of the total reviewers have given it a 5-star rating, and the remaining are 4 stars.
Overall, users love how easy it is to use FlexiSPY, plus there's praise on how fast and helpful the customer support team is. The ratings have been based on Service, Value, Shipping, Quality, and Returns — most of the users have given 5 stars on these parameters.
FlexiSPY Vs. Other Spy Apps
Here's a quick glimpse into FlexiSPY's benefits compared to its competitors:
| | | | | | |
| --- | --- | --- | --- | --- | --- |
| Spy App | Monthly Price | Annual Price | Devices Tracked/Subscription | Money-Back Guarantee | Compatibility |
| FlexiSPY | $29.95 | $179 for the year | 1 | Refund is handled on a case-by-case basis | Android, iOS, Computer, iPad. |
| mSpy | $48.99 | $11.66/month | 1 | 14-day refund | Android and iOS |
| EyeZy | $38.39 | $7.99/month | 1 | 14-day guarantee | iOS, Android, tablets |
| uMobix | $49.99 | $11.66/month | 1 | 14-day guarantee | Android and iOS |
| Cocospy | $49.99 | $11.66/month | 1 | 14-day guarantee | iPhones, iPads, Androids, tablets |
As you can see from the table above, FlexiSPY is compatible with way more devices than other competing spy apps like uMobix and mSpy. This is a huge plus if you want to track multiple people at once and they all use different devices.
It's also comparatively cheaper than the alternatives. Its cheapest plan starts at $29.95/month, whereas the cheapest plan for Cocospy and uMobix is $39.99/month and $49.99/month, respectively.
FlexiSPY Installation – How to Use FlexiSPY
The best part about using FlexiSPY is when you purchase a subscription, you get a detailed installation guide attached to it. This guide isn't available to the public; it's only for customers who have purchased a subscription. However, if you're having trouble understanding their installation guide, here's something to help you out.
Android
Let's look into the Android side of things of FlexiSPY:
Step 1 — Visit FlexiSPY's Website
To start with, click "Compatibility" from the top header menu. Next, choose what type of device you want to track. Your options will include Android, iPhone, iPad, and Computer. Here, we've selected Android.
Step 2 — Next, Scroll Down to the Compatibility Section
Here you can enter your phone's brand name and see if FlexiSPY supports the device. This is a great way to check whether the app will work on your phone before you actually invest in it.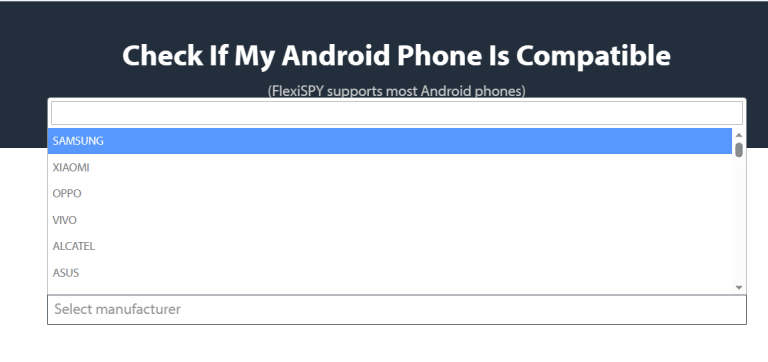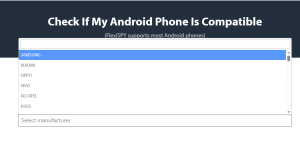 If it's compatible, go to "Features" again from the same top header menu and click "Android".
Step 3 — Choose a Plan
Once you click on Android, you'll see a drop-down menu consisting of their 3 plans for Android. Go through the features and pricing and select the one you like. Click on "Buy Now" and complete the purchase.


Step 4 — The Installation
Once the subscription has been successfully purchased, you'll be led to your own dashboard, where you'll see two options right in the center — Installation Service and Manual Installation.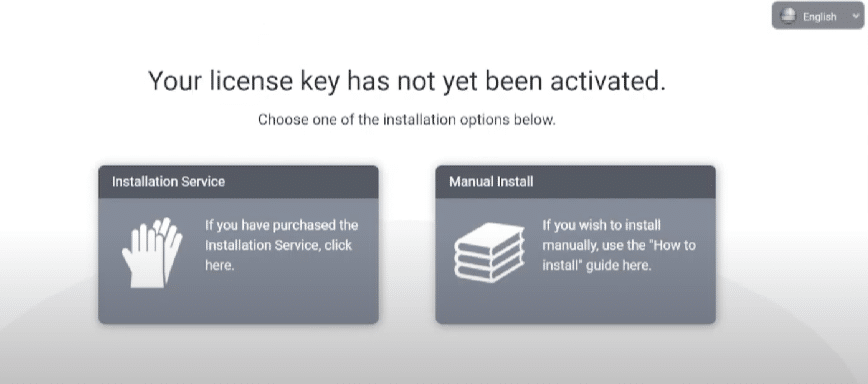 If you pick Installation Service, the FlexiSPY team will help you set it up. But if you choose manual installation, you'll be given a how-to guide. To make it quick, go for "Installation Service". If you still want to install it manually, keep reading.
Installing Manually
Once you click "Install Manually", you'll be asked to choose the device you wish to install FlexiSPY. Here we've chosen unrooted Android. You can also choose rooted Android devices.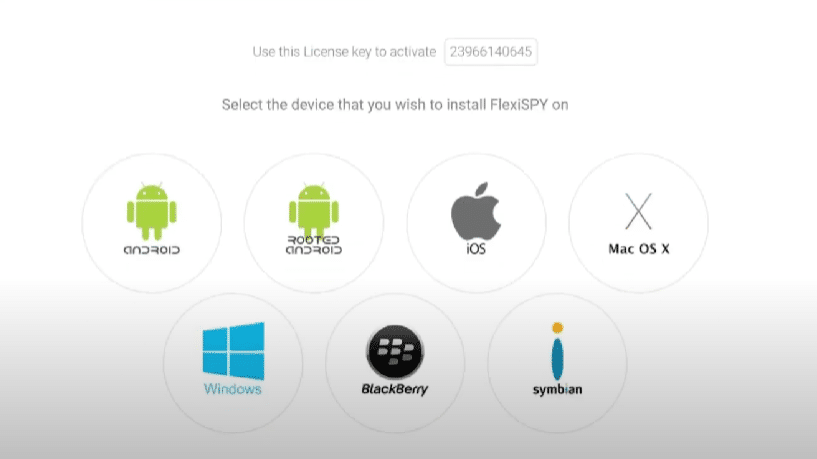 On this page, you'll also find your license activation key. Remember to copy that; you'll need it later in the process. Now, after you click on "Unrooted Android", you'll be asked a few questions, such as whether you've checked the device compatibility or not and if you have the password to the target device.


Under that, you'll see a list of mobile brands like Redmi, Google Pixel, Samsung, and Huawei. If you don't have any of these phones, click "Others". For this guide, we have chosen Samsung.


After choosing the phone, you'll see a list of prerequisites roll down. For example, you'll be asked to disable security settings. To do so, open the Play Store and tap on the profile icon. Next, tap on Play Protect and click on the green button labeled "Turn Off".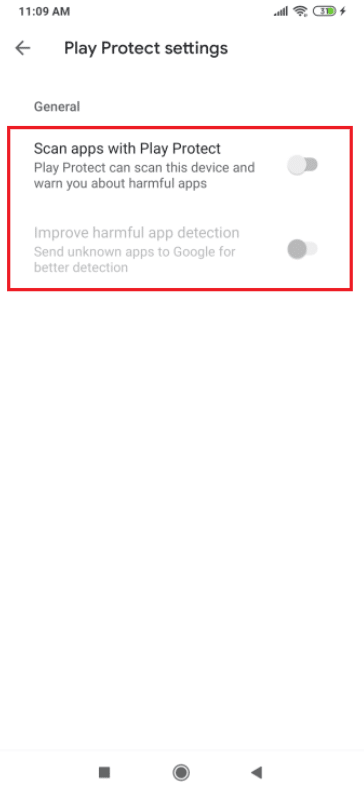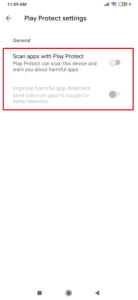 Next, you'll be asked to go to the general settings (gear icon on the top-right corner of the screen) and turn off all the scanning options. Next, in order to download the app, you'll need to enable unknown sources.
To do so, go to the App list on your phone, select Play Store, and search for "Install Unknown Sources" (from the search above). Once you find the option, click on it, select Chrome from the list on the next page, and turn on the option to "Allow From This Source"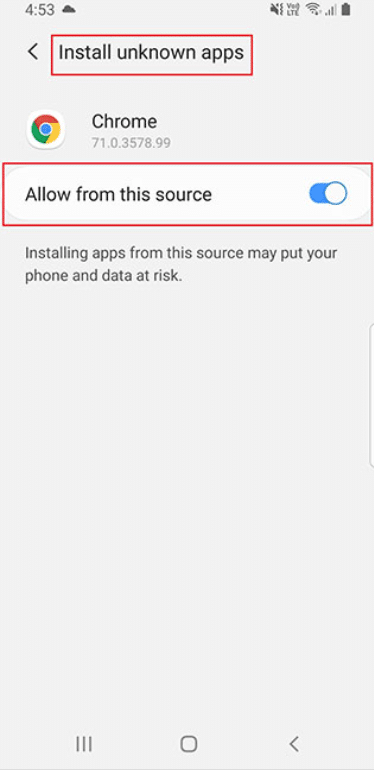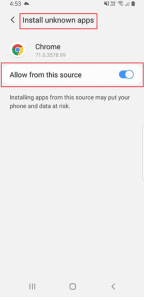 Step 5 — Disable Device Security
To do so, go to Settings and choose Apps followed by Device Care> Storage>Manage Storage>Clear Data. These steps work for Androids 11 or above. If you have a lower OS version, go to Settings and then App.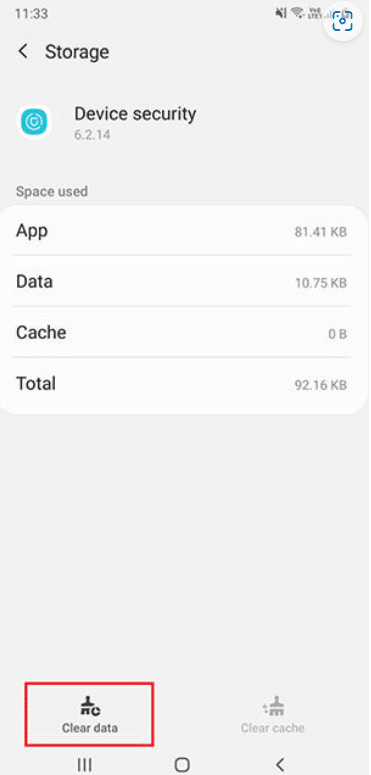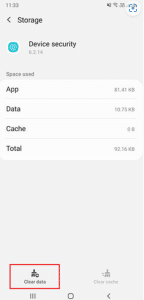 Then click on the three dots in the top-right corner. Then click on Show System Apps> Device Security>Storage>Clear Data>Delete/Ok. The next step is to disable the Google Play notification.
This is to ensure that once the app has been downloaded on the target device, the target user won't get any notification from Google Play that might raise their suspicion. To do so, again go to your device's Settings and open your App list. Scroll down and find the Google Play store, click on it, and toggle the button to disable notifications.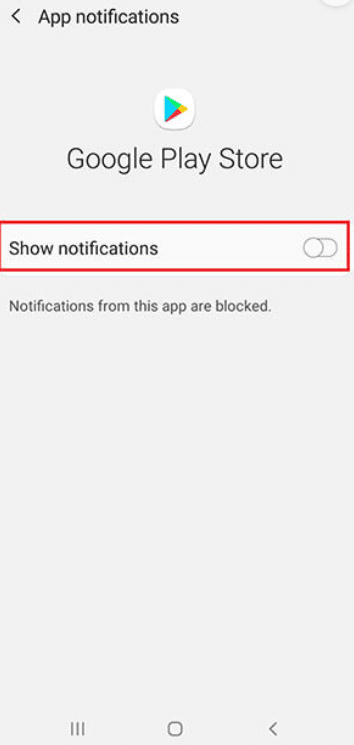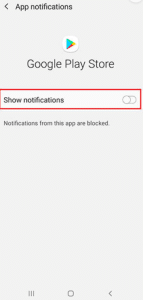 Step 6 — Download FlexiSPY
Once you're done with all the prerequisites mentioned above, it's time to download the app. First, open your phone's browser and visit the website https://djp.bz/. On the next screen, check the box that says, "I am a customer, and I have a license code," then click on "View all software"
Next, click on the Android icon to begin the download. Wait for a few seconds for the download to complete, then tap on the file to start the installation.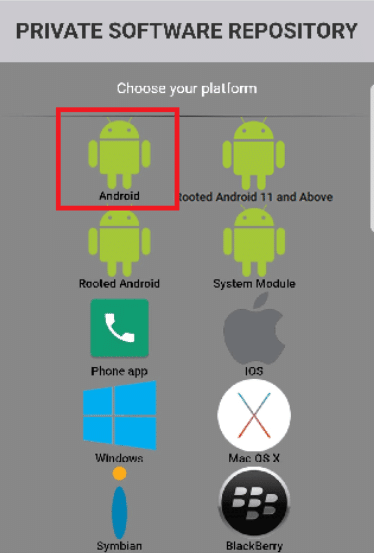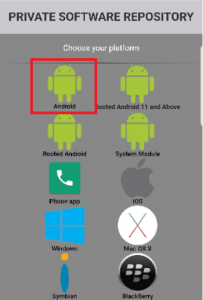 You'll be notified through a pop-up when the installation is done. Click on "Open" to proceed. Next, you'll be asked to choose what services you want to sync with the app. You'll find a long list of options, including phone tracking, access to contacts, gallery, location, etc. Beside each option, you'll find a toggle button in green that you can use to select or deselect a service. Once you're done selecting, click on Continue.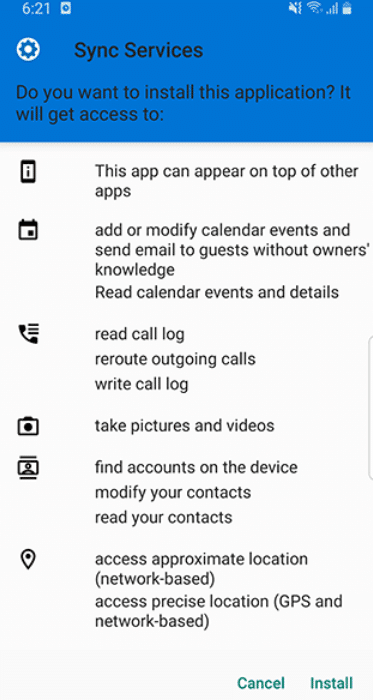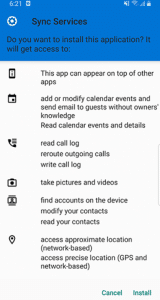 On the next page, you'll be allowed a Read License Agreement. Once you're done reading, check the box that says "I accept the license agreement" and click on Continue.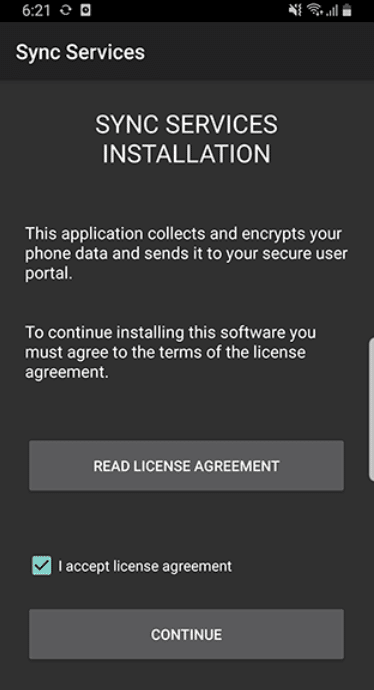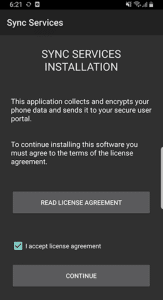 After that, you'll be asked if you want to activate the device admin app. You'll find the Activate button on the bottom-right corner of the screen. Now, you'll get a pop-up asking if you want to keep the app running in the background. Here you can also choose whether you optimize FlexiSPY's battery usage or let it run free. To proceed, click "Allow".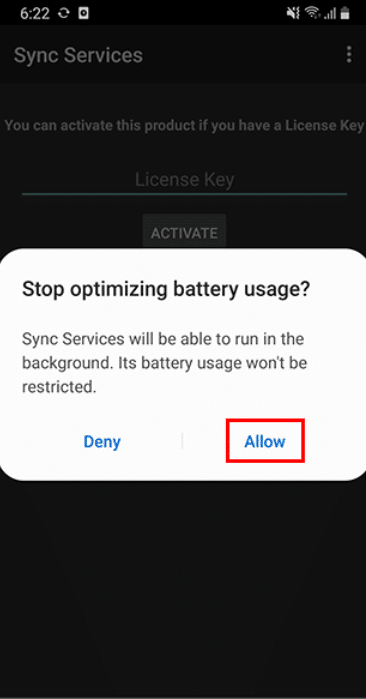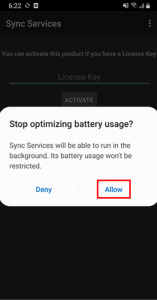 After that, enter the license key that you were given earlier and press "Activate". It'll take a few seconds for the app to activate. From here, you'll be asked if you want to keep the app visible on the target phone or hide it. Click on "Yes" if you wish to keep it hidden.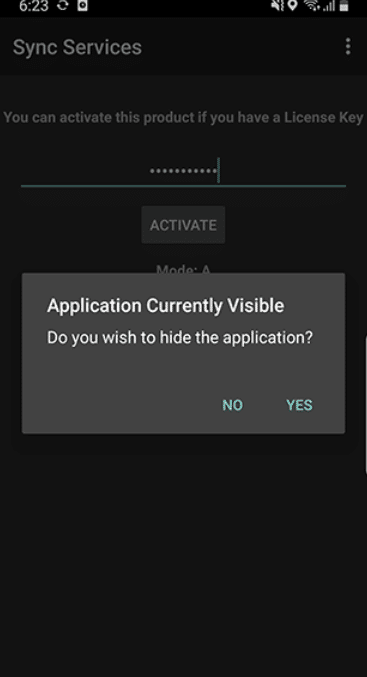 To hide your trail, make sure you go to the browser and close all the tabs and clear the browsing history. And that's it. FlexiSPY has been successfully installed and is ready to track the target device.
iPhone
The process is pretty similar for iPhones. The first few steps, where you buy your subscription and enter your dashboard, are the same. Once you've reached your dashboard, follow these steps:
Step 1 — Download the Cydia App on the iPhone
This is a third-party jailbreaking application that lets you download apps that aren't on the Apple Play Store. Next, open the app, click on "Manage" from the bottom menu, and click on "Sources". Select "Edit" followed by "Add" and enter the URL https://ios.dmw.cc in the window that opens and then hit "Add Source".
It'll take some time to verify the URL and download the package. After it's done, you'll get an option to "Return To Cydia"; click on that. The URL you added will now show up on the list of sources. Tap to open it and then click on System Core. Next, click on "Install" followed by "Confirm" to download the app.
Step 2 — Restart SpringBoard
Once the download is complete, click on the "Restart SpringBoard" button. After a few seconds, you'll be taken back to your screen, where you'll have to make a call to this number— *#900900900. Make the call and disconnect it immediately —you'll be automatically led to the app's settings page.
From the menu of the settings page, hit "Activate", enter the activation/license key you received earlier, and press Activate again. If you can't find it, go to your dashboard, and scroll down the left-hand-side menu until you find the "Account" option. Open it, and you'll find the key.
You'll receive a pop-up notification once the app has been successfully activated. Click "Ok" and go back to your home screen.
Step 3 — Configuring the App
Next, you'll have to make another phone call to the number— *#+" your activation code". Dial it and disconnect the call immediately. You'll be taken to the app's settings page once again.
Now, click on "Configure" and turn off Cydia's visibility on the phone by toggling the button next to it. Once you do that, go back to your home screen, and you'll see the Cydia app icon is gone.
Step 4 — Use FlexiSPY
That's it! FlexiSPY has now been successfully installed in the target device and is ready to track it. It's important to note that there is more than one way to install FlexiSPY on the target device. Using Cydia on iPhone was one method, and the process is slightly complicated for whichever device you choose.
That's why it's better to opt for their installation service and let the team take care of it for you. Beyond this, if you don't want to go through installation hassle, you can simply buy a FlexiSPY preinstalled device. It's perhaps the only online device monitoring software that offers phones that have the app installed by default.
You'll have a wide range of phones to pick from, and you can have them delivered to your doorsteps. You can also have them gift-wrapped if it's for special events like birthdays or anniversaries.
Refund Policy & Payment Options
FlexiSPY's refund policy is one of the most stringent in the industry — you'll only get a refund if a technical error makes it impossible for you to use the app. To qualify for a refund, you first need to reach out to the team and explain your issue. Then their customer support team will first try to fix it for you, and only if they're unable to fix it will you get a refund.
It's important to note that the refund amount will only include the subscription price. If you opted for their paid installation service and the app malfunctions after the installation, you won't get any refund on the installation charges. In case the installation itself is unsuccessful, the entire amount will be refunded.
FlexiSPY has also listed down reasons you won't qualify for a refund. Some of the mentioned scenarios include:
If you lose access to the target device
The app was removed by an antivirus
The target phone was factory reset
Also, refunds are only applicable for online banking. If you use wire transfers, you won't be eligible for any refund under any circumstances. You get a lot of payment options to choose from. Apart from Wire Transfers, you can also go for PayPal, Visa, and Mastercard.
FlexiSPY is very strict about its refund policies, so make sure you go through all the rules and regulations before you make a call. You'll find more information about FlexiSPY's refund policy on their website.
How We Tested FlexiSPY
Our team of cybersecurity experts have a wide range of experience when it comes to reviewing security and phone spy apps, so they're well-placed to compare products and to identify the features that really make a difference.
To give you a complete picture of how FleixSPY works, we've explored the product's features and functionality and its usability to get a sense of how it works in the real world for tracking and monitoring devices.
A particular area we make sure to cover is to review online customer feedback from the web to provide a perspective on how real consumers experience the product and the pros and cons they identify when using it in everyday life.
We've also looked into FleixSPY's different plans and the customer service and support that the company offers. It's important that products provide value for money, but in this niche, they really need to be failproof as well.
Based on this, we set out to provide a detailed, objective overview of FleixSPY's offering, its capabilities, and how it stacks up against its competitors to provide you with all the information you need to determine if it's a fit for your circumstances.
Spy Apps Resources and Materials
Our team are experts on mobile, and we've researched and reviewed a wide range of other software tools for tracking and monitoring devices, including:
2023 FlexiSPY Review Conclusion
FlexiSPY is the perfect value-for-money spy app you've been looking for. Features like extensive social media and dating app monitoring, remote commands, and USB data transfer details are some of its unique offerings. Besides, it offers live environment recording, geofencing notifications, keylogger, and call and SMS monitoring — features you absolutely need to track someone down.
FlexiSPY's features work as advertised and have a lot of positive user reviews. You can even track iPads and PCs — something not most spy apps offer. All in all, FlexiSPY is a trustworthy spy app that gets the job done.
FlexiSPY FAQs
Does FlexiSPY really work?
Is FlexiSPY a computer spy software?
Can FlexiSPY be uninstalled remotely?
References