In this iKeyMonitor review, we'll explore whether this tool is worth consideration. Whether you're looking for the best spyware apps for Android, iPhone, or computers, it's hard to find a reliable and affordable parenting control app. Especially when it's common that monitoring apps don't work or have hidden fees. iKeyMonitor is one of the few reliable parental control apps with affordable and feature-rich premium plans.
In this iKeyMonitor review, we'll focus on the benefits of this popular parental control app and break them down for you. Besides crucial features and interface quality, we'll look at iKeyMonitor reviews, cost-effectiveness, and more. Read on to learn what we discovered after putting iKeyMonitor to the test.
Table of Contents
Table of Contents
What is iKeyMonitor?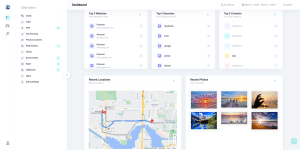 iKeyMonitor is a parental control app that helps busy and concerned parents keep track of their children. It's one of the most popular monitoring apps in the world, with a user base of over 400 thousand parents in over 100 countries.
iKeyMonitor allows parents to rest easy knowing their child's location, contact list, browsing history, interests, and habits. Besides being invaluable to parents, iKeyMonitor is a superb solution for monitoring your partners or employees.
It can help you confirm or dispel suspicions regarding a potentially unfaithful partner or employee. Beyond this, monitoring your employees using company devices can help you prevent or discover data leaks that could harm your business. iKeyMonitor also allows you to block websites and apps, ensuring your company devices are used only for work.
Unlike most monitoring apps, iKeyMonitor iPhone and Android apps are well-designed. They don't require you to be a tech genius to use them, but tech-savvy users will find configuring their more advanced features enjoyable.
iKeyMonitor Pros and Cons
We'll start this iKeyMonitor review by highlighting its benefits and flaws. You'll notice that this parental control app has far more pros than cons:
Pros
Offers advanced features
Boasts remote control capabilities
Discreet and tamper-proof
Beginner-friendly interface
24/7 live chat customer support
Accurate GPS tracking and geo-fencing
Free plan + Multiple paid options
Cons
The all-in-one plan is relatively expensive
Fewer features for monitoring iOS devices
iKeyMonitor Price – What Does it Cost?
iKeyMonitor offers flexible premium plans that you can tailor to your needs by purchasing additional features separately unless you subscribe to the "Full Plan," which already includes all the advanced features.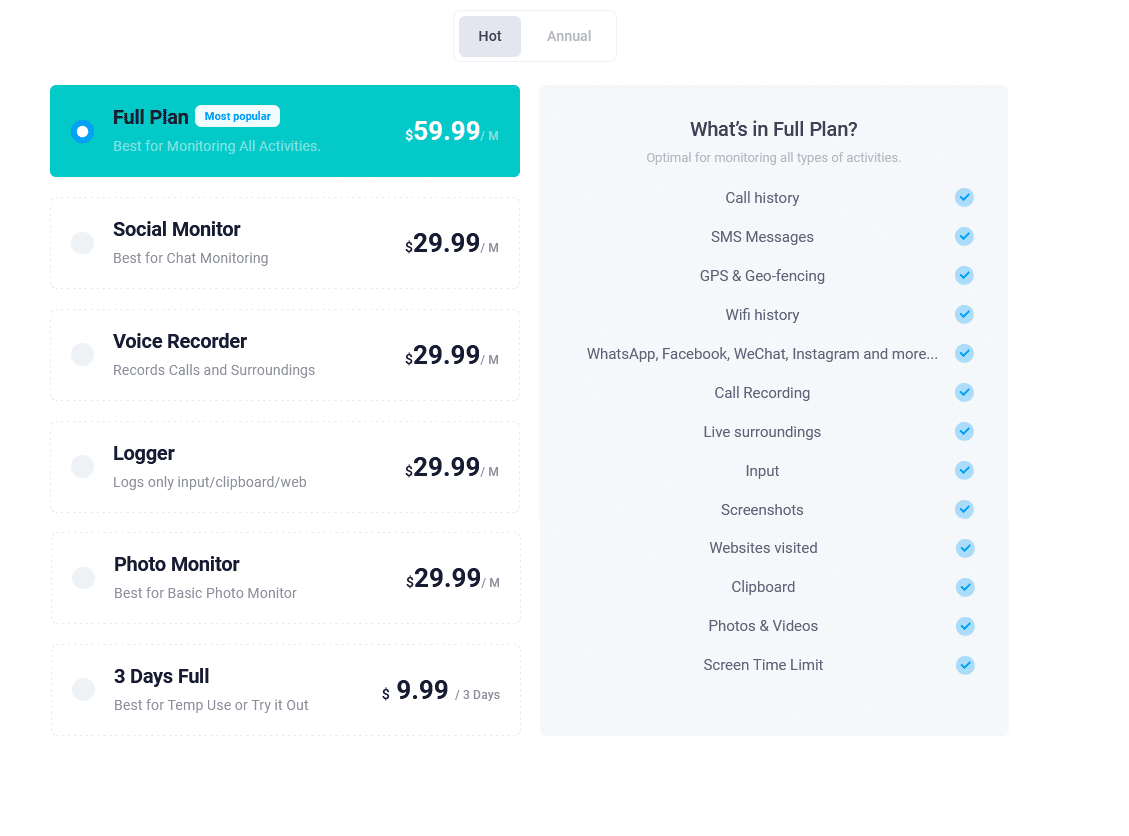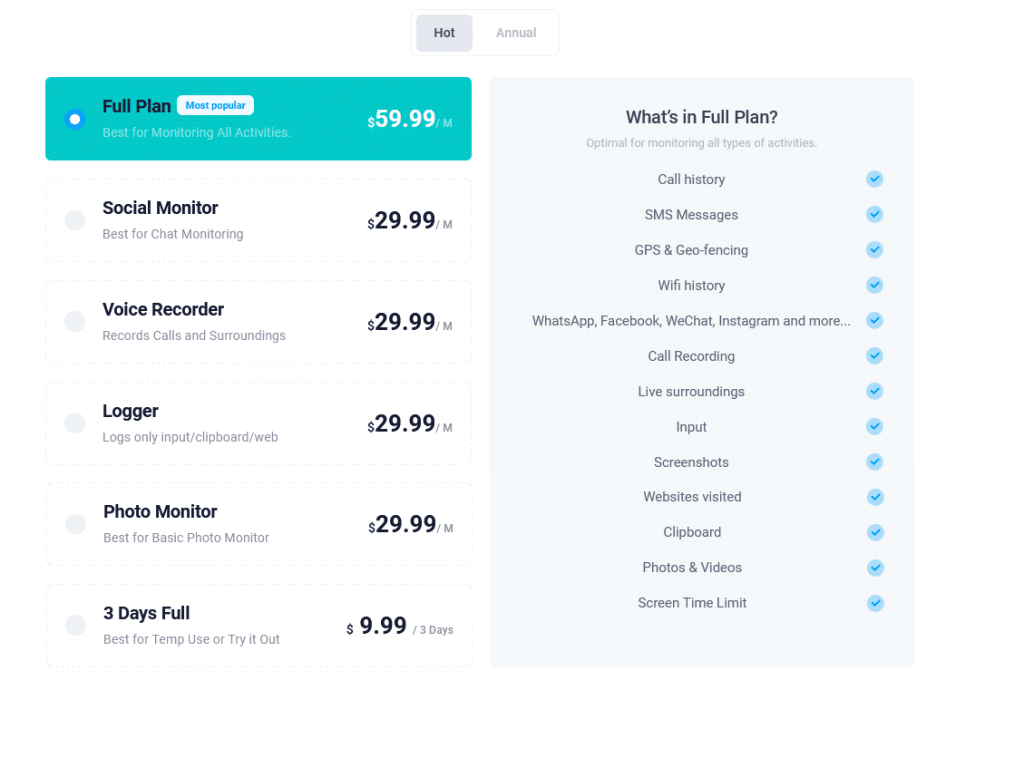 Subscribing to an iKeyMonitor premium plan reduces the price by almost 50%, making it cost-effective in the long run. Let's look at their monthly and annual pricing and their features:
Plan Name
Pricing
Key Features
Best For
Full Plan
$59.99/month or $349.99/year

50+ parental control features
View sent, received, and deleted messages
Remotely block apps

Best overall
Social Monitor
$29.99/month or $199.99/year

Monitor instant messaging apps
Take remote screenshots
GPS and geo-fencing

For children or partners that use social media apps a lot
Voice Recorder
$29.99/month or $199.99/year

Listen in on phone calls
Listen to the device's surroundings
GPS location tracking

Monitoring phone calls
Logger
$29.99/month or $199.99/year

Keylogger to see everything typed
GPS and geo-fencing
View WiFi, browsing, and clipboard activity

Business owners
Photo Monitor
$29.99/month or $199.99/year

View the device's gallery
Live feed of their surroundings
GPS and geo-fencing features

Concerned parents and partners
3 Days Full
$9.99 for 3 days

Unlimited features

Test the advanced features before upgrading
Besides the above plans, iKeyMonitor is also one of the best free parental control apps, although, as with all, it lacks features that encourage you to upgrade.
You can test its basic features for free and upgrade to its 3-Day Full plan for a more in-depth experience. Plus, there's also a 30-day money-back guarantee that this parental control app offers with every premium plan.
What Can You See With iKeyMonitor?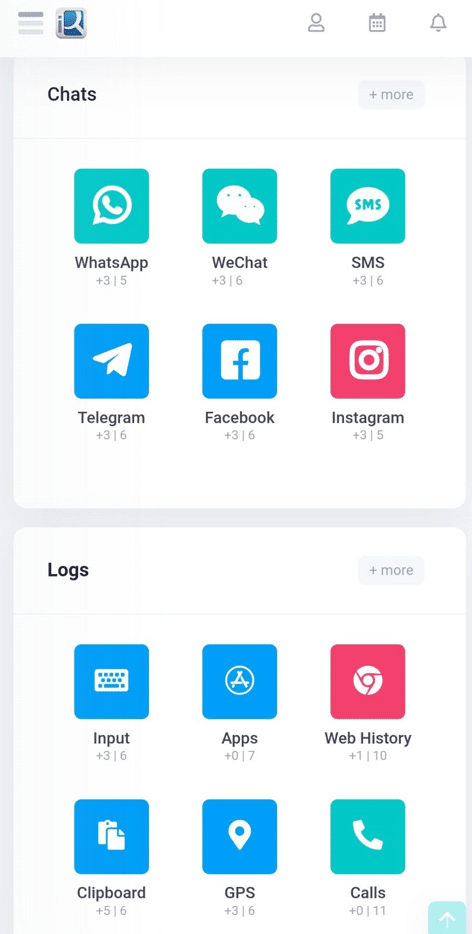 With iKeyMonitor installed on the target device, you can spy on almost every bit of information that goes through it. It offers over 50 features when monitoring an Android device, regardless of whether it's rooted or unrooted.
Beyond this, you can also actively monitor jailbroken iPhones and iPads, or extract their iCloud backup data remotely if you know the credentials. Here's what you can see with iKeyMonitor installed on the target device:
Phone Calls Data
With iKeyMonitor, you can see who your child or partner talks with the most, how frequently, and for how long. You can also turn the call recording feature on and listen to the conversations.
Using this feature, worried parents can quickly react if their child is talking about inappropriate things on the phone, and concerned partners can check if their loved ones are doing something behind their backs.
SMS Messages
SMS messaging is as relevant as ever, even with instant messaging apps accumulating millions of users globally. Due to their nature, they don't leave a digital footprint and are the first choice of unfaithful partners and employees that sell company information. iKeyMonitor allows you to read sent and received SMS messages, even if the user deletes them from their device.
Social media apps can be dangerous for your children because millions of users can freely message them, some of whom might have ill intentions. It's crucial to monitor your child's online activities because you can effortlessly notice a sexual predator, a cyberbully, or a scammer, unlike your child.
You can access every message sent and received from their social media accounts, including disappearing media like auto-deleting messages or Instagram stories.
Dating Apps
iKeyMonitor can discreetly monitor the target device for any activities involving dating apps.
You can configure this phone spy app to notify you if your partner or child downloads a dating app like Tinder and block it or silently monitor their activities. You can view their chats with strangers to ensure nothing inappropriate is going on.
Location
It wouldn't be one of the best monitoring apps if it didn't provide precise GPS location tracking and history.
You can check the target device's current location or read through the chronological history of its movements. In addition, iKeyMonitor's geo-fencing feature allows you to mark specific areas on the map as safe or dangerous.
If the monitored user leaves a safe zone or visits a dangerous one, iKeyMonitor will immediately notify you. Besides being a must-have for worried parents and partners, this feature is also helpful if the target device gets stolen, as it can track the thief down effortlessly.
Browser History
iKeyMonitor lets you access the target device's browser history, showing you what your child is searching for on the web. Having an insight into your child's interests, habits, and online activities can help you have peace of mind.
This parental control app will summarize your child's online activities, highlight frequently visited websites, and show the duration of each session. That means you can take notice if your child is accessing sites with pornography, gambling, or harmful content and react swiftly.
Text Input
iKeyMonitor has one of the most advanced keyloggers on the market that accurately and swiftly detects keystrokes and logs them for you to review. This feature is invaluable for business owners who don't want their employees using the company devices for anything but work.
Beyond this, an accurate and reliable keylogger allows you to record and save your child's or partner's online account passwords and log into them yourself.
Specific Words or Phrases
One of the best features iKeyMonitor brings is its Alert-Words feature. This feature lets you pick inappropriate words for iKeyMonitor to look out for and notify you if your child uses them.
You can pick any word, with the most common picks being words related to cyberbullying, pornography, drugs, and similar indecent topics. iKeyMonitor will notify you whenever your child types those words or receives a message containing them.
Voice Messages
Cheating partners or mischievous kids commonly use voice messages in popular instant messaging apps because most people believe they're untraceable.
Business owners will also appreciate this feature because it complements the others, ensuring no company data can leak due to an internal threat.
How Does iKeyMonitor Work?
iKeyMonitor is easy-to-use and takes only a few minutes to install on the target device. Rooting isn't required for Android devices, but you'll need physical access to the target phone.
The only crucial difference between rooted and unrooted Android device monitoring is that you can't view disappearing Snapchat media on an unrooted Android device. Monitoring apps on iPhones is limited compared to Android, and iKeyMonitor works with or without jailbreaking iPhone and iPad devices.
Installing iKeyMonitor by jailbreaking an iPhone is easy but requires physical access to the target device. Alternatively, you can extract the data from its iCloud storage remotely, as long as you have the iCloud credentials of the target phone.
You won't have to worry about the target user detecting its presence on the target phone because it's undetectable. When you install it on the target device, you can pick between hiding it and leaving it visible on the home screen.
Choosing to hide it to be invisible means it won't be detectable in the background or reveal its presence to the target user in any way.
Why a Parental Control App Like iKeyMonitor is a Must-Have for Parents
The best spyware apps for Android and iPhone devices, like iKeyMonitor, are invaluable to modern parents. Whether you're busy at work and leave your child home alone, or your kid is insubordinate and outgoing, a parental control app allows you to monitor your child's online activities and know their location. Let's look at what you can see, prevent, and control using iKeyMonitor.
Preventing Dangerous Situations
A parental control app like iKeyMonitor allows you to have peace of mind knowing your child isn't in danger. Social media, dating, and instant messaging apps are brimming with cyber-bullies, sexual predators, scammers, drug dealers, and other dangerous individuals that can harm your children.
If you notice suspicious online activities while monitoring your child, you can easily block the apps involved — preventing an escalation. If your child is in a zone you marked as dangerous on the map, you can remotely activate their device's camera and microphone and observe their surroundings.
That allows you to listen and learn what your child is doing to take immediate action or prepare yourself for a confrontation. With that said, if your child does nothing out of the ordinary and stays away from danger, iKeyMonitor helps you rest easy by confirming that for you.
Monitoring Installed Applications
iKeyMonitor helps keep your child away from inappropriate content such as pornography, gambling, drugs, and similar adult content. You can view a list of all installed applications on the target device and discreetly block unwanted ones.
It also provides detailed app usage statistics and detects excessive screen time, allowing you to take action. Monitoring a specific application, you can read the sent and received messages and see shared multimedia files and disappearing messages that you can review from your dashboard.
Besides helping you prevent cyber-bullies and sexual predators from contacting your child, iKeyMonitor assists you in understanding your child's interests and habits by showing you what they like and dislike.
Taking Control
You can introduce screen time limits to your children to avoid estrangement and physical or mental health decrease. If you notice your child is spending too much time on the phone playing games, chatting, or scrolling through addictive apps like TikTok, it might be time to take control.
With iKeyMonitor, you can set a time limit on apps individually or collectively or just outright block an app on the target phone. It's necessary to balance social interactions in the real and digital world to help your children develop communicational skills before it's too late. Kids with a balanced lifestyle are also more responsive, and you're more likely to develop a deeper bond with them.
Other crucial consequences of spending unlimited time on the phone are various health risks. Children who spend too much time in front of screens are likelier to suffer from amnesia, aggressive temper, obesity, and bad eyesight. A capable parental control app like iKeyMonitor helps you rest easy knowing you're in total control.
How to Use iKeyMonitor – A Guide
iKeyMonitor has one of the fastest installing processes on the market that doesn't require you to be a tech genius to perform. However, you'll need physical access to the target device unless you have iCloud credentials. Here's a step-by-step guide on installing and using iKeyMonitor:
Step 1: Ensure the iPhone is Jailbroken
To get started, you'll need to ensure the device is jailbroken and connected to the internet.
Step 2: Create Your iKeyMonitor Account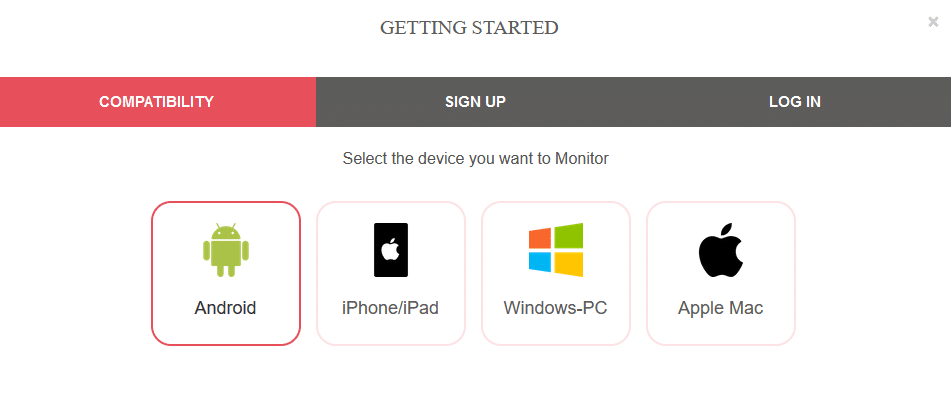 Select iPhone as the device you want to monitor
Select that you have physical access to the target device
Pick your user ID and enter a valid email address
Step 3: Choose a Subscription Plan or Continue as a Free User
Pick one of the six plans we reviewed in this article
Wait for a confirmation email that contains your iKeyMonitor dashboard login credentials and download link
Ensure your login credentials for iKeyMonitor's Online Cloud Panel are always accessible by noting them down or saving the email
Step 4: Use Cydia to Install iKeyMonitor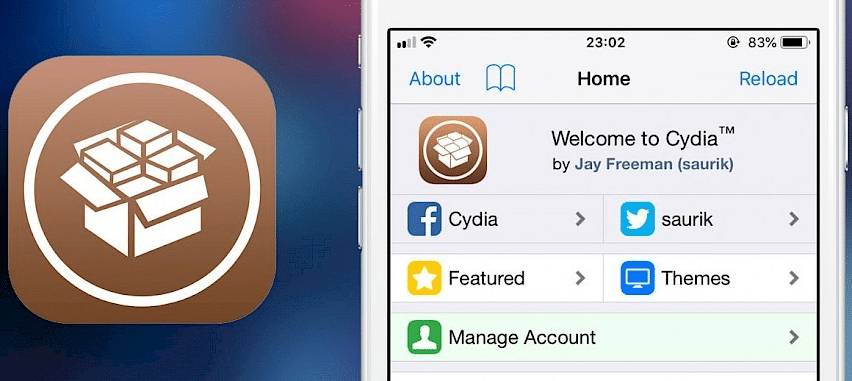 Open the Cydia app
Tap "Manage Account" and select the "Sources" button
Click "Edit" and select the "Add" button
Add a download source by typing https://ikeymonitor.com/apt/ into the field (you might have an alternative download link delivered via the confirmation email you saved earlier)
Press "Add Source"
Open the iKeyMonitor repository and install the app on the target device
Step 5: Configure iKeyMonitor and Start Using it
You can open iKeyMonitor directly from the home screen if you don't want to hide it from the target user. If you intend to hide it, you can long-press the icon to delete it (without affecting its background logging) and open it by typing "localhost:8888" in Safari.


Open the app on the target device
Enter the login credentials provided via the confirmation email
Restart the target device
Use your device of choice to log into your iKeyMonitor account
Open the dashboard and start monitoring the target phone
In addition, you can hide Cydia on the target phone by opening the app, going to "Advanced Settings," and tapping "Hide Jailbreak Info(Cydia)." That way, you have the highest level of stealth and security, ensuring the user won't accidentally stumble upon the iKeyMonitor iPhone app.
iKeyMonitor Android Installation
Here's the step-by-step guide for Android:
Step 1: Create Your iKeyMonitor Account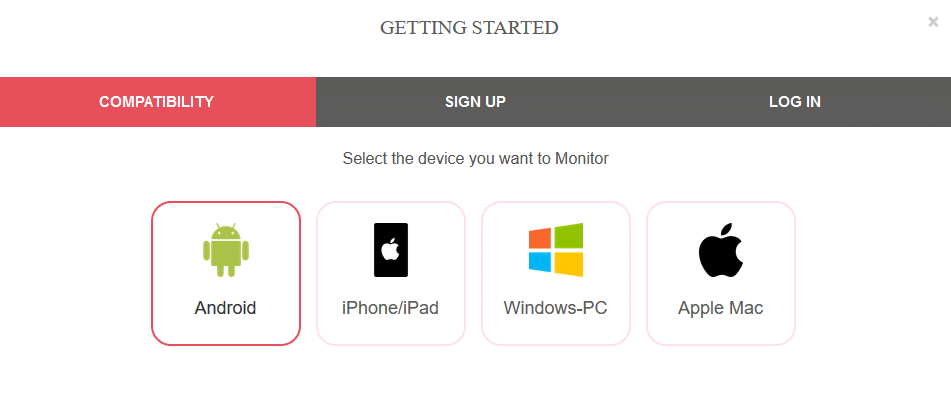 Select Android as the device you want to monitor
Select that you have physical access to the target device
Pick your user ID and enter a valid email address
Step 2: Choose a Subscription Plan or Continue With the Freemium Plan
Pick one of the six plans we reviewed in this article
Wait for a confirmation email that contains your iKeyMonitor dashboard login credentials and app download link
Ensure your login credentials for iKeyMonitor's Online Cloud Panel are always accessible by noting them down or saving the email
Step 3: Disable Play Protect on the Target Phone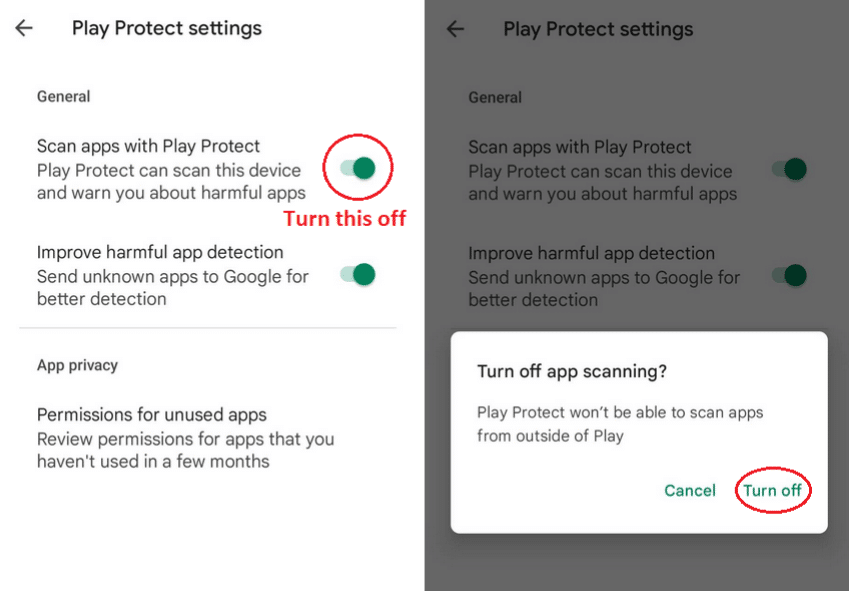 Open the Play Store on the target phone
Tap the account icon on the top right, and choose Play Protect
Move the slider on "Improved Harmful App Detection" so it turns grey
Confirm your decision
Step 4: Install and Configure iKeyMonitor
Follow the link from your confirmation email or download the app installer from iKeyMonitor's website
Install the app on the target device and give it the permissions it asks for
Open the app and configure it by following the on-screen instructions
At the end of the installation process, you can choose if you want the icon to stay on the home screen or remain hidden. We suggest you delete the browser history and hide the icon for security and stealth.
Step 5: Start Using iKeyMonitor
Now, simply log into your iKeyMonitor account on your own device to begin monitoring the target phone.


iKeyMonitor Reviews – Do Users Find it Worth it?
We've examined dozens of online iKeyMonitor reviews on score-rating websites like Trustpilot.com. We noticed a positive trend in user experience, confirming that iKeyMonitor is a reliable and easy-to-use parental control app.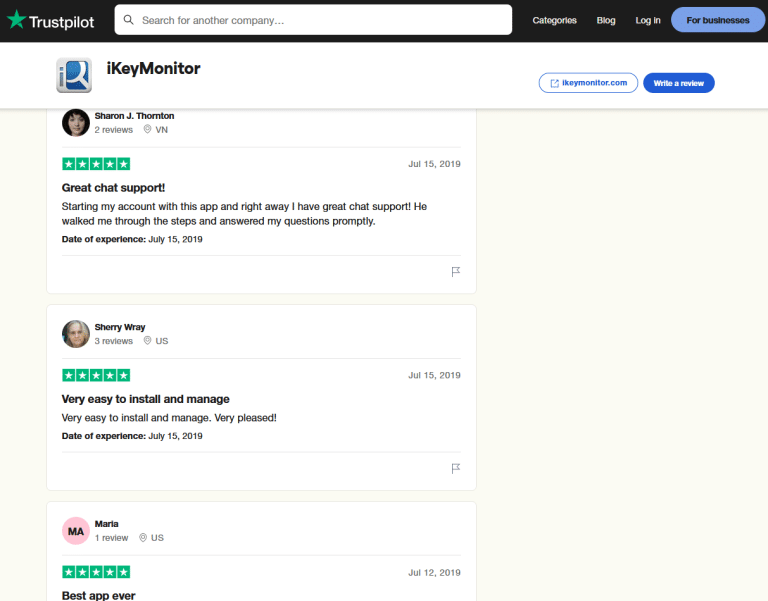 Besides popular score-rating websites, we've investigated the reviews on Reddit, where users post their first-hand experience impressions with various software programs, and found positive replies to questions like "is iKeyMonitor legit?" According to iKeyMonitor reviews by satisfied users, this parental control is the best because it has:
An easy-to-use interface and installation
Outstanding customer support
An accurate keylogger
Screen time-restricting capabilities
Feature-rich non-rooted Android monitoring
Cyber-bullying and scamming prevention
Precise GPS location tracking and geo-fencing
Although most iKeyMonitor reviews are positive, we noticed negative reviews as well. Most of these reviews are about the non-jailbroken iPhone monitoring's lack of features, which iKeyMonitor points out on its website.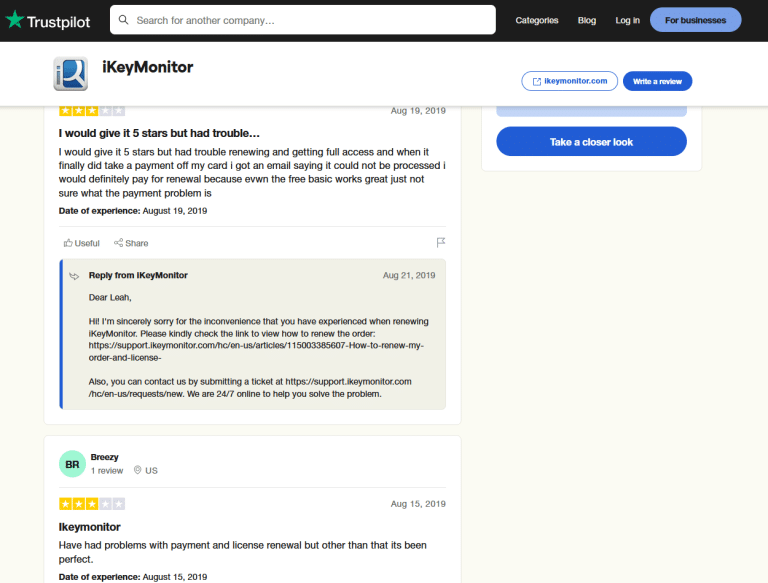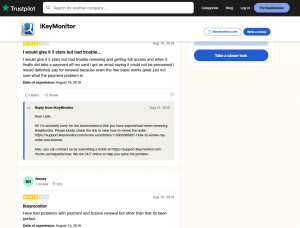 Another common complaint is a problem with its automated subscription renewal. Allegedly, iKeyMonitor won't take your money for a subscription renewal, forcing you to contact customer support for assistance.
How We Tested iKeyMonitor
When we research phone spy software, we look at key factors like features, price, usability, and how the app will suit real-world use cases – after all, it's critical to know it functions as intended.
We've looked into iKeyMonitor's free and paid plans to get a good sense of exactly how the product works to make sure we can give a full, objective picture of how it'll work when put to the test.
Our team has tested a wide range of tracking and monitoring apps for different devices and targeting different services, such as social media and dating apps, so we're very familiar with what the market has to offer. This gives us a rounded view of what the top solutions in the field are capable of and enables us to make informed comparisons.
We've also put our ear to the ground to get real customer feedback from platforms like Reddit and TrustPilot to get a sense of how consumers find the app works in practice for them.
Based on this, we're well-grounded to provide a deep dive into iKeyMonitor's capabilities, compare it to its competitors, and weigh up its strengths and weaknesses – so you can ultimately decide if it's the right product for you.
Spy App Guides and Resources
Beyond iKeyMonitor, we've put together a range of resources and guides on spy apps, including:
iKeyMonitor Review Conclusion – Is it the Best Spy App in 2023?
We've confirmed that iKeyMonitor works as advertised, providing various powerful features through its flexible pricing plans. It's easy to install and has an exceptionally easy-to-use interface that doesn't require any tech knowledge to navigate.
We're particularly impressed with its precise GPS location tracking, geo-fencing capabilities, and audio and video live-streaming features. However, it has some downsides we can't leave out of our conclusion. The all-inclusive plan is expensive, and adding extra features to its cheaper plans comes at a high fee.
Its iPhone monitoring features pale compared to the superb features iKeyMonitor offers for Android device monitoring. With that said, it's still an exceptional choice for iPhone monitoring, easily ranked in the top 10 list.
Our review of iKeyMonitor is generally positive, mainly because of its Android device monitoring capabilities. It's one of the best spyware apps for Android in 2023, but since this review is for Android and iPhone users, we can't say it's better than mSpy.
We suggest you try iKeyMonitor's comprehensive free forever plan and take advantage of its 30-day money-back guarantee to try its premium service risk-free.
iKeyMonitor FAQs
Does iKeyMonitor actually work?
How much does iKeyMonitor cost?
Is iKeyMonitor detectable on the target device?
References