Our mSpy review will provide you with a thorough understanding of one of the most popular spy apps on the market. Whether you want to catch a cheating spouse, know your children's whereabouts, or monitor your employees, spying apps are excellent solutions. They let you view all the target's activities, including their calls, messages, and location. However, you can fall prey to bogus apps claiming to be the best spy apps, which is why it's important to find genuine ones with positive user reviews.
Our team of experts have reviewed dozens of spy apps. In this mSpy review, we'll cover everything you need to know about it, from features and pricing to the installation process and its leading pros and cons. Read on to make an informed decision before signing up.
What is mSpy?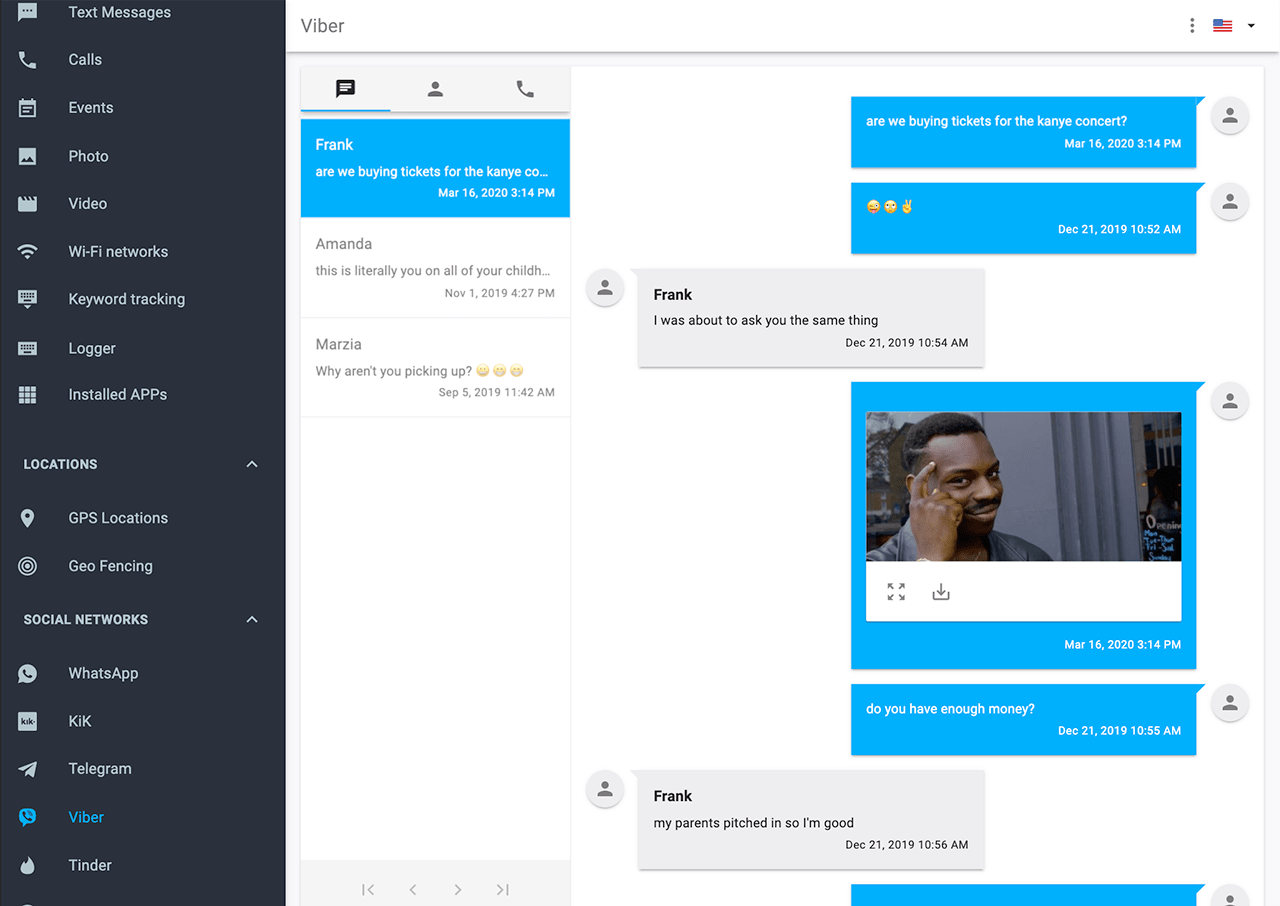 mSpy is a popular cell phone monitoring app launched in 2010 by a London-based tech company. The app was an instant hit, and by 2014, its user base had already crossed the 1 million mark.
Besides parental control, mSpy features are flexible enough to be used for other purposes, such as catching a cheating spouse red-handed or keeping an eye on your employees. Its best-known features include call log monitoring, location tracking, and social media monitoring.
mSpy is competitively priced, reliable, and consistent, paired with a friendly customer support team, which makes it all worth it. The best part is that the app hides after installation in the target device, making it the perfect solution if you've been searching for a way to track a phone without them knowing.
How Does mSpy Work?
Using mSpy is pretty simple. Once you buy a subscription and install it on the target phone, it'll automatically track their phone logs, messages, social media updates, and location, amongst others.
You'll have your own mSpy control panel, where you'll find the data categorized under separate tabs for each kind of data — calendar bookings, location history, messages, etc. — this makes it easier to sift through the data and get exactly what you're looking for.
The best part is that mSpy works in stealth mode, so the app won't be visible to the target user. It'll run quietly in the background, capturing everything the target user does. Even when carrying out commands like taking a screenshot or deleting an app on the target phone, mSpy will do it so discreetly that they'll never know there's an app controlling their device.
We offer a guide on how to install mSpy later in this mSpy review, but for now, it's worth noting that you'll need physical access to the device, while jailbreaking may also be required in certain scenarios, depending on the functionality you'd want on iOS.
Sometimes, manufacturers and mobile carriers impose certain security restrictions on the device, which prevents unauthorized third-party users from accessing system files. Jailbreaking is the process of breaking these restrictions to get uninterrupted access to the device's software.
Sure, you can use the app without jailbreaking, but in that case, you won't be able to track their social media activities — you'll only have access to their phone logs, messages, and location.
mSpy's Pros and Cons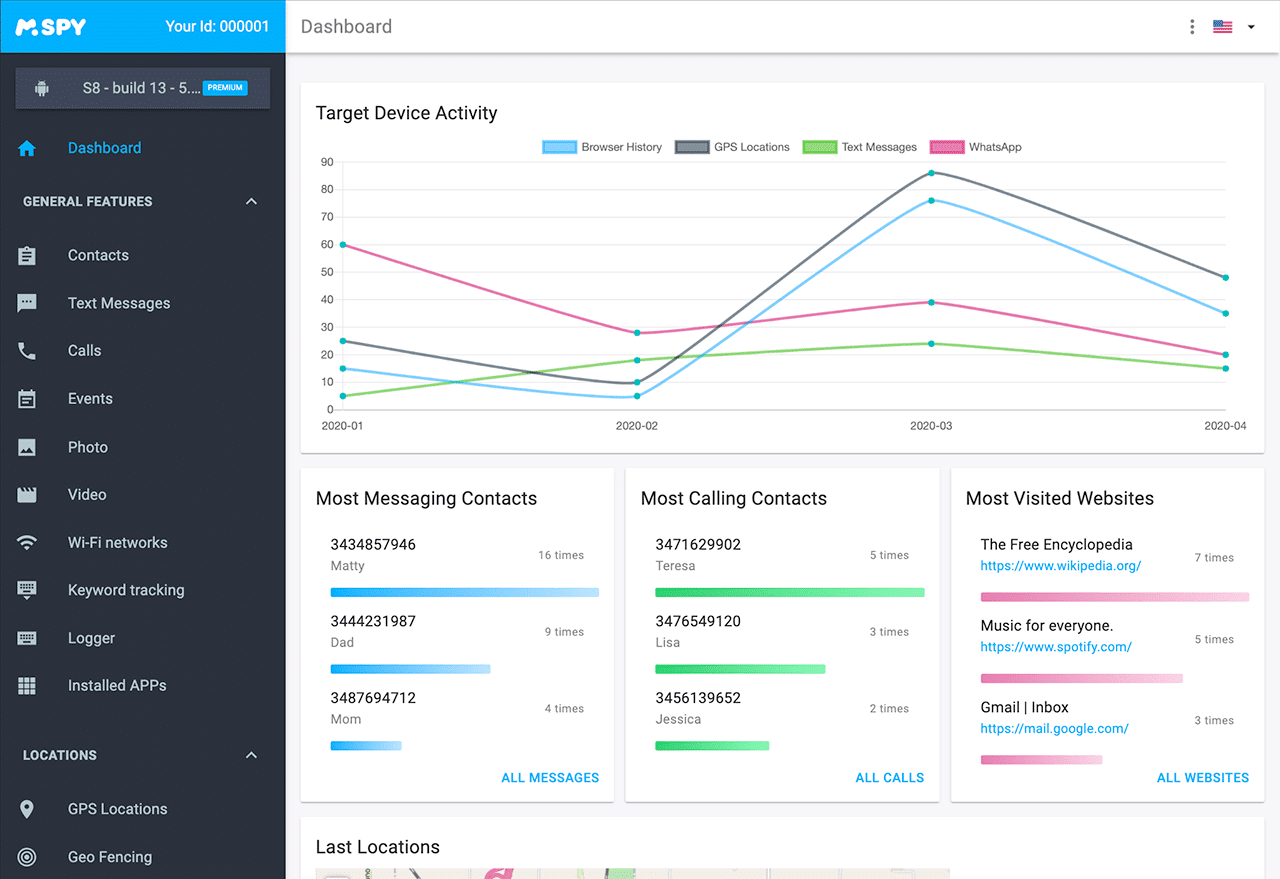 Is mSpy good? Without a doubt, it is, but it's always a good idea to look at its downsides too. Here are the key advantages and disadvantages of using the mSpy phone tracker, as expressed by users:
Pros
Lets you record the target device's screen with the screen recorder
Gives you complete access to your target's call log and location
Allows you to see texts — including deleted messages
You can also see all the media files stored on their device
The keylogger tracks everything typed — even text that's deleted
The keyword alert feature notifies you if flagged words are used
Real-time location tracking + alerts if they cross a demarcated area
Cons
No free trial or plan
The installation process for iOS can be quite tricky
You need to get a separate subscription for each device you track
An In-Depth Look at mSpy's Features
In our mSpy app review, we found it to be hands down one of the most feature-rich cell phone trackers in the industry. It allows you to do more than just track messages and phone calls. Here's a quick rundown of the top 8 best tracking features of mSpy:
Access to All Messages
Messages have become the primary mode of communication these days. With mSpy, you can not only check regular SMS but also private conversations on apps like WhatsApp, Instagram, Telegram, Snapchat, and Viber, amongst countless others.
You'll get a complete report on who your target device holder is texting, some basic information on the recipient (like name, number, and other details saved on Contacts), and a peek into the images/videos that have been shared.
Unlike most phone trackers, mSpy also lets you know if the target device is active on Tinder. In case they are, you'll get constant updates about the messages from their matches — just as it works with other social media apps.
Keyword Alerts
While messages are a great way to check the target person's daily conversations, it's not practical to monitor them 24/7, especially if they're frequent texters. With mSpy's keyword alerts, you won't need to constantly check, and you can forget about having to sieve through a massive database of texts.
It lets you mark certain words beforehand, and it'll notify you only if those words show up in a conversation. For example, if you're worried that your underage kids have gotten into smoking, you can flag words like "smoking", "cigarette," or "weed". This can be anything as it's custom, so "pornography", "drugs" — anything.
So instead of going through their texts to search for this, you can rest easy knowing that the mSpy online monitoring alerts will keep you notified if any concerning words are used. Plus, this feature isn't only for texts. You can also use it to know when your kids look up inappropriate things online.
Keylogger
As one of the best keylogger software solutions, mSpy tells you everything the target person types on their phone. It doesn't even have to be a proper message. It could be a message they typed but didn't send, a small note on their notes app or a search query they left midway. In simple terms, mSpy's keylogger tracks every single button — character, letter, or digit — that's typed on the target phone, no matter the app your target is typing on.
You can even use this feature to read the captions they add on one-time snaps on Snapchat or disappearing messages on Instagram.

Since keyloggers track such a wide variety of information, it's almost inevitable that you'll get overwhelmed juggling them manually. Thankfully, you can use the keyword alert feature to highlight areas of peak interest to you.
Note that while you can use some of the more generic features of mSpy without jailbreaking or rooting the target phone, you'll need to jailbreak/root the device in question for access to its keylogger feature.
Location Tracking
Even if you track your target's messages and online searches, it tells you virtually nothing about their current location. That's why you need mSpy's real-time location tracking feature. In fact, this is something mSpy users praise for its accuracy, making it one of the best GPS trackers in 2023.
There's also geo-fencing. It's not the most convenient to constantly check your phone every few minutes to get an update on your target's location. With geo-fencing, you can create a virtual boundary for the target device, and as soon as the target crosses that demarcated territory, you'll get a notification.
For example, if your spouse tells you they're off to work but you don't quite believe them, you can mark their office location on the map. If they leave their office vicinity, you'll know instantly. This makes mSpy a popular option for both parental control and partners needing peace of mind.
Screen Recording
mSpy also allows you to see the messages and photos on the target phone via a nifty screen recording feature that sends you snapshots of chats, notifications, and other similar activities.
This also makes it ideal for those who want to track disappearing messages on apps like Whatsapp, Snapchat, and Instagram that let users "unsend" messages. Instagram and Snapchat also provide the option to automatically delete messages after they're viewed. This makes it hard to track the messages, but not if mSpy's screen recording feature is on.
Automated screenshots are triggered by phone activity (such as getting a new message). The app will take a quiet screenshot as soon as the new message hits the screen, ensuring you see it before the user or the messaging platform has the scope to delete it.
Wi-Fi Network Monitoring
Location tracking isn't the only way to know where the target user is and what they're up to. You can also track the WiFi networks they connect to. With mSpy, you'll get:
The name of the WiFi
A report on how long the device was connected to the network
And the date of connection
This is a great way to find out where the user hangs out most often. For instance, if they say they're hanging out with a friend, you can use the WiFi network to check if they're telling the truth.
The best part is that you'll have remote control of that device to disconnect them from the WiFi if, for instance, your child connects to a harmful public WiFi network that puts them at risk of data theft or spyware, or they spend late nights online after you've told them to go to bed.
App & Website Management
As a concerned parent of a young teen, you might want to monitor and restrict what apps your child uses. If you don't want to confront them, use mSpy's app management features to keep an eye on their activities.
You'll get a complete list of all the apps they've downloaded, including their names, logo, and version. If you see them playing too many games or using dating apps, you can remotely block the app at the click of a button from mSpy's control panel. The same goes for websites.
The internet is riddled with malware and malicious users and is therefore not really privacy-friendly, especially for young kids who don't know better. You can check what websites your kids visit by accessing their browsing history.
A column on the dashboard named "Views" allows you to see how many times each website was visited. For example, visiting a gaming site once or twice a week is fine. But if your kids are online gaming multiple times daily, it could be a sign of addiction.
If you don't approve of the websites they're visiting, you can easily block access to them, just like apps. What's more, you can also view their bookmarked content to see the content they're interested in and remove or block the sites if you don't approve of them.
Call Monitoring
With mSpy, you'll get instant access to the target device's calling list. You can find who initiated the call and how often a call has been made to and from that number. You'll also get detailed timestamps of the conversation, including call duration and the time of the call.
On top of that, mSpy will also provide you with details on callers, such as their names and phone numbers. If nothing suspicious pops up on their recent call history, you can proceed to check their contacts.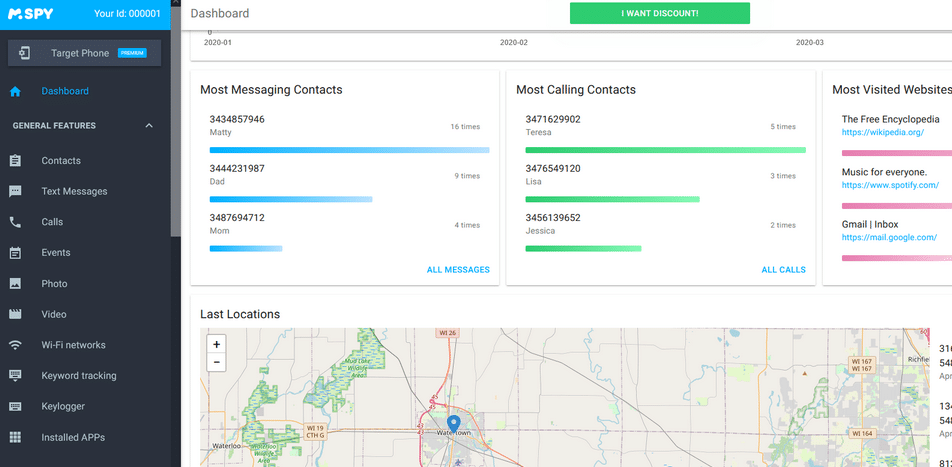 Here, you'll get to see their complete contact list, along with the names and numbers of each contact. If additional information, such as email ID or home address, has been stored alongside the contact's name, you'll be able to access that too.
This is a great way to check who they're in touch with or the people they know. For instance, if you'd like your spouse not to be in touch with their ex, you can use mSpy to see if their ex's name pops up on their contacts.
Calendar Activities
While location tracking is a great way to gain real-time access to the target device's location, a heads-up about where they might be planning to go is always appreciated. That's where calendar monitoring comes in.
If the target user, such as your kid or spouse, have the habit of maintaining a personal calendar for upcoming events, you'll be able to check the name of the event, its venue/location, timestamps (i.e., when it starts, and ends), and if you're lucky, maybe even a detailed description of what's going to happen there.
Remember, this feature will only work if the target user actually maintains a calendar marking all their upcoming events. This means it might not be the most effective for kids who aren't the most organized, but you can surely use it to keep an eye on your partner or older adults.
Similarly, you can also use this feature to check your employee's calendars before assigning them a task.
Access Media Files
Accessing inappropriate content has become easier than ever. That's why it's important to keep an eye on your kids' media files, such as images and videos, to ensure they're not interacting with dangerous or inappropriate content.
Growing curiosity during puberty, mingled with limitless access to the internet, has made adult content a go-to place for most teenagers. But is that something they should be seeing? What about pornography's harmful psychological implications? These are common concerns of every parent. With mSpy, you can put an end to your fears by monitoring the media files your child saves on their device.
You'll also get timestamps showing when the files were originally downloaded to know if it's a one-off recent mistake or a long-going obsession.
mSpy's Compatibility
Although mSpy doesn't help you monitor PCs and laptops, the good news is that it has two separate apps for Android and iOS devices. Here's a quick glimpse into its compatibility with these two operating systems:
Android
mSpy works with any Android device running on Android version 4.0 or above. However, you won't find it on the Google Play Store. To download the Android app, you need to visit mSpy's official website, pick your plan and download it from there.
Once the app is downloaded, you need to jailbreak into the target phone to be able to track it. That is when you'll get limitless access to the innermost parts of the device, plus the ability to make changes to it. Without jailbreaking, you can't access all mSpy features.
Note that while installing any of the best Android spy apps, including mSpy, there might be certain minor differences between different Android models. For instance, the installation process on Samsung differs from Xiaomi.
Thankfully, mSpy offers separate installation guides for Samsung, Moto, Xiaomi, LG, Huawei, and Google Pixel. Plus, there are separate guides for Android 9 through to 12 and a generic Android installation guide which will guide you through it.
iPhone
If you're trying to spy on an iPhone, you have two options — jailbreak or use iCloud — iPhone's version of Google Drive that safely stores all your files, photos, and documents on the cloud. You can also use it to share files with your contacts.
However, when you're trying to spy on an iPhone through iCloud, you'll need to have the device's login credentials. It should be fairly simple if the target device belongs to your spouse or kid. We recommend this tracking method for those who don't want to go through the technical complexity of jailbreaking into a phone.
There is another way to connect to the target phone called Local Sync. With this, you'll need to connect your device and the target device to the same WiFi network. Also, you'll need a Mac or Windows PC to sync the data. The details of the process will be shared by the mSpy team once you've purchased the subscription.
Is mSpy Legit? A Look at mSpy Reviews
To ensure that mSpy is just as good as it claims to be, we looked at mSpy customer reviews to see what other users who have used its service have to say about it. mSpy boasts stellar reviews.
On Trustpilot, over 4,200 people have shared their opinion on mSpy, of which 67% of the users gave it 5 stars while 7% gave it 4 stars. A closer look at the mSpy parental control reviews indicated that most of its users are amazed by the team's stellar customer service.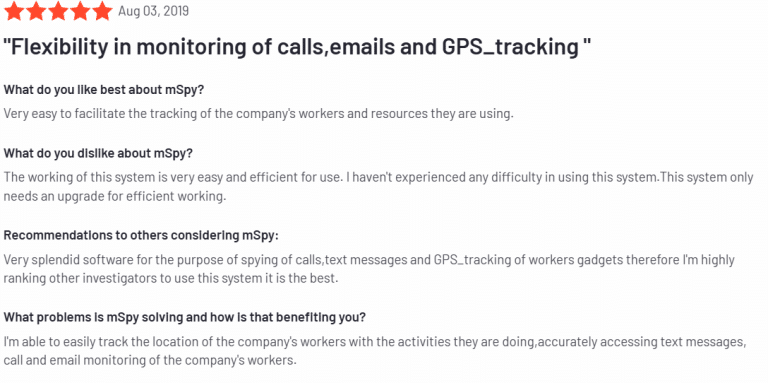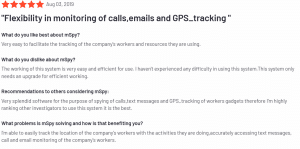 It's safe to say that the company has created a customer-centric environment where your needs will always be put first. Besides this, the interface is also praised, and it's evident that a variety of families and businesses use mSpy for their mobile tracking needs.
The only tiny snag that some users have discussed is its price. The 1-month subscription is priced at $48.99/month, which is higher than most other spy apps. Let's take a closer look at mSpy's pricing.
How Much is mSpy?
mSpy prices are pretty straightforward. Here are the plans: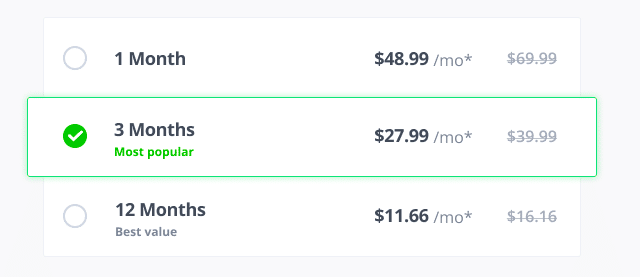 As you'll notice in the image above, the longer your subscription is, the more you'll save on the price. However, the pricing on the left is only for first-time users. Once you renew your plan, the prices change to the cost outlined on the right. This is common with all the best phone spy apps.
It's also worth noting that the only difference among the plans, except the duration, is priority support. The one-month plan doesn't get any priority support line, the other two do. However, this doesn't mean you'll be left with no support if you purchase the monthly subscription — just that you might have to wait longer.
If you want additional support, you can also purchase the mAssistance add-on — a customer service portal where you'll find experts 24/7 ready to help via chat or phone.
Unfortunately, there's no mSpy free trial on offer, but to make up for it, there is a free demo on the mSpy.com website that gives you an exact replica of the dashboard you'll have if you decide to purchase a plan. You can browse through the menu that's loaded with sample data to see how the tracked data will be displayed.
Refund Policy & Payment Options
Although popular with most spy tools, mSpy's refund policy is quite restricted by stringent rules. It only offers a refund if you're facing a technical issue that the team cannot resolve.
You'll have to request the refund within 14 days for it to be considered, and unfortunately, refunds only apply to the main spying software, not the add-ons like mAssistance.
As such, we always recommend opting for a monthly plan, with no add-ons, to try the software before committing to it long-term. In terms of payment options, though limited, they're secure and reliable. You can pay for your subscription via:
Visa
Mastercard
American Express
Discover Card, or
Wire transfer
mSpy vs Top Competitors
Wondering how mSpy fares against some of the best parental control apps and spying software? Here's a quick overview of the pricing and policy of mSpy alternatives:
| | | | | |
| --- | --- | --- | --- | --- |
| Spy App | Monthly Price | Annual Price | Devices Tracked/Subscription | Money-Back Guarantee |
| mSpy | $48.99/month | $11.66/month | 1 | 14-day refund |
| uMobix | $49.99/month | $11.66/month | 1 | 14-day guarantee |
| Cocospy | $49.99/month | $11.66/month | 1 | 14-day guarantee |
| XNSpy | $35.99/month | $7.50/month | 1 | 10-day refund |
| iKeyMonitor | $16.66/month | N/A | 1 | 30-day guarantee |
As you can see, mSpy is competitively priced, especially when you consider its rich catalogue of features. For example, while both Cocopsy and mSpy offer a keylogger, mSpy also boasts keylogger alerts.
Similarly, while uMobix might be a feature-rich spying app, unlike mSpy, it misses out on features like screen recording and event recording.
If you combine the features mSpy offers with its price, user-friendly mobile apps, and top-notch customer service, it's undoubtedly one of the best mobile tracking apps you can invest in.
mSpy Download – A Step-by-Step Guide
If this is your first time using mSpy, here's a quick guide that'll help you set it up:
Android
You can't get the mSpy app for Android directly from Google Play Store. Here's a rough mSpy login and installation guide:
Step 1 — Go to the mSpy Website and Make An Account
Make sure you accept the terms and conditions and use a valid email address because that's where the installation instructions will be sent.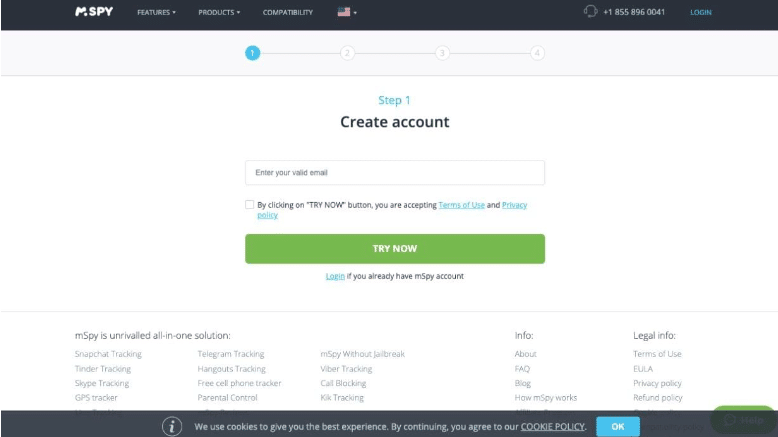 Next, choose the type of device you want to track — Android or iOS. Make sure you choose the correct device type because the installation process is different for both operating systems.
Step 2 — Choose a Subscription
As of now, you can choose between 1-month, 3-month, and 12-month packages. Add the chosen package to the cart and complete the payment.
Step 3 — Disable Play Protect
Before you install mSpy, you'll have to disable Play Protect on the target device. To do this, make sure the target device is unlocked and connected to the internet. Next, go to the Play Store.
You can either click on your profile picture at the top-right corner of the screen or on the three lines that should appear in the same place (different profiles have different interfaces).
In the menu that pops up, tap on Play Protect. On the top-right corner, you'll see a settings gear — click on that. You'll see an option named "Scan Apps With Play Protect" — disable that to download mSpy.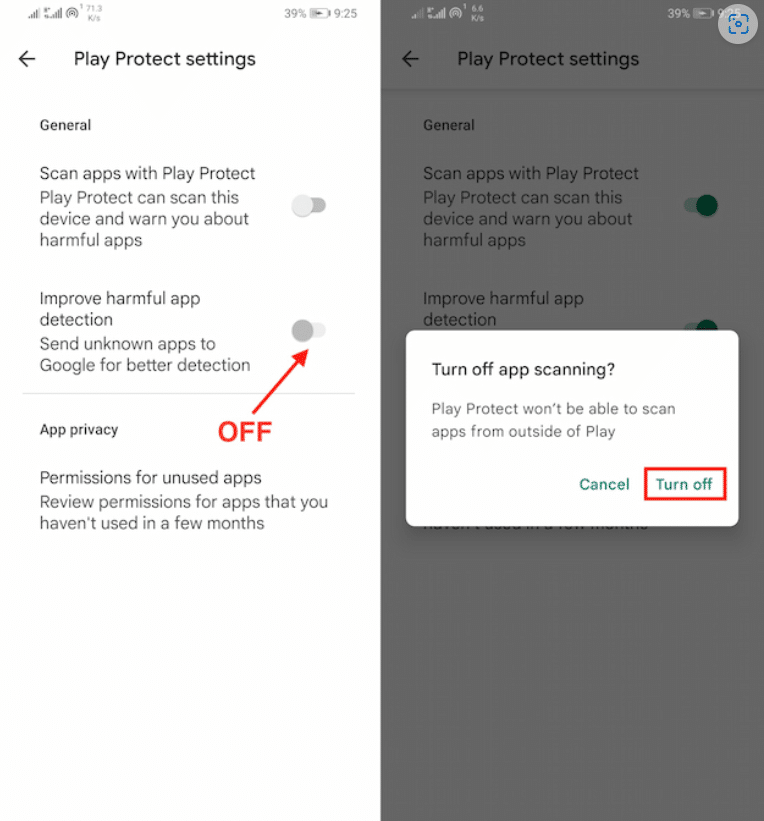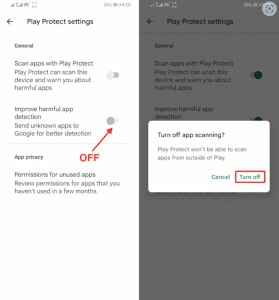 Step 5 — Open Google Chrome on the Target Device
A link will be provided by mSpy. Paste that on the address bar. Pass the captcha security test in the next step and click "Download."
If you get a pop-up at the bottom of the screen asking for permission, click on Open > Settings > Allow From The Source and then go back. Then "Next". Once the download is complete, tap on "Open."
Step 6 — Setting Up the App
This is the final part of the process. Once the app has been successfully downloaded, it's time to set it up. Open the app and click "Allow" on all the pop-ups that show up to grant mSpy access to all the data on the target phone,
mSpy will also provide you with an installation wizard — basically an automated set of instructions. Once you've allowed access to everything, enter the Registration code provided by the Wizard and tap on Complete Installation — And that's it.
Your mSpy account is ready to track the target device. You can access the monitored data from the control panel on your mSpy account.
Note: This is the most basic way to break into a device using mSpy. If you're looking for a particular model or if you need help with jailbreaking, you'll find plenty of guides on mSpy's support page, or you can also reach out to the customer support team.
iOS
If you want mSpy for iPhone without taking help from the mSpy team to jailbreak it, we have two options for you. If you are trying to track your kids or spouse, you'll probably have access to their iCloud credentials. This is the easiest way to break into an iOS device. Here are the steps you need to follow:
Step 1 — Head to mSpy's Website
The first few steps are the same as Android — going to mSpy's official website, creating an account, and choosing a subscription. After purchasing the subscription, choose iOS as the target device and click on the iCloud Sync installation method.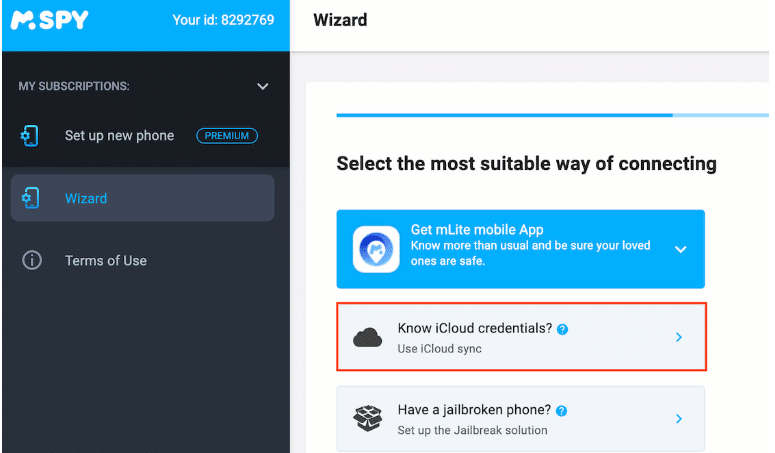 Step 2 — mSpy Login and Authentication
Once you're redirected to a new page, log into your mSpy account again and enter the iCloud credentials of the target device.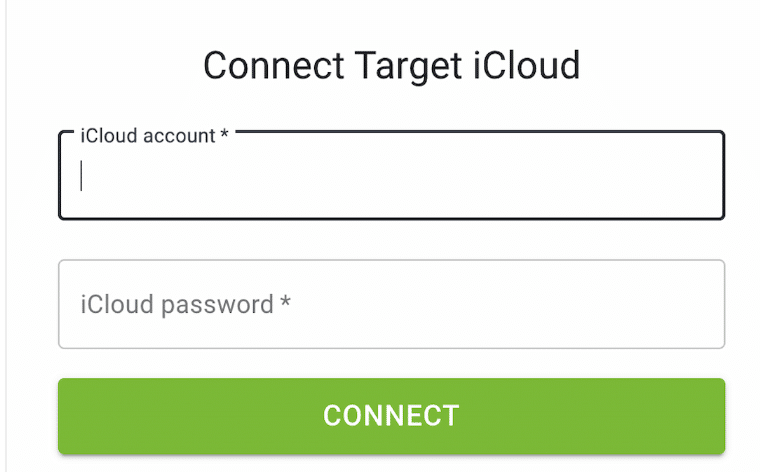 After that, you'll get two notifications from mSpy. The first will go to the iCloud email address stating that there was a new login, and the second one will be sent directly to the target phone and will contain a 6-digit code for 2-factor authentication.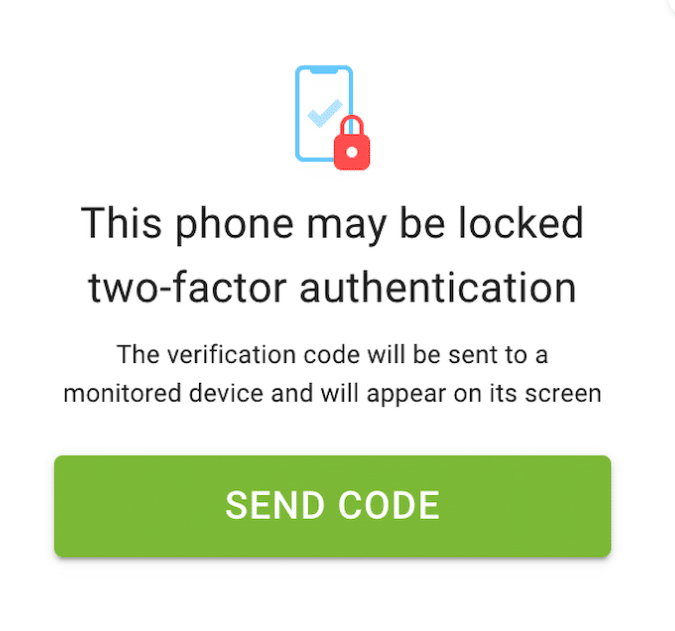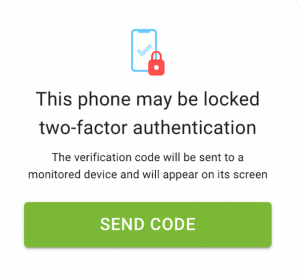 Once you enter the code in the set-up window, mSpy will complete the rest of the installation process within about 10-20 minutes, depending on the amount of data that needs to be imported from the target phone to your control panel. Once that's done, you're good to go.
If you want to install the mSpy iOS tracker through Wi-Fi sync, you'll need physical access to the target phone, but here are the steps to follow after downloading the app from its website:
Step 1 — You'll get an extra WiFi sync app with your subscription, install that on your PC or Mac
Step 2 — Connect the target iPhone to your PC using a USB cable. It'll take some time for the app to back up the data on your device.
Once that's done, you'll see a copy of all activity that's happened on that phone (such as emails, browsing history, notes, and more) on your PC. To back up the data next time, you won't need to connect it to your PC anymore. Just make sure you're connected to the same WiFi.
Jailbreak
Jailbreaking is the most challenging method of breaking into the target phone, which is why we don't recommend it for beginners. However, if you still want to give it a go, here are the steps you need to follow:
Step 1 — Download the special app that mSpy provides for jailbreaking and extract the downloaded file.
Step 2 — Click on the file to find a folder named "Check1n Jailbreak iOS 14″ Open it to find an ISO file by the same name.
Step 3 — To open this file, you'll need an app called Rufus. Once this is downloaded, insert a USB, and choose Checkra1n ISO-file.
Step 4 — Hit "Start," followed by "Ok." Make sure you make a copy of the files on your USB because they'll be lost in the process.
Step 5 — Restart your PC and enter BIOS > Boot Manager. Then, select the USB in the BIOS Boot Manager.
Step 6 — Connect the target phone to your device using a cable. Then press "Start" followed by "Next".
Step 7 — Click "Done" and open the "checkra1n" app. On the next page that loads, click on "Cydia" to start the installation.
Step 8 — Get back on your device and log into mSpy. Now, click "Get Started", followed by "Apple, iOS", followed by "Jailbreak".
Follow the instructions displayed on the screen to complete the process of jailbreaking the target device. Once done, mSpy will automatically hide the app, but to hide the "checkra1n" and "Cydia" apps, you'll need to follow the steps outlined on mSpy's support page.
How We Tested mSpy
So we can offer a detailed, reliable appraisal of mSpy, we've taken a deep dive into its features, usability, and pricing and explored its precise capabilities when it comes to tracking and monitoring devices in all kinds of scenarios.
Beyond looking at it from a technical perspective, we've also considered what the spy app has to offer when it comes to demos, guarantees, and educational information, to ensure you have the best experience possible.
We have a team of specialists who have reviewed a wide range of phone spy apps and cybersecurity tools, so we have a rich knowledge of the best that the market has to offer, and we can weigh up how different products compare to one another in terms of functionality and value for money.
In addition to that, we've listened to consumer feedback from sites like Reddit and TrustPilot, where real users have let their thoughts be known about their experiences of using the product in the wild. While these can skew to be either highly positive or negative, they offer valuable insights on potential issues.
Our process is to bring all this material together so we can offer a rounded, in-depth perspective of the app's specs as well as calling on a wealth of experience. Ultimately, our objective is to give you the unbiased information you need to make an informed purchase detailed.
Spy App Resources and Guides
Our team of phone experts have also put together a range of other guides on phone apps, which include:
Final Thoughts – Is mSpy Worth it in 2023?
mSpy is an excellent spy app that stands out for its comprehensive suite of features. In our testing, all of its features work as advertised — something you rarely see with spy apps, which also justifies its price. You can keep tabs on calls, messages on various apps, and locations of the target device.
You can also use mSpy to set up geofencing and keyword alerts if you don't want to be pestered with frequent notifications. Moreover, an intuitive and easy-to-use control panel makes it easy to manage all these features. Plus, while mSpy lacks a free trial, it offers a free demo so you can test the tool before committing.
mSpy Review FAQs
Is there a mSpy free trial?
Can you track someone with mSpy without them knowing?
How long does it take to install mSpy on a target phone?
References