Our uMobix review aims to dig deep into this spy app's popularity and understand why it's rated so highly by users. Spy apps have taken online monitoring by storm and have proved their competence, whether it be to keep track of your unaccompanied minor children, catch a cheating spouse or simply monitor your employees while on the job. While these apps promise a lot of tracking features, only a few of them actually work. This makes choosing a genuine spy app difficult.
That's why we've reviewed dozens of spy apps to find out the best among them. Today, we bring to you a detailed uMobix app review, a tool that stands neck-to-neck with the likes of mSpy and Cocospy. With features like robust call and message tracking, remote device access, the ability to view deleted information, and no jailbreak requirement, uMobix does an excellent job. Read on to find out more about uMobix and why it can be the spy app you've been looking for.
What is uMobix?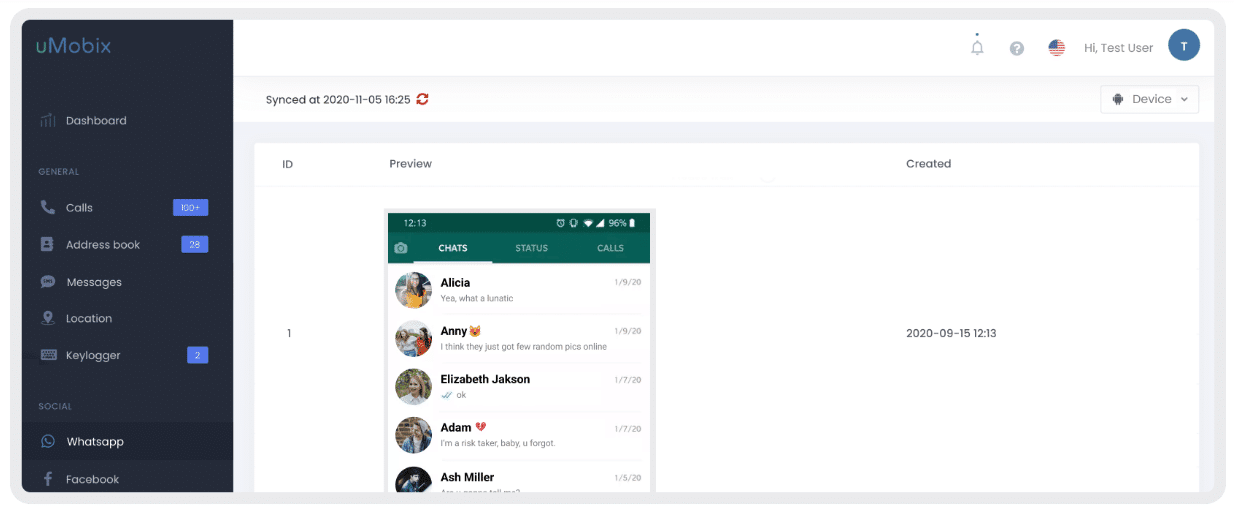 uMobix is a popular phone monitoring app based in London, founded only recently in 2020. Despite being new in the industry, it's risen to success and garnered a huge user base, owing to its comprehensive suite of phone monitoring features and quick 5-minute set-up.
You can use uMobix to spy on your child, spouse or employees' devices and access their messages, call logs, social media activities, and media files, amongst others. What's more, you won't be a spectator with uMobix — you'll actually have remote control over the device and the ability to send commands.
For example, you can make the target device record its surroundings, delete unwanted apps, or restrict calls from certain contacts. Everything you wish to do can be done remotely through your uMobix control panel.
As one of the best parental control apps, uMobix is primarily designed for parental control (especially for kids under 18). However, you can use it for other purposes as well. Consider its screen time monitoring feature, for example, which parents use to prevent their kids from becoming phone addicts. Businesses can also use it to prevent employees from over-indulging in non-work-related apps during working hours.
How Does uMobix Work?
uMobix is an app that monitors the target phone in real-time. For instance, if there's a new message on the target phone, it'll show up on your control panel, and you can read it without the actual owner knowing.
The best part is you don't need to root or jailbreak the device to monitor it through uMobix. For reference, jailbreaking is the process of removing software restrictions that are imposed by device manufacturers. These restrictions are used to keep unauthorized users from accessing the device's core components and the owner's information.
Although you need physical access to download the app on the target phone, once the download is done, uMobix works in stealth mode — yep, you can track a phone without them knowing — ensuring the device owner never finds out that they have a spy app tracking them.
Its moves are undetectable, on top of which, you'll also be hiding the app from the main menu (the steps have been discussed under the set-up section near the end of this article). Together, these steps make uMobix 100% undetectable.
uMobix Pros and Cons
Here's a quick glimpse into the advantages and disadvantages of choosing uMobix:
Pros
You can track various social media sites and popular dating apps
The keylogger tracks everything that's typed, even unsent messages
Helps you find the target device's accurate location in real-time
Get remote control over the device (i.e. delete unwanted apps)
Manage your kid's app usage and screen time
Cons
No geofencing feature is available
The installation can be slightly tricky for iOS devices
How Much Does uMobix Cost?
Unlike many other spy apps, the cost of uMobix is the same across all iOS and Android devices. Here's uMobix's pricing:


The best part about uMobix pricing is that there are no price-related exclusions. This means you get all the same features on all three offers. The only thing that differs is the price and the duration. Needless to say, the longer your subscription is, the more money you'll save on the monthly fees.
Unfortunately, uMobix doesn't come with any free trial. So if you want to test the platform, you'll have to purchase it for at least a month. But on the brighter side, it comes with a free live demo where you can see the dashboard just as it'll be once you purchase a subscription.
You'll also be able to browse through the menu, which will give you a better understanding of how the platform works. uMobix also uses sample data in the demo to help you understand how the data is presented once it's copied from the target device. This is a crucial step to check if you're comfortable with the platform and whether it's easy enough for you to handle.
Refund Policy
In case the platform doesn't work for you, you can always request a refund. The refund claim has to be filed within 14 days of purchase for it to be valid. Also, a refund will only be issued if you're facing technical issues with the platform that even the uMobix team cannot fix. This isn't usually the case, though.
Most times, the support team will be able to solve your issues. That said, the refund process isn't simple, and there are tons of rules. For example, the refund is only applicable to the primary subscription. If you purchase an add-on or upgrade, you won't get a refund for that.
Furthermore, the refund applies only to one subscription at a time. This means that if you get another subscription in the future and want a refund on that, you'll have to go through the same process all over again. You'll get a list of all their rules on their refund policy page.
Payment Methods
The uMobix spy app only accepts traditional payment methods such as credit cards, Visa cards, and Mastercard. If you're more comfortable paying through apps like PayPal, Payoneer, or Bitcoin, uMobix may disappoint you.
However, we found all the acceptable transactions to be very safe, fast, and accurate — that's all that matters, right? After all, the faster your payment is made, the sooner you can get to tracking the target phone.
What Can I Do With uMobix?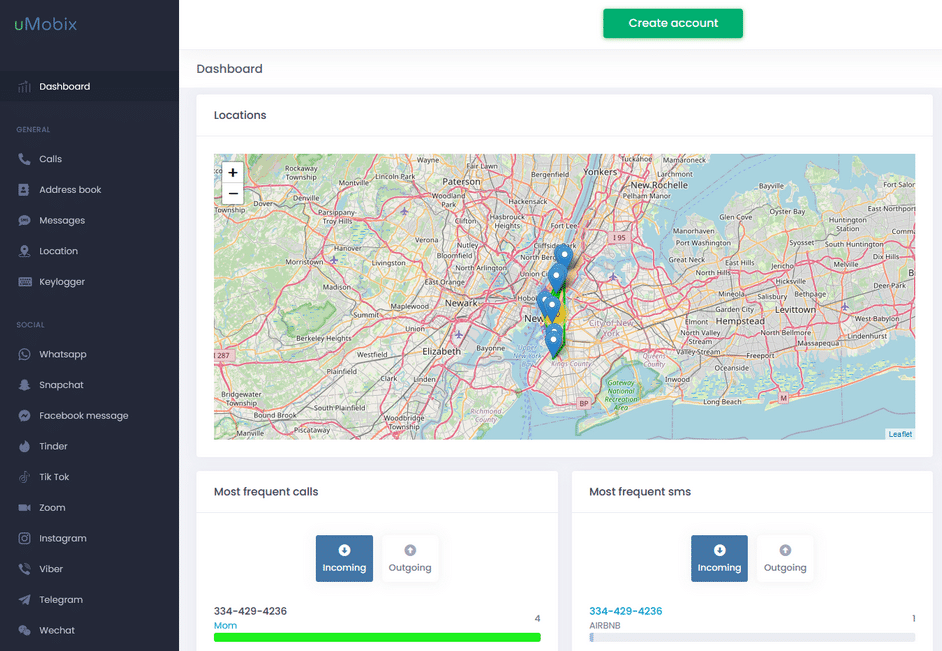 uMobix is jam-packed with features so unique and diverse that it can handle all your phone tracking needs. Here's a quick rundown of its best features:
The best way to know about someone — their friends, job, basic details, likes, and dislikes — is through their social media activity. Even if they don't actively post, they'll surely use social media platforms like Instagram, Facebook, and Snapchat to send messages. So if you want to check who the target user speaks to and the content they're engaging in, track all their social media activities with uMobix.
Take your kids, for example. You might be okay with them texting their friends or people they know, but what about strangers on the internet? Such conversations without supervision aren't ideal. Popular social media sites tracked by uMobix include Facebook, Instagram, Snapchat, TikTok, Reddit, and the like.
The best part is you can track them even if their account is private/locked. All the stories they share, their posts, and their activities will be available to you. In fact, the information will be updated every 5 minutes, and you can even block accounts or content you don't approve of.
Tracks Dating Apps
Want to catch a cheating partner red-handed? Use uMobix to gather proof. While spying apps like mSpy only lets you monitor Tinder, uMobix has extended its radar to all popular dating apps. It'll first help you detect which dating app the target user has on their phone. Then, it'll give you access to their matches, messages, and shared media files.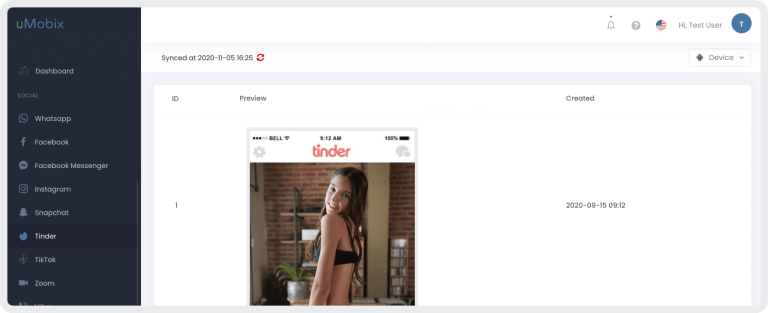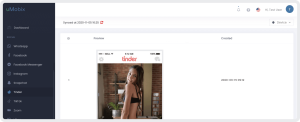 You can use the data from the dating apps and combine it with the information you get from monitoring their social media and messages to find out who the target user is currently dating or chatting to. This is also helpful for parents concerned about whether their teenager is on these apps.
Location Tracking & Geofinder
While tracking your target's social media and messages might give you access to their virtual life, it tells you nothing about what they're up to offline. This is where uMobix's live location tracker will help you. It'll keep updating you about the target user's live location 24/7 with accurate longitude and latitude coordinates. You can even switch to Map View and get accurate directions to their location.
You'll also be able to check nearby landmarks in this mode to reach the venue faster. And it's not just for the current location — you can also check their past activities and last visited location from your dashboard. No more asking questions about their whereabouts and letting them lie straight to your face.
In case you're not ready to install spy software on the target user's phone but still want information about their whereabouts, try uMobix's Geofinder feature. This tool can help you detect anyone's location using their phone number — no setup required. It'll make you send an SMS to the target device, and the recipient has to follow the link in the text.
uMobix will notify you once the target user's location is available. The entire process is transparent between both parties, legal and safe. That said, uMobix's mobile tracker does have one downside. There are no geofencing capabilities, as you'd find with apps renowned for being the best geofencing tools, like mSpy. This is a pity, as these location alerts ensure nothing noteworthy gets missed.
Access to Deleted Information
uMobix's biggest USP is that it gives you access to deleted information— not many phone spying apps can do that. This includes access to deleted messages, calls, and contacts.
The first thing a person does when they're guilty of something is hiding evidence. And in that case, tracking them with regular spying features becomes difficult. That's why uMobix has this special tool that digs out deleted information from the device.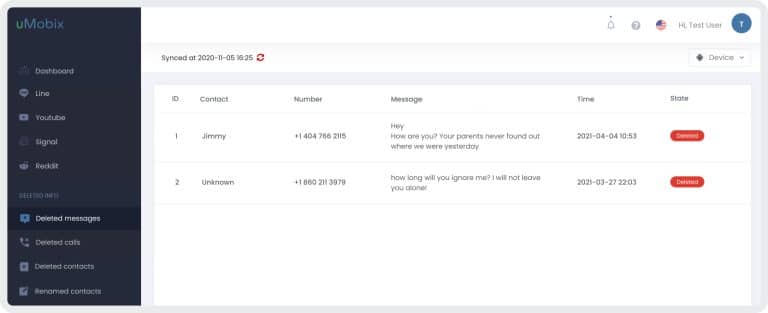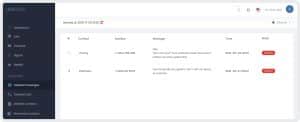 The deleted messages will be displayed along with the other regular messages on your dashboard but will be marked as deleted. The same goes for call logs and even deleted contacts. For contacts, you get an additional benefit — uMobix lets you know which contact has been renamed recently.
Let's say you ask your child to stop talking to a particular person and delete their number. They might try to outsmart you by simply changing that person's contact name. Thanks to uMobix's keylogger, you'll know if they pull a trick like this.
Surround Recording
This feature lets you track the phone's surroundings remotely, with both video and audio monitoring. It lets you remotely turn on the camera and microphone and record the target user's surroundings.
This can help you in multiple scenarios. For example, you can keep an eye on your kids to ensure they're treated well in school and no bullies bother them. You can also use it on your partner if you suspect them of cheating. Even businesses can use this feature on their team's work phones to monitor performance and office culture.
If you don't have the time to go through the recordings, you can take a snapshot. Pick a camera angle of your choice for the target user's phone — front or back — and take a picture directly from your uMobix control panel. Don't worry, the target user won't suspect a thing, as the picture will be taken discreetly.
Media File Tracker
If you want to check what photos and videos are saved on the target device, uMobix has a tailor-made tool for that. You can use its Photo & Video tracker to peek into all the albums and open each file separately.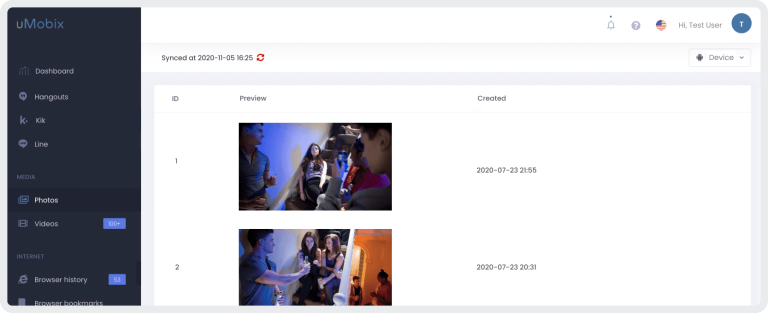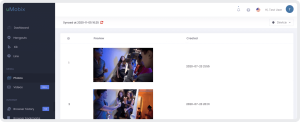 Along with that, you'll also get the file's name and detailed timestamps about when the file was received or downloaded. If you know the target user well, you might be able to guess who the sender could be.
Call Management
uMobix's call management feature gives you a complete overview of the target device's call log. You'll get a list of missed, received, and deleted calls. Along with that, you'll get timestamps that tell you when the call started, the call duration, and how frequently they call a certain number.
Combining these details, you can easily figure out who the target user is closest to and how frequently they communicate. This is ideal for parents who want to keep an eye on their kids' social life, as you'll also get the caller's name and number in case you feel the need to intervene.
Sometimes, simply tracking the frequent callers isn't enough — you might also want to check who your target is in touch with. That's why uMobix gives you access to the entire contact list on the target device. You can go through all the entries, check new and existing contacts, and delete the ones you don't like.
You can also restrict certain contacts so that your kids won't be able to contact them, even if they have the contact saved on their phones. Since the contact name will still be on their phone, they won't notice your meddling and will simply blame the problem on network issues.
App Management
With uMobix, you can see the entire list of apps on the target phone — both apps that have been downloaded by the user and the ones that were installed by default. You can go through the list and delete the ones you don't think your child should be using.
Under this feature, you can also monitor your kid's screen time and see how much time they spend on each app. Let's say they've downloaded a new game recently, and you notice a sharp rise in their screen time. In that case, you can remotely uninstall the app without your kid knowing.
If deleting the app seems too extreme, you can restrict the time they get to spend on each app by setting a timer that'll automatically close the app once your kids have met their daily quota.
However, if you're regularly limiting their screen time, it won't be long before they realize you're monitoring them despite uMobix being stealthy (because they'll notice the apps automatically shutting down). So you might want to talk to them about your intentions before you set the timer.
SIM Card Replacement Alert
Some target users, especially cheating spouses and malicious employees, may take extra precautions by using a secret SIM card to avoid detection. But thanks to uMobix, a new SIM card isn't enough to escape detection.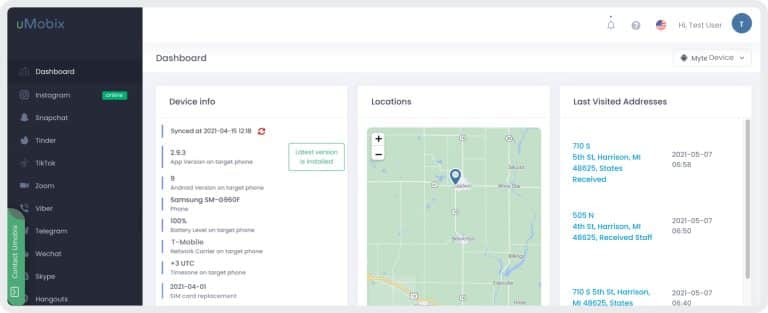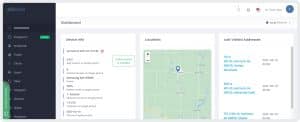 The uMobix app is installed on the phone, not on the SIM card. So if a new SIM card is activated on the target device, uMobix will immediately notify you and then start tracking all the calls and messages made through the new SIM.
The target user could change SIMs every month, or they could use multiple SIMs at the same time. Either way, uMobix will dig up all the information you need to keep an eye on them.
Internet Usage Monitoring
The best way to get into a person's mind is to check their internet activity with one of the best website history trackers. Although you can directly access someone's web history through their browser, this process requires physical access to the device. That's why you need uMobix.
Under this feature, you'll be able to see every website the target user visits and how often they visit them. If you find them browsing content that's inappropriate for them, simply block the website from your control panel. You can even get a glimpse of their bookmarked sites.
Furthermore, if the user opens their email through a browser, you'll be able to check all their incoming and outgoing emails, including newsletters. If you find any shady platform their email ID is registered on, block it immediately without the owner catching a whiff.
Keylogger
A keylogger does what the name suggests — it records everything that's typed on the target device. It doesn't matter if it's a message or a note or if it's saved or not, the keylogger will track it.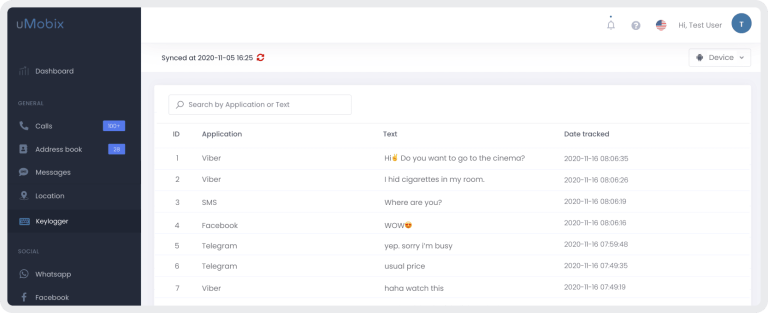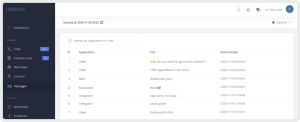 You can even use uMobix's keylogger to track messages that were unsent or erased halfway, notes that were deleted, or search queries that never went through.
When every button they press on their phone shows up on your uMobix dashboard, it becomes impossible for the target user to hide anything from you. In fact, unlike most phone spy apps, uMobix is renowned for being one of the best keyloggers out there, as it even lets you track incognito browser searches.
Activity Notification
uMobix understands that no one has the time to keep in touch with the updates every few minutes, especially when nothing important is happening. That's why it has a special notification feature that alerts you only when something noteworthy happens.
You'll be notified when the target user comes online. In case you've asked your child to study for a test or assigned an urgent task to your employee, but they trespass that command and come online to waste their time.
Similarly, uMobix will notify you when the target device's battery is about to die so that you aren't left guessing why the target phone is switched off.
WiFi Blocker
If you don't want your kids spending too much time online, you can use uMobix's WiFi management feature to cut them off the internet whenever you want. If you have multiple WiFi networks near your house, you can choose to block all of them at the same time or block some of them while keeping the others open. It's all up to you.
Managing your kid's internet time is a great way to help them build healthy digital habits and prevent them from being addicted to their device. It'll also come in handy during exam season or right before an important project when you desperately need them to focus on school work.
Since the entire process is remote and flexible, you can choose to keep the WiFi on for as long as they need it for schoolwork and then switch it off immediately.
Device Blocking
Features like WiFi Blocker or screen-time management will only disable partial functions of the phone temporarily. However, if you want to block their access to their device completely, making it impossible for them to do anything at all, uMobix's device-blocking feature will be your friend.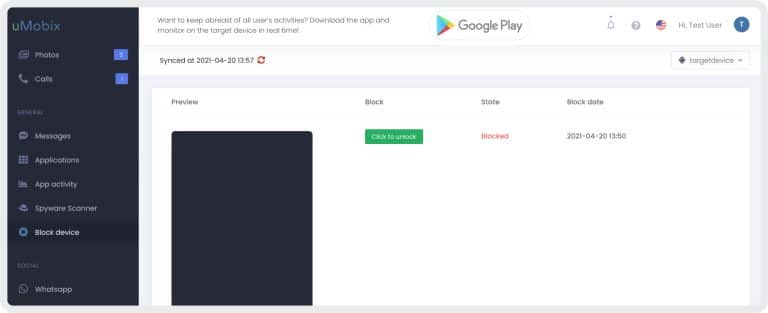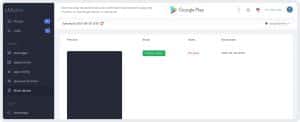 It only takes a click to turn it on, and the device's screen goes black instantly. As long as the block is on, the user cannot unlock the phone or even see the lock screen.
Although it sounds a little harsh, this feature will definitely come in handy in case the phone is lost or stolen. All your personal details that could have been exploited by the attackers will now be inaccessible to them.
uMobix's Compatibility
uMobix is purely a cell phone tracking app which means that it has apps compatible with only Android and iOS at the moment, plus tablets. Here's a better glimpse at its compatibility with these operating systems:
Android
uMobix will run on any Android device running on version 4 or above. This means that most modern devices, especially the ones that were bought in the last few years, will easily work with uMobix.
The best part about tracking an Android through uMobix is that you'll have access to all the features, with no exceptions. This is an important point because some features, such as deleting apps or blocking websites, are exclusively available on Android.
iOS
uMobix will work with all iOS devices, which include both iPhones and iPads. However, as mentioned above, many features are available on Android but not iOS. For instance, you can't track Snapchat or see deleted messages or calls.
That's simply because iOS devices are more secure and harder to break into. But on the plus side, you'll have access to your target's Instagram, Facebook, gallery media files, messages, and calls — all the basic features that'll give you a thorough idea of what the target user is up to.
Is uMobix Legit? A Look at uMobix Reviews
If uMobix's self-proclaimed benefits aren't convincing enough for you, we've dug out some testimonials and feedback from real users. It's received solid ratings on popular review sites like Trustpilot and Sitejabber.
On Trustpilot, 68% have given it a 5-star rating, while on Sitejabber, the rating is based on 202 reviews, out of which 164 users have given the uMobix app a five-star rating. When we went through the feedback in detail, the common thing that most reviews mentioned was uMobix's stellar customer support team.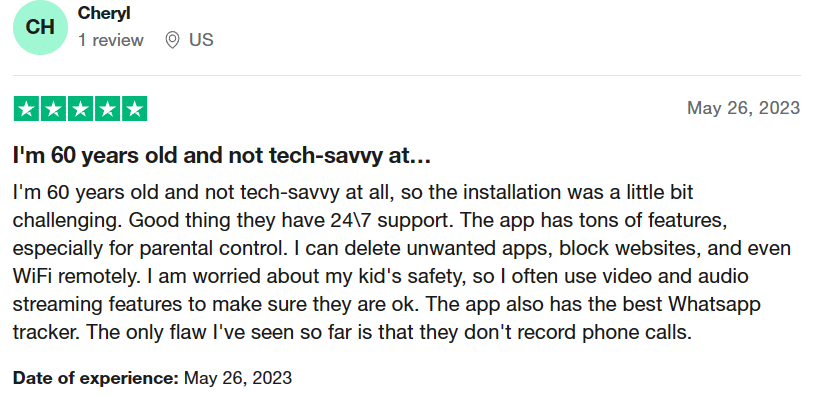 People also love the fact that it comes with tons of monitoring features— some loved the GeoFinder, and some found it borderline invasive yet important to keep your family safe.
Many users who didn't have luck with any other phone monitoring app found their perfect match in uMobix. Its accurate reports, on-time updates, and extensive tracking tools that keep nothing hidden from you have made it all the more popular among users of all ages.
How Does uMobix Fare Against Other Top Spy Apps?
If you're unsure whether uMobix is the right phone tracking app for you, here's a quick overview of its competitors. Take a look at their prices and refund policies to make the right call:
| | | | | |
| --- | --- | --- | --- | --- |
| Spy App | Monthly Price | Annual Price | Devices Tracked/Subscription | Money-Back Guarantee |
| uMobix | $49.99/month | $11.66/month | 1 | 14-day guarantee |
| mSpy | $48.99/month | $11.66/month | 1 | 14-day refund |
| Cocospy | $49.99/month | $11.66/month | 1 | 14-day guarantee |
| XNSpy | $35.99/month | $7.50/month | 1 | 10-day refund |
| iKeyMonitor | $16.66/month | N/A | 1 | 30-day guarantee |
Evidently, uMobix is a superb choice among all these competing spy apps. Its prices are affordable, and unlike mSpy, it doesn't increase on renewal. The only app that's cheaper than uMobix is XNSpy but its refund window is only open for 10 days, which is 4 days shorter than uMobix's 14-day refund window.
Although all the above tools are the best options on the market, each one comes with its own advantages and disadvantages. For more, read our review and comparison of the best spy apps for all the nitty-gritty details on their features, pricing, and pros and cons.
How to Use uMobix – A Step-by-Step Guide
The uMobix installation process is slightly different for Android and iOS. We've covered both and created a step-by-step setup guide:
uMobix Android Installation
Presenting to you the uMobix Android installation guide:
Step 1 — Create an Account on uMobix
Visit uMobix's official website and create a new account. Once you've purchased a subscription, it's time to enter your uMobix login details.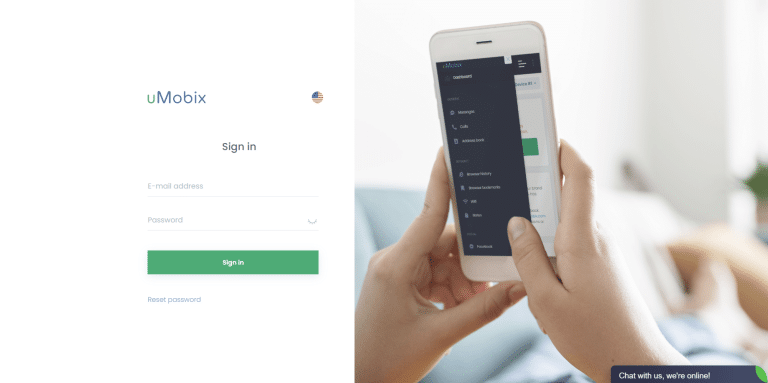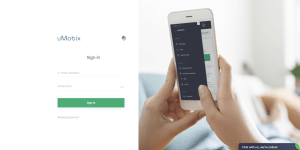 Step 2 — Download the APK File
In the window that loads, scroll down to get your unique APK link to download the app. Remember, uMobix, like any other spy app, isn't available on the Google Play Store.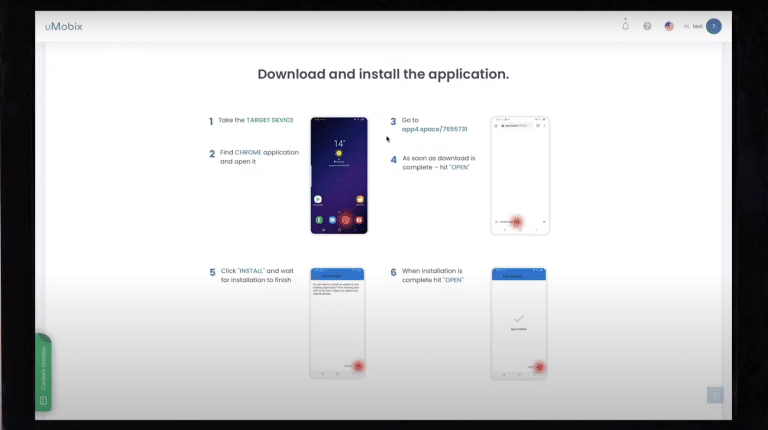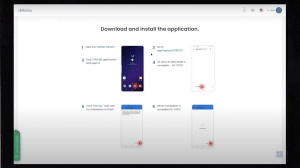 Step 3 — Download the App on the Target Device
Next, take the target phone, open the browser, and paste this link into it. As soon as the page has loaded, the app will download — no additional steps are required here.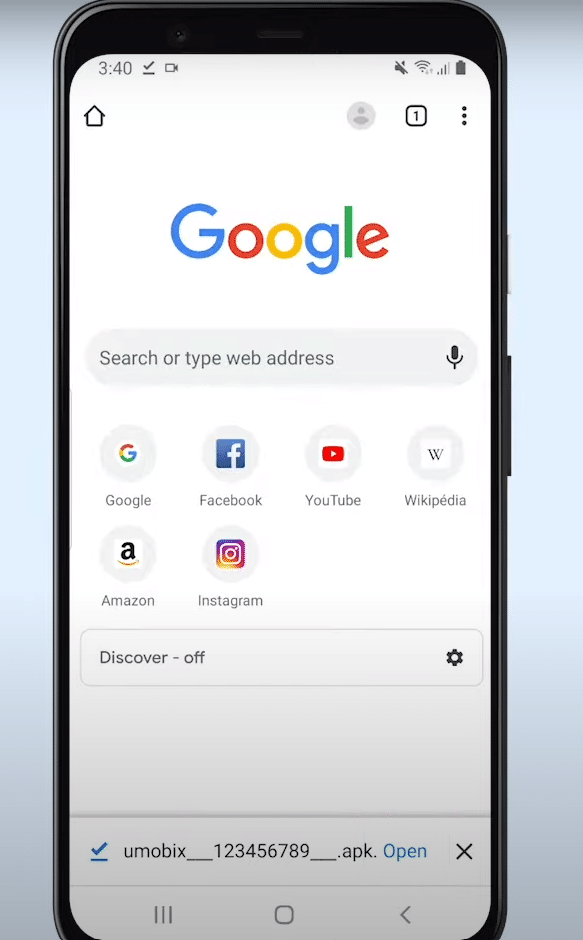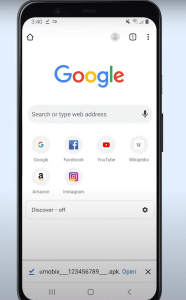 Step 4 — Install the App
Once the download is complete, open the file and click on Install. It will only take a few minutes to complete the installation.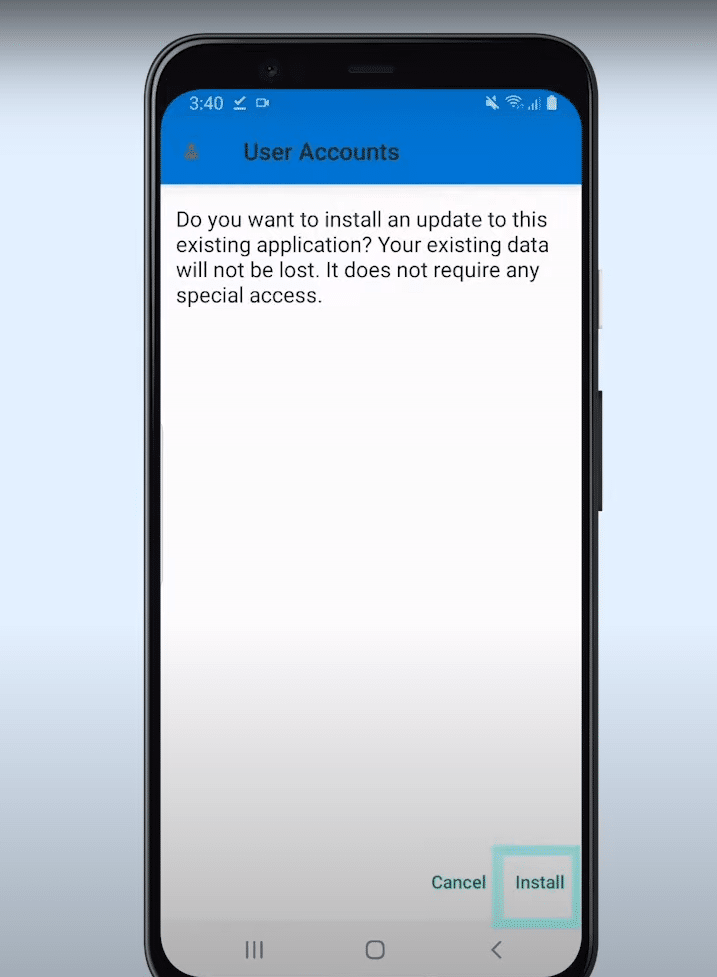 Step 5 — Accept the Terms & Conditions
After that, you need to open the app and accept the Terms & Agreements to proceed. Then, activate the keylogger.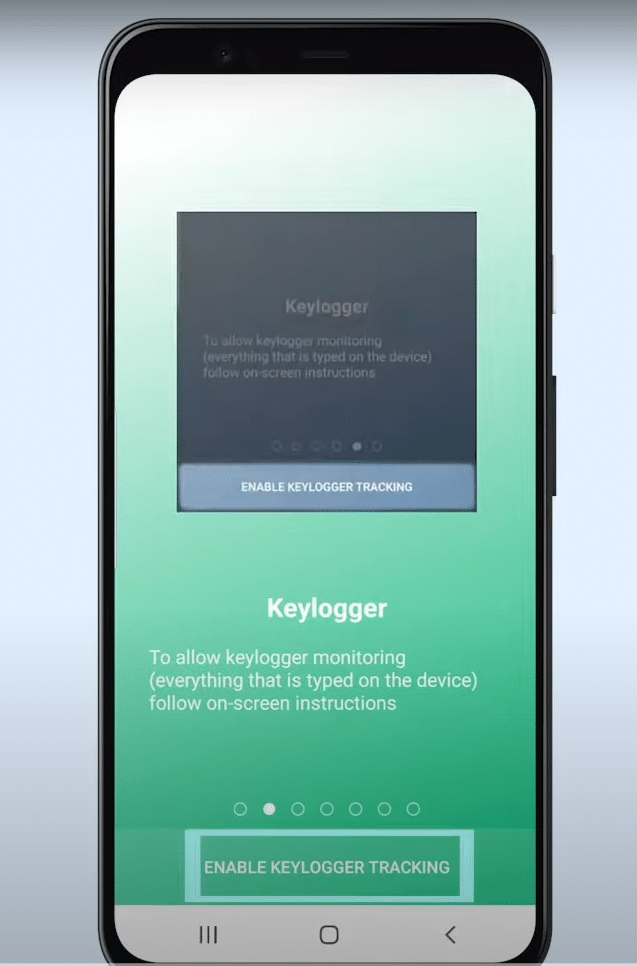 Step 6 — Allow Access to Messages and Photos
Find "Accessibility" from settings and Go to "User Accounts". After that, click on set-up automatically to enable all permissions. This step will allow the app to monitor the target device's messages, photos, and calls, amongst all the other activities.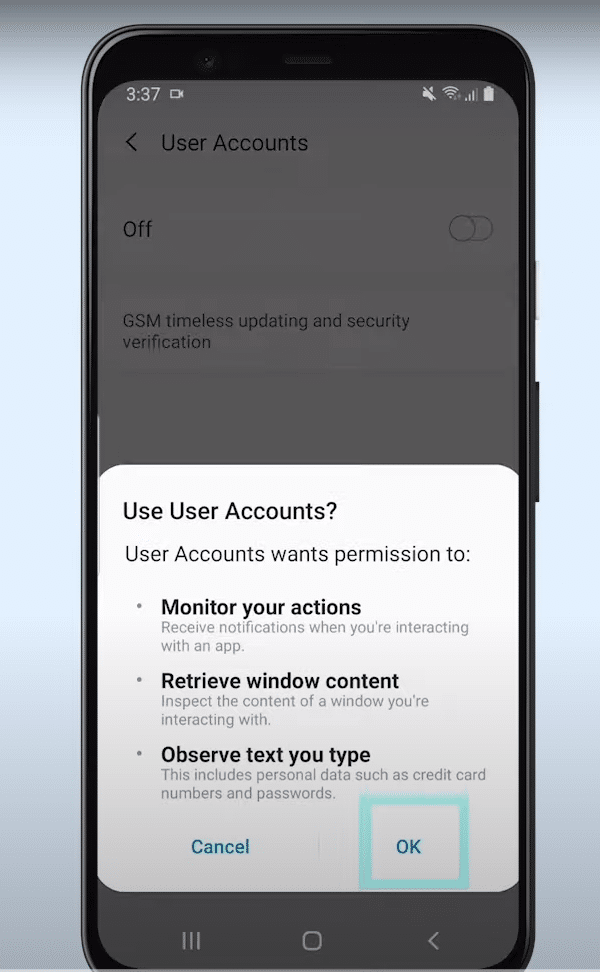 Step 7 — Delete Browser History and APK File
This step is the most important part of the process. You need to ensure that the user doesn't find out that you've installed a spy app on their phone. So go to their browser history and delete the last activity. Also, make sure you delete the file downloaded from the APK link.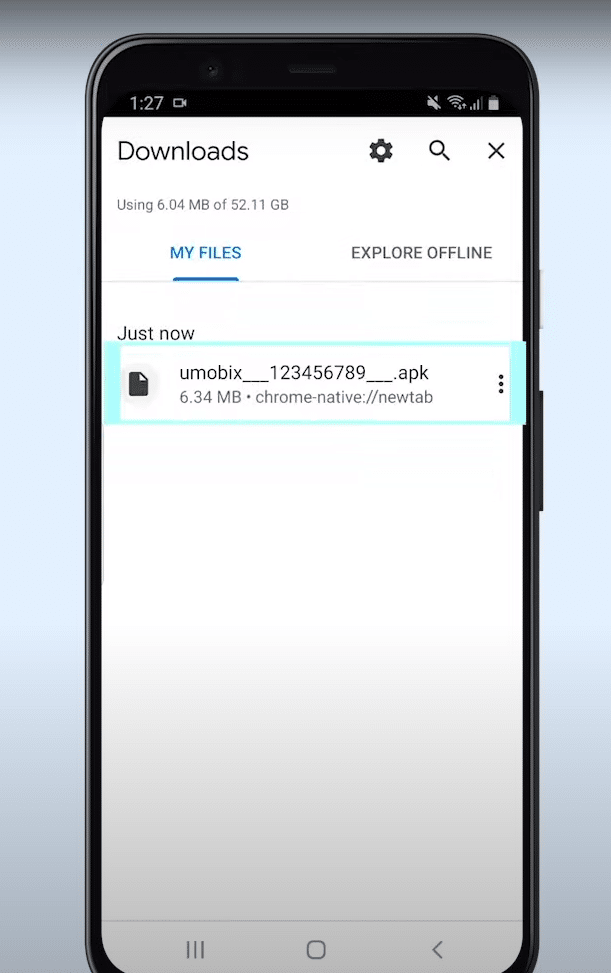 Step 8 — Hide the App
Hiding the app is important so that the target device can't get a whiff of them being tracked. Here's how you'd do it:
Step 1 — Go to their home screen settings and hide the app from the menu. This step will differ from brand to brand. For example, if the target user has a Redmi phone, go to Settings, and choose the "Apps" option.
Step 2 — Under this list of options you get, choose "System App Settings" or simply "App Settings". Here, you'll find another option called App Lock; click on that.
Step 3 — In the window that loads next, you'll find a list of apps. Scroll and look for the uMobix app and then turn on the app lock to hide it from the menu.
Step 4 — If at any time you want to see the app again, you can visit the same App Lock menu and click on the top section named "Hidden Apps". From there, turn off the app lock to make uMobix show up on the home screen once again.
uMobix iOS Installation
The setup process is slightly more difficult for iOS devices. It's recommended to back up essential data before beginning the process to avoid losing any important files. You'll also need access to your target's iCloud credentials. Here's a step-by-step guide on how to install uMobix on an iOS device:
Step 1 — Back-Up the Data
To do a backup of the user's data, go to the target device's Settings, click on iCloud, select iCloud Backup on the next screen, and turn on the iCloud Backup button.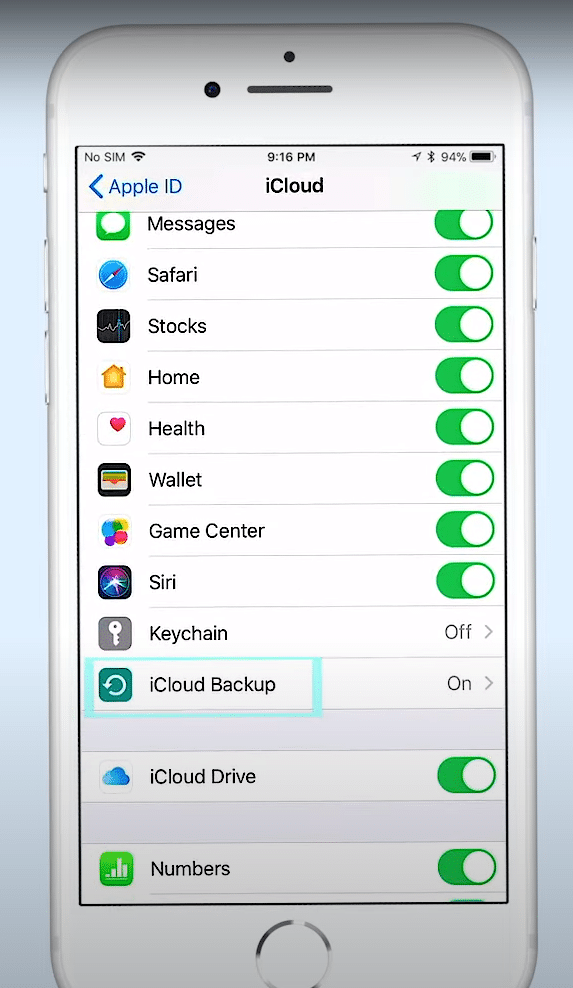 It's also recommended that you turn on the backup for every app on the device. You'll find the list of apps on the same window, and all that you'll have to do is toggle the buttons beside each app to turn on backup. The entire process takes less than a minute.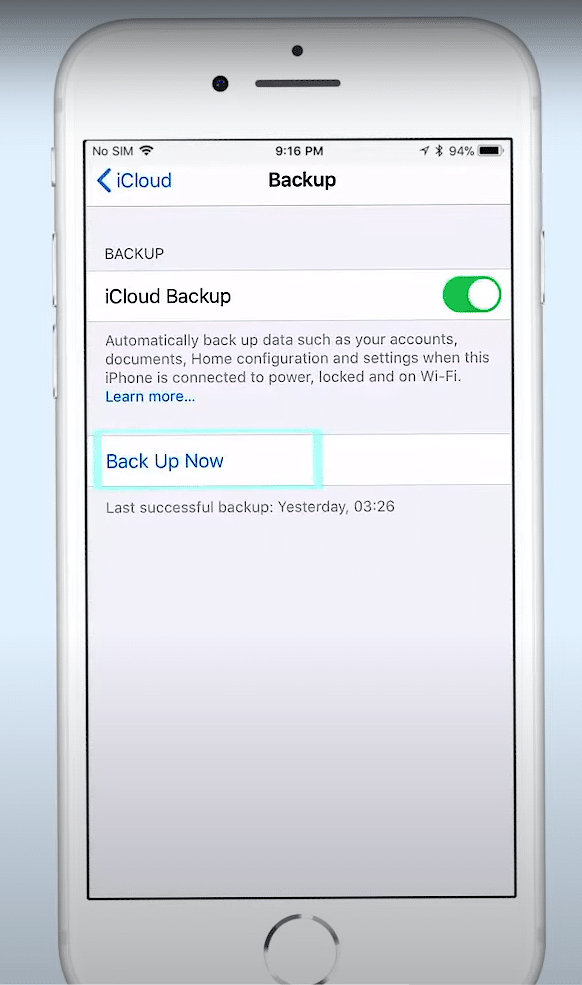 Step 2 — Buy a uMobix Plan
Visit uMobix's official website, create an account, and buy a subscription. Next, to connect your uMobix account with the target device, you need to enter the Apple credentials. Double-check and make sure they are correct, or you might target a different device.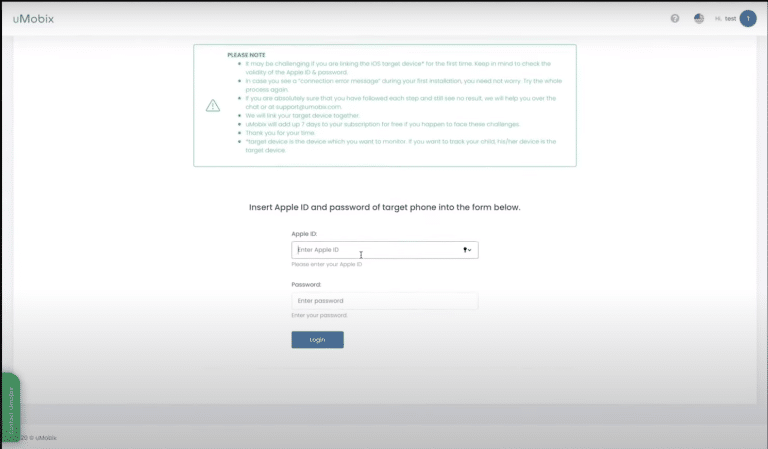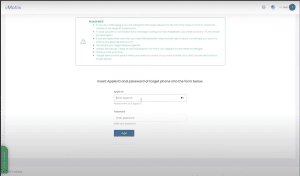 Step 4 — Verify Your Device
After that, you need to verify the device. For this, you'll also need physical access to it. To do this, you'll find a green button named "Send Verification Code" from the same page where you entered the Apple ID. Click on that to get an OTP on the target device. If you don't get the code within 5 minutes, refresh the page and try again.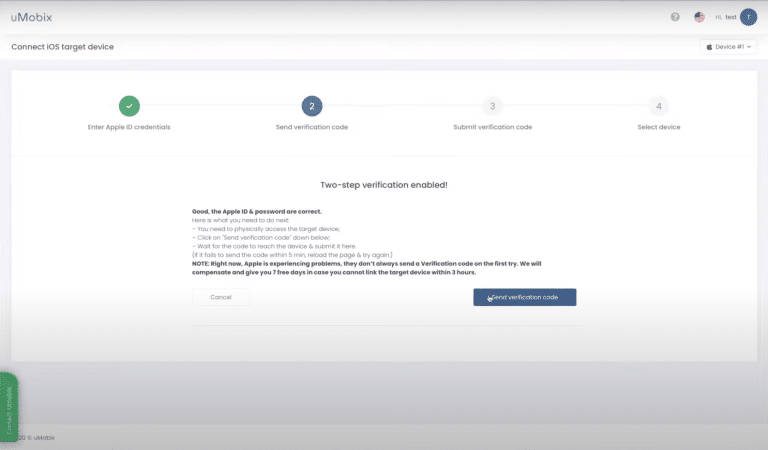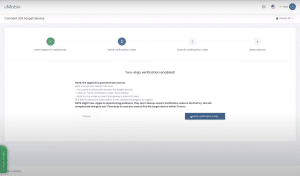 The target device will get a notification informing them that their Apple ID has a new sign-in request from a different device and location. Click "Allow" under the pop-up to get the verification code you requested earlier.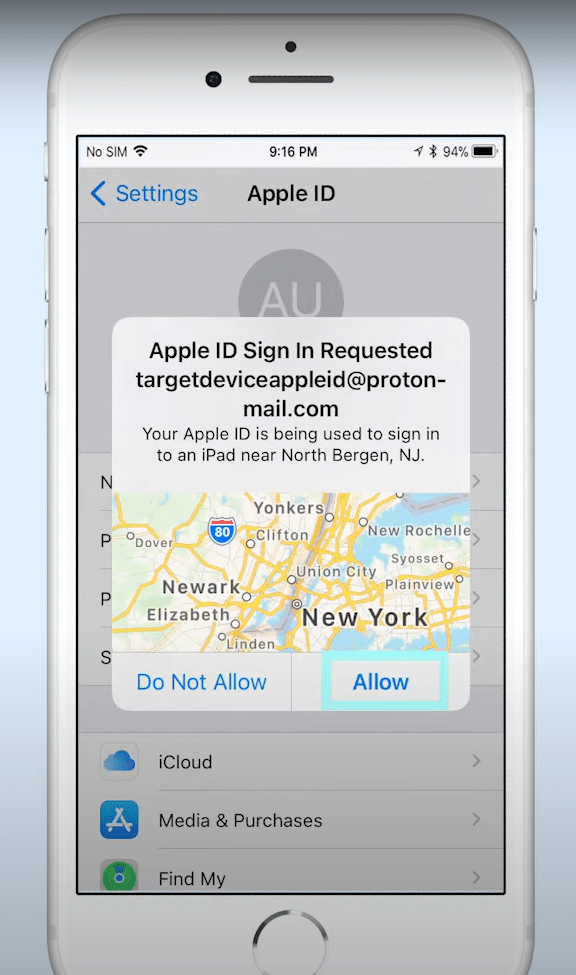 Once the Apple ID sign-in has been approved, the window on uMobix's platform will automatically load the next page. This is where you need to paste the verification code.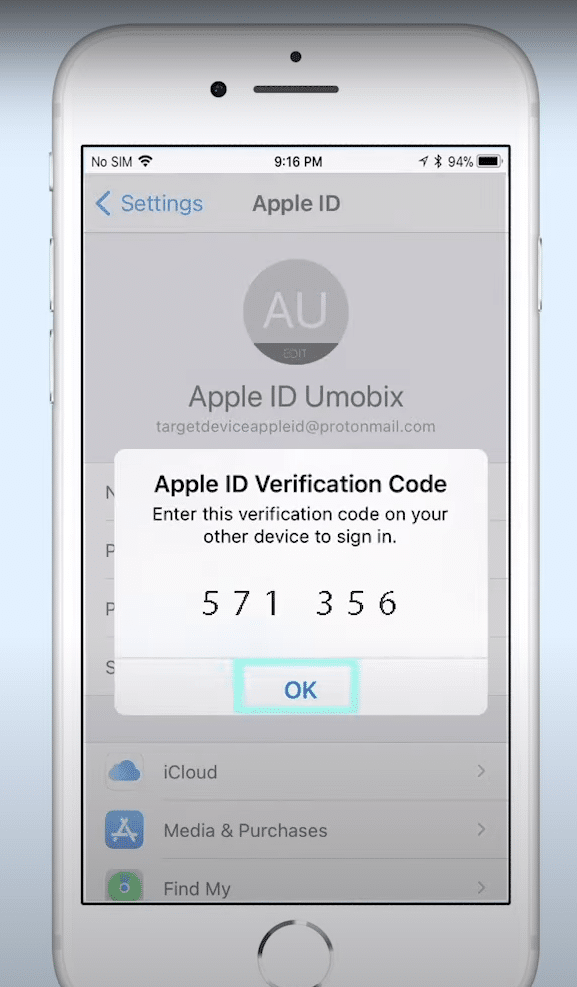 Step 5 — Choose the Device You Want to Monitor
If the iCloud account details you've provided are associated with only one device, the system will automatically load the next step. However, if there are multiple devices linked to the same account, you'll need to pick the device you want to monitor first.
Step 6 — Wait for the Data to Sync
After the previous step, you might be stuck in the uMobix loading screen for a little longer. This usually happens if there's too much data on the phone to process. Wait for at least 5 minutes — it usually doesn't take longer than that. However, if it still doesn't move to the next step, contact uMobix support.
Step 7 — Access Dashboard
If you pass the previous step successfully, the screen will automatically lead you to your dashboard, where you'll get all the tracked data from the target device.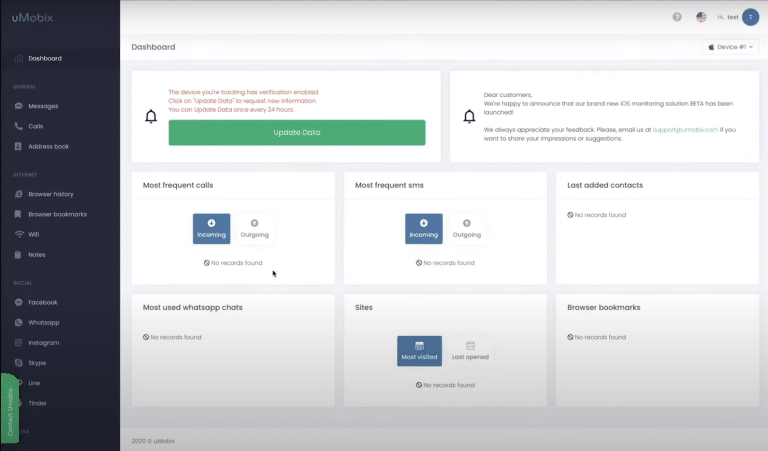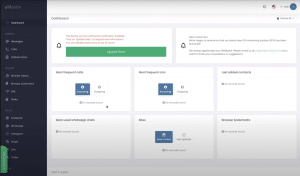 You'll need to be patient during the first 24 hours because uMobix will take some time to load all the data the phone has on your dashboard. After that, you'll be free to log in and check updates from the target device at any time.
The best part is that you don't need to jailbreak or root the device to use most features. This makes the installation process much easier, especially for those who aren't very technologically minded.
How We Tested uMobix
We have a team of experienced researchers who've reviewed a wide range of different tools across the phone spy and cybersecurity sector. That means we're familiar with the cutting edge of what the market has to offer and can compare apps in detail for their features and the value for money they deliver.
Our experts weigh up key factors, such as features, usability, and price, and consider how spy software would suit different use cases – such as tracking a child or loved one, monitoring employees, or retrieving a lost device, for example. It's important to know that apps will work in the real world, after all, rather than just in a lab.
In addition to that, we've explored uMobix's demo, its plans, and the educational material it offers, as well as its support service, to give a full picture of how the platform delivers for real customers.
We've also looked into what customers have to say about uMobix on the web on review sites and forums like Reddit to get real feedback on the pros and cons users have observed when putting the product to the test.
When creating our reviews, we set out to give a rounded, objective picture of the product, looking at its functionality and its competitive field, so you can make a call on whether it's the right fit for you.
Top Phone Spy Guides
In addition to uMobix, we've looked into the whole range of the best spy apps on the market, and we have guides on:
uMobix Review Conclusion – Is uMobix Worth it in 2023?
uMobix is an excellent value-for-money spy app with a rich catalog of monitoring features perfectly suited for any scenario. With features like call and message tracking, social media monitoring, device lock capabilities, and internet usage tracking, the app definitely packs a punch when it comes to remote monitoring.
However, the lack of a free trial and geofencing might bother some users. But the features you get at this price point definitely make uMobix a bargain pick. Plus, the demo will give you a great idea of what to expect when you purchase a uMobix plan. Try it now.
uMobix Review FAQs
Is uMobix better than mSpy?
How long does it take to install uMobix?
Does uMobix track WhatsApp messages?
References