The hot crypto presale of Scorpion Casino (SCORP) has surged past the $1 million mark and entered its eighth stage, sending the market into a frenzy.
The rising social momentum around the project has catered to the tremendous success of the presale. It will sell out much ahead of schedule at this pace, following which SCORP will list on major cryptocurrency exchanges.
Scorpion Casino Pre-Sale is selling out fast! 🦂

🔒 Licensed & Regulated Online Casino
💸 Earn up to 10K USDT Daily Staking Rewards
💰 Buy SCORP, the world's 1st Social Gambling Crypto

Get Passive Income from a Licensed Crypto Casino💸

Don't miss out!
👉https://t.co/VJ2da3puft pic.twitter.com/MHxl9ddA1I

— Scorpion Casino (@ScorpionCasino) July 11, 2023
A threat to heavyweights?
Scorpion Casino's entry into the crypto play-to-earn arena, the crypto gambling sector to be specific, is seen as a threat to heavyweights like Sandbox, Axie Infinity, and Rollbit. Due to its varied gaming offerings and stake-to-earn potential, Scorpion Casino is predicted to enter the top-50 chart within months of the token launch.
According to experts, the token's debut listing will ignite a significant bullish trend in the P2E arena. In fact, investors are bullish that SCORP has the potential to become the next cryptocurrency sensation with the possibility of achieving a 5000%-7000% surge in value.
Let's take a closer look at how Scorpion Casino outshines its competitors.
Gamers over investors
An inspection of the Scorpion Casino gaming dashboard confirms that the project prioritizes its gaming offerings and mechanics over everything else. The project is committed to fostering a thriving gaming community rather than merely catering to investors with empty promises.
The approach sets the project apart from its competitors. Scorpion Casino succeeds in recognizing that utility plays a pivotal role in nurturing longevity in Web3. If you thought this only benefits the gamers, you couldn't be more wrong. It is also key to building the trust of investors as well as retaining them. After all, it ultimately benefits them.

There is a plethora of options for enthusiasts of gambling and play-to-earn experiences on Scorpion Casino. For example, it offers around 30,000 betting opportunities each month. In fact, there are over 210 casino games sourced from renowned gaming providers like Evolution, NetEnt, Play N Go, Novomatic, EGT, and AMATIC that attest to the platform's commitment to high quality.
You'll discover a wide range of options, including slots, blackjack, roulette, poker, and live casino games within the Scorpion Casino gaming dashboard.
A fan of sports? You may want to check out the sports betting contests that allow you to capitalize on your knowledge across more than 35 sports. The long list of sports includes football, tennis, American football, horse racing, basketball, golf, boxing, and MMA to name just a few.
Well-defined target audience
Another distinctive feature that sets Scorpion Casino apart from the crowd is its well-defined target audience – people of or above the age of 18. The platform follows the standard practice on leading gambling platforms.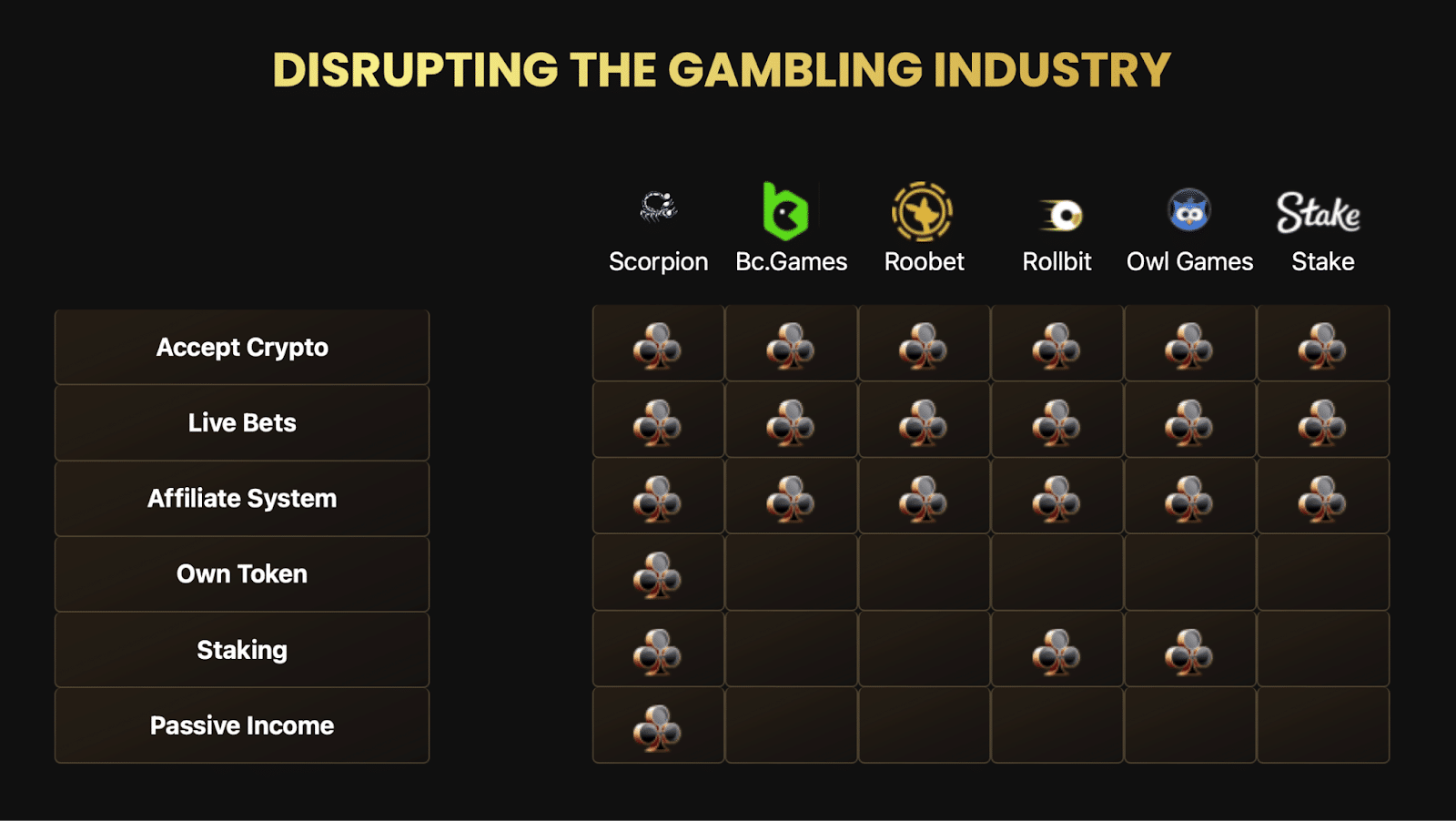 Crypto games that lose focus and go onto to feature subpar gaming mechanics often attract a demographic that lacks the financial capacity to invest in gaming assets. As a result, they can't contribute to the platform's revenue. From an investment perspective, the long-term potential of such a project is poor. These Web3 gaming communities tend to disintegrate as we saw in the case of leading crypto games over the last two years.
Scorpion Casino mitigates this risk by turning the attention back to gamers.
Burning and staking mechanisms
The online gambling and sports betting platform Rollbit's journey over the last few months has been remarkable. It has also worked in favor of Scorpion Casino.
As a top performer this year, Rollbit has given returns ranging up to 6000% to 8000% to strategic investors. Of course, it has much to do with the growing interest in online gambling.
Blockchain-based platforms feature unparalleled transparency, particularly in terms of displaying results and distributing rewards.
But is that all?
The massive social media reception of the project's burning mechanism is also to thank, which cuts down the SCORP supply over time. Scorpion Casino not only implements a similar token burning mechanism, but takes it a step further by introducing a staking mechanism. Together, they strengthen the token against market volatility.
This is how they work: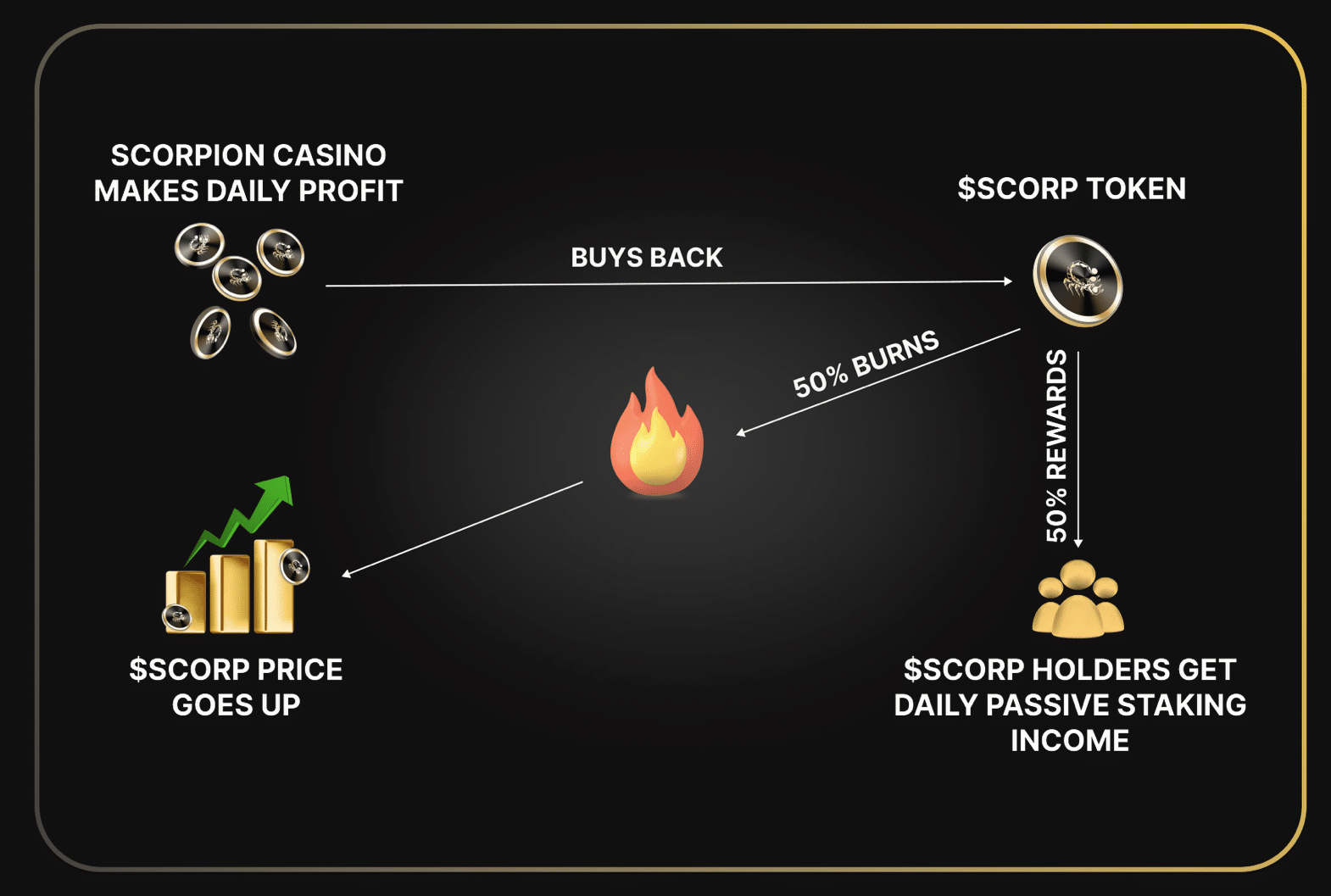 The token burning and staking mechanisms are rooted in the platform's revenue. It has set aside a portion of its profits to steadily build and maintain the value of SCORP over time.
Don't wait till the token launch
If you find Scorpion Casino promising, it is best not to wait until the token launch to buy the token. The presale is still live at discounted prices. Poised for a bull run similar to Rollbit in the coming months, the token is capturing widespread interest.
To maximize your investment potential, secure your SCORP tokens before the presale sells out. Access to the investment at a favorable price will become challenging once the token debuts on crypto exchanges.