Surf Reward (SURF) is one of the hottest cryptocurrency of this week. The project just launched its token presale, which is rapidly gaining momentum. A dedicated private presale was sold out earlier.
The Investor Buzz Around Surf Reward Explained
The presale momentum around Surf Reward can be best explained by its underlying project and growth potential. The market relevance of Surf Reward is not limited to the crypto market, unlike most Web3 projects. It has high real-world relevance. Surf Reward is launching a project that people around the world will find useful – an ad-blocker that earns you money for watching ads.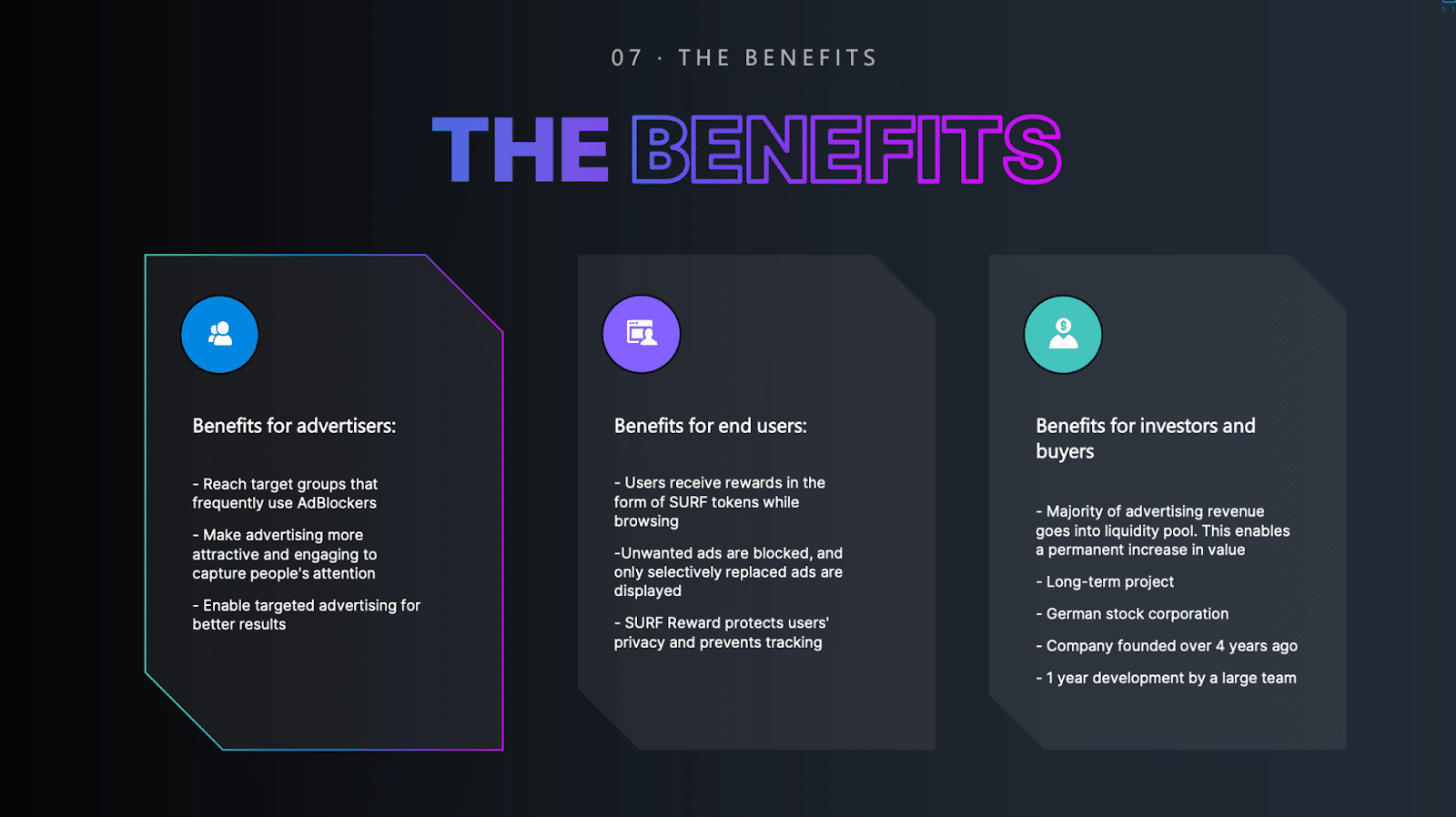 Browser Extension that Earns Crypto Passive Income
Surf Reward's flagship product is an extension that supports all major browsers. The platform helps users remove a majority of irrelevant ads that pop up on their screen every time they open a browser. Instead, it showcases advertisements curated from its advertising partners.
Why watch these ads instead of the random ads that your browser dumps on you?
To begin with, Surf Reward gives you money for watching these ads. The rewards are paid in SURF tokens, the native cryptocurrency that can be bought and sold on public crypto exchanges. Being backed by a solid ecosystem, they undergo price increases as the ecosystem acquires new users and its demand rises.
The token opens retail investment opportunities in the project.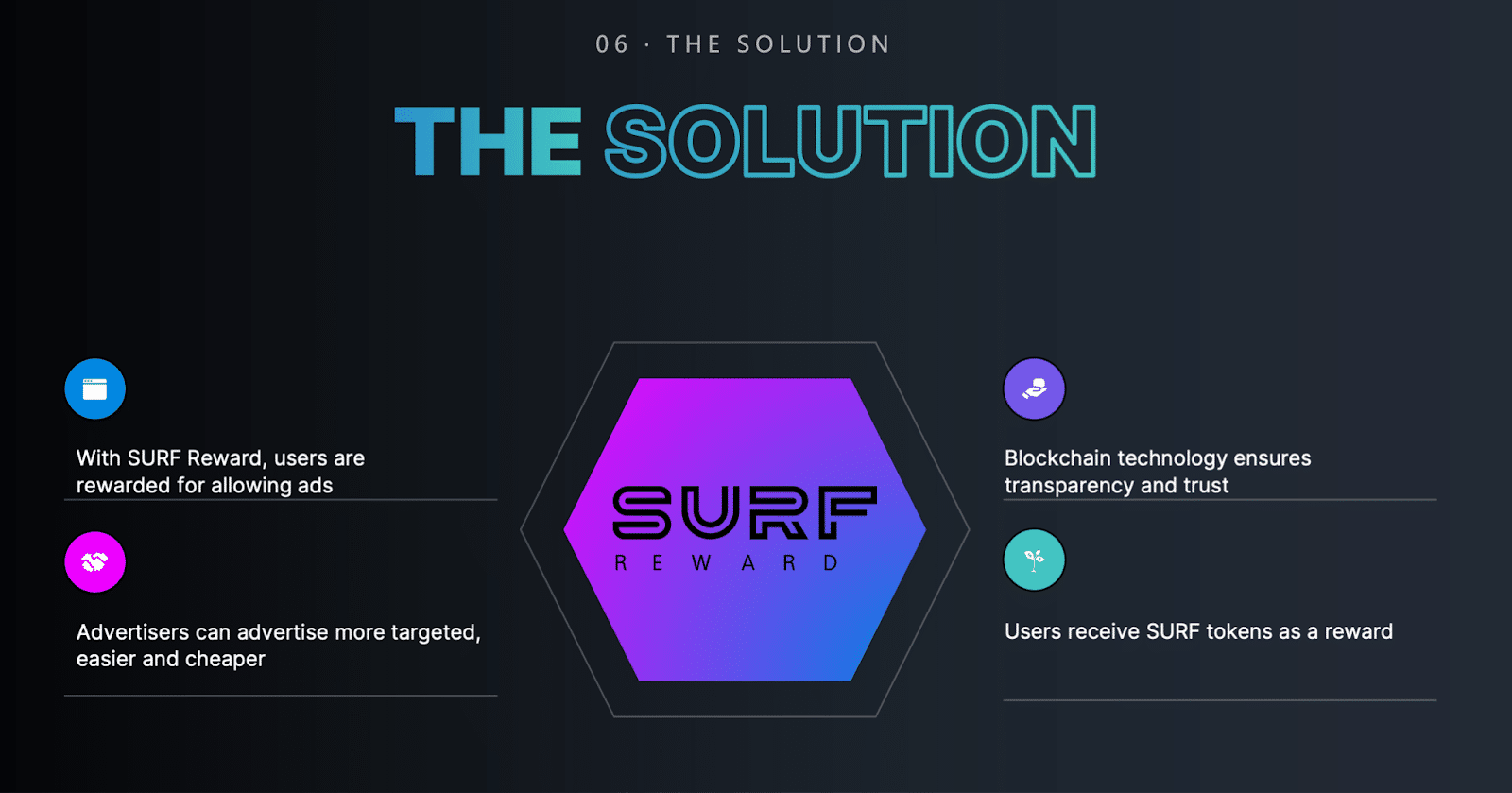 Cobweb of Middlemen Removed
Since Surf Reward exchanges individual advertising spaces with its own advertising partners, it doesn't rely on a complicated network of middlemen. The mechanism enables the project to provide cost-efficient marketing plans to advertisers and passive rewards to viewers.
The SURF Reward adblocker extension is compatible with all major browsers. Designed to be beginner-friendly, anyone can install and use it on their browser. (There may be jurisdictional restrictions.)
Here is a short YouTube video that explains how it works:
Modern Ad-Blocker and More
Surf Reward's primary goal is to block unwanted pop-ups and banners that distract users while they use the internet. But its scope lies beyond that.
For example, it allows users to browse without worrying about data extraction and privacy threats. This is because it deactivates tracking functions. It also cleans up websites, speeds up page loading, and allows you to integrate public AdBlock lists.
More importantly, the ad-blocker and the earning functionality won't get in the way of a smooth internet browsing experience. The platform gives you the control to customize the number of advertising spaces you see and how you interact with them. You can tweak it according to your preferences and reward goals.
High Conversion Rates – 3000 Advertising Partners Onboard
Surf Reward benefits viewers with passive rewards. How does it benefit advertisers?
As discussed above, Surf Reward advertisements are more cost-efficient as they remove middlemen from the equation. But there are more important factors that make Surf Reward a compelling choice for brands and businesses.
Persistent ads as they pop up during regular browsing experiences are annoying. While they grab a few clicks and occasional revenue, they can sometimes damage the brand's reputation. Let's say you're watching a gripping video on the internet and a loud, annoying ad breaks your viewing experience by showcasing an irrelevant product.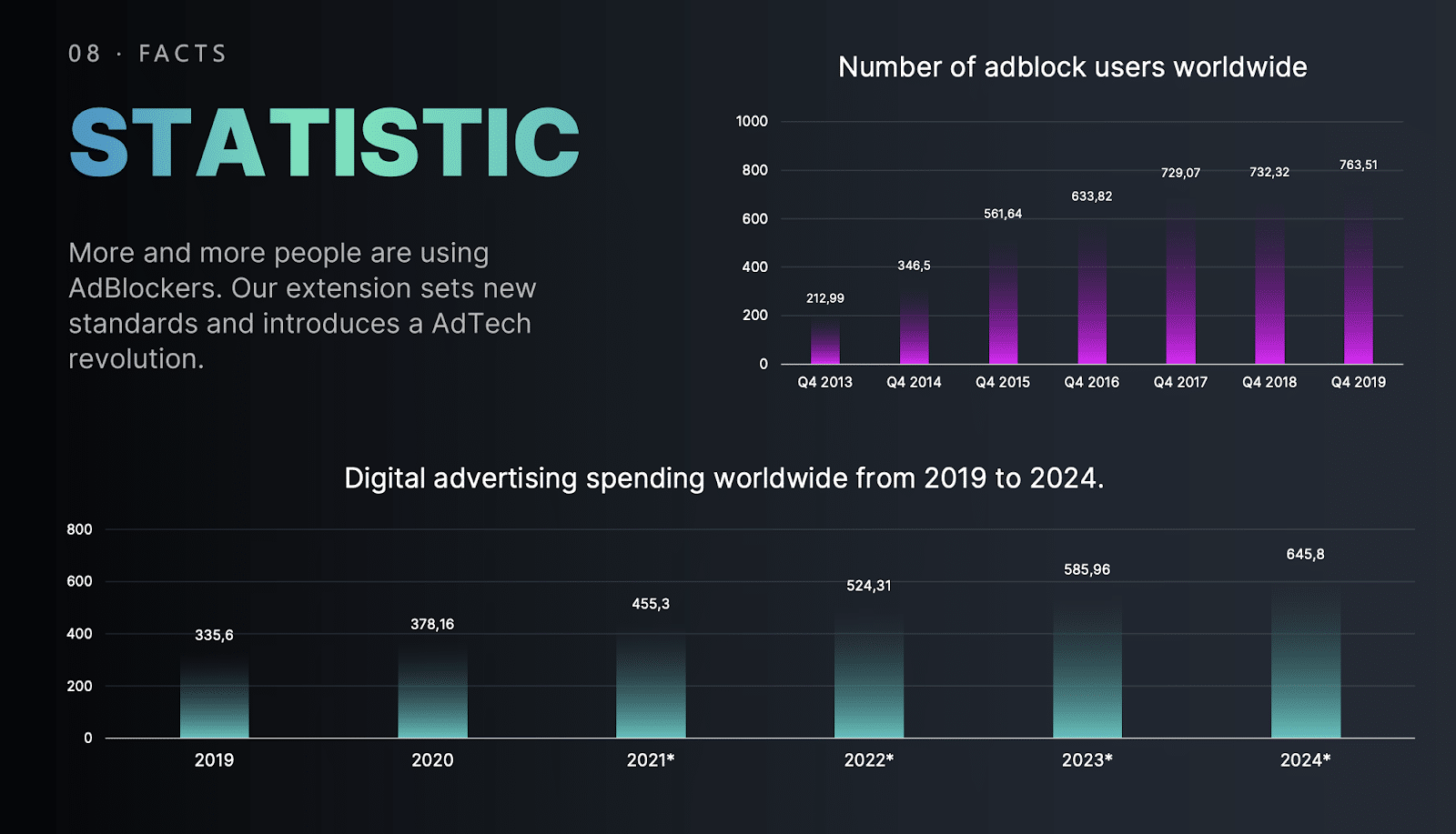 Even if you want to purchase the product in the future, you are likely to not go for the brand due to the negative impression it made subconsciously.
That's just a part of the problem. Another major concern is ad-blockers. Sometimes, users ban certain brands from showing up on their screens due to the pestering ads.
In contrast, Surf Reward allows a brand to reach its target audience with their consent. This makes a huge difference in the conversion rate and the revenue.
The project has onboarded 3000 advertising partners already.
Designed to Combat Market Volatility
Surf Reward comes with a flexible staking app with no lock period.
The majority of advertising revenue that SURF Reward generates goes to its liquidity pool. The focus on staking allows the project to ensure the consistent growth of SURF tokens. By making use of the inverse relationship between supply and price, Surf Reward ensures that SURF investors maintain a profitable portfolio, even after broader market downturns.
Surf Reward is a project led by Abelius Capital AG, a German company with an excellent track record of five years.
Public Presale to End Soon
The Surf Reward public presale is now live. It offers early investment opportunities in the project to retail investors.
Being one of the most promising cryptocurrencies to enter the market this year with real-world relevance, SURF has high growth potential. While the initial surge of the token will be powered by hype and social media buzz, utility-based demand will take over the subsequent phases of the price appreciation.
To wrap up, SURF shows potential for both short-term and long-term growth. Investors who make an early entry into the project stand a chance to 10X their passive income with a strategic investment in SURF tokens.