The Sword of Blood presale has entered its final phase. Investors who missed out on the early phases are flocking to the presale to hoard the SWDTKN token before its exchange listing, which is predicted to kindle a 10X-20X bull run.
As high-cap gaming cryptos like AXS, SAND, and MANA continue to disappoint with two-digit losses, they are looking for low-cap cryptos with a larger room for expansion. Being backed by one of the best GameFi projects of 2023, SWDTKN meets their expectations.
Let's take a closer look at Swords of Blood, before diving into the SWDTKN price prediction.
⚔️ FINAL ROUND FOR $SWDTKN PRESALE IS LIVE!#PRESALE 3 PRICE: $0.080#TGE PRICE: $0.10

📣 Ends 20th May | 11pm UTC

Read about our comprehensive marketing and user acquisition plan here: https://t.co/pUw5Q7qjjX #GameFi @0xPolygon @PolygonGaming pic.twitter.com/pf24VmsXtP

— Swords of Blood ⚔️ (@SwordsofBlood_) April 30, 2023
Swords of Blood is the Latest Crypto Gaming Sensation: Here's Why
Within months of the project announcement, Swords of Blood has emerged to become one of the most popular crypto games of 2023. Leading publications cite it as the ultimate Diablo killer.
So, what exactly is Swords of Blood, and what is its deal?
At the heart of it, Swords of Blood is the first AAA-quality fast-paced project on the path to becoming a community-centric MMORPG. Built on Polygon, it features flashy combat, stellar graphics, and various game modes that can give current crypto games a run for their money.
Sounds too good to be true?
Well, Swords of Blood has already proven its credibility. It is not a game built from scratch. Instead, it is built on the framework of an award-winning title that was first released by Artifex Mundi in 2019.
The game has a 4.8 out of 5 average user rating,
Over 4M downloads on App Store and Play Store,
And 6M+ revenue from in-app purchases
But it is capable of going bigger, believes Hit Box Games LLC, which holds unlimited rights to publish a reimagined version of the game in Web 3.0. The company will bring advanced user experience and crypto incentivization to it using blockchain technology.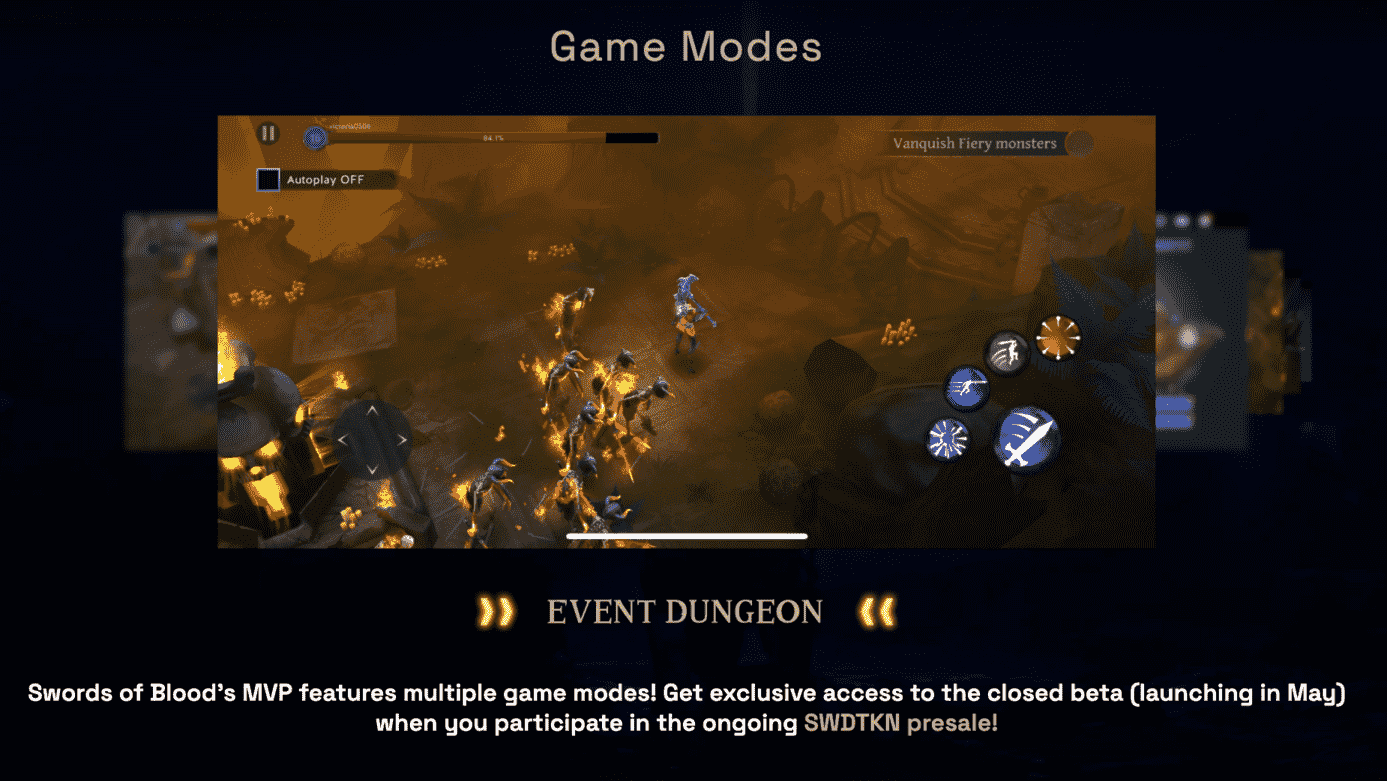 Gripping theme, free-to-play foundation, and compelling rewards
Many crypto games that entered the market over the last few years have failed to take off. There are two primary reasons why:
They require gamers to invest in pricey NFTs.
The gameplay is not worth the initial investment. In fact, most of them have turned out to be trash.
Having studied the market in-depth, Swords of Blood tackles both these issues. It is free to play. It has gripping gameplay set in the World of Ezura, which has been brought to a brutal fall by violence, betrayal, and cunning evil. As one of the last of the mighty warriors of Ezura, you have to fight and defeat the Betrayer through your strategic gameplay.
Swords of Blood will offer multiple synchronous and asynchronous game modes to help you achieve your goal.
Main campaign dungeons in three difficulty levels.
Monster Hunt dungeons, where you play against waves of progressively harder monsters.
Boss Fortress, where you team up with four other players to fight against powerful bosses.
PvP, where you compete against other players to rank up in the global leaderboard to earn prizes.
Daily dungeons, where you enter a special rift to play a daily selection of dungeons with special rewards.
Event dungeons are time-limited event dungeons with a special currency that can be spent on unique event items.
Challenge dungeons are special events where you take challenges to win prizes from the global leaderboard.
Shattered Mazed is a week-long special event with an event shop where you go through mazes and fight monsters and bosses.
You can turn into a fearless dungeon crawler, a bounty hunting battle-mage, or a powerful warrior in Swords of Blood. Each role will come with exciting gameplay as you avenge your fallen brothers on an epic quest of might and revenge. The Web 3.0 MVP is scheduled for release in May 2023. It will be a play-to-own rather than a play-to-earn game.
Multiplayer Web 3.0 Features Give a Sharp Competitive Edge to Swords of Blood
As Swords of Blood becomes a community-centric MMORPG, it will integrate advanced Web 3.0 features like payment support from multiple chains and fiat currencies via SphereOne and Simplex. Other attractions are brand-new engaging F2P mechanics, E-Sport micro tournaments, community-based gaming with guilds and clans, a 150-hour game expansion pack, and community-based communication areas.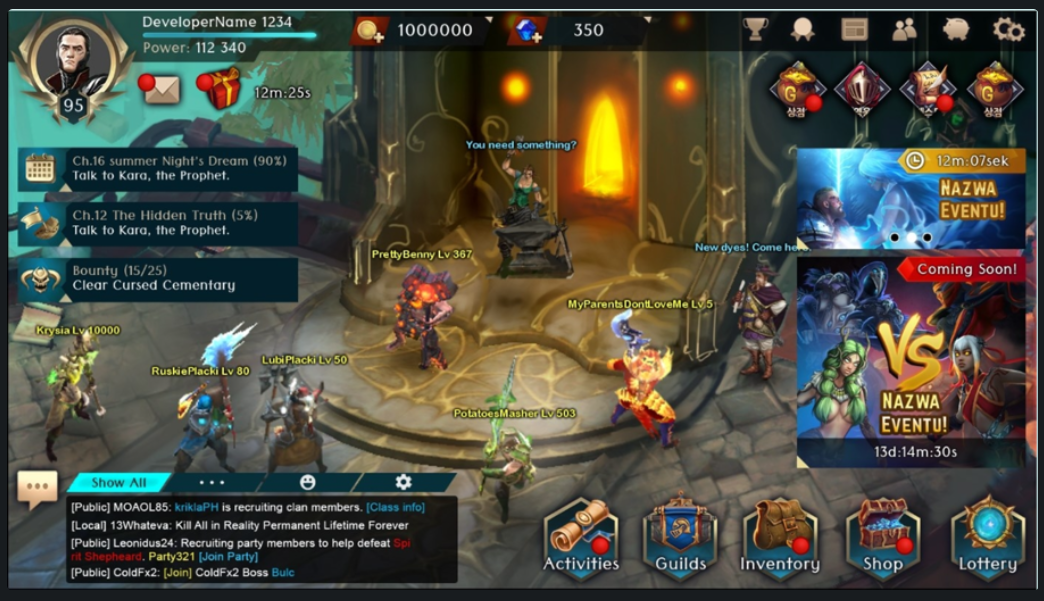 It will have new 4, 8, and 16-player PVP modes and a soundtrack featuring members from popular acts. 4 million USD is allocated for the additional development of the game.
Another interesting point to note is that 40% of all tokens and payments brought in will be managed by the project's market-making team. This ensures that it grows a solid gaming community from across the world, which underpins the value of SWDTKN.
How High Can SWDTKN Go This Year?
Swords of Blood is an excellent investment this year. No doubt about that. But how high can it go?
A fundamental analysis of the project reveals that the token can climb anywhere from 10X to 20X in the weeks that follow the initial exchange listing. But the real potential of the token will be unveiled in the second half of 2023 as the game acquires a steadily-growing gaming community. That will drive the demand for SWDTKN, which serves a variety of utilities in the ecosystem.
Wondering why a free-to-play game needs a token?
That's where things get interesting. Despite being fundamentally free to play, Swords of Blood allows players to unlock premium content using SWDTKN. Some of the key utilities of the token include:
Getting past a certain hero level
Getting past a threshold for PVE/PVP content
Leveling up your items using Gold and Gems
Accessing tournaments
Acquiring Battle Passes
Unlocking rankings.
As you can see, Swords of Blood succeeds in attracting both basic and premium players. It also lowers its entry barriers for traditional gamers apprehensive of trying their hands on crypto games. It expands the scope of the crypto gaming industry beyond expensive play-to-earn games that have proven to be unsustainable.
The project is led by gaming veterans like James Seaman, who has 36+ years of experience in the industry. The strong team and expanding network of partners instill faith in the project.
Don't Miss the Last Chance to Enter the SWDTKN Presale
The rising popularity of Swords of Blood has fueled the demand for SWDTKN, bringing its presale to an early sell-out. As per the latest announcement, the final round of SWDTKN presale is scheduled to end on 20th May, 11 PM UTC. The current presale price is 0.080 USDT. And the exchange listing price is $0.10. That's 25% profit right there.
Given that users don't have to wait months for the MVP, which will release in May 2023, Swords of Blood opens one of the most solid and credible crypto investment opportunities this year. It is not to be missed out on.