The cryptocurrency market has experienced significant developments in recent years, with the emergence of P2E games being a particularly noteworthy trend. This innovative earning model has gained widespread recognition, attracting the attention of established game developers and publishers worldwide.
Swords of Blood is a P2E game developed by experienced professionals from the video game industry, leading the way in this innovative movement. Its presale has been making waves in the market, having raised over $1.1 million in funds. Learn more about this exciting project and how it's shaking up the industry.
Swords of Blood is Called "Diablo-Killer" for a Reason
Swords of Blood is a hack-and-slash RPG that operates on the Polygon blockchain, offering a unique gaming experience. The game boasts stunning graphics, engaging gameplay, and various modes, including PvP, which is sure to captivate players.
The game's combat mechanics are impressive and intuitive, making it easy for experienced RPG players to master. It provides players with the opportunity to acquire powerful weapons and armor, craft items, and forge weapons, allowing them to personalize their characters and develop strategies that match their preferred playstyle.
For those who enjoy competitive gameplay, Swords of Blood also features a PvP mode, where players can test their strongest builds and refine them accordingly.
All of these come together to give the nickname of "Diablo-killer." Investors and gamers know this, which is why the presale is doing so well.
Sword of Blood Presale Off to a Great Start
⚔️ $SWDTKN PRESALE 1 IS OFFICIALLY OPEN!#Presale 1 Price: $0.054
Sale Closes: 8th April | 11:00 pm UTC

Presale 2: $0.070
TGE: $0.10

🌐 Head over to https://t.co/OglKWh6Jaj
🪙 Buy with ERC20 $USDT, $USDC, $ETH, or $DAI

The best #GameFi in @0xPolygon is here! Join us! pic.twitter.com/PAj4uDxRNV

— Swords of Blood ⚔️ (@SwordsofBlood_) March 24, 2023
Even before the start of the presale, Swords of Blood, a P2E game created by experienced video game industry professionals, had already generated significant buzz. Now, with the first stage of the presale underway, the project is proving its potential as it has already raised over $1.1 million in a short period of time and is approaching its target.
The second stage of the presale will see the price of the token increase to $0.070 from its current rate of $0.054. This is an impressive achievement for a game that is likely to become one of the most popular P2E games in the market. SWDTKN tokens can be purchased using USDT, USDC, ETH, or DAI.
Investors interested in participating in the presale should act quickly to take advantage of the benefits offered at various tiers. The rewards offered for each tier vary, with early access to the beta version available at the first tier and a full-sized Sword of Blood crafted by Ben Abbott available at the highest tier. Other tiers offer in-game items and physical merchandise, such as hoodies or letter openers.
Several Game Modes on Offer
Swords of Blood offers a range of gameplay modes, collectively known as "grinding modes," which cater to players of different skill levels and interests. While new players typically focus on the Campaign mode, seasoned players often spend more time on grinding events. They can make use of features like Autoplay or quick-clear tickets to increase their Hero Power and enhance their rankings.
The importance of grinding is evident in the game's use of grinding event tickets. Players can collect these tickets by playing at any campaign level and use them to quickly progress through grinding events. Based on their final ranking in the event, players can earn various rewards.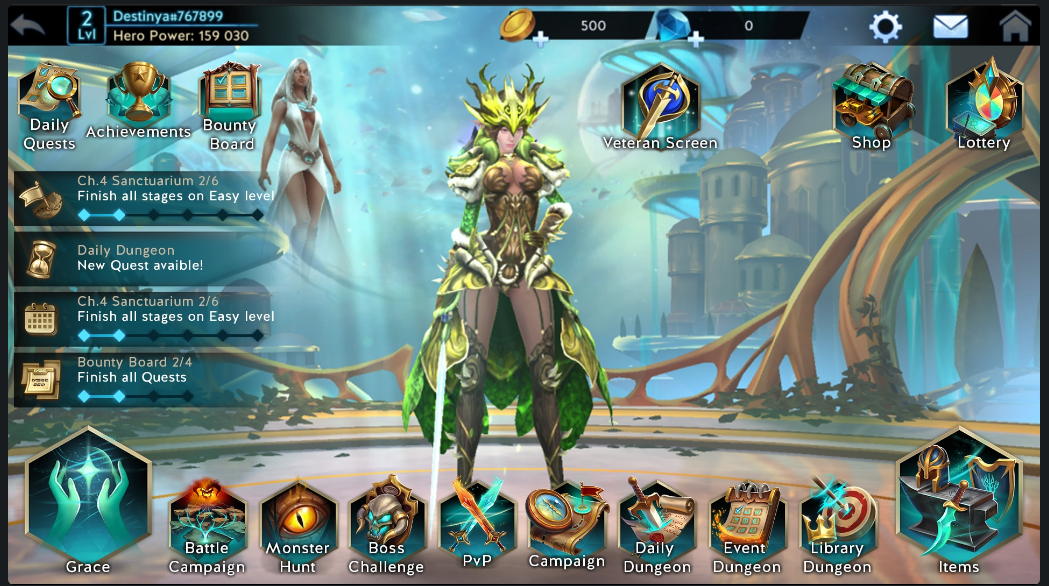 To enter each dungeon in Swords of Blood, players must meet specific entry requirements that vary from dungeon to dungeon. However, some dungeons have limited accessibility, which only allows players to clear them once or twice per day. This feature instills a sense of urgency and encourages players to develop a habit of regularly playing the game. While players can replay these dungeons to improve their ranking, they will not receive direct rewards for repeated completions. In some cases, players may only receive the primary reward upon completing the dungeon for the first time.
Swords of Blood provides an MVP version that includes several game modes, such as the main campaign. The campaign has three difficulty levels and offers gameplay similar to that of the popular Diablo franchise.
In addition, Swords of Blood provides a diverse selection of game modes to cater to different players' preferences. For instance, the Monster Hunt dungeon requires players to defend against a series of monster attacks, while the Boss Fortress mode demands coordination from a team of five players to battle bosses. Those who enjoy competitive gameplay can engage in one-on-one battles that offer rewards, or the Daily Dungeons mode, which offers exclusive challenges for rare rewards.
Swords of Blood Could Become a Household Name
Swords of Blood stands out from other P2E games, blending traditional video game features with cutting-edge blockchain technology. With its experienced development team and exceptional production value, it has the potential to become the first P2E game to achieve mainstream success.
As the presale has just begun, this project is worth keeping an eye on. If you're looking to acquire the token at the lowest price possible, now is an ideal time to invest.