Since OpenAI launched the ChatGPT generative artificial intelligence (AI) chatbot tool in November 2022, the adoption of AI apps has proliferated rapidly — with ChatGPT used by more than 100m users per week.
Since then, AI tools have begun transforming our workflows and lifestyles and are already used in many industries and sectors, such as the development of healthcare treatments, speech applications, and maps.
Its extensive use in daily life is a new development. Scroll on for a detailed breakdown of how AI is being used, how businesses employ it, and predictions of the size of the burgeoning sector, but before then, here are the ten most used AI tools,
The 10 Most Used AI Tools
1. ChatGPT
The ubiquitous AI chatbot is based on a large language model (LLM) and trained to provide detailed responses to a prompt in natural, humanlike language.
The website received around 14.6 billion visits over the year to August, averaging 1.5 billion visits each. It dominated the traffic to generative AI tools, accounting for 60.17% of the total visits. The platform saw a net traffic growth of 1.8 billion, translating to an average monthly growth of 195.1 million visits.
2. Character AI
Launched in September 2022, Character AI is a chatbot that uses a neural language model to allow users to find or create a character to interact with. The characters on the site include characters based on books, TV shows, and movies, as well as real people. It accounted for 15.77% of the overall AI traffic, totaling 3.8 billion visits. It experienced a net traffic increase of 463.4 million or an average growth of 42.1 million monthly visits.
3. QuillBot
Quillbot is an online writing assistant that launched in 2017. The tool paraphrases and restructures text, helping users improve their content. The tools also check grammar, detects plagiarism, and can translate text into various other languages.
Quillbot attracted a total of 1.1 billion visits in the year to August. Averaging 94.6 million monthly visits, it represented 4.68% of the total traffic to AI tools. However, there was a slight decline in traffic, with a net loss of 5.1 million visits, or an average monthly loss of 461,400 visits.
4. MidJourney
Midjourney is an AI-powered image generator that launched in July 2022, which creates visuals from natural language text prompts. The platform attracted a total of 500.4 million visits during the year, accounting for 2.06% of the total traffic. Its monthly average of 41.7 million visits declined by 787,700, a net traffic loss of 8.7 million, likely as other image generators were released and attracted attention.
5. Hugging Face
Hugging Face is an AI-based data science platform and community that enables users to build, train, and deploy ML models based on open-source code and technologies, share ideas, and contribute to projects. The platform received a total of 316.6 million visits. Monthly visits averaged 26.4 million, an average monthly gain of 316,400, and a net growth of 3.5 million visits, contributing 1.31% of the total traffic.
6. Google Bard
Google's AI chatbot, Bard, is a collaborative chat tool that was announced in February 2023 and launched in March 2023. The primary difference between Bard and ChatGPT is that Bard sources information from the web. And unlike ChatGPT and Microsoft Bing, Bard was trained on Google's own LLMs – Language Model for Dialogue Applications (LaMDA) and PaLM 2.
Bard's traffic reached a total of 241.6 million in six months, averaging 34.5 million per month and accounting for 1.00% of the total traffic. The platform saw a net growth of 68 million visits, an average monthly increase of 11.3 million.
7. NovelAI
NovelAI is a paid monthly subscription service that provides an AI writing assistant for storytelling and text-to-image synthesis. The writing tool was launched in beta in June 2021, and the image generation tool was added in October 2022. NovelAI received a total of 238.7 million visits, averaging 19.9 million visits every month and accounting for 0.98% of the traffic. Average monthly visits increased by 918,900, a net growth of 10.1 million.
8. CapCut
CapCut is an all-in-one AI platform that enables users to design images, edit, and generate videos within browsers. Launched in 2020, CapCut received a total traffic of 203.8 million in the year to August, with 17 million average monthly visits, contributing 0.84% to the overall traffic. Net traffic growth of 14.6 million equated to a monthly gain of 1.3 million visits.
9. Janitor AI
Janitor AI is a character chatbot that launched in May 2023, initially based on ChatGPT, allowing users to create their own characters or interact with characters created by other users to craft immersive roleplay experiences.
The model has been adapted so that users can engage in not-safe-for-work (NSFW) interactions with the characters. The tool attracted a total of 192.4 million visits in four months, with a monthly average of 48.1 million visits that accounted for 0.79% of the entire traffic. It saw an average monthly increase of 16.3 million visits and a net growth of 48.8 million visits.
10. Civitai
Launched in November 2022, Civitai is a repository for AI art models created for Stable Diffusion, a text-to-image diffusion model. The platform has an extensive collection of models that users can search and customize, making it easy to share and rate custom models, textual inversions, and more. The platform received 177.2 million visits, averaging 17.7 million monthly and constituting 0.73% of the total traffic. Net traffic growth of 23.3 million translated to a monthly increase of 2.6 million visits.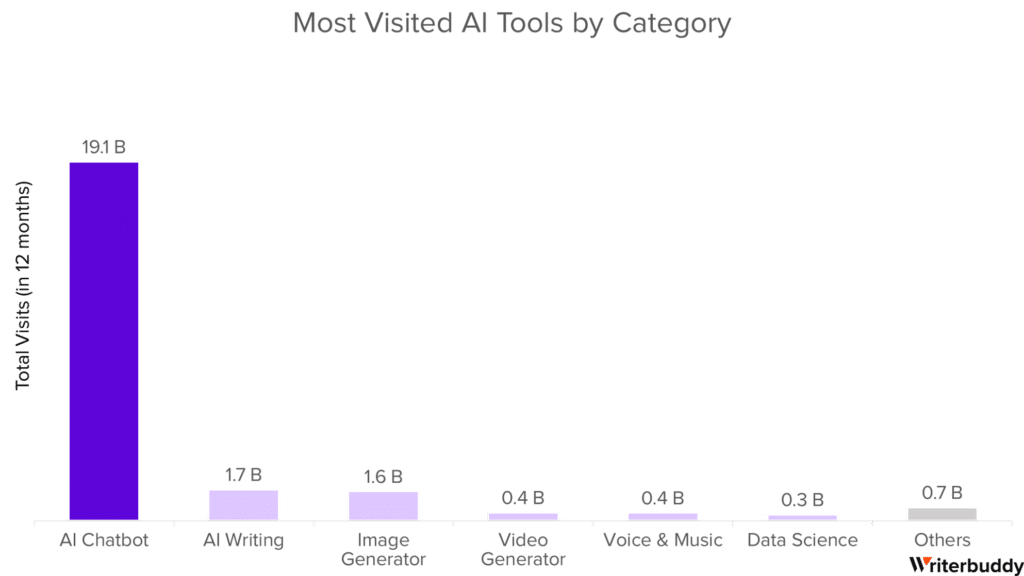 How Are AI Tools Being Used?
AI tools use machine learning (ML) trained on massive data sets to respond to prompts with automatically generated responses or basic tasks. ML algorithms can summarize or create text, edit or design images and video, transcribe audio, check code, and more. They can analyze the data they are fed to make projections and identify patterns. Over time, they can learn from the data and prompts they are given to improve their performance.
READ MORE: Top 10 AI Writer Bots Compared for 2023
There are several different types of AI software. Natural Language Processing (NLP) can analyze, understand, and imitate human language in a way that allows AI chatbots to communicate with users through text or speech. Computer vision carries out image and/or video analysis to identify and classify objects, detect inconsistencies, and recognize patterns.
Big data processing analyzes large volumes of data to make predictions and recommendations, requiring powerful computing resources and efficient algorithms. Decision-making algorithms process the data using techniques such as neural networks or reinforcement learning to recommend decisions with the probability of the best outcomes.
These algorithms can be used in AI chatbots, speech recognition and language translation, modeling and predictive analytics tools, virtual assistants, biometrics systems, and recommendation engines.
These tools have gained popularity more rapidly than any other forms of software application. When it launched in November 2022, ChatGPT became the fastest-ever platform to hit the 1 million user mark – in five days.
Less than a year later, a survey conducted by consulting firm McKinsey in April 2023 indicated that one-third of organizations were using generative AI in at least one business function regularly. Around 40% of respondents said their organizations would increase their investment in AI overall because of advances in generative AI.
The survey also showed that generative AI has captured interest outside of the workplace. Around 79% of respondents said they had at least some exposure to generative AI, either for work or outside of work, with 22% using it in their own work regularly. Unsurprisingly, AI use is at its highest level among respondents working in the technology sector and those in North America.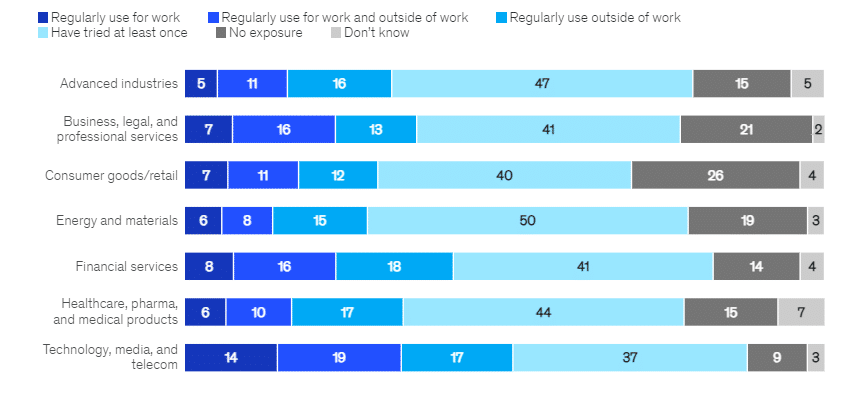 Less than three months after its launch, ChatGPT reached 123 million monthly active users – achieving the 100 million milestone much faster than TikTok, which took nine months, and Instagram, which took 2.5 years, according to analysts at Swiss investment bank UBS, who added:
"In twenty years following the Internet space, we cannot recall a faster ramp in a consumer Internet app."
During the period from September 2022 to August 2023, over 24 billion visits were made to the websites of the top 50 generative AI tools, according to analysis by WriterBuddy.ai. There was an average monthly growth of 236.3 million visits, totaling an average of 2 billion visits monthly. Traffic surged by 3.3 billion in the past three months.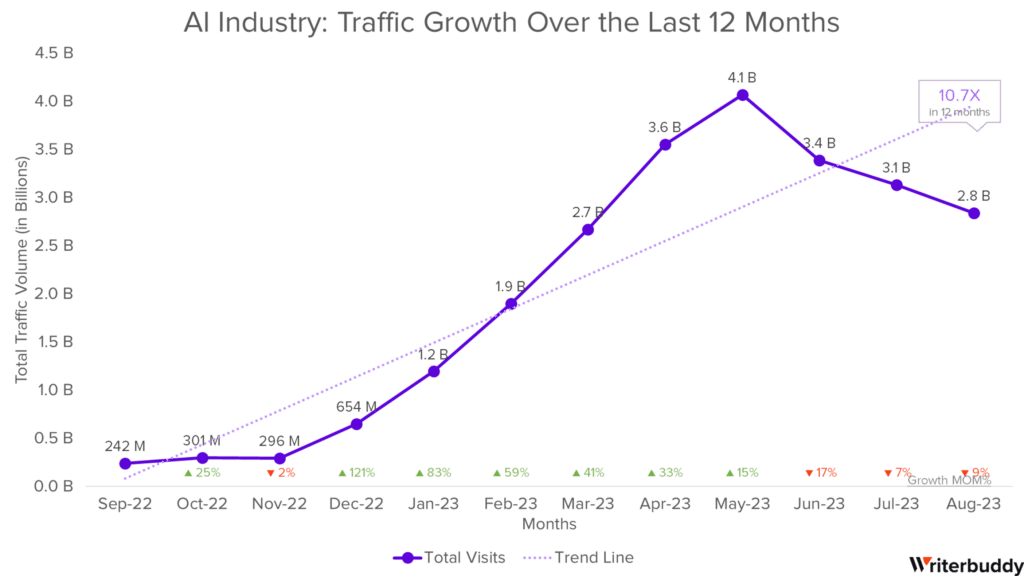 The US contributed 5.5 billion visits, accounting for 22.62% of the total traffic, while European countries accounted for 3.9 billion visits. Over 63% of users accessed AI tools via mobile devices. ChatGPT alone accounted for 14 billion visits, generating 60% of the traffic analyzed.
Analysts and economists believe that the AI revolution is just beginning. Many people who have started incorporating AI tools into their routines and workflows have their favorites, but what are the most popular tools?
The Bottom Line
In the year since November 2022, the use of generative AI tools has exploded. AI chatbot tools have proved to be the most popular so far, generating the largest share of traffic with 19.1 billion visits over the year to August 2023. AI writing tools were well behind, with 1.7 billion visits over the period.
This is reflected in the popularity of ChatGPT and other tools, such as Google Bard, which almost any industry can use to enhance productivity.
The AI industry is growing rapidly, with the top tools attracting billions of visits. When new tools launch, they can attract an initial surge in interest from potential users, driving traffic to their websites. Despite a pullback in traffic of 1.2 billion users following the peak around May, the industry will likely continue to grow as new tools are released and adoption increases.
The generative AI industry is in its early stages and will see further disruptions and market shifts in the future.