It's estimated that we create a staggering 2.5 quintillion bytes of data per day across the world. With mind-boggling numbers such as these at play, it's not difficult to see how even a small company can get lost in this virtual cloud of numbers and connections.
In the past it may have been unaffordable for all but the largest, most data-driven companies to employ the use of sophisticated business intelligence (BI) software solutions. Today however, it's becoming much easier to find data management solutions that fit the specific needs and budget of almost any organization.
With that in mind, here are five things your company can do to improve its data management and processing over the coming year.
Centralize Your Data
With data becoming ever more important to your organization's performance, it's crucial to make sure all your data sources are being fed into one place. Each data set has its own structures, sources, uses and value, but the ability to make them all easily accessible across your organization is what will really give you an edge.
It's pretty obvious – the usefulness of your meticulously collected marketing data is significantly diminished if you can't also correlate and analyze it alongside your excellent sales data and vice versa.
That's why consolidating data across your company is key. It allows members of different teams to easily collaborate on projects without creating silos. Instead of different team members becoming territorial over the same dataset, or gaining differing insights and causing conflict, a centralized dataset allows for smoother teamwork.
Centralization also increases the security of your data. By cutting down the number of decision makers and data protocols, you reduce the potential number of mistakes and data breaches.
Automate Processes to Increase Efficiency
Automation really is taking over. But far from cutting jobs, in a data savvy company, it can significantly reduce the number of tedious and time-consuming tasks your team needs to take on. IFTTT (If This Then That) is a platform that allows you to create your own automated functions pushing signals across platforms, increasing efficiency and reducing the chance of human error.
For example, you can use IFTTT applets to send out an email notification to your whole team once a significant change has been detected in a given dataset, such as a spike in sales. By using IFTTT, you can make sure your data gets in front of the right people at the right time, not having to rely on this only happening once you get to the bottom of your packed to-do list.
A growing number of tools now also allow you to automate how you can make sense of the data within your company. Aside from business data, logs from your digital devices can also provide crucial insights and information. Most devices and applications that you use today gather logs of events and transactions. These data can be helpful in identifying causes of issues and incidences. However, performing log analysis manually is tedious and confusing.
Automation can help in this regard. XpoLog, for example, enables automated log analysis and data visualization. The tool can collect log files from various sources such as devices, applications, and servers in real-time. It features advanced algorithms and uses artificial intelligence (AI) to parse and analyze logs. It can automatically identify worrying patterns that may point at possible vulnerabilities and security threats.
For instance, errors and faults in operating system logs may point at failing hardware, allowing IT teams to remedy the situation before anything major happens. Excessive failed login attempts at crucial gateways and endpoints can also mean that security threats are trying to access your network. XpoLog can automatically provide insights on such issues.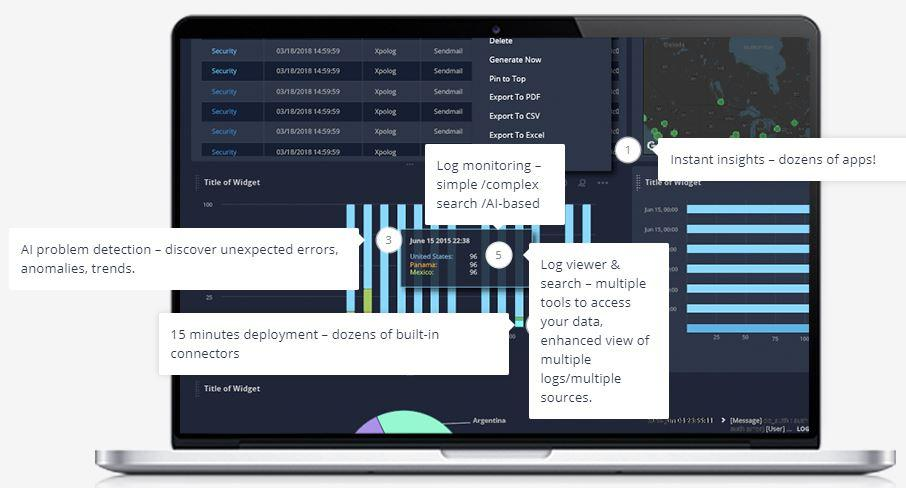 Train Staff to Use Data Management Tools Effectively
While BI tools are becoming more user-friendly and easy to understand – even for those of us who don't have degrees in statistics or are otherwise uncomfortable coding queries – investing in training your staff to understand the fundamental principles of working with data can make a huge difference.
It's clear that understanding and working with data will only become more important in the future, so finding the resources to deepen your employees' knowledge is a long-term investment in the future of your company and your sector.
Hiring a data analysis specialist for a half-day training session could boost your employees' enthusiasm and ability to engage with data, boosting morals and breaking down barriers. Empowering your staff by advancing their data analysis skills can result in brilliant data insights that would not have previously been put forward.
Use Eye-catching Data Visualizations
Data visualizations are really the best way to make an impact with even the least data-minded of your colleagues and clients. The most satisfying part of a data-crunchers job is seeing their hard work materialize in front of them in an easy-to-interpret and visually pleasing graphic.
Even better, BI tools now make it easy for employees across your organization to get in on the data visualizing action. Good BI will have a simplified software interface, making it intuitive to use and ensuring you don't get lost among the numbers.
A tool like Sisense has multiple visualizations to choose from, allowing you to easily create everything from line and pie charts to impressive looking scatter diagrams. What's better is that its drag-and-drop interface is simple to use and set up, and they're embeddable anywhere.
Sisense's natural language processing and voice command capabilities, meanwhile, make it easy for team members to get answers the answers they need, no matter where they happen to be.
Encourage Collaboration Across Teams
Once all of your staff has been trained to use your company's chosen tools, they can work together to analyze and interpret your collected data. Functions that aid collaboration are now built into the best BI tools out there.
If you've opted for an easy-to-use, centralized data management system, employees from across your organization can access various datasets, from different locations. Such collaborative BI systems enable teamwork through allowing users to join together data sources.
From Excel files to Google Analytics and CRM data, different teams can easily share access and insights. This ensures that your company's decision-making is based on a complete picture from across teams.
Act on Those Insights
It can take courage to overturn the old way of doing things and bring in new, unfamiliar processes with your employees and bosses.
The good news is that BI makes it so much easier to make a convincing argument to stakeholders. Once the data is there, visualized in front of their eyes, they'll surely be hooked. So don't feel afraid to act on the insights you've gained. Otherwise all you've got is a pretty picture stuck in a dusty closet.