A new trading platform launched by MIT graduates, Kalshi allows traders to trade event contracts. Instead of buying and selling assets, investors can bet on the outcome of global events with this federally regulated exchange.
The first-ever federally regulated exchange for trading event contracts, Kalshi charges no minimum deposits and gives investors access to more than 80 trading markets.
How Does Kalshi Work?
As mentioned above, Kalshi supports the trading of events contracts. Traders can take out 'Yes' or 'No' contracts on various events, such as political outcomes, financial growth, and climate-related activities.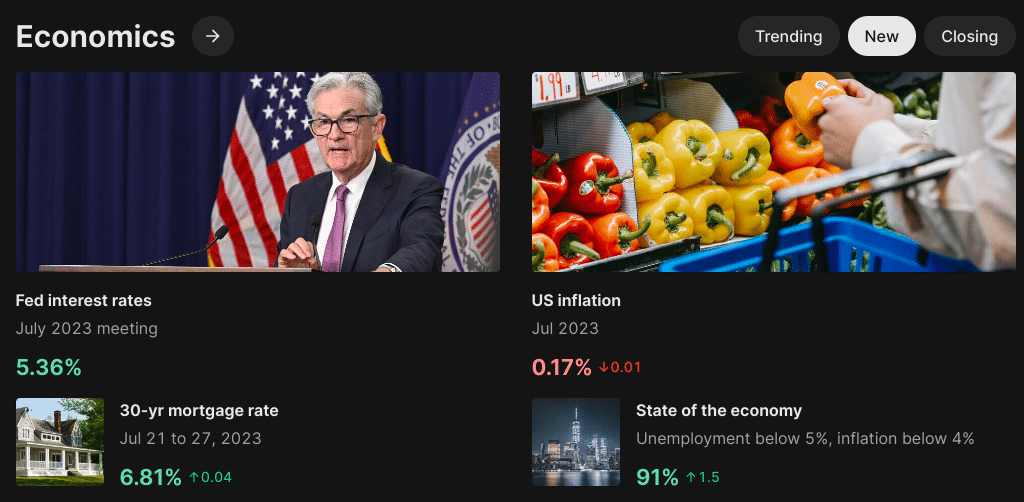 Many times, traders may wish to purchase certain stocks based on their future predictions for the economy. For instance, investors may purchase Pfizer stocks if they expect another coronavirus wave in the future.
However, with the Kalshi platform, one can directly make money based on their predictions of global events. To get started, traders can make a deposit on the platform via ACH deposits, bank transfers, and wire transfers.
Kalshi does not charge a minimum deposit, as 1 contract is priced as little as $0.01. The highest a contract is priced is $0.99. Like futures contracts, Kalshi allows investors to predict the exact levels they expect the assets to trade.
The lower the likelihood of your prediction, the higher the profit if the market moves in the right direction. For example, one can take out a 'YES' contract predicting the Federal Reserve rate hikes.
If you take out a contract predicting a price hike above 3%, you earn a maximum profit of 1%. However, a 'YES' contract of above 6% allows you to earn a maximum profit of 99%. If your contract gains value during trading hours, you can then sell it to earn a profit.
On the other hand, traders who hold a successful position at the session's close earn $1. Let's say, you took out 10 contracts valued at 20 cents, you will make a profit of 80 cents per contract on the market close if your prediction is correct.
What Can I Trade on Kalshi?
Since the Kalshi platform is restricted to the United States of America, the contracts focus on events within this country. There are 80+ markets to trade on topics such as politics, economics, and the climate.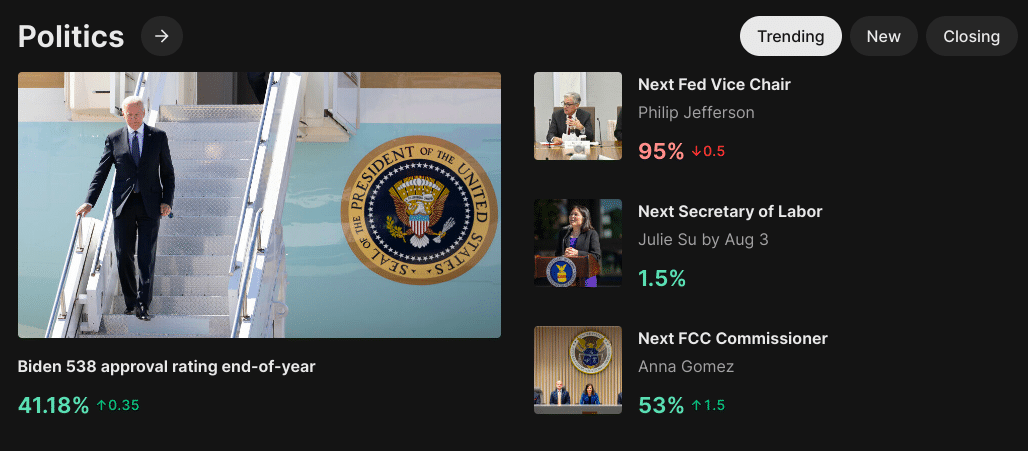 The politics section allows traders to take out contracts on a number of interesting debates, such as the U.S. national debt crisis. You can predict Yes or No whether the US Treasury Department is likely to make a timely payment on its debt obligations.
One can also take out event contracts predicting the approval ratings of President Biden. Other markets include betting on the government shutdown, the next Fed Vice Chair, or the hike in capital gains tax.
There are multiple event contracts to take out on various economic issues faced by the United States of America. Traders can take out contracts predicting the annual job numbers or the total inflation for the year. You can also take out contracts on US GDP growth or the yearly gasoline price increases.
While you cannot trade stocks or indices on Kalshi, you can take out financial event contracts to predict the level of different indices. For instance, traders can take out event contracts predicting the levels of the weekly, monthly, and yearly close of the S&P 500 and the NASDAQ-100.

Through the Kalshi website's climate section, traders can predict the weather of different cities. For instance, do you think the New York City temperature is likely to go up? If so, use a 'Yes' contract on your estimated temperature increase.
You can also take out event contracts in other cities, such as Miami, Austin, and Chicago.
Trade Safely with Kalshi
As discussed, the Kalshi platform is the first events contract platform to be regulated. The platform has been approved as an Authorized Designated Contract Market by the Commodity Futures Trading Commission (CFTC).
Kalshi also deploys surveillance systems to identify potential fraudulent activity and holds users' funds through regulated clearing houses. With over 300+ regulated markets on Kalshi, investors have taken out more than 120 million event contracts so far. Click the link below to find out more.