Getting the best VoIP app for Android can significantly improve your business processes by enhancing team communications and driving more efficient client outreach while incurring minimal expenses compared to conventional phone systems. The biggest advantage of Voice over Internet Protocol (VoIP) apps is reducing the costs of both domestic and international calls.
However, VoIP has a wide range of use cases, as it can handle video calls, instant messaging, and file transfers. Moreover, you can integrate your VoIP app with the best CRM software solutions to streamline daily processes and boost productivity and efficiency. In our guide, we identify the best VoIP app for Android and compare the top 10 solutions available today.
The 10 Best Android VoIP Apps Shortlisted
Here's a brief summary of the top VoIP apps for Android for 2023 to provide a quick overview. Keep reading to discover the unique features that set each solution apart.
How Does an Android VoIP Application Work?
An Android VoIP app is a dedicated application for Android devices built with
Voice over Internet Protocol (VoIP)
technology. VoIP turns your voice, video, or written messages into digital data and transmits the package to the recipient in real-time.
It's worth mentioning that VoIP technology is not entirely new, as its roots go back to the 1970s. However, it has become more prominent with the widespread adoption of smartphones and computers.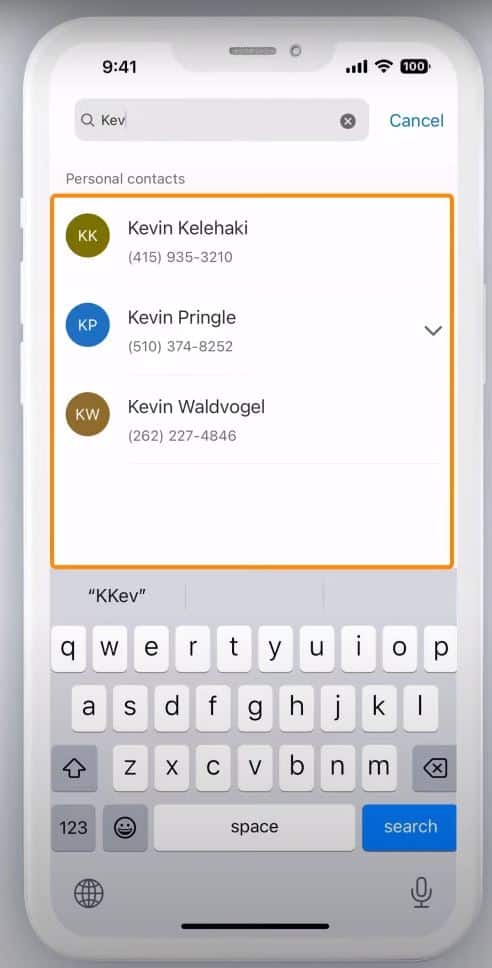 So, even if you haven't encountered the term VoIP before, you've likely already experienced its benefits with apps like Skype, WhatsApp, Zoom, Microsoft Teams, and FaceTime.
Android VoIP apps are easy to use and simple to understand. This means these tools are easy to get started with and are well-suited for businesses, regardless of their size or sector.
Why Use a Mobile VoIP?
Calling apps for Android can benefit both individuals and businesses. There are several reasons to consider using these tools, including:
Long-term cost-benefit – Android VoIPs are typically less expensive than traditional phone lines. Domestic and especially international calls are generally less expensive than conventional phone networks.
Flexibility – With a growing number of companies permitting remote work, maintaining productivity has become a focus. Thanks to the versatility of VoIP, companies can drive team communication and collaboration, regardless of the physical location of employees.
Unified Communication – Smartphone VoIPs help companies streamline on-the-go processes by combining voice calls, video calls, and messaging on one dedicated platform.
Integration – VoIP apps for Android work well with customer relationship management platforms, helping companies enhance efficiency. For example, you can integrate smartphone VoIP apps with the best CRMs for marketing automation or email or calendar apps to simplify day-to-day operations.
Additional Features – The best VoIP mobile apps typically offer a range of features like call recording and forwarding, voicemail, and video and call conferencing.
Increased Company's Image – Businesses can benefit from allowing their employees to make business calls from their Android smartphones with a company phone number, enabling them to stay connected while using an official company channel.
Scalability – A great detail about using VoIP services is that you can flexibly add and remove phone lines and extensions to your company's needs.
Reviews of the Best Calling Apps for Android
Now we've covered the key details about mobile VoIP software solutions, let's turn to our reviews of the best VoIPs for Android for your business. We have thoroughly assessed and compared these solutions for their reliability, scalability, pricing, and additional features. Take a look at our top 10 Android VoIP tools for 2023.
1. Ooma – Overall, the Best VoIP App for Android in 2023
Ooma is our top pick as the best VoIP app for Android. It caters to both residential and business customers, with tailored services and pricing plans for each market. In addition to VoIP services, it offers one of the best call-tracking software tools, which is suitable for various industries.
The provider boasts its own VoIP network with multiple data centers placed in various locations around the world to reduce the distance between users and call recipients. As a result, it's able to deliver reliable, high-quality voice calls.
You can download the mobile version from the app store and install it within minutes. The installation process is straightforward, with clear and beginner-friendly instructions.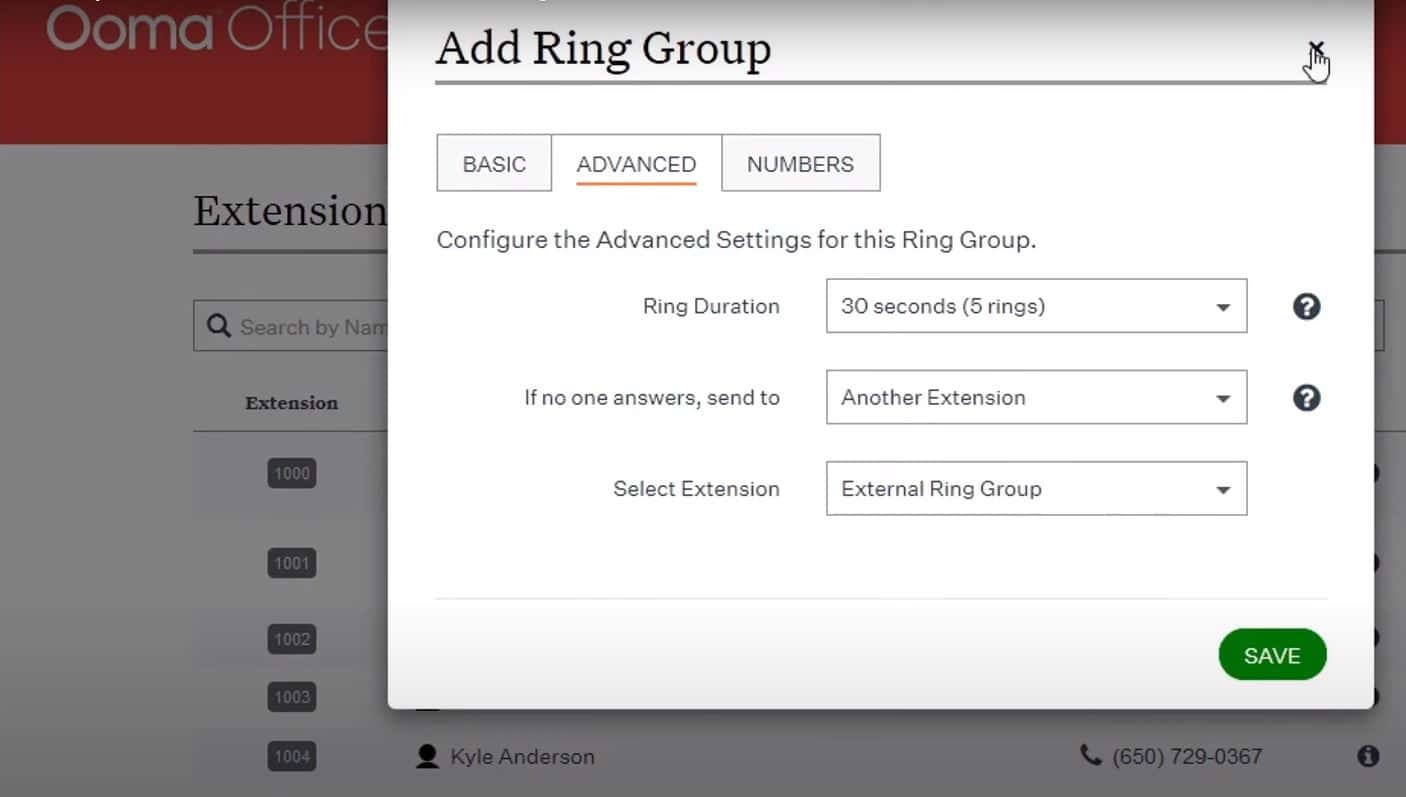 Mobile Apps
Cheapest Paid Plan
Free Version
Money-Back Guarantee
Top 3 Features
– Android
– iOS
$19.95/m
Yes
30 days
– Caller Info Match
– Voicemail
– Call Recording
Ooma's Android VoIP app offers numerous features, from making and receiving calls to setting up voicemail and a virtual receptionist for easier call transferring. However, its highlight feature is the Caller Info Match.
This option integrates with different databases, like CRMs, to retrieve caller information.
It gives users details about the caller's name and location, allowing them to prioritize calls. Moreover, the Caller Info Match feature can reach and pull valuable information from data sources to deliver details such as past customer interactions, account history, and agents' notes.
If you don't use a CRM, it can fetch caller details from Google, LinkedIn, or Facebook to help users get relevant caller data.
In our Ooma review, we tested the app's core features, including the virtual receptionist, which worked flawlessly.
While testing the voicemail functionality, we set the app to transfer callers to voicemail after a specified time. However, the app redirected inbound calls to voicemail early – however, we were able to resolve the issue with a software update.
Pricing
The Ooma VoIP app is available from $19.95 and offers a host of features on its starter plan.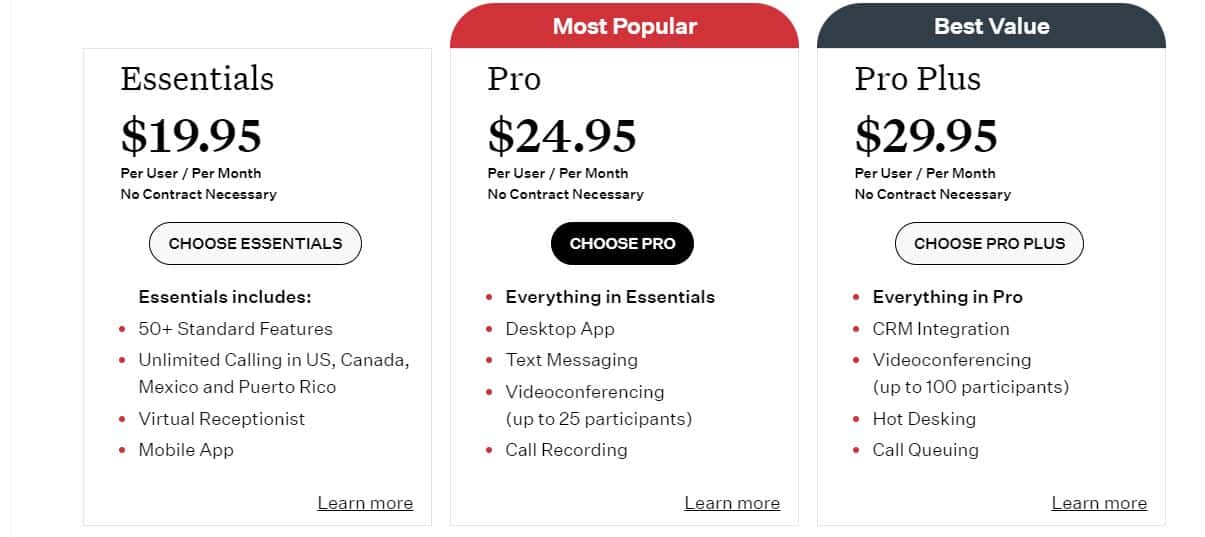 One of the biggest advantages of signing up with Ooma is unlimited call recordings. For example, Vonage limits this feature to 15 hours per month on its Advanced plan, while here, you get unlimited use with the starter account.
Pros
Runs its own network infrastructure
Multiple pricing plans to suit businesses of all sizes
Call Info Match feature provides on-the-spot caller details
30-day money-back guarantee
Unlimited call recording on the starter plan
Cons
Minor software update required for voicemail feature
2. Vonage – Ideal Android VoIP App for Contact Centers
Vonage is arguably the best VoIP app for businesses that aim to deliver exceptional customer service. It offers multiple conversation tools, including bots, AI, and analytics.
The service caters to a wide range of different industries, including retail and ecommerce, healthcare, education, finance, transport and logistics, manufacturing, and the public sector.
Call Monitoring is its highlight feature and helps companies improve customer satisfaction levels by providing real-time and historical insights into each conversation.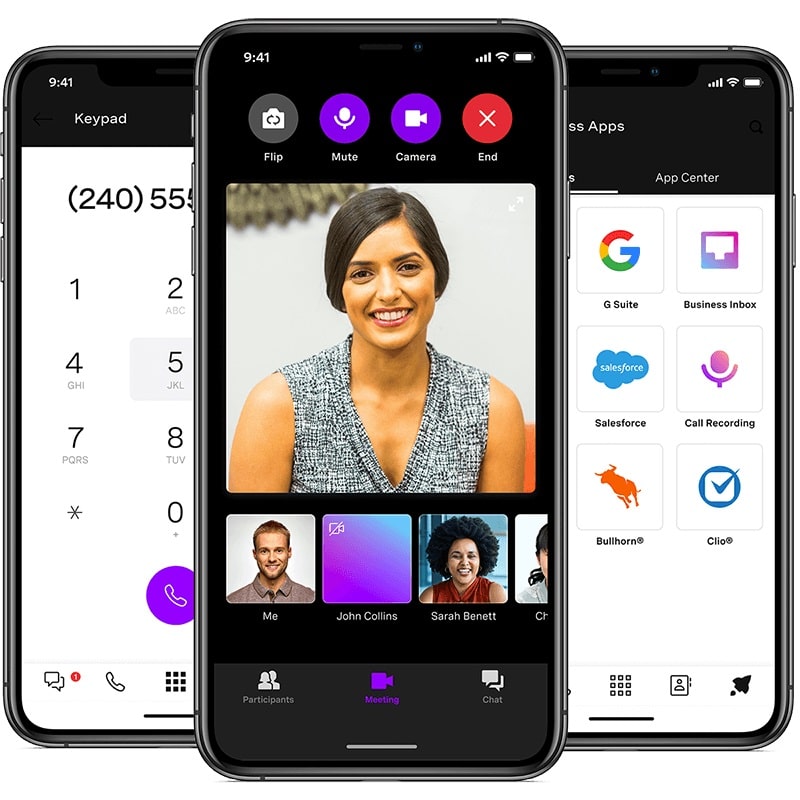 Mobile Apps
Cheapest Paid Plan
Free Version
Money-Back Guarantee
Top 3 Features
– Android
– iOS
$13.99/m
Yes
30 days
– Call Monitoring
– Call Recording
– Omnichannel Dialer
Call Monitoring allows companies to oversee and analyze voice communication taking place on their Android VoIP phone systems. Thus, supervisors can monitor calls by listening to conversations in progress in real-time.
Supervisors are able to access recordings anytime from their Android phones to ensure quality standards are met. Logged calls are also invaluable when training new agents and can help supervisors provide detailed feedback to enhance agents' performance.
Administrators can also join conversations and "whisper" to agents, providing them with live feedback without the caller hearing. This option allows supervisors to enter the conversation and talk to both agents and callers at the same time, resolving issues during difficult conversations and preventing problems from escalating.
In general, the Vonage Android app looks clear and simple. However, we noticed that clicking on notifications deletes them instead of displaying missed call information, which is an area Vonage could improve on. Apart from this, we didn't notice any other issues with this VoIP app.
Pricing
You can get the Vonage mobile app for as little as $13.99 per month, with a plan tailored to individual users.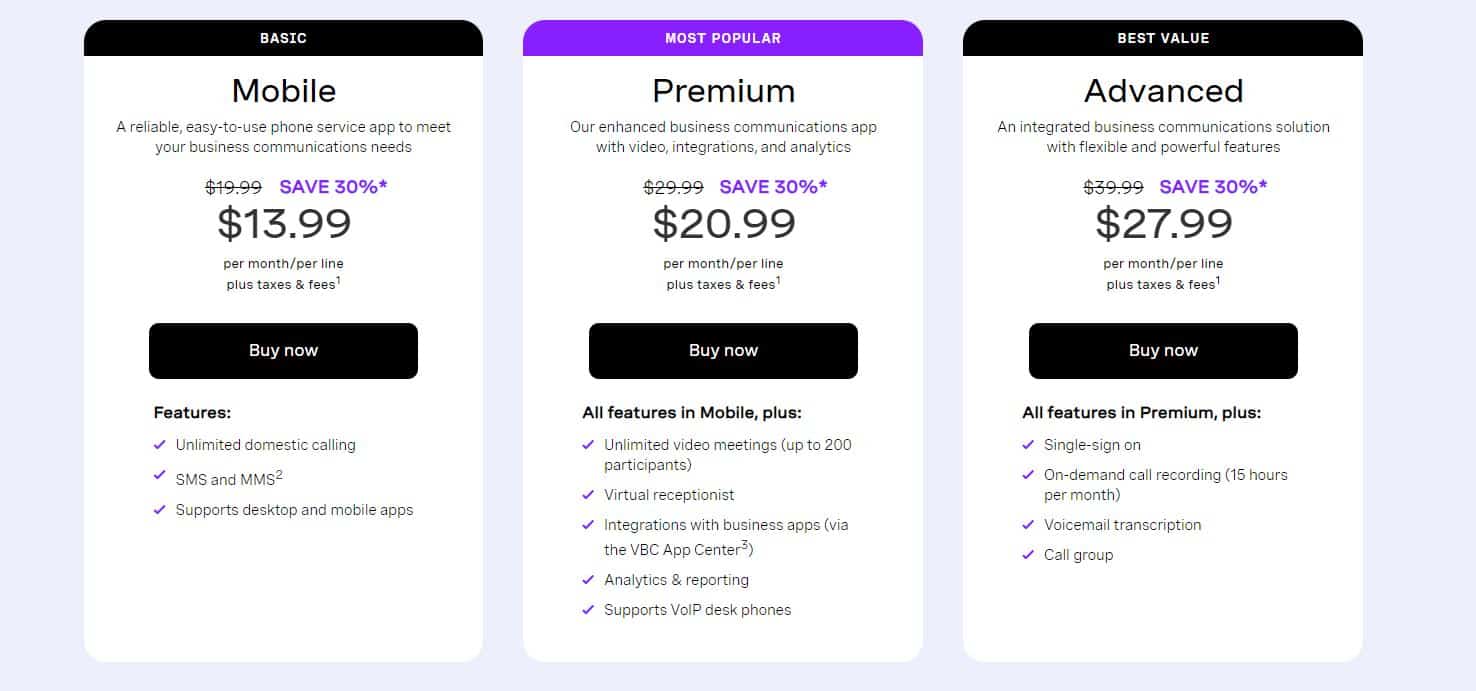 There are two plans for customer service businesses, with a number of add-on options like Post-Call Surveys, Speech Analytics, Screen Recording, and others. However, these plans are quote-based, and the price will depend on the features included.
Pros
Call Monitoring feature for enhanced agent training
Multiple features included in the Priority Plan
Suitable for individual uses and businesses
Integrates with Zendesk, Microsoft Office 365, and SpinSci
Cons
Could improve mobile app notifications
3. Nextiva – VoIP App Ideally Suited to Big Businesses
Nextiva is the best VoIP app for Android for large businesses. It also offers one of the best VoIP services for desktop users, which stands out with a user-friendly dashboard and advanced call routing analytics.
The Nextiva Android VoIP app is easy to use and comes with an intuitive interface. Its design isn't too different from a typical WhatsApp directory. Because it resembles popular messaging apps, implementing this solution will be a walk in the park for any enterprise team, which is one of Nextiva's major advantages.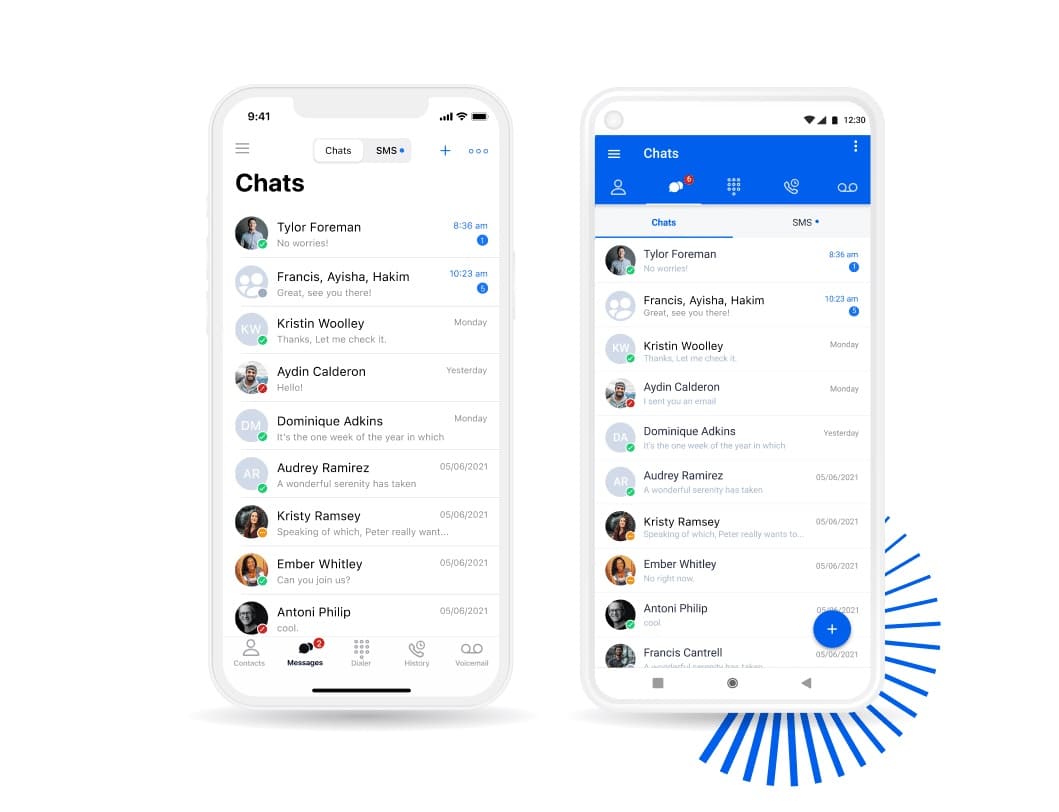 Mobile Apps
Cheapest Paid Plan
Free Version
Money-Back Guarantee
Top 3 Features
– Android
– iOS
$17.95/m
7-day trial
30 days
– Call Recording & Analytics
– Business Text Messaging
– Video Conference Recording
During our research, we tested both the desktop and mobile apps. We appreciated the seamless integration between the two, enabling users to access their contacts across platforms.
The application directory is thoughtfully structured, with contacts highlighted in green indicating their origin on desktop, while those in orange are saved in the mobile app.
When it comes to features, Nextiva includes audio and video conferencing, business text messaging, voicemail to email, and free access to local and toll-free numbers.
However, we found the call recording and voice analytics features to be outstanding. These options allow businesses to manually or automatically record inbound and outbound calls made through the Nextiva VoIP system.
Managers, trainers, and supervisors can easily access the recordings, as they're stored in the cloud. The app also allows you to retrieve calls based on various criteria, such as date, caller ID, and keywords.
Recorded calls can be used for training and tracking quality standards. Companies can then identify areas for improvement, work on agents' communication skills, or resolve disputes by providing records of past conversations.
Companies can also use analytics features to gain insights into customer interactions through sentiment analysis, keyword recognition, and trend identification.
We noticed the lack of a virtual receptionist option, which is an integral part of premium accounts with Phone.com and Ooma. However, Nextiva does include unlimited call recording, which is an additional feature with other providers, like Phone.com.
Pricing
Individuals can benefit from the Essential plan, which starts at $17.95. On the other hand, the Enterprise plan costs just $31.95.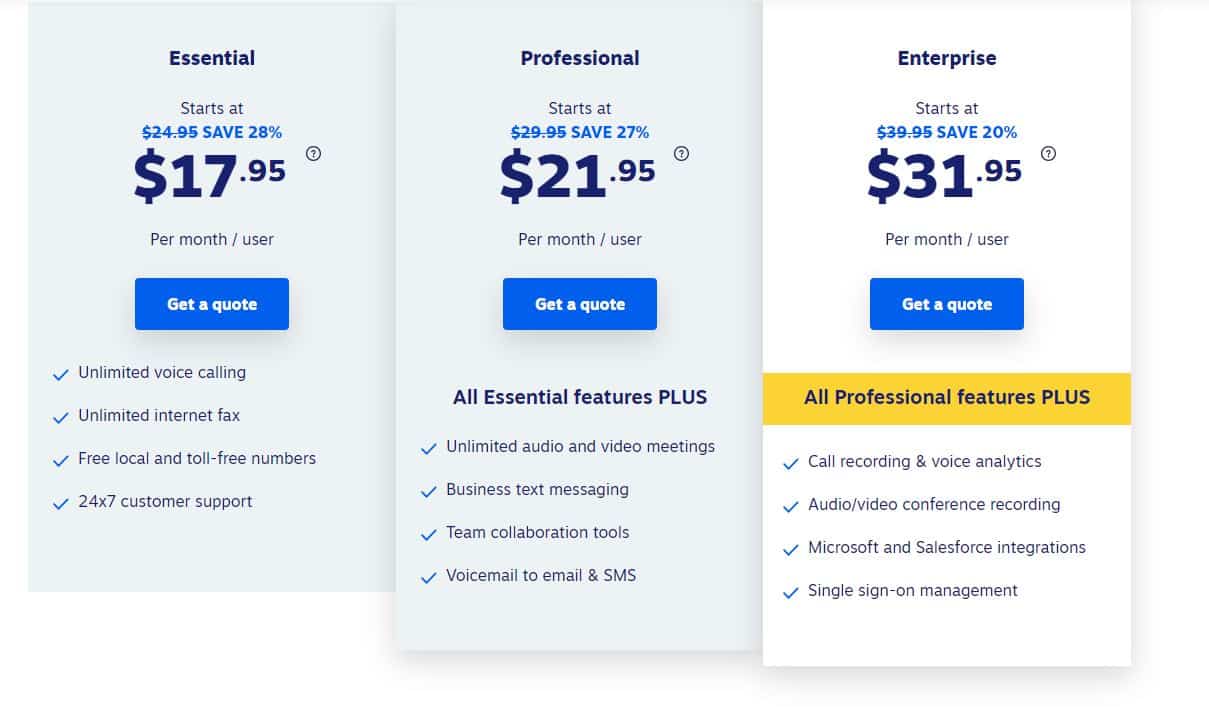 Pros
Audio and video conference recording options to improve team training
Unlimited audio and video meetings
Individual- and enterprise-tailored plans
Toll-free numbers
Cons
Lacks virtual receptionist option
4. Phone.com – Great VoIP Option for Small Business
Phone.com is one of the best small business VoIP phone systems. It's incredibly cheap and offers tons of features for small companies on its starter plan.
The Basic plan includes mobile and web apps packed with 50 standard voice features, which should be enough to satisfy the needs of most smaller companies.
We tested the Video Conferencing feature by adding the maximum number of participants, which was 10 in this case, and we noticed no app glitches or encountered any video or audio issues.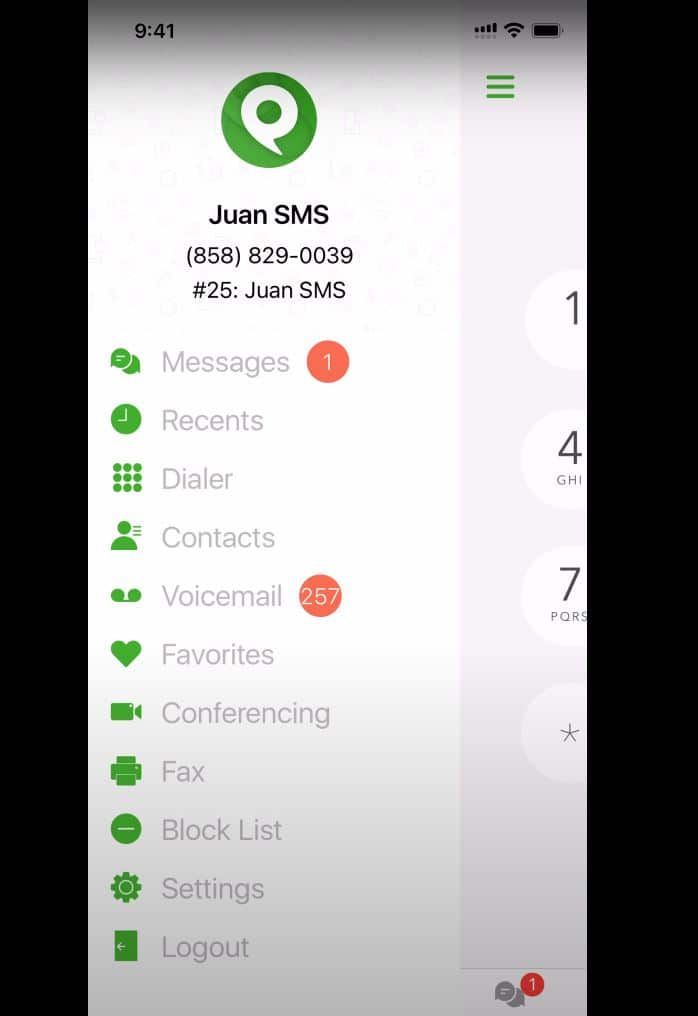 Mobile Apps
Cheapest Paid Plan
Free Version
Money-Back Guarantee
Top 3 Features
– Android
– iOS
$12.74/m
No
30 days
– Call Blocking
– Video Conferencing
– Document Sharing
The starter pricing plan includes 500 minutes and 1,000 text messages. Such a restriction may affect your marketing campaign budget, as exceeding these limits may result in additional charges.
Opting for the Plus plan is the best choice to ensure you don't exceed the budget. It offers unlimited calling and messaging capabilities, allowing you to maximize your marketing campaigns' efficiency.
Now, turning to Phone.com's features, let's discuss its highlight element – Personal Conference Bridge. This option removes the need to use third-party video conferencing apps like Skype, Zoom, or Google Meets and is great for scheduling appointments, team meetings, client calls, or webinars.
We rate this as the best VoIP app for Android for small businesses, and it provides every mobile extension with an HD conference bridge, which allows employees to seamlessly connect with their team members or prospects, regardless of their location.
As a result, small-scale businesses will benefit from better collaboration between teams, clients, and partners while saving money along the way.
Encompassing voice, text, video, fax, and conferencing, we rate Phone.com as the best Android softphone for small businesses in 2023.
Pricing
Phone.com stands out for its competitive prices and the features included in its starter plan.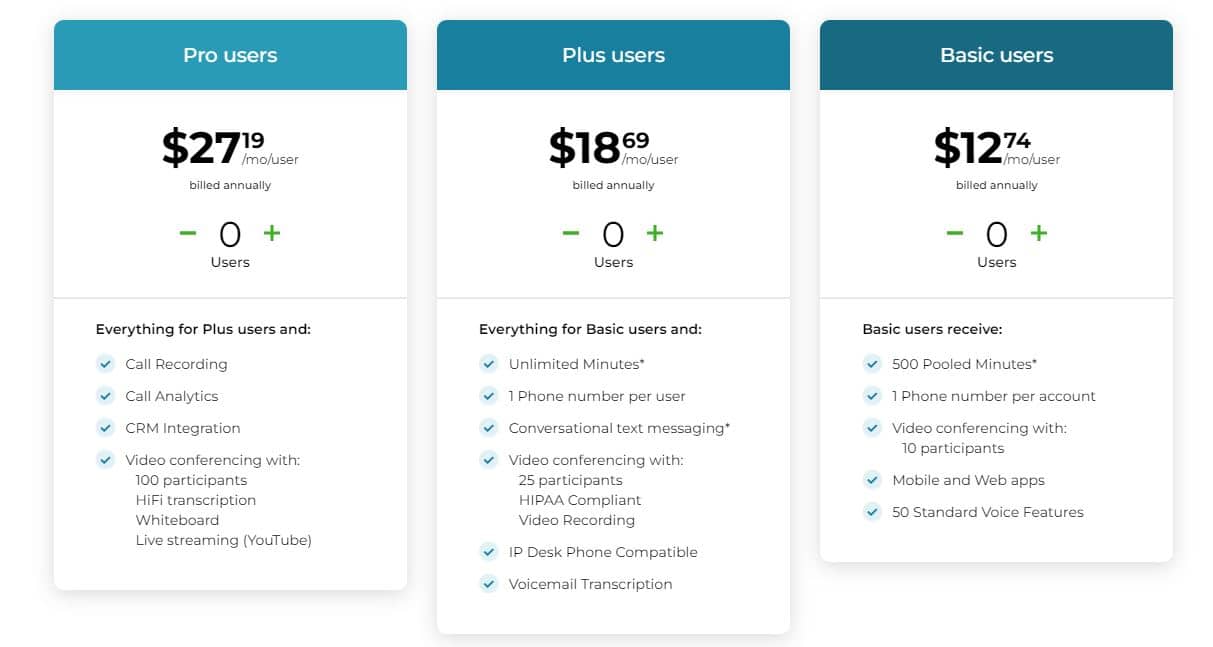 With a price of only $12.74/m, this service is cheaper than Nextiva or Vonage. The plan also includes a 30-day money-back guarantee, which provides peace of mind if the service doesn't meet your expectations.
Pros
Affordable pricing plans suitable for every budget
Great for scheduling team meetings and prospect appointments
Call recording and analytics features for improved employee training
30-day money-back guarantee
Cons
500 minutes and 1,000 text message limitations on the basic plan
5. MightyCall – Great Choice of VoIP Android App for Mid-Size Businesses
MightyCall is a great choice of VoIP app for Android for growing firms. It allows you to create a company number you can share with your clients and use unlimited minutes and messages by subscribing to its starter plan.
The app's minimalistic design allows you to access crucial features from a single screen. For example, you can pick any contact from your list and immediately get insight into the caller ID, call history, and recordings. Additionally, you can initiate new calls, send messages, and add notes on the go.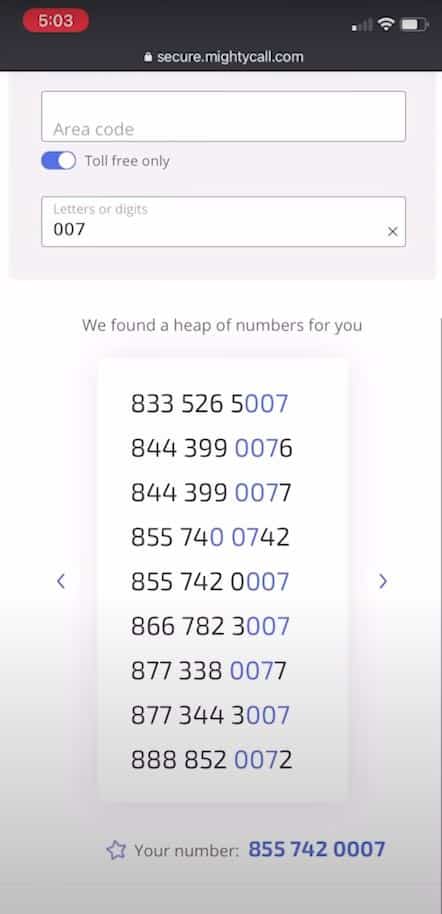 Mobile Apps
Cheapest Paid Plan
Free Version
Money-Back Guarantee
Top 3 Features
– Android
– iOS
$15/m
7-day and 100-minute trial
30 days
– Analytics and Reporting
– Unlimited Calling and Messages
– Call Routing
MightyCall stands out with an impressive library of features, most of which are available with its starter plan. Medium-scale businesses can enjoy a host of premium options at affordable prices, such as call logs, call notes, voicemail, custom greetings, call routing, user extensions, and conference calls, among others.
The provider distinguishes itself with the availability of toll-free numbers on its starter plan. This feature sets it apart from many competitors, where you often need to opt for higher-priced plans to access this option.
Toll-free numbers allow callers to reach a company without incurring long-distance or per-minute expenses. This is great for businesses, as customers are more likely to call numbers they recognize, plus we all love having free chats.
In all seriousness, this option helps companies build a solid professional image and make their services available to customers from different regions.
Because of its simplicity, the MightyCall's Android VoIP app is pretty responsive and great for completing tasks on the go.
However, while testing the app, we noticed it doesn't sync with all headphone types. While we had no troubles with plug-in headphones, minor issues occurred with wireless earbuds that kept disconnecting for some reason. Luckily, we resolved this minor inconvenience after updating the Android software on our test phone.
Pricing
MightyCall is the best VoIP app for businesses that aim to expand their reach beyond their state or even international borders. You get unlimited calling, messages, and free state and toll-free numbers for only $15/m, which is the price of the Core plan.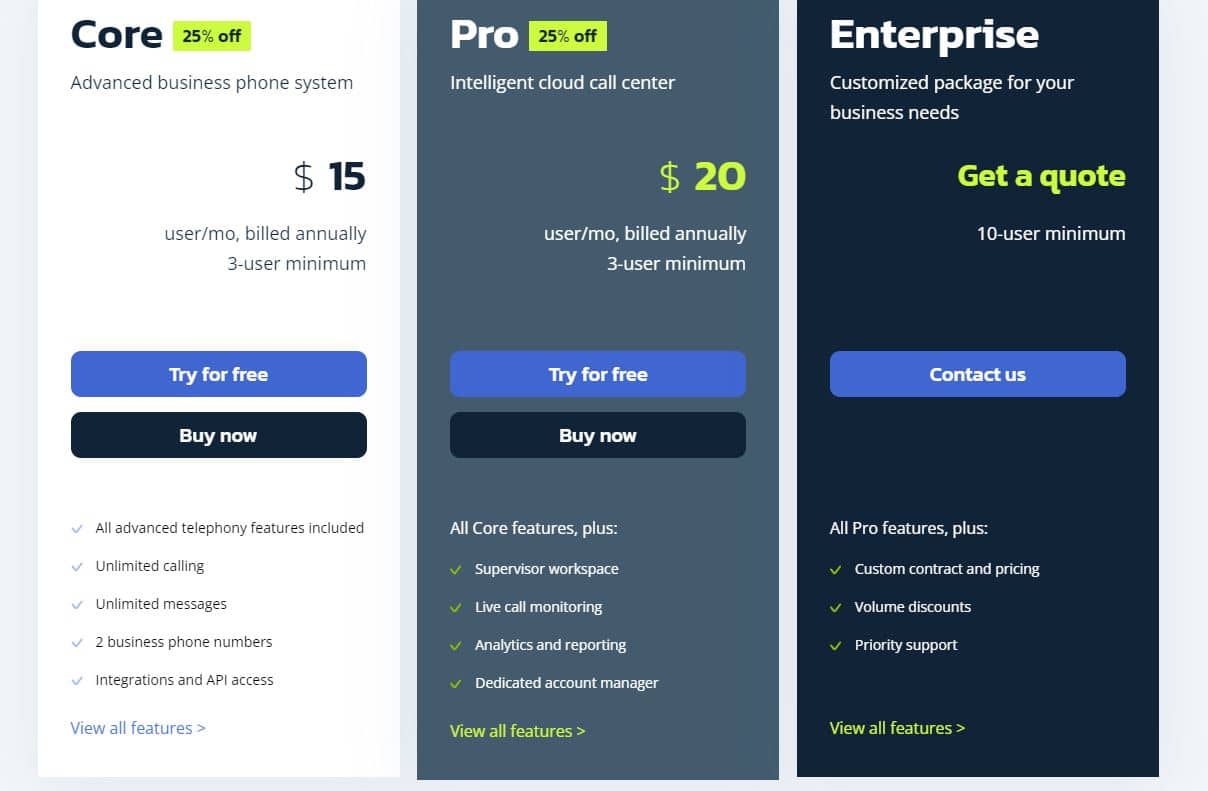 In contrast, you can get the same with GoTo Meetings. However, in this case, the service will cost $27/m.
Pros
Premium VoIP features included with the Core plan
Free trial includes seven days and 100 minutes
Advanced call analytics to get insights into call performance
Toll-free numbers to enhance the professional image of your business
Cons
The app doesn't sync well with earbuds
6. RingCentral – Robust Solution Serving the Needs of Startups
RingCentral has everything you need to get your business up and running. It offers one of the best internet phone services with a number of quality features like call routing, custom greetings, and options for blacklisting and whitelisting contacts.
It is the best VoIP app for Android primarily because of its user-centric design and a short learning curve that enables startups to implement the app efficiently in a short span.
Unlike Vonage, which emphasizes voice capabilities and advanced calling features to deliver high-quality voice communication, RingCentral excels in collaboration functionality designed to improve teamwork and productivity.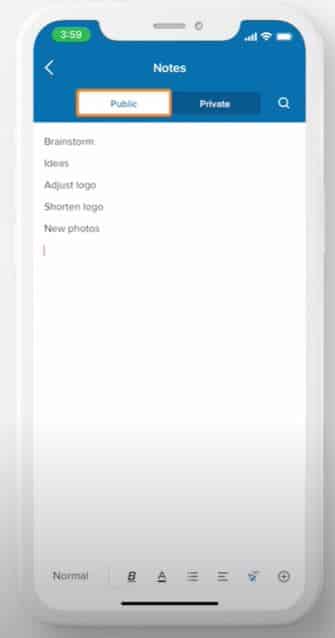 Mobile Apps
Cheapest Paid Plan
Free Version
Money-Back Guarantee
Top 3 Features
– Android
– iOS
$20/m
14-day trial
30 days
– Toll-Free Minutes
– Call Recording
– Video Meetings
The Collaborative Notes feature is an excellent example of how RingCentral helps growing companies strengthen team dynamics and effectiveness by allowing them to foster real-time collaboration and eliminate version control issues.
It allows you to create and share files and documents with other team members and leave comments and feedback directly within the document. You can write messages, add images, draw, and paint over the screen.
It also empowers members to participate by making edits and taking notes, which are instantly visible to other participants. This can help your team create new campaigns, boosting productivity.
Apart from offering collaboration features, you have the option to select from various local and toll-free numbers, enabling your business to extend its reach globally. Thanks to its cost-effective per-minute call rates and complimentary minutes, RingCentral is widely regarded as the top VoIP application for international calls.
Finally, it works great with third-party tools like Zendesk, Hubspot, Box, Salesforce, and 200 other platforms that help startups streamline their business.
One thing we noticed missing was a call tracking option. However, RingCentral compensates for this with its comprehensive adoption and usage analytics, which offers startups insights into areas that need improvement.
Pricing
Subscribing to its Core plan will cost you $20/m. This option includes helpful features like virtual voicemail, call recording, and unlimited audio conferencing.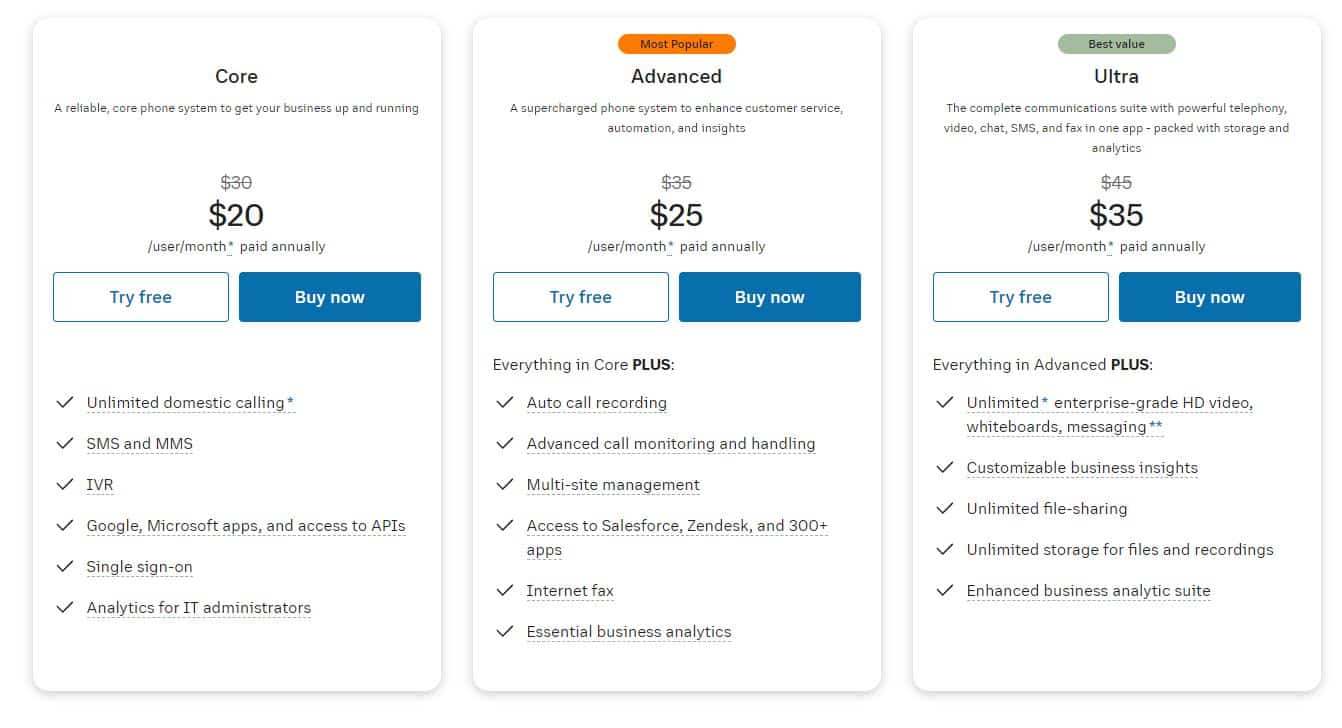 Pros
Unlimited domestic calls
Toll-free minutes to reach clients outside the company's area
Collaborative notes for improved team productivity
High-definition calling with AI noise cancelation for a better conversational experience
Cons
Long queues in the support chat
7. Zoho Meeting – Best Free VoIP App for Android
Zoho Meeting enables unified calling for customer-facing teams. It offers a free-for-life subscription for regular users and comprehensive pricing plans for businesses of all scales.
The free VoIP app has several features individuals and small businesses can use, including access to local and toll-free numbers, call queues, call recording, call transfers, and call forwarding.
However, its number one feature is Voicemail Transcription. This option is advantageous in situations where listening to audio isn't convenient. It records callers' voicemails, processes the audio, and converts it into text. Once the transcription is over, a user receives a notification with the transcribed voicemail.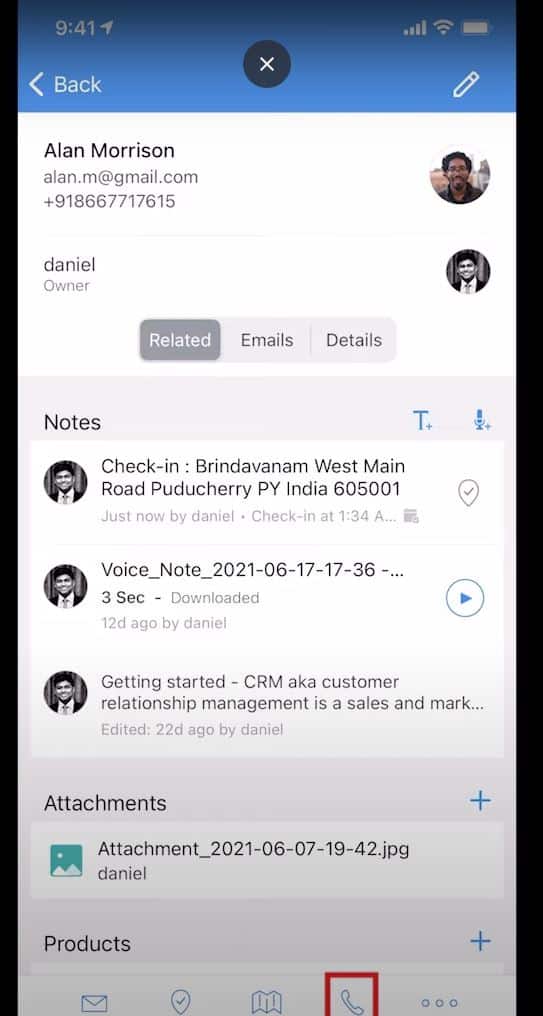 Mobile Apps
Cheapest Paid Plan
Free Version
Money-Back Guarantee
Top 3 Features
– Android
– iOS
$100/m
Yes
15 days
– Call Transfer
– Call Blocking
– Business Hours
The typical problem of such tools is that the text transcription is not always accurate. For this reason, we tested this option and compared it to our fictive voicemail, and the results were quite satisfying as Zoho Meeting managed to capture every word from the voicemail.
We also tested the video meetings free option, which supports up to three meeting participants and ten webinar attendees. The video and audio quality were satisfying, and the conference went without interruptions, lag or connection issues.
The one area where it could be improved further is the whiteboard option. The video conferencing feature could gain more value if Zoho introduced something similar to RingCentral's Collaborative Notes option to make meetings more interactive.
And while the free version is great and good enough to meet the needs of occasional users, it comes with minor limitations. For one, call listening and whispering are disabled for free users. Secondly, there's a restriction to free calls, which goes up to 250 minutes per month.
From our experience, startups and small businesses would benefit more from the Team plan, which unlocks 1,000 minutes per month and advanced features like live-call monitoring, listening, whispering, and call notes.
Pricing
Zoho Meeting Free is the best VoIP app for personal use. When it comes to business plans, the Team subscription is the cheapest and costs $100. At a glance, it may seem a bit expensive, especially compared to Ooma – which we rate as the best VoIP app for Android – or Nextiva.

However, it's also true that this particular Zoho plan encompasses multiple premium features you'd typically find with the most expensive pricing plans with other providers. If you need a multi-purpose VoIP mobile app with advanced voice capabilities and team collaboration tools combined in one, Zoho Meeting is a perfect choice.
Pros
Multi-featured free plan
High-quality video conferencing features
Toll-free and local numbers
Voicemail transcription that converts caller voicemails to text
Cons
250 minutes restriction for the free account
Fairly expensive starter plan
8. BlueJeans – High-End Solution for Streaming Video Conferences
BlueJeans stands out with a dedicated video conferencing VoIP app. It offers an incredible number of options and includes unlimited group and 1:1 meetings.
The application is user-friendly, and you shouldn't encounter any difficulty adapting to it, particularly if you have prior experience with video conferencing platforms such as Zoom or Google Meet.
Launching meetings is easy and just requires an Event ID and optional passcode. You can then access the massive library of options, allowing you to change the video quality, add and remove participants, adjust the network mode, or select a safe driving option – which comes in handy when commuting.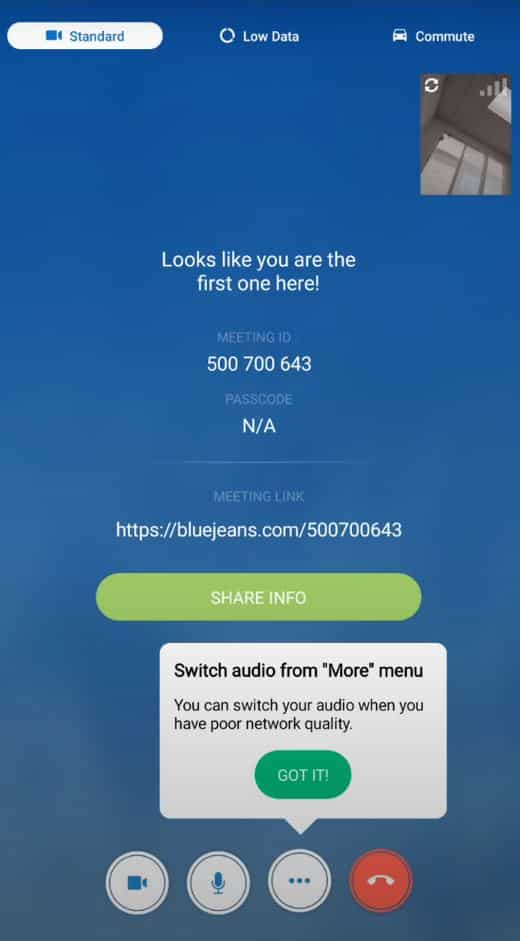 Mobile Apps
Cheapest Paid Plan
Free Version
Money-Back Guarantee
Top 3 Features
– Android
– iOS
$9.99/m
Yes
N/A
– Safe Driving Mode
– Bandwidth Management
– AES 256-bit encryption
However, its most notable feature is Smart Meetings. This option uses sophisticated algorithms to capture the key segments of video discussions automatically.
Combining highlights, transcriptions, and post-meeting summaries, the Smart Meeting feature generates concise summaries of crucial moments, enabling users to revisit and review the highlighted discussion points.
The best part about this option is that you can send the video replay to all participants, even those who haven't attended the meeting. These replays can be vital in training new employees, allowing them to learn more about the company's processes, discussions, and decisions from past meetings.
Because of the lack of integration possibilities, BlueJeans isn't ideal for enterprises that typically use a large number of productivity tools. Its mobile VoIP app collaborates with Zoho, Slack, and Salesforce. So, if you use some of the mentioned products, BlueJeans will work like a charm.
On the other hand, integration with some of the best CRMs for marketing automation, like Oracle NetSuite, MondayCRM, Pipedrive, and HubSpot, isn't possible.
Pricing
BlueJeans is incredibly cheap and available from $9.99 per month. You get unlimited meetings in high definition and five hours of meeting recording.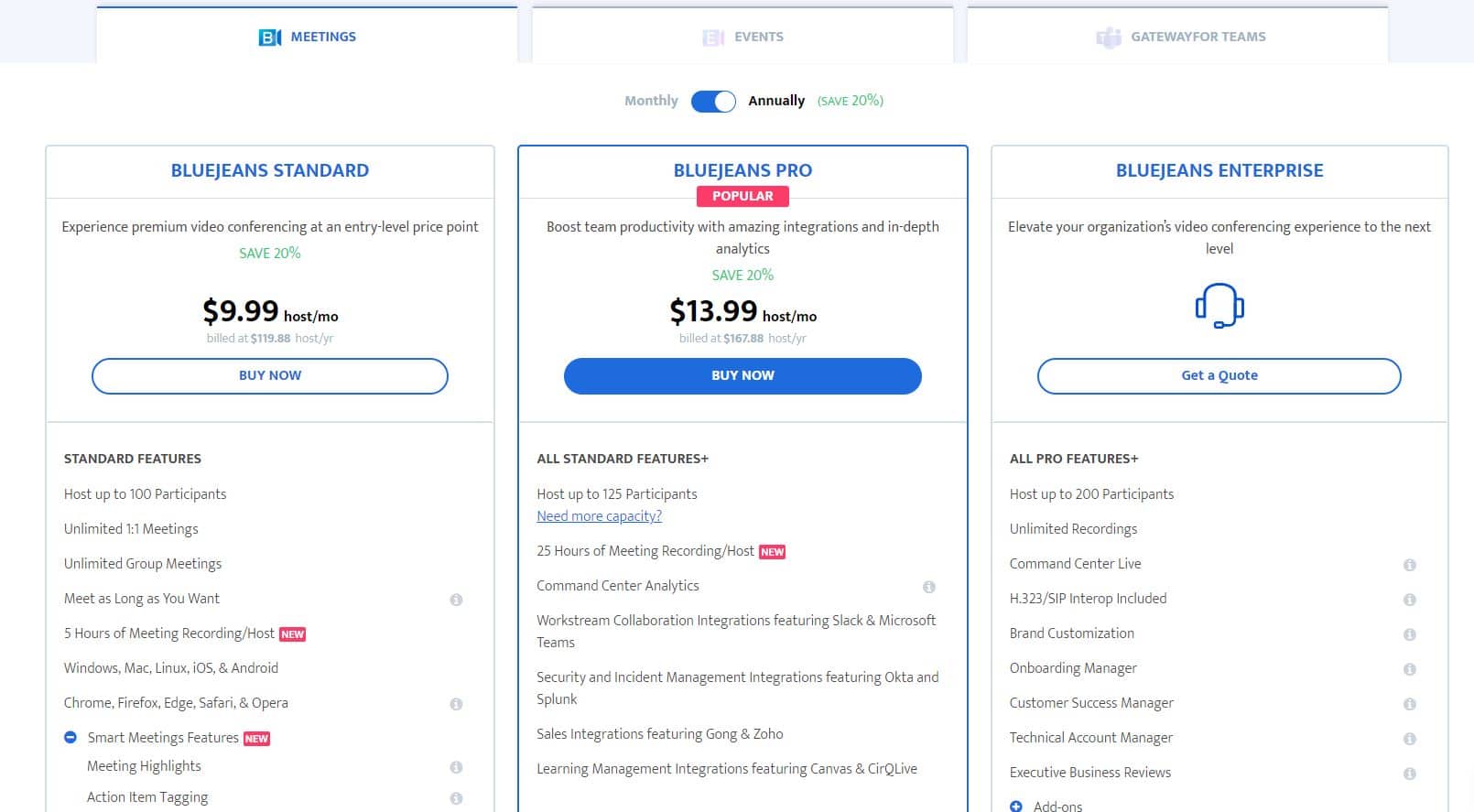 However, its starter plan is limited to 100 participants, so if you intend to host larger meetings, you'll have to subscribe to the Enterprise pricing plan and negotiate the price with BlueJeans's sales team.
Pros
Unlimited 1-on-1 and group meetings
High-quality video and audio streams
Smart Meeting feature that creates meeting recaps for educational purposes
Affordable pricing plans
Cons
Limited integration options
9. GoToMeeting – Great Pick for Mobile Screen Sharing
GoToMeeting is your go-to – pun intended – for hosting on-the-go meetings. Besides a user-centric Android app, this provider boasts the best VoIP app for iPhone.
Organizing meetings and keeping your team in sync is challenging if a solid portion of your staff comes from different parts of the world. Managers often struggle to find a suitable window and coordinate all participants from different time zones.
Luckily, scheduling a meeting that suits all attendees is no longer an unsolvable puzzle thanks to the GoToMeeting screen-sharing option. You can prepare meetings from the comfort of your home or while commuting, whether you use an Android or iOS smartphone.
Mobile Apps
Cheapest Paid Plan
Free Version
Money-Back Guarantee
Top 3 Features
– Android
– iOS
$27/m
Yes
30 days
– Hot Desking
– Number Porting
– Real-Time Analytics
You can gather up to 250 participants and launch video conferences with 720p video quality for a seamless streaming experience.
You can communicate with your team by keeping your existing mobile or landline number using GoToMeeting's porting feature. Alternatively, you can select any local or toll-free number from the provider's list.
The screen-sharing feature has multiple features to streamline the video meeting process. You can add or remove participants, connect up to 50 webcams, and send and receive SMS while streaming.
GoToMeeting empowers attendees to actively participate in team meetings by allowing them to draw, edit and point to areas of interest during video presentations, which is similar to RingCentral's Collaborative Notes feature.
The best part about the screen-sharing option is that you don't have to download and install an app. Instead, you can launch and organize meetings from your browser. While testing both options, we noticed minimal differences between the two counterparts.
The browser interface is slightly more complex than the app version because of the control panel on the right side, which can be annoying. So, relocating the panel to the bottom of the screen would make screen-sharing more user-friendly.
Pricing
With a price of $27/m, GoToMeeting may seem more expensive than other providers on our list, like RingCentral or MightyCall. However, you should remember that this service offers many features that aren't included in their counterpart's starter plans.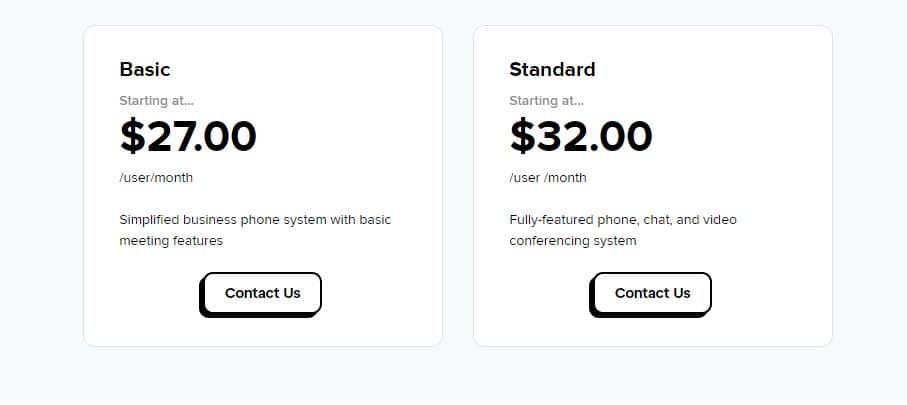 GoToMeeting includes Call Recording, Call Forwarding, Call Queues, Hot Desking, and unlimited extensions in its Core plan, which is, in our experience, definitely worth considering.
Pros
Screen-sharing options for a seamless video conferencing experience
Supports up to 250 participants
No time limits like with other video conferencing tools
Great tool for organizing meetings when you don't have access to a PC
Cons
Control panel in the browser version
10. CallRail – Powerful Option for Marketing and Sales Teams
CallRail offers the best VoIP app for Android that helps businesses track and measure the effectiveness of their marketing campaigns. It is commonly used by marketing, sales, healthcare, and real-estate companies that aim to improve their marketing strategies and boost customer engagement.
Each subscription plan provides five local numbers along with 250 minutes and 100 text messages, which may be somewhat restrictive, especially compared to MightyCall's unlimited call and message offering.
Apart from this, the CallRail mobile VoIP app has several features that cater to small and large businesses, including form tracking, call transcripts, keyword analysis, and a custom form builder.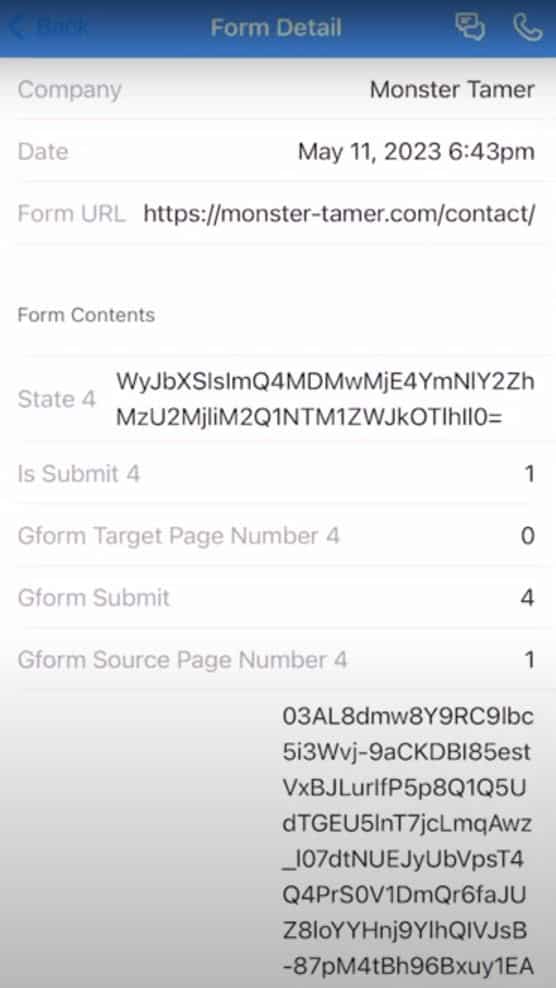 Mobile Apps
Cheapest Paid Plan
Free Version
Money-Back Guarantee
Top 3 Features
– Android
– iOS
$40/m
14-day trial
No
– Call Transcripts
– Keyword Analysis
– Form Tracking
However, its highlight feature is Call Recording and Routing. This option allows businesses to manage and analyze phone calls effectively.
It automatically records inbound and outbound calls and stores them securely in the cloud. Saved calls can serve multiple purposes, from training new and existing agents to ensuring compliance standards are met.
Call Routing allows businesses to create customized rules for handling calls using different criteria like the caller's location or time of the day. These calls can be routed to a specific team, department, or even individual.
The purpose of this feature is to optimize customer experience and reduce wait times by directing calls to the most appropriate person or department.
The best part about this option is that it's not limited to voice calls only. You can route SMS, email, and other communication channels through its mobile VoIP app.
Finally, CallRail works well with third-party apps and platforms like Google Ads, HubSpot, WordPress, and Salesforce, which we put at the top of our list of the best CRMs for email marketing.
Pricing
With a cost of $40/m, CallRail's pricing may be on the high side. However, the price is justified by the significant advantages and positive impact it can have on your business.

Features such as call recording and call routing are often categorized as premium offerings with other providers like Phone.com. Typically, these features are accessible only with their priciest plans. However, with CallRail, you can access these features with the basic plan, which is its biggest advantage.
Pros
Personalized demo with a dedicated trainer
Smooth and beginner-friendly call-tracking tool
Call recording feature to improve quality assurance and agent training
Keyword option for tracking specific terms leading to calls
Call routing for improving customer experience and response times
Cons
Phone call and messaging limitations on all plans
A bit pricey for individual users
Comparing the Top-Rated Android VoIP Apps
In the table below, we compare the best voice-over IP apps for Android based on their pricing, free plans, money-back guarantees, and their most notable features. Read on and discover the best mobile VoIP app for your business.
Android VoIP Apps
Mobile Apps
Cheapest Paid Plan
Free Version
Money-Back Guarantee
Top 3 Features
Ooma
– Android
– iOS
$19.95/m
Yes
30 days
– Caller Info Match
– Voicemail
– Call Recording
Vonage
– Android
– iOS
$13.99/m
Yes
30 days
– Call Monitoring
– Call Recording
– Omnichannel Dialer
Nextiva
– Android- iOS
$17.95/m
7-day trial
30 days
– Call Recording & Analytics
– Business Text Messaging
– Video Conference Recording
Phone.com
– Android
– iOS
$12.74/m
No
30 days
– Call Blocking
– Video Conferencing
– Document Sharing
MightyCall
– Android
– iOS
$15/m
7-day and 100-minute trial
30 days
– Analytics and Reporting
– Unlimited calling and messages
– Call Routing
RingCentral
– Android
– iOS
$20/m
14-day trial
30 days
– Toll-Free Minutes
– Call Recording
– Video Meetings
ZohoMeeting
– Android
– iOS
$100/m
Yes
15 days
– Call Transfer
– Call Blocking
– Business Hours
BlueJeans
– Android
– iOS
$9.99/m
Yes
N/A
– Safe Driving Mode
– Bandwidth Management
– AES 256-Bit Encryption
GoToMeeting
– Android
– iOS
$27/m
Yes
30 days
– Hot Desking
– Number Porting
– Real-Time Analytics
CallRail
– Android
– iOS
$40/m
14-day trial
No
– Call Transcripts
– Keyword Analysis
– Form Tracking
A Quick Guide on How to Use an Android VoIP
If you're considering the adoption of a voice-over IP app for Android, here's the most efficient and straightforward way to get started. Check out how to download and use Ooma, the best VoIP app for Android in 2023, with the following step-by-step guide.
Step 1 – Download and Install
Go to Ooma and download the mobile VoIP app.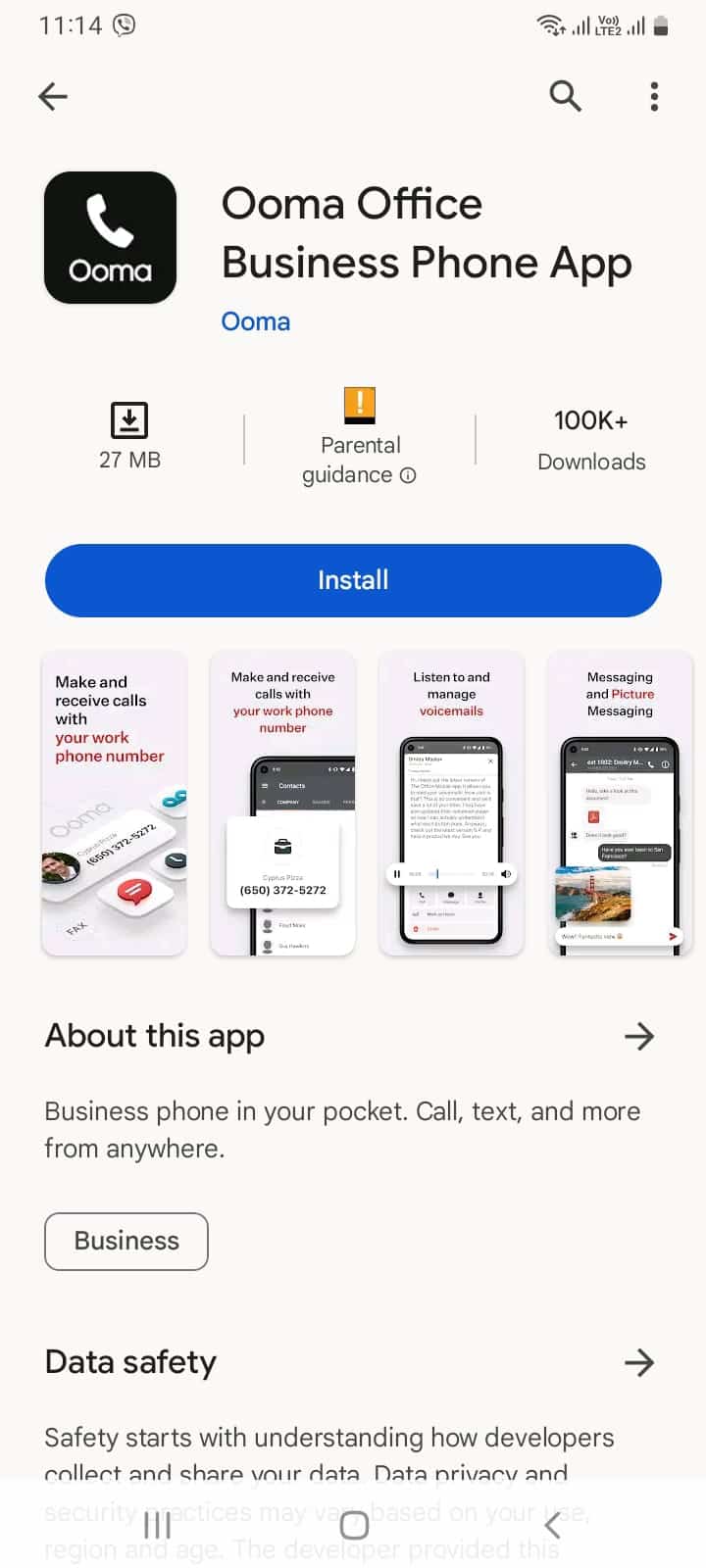 Once you download the software, click install and wait for Android to do the rest.
Step 2 – Registration
If you've already created an account, you can log in by entering the details, as seen in the image below.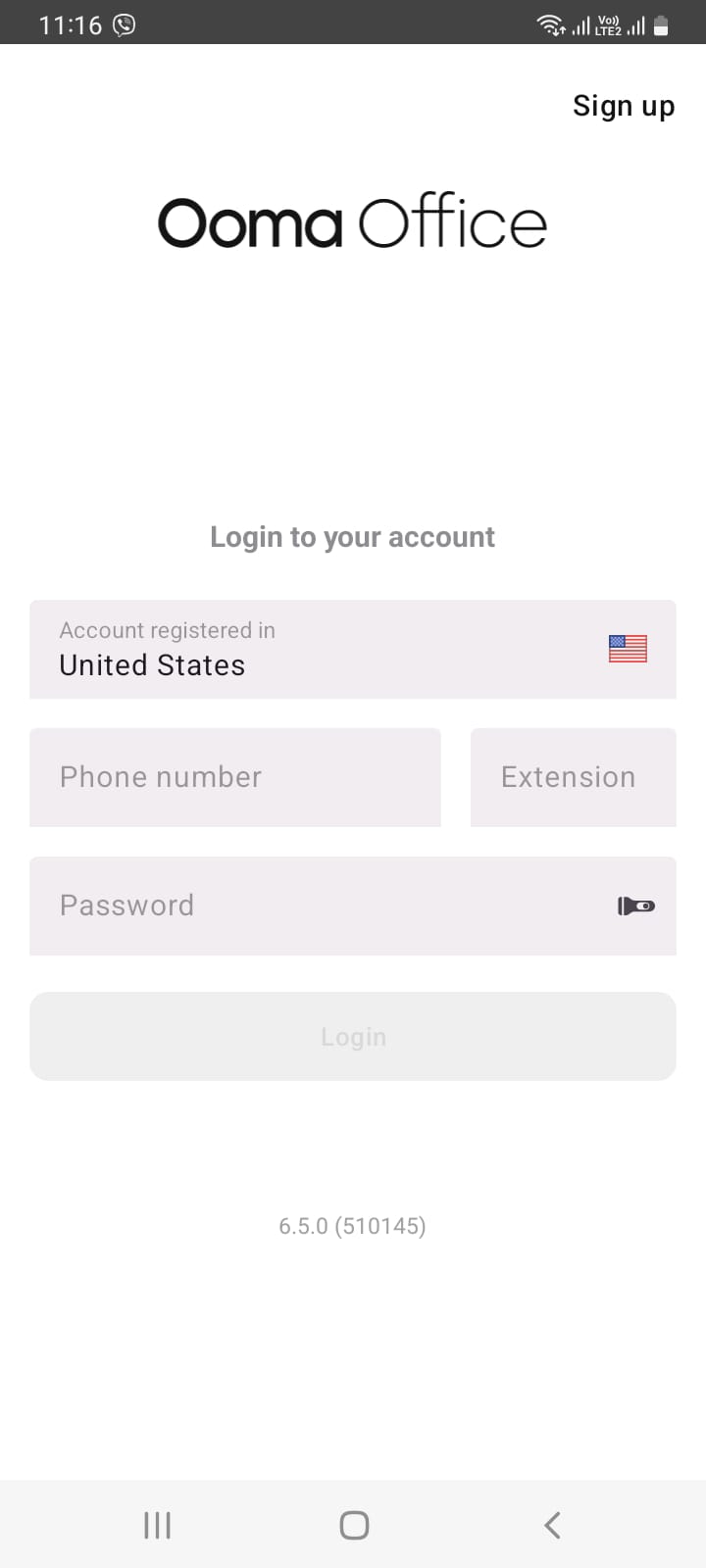 If not, you can create your account by following the simple instructions.
Step 3 – Contact List
Once you're in, you can start creating your contact list.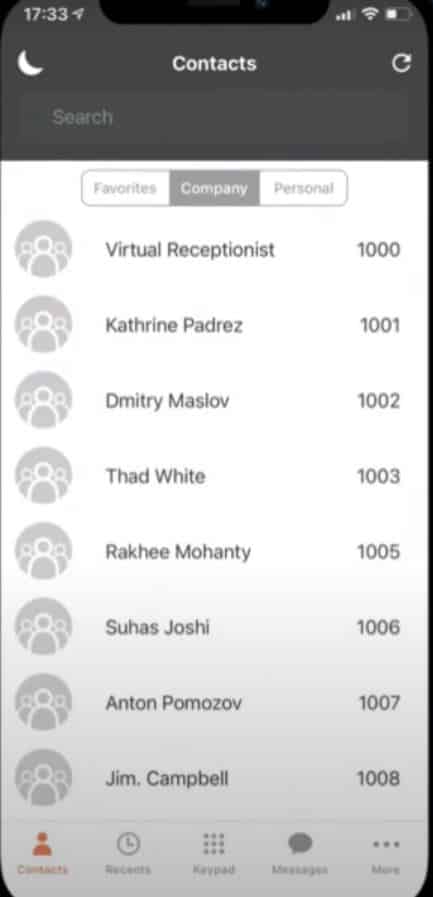 You can import and export contacts from your Android phone or add and remove contacts manually.
Step 4 – Start Dialing
Now that you've created your list of contacts, you're ready to start dialing.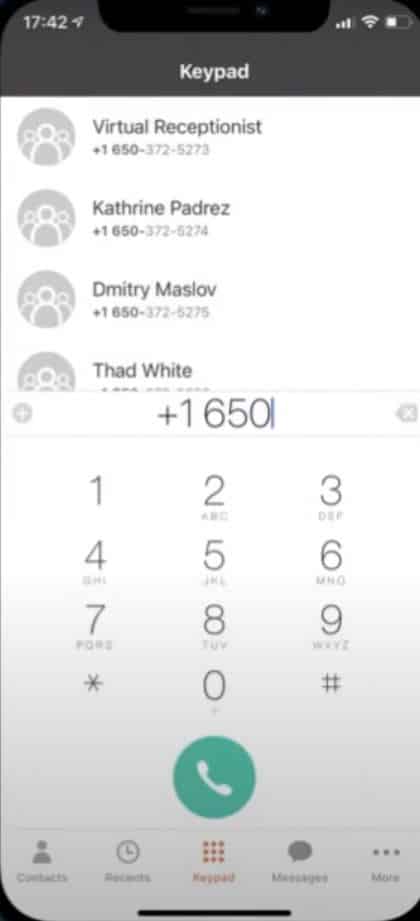 Depending on your plan, you can choose between several actions, like call recording, voicemail transcription, and call routing. And that's it – you're online with one of the best voice-calling apps for Android.
How We Ranked the Best Android VoIP Apps
In our quest to provide you with informative insights, we've thoroughly tested a wide range of products.
Only those that satisfy our rigorous criteria have made it to our list. Here's how we reviewed the top Android VoIP apps for 2023.
Research – Our process begins with thorough research about the app's background and the developer's reputation and with user feedback. We put all the pros and cons down and put the app through rigorous real-world testing scenarios.
Features – We test all available features on their starter plans, leaving no stone unturned. Our team is there to make sure each feature works as advertised. Those that do not satisfy our criteria are highlighted in our reviews.
User-Experience – Our expert team evaluates apps' responsiveness and intuitiveness on different Android devices.
Cost-Benefit – We analyze the app's pricing against the value it delivers to different businesses, ensuring our readers have all the information they need at their disposal before purchasing the product.
Comparisons – By comparing similar products, we aim to highlight specific service provider's advantages and the areas where they may fall behind.
We are committed to delivering the most accurate assessments of each product's capabilities.
Our goal is to provide comprehensive insights to serve the diverse needs of our readers, whether they're looking for solutions in marketing, sales, customer service, healthcare, real estate, or any other field. We believe in offering a well-rounded perspective for our readers to help them find the right tools for their business.
Our Other Popular VoIP Guides
If you want to learn more about the leading Android VoIP app solutions, check out our other mobile VoIP guides below:
Conclusion – What is the Best VoIP App for Android?
The choice of the best VoIP app for Android for you ultimately boils down to your specific requirements, such as whether you need features like video conferencing, call recording, voicemail transcription, or integration with third-party platforms and apps.
Our experts have identified Ooma as the best VoIP app for Android after considering factors such as pricing, call quality, security, and usability.
Its Caller Info Match feature allows users to identify the caller, even if they're outside the user's contact list. This helps individuals and companies identify important contacts, thus prioritizing calls. You can get the best VoIP app for Android today for just $19.95 a month.
Android VoIP FAQs
Are there any free VoIP apps?
Can I use a mobile as a VoIP phone?
Can you use VoIP without internet?
How do I get a VoIP number?
References