The best VoIP service (Voice Over Internet Protocol) will make a huge difference for you, whether you need to use it for your business or for personal use. Managers will be able to streamline internal and external business communications and boost productivity, improving customer experience, reducing wait times, and accelerating processes by automating services and operations. Home VoIP solutions, meanwhile, will give you a huge range of options to manage your communications and make international calls around the world.
However, finding the best of the bunch is like finding a needle in a haystack. That's why we've undertaken the task of finding and reviewing the best VoIP services for your business or home, taking into consideration criteria like pricing, integration capabilities, ease of use, and customer support. Dig in as we discover why apps like Ooma, 8×8, and Vonage are among the best in the business.
Top 8 Best VoIP Service Providers Ranked
There are a lot of great VoIP services on the market with features geared for a wide variety of different use cases. We rate Ooma as the overall best provider for internet phone services, however. The service comes with a range of outstanding features like voicemail-to-text transcription, easy integration, detailed call analytics, customizable IVR, and excellent customer support. Here's a look at how the contenders on our list stack up as the best VoIP service providers:
Ooma —

2023's best VoIP service provider, with business tools like hotdesking, call routing, and an accessible mobile app.

Vonage — Useful dashboard and analytics to improve your business' call routing and call performance with easy-to-create automations.
Nextiva —

Stable audio and video conference calling will drive your internal communications and contact importing makes the changeover seamless.

Phone.com —

Great value per-user pricing with complete call recording to help monitor and improve your client and customer satisfaction.

MightyCall —

Instantly understand your teams' status with an easy-to-use visual dashboard. Create routing rules to optimize performance.

VoIPLy —

The best VoIP service for households and small businesses, you can route calls to different numbers based on a priority list.

8×8 —

A powerful AI-driven VoIP service, perfect for businesses needing call waiting, parking, and routing. Great selection of hold music included.

DialPad — Access international numbers in over 70 countries to drive your global expansion. Unlimited SMSs will boost staff productivity, too.
Top 8 Best VoIP Services Compared
This table brings together all the key details you need to know about the picks on our shortlist so you can easily compare their features, pricing, and sign-up offers and find the ideal solution for your needs. So what is the best voip phone service for small business and for home?
VoIP Service
Best For
Starting Price
Top 3 Features
Free Trial/Plan
Money-Back Guarantee
Ooma
Best overall
Free

A 15-minute installation process
Call forwards during device outages
Set up custom music to fill gaps on calls

Free plan with basic features
30 days
Vonage
Automation
$14.99/month/line

Automatic Unicode translation
Experience Composer
Firewall traversal

Yes
N/A
Nextiva
Small Business
$18.95/user/month

Multi-level auto-attendant
Professionally-recorded caller greetings
Custom music-on-hold feature

7-day free trial
14 days
Phone.com
Affordable Rates
$11.99/user/month

Advanced call management features
Custom call handling
Call screening and blocking

No
No
MightyCall
Call Management
$15/user/month

It supports web phones
AI-powered virtual receptionist
Multi-level IVR

7-day free trial
No
VoIPLy
Households
$7.16/month

HD VoIP phone services in 50+ countries
Beginner-friendly setup process
Seamless number porting

No
30 days
8x8
Business VoIP Powered by AI
$15/user/month

Hot Desking
Presence Detection feature
Integration with team management platforms

30-day free trial
30-day refund if you haven't used the service for over 5 hours
DialPad
International Calling
$15/user/month

Unlimited calling on all plans
Automated Spam Detection feature
Visual Voicemail

14-day free trial
No
What is VoIP?
Voice over Internet Protocol (VoIP) is a technology that allows for voice communications to be transmitted online. This means that you can place voice calls over the internet rather than making them via an analog phone line.
And voice over IP solutions don't actually require any physical hardware, unlike conventional POTS phones. Telephone services run via digital and analog phones, but VoIP providers transmit your call via high-speed Internet connections.
How Does VoIP Work?
Unlike traditional phone systems that rely on analog phone lines and require circuit wiring and a Private Branch Exchange (PBX) system, VoIP phone systems convert voice into digital signals transmitted as data packets over the internet. They are sometimes referred to with terms like virtual telephony services, cloud-based phone systems, virtual calling tools, and online phone systems.
VoIP uses the real-time protocol (RTP) to ensure the timely delivery of data packets and can be accessed through an Ethernet cable or high-speed Wi-Fi connection.
The technology uses the Session Initiation Protocol (SIP), a communication protocol for VoIP calls and other multimedia sessions.
To use VoIP, you may need certain equipment such as a VoIP PBX (Private Branch Exchange), VoIP phones or IP phones, mobile devices, computers, and network-ready devices with VoIP apps or softphone applications installed, depending on whether you are using a software or hardware installation.
Top 8 Best VoIP Solutions Reviewed
In our full reviews, we'll cover all the providers on our shortlist in detail, providing all the information you need on their features, functionality, pros, cons, and pricing to make an informed purchase decision. Time to get calling…
1. Ooma — The Best VoIP Service Overall
Ooma comes out as our top pick for the best VoIP services. It stands out among its competitors with a wide array of features and an unbeatable price point. To top it off, it's suitable for both home and business users, offering stable connections and excellent voice quality that's as good as, if not better than, traditional phone systems – amd without the hefty price tag.
Let's start with its most impressive feature – Ooma's mobile app. With it, your on-the-go workers can easily manage their business phone VoIP calls from anywhere at any time. This makes placing and receiving calls easy and efficient, while call quality remains consistent no matter where you're located. This convenience allows businesses to stay connected even when out of the office, offering an edge over traditional phone systems.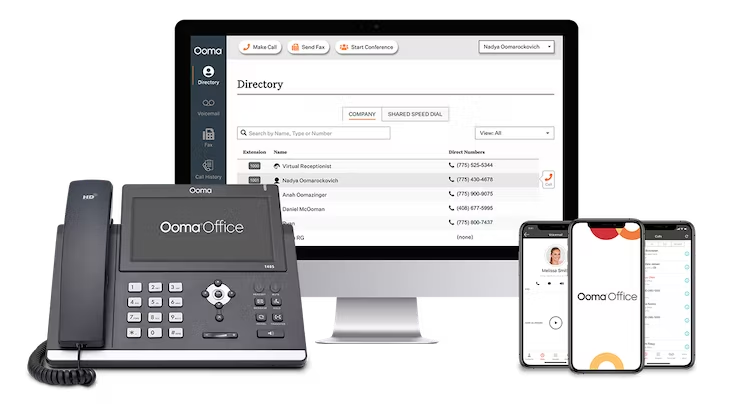 Best For
Starting Price
Top 3 Features
Free Trial/Plan
Money-Back Guarantee
Best overall
$19.95

50+ Standard Features
Virtual receptionist
Ring groups

Free plan with basic features
30 days
If you need to connect with your organization, Oooma has great video conferencing features, which include screen sharing – not a feature that all VoIP providers will offer by any means.
The platform also offers an incredibly useful Virtual Receptionist that automates incoming call management. With this feature, calls can be routed to the correct department or person with ease, and messages are never missed. This ensures that businesses never miss another opportunity due to mismanaged calls, making it a must-have for any organization. Ring Groups, meanwhile, allow you to direct callers to specific teams within your organization.
Finally, Ooma's Hot Desking feature allows unassigned phones to be transformed into your business phone for the day. This flexibility ensures that no matter who's using a phone, they can access their own VoIP line with ease. With this, businesses have the freedom to move around without being tied down to one desk or office location.
In short, this offering is strong all around – and our experts rate it as the best VoIP service for residential use and the best business VoIP phone service.
Pricing
Ooma offers a range of pricing plans to suit your business needs:

Essentials:

Over 50 standard features, virtual receptionist, mobile app, and digital fax.

Pro:

Everything in Essentials, plus videoconferencing, call recording, and voicemail transcription.

Pro Plus:

Everything in Pro, plus call queuing, Salesforce and Microsoft Dynamics 365 integrations, and advanced call management. The business VoIP provider you need.
What's even better, though, is that the basic service is free once you've acquired an Oooma Telo device. We believe Ooma is the best VoIP service for home use and for businesses – and you can try Ooma risk-free for a full month, thanks to its 30-day full refund policy, so you've got nothing to lose.
Pros
Services for 70+ countries
Virtual receptionist feature with hold music
Offers call forwarding and call parking
One-time cost only
Cons
Limited features with the basic plan
2. Vonage — Leading VoIP Provider With Tons of Automation Options
Vonage's fast VoIP system lets you accelerate communication both within your team and with your customers, helping your team make the most of your working hours. With that said, it stands apart from the competition with its highly customizable Admin Portal.
The portal lets you manage the entire phone system of your company from one dashboard. Here, you'll get detailed analytics of the calls categorized by extension. You can check how many calls are made, answered, and missed, which will help you identify your best performers.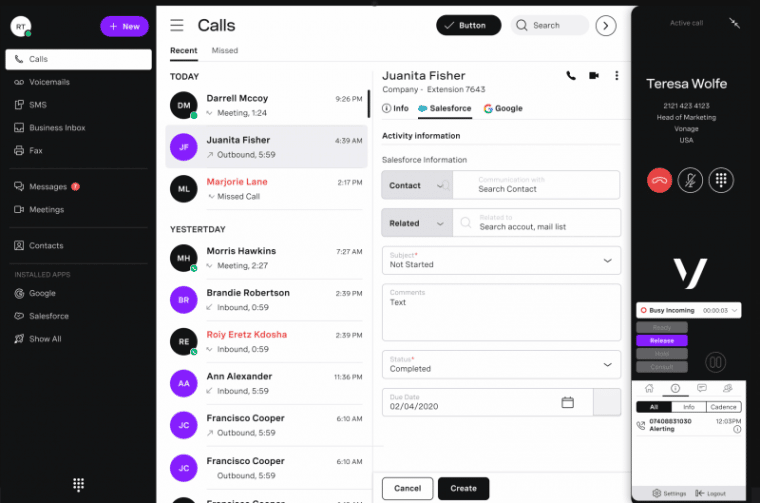 Best For
Starting Price
Top 3 Features
Free Trial/Plan
Money-Back Guarantee
Automation
$14.99/month/line

Automatic Unicode translation
Experience Composer
Firewall traversal

Yes
N/A
The platform has great automation and call management features. To simplify team management and work distribution, Vonage offers a unique Busy Lamp feature that displays the current status of each extension in-real time. It supports up to 50 lines at a time and shows which of them are "on call," "idle," or "ringing."
This feature will also simplify call routing. For instance, once a call comes in, it can be easily directed to the extension labeled as "idle," avoiding all the other lines that are ringing or busy.
Beyond this, the Call Announcement feature will tell you who's calling and for what reason before it connects to any of your team members so that you can decide whether to put the call through. For instance, if you tag a number as "New Lead", it'll flash the label the next time they call, helping you connect them to the right agent as soon as possible.
Vonage provides a chatbot to help handle customer queries with one-on-one conversations, and you can also send automated notifications to follow up with customers, for example, to complete checkout or for renewal reminders.
Given all this – and 99.99% guaranteed uptime – it's no wonder that Vonage has over 100,000 business customers around the world.
Pricing
Much like other VoIP services, Vonage has flexible pricing, and what you pay will depend on the size of your organization. If you have fewer than 50 team members, Vonage will only ask you $14.99/month/line on its Mobile plan.

Here, you'll get both mobile and desktop apps, unlimited calling and messaging, and access to the Vonage app center. To bring more team members on board and enjoy features like CRM integrations, Call Groups, Call Recording, and more, get either the Premium or Advanced plan.
If you're still not sure, try Vonage risk-free with its free trial, and get a paid plan only when you're convinced.
Pros
Automatic speech recognition in over 120 languages
A unique adaptive routing feature
Access to local numbers in 76 countries
Automatically splits and seamlessly reassembles longer text messages
GDPR and HIPPA compliant
Cons
Limited video call participants
3. Nextiva — The Best VoIP Service for Small Businesses
Nextiva simplifies communication for you by integrating multiple mediums of communication in one easy-to-use platform. Even on its most basic plan, you get access to unlimited calling and video calling — a huge benefit for every company, regardless of its size. After all, you wouldn't want to pay for every call you make to your leads or clients.
Beyond this, it also lets you set up conference calls with unlimited users. This feature is more prevalent in internal communication. For activities that require mass participation from your team, such as employee training or onboarding, the audio-conferencing feature will come in very handy.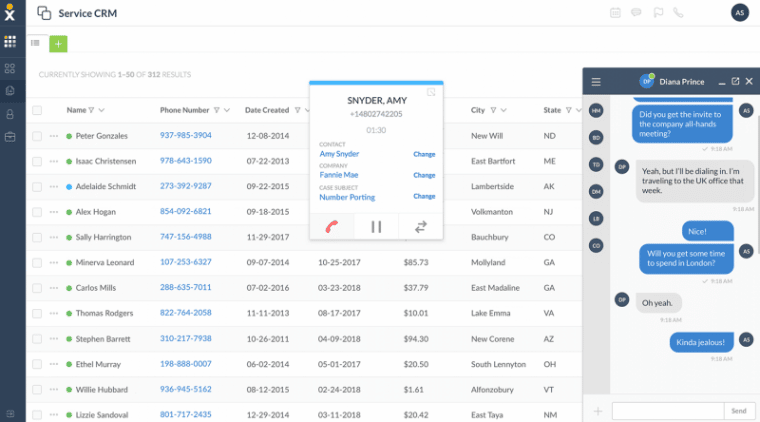 Best For
Starting Price
Top 3 Features
Free Trial/Plan
Money-Back Guarantee
Small Business
$18.95/user/month

Multi-level auto-attendant
Professionally-recorded caller greetings
Custom music-on-hold feature

7-day free trial
14 days
The same applies to video conferencing. Depending on the plan you choose, you can add as many users on the call as you want, and that too, at the same time. Don't worry. Nextiva's stable network will easily handle the load without compromising on the call quality.
To simplify getting started with Nextiva, it helps you quickly and automatically import your contacts from Outlook or Google Contacts, so you won't have to waste time manually transferring the data to your new system. Once it's integrated, each time you add a new contact on either of these platforms, a copy of it will be recorded on Nextiva automatically.
The platform also has extremely useful integrations with products like Microsoft Teams, Salesforce, and Hubspot, so you can bring your customer relationship tools together.
Pricing
The biggest USP of Nextiva is that its plans are highly customizable. With that said, the most budget-friendly option is the 3-year Essential plan. Here's the pricing for 100+ users — if you're only 5-19 members, you'll have to shell out a little more:

Need Nextiva to do more for you? Get voicemail transcription, unlimited video conference recording, and up to 3 professionally recorded greetings with the Enterprise plan. Give it a try now with its 7-day free trial – it's the best VoIP service for small business in our book.
Pros
Detailed and informative call analytics
Comes with IVR and an auto-attendant
Easy integration with popular CRM solutions
Conference calling for unlimited users with HD video
Excellent voicemail transcription feature
Cons
Top-tier plans can be expensive
4. Phone.com — The Best VoIP Service with Cheap Per-User Pricing
Phone.com serves over 50,000 brands around the world. Its client base includes some of the most reputed industry leaders, such as Zoho and LiftMaster. That said, our favorite thing about Phone.com is its flexible pricing.
It has a pay-per-user pricing under which you only pay for the exact number of team members you bring on board, making it all the more cost-effective compared to competitors.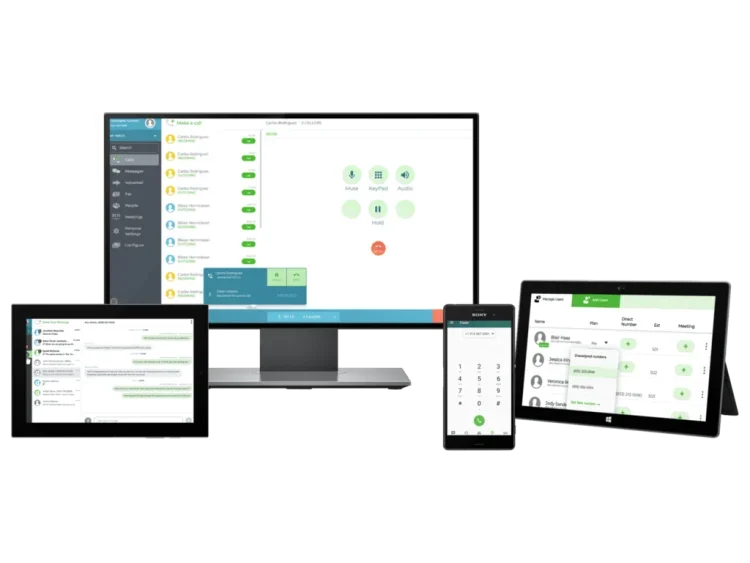 Best For
Starting Price
Top 3 Features
Free Trial/Plan
Money-Back Guarantee
Affordable Rates
$11.99/user/month

Advanced call management features
Custom call handling
Call screening and blocking

No
No
The product includes excellent tools for setting call-handling rules, including call screening and blocking and call queues.
Another benefit of using Phone.com is that it comes with a free internet business phone number for every account. This way, you can get started with your first set of phone calls as a company in no time — bid farewell to the hassle of getting a new business number with Phone.com.
Suppose you go for its Pro Plan, even better. Here, you'll also get call recordings, which is a great way to assess customer satisfaction and employee performance. The data from call recordings can also create detailed insights into your company's communication strategies.
For instance, a certain strategy might drive away leads, while another might act as a lead magnet. The call recording feature will help you identify which approach is delivering results for you.
Along with the call recordings, Phone.com provides detailed call analytics, which helps you to track your response rate and employee performance. This enables you to make better business decisions, such as task distribution, resource allocation, and promotions as you prioritize your best-performing members of staff.
Pricing
Phone.com is so far the cheapest VoIP on our list, costing just $11.99/month. It's not only cheaper than 8×8 but also allows for the admission of up to 10 participants for video conferencing, 500 pooled minutes, and 1,000 pooled text segments, which is a compelling package for any small or mid-sized business.

Need unlimited calls and messages and features like call recording and voicemail transcription? Get a premium plan. The reason Phone.com isn't higher on our list is that it doesn't come with a free trial. But that doesn't mean you shouldn't try it for a small monthly fee, thanks to its cheap monthly subscription.
Pros
Excellent call routing and call handling options
Offers call transcription and voice tagging
Plans based on usage
5. MightyCall — Popular VoIP Phone System With Impeccable Custom Call Greeting
MightyCall has over 30 new-age VoIP features and is also one of the few platforms to offer a free trial. And unlike Phone.com and others, which provide only one business number per account, it offers two, regardless of the plan you choose.
To help you maintain harmony in your team, MightyCall also offers Presence Status for each employee, just like Vonage. It tells you if a certain employee is available, away from the desk, or busy on another call. This will help you route incoming calls accordingly.
Best For
Starting Price
Top 3 Features
Free Trial/Plan
Money-Back Guarantee
Call Management
$15/user/month

It supports web phones
AI-powered virtual receptionist
Multi-level IVR

7-day free trial
No
Furthermore, MightyCall also lets you add extra users to your plan at a nominal fee. If you're on its Enterprise plan, you'll be allowed to add unlimited new users. This feature is a godsend for growing businesses that are expecting consistent team expansion in the coming times.
Handling calls is also a breeze with MightyCall's Call Flow feature. It allows you to create custom rules for the way you want each call to be handled. For example, you can automatically route all blacklisted calls to go to voicemail.
Similarly, the white-listed callers or VIPs can be directly sent to a priority support number. This feature not only gives your business a more professional and streamlined look, but also ensures that no employee wastes their time on unnecessary calls.
In addition, you can set custom greetings and messages to help your customers navigate the system.
Pricing
MightyCall's Business plan allows for 3 users, unlimited minutes, and unlimited texts and will cost you $15, which is reasonable. Yes, a slightly greater number of users would've been better, but it's still a solid plan for a small, in-house team.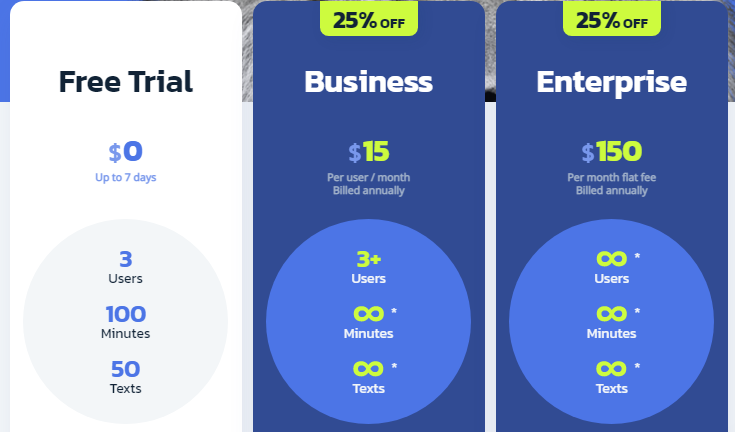 The key attraction of MightyCall is its Enterprise plan, which asks for a flat fee of $150/month and permits unlimited users, minutes, and texts. Try it risk-free with the 7-day free trial now.
Pros
Excellent call recording features
Multi-level IVR and music on hold
An easy-to-use interface
Doesn't require system installation
Great call routing tools
Cons
Doesn't offer video conferencing
6. VoIPLy — The Best VoIP Service for Households and Small Businesses
VoIPLy has grown to be a dominating presence both among businesses and homeowners. Today, over 25,000 users swear by its impeccable service. With that said, its biggest USP is unlimited international calling, with great call quality.
While a lot of other VoIP services offer unlimited calling as well, most of them limit it only to the USA and Canada. But with VoIPLy, you can make countless phone calls to not only these two countries but also 50+ other countries.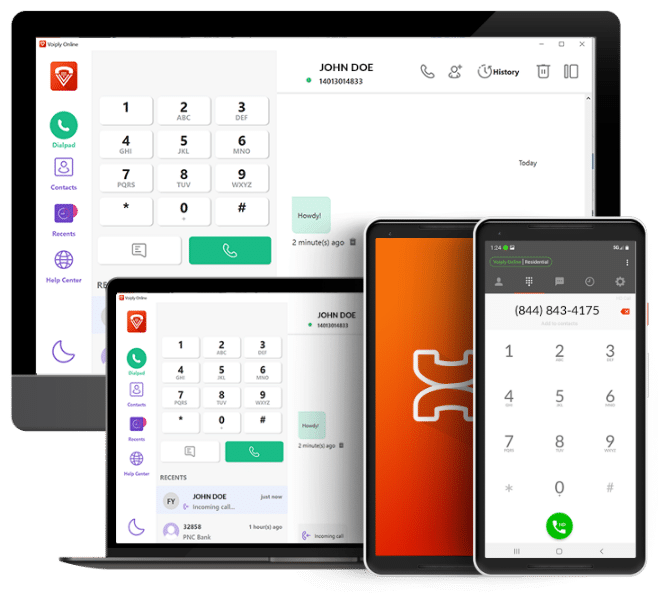 Best For
Starting Price
Top 3 Features
Free Trial/Plan
Money-Back Guarantee
Households
$7.16/month

HD VoIP phone services in 50+ countries
Beginner-friendly setup process
Seamless number porting

No
30 days
Another feature that most businesses will find useful is Ring Groups. Under this, each time you get a new call, all the devices linked to that extension will ring simultaneously or in chronological order so that you never miss out on any important call.
This feature can be exceptionally beneficial for small businesses that are already short on employees. In case you miss the call despite turning on the Ring Group feature, don't worry — VoIP will direct the caller to your voicemail, where they can leave their details and queries.
This way, you'll never lose any leads, even when you're away from the phone. Besides this, VoIPLy can also send you a copy of those voicemails to your email so that you don't lose them or forget to listen to them.
What's more, it offers stellar customer support that'll be there for you round-the-clock over call, email, and chat. No other VoIP service provider offers these many methods to connect with the customer support wing. We rate it as being among the best home VoIP phone service options.
Pricing
VoIPLy offers two pricing options: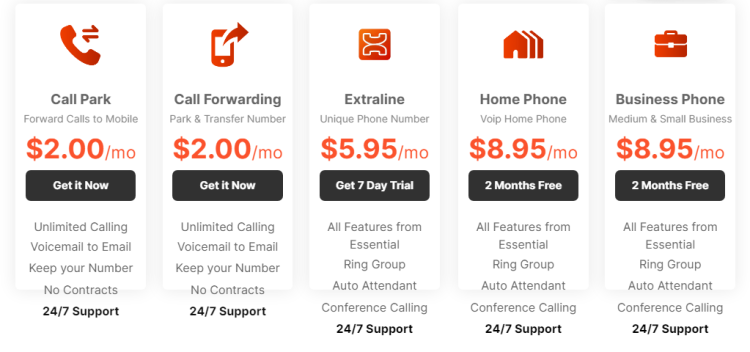 As you can see, VoIPLy's residential plan is dirt cheap. Here, you'll get customized call routing, unlimited calling to 50+ countries, and more such features handmade for residential users — making it the best home phone VoIP solution on the market. Put VoIPLy to the test today with the 30-day money-back guarantee. Don't like it? Get a full refund.
Pros
An excellent VoIP uptime of 99%
Several customizable options
Handy spam blocker tools
Affordable
Great customer support
Easy to set up and launch
Best best VoIP home phone service
Cons
Doesn't have a free trial
7. 8×8 — The Best Business VoIP Service Powered by AI
8×8 is trusted by over 2 million businesses across the globe – credit to the fact that its automated, AI-powered workflows save businesses a huge amount of time. Besides this, it's well known for delivering high-quality HD audio and video and secure, stable connections, even with its cheapest plan.
You get a basic auto-attendant, which can cater to your callers and route them to the right agent while you're busy on another line. This service works like an AI-powered receptionist with the added benefit of offering greater efficiency and the ability to handle multiple calls at once.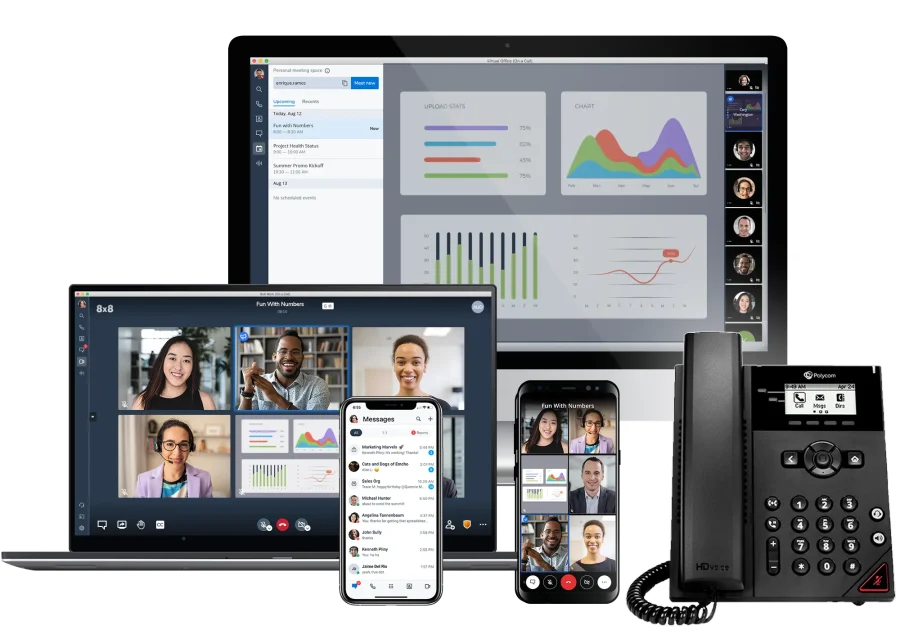 Best For
Starting Price
Top 3 Features
Free Trial/Plan
Money-Back Guarantee
Business VoIP Powered by AI
$15/user/month

Hot Desking
Presence Detection feature
Integration with team management platforms

30-day free trial
30-day refund if you haven't used the service for over 5 hours
Other great features available even on its cheapest plan include hold music, which lets you keep callers engaged while they're on hold. No one likes waiting, so it's best to offer your callers something to listen to rather than complete silence.
To simplify call handling, 8×8 also provides you with many additional features, such as call forwarding, call parking, ring groups, unlimited internet fax, and more.
The call forwarding feature lets you automatically route calls to a different number, if needed. This can route calls from an old non-functional number to your new extension. Similarly, the call parking feature will let you transfer a call from one device to another without losing connection or tying up the line.
Then, for internal communication, there are features for team messaging and audio and video conferencing for calls with up to 500 participants. You can also integrate the product with other services, such as Microsoft Teams, to further extend your use of 8×8.
Pricing
8×8 is easily the cheapest VoIP option in our top 3. The 1-year Express plan is perfect for small teams. Under this plan, you can bring up to 5 members on board and enjoy unlimited calling in the US and Canada. — the latter is also why it's one of the top residential VoIP products for Canadians as well.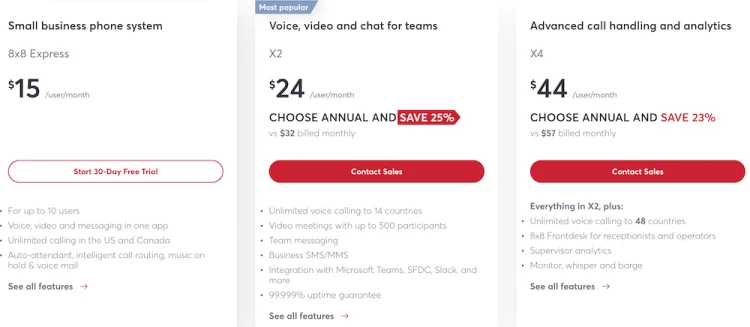 If your business is expanding and you'd like unlimited calls to up to 14 countries and other high-end features, including hot desking, presence detection, and advanced call handling and analytics, we recommend you get a premium plan.
Try 8×8 risk-free for 30 days and find out if it suits your needs. No risk of losing any money and no hassle, just the best business VoIP service powered by AI.
Pros
A top-notch AI-powered platform
Offers several APIs for seamless integration
Offers omnichannel routing
Easy to set up and get started
Great hot desking and auto attendant features
Cons
Somewhat limited customization options
8. DialPad — A Must-Have VoIP Service for Globally-Minded Businesses
DialPad is an AI-powered VoIP platform that centralizes both customer and team communication in one place, helping you streamline your day-to-day team activities. Right from the cheapest plan, you get access to unlimited calling, SMS, and MMS.
Another benefit of using DialPad is that you can get local business numbers for over 70 countries. This feature will significantly help businesses expand into new markets.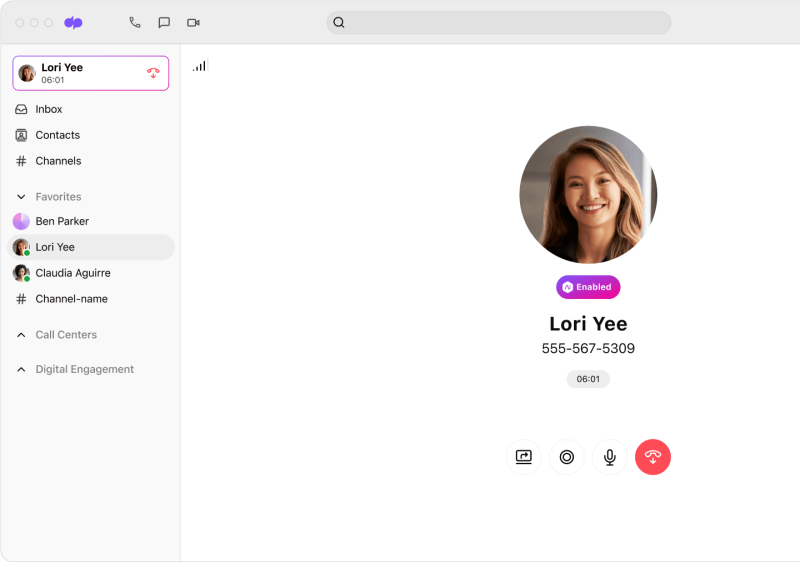 Best For
Starting Price
Top 3 Features
Free Trial/Plan
Money-Back Guarantee
International Calling
$15/user/month

Unlimited calling on all plans
Automated Spam Detection feature
Visual Voicemail

14-day free trial
No
If you're approaching an international market, you'll have better luck connecting with the locals if you have a local business number that they can trust. On top of this, DialPad is also one of the few platforms to guarantee 100% uptime.
While most other VoIP services only guarantee 99.99% uptime, DialPad goes a step ahead and meets the perfect score. While the difference might not seem significant, a promise of zero network trouble is better than the possibility of facing occasional network issues.
The automated call summary feature is particularly impressive. This logs key details of the call, such as the contact's name and the call's length. You can also get a complete transcription of the call, with key moments noted.
Furthermore, DialPad lets you have multiple phone numbers on each account, which lets you categorize the calls better with individual extensions. Here's an example.
If you have a separate number for catering to new leads and resolving queries of existing customers, it'll not only reduce the traffic on individual lines but also help you direct the callers to the best-suited employee.
Pricing
We recommend DialPad's Standard plan for all small businesses since it comes with unlimited calling (both audio and video) and even unlimited SMS.

There's also the Enterprise plan which is custom priced and offers 100% uptime and unlimited ring groups and office locations. Contact DialPad's team to get a quote. With the various plans on offer, we consider DialPad to be the best VoIP service for business managers operating at scale.
With a 14-day free trial, you'll have ample time to find out whether DialPad is the one for you.
Pros
Several CRM integration options
A unique geographic call-routing feature
A central platform for both client and team communications
Easy VoIP number porting
Great customer support
Unlimited video meetings
Why Do I Need a VoIP Solution? VoIP Benefits
Getting an effective VoIP solution in place can provide a range of extremely useful features that can be great for personal use and can be transformative for businesses. Here are some of the things that a quality internet phone can do for you:
Save on Costs
Could you replace your landline with VoIP? Almost certainly, yes, and doing so will save you money. A landline phone system costs businesses $50 per line each month, while VoIP plans are available for less than $20 per line.
Whether you need to make international calls or just manage lots of line a VoIP solution is likely to be preferable. You can realize significant direct and indirect cost savings by switching to VoIP.
Direct cost savings include lower PBX costs, as seen at LSU, eliminating copper wiring charges, and reduced calling expenses. Indirect cost savings include increased remote work efficiency, reduced utilities and office space expenses, and improved collaboration among team members. All in all, it can be a great tool to make calling faster and easier, and you can get access to a whole host of features that you would never have been able to use with a landline.
Flexibility and Mobility
VoIP telephone systems let you direct calls from landline numbers and phone systems to your smartphone – so calls can be directed wherever they're needed, whether the individual is in the building or in another country.
What's more, as well as plugging in mobile users, you can move your entire operation if needed without losing access to your lines or numbers.
Your VoIP phone service hence provides an enormous amount of flexibility, which would have been simply impossible in the past. And if you need to scale up? Rather than installing new lines, you just need to get additional licenses and handsets and can get started straight away.
Increased Voice Quality
The quality of voice calls using VoIP technology has improved significantly since its early days when VoIP calls would occasionally drop and would sometimes suffer from poor voice quality and latency. These are things of the past, however, and with a strong and stable internet connection and ample bandwidth you should have absolutely no problem with getting superb call quality with VoIP.
With the help of advanced technologies like noise-canceling microphones and audio compression, VoIP phones deliver exceptional sound quality, allowing for seamless communication without interruptions.
Expanded & Improved Features
You can tailor VoIP services to your exact requirements rather than working around what's technically possible with landlines. VoIP services provide a multitude of features, many of which aren't supported by traditional telephone systems or are only available for an extra cost. VoIP phones for business and personal use include functionality such as:
Call forwarding

Interactive voice response

Ring groups and queues

Hold music

Call recording
All VoIP services offer enhanced communication and increased efficiency – and they're increasingly essential for any kind of complex organizational business communication.
With a fast and stable internet connection, you can take advantage of these features and boost your competitiveness – and you're likely to find that VoIP services are actually more reliable than traditional telephone operators.
Easy Installation
VoIP installation is simple and hassle-free compared to traditional phone systems. With VoIP, there's no need for physical phone lines — all you need is an Ethernet connection to the corporate network.
Hosted VoIP services also allow individuals and businesses to focus on their core competencies, as the service provider handles all the technical aspects of the operation. This makes VoIP an ideal choice for small businesses, start-ups, and homes without expert technical support – getting started is quick, easy, and painless.
Of course, if you're in an enterprise business then the cost savings are only multiplied as you deploy phone services at scale.
Preparing for ISDN Switch Off
The Integrated Services Digital Network (ISDN) is currently used to send voice, data, and video transmissions on the public telephone network. However, it's going to be switched off in 2025 – largely because it's too outdated to effectively serve modern business communications.
Switching to VoIP now will mean that your business can get ahead of this and you can future-proof your services – or, if you're just getting started, you can avoid this headache entirely. VoIP is the modern communication standard, and it can provide an enduring, scalable platform to serve all your organizational needs.
How to Choose the Best VoIP Service – Factors to Consider
With the vast array of VoIP providers, choosing the best one for your personal and business needs can be challenging. Here are the key factors that you need to consider to make an informed decision:
Cost of Local Vs. International Calls
This is a crucial factor, as the cost of international calls can vary significantly between VoIP providers. Choose a provider that offers a reasonable cost for both local and international calls based on the location of your customers or your loved ones, and consider whether you'll primarily be fielding incoming or outgoing calls. If you need a VoIP for business, this can be a deciding factor for the service you pick.
Features
Different VoIP providers offer a wide range of features, so it's essential to choose a provider that offers the features that best meet your needs. Do you want to make regular international calls to family, or do you need a call center setup? Do you want to port your existing mobile phone number, or do you want a VoIP number? Is being able to call toll-free numbers important to you?
You should be clear if you want the best home VoIP service or the best business VoIP. Pay close attention to the core features included in each plan and any additional features that may be sold as separate add-ons, as this can significantly increase your costs.
If it's at the right price, though, you may find business packages come with tools that are great time savers for your personal life.
Third-Party Integrations
A key aspect of choosing the best virtual phone number provider is ensuring it integrates seamlessly with other tools and systems you use, such as CRM software, email marketing services, and other APIs.
Look for a provider that offers robust third-party integrations and APIs to ensure you can get the most out of your VoIP service – saving you from spending time on needless data entry tasks and manual tracking and recording of communications.
Network Quality
The quality of the VoIP provider's network is critical to ensuring that your call quality is top-notch. The best VoIP phone services have a reliable, scalable network and offer real-time, 24/7 customer service to ensure that you can get support when you need it. All of the providers included on our best VoIP service shortlist are rated as providing excellent service regarding voice-over-IP-phone call quality.
More Resources and VoIP Guides
Our expert researchers have put together a range of guides to the best VoIP solutions on the market. You can find more information on the following:
Conclusion – What's the Best VoIP Service, Overall? Ooma
Our list of the best VoIP services has it all — whether you need a feature-rich VoIP provider that can cater to your large business needs or an easy-to-use platform for personal use with your family. And there are certainly plenty of great options to pick from.
Our experts have concluded that Ooma is unmatched in its overall offering, making it the best VoIP service in 2023. With functions like seamless video conferencing, wide availability, a dedicated knowledge base, and seamless integration, Ooma offers an enormous range of features at a great price – and it's an outstanding VoIP phone service for home and for scaling businesses.
And if you're still not sure, you can try it now, risk-free, with the 14-day free trial to ensure that it's the right product for your needs.
VoIP FAQs
What is the best VoIP service this year?
What is the best VoIP service for small businesses?
What is the best VoIP service for home?
How much does VoIP cost per month?
Is there a free VoIP phone service?
What's the cheapest VoIP phone service?
What are the disadvantages of VoIP?
Will my cell phone work as a VoIP phone?
Which provider is best for cell phone VoIP?
Which provider is best in mobile VoIP?
References