Unlike traditional landline phones, a VoIP phone service can help you cut down on monthly fees, and it provides various advanced features, which you'll learn about in this Ooma review. Like most VoIP services, the Ooma phone system focuses on delivering high-quality sound, excellent voicemail features, and smart security measures.
However, Ooma's excellent pricing and customer service make it stand out among its competitors. In this Ooma phone review, you'll discover how Ooma compares to other providers, its pros and cons, and pricing options, among other information that will help you make an informed decision.
What is Ooma?
Ooma provides VoIP (Voice over Internet Protocol) hardware devices that replace traditional landline phones and offer advanced, modern features. Unlike most of its competitors, Ooma charges just for its hardware and requires very low or zero monthly fees.
It removes the plan structure charged by the minute or month that most landline and cellphone companies impose and introduces versatile features for voicemail, conference calls, and call routing.
Although these advanced features are most suited to companies, domestic users can also benefit from seeing caller IDs and ensuring they never miss an important call.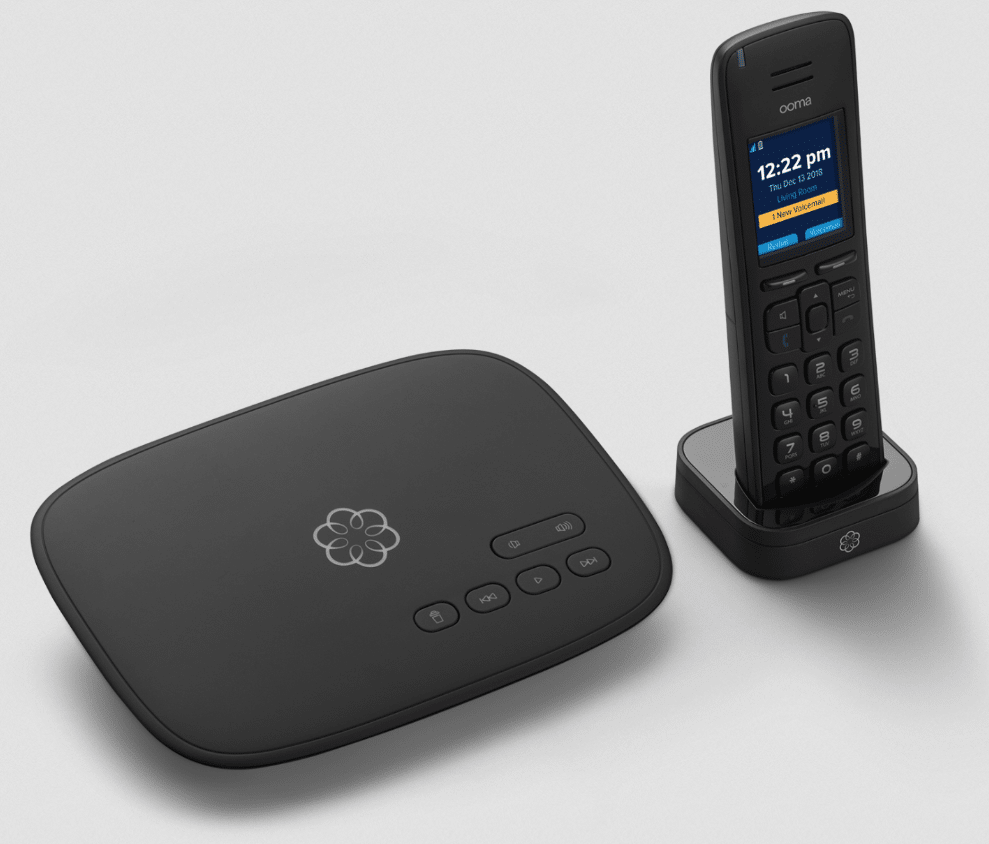 With Ooma forwarding calls to other devices, enabling multi-ring functionality, or sending voicemail notifications. For example, you can configure your Ooma account to automatically send an email or SMS if you receive a voicemail.
Ooma also enhances your security and privacy with various blocking and monitoring features. It lets you block anonymous and spam calls, and it has a massive database of numbers belonging to phone scammers who won't be able to reach you.
In addition, you can enable contact-only calling, which diverts all calls from numbers that aren't on your contacts list to voicemail. With Ooma's enhanced caller ID, you will even see the name of the person calling you, as Ooma will scan the national phone database to obtain the information.
How Does Ooma Work?
VoIP technology has helped to make business communication more efficient. It allows companies to quickly connect their customers to relevant customer service professionals, place scheduled calls, and improve their communications infrastructure. Chances are that you've already called a customer support team that uses VoIP to save on costs.
Ooma uses VoIP technology to convert analog audio signals into digital data transmittable over the internet. By leveraging this technology, Ooma allows you to avoid paying for expensive traditional landline phones by making calls over your existing internet connection.
In addition, you'll quickly notice the benefits of VoIP full-duplex communication and noise reduction features that ensure there are no audio cut-offs or background noise distractions.
However, its dependency on a stable and fast internet connection is one drawback of VoIP technology, as you won't be able to use it over a slow internet connection without issues.
Purchasing an Ooma device for home or office use lets you connect it to your router via Ethernet or Wi-Fi, and it will serve as a central hub for your telephone systems. Connecting your router and phone to the Ooma Telo or Ooma Office devices then enables the transmission of voice data over the internet.
After you set up your Ooma device, you can enjoy its superior flexibility over traditional landline phone providers, which includes voicemail access via mobile phone or web portal, cheap international calling, and unparalleled portability.
It will work anywhere, as long as you can provide an internet connection over Ethernet or Wi-Fi. This means you can take your Ooma device on international trips and still make free calls. In addition, you can use Ooma to configure your account or make calls on your Android or iOS mobile device via Ooma mobile apps.
Ooma's Pros and Cons
Although it offers undeniable benefits for residential users and SMBs looking to cut their phone bills, improve call reliability, and gain access to advanced features, Ooma isn't entirely flawless. However, its pros heavily outweigh the cons, and our only complaint is that it charges a monthly fee for some of its key features for larger businesses.
Pros
Services in over 70 countries
Exceptional virtual receptionist features
Basic features cost only a one-time fee
Crystal-clear sound quality during calls and conferences
Cons
Most advanced features require a $9.99/month subscription to Ooma Premier
How Much Does Ooma Cost?
Besides its hardware, business plans, and add-ons, Ooma offers international calling plans for as little as $4.99 per month. These plans allow you to make phone calls to more than 70 countries worldwide at no additional cost, which is a must-buy if you have family or business partners overseas.
Ooma offers comprehensive residential and office VoIP solutions with a range of pricing plans and features. Although it offers no free plan for businesses, residential users can start with a 100% free plan with basic features. However, you'll have to purchase the Ooma device, pay applicable monthly taxes and fees, and purchase any equipment you might need to use it, such as cables.
Ooma Home Pricing
Ooma offers three different Ooma Telo devices for residential users. Although these devices have similar feature sets, they operate differently. Opting for any of these devices will grant you a 60-day free trial period of Ooma Premier, which gives you access to 25 advanced features.
Ooma Telo – $99.99
The cheapest Ooma device, Ooma Telo, provides advanced features and a reliable home VoIP service for a one-time fee of $99.99. You can use this device with Ooma's free Basic plan, which lets you make HD audio calls, use its mobile apps, and set up call forwarding, among other must-have features.
Ooma Telo Air – $129.99
This wireless VoIP adapter allows you to enjoy all the benefits of Ooma Telo but with a wireless connection. It costs $129.99 and requires no hardwired internet connection, which makes it easy to set up via Ooma's mobile apps for iOS and Android. Its portability also allows you to take it anywhere you'd like, as long as you have a Wi-Fi connection.
Ooma Telo LTE – $129.99 + $19.99/month
This device comes with battery backup for power outages, runs on a 4G LTE cellular network, and includes all Ooma Premier features, justifying the monthly fee.
Investing in this device means your customers or family will always be able to reach you, even during a power outage. In addition, it lets you make calls to Mexico, the U.S., and Canada free of charge.
Ooma Telo devices come with free shipping and a 30-day return policy, and its customer support is always ready to help you with any issues you may encounter as a new user.
Additional Features
How much is Ooma Premier? The service costs $9.99/month and includes 25+ advanced features, which are invaluable for business owners and large families. It provides an Instant Second Line, which you can use as a secondary number for work or home.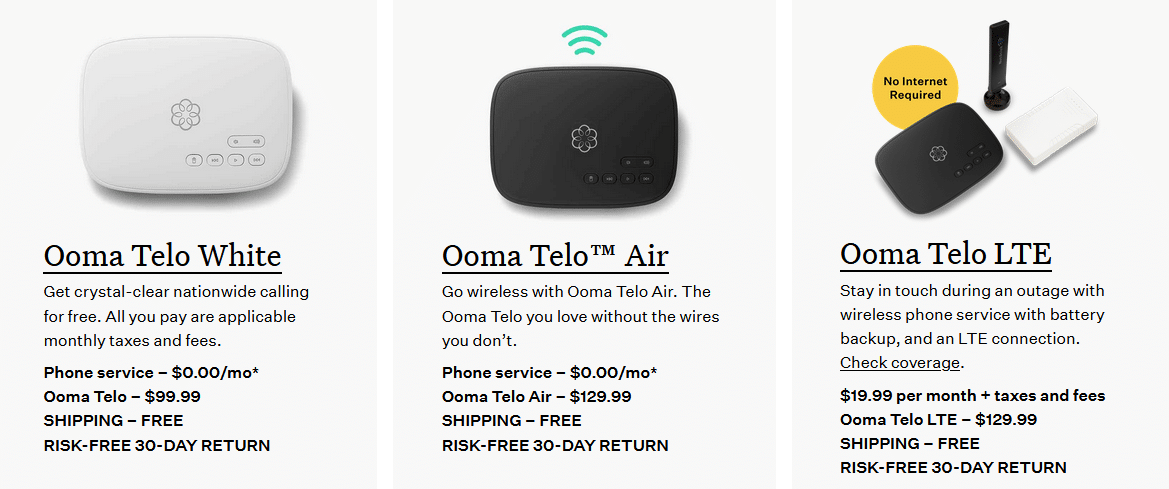 Ooma Premier also lets you make phone calls to Canada and Mexico for free and enjoy unlimited outbound calling on iOS and Android apps anywhere in the U.S. for no charge.
Optional costs include number porting, which allows you to keep your traditional landline home phone number for $39.99/number, phone number change for $19.99/change, and directory assistance for $0.99/call.
Ooma Business Pricing
Business users can pick from three different subscription plans:

All three subscription plans include more than fifty business-oriented VoIP features and exceptional integration capabilities – and even the cheapest Ooma Office plan includes its excellent Virtual Receptionist feature.
In addition, the Essentials plan lets you set up Ring Groups. You can add your employees to the same Ring Group, depending on their department and responsibilities, and their phones will ring simultaneously until one team member takes the call.
For example, you can set this feature up for your tech support, billing agents, or customer service department.
Upgrading to the Pro plan lets your employees use Ooma's desktop app, record calls, receive voicemail transcription, gain additional Caller ID information, and more.
It also gives your team access to Ooma's call analytics and Microsoft Office 365 integrations, which can help improve your productivity and collaboration.
However, for just an extra $5 per month, the Pro Plus plan offers call queueing, hot desking, call screening, and other advanced call management options. It also supports Salesforce integration, which makes it an obvious choice for large businesses using Salesforce.
An In-Depth Look at Ooma's Features
Ooma lets you stay in touch with your friends, family, or business associates virtually anywhere in the world at an affordable price. However, the flexibility and wide array of features it offers mark it as a leading VoIP service.
Here are some crucial features Ooma users can access via desk phones and mobile devices:
Virtual Receptionist
Ooma's virtual receptionist is an invaluable feature that is praised in almost every Ooma business phone review. It can fully replace a real-life employee, saving you from having an extra person on your payroll.
However, if you prefer having a person handling direct calls during peak hours, you can configure the virtual receptionist to function on a schedule.
For example, if you have an in-office receptionist from 9 a.m. to 5 p.m., you can set the virtual receptionist to direct calls to your customer support team when your office is closed.
Besides its cost-saving benefit for SMBs, Ooma's virtual receptionist is a scalable solution suitable for large businesses. You can set it up as a multi-level system that directs incoming calls to different departments to provide a convenient calling system for your employees and customers.
Voicemail Forwarding and Transcription
Voicemail is an important system for business and personal use, and Ooma delivers some of the most comprehensive voicemail features available.
It allows you to customize the greeting and forward voicemails to your email or SMS, and it allows you to check them remotely using its mobile Ooma app.
This allows you to access your voicemail no matter where you are, and it ensures you won't miss an important call from customers, colleagues, friends, or family.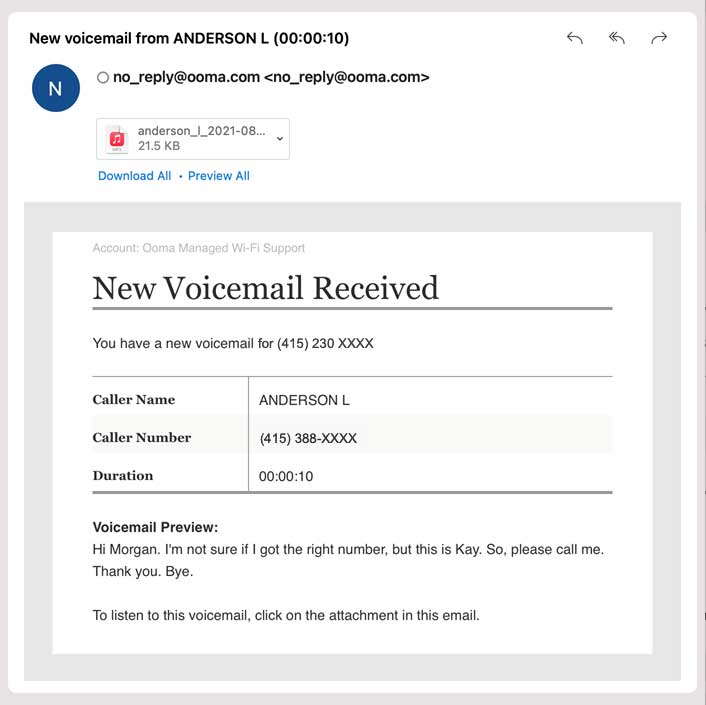 Ooma also lets you take advantage of its advanced voicemail transcription, even with its basic home phone plan. This creates a text version of your voicemail and sends it to your email.
This can help you quickly review your voicemail even when you're busy and have no time to listen to playback. In addition, Ooma offers human-assisted transcription for its Ooma Premier users, which makes the transcription more accurate.
However, human-assisted transcription isn't available for standard business plans, and only Ooma Office Pro users get the automated voicemail transcription feature.
Audio and Video Conferencing
Whether you're making calls for business or pleasure, Ooma lets you talk to two contacts simultaneously, thanks to its three-way conference calling feature.
Using the Ooma Telo device as an example, you can activate line one and line two simultaneously to bridge an active call with an outgoing or incoming call.
That allows you to talk to two contacts simultaneously without worrying about technical issues or accidental hang-ups.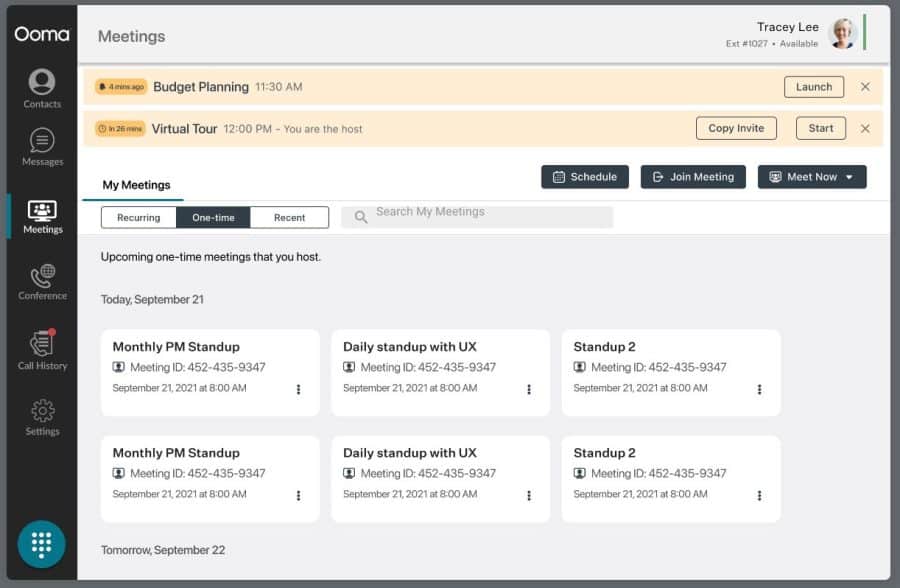 Ooma Office Pro users can create multi-user video conferences for up to 25 people, while Office Pro Plus users can add up to 100 participants.
The layout of its video meetings is well-designed, and it helps your team members share their desktop screens, collaborate, and talk without distractions, accelerating your productivity.
The Ooma Meetings dashboard lets you arrange, manage, and record meetings – and it's a user-favorite feature, according to almost every Ooma Office review.
Multi-Ring
This Ooma VoIP review wouldn't be complete if we didn't mention the Multi-Ring functionality. Multi-Ring is a call-forwarding feature that offers exceptional value for home office workers and freelancers who don't want to monitor their desk phones at all times.
It lets you choose which telephones will ring when you receive calls to your Ooma phone. You can pick between your home telephone, external numbers, or the Ooma Home Phone mobile app.
You can even set up call-forwarding so that your external phones ring if your Ooma device is offline, which ensures you won't miss any important calls. However, this feature is only available for Ooma Premier users.
Personal Phone Numbers and Accounts
If you run a small business from home, have family members who require privacy, or need a dedicated fax line, Ooma lets you create and use multiple numbers with a single device. For example, you can assign a personal number to each family member and have a dedicated business number that only rings when a customer calls.
That means you won't have to listen to voicemail intended for a colleague or another family member – and creating an account for each individual gives everyone control over their privacy.
Besides its benefits for a household, this Ooma Premier feature lets you simultaneously add numbers from multiple countries, such as the U.S. and Canada. For example, if you have family in Canada but live in the U.S., you could add a Canadian number to your Ooma device.
This eliminates international calling fees for your friends and family in Canada when they call you – and you'll no doubt find it to be the best home VoIP phone service for Canada.
In addition, each of your family members can use a personalized Ooma account, meaning they can check private voicemails, select custom ring tones, or configure customized calling preferences without you changing your settings.
Ooma's Integrations
Ooma focuses on improving your business performance and customer loyalty by integrating with some of the best CRM apps, including Salesforce, Zoho, and HubSpot.
These integrations allow you to initiate calls from within the CRM, log customer data automatically, and keep track of your customer experience. It also helps your business benefit from Ooma's dynamic caller ID feature.
This allows you to personalize the experience for each customer. In addition, you can ensure your customers always reach the right person, even if the individual is working remotely, by setting up call forwarding to help customers avoid dealing with multiple agents.
Equipping your employees with this powerful telephony solution is simple with Ooma, as it has a centralized configuration and requires no client-side installation.
In addition, your employees can use it directly from the CRM interface, meaning they won't have to juggle between apps to place or take calls. This also allows your company to save on employee training costs, as your employees will already be used to the CRM interface.
Besides delivering a superb experience for customers and employees, Ooma gives you valuable insights into staff productivity. It lets you review outbound and inbound call logs and call duration information.
It also allows you to add notes for your employees or schedule follow-up calls. You can even set it to transcribe entire calls so no details are lost, and your employees can review crucial customer information at a glance.
Is Ooma Any Good? A Look at Ooma Reviews
With more than two million users in North America alone, Ooma is an exceptional VoIP provider for anyone looking to reduce their monthly phone bill or significantly improve their business performance.
However, while Ooma advertises its hardware, call quality, and features as the best in the industry, we've decided to also look at several Ooma telephone reviews from its users.
One of the most common topics in Ooma reviews is its customer support, which is praised by users for the professionalism and responsiveness of its reps. It offers live chat and email support, and Ooma business users get a specialist support line separate from domestic users.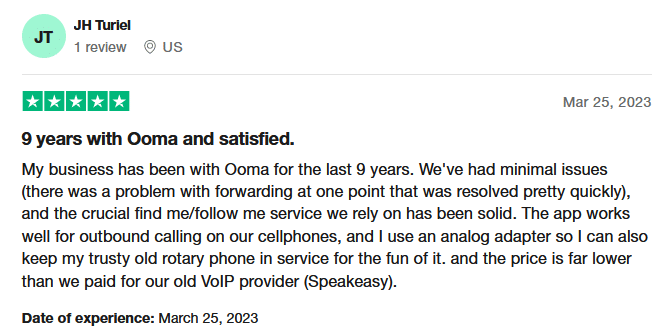 This means you won't have to wait long to reach Ooma's support team, which is extremely useful for business owners. In addition, Ooma has an active community forum full of user-made threads with helpful guides and tips.
With an overwhelming 76% of reviews being 5-star ratings on Trustpilot, Ooma is a user favorite among business owners, and Ooma app reviews are generally very positive.
On ConsumerAffairs, we also found dozens of reviews praising its affordability and low-cost calls for North America.

According to this Ooma iPhone review, it seamlessly integrates with other iOS devices, and the VoIP provider offers an exceptional solution for hands-free phone calls on iPads.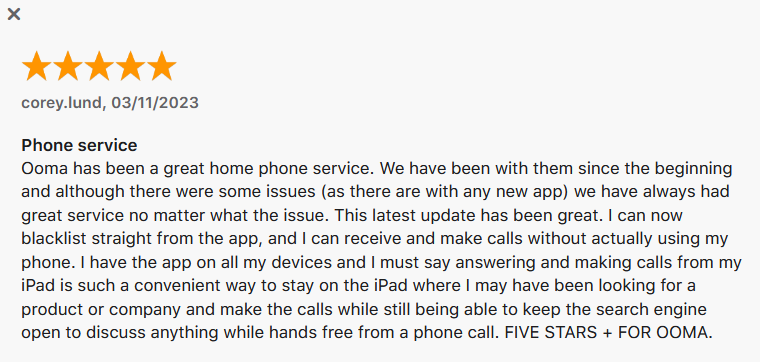 However, we also noticed that most negative reviews concerned the cancellation of its services or orders. Ooma requires you to call its Customer Care team to cancel an order or a service, which can lead to a lengthy conversation.
Although this is common practice in the VoIP industry, most negative reviews stem from a lack of automated cancellation options via the website or mobile apps.
Ooma VoIP vs. Top Competitors
Ooma faces tough competition in the VoIP industry – we've prepared a table to help you compare its pricing and first-time user benefits against its main competitors.
| | | | |
| --- | --- | --- | --- |
| VoIP App | Cheapest Plan | Free Version | Money-Back Guarantee |
| | $9.99/month | Free plan with basic features | 30 days |
| | $19.99/month | 14-day free trial | 30 days |
| | $23.95/month | 7-day free trial | 30 days |
| | $12.74/month | None | 30 days |
| | $15/month | 7-day free trial | None |
Ooma vs. Vonage
Vonage has one clear advantage over Ooma with its superb call center features, which allow large businesses to have a real-time view of their employees' status. This simplifies call routing as you'll always know which employee is idle, on call, or ringing.
However, it's far more complicated to set up and use than Ooma, which makes Ooma the ideal pick for SMBs, home business owners, and residential users. In addition, Ooma offers more advanced features than any of its competitors, meaning only large businesses with call center needs should consider Vonage over Ooma.
Ooma vs. Nextiva
Nextiva is similar to Ooma in terms of features and ease of use, and it also provides better call center features like Vonage. However, its top-tier features can get expensive for SMBs and residential users.
For example, it requires an Enterprise-tier subscription ($37.95/user/month) for features like voicemail transcription and unlimited video conference recording.
With Ooma, it costs $9.99/month to subscribe to its Ooma Premier feature pack to enjoy the same capabilities.
Ooma vs. Phone.com
Phone.com is a budget-friendly option and one of the best UK VoIP home phone services. It offers feature-rich, affordable plans ideal for freelancers and residential users, but Ooma offers far more integrations and superior customer support.
That means Ooma is equally reliable for home and business use, making it a more versatile solution than Phone.com.
Ooma vs. MightyCall
MightyCall is a solid choice for users who'd rather avoid hardware equipment and use a cloud-based service. It's also the only VoIP provider with security measures that match Ooma's, as it has world-class security protocols and employs Amazon Web Services (AWS) to safeguard your data.
However, MightyCall can get quite expensive, depending on the number of employees or family members you onboard, and it lacks advanced audio and video conferencing features, making Ooma the better choice.
Although some competitors, including Nextiva and Vonage, offer superior call center features, Ooma provides an unmatched business and residential VoIP service.
We've already reviewed and compared the best VoIP services this year, and Ooma came out on top because of its wide array of advanced features, excellent customer support, and ease of use.
Ooma also offers the longest free trial period for its advanced features upgrade, Ooma Premier, which you can use for 60 days as a new customer before committing to a subscription.
Ooma Setup – A Quick Guide
Setting up the Ooma Telo home VoIP device is a straightforward process that takes no more than ten minutes and involves connecting it to a standard landline phone, AC power, and your router via Ethernet. Once you've connected all the cables, you can continue the setup process online to activate your number.
There, you'll pick between a Basic and Ooma Premier plan, and you'll be able to set up voicemail and call notifications for your email and mobile. In addition, you can also opt for its 911 alert feature that automatically notifies you if someone in your household dials 911.
To finalize the setup, you should pick a Caller ID name that will show up on your contacts' phones when you call them and a second phone line if you need the Ooma Premier plan.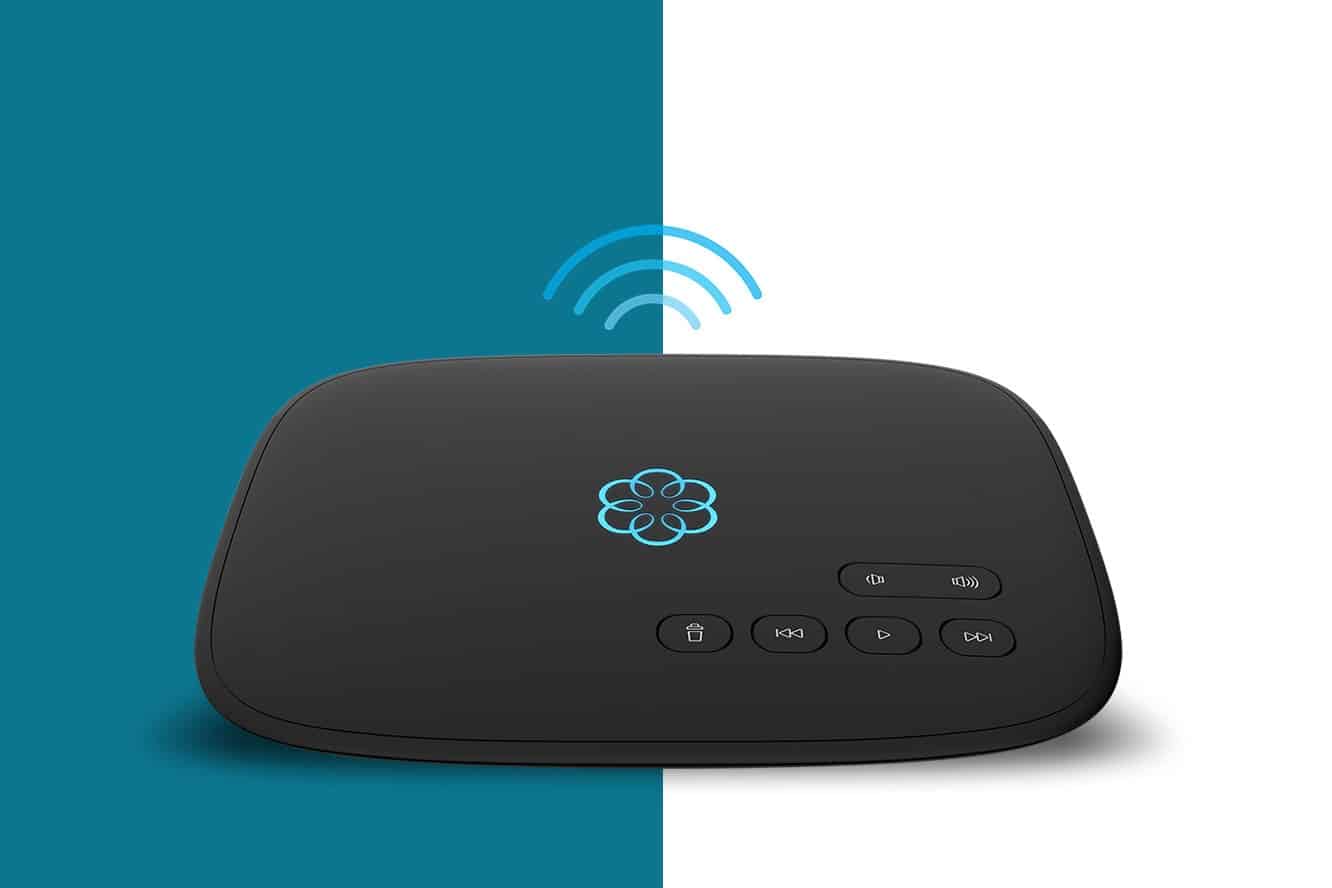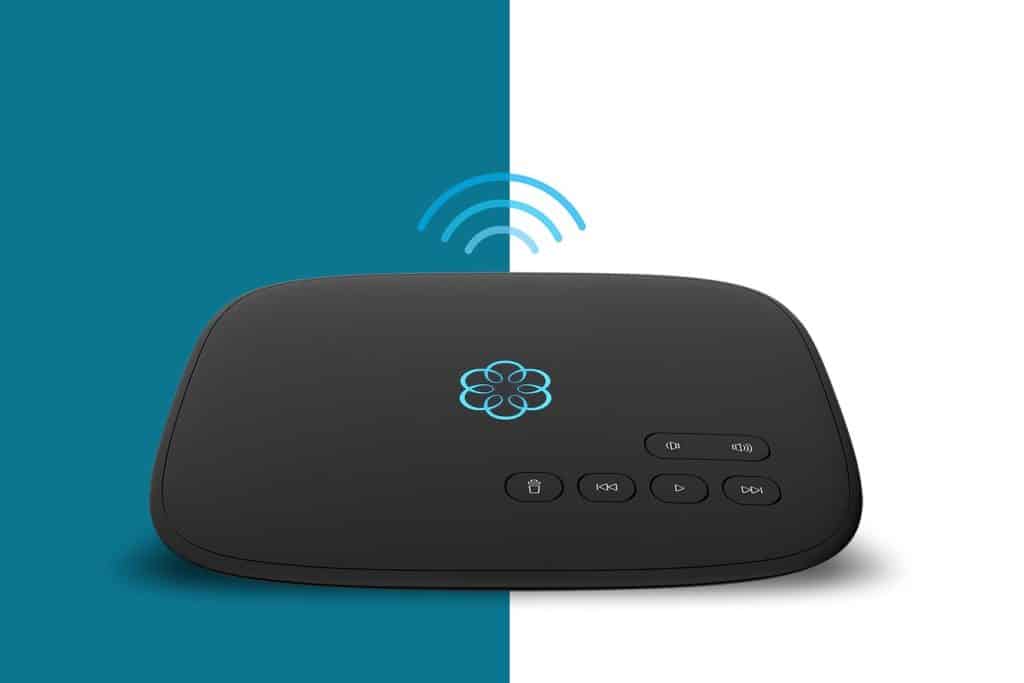 If you bought an Ooma Telo Air device, you'll simply have to connect it to the internet using a mobile phone. Download the Ooma Mobile app on your iOS or Android device and follow the installation instructions after you enter the necessary information required by the app.
Like Ooma Telo, you will have to connect this device to AC power, plug a corded or cordless phone into the phone port on the device, and finish the setup process online.
For the Ooma Telo LTE, you'll have to connect the LTE adapter to the base station. It comes with a USB cable to connect the LTE adapter to the back of the base station, and you can use its battery backup by switching its power switch on and plugging it in using the AC adapter.
With this configuration, the battery backup will charge from the wall outlet while powering the base station, and it will continue to power it if your power goes out.
Ooma Office Setup
Getting started with Ooma Office plans takes just a few minutes and lets you use existing phone numbers or choose new numbers in almost any area code. You can use Ooma Office with any Ooma IP phone, analog phone, or smartphone.
If you opt for an Ooma IP phone, Ooma will help you set up an extension, making it a plug-and-play setup process. You'll need an internet connection for each device, and if you want to use Android and iOS devices, you'll need to download Ooma's smartphone apps.
Depending on your account settings, your Ooma Office Base Station can arrive labeled "Ready to Call." If you've already finished your online setup process, it will be ready for use, and all you'll need to do is plug the provided AC adapter into the power port and connect it to your router via Ethernet.
If it didn't arrive with a "Ready to Call" label, you'll need to add your Base Station to your Ooma Office account by following the instructions on Ooma's website, Ooma.com, from your account settings.
Our Other VoIP Comparisons and Guides
If you're still unsure about whether Ooma is the right pick for you, our team of experts has compiled ample guides on the best VoIPs for varying needs and budgets. In these, you'll be able to see how Ooma differs from other market players:
Why You Can Trust Our Ooma Review Verdict
We compiled our review of Ooma the same that we do any software reviews. We started by opting for the free plan to test the limited capabilities on offer with the free home plan, and we used the 60-day trial on offer with Ooma Premier for the full experience.
These free versions let us test not only the interface in general but also the transcription feature and audio conferencing capabilities, amongst others, to ensure we had enough hands-on experience with the software to give an accurate review of it.
Beyond this, we know that experiences differ, particularly for long-time users of this VoIP service — As such, we had our team of experts analyze reviews left on sites like TrustPilot and even Reddit to get a full overview of where others feel it shines and where it could use improvement.
These factors combined, along with our experience with other VoIP products, including Vonage and Nextiva, allowed us to give a full overview and comparison of how Ooma fares in the market of VoIP solutions.
Final Thoughts – Is Ooma the Best VoIP to Use in 2023?
Although there are hundreds of VoIP services to pick from, only a few can truly compete with Ooma. While no VoIP provider can provide an equally reliable service for residential users, small businesses, and enterprises, Ooma offers exceptional home and business plans and stands out from the competition with its low and zero-cost plans.
Each of its plans offers a feature-rich service with excellent security and call management features that can benefit anyone, from large families and home business owners to large businesses. Business owners can benefit from a second phone line, multi-ring, and caller ID features, and large businesses can use its seamless CRM integrations and in-depth reporting and analytics features.
Besides its versatile and powerful features, Ooma is one of the fastest and simplest VoIP phone services to deploy in homes and offices. It also lets you use your existing phone number to ensure your family, friends, and clients can always reach you. You can get started with Ooma risk-free today, thanks to its 30-day money-back guarantee and a 30-day return period for its devices.
Ooma FAQs
Does Ooma work internationally?
How much does it cost to activate Ooma?
Does Ooma slow internet speed?
References