As the digital world grows busier, understanding VPN statistics can help you recognize the importance of online privacy and security. 
However, it's not a smooth ride. Virtual Private Network (VPN) attacks have sparked conversations about security, pushing providers and users to do better. As more people use VPNs, safety discussions and efforts to stop continue to gain momentum.
This article dives into the latest VPN statistics, exploring why people use the tool, the challenges they face, and the steps taken to improve VPN security in the fast-changing digital world.
We get a look at the current VPN market share and adoption.
VPN Statistics Highlights
Among the end users of VPNs in June 2023, 70% used VPNs daily or almost daily (Zscaler, 2023).
As of 2023, Cisco AnyConnect was the most used VPN among companies (Datanyze, 2023).
In the first half of 2023 (H1 2023), VPN downloads reached 130 million (Atlas VPN, 2023).
As of June 2023, 37% of organizations had plans to replace VPN with a ZTNA solution in the near future (Zscaler, 2023).
In 2023, 55% stated that their organization did not experience a VPN attack in the past 12 months – but 45% said it happened at least once (Zscaler, 2023).
In recent years, the usage of VPNs has surged, particularly with more people engaging in the work-from-home trend. VPN statistics below dive into the market share and adoption rates, highlighting the prevailing attitudes towards VPN usage and how it varies regionally.
While VPNs are a big hit for secure business tasks, some are held back by cost and setup issues.
In 2022, 88% of Americans were familiar with VPNs, up from 72% in 2020. However, 61% of people didn't use VPNs or were unaware of them (Security, 2022).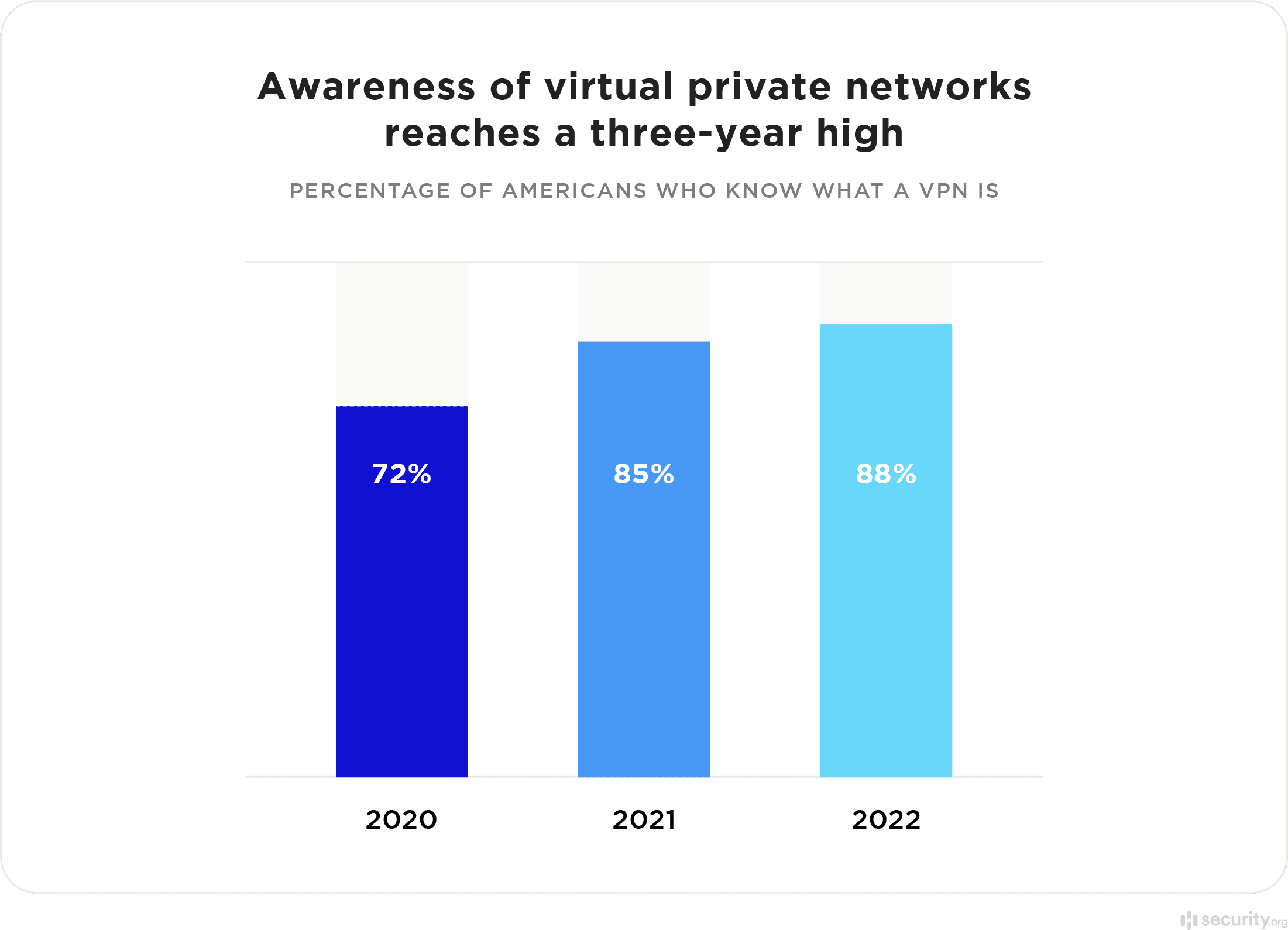 In the same year, VPNs remained the main means of remote application access (59% of global respondents). It was followed by virtual desktop infrastructure (VDI) (55%) and cloud-based single sign-on/SSO or access management (51%) (Thales Group, 2022).
Among the end users of VPNs in June 2023, 70% used VPNs daily or almost daily, highlighting their reliance on this technology for regular business tasks. Including those who used VPNs 4-5 times a week, 77% of people used VPNs for work nearly every day.
Notably, no one reported using VPNs less than once a month (Zscaler, 2023).
As of 2023, these were the market shares for the top most used VPNs among companies:
Cisco AnyConnect – used by 2,467 companies, 29% of the market
CiscoVPN – 2,125 companies, 25%
Juniper VPN – 887, 10%
Citrix Gateway – 670, 8%
OpenVPN – 583, 7%
Check Point VPN – 228, 3%
NCP IPsec VPN – 195, 2%
Nortel Contivity VPN – 162, 2%
Microsoft Azure ExpressRoute – 124, 1%
AT&T VPN – 112, 1%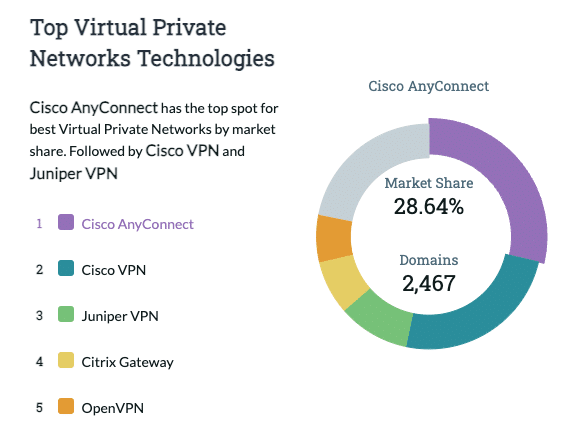 (Datanyze, 2023)
Attitudes Towards VPN Usage
In 2022, over half of Americans (59%) stated that they don't use a VPN for personal use because they don't need it. Over a fifth (22%) said that it's too expensive, and nearly the same share (21%) expressed that it's too much trouble to set up.
Meanwhile, a fifth (20%) said that they were unsure of the benefits.
Furthermore, 7% said that they don't trust that they're secure, 3% said that they can't access the websites they'd like to, and 1% said that it was speed issues (Security, 2022).
In 2022, among those undecided about the need for a VPN, only 7% stated that they'd get one in 2023. Meanwhile, over half (52%) said that they might, while 41% said that they wouldn't.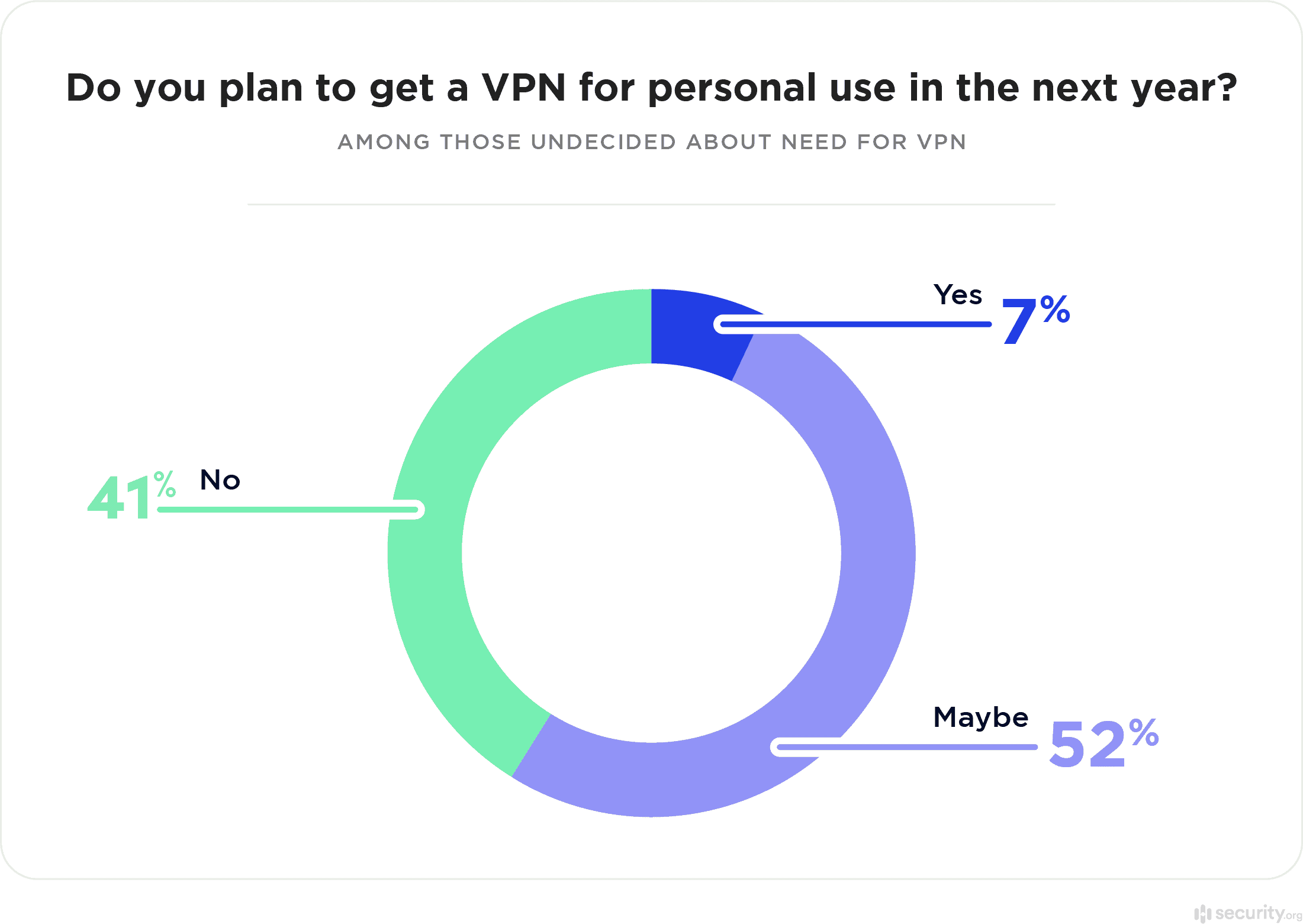 Regional Adoption of VPNs
In 2022, VPN statistics show that people living on the Pacific coast accounted for 1 in 5 VPN users in the U.S. (20%). The South Atlantic states followed (16%), and then the East North Central states (13%).
However, the was a significant number of users across all 50 states, distributed relatively evenly (Security, 2023).
In the first half of 2023 (H1 2023), VPN downloads reached 130 million.
The highest adoption rates per country were (the share of the country's population who downloaded VPN services in H1 2023):
Singapore – 19%
UAE – 17%
Qatar – 15%
Although there are restrictions on VPNs in the UAE, using a VPN is only illegal if it's used to commit a crime or facilitate a crime.
On the other hand, the lowest adoption rates were in:
Venezuela – 0.4%
Japan – 0.5%
Colombia – 0.6%
(Atlas VPN, 2023)
VPN Users: Demographics
In 2022, more males than females were using a VPN. While 57% of males used VPNs for personal use, only 43% of females did.
Furthermore, the people most likely to use a VPN had incomes between $25,000 and $49,999 (21% of respondents were in this income bracket).
The most likely age group to use VPNs was the age group between 45 and 60 years old (28% of respondents) (Security, 2023).
Furthermore, VPN statistics reveal that more than half of VPN users reported using iOS devices (52%), while slightly more than a third (37%) reported using Android devices.
VPNs were less used on desktop devices – only 6% of Windows users and 3% of MacOS users reported using a VPN.
In fact, 61% of mobile users and 59% of computer users used their VPNs at least once a week.
The discrepancy between mobile and desktop users is probably because phones are used on the go, meaning that one might connect them to public Wi-Fi. On the other hand, laptops and PCs are generally used at home, where a VPN might be less crucial (Security, 2023).
Why Do People Use VPNs?
In 2022, nearly a fifth (17%) used VPNs for personal reasons only, while slightly over a tenth (13%) used VPNs for business only. Only 9% used VPNs for both business and personal reasons.
In 2021, the usage rate of VPNs was nearly identical (Security, 2022).
The top reasons for VPN usage in 2022 were the following:
General security – 55% of respondents
General privacy – 50%
Job requirement – 34%
Log on to secure corporate networks – 31%
Public Wi-Fi protection – 24%
Hide internet activity from ISP – 23%
Access out-of-market streaming media – 22%
Increased protection when shopping online – 20%
Hide activity from search engines – 17%
Torrenting – 12%
Bypass government or institutional restrictions – 10%
Avoid cookies – 9%
Anonymity for whistle-blowing, activism, or journalism work – 5%
Secure VOIP phone calls – 2%
Although the first two reasons had nearly identical shares compared to 2021, using VPN for work (both as a job requirement and to log on to secure corporate networks) decreased significantly.
This decline is due in part to updated infrastructures (including ZTNAs and cloud-based databases) and the return of American workers to their offices.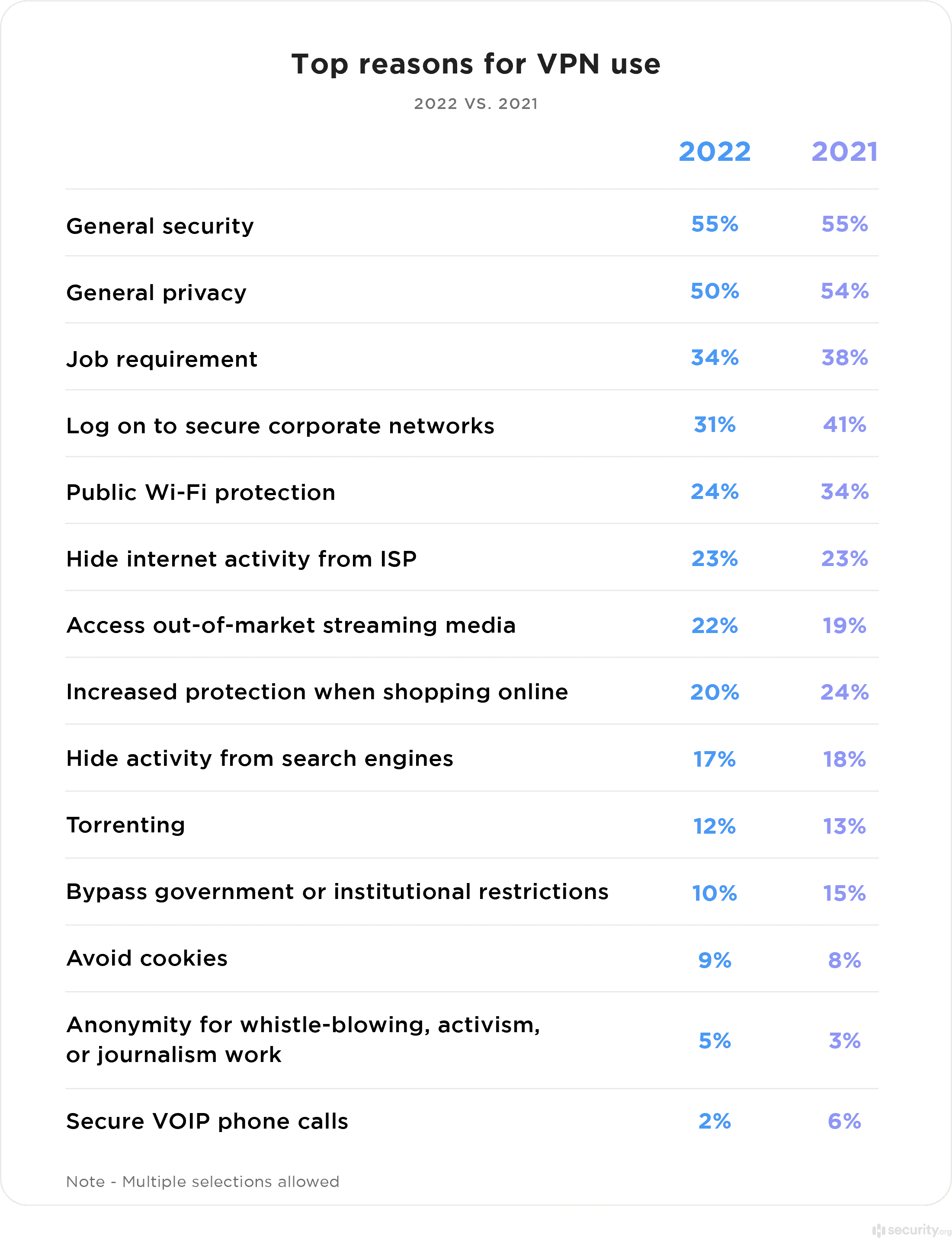 Furthermore, the use of VPNs to secure public Wi-Fi connections also fell by 10 percentage points in 2022. This decrease is partly due to fewer people working remotely, better HTTP encryption, and the fast growth of 5G networks, which reduce the need for third-party connections (Security, 2022).
Personal VPN Usage
In 2022, the top reasons for personal VPN use were as follows:
General privacy – 59% of respondents
General security – 57%
Hide activities from ISP, search engines, etc. – 44%
Access streaming content – 37%
Public Wi-Fi protection – 28%
(Security, 2022)
VPN Usage in Organizations
Organizations in June 2023 used VPN for providing access to remote employees (84% of organizations), followed by connecting multiple sites (40%) and providing access for third parties (24%).
Other purposes included on-campus access (20%), IoT/OT device connectivity (14%), and access for unmanaged devices (11%).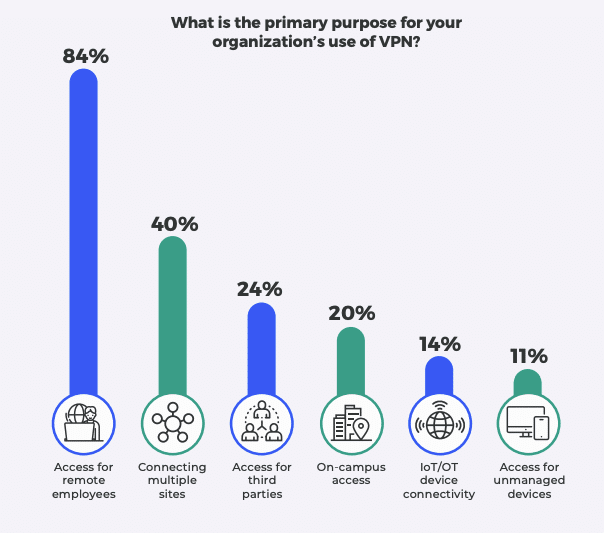 (Zscaler, 2023)
Meanwhile, in 2022, the top reasons for business VPN usage were as follows:
Workplace policy/requirements – 70% of respondents
Access secure corporate networks – 62%
General security – 40%
General privacy – 18%
Public Wi-Fi protection – 11%
(Security, 2022)
Organizational Plans for VPN Usage
As of 2022, only 21% of organizations aimed to cut down on VPN users, while a larger group (48%) planned to increase users on their existing VPNs.
Positively, over half (57%) aimed to strengthen the security checks on their current VPN setups (Thales Group, 2022).
However, there is now the adoption of Zero Trust Network Access (ZTNA) solutions to consider. This marks a significant shift in modern cybersecurity strategies.
As of June 2023, 37% of organizations had plans to replace VPN with a ZTNA solution in the near future (Zscaler, 2023).
Concerns and Issues with VPNs
VPNs offer a secure way to surf the web, but they come with their share of problems for both everyday users and companies. Users often face slow internet speeds, especially with free VPN versions that also show a lot of ads.
Paid VPNs have issues, too, like inconsistent speeds and tricky login processes.
Companies aiming for smooth operations bump into VPN troubles that disrupt work and cost extra to fix. Also, some countries restrict VPN use, adding more challenges to the mix.
Security worries are part of the VPN package. Users fear unauthorized access, phishing, and ransomware attacks. And now, with tech giants like Google offering VPN services, the real essence of VPNs – keeping our data private – seems under threat.
VPN statistics below dig into performance issues, global usage restrictions, and safety concerns.
User Issues with VPN Performance
While free VPNs appeal to users on a budget, their performance isn't always reliable or secure.
In 2022, around 52% of free users experienced at least one issue – such as slow internet speed, ad problems (too many ads or ad glitches), or difficulty streaming/torrenting.
This is the breakdown of the people who had issues:
Slow internet speed – 39% of free users
Ad problems (too many ads or ad glitches) – 13%
Difficulty streaming/torrenting – 12%
Bugs (software issues) – 10%
Battery life problems – 7%
Identity theft or privacy concerns – 3%
However, the number of users who suffered slower internet speeds on free VPNs dropped 12 percent points from 2021, suggesting these free services have improved user experience. This improvement may also relate to the increase in internet speed testing tools (Security, 2022).
For all types of VPNs (paid or free), in June 2023, the most common issues reported by users when accessing applications via VPN were slow connection speed (25% of issues), problems with connection drops (21%), and inconsistent user experience across different devices/platforms (16%).
Other reported issues included complex or cumbersome VPN authentication processes (14%), inability to connect to VPN or to access applications altogether (11%), and difficulty accessing applications due to authentication issues (10%) (Zscaler, 2023).
Organizational Issues with VPN Performance
In June 2023, 72% of organizations expressed that they were slightly to extremely dissatisfied with their VPN service. Only 28% said that they were not dissatisfied at all.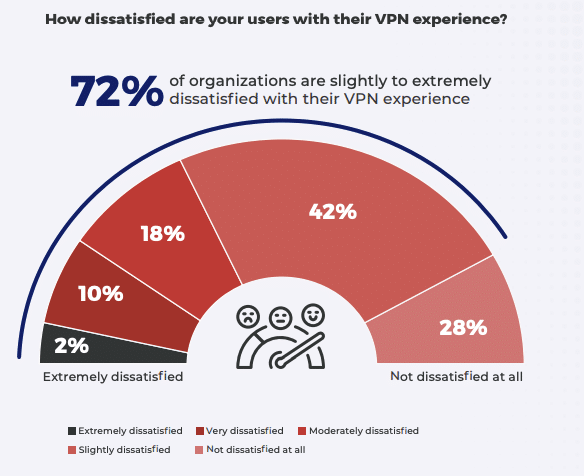 (Zscaler, 2023)
The most significant issues that organizations faced with their VPN services in June 2023 were:
Poor user experience (such as slow connections, frequent disconnections, etc.) – 32% of respondents
High costs (infrastructure, licensing, maintenance, etc.) – 14%
Difficulty integrating with other systems and services – 13%
Complex management and administration – 12%
Scalability and flexibility limitations – 11%
Insufficient security and compliance – 7%
Inadequate support for remote work and collaboration – 4%
Other – 7%
(Zscaler, 2023)
VPN statistics also revealed that the biggest problems in managing the infrastructure in June 2023 were:
Walking the tightrope of VPN performance and user experience – 22% of respondents
Constantly troubleshooting VPN connectivity and stability issues – 20%
Playing catchup with frequent VPN software patches and updates – 18%
Juggling VPN compatibility with various devices, operating systems, and applications – 16%
Navigating the complexity and effort involved in scaling VPN infrastructure – 10%
Bearing the burden of increasing VPN infrastructure costs – 9%
(Zscaler, 2023)
Global Restrictions on VPN Usage
As of April 2023, out of 195 examined countries and territories, 15 (8%) are confirmed to have imposed restrictions on VPN use either presently or historically.
These included Egypt, Uganda, Tanzania, China, India, Iran, Iraq, Myanmar, Oman, Pakistan, Turkey, Turkmenistan, the UAE, Belarus, and Russia. Among these, only Uganda has lifted VPN restrictions.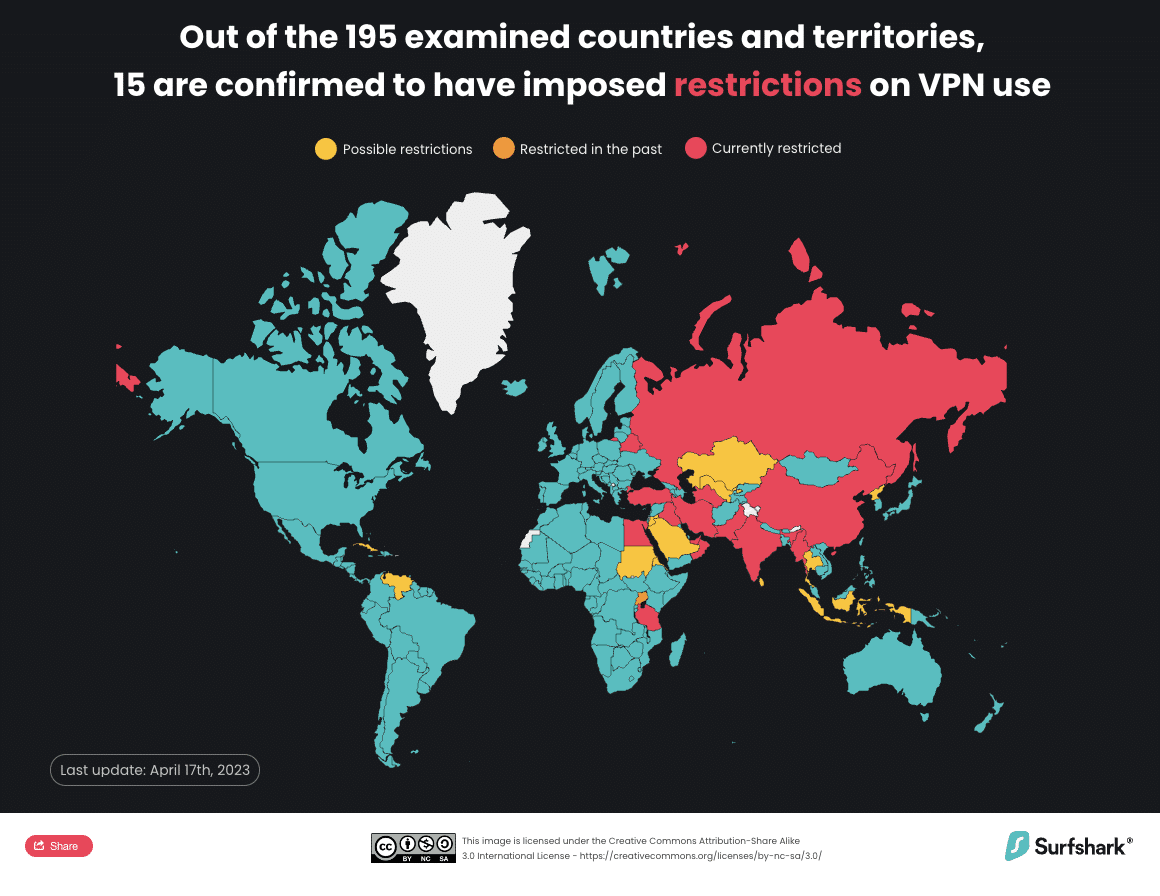 Collectively, these regulations impact 3.7 billion individuals (47% of the global population).
Among the 14 nations with ongoing VPN restrictions, 10 (71%) are located in Asia, affecting over two-thirds (72%) of the continent's population (Surfshark, 2023).
VPN Safety
VPN statistics for June 2023 show that a large number of people (88%) were worried that their VPN might risk their security. A notable 22% were 'very' or 'extremely' concerned, showing a high level of worry about VPNs being possible security threats.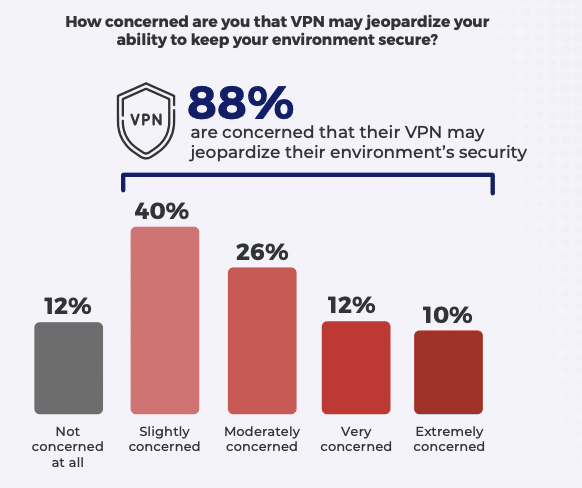 (Zscaler, 2023)
The same survey revealed that most people (90%) were worried about third parties getting into their networks via VPN access. A total of 35% were 'very' or 'extremely' worried, showing that third-party VPN access is a big concern.
In fact, almost half of the people (49%) were worried about phishing attacks, and 40% were worried about ransomware attacks through their organization's VPN. These attacks usually fool users into giving away private information or using harmful software to lock systems until a ransom is paid.
Other concerns included: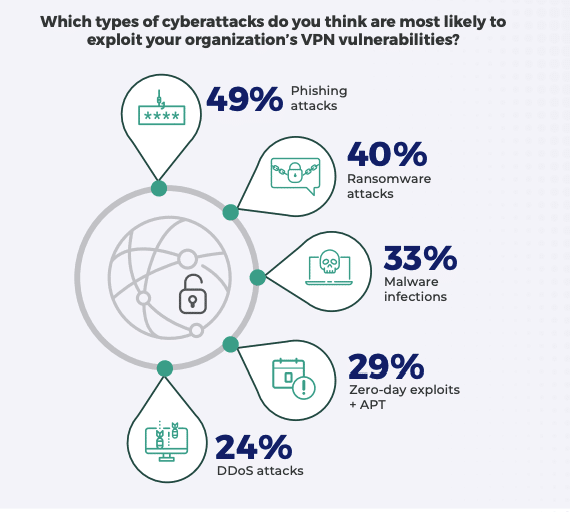 (Zscaler, 2023)
Access to VPN technology is simplified as providers blend networks with consumer tech. For instance, Google now bundles free VPN with its cloud storage subscription and preinstalls it on Pixel 7 phones.
However, consumers should note a possible conflict of interest.
Though VPNs aim to shield our data from Big Tech, having major data collectors like Google-run VPNs could pose concerns.
In fact, in 2022, 29% of Americans stated that they would not trust a mobile VPN provided by Google. On the other hand, 45% stated that they would be likely or very likely to trust it (Security, 2022).
Cybercrime Statistics and the Relevance of VPNs
The sharp increase in cybercrime highlights the urgent need for VPN usage to improve online safety.
VPNs serve as digital guards, helping to block unauthorized access and protect user data from common threats like fraud and identity theft.
This section explores the worrying numbers around cybercrime, how VPNs play a crucial role in boosting cybersecurity, and the ongoing fight between cyber criminals and VPN cybersecurity.
In 2022, the Consumer Sentinel Network recorded over 5.1 million reports that encompassed fraud (46% of all reports), identity theft (22%), and other (33%).
This highlights a pressing concern regarding online safety – with fraud and identity theft so prevalent, the necessity for VPNs becomes evident. VPNs are instrumental in preventing unauthorized access and securing user data, thereby potentially reducing the $8.8 billion lost to fraud in 2022 (FTC, 2022).
In the same year, the FBI's Internet Crime Complaint Center received over 800 thousand complaints, totaling losses of $10.3 billion.
The most common crime type was phishing (300,497 complaints), followed by personal data breach (58, 859) and identity theft (51,629). The last two crimes are preventable by using a VPN (FBI, 2022).
The age groups with the largest number of cybercrime reports were people aged 30-39 (94,506 complaints), followed by those aged 60+ (88,262). Despite a discrepancy of 6,244 complaints, the total losses for those 60+ were more than double ($3.1 billion for 60+, $1.3 billion for 30-39-year-olds) (FBI, 2022).
The top 5 states by number of cybercrime victims in 2022 were:
California – 80,766 victims
Florida – 42,792
Texas – 38,661
New York – 25,112
Illinois – 14,786
When it came to the top 5 states by victim loss, these were:
California – over $2 billion
Florida – $844.9 million
New York – $777.0 million
Texas – $763.1 million
Georgia – $322.6 million
(FBI, 2022)
Meanwhile, in 2023, over half of respondents (55%) stated that their organization did not experience a VPN attack (one that takes advantage of security vulnerabilities in VPN servers) in the past year (June 2022 – June 2023). However, 45% indicated that it happened at least once.
Of these 45%:
16% said it happened 2-3 times over the past year
13% said once
12% said more than 5 times
4% said 4-5 times
(Zscaler, 2023)
VPN Pricing
Among VPN users in 2022, most of them (47%) used a free VPN. Around a fifth (18%) paid $5-$10 a month, and 14% paid less than $5 a month. Only 7% paid more than $10 a month (Security, 2022).
Among the top 14 VPN service providers, as of October 2023, these were the cheapest 10 providers:
AtlasVPN: Free
PrivadoVPN: Free
ProtonVPN: Free
IvacyVPN: $1/month
PrivateVPN: $2/month
Private Internet Access:  $2.03/month
CyberGhost VPN: $2.19/month
PureVPN: $2.29/month
Surfshark: $2.30/month
TotalAV: $3.25/month
(Techopedia, 2023)
VPN Usage in 2020
The Covid-19 pandemic and the shift to working from home led to a big increase in VPN usage. Furthermore, it also spiked during major events in 2020 amid more online censorship fears and stay-at-home orders.
In fact, huge spikes in VPN usage were recorded between March 8 and March 22, 2020, when VPN usage in the U.S. increased by 124% in just those 2 weeks.
Other countries also recorded massive spikes in the same period. Among them were:
Italy: +160%
Spain: +58%
Russia: +57%
Germany: +40%
Iran: +49%
France: +44%
Switzerland: +12%
United Kingdom: +18%
(Atlas VPN, 2020)
NordVPN statistics also show that VPN use went up during certain events in 2020. For instance, when former President Trump talked about banning TikTok, interest in VPNs went up by 74%. It also rose by 78% when the Olympics were delayed and by 55% when Trump's travel plan was pulled back.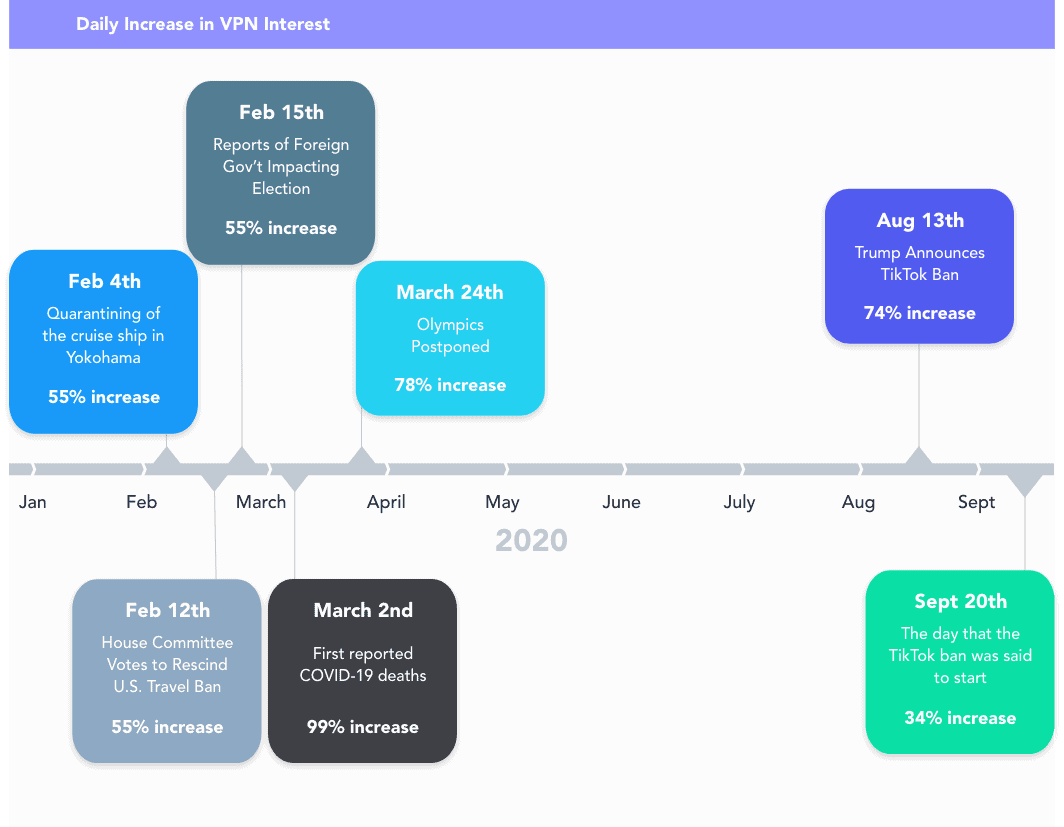 (Security, 2021)
The Bottom Line
The growing interest in VPNs, reflected in the statistics above, shows how important this technology has become in our digital world. The use of VPNs soared, especially when people started working from home during the Covid-19 pandemic, offering a digital shield against cyber threats.
However, it's not a perfect solution. The safety of VPNs has been questioned, particularly with the occurrence of VPN attacks that threaten both personal and business cybersecurity.
The conversation about making VPNs more secure is ongoing as users and companies look for stronger protections online.
The story of VPN adoption, with its ups and downs, shows the balance between tech progress and cybersecurity. As we all move through the tricky digital terrain, VPNs stand as a crucial guard against online threats, continuing to be very important for safe online experiences.
FAQs
Does a VPN hide, increase, or decrease data usage?
Are there any downsides to using a VPN?
How can a VPN help protect against cybercrime?
Sources