Now that cyber-attacks are prevalent, safeguarding your online presence has become more crucial than ever. Our AtlasVPN review takes a close look at how the platform can help you do this through its range of shielding and blocking features.
Although security is important, a virtual private network (VPN) should still be fast, flexible, and easy to use. That's why our AtlasVPN review also explores its performance, capabilities, and customer support alongside its pricing.
Read on to see why AtlasVPN is one of the most popular and fastest VPNs on the market in 2023.
Table of Contents
Table of Contents
What is AtlasVPN?
AtlasVPN is a
virtual private network (VPN)
based in the United States. It's a relative newcomer to the market, having only made its debut in 2020. However, AtlasVPN has quickly grown in popularity, as it now has over six million users worldwide.
Like other VPNs, AtlasVPN allows you to create a secure connection to another network over the Internet. You can use it to shield your browser activity, protect your financial data, and access region-restricted websites.
There's some curiosity over who owns AtlasVPN online. Peakstar Technologies developed the platform, but Nord Security allegedly bought it in October 2021.
AtlasVPN Pros and Cons
Although AtlasVPN has a reputation as a robust VPN provider, it's not a one-size-fits-all solution. It caters to some Internet security needs better than others. We've outlined AtlasVPN's main advantages and weaknesses:
Pros
Generous free plan
Unlimited devices
SafeSwap IP-switching feature
Ease of use
Excellent streaming quality
Support for over ten languages
Cons
Based in the US
Costly monthly plan
Limited servers
The free plan and discounts make AtlasVPN an excellent choice for budget-conscious users. If you're new to VPNs, you may also appreciate how you can test the software for a while before committing financially.
Families, housemates, and small businesses can benefit a lot from AtlasVPN's unlimited devices. It's possible for multiple people to connect at the same time without compromising security or affecting activities like games or movies.
How Much Does AtlasVPN Cost?
With its free account and range of payment plans, AtlasVPN is suitable for most budgets. Here's a quick look at AtlasVPN prices in 2023.

As you can see, AtlasVPN offers discounts for customers who commit to long-term plans. The price automatically increases once you reach the end of your first term.
However, we've found it was still easy to cancel an AtlasVPN subscription. If you purchased the app from Apple or Google, you can cancel directly from their stores. Those who used other payment methods can fill in a cancellation form on the website to end the plan.
There's also the option to get a full refund within the first 14 to 30 days of your AtlasVPN subscription. Note this money-back guarantee is a one-time offer, so you can't cheat the software by continuously signing up and canceling your plan.
We were disappointed to see that AtlasVPN doesn't offer a free trial for its premium features. Theoretically, you could subscribe and cancel within 14 days, but this involves extra hassle.
Let's take a deeper look at the features on offer in both the premium and free AtlasVPN plans. You can get an overview from the table below.
Plan
Price
Features
Free
Free
– Kill switch
– Four free locations
– Unlimited devices
Premium
– $11.99 monthly
– $143.88 yearly ($49.01 for the first year)
– $467.71 ($71.52 for the first three years)
– Over 750 servers across 49 locations
– Multihop+
– SafeSwap servers
The main differences between the AtlasVPN free and premium versions are the additional servers and security features. Free would be better for families and housemates who just need the VPN for casual use, like watching videos and gaming.
Whereas premium would be better for professionals and businesses who need to rely on the VPN to keep sensitive data safe without affecting business software like video calls and live webinars.
Like most software subscriptions, AtlasVPN prices are subject to change, but they'll give you a 30-day warning. The company also promises the free plan will stay that way forever so users won't suddenly lose access to their accounts.
Reviewing the Core AtlasVPN Features
AtlasVPN boasts a range of features to enhance your online security and privacy. Our AtlasVPN review takes a peek at its key offerings.
Kill Switch
Like most quality VPNs, AtlasVPN has a built-in kill switch. This cuts your Internet if your VPN gets disconnected for any amount of time, ensuring you're never left vulnerable to data breaches.
AtlasVPN automatically restores your connection as soon as your VPN is back online for the minimum disruption to your browsing activities.

AtlasVPN has a major advantage over competitors because it includes its kill switch on the free plan. Not only that, but you can access this feature across all your devices.
We also appreciated how you had the option to turn off the kill switch. Some casual browsers might prioritize experience over security and prefer not to cut their Internet connection.
Split tunneling
AtlasVPN offers split tunneling as standard. This allows you to decide which devices or apps go through the VPN and which connect to the Internet normally. You'll find this useful if you need to access your local server while protecting other online activity.
As mentioned, AtlasVPN's split tunneling only works on Android devices. However, this is typical of many VPNs and is down to the way the iOS operating system works.
We found the split tunneling on AtlasVPN intuitive to use. All we had to do was click on the feature and select the apps we wanted to disable the VPN for. If we wanted to change the selection, we just had to tap the apps again.
SafeBrowse (Shield)
Although a standard VPN can encrypt your data and hide your location, you still won't be completely safe from cyber attacks like malware and ransomware. Marketing companies may also still be able to track your online activities and send you messages and ads.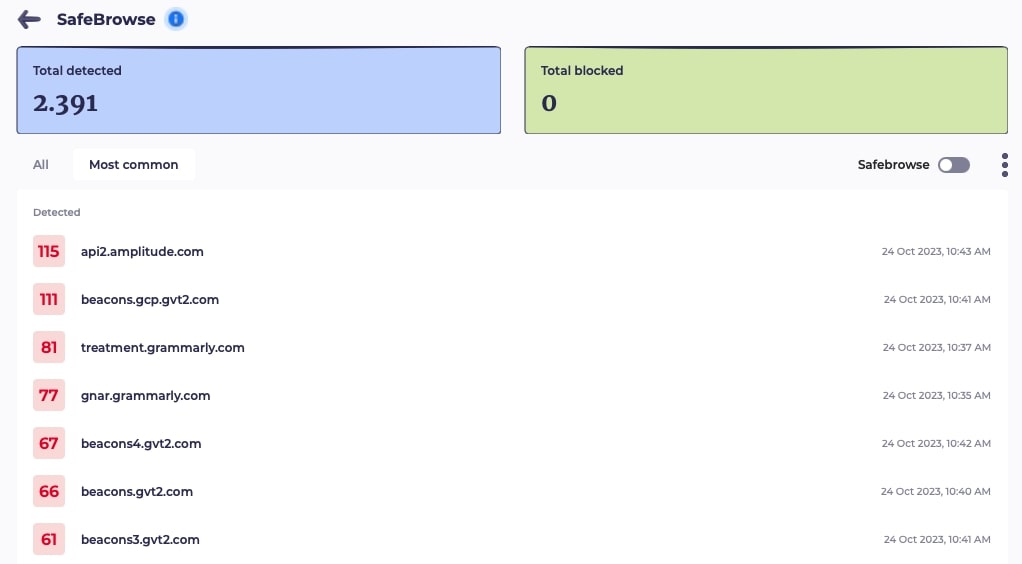 You can upgrade to premium to access AtlasVPN's SafeBrowse feature (also known as 'Shield'), which detects and stops potential threats. It also blocks malicious websites and prevents third-party cookies from tracking you.
Managing security can be challenging if you're new to VPNs. That's why we were glad to see AtlasVPN makes all its SafeBrowse's clear and provides instructions where necessary. You also get easily understandable reports on potential threats and nuisances.
Locations and Servers
With over 49 locations and 1,000 servers, AtlasVPN has a generally modest offering. It doesn't match up to VPNs like EpxressVPN and PureVPN, which have nearly a hundred regions and thousands of servers.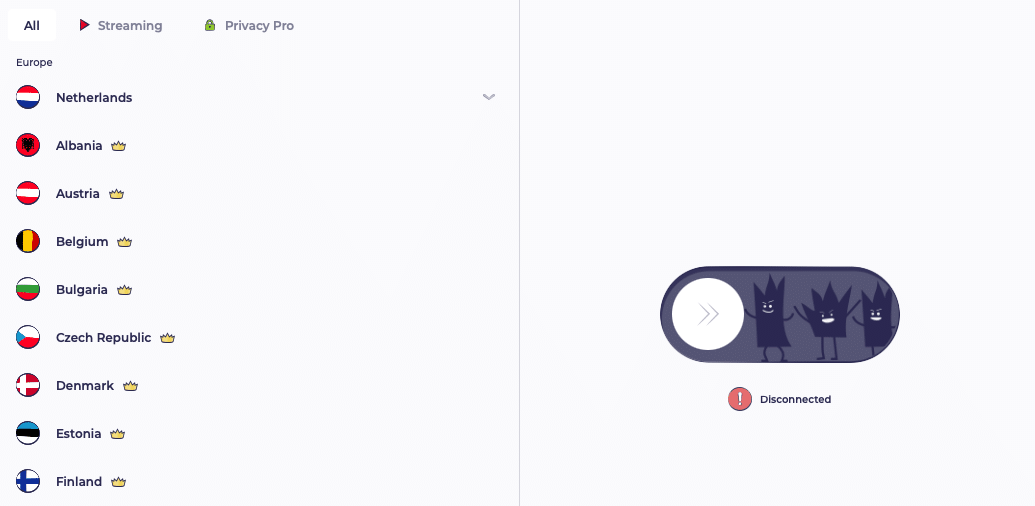 AtlasVPN's limited servers mean it has less global coverage, which can mean slower speeds than some competitors and no access to content from some regions.
However, we tested the platform's speeds for our AtlasVPN review and found they only dropped by 10%. We also feel AtlasVPN's affordable pricing and extra features, such as the SafeSwap and MultiHop+, justify its limited capabilities in this respect.
Support for multiple devices
What really impressed us about AtlasVPN was how you could connect unlimited devices, even from the free plan. Although Surfshark and IPVanish also offer this benefit, they still require a monthly subscription.
This feature is especially helpful for families or small businesses on a budget who might have several devices each. Instead of each creating separate accounts, they can manage their online protection from one place.
Connecting devices is also quick and easy, as you just have to send users a link. If you're connecting your own devices, you can even just log in under the same email address.
Is AtlasVPN Safe?
The true measure of a VPN isn't its pricing or features but how effectively it can safeguard your online activity. That's why our AtlasVPN ensures total security and privacy for its users:
SafeSwap
We were most excited by AtlasVPN's innovative SafeSwap feature, which rotates your IP addresses. It's automatic, so you don't have to change servers. As you browse, AtlasVPN just routes your outbound traffic through a pool of IP addresses as you change sessions.
Standard VPNs usually provide a single IP address for your entire session. By constantly changing IP addresses, SafeSwap makes it harder for malicious parties to track your activity and bypass your VPN encryption.
Many competitors offer similar tools, like NordVPN's Double VPN and Surfshark's SecureCore. However, SafeSwap is relatively unique to AtlasVPN. So, if security is one of your top concerns, we think it's well worth getting AtlasVPN just for this feature alone.
MultiHop+
Alongside SafeSwap, you can benefit from AtlasVPN's Multihop+ on the Premium plan. A standard Multihop feature sends your traffic through two VPN servers in a sequence to encrypt it twice.
AtlasVPN selects two servers at random and rotates them to make you thoroughly untraceable. Currently, AtlasVPN offers the MultiHop+ feature for North America and Europe.
We found it was easy to enable it from the Privacy settings by selecting the server we wanted.
Military-grade encryption
AtlasVPN uses AES-256 encryption to scramble all your online data. If this just sounds like numbers and letters to you, know that financial, military, and government institutions often use this encryption.
AES-256 is widely considered to be one of the most secure and reliable encryption algorithms available. Some mobile devices don't support AES-256 encryption, though.
However, AtlasVPN has the option to use ChaCha20 encryption for phones and tablets alongside Poly1305 to check nobody's tampered with your data.
The added benefit is that ChaCha20 also tends to yield better performance on mobile devices than other encryption methods.
No logging policy
Like other leading VPNs like ExpressVPN and CyberGhost, AtlasVPN has a no-logging policy. That means it won't monitor or record any information about your browsing activities.
It only collects the minimum amount of information it needs to provide the VPN service and outlines this in its privacy policy. However, beyond this, some users may worry about AtlasVPN being a US-based platform.
According to the Five Eyes law, they have to hand over any information to intelligence agencies. However, as AtlasVPN doesn't keep logs, they wouldn't have any identifiable or sensitive data on you.
Data Breach Scanner
While you can secure your own accounts, you can't control what happens to your sensitive information on other networks. You may find this concerning as the largest data leaks from popular platforms such as Yahoo, LinkedIn, and Facebook affect billions of users.
However, AtlasVPN can use its data breach monitor to scan for your information in leaks. It detects your sensitive data like financial records, contact information, and login credentials in leaked databases.
As soon as you get the alert, you can check your accounts and change any necessary details.
Protocol Support
AtlasVPN uses both Internet Key Exchange version 2 (IKEv2) paired with Internet Protocol Security (IPsec) and WireGuard to handle and secure your connection with its servers. Both are known for their reliability and speed.
We liked how AtlasVPN included an 'auto' option for first-time VPN users. That way, if you're not sure which protocol is best for you, you can let AtlasVPN pick automatically.
AtlasVPN Device Compatibility
With its support for most existing platforms, AtlasVPN ensures you can enjoy its services on all the devices you own. Here's a breakdown of the most popular operating systems it supports:
Android App
There's a specially designed version of AtlasVPN for Android users available through the Google Play store. That means you can install it as you would any other app.
Be aware that AtlasVPN only supports Android 7 or later in case members of your household are hanging onto very old devices. AtlasVPN app for Android shares most of the desktop features, though, including the kill switch and split tunneling.
On logging in, we discovered it was easy to connect to our existing account and get started. We believe all these advantages make AtlasVPN the best VPN app for Android.
If you upgrade to the Premium plan, you can also open an account for Android TV. That way, you can watch shows and movies privately from your television setup without linking other devices.
iOS App
You can also access AtlasVPN across a range of iPhone, iPad, and iTouch devices, provided they have iOS 14.0 or later. Like Android, the iOS app shares the same features as the desktop version.
It doesn't support split tunneling, but this is common for iOS operating systems. We found that AtlasVPN worked seamlessly with the iOS operating system to offer us a smooth user experience. The download process was also simple and stress-free.
Windows App
Users can download AtlasVPN for PC if they have Microsoft 11.0 or later. This desktop version is available from the official website and the Microsoft store.
The AtlasVPN installation process went smoothly, and we could open the app within minutes. We were happy to see the Windows version of the app gave us access to all the main features and connected quickly.
Mac App
There's a version of AtlasVPN available for Mac devices that you can download straight from the Apple store. You have access to all the main features, such as encryption and the kill switch. As with the iOS version, you can't use split tunneling.
Our experience with AtlasVPN was consistent with other versions. The AtlasVPN download took us minutes, and the process was straightforward. We also found it easy to start navigating the platform and configuring the settings to our liking.
Linux
Unlike other devices, you have to upgrade to AtlasVPN's premium to access the Linux version. You can download AtlasVPN as a Debian (.deb) package and run the software using a short series of commands.
AtlasVPN is currently available for the Ubuntu distribution, but other types are coming out soon.
AtlasVPN vs. Top VPN Competitors
Before you commit to a VPN, it can be helpful to compare it against other leading brands on the market. You'll get a better sense of where it shines and any of its drawbacks. So, here's a side-by-side comparison of AtlasVPN and other VPN providers:
| | | | | | | | |
| --- | --- | --- | --- | --- | --- | --- | --- |
| Top VPNs | Best Suited For | Starting Price | Log Policy | Free version? | Number of connections | Split tunneling? | Kill switch? |
| AtlasVPN | Households and small businesses | $11.99 per month | No logging | Yes | Unlimited | Yes | Yes |
| ExpressVPN | Fast connections | $8.32 per month | No logging | No | 5 | Yes | Yes |
| CyberGhost | Encryption | $2.19 per month | No logging | No | 7 | Yes | Yes |
| PureVPN | Worldwide coverage | $2.29 per month | No logging | No | 10 | Yes | Yes |
| ProtonVPN | Open-source codes | $4.99 per month | No logging | Yes | 10 | Yes | Yes |
From the table above, we can see that AtlasVPN matches other VPNs on features while outdoing them on pricing and number of connections. It's clearly one of the best services for value you'll be able to find.
If speed and performance are a priority for you, ExpressVPN and PureVPN may be more suitable. Their high server count means they can connect you to almost any region without getting overcrowded and slowing down.
However, that's not to say AtlasVPN isn't a fast, reliable service. For a closer look at AtlasVPN vs NordVPN and other leading brands, check out our guide to the best VPN services in 2023.
What is AtlasVPN Good For?
You're probably considering AtlasVPN with a specific activity in mind, whether that's watching foreign TV shows or keeping your online activity private.
However, it can be helpful to get a full overview of a VPN's capabilities to see what else you could use it for.
Staying anonymous
Your online activity is constantly under surveillance from marketing companies, government entities, and criminals. By making your IP address through AtlasVPN, you can make sure your location, browser activities, and data stay hidden.
Some users want to avoid having large organizations store their data and use it for targeted marketing campaigns. Others may find it necessary to avoid censorship from their state, especially during times of political and civil unrest.
Banking securely
Handling online payments always comes with a risk, as criminals are constantly devising new ways to get your financial information. That's why many people use AtlasVPN for an extra layer of safety and security.
It double encrypts sensitive data like banking, credentials, and personal details, making it harder for hackers to decode your information and gain access to your accounts.
Streaming online content
Many people download a VPN for Amazon, Netflix, and other streaming sites. Although they're international, these services often restrict content to specific countries or have different release dates for movies and shows.
With AltasVPN, Netflix libraries and similar services all over the world are easy to access. You can just pick the region you need and log into that country's version of the site.
AtlasVPN Server Locations
When considering a VPN, it's essential to consider the variety of servers and locations it offers. AtlasVPN may not have as many as ExpressVPN or CyberGhost, but it has a good range. Here's a look at the countries it has servers in:
Americas
Canada
Mexico
United States
Albania
Austria
Belgium
Bulgaria
Czech Republic
Denmark
Estonia
Finland
France
Germany
Hungary
Ireland
Italy
Latvia
Netherlands
Norway
Poland
Portugal
Romania
Serbia
Slovakia
Spain
Sweden
Switzerland
Turkey
United Kingdom
Hong Kong
Israel
Japan
Singapore
Taiwan
Thailand
United Arab Emirates
Australia
New Zealand
Argentina
Brazil
Chile
South Africa
Is AtlasVPN Good? A Look at AtlasVPN Reviews
We wanted to get a broader understanding of how AtlasVPN worked and its pros and cons. That's why we read and analyzed AtlasVPN reviews across as many sites as possible.
Public opinion of AtlasVPN is overwhelmingly positive. Individuals and business owners alike praise the platform for its intuitive interface and high-quality security features. They also note how well AtlasVPN prevents frustrating pop-up ads.


We were also impressed by the number of AtlasVPN reviews across all sites that complimented its customer support. Users say the support team isn't just quick and friendly but also knowledgeable about the software and able to provide detailed instructions.


Many positive AtlasVPN reviews also came from long-term customers. They often mention how they chose the software for its affordable pricing but discovered it performed just as well as—if not better than—other leading VPNs on the market.

How to Use AtlasVPN – A Quick Guide
To give you a better idea of how easy AtlasVPN is to use, we're giving you a step-by-step guide to setting it up. Here's everything you need to know about installing the software, configuring the settings, and getting started.
Step 1. Download AtlasVPN

There are two ways to download AtlasVPN: You can either visit the app store for your specific device or the official website. When you click one of the download buttons, the site will take you to the relevant page.
Installation takes a little under a minute. Then you can find the AtlasVPN icon on your desktop sidebar or your mobile device screen.
There isn't a dedicated AtlasVPN Chrome extension. However, the desktop and mobile app versions can let you single out your browser via the split tunneling feature, so it's not necessary.
Step 2. Create and verify your account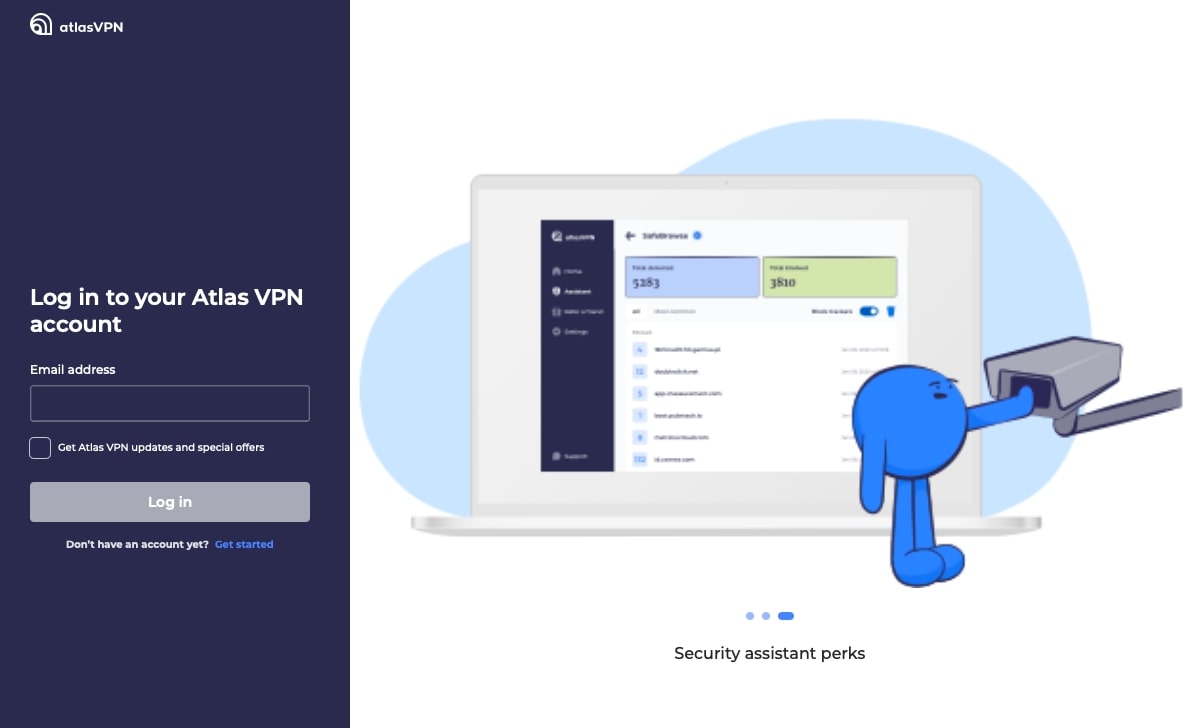 The AtlasVPN login process is fairly straightforward, as the free account doesn't require your credit card details. All you have to do is enter your email and decide a password. AtlasVPN then sends you an email to verify your account.
Step 3. Configure your AtlasVPN settings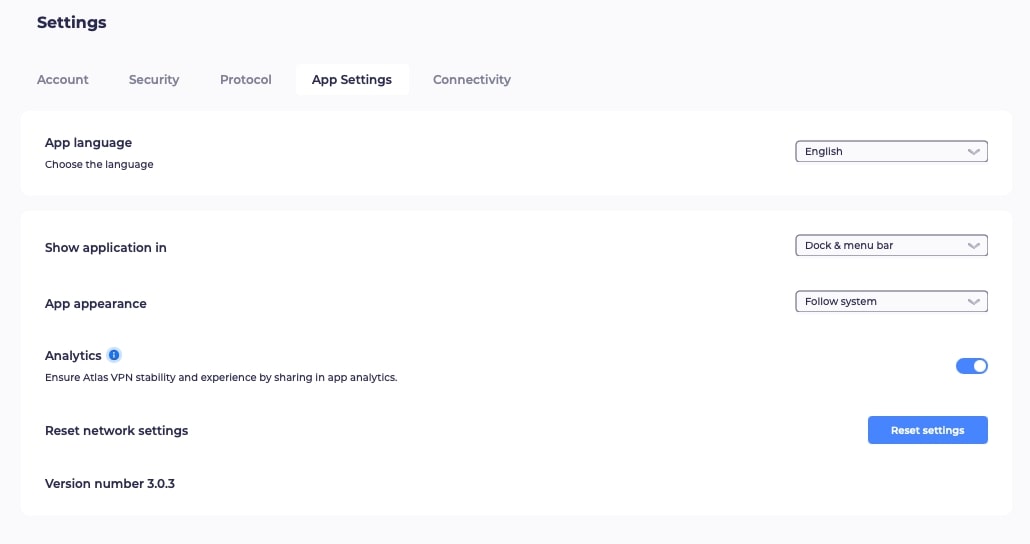 Once you're inside your account, you can configure it to your liking. Here's a quick run-through of the filters and settings across the different tabs:
From the 'Account' tab, you can upgrade your plan or log out.
On the 'Security' tab, you can enable the kill switch and decide whether to launch AtlasVPN from when you start your device.
Under 'Protocol', you can decide between WireGuard, IPSec, or automatic protocols.
In 'App Settings', there are language and formatting options.
On the 'Connectivity' tab, you decide which servers to prioritize.
Step 4. Connect other users to AltasVPN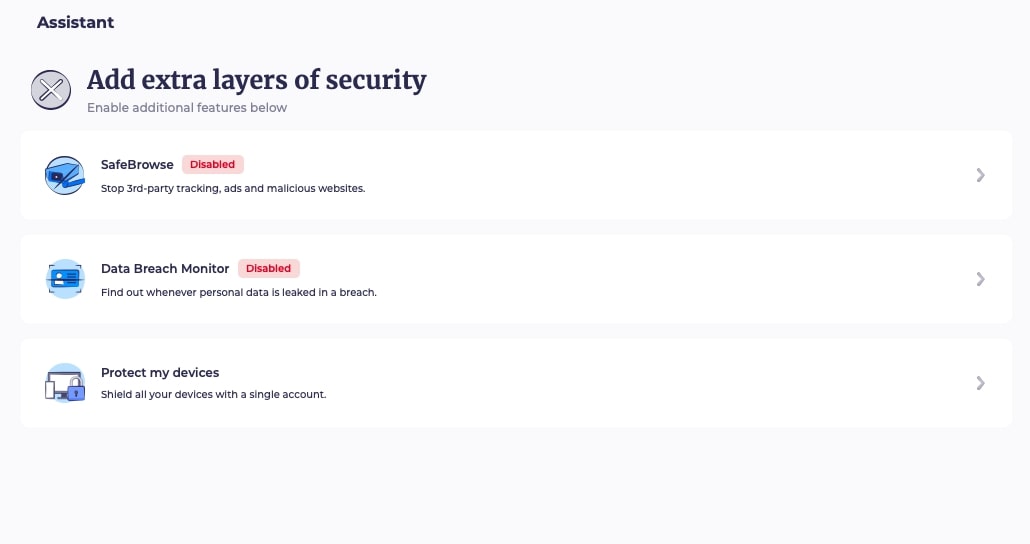 If you're sharing with family, friends, or coworkers, you can start sharing the AtlasVPN with them. Go to the Assistant tab and click on the bar labeled 'Protect my devices'. You'll get the option to type in email addresses to send the login link to.
Once they've got the link, other users can use it to access the account on whatever device they like. AtlasVPN may be secure, but no software can protect you from risky or malicious behavior, so ensure you only share your account with trusted parties.
Step 5. Choose a server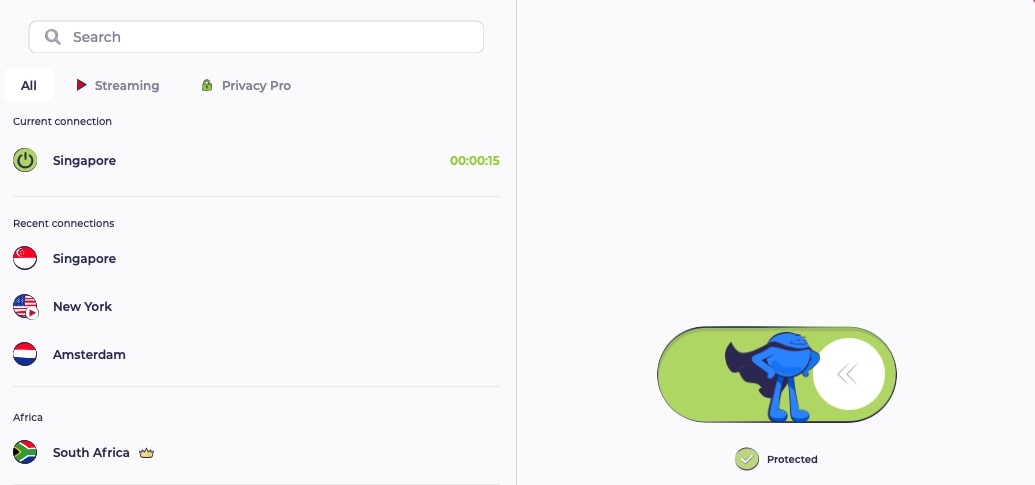 While browsing, you can select the server you want to use from the list. That's Singapore, Amsterdam, New York, and Los Angeles on the free version. AtlasVPN takes less than 8 seconds to connect, and then you can begin your session.
How We Tested Atlas VPN
Our AtlasVPN review explored the security software from as many angles as possible to get the most in-depth, accurate assessment. For the clearest look at AtlasVPN, we downloaded the platform and tested its features.
We not only looked at what it could do but saw how it handled different scenarios like streaming videos and playing games. As we used AtlasVPN, we also considered how easy it was to set up, its interface, and its design.
As well as looking at AtlasVPN itself, we used some external tools. To test compatibility, we downloaded the software on a number of devices, including desktop and mobile. We used websites like www.speedtest.net to check AtlasVPN download and upload speeds.
During our AtlasVPN review, we also compared the platform to other popular VPNs on the market. As we've reviewed other providers like Surfshark and ProtonVPN, we knew what essential features to look for.
Our knowledge of the market also helped us evaluate AtlasVPN on policies such as pricing and cancellation. But, while first-hand experience and expertise provided a strong basis for our AtlasVPN review, they couldn't tell us how a platform performs over time.
That's why we also analyzed hundreds of user reviews across reputable sites like TrustPilot and Reddit. Afterward, we compiled all our research to reach our conclusions and write our AtlasVPN review.
Our Other VPN Guides
If you're interested in how AtlasVPN compares to other leading VPNs, check out our other reviews and guides.
Concluding Our AtlasVPN Review – Is AtlasVPN Worth it in 2023?
From our in-depth and comprehensive AtlasVPN review, we're confident it's one of the best VPN services available. It sets itself apart from competitors by offering a generous free plan.
This includes unlimited connections and access to a range of features, including the kill switch, split tunneling, and four three servers. Other VPNs only give 7-day trials or 30-day guarantees, which may not be enough time to decide whether a particular platform is for you.
Not only is AtlasVPN a budget-friendly option, but also robust in its own right. The range of advanced security features, such as the SafeSwap and MultiHop+, ensure your safety online.
However, one of the most compelling reasons to give AtlasVPN a try is the smooth setup process, intuitive interface, and responsive customer support. Even if you've got no prior experience with VPNs, you can get started in virtually no time.
All in all, our AtlasVPN review found the platform to be well worth it, and we'd recommend giving it a go.
FAQs
How much does AtlasVPN cost?
Does AtlasVPN work in China?
What is the disadvantage of AtlasVPN?
Can you use AtlasVPN for free?
References