Finding the best VPN app can be a daunting task. With so many options, how do you decide which one is right for you? Look for an application offering speedy connection speeds, reliable data encryption, and a broad range of servers.
To help, we've conducted an in-depth comparison of the best VPN apps, including ExpressVPN, PureVPN, and IvacyVPN. By looking ‌at their features, prices, and overall performance, we'll help you figure out which ones offer the most value for your money. Read on to find out which VPN is the perfect fit for you.
14 Best VPN Apps for 2023 Ranked
After carefully evaluating the VPN market, our experts came to the conclusion that the ExpressVPN app provides the best service available today. It's easy to use, secure and will protect your privacy while delivering lightning-fast connections. Here's how it stacks up against the competition, with the best VPN apps selected for all budgets and use cases.
Top 14 Best VPN Services Compared
This table provides all the information you need to compare the top VPN app providers against one another – including pricing, device support, and server network size – so you can find the service that's right for you.
| | | | | | | |
| --- | --- | --- | --- | --- | --- | --- |
| VPN App | Best For | Cheapest Plan / Trial | Money-Back Guarantee | Max Devices Supported | Server Count | Server Locations |
| | Best overall | $6.67/month | 30-days | 5 | 3,000+ | 94+ |
| | Highly secure | $39/year | 30-days | 5 | 70+ | 30+ |
| | Global network | $2.29/month | 31-days | 10 | 6,500+ | 78+ |
| | High-speed streaming | $1/month | 30-days | 10 | 5,700+ | 100+ |
| | Cloud storage | $4.19/month | 30-days | 6 | 5,400+ | 60+ |
| | Family use | Free | 30-days | Unlimited | 750+ | 49+ |
| | Encryption | $2.19/month / 1-Day Trial | 45-days | 7 | 9,700 | 90+ |
| | Beginners | Free | 30-days | 10 | 300+ | 45+ |
| | Great free service | Limited Free Plan | 30-days | 10 | 1,937 | 67+ |
| | Affordable option | $2.30/month / 7-Day Mobile Trial | 30-days | Unlimited | 3,200 | 100+ |
| | Fast connections | $3.33/month | 30-days | Unlimited | 2,200 | 50+ |
| | Customer service | $5/month | 30-days | 5 | 700+ | 60+ |
| | Simplicity | $2.03/month | 30-days | 10 | 10,000+ | 84+ |
| | Evading censorship | $2/month / 7-Day Trial | 30-days | 10 | 200+ | 63+ |
Best VPNs for Streaming, Security, and Online Anonymity – Top 14 Reviewed
In our full reviews, we'll provide detailed information about each of the best VPN apps, covering their features, pricing, and pros and cons, so you can make an informed decision about which service will best serve your needs.
1. ExpressVPN — Overall, the Best VPN app in 2023
ExpressVPN offers unbeatable speed, security, and exceptional performance via its user-friendly interface. Beyond this, its encryption protocols ensure a secure connection, while its wide range of features keeps you safe online.
ExpressVPN stands out from other VPNs thanks to its AES 256-bit encryption and its Lightway Protocol. This provides lightning-fast speeds and fewer connection drops for a seamless streaming experience – no buffering or lag.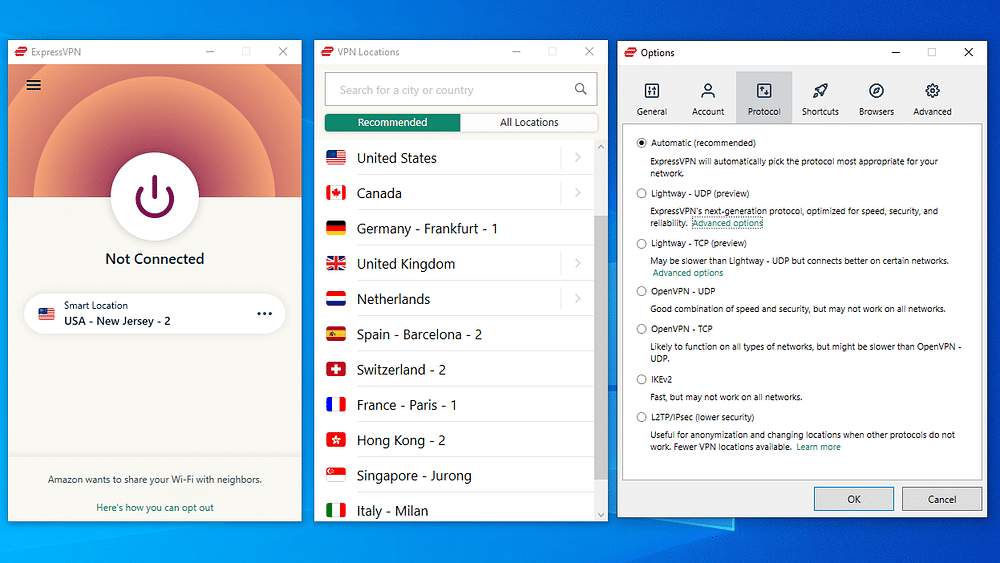 | | | | | | | |
| --- | --- | --- | --- | --- | --- | --- |
| Best For | Cheapest Plan | Free Version | Money-Back Guarantee | Max Devices Supported | Server Count | Server Locations |
| Best overall | $6.67/Month | No | 30 Days | 5 | 3,000+ | 94+ |
For additional security, ExpressVPN also has a kill switch, stopping data transfer if the VPN drops, and it has an extremely capable password manager bundled in.
In addition, its reliability ensures secure access to geo-restricted content anywhere in the world, with a large number of locations to pick from. Its convenient split tunneling feature allows you to route specific apps and websites through VPN servers while the rest of your network traffic remains unaffected.
You can stream your favorite shows on Netflix, Hulu, HBO, and Amazon Prime Video while still being able to access local intranets with ease. With this feature, you can access content from anywhere in the world – unblocking even the toughest restrictions with ease. Of course, on top of this, ExpressVPN masks your IP address for an extra layer of privacy which helps you remain secure and anonymous when you're online.
The app also has great customer support, with 24-hour live chat and email options, as well as blogs and tutorials hosted on the platform's knowledge base. Support for five devices, meanwhile, means you can run it simultaneously on desktop and mobile.
So, protect your identity and unlock a whole new realm of possibilities with this popular VPN app, which we rate as the best VPN app for iOS.
Pricing
ExpressVPN offers plans to suit any budget, from the 1-month plan for the ultimate flexibility in canceling up to 12 months for maximum savings. With discounts available on longer commitments, there's an ideal option for everyone.


ExpressVPN is an excellent choice for anyone seeking a dependable VPN service with ultra-fast speeds and robust security protocols. Its remarkable features make it the best available option for streaming and browsing securely.
Pros
Extensive global server network
Can bypass geo-restrictions
Fast and reliable connections
Best VPN app for iPad
2. TotalAV — Popular App for Antivirus and Ad-Blocking
TotalAV is a comprehensive internet security service that includes more than just a VPN, as it effectively combats malware, intrusive ads, third-party trackers, and more. In fact, it's known for being one of the best antivirus solutions. Besides keeping you safe, it lets you watch your favorite shows and movies on Netflix US and provides a buffer-free experience.
Websites you visit track a surprising amount of your personal information via trackers to learn more about you and your interests. Total Adblock prevents even the most persistent ads and trackers from violating your privacy, and it comes as a part of TotalAV's internet security bundle at no extra cost.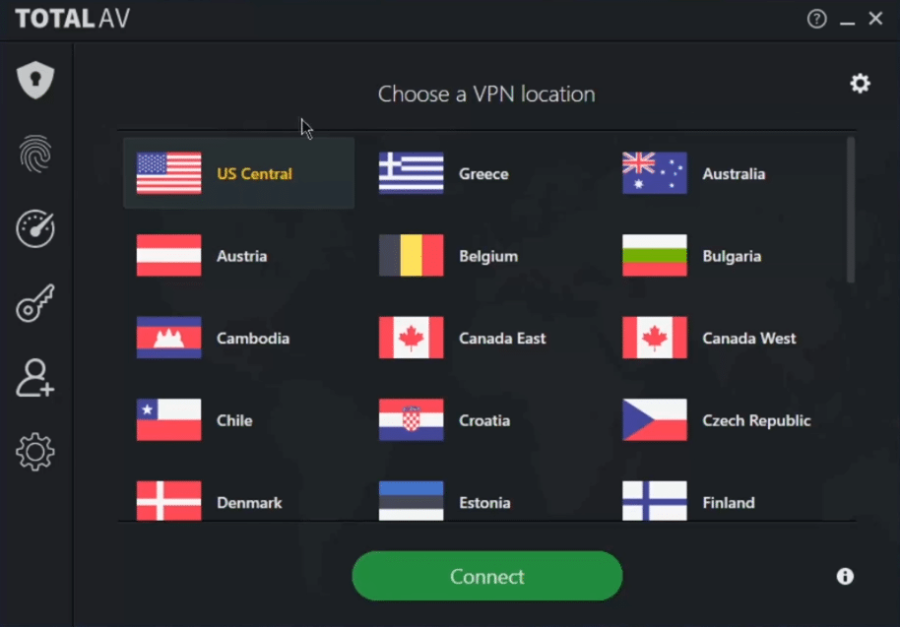 | | | | | | | |
| --- | --- | --- | --- | --- | --- | --- |
| Best For | Cheapest Plan | Free Version | Money-Back Guarantee | Max Devices Supported | Server Count | Server Locations |
| Highly secure | $39/year | No | 30 Days | 5 | 70+ | 30+ |
Other security tools include a password manager, Total Webshield, which blocks potentially dangerous sites, and data breach monitoring, letting you know if your personal details have been released on the dark web.
Beyond this, the TotalAV Safe Browsing VPN features above-average speeds on nearby servers and respectable speeds when connected to servers further away. In addition to being reliable speed-wise, this VPN service won't consume a lot of resources and slow your device down, making it a lightweight solution.
Both its VPN and Password Manager uses bank-grade AES 256-bit encryption to safeguard your data. That makes it near-impossible for outside parties to access your accounts protected by Total AV's password manager or your personal information while browsing the internet.
With support for five devices, TotalAV is undoubtedly among the best VPN apps for security.
Pricing
TotalAV offers a single, well-priced option to its customers. You can purchase its service for just $39/per year and rest easy knowing there are multiple layers of protection around your data.
You'll feel safe visiting any website with its Total Webshield, which blocks malicious URLs, and you get superb protection on up to five devices per account. Thanks to its 30-day money-back guarantee, you can try its internet security service risk-free now.
Pros
Data breach monitoring
User-friendly interface
Buffer-free browsing
Comprehensive all-around security
Cons
Only one subscription is available
3. PureVPN — Impressive Offering for the entire family
PureVPN is easily accessible no matter your location, with over 6,500 servers in 78 countries, and it boasts impressive, future-proof features. It has DNS and IPv6 leak protection, meaning your information won't leak and expose your real identity. Beyond this, you can rest easy knowing it passed a zero-logging audit which confirms that the company doesn't store your information on its servers.
This VPN provider allows up to 10 simultaneous connections, meaning you can share your account with the entire family, ensuring the ones closest to you are safe while browsing. It's compatible with numerous devices, including Android, iOS, Windows, macOS, Linux, Fire Stick, and the most popular browsers via extensions, so you can make the most of it.
| | | | | | | |
| --- | --- | --- | --- | --- | --- | --- |
| Best For | Cheapest Plan | Free Version | Money-Back Guarantee | Max Devices Supported | Server Count | Server Locations |
| Global network | $2.29/month | No | 31 Days | 10 | 6,500+ | 78+ |
PureVPN allows you to stream Netflix US library without worrying about data limits and bandwidth issues since it masks bandwidth usage and prevents your ISP from throttling your connection. That means you need just one Netflix and PureVPN account, and your entire family can enjoy its favorite shows and movies.
Besides this, it features a reliable kill switch that automatically disconnects you from the internet if your VPN service drops off. That's an invaluable feature if you use unsecured WiFi in public or don't want anyone to find your home IP address from leaking data. At the same time, the Quick Connect feature is great for getting online fast with a VPN.
One slight drawback is that the Mac app lacks some of the advanced features, so it's not necessarily the best VPN app for Mac.
Pricing
PureVPN has an outstanding 24-month subscription plan that costs as little as $2.29/month, making it a cost-effective long-term solution for families. Plus, new customers that opt for the 2-year-long plan get three additional months free of charge.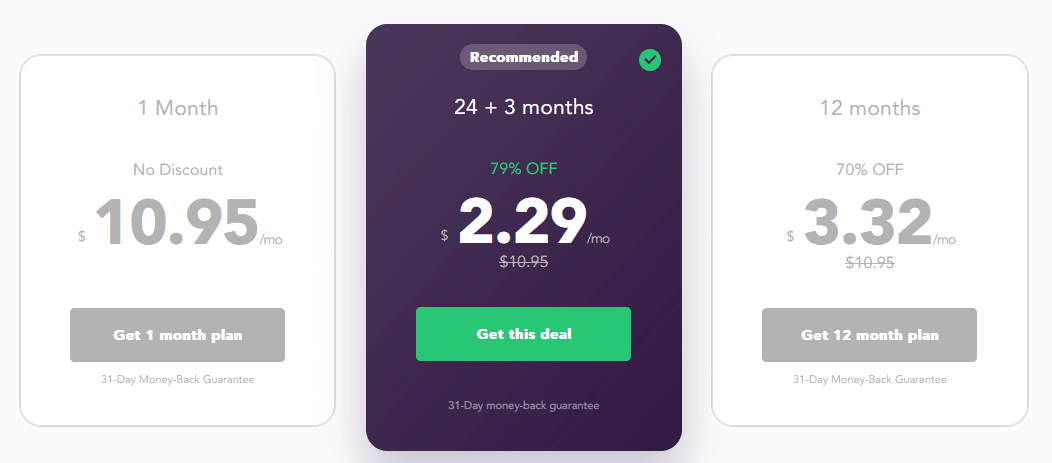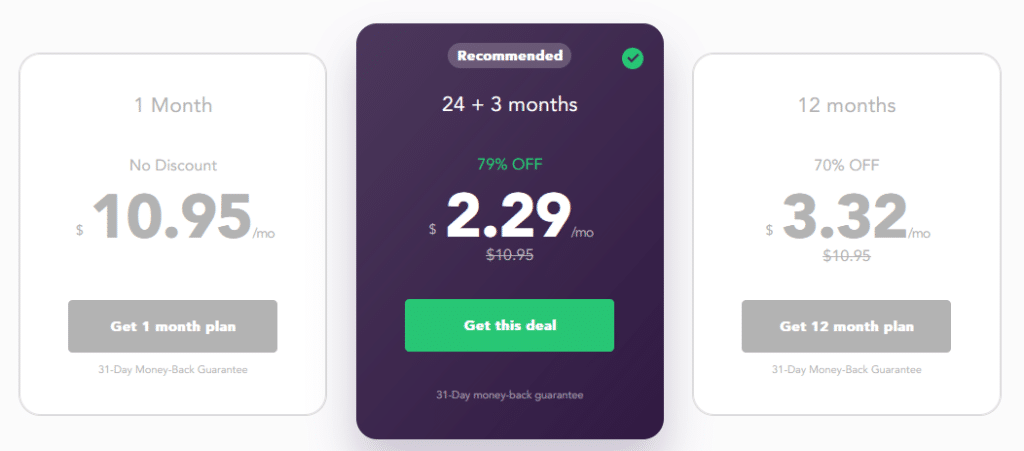 Gain access to 300,000+ unique IPs, geo-restricted content, and Netflix US at high speeds while staying safe. And you can pay for PureVPN using cryptocurrency, making it a completely anonymous VPN journey. All of that puts it in the running for best Android VPN app. Take advantage of its 31-day money-back guarantee and try it risk-free today.
Pros
Great pricing
A good number of protocols
Huge server network
Futureproof 20Gbps servers
Cons
Mac app lacks advanced features
4. IvacyVPN — Cheap Service with Great Torrenting Capability
IvacyVPN does an outstanding job protecting your privacy and keeping you safe as you browse. It can also help you access geo-restricted content such as Netflix, Amazon Prime, Hulu, and other streaming services and has excellent VPN apps for iOS and Android.
Thanks to its Smart Purpose Selection feature, you'll always automatically connect to a server with the best speed and security based on its proximity and your needs. You can pick between Secure Download, Unblocking, and Streaming, and it'll find the perfect server for you.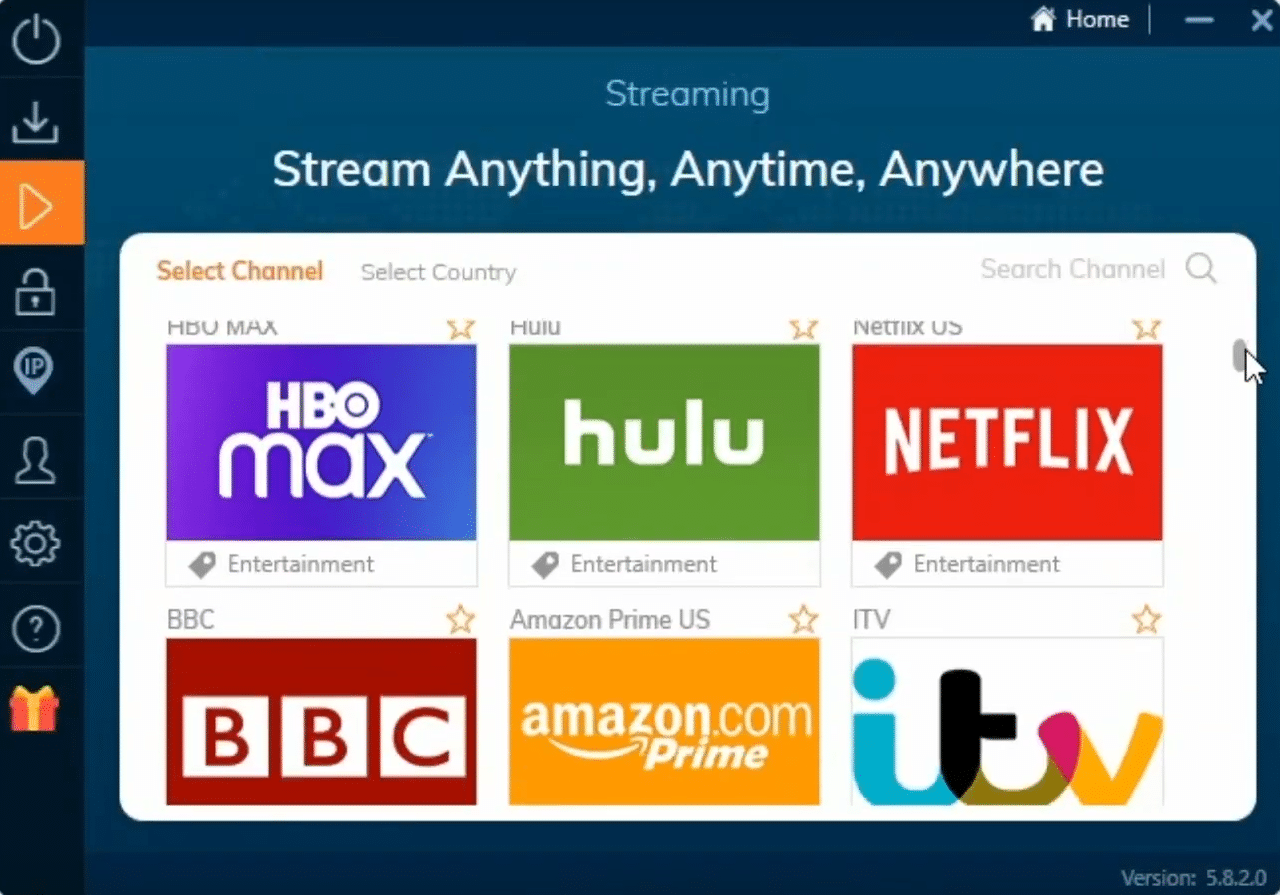 | | | | | | | |
| --- | --- | --- | --- | --- | --- | --- |
| Best For | Cheapest Plan | Free Version | Money-Back Guarantee | Max Devices Supported | Server Count | Server Locations |
| High-speed streaming | $1/month | No | 30 Days | 10 | 5,700+ | 100+ |
Selecting the Secure Download feature takes you to a torrent-friendly server that allows you to download files without bandwidth limits and with added security. The feature has a built-in DNS "blacklist" to help you avoid dangerous URLs and keep you safe while browsing or downloading content.
IvacyVPN has a capable split-tunneling feature that lets you decide which connections you want to encrypt with the VPN while other apps connect through your ISP-provided IP. That means you can turn IvacyVPN on, select Secure Download, and start torrenting files while you browse the internet using your regular internet connection.
It also ticks all the boxes for security, with DNS and IPv6 leak protection and audited zero logging.
What we like the most about IvacyVPN is the diversity of its servers, as this VPN service has them in places often ignored by its competition, including South America and Africa.
Pricing
IvacyVPN has cheap subscription options, with its monthly plan costing less than average with VPN services. However, its real value comes with the 5-year-long plan, which costs as little as $1/month.


Besides being a cost-effective option with its 5-year-long plan, IvacyVPN offers add-ons at lower prices than its competition. You can add port forwarding to your account for $1/month, and dedicated IPs cost as little as $1.99/month. Try it out risk-free for a month now.
Pros
Unblocks Netflix, BBC iPlayer, and more
Optimized support for downloads, unblocking, and streaming
Feature-rich
Cheap VPN app
Cons
Windows kill switch problems
5. NordVPN — Industry Leader with Unique Security Features
NordVPN is one of the best VPN apps of 2023 due to its superior encryption capabilities. This VPN service earned its reputation as a secure, reliable, and affordable choice for users seeking an exceptional experience.
It offers a kill switch plus state-of-the-art AES 256-bit encryption — the highest security level available — so your data and online activities remain completely safe from snoopers and hackers, even on public Wi-Fi networks.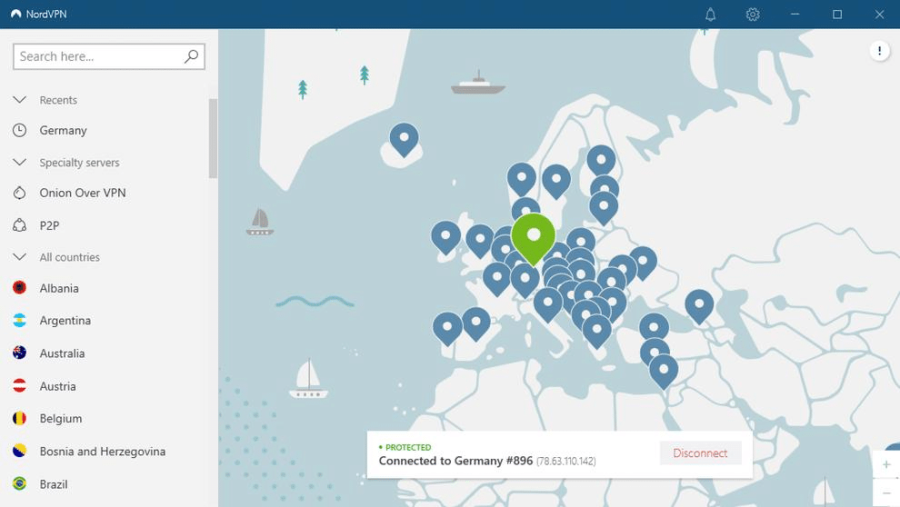 | | | | | | | |
| --- | --- | --- | --- | --- | --- | --- |
| Best For | Cheapest Plan | Free Version | Money-Back Guarantee | Max Devices Supported | Server Count | Server Locations |
| Cloud storage | $3.49/Month | No | 30 Days | 6 | 5,500+ | 59+ |
Experience the ultimate security and reliability with NordVPN's unique Meshnet technology. By routing your traffic through multiple VPN servers instead of just one, you'll enjoy enhanced privacy and no downtime – perfect for streaming or torrenting activities.
You can also enjoy your favorite TV shows and movies and getting around geographical restrictions. On top of this, you get 1TB of encrypted cloud storage thrown in, which is a huge benefit.
Additionally, with NordVPN's SmartPlay technology and servers optimized for streaming, you'll have a smooth experience unblocking leading platforms like Netflix, Hulu, BBC iPlayer, and Amazon Prime — uninterrupted, no matter where you are. Safe. Reliable. Fast. NordVPN has it all.
For added security, you also get Nord Threat Protection, which can help protect you from viruses and malware on the internet.
Pricing
Start from as low as $3.49/month and enjoy NordVPN's cutting–edge encryption, Meshnet technology, and specialized streaming servers. For extra features, opt for the Plus version and gain access to the Data Breach Scanner and CyberSec services.
Those looking for all the bells and whistles can opt for the Complete package for access to all NordVPN's features plus 1TB of encrypted cloud storage.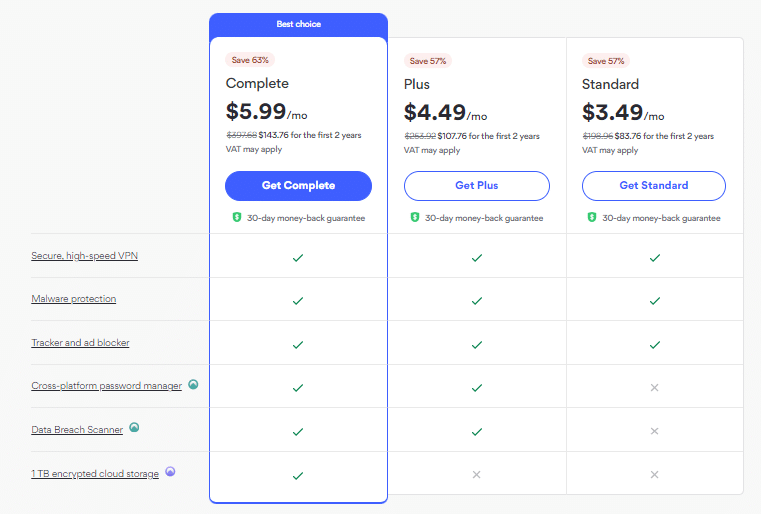 If you're seeking a dependable VPN service provider, NordVPN is one of the best options this year. Boasting next-generation encryption capabilities, Meshnet technology, and dedicated streaming servers, it's no surprise that NordVPN made it to our list – especially with its competitive price point and exceptional customer support team.
Pros
Top-notch security and encryption features
Fast, high-performance connections
Can unblock restricted content
Strict no-logs policy
Impressive server network
6. AtlasVPN — Great VPN for Privacy-Conscious Users on Unlimited Devices
AtlasVPN follows the current advancements in both security and technology fields, meaning you can expect frequent updates and bleeding-edge features. This VPN provider employs best-in-class WireGuard protocol, among others, to ensure you're safe while gaming, streaming, or browsing.
In addition, Atlas VPN is one of the first providers to shift to unlimited device support from the industry-standard five or ten.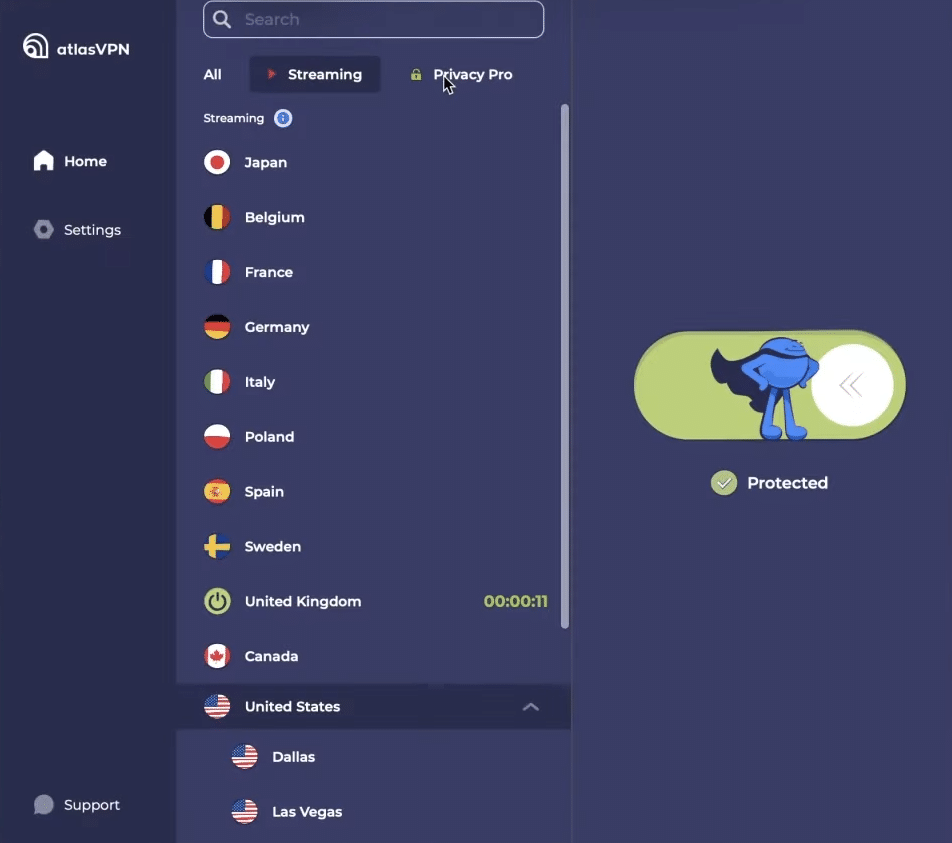 | | | | | | | |
| --- | --- | --- | --- | --- | --- | --- |
| Best For | Cheapest Plan | Free Version | Money-Back Guarantee | Max Devices Supported | Server Count | Server Locations |
| Family use | $1.83/month | Yes | 30 Days | Unlimited | 750+ | 49+ |
Privacy-conscious users will appreciate its SafeSwap servers, which continuously route your internet traffic through different IP addresses, making your online activity even more challenging to track than usual. Besides making it hard for someone to track your online activity, it shields you from advertisers and third-party trackers.
Thanks to its high-speed WireGuard protocol, you can stream content from Disney+, Netflix, BBC iPlayer, and other popular streaming services without experiencing lag or other problems.
Beyond this, you can have peace of mind knowing its SafeBrowse feature ensures you won't open malicious links or download files from dangerous websites. It also helps you stay away from phishing websites and avoid various scams.
It also has a built-in data breach monitor. This detection mechanism informs you if your personal details get exposed on the internet, allowing you to protect your online accounts before malicious actors steal them.
Pricing
AtlasVPN has a comprehensive free plan that lets you connect unlimited devices, block ads, and have a high-speed connection. However, it limits you to 5GB of data per month, and you can connect to three servers only, making its three-year plan a much better option for just $1.83/month.

Committing to AtlasVPN's well-priced subscription plans encrypts your web traffic with ChaCha20 and AES-256, making you untrackable. Try its services risk-free for a month, thanks to its 30-day money-back guarantee.
Pros
Affordable plans
Comprehensive free plan
User-friendly interface
Cons
Free users are prompted to upgrade
7. CyberGhost VPN — Powerful Provider, Perfect for Content Streaming
Secure your connection and access geo-restricted content with CyberGhost VPN. Whether you're streaming movies, downloading music, or simply browsing the web, you can do it all without worry.
With CyberGhost VPN's dedicated servers, accessing your favorite sites like Netflix and Disney+ is as easy as ever. So you can settle in for an uninterrupted binge of your favorite show or stream the latest sports event with no fear of getting throttled by your ISP.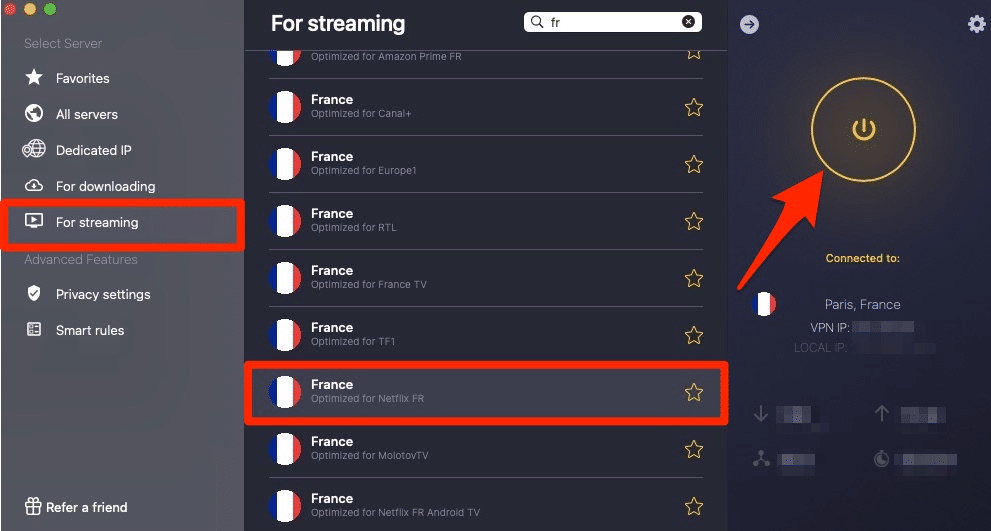 | | | | | | | |
| --- | --- | --- | --- | --- | --- | --- |
| Best For | Cheapest Plan | Free Version | Money-Back Guarantee | Max Devices Supported | Server Count | Server Locations |
| Encryption | $2.19/Month for 3 Years | 1-Day Trial | 45 Days | 7 | 9,200+ | 91+ |
CyberGhost is renowned for being one of the fastest VPNs, and it consistently performs well on speed tests. It ensures lightning-fast speeds with its dedicated streaming servers, and its advanced technology also reduces latency, so you can access your favorite websites and enjoy a lag-free experience.
When it comes to security, CyberGhost VPN will also give you complete peace of mind. Utilizing military-grade encryption, your data is kept safe and secure when browsing the web as it's routed through an impenetrable tunnel. This thwarts any attempts to snoop on your activity.
Pricing
For maximum savings, CyberGhost offers a 2-year plan for just $2.19/month with two additional months free. Plus, both the 6-month and 26-month plans come with a generous 45-day money-back guarantee.

With dedicated servers, ultra-fast connections, and great download speeds, CyberGhost VPN ensures secure access to geo-restricted websites. Enjoy military-grade encryption for a safe connection and easy access to all your favorite sites.
Pros
Massive server network
Fast and stable speeds
Good for long-term use
8. PrivadoVPN — Best Free VPN App
PrivadoVPN stands out as one of the few free VPN apps that guarantee users a fast, secure, and reliable connection. The free plan offers a generous 10GB/month data allowance, making it the perfect choice for those seeking to protect their identity and data without spending a penny. This is ideal for light users looking to stay secure while browsing online.
Say goodbye to manual server connections and tedious setup processes — PrivadoVPN makes it easy to ensure you never forget to connect before browsing online. With no extra effort on your part, this automation ensures you can rest assured that your data is securely protected.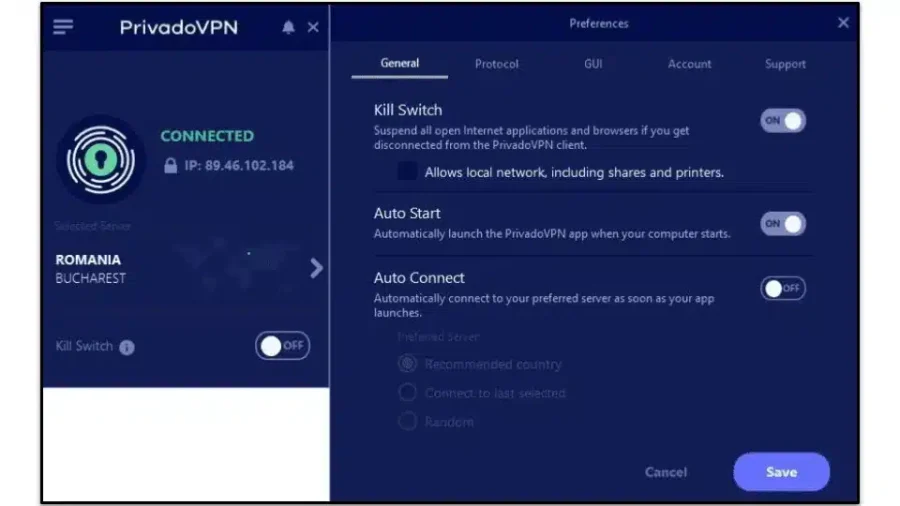 | | | | | | | |
| --- | --- | --- | --- | --- | --- | --- |
| Best For | Cheapest Plan | Free Version | Money-Back Guarantee | Max Devices Supported | Server Count | Server Locations |
| Beginners | Free | Yes | 30 Days | 10 | 346+ | 47+ |
Also, PrivadoVPN's Secure Server Network safeguards your data from malicious hackers. With servers located in the US, UK, Canada, and Germany – plus more than ten other countries around the world – PrivadoVPN gives you premium security and ample server options for $0.
Of course, free VPNs with smaller server networks do come with downfalls, but considering what's on offer, PrivadoVPN remains the top choice for anyone looking for free VPN protection.
Pricing
Enjoy 10GB of data allowance each month with its Free Forever Plan, or upgrade to an unlimited data package at a great value price point when you choose either of the premium plans.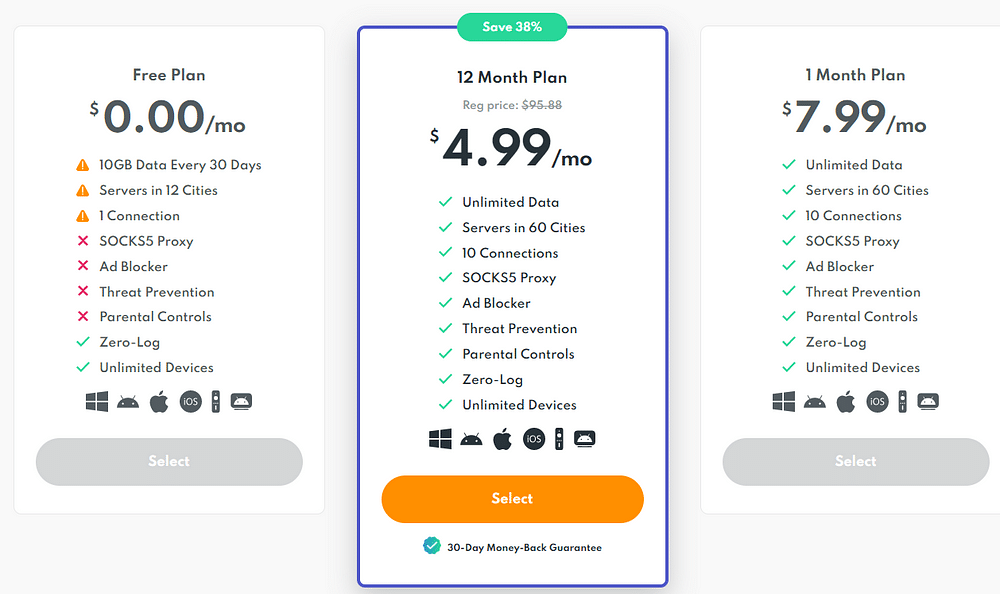 PrivadoVPN is an excellent choice for those seeking a free, secure connection – and it's perhaps the best VPN app free-forever plan. Upgrade to the paid plan for extra features, unlimited data, and all the servers.
Pros
Best VPN app free of charge
Encrypts your connection
Hides your IP address
9. ProtonVPN — Reliable and Fast with Unlimited Data Offered
For data-heavy users seeking a dependable and secure VPN, ProtonVPN is an ideal choice. For one, you'll experience unlimited data bandwidth with no caps when you choose this VPN app.
You can browse, stream and download content without the worry of exceeding any usage thresholds. Perfect for streaming services like Netflix or Hulu – now you don't need to worry about running out of data mid-movie.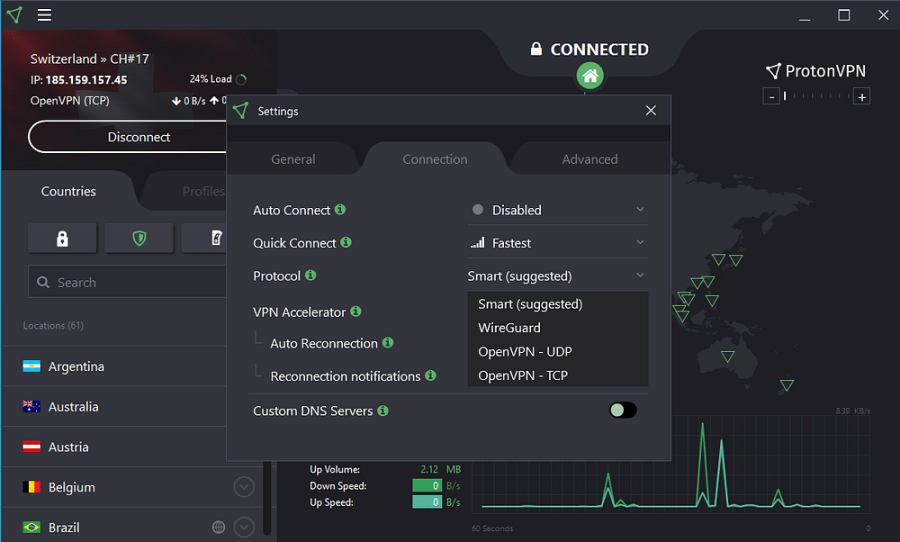 | | | | | | | |
| --- | --- | --- | --- | --- | --- | --- |
| Best For | Cheapest Plan | Free Version | Money-Back Guarantee | Max Devices Supported | Server Count | Server Locations |
| Great free service | $4.99/Month for 2 Years | Limited free plan | 30 Days | 10 | 1,400+ | 60+ |
ProtonVPN also packs a powerful punch with NetShield, its ad-blocker that shields you from intrusive ads and malicious websites. With it, you can surf the web without worrying about pop-ups or targeted advertising ruining your experience.
Lastly, ProtonVPN offers an unbeatable advantage with its VPN Accelerator for users who need reliable speeds. Stream media or download large files without lag or buffer and enjoy improved overall performance and reduced latency. With ProtonVPN, you can do it all without ever sacrificing speed.
Pricing
Enjoy ProtonVPN's Basic Plan free of charge, while the VPN Plus plan provides 65 countries and 1,900+ servers for just $4.99/month, with coverage for up to 10 devices simultaneously. For those seeking an extensive bundle, Proton Unlimited is the way to go.


Pros
Swiss-based
Fast and secure
No data limit
10. Surfshark — Best App for Strong Encryption and Privacy Protocols
Surfshark is a powerful, reliable VPN service provider with robust encryption protocols and privacy policies to ensure your data remains secure. With that said, the key standout of Surfshark is that it allows you to install the app on an unlimited number of devices — an absolute bargain.
Surfshark's CleanWeb feature offers a powerful solution for secure browsing: blocking ads, trackers, and malware from your device. Not only does it protect you against malicious content, but its efficient operation also makes the web faster to traverse. This is an essential tool for anyone seeking privacy and safety when surfing online.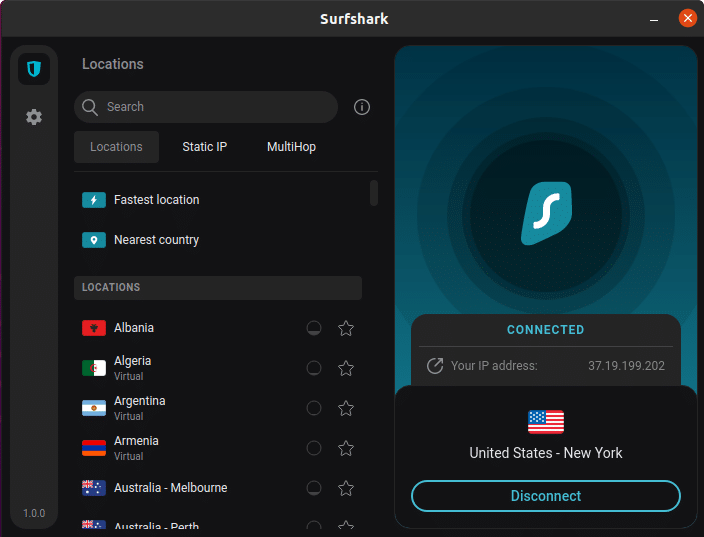 | | | | | | | |
| --- | --- | --- | --- | --- | --- | --- |
| Best For | Cheapest Plan | Free Version | Money-Back Guarantee | Max Devices Supported | Server Count | Server Locations |
| Affordable option | $2.49/Month for 2 Years | 7-Day Mobile Trial | 30 Days | Unlimited | 3,200+ | 99+ |
Meanwhile, its MultiHop feature lets you connect to multiple servers simultaneously to make tracking your online activities much harder. Perfect for those seeking to unblock restricted websites or access content from abroad.
On top of this, Surfshark's NoBorders mode is a must-have for users looking to access the internet in countries with strict censorship and surveillance laws. This lets you bypass firewalls effortlessly and browse any content without fear of being blocked or tracked.
All of this makes Surfshark an invaluable tool.
Pricing
Surfshark offers flexible plans tailored to suit your needs: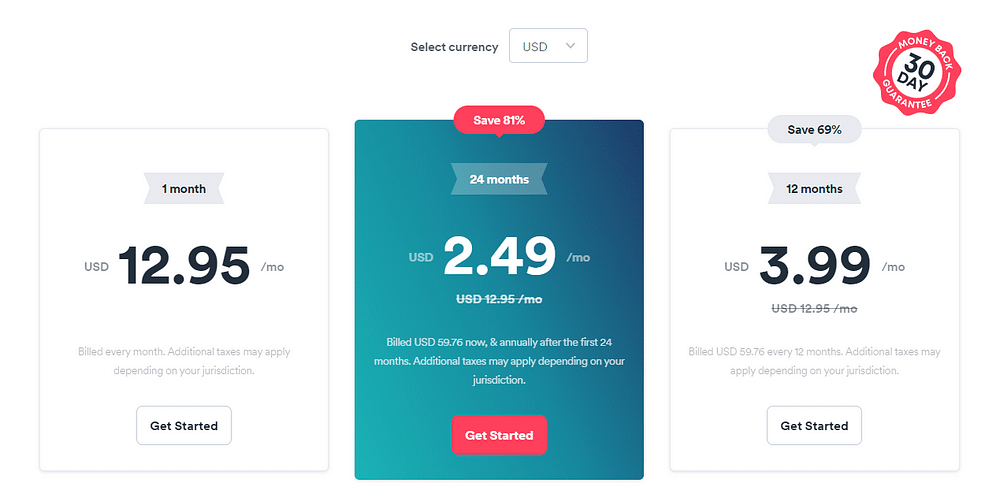 Surfshark is a great VPN service provider, offering powerful encryption protocols and stringent privacy policies for secure browsing.
With features such as CleanWeb, MultiHop, and NoBorders to protect you from malicious content and government surveillance – surfing the web has never been safer.
Pros
Safe and secure
Can connect unlimited devices
Allows multi-hop connections
Cons
Unresponsive customer support
11. IPVanish — Leading Service with Advanced Security Features
IPVanish is the ultimate VPN app, boasting an array of advanced features for unparalleled security, privacy, and protection. With IPVanish at your side, you can rest assured that your data and online activities are safe from prying eyes.
IPVanish is a cut above the rest with its advanced suite of protocols. OpenVPN, IPSec/L2TP, and IKEv2/IPSec are all supported so that users can easily switch between them for maximum security on any device.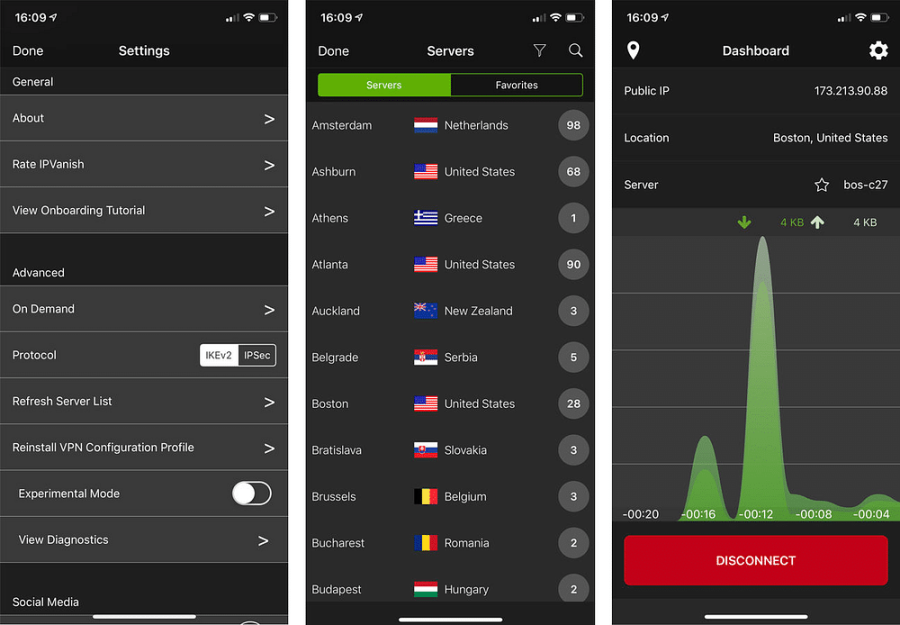 | | | | | | | |
| --- | --- | --- | --- | --- | --- | --- |
| Best For | Cheapest Plan | Free Version | Money-Back Guarantee | Max Devices Supported | Server Count | Server Locations |
| Fast connections | $2.19/Month for 2 Years | No | 30 Days | Unlimited | 2,000+ | 75+ |
And with over 2,500 servers available, you won't have to worry about overcrowded servers and lag. Besides all this, the app also offers advanced DNS leak protection, granting users total anonymity when browsing the web — even on public WiFi networks.
This makes IPVanish great for accessing geo-restricted content and websites, shopping online, gaming, and even gambling — nothing is off-limits with this VPN app.
Pricing
IPVanish offers three pricing plans, each with advanced features. Take advantage of its 30-day, risk-free money-back guarantee when you purchase a yearly or two-year plan.


IPVanish is an outstanding VPN app boasting advanced features such as multiple connection protocols, DNS leak protection, and secure online payments. It's an excellent choice for anyone looking to protect their data and activities online.
Pros
Fast speeds
Strict no-logs policy
Working kill switch
12. VyprVPN — Excellent for Bypassing Web Blockers
VyprVPN is the go-to solution for those looking to bypass school and office web blockers. With its reliable service, you can access the internet without censorship or any interference from your network administrator.
In schools and offices, web blockers are a significant issue. But with VyprVPN's split tunneling feature, you can access the internet freely and securely without any restrictions.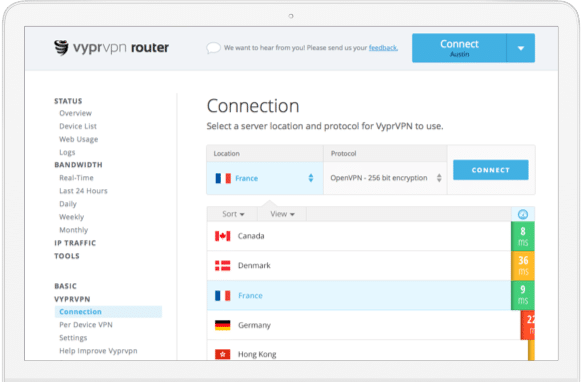 | | | | | | | |
| --- | --- | --- | --- | --- | --- | --- |
| Best For | Cheapest Plan | Free Version | Money-Back Guarantee | Max Devices Supported | Server Count | Server Locations |
| Customer service | $5/Month | No | 30 Days | 10 | 700+ | 96+ |
With this feature, you can choose which apps use the VPN connection — so the encryption won't slow your streaming or gaming. This makes it easier to get around web blockers while maintaining excellent privacy and security levels.
Also, VyprVPN has advanced DNS leak protection that prevents your ISP from seeing which websites you're visiting. This means you can freely access any site without worrying about being blocked or monitored by the administrator.
Moreover, VyprVPN is a no-log VPN that ensures your data is never stored or shared with any third parties. On the whole, you can confidently browse the web and access content without worrying about being tracked.
Pricing
VyprVPN offers two straightforward pricing plans that include unlimited data and server switching so that you can browse the web without any limitations. Plus, VyprVPN provides a 30-day money-back guarantee on all subscriptions for a risk-free trial.


Pros
Own server infrastructure
No-logs policy
Fast internet speeds
13. Private Internet Access — Budget-Friendly Service with Robust Features
Private Internet Access (PIA) offers an excellent solution for those searching for a cost-effective yet high-quality VPN. For reliable online anonymity, it allows you to mask your IP address and swap it for another. This safeguards your identity from malicious actors on the web and stops websites from tracking you by hiding both your location and browsing history.
PIA also keeps your online activities secure by encrypting all of your internet traffic — one of the best ways to go undetected online. So, even if someone were to intercept the data, they wouldn't be able to view what you're doing or access any sensitive information. Furthermore, it ensures that your ISP can't monitor and limit your connection speed based on usage.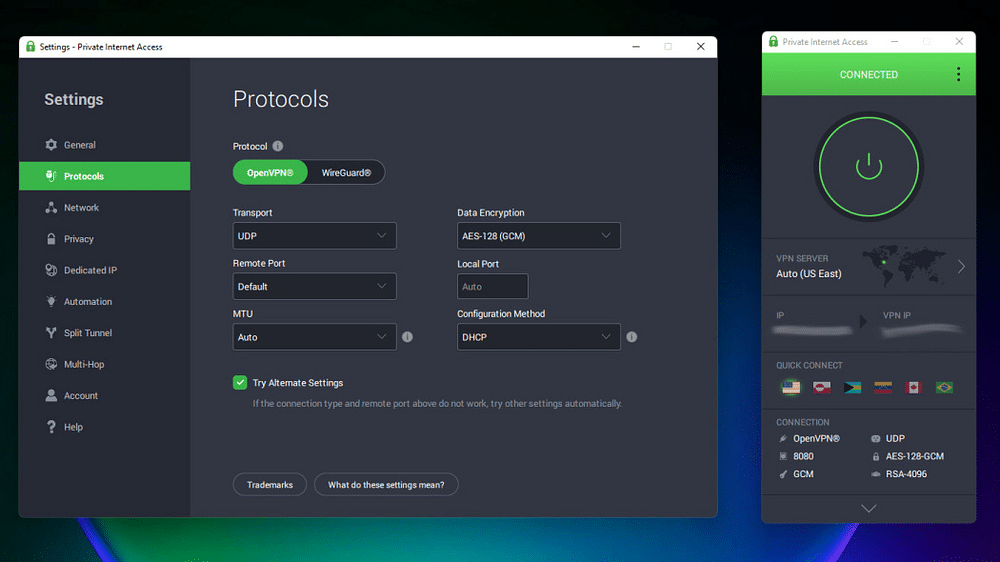 | | | | | | | |
| --- | --- | --- | --- | --- | --- | --- |
| Best For | Cheapest Plan | Free Version | Money-Back Guarantee | Max Devices Supported | Server Count | Server Locations |
| Simplicity | $2.03/Month for 3 Years + 3 Months | No | 30 Days | 10 | 29,500+ | 84+ |
Finally, PIA offers access to the highly–acclaimed WireGuard protocol. With a whopping 29,000+ servers, this secure and lightning–fast VPN is perfect for streaming services, gaming, and more – no lag or buffering, so you can enjoy your favorite content with ease.
Pricing
Experience the same superior features across all Private Internet Access plans, with increased savings as you sign up for longer subscriptions.


Private Internet Access boasts an impressive suite of features at one of the lowest price points. It's dependable, user–friendly, and secure – making it one of the top choices for those looking to safeguard their online privacy.
Pros
Cheap but reliable budget VPN app
Open-source transparency
User-friendly
14. PrivateVPN — Well-Designed UI with Great Security Tools
PrivateVPN is designed with user-friendliness in mind, making it one of the most straightforward VPN apps available. Its intuitive UI makes it ideal for beginners looking to easily and securely access the internet.
When connecting to PrivateVPN, you can secure up to 10 devices at the same time. This means that you don't have to worry about running out of connections when multiple people are using it on different devices.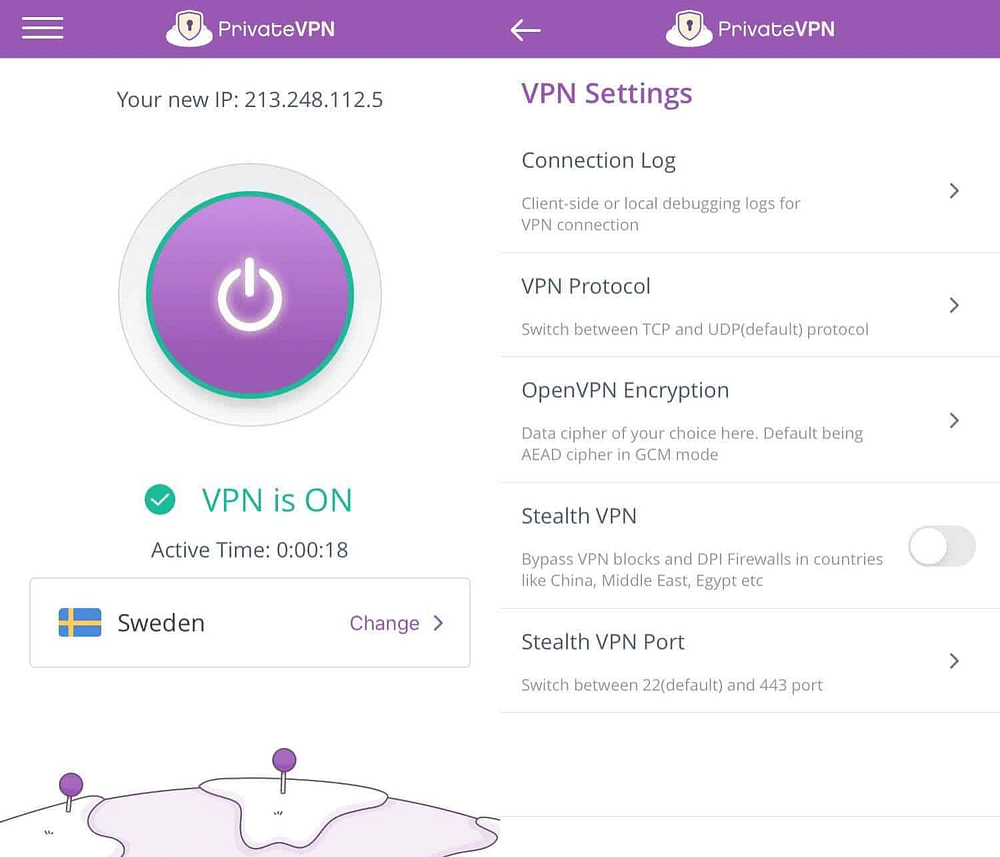 | | | | | | | |
| --- | --- | --- | --- | --- | --- | --- |
| Best For | Cheapest Plan | Free Version | Money-Back Guarantee | Max Devices Supported | Server Count | Server Locations |
| Evading censorship | $2/Month for 3 Years | 7-Day Trial | 30 Days | 10 | 200+ | 63+ |
Whether you're an individual looking to protect your own privacy or a business owner with several team members who need access, this app has got you covered. Plus, if your data usage is high, you'll be glad to know that PrivateVPN offers unlimited bandwidth.
With that said, although PrivateVPN has little trouble accessing leading streaming platforms, the servers can get crowded, so you might experience slower speeds.
Despite this, PrivateVPN remains a solid option for downloading torrents and other P2P activities as it offers anonymous torrenting. This means that you don't have to worry about your activity being tracked.
Pricing
Enjoy maximum privacy with PrivateVPN's flexible and affordable plans. Its 30-day money-back guarantee ensures you can enjoy it risk-free before making a commitment.


PrivateVPN is the ideal choice for those seeking a straightforward VPN. Boasting an intuitive interface, 10 simultaneous connections, unlimited bandwidth, and anonymous torrenting capabilities, this secure and reliable service is perfect for personal use.
Pros
Works for streaming
Allows torrenting
Unlimited bandwidth
Why Do I Need a VPN?
If you don't use a VPN (Virtual Private Network), it's easy for your network provider and government agencies to track your IP address and your usage of the internet. In addition to that, advertisers and malicious actors can track you as well, building up a profile of your online activity and perhaps taking advantage of it.
Having a VPN in place means you can anonymize and encrypt your internet connection. This is a great first step for protecting your privacy and security and can help to shield you from surveillance and cyber-attacks. It's an intelligent thing to do if you're using an unsecured public WiFi network, for example.
VPNs also allow you to access the internet as if you were in a different country. This is a great way of bypassing censorship and geo-restrictions, so you can access services that are restricted in your territory – whether you want to browse a foreign Netflix library or you want to read a restricted newspaper.
It's a fact of life that cyber-attacks are on the rise today, and VPNs are an essential tool in the fight, right alongside antivirus software – so smart internet users will get a VPN in place for themselves and their families. No matter if you're at home, on the move, or simply surfing the web, a VPN can ensure your online activity remains private and secure. That's why you should look for protection whether you need the best VPN app for Windows or for your mobile device.
What's the Best Free VPN App? Free Vs. Paid VPNs
While a free option may seem appealing, there are often limitations and risks that come with using them. With that said, PrivadoVPN offers a top-tier free VPN service, providing 10GB of data each month.
However, it's important to note that free VPNs have certain restrictions — such as slower speeds and limited server access — which could prevent them from reliably unlocking streaming services.
Although free VPNs are a great way to test the waters of a VPN service, they often don't offer the same level of security as paid plans, and completely free VPNs are renowned for selling user data.
With that said, reliable providers like PrivadoVPN, although there are limitations, it provides free users with the same level of protection as premium customers.
Given all this, whether you're considering the best free VPN app for Android or the best free VPN app for iPhone, we suggest investing in a paid provider that offers either an unconditional money-back guarantee or a trial period to get a dependable VPN solution.
How We Ranked the Best VPN Apps – What Makes a Good Mobile VPN App?
When assessing the top VPN apps, it's essential to consider a range of factors that are vital for an optimal user experience on mobile devices. Here's how we ranked the best VPN services:
Performance and Speeds
A quality VPN app should provide fast and reliable connections that enable you to browse, stream, and download content seamlessly. Furthermore, the app should deliver consistent speeds unaffected by the number of people connected to a particular server.
On top of this, a reliable connection is paramount for an optimal VPN experience. A superior VPN application should remain connected without interruption, providing a seamless transition when switching between various servers.
Security
Ensure your online privacy and security with a VPN app that encrypts your internet connection and masks your identity. Look for one with strong privacy policies that protect data without storing any logs, as well as robust security protocols like WireGuard and OpenVPN to secure the connection.
Unblocking Power
VPN users rely on their apps to bypass geo-restrictions and unblock popular streaming services like Netflix, Amazon Prime, HBO, and Hulu. A great VPN app should be able to easily unblock these services, ensuring access to restricted content in any region.
Server Network
A great VPN app should boast a vast server network that enables you to establish connections with servers from any corner of the globe. This helps guarantee unhindered access to restricted content, as well as fast and reliable VPN connections.
Value for Money
A quality VPN app should strike the perfect balance between cost-effectiveness and reliability. Not only must it provide robust security and privacy features, but also an equitable price point compared to other offerings in the market.
User Feedback
User reviews are a crucial consideration when assessing VPN apps — good ones should garner positive reviews from their users, who should enjoy an effortless and secure experience.
We've considered all of these factors to formulate our top 14 list of the best VPN apps.
How to Use a VPN App – A Step-by-Step Guide
Ready to take control of your online privacy? ExpressVPN takes only a few minutes to install after you pick a subscription that fits your needs and budget from its website. Here's a step-by-step guide on how to install ExpressVPN after you purchase it.
1. Log Into Your Account to Download ExpressVPN on Your Device

First, you'll need to go to ExpressVPN and sign up for a subscription. With that done, you can hit the VPN download, selecting for Windows or for other devices.
2. Copy or Write Down the Activation Code

Once in, make a note of the activation code for your subscription. You can run ExpressVPN on five separate devices, so it's worth making the most of your subscription for yourself and for your family.
3. Follow the On-Screen Instructions to Finish the Installation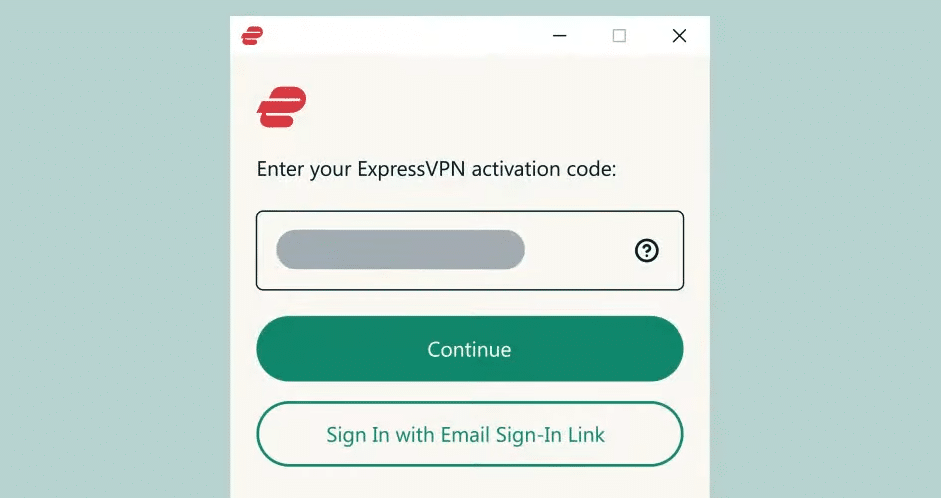 The VPN installation wizard will then take you through the steps so you can complete the process.
4. Start Browsing Securely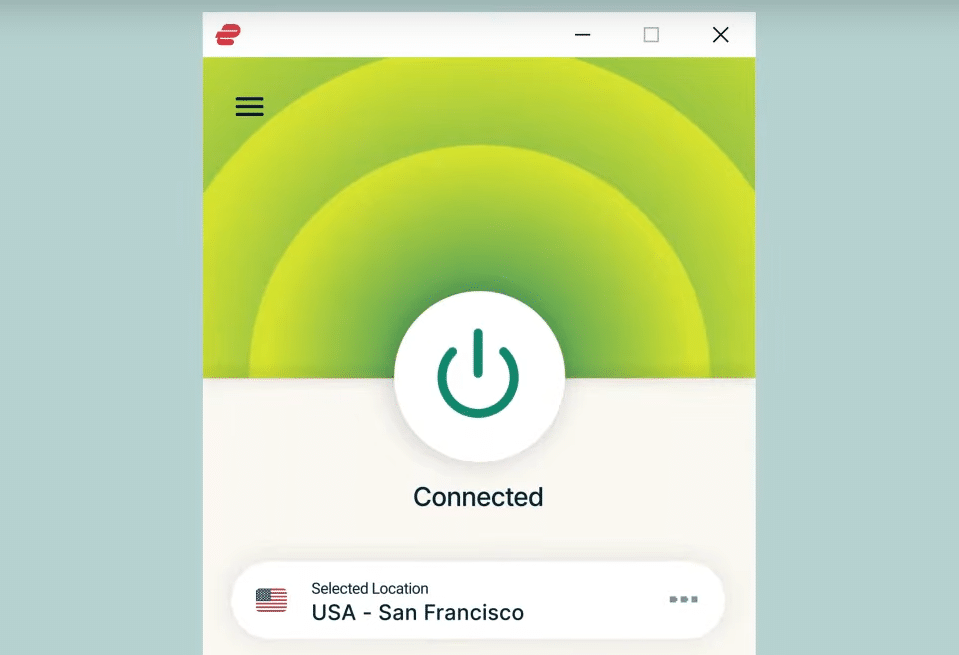 And that's all there is to it. Select a server based on the content or speeds you're after and browse the web freely, securely, and privately – and without any anxiety. And remember to install your VPN on all your devices to take advantage of the best VPN app for Android and iOS.
Are There Downsides to VPNs?
VPNs are an excellent solution to ensure you're able to use the internet privately and securely, evading censorship and surveillance. They aren't entirely without downsides, though.
While we say the price is more than worth it, you do – only naturally –have to pay for the best services. And because of the nature of routing traffic, VPNs may also have a slight impact on your connection speed.
With disreputable providers, though, you're on shakier ground, and if you use a free service, you may be directing your sensitive traffic through a data farm. There's also the fact to consider that while it will be much harder to track you when using a VPN, you can still be subject to device fingerprinting, and logging into services and uploading files will leave some trace.
VPN Guides and Resources
Going beyond the best VPN apps, our expert researchers have put together guides on VPNs for a range of different niches and use cases, including:
Conclusion – What's the Best VPN App in 2023? ExpressVPN
In an age of digital advancement, Virtual Private Networks are essential for safeguarding your online privacy and security. With cyberattacks intensifying and surveillance becoming more prevalent, the importance of a secure and encrypted connection to the web can't be ignored.
ExpressVPN has solidified its position as one of the leading VPNs on the market, renowned for its lightning-fast speeds, comprehensive encryption protocols, extensive server network, and strict privacy policies.
On top of that, ExpressVPN's risk-free money-back guarantee allows you to try the VPN without putting any money on the line. Given that, it's the best VPN app for iPhone and the best Android VPN app. Try it now and gain complete online freedom and protection.
VPN App FAQs
Which VPN is the fastest?
What is the best VPN app?
What's the best free VPN app?
What's the best VPN for streaming?
Are there any dangers with VPN?
When should you not use a VPN?
References