Getting the best VPN for torrenting is crucial for ensuring your privacy and protecting you from hackers when exchanging files. After all, your IP is exposed to every user in the P2P network when you're torrenting on your home connection.
Our candidates for the best VPN for torrenting include VPNs known for their security, fast download speeds, and P2P-friendly policies. These VPNs offer multiple simultaneous connections, a range of server locations, and bulletproof VPN protocols, making them ideal for P2P file sharing. By masking your IP address and encrypting your traffic, these VPNs ensure an anonymous torrenting experience. If you need protection, consider these top VPNs to safeguard your torrenting.
The 10 Best Torrenting VPNs Ranked for 2023
Torrenting is a popular way to share files, but it can also pose security risks. To ensure safe and anonymous torrenting, you should consider using one of the torrent providers on our shortlist:
Why You Should Use a VPN for Torrenting
Torrenting is a technology for sharing files over the internet with users simultaneously uploading and downloading files. You don't need to have downloaded the full file to start sharing fragments of it that you've already downloaded, so one uploader can rapidly distribute a file to other users without needing a server.
While it offers a convenient way to access various files, including movies, music, and software, it comes with inherent risks. When you engage in
torrenting
, your IP address is visible to other users in the torrent swarm.
This visibility can potentially expose your identity, leaving you vulnerable to threats, including attacks from hackers and legal action if you share copyrighted material, with the threat of costly legal battles.
The use of a VPN is hence recommended when engaging in torrenting. VPNs conceal your IP address and encrypt your internet connection, making your torrenting activities effectively anonymous.
This prevents anyone from tracing torrents back to your actual location or identity. VPNs can also bypass ISP throttling, so you get optimal download speeds for your torrents. This combination of anonymity and enhanced performance makes VPNs an indispensable tool for anyone involved in P2P file sharing.
Key Features to Look for in a Torrenting VPN
There are many VPN services that will allow you to mask your connection when using the internet. To differentiate them, it's worth checking for the following features, which will determine their suitability for secure, anonymized torrenting.
Strict No-Logs Policy
One of the most important features you should look for in a torrenting VPN is a strict no-logs policy. This means the VPN provider doesn't store any data related to your online activities.
However, it's not enough to take your provider at their word. Ideally, you want to pick a VPN provider that has had their no-logs policy audited by a third party. In addition to an audit, RAM-only servers also indicate that your VPN provider takes their no-log policy seriously.
P2P Support
You should ensure the VPN explicitly supports P2P file sharing and torrenting activities. Some VPNs may restrict or throttle torrent traffic, so it's important to choose one that fully supports it – some providers only provide P2P on a fraction of their servers.
Picking a provider with a wide server network and servers in various countries helps guarantee you'll get the best speeds possible, as you'll be able to pick P2P servers closer to your real location.
Strong Security Features
There are many different security features needed to keep your VPN connection secure, but it's important to look for VPNs that offer proven VPN protocols, such as OpenVPN or WireGuard.
It's also important that your VPN doesn't have IPv4 or DNS leaks, as these will expose your real IP address to your ISP when you torrent. A kill switch is also essential, as it'll disconnect your internet if the VPN connection drops, preventing your IP address from being exposed.
High Bandwidth Speed and Unlimited Data
Torrenting can consume a lot of bandwidth, so selecting a VPN with unlimited data is beneficial to avoid interruptions during downloads.
You'll also want to pick a provider known for providing fast connection speeds, as your home connection speed will otherwise be limited by a slow VPN, and you'll be waiting a long time for your torrents to complete.
Port Forwarding
Port forwarding is important for torrenting as it helps optimize connectivity and speed. Torrents rely on a P2P network where you connect to other users to exchange data.
Port forwarding ensures incoming connections can reach your computer or torrent client directly rather than being blocked or slowed down by your router's firewall. Without port forwarding, you may encounter connectivity issues, leading to slower downloads or being unable to connect to some peers.
Comparing the Top 10 Best Torrent VPNs
We've compiled the stats on each one of our top 10 best torrenting VPNs in a quick reference table:
| | | | | | | | |
| --- | --- | --- | --- | --- | --- | --- | --- |
| Name | Starting Price | Free Version | Simultaneous Connections | Server Count | Server Locations | Average Speeds | Compatibility |
| ExpressVPN | $12.95 | No | 8 Devices | 3,000+ | 150+ | 78.35Mbps | Windows, MacOS, iOS, Android, Linux, Routers, Chrome, Edge, Firefox |
| PureVPN | $12.45 | 7-Day Trial | 10 Devices | 6,500+ | 88+ | 74.94Mbps | Windows, MacOS, iOS, Android, Linux, Routers, Chrome, Edge, Firefox, Brave |
| IvacyVPN | $9.95 | Yes | 10 Devices | 6,500+ | 100+ | 71.26Mbps | Windows, MacOS, iOS, Android, Linux, Routers, Chrome, Edge, Firefox, Huawei |
| NordVPN | $12.99 | No | 6 Devices | 5,500+ | 80+ | 73.70Mbps | Windows, MacOS, iOS, Android, Linux, Routers, Chrome, Edge, Firefox |
| AtlasVPN | $11.99 | Yes | Unlimited Devices | 1,000+ | 45+ | 68.25Mbps | Windows, MacOS, iOS, Android, Linux, Routers |
| SurfsharkVPN | $15.45 | No | Unlimited Devices | 3,200+ | 100+ | 70.11Mbps | Windows, MacOS, iOS, Android, Linux, Routers, Chrome, Edge, Firefox, FireTV |
| CyberGhostVPN | $12.99 | 24 Hours on Desktop, 3 Days on Mobile | 7 Devices | 9,300+ | 125+ | 65.49Mbps | Windows, MacOS, iOS, Android, Linux, Routers, Chrome, Firefox, FireTV |
| PrivadoVPN | $10.99 | Yes | 10 Devices | 400+ | 65+ | 63.92Mbps | Windows, MacOS, Linux, Android, iOS, FireTV, Routers |
| ProtonVPN | $8.99 | Yes | 10 | 2,600+ | 85+ | 67.12Mbps | Windows, iOS, Android, MacOS, Routers, FireTV |
| VyprVPN | $10 | No | 30 Devices | 700+ | 70+ | 55.72Mbps | Windows, MacOS, iOS, Android, Linux, FireTV, Routers |
Reviews of the Best VPN Services for Torrenting
The following section provides detailed reviews of the best VPN services tailored specifically for torrenting. These reviews will help you make an informed decision and find the perfect VPN to enhance your torrenting experience.
1. ExpressVPN — Our Top Pick for a Torrenting VPN
ExpressVPN is our top choice for a few reasons, but most importantly, it offers extremely fast speeds and P2P compatibility on every one of its 150+ server locations. All you have to do is load ExpressVPN up, pick the closest server to you, and you'll be able to torrent instantly.
Privacy should be your biggest concern when it comes to torrenting, and ExpressVPN takes it seriously. The service operates under a strict no-logs policy and is headquartered in the British Virgin Islands, known for its strong privacy laws.
ExpressVPN can confidently assure users that their data remains private and secure. ExpressVPN's no-logs policy has been audited by PwC multiple times, so you can be sure your data's in good hands while torrenting.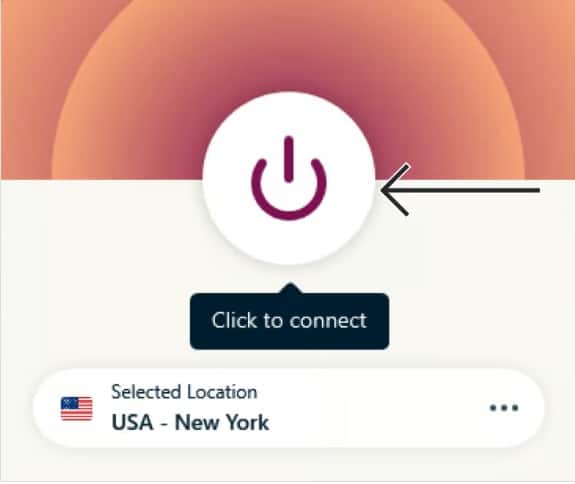 | | | | | | | |
| --- | --- | --- | --- | --- | --- | --- |
| Starting Price | Free Version | Simultaneous Connections | Server Count | Server Locations | Average Speeds | Compatibility |
| $12.95 | No | 8 Devices | 3,000+ | 150+ | 78.35Mbps | Windows, MacOS, iOS, Android, Linux, Routers, Chrome, Edge, Firefox |
ExpressVPN uses military-grade AES-256 encryption, widely regarded as one of the strongest encryption methods available. ExpressVPN implements this using its own proprietary Lightway VPN protocol, which has been built from scratch for security and speed and is arguably the best VPN protocol for torrenting.
Lightway is open-source, which means you can inspect the codebase for yourself to make sure it's secure. If you don't have the technical skills to do so, don't worry – Lightway has also been audited by Cure53 to show it's highly secure.
ExpressVPN offers unlimited bandwidth across eight devices simultaneously, allowing you to torrent freely while other people in your house watch streams, play games, or browse the web on ExpressVPN's high-speed servers.
Torrenting with ExpressVPN on the go isn't a problem either, as its bulletproof kill switch makes sure you stay protected by your VPN even if your connection drops. Even if you're on public Wi-Fi, ExpressVPN's encryption keeps your torrenting private from snooping third parties.
ExpressVPN is one of the more expensive VPN providers, but considering its connection speeds are practically unparalleled, and it has one of the largest selection of server locations in the industry, it's more than worth it – and we rate it as the best VPN service overall.
Pricing
There aren't any extra features or add-ons to choose from with different plans, you just pick how long you want to sign up for and download ExpressVPN. While there isn't a free trial, you can try before you commit with a 30-day money-back guarantee.
Pros
Extremely fast servers
Hardcore security audited multiple times by PwC
Proprietary VPN protocol built for speed and security
All VPN servers are P2P enabled
Cons
Doesn't offer port forwarding except on routers
2. PureVPN — Port Forwarding for Supreme Connectivity
PureVPN is another great choice in the VPN market for torrenting. With an array of powerful features tailored for torrent enthusiasts, PureVPN ensures that your torrenting experience is not only efficient but also secure and private.
PureVPN has an extensive network of P2P servers around the world. With over 6,500 servers at your disposal, including dedicated P2P servers, PureVPN offers blazing-fast upload and download speeds.
Out of PureVPN's 88+ server locations, 40 include servers tailor-made for torrenting, ensuring you can seamlessly download and share files using P2P protocols without experiencing frustrating delays.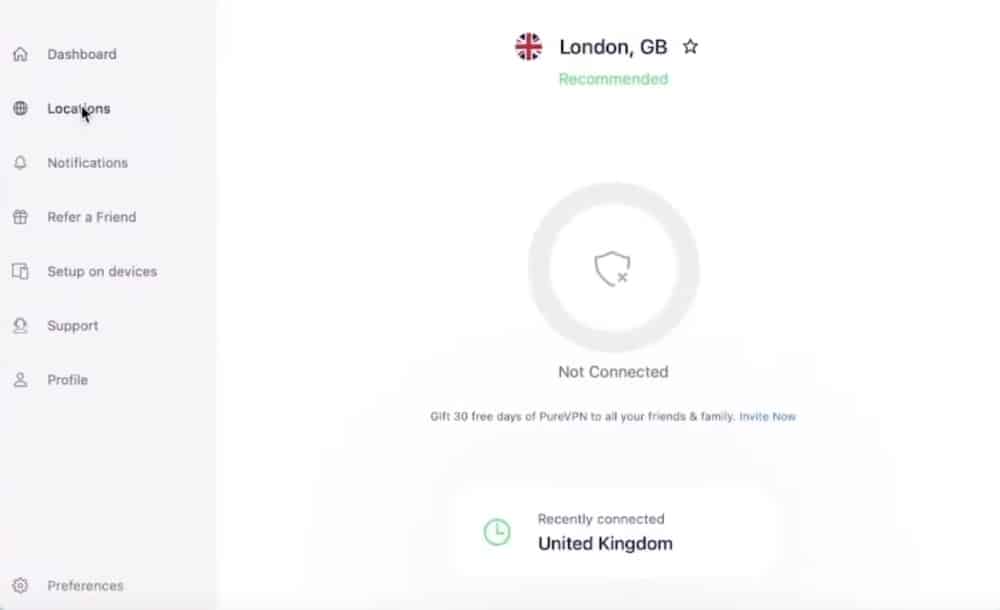 | | | | | | | |
| --- | --- | --- | --- | --- | --- | --- |
| Starting Price | Free Version | Simultaneous Connections | Server Count | Server Locations | Average Speeds | Compatibility |
| $12.45 | 7-Day Trial | 10 Devices | 6,500+ | 88+ | 74.94Mbps | Windows, MacOS, iOS, Android, Linux, Routers, Chrome, Edge, Firefox, Brave |
PureVPN offers an in-app port forwarding feature, which can significantly enhance your torrenting experience by allowing other users to directly connect to your torrent client.
This means faster download speeds, especially for seeding. Few VPN clients offer port forwarding, but it's an important part of setting up your torrent client for maximum connectivity. The only downside is that it's a paid add-on.
PureVPN also boasts an independently audited no-logs policy, verified by KMPG. This commitment to not storing user logs guarantees your anonymity during and after torrenting sessions.
Unlike most VPN providers, including ExpressVPN, PureVPN's audit is always on. KMPG can audit PureVPN at any time to ensure their no-logs policy remains valid, which ensures PureVPN will always work as hard as possible to keep your data out of the hands of ISPs and hackers.
Pricing
PureVPN is $12.45 a month for the base package, but upgrading to the plus package for $15.95 per month also gives you access to a secure password manager and end-to-end file encryption, which is ideal for storing your torrented files once they're downloaded.
While Port Forwarding is on offer, it's worth noting that this feature costs an extra $1.49 per month.
Pros
Always on auditing policy
Large global server network
Port forwarding for additional connectivity
High number of P2P-connected servers
Cons
Port forwarding is a paid add-on
3. IvacyVPN — Great Free VPN with Torrenting Enabled
IvacyVPN features several privacy and security-focused options that make it one of our top choices for torrenting, as well as a great free plan. With over 5,700 servers spread across 100+ locations, most of which support torrenting, you have a wide range of destinations to connect from.
The platform's servers are designed for load balancing to prevent overcrowding, ensuring fast torrenting speeds. Even Ivacy's free plan supports P2P activity, so you can try the service for torrenting before you upgrade to a paid version.
Ivacy takes privacy one step further by accepting cryptocurrency as payment, including Bitcoin, Ethereum, and Litecoin through CoinGate and Bitpay. When you pay via cryptocurrency, there's no link to your bank account or details, so payments are divorced from your identity and are entirely untraceable.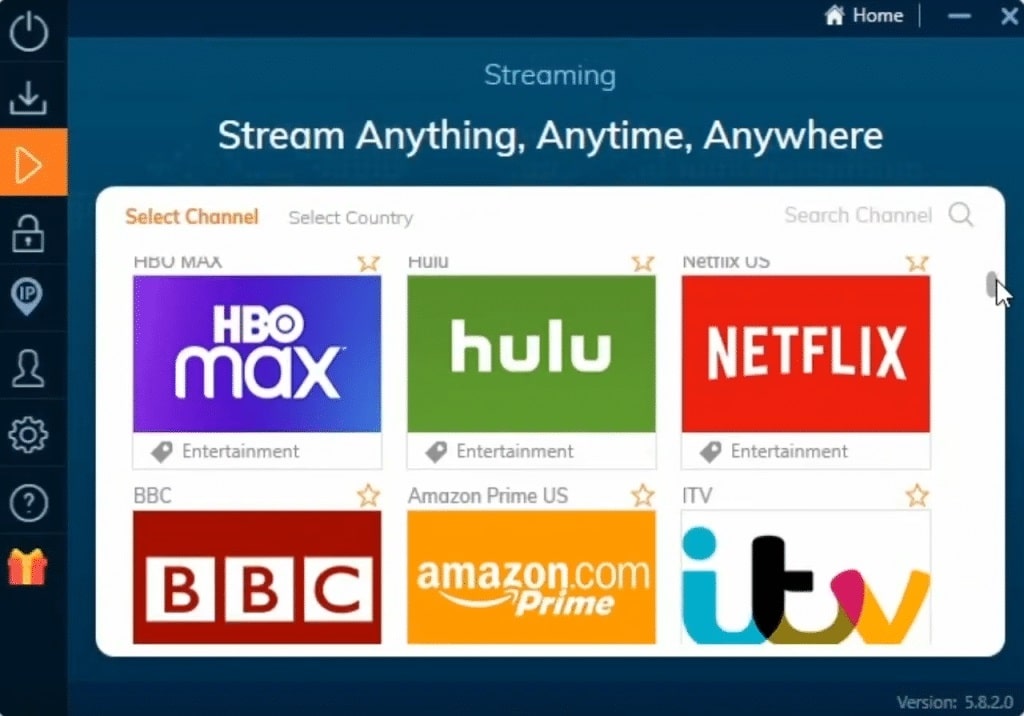 | | | | | | | |
| --- | --- | --- | --- | --- | --- | --- |
| Starting Price | Free Version | Simultaneous Connections | Server Count | Server Locations | Average Speeds | Compatibility |
| $9.95 | Yes | 10 Devices | 6,500+ | 100+ | 71.26Mbps | Windows, MacOS, iOS, Android, Linux, Routers, Chrome, Edge, Firefox, Huawei |
IvacyVPN ticks all the boxes for extra features you need while torrenting, such as port forwarding and a static IP option. Having a static IP allows you to retain your identity while on a public tracker over multiple sessions, as well as enabling you to more easily associate an IP with your identity on a private tracker.
The service also automatically monitors your connection for viruses by making comparisons against a blocklist of malware distributors.
This improves your experience by ensuring you don't accidentally download malware while using P2P services. It's important to use protection when torrenting, as hackers have been known to use torrents to spread viruses.
The only real downside for IvacyVPN is that it's stationed in Singapore, a partner in the Five Eyes intelligence-sharing alliance. And without an audit to confirm their no-logs policy, you'll have to take them at their word that they enforce it.
Pricing
Ivacy has only one pricing plan, starting at $9.95, which is fairly cheap for a top-tier VPN. Port Forwarding is available at only an extra dollar a month, and if you also take a dedicated IP at $1.99 a month, then Port Forwarding is thrown in at no extra cost.
Pros
Cryptocurrency payments enhance your privacy
Offers port forwarding a static IP
Free plan offers P2P
Blocks known malware distributors
Cons
Headquartered in a Five-Eyes compliant country
No TOR compatibility
4. NordVPN — Enhanced Security Features for Safe Downloads
NordVPN is undoubtedly a powerhouse among VPN services, and its prowess extends to its torrenting capabilities, making it a top-tier choice for P2P file-sharing enthusiasts.
With a comprehensive selection of specialized servers, security features, and stringent privacy policies, NordVPN provides a secure platform for torrenting activities.
When it comes to torrenting speed, NordVPN truly shines. It offers P2P-optimized servers strategically placed around the world, ensuring blazing-fast torrent downloads. Accessing these P2P servers is a breeze, thanks to the dedicated Specialty Servers section within the NordVPN app.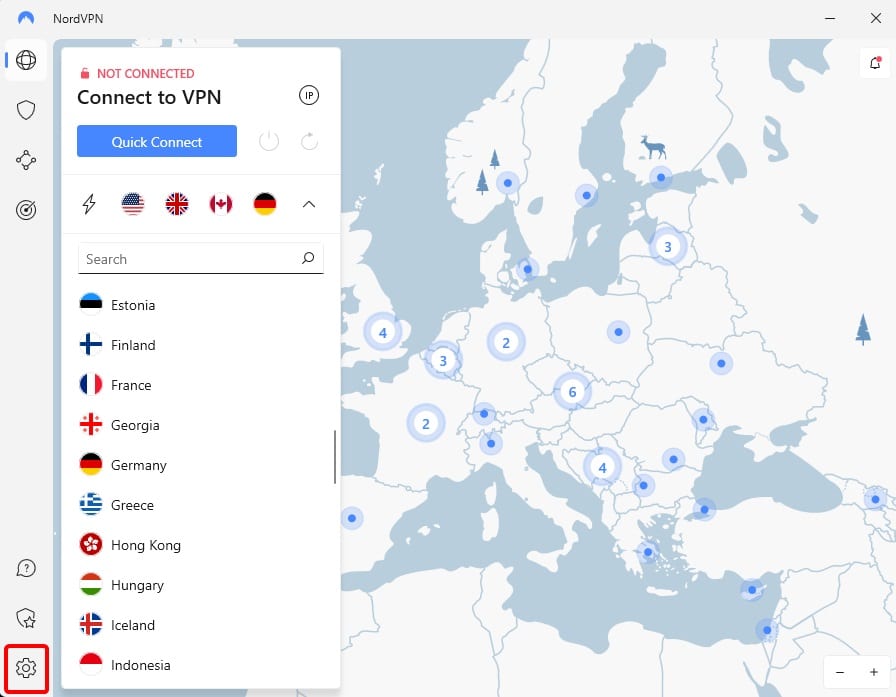 | | | | | | | |
| --- | --- | --- | --- | --- | --- | --- |
| Starting Price | Free Version | Simultaneous Connections | Server Count | Server Locations | Average Speeds | Compatibility |
| $12.99 | No | 6 Devices | 5,500+ | 80+ | 73.70Mbps | Windows, MacOS, iOS, Android, Linux, Routers, Chrome, Edge, Firefox |
Even if you forget to select a P2P server, NordVPN is smart enough to automatically route your P2P traffic through the appropriate servers, all while maintaining your original VPN connection—ensuring uninterrupted internet access.
NordVPN also offers some interesting extra features that enhance your privacy. The one we're most interested in is DoubleVPN, also known as multi-hop VPN.
When you torrent with DoubleVPN, your internet traffic is routed through two distinct VPN servers in different locations. This double routing effectively doubles down on your anonymity, making it much more challenging for anyone, including your ISP or potential watchers in the torrenting network, to track your online actions.
NordVPN goes the extra mile to ensure that your privacy remains intact. It guards against DNS and WebRTC leaks, and its Kill Switch feature ensures your IP address is continually shielded.
You have the option to choose between OpenVPN and Nord's proprietary NordLynx protocols, both of which are highly trusted in the VPN world as secure encrypted VPN protocols. If there's one shortcoming, it's the lack of port forwarding, which both IvacyVPN and PureVPN provide.
Pricing
NordVPN's plans start at $12.99 a month, which includes the base VPN, built-in malware protection, and a DNS-level ad blocker. Upgrading to the Plus package costs $13.79 a month and adds a password manager and a dark web scanner to prevent identity theft.
We recommend the Complete pack at $14.99 a month, which comes with 1TB encrypted cloud storage that's ideal for storing torrented files, so you don't have to re-download them.
Pros
Automatic P2P optimization
DoubleVPN for enhanced anonymity
Stops DNS and WebRTC leaks
System level Kill Switch
5. AtlasVPN — Generous Free Plan to Get You Started
AtlasVPN is a solid choice for the best VPN for torrents, even if you only need a free VPN.
The provider lets you connect to your nearest server with just a click. Typically, the closest server offers the best speeds and the most reliable connection, ensuring a smooth torrenting experience.
Atlas VPN offers a range of servers in its premium version, with most of them optimized for streaming. However, there are also Safeweb servers that frequently change your IP address without requiring you to disconnect. This feature can be particularly advantageous for maintaining anonymity while torrenting.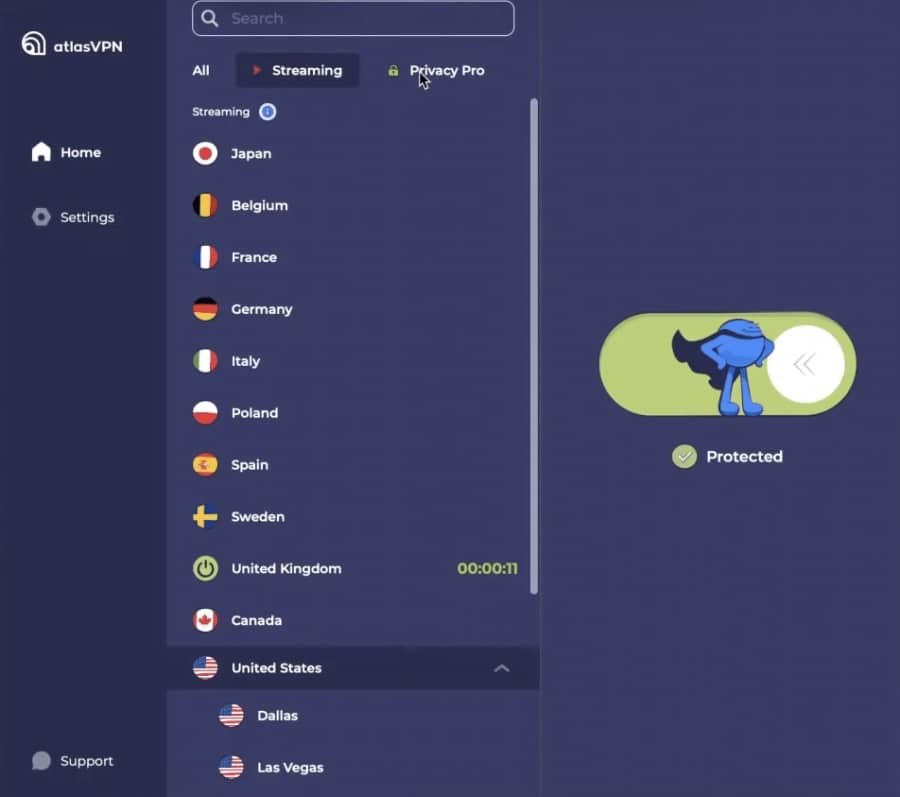 | | | | | | | |
| --- | --- | --- | --- | --- | --- | --- |
| Starting Price | Free Version | Simultaneous Connections | Server Count | Server Locations | Average Speeds | Compatibility |
| $11.99 | Yes | Unlimited Devices | 1,000+ | 45+ | 68.25Mbps | Windows, MacOS, iOS, Android, Linux, Routers |
AtlasVPN's free version comes with no speed limits and as many devices as you want, but it only gives you three locations to connect to in Amsterdam, New York, and Los Angeles, which is naturally fairly limiting.
All of these locations are P2P friendly, though, so you can torrent without signing up – but, that said, there's a 10GB monthly bandwidth limit.
If you're a heavy file sharer, you're going to hit this limit pretty quickly. There's also no Split Tunnelling feature on the free plan, so all the apps on your device will use bandwidth on the same subscription.
AtlasVPN is part of the Nord Security group, which underscores its commitment to user privacy. While it operates from the US, which is part of the Five Eyes Alliance, Atlas VPN doesn't log any identifiable data, such as your IP address, browsing history, or session data.
Pricing
Atlas VPN offers its base VPN at $11.99 per month, which is a little over what you'd pay for the average VPN.
Atlas VPN also provides the Atlas VPN+ package at just $0.49 per month, which includes a malware shield and data breach monitoring for enhanced security. There's also a free option, which gives you 10GB of data a month and no speed caps.
Pros
Fast, optimized setup
Free VPN with no speed limits
Safeweb constantly changes your IP
Extra malware shield and dark web monitoring option
Cons
Some providers offer malware shielding by default
6. SurfsharkVPN — High Volume Downloading on Unlimited Devices
Surfshark is the ideal choice if you're often looking to download over multiple devices. With a truly unlimited device policy, you can torrent from any of Surfshark's 100+ locations using high-speed connections from as many laptops, desktops, and phones as you want.
That's not all, either. This VPN also offers strong security measures, a substantial server network, and various features catering to torrenting needs.
Security is a top priority, as Surfshark employs AES-256-bit encryption and supports protocols like IKEv2/IPSec, OpenVPN, and WireGuard.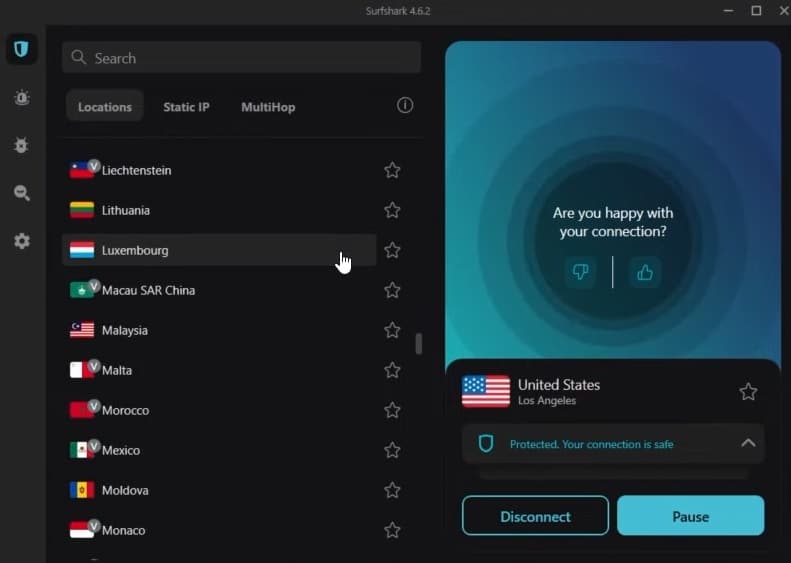 | | | | | | | |
| --- | --- | --- | --- | --- | --- | --- |
| Starting Price | Free Version | Simultaneous Connections | Server Count | Server Locations | Average Speeds | Compatibility |
| $15.45 | No | Unlimited Devices | 3,200+ | 100+ | 70.11Mbps | Windows, MacOS, iOS, Android, Linux, Routers, Chrome, Edge, Firefox, FireTV |
It comes with essential features such as an automatic Kill Switch, guarding your IP address if the VPN connection unexpectedly drops. What's more, our comprehensive leak tests revealed no DNS, IPv4, or WebRTC leaks, ensuring your online activities remain private.
Surfshark goes beyond basic security with additional functionality, like Camouflage Mode, which uses obfuscation and disguises your VPN traffic as regular HTTPS traffic.
This stops ISPs from recognizing that you're using a VPN, which makes it far more difficult for them to throttle your traffic. Not only is this great for file-sharing, but it's also useful in regions with strict VPN regulations.
MultiHop also increases your anonymity by routing your traffic through two servers, making it doubly hard to trace your internet data back to its original location.
Not only will copyright enforces be unable to trace your IP, but even if a hacker compromises the server you're connecting from, all they'll see is a connection to another VPN. CleanWeb further enhances your security by blocking ads, trackers, and malware, which is ideal while browsing ad-infested torrent sites.
Pricing
The Surfshark Starter plan is available at $15.45 per month, which gives you access to the VPN plus an ad blocker and a cookie popup blocker to automatically decline cookie prompts.
For a slightly enhanced experience, there's the Surfshark One plan, priced at $17.95 per month. It extends Surfshark to include anti-malware protections, including a malware blocklist and an always-on anti-virus.
Surfshark One+ costs $20.65 per month and gives you access to everything in the previous plans, plus the ability to scrub your data from databases and company registers.
Pros
Unlimited device coverage
Obfuscation hides your VPN use
Kill Switch and protection from DNS leaks
Cleanweb ad blocker
7. CyberGhostVPN — All-Around Great Torrenting Experience
CyberGhostVPN is a provider we've ranked among the best VPNs for downloading in general, even if some of our top picks beat it out for torrenting.
This VPN service offers dedicated P2P servers across various locations, all of which are easily accessed from the "For Torrenting" profile when you start up CyberGhost. It's highly compatible, so whether you're on Windows, iOS, Mac, Android, or Linux, CyberGhost has you covered.
Based in Romania, CyberGhost operates free from data retention laws and surveillance alliances. This translates to a strict zero-logs policy, ensuring that none of your online activities, browsing history, or traffic data is ever recorded or stored on their servers.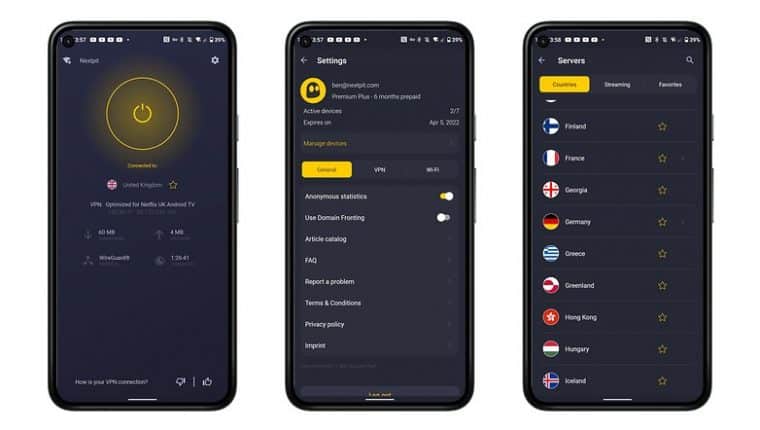 | | | | | | | |
| --- | --- | --- | --- | --- | --- | --- |
| Starting Price | Free Version | Simultaneous Connections | Server Count | Server Locations | Average Speeds | Compatibility |
| $12.99 | 24 Hours on Desktop, 3 Days on Mobile | 7 Devices | 9,300+ | 125+ | 65.49Mbps | Windows, MacOS, iOS, Android, Linux, Routers, Chrome, Firefox, FireTV |
With CyberGhost, your anonymity while torrenting remains uncompromised, and there's no risk of third-party tracking, regardless of your location.
CyberGhost also takes your security seriously by preventing DNS leaks. DNS leaks can expose your torrenting activity to your ISP, but CyberGhost ensures complete protection against them.
The VPN's native applications on desktop and mobile all incorporate automatic DNS leak protection. This keeps your DNS requests routed through their servers and blocks IPv6 requests to eliminate any chance of DNS leaks.
CyberGhost includes a vital feature for torrenting – a Kill Switch. It's essential for maintaining your privacy when your VPN connection drops.
On macOS and Windows, CyberGhost offers an automatic system-wide Kill Switch that reacts swiftly when you're disconnected from the VPN by cutting your network connection, safeguarding your real IP and online activity from accidental exposure to your ISP.
You can enable or disable this feature if you're doing work that requires a constant connection. For torrenting, we recommend you keep the Kill Switch on.
Pricing
CyberGhost starts at $12.99 per month, which gets you access to their core VPN plus ID guard, which monitors your credentials and alerts you if they're leaked onto the dark web.
However, when you buy a multi-year subscription, you also get 500 GB storage on pCloud for a year – the service being a separate encrypted file-storing site where you can store your torrented files.
Pros
Based in a region with data privacy-friendly laws
Automatic Kill Switch on iOS and Windows
Fully protected against DNS and IPv6 leaks
Very large server network
8. PrivadoVPN — Proxies Enable High-Speed Torrenting
PrivadoVPN not only explicitly permits torrent usage but fully supports P2P activities on all its servers. In fact, PrivadoVPN offers some extra features not found in many other VPNs, designed to increase your torrenting speed while maintaining a degree of anonymity.
PrivadoVPN stands out from our other recommended vendors by providing SOCKS5 proxies for torrent clients directly. A SOCK5 proxy hides your IP without encrypting your traffic, increasing the speed you'll get while torrenting without compromising your identity.
This approach won't hide your traffic from your ISP, though, so you may still be vulnerable to bandwidth throttling and traffic inspection. This approach allows for secure and swift torrenting without the need for VPN software and without placing an additional burden on your device due to encryption processes.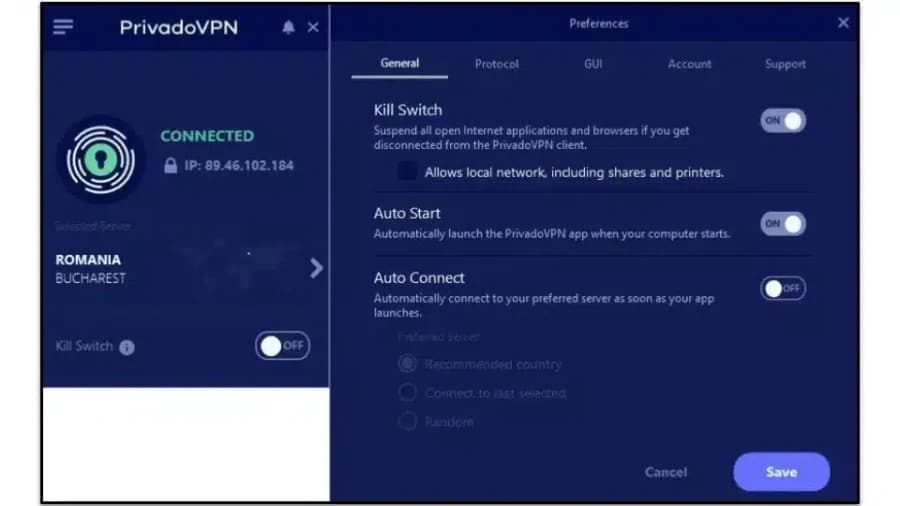 | | | | | | | |
| --- | --- | --- | --- | --- | --- | --- |
| Starting Price | Free Version | Simultaneous Connections | Server Count | Server Locations | Average Speeds | Compatibility |
| $10.99 | Yes | 10 Devices | 400+ | 65+ | 63.92Mbps | Windows, MacOS, Linux, Android, iOS, FireTV, Routers |
IPv6 and DNS leak protection are essential for secure torrenting, and PrivadoVPN has you covered. Your data is fully encrypted on your device and remains secure as it traverses a VPN tunnel, only being decrypted at its final destination.
Privado's use of in-house DNS servers ensures that no leaks compromise your privacy while torrenting. PrivadoVPN's Kill Switch is also top of the line, ensuring that your data is protected by cutting out your internet connection if you get knocked off the VPN for any reason.
When it comes to privacy and data protection, PrivadoVPN's Switzerland-based jurisdiction is a significant advantage. Switzerland boasts some of the strictest consumer protection laws globally, providing a solid foundation for safeguarding user data.
PrivadoVPN adheres to a no-log policy, ensuring that browsing history, data content, IP addresses, physical locations, and personally-identifying information remain untouched.
Pricing
PrivadoVPN offers a one-month plan at $10.99 per month, which provides unlimited data, unlimited devices, installs on up to ten simultaneous connections, and access to SOCKS5 Proxies, all backed by a 30-day money-back guarantee.
Pros
Full IP leak protection
SOCKS5 proxies provide faster torrenting connections
Great money-back guarantee
Based in Switzerland for better data protection
Cons
SOCKS5 proxies do not encrypt your traffic
9. ProtonVPN — Service Built from the Ground Up for Privacy
ProtonVPN offers a great combination of speed, privacy, and P2P-optimized servers, making it a good option if you're looking for a truly private BitTorrent VPN. It's built by the same minds behind ProtonMail, a private mail service that uses total encryption and a no-logs policy to keep its users safe.
The team at ProtonVPN offers a free version of the client, which has no usage restrictions whatsoever. However, the free version of ProtonVPN doesn't support torrenting.
ProtonVPN is a great choice for torrenting as it offers port-forwarding functionality. This allows you to bypass your router's NAT firewall and establish a direct connection with torrent clients making incoming requests. This results in faster P2P download and upload speeds, enhancing the overall torrenting experience.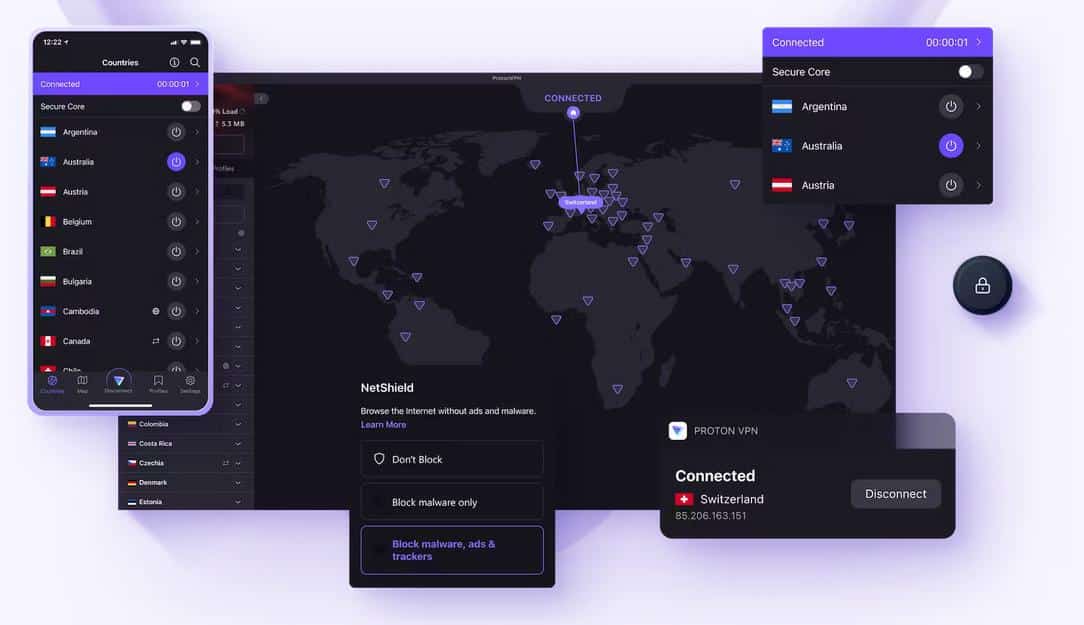 | | | | | | | |
| --- | --- | --- | --- | --- | --- | --- |
| Starting Price | Free Version | Simultaneous Connections | Server Count | Server Locations | Average Speeds | Compatibility |
| $8.99 | Yes | 10 | 2,600+ | 85+ | 67.12Mbps | Windows, iOS, Android, MacOS, Routers, FireTV |
ProtonVPN takes privacy extremely seriously. They employ AES-256 encryption to secure your P2P traffic and assign you an anonymous IP address that cannot be traced back to you.
Additionally, ProtonVPN operates from Switzerland, a privacy-friendly jurisdiction not subject to EU data retention laws and not part of the 14 Eyes alliance, ensuring that your data remains secure.
ProtonVPN's logging is minimal, with the service only storing a timestamp of your last login to protect your account against unauthorized use.
There is no record of your sign-in location, duration of sessions, or accessed content. This minimal logging policy ensures that even if compelled by court order, ProtonVPN would have no user data to disclose.
Speed is crucial for an efficient torrenting experience, and ProtonVPN delivers reasonably fast performance, especially on P2P servers close to you. ProtonVPN's P2P-optimized servers are available in more than 190 locations, making it a reliable choice for secure file-sharing.
However, its international speeds don't quite hit the same peaks as some other torrent-friendly VPNs.
Pricing
ProtonVPN is priced at $8.99 per month with a 30-day money-back guarantee. It's actually a very cheap price for a top-tier VPN.
When you consider how versatile the provider is, offering not only a VPN but integration with Proton Mail, Proton Calendar, and Proton Drive for only $12.99 a month, it's hard not to recommend ProtonVPN based on sheer value alone.
The free plan is also generous, giving you unlimited data usage forever, with three locations.
Pros
Generous free plan
Port forwarding for high-speed torrenting
Extremely privacy-focused
Best cheap VPN for torrenting
Cons
Free plan doesn't allow P2P traffic
10. VyprVPN — Secure Service Delivering Bulletproof Privacy
Our last recommendation for a VPN for BitTorrent is VyprVPN. VyprVPN is another provider that focuses heavily on privacy, making it a strong contender for those seeking a secure torrenting experience.
Although VyprVPN initially opposed P2P traffic, the ever-present risks associated with torrenting, including IP exposure and potential copyright issues, have caused them to revert their policy and improve their service to allow all P2P traffic without monitoring.
VyprVPN places a premium on security, employing robust AES-256 encryption across various protocols, including WireGuard, OpenVPN, IKEv2/IPSec, and Chameleon.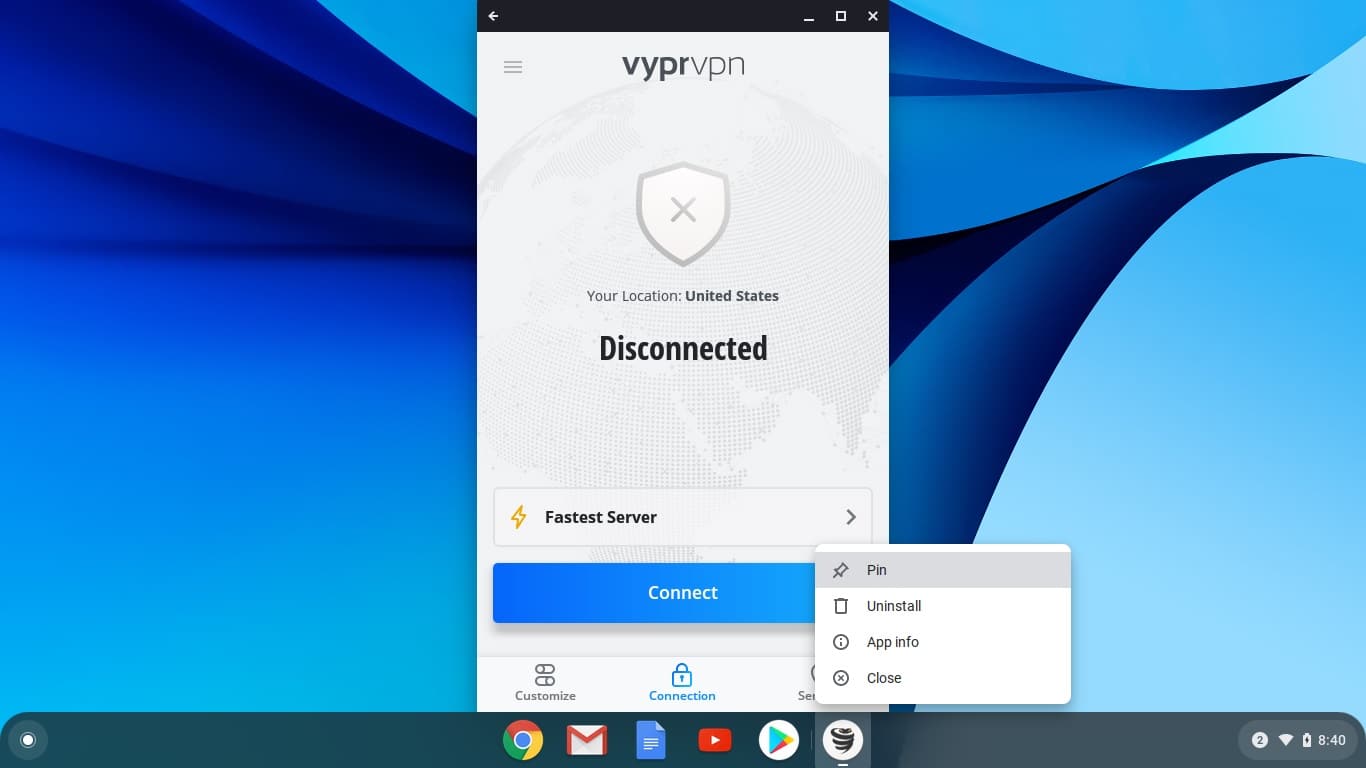 | | | | | | | |
| --- | --- | --- | --- | --- | --- | --- |
| Starting Price | Free Version | Simultaneous Connections | Server Count | Server Locations | Average Speeds | Compatibility |
| $10 | No | 30 Devices | 700+ | 70+ | 55.72Mbps | Windows, MacOS, iOS, Android, Linux, FireTV, Routers |
These encryption protocols ensure the confidentiality and integrity of your torrenting traffic. Additional security features such as a Kill Switch and DNS leak protection offer further safeguards against accidental exposure.
VyprVPN operates under Switzerland's jurisdiction, a country where VPN usage is entirely legal and unrestricted. Switzerland's lack of participation in international intelligence alliances like the Fourteen Eyes contributes to a privacy-friendly environment.
VyprVPN also boasts a stringent no-logs policy, ensuring they do not retain any records of your online activities.
This commitment to minimal logging enhances your privacy and bolsters your security, as there's no risk of data disclosure to governmental or law enforcement entities. Their audited no-logs policy has been audited by Leviathan security, which will provide you peace of mind while torrenting that your data isn't being tracked.
However, it's crucial to remain mindful of their Terms of Service while using VyprVPN, which points out that they have a zero-tolerance policy regarding breaking copyright laws.
Pricing
VyprVPN offers competitive pricing starting at $10 per month, which puts it squarely in the middle of the pack as far as pricing goes. There are no add-ons or feature-filled additional subscriptions, but signing up for twelve months drops the price to $5 a month.
Pros
Based in a neutral, data-friendly country
Wide range of protocols
Includes a Kill Switch and DNS leak protection
P2P friendly servers
Cons
Harsh copyright compliance
What's the Best Free VPN for Torrenting?
Using free VPNs for torrenting might seem like a convenient option, but there are several reasons why we recommend paid VPN solutions. Most free VPNs have some big downsides when it comes to torrenting, but IvacyVPN and AtlasVPN are among the best of the bunch. Both offer P2P torrenting on their free plans.
Free VPNs typically come with limitations that can significantly hamper your torrenting experience. These limitations include bandwidth caps, which restrict the amount of data you can transfer – torrenting is a bandwidth-heavy protocol, as you're both downloading and uploading constantly.
Another critical factor is the restriction on P2P file sharing imposed by many free VPN providers. Some free VPNs explicitly block torrenting on their networks, while others may throttle P2P connections.
Privacy is also a concern when it comes to free VPNs. To sustain their services without charging users, some free VPN providers resort to alternative revenue sources, such as displaying ads or even selling user data. This can compromise your online privacy, as your activities and data may not remain confidential.
Free VPNs generally offer a limited number of server locations, resulting in slower speeds.
In comparison, paid options with unlimited bandwidth are a far better option to make the most out of VPN torrenting. Many offer extensive server networks, providing better connectivity, faster speeds, and the bonus of being able to bypass geographical restrictions with ease.
They often also have dedicated servers optimized for torrenting and guarantees regarding privacy and security, with many having externally audited no-logs policies.
Key Factors to Consider When Choosing the Best Torrenting VPN
Here are the most important details to remember when looking for a good VPN for torrenting, whether you want the fastest VPN for torrenting or the best VPN for torrenting, according to Reddit.
Connection Speeds
Your download speeds while torrenting will only be as good as the VPN you're using. You should look for a VPN that's known for offering fast download and upload speeds, as this will ensure smooth and efficient torrenting without long wait times.
Ideally, this means a provider that has both a large server farm with optimized P2P servers and protocols such as WireGuard, IKEv2, or a custom protocol based on either.
Transparent Policies
Your VPN provider should clearly explain to you what their policy is on P2P services, whether they allow torrenting, and whether their unlimited data use policy really is unlimited. Before you buy a VPN, check their privacy and data usage policies to ensure they align with your expectations and requirements.
App and Device Compatibility
Most VPN providers now offer custom apps for each major operating system on both desktop and mobile devices. However, not all clients a provider offers will come with the same set of features.
Some of the features we've mentioned, such as a Kill Switch and Split Tunnelling, are vital for torrenting. Make sure you choose a VPN compatible with your devices and operating systems, which also offers the features you want on your specific device.
If you're interested in running a VPN on gaming consoles, check out our guide to the best VPNs for Warzone.
Other VPN Guides Worth Reading
Now that you've got an idea of the best VPNs for torrenting check out some of our other VPN pages to see how the best providers compare in other fields:
How to Use a VPN for Torrenting – A Quick Guide
Using a VPN for torrenting is a smart way to ensure your online activities remain private and secure. In this quick guide, we'll walk you through the process using our top provider, ExpressVPN.
Step 1: Pick a Torrenting Client
The first step is to choose your favorite torrent client. There are plenty to choose from, including uTorrent, Vuze, BitTorrent, BitTyrant, and Transmission.
Step 2: Sign Up for an ExpressVPN Account

You'll need to sign up for an account with ExpressVPN by providing your email address and creating a password. Once you've chosen how long you want to use the service, enter your payment details and take note of your login credentials.
Step 3: Launch the VPN Client

Once you've signed up, download and launch ExpressVPN. You'll be prompted to log in and enter an authorization code. You can find this by checking your account details on the ExpressVPN site.
Step 4: Connect to a VPN Server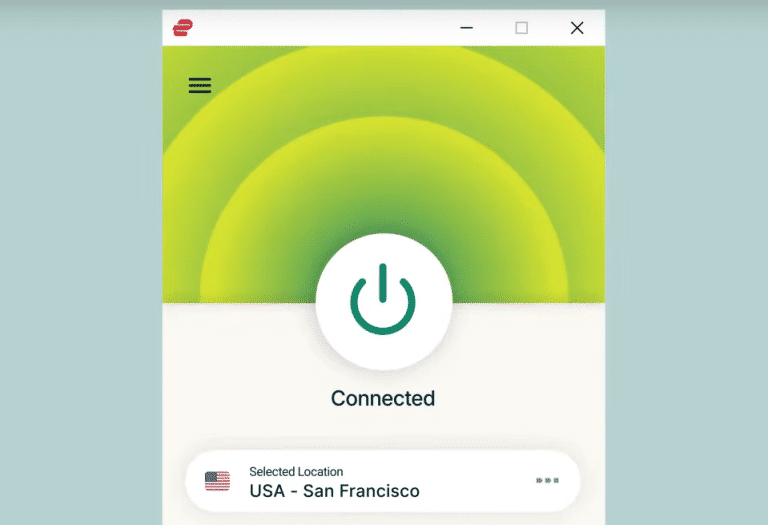 After logging in, you'll see a list of available VPN servers. At this point, you can choose any server you like, as ExpressVPN offers P2P on every server. If you just want the closest one to you, go ahead and hit the "Connect" button to power the VPN up.
Step 5: Enable the VPN Kill Switch
To ensure your privacy, enable the Kill Switch feature from the Options menu. The Kill Switch will disconnect your internet connection if the VPN connection drops, preventing your IP address from being exposed during torrenting.
Step 6: Start Your Torrent Client
With the VPN connection established, launch your preferred torrent client. You don't need to change any settings on your torrent client, as it's routed through the VPN connection automatically.
Step 7: Find a Torrent File
You're now ready to start torrenting. From here, you just need to find a .torrent file you want to download and load it into your torrent client.
Your torrent client will automatically load the rest of the metadata associated with your files, so all you have to do is pick a location for your downloaded files. You can now download and share files through your torrent client as usual, knowing your online activities are protected by the VPN.
Conclusion – What is the Best VPN for Torrenting in 2023?
We've reviewed many VPN providers and have come to the conclusion that ExpressVPN is the best product on the market. It offers a winning combination of speed, security, and a vast server network, making it the ideal choice for safe, high-speed torrenting.
With its strict no-logs policy, which has been repeatedly audited, custom encryption protocols designed for security and speed, plus a highly reliable VPN client with a built-in Kill Switch, your online activities remain private and secure.
Plus, ExpressVPN's extensive server coverage ensures you can access torrents from virtually anywhere in the world without compromising on speed. Best of all, every ExpressVPN server is P2P enabled, so it's simple to use.
You can try ExpressVPN before you commit to a full subscription with a 30-day money-back guarantee, so there's no way to lose out by giving ExpressVPN a test for torrenting.
Torrent VPN FAQs
Which VPN should I use for torrenting?
Do VPNs really work for torrenting?
Which VPN is fastest for torrenting?
What is the best free VPN for torrenting?
Is Tor better than VPN for torrenting?
Does VPN slow torrenting?
Can I get caught torrenting?
References