Having the best VPN service in place can help you get around geo-restrictions to unblock content and to access the libraries of your favorite streaming platforms like Netflix, Hulu, or BBC iPlayer from around the world. VPN services can also stop advertisers and other parties from tracking you online and many come bundled with tools to block ads and malware – providing an additional layer of security for your internet use.
With the increased number of data leakages, finding a reliable and trustworthy VPN connection service is challenging. Because of that, we've decided to take the matter into our own hands and go over the entire VPN market. We have analyzed over a hundred different VPNs, and here are our top 14 best VPN service providers for 2023.
14 Best VPN Service Providers 2023 Ranked
These are the best VPN service providers that we've found in 2023 based on our research. ExpressVPN took the top spot overall, but the different service providers offer a range of features at various price points that cater to specific niches, from gaming to streaming to individuals focused on security. Check out our full list below:
ExpressVPN — We rank this as the best VPN overall, with fast connection speeds, multiple layers of privacy protection, and great customer support.
PureVPN — A high-speed service that comes with 6,500 servers in 78 countries, as well as P2P-optimized network connections and zero-logging.
IvacyVPN — A Singapore-based provider that delivers buffer-free streaming and offers split tunneling to partition and prioritize your traffic.
TotalAV — Great for the security conscious with features including antivirus software, ad and malware blockers, and data breach monitoring, in addition to standard VPN tools.
NordVPN — One of the strongest contenders on the market, with 5,400+ servers in 60 countries and industry-leading privacy and security features.
AtlasVPN — A safe, reliable VPN with advanced privacy features to automatically rotate IP addresses and stop your data from leaking if your connection drops.
Surfshark — A fast connection at a low price that allows unlimited devices and comes with double VPN for additional privacy.
PrivadoVPN — A Swiss-based firm that owns its servers and has a strict no-logs policy – and a free plan that's great for beginners.
Private Internet Access — An intuitive service that has deep customization options and robust security protocols.
CyberGhost VPN — Smart options to optimize for gaming and streaming, as well as military-grade protection and a no-logs policy.
IPVanish — Fast VPN service with split tunneling options and encrypted cloud storage bundled in.
PrivateVPN — A reliable provider with stealth features to bypass VPN blocks and DPI Firewalls, and to circumvent geo-restrictions and unlock streaming services.
VyprVPN — Consistent VPN provider with strong security protocols and a no-logs policy that offers great customer support.
ProtonVPN — One of the best free VPN services available, as well as being a reliable and safe option.
Reviews of the Best VPN Services for Complete Online Freedom
With so many options, picking the best VPN service takes time and effort. After analyzing hundreds of virtual private networks, we've selected 14 that excel in security, speed, pricing, server pool size, and user-friendly policies. Read on and find the most suitable VPN for you.
1. ExpressVPN — Overall, the Best VPN Service in 2023
ExpressVPN is the world's leading VPN that stands out from the crowd with its professional features, torrent support, and multiple layers of privacy protection. The most notable standout benefit is its customer support, available 24/7 via live chat. With ExpressVPN, you won't have to wait a day or longer to reach its support, and its team of experts will walk you through any technical issue.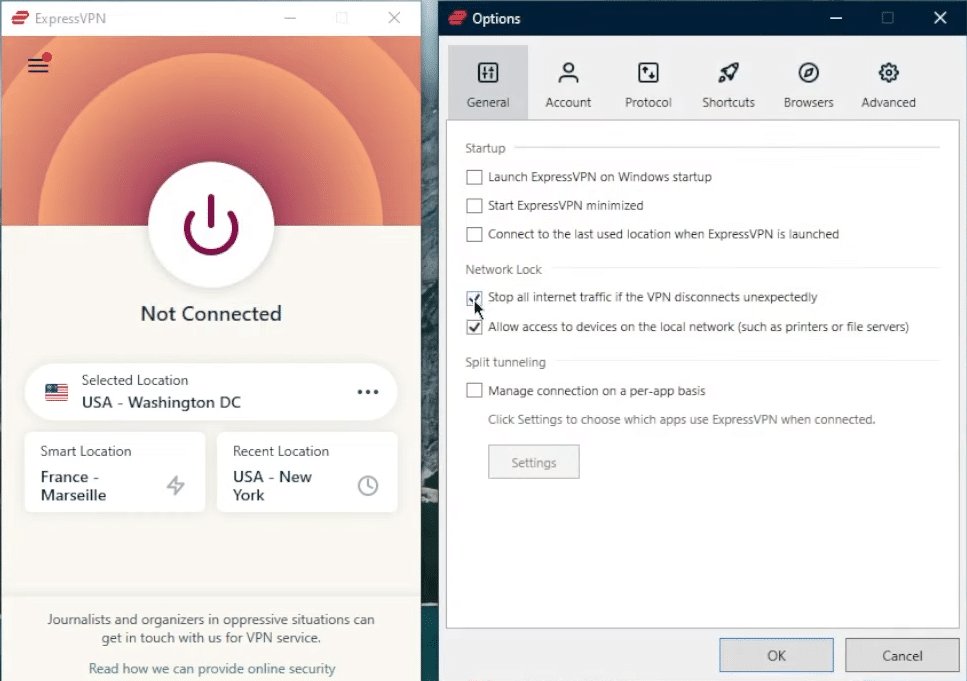 | | | | | | |
| --- | --- | --- | --- | --- | --- |
| Server Count | Number of Countries | Price | Maximum Devices Allowed | Customer Service | Money-back guarantee |
| 3,000+ | 94+ | $6.67/month | 5 | 24/7 | 30-days |
ExpressVPN's main focus is creating safer and more improved VPN protocols. Thus, you won't find add-ons here or get malware protection. But this isn't a major downside, as add-ons and malware are considered convenience features rather than safety-related ones.
Instead, you can enjoy high security enabled by the custom-made protocol — Lightway. That said, ExpressVPN is virtually the best VPN service for torrenting, primarily thanks to the advanced and ground-breaking protocols.
For example, the "Smart Location" option will select the closest server to provide you with the highest speed. Also, it has one of the best VPN apps that choose the best server for you through a speed server test option.
It also boasts a "zero knowledge" Domain Name Server. This is another crucial feature that goes in this provider's favor. The private DNS increases your security and minimizes the risks of exposing your IP to potential abusers.
Because of its efficiency and speed, ExpressVPN makes the Great Firewall of China look like a small bump in the road.

Pros
Incredibly fast VPN server
Custom made protocols
Smart location option
Zero-knowledge DNS
3 months extra for the 12-month plan
Cons
No malware protection
Supports up to 5 devices
Pricing
Subscribing to a multi-year option could save you a lot more money:

ExpressVPN does offer fewer servers than Private Internet Access, for instance. But it all comes down to one question – "Is it more valuable to pay less for more servers or to pay more to get impenetrable protection?". We have no dilemma on this one, and neither should you.
2. PureVPN — High-Speed VPN With Excellent Pricing
PureVPN is a feature-packed VPN service with over 6,500 servers in 78 countries and offers access to 300,000+ IP addresses for guaranteed anonymity. With it, you can connect up to ten devices simultaneously, including PC, Mac, iOS, Android, and Linux. In addition, it has extensions for Google Chrome and Firefox and provides plenty of walkthroughs to help you connect to devices such as routers, Android TV, Kodi, and Amazon Firestick.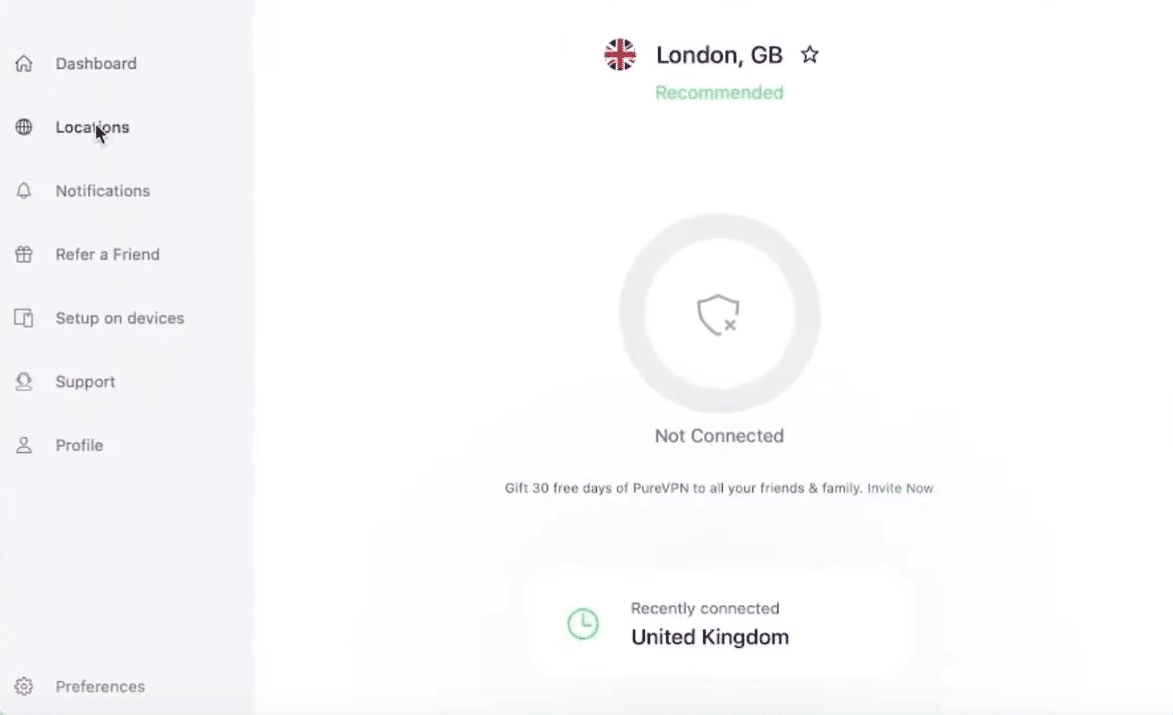 | | | | | | |
| --- | --- | --- | --- | --- | --- |
| Server Count | Number of Countries | Price | Maximum Devices Allowed | Customer Service | Money-back guarantee |
| 6,500+ | 78+ | $2.29/month | 10 | 24/7 | 31-days |
PureVPN is among the few VPN providers that offer Peer-to-Peer (P2P) optimized network connections integrated into apps for each major platform. It provides a virtual IP for P2P traffic that keeps your identity confidential, even from your ISP, since the files shared with you go through your VPN-provided IP instead of the ISP-provided address.
That makes it easy to get around regional limitations and avoid bandwidth throttling, and it increases your security while downloading files over the P2P networks with the industry-standard AES 256-bit encryption.
Regarding its speed, PureVPN is a futureproof VPN service, thanks to its 20Gbps servers in various locations. All of its servers in France, Germany, and the Netherlands are ready for the advancement of 5G technology and hypersonic speeds, as well as Los Angeles, Miami, Atlanta, Phoenix, and Salt Lake City US servers.
Besides its superb connectivity, PureVPN keeps you safe with its DNS and IP leak protection, Internet Kill Switch (IKS), and no-log policy.

Pros
Passed a zero-logging audit
Easily accessible on various devices
Intuitive interface
Numerous cheap add-ons
Great pricing
Cons
Android and iOS apps lack some advanced features
Pricing
Paying for a 24-month subscription that costs as little as $2.29/month nets you three additional months free of charge.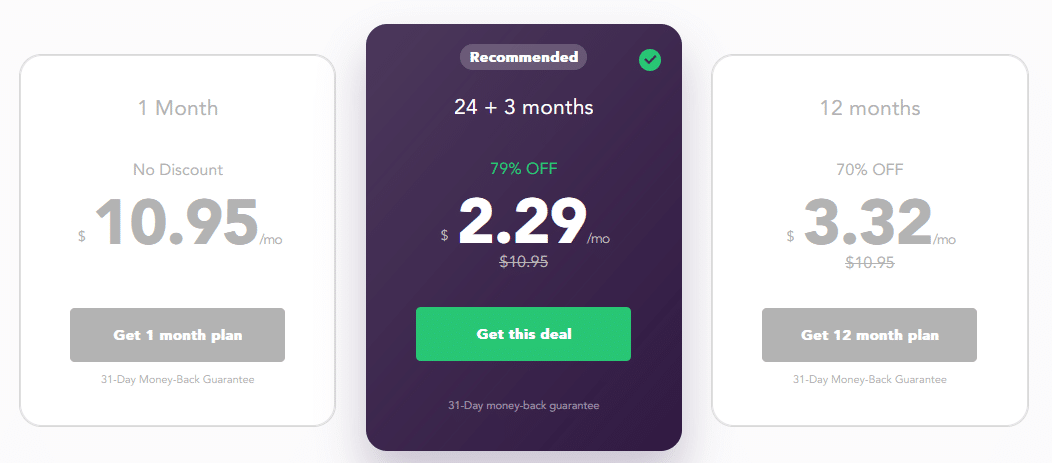 Stream content from Netflix and other popular platforms, connect to 6,500+ servers on up to 10 devices simultaneously and stay anonymous while browsing with this affordable VPN service. Try it risk-free today, thanks to its 31-day money-back guarantee.
3. IvacyVPN — Impressive VPN for Buffer-Free Streaming
IvacyVPN is a Singapore-based VPN service provider with over 15 years of experience with internet privacy and malware protection. Besides the traditional payment methods, like PayPal and Visa, you can purchase IvacyVPN with cryptocurrency via Coingate or Bitpay, allowing you to start your VPN journey anonymously.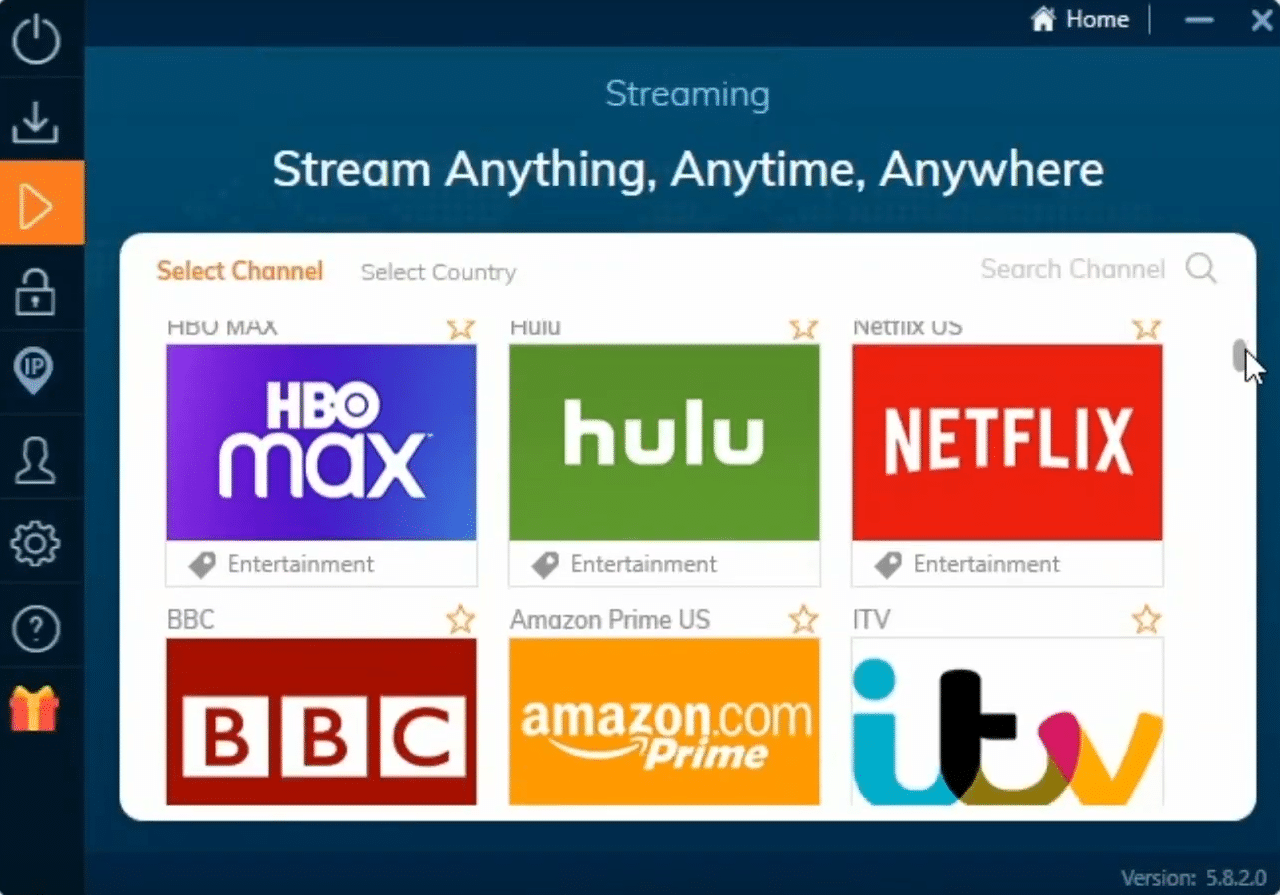 | | | | | | |
| --- | --- | --- | --- | --- | --- |
| Server Count | Number of Countries | Price | Maximum Devices Allowed | Customer Service | Money-back guarantee |
| 5,700+ | 100+ | $1/month | 10 | 24/7 | 30-days |
With its Smart Purpose Selection feature, you can specify if you want to unblock regions, download files securely, or stream your favorite shows and movies. Picking one of these options allows IvacyVPN to connect you to the fastest server for the selected purpose.
IvacyVPN unlocks everything you might need for TV streaming, including BBC iPlayer, Disney+, Amazon Prime, and Netflix. Furthermore, it allows you to access all major Netflix libraries, including the US, UK, Japan, and Australia.
While most of its servers are in the US and the UK, IvacyVPN also covers South American and African countries, regions often ignored by other popular VPNs. It also has servers in countries like Turkey, Vietnam, Russia, and Hong Kong, known for their repressive internet policies.
It allows you to divide your internet traffic and select which parts get encrypted by the VPN using its reliable split tunneling feature. For example, you may want to securely stream a show on Netflix while allowing your other apps to connect normally.

Pros
Cost-effective long-term plans
Feature-rich
Diverse and numerous server locations
A good number of protocols
DNS and IPv6 leak protection
Pricing
With its 5-year plan, you can get outstanding value for your money, saving up to $537 as you pay only $1/month for 60 months.
With its no-logs policy and cryptocurrency payment options, you can achieve complete anonymity using this VPN. Try it risk-free for a month, thanks to its 30-day money-back guarantee.
4. TotalAV — Popular VPN With Superb Security Features
TotalAV provides its VPN service in a convenient package that contains one of the best antiviruses, ad-blocker, and malware blockers. In addition, you'll gain access to its data breach-checking features and comprehensive password manager.
It's hard to imagine that you'll ever fall victim to a cyber threat with all of these additional tools, and its VPN does a terrific job at keeping your data hidden from third parties.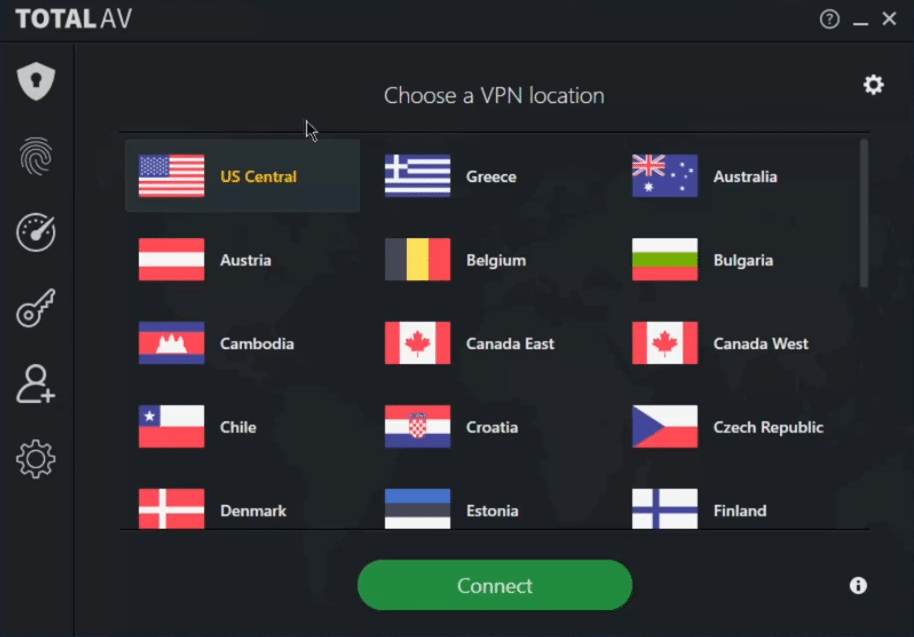 | | | | | | |
| --- | --- | --- | --- | --- | --- |
| Server Count | Number of Countries | Price | Maximum Devices Allowed | Customer Service | Money-back guarantee |
| 70+ | 30+ | $39/year | 5 | 24/7 | 30-days |
The TotalAV Safe Browsing VPN has various security features that'll help you rest easy since no malware, spyware, or trackers can harm you. It uses the industry-standard AES 256-bit encryption, usually found in bank and government software, to render your data unreadable to third parties.
Beyond this, Total Webshield is a filter designed to prevent access to malicious websites, such as phishing websites and crypto-mining URLs. Plus, you'll appreciate its built-in Total Adblock, which prevents advertisements and third-party trackers from showing and gathering your data.
To top it off, this VPN boasts excellent speeds on nearby servers and helps you avoid bandwidth throttling by your ISP provider by hiding your activity. That means you can watch TV shows and movies online without being limited by your provider, as they sometimes slow down your internet connection when you use a high amount of bandwidth.

Pros
Comes as a part of an all-in-one security package
User-friendly apps and interface
Robust encryption methods
Data breach monitoring
Great customer support
Pricing
TotalAV offers a single subscription option to its users, although it's well-priced at $39/year. It'll send you an email 30 days before it charges you again, making it easy to cancel its renewal.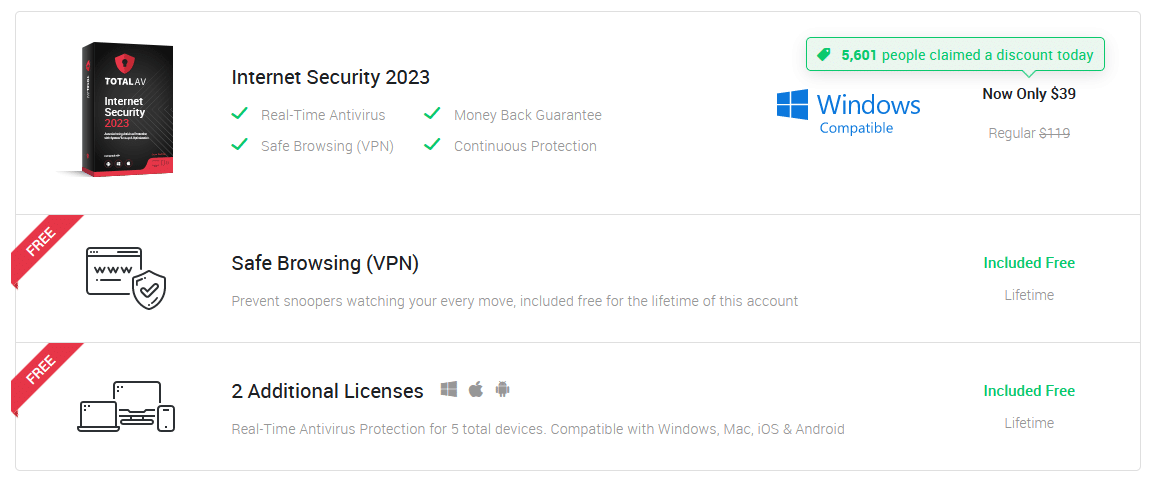 You'll appreciate that TotalAV allows up to five simultaneous connections, ensuring all your devices are protected. It's compatible with Windows, macOS, iOS, and Android, and it comes with a 30-day money-back guarantee, allowing you to try its services risk-free.
5. NordVPN — Industry-Leading Product With First-Class Privacy Features
NordVPN remains a solid choice among countless VPN users. For over a decade, NordVPN has been delivering flawless services in protecting their users' privacy. The number of servers is jaw-dropping, as you can hook on over 5,400 servers across 60+ countries to access geo-restricted content while keeping your IP anonymous.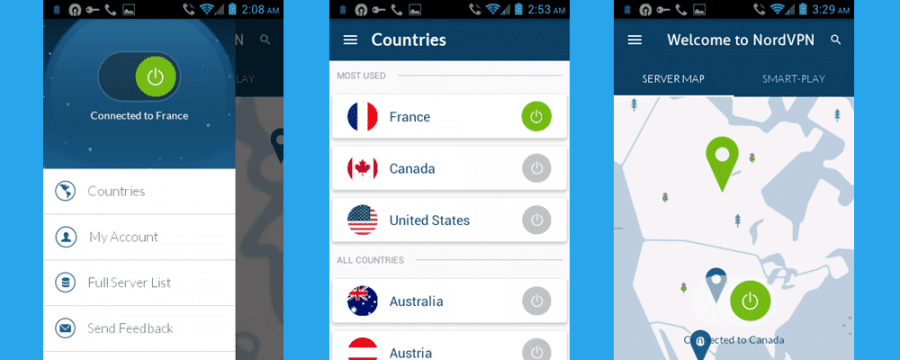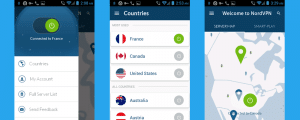 | | | | | | |
| --- | --- | --- | --- | --- | --- |
| Server Count | Number of Countries | Price | Maximum Devices Allowed | Customer Service | Money-back guarantee |
| 5,400+ | 60+ | $4.19/month | 6 | 24/7 | 30-days |
NordVPN is an excellent all-around virtual private network service that allows you to stream and download files with minimal influence on your internet speed. We tested NordVPN speed several times and recorded 5% to 8% speed drops, which is impressive.
On top of this, it also owns most of its servers, thus reducing the chances of data leakage to a minimum. Its servers store data in RAM, meaning you can safely surf the internet without leaving any traces, as it'll erase your data every time the server restarts.
NordVPN also doesn't store any data and protects your IP address and other valuable information from any third-party influence. Regarding security, this is among the best-rated VPN services you can find.
Besides all this, NordVPN also offers a kill switch. If your VPN connection drops for any reason, the kill switch option will effectively shut down your internet connection and protect your data from falling into the wrong hands.
The kill-switch is a built-in feature for iOS and macOS users, whereas you'll need to enable it on Linux and Android.

Pros
Affordable pricing
Kill-switched automatically enabled for iOS and macOS
High speeds when downloading or streaming
Unlocks Netflix, Hulu, Disney +, and Amazon Prime Video
Supports up to 6 devices
Cons
Kill-switch isn't automatic for Linux and Android
Pricing
You can get NordVPN for as little as $4.19 per month and save up to 57% if you register right now. Besides being one of the best VPN apps for streaming, you'll keep your connection secure and private; plus, you can connect up to 6 devices with one subscription.

With NordVPN, you can access thousands of servers and enjoy enhanced security backed by a configurable kill switch, Dark Web Monitoring, and split tunneling features for the price of one gallon of milk.
6. AtlasVPN — User-Friendly VPN for Unlimited Devices
AtlasVPN has a generous free plan, a cheap paid plan, versatile features, and a high overall performance, making it one of the best VPN services this year.
Its additional features include a data breach monitoring feature that'll notify you if your data leaks on the internet and an ad blocker which prevents even the most persistent ads from showing.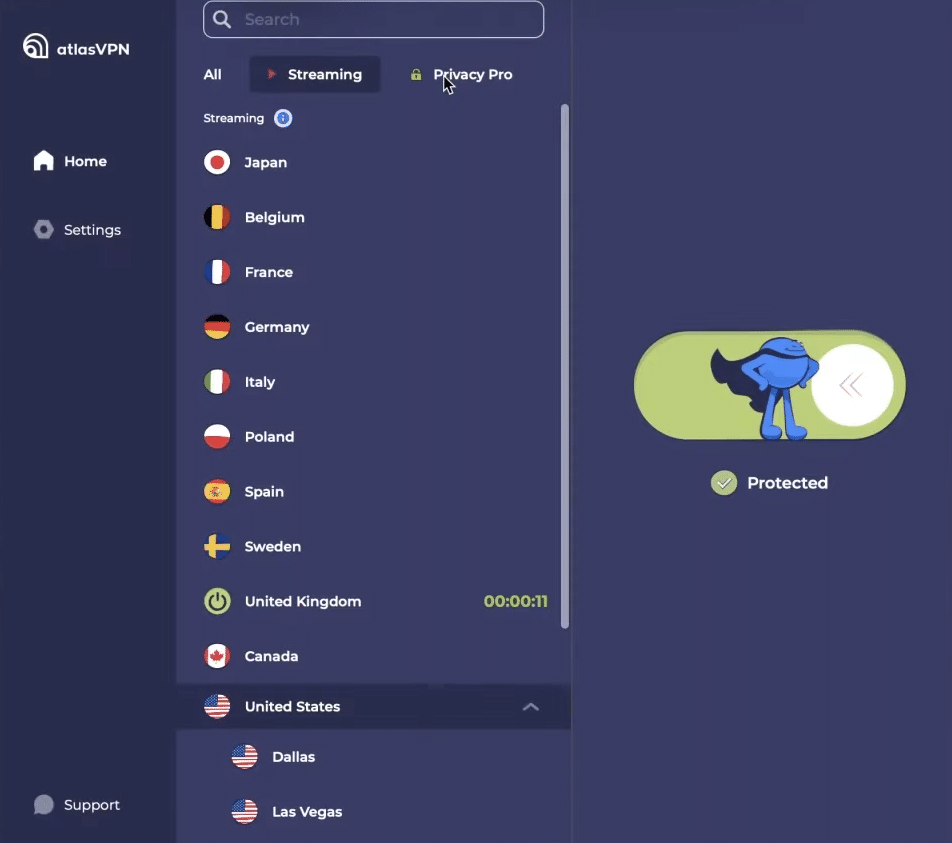 | | | | | | |
| --- | --- | --- | --- | --- | --- |
| Server Count | Number of Countries | Price | Maximum Devices Allowed | Customer Service | Money-back guarantee |
| 750+ | 49+ | $39/year | 5 | 24/7 | 30-days |
You won't need more than one AtlasVPN account to protect all your devices, as it allows unlimited connections through a single subscription. Furthermore, it has a unique feature, SafeSwap, that makes it stand out from the crowd as it regularly changes your IP address, even when you remain connected to one server.
Regarding essential features, it has a reliable Kill Switch that'll automatically disconnect you if your VPN connection is interrupted, preventing your real IP from leaking to third parties.
AtlasVPN also features the exceptional WireGuard protocol that boasts high speeds and the standard IKEv2 protocol. Enabling WireGuard and connecting to a nearby server allows you to stream content from Disney+, Prime Video, BBC iPlayer, and other streaming services without issues.
Beyond this, first-time VPN users will appreciate how user-friendly this VPN is, as its interface doesn't require you to be a tech genius to navigate and understand.

Pros
Superb streaming quality
Great pricing
Intuitive interface
Reliable split tunneling feature
Multi-hop connections
Cons
Customer support can be unreliable at times
Pricing
AtlasVPN's free plan is limited to only three servers and 5GB of data, but it allows unlimited connections and reliably blocks ads.

However, for just $1.83/month for Atlas VPN's three-year plan, you can connect to all its 750+ servers and get unlimited data, making it a superior and cost-effective choice for extensive use. Try Atlas VPN today and take advantage of its 30-day money-back guarantee.
7. Surfshark — Fast, Affordable Service with Double VPN
Surfshark is definitely one of the best VPN service providers. It offers decent speeds and features that amaze even the most experienced users. That said, you can get this VPN cheaply and get a lot in return.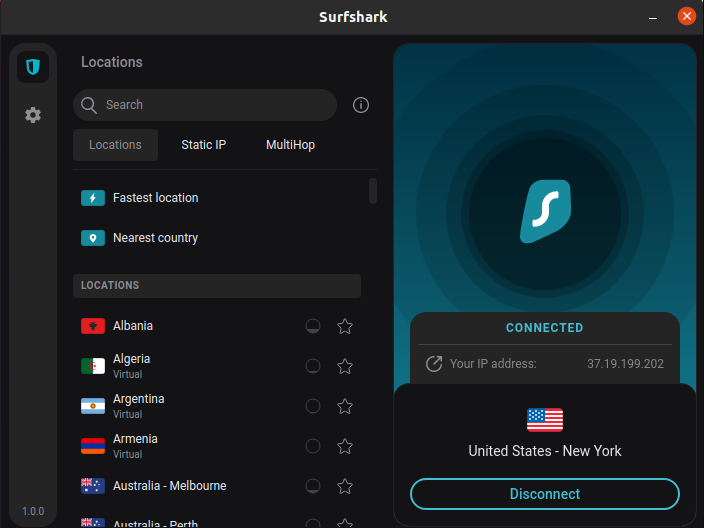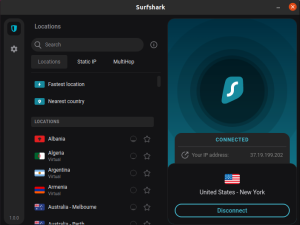 | | | | | | |
| --- | --- | --- | --- | --- | --- |
| Server Count | Number of Countries | Price | Maximum Devices Allowed | Customer Service | Money-back guarantee |
| 3,200+ | 100+ | $2.30/month | Unlimited | 24/7 | 30-days |
Admittedly, Surfshark isn't the fastest VPN you'll find. However, a 5-10% slower connection won't make much difference for an average user. You probably won't notice these small speed drops. Still, Surfshark makes up for the speed with high-quality servers.
Your torrenting or streaming experience won't suffer. You can download your favorite content at relatively high speeds. Also, Surfshark is excellent for unblocking Netflix, Hulu, Amazon Prime, and other reputable streaming platforms.
Security won't be an issue with Surfshark, either. The kill-switch option comes with a basic package, so you don't have to pay extra for this. Double VPN is another great addition. It allows you to connect through two different locations for added security.
So, for example, you can connect through a server in Germany and then get attached to another in Argentina, making it near impossible to track your activity back to you.

Pros
Unblocks Netflix
Kill-switch feature
Double VPN
Allows an unlimited number of devices
Pricing
Surfshark belongs to the group of cheaper VPNs. A regular monthly subscription is only $12.95. However, if you opt for a 2-year plan, it'll cost just $2.30/month.
While its speed may seem a bit behind its main competitors like ExpressVPN, Surfshark has advantages. You can connect unlimited devices for less than $3 a month.
8. PrivadoVPN — Free Plan is Ideal for Beginners
PrivadoVPN stands out from the rest of the crowd with its wide coverage, and it offers stable speeds and above-average protection.
Right off the bat, you'll be welcomed with a brief but detailed tutorial. The quick tour explains the basics and helps you to get the most out of PrivadoVPN. This is especially great for beginners, as they don't have to be afraid of whether they'll click the wrong button.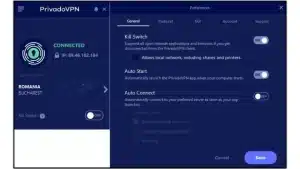 | | | | | | |
| --- | --- | --- | --- | --- | --- |
| Server Count | Number of Countries | Price | Maximum Devices Allowed | Customer Service | Money-back guarantee |
| 300+ | 45 | $4.99/month | 10 | 24/7 | 30-days |
With that said, PrivadoVPN is the go-to solution for anyone looking for the best free VPN. The free plan comes with premium security and a handful of servers — perfect for testing the waters before deciding whether to upgrade your subscription.
PrivadoVPN's premium plan offers slightly above 300 servers. Moreover, this provider owns most of its servers, and although it's a small fleet compared to rivals, all of them are high-quality.
On top of this, PrivadoVPN is a solid no-log company based in Switzerland. This means the provider isn't obligated to share information about your browsing history and sessions with anyone.

Pros
Great for beginners
No-log policy
Has its own servers
Streaming and torrenting at reasonable speeds
Pricing
You'll probably be faced with the dilemma of whether to go for the free or paid versions. With the free plan, you can have 1 connection and use up to 10GB of data. For a periodic user, this might be enough.


On the other hand, for only $3.99/month, you can get up to 10 connections and unlimited data. Not to mention you'll have virus protection. If you need a stable and secure connection with almost zero to no drops, then PrivadoVPN will be worth your buck.
9. Private Internet Access — Reliable VPN with Robust Security Protocols
Private Internet Access is suitable for both beginners and experienced users. On the one hand, less tech-savvy users can set up their app quite quickly, as it's intuitive and straightforward. On the other hand, PIA offers users a chance to customize OpenVPN protocols.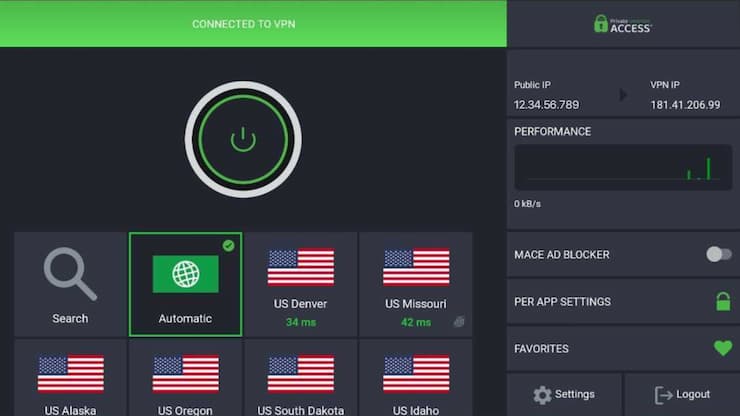 | | | | | | |
| --- | --- | --- | --- | --- | --- |
| Server Count | Number of Countries | Price | Maximum Devices Allowed | Customer Service | Money-back guarantee |
| 10,000+ | 84+ | $2.03/month | 10 | 24/7 | 30-days |
Private Internet Access boasts a massive network of servers across over 100 locations. You can pick between 84 different countries, including China. It boasts a gigantic server count, which results in high-speed torrenting and flawless streaming.
We tested this claim and discovered minimum speed losses – under 8% – which is fantastic. You can unblock virtually any major streaming platform, though you might occasionally have to change between US servers to access Netflix.
PIA also offers robust security protocols like OpenVPN and WireGuard, with additional security features, including the basic and advanced kill switch. If you use the VPN for streaming and browsing the web only, a basic kill switch will be enough to satisfy your needs.
Despite having a range of servers, PIA allows you to pick a dedicated IP. This is ideal if you have a few sites that you frequently visit and you want your IP to remain the same to make your browsing smoother.
The multi-hop option lets you choose between Shadow socks and SOCKS5 proxy. These are handy options if you wish to optimize your torrenting speed.

Pros
10,000+ servers in 84 countries
Allows up to 10 devices
Affordable price
Under 20% speed drop
24/7 assistance
Cons
It can struggle to unblock Netflix
Pricing
For only $2.03, PIA is among the most affordable VPNs on the market — plus, you'll get a 3-year access with a 3 months bonus.


Private Internet Access isn't at the top of the best VPN for Netflix list; however, it has other advantages you can exploit. It's the perfect choice if you need a reliable VPN provider to bypass geo-restrictions or access censored content.
10. CyberGhost VPN — Great Service for Gaming
CyberGhost VPN is a decent choice if you're looking for a reliable VPN that secures your data and offers just enough features — particularly for those after the best VPN for gaming and torrenting.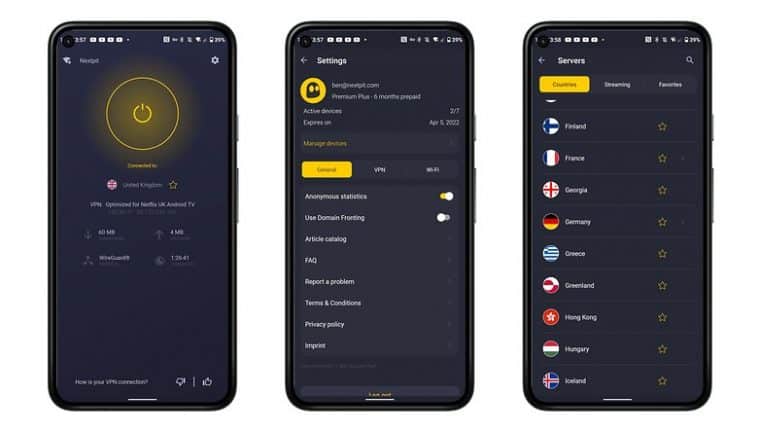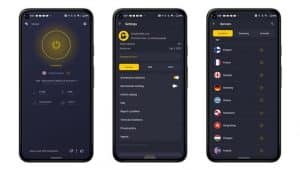 | | | | | | |
| --- | --- | --- | --- | --- | --- |
| Server Count | Number of Countries | Price | Maximum Devices Allowed | Customer Service | Money-back guarantee |
| 9,700+ | 90+ | $2.19 | 7 | 24/7 | 45-days |
CyberGhost comes with military-grade protection. You can rely on several security protocols like WireGuard, OpenVPN, and IKEv2. Also, its no-logs policy was independently audited and passed the most rigorous security checks.
Beyond this, your interface won't be stacked with too many features, either. But on the whole, it's more than enough for an average user looking to protect their IP while gaming or browsing the web. Another great thing is that you can select optimized servers for gaming and streaming. Whenever you pick a streaming platform, the app gives you a list of optimized servers.
On top of this, CyberGhost offers a lengthy 45-day money-back guarantee. This is great as you'll have enough time to test different features, and if you decide you want your money back, it'll provide you with a refund.

Pros
9,700 servers
Great for gaming
7 devices supported
WireGuard, OpenVPN, and IKEv2 security protocols
45-days money-back guarantee
Pricing
You can grab one of the fastest VPN services at a bargain price of only $2.19. If you need an extra layer of security, you can get an antivirus + security updater for just $1 extra.

CyberGhost doesn't offer many features like ExpressVPN, for example. However, you can get a reliable VPN and full access to 9,700+ servers for a low price.
11. IPVanish — Optimized iPhone App with Split Tunneling Options
IPVanish allows you to organize and adjust the user interface to get the maximum pleasure while streaming and torrenting. Also, it's one of the best VPNs for iPhone and offers a responsive app. On the other hand, no dedicated app is available for Linux users.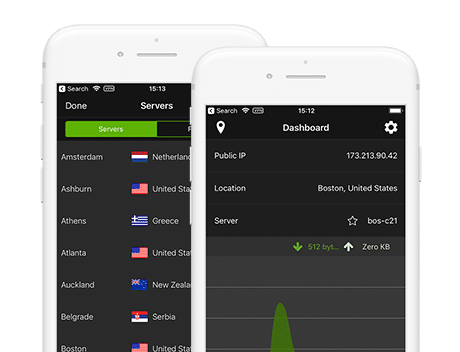 | | | | | | |
| --- | --- | --- | --- | --- | --- |
| Server Count | Number of Countries | Price | Maximum Devices Allowed | Customer Service | Money-back guarantee |
| 2,200+ | 50+ | $3.33 | Unlimited | 24/7 | 30-days |
With IPVanish, you get a VPN with a split tunneling option that allows you to choose which apps you visit through VPN and which through ISP.
When you combine the split tunneling option with great speeds and Socks5 proxy, you get an ideal VPN for torrenting. With that said, we haven't experienced any major speed drops, and the VPN has done a fantastic job maintaining high performance.
Beyond this, SugarSync is a feature you won't encounter with other VPNs — as one of the best VPN service providers, you get encrypted cloud storage, which will be available if you're ready to pay a little extra.

Pros
Adjustable app
Great for iPhone users
Connect an unlimited number of devices
Fast download speed
Encrypted cloud storage
Pricing
With IPVanish, you can connect to over 40,000 addresses for as little as $3.33 for a 2-year subscription. On top of that, you get a 30-day refund guarantee. So, if there's anything you don't particularly like about this VPN, you can get your money back with no fuss.


When it comes to torrenting, PrivadoVPN may seem like a better choice. However, with IPVanish, you can connect an unlimited number of devices at a decent speed for a significantly lower price.
12. PrivateVPN — Reliable Provider with Strong Stealth Features
PrivateVPN uses AES-256 protection like the rest of its competitors so that you can enjoy a secure internet connection with minimal or no speed drops. Also, the app comes with an effective kill switch.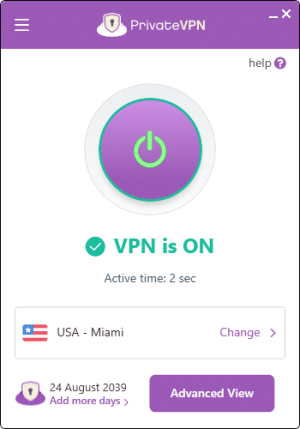 | | | | | | |
| --- | --- | --- | --- | --- | --- |
| Server Count | Number of Countries | Price | Maximum Devices Allowed | Customer Service | Money-back guarantee |
| 200+ | 63 | $2 | 10 | 24/7 | 30-days |
Stealth VPN is another great feature offered by PrivateVPN. It bypasses VPN blocks and DPI Firewalls, thus presenting the traffic to your ISP as "usual." This option is excellent for unblocking major streaming services and bypassing geo-restrictions such as the Great Firewall of China.
Besides this, PrivateVPN allows you to browse the web at decent speeds. However, you need to pick servers physically close to your location if you wish to enjoy the optimum performance. The more distant server you choose, the more your connection will drop.
That said, it also does a great job unblocking streaming services like Hulu or Amazon Prime. You can also expect top-notch performance for BBC iPlayer, which makes it among the best UK VPNs.
However, you could experience minor connection drops and inconsistency when connecting to Netflix.

Pros
Cheap VPN Service
AES-256 protection
Kill-switch
Stealth VPN feature
Unblocks Hulu, Amazon Prime, and BBC iPlayer
Cons
Tends to be slower when unblocking Netflix
Pricing
For only $2, you get a fast and reliable VPN service that allows you to connect up to 10 devices simultaneously. PrivateVPN supports multiple operating systems and is among the best VPNs for PC.


Although PrivateVPN doesn't boast a massive server network like ExpressVPN, you'll get plenty for a $2 subscription.
13. VyprVPN — Swiss-based VPN with Strong Encryption
VyprVPN deserves attention for being reliable and consistent. It lacks a few features, but overall, it's a convenient VPN with an excellent interface.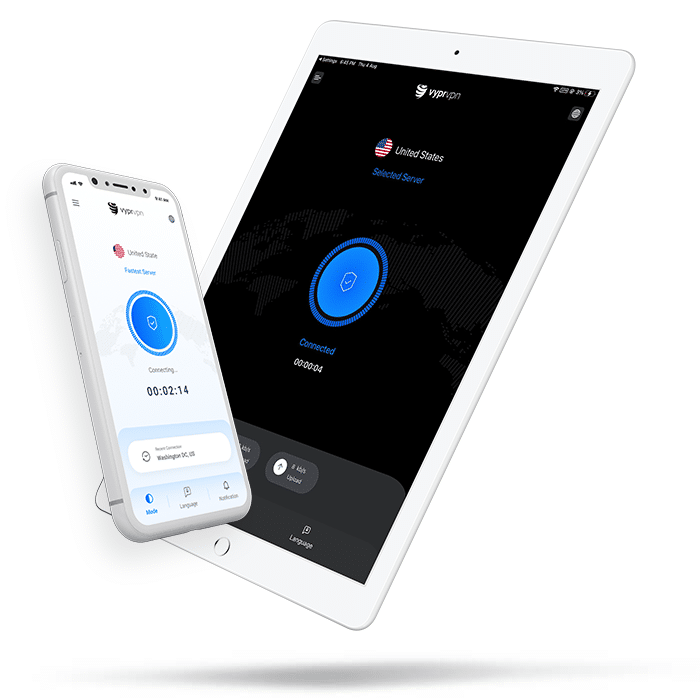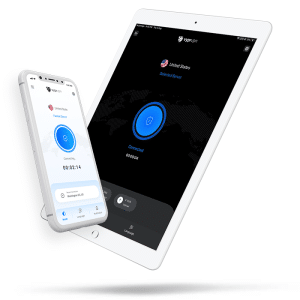 | | | | | | |
| --- | --- | --- | --- | --- | --- |
| Server Count | Number of Countries | Price | Maximum Devices Allowed | Customer Service | Money-back guarantee |
| 700+ | 60+ | $5 | 5 | 24/7 | 30-days |
As aforementioned, the best VPN service providers boast a no-log policy. In terms of data retention and keeping their users' information private, VyprVPN belongs to the very top.
Based in Switzerland, VyprVPN falls under the local jurisdiction and, as such, isn't under any obligation to share details about its users. On the other end, the VPN doesn't offer a massive chunk of features.
You won't find split tunneling or Socks5 proxy support. However, there are a few convenience features, such as ad blocking, Firestick support, and browser extensions. Plus, they offer around-the-clock support via email and live chat.
Of course, this won't affect your browsing experience directly. However, if you're new to the whole VPN scene, you'll probably have a bunch of questions. This is where VyprVPN support steps up, and they'll provide you with the necessary assistance.

Pros
Owns its servers
A great number of security protocols
Servers available in 60+ countries
Knowledgeable and fast customer support
Has browser extensions
Cons
No Split Tunneling
Lacks Socks5 proxy support
Pricing
With a monthly subscription price of $5, VyprVPN aims to take slightly more room into your budget. But, if you wish to take extra caution and protect yourself from potential abusers, remember that VyprVPN supports several protocols.


While it doesn't have a spread network of servers like ExpressVPN, VyprVPN does own its servers, which significantly impacts its speed and the aforementioned security. The bottom line is — it'll be worth every cent.
14. ProtonVPN — Best Free VPN Service Provider
ProtonVPN is known as a reliable and safe VPN. On top of that, it's famous for allowing people to browse the web anonymously and – for free.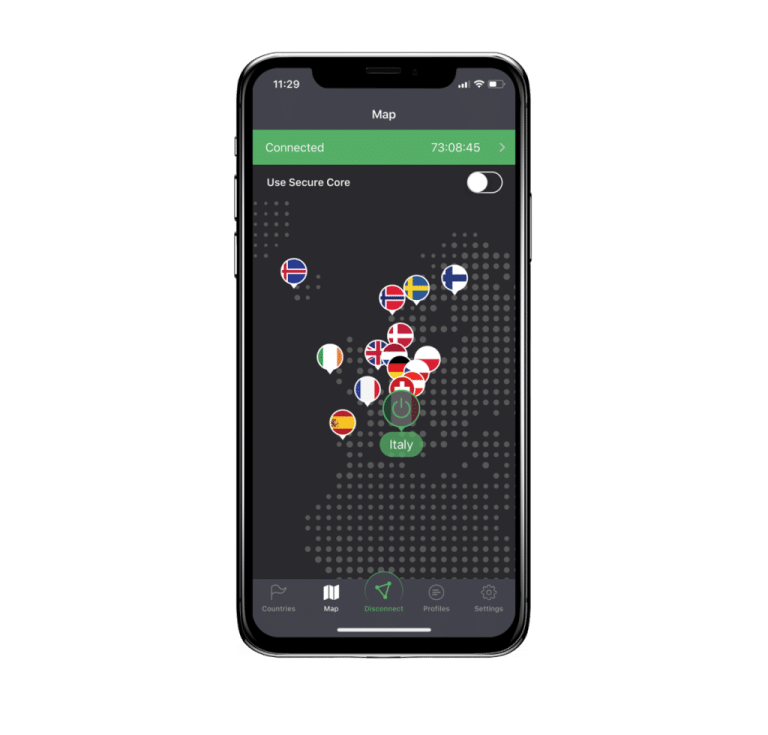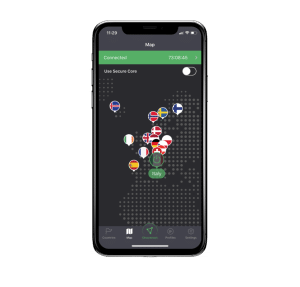 | | | | | | |
| --- | --- | --- | --- | --- | --- |
| Server Count | Number of Countries | Price | Maximum Devices Allowed | Customer Service | Money-back guarantee |
| 1,937+ | 67+ | Free | 10 | 24/7 | 30-days |
Like VyprVPN, Proton is also based in Switzerland. Hence, it boasts a no-logs policy and is considered safe and secure. Additionally, all Proton apps are open source, meaning developers can freely access the source codes and test them for bugs.
That said, ProtonVPN has both free and paid subscription plans. The free version allows you to connect through three countries and offers around a hundred servers. If you need a VPN to bypass public Wi-Fi or some office restrictions while at work, a free ProtonVPN will fit you ideally.
However, if you intend to use VPNs for streaming, going for the paid option would be the best of choices. You'll unlock P2P servers on the paid version as well. In addition, you'll get NetShield, a unique DNS filtering feature that keeps malware and ads away during your online activity.

Pros
No ads
1,937 servers
24/7 support
Has q free version
High-speed streaming
Cons
No torrenting or streaming on the free version
Pricing
As mentioned earlier, ProtonVPN is available for free. However, the freemium version doesn't support streaming and P2P file sharing. Still, a cash-free option would be a good fit if you're an occasional user who likes to visit a few websites daily.


With the price of $5 per month, ProtonVPN is more expensive than PureVPN, for example. However, Proton does offer a unique VPN accelerator, something you won't find with others. This feature is available for paid versions and boosts your internet speed by 400%.
Top 14 VPN Service Providers Compared
The comparison table below provides a full comparison of the best VPN providers available today in 2023, with all the details you need to quickly find the information and features that are most important to you. What's the best VPN service for you?
| | | | | | | |
| --- | --- | --- | --- | --- | --- | --- |
| VPN | Server Count | Number of Countries | Price | Maximum Devices Allowed | Customer Service | Money-back guarantee |
| | 3,000+ | 94+ | $6.67/month | 5 | 24/7 | 30-days |
| | 6,500+ | 78+ | $2.29/month | 10 | 24/7 | 31-days |
| | 5,700+ | 100+ | $1/month | 10 | 24/7 | 30-days |
| | 70+ | 30+ | $39/year | 5 | 24/7 | 30-days |
| | 5,400+ | 60+ | $4.19/month | 6 | 24/7 | 30-days |
| | 750+ | 49+ | Free | Unlimited | 24/7 | 30-days |
| | 3,200 | 100+ | $2.30/month | Unlimited | 24/7 | 30-days |
| | 300+ | 45+ | Free | 10 | 24/7 | 30-days |
| Private Internet Access | 10,000+ | 84+ | $2.03/month | 10 | 24/7 | 30-days |
| | 9,700 | 90+ | $2.19/month | 7 | 24/7 | 45-days |
| | 2,200 | 50+ | $3.33/month | Unlimited | 24/7 | 30-days |
| PrivateVPN | 200+ | 63+ | $2/month | 10 | 24/7 | 30-days |
| | 700+ | 60+ | $5/month | 5 | 24/7 | 30-days |
| | 1,937 | 67+ | Free | 10 | 24/7 | 30-days |
Why Do I Need a VPN?
You may be thinking that if you have nothing to hide, you don't need a VPN – but they can actually still provide some extremely useful services for you without going anywhere near anything shady. At its core a VPN – a virtual private network – allows you to anonymize your web activity by masking your IP address and making it invisible to your internet service provider (ISP). This stops hackers and advertisers from tracking your connection, keeping your traffic private and secure.
Many people use public Wi-Fi without knowing their data can be easily compromised. A VPN can keep your information away from any potential intruders. If you use restricted networks, a VPN can also help you to bypass firewalls and access blocked content.
On top of this, popular streaming networks like Netflix, Amazon Prime, Hulu, and BBC iPlayer are unavailable in many countries. The best VPN service helps you navigate geo-restrictions and access your favorite streaming content and content libraries that are unavailable from your location. And it can do all this without having any impact on your connection speed.
What's the Best Free VPN Service? Free vs. Paid VPNs
During the course of our research, we found that both PrivadoVPN and ProtonVPN are candidates for provider of the best free VPN service in 2023. ProtonVPN likely comes out ahead, though, offering access to servers in the US, the Netherlands, and Japan, and with no limitations on data use.
Indeed, there are no limitations on your use of the service. Even better is the fact that the provider includes a VPN kill switch with the free service – immediately cutting data transfer in the event that the VPN connection drops, meaning your connection remains secure and private whatever happens. This is a great feature and impressive with a free plan.
One of the drawbacks of the service is, of course, the very low number of servers and geos covered – which may be a showstopper if you need to view pages or resources from specific geos or a wide range of locations around the world.
Also, while free virtual private networks can do a great job of hiding your IP address when visiting various websites, it falls short compared to premium VPNs when it comes to streaming. Paid virtual private networks allow you to access thousands of servers across hundreds of countries — including in strict and censorship-prone countries like Turkey, Russia, and China.
Additionally, it's essential to mention that all paid VPN services offer free trials. While it's true you're expected to pay at one point, this is a great way for you to see how a paid VPN performs at various tasks. If you're unsatisfied, you can get a refund after the trial period.
How We Ranked the Best VPN Services
Given the high density of the global VPN service market, it's challenging to pick the right one, especially if you've never used it before. While hundreds of virtual private networks advertise themselves as the best in the business, only a dozen deserve their place on this list. Here are the main parameters we looked at when choosing the best VPN service in 2023:
Performance
There's no room for bugs or glitches. The best virtual private networks have to run smoothly in the background without affecting your computer's CPU performance.
Speeds
The best VPNs allow you to browse the web with minimal influence on your internet speed. You'll be able to upload and download content incredibly fast.
Connection Stability
The stability of your internet connection is key to protecting your online privacy. Every time your connection drops while using VPN, your computer is at risk of being discovered by hackers or other internet abusers.
VPNs that we picked have integrated a kill switch. This feature automatically shuts down your internet connection in case of drops, thus preventing data leakage.
Privacy Policies
We select only VPNs with a no-logs policy, meaning they'll store your data on RAM. Consequently, the provider won't keep track of your browsing history and will immediately delete all data once you shut down the app. A great VPN will keep your IP away even from your internet service provider.
Security
VPNs we choose must excel in every security aspect. Besides a no-logs policy, a great VPN service provider features AES-256 encryption, kill-switch, split-tunneling, data and bandwidth caps, IP shuffle, and leak protection.
Value for Money
We aim to diversify our lists to cater to distinctive tastes. As a result, we offer the best free VPN service providers to occasional internet users. On the other hand, our goal is to find the best cheap VPNs that'll suit your needs the best.
User Feedback
We value other peoples' opinions when selecting the best virtual private networks. Our top picks boast user-oriented business models and, as such, enjoy an excellent reputation among millions of users.
Server Network
VPNs that we selected offer a robust network with a tremendous geographic distribution. At the same time, the best in the business keep their servers physically close to each other. This is one of the reasons why the best VPNs maintain high speeds.
Best VPN FAQs
Are there good free VPNs?
How do I know if my VPN is working?
How much does a VPN cost on average?
What's the best service provider in 2023?
What's the best VPN Service on Reddit?
Which VPN has the best customer service?
Conclusion
There is a wide range of virtual private networks available today, and the best VPN service providers face some tough competition. Nevertheless, there are a handful of market leaders that deliver an outstanding service when it comes to points like speed, safety, security, and trustworthiness.
We've picked the 14 best VPNs and created a list that caters to distinctive tastes. You can select different VPN types depending on your personal needs and goals. But one thing is certain – whichever you choose, you won't regret it.
So, what is the best and most trusted VPN? Based on our research, we can't recommend ExpressVPN highly enough. Try it risk-free now with the money-back guarantee.