The best VPN in UAE lets you unblock online content and stream in HD, plus bypass the strict internet security protocols of the country. Beyond this, a VPN will allow you to make unlimited VoIP calls over providers like WhatsApp and Skype, which are otherwise banned in the country and elude the prying eyes of online government surveillance.
However, finding a suitable VPN provider can be arduous due to the number of options available. To make your choice easier, we've found and reviewed the best VPNs in UAE, examining them on criteria like connection speeds, affordability, number of servers, customer support, etc. Dig in as we discover why providers like ExpressVPN, PureVPN, and IvacyVPN are among the best in the industry.
Best VPN in UAE | Top 11 Shortlist
ExpressVPN wins the battle for the best UAE VPN thanks to its 3,500+ server locations, excellent speeds, robust security, and excellent customer support. Here's what it had to contend against:
ExpressVPN — We rate this as the best VPN for the UAE, based on its high speeds and great security features.
PureVPN — A leading provider with thousands of servers spread around the world, great features for torrenting, and a zero-logging policy.
IvacyVPN — Fast, reliable service with affordable billing, 100+ server locations, and split tunneling on offer.
TotalAV — Great VPN coupled with a comprehensive antivirus service that blocks ads and malware to ensure secure and private internet usage.
NordVPN — An industry titan with 5,400+ servers across the globe, as well as superb privacy and security features.
AtlasVPN — Dependable solution packed with smart features to ensure your privacy is never compromised, whatever happens.
Private Internet Access — A service that combines strong security features with a wide range of customization options and an easy-to-use app.
Surfshark — High-speed connections offered at an affordable price, with a double VPN also available to further ensure privacy.
PrivadoVPN — Comes with a wide range of features, including parental controls and ad blocking, and has a free option that's ideal for beginners.
PrivateVPN — Reliable service with features to circumvent DPI Firewalls and VPN blocks and bypass geo-restrictions to access streaming platforms and other international media.
VyprVPN — Consistent and secure tool with strong security protocols, which has great customer support and extensive online guides.
11 Best VPN UAE Options Reviewed
Are you eager to find the right VPN to access unlimited internet content in the UAE? Read on as we now discuss each of our top recommendations in detail, including their best features, pros, cons, and pricing.
1. ExpressVPN — Overall, the Best VPN in UAE

ExpressVPN is renowned for being a premium VPN for security, speeds, and unblocking geo-restricted content with ease. With that said, the kill switch is one of its strongest features. Known as Network Lock, this feature will cut you off from the internet if the VPN fails or is disrupted, preventing unwanted data leaks and letting you block connections with local network devices, such as printers and servers.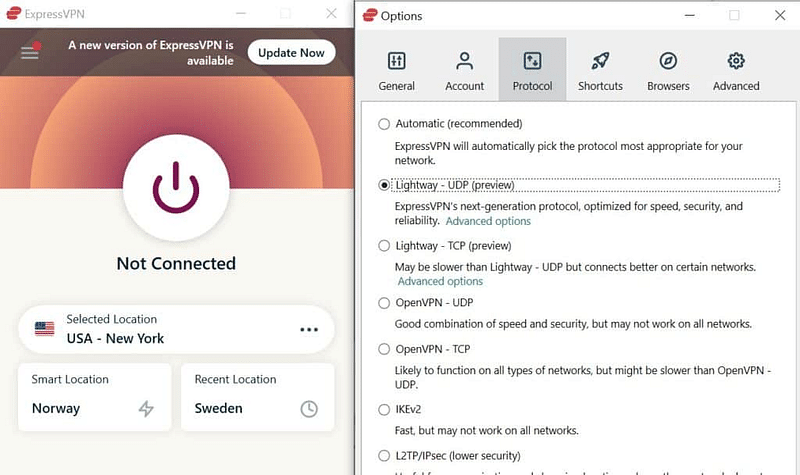 Beyond this, ExpressVPN doesn't collect any personal data per its privacy policy. This includes DNS queries, browsing history, websites visited, and more. Plus, independent testing facilities also back the claims made by ExpressVPN about its features and efficiency, guaranteeing that you're in incredibly safe hands with this provider.
For instance, PriceWaterhouseCoopers, one of the Big Four accounting companies, investigated its no-log policy, and they confirmed that ExpressVPN operates by its privacy policy.
Beyond this, the Bug Bounty Program is open to all and, over the years, has been quite a success. With this, you can run your own tests on the platform and report any vulnerability, and the ExpressVPN team will take quick action.
What's more, getting started with ExpressVPN is super easy. All you have to do is head to its official website, choose the plan you want, and download the app on your device. After installation and setup, you simply need to enter your email address and pick a VPN server of your choice, and your device will be protected instantly.
| | | | | | |
| --- | --- | --- | --- | --- | --- |
| Starting Price | Free Version | Money-Back Guarantee | Max Devices Supported | Server Count | Server Locations |
| $6.67/month — 1-year plan | No | 30-day | 5 | 3,500+ | 94+ |
Pros
An excellent DNS and IPv6 leak protection
It comes with a password manager
Offers split tunnelling for more data control
It doesn't store any user data
Cons
No ad blocking and multi-hop connections
Pricing
ExpressVPN, contrary to how it may look, is actually reasonably priced, especially when you consider the large number of servers it offers, plus the speed with which you can browse and download large files. You'll get the best bang for your buck with the annual plan.

You'll also like how all ExpressVPN plans come with a 30-day money-back guarantee, so you don't stand to lose any money if it fails to impress you, although we're pretty sure it won't.
2. PureVPN — Popular for Torrenting
PureVPN is a popular VPN service in Dubai, Abu Dhabi, and the rest of the United Arab Emirates because of its high-speed servers and strict no-log policy. It provides a feature-rich service with over 6,500 servers across over 78 countries that you can connect to and encrypt your internet traffic.
Beyond this, it's one of the only VPN providers with dedicated Peer-to-Peer (P2P) servers that keep your identity confidential as you download files at high speeds. That means you can anonymously access torrenting websites and bypass UAE's censorship laws because PureVPN helps you avoid being tracked by your ISP or government. All that means it's a great UAE VPN for torrenting.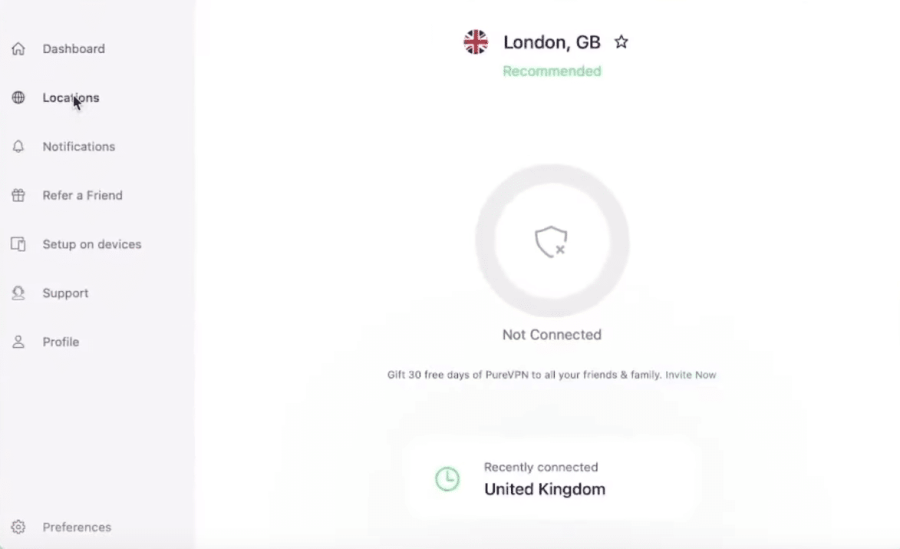 In addition, you can rest easy knowing PureVPN masks your online activities with bank-grade AES 256-bit encryption. Plus, this UAE VPN provider also has a kill switch feature that prevents your information from leaking if the VPN connection drops.
All things considered, investing in this VPN service is especially wise if you have a high-speed internet connection or plan on getting one. This is because PureVPN has several 20Gbps encrypted servers that let you browse, stream, or download content at impressive speeds.
Besides torrenting and safe browsing, PureVPN helps you unblock VoIP services, such as Viber, Skype, and WhatsApp, to which UAE actively restricts access.
| | | | | | |
| --- | --- | --- | --- | --- | --- |
| Starting Price | Free Version | Money-Back Guarantee | Max Devices Supported | Server Count | Server Locations |
| $2.29/month — 2-year plan | No | 31-day | 10 | 6,500+ | 78+ |
Pros
DNS and IPv6 leak protection
Affordable
Various protocols
User-friendly interface
Cons
Android and iOS apps lack advanced features compared to Windows
Pricing
PureVPN has an affordable two-year subscription plan that costs as little as $2.29/month, making it one of the most comprehensive cheap UAE VPNs. As a new customer, you'll also get three additional months free of charge.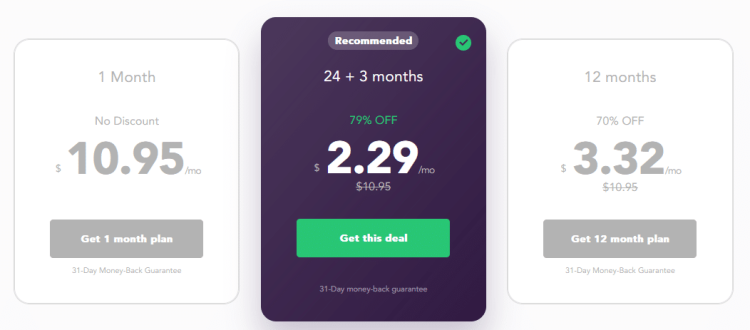 Protect up to ten devices with a single subscription, unblock Netflix and other popular platforms, and stay safe while on the move with this popular UAE VPN service. Try it risk-free today with its 31-day money-back guarantee.
3. IvacyVPN — Reliable VPN for Buffer-Free Streaming in UAE
IvacyVPN lets you access geo-restricted content anywhere in the world, allowing you to watch your favorite TV shows and movies on popular streaming services like BBC iPlayer, Disney+, Netflix, and Amazon Prime Video.
If you travel outside UAE but want to access websites back home, IvacyVPN can help you access UAE websites, including Amazon UAE, Dubizzle, and iflix. That means you won't miss your favorite content, no matter where you are.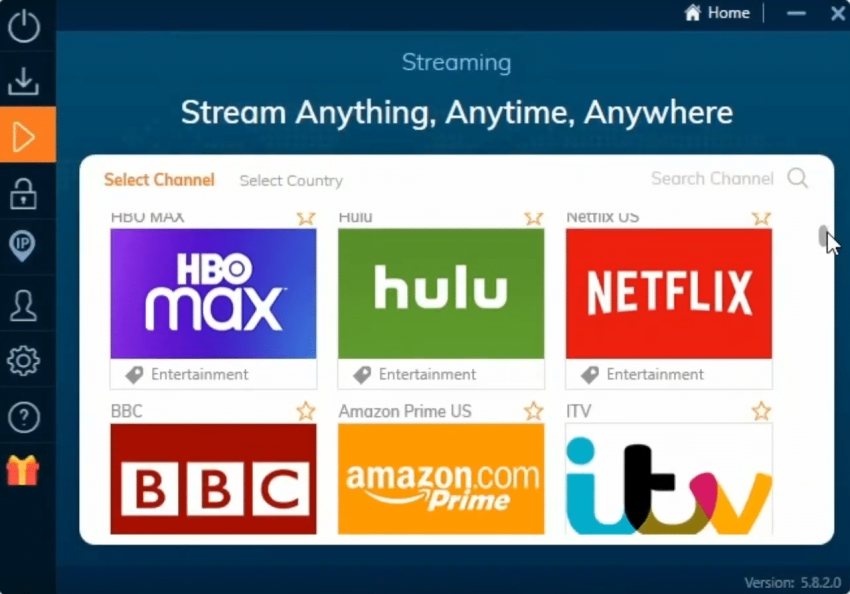 Besides streaming in HD, IvacyVPN lets you securely and anonymously browse the internet in the UAE, known for its strict data retention laws. Connecting to one of its secure servers prevents your ISP, WiFi hotspot owners, and hackers from logging your browsing history.
With its split tunneling feature, you can pick which internet traffic you want the VPN to encrypt with its robust AES 256-bit military-grade encryption. That means you can use your regular network for light browsing or playing games and simultaneously bypass geo-restrictions for specific apps or websites.
IvacyVPN is also one of the only VPN providers with high-speed servers in Africa, South America, and countries with strict censorship, like Russia, Turkey, and Vietnam.
On top of all this, it has a unique Smart Purpose Selection feature that you can use to instantly find the fastest server near you based on your needs. You can pick between servers for secure downloading, unblocking, or streaming and enjoy a speedy and secure connection.
| | | | | | |
| --- | --- | --- | --- | --- | --- |
| Starting Price | Free Version | Money-Back Guarantee | Max Devices Supported | Server Count | Server Locations |
| $1/month — 5-year plan | No | 30-day | 10 | 5,700+ | 100+ |
Pros
Feature-rich
DNS and IPv6 leak protection
Diverse and numerous server locations
Unlimited bandwidth
Cons
Pricing
IvacyVPN has one of the cheapest long-term subscription plans that costs just $1/month when you pay five years in advance, saving you up to $537 compared to average monthly subscriptions.

You can purchase a Dedicated IP and Port Forwarding bundle for as little as $1.99/month and enjoy complete anonymity. Plus, thanks to its 30-day money-back guarantee, you can try IvacyVPN risk-free for a month before committing to a subscription.
4. TotalAV — Comes with Extensive Security Features
TotalAV is one of the best VPNs in the UAE for privacy-conscious users that want to avoid heavy government censorship and monitoring. Its VPN is part of a comprehensive internet security package that contains various helpful tools, including one of the market's best antiviruses, a password manager, and an effective ad-blocker.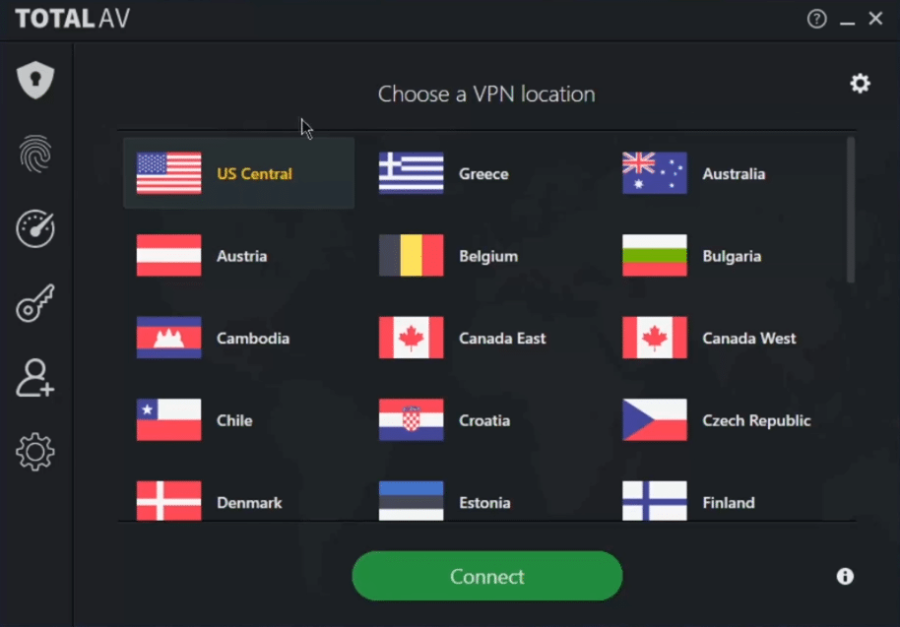 If you need a VPN service that encrypts your internet connection while protecting you from external threats and spyware, investing in TotalAV is a good move. It has an impressive ad blocker that prevents even the most persistent ads from showing on your screen and, more importantly, blocks third-party trackers.
Besides keeping you safe from data retention and monitoring by your ISP and government, TotalAV also blocks malicious websites that lead to phishing or cryptocurrency mining scams and viruses.
Overall, this VPN provider successfully masks your online activities, preventing your ISP from throttling your connection. That means you can conveniently watch your favorite TV shows and movies without lag, buffering, or online threats.
And although it's hard to fall victim to malware, spyware, or virus attacks while using TotalAV, if your online accounts are compromised, you can count on its Data Breach Monitor feature to alert you of an information leak.
| | | | | | |
| --- | --- | --- | --- | --- | --- |
| Starting Price | Free Version | Money-Back Guarantee | Max Devices Supported | Server Count | Server Locations |
| $39/year | No | 30-day | 5 | 70+ | 30+ |
Pros
Great customer support
Robust encryption
All-in-one security package
Superb malware protection
Cons
Offers a single pricing plan
Pricing
TotalAV has a single, well-priced plan that costs just $39/year, making it a wise investment based on how many helpful security tools you get. You can protect up to five devices using a single subscription, allowing you to protect all your devices at home and work. Try it risk-free today with the month-long guarantee.
5. NordVPN — Industry Leader with Great Privacy Features

NordVPN aces almost every criterion required for a VPN to deserve a place on our list this year. For instance, its no-log policy is independently audited so that you don't have to rely on NordVPN's words alone to believe that none of your personal data is stored.
It also has its own built-in NordLynx tunneling protocol that offers top speeds. Depending on the server location you connect to, you'll see speeds of up to 400Mbps — more than enough for most internet activities such as movie downloads, streaming, and browsing.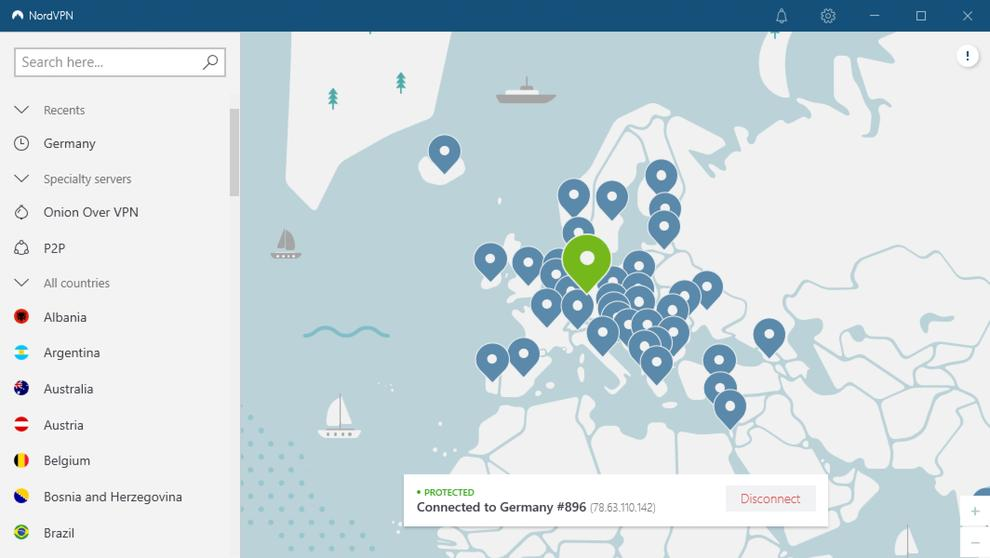 What's more, all of NordVPN's servers are RAM-only. This means every time the servers are restarted, all the data is wiped off, making it impossible for anyone to access your personal details.
Another benefit of using NordVPN is that it owns and has 100% control over all its servers. When VPN providers rent out servers from third parties, they leave significant control to the original owner, increasing the chance of data leaks.
NordVPN also gives you access to its servers through the SHA-512 hash function for additional security. It breaks down your data into 512 bits, making it almost impossible for anyone to crack it once encrypted. This is one of the most secure encryption algorithms in the VPN industry.
On the whole, NordVPN offers advanced security, speeds, unblocking power, and everything in between — hence why it frequents lists like these time and time again.
| | | | | | |
| --- | --- | --- | --- | --- | --- |
| Starting Price | Free Version | Money-Back Guarantee | Max Devices Supported | Server Count | Server Locations |
| $3.49/month — 2-year plan | No | 30-day | 6 | 5,300+ | 60+ |
Pros
A secure 256-bit AES encryption
Follows a strict no-logs policy
A vast network of 5,000+ servers in 94+ countries
You can set up multi-factor authentication for more safety
Cons
Not ideal for torrenting needs
Pricing
If you're after a budget VPN, look no further than NordVPN's Standard plan. With this plan, you'll get an intuitive kill switch, protection from digital threats, and even advanced anonymity.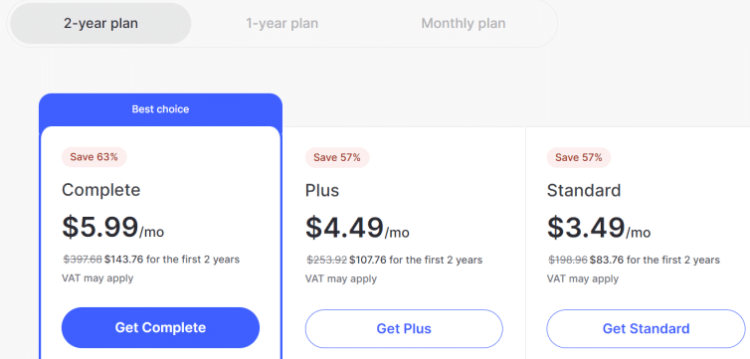 Do you also want to benefit from high-end features such as a cross-platform password manager and data breach scanner? Pick the Complete plan.
Try NordVPN risk-free before committing to it, thanks to its 30-day money-back guarantee. You have nothing to lose and everything to gain.
6. AtlasVPN — Best Free UAE VPN for Families
AtlasVPN is a modern VPN solution with frequent updates and a beginner-friendly interface. It's one of the only VPN providers that allow unlimited devices per account and have a comprehensive free plan.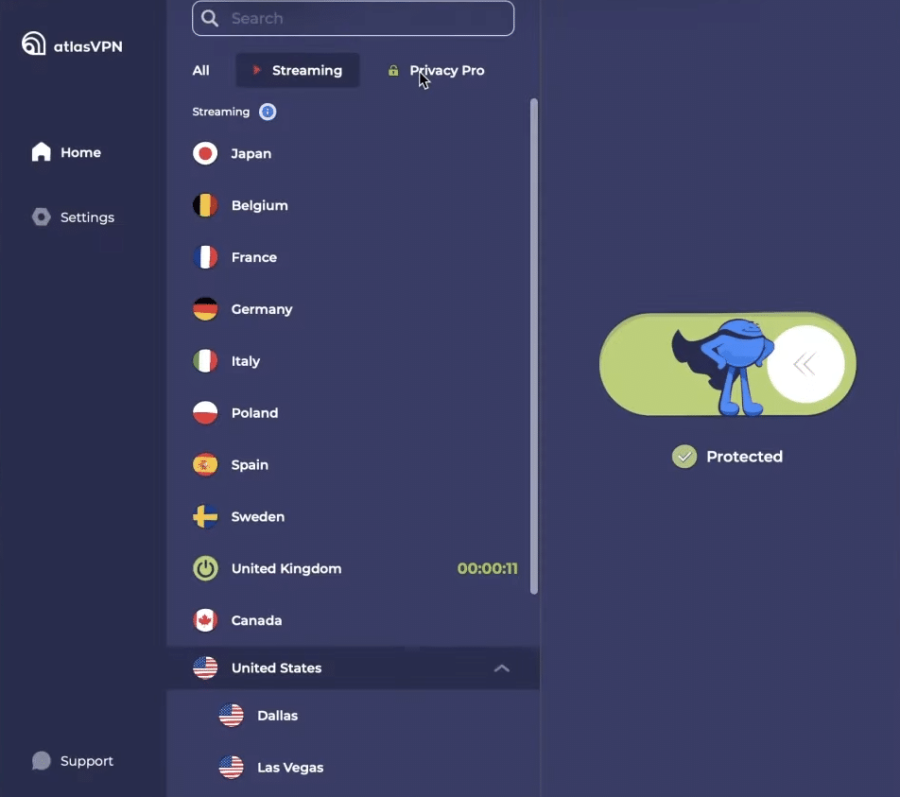 Since this VPN has no limit on how many devices you can connect, it's ideal for couples, friends, and families that want to share a single account to keep their closest ones safe online. Also, if you like watching TV shows and movies, you'll appreciate its ability to unblock BBC iPlayer, Disney+, and other leading streaming services.
Beyond this, AtlasVPN's MultiHop+ feature allows you to bolster your anonymity online by encrypting your connection through multiple servers instead of one. With this feature enabled, you'll be much harder to track online, and the UAE government won't be able to profile you based on your online activities.
Besides encrypting your internet traffic and lifting geo-restrictions, AtlasVPN protects your devices from third-party trackers, unsafe websites, monitored networks, and more for complete online security.
| | | | | | |
| --- | --- | --- | --- | --- | --- |
| Starting Price | Free Version | Money-Back Guarantee | Max Devices Supported | Server Count | Server Locations |
| $1.83/month — 3-year plan | Yes | 30-day | Unlimited | 750+ | 49+ |
Pros
A modern, easy-to-use UI
Stealth VPN to bypass country restrictions
Expert developer customer support
Customizable encryptions
Cons
The iOS version lacks the kill switch
Pricing
AtlasVPN is a budget-friendly option that costs as little as $1.83/month with its three-year-long plan, and new customers can expect three additional months on top of what they paid for.

While its free plan is feature-rich, it limits you to 5GB of data monthly and three servers, making its paid plan a far better choice. You can try its paid plan risk-free for a month before committing to a subscription, thanks to its 30-day money-back guarantee.
7. Surfshark — Strong Option for Bypassing Censorship
Surfshark is best known for its affordable plans and unlimited simultaneous connections that let you share one plan with your entire family or all your friends, making it cheaper than it already is.
Beyond this, it's also one of the fastest VPNs out there. In recent testing, it reached up to 1,256Mbps/second when connected to a UK server through the WireGuard tunneling protocol.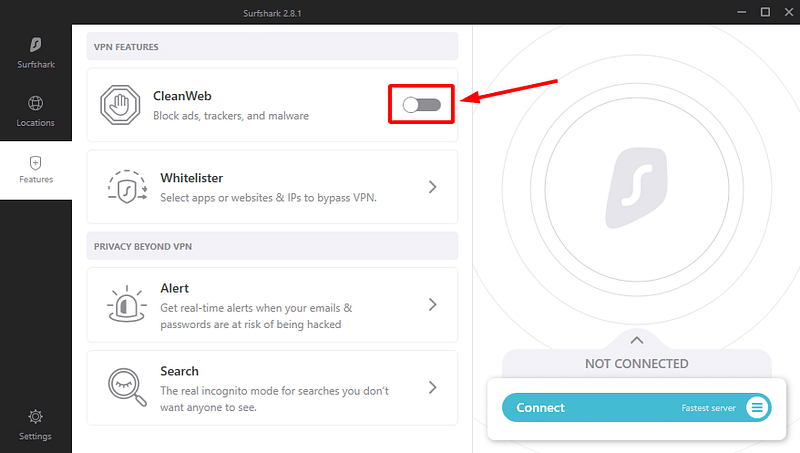 So, whether gaming, downloading content from Torrent, streaming movies, or watching a live event, there's nothing speed like this can't handle. Brownie points for the buffer-free content loads and zero game lags that Surfshark offers.
It also boasts one of the largest networks of servers compared to all other popular VPN service providers. With over 3,200+ servers in over 100 countries, there's hardly any place from where you can't connect to a Surfshark server.
The more servers there are to choose from, the lower the traffic will be at each location, guaranteeing faster speeds and more connection stability. That said, the UAE is very strict about internet usage and the kinds of content its citizens see.
So if you want to hide that you're using a VPN, Surfshark's Camouflage Mode will be your friend. Also known as obfuscated servers, this mode will mask your VPN traffic as regular traffic, so your internet activity goes undetected.
| | | | | | |
| --- | --- | --- | --- | --- | --- |
| Starting Price | Free Version | Money-Back Guarantee | Max Devices Supported | Server Count | Server Locations |
| $2.49/month — 2-year plan | No | 30-day | Unlimited | 3,200+ | 99+ |
Pros
Offers Private DNS protection
A fast auto-connect feature
Best for large organizations with unlimited connections
One of the best for censorship bypassing
Cons
Not as feature-laden as some other VPNs
Pricing
Surfhsark is right behind PIA as the most affordable UAE VPN. It's slightly better on the time front since its best value-for-money proposition is a 2-year plan.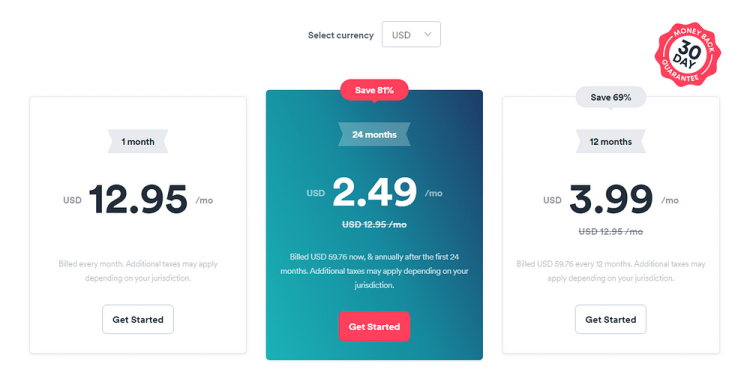 Plus, there are no renewal hikes, and the 30-day money-back guarantee will allow you to try the service risk-free. See if it's your cup of tea now.
8. PrivadoVPN — Popular Free VPN with Strong Security Tools
PrivadoVPN offers one of the best free VPN plans in the industry. One of the biggest USPs for the free version is that, unlike most, it offers free users the same privacy and security as premium users — all for $0.
Beyond this, you get up to 10 GB of data every 30 days. In addition to that, you can connect to servers from more than 12 cities. If the speed in one server location isn't satisfactory, you can always switch and choose from 11 other options — certainly handsome for a free VPN.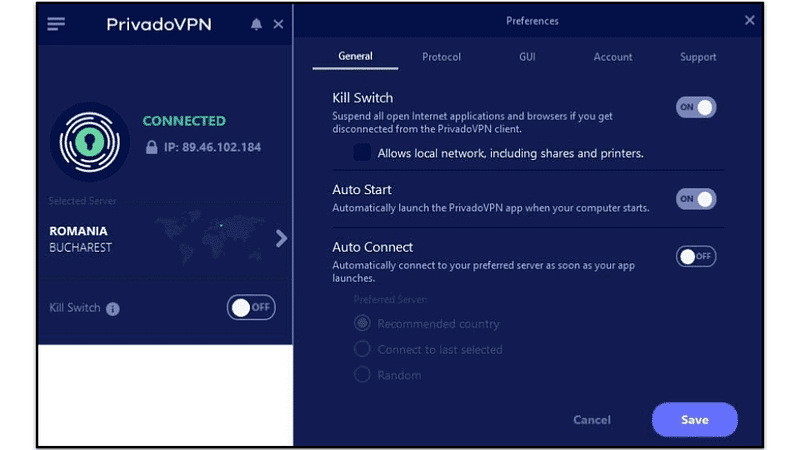 Even on the free plan, PrivadoVPN also stands by its no-log policy. It's not one of those free services that look to profit from your personal data. However, once you move to the paid plans, you get access to many features that go beyond regular VPN functions.
For example, since a VPN gives you unrestricted access to anything online, PrivadoVPN offers one of the best parental control solutions. Despite having unlimited access, you'll still be able to monitor and manage what your kids get to see online.
On top of that, you also get an in-built ad blocker that prevents intrusive pop-ups so you can enjoy a seamless browsing experience. This is handy as ads often hide links to malicious sites and data trackers. Blocking these altogether eliminates the risk of digital threats.
| | | | | | |
| --- | --- | --- | --- | --- | --- |
| Starting Price | Free Version | Money-Back Guarantee | Max Devices Supported | Server Count | Server Locations |
| $4.99/month | Yes | 30-day | 10 | 300+ | 44+ |
Pros
Relies on WireGuard for excellent speeds
Offers a free plan with basic features
You can access SOCKS5 proxy servers
IP leak protection for more security
Cons
Fewer servers compared to its peers
Pricing
Besides being the best free VPN in UAE, PrivadoVPN has excellent paid plans, the best of which is the 1-year plan that plugs all the holes the free plan leaves behind. With that said, take nothing away from the free plan — 10Gb data per month at $0 is a steal.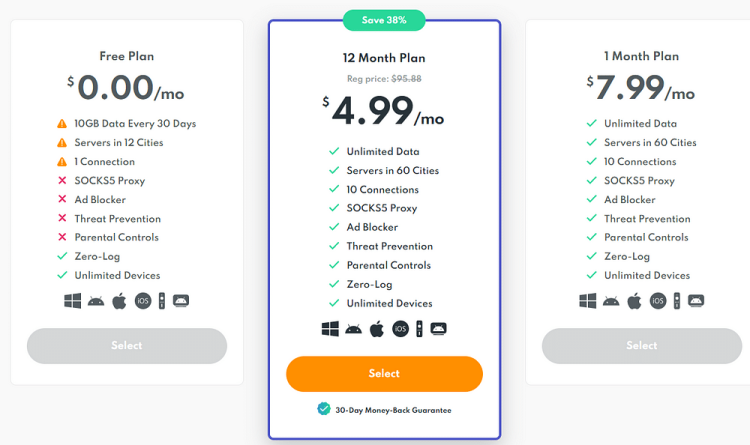 Put it to the test with the free plan or 30-day money-back guarantee today. See if it's for you.
9. Private Internet Access — Open-Source Service with Innovative Security Features
Private Internet Access (PIA) has been in the industry for over 10 years, which makes it all the more competent to keep your browsing activities private even in countries like UAE with such strict digital laws. With that said, the biggest benefit of using PIA is that it's an open-source platform.
This means you have direct access to its core coding. If there's any possible vulnerability that hackers might exploit, you'll be able to fix it yourself. Such transparency and control over your VPN will make it easier for you to trust the platform.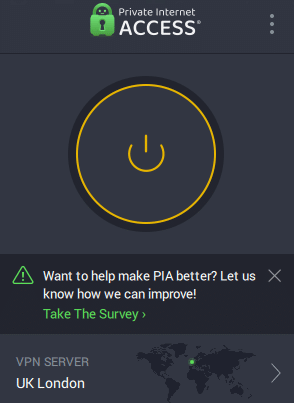 Its advanced split tunneling feature lets you choose when to connect to the internet directly and when you need a VPN in the middle. For example, if you're looking for geo-restricted content, you'll need the services of a VPN.
On the other hand, if you're looking for good local restaurant recommendations, you can't hide your location or previous search history. Beyond this, another benefit of using Private Internet Access is the optional dedicated IP.
You can choose a shared IP to mask your activities or a dedicated IP for a more stable connection. The latter also comes with improved speed and security; you won't have to waste time on countless CAPTCHAS. This is a handy addition — of all the top players in the market, such as SurfShark and ExpressVPN, PIA is the only one to provide an optional dedicated IP.
| | | | | | |
| --- | --- | --- | --- | --- | --- |
| Starting Price | Free Version | Money-Back Guarantee | Max Devices Supported | Server Count | Server Locations |
| $2.19/month — 3-year plan | No | 30-day | 10 | 29,000+ | 75+ |
Pros
Connect up to 10 devices simultaneously
A huge network of 29,000+ servers
Offers useful browser extensions
Built-in ad blocker for safe browsing
Cons
The installer isn't verified
Pricing
To top it off, PIA is the cheapest VPN for UAE users — get started at just $2.19/month. The only catch is that this price point is for the 3-year plan, so if you're sure about the time commitment, don't think twice before getting PIA.

The best part? PIA often comes up with flash sales, so watch out for such discounts. Plus, with a 30-day money-back guarantee, you'll only spend money on PIA if you like it. No risk. No hassle.
10. PrivateVPN — Great Service for Access Geo-Restricted Content
PrivateVPN is best known for its one-click setup and user-friendly interface. Whether you're using it on Windows, Mac, Android, iOS, or Linux, it'll only take 60 seconds to unleash its full power. This ease of use and device compatibility makes it unsurprising that this provider tops lists like the best Android VPN, amongst others.
That said, its biggest USP is its in-house premium support. Usually, VPN customer services link you to call centers or an in-house team of customer care executives — neither is fully acquainted with the platform.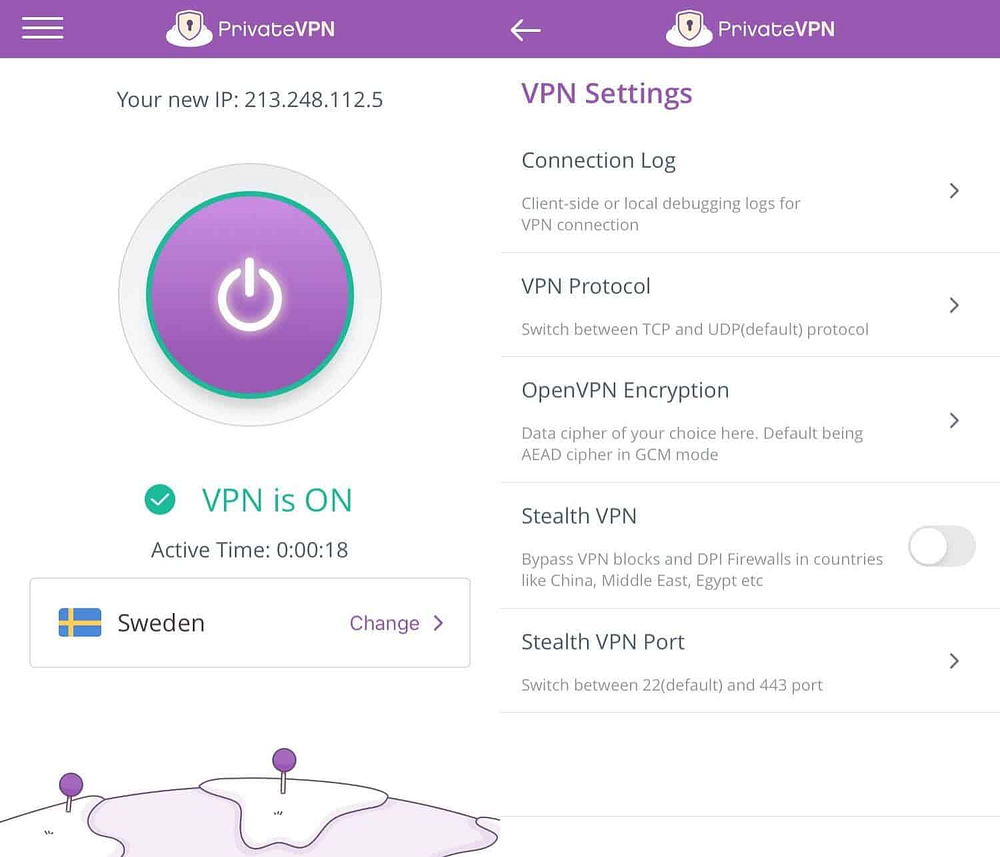 But with PrivateVPN, you'll be sharing your problems directly with the developers who actually work with the platform, so you'll get the fastest response to all your queries with PrivateVPN's premium live chat support.
Beyond all this, despite having only 200 servers across 63 countries, PrivateVPN offers decent speed thanks to its military-grade 2048-bit encryption. It's the most secure, stable, and rapid connection in the entire VPN market.
So, whether you're streaming HD videos or downloading large files, you can do all of it at rocket speed — sometimes even faster than non-VPN connections.
| | | | | | |
| --- | --- | --- | --- | --- | --- |
| Starting Price | Free Version | Money-Back Guarantee | Max Devices Supported | Server Count | Server Locations |
| $2/month — 3-year plan | No | 30-day | 10 | 200+ | 63+ |
Pros
A modern, easy-to-use UI
Stealth VPN to bypass country restrictions
Expert developer customer support
Customizable encryptions
Cons
The iOS version lacks the kill switch
Pricing
PrivateVPN's 3-year plan at just $2/month is as low as a VPN can get. Even its 3-month plan is better priced than its peers, making it the best UAE VPN for a shorter commitment.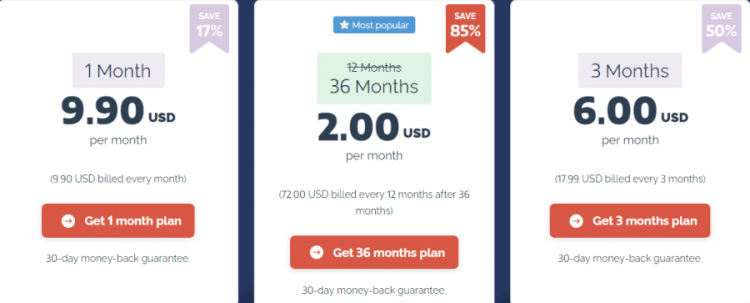 Add to that a generous 30-day money-back guarantee and multiple safe payment options, and there's no reason why you shouldn't try PrivateVPN now.
11. VyprVPN — Reliable Service with Strong Security Protocols
VyprVPN used to be a rather strict VPN — so much so that many standard VPN features weren't available. But the platform has undergone tremendous changes in the last few years, and the current version is far more flexible with the same old strict security.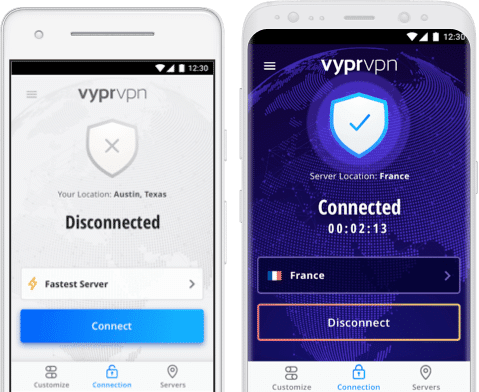 The biggest benefit of using VyprVPN is its seamless content unblocking. If you want access to geo-restricted content, whether it's on Netflix, YouTube, BBC iPlayer, or another platform, this is your best bet.
During our testing on BBC iPlayer, it was able to break into the platform on the very first attempt. Plus, VyprVPN is also a good option for safe torrenting.
Sure, the extra security protocols might result in a drop in speed, but you can download torrents on all of its servers. And, thanks to its countless safety measures, you'll neither get tracked for torrenting nor have your personal details recorded.
| | | | | | |
| --- | --- | --- | --- | --- | --- |
| Starting Price | Free Version | Money-Back Guarantee | Max Devices Supported | Server Count | Server Locations |
| $5/month — Yearly plan | No | 30-day | 10 | 700+ | 70+ |
Pros
It doesn't store any user or browsing data
Independently audited by a third party
An effective LAN kill switch
Offers enhanced protection with Chameleon protocol
Cons
Pricing
We like how simple VyprVPN's pricing is — just two plans and no renewal hikes.

Try it risk-free today. Thanks to the 30-day money-back guarantee, you'll get your money back if it's not up to the mark.
Best VPN to Use in UAE | Top 11 Compared
Here's a short table highlighting the key differences between our top picks to help you find the best VPN to use in the UAE:
| | | | | | | |
| --- | --- | --- | --- | --- | --- | --- |
| Best UAE VPN | Starting Price | Free Version | Money-Back Guarantee | Max Devices Supported | Server Count | Server Locations |
| ExpressVPN | $6.67/month — 1-year plan | No | 30-day | 5 | 3,500+ | 94+ |
| PureVPN | $2.29/month — 2-year plan | No | 31-day | 10 | 6,500+ | 78+ |
| IvacyVPN | $1.00/month — 5-year plan | No | 30-day | 10 | 5,700+ | 100+ |
| TotalAV | $39/year | No | 30-day | 5 | 70+ | 30+ |
| NordVPN | $3.49/month — 2-year plan | No | 30-day | 6 | 5,300+ | 60+ |
| AtlasVPN | $1.83/month — 3-year plan | Yes | 30-day | Unlimited | 750+ | 49+ |
| Surfshark | $2.49/month — 2-year plan | No | 30-day | Unlimited | 3,200+ | 99+ |
| PrivadoVPN | $4.99/month | Yes | 30-day | 10 | 300+ | 44+ |
| Private Internet Access | $2.19/month — 3-year plan | No | 30-day | 10 | 29,000+ | 75+ |
| PrivateVPN | $2/month — 3-year plan | No | 30-day | 10 | 200+ | 63+ |
| VyprVPN | $5/month — Yearly plan | No | 30-day | 10 | 700+ | 70+ |
Why Do I Need a UAE VPN?
Wondering why you need a VPN in the UAE? Here are a few reasons why a UAE VPN is essential:
Unblocks Restricted Sites
Due to the UAE's strict internet policies, many popular websites and services are restricted, and a VPN with strong unlocking abilities is necessary. A VPN will help you connect to servers in other countries, change your IP address, and gain access to the desired content.
Security
Using a VPN ensures your data is secure and encrypted from potential hackers, protecting your privacy. The VPNs recommended in the UAE also come with a kill switch and protection from leaks, providing an additional security layer.
Privacy
Privacy protection is particularly important in the UAE, where online activity may be monitored by the government or Internet Service Providers (ISP). To prevent this, a VPN will mask your IP address and other traces to protect your privacy.
Unblock Free Video and Voice Calling Applications
The most popular Voice Over Internet Protocol (VoIP) applications, including FaceTime, WhatsApp, and Skype, are prohibited in the United Arab Emirates. You won't be able to make video or phone calls unless you install a reputable UAE VPN.
Can I Unblock WhatsApp Calls With a UAE VPN?
Accessing free VoIP and messaging services like WhatsApp in the UAE or Dubai can be challenging as they're blocked. However, a VPN for WhatsApp calling in the UAE is viable. By accessing a VPN server in another country, you can bypass internet blocking in the UAE and access otherwise unavailable services.
Best Free VPN for UAE | Are Free UAE VPNs Safe?
PrivadoVPN is a top choice for a free VPN in UAE due to its unlimited music, social media websites, and video access. Plus, this VPN prioritizes user privacy by not logging IP addresses, browsing history, DNS queries, or traffic destinations.
It offers leak-proofing and encryption features to ensure your online activity remains secure and anonymous. However, while free VPNs are accessible and easy to use, they have drawbacks like limited features, slow speeds, data restrictions, and no technical support.
In contrast, paid VPNs offer many advantages, including high-speed performance, advanced features, unlimited data, technical support, and robust security measures.
It's important to consider the safety of a free VPN, as many aren't trustworthy or secure. Therefore, it's recommended to use a paid VPN service for the best protection and peace of mind.
Are Free VPNs Safe?
Whether free VPNs are safe or not largely depends on the specific service. Some free VPNs — like PrivadoVPN, offer the same security as their premium plans. However, many other free VPNs lack the security to protect your online activity and personal data.
Some completely free VPNs are renowned for selling user data to third-party companies to make money, which defeats the purpose of using a VPN for privacy and security.
How to Choose the Best UAE VPN | Key Ranking Criteria
We looked at the following factors in choosing the right VPN:
Good Encryption
Encryption converts data into an unreadable format, so only the intended recipient can read it. In a VPN, encryption protects your internet traffic from prying eyes, such as your Internet Service Provider (ISP), government authorities, and hackers.
No Traffic Logs
Your internet traffic is routed through the VPN provider's servers when you use a VPN. This means the VPN provider can log your internet activity, including the websites you visit, the files you download, and the messages you send.
No traffic logs mean the VPN provider keeps no records of your internet activity, ensuring your privacy and security. All of our top 11 have a strict no-logging policy.
Plenty of Servers
The number and location of VPN servers are important factors to consider when selecting a VPN service. A VPN with plenty of servers means you can easily find a server that suits your needs, such as a server in a specific country or with high-speed performance.
Unblocking Abilities
If you want to access international content from the UAE, pick a VPN to avoid geographic limitations and unblock all the most widely used streaming services, including Netflix, Hulu, and others.
How to Use VPN in UAE | Step-by-Step Guide
ExpressVPN is an excellent VPN choice when visiting or living in Dubai or the UAE. To use ExpressVPN in the UAE, follow these simple steps:
Step 1 — Subscribe to ExpressVPN by choosing a plan that suits your needs and budget.
Step 2 — Download and install the ExpressVPN app. It supports various devices, including Windows, Mac, Android, and iOS.
Step 3 — After downloading and installing the app, open it and enter your ExpressVPN credentials to log in.
Step 4 — Find a nearby encrypted server and click the "Connect" button.
That's it. ExpressVPN will now establish a secure connection with the chosen server, and you can browse the internet securely and privately.
UAE VPN FAQs
Which VPN works best in the UAE?
Is it illegal to use VPN in UAE?
Can you get caught using VPN in UAE?
Which free VPN is best in the UAE?
Which VPN is best for WhatsApp calling in UAE?
Conclusion | What's the Best VPN for UAE in 2023?
Our list of the best VPNs for UAE has got something for everyone. Whether you're looking for a secure VPN to unlock online streaming content or one that can mask your location while browsing for more security — you'll find one from our list.
However, no matter the purpose, ExpressVPN has it all. With features like its Lightway protocol, bank-grade security, high speeds, and 24/7 customer support, it's an unbeatable VPN in UAE. Don't take our word for it. Try it out now with the risk-free generous 30-day money-back guarantee.