Our CyberGhost VPN review covers, in-depth, one of the most popular VPNs for security, speed, and unblocking. The internet continues to grow, and so do the threats around it. Browsing the internet is far from safe, with lurking onlookers everywhere — hackers, ISPs, even governments, you name it. This is where a reliable VPN becomes a must. It masks your location and personal details when you're online, ensuring safety from malware, viruses, and data theft. Apart from safety, the best VPN services also let you unlock a host of streaming content that's otherwise geo-restricted.
However, finding an ideal VPN service can be painstaking. We've reviewed dozens of them. With more than a decade of experience, CyberGhost is a name you can trust, but as with all, there are several factors to consider before signing up. Keep reading our CyberGhost review as we dig deep into why CyberGhost, with its host of dedicated servers, has remained a favorite over the years.
What is CyberGhost?
CyberGhost is a popular VPN (Virtual Private Network) provider founded in 2011 with its headquarters in Romania. Currently, it has 9,400+ servers in 91 countries and a massive user base of over 38 million users. Just like any other VPN, it's primarily used for streaming without geo-restriction, uninterrupted online gaming, and secure financial transactions.
CyberGhost VPN is an ideal choice for medium to even large-sized families, as it offers simultaneous connections for up to 7 devices. This means that you can cover 7 devices with a single subscription.
What is CyberGhost VPN Used for?
CyberGhost, considered among the best VPN providers, is the ultimate tool you'll need if you want to enjoy a safe and uninterrupted browsing experience. Here are some of the ways you can use it:
Streaming Content
One of the biggest reasons people turn to VPNs is to unblock content restricted in their region. Let's take Netflix, for example. Even if you have a valid subscription to the platform, you'll only be able to access a selected content library designed specifically for your location. This means if you're in the US, you'll only be able to see content from Netflix US and not Netflix UK or Netflix France.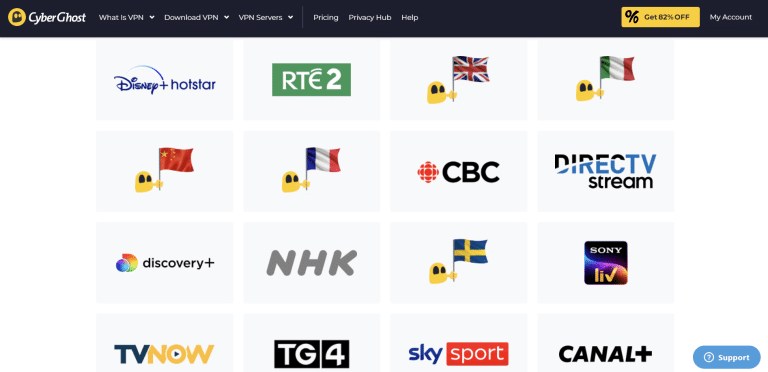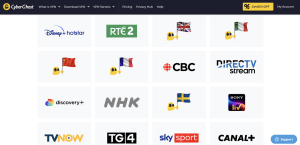 So if you want unrestricted access to content from all over the world, CyberGhostVPN is a clear choice. It'll mask your IP address so that the OTT servers can't identify your original location. Then you can pick a different server location of your choice, get a fake IP, and watch any content you want.
Currently, CyberGhost can unblock Netflix, Hulu, CBC, Fox, BBC iPlayer, Fox Sports, and Crunchyroll. That said, it falls short when it comes to unblocking Disney Plus and the UK Netflix library, but other than that, there are no complaints.
Online Anonymity
The sad truth about the digital era is that if you're online, your information is always at stake, waiting to be tracked, shared, and sold. That's how businesses target you with personalized ads and recommendations. CyberGhost VPN keeps you anonymous online.
For starters, you'll be given a fake IP address and location so that none of your activities can be traced back to you. Secondly, it blocks all spyware and trackers— third-party services known for spying on users and collecting their data. With them gone and a new online identity, no one can monitor your online activities.
Banking
Banking is more of an extension of online anonymity. Having your name or contact details tracked is one thing, but having your banking details monitored is a catastrophic situation. In the blink of an eye, the attacker can dig a hole into your bank and drain your life-long savings.
This is one area where CyberGhost shines through. It'll create an encrypted tunnel from your system to the website you're viewing. All the information you enter, such as your banking name, account number, or IFSC code, will pass through this tunnel, making it impossible for anyone to steal these details.
CyberGhost VPN's Pros and Cons
Here's a list of advantages and disadvantages of using CyberGhost:
Pros
9,400+ servers in a wide range of locations
Easy to use for beginners
Follows a strict no-log policy
Comes with an automated kill switch
Protects you from hackers and malware on public WiFi
Optimized servers for gaming, streaming, and torrenting
Cons
Some servers are overloaded, leading to slower speeds
How Much Does CyberGhost Cost?
CyberGhost prices are quite reasonable. Here's a glimpse into its subscription options: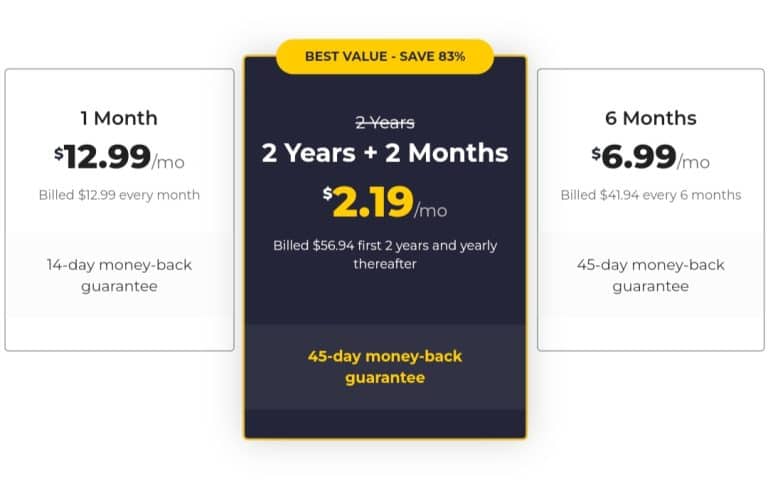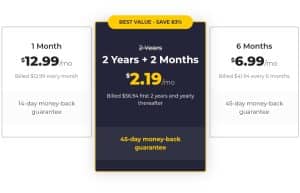 For the 2-year plan, you'll be billed $56.94 for the first two years and yearly thereafter. Also, on purchasing the 2-year plan, you'll get an extra service of 2 months for absolutely no extra charge.
There are no price-based differences in the features. You get all the same features in each plan. In fact, you also get access to 24/7 customer support on all these plans.
Payment options are abundant. You can choose among Bitcoin, Google Pay, PayPal, Amazon Pay, or credit cards. The options can vary slightly, depending on your location. As you can see, you'll have access to both traditional payment options and digital payment options.
Is CyberGhost Free?
The best part about using CyberGhost is its money-back guarantee. While other VPN providers only provide the standard 30-day money-back guarantee, CyberGhost goes a step ahead and offers a whopping 45-day money-back guarantee on the 2-year and 6-month plans.
If you buy the 1-month plan just to test the platform first, you'll still qualify for a 14-day money-back guarantee. Along with such a terrific money-back guarantee, you also get free trials. Here's a list of the duration of the free trial for each type of device:
Android — 3 days
iOS — 7 days
Windows & macOS — 24 hours
Plus, you don't need to share your credit card information to start these free trials. Moreover, the free trial gives you access to all the premium features you can expect to find once you purchase the subscription to know if CyberGhost is worth your time.
A Look at CyberGhost's Key Features
Here's a quick glimpse into the best features of CyberGhost:
WiFi Protection
Public WiFi is dangerous — malware and hackers target these unprotected internet networks to spy on the user's activities and steal their data. This includes your personal information, login credentials, banking details, and so on. That's why you need CyberGhost, as it creates an encrypted tunnel to browse safely online.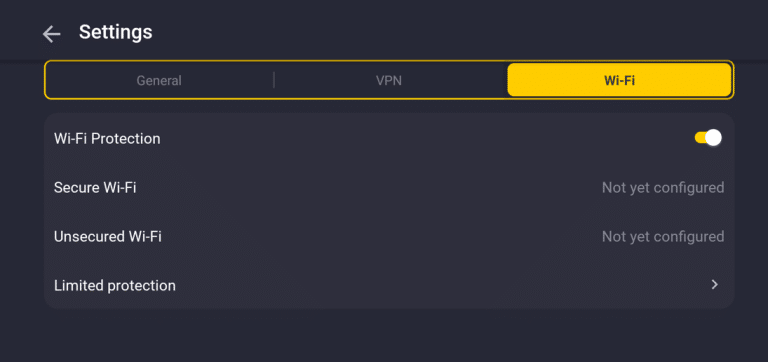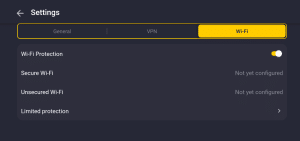 It comes with 256-bit AES, military-grade encryption, which is practically unbreakable. Also, you get the option to turn on VPN protection automatically. In simple terms, you don't have to manually turn the VPN on before connecting to an unknown WiFi.
Automatic Kill Switch
A kill switch is a feature that automatically blocks your device's internet connection if the VPN connection is lost. Sometimes due to technical errors or poor network, your device might temporarily lose access to VPN. If you're working with confidential information like banking details, such network lapses are risky.
But if you have the kill switch feature on, your device will be cut off from the internet as soon as you lose the protective shield of the VPN. With some providers, this process may be a little disruptive, but not with CyberGhost — you won't be browsing without protection, not even for a second.
No-Log Policy & Data Privacy
Many VPNs fail on the security front because they deal in user data — some, especially completely free ones, even sell it to third parties for a profit. This data is then used to understand your online behavior and position marketing campaigns at you accordingly. The best thing about using CyberGhost VPN is that it doesn't collect your personal data.
However, CyberGhost VPN follows a strict no-log policy, which is independently audited and verified at regular intervals. This protocol proves the claims that CyberGhost doesn't save any of your personal details or track your activities.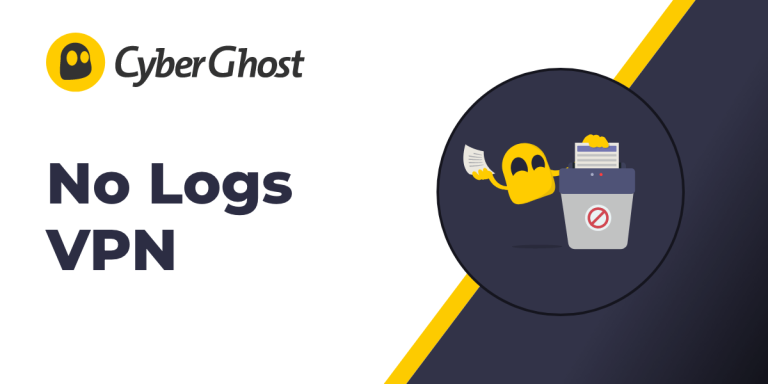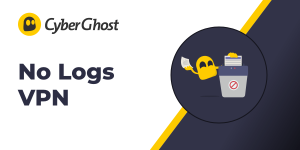 Furthermore, it uses RAM-only servers that have volatile memory. This means that every time these servers are switched off, the data stored on them is wiped. So even if a hacker or third-party service breaks into CyberGhost's servers, your data will be long gone.
Another reason CyberGhost can keep up with such high privacy standards is that its headquarters are in Romania, where according to local laws, CyberGhost isn't legally required to maintain a record of its user activities.
Dedicated IP VPN
If you're looking for a stable internet connection, it's always a good idea to opt for a dedicated IP address. Usually, with VPNs, you get a shared IP address that works for you and hundreds of other users simultaneously. The benefit of a shared IP address is that no activity can be directly linked back to you.
On the other hand, when hundreds of people use the same IP address, the browser might detect unusual account activity and restrict your access. Also, if one person uses the IP for some shady business, it can be permanently blacklisted. To avoid this, you can get CyberGhost's dedicated IP address, one that only you will use.
The upside of having a dedicated IP address is you don't have to waste time on frequent CAPTCHAS and identity verification pop-ups, and you can use the same IP address to handle your smart devices at home. Besides this, the above factors make it a popular choice for a business VPN. Currently, CyberGhost offers dedicated IPs in the US, UK, Germany, France, and Canada.
Block Content
Block Content is a unique feature developed by CyberGhost to protect your privacy and data. You'll find this option under the "Privacy Settings" on your dashboard. Turning this on will automatically block all the DNS and IP addresses used by trackers, malware, and ads.
In simple terms, it works like an ad blocker, keeping unwanted third-party sites away. The added benefit of this feature is that it's built into the main subscription plan — you don't have to buy it as a separate add-on.
Split Tunneling
Split tunneling is a unique feature that lets you customize your VPN experience. It's available under the name "Exceptions" on CyberGhost. It lets you pick which websites should connect directly to the regular world wide web and which should go through a VPN. After all, not every online search needs VPN protection, and CyberGhost recognizes your right to a flexible VPN service.
Say you're traveling to a country like China, where social media sites like WhatsApp and Instagram aren't allowed. In that case, you can use the VPN to conceal your IP address and actual location to access such apps.
On the other hand, when you're in Italy and need recommendations for the best restaurants or gas stations near you. In that case, you'll need to connect directly to the internet, without the VPN, so that the browser can access your location and give you recommendations accordingly.
DNS & IP Leak Protection
Another notable benefit of using CyberGhost is its in-built DNS and IP leak protection. For those who don't know, DNS stands for Domain Name System; it's a technology that translates domain names like google.com to a string of numbers that's known as IP addresses. Without a DNS, computers and networks won't be able to communicate with each other.
The reason a DNS leak could be so dangerous is that it'll let the attacker see everything you do online, starting from the websites you visit and things you share to your personal contact details.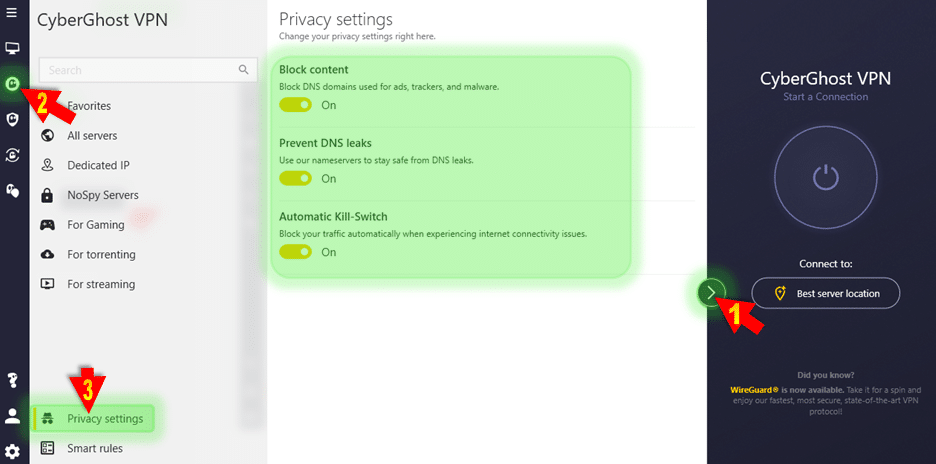 To prevent this, CyberGhost offers a one-click solution — the DNS & IP Leak protection feature. It'll combine features like an automated kill switch and its no-log policy to prevent anyone from accessing your data, even if their VPN is temporarily compromised.
If you want to check whether your DNS has already been attacked, you can run a DNS leak test on CyberGhost. Even if it has been compromised, there's nothing to worry about. You can reach out to CyberGhost's support team, and they'll guide you on what to do next.
Uninterrupted Browsing
This isn't a single feature but a benefit delivered by a combination of features. Let us explain. CyberGhost guarantees 100% anonymity and protection with its 256-bit AES encryption. Not only is it the recognized standard in the VPN industry, but it's known to be preferred by governments and the military for their own systems.
Along with that, you also get access to unlimited bandwidth. This means there will be no limit on how much data you can transmit in a given time. This, in turn, will increase the loading speed of websites so that you can enjoy a fast and lag-free browsing experience.
It also gives you access to over 9400 servers from over 91 countries. This massive network of servers reduces the traffic and pressure on individual servers so that you can enjoy a truly uninterrupted experience.
Free ID Guard Monitoring
The only thing worse than having your personal email address leaked is not knowing that this has happened. But thanks to CyberGhost's free ID guard monitoring feature, you don't have to worry about that.
First, if you have CyberGhost's VPN turned on, you don't have to worry about data leaks. But in case it does happen, this feature will notify you immediately.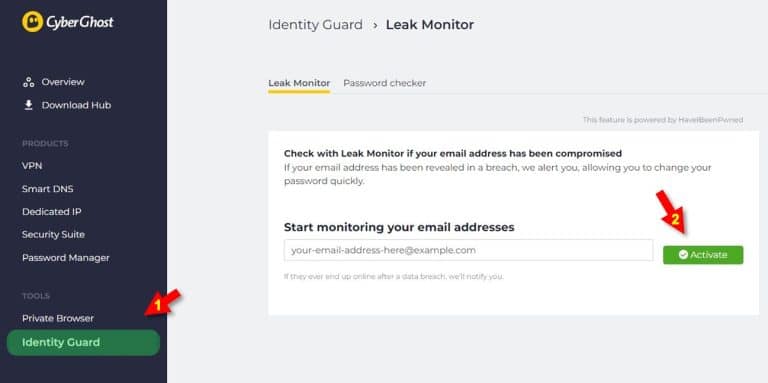 Activating it is pretty simple — go to your dashboard and click on the main menu on the left-hand side. Towards the end of the list, you'll find the feature named "Identity Guard". Click on that, enter the email address you'd like to be checked, and then click on activate.
You'll find a set of instructions in your inbox that you need to follow to verify your email and start the monitoring process. In case CyberGhost notifies you of a breach, be sure to change your password as soon as possible.
CyberGhost Security Suite
Although the CyberGhost Security Suite isn't part of the primary VPN plan, it's still worth knowing about. It's a popular add-on known to deliver 100% leak-proof security for Windows devices.
CyberGhost comes with its own all-in-one app where you can install and manage an antivirus and anti-malware tool. CyberGhost has partnered with Intego — one of the best antivirus solutions, to deliver the best-in-class security to your device.
It monitors your device 24/7 and protects you from some of the biggest digital threats, including malware, trojans, spyware, viruses, and ransomware.
What's more, it'll also help you spot outdated apps that make your device vulnerable and helps you update them to the latest version. Furthermore, you get a glimpse into the overall security of your device and the impact of individual apps on device security.
Let's say you've downloaded a new game that asks for way too many permissions. If CyberGhost detects that it might be a threat to your overall privacy, you'll be notified immediately so that you can uninstall it before too much damage is done.
Optimized Servers
The best thing about CyberGhost is it comes with optimized servers for individual internet activities. For example, gaming, streaming, and torrenting all come with an individual set of servers that have been specially designed to support the process.
For example, suppose you want to stream videos from YouTube or OTT platforms. In that case, these streaming-optimized servers will ensure you can easily unlock geo-restricted content and play the videos without buffering. To further prevent the videos from lagging, these servers are designed with higher bandwidth so that they can handle large files like movies with ease.
Similarly, if you want to play a game online, you need a server with a low ping rate. A ping rate defines the quality and speed of your device's connection with the game's servers. If you have a low ping rate, you'll experience minimal lag between your device input and its output on the screen. That's why CyberGhost has designed a special set of servers that understands the needs of gamers and delivers accordingly.
Is CyberGhost VPN Safe?

CyberGhost is 100% safe to use. Here are all the nitty-gritty details you need to know.
No Logs Policy
For starters, it follows a strict no-log policy. This means that the company doesn't store your personal data or track your online activities. Also, since it works with RAM-only servers, the temporary data stored on it during any browsing session is immediately wiped once the server is restarted.
CyberGhost's strict no-log policy isn't just a self-proclamation. These claims have been verified by Deloitte in an audit conducted in September 2022. The report clearly stated that there's nothing in CyberGhost's infrastructure to suggest that it's going against its no-log policy. In short, your data will remain completely private.
Also, in March 2012, it went through a round of audits conducted by QSCert for the implemented Information Safety Management System (ISMS) according to the international industrial standards ISO27001 and ISO9001. CyberGhost passed this verification, and the certification has been renewed every year since. This shows that the company uses stringent safety protocols to oversee its internal processes.
Even if CyberGhost gets requests from local jurisdictions, the VPN company has no logs of the user activity to hand over — both due to the no-logs policy and the RAM-only servers.
Privacy Policy
When you log into your CyberGhost account for the first time, it'll ask whether you want to share your data with the company. This refers to anonymous details (such as the type of device used or OS version) — information that can't be linked back to you.
The primary purpose of collecting this information is to work on their own infrastructure and quality of service. However, if you're not comfortable sharing even those trivial details, you can always opt out. The best part of all is that CyberGhost is very transparent with its users.
If you visit its Privacy Policy page, you'll notice that it hasn't only mentioned what kind of anonymous data they collect from the users but also the tools they use. For example, they use AppsFlyer to monitor the user metrics of their own website — including the number of unique visitors they get, the average time each user spends on the site, and so on.
What's more, you'll also find links to the Privacy Policy of these third-party services. For instance, it might happen that although you find CyberGhost safe enough, you're not comfortable with Appsflyer's privacy policy. In that case, you'll have the freedom to opt out of the service.
Blockers and Encryption
Another factor that makes CyberGhost so secure is its DNS blocker which recognizes spyware and tracks and blocks them before they can even reach you. These malicious third-party services are known to feed on user data, passing them on to hackers or businesses for marketing purposes.
To top it off, it uses 256-bit AES encryption to create an encrypted tunnel between your system and the target website's server. Everything you do and every piece of information that you enter (Such as banking details and contact information) go through this tunnel, making it almost impossible for any outsider to see the transaction, let alone intercept it.
What Devices Can I Use On?
CyberGhost works with almost all popular operating systems, including Windows, macOS, Android, iOS, and more. Here's a glimpse into the usability of these apps:
Desktop Apps
The desktop apps for Windows and macOS are quite similar in terms of interface. On the right side of the screen, you'll find the "Power Button" — you can toggle it to turn the VPN on or off. Under that, you'll find a drop-down menu where you can either choose a location of your choice or stick to the best location provided by CyberGhost.
On the left side of the screen, you'll get a set of filters for server locations. The option includes — All Servers, Favorites, For Streaming, and For Downloading. Each set has been designed to serve a specific purpose, so choose accordingly.
Under that, you'll find some advanced features, namely Connection Features and Smart Rules. You can use these features to customize the connection, such as enabling split tunneling or turning off the Block feature. At the center, you'll find the list of servers. According to the filters you choose, the list will be updated with details like:
Country name
Distance from your current location
Load time, and
Number of users currently connected to it
You can consider these parameters together to choose the right server for you. This is quite a unique attribute that not all VPN providers offer, and it's helpful for knowing the speeds you'll get when connecting to different servers.
What's nice is that there's also a search bar right on top of this section if you're looking for a very specific location and don't want to scroll through the entire list.
Mobile Apps
The interface of the mobile CyberGhost apps is quite similar. The main screen will have the "Power Button" in the center, which you can toggle to connect or disconnect the VPN. Below that, you'll find a timer telling you how long you've been using the VPN, below which you'll see the location of the server you've been connected to, along with your new fake IP address.
However, once you move to the settings and feature list, you'll notice that the iOS app is almost bare bones, whereas the Android app is just as powerful as the desktop app, hence why it's among the best Android VPNs around.
Owing to Apple's strong security protocols, many features that easily work on Android or Windows don't work on iOS. For example, you won't be able to use its Block Content feature to block unwanted ads and trackers or connect to a random port to dodge Netflix's VPN-blocking technology.
But don't lose heart; the iPhone VPN makes up for these shortcomings with its smart server location selection tool and auto-connect feature. But truth be told, there's nothing the iOS app offers that the Android app doesn't already have.
Back to the interface — in the top-right corner, you'll find the Settings icon. Click on that to access features like Split tunneling, WiFi management or simply to turn on auto-connect. Whatever operating system you use, the mobile app is beginner-friendly either way.
How Does CyberGhost Compare to Top VPN Competitors?
Here's a glimpse into the top competitors of CyberGhost for you to check how it fares against them:
| | | | | | |
| --- | --- | --- | --- | --- | --- |
| Top VPN Apps | Average Speeds | Cheapest Plan | Simultaneous Connections | Server Count | Server Locations |
| CyberGhost | 750 Mbps | $2.19/month (2-year plan) | 7 | 9,400+ | 91 countries |
| ExpressVPN | 560 Mbps | $6.67/month (annual plan) | 5 | 3,000+ | 94 countries |
| PureVPN | 250-450 Mbps | $1.33 /month (5-year plan) | 10 | 6,500+ | 78 countries |
| IvacyVPN | 220-630 Mbps | $1/month (5-year plan) | 5 | 5,700+ | 100+ countries |
| Surfshark | 950 Mbps | $2.21/month (2-year plan) | Unlimited | 3,200 | 100 countries |
As you can see, CyberGhost has the largest network of servers among all its popular competitors, and the more servers a provider has, the more options you can pick from, which also minimizes server congestion, improving the speeds you get.
Another benefit of using CyberGhost is its price. At $2.19/month for 24 months, it's definitely a steal. Now, you might compare it with IvacyVPN and PureVPN, which are priced at $1/month and $1.33/month, respectively. However, you'll have to subscribe for at least five years to get these prices.
That's why we recommend CyberGhost VPN, bringing you the best of both pricing and subscription duration. Plus, it offers ample server options and solid speeds. Here's an in-depth comparison of the market's best VPN apps for more.
A Breakdown of the CyberGhost Server Locations
CyberGhost has over 9,400 servers in over 91 countries. This includes:
Americas — 12 locations, 2,198 servers
Asia/Pacific — 22 locations, 915 servers
Europe — 45 locations, 6,085 servers
Africa/Middle East — 12 locations, 275 servers
Here's a complete breakdown of its server locations:
Americas
Asia/Pacific
Europe
Africa/Middle East
Americas
Argentina
Bahamas
Brazil
Canada
Chile
Colombia
Costa Rica
Greenland
Mexico
Panama
United States
Venezuela
Asia/Pacific Countries
Australia
Bangladesh
Cambodia
China
Hong Kong SAR China
India
Indonesia
Iran
Japan
Kazakhstan
Macau SAR China
Malaysia
Mongolia
New Zealand
Pakistan
Philippines
Singapore
South Korea
Sri Lanka
Taiwan
Thailand
Vietnam
Europe
Albania
Andorra
Austria
Belarus
Belgium
Bosnia and Herzegovina
Bulgaria
Croatia
Cyprus
Czech Republic
Denmark
Estonia
Finland
France
Germany
Greece
Hungary
Iceland
Ireland
Isle of Man
Italy
Latvia
Liechtenstein
Lithuania
Luxembourg
Malta
Moldova
Monaco
Montenegro
Netherlands
North Macedonia
Norway
Portugal
Poland
Romania
Russia
Serbia
Slovakia
Slovenia
Spain
Sweden
Switzerland
Turkey
Ukraine
United Kingdom
Africa/Middle East Countries
Algeria
Armenia
Egypt
Georgia
Isreal
Kenya
Morocco
Nigeria
Qatar
Saudi Arabia
South Africa
United Arab Emirates
Is CyberGhost Legit? A Look at CyberGhost Reviews
CyberGhost has received excellent reviews from its old and existing users. Is CyberGhost VPN good? Well, take Trustpilot's report, for example. Here, it's received a stellar rating based on a whopping 17,000+ reviews. What's more, 84% of these reviewers gave it a 5-star, and 10% gave it a 4-star rating.

A quick glance at the detailed reviews shows that most users are really happy with its seamless set-up process. If you look at the step-by-step guide we've shared below, you can see that it'll hardly take 5 minutes for you to download the app and get it running.
Others have praised the fact that other VPN services charge double what CyberGhost does. While it's true that CyberGhost isn't the cheapest option in the market, it's certainly more pocket friendly when compared to NordVPN and ExpressVPN.
Users also appreciate how CyberGhost gives you adequate options to choose from. As discussed above, CyberGhost has over 9,400 servers worldwide. Not just that, but they're evenly distributed across major continents such as America, Europe, Asia, and even Africa. With such an extensive server network, CyberGhost guarantees that you'll find a suitable server to connect to no matter where you are.
On G2 — another popular review site, CyberGhost has managed to secure a rating of 4.3. Out of all the reviews submitted, 63% have given it a 5-star rating, whereas 30% have given it 4 stars.
We went through some detailed feedback and found that most love how secure CyberGhost is. They also praised its reliable connection and the fact that it lets you connect up to 7 devices at a time.
Some other users commented that they appreciate the free trials, which provide the same service as the original subscription, making it easier for them to make the right call. The only issue that some users pointed out is the speed.
It offers a decent speed of 750Mbps. This is miles faster than most of the competitors, however, it's not the fastest VPN in the industry. That said, the speed you get with a VPN varies depending on several factors, including the distance from your location to the server.
But that being said, overall, any issues pointed out are minor, and most rate CyberGhost highly, so it's clear that the abundant benefits of using CyberGhost far outweigh the trivial cons.
Download CyberGhost VPN – A Quick Guide
CyberGhost is one of the easiest-to-use VPNs, with ample resources on its website on how to get started with the platform. Here's a quick rundown of the CyberGhost download process for different device types:
CyberGhost PC Download
CyberGhost VPN download on a PC is rather simple. Here's a quick step-by-step guide:
Step 1 — Create an Account
First, you need to visit CyberGhost's official website, choose a plan you like, and create an account.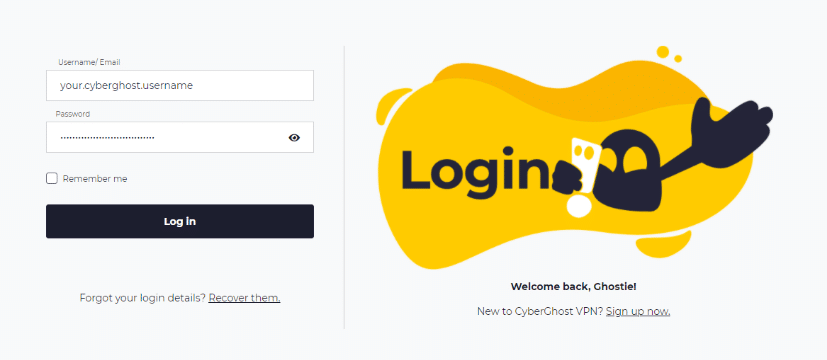 Step 2 — Download CyberGhost VPN
Next, log into your new account, and from the dashboard, click on "Download Hub". You'll find this option on the left-hand-side menu of the page right under the "Overview Tab".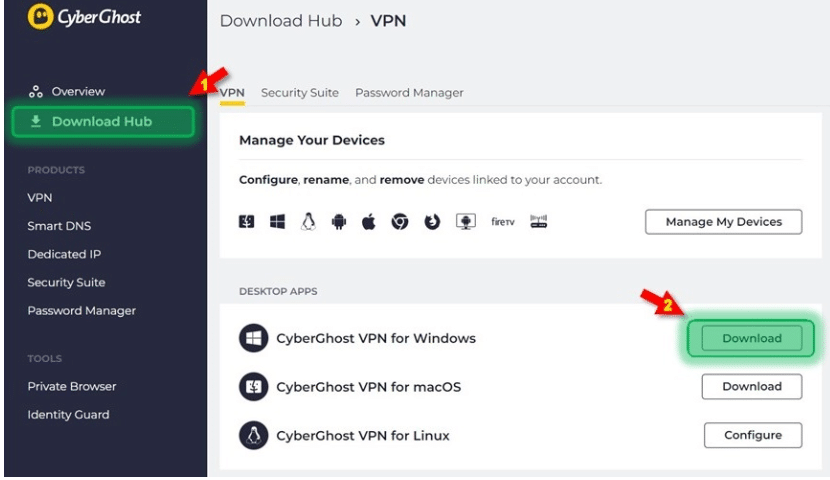 Once you click on Download Hub, you'll get a list of links named "Download for Windows", "Download for Linux," and so on. Choose the device you're downloading CyberGhost on and hit "Download"
Step 3 — Install CyberGhost VPN
Once the file has been successfully downloaded, double-click on it and press "Install" in the window that pops up. Wait for a few minutes for the installation to be done.

Step 5 — Review and Accept the Terms
Next, open the app and click "Agree & Continue" if you're fine with sharing your data with CyberGhost. If you aren't comfortable with that, click on "I want to opt-out".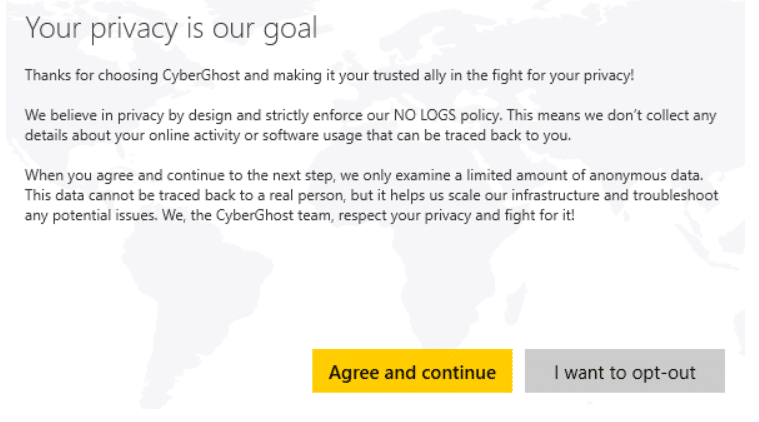 Now, wait for a few minutes. Once the installation is successful, the app's window will automatically open. Once the app is open, you'll need to log into your account again. If you haven't already bought a subscription, you can buy it directly from the app.
Step 6 — Customize and Use CyberGhost VPN
Next, the screen will load into compact mode. You'll get the list of servers at the center, the power button to turn on the VPN will be on the right side of the screen, and other VPN-related options, such as advanced settings and filters, will be on the left.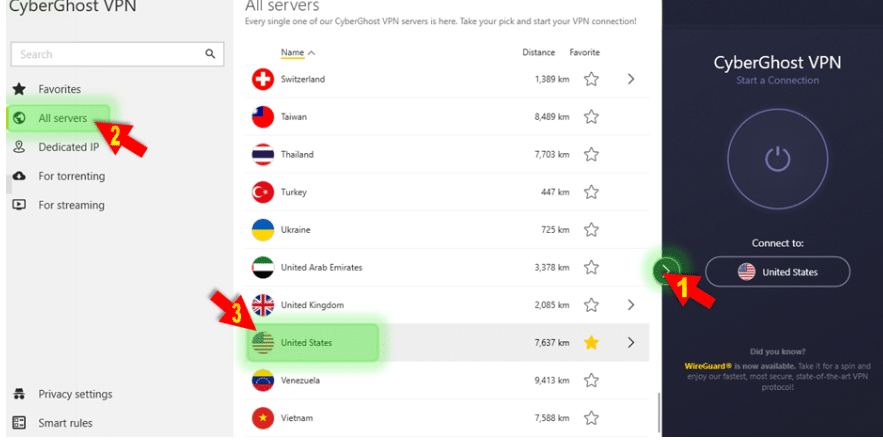 CyberGhost for Android
Let's now look at the Android installation process of CyberGhost:
Step 1 — Install CyberGhost VPN
Open the Google Play Store and type in "CyberGhost VPN". Click on the "Install button" beside the app to start the process.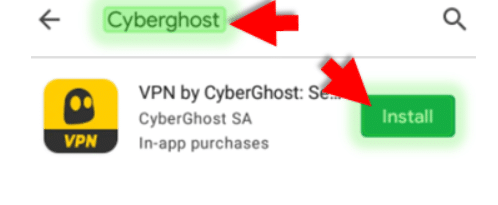 Once the app has been successfully downloaded, open the app from your phone's menu. You'll be asked if you want to share some anonymous data with CyberGhost. Click on "Agree & Continue" or "I want to opt-out".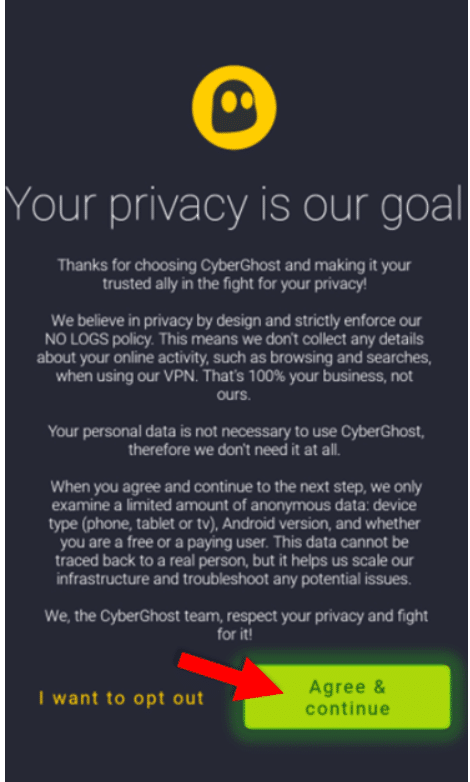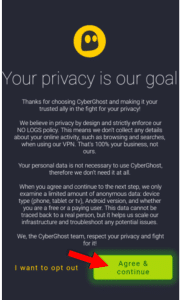 Step 2 — CyberGhost Login
If you already have a subscription, click on "Existing User" to sign in. If you don't, click on "Subscribe Now" to browse the plans directly from the app and pick the one you like.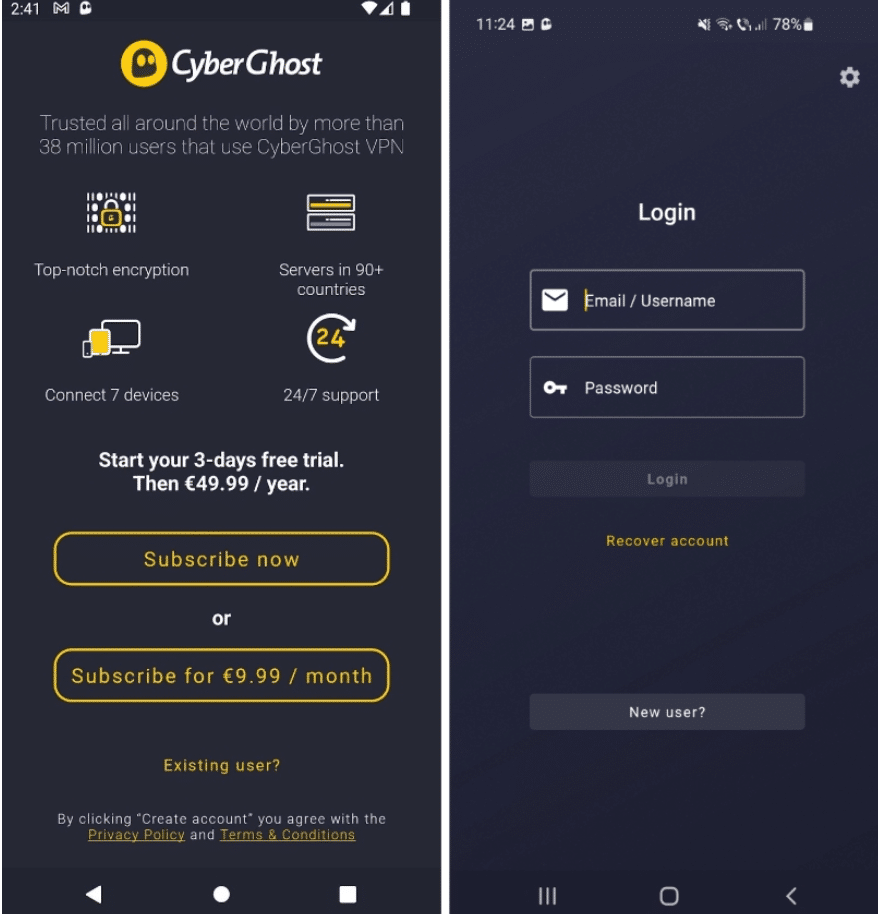 Step 3 — Connect to a Server
It's fairly straightforward to connect to a CyberGhost VPN server. See for yourself:
Step 1 — To connect to a VPN server, simply click on the Power Button, and it'll automatically connect you to the best server at your location.
Step 2 — When you're connecting for the first time, you'll get a pop-up asking you to confirm the connection request. Click on "Allow" to proceed.
Step 3 — Once the connection has been successfully established, you'll notice the "Connected" label on the main page.
That's it. CyberGhost has been successfully connected to your device, and you're free to browse the internet anonymously. The process for iOS is similar to Android. You'll find the app on Apple's App Store, just follow the same steps above.
There might be a few differences in terms of interface or sequence of actions. For example, instead of clicking on "Existing User", you'll click on "I already have an account". But other than minute differences like this, the process is the same as the CyberGhost Android installation.
How We Tested CyberGhost
At Techopedia, we have a team of cybersecurity experts who have significant experience in reviewing VPN, antivirus, and cybersecurity tools. Given this, we have a deep knowledge of industry benchmarks and what really stands out as exceptional performance, and we can make informed comparisons of the market's leading products.
So we can offer a comprehensive overview of CyberGhost's VPN offering, we've taken a deep dive into the product, looking at the performance, stability, and speed of its connections, the size of its network, and its security features, among other factors.
We've also explored CyberGhost's plans and customer service to evaluate the value for money that it delivers. In addition to this, we've sourced user feedback from the web to get a full sense of the experience that customers have when using the product on a day-to-day basis and the issues they've flagged with the platform.
Our objective is to compile a complete picture of how the tool works under testing and in the real world, its usability, and how it compares to other products to provide an unbiased perspective on whether it's the right solution for you.
Top VPN Resources
Our VPN specialists have created a range of materials and resources on the top VPNs tools on the market today – to ensure you can remain anonymous and secure.
Final Thoughts – Is CyberGhost Good to Use in 2023?
CyberGhost is an easy-to-use VPN service with an evenly spread network of servers across the globe. With a focus on security features like DNS & IP leak protection, an automatic kill switch, and a strict no-logs policy, it's a service you can rely on. Advanced features like split tunneling and dedicated servers are just the cherry on top.
All this and more is available at just $2.19/month with the 2-year plan, making it one of the best bargain VPNs considering the value for money on offer. Besides, you can take advantage of its 45-day long money-back guarantee or opt for a free trial before subscribing. Test the service risk-free now.
CyberGhost Review FAQs
Is CyberGhost as good as ExpressVPN?
Is CyberGhost good for Netflix?
Is CyberGhost the fastest VPN?
References