ExpressVPN vs NordVPN is a comparison you'll often hear about when looking for a premium VPN. In fact, given the high-quality service they offer for privacy and security, it can be hard to make a decision between them. However, there are some important differences in functionality that make each of the two suited to particular use cases.
ExpressVPN is often seen as the fastest VPN provider in the industry, whereas NordVPN offers some interesting features that are great for security-conscious users. In this comparison, we'll delve into the key features, strengths, and weaknesses of both providers to help you make an informed decision on ExpressVPN vs NordVPN. Read on, and find out which is best for you.
Table of Contents
Table of Contents
Express vs Nord: Overview
Before diving into the specifics, let's take a brief look at how ExpressVPN and NordVPN compare at a glance:
| | | |
| --- | --- | --- |
| Overview | NordVPN | ExpressVPN |
| Cheapest Plan | $3.75/month – 2-year plan | $8.32/month – 1-year plan |
| Free Version | 7-Day Trial on Android | 7-Day Trial on Android and iOS |
| Money-Back Guarantee | 30-Day Money Back Guarantee | 30-Day Money Back Guarantee |
| Average Speeds | 29% Speed Drop | 25% Speed Drop |
| Server Count | 5,500+ | 3,000+ |
| Server Locations | 60+ countries, including USA, UK, Bahamas | 90+ countries, including USA, India, South Korea |
| Independently Audited | Yes | Yes |
| Streaming Services Unblocked | Netflix, Amazon Prime Video, Hulu, BBC iPlayer | Netflix, Amazon Prime, Hulu, BBC iPlayer, DAZN, Peacock, HBO Max |
Express VPN vs Nord VPN Price Comparison
ExpressVPN and NordVPN both offer great value for money, but which one's cheaper? We'll break down each provider separately and provide all the details.
ExpressVPN Pricing
ExpressVPN has only one pricing plan, which you can pay for monthly, every six months, or annually. The annual plan works out at a 49% discount, and you get three months free with your first order.
The ExpressVPN price is a little more expensive than other VPN providers, but it's made up for in terms of connection quality, great download and upload speeds, and consistent unblocking capabilities.
Buying a monthly subscription gets you access to ExpressVPN from five devices at once, but purchasing the 6 or 12-month packages bumps you up to eight simultaneous connections.

You can try it out with a 30-day money-back guarantee, which essentially acts as a free trial. ExpressVPN will refund you, no questions asked, so it's risk-free to give them a shot if you're interested in the service.
NordVPN Pricing
NordVPN has relatively complex pricing by comparison. You can choose a monthly plan, an annual plan, or a two-year plan, with no option for a six-month plan. Additionally, there are three plans, each with different functionality.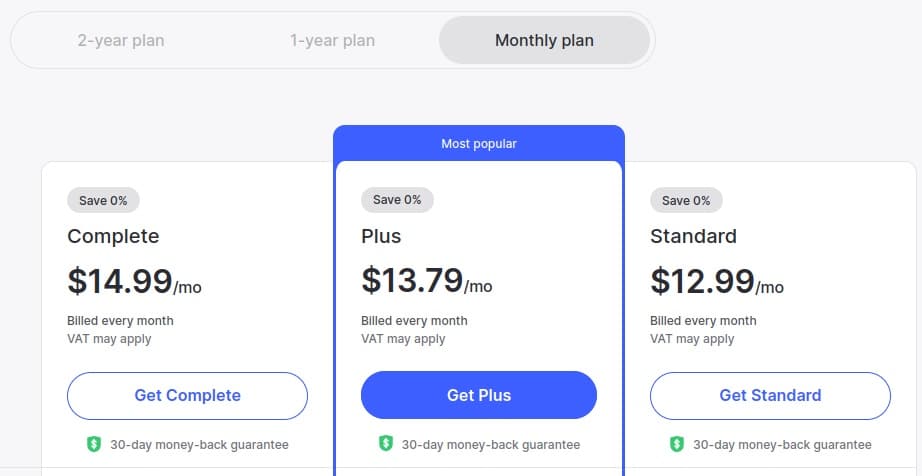 The Standard package comes with all the core features of the VPN, built-in ad-blocking, and a full malware monitoring solution that includes an adware blacklist and an anti-virus component built into the VPN software itself.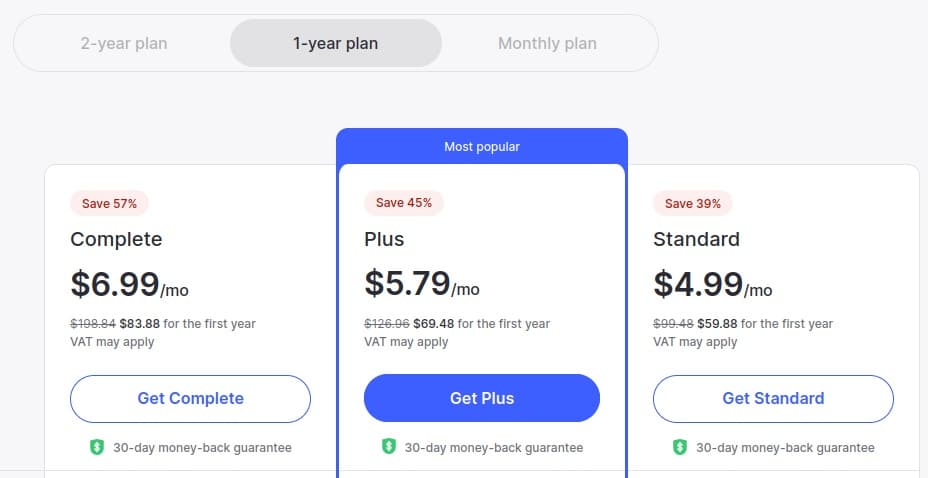 Upgrading to the Plus package gives you everything in the Standard deal, plus a password manager and deep web monitoring that'll inform you if your personal details are leaked and posted online.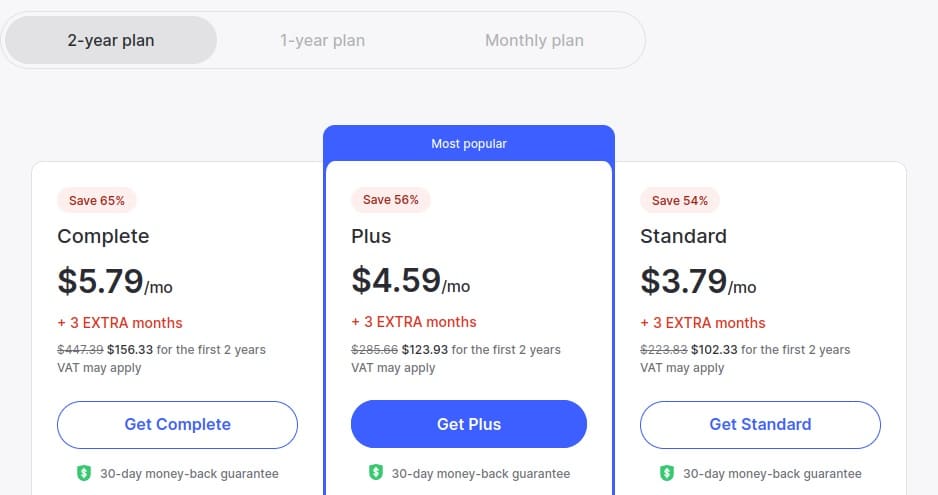 Finally, the Complete version adds 1TB of cloud-hosted encrypted storage that you can access through NordVPN. This makes NordVPN a great choice if you're regularly changing devices, as you'll always have access to your most important documents. Just like ExpressVPN, it offers a 30-day money-back guarantee.
Which is better?
ExpressVPN is slightly cheaper on a month-by-month basis, while NordVPN is cheaper if you buy one-year or two-year subscriptions. However, both are comparable in terms of pricing, which means that it's the value that each provider brings to the table that really sets them apart.
ExpressVPN vs Nord: A Look at Their Features
Now that we've covered pricing, we'll break down the features that each provider offers and how they stack up against each other.
Protocols
Your VPN client uses protocols to communicate with its servers. It's essential to use a well-designed protocol and secure encryption to ensure nobody can peek at your data in transit. ExpressVPN and NordVPN both offer a variety of bullet-proof protocols to secure your online traffic.
Not only is this encryption useful for stopping your ISP from monitoring you, but it'll also protect you if hackers try to spy on you using public WiFi.
Both providers support OpenVPN and IKEv2/IPsec, which are industry-standard protocols. OpenVPN is supported across all devices, while IKEv2 is offered primarily for Apple operating systems like iOS and MacOS.
The key difference between the two providers is their proprietary in-house protocols, both of which were inspired by WireGuard, a lightweight open-source VPN protocol.
NordVPN offers NordLynx, which is essentially WireGuard with some additional network security features, fixing an issue where WireGuard previously exposed user IPs.
ExpressVPN's LightWay protocol is custom-built but takes a similar approach. It has an extremely lightweight codebase, allowing for high-speed connections without hogging system resources compared to OpenVPN. It's also completely open source and has been audited by Cure53 for security vulnerabilities.
There aren't any fundamental differences between these proprietary protocols, as in both cases, you'll be using VPN protocols with a high level of security and faster connections than OpenVPN.
Server Network
This is one area where ExpressVPN clearly wins out. Although NordVPN has a bigger server network on paper, ExpressVPN has more server locations to choose from. ExpressVPN boasts a vast server network with servers in over 90 countries, while NordVPN has servers in around 60 countries.
When you take into account ExpressVPN's stellar reputation for providing geo-unblocking services for streams and other locked content, it's clear that ExpressVPN is the superior choice if you're looking to connect to servers around the world.
Split Tunneling
NordVPN and ExpressVPN are neck and neck when it comes to their Split Tunnelling features.
Split Tunneling allows you to choose which apps and traffic routes through the VPN and which access the internet directly via your internet connection. There are plenty of scenarios where this is useful, like if you're streaming movies and playing a game, where connection speed is paramount.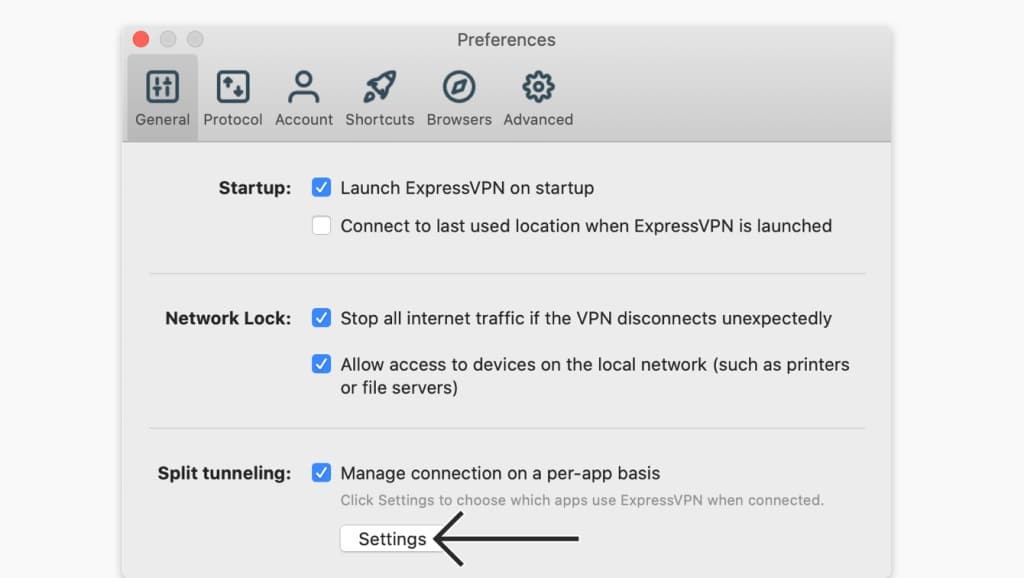 Both interfaces are pretty similar in terms of how they work. Each will let you either whitelist or blacklist apps for the VPN, depending on what's easier for you.
The way they differ is in client support. ExpressVPN supports Windows and MacOS versions before OS 11, while NordVPN supports Windows, Android, and AndroidTV.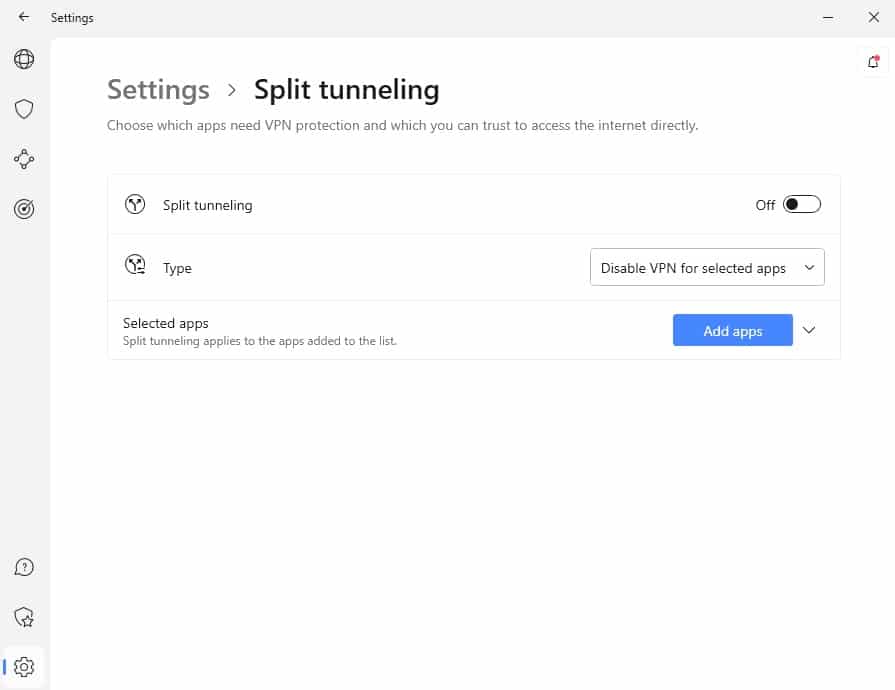 Streaming and P2P Servers
Both VPNs excel at unblocking geo-restricted content on streaming platforms and support P2P file sharing. ExpressVPN allows P2P activity on all of its servers, so it doesn't offer any specialized servers for this purpose.
You just choose the server location that's best for you, and ExpressVPN does the rest. The same goes for streaming. You never have to pick a streaming-specific server, which makes ExpressVPN an easy one-click solution after it's installed on your device.
NordVPN's server selection is a little more complex, but that's the consequence of offering specialized servers for different purposes.
Every server is set up for streaming, but some directly offer P2P services. Don't worry, though – any server that doesn't use P2P will automatically detect and forward your traffic to a P2P server with a minor hit to your connection speed.
Kill Switch
NordVPN and ExpressVPN both offer a Kill Switch feature to enhance online security and privacy. If your VPN connection unexpectedly drops, the Kill Switch will cut your internet connection, preventing data leaks. There are some notable differences in how each VPN implements this feature.
NordVPN provides you with a comprehensive approach to the functionality, with two types of Kill Switches – the internet Kill Switch and the app-specific Kill Switch.
The internet Kill Switch works at the system level and blocks all internet traffic if the VPN connection is disrupted. This ensures no data is exposed to your ISP or potential eavesdroppers.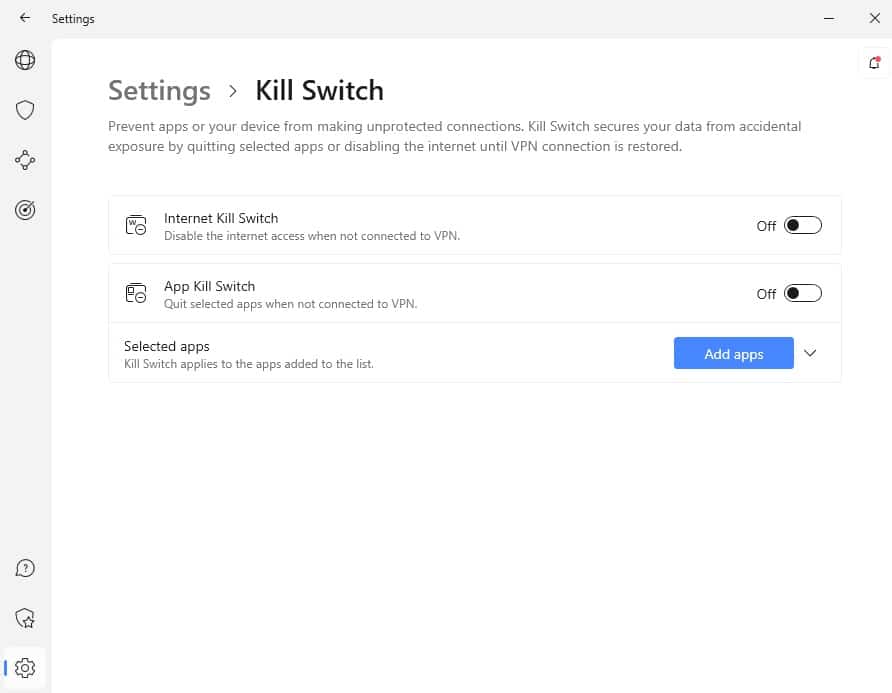 NordVPN's app-specific Kill Switch allows users to choose specific applications that should be terminated in the event of a VPN disconnection. This grants you more control over internet traffic and ensures only selected applications are affected.
NordVPN's approach is particularly useful when you want to maintain certain online activities, such as streaming, while ensuring the security of others, like accessing your bank account.
In contrast, ExpressVPN offers a simpler, system-wide Kill Switch feature called "Network Lock." When Network Lock is enabled, it acts as a blanket protection mechanism, blocking all internet traffic if the VPN connection is interrupted.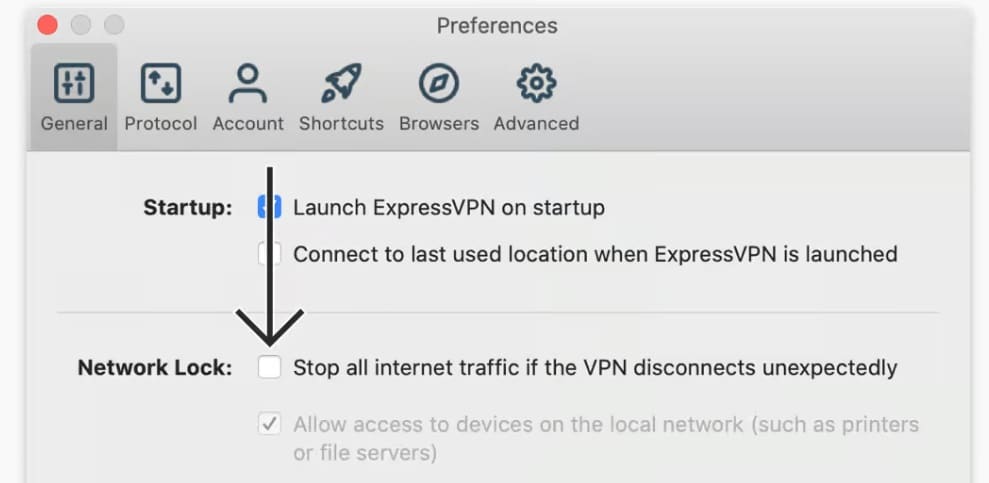 Unlike NordVPN, ExpressVPN doesn't offer an app-specific Kill Switch, so all internet traffic is cut. While this provides a strong layer of security, it lacks additional granularity and flexibility.
Advanced Security Servers
One area where NordVPN wins out over ExpressVPN is in the additional security features it offers. They're too numerous to itemize, but we'd like to highlight a handful of them.
Double VPN servers route your traffic through two VPN servers for added security, ensuring that even if one server is compromised or leaks, it will only lead hackers back to the original VPN server you've connected to.
Onion over VPN servers allow you to connect to the Tor network, which enhances your anonymity both while browsing Onion networks (better known as the Dark Web) and using Tor as a passthrough security layer on top of your VPN connection.
Obfuscated servers hide the fact you're using a VPN, which is great when you're browsing the web in a country with a particularly repressive regime. These servers are configured to protect against Deep Packet Inspection, which is the primary way ISPs figure out you're using a VPN.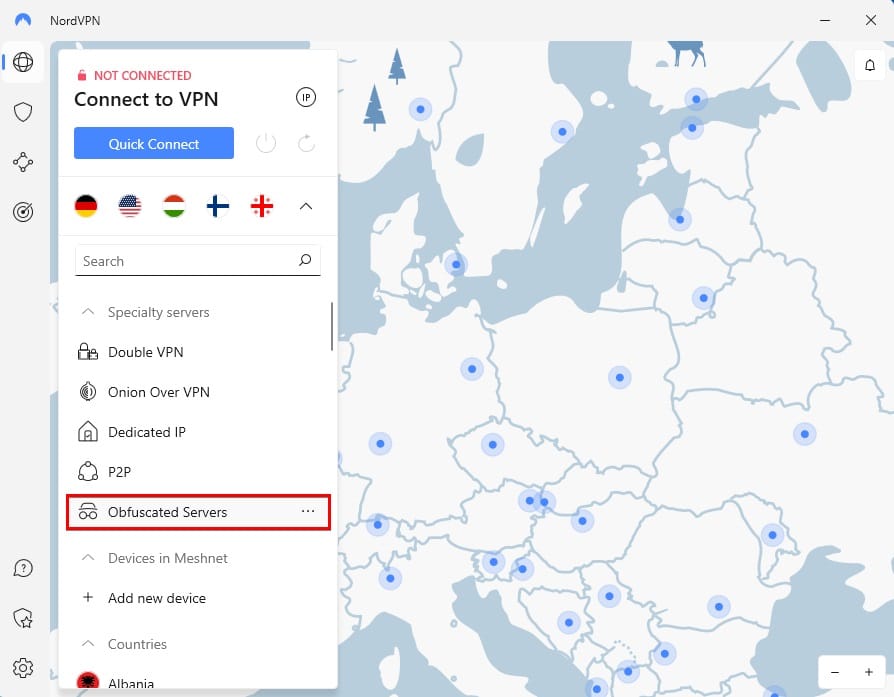 While ExpressVPN offers high-security servers by default, NordVPN's extra features may appeal to you if you're seeking the highest level of privacy.
Which is Best for Streaming, Nord or ExpressVPN?
There are many VPNs out there that simply aren't up to the task when it comes to streaming, but both ExpressVPN and NordVPN have the server stability and speeds required to ensure you'll be able to stream high-definition content without interruption.
We took both VPNs for a spin to get a feel for how they perform, so read on to get our thoughts.
ExpressVPN
ExpressVPN has a reputation as the streamer's VPN, consistently unblocking a wide range of streaming services across regions. We tested it and found it offers access to popular platforms like Amazon Prime Video, Disney+, Hulu, Sky Go, BBC iPlayer, and Netflix, including regional libraries in the US, UK, Canada, and Japan.
During our time using ExpressVPN, we couldn't find a streaming service it couldn't handle. If you find a service that is blocked, ExpressVPN encourages you to get in touch via their support lines to see if they can unblock it.
ExpressVPN also uses an active server monitoring system, which allows it to quickly replace IP addresses that get blocked by streaming services.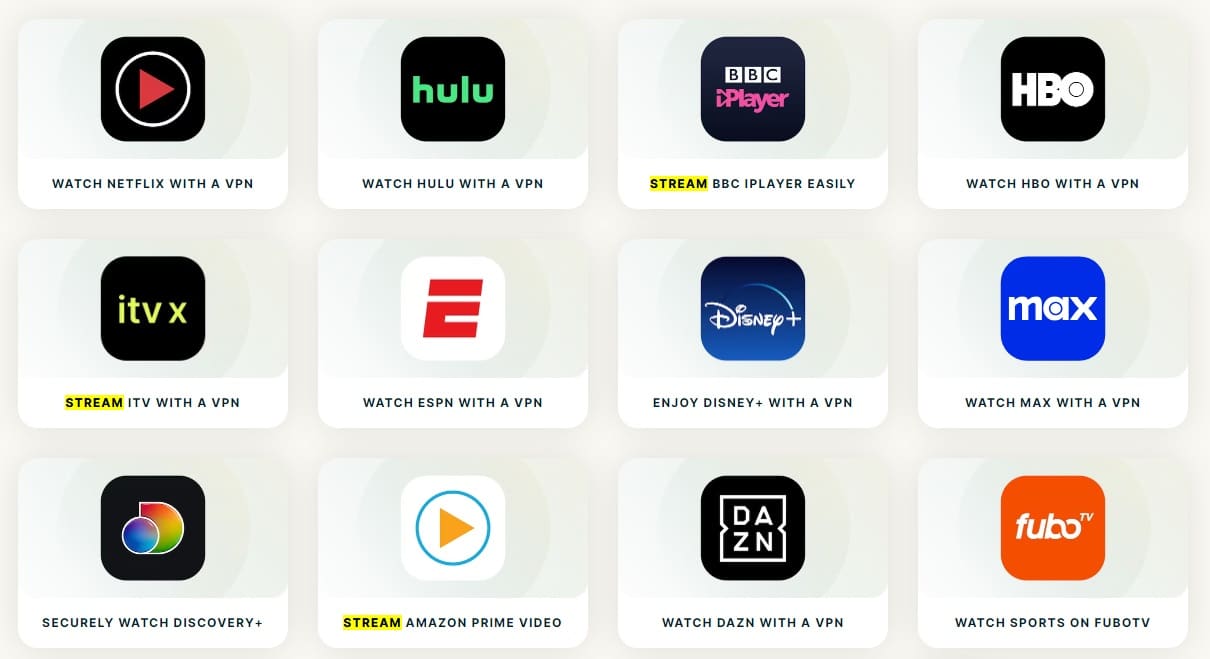 This ensures a reliable streaming experience, although you may occasionally find that one streaming service you use is blocked for a short period of time. Streaming services often block VPN services to enforce regional geolocking of content, so it's great to see that ExpressVPN keeps on top of this by refreshing IP addresses.
ExpressVPN also provides a dedicated Smart DNS feature called MediaStreamer, which is useful for streaming on devices that don't support VPNs.
It works by routing DNS requests through ExpressVPN's proprietary servers instead of public DNS servers. ExpressVPN's DNS servers spoof your requests, serving the geo-located content from the location you want instead of your local servers.
All you have to do to set this up is register your IP address with ExpressVPN to get access and then change the DNS servers on the device you want to cover to the new IP addresses ExpressVPN gives you.
It's a little annoying if you're on an internet plan that dynamically assigns you new IPs, but there's an option to automatically update your IP as long as you keep the ExpressVPN app running on at least one of your devices.
NordVPN
NordVPN is also a fantastic choice for streaming, as it provides high-speed connections from a variety of locations. Just like ExpressVPN, we found that the majority of services we tested worked without issue, even in 4K.
These included Hulu, Disney+, HBO Max, Amazon Prime, BBC iPlayer, and Netflix for the US, UK, Canada, and Japan.
Unfortunately, we did find that Sky Go blocked NordVPN when we tried. We're confident that NordVPN can unblock most services, and this is just a temporary block while NordVPN updates its service with new IPs.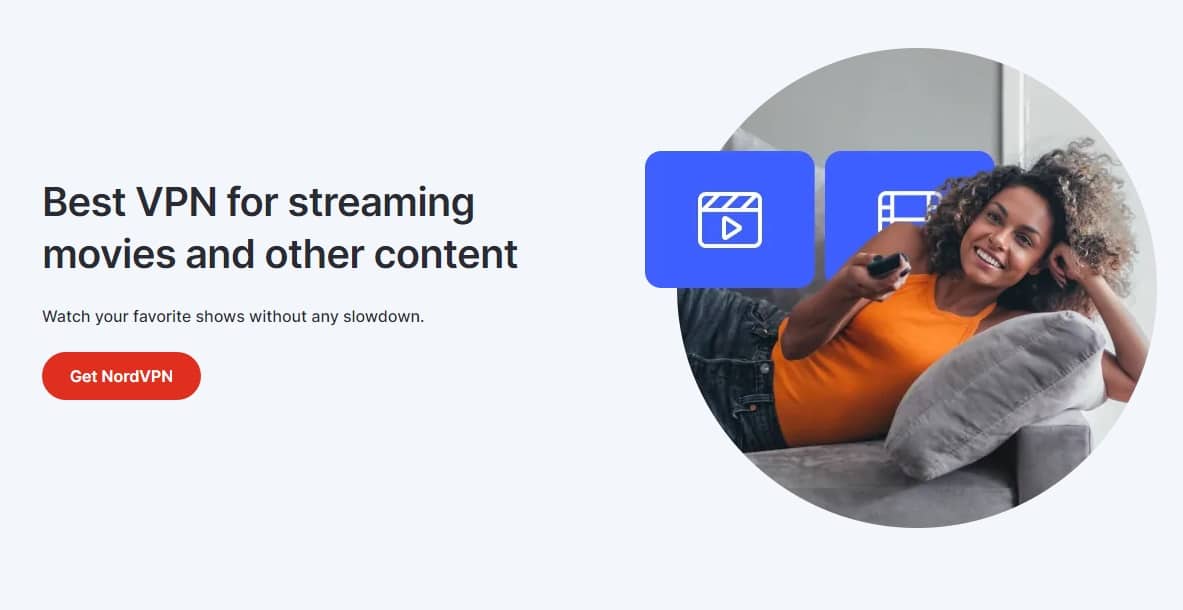 While it provides streaming-optimized servers for certain platforms, many services can be unblocked without them. NordVPN offers fast speeds for streaming, making it a great choice for watching high-resolution content.
NordVPN has two features designed to speed up your streaming experience. SmartDNS works in roughly the same way as ExpressVPN's MediaStreamer, and SmartPlay, which combines the best features of a VPN and private DNS spoofing.
The only issue we found with SmartDNS is that there's no automatic IP update, and you'll have to add a new IP each time your home IP changes to access the DNS.
However, SmartPlay works automatically. It uses a separate pool of IP addresses to perform address routing, allowing you to access new locations instantly. It's designed specifically for streaming and automatically connects you to the best server for your chosen streaming platform.
Which is best?
So, which one is best for streaming? The answer depends on how you want to access your content. ExpressVPN has a transparent list of supported streaming services on its website, making it easy for you to identify the platforms it can unblock.
The connections are lightning-fast, and with a wider range of locations to connect from, ExpressVPN unblocks more geo-locked content.
In contrast, NordVPN doesn't offer an official list and occasionally suffers from content outages but provides built-in apps for your SmartTV that make streaming easier without having to mess around with the SmartDNS feature.
When it comes down to NordVPN vs ExpressVPN, Netflix isn't a deciding factor, as both providers unblock the full range of region-locked content.
Both also provide a perfect connection without buffering or long connection times, so you'll never have to worry about having several high-definition streams as long as your home connection can handle it.
Are Both Nord and Express Good for Torrenting?
NordVPN and ExpressVPN are excellent choices for torrenting, as each one has a wide range of P2P-enabled servers. We think NordVPN wins out here, but the important fact is that both are great choices.
NordVPN
Is Nord VPN good for torrenting? After some testing, we've come to the conclusion that NordVPN is the ideal solution for secure torrenting, with its specialized P2P-optimized servers.
With over 45 countries to choose from, they're optimized to provide fast speeds for torrent clients while maintaining consistent connections for streaming and other high-bandwidth activities.
What sets NordVPN apart is its ability to automatically redirect users to these P2P servers when it detects P2P traffic, ensuring a smooth experience.
NordVPN also incorporates essential privacy features, including a Kill Switch that halts all internet traffic in the event of a VPN connection drop, preventing accidental data leaks.
The VPN is based in Panama, which is a privacy-friendly jurisdiction and adheres to a strict no-logs policy that has been repeatedly audited, guaranteeing your privacy. It also provides DNS leak protection to ensure your IP address remains hidden during torrenting.
ExpressVPN
ExpressVPN is very user-friendly for torrenting, as it allows P2P file sharing on every server in its extensive network. This approach eliminates the need to connect to specific servers for torrenting.
During our tests, we found ExpressVPN displayed impressive download speeds, even with low seeders. We're also confident that ExpressVPN will protect your privacy, as it's been audited for a no-logs guarantee several times, and we found no DNS or IP leaks while testing the service out.
While it lacks features like port forwarding through the router application or a SOCKS5 proxy, ExpressVPN compensates with its fast download speeds, making these functions less critical for most users. If you don't want to spend ages trying to find the best server to connect to for torrenting, ExpressVPN is a great choice.
Which is best?
Both NordVPN and ExpressVPN provide secure and efficient torrenting experiences. NordVPN's approach involves specialized P2P servers, while ExpressVPN offers a more straightforward and flexible solution by allowing torrenting on all servers.
We found that ExpressVPN's speeds were generally better while torrenting, which reflects that the service is slightly faster overall than NordVPN.
Nord vs Express VPN's Security
So far, both providers have been pretty impressive. However, the thing that really makes or breaks a VPN provider is how secure it is. Here are our thoughts on NordVPN and ExpressVPN's security policies:
No-Log Policies
NordVPN and ExpressVPN both claim that they implement a no-logging policy on their servers. You might be wondering, "How can the servers operate without logs?"
RAM-only servers are the ideal solution to this problem and ensure no data is stored permanently on the servers. Instead of writing data to the hard drives, it's stored in RAM temporary memory.
When the server is rebooted, the power to the RAM is cut, and all server data is wiped clean. This ensures no sensitive information can be accessed even if the server is compromised or seized under warrant.
ExpressVPN's implementation of this is TrustedServer, which is a RAM-only solution built into every server it runs. What's interesting about this is the way it's deployed.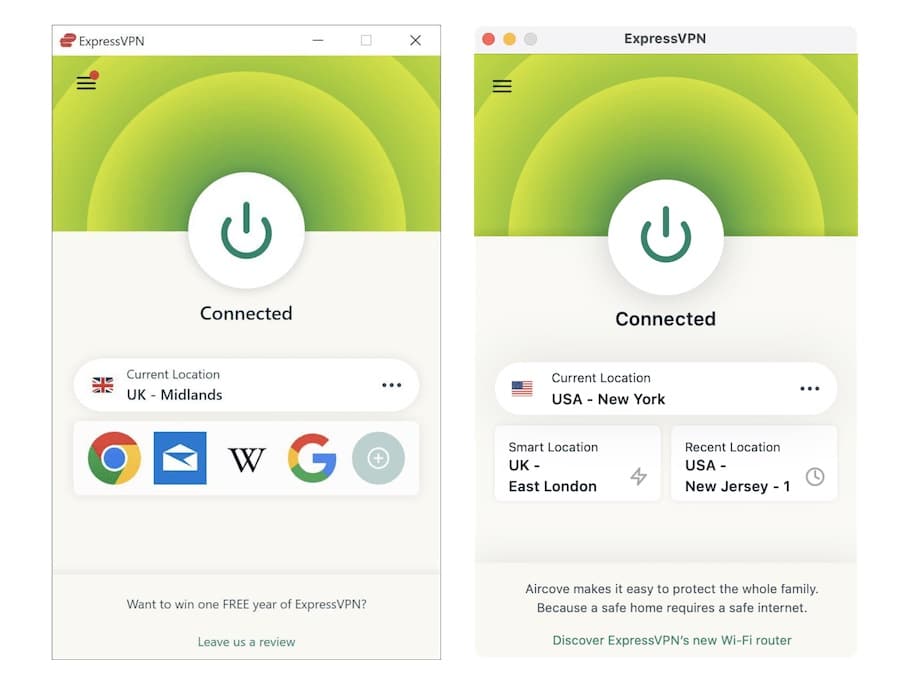 Traditional servers often suffer from inconsistencies due to incremental software updates over time. In contrast, TrustedServer loads the latest read-only image containing the entire software stack, including the operating system, each time a server starts up.
This guarantees that all ExpressVPN servers run identical software, minimizing the risk of vulnerabilities or misconfigurations and thus improving overall VPN security.
ExpressVPN has taken extra steps to ensure the reliability of its technology. It has undergone independent audits by PwC and Cure53, providing users with third-party validation of its security measures.
Additionally, ExpressVPN has established a generous bug bounty program, offering a one-time bonus award of $100,000 specifically for the discovery of security issues with TrustedServer.
There's less information available about NordVPN's implementation of RAM-only servers, but they've been audited several times by PwC and Deloitte to prove their no-logs policy works in practice.
These audits reviewed NordVPN's no-logs policy, server infrastructure, and security measures. NordVPN implemented these policies in response to a third-party server being compromised in 2019, but it seems that NordVPN's security policies have worked well since then.
Malware and Ad Blocking
This is an area where NordVPN gets ahead of ExpressVPN. Both providers offer ad and malware-blocking capabilities. However, NordVPN actively scans for malware files on your device, which adds an extra layer of security against malware.
NordVPN keeps ads off your computer with CyberSec, which is essentially a built-in ad blocker. It reduces the number of ads you encounter by blacklisting ad URLs at the DNS level, so the resources are blocked before they reach your computer.
It also safeguards you from potentially dangerous malware-infected websites and intrusive trackers with the same method. We found that it's great for removing banner ads, but it didn't eliminate ads on platforms like YouTube or Twitch.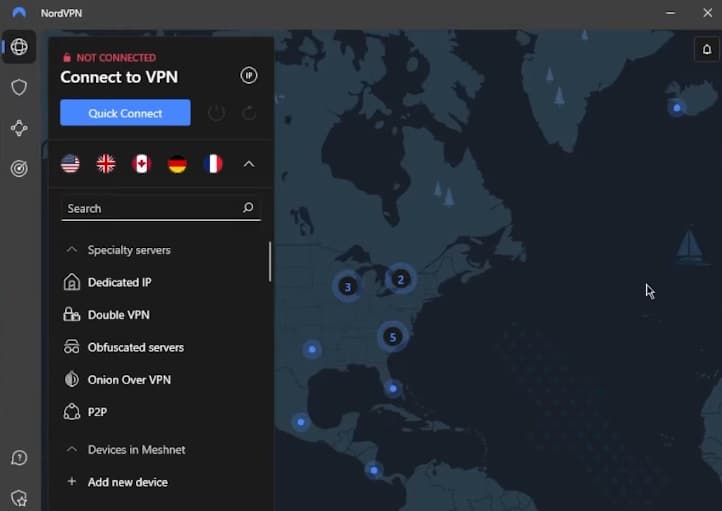 CyberSec is superior to a traditional ad-blocker, which sits inside your browser and removes content from pages you load. By blocking ads at the DNS level instead of the browser level, it stops you from downloading them, saving valuable bandwidth.
It also proactively blocks access to websites and files that may harbor malware, reducing the risk of inadvertently downloading malicious content. However, it's essential to note that its effectiveness depends on the content being on a known threat blacklist.
NordVPN also provides protection with its Threat Protection feature, which complements CyberSec. Threat Protection detects malware on web pages and files, blocking infected content and deleting malware from your device.
Importantly, it works continuously and even when you're not connected to the VPN. While available on Windows and macOS desktop apps, users on iOS and Android can access the Lite version, which has similar functionality but doesn't delete malware from the device.
ExpressVPN's recently added Threat Manager feature works in the same way as CyberSec, blocking malware and ads at the DNS level.
If you're interested in exactly which content ExpressVPN blocks, you can check out their website for a list of the public, open-source malware blacklists that ExpressVPN draws from to power their Threat Manager feature.
Dark Web Monitoring and Access
This is an area where NordVPN clearly wins out. NordVPN's Dark Web Monitoring is a crucial cybersecurity feature that offers continuous protection against potential data breaches on the dark web.
This tool scans dark web forums and sites for credentials linked to your NordVPN email address. It operates in the background, eliminating the need for manual activation with each data breach report.
Should it detect any leaked data associated with your email, you will receive immediate alerts containing information about the breach and the affected service. This enables you to take swift action, like changing passwords or implementing multi-factor authentication, to secure your accounts.
ExpressVPN doesn't offer a similar feature, but both providers offer dark web access through Tor. You'll need to activate your VPN before connecting to the Tor network, but as it's being run through your encrypted VPN tunnel, you'll be able to connect to Tor even if it's blocked on your network.
We found that the two providers offer similar connection speeds and Tor server coverage – but NordVPN will also keep you safe from identity theft breaches.
Which Offers Better Compatibility, Express or Nord?
Both NordVPN and ExpressVPN are compatible with a wide range of devices and operating systems, so whether you need to cover a desktop computer, laptop, or mobile phone, both providers have you covered. We've put together a quick comparison list so you can see how they stack up with each other:
Device Compatibility Comparison
| | | |
| --- | --- | --- |
| Device/Platform | ExpressVPN | NordVPN |
| Windows | Yes | Yes |
| macOS | Yes | Yes |
| Android | Yes | Yes |
| iOS | Yes | Yes |
| Linux | Yes (via command line) | Yes (via command line) |
| Routers | ASUS, Linksys, Netgear firmware support | Yes (via Flashrouter or OpenVPN) |
| Smart TVs | Yes (AndroidTV, GoogleTV, MediaStreamer) | Yes (AndroidTV, GoogleTV, SmartDNS) |
| Amazon | Fire TV, Fire TV Stick, Fire Tablet | Fire TV, Fire TV Stick, Fire Tablet |
| Gaming Consoles | Yes (via router) | Yes (via router) |
| Browser Extensions | Chrome, Firefox, Edge | Chrome, Firefox, Edge |
As you can see, both providers cover Windows, macOS, Android, and iOS. Their support for Linux is at the same level, with a command line app but no full GUI-based app. Even as we get into extended device support, there really aren't that many differences.
Where NordVPN and ExpressVPN differ is in their router support. ExpressVPN offers firmware for ASUS, Linksys, and Netgear routers, allowing you to flash your router's existing firmware, which will give you access to the full set of ExpressVPN features on your router.
NordVPN doesn't offer firmware for third-party routers but does sell its own NordLynx router in association with FlashRouters that comes pre-installed with NordVPN's firmware.
Who Offers Better Apps: Express or Nord?
ExpressVPN and NordVPN both offer user-friendly apps for various devices and platforms, and the quality of their apps is generally quite high. However, there are some differences in terms of features, design, and user experience. Let's compare their apps:
ExpressVPN Apps
ExpressVPN's apps have an intuitive design that makes it easy for both beginners and experienced users to connect to VPN servers quickly. When you start ExpressVPN up, you'll be required to enter an authorization code, which you can find by accessing your account on the ExpressVPN site.
This makes ExpressVPN less vulnerable to keylogging attacks, as even if your authorization code is compromised, an attacker still won't have access to the details you use to log into ExpressVPN.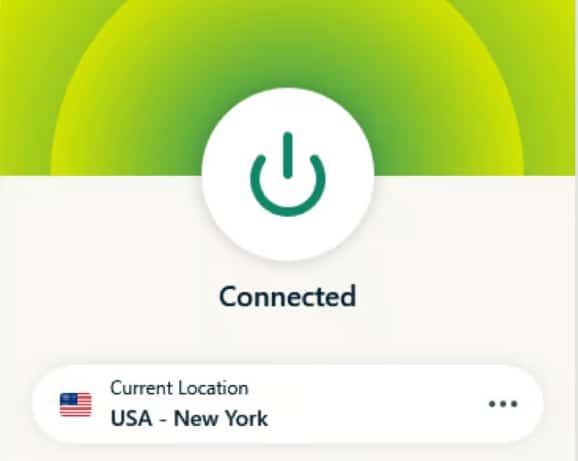 Once you're in, it's a simple matter of hitting the Connect button to be automatically connected to the fastest VPN server for your network.
ExpressVPN sets up all of your protocol details for you, but you can access the options from the top left if you're on desktop or bottom right if you're on mobile. Each option is explained clearly, including a quick overview of how each protocol benefits you.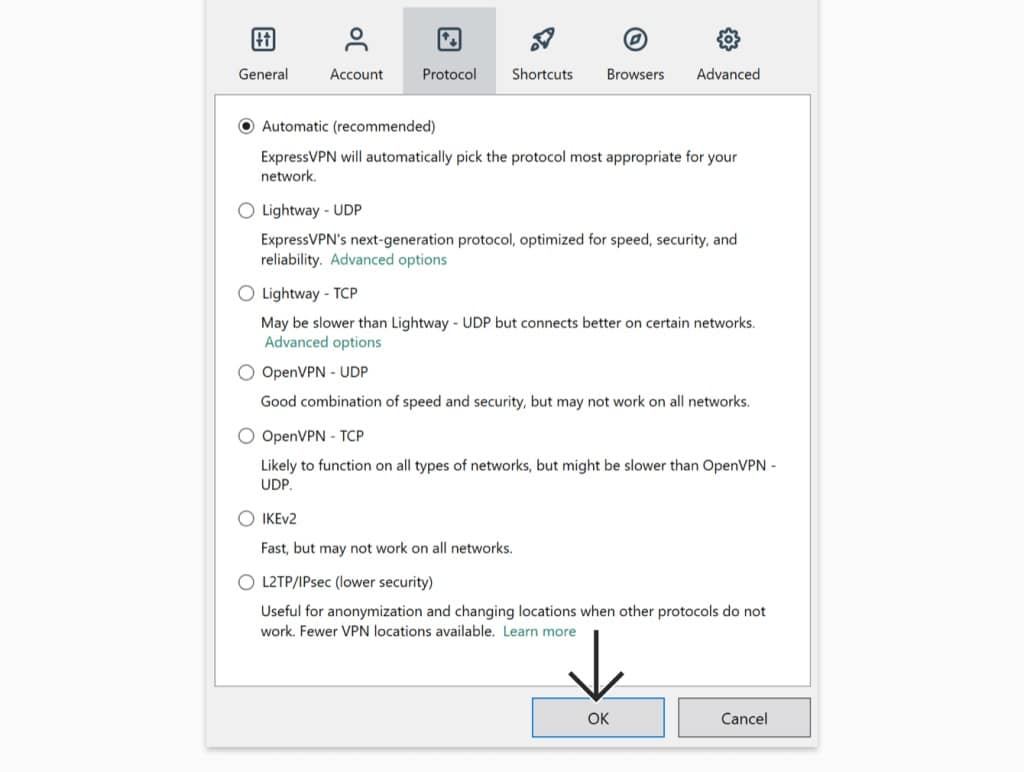 The only real critique you could make of ExpressVPN's app is that it's somewhat plain, especially in the options menu. However, this makes it easy to find the features you want quickly.
The Split Tunneling interface is no more complex than it needs to be, giving you a clear readout of which apps are already covered under the policy and where you can add more to either the whitelist or blacklist. This policy of simplistic minimalism is carried across all ExpressVPN's apps on desktop and mobile.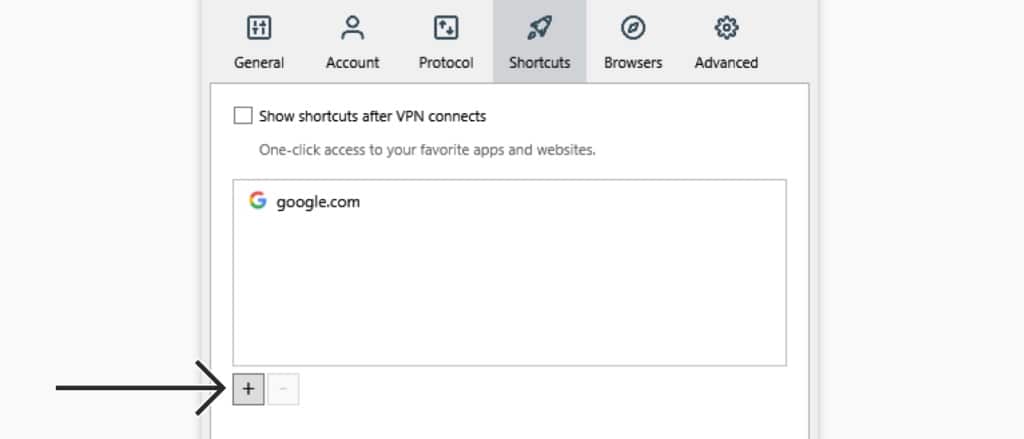 The location selector is also clear and simple. If you need to choose a different location, there's a dropdown on the side of the connect window, which allows you to quickly choose the server you want.
There's a favorite icon next to each server for your most used servers and a separate tab for accessing favorites. All in all, the GUI makes working with ExpressVPN really easy.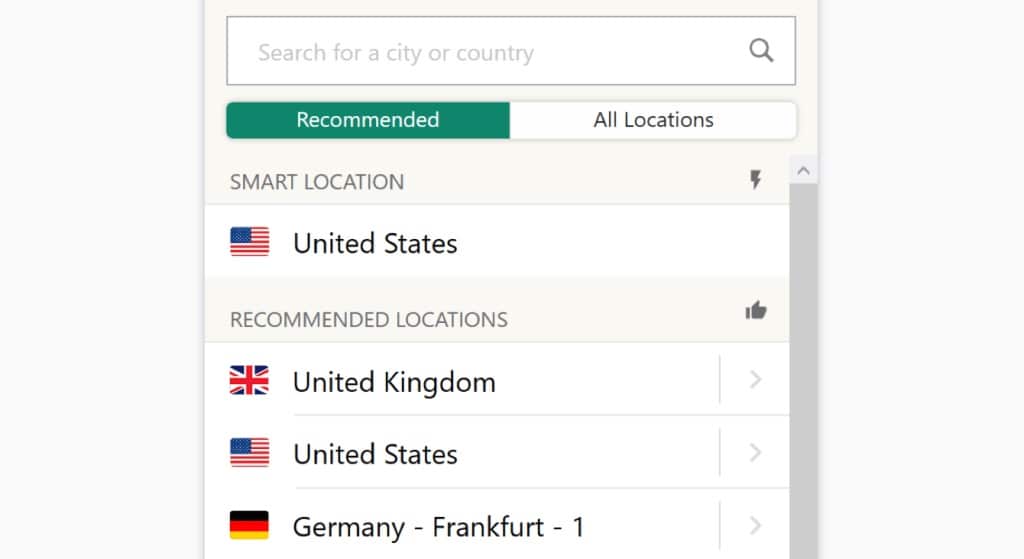 The only exception to this is the Linux app, which is just a command-line interface. It's relatively simple to use but comes with a limited subset of the features from the main apps.
You can choose your location, smart connect to the best location, change your protocol between Lightway and OpenVPN, and turn Threat Manager on and off. For anything more, you'll have to run ExpressVPN through one of the browser apps the firm provides for Firefox or Chrome.
NordVPN Apps
NordVPN's apps have a similarly clean and intuitive interface, allowing you to connect to the servers you want with ease. After logging in, the first difference you'll notice is a world map that visually shows you where all NordVPN's servers are located.
It's useful for figuring out where you want to connect at a glance instead of scrolling through a list of server locations.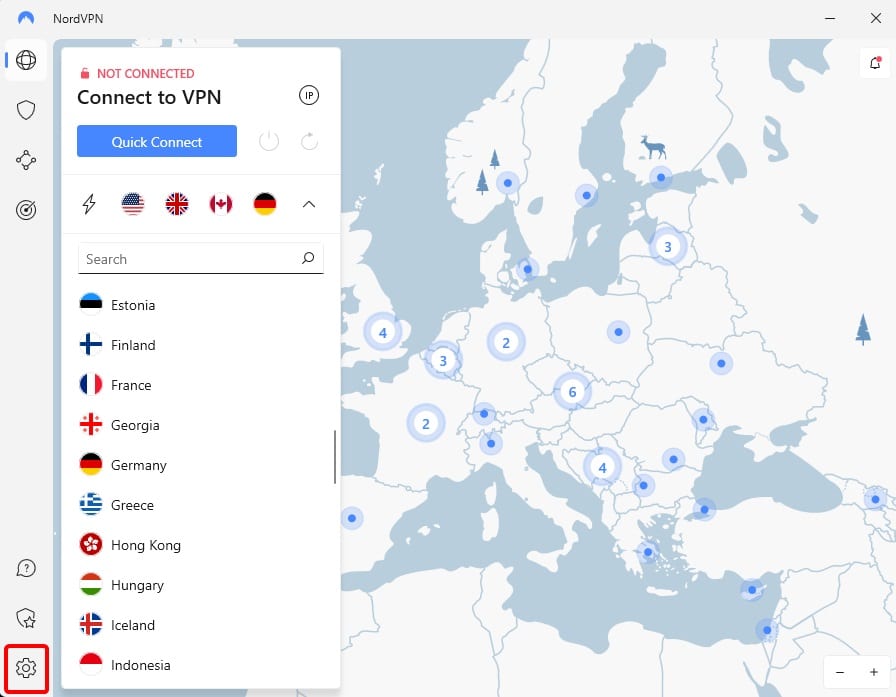 However, if you want to take advantage of NordVPN's specialized servers for specific purposes, such as P2P file sharing and streaming, you'll want to check out the server window. NordVPN can automatically connect you to the best server for your use, but it's more efficient to choose your own server manually.
NordVPN often changes your IP during a session, but if you need a dedicated IP address, there are several servers that keep your IP static during multiple sessions.
NordVPN offers advanced security servers such as Double VPN, Obfuscated VPNs, and Onion over VPN, which can all be accessed through tabs at the top of the server bar.
It's not immediately apparent how to choose from multiple locations in a single country, but if you click on the "…" icon next to a country, you'll be presented with a city list.
The options menu for NordVPN is a little more visually pleasing than ExpressVPN but still gives you a readout of what each option will do for your VPN connection.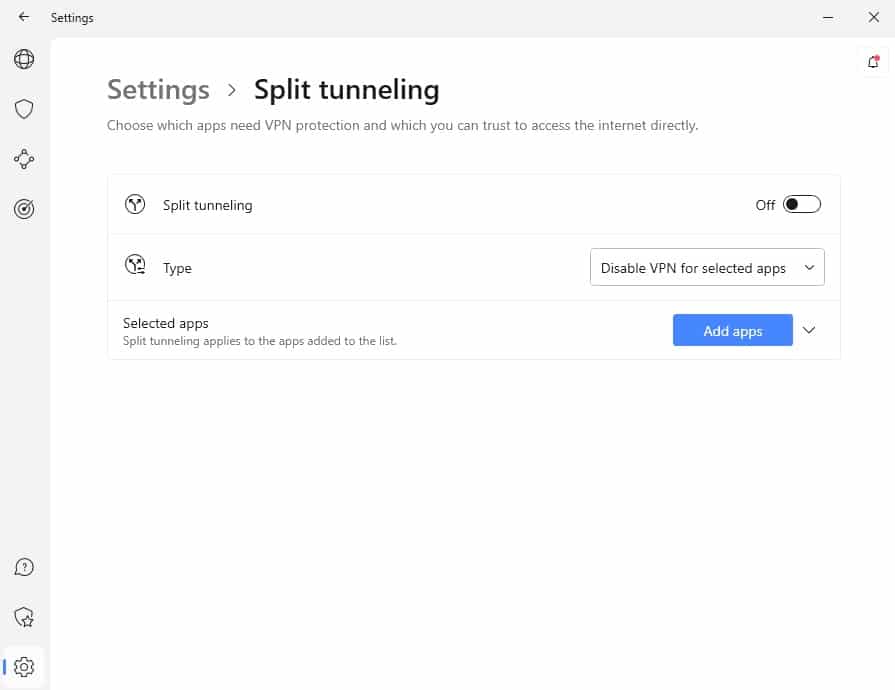 NordVPN's Linux offering is quite like ExpressVPN's command line interface. It's a little more advanced, as it offers a greater set of features than you get with ExpressVPN.
In addition to being able to set protocols and turn threat monitoring on and off, you can also connect to a Meshnet, Obfuscated servers, and activate an inbuilt Kill Switch to keep your connection offline when you're not connected through NordVPN.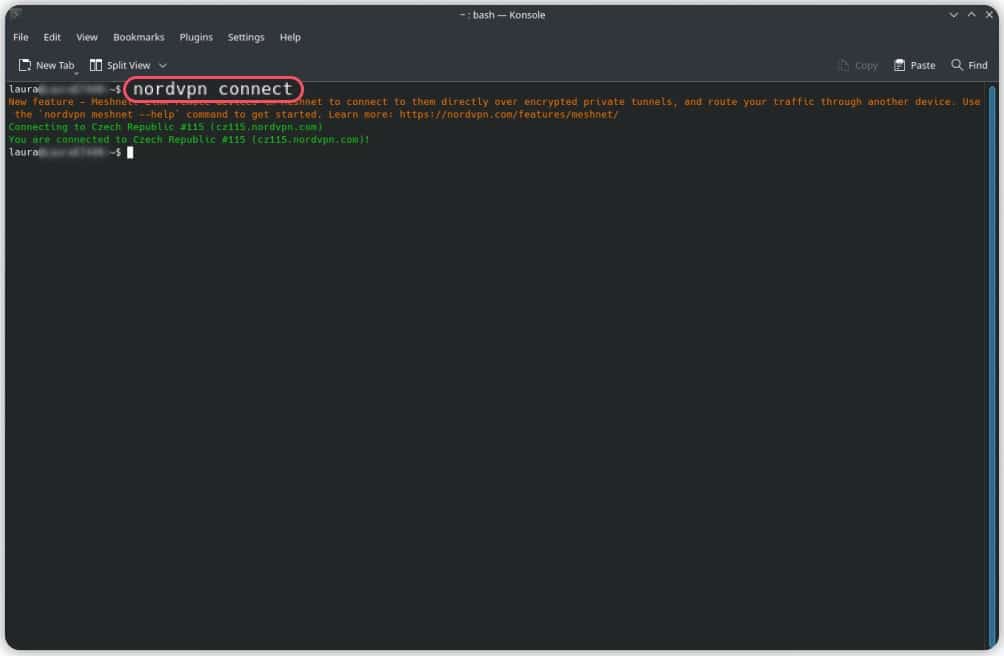 Which is best?
It's hard to pick a winner. NordVPN has a better Linux-based app, but the apps are closely matched for desktop and mobile. In terms of aesthetics and presentation, NordVPN just wins out for us for both the easy-to-read map interface and the clarity of its UI.
It's quite close, though, so you need to gauge whether or not each one works for you in the context of the overall service. If you need to look up a VPN service with a better client for Linux, you should check out our list of the best VPN clients for Linux.
NordVPN or ExpressVPN: A Look At What Customers Say
As well as taking a deep dive into software tools, it's important to us that we also get feedback from users and the community on how they found the product in practice. Here's what we found.
NordVPN's Reputation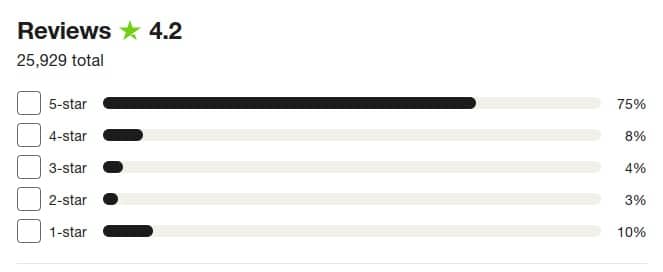 NordVPN generally has a good reputation for providing high-speed VPN connections and working out-of-the-box across a wide range of devices.
However, a consistent theme we noticed while checking out user reviews is that their support team can sometimes be slow to respond when it comes to investigating suspicious behavior or processing refunds.
While most user reviews we've seen spoke positively about their experience with NordVPN, especially in terms of streaming, we noticed some users having difficulty with NordVPN's automated abuse system.
ExpressVPN's Reputation

ExpressVPN seems to have fewer complaints than NordVPN when it comes to support or payment processing, although we've noticed a few issues users have had with their auto-renew policies when purchasing monthly subscriptions.
Notably, we've seen that a lot of people working in Asia sing ExpressVPN's praises when it comes to connecting from China, making it one of the rare VPNs that works consistently in the region.
ExpressVPN vs NordVPN vs Surfshark and Other Top VPNs
Here, we've compiled a table on how ExpressVPN and NordVPN stack up against some other top VPNs. Give it a look to get a better idea of how these top VPNs compare:
| | | | | | | |
| --- | --- | --- | --- | --- | --- | --- |
| VPN | Starting Price | Free Version | Devices/Subscription | Server Count | Server Locations | Average Speeds |
| ExpressVPN | $12.95 | No | 8 Devices | 3,000+ | 160+ | 74.91Mbps |
| NordVPN | $12.99 | No | 6 Devices | 5,500+ | 90+ | 71.30Mbps |
| Surfshark | $12.95 | No | Unlimited Devices | 3,200+ | 100+ | 63.85Mbps |
| IvacyVPN | $9.95 | Yes | 10 Devices | 6,500+ | 100+ | 62.92Mbps |
| PureVPN | $12.45 | No | 10 Devices | 6,500+ | 85+ | 59.18Mbps |
ExpressVPN vs Nord Server Locations
Here's a breakdown of all the locations offered by both providers, which will be important for a NordVPN vs ExpressVPN speed test for your location. We start with a list of the locations both ExpressVPN and NordVPN cover before going on to the locations exclusively available with each platform.
NordVPN and ExpressVPN
Both services are able to access servers in these countries.
Americas
US, Canada, Mexico, Brazil, Argentina, Mexico, Chile, Colombia
Europe
United Kingdom, France, Sweden, Switzerland, Belgium, Denmark, Norway, Poland, Ireland, Czech Republic, Italy, Spain, Finland, Serbia, Austria, Slovakia, Slovenia, Bulgaria, Hungary, Latvia, Romania, Portugal, Luxembourg, Ukraine, Greece, Estonia, Iceland, Albania, Cyprus, Croatia, Moldova, Bosnia and Herzegovina, Georgia, North Macedonia, Netherlands, Germany
Asia Pacific
Australia, Singapore, Japan, Hong Kong, New Zealand, Taiwan, Vietnam, Indonesia, Malaysia, South Korea, Thailand
Africa and Middle East
NordVPN Exclusive
Bahamas, Ecuador, Guatemala, Panama, Uruguay
ExpressVPN Exclusive
Algeria, Andorra, Armenia, Austria, Bangladesh, Belarus, Bhutan, Bosnia & Herzegovina, Brunei Darussalam, Cambodia, Croatia, Cyprus, Egypt, Georgia, India, Isle of Man, Jersey, Kazakhstan, Laos, Liechtenstein, Macau, Malta, Monaco, Mongolia, Montenegro, Myanmar, Nepal, North Macedonia, Pakistan, Philippines, Serbia, South Korea, Sri Lanka, Turkey, Uzbekistan
Why You Can Trust Our Express vs Nord Comparison
You can trust our ExpressVPN vs NordVPN comparison as we have conducted thorough, hands-on assessments of both VPN services. Our evaluation includes practical testing of various aspects, such as their user interfaces, connection speed, and ability to unblock content from streaming platforms.
We haven't limited our analysis to just these two VPNs, either. Our team has extensively reviewed a range of VPN providers, giving us a broad perspective on their strengths and weaknesses.
Our research also extends beyond our own experiences. We've delved deep into user reviews and feedback from customers who've tried either ExpressVPN, NordVPN, or both services.
By incorporating the experiences and opinions of real users, we ensure that our comparison provides a comprehensive overview of how these VPNs perform in real-world scenarios.
Our commitment to impartiality and accuracy in our VPN comparisons is rooted in our desire to provide you with the most reliable information to make an informed decision. Whether you prioritize speed, security, or streaming, our comprehensive assessments aim to assist you in selecting the VPN service that best suits your needs.
Best VPN Guides
We've compared both VPNs pretty extensively above, but we've also got an individual review for ExpressVPN and a bunch of VPN guides that demonstrate how NordVPN and ExpressVPN stack up against other top-tier VPNs. Check out our lists of the best VPNs below:
ExpressVPN or NordVPN – Which is Best to Use in 2023?
Both ExpressVPN and NordVPN stand as solid choices for your VPN needs. Here are our recommendations for each
Get ExpressVPN if you want a top-tier streaming VPN that offers lightning-fast speeds and a huge selection of server locations. With over 94 countries to choose from, ExpressVPN is the best choice if you're looking to unblock geo-locked content.
It's also a great choice if you're regularly traveling to China or other regions where ISPs traditionally block VPN users.
Get NordVPN if you're looking for a VPN that offers advanced security features like Double VPN and Onion over VPN, as well as an integrated bundle of privacy-preserving tools such as a password manager, dark web monitoring, and cloud hosting.
NordVPN is almost as fast as ExpressVPN, and while it doesn't have as many locations to choose from, its specialized servers definitely fill the gap. NordVPN is also a better choice if you're a Linux user, as its app offers more features than ExpressVPN's app.
Ultimately, the decision between ExpressVPN and NordVPN is an easy one – you can't go wrong with either, and both VPNs offer strong security, privacy, and performance.
ExpressVPN vs Nord FAQs
Is Express or NordVPN better for streaming?
Is NordVPN actually the best?
Is ExpressVPN better than NordVPN?
Is ExpressVPN really worth it?
Who wins the ExpressVPN vs NordVPN vs Surfshark battle?
What is the difference between NordVPN and ExpressVPN?
References