Technological advancement, although with numerous perks, has caused an increase in cybercrime, device improvisation, and data theft. Luckily, the introduction of VPNs has made data protection through connection encryption possible. With the help of the best VPN provider, you can browse the internet anytime you want without limitations.
VPNs are the perfect option to binge-watch your favorite show using another country's Netflix or access a country's firewall to surf the web freely. In this FastestVPN review, we'll examine the VPN's pros and cons, features, pricing, and performance comparison with the other best VPN providers on the market. By the end of this article, you'll find out if this VPN really justifies its name. Let's get started!
Table of Contents
Table of Contents
What is FastestVPN?
FastestVPN is a VPN service provider launched in 2017 with its headquarters in the Cayman Islands. It offers excellent features at one of the lowest prices on the VPN market. With servers in 55 locations across 39 countries, P2P is supported in countries like Spain, Finland, Portugal, and Germany.
This VPN has apps for iOS, Android, Mac, and Windows. It lets you connect over ten devices simultaneously and even share your VPN subscription. FastestVPN supports secure protocols like WireGuard, OpenVPN, IKEv2, and AES-256 encryption. Its speed is quite impressive, with closer servers than the ones in distant locations.
FastestVPN can unblock BBC iPlayer, Hulu, Disney+, and even Netflix US. It's worth noting that FastestVPN is a multi-hop VPN (double VPN) that allows you to route your traffic through two VPN servers for more effective privacy.
FastestVPN Review Pros and Cons
FastestVPN has strong security measures and other great features. Here are the upsides and downsides of using this VPN service.
Pros
Low-cost prices
Supports up to ten simultaneous device connections
Independently audited no-logs policy
Unblocks Netflix, Japan, and US
Great live chat support
It allows you to share your subscription plan with family and friends
Secured security package
Torrenting is allowed
It works on all major platforms
Beginner-friendly apps
Cons
Numerous technical issues
Small server network
Poor performance on distant servers
Low-quality apps
Malware blocking and tracking can't be disabled
Poor support site
Allows only English
FastestVPN is perfect for those seeking improved security. This VPN has multiple protocols, including IKEv2 and OpenVPN, a no-logs policy, and AES-256 encryption that helps protect your online data from hackers. Plus, its ad blocker and kill switch help keep you safe from different threats.
Unfortunately, FastestVPN is unsuitable for non-English speaking users, and its small server network further limits its versatility. Nonetheless, FastestVPN still ranks as one of the best VPN providers.
How Much Does FastestVPN Cost?
FastestVPN is one of the cheapest VPNs out there. Plus, they have some deals available. Here's a table showing its subscription plans and features.
| | |
| --- | --- |
| Plan | Price |
| Monthly | $5 / month |
| Annual | $24.95 ($2.08 / month) |
| Lifetime | $40 / month |
FastestVPN's monthly plan is reasonable at $5, but it's even better with the price dropping to $2.08 for the annual plan. But the best deal is the lifetime plan. The name is slightly misleading as the plan covers five years at $0.66 monthly (a one-off cost of $40).
Each plan comes with a 15-day money-back guarantee. It's advisable to use that period to test the unblocking, speed, etc., before you finally sign up. The FastestVPN lifetime subscription includes 2TB of cloud storage and an unidentified "password manager," which serves as the password strength checker.
The payment options include PayPal, credit cards, and four cryptocurrency options – Litecoin, Ethereum, Bitcoin Cash, and Bitcoin. Note that you'll need to use the service for up to two years before the lifetime plan will have a lower monthly cost than the annual plan. For users who keep the service for more than two years, it's the cheapest plan there is.
Reviewing the Core FastestVPN Features
FastestVPN has numerous features. Although some of the features aren't available on all devices, those available offer enough security with extra encryption.
Kill Switch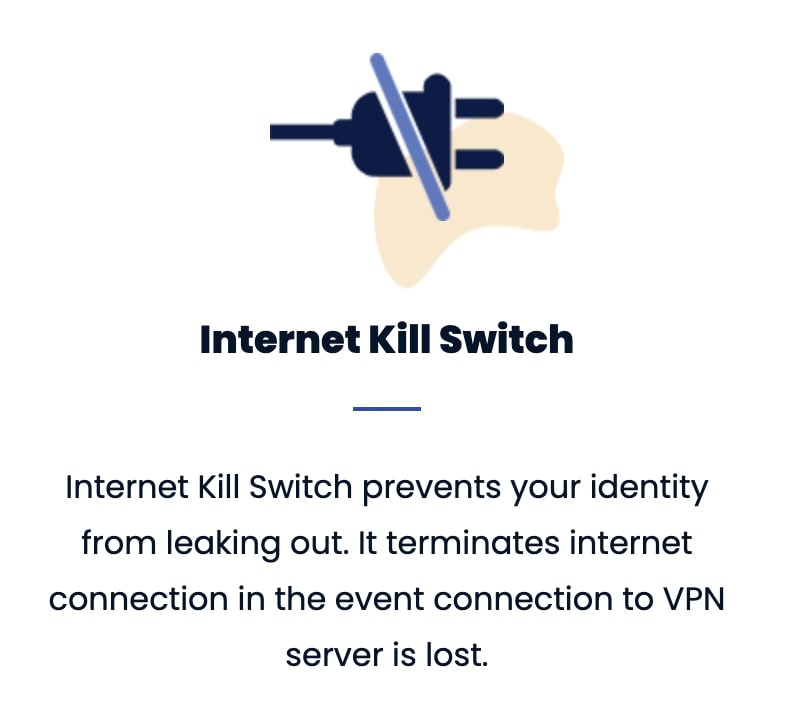 FastestVPN has an automatic internet kill switch that prevents all internet access outside a secured VPN tunnel. It's similar to the "permanent" kill switch that Proton VPN offers.
Not all VPN users are fans of permanent kill switches. Some prefer to have them as an option while having access to a "regular" kill switch that allows you to go online without VPN protection.
The kill switch disables all internet access in case of a problem with the VPN connection, so no traffic is ever sent over an unencrypted connection, and no website can determine your actual location.
You can turn it on in the "Settings" menu. Previously, there were error messages when activating the kill switch. But it seems FastestVPN has dealt with all the bugs, and you can now access the kill switch seamlessly. Keep in mind that FastestVPN's kill switch is, by default, disabled, so you will need to manually activate it if you want to use it. That is, when the service is active, access to the internet should be blocked unless the VPN is working.
Double VPN
FastestVPN now also offers double VPN servers, also called "multi-hop." You can find the servers under the "D-VPN" tab in the software. The available options include the UK via the USA, France via the UK, and the USA via the Netherlands.
The advantage of this feature is that it helps double your security by wrapping your traffic into two layers of encryption. Unfortunately, heavier encryption on double VPN servers leads to higher speed drops.
NAT Firewall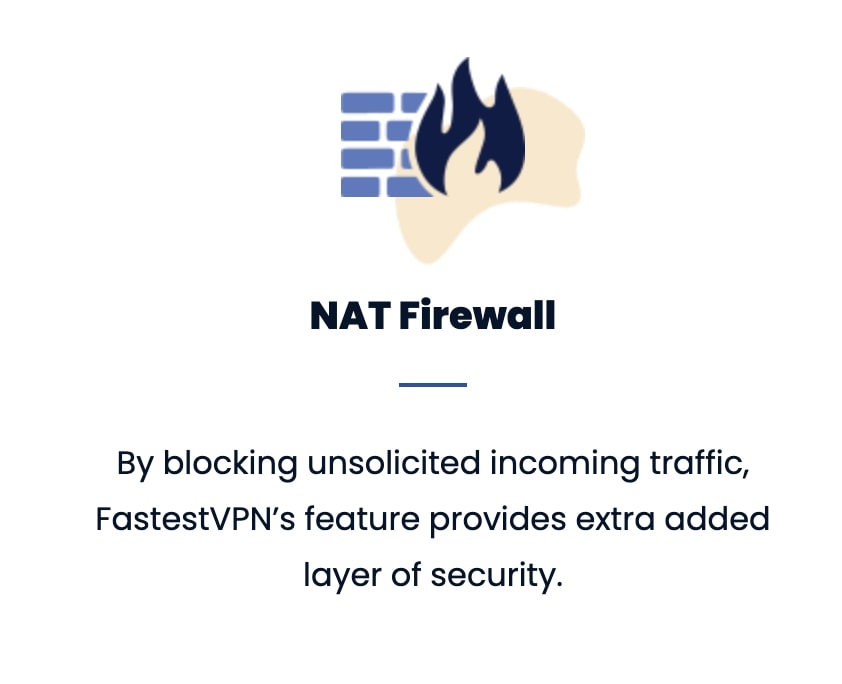 FastestVPN has an in-built NAT firewall. This feature is available on the server, so you won't find any options in the software you download. Since it's not mentioned there, most users don't know it's active. Plus, you don't have any control over the firewall. Hence, you'll be unable to turn it off.
This feature uses "DNS-blackholing," which checks your DNS requests against a blacklist of known malware sites. If your request matches a domain on the list, it'll be blocked. So, don't fret if you can't access a sketchy website; it's all the firewall's doing.
Split Tunneling
Split tunneling is a feature that allows you to specify which apps should use the VPN connection. Other apps have the speed benefit of using a regular internet connection, and only the apps you use most have enhanced privacy and the ability to hide your location.
Unfortunately, split tunneling is one of the FastestVPN features that's not available on all devices. This feature isn't available on the VPN app for Mac, but it is for Android. On the VPN for iPhone, there's an option in settings that reads: "Smart Tunneling enables VPN protection for added domains even when the app is not open." That implies that after being enabled, any VPN will keep functioning when the VPN app that enabled it isn't open.
AES-256 Encryption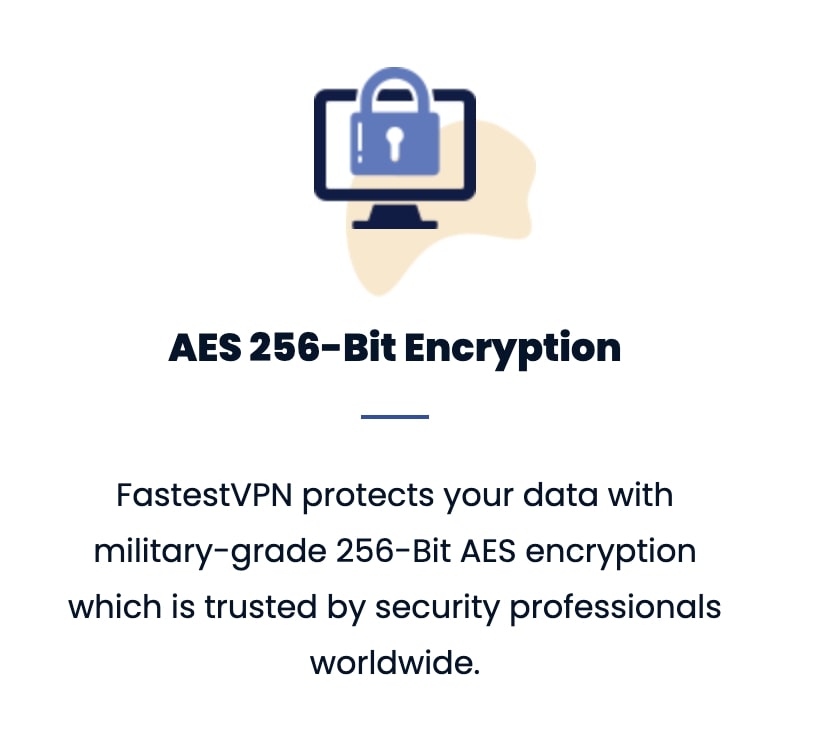 The FastestVPN website uses 256-bit AES encryption, but it's difficult to verify directly. This type of encryption uses an encryption key made up of 256 binary digits. In our regular decimal number system, there are roughly one and 77 zeros in the total number of combinations that are possible with this kind of key.
This makes it impossible for any computer ever invented to guess a specific key, even given thousands of years, by which point the VPN connection will have been disconnected for a very long time. In a nutshell, FastestVPN uses 256-bit AES encryption, which is military-grade and trusted by security experts all over the world, to protect your data.
DNS Leak Protection
A DNS server occasionally transmits your internet submissions outside the VPN tunnel, exposing your IP address. However, this feature helps ensure high security with its built-in DNS leak protection.
Multiple Protocols and Ad Blocker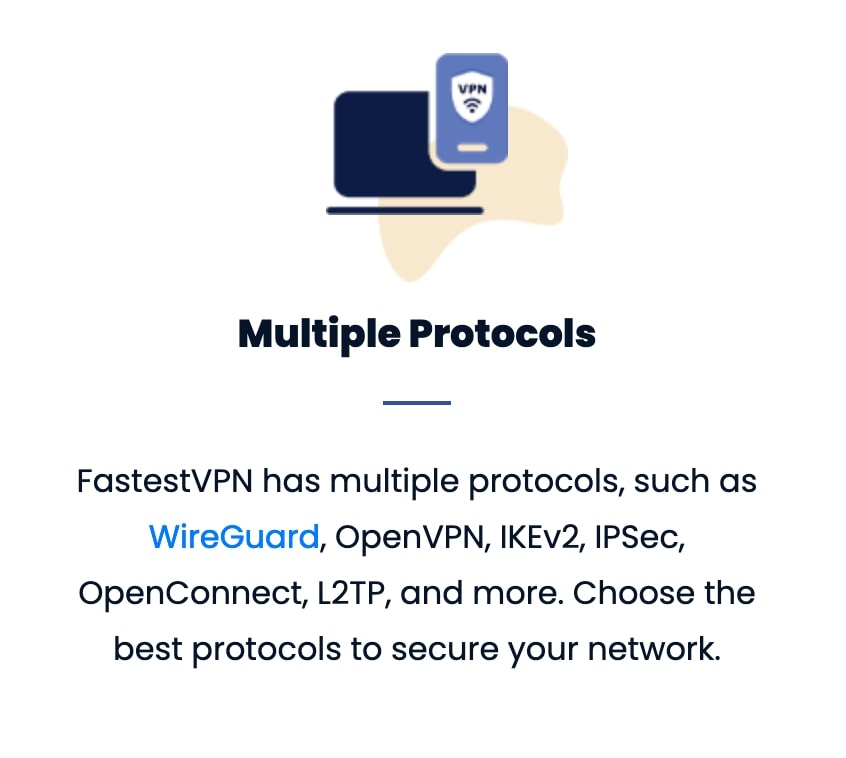 FastestVPN has multiple protocols, such as L2TP, IKEv2 WireGuard, IPsec, OpenVPN, and more. You can choose any of these protocols to secure your network.
The Ad blocker prevents you from clicking on malicious ad links and secures your device over any internet connection.
Is FastestVPN Safe?
FastestVPN is a safe VPN service provider because it uses standard encryption methods to ensure a secure connection. The only downside of this VPN provider is that it has a small server network and poor performance on distant servers. Here are some features that make FastestVPN safe.
Encryption Standards
FastestVPN encrypts your data using the industry standard AES-256 encryption. The IP Security works in one of two ways. During transport mode, it encrypts only the data packet's message itself, while during tunneling mode, it encrypts the entire data packet.
Protocol Support
Internet protocols determine how data is transmitted through a network. Think of it like a postal service transporting mail. The data is the mail, while the protocols are routes that the mailmen can take. Some are more secure, and some are faster, but ultimately, it's a combo of different protocols that makes FastestVPN both secure and fast.
Choosing the best combination can be difficult, especially if you don't have much knowledge about the protocols. Anyway, on the app, there is the new "Auto Protocol" button, which chooses the fastest protocol for you. Some of the protocols available on FastestVPN are:
WireGuard: The latest addition to FastestVPN's protocol roster. It is known for its excellent security and unparalleled speed. It's best for bandwidth-hungry operations like streaming.
IKEv2: This protocol is less CPU-intensive than OpenVPN but is blocked more easily. It's perfect for mobile users and people who travel a lot.
OpenVPN (TCP/UDP): It's the most popular VPN protocol with the best speed-security balance. It should satisfy the needs of the majority of VPN users.
Logging Policy
FastestVPN is an excellent choice for privacy-minded individuals based on our research of its privacy policy. Its headquarters is in a jurisdiction with no mandatory data retention laws. That is, they aren't obligated to save user data on their servers. Also, the Cayman Islands is outside the Eyes Alliance, which is a huge advantage.
FastestVPN has a good no-logging policy, which means it doesn't record any data that could be used to identify you. It doesn't log your IP address, connection timestamps, online activity, location, or other information that could trace your traffic back to you.
Ultimately, FastestVPN only records your payment information and email address. This allows you to remain anonymous since you can always create a burner email and pay with crypto. So, FastestVPN is as close to a good zero-log VPN service as possible.
Independent Audits
There have been no known data breaches on FastestVPN. There was a VPN audit on its no-logs policy by Altius IT on January 29, 2023. The company was given access to a target sample of FastestVPN's servers and inspected a target sample of its server logs.
The conclusion was that Altius IT didn't find any evidence of system configurations or system log files that, independently or collectively, could lead to identifying a specific person and/or the person's activity when using the FastestVPN service.
The data provided by FastestVPN was found to be consistent with its privacy policy. Although there's seemingly no free tier to the service, it's possible to create an account without paying for a subscription. However, the website strongly encourages you to subscribe during the account creation process.
Multi-hop
Traditional VPNs often route traffic through a single server, which can be a point of vulnerability. The multi-hop technology allows your data to pass through multiple servers before reaching its final destination.
Each "hop" along the route serves as new security for your data. It's like a digital game of tag, where only the tagger (a malicious figure) loses track of you at every turn.
FastestVPN Compatibility
FastestVPN offers apps that are compatible with all major devices, including Android, Fire TV, Windows, Mac, iOS, etc.
Also, you can install the VPN on a router and get VPN protection on more than 20 platforms.
Windows
On the Windows app, there are more options. The FastestVPN connects automatically when your device launches and attempts to reconnect immediately after a drop. Additionally, you have the option to toggle macOS's always-on kill switch.
The kill switch overrides your internet connection if your VPN connection drops, which saves you from sharing unprotected information. It's important but more intense than some users need, as not everybody can switch it off.
App installation is more complicated on Windows and is only supported for versions 7, 8, 10, and 11. FastestVPN is provided as a Microsoft Software Installer (MSI) directly downloaded from its website. This helps to protect the latest version from bugs and malware.
Android
Split tunneling is only available on the Android app. This feature lets you determine which web traffic will run through the VPN and which will run unprotected. FastestVPN's split tunneling is based on websites and IP addresses, not apps.
This makes it less useful for torrenting and other app-based tasks where you might want to target VPN protection. Its main function seems to be letting you use websites that may be inaccessible with the VPN active.
iOS
iOS's users get "smart tunneling," which automatically connects to the VPN when you access URLs on the list. We tested it using an iPhone 13 mini. Everything worked perfectly, and we could access more features from Settings. The app connected to the servers without any issues.
MacOS
The FastestVPN client for macOS is available on the Apple App Store, which ensures the software's stability and security. According to Statcounter, more than 90% of Mac users are using the minimum supported macOS version, 10.15 Catalina.
The macOS app resembles the iOS and iPadOS apps. The macOS app is easy to set up and use due to its simplified interface designed for mobile devices. Once logged in, you just have to select a server, and macOS will prompt them to allow the installation of a VPN profile. This is all it takes to get the VPN up and running, which is similar to how it works on iOS or iPadOS.
FastestVPN vs. Top VPN Competitors
Our testing revealed that FastestVPN has excellent features and capabilities. The table below shows a comparison of FastestVPN and other top-rated VPNs.
| | | | | |
| --- | --- | --- | --- | --- |
| Top VPNs | Best Suited For | Starting Price | Log Policy | Free Version? |
| FastestVPN | High-end security | $1.66 / month | No | Free plan/x-day free trial/N/A |
| ExpressVPN | Data encryption | $6.67/mo | No | No Free trial |
| CyberGhost | Privacy | $2.04 / month | Yes | Free trial |
| PureVPN | Seamless torrenting and streaming | $2.29 / month | No | No Free trial |
| ProtonVPN | Gaming | $3.29 / month | No | Free trial |
What is FastestVPN Good For?
FastestVPN is good for a lot of things. It has a no-logs policy, great device support, and privacy-friendly jurisdiction. Above all, it offers P2P support for torrenting, double VPN servers, and up to ten simultaneous connections.
Streaming
There are 10 streaming servers to unblock content from the US, the UK, India, Italy, Japan, and Canada. During our test, each of the servers allowed us to unblock full Netflix libraries, which was quite impressive. Many VPNs like NordVPN and Surfshark can only unblock Netflix Originals.
In addition, FastestVPN unblocked Netflix in Switzerland, South Korea, and Portugal during our test. We only had issues with a few servers. We experienced minimal hitches with Netflix US. It even reliably unblocked streaming sites like Hulu and Amazon Prime Video, which are known for their anti-VPN technologies.
The VPN's performance with HBO Max was slightly worse, and we had to wait about 20 seconds for my movie to start streaming. Once it loaded, the movie played without further interruptions, with great streaming quality. Overall, FastestVPN is great at unblocking streaming platforms.
Gaming
FastestVPN's speed isn't fast enough for gaming. We tested its strength by playing Rogue Legacy 2. It's not the fastest game, but we still experienced significant lag, even on the Dallas server.
We were pinging below 100 ms, but there was still too much lag to get anywhere in the game, as the characters weren't responding quickly. When we changed the VPN location to Australia, the game server didn't even load.
Because of these speed inconsistencies, we don't recommend FastestVPN for playing games online. If you're using a server in your country, chances are that you'll enjoy gaming properly, but the problem is FastestVPN's small server fleet, which means you might not find that server.
In this case, playing even slow-paced games like ARMA 3 will not be enjoyable, let alone Fortnite and Modern Warfare 2, which run at neck-breaking speeds and high framerates. Cloud gaming like PlayStation Now and Nvidia GeForce Now with FastestVPN isn't recommended.
Torrenting
Almost all of FastestVPN's 500 servers are P2P-optimized. The VPN's website only suggests you avoid torrenting on its servers in India, Australia, Singapore, Hong Kong, India, and South Korea.
The VPN's no-logs policy, location, anonymity during torrenting, and use of military-grade encryption to enhance privacy make it very efficient. Furthermore, not having a bandwidth cap is advantageous for sustaining fast speeds.
However, you aren't guaranteed a smooth torrenting experience across the network because FastestVPN's speeds vary. During our test, we were able to torrent easily while connected to the US server in LA. Still, another server in Australia slowed me down so much that torrenting was impossible.
FastestVPN Server Locations
FastestVPN currently operates only 600+ servers in 35+ countries and 55+ locations. This feels modest compared to the likes of Private Internet Access, which has more than 30,000 servers in 80+ countries.
You can't sort the servers in the FastestVPN interface, but you can create a list of favorites. The software also doesn't include any population or ping indicators. When you use the "Smart Connect" option, the VPN should automatically pick the best server for you. In 99% of cases, this will be the server closest to your physical location.
You have the option to select specific countries to explore the available server locations, which include various types of servers for streaming and other purposes. By clicking on any of these options, you will reveal a plethora of server locations with their designated functions.
In addition, there's a 'Quick Connect' functionality that intelligently selects the fastest or closest server based on your location, providing you with optimal connection speeds. You can bookmark your preferred server for effortless access, eliminating the need to search through multiple options every time you need to connect to it.
Below is a full list of server locations for FastestVPN:
Oceania: Australia
Europe: Austria, Belgium, Bulgaria, Czech Republic, Denmark, Finland, France, Germany, Greece, Hungary, Ireland, Italy, Luxembourg, Norway, the Netherlands, Poland, Portugal, Romania, Russia, Serbia, Slovakia, Spain, Sweden, Switzerland, Turkey, and the United Kingdom
Americas: Brazil, Canada, Colombia, and the United States
Asia: Hong Kong, India, Japan, Malaysia, Singapore, South Korea, and the United Arab Emirates
Is FastestVPN Good? A Look at FastestVPN Reviews
FastestVPN is a good and affordable VPN service. It offers torrenting, and its privacy policy states it logs only information necessary for billing, including your password, email address, and username and password.
However, FastestVPN unblocks some of the most popular streaming services. We saw some decent speeds using WireGuard, although the apps didn't have the slickest features.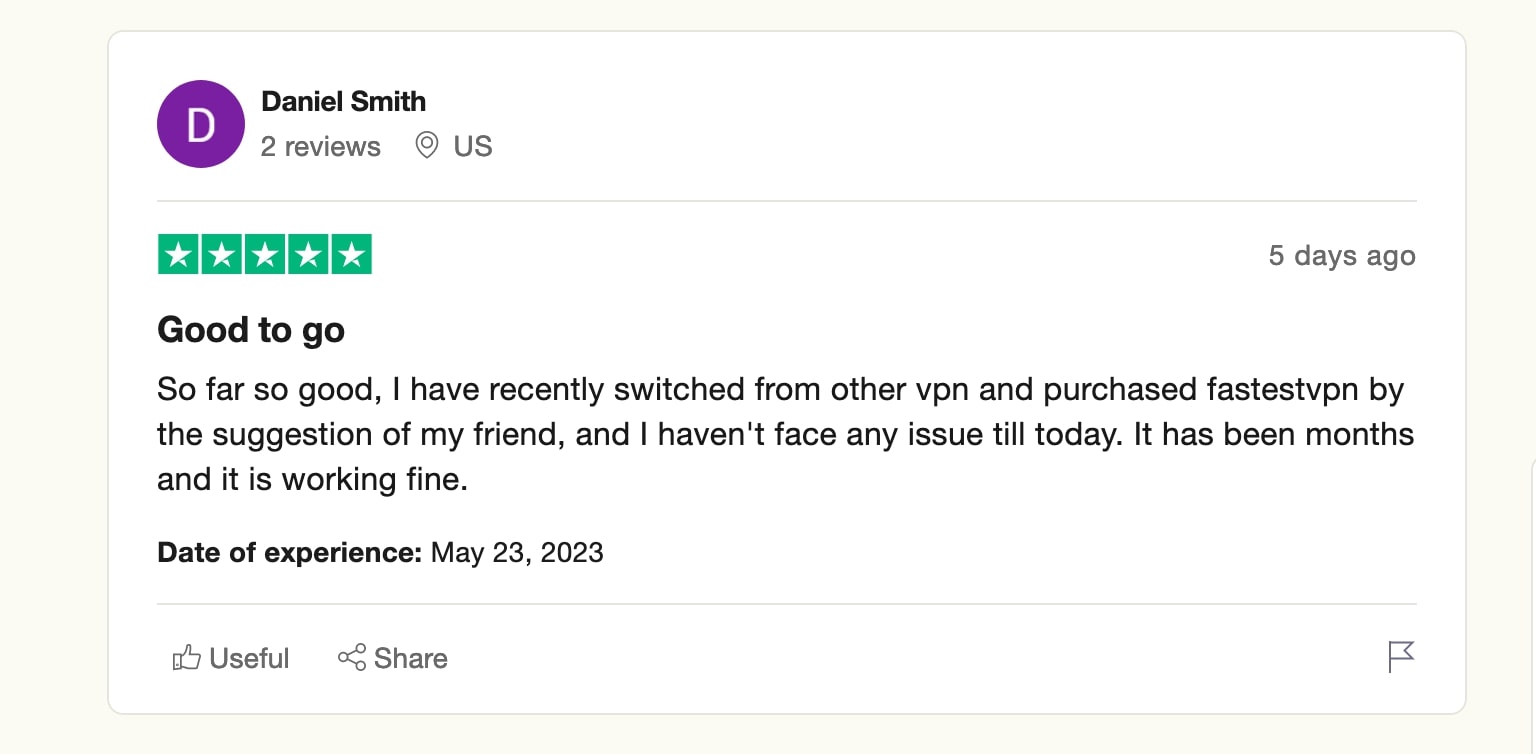 We find it difficult to recommend FastestVPN, given that we experienced issues connecting to many of its servers and found the process of using the app slightly confusing. But if you're okay with limited server options in 28 countries where there's only one server and fewer than five servers in 10 other countries, you can settle for this VPN.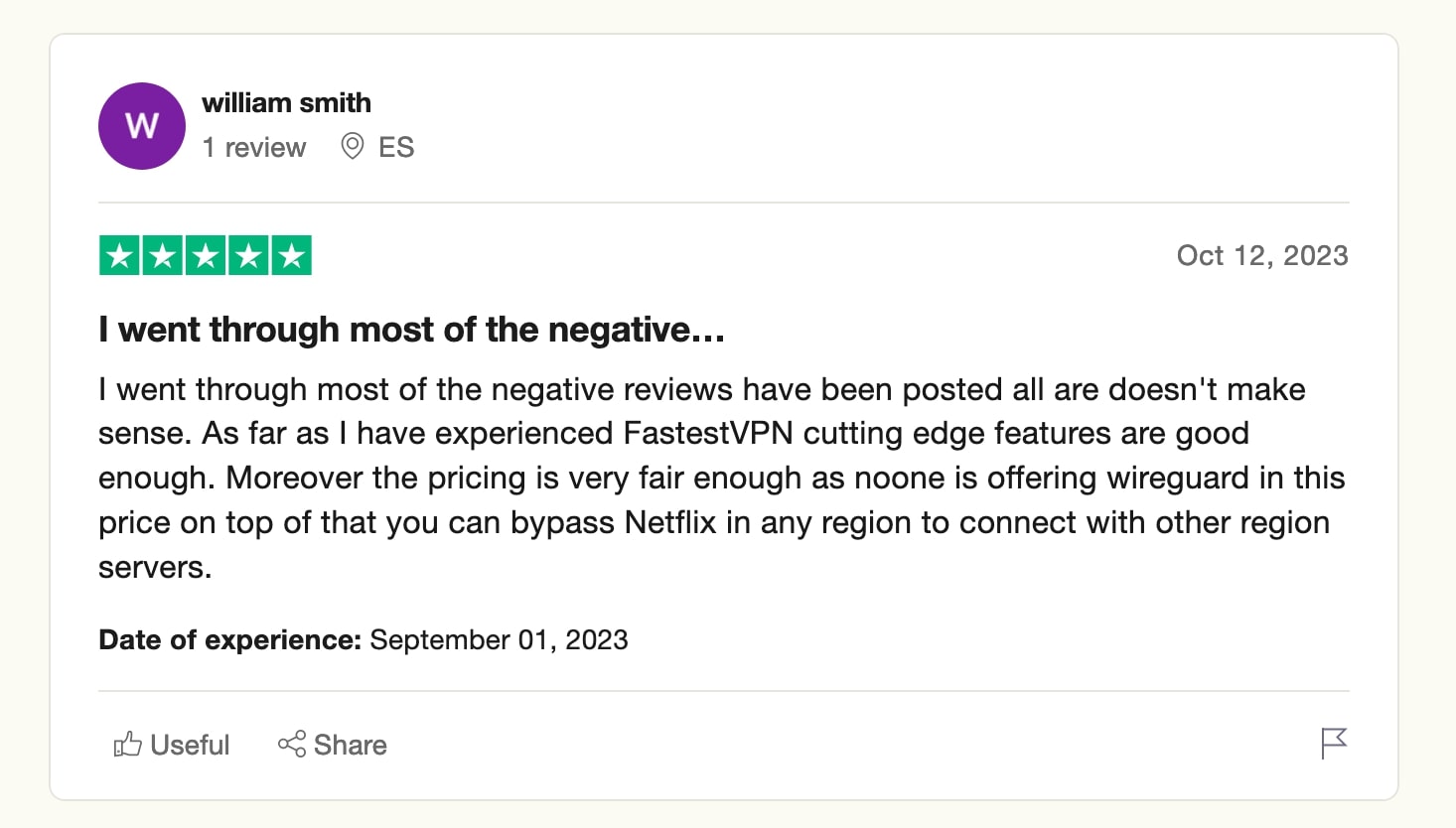 On Trustpilot, FastestVPN is currently scoring four out of five stars, with 68% of customers giving the service a 5-star review. The 24/7 support is regarded as "fast and fairly responsive." Many users are excited about the lifetime plan as a cheap way to sign up and the fact that its headquarters are located in the data-secure Cayman Islands.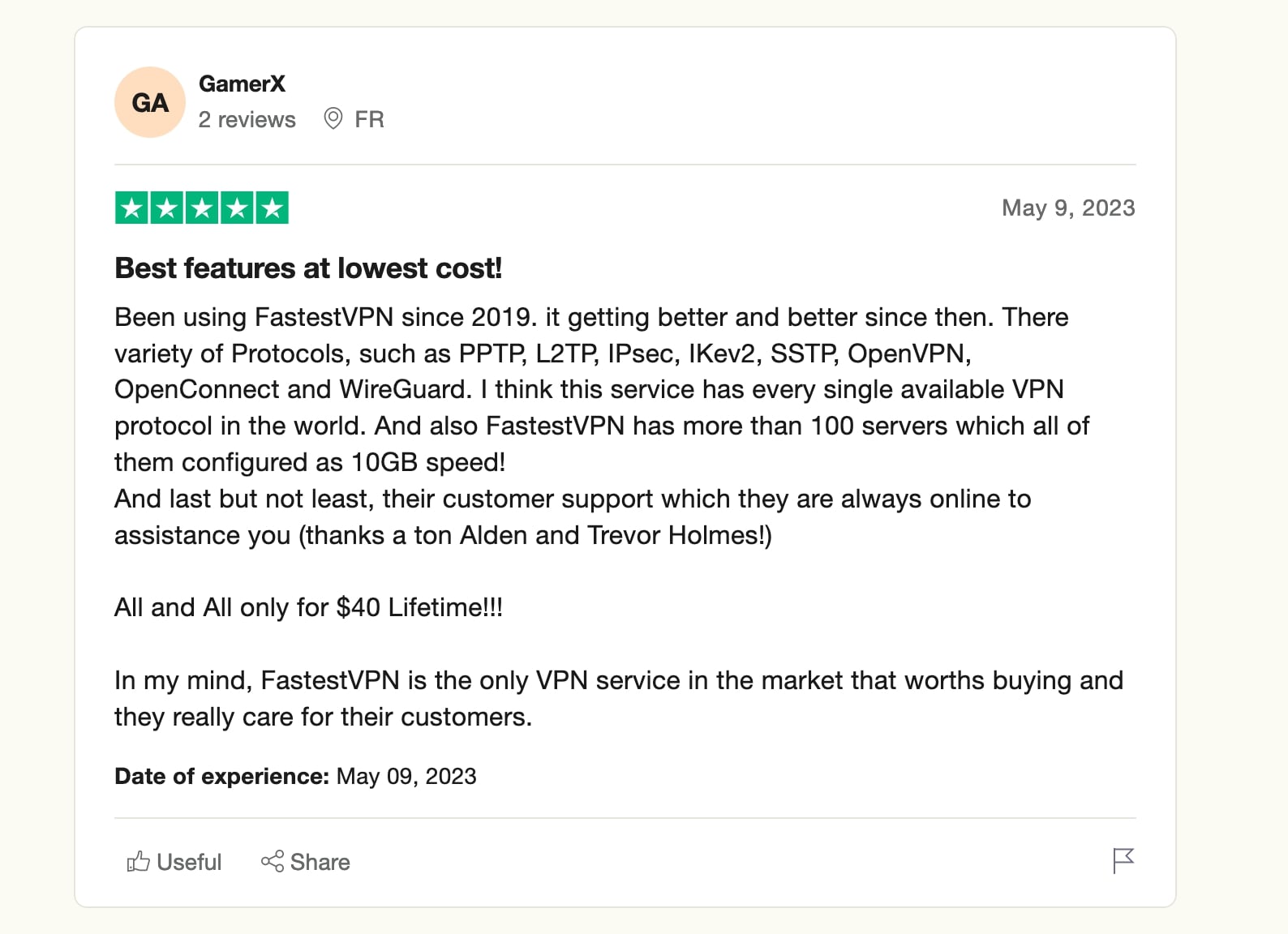 However, 19% of users gave the service a one-star review, calling out the company for trying to charge them for services after they purchased a lifetime plan. One of the users, Bechan, said: "I bought a 'lifetime' subscription, but the company has now limited access to my so-called lifetime subscription by introducing new restrictions. Now my paid subscription is totally unusable".
FastestVPN is a service that works okay for UK, US, and Australian servers but sometimes has issues connecting to others. There's no split tunneling for some apps, despite this being claimed in some online reviews.
The apps are quite basic, with only a few options to customize the VPN experience. If you're looking for a basic VPN and are only worried about masking your IP address online, this could be a provider to consider.
How to Use FastestVPN- A Quick Guide
FastestVPN supports all major platforms. You can download software for Windows, Linux, macOS, iOS, and Android. FastestVPN offers good browser extensions for Chrome and Firefox. Here are the steps to follow to set up the VPN on Windows:
Step 1: Visit the FastestVPN website
Go to FastestVPN's official website and click on "My Account".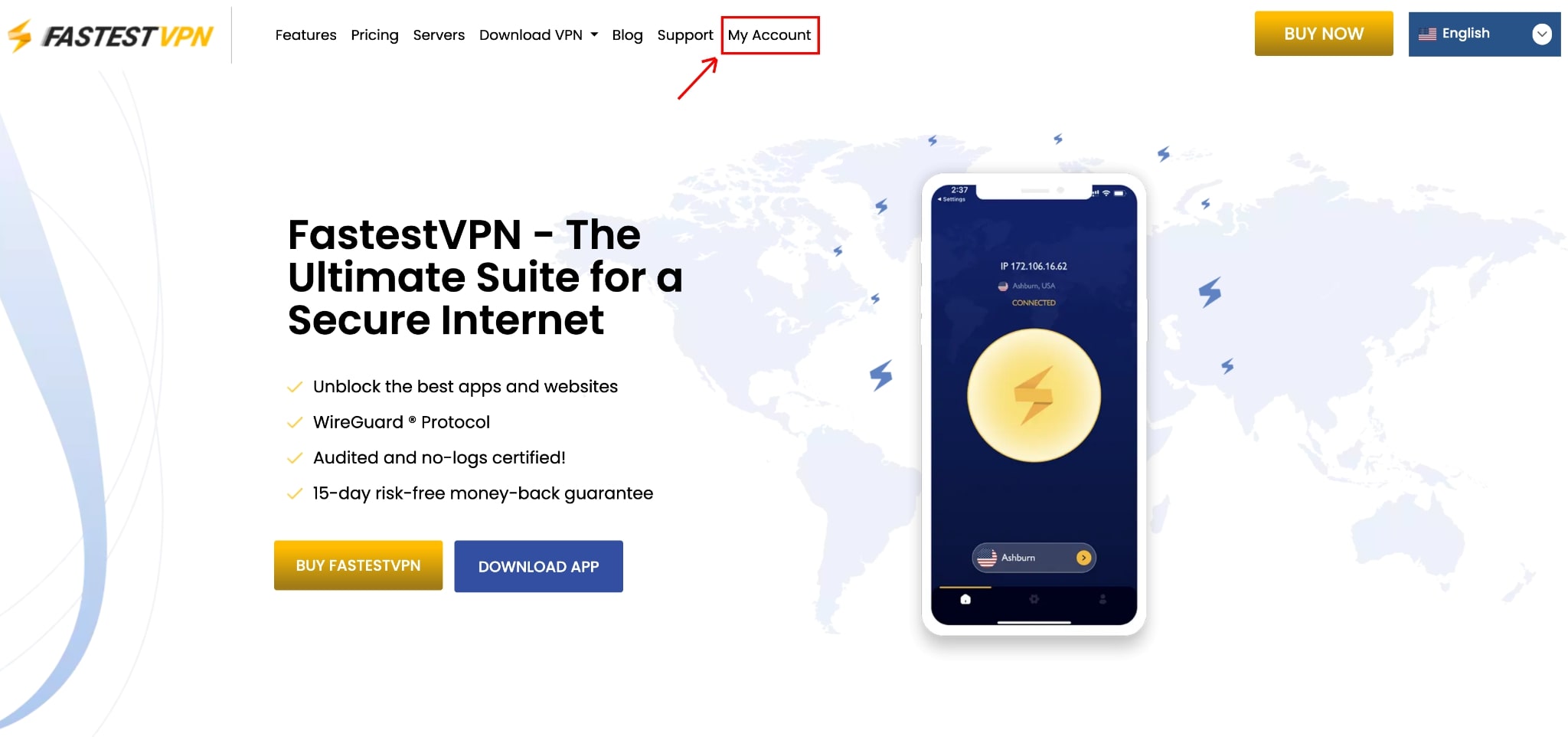 Step 2: Make a FastestVPN Account
Log in or sign up. If you already have an account, input your email and password in the empty box and hit the "Sign In" button. However, if you are a new user, click on the "Get FastestVPN" button to sign up.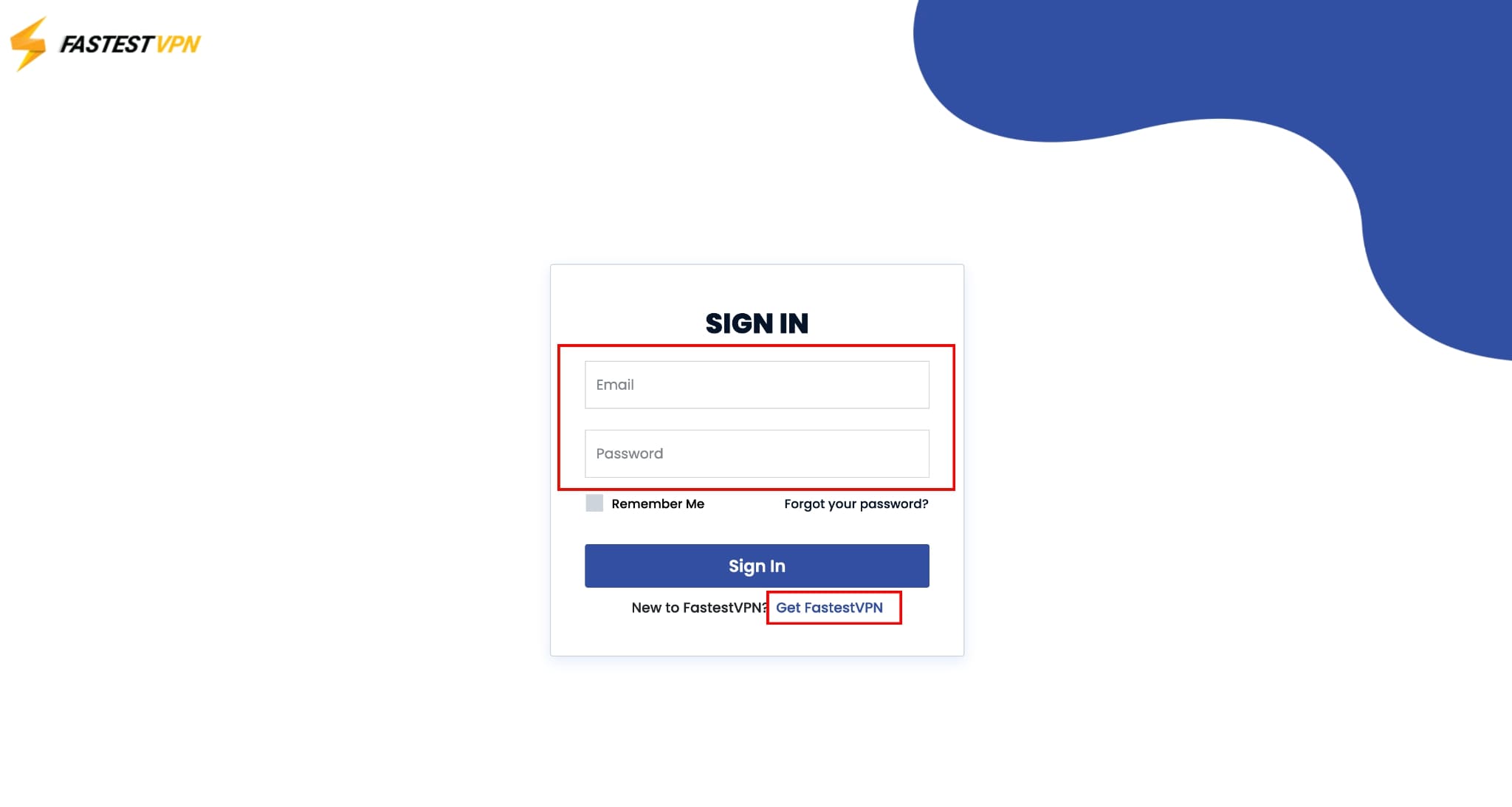 Step 3: Choose a FastestVPN package
As a new user, once you click on the "Get FastestVPN" button, you'll be redirected to a subscription page. Pick a subscription package that suits your needs, and you will be redirected to the payment page.
Step 4: Sign up for FastestVPN
Sign up with your preferred email and choose your desired payment method.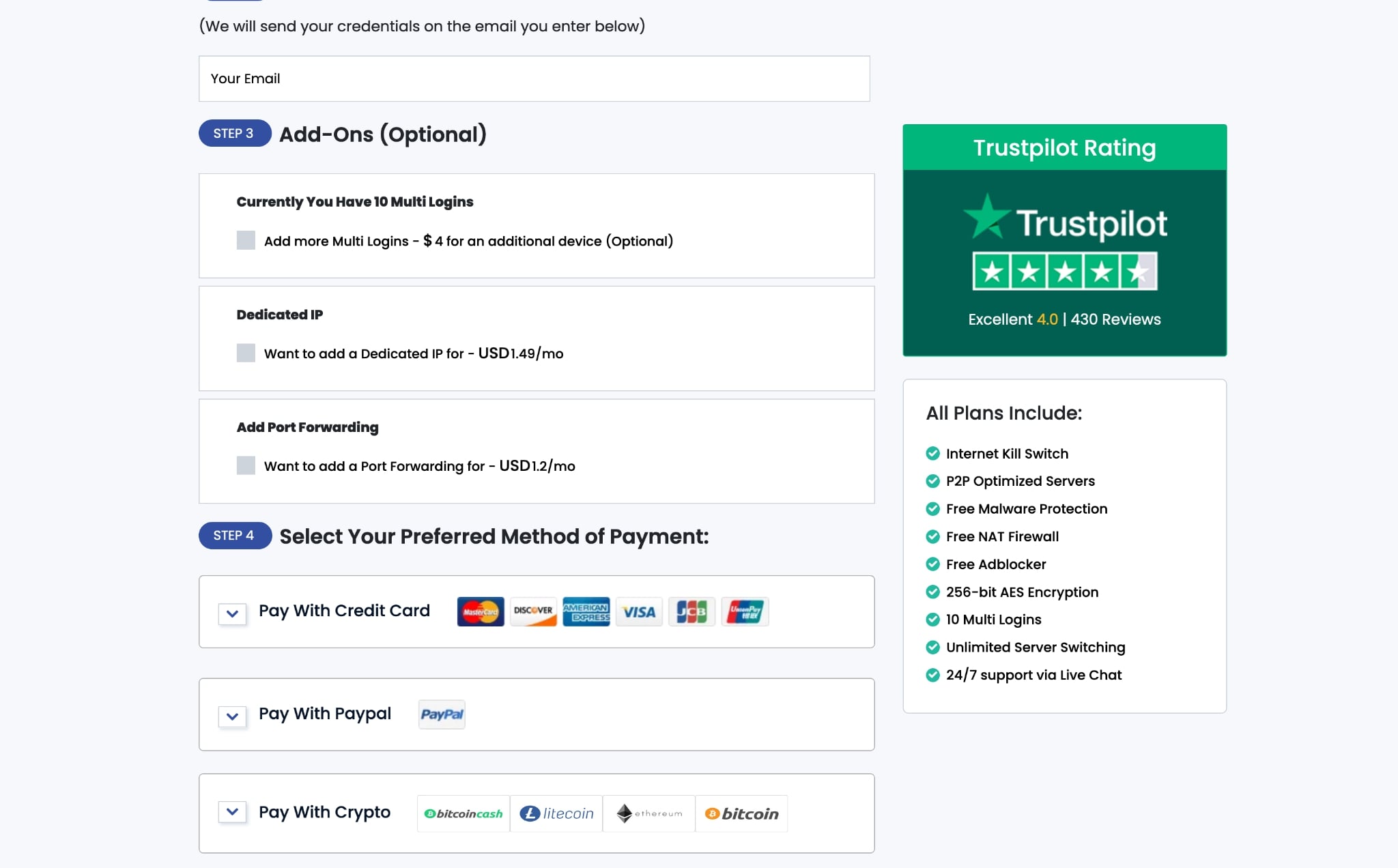 Step 5: Create a Password
After signing up, you will receive a confirmation email along with your login details. Use the email you received to create your password.
Step 6: Access Your Dashboard
Now, click on "My Account" to access your dashboard and download the installation file for your device.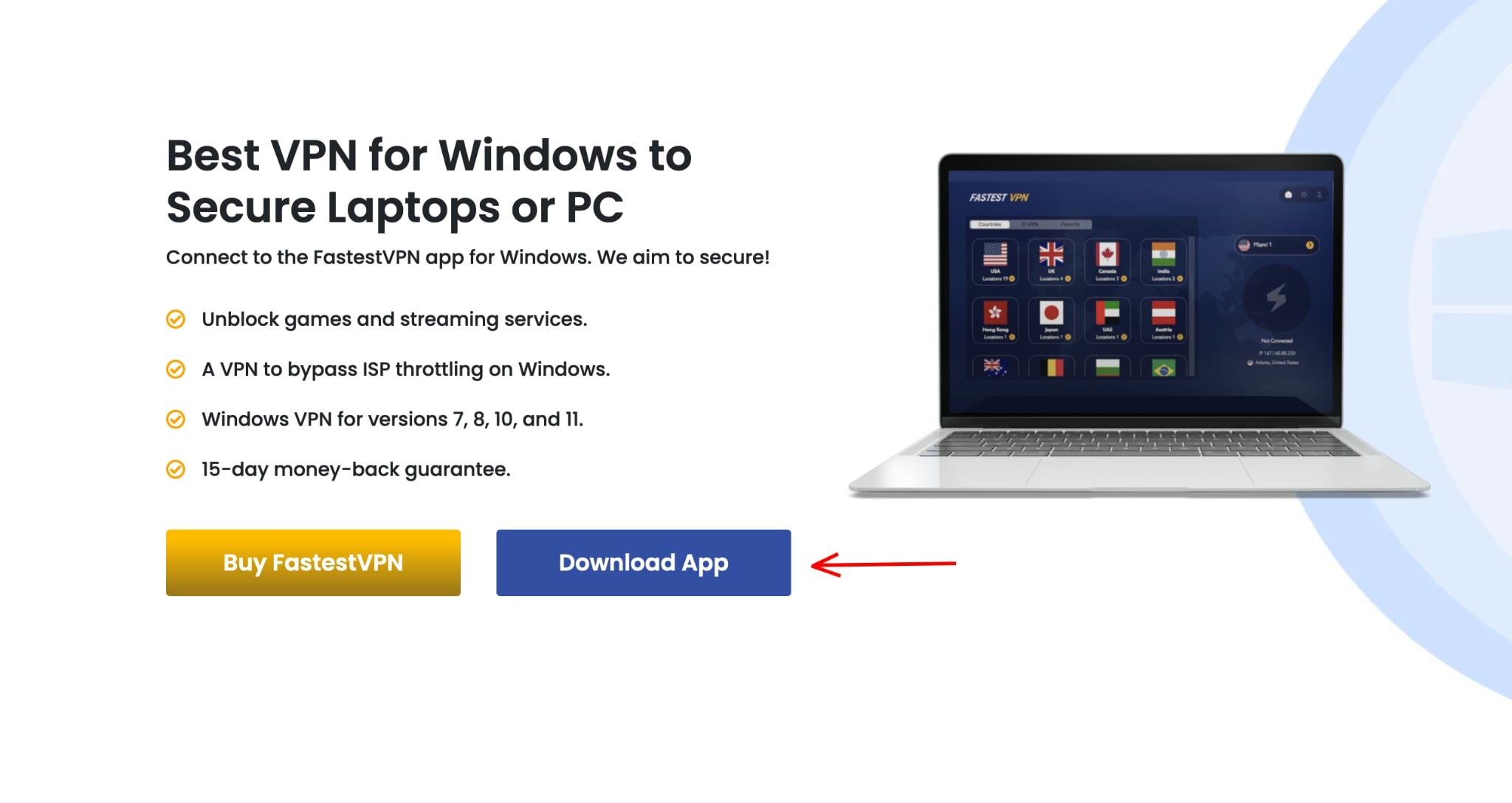 Step 7: Install FastestVPN
Unzip the file and click on the downloaded installer to start the installation process. Click "Yes" when prompted to install the TAP driver.
Step 8: Log in to FastestVPN
Finish the installation. After completing all the steps and installing the VPN, you'll get a login screen that requires your registration credentials.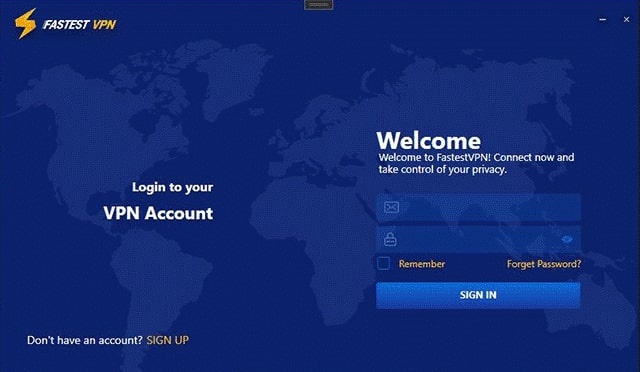 Step 9: Launch the App
Now, launch the FastestVPN app. After the installation is complete, launch the FastestVPN app from your desktop or the start menu.
Step 10: Log in Using Credentials
Enter your login credentials. Enter your FastestVPN login credentials (username and password) and click on the "Login" button.
Step 11: Choose Server Location
Choose your server location. Select your desired server location from the list of available options.
Connect to the server. Click on the thunder-like sign to connect to the server you selected. Once connected, your internet traffic will be encrypted, and your online activities will be private.
How We Tested FastestVPN
We extensively researched the key competitors within the VPN industry and have gathered up-to-date and accurate information to make it easier for you to make an informed decision when purchasing a VPN. We've compared several features and conducted numerous tests, including the DNS leak test and the WebRTC test.
Our experts identify the factors that matter most to business owners, including customer support, pricing, and features, to ensure that our recommendations offer well-rounded products that will meet the needs of various small businesses.
We collect extensive data to narrow our best list to reputable, easy-to-use products with stand-out features at a reasonable price point. And we look at user reviews to ensure that business owners like you are satisfied with our top picks' services.
According to popular industry experts and customer reviews, we've analyzed the privacy, reputation, functionality, performance, and credibility of the FastestVPN. From the analysis, no feature scored less than 10%.
We use the same criteria to assess companies within a particular space, so you can confidently follow our blueprint for the best VPNs of 2023. Also, we've tested other top VPNs like PureVPN, ProtonVPN, etc., so we know what to look for and have the most accurate analytics.
Our Other VPN Guides
While VPNs can be beneficial for protecting your data online, they have limitations depending on the specific brand and the subscription level you choose. Our VPN specialists have created a list of materials and resources on the top VPN tools on the market today.
Concluding Our FastestVPN Review – Is FastestVPN Worth It in 2023?
FastestVPN is great at privacy and security. Its location makes it even more possible. Also, its no-data-log policy keeps minimal data about its users. The app's recent upgrade has made it faster, with useful features like automatic VPN protocol selection and streaming-optimized servers.
However, it has inconsistent speeds and connection issues, which can be annoying. This VPN is your go-to if you're looking for an uncomplicated VPN that works with various Netflix libraries and other popular streaming services. Download and install the FastestVPN app today for an awesome experience!
FastestVPN FAQs
Is FastestVPN safe to use?
How does FastestVPN work?
How to install FastestVPN on Firestick?
How to update FastestVPN?
How to install FastestVPN on the Mecool Android box?
References